Sashimi lovers rejoice, I have the perfect salad recipe for you! Made with a variety of fresh salad vegetables topped with tender slices of mixed sashimi and drizzled with a tangy homemade soy-based wafu dressing, this salad is every sashimi-fan's dream. It's highly customizable and you can throw it together in 15 minutes or less!
Disclaimer: This post contains Amazon affiliate links. Sudachi Recipes earn a small percentage from qualifying purchases at no extra cost to you. See disclaimer for more info.
What is Sashimi Salad?
As the name suggests, sashimi salad is a simple dish made with salad vegetables such as lettuce, cucumber and avocado topped with fresh slices of sashimi-grade fish. One of the best things about this recipe is the fact that it's ready in a flash and you can add all your favorite kinds of sashimi and vegetables to suit your own tastes. No rules here!
I also include how to make a delicious Japanese-style "wafu" dressing made with soy sauce, sugar, lemon juice and grated garlic. This dressing requires just 30 seconds of cooking, so it's perfect for a quick lunch or side with dinner!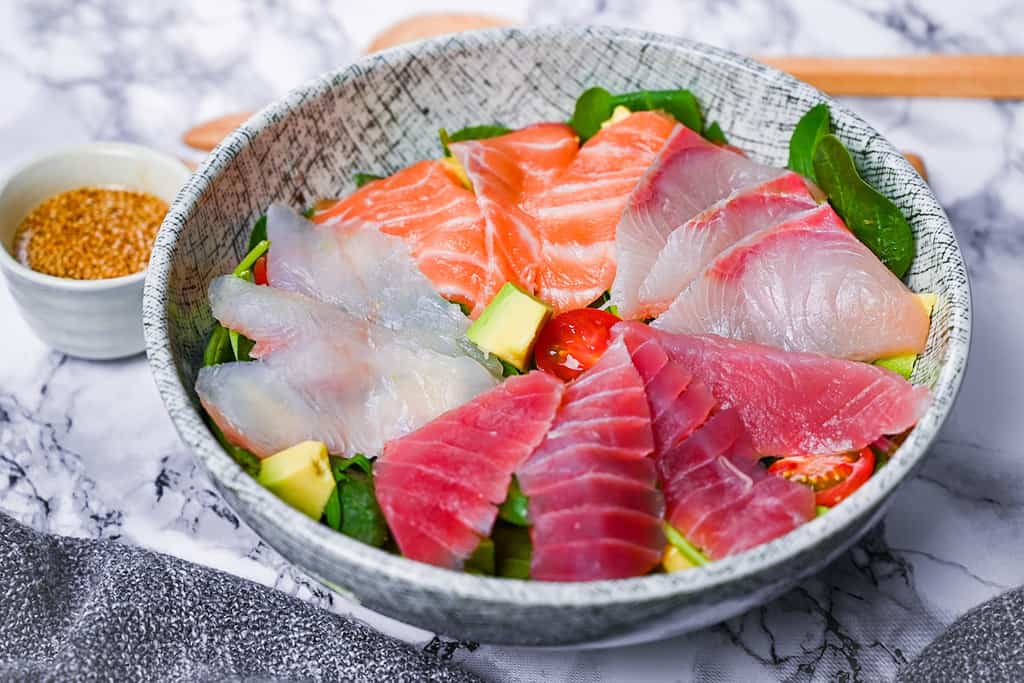 Ingredients You Will Need
Sashimi salad is perfect for customizing, so first I will list the ingredients I used when making this recipe, and then I will go over all the different ingredients you can use to make this dish your own.
Wafu Dressing
For this sashimi salad, I make my own homemade Japanese-style dressing. Japanese salad dressings are known as "wafu" style (和風ドレシング) and usually contain typical Japanese flavors such as soy sauce, miso, or wasabi for example.
Soy sauce – the base flavor of the dressing and the perfect partner for sashimi. I use Japanese "koikuchi shoyu" (dark soy sauce).
Mirin – adds sweetness and umami to the sauce. I recommend good quality "hon mirin" rather than "mirin-style condiments". If you can't get mirin, substitute with a little extra sugar and water for consistency.
Sugar – I opt for light brown cane sugar, but regular white sugar also works fine.
White toasted sesame seeds – for a mildly nutty taste and crunchy texture.
Sesame oil – for a deep nutty flavor, the texture of the oil also helps it stick to the sashimi and vegetables.
Olive oil – a surprising addition that adds a fresh and rich taste to the dressing.
Grated garlic – For convenience, I prefer to use store-bought garlic paste for this recipe. If using fresh garlic cloves, be sure to grate them as small as possible so they can be evenly distributed into the dressing.
Lemon juice – the acidity adds balance to the dressing and gives a tangy flavor that pairs perfectly with fish. Freshly squeezed lemon juice or bottled both works for this recipe.
White pepper – for a little bit of heat. You can use freshly ground black pepper if you prefer.
Because my recipe contains alcohol (mirin), it needs to be boiled for 30 seconds to 1 minute to burn away the alcohol and make it suitable for eating with salad. This is the only cooking you need to do for this recipe! If you need to omit the mirin, you can skip the cooking altogether.
Sashimi Salad Ingredients
For the salad itself, I use the following:
Sashimi-grade fish – I personally use salmon, tuna, yellow tail and sweet shrimp. See the section below for more ideas.
Avocado – the fresh taste and creamy texture of avocado go perfectly with sashimi and is a common sushi ingredient in recent years.
Mini tomatoes – great texture with a sweet and tangy flavor, goes especially well with the wafu dressing.
Mixed lettuce – mainly for the crunch, but the simple flavor of lettuce allows you to enjoy the dressing to the full. You could use shredded cabbage if you want to make the salad more Japanese-y.
Baby leaf spinach – the tender leaves and mild flavor make baby leaf spinach a great addition to this salad.
Curious about the exact brands and products that bring my recipes to life? Discover the brands and ingredients behind my recipes at the Sudachi Amazon Storefront. Explore my handpicked pantry essentials and find your next kitchen favorites!
Sashimi / Sushi Grade Fish
This dish wouldn't be "Sashimi Salad" without sashimi! But what exactly is "sashimi" and what kind of fish is used to make it?
Sashimi (刺身) is basically raw fish cut into slices. Sushi or sashimi-grade fish means that the fish is caught, then safely stored and transported so that it is parasite free and safe to eat raw. You can buy it either pre-sliced and ready to eat, or in a block which can then be cut in the shapes and sizes to suit your preference.
Sashimi-grade fish can be found at Japanese supermarkets or ordered online. Please don't risk eating raw fish unless you're 100% sure it's sushi/sashimi grade.
Common types of fish and seafood to use in sashimi salad are:
Salmon サケ (sake)
Bluefin tuna マグロ (maguro)
Red snapper タイ (tai)
Yellowtail ブリ (buri)
Scallops ホタテ (hotate)
Squid イカ (ika)
Sweet shrimp 甘エビ (amaebi)
It's up to you whether you want to stick to one kind or mix it up! I like to use a mixture myself!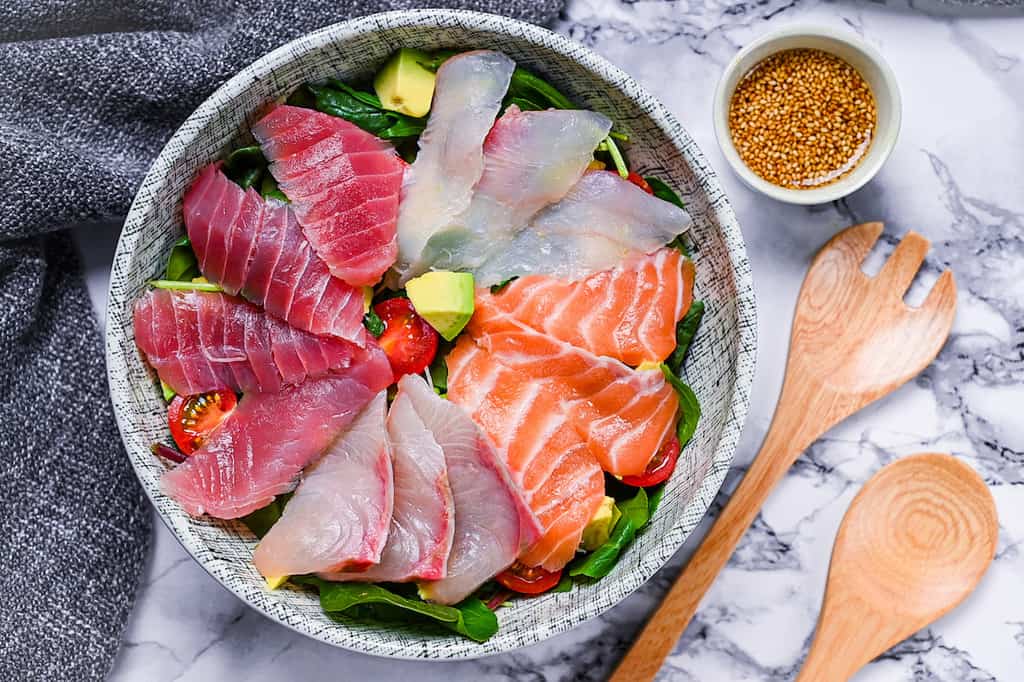 Additional Ingredients
Again, there's no real rule for what salad vegetables you should use, so here are a few ideas for substitutions you can make or add to your own sashimi salad!
Cucumbers
White cabbage
Sweet corn
Arugula (rocket)
Steamed brocolli
You could also get creative with some crispy additions:
Croutons
Crunchy fried onions
Crispy fried noodles
Crushed nuts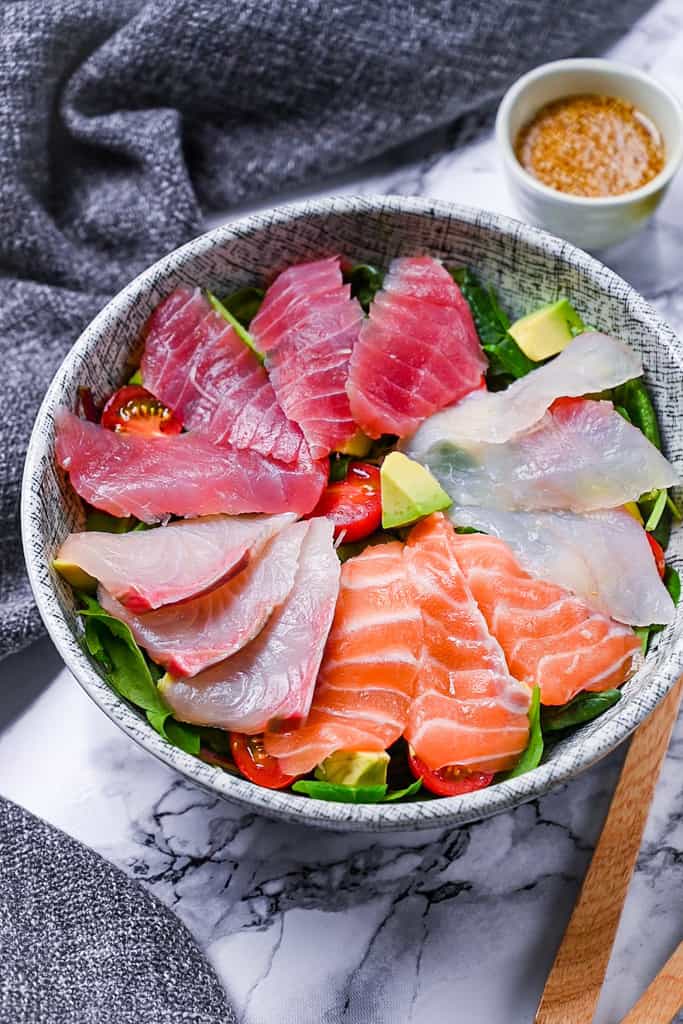 Step-by-Step Process
Here are my step-by-step instructions for how to make quick and easy sashimi salad with homemade Japanese wafu dressing. For ingredient quantities and simplified instructions, see the printable recipe card below.
Heat soy sauce, mirin and sugar
Pour the soy sauce, mirin and sugar into a small saucepan and boil for 30 seconds. (Alternatively, microwave for 1 minute.) This step is to burn off the alcohol in the mirin. (If you're not using mirin, you can skip this step.)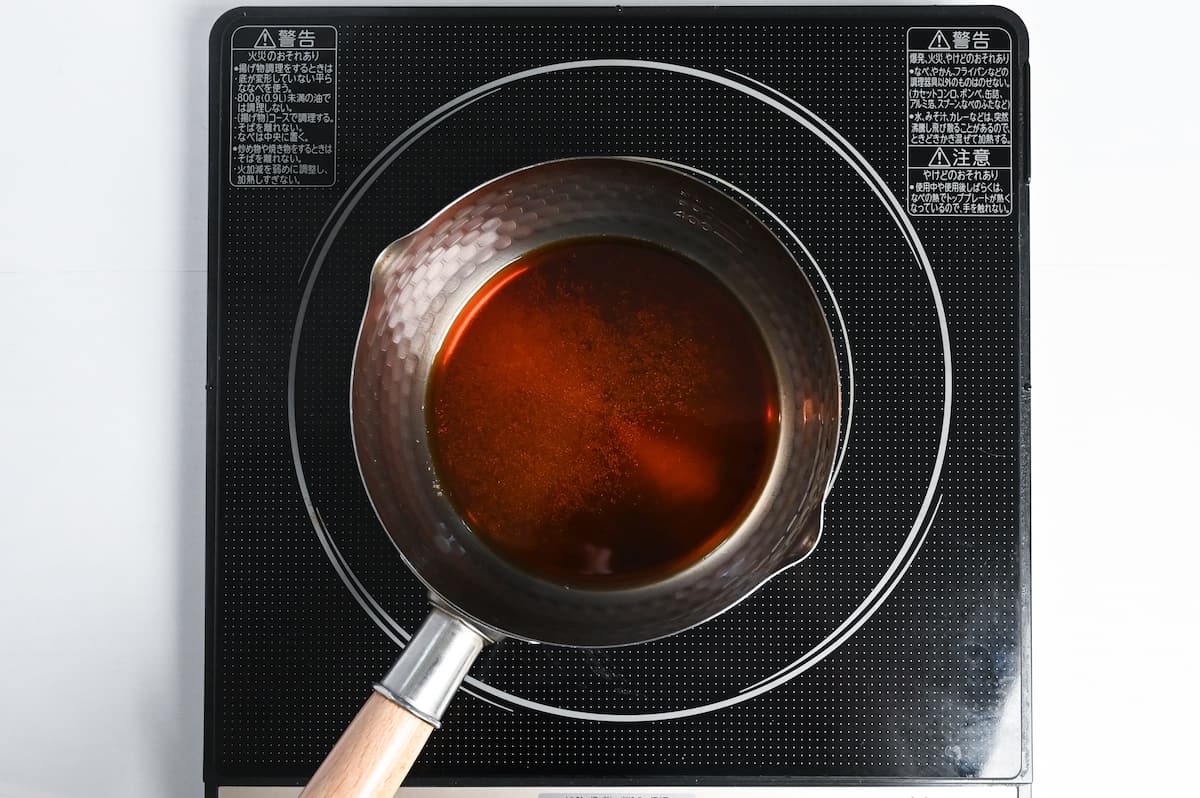 Allow the sauce to cool for a few minute and then transfer it to a measuring jug.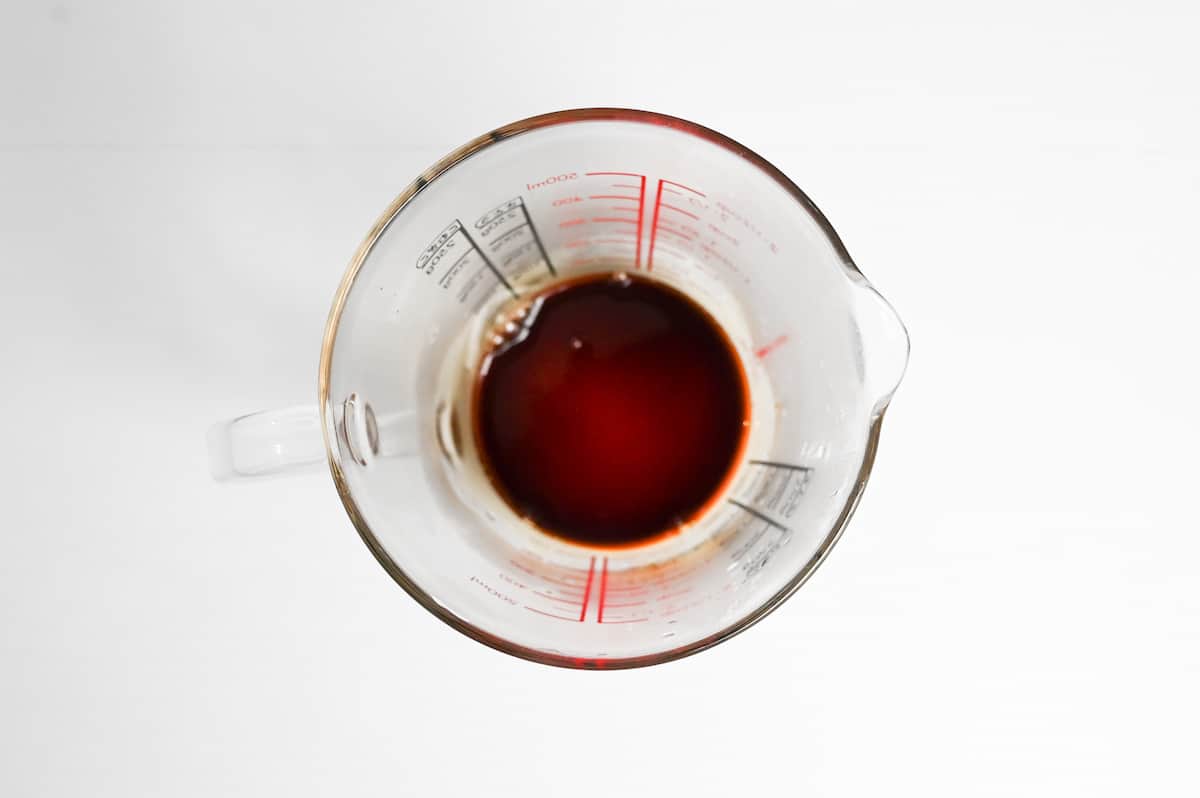 Complete the wafu dressing
Add sesame seeds, sesame oil, olive oil, garlic paste, lemon juice and white pepper to the jug. Whisk thoroughly until well combined and store in the refrigerator until serving time.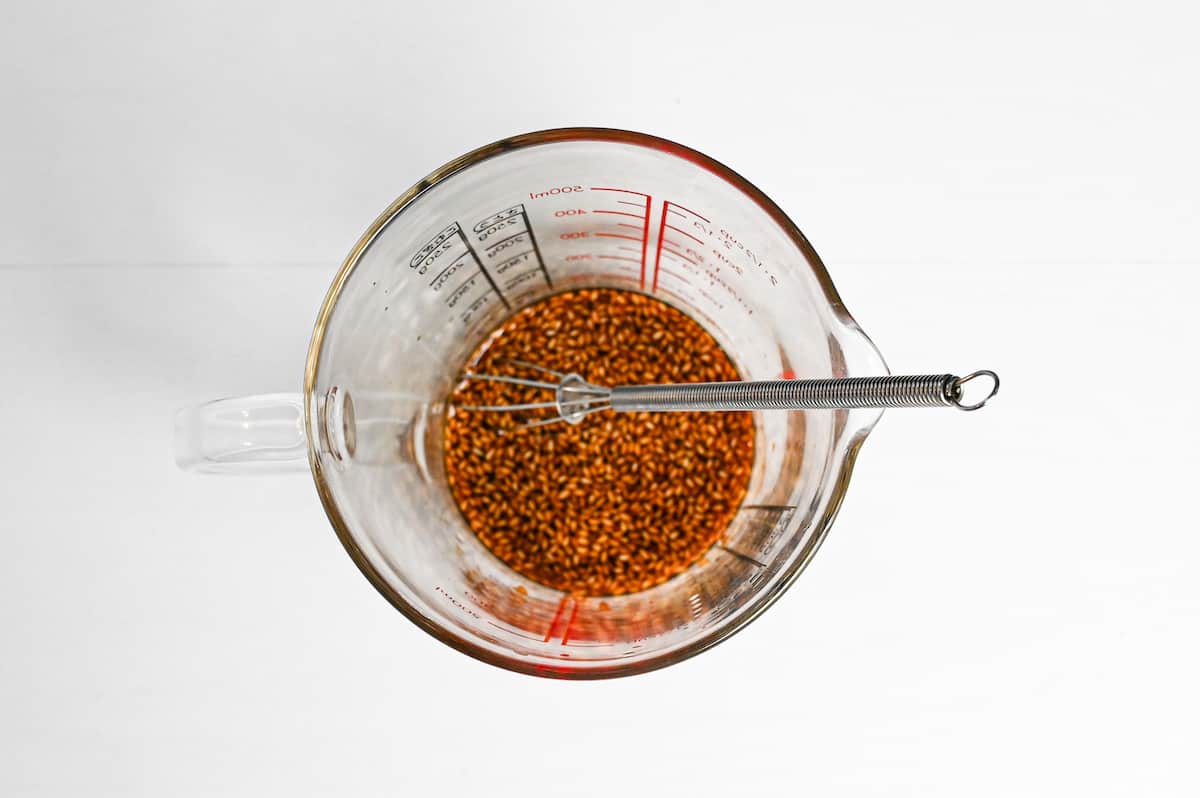 Wash and cut your vegetables into bitesize pieces according to your preference, then place them in a bowl.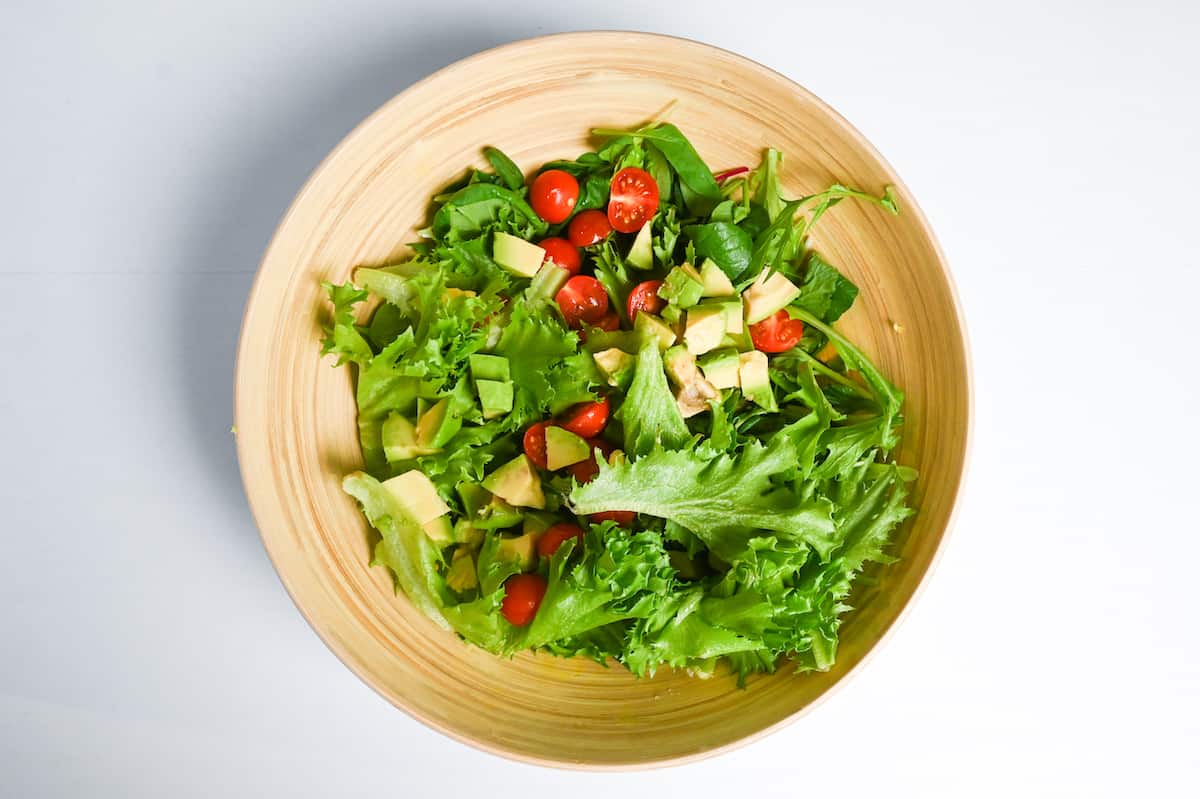 Arrange the slices of sashimi on top.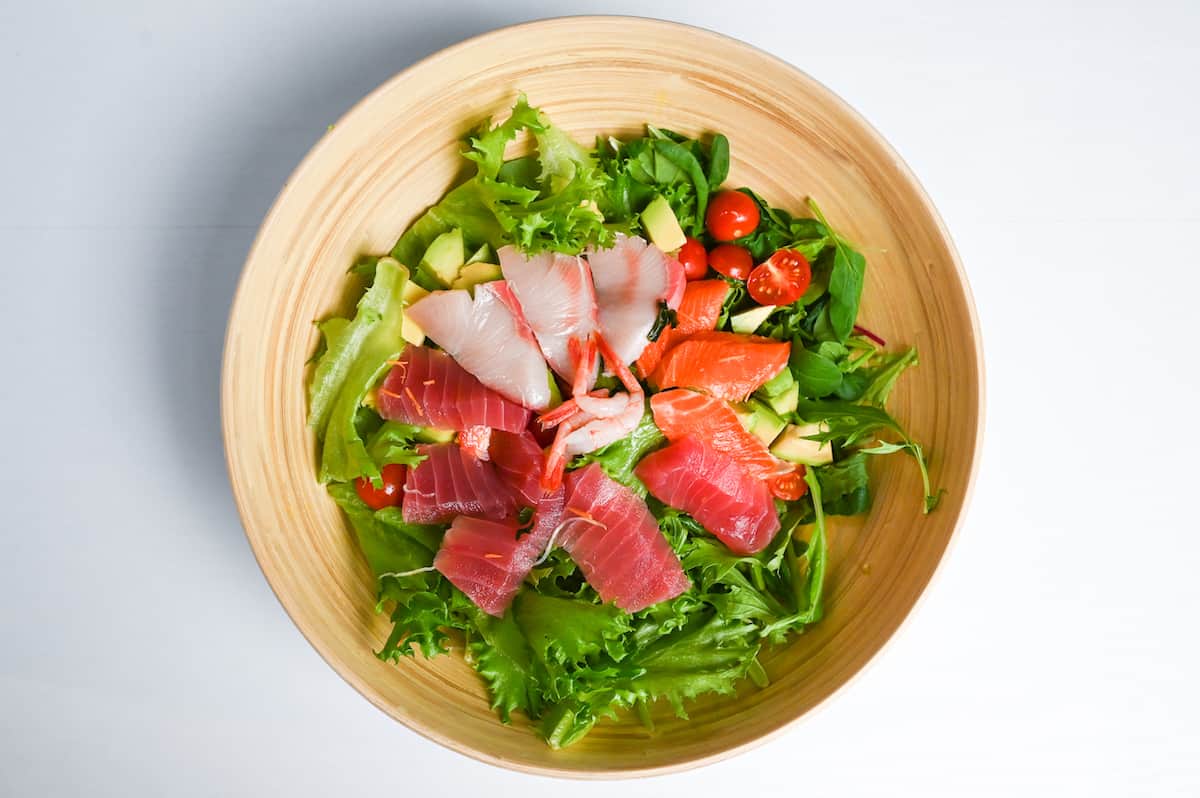 Drizzle with the homemade dressing and mix well before eating.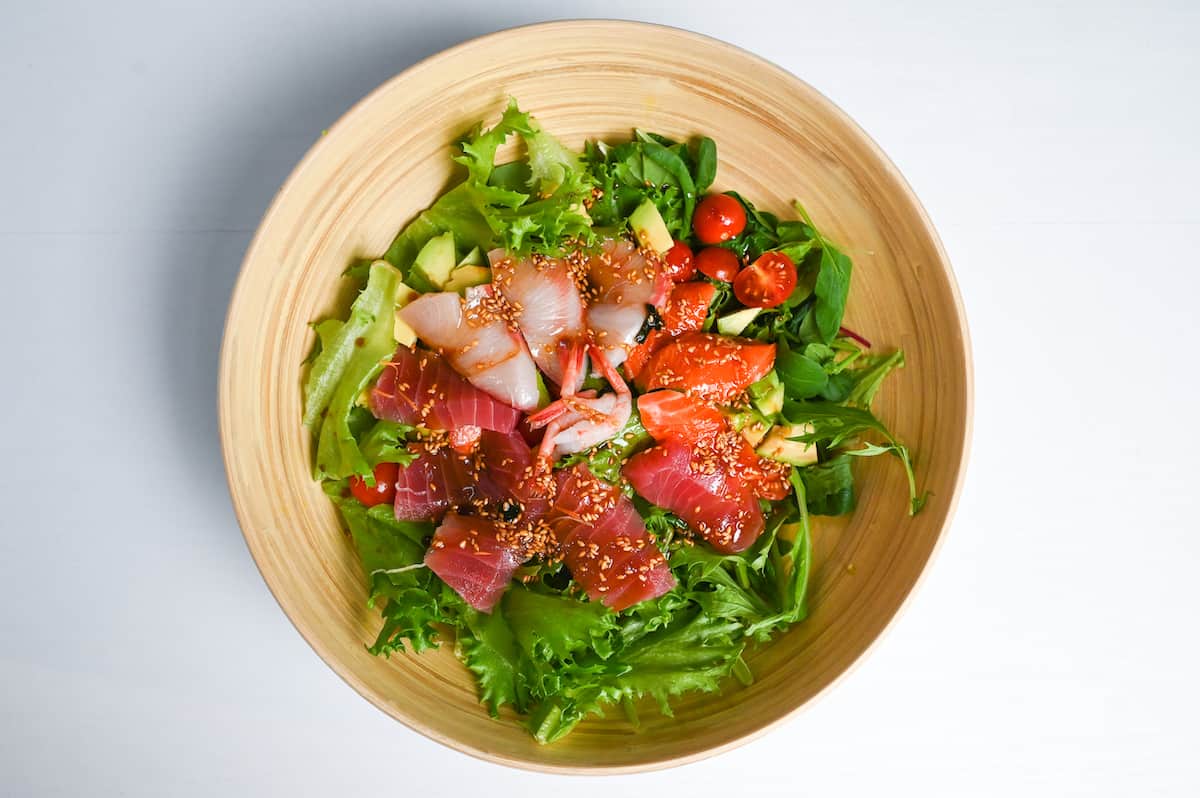 Enjoy!
Storage
Storage depends on the freshness of your ingredients. Salad vegetables should be refrigerated and used in within 1-2 days of mixing. Fresh sashimi should be stored separately in a sealed container in the fridge and consumed within 1 day of purchase. Once the whole salad is assembled, it should be eaten immediately. I don't recommend preparing this salad in advance.
The dressing can be stored in an airtight container in the fridge for up to 1 week.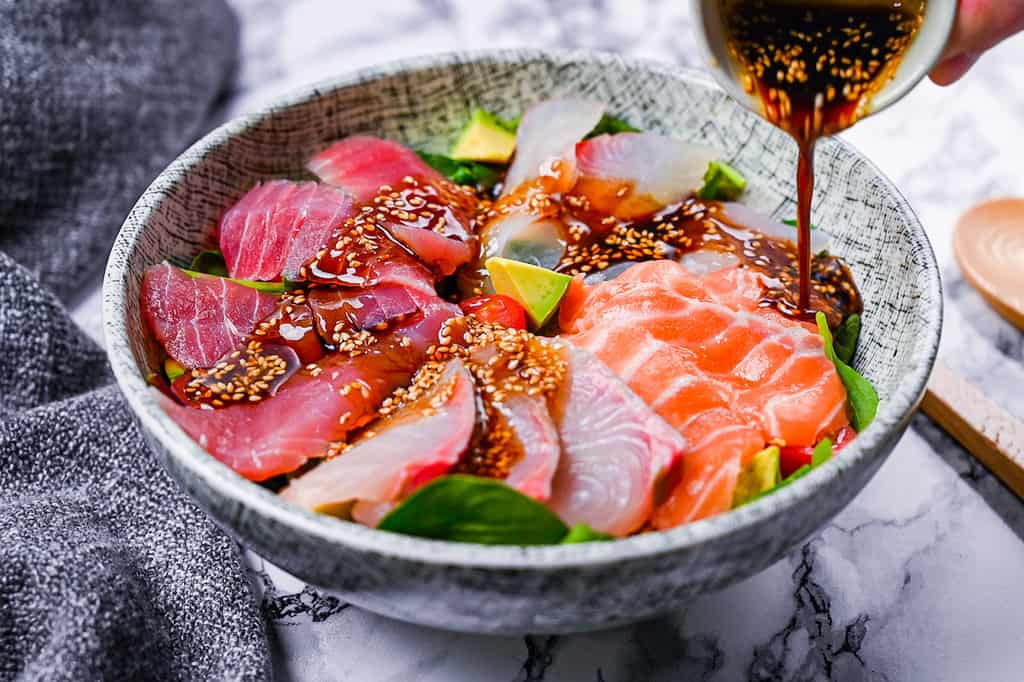 I hope you enjoy this quick and easy sashimi salad recipe! If you try it out, I'd really appreciate it if you could spare a moment to share what ingredients you used and let me know what you thought by giving a review and star rating in the comments below. Thank you!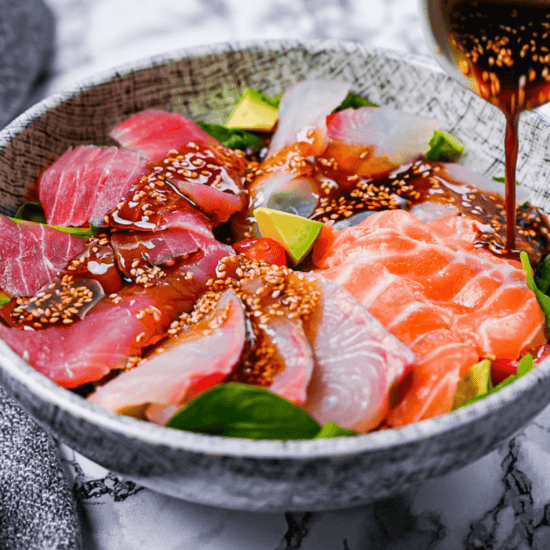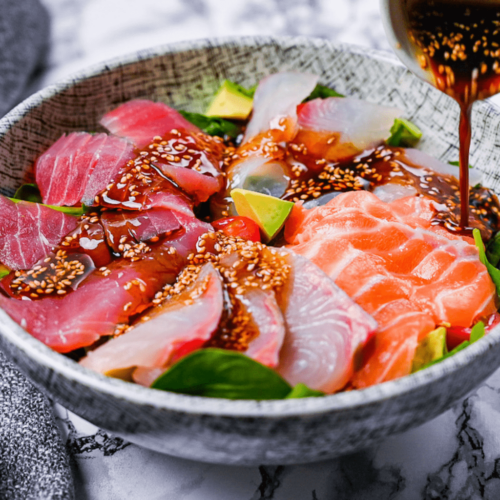 Sashimi Salad (with homemade Japanese wafu dressing)
---
How to make light and refreshing sashimi salad with homemade Japanese style "wafu dressing".
---
---
---
---
Ingredients
Homemade Wafu Dressing
1

tbsp

soy sauce

1

tbsp

mirin

1

tsp

sugar

½

tbsp

white toasted sesame seeds

½

tbsp

sesame oil

½

tbsp

olive oil

½

tsp

garlic paste

or finely grated garlic

½

tsp

lemon juice

1

pinch

white pepper
Salad Ingredients
200

g

sashimi-grade fish

salmon, tuna, yellowtail etc thinly sliced

1

avocado(s)

cubed

100

g

mini tomatoes

halved

30

g

baby leaf spinach

150

g

mixed lettuce leaves
Instructions
First, heat

1 tbsp soy sauce

,

1 tbsp mirin

and

1 tsp sugar

together in a small saucepan. Allow to boil for 30 seconds and then remove from the heat.

Allow to cool for a few minutes and then transfer it to a small jug or bowl.

Add

½ tbsp white toasted sesame seeds

,

½ tbsp sesame oil

,

½ tbsp olive oil

,

½ tsp garlic paste

,

½ tsp lemon juice

,

1 pinch white pepper

and mix. Store in the fridge until serving time.

Place the washed and cut vegetables in a salad bowl.

Arrange

200 g sashimi-grade fish

on the top of the vegetables.

Drizzle with sauce and mix well before serving.

Enjoy!
Notes
See in post for more sashimi/vegetable ideas.
Store dressing in an airtight container in the refrigerator for up to 1 week.
Add dressing to salad right before serving.