Spaghetti meat sauce is one of the most popular pasta dishes in Japan. Made with ground beef, onions, carrots and celery cooked in a deliciously sweet and perfectly seasoned homemade tomato sauce, this dish is comforting, easy to make and a family favourite!
Jump to:
What Is Spaghetti Meat Sauce?
Japanese spaghetti meat sauce is pasta dish made with ground beef and finely cut vegetables cooked in a sweet and herby tomato sauce. There's no doubt that the ingredients and flavours were inspired by Italian speghetti bolognese. It's a popular "yoshoku" dish (Western inspired Japanese dish) that's been well loved for many years and is even a common item on Japanese school lunch menus.
But in true Japanese style, the taste has been adjusted to suit the Japanese pallet. So, what makes Japanese spaghetti meat sauce different?
A brief history of spaghetti meat sauce in Japan
The origin of spaghetti meat sauce can be traced back to the Bologna region of Italy. The very first spaghetti meat sauce in Japan, which is believed to have been made in the 19th century, was heavily inspired by Italian Bolognese.
However, the spaghetti meat sauce that is popular in Japan today is not based on the Italian Bolognese, but rather on the Bolognese that came to the United States and was transformed into the American style.
The reason is that the ketchup-flavored meat sauce, similar to today's spaghetti meat sauce, was introduced to Japan by the U.S. occupation forces. Influenced by this introduction, Kewpie released canned meat sauce in 1959, and this canned product was a hit and is said to have laid the groundwork for the popularization of spaghetti meat sauce in households in Japan.
Differences between meat sauce and Bolognese
Frankly speaking, Japanese spaghetti meat sauce and Italian Bolognese taste completely different. So what exactly is the difference?
Spaghetti meat sauce is a lot sweeter - spaghetti meat sauce is a lot sweeter than bolognese. It is commonly made with tomato ketchup and sugar, and because of that, spaghetti meat sauce is a favourite amongst children.
It uses a lot of tomatoes - As far as I know, spaghetti meat sauce contains more tomatoes (specifically tinned tomatoes) and the sauce tends to be less meaty than bolognese sauce as well. So more tomatoes, less meat.
Spaghetti meat sauce always uses spaghetti - True bolognese in Bologne uses

tagliatelle

pasta. But spaghetti meat sauce is always made with regular spaghetti.
Usually not mixed with sauce - Spaghetti meat sauce is actually not mixed together when served. This means that the spaghetti is served with the meat sauce on top of it, not mixed.
Other spaghetti dishes in Japan
As with most countries in the world, spaghetti is now a favorite in many Japanese households. In fact, there's a whole category of Japanese pasta dishes called "wafu pasta" that combines local Japanese ingredients and flavours with Italian pasta. Let's explore some of Japan's most popular spaghetti dishes.
Mentaiko pasta
Mentaiko (spicy cod roe) spaghetti is a famous Japanese spaghetti dish that uses cod roe as the main ingredient. The toppings sprinkled on top are said to be inspired by ochazuke (rice with green tea).
Soy sauce "wafu" pasta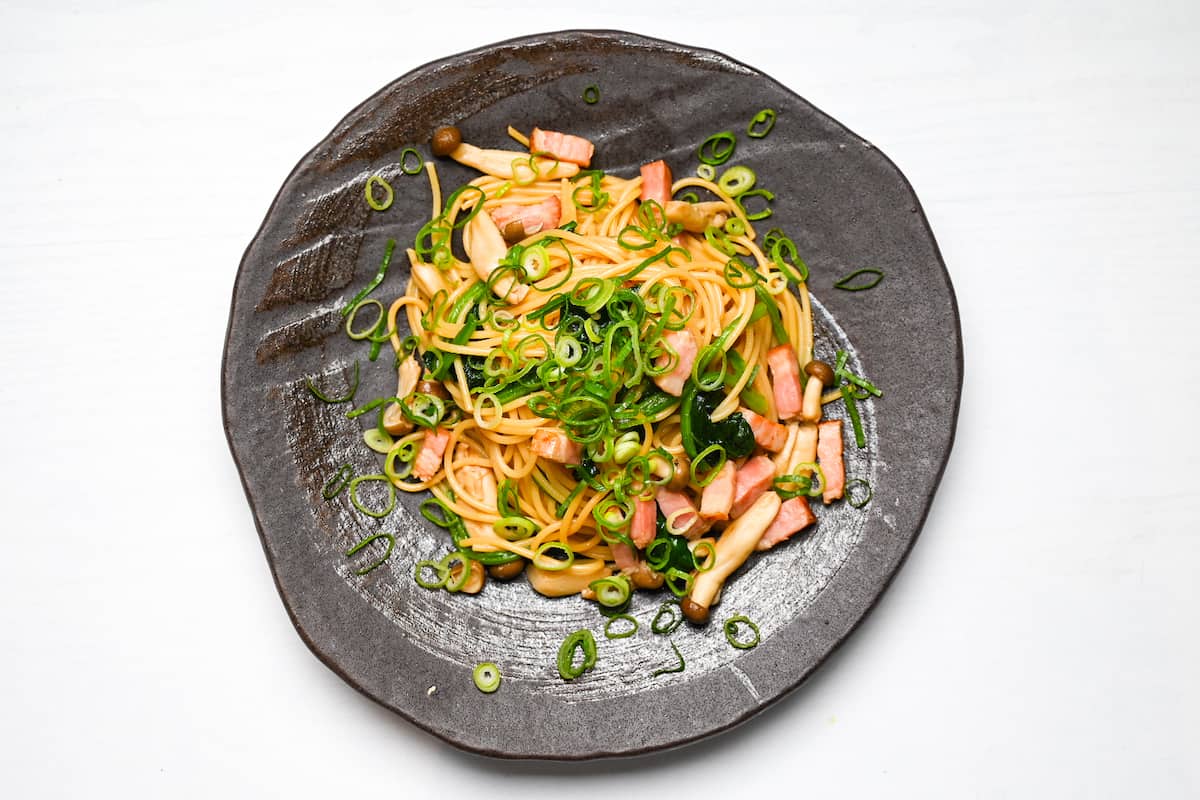 Soy sauce and butter are a golden combo in Japan. So-called "Japanese butter soy sauce pasta" is based on this combination and is made with Japanese mushrooms such as shimeji mushrooms and bacon.
Spaghetti napolitan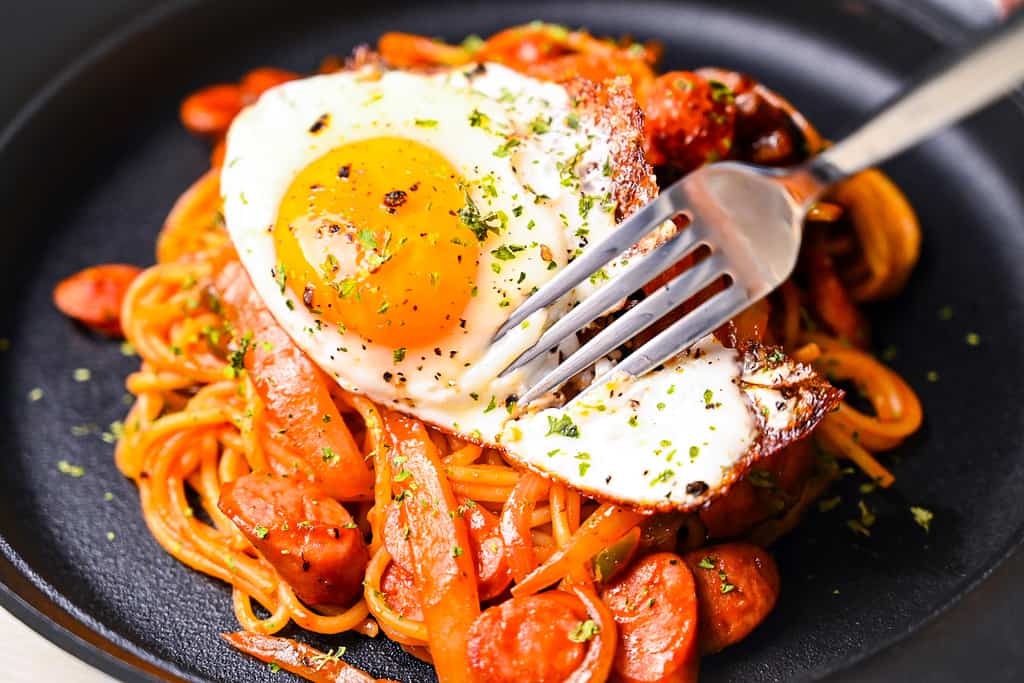 Napolitan is a type of pasta dish that consists of boiled spaghetti stir-fried with onions, green peppers, bacon, and other ingredients and seasoned with tomato ketchup.
Even though "Napoli" is in its name, it was created in Japan. The name "Napolitan" was inspired by French cuisine, which greatly influences yoshoku dishes. Back then, French cooks often called tomato-flavored creations "Napolitan style," like spaghetti with tomato sauce, known as "Spaghetti a' la Napolitaine." In Japan, Napolitaine is somehow now changed to Napolitan.
Ingredients
Here is a list of what I use in my Japanese spaghetti meat sauce recipe, I use both classic ingredients and a few unexpected ones too! I've broken the list up into ingredients/toppings and the sauce.
Spaghetti - Spaghetti meat sauce is a humble dish, dry pasta is the norm here! (Although feel free to use fresh or even homemade spaghetti if you want to upgrade it!)
White onion - a vital ingredient that adds depth and sweetness to the dish.
Carrot - a classic vegetable that adds sweetness and texture.
Celery - a base flavour that adds depth to the sauce.
Garlic cloves - essential for flavour!
Butter - Both unsalted or unsalted, either is fine.
Minced meat - 100% beef or a mixture of beef and pork depending on your preference and budget.
Parmesan cheese - optional topping for a cheesy taste.
Fresh parsley - optional topping for decoration.
And for the sauce I use:
Canned tomatoes - diced or crushed are most convenient for this dish!
Red wine - adds acidity and depth. If you don't want to use alcohol, you can swap it out for grape juice.
Ketchup - an essential ingredient for Japanese spaghetti meat sauce, adds sweetness and a touch of sourness.
Worcestershire sauce - Adds umami and a hint of sourness.
Black pepper
Sugar
Oregano - either dried or fresh and finely chopped!
Nutmeg and cinnamon powder - for a hint of spice!
Bay leaf - to help bring out the flavours.
See the recipe card at the bottom of the page for the ingredient quantities!
Instructions on how to make Japanese style spaghetti meat sauce
Here are my step by step instructions on how to make Japanese spaghetti meat sauce at home. (See the printable recipe card at the bottom of the page for a full list of ingredients.)
Prepare your ingredients
Start by washing the celery and peeling the carrot, onion and garlic cloves. For the best flavour and texture, the onion, carrot and celery should be diced small. I also finely mince the garlic with a knife, but you can use a garlic crusher if you prefer.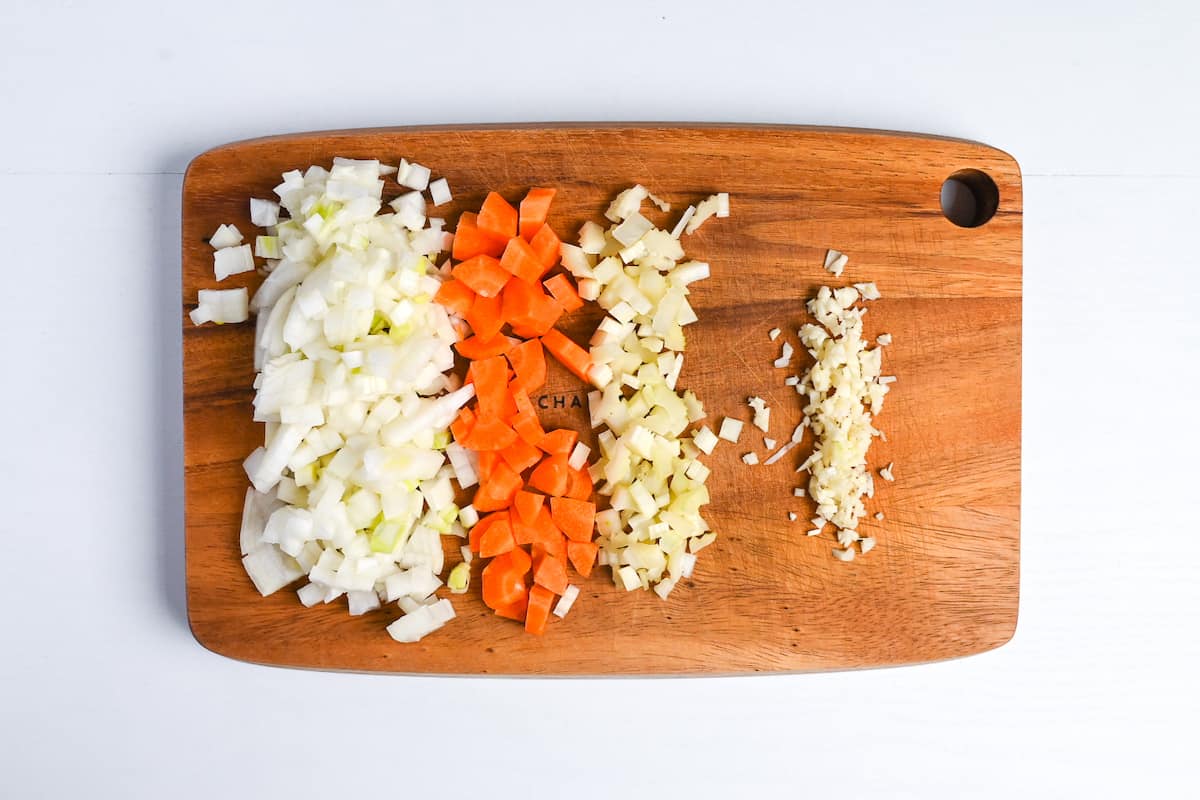 Dicing the vegetables small speeds up cooking time and improves the overall texture of the dish.
Sauté vegetables until softened
Take a large frying pan and heat it over a medium heat. Once hot, add the butter and let it melt.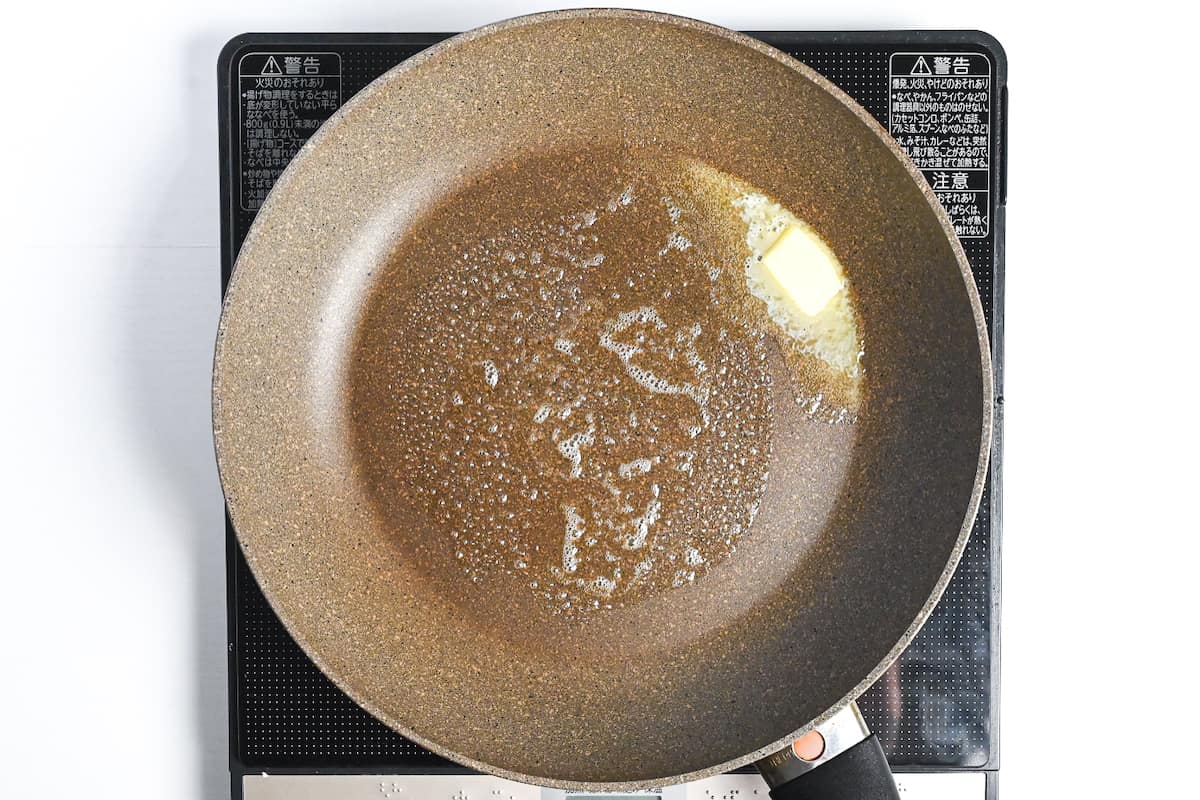 When the butter has fully melted, add the diced vegetables and garlic. Fry them together until softened and the onion is translucent.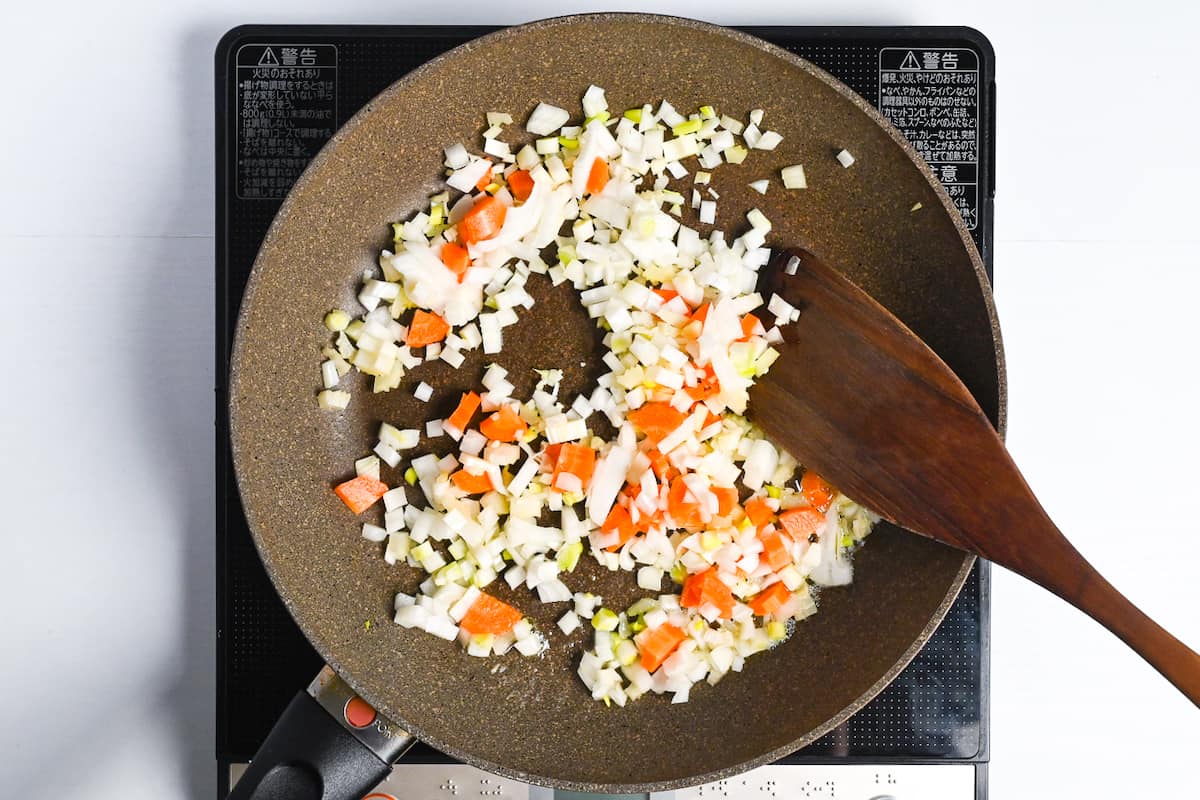 Add the meat
Once the onions are translucent and slightly golden, push the vegetables to the edges and make a space in the middle. Add the ground beef and fry until browned.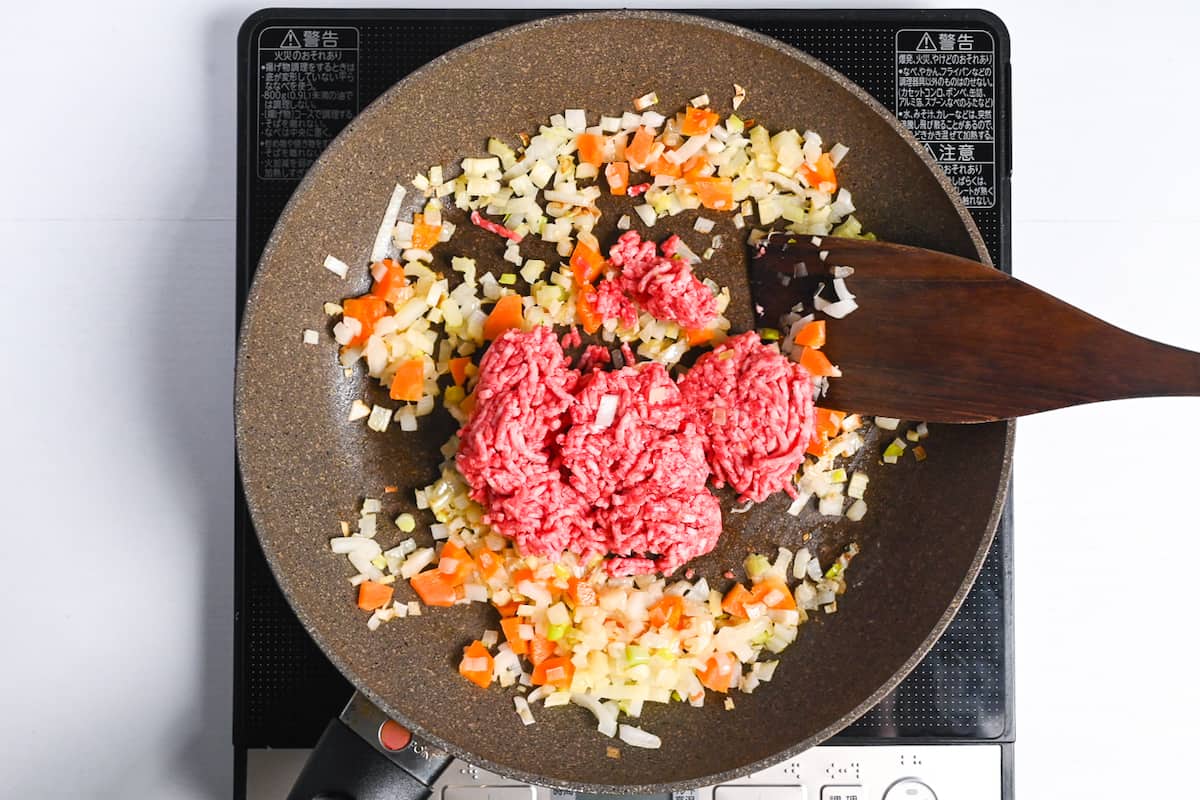 Make the sauce
Once the beef is browned, add the red wine, ketchup, Worcestershire sauce and black pepper, and mix well.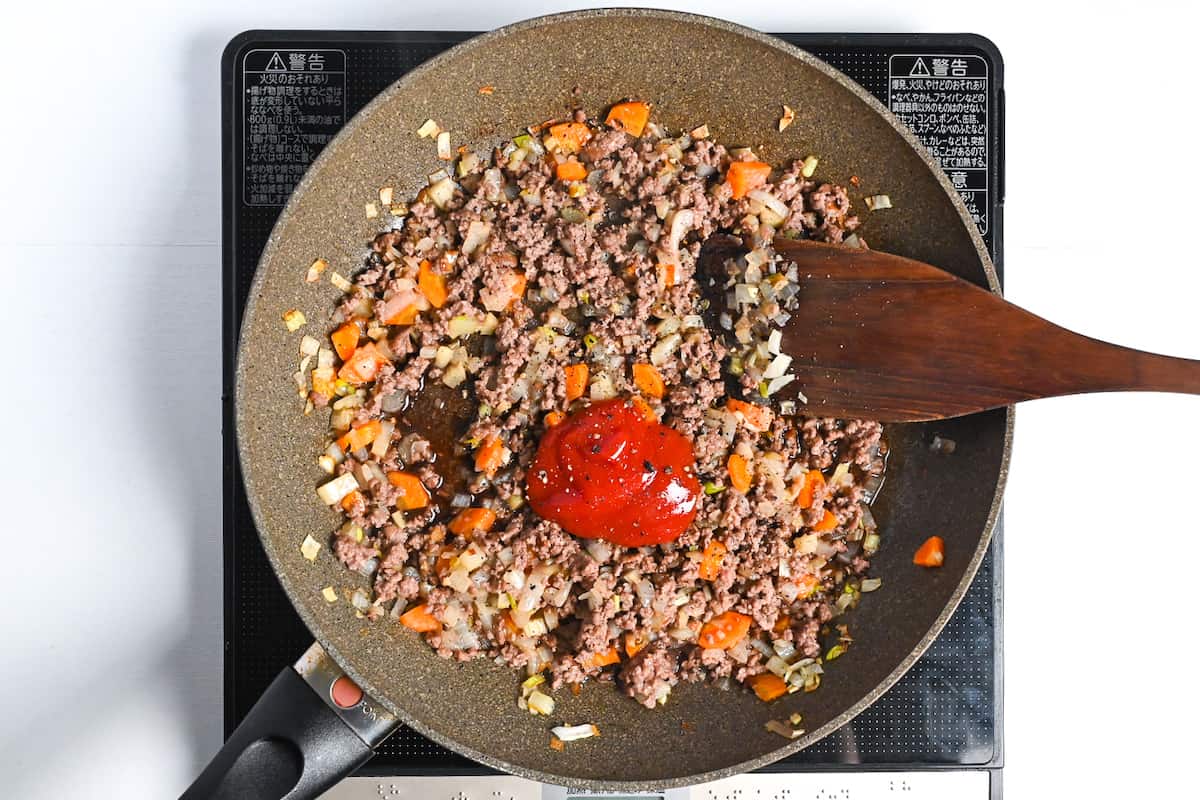 When the seasonings are evenly distributed throughout the mixture, add the canned tomatoes, sugar, oregano and bay leaf.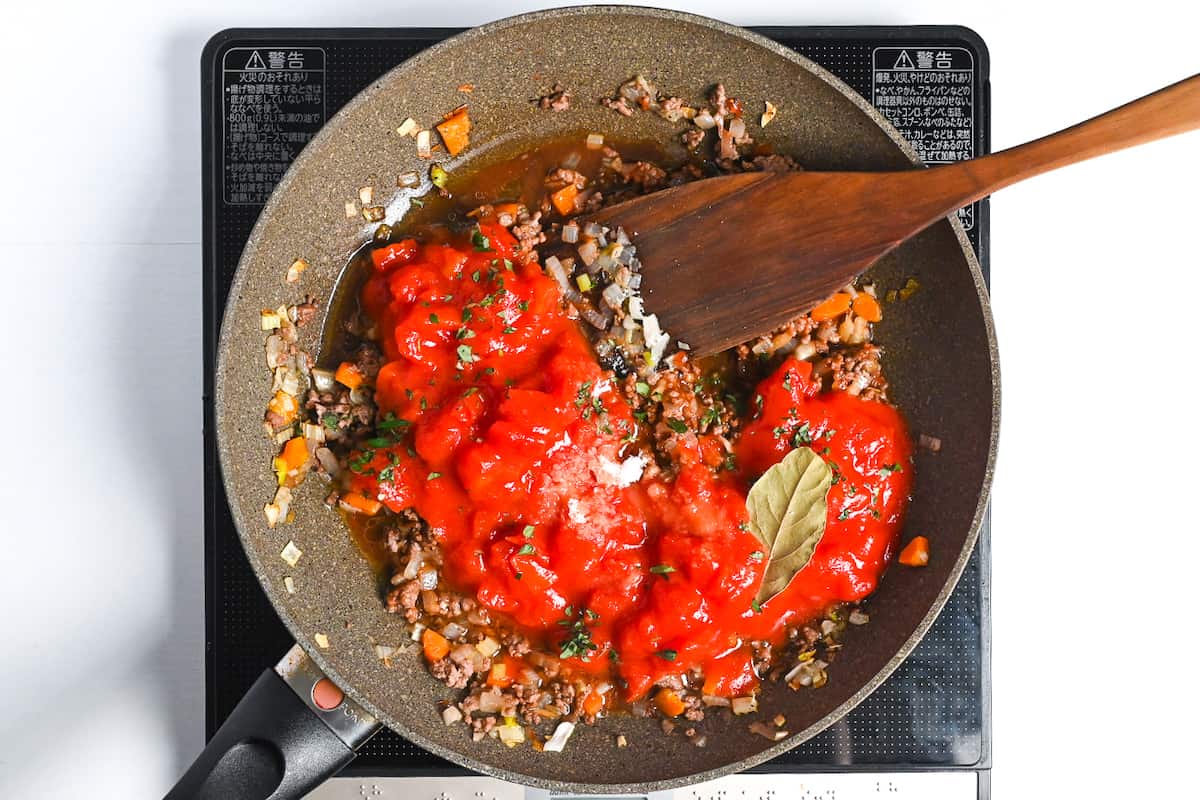 Mix well and lower the heat to a simmer.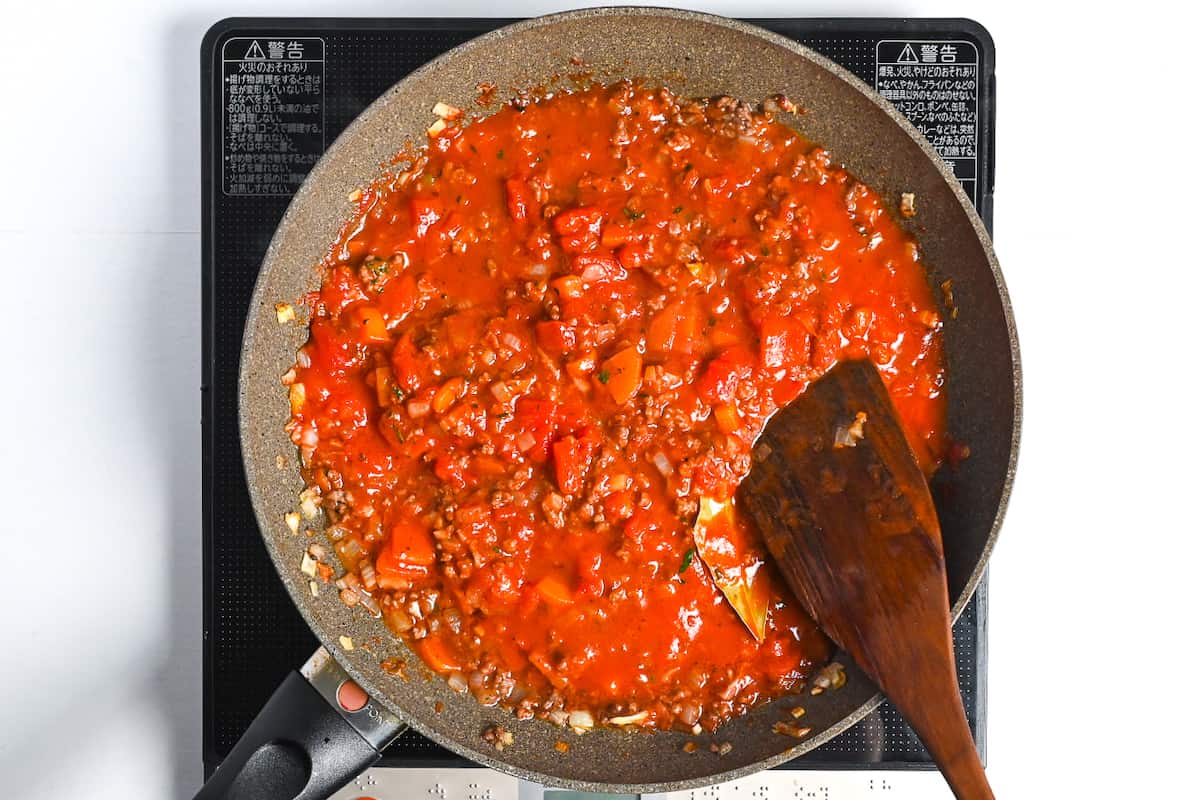 Allow the sauce to simmer until reduced to your desired thickness. Japanese spaghetti meat sauce is quite thick, so I usually let it simmer until it's reduced by about half.
Cook the spaghetti
Bring a large pot of water to a rolling boil over a high heat and add the salt. The water should be properly boiling before you add the spaghetti. Once added, cook for the amount of time stated on the packaging. (1-2 minutes less for el dente - slightly firm.)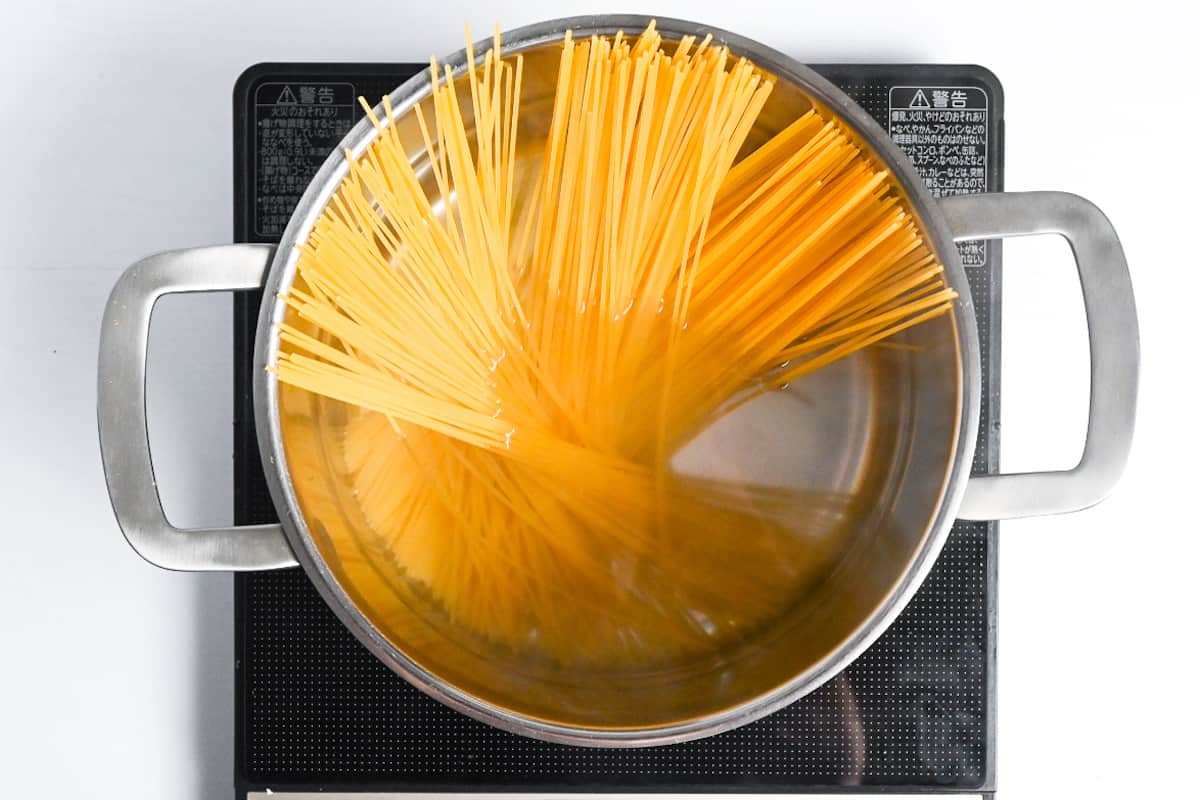 It's important that the pasta has enough space to move around so be sure you use a large pot and plenty of water. It is equally important to add enough salt to the water to prevent bland spaghetti. For an easy to remember rule, I try to follow 1000ml (1 litre) of water and 1 tsp of salt for every 100g of pasta.
Add a little spice
Once your meat sauce has simmered down, add a small sprinkle of nutmeg and cinnamon. Be careful not to add too much, just a pinch of each.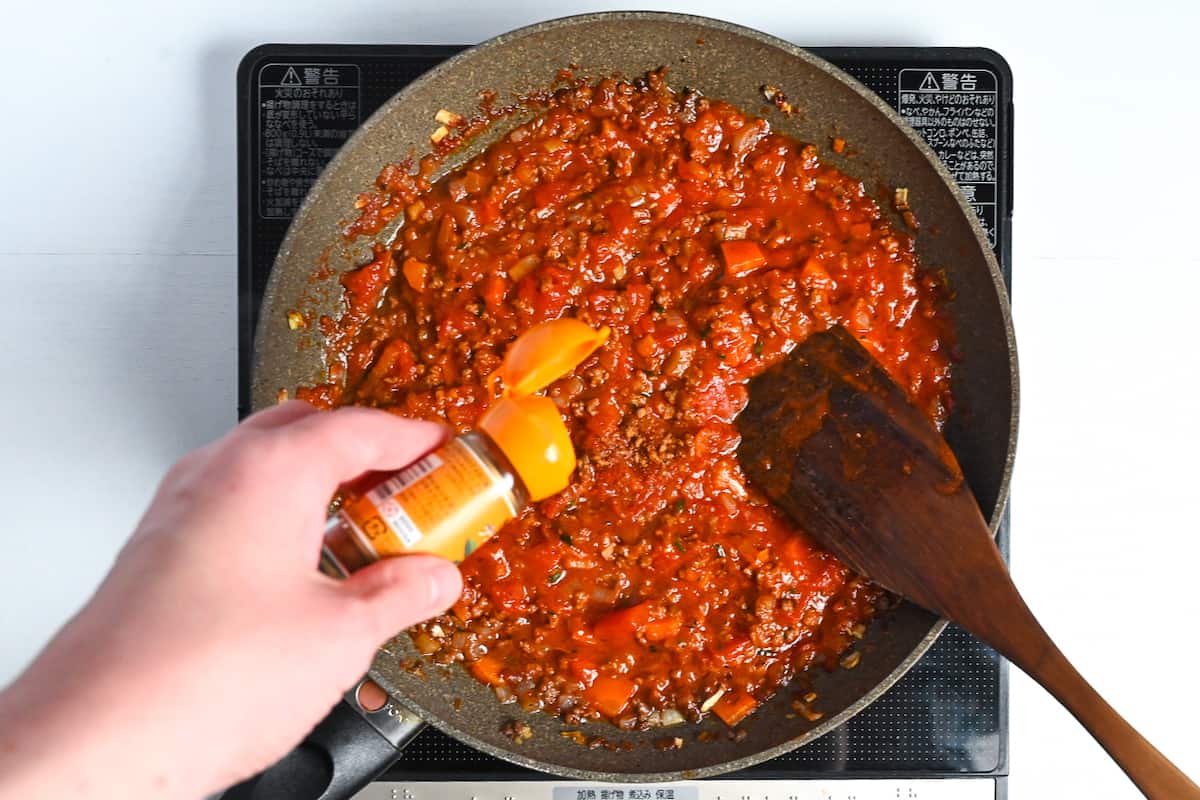 Mix well and turn off the heat.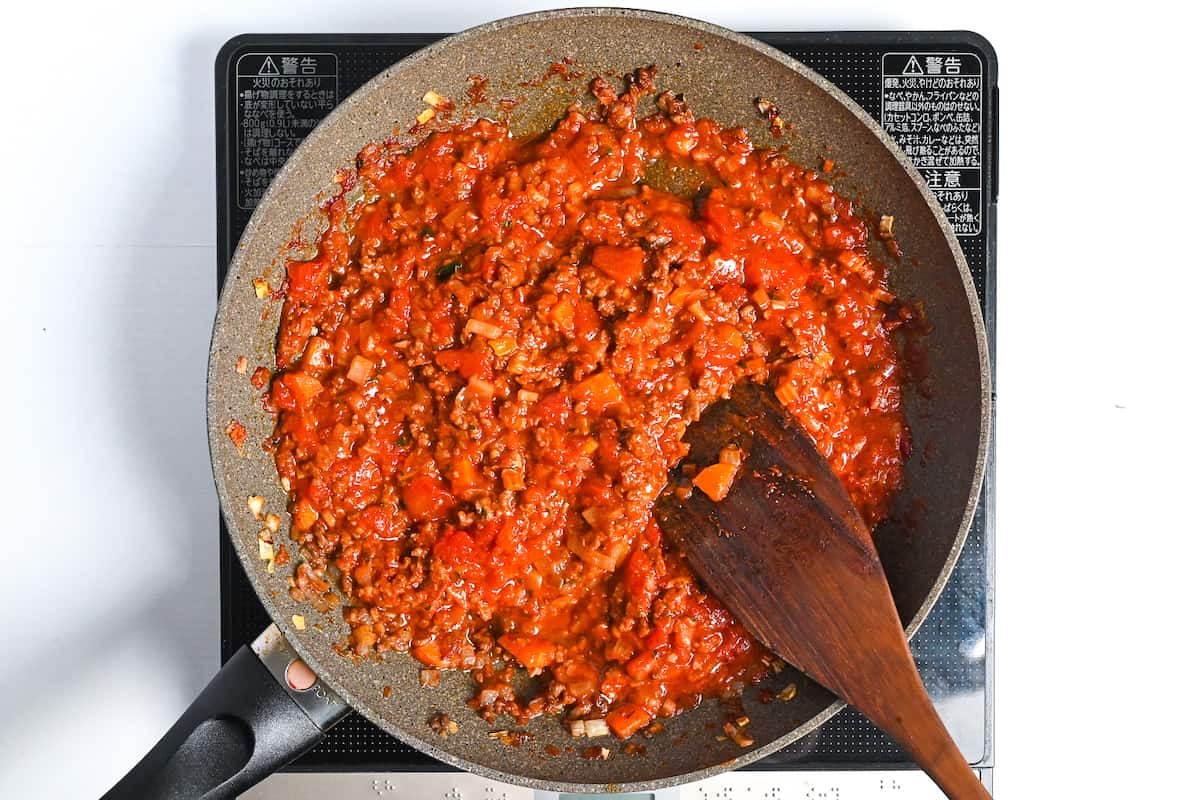 Assemble
Once the pasta is cooked, drain the water and divide the spaghetti onto serving plates. Carefully spoon the meat sauce on top, divide equally between portions.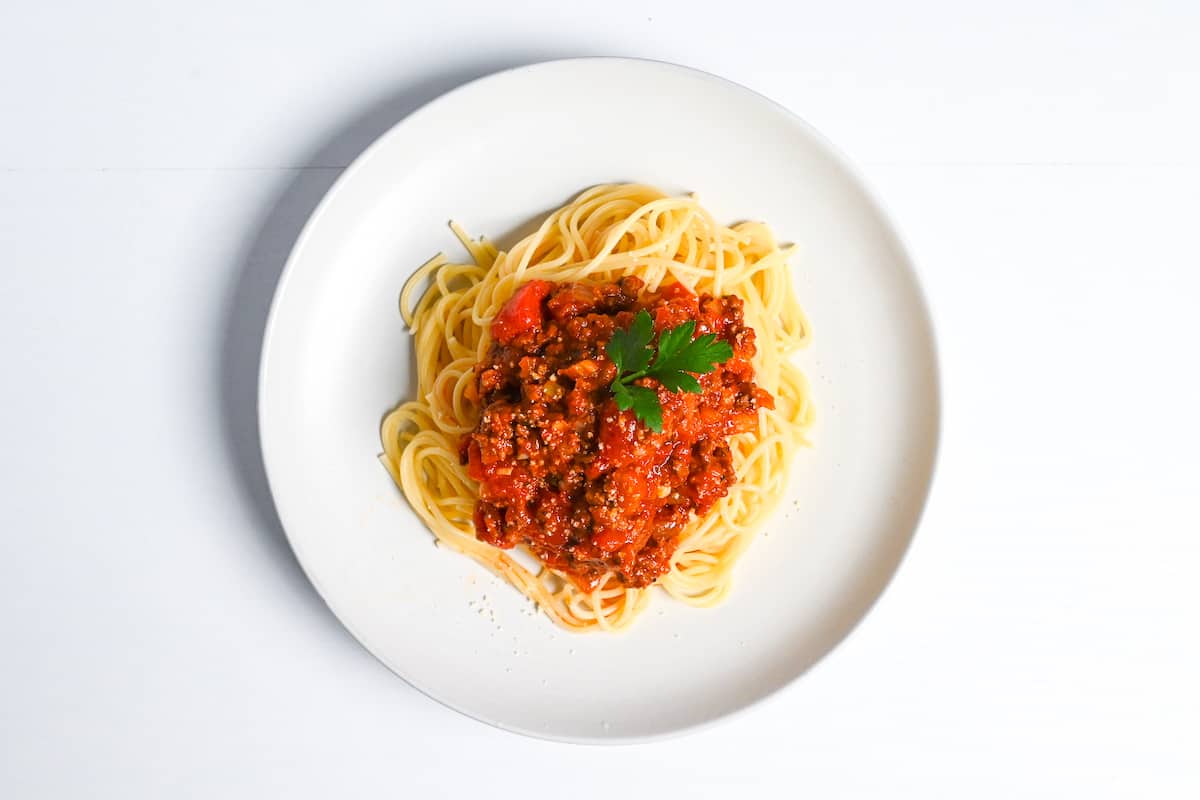 Top with a generous sprinkling of grated parmesan cheese and decorate with parsley!
I hope you enjoy this Japanese style spaghetti meat sauce. If you try out the recipe, be sure to let me know what you thought in the comments below. Happy cooking!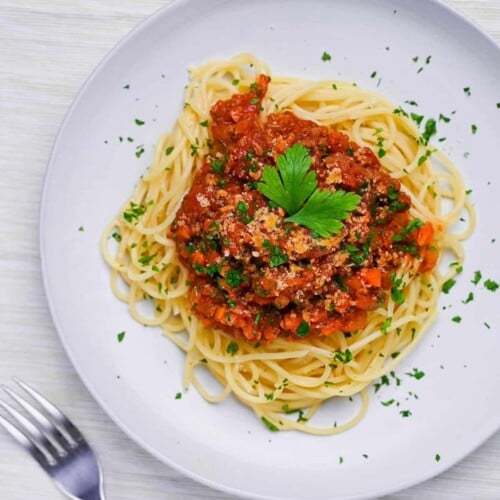 Japanese Spaghetti Meat Sauce (スパゲッティミートソース)
How to make Japanese Style Spaghetti Meat Sauce with ground beef, onions, carrots and celery cooked in an easy homemade tomato sauce. It's mildly sweet and super comforting, great for children and adults alike!
Ingredients
100

g

yellow onion(s) -

finely diced

30

g

carrot(s)

-

diced small

25

g

celery

-

finely diced

1

clove

garlic

-

finely minced

400

g

canned tomato

-

diced or crushed

1

tbsp

unsalted butter

150

g

ground meat

-

beef or beef/pork mixture

1

tbsp

red wine

2

tbsp

tomato ketchup

1

tbsp

Worcestershire sauce

1

pinch

black pepper

1

tsp

sugar

½

tsp

oregano

1

bay leaf

240

g

dry spaghetti

2500

ml

water

2 ½

tsp

salt

1

pinch

nutmeg

1

pinch

cinnamon

1

tsp

parmesan cheese

-

optional

1

tsp

fresh parsley

-

optional, to garnish
Instructions
Heat a large frying pan on medium and once hot, add

1 tbsp unsalted butter

.

Once the butter has melted, add

100 g yellow onion(s)

,

25 g celery

,

30 g carrot(s)

and

1 clove garlic

to the pan and fry until the onion is soft and translucent.

Next, push the vegetables to the edges and add

150 g ground meat

to middle of the pan. Fry until browned and mix everything together.

Once the meat has browned, add

1 tbsp red wine

,

2 tbsp tomato ketchup

,

1 tbsp Worcestershire sauce

and

1 pinch black pepper

. Mix thoroughly.

Add

400 g canned tomato

along with

1 tsp sugar

,

½ tsp oregano

and

1 bay leaf

. Mix well.

Lower the heat to a simmer and cook until reduced by half.

While it's simmering, bring

2500 ml water

to a boil and add

2 ½ tsp salt

. Once the water is boiling, add

240 g dry spaghetti

and cook for the time stated on the packaging. (Reduce by 1-2 minutes for el dente.)

Once the meat sauce has reached your desired thickness, remove the bay leaf and add

1 pinch nutmeg

and

1 pinch cinnamon

. Mix well.

Drain the spaghetti and divide onto serving plates. Pour an equal amount of meat sauce on top of each portion of spaghetti.

Sprinkle with

1 tsp parmesan cheese

and

1 tsp fresh parsley

(optional).

Enjoy!
Notes
The alcohol in the wine is cooked off during the process so it's safe for kids to eat.
If you prefer not to use wine, you can substitute for an equal amount of grape, pomegranate or cranberry juice.