This is my go-to gyoza dipping sauce recipe. All you need is one minute and four simple ingredients to create this tangy dip with a kick!
Disclaimer: This post contains Amazon affiliate links. Sudachi Recipes earn a small percentage from qualifying purchases at no extra cost to you. See disclaimer for more info.
What is gyoza dipping sauce?
Gyoza dipping sauce (餃子のタレ in Japanese) is usually a thin, savoury and tangy sauce, served in a small dish with Japanese dumplings. Each restaurant has its own dipping sauce, which varies from spicy or sour to even miso-based. The most popular and common, however, is probably a mixture of vinegar and soy sauce and while the ratio is often 50/50, it can be adjusted to personal preference.
There are actually many kinds of gyoza dipping sauce and they vary from restaurant to restaurant and from family to family. Specialty restaurants use vinegar and soy sauce as a base, blended with secret flavors and other ingredients to create an original taste.
Also, people in the Kansai region eat gyoza with ponzu (a type of soy sauce/citrus mix), and in Kobe, gyoza is sometimes eaten with miso-base dipping sauce.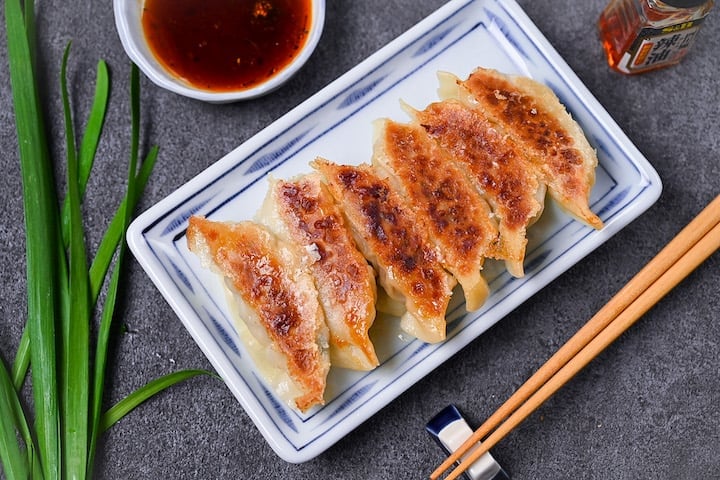 My go-to favourite gyoza dipping sauce recipe
More ideas to customise your own gyoza dipping sauce
Done in 1 minute!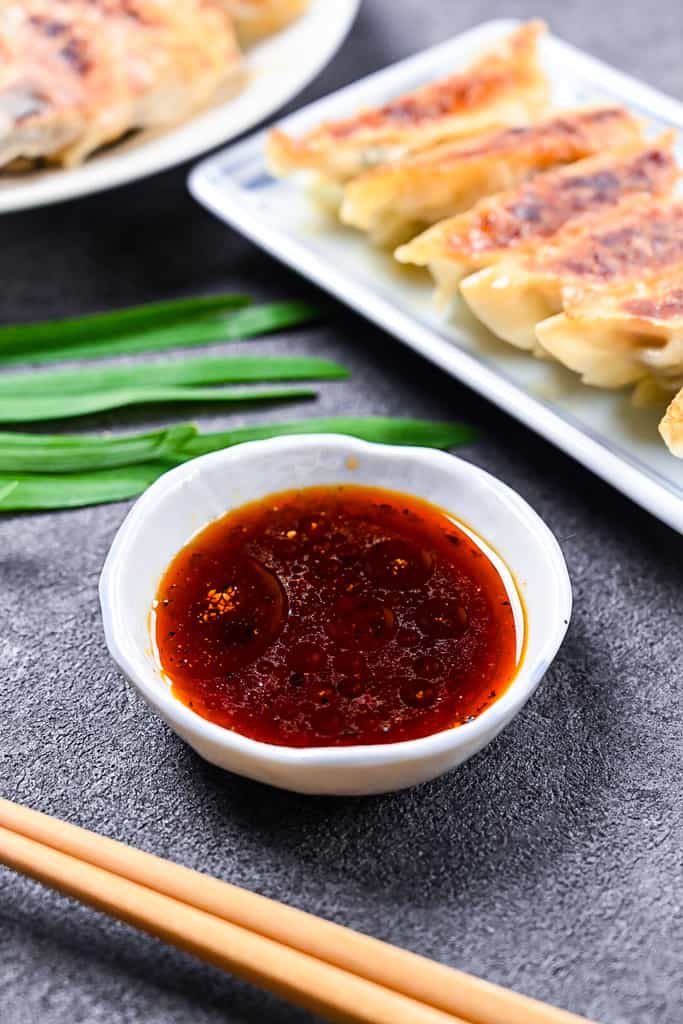 Ingredients to make easy homemade gyoza dipping sauce
I personally like my gyoza dipping sauce to be quite sour, spicy and peppery so I use the following ingredients:
Ground Black Pepper (white pepper is fine too)
Let's go over each ingredient in more detail.
Soy Sauce
In Japan, there are 5 main types of soy sauce. "Koikuchi Shoyu" is the most common and accounts for around 80% of all the soy sauce produced in Japan. (SOYIC, 2022)
Koikuchi is dark in colour and has a balanced flavour of saltiness, sweetness, bitterness and umami. I recommend using koikuchi soy sauce to make gyoza sauce. I personally use this all-purpose Japanese soy sauce by Kikkoman.
If you use a different kind of soy sauce, you will need to adjust the ratio accordingly.
Rice Vinegar
For the most authentic flavour, I recommend using Japanese rice vinegar. This ingredient is responsible for the tang-factor and is a little sweeter than other vinegars. I personally use Marukan Rice Vinegar.
If you need to substitute, you could use apple cider vinegar, white wine vinegar or black vinegar however you might need to add a little sugar to balance these out.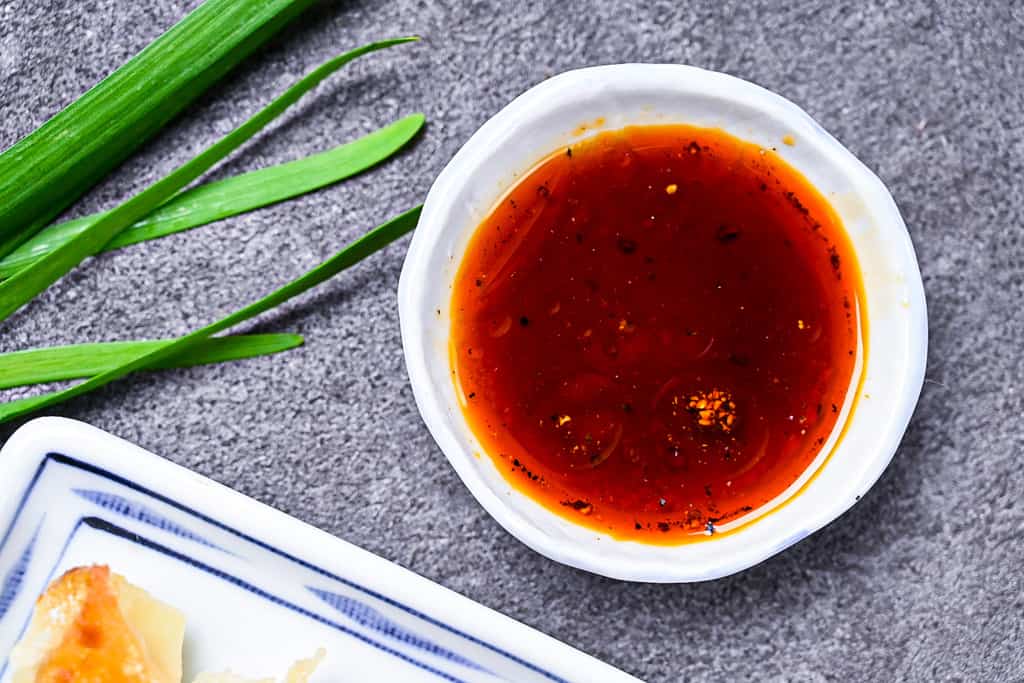 Sesame based chili Oil
I'm a big lover of spice and it goes without saying, that if I can add a spicy kick to anything I will!
One of my favourite additions to gyoza dipping sauce is known as "rayu" (ラー油) which is a popular Japanese sesame oil that has been infused with red chilis.
I use S&B rayu which you can purchase on Amazon here.
If you're not a fan of spice, you can swap it for regular toasted sesame oil.
Black Pepper
Black pepper adds more depth and another element of spice to the sauce. It really compliments the rayu too! I use a pepper mill to sprinkle a small amount into my sauce.
Variations
If you want to customize further, here are a few other ingredient ideas you can add or experiment with!
Dry chili flakes
Fresh chili (sliced and infused)
Ginger (sliced and infused)
Garlic (sliced and infused)
Lemon juice
Sliced spring onion
Sesame seeds
And if you find your sauce is a little too strong, you can dilute it with a little water too.
As you experiment with these ingredients, you will definitely find golden ratio to suit your own taste!
But for now, here is my favourite gyoza dipping sauce recipe!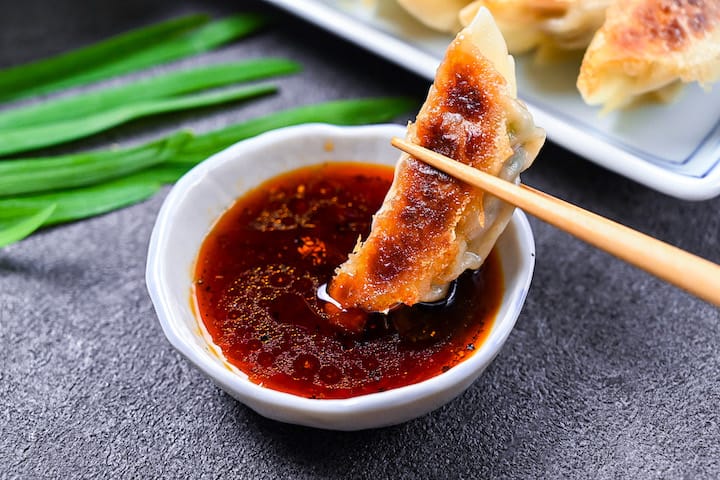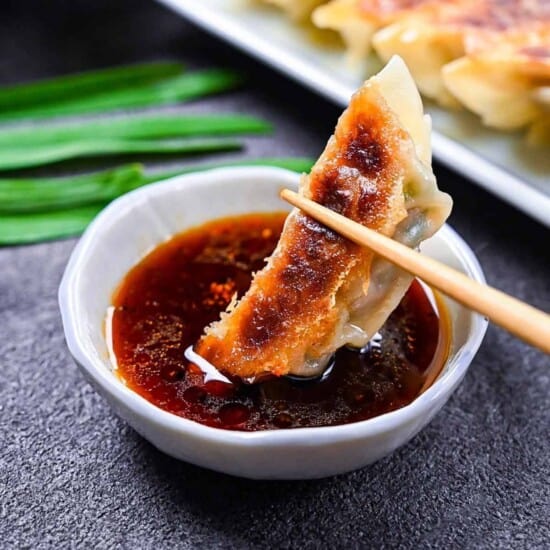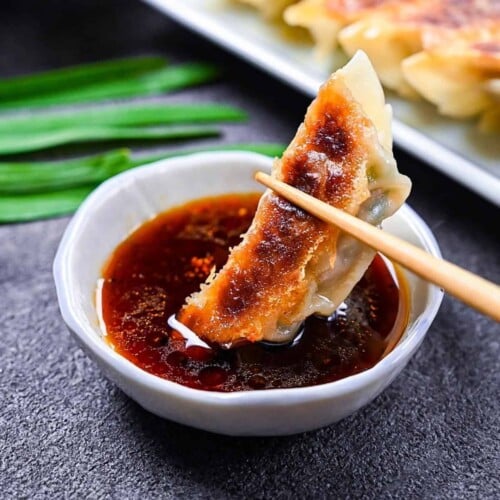 Authentic Japanese Gyoza Dipping Sauce
---
How to make my favourite dipping sauce for Japanese gyoza dumplings
---
---
---
---
Ingredients
1

tbsp

rice vinegar

2

tsp

soy sauce

½

tsp

chili oil

¼

tsp

freshly ground black pepper
Instructions
Add

1 tbsp rice vinegar

,

2 tsp soy sauce

,

1/2 tsp chili oil

and

1/4 tsp freshly ground black pepper

to a small bowl.

Mix thoroughly.
Notes
This recipe is enough for two people so either share from one dish, or divide it into two separate smaller dipping plates. (Enough for about 16 gyoza, 8 each)
Store fresh, unused gyoza dipping sauce in the fridge for up to one week.
Keeping used leftover sauce is not recommended.
What is gyoza sauce called in Japanese
It is called gyoza no tare (餃子のタレ) in Japanese.
What is gyoza sauce made of?
In this recipe, I used soy sauce, rice vinegar, chilli oil and black pepper.
Can I use ponzu sauce as gyoza dipping sauce?
Yes, you can! In fact, Kansai (Western Japan) people sometimes use ponzu sauce for their first choice! Ponzu is made with soy sauce and citrus juice such as lemons, limes or fruits native to Japan such as yuzu, kabosu or sudachi.