Learn how to make this Japanese family favourite, Spaghetti Napolitan! Made with sausage, bell peppers, onion and mushrooms cooked in a sweet ketchup sauce, mixed with perfectly cooked, el dente pasta and topped with a fried egg.
Jump to:
What is Spaghetti Napolitan?
Spaghetti Napolitan (スパゲッティナポリタン) is a classic Japanese style "wafu pasta" dish. It's easy to make and you can use accessible ingredients such as sausage, bell peppers, mushrooms and onions served in a simple ketchup sauce.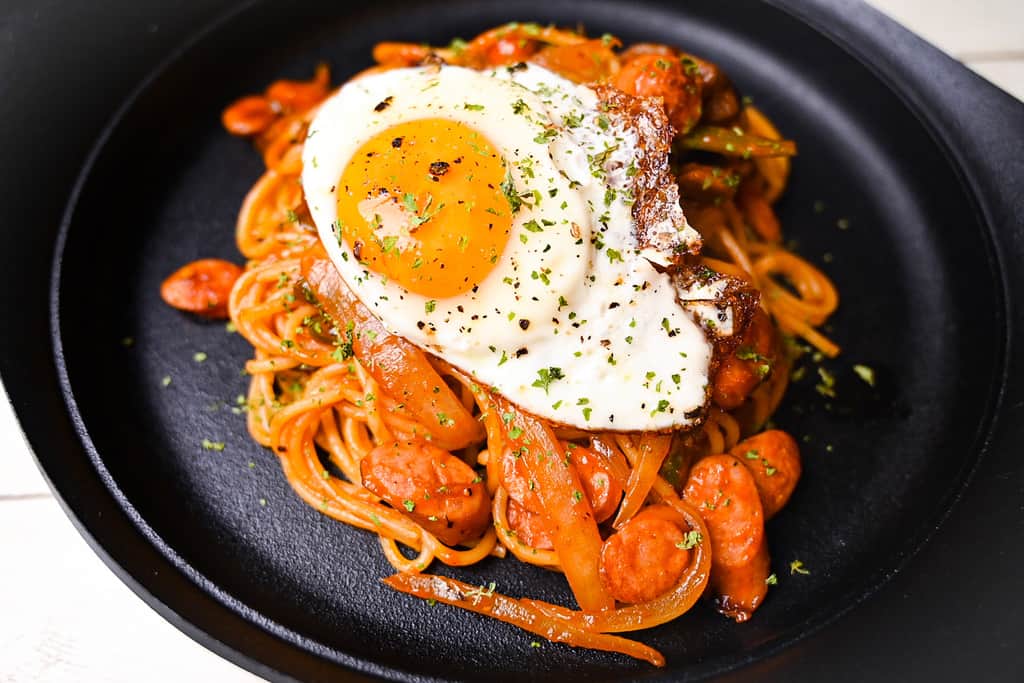 It's easily one of the most popular pasta dishes in Japan, often being served at home, in cafes and at "yoshoku" restaurants for instance. You can even buy a premade sauce at the supermarket!
Like spicy foods? It's also popular to add a few drops of Tabasco sauce to kick it up a notch!
Yoshoku (Western Style)
Yoshoku (洋食) is a type of Japanese dish with Western influence and flavour. In fact, many yoshoku recipes contain ketchup. Other examples of yoshoku dishes include:
I'd say that Spaghetti Napolitan is pretty much a pasta version of omurice, so if you like omurice, I'm sure you'll love this dish!
A brief history of Spaghetti Napolitan
While the name "Spaghetti Napolitan" might sound like an Italian dish, actually, this ketchup infused pasta dish is a Japanese creation! I mean, Italians would never use ketchup on their pasta would they?
It is said that Spaghetti Napolitan started in Yokohama. It was created by a chef named Shigetada Irie, who was working at the Hotel New Grand. He was inspired by a tomato sauce flavoured spaghetti dish that was served to the American Military. However, because tomato sauce was hard to come by at the time, he replaced it with ketchup and Spaghetti Napolitan was born!
The dish was named after the Italian city of Napoli, known as Naples in English. In Japanese, you write Napoli as "ナポリ" or "Napori", which is why you often see the name written as "Spaghetti Naporitan".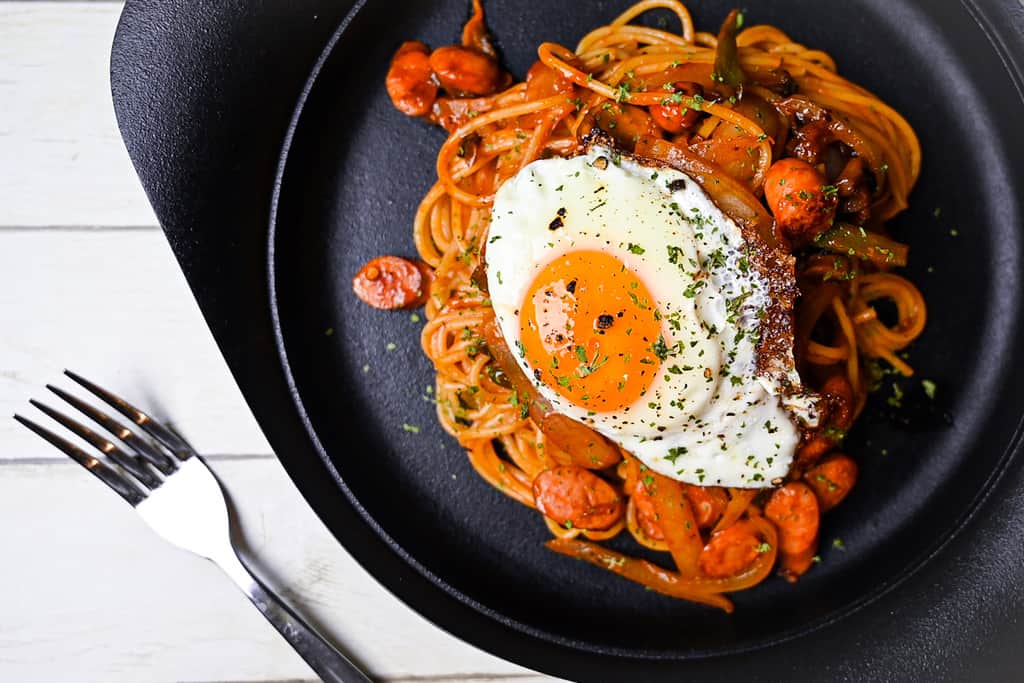 Wafu Pasta
Japan is a nation of pasta lovers and we have a whole array of dishes that combine Italian Pasta with local Japanese ingredients. We call these dishes "Wafu Pasta" (和風パスタ) which translates to "Japanese style pasta". Check out some of my tasty wafu pasta dishes!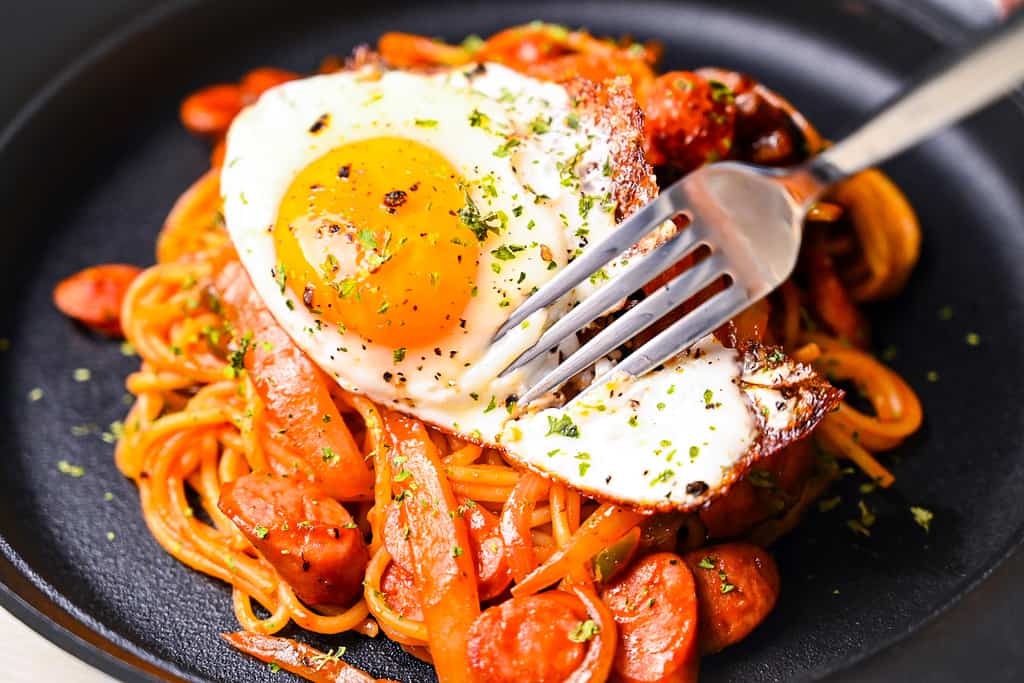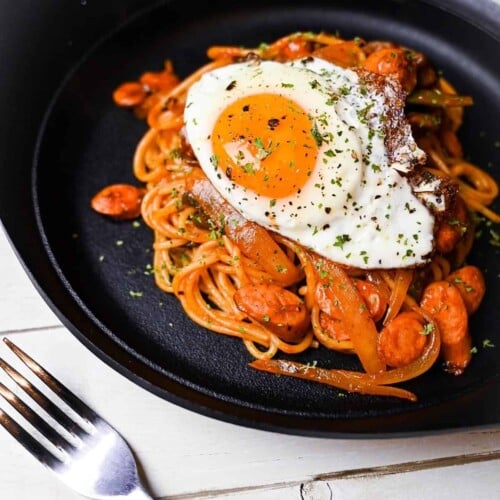 Spaghetti Napolitan (Japanese Ketchup Spaghetti)
How to make tasty family favourite, Spaghetti Napolitan with sausage, onions, bell peppers, mushrooms and ketchup sauce.
Ingredients
3000

ml

water

3

hot dog sausages

100

g

yellow onion(s)

75

g

green bell pepper(s)

30

g

brown button mushroom(s)

2

tsp

olive oil

4

tbsp

tomato ketchup

2

tbsp

tomato ketchup

-

for finishing touch

½

tbsp

Worcestershire sauce

1

tbsp

unsalted butter

1

tbsp

salt

200

g

dry spaghetti

-

1.7-1.8mm

2

medium egg(s)

1

pinch

salt and pepper

½

tsp

parmesan cheese

-

grated

1

pinch

dry parsley

-

to garnish
Instructions
First, take a large pot and add

3000 ml water

and bring it to a boil.

While waiting for the water to heat up, cut

100 g yellow onion(s)

,

75 g green bell pepper(s)

and

30 g brown button mushroom(s)

into slices.

Cut

3 hot dog sausages

diagonally into 1cm slices. (Approx ½ inch)

Heat up a large pan on medium, once hot add

2 tsp olive oil

. Add the sausage slices and fry for 1-2 minutes. 

Add the onion and fry for 2 minutes. (If you prefer softer onions, you can swap step 4 and 5)

Add the bell pepper and mushroom, fry for another 1-2 minutes. 

Next, add

4 tbsp tomato ketchup

and lower the heat to prevent the ketchup burning.

Now add

½ tbsp Worcestershire sauce

and

1 tbsp unsalted butter

. 

Mix well and allow the sauce to heat through. 

Take the pan off the heat and set aside. 

Once your pot of water is boiling and add

1 tbsp salt

.

Add

200 g dry spaghetti

and cook according to the instructions on the packaging. 

Heat up a separate pan on medium and add a drizzle of oil. Crack in

2 medium egg(s)

with

1 pinch salt and pepper

and fry to preference.

Take 1-2 tbsp of the pasta water and add it into the pan with the meat and vegetables.

Drain the rest of the water and transfer the pasta to the pan of sauce, return the pan to the heat. Mix well and allow to warm through. 

Add

½ tsp parmesan cheese

, a pinch of salt and pepper and

2 tbsp tomato ketchup

. Mix well. 

Serve up and top with fried egg and

1 pinch dry parsley

. 

Enjoy!
Notes
You could also make this dish with bacon, ham and your preferred vegetables.
You can spice it up with some Tabasco sauce!