Sweet and creamy corn potage is one of the most popular soups in Japan! Made from scratch with corn (fresh, frozen, canned, any will do!), whole milk and seasonings, it's surprisingly easy to make and only requires 6 ingredients. You can also take it to the next level with my 10 minute homemade crunchy croutons!
Disclaimer: This post may contain Amazon affiliate links. Sudachi Recipes earn a small percentage from qualifying purchases at no extra cost to you. See disclaimer for more info.
Jump to:
What is Corn Potage (Japanese Corn Soup)?
Corn potage (コーンポタージュ) is a thick, creamy soup made with corn that is believed to have originated in Japan. It is so popular that when I think of the king of soups in Japan, corn potage comes to my mind. It is popular not only in restaurants, but also at hotels, in pre-made packets, vending machines and even used as a flavor for various Japanese snacks.
Creamy and hearty corn soup
Recipe to make authentic corn potage at home
Homemade crouton recipe to go with the soup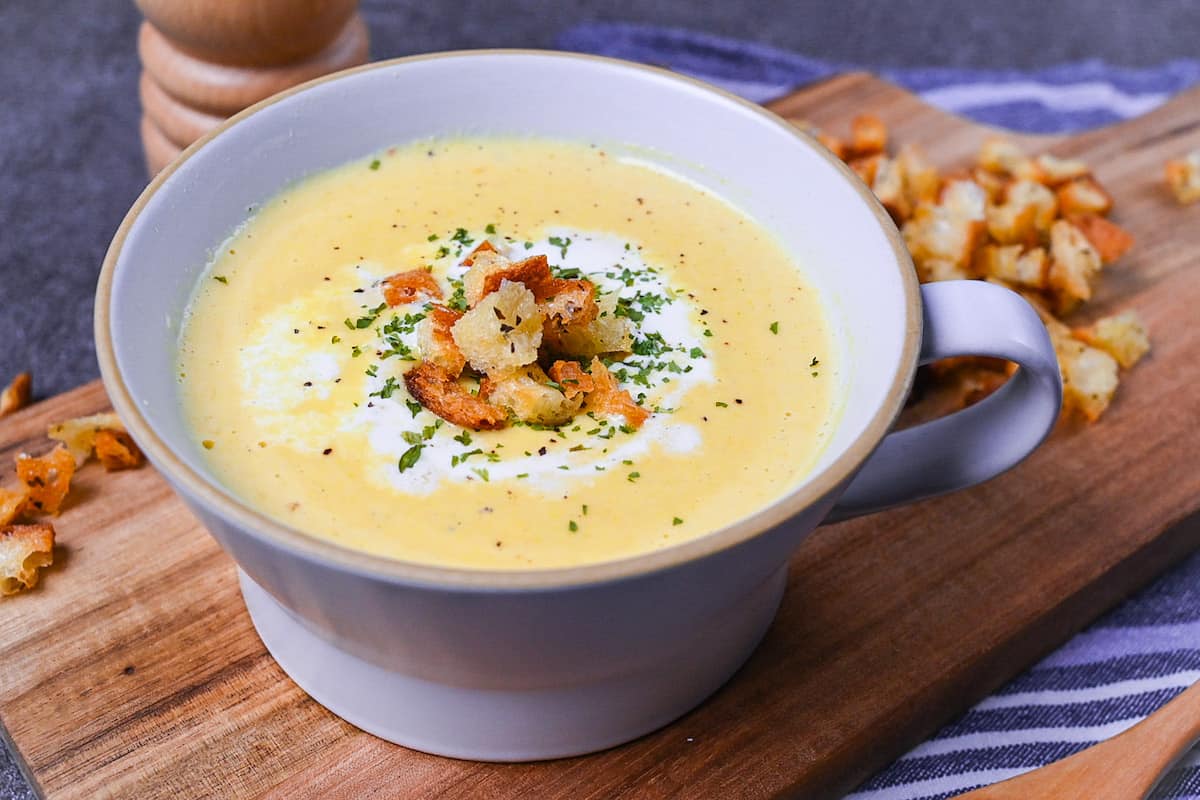 Brief history of corn potage
Although corn potage is so beloved in Japan, it is actually a mysterious dish when it comes to its origins. This is because the word "potage" is French, people tend to think that this soup originated from France, but there is no corn potage in France or anywhere else outside of Japan.
Many "Yoshoku" (Western style dishes created in Japan) are inspired by French cuisine, so it is not surprising that it can be confusing to know where they really come from. Nevertheless, the mystery of corn pottage only deepens, as there is no written history that it originated in Japan either.
Examples of French inspired Japanese "Yoshoku" dishes
There is a similar soup in US called corn chowder, but it is actually very different from corn potage when compared.
However, a collection of soup recipes published in the 1960's Japanese cookbook called "The Soup Book" (スープの本) contains a soup very similar to today's corn potage. This at least proves that a similar dish existed around the 1960's. But we don't know why it became such a popular dish.
What is certain here is that no other nation in the world loves corn potage as much as the Japanese do.
Corn potage as a Japanese snack flavour
As mentioned earlier, corn potage is extremely popular snack flavour in Japan, in fact, it is one of my favourite flavours as well. Most notable would be the old-school Japanese snack "umaibo", which is a stick shaped corn puff that comes in a variety of different flavours.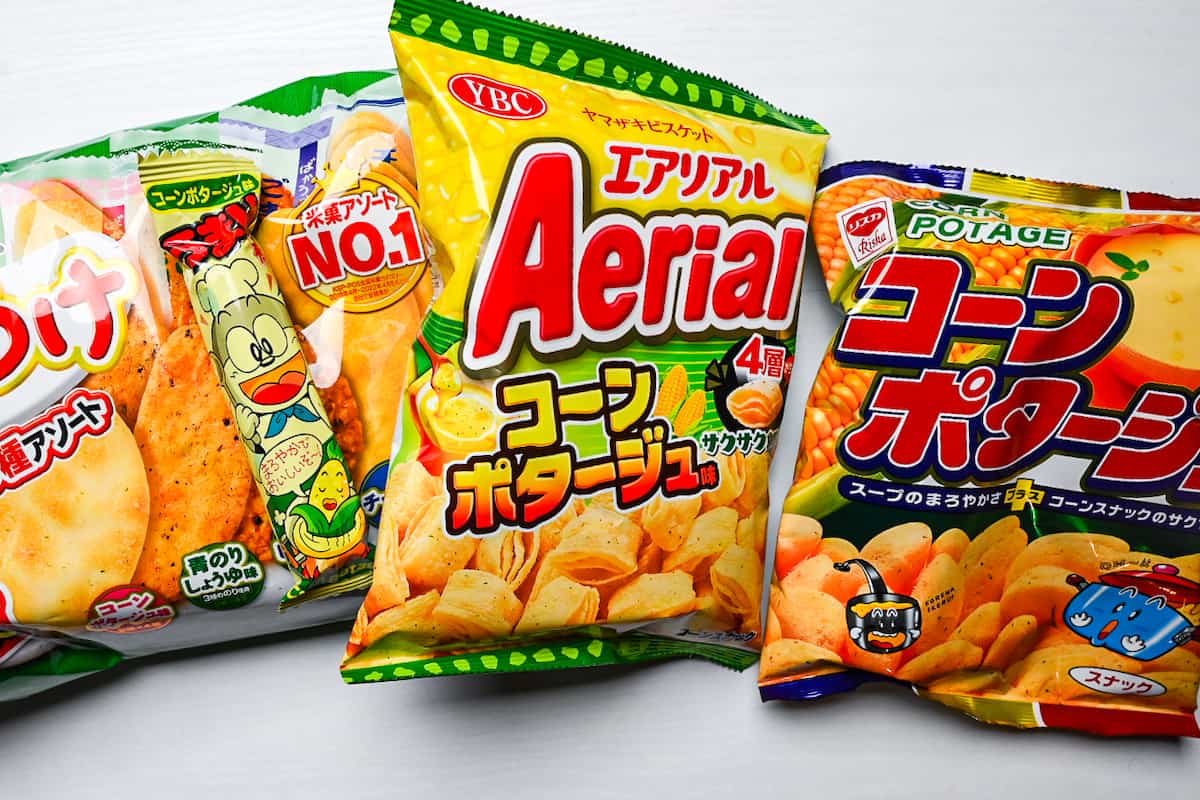 To show you how popular corn potage flavour is in Japan, I went out and bought every corn potage flavoured snack I could find in my local supermarkets and convenience stores. They are not limited editions and are available all year around so try them out if you get a chance.
Instant corn potage/vending machine corn potage
In the winter, Japanese vending machines offer hot drinks. However, you might be surprised that you can also find a can of corn potage hot and ready to drink! This just goes to show how much corn potage is loved here.
Here is a picture of canned Japanese corn potage in a vending machine a few minutes walk from my house. Unfortunately I couldn't buy it as it was sold out.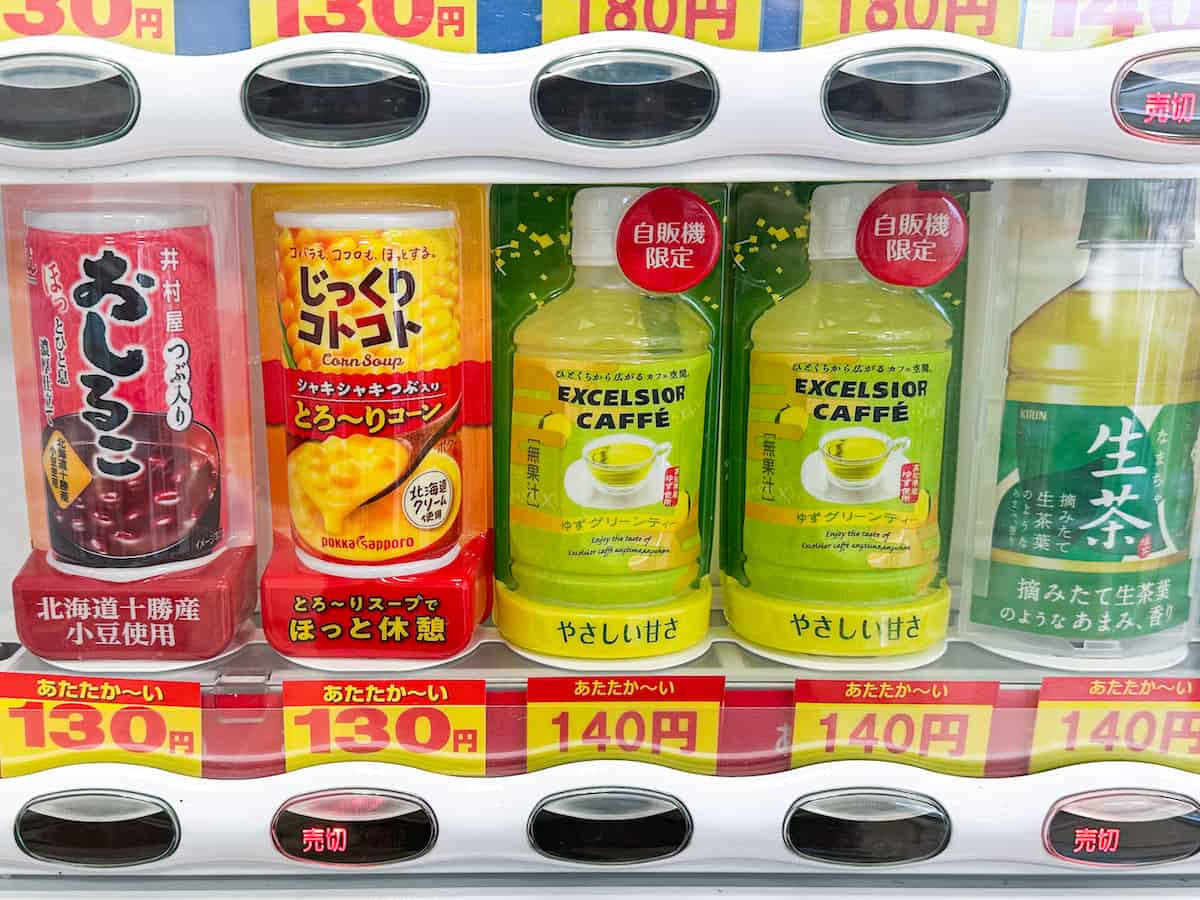 A lot of people in Japan don't make corn potage from scratch at home, and they just use instant powder or buy it from vending machine. But making corn potage from scratch at home is surprisingly easy and doesn't contain any added preservatives! So, let's get on with the recipe!
Ingredients to make this corn potage
Japanese corn potage only requires 6 ingredients!
Sweet corn (I used fresh but frozen or canned also work fine)
Whole milk
Salt
White pepper
Onion
Unsalted butter
For the homemade croutons
Baguette
Salt
Dry mixed herbs
Olive oil
Unsalted butter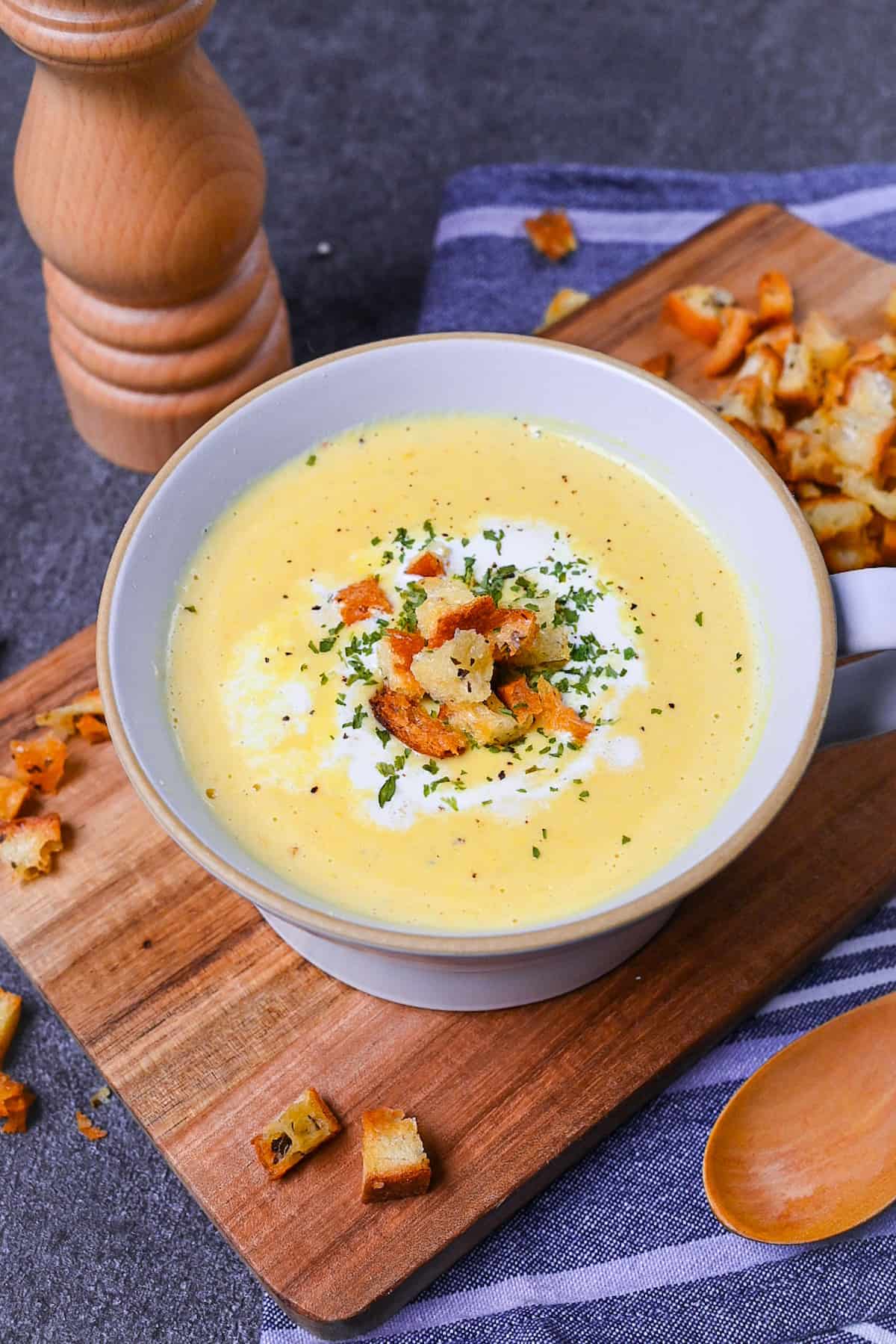 Instructions on how to make corn potage
Here are my step-by-step instructions on how to make the ultimate creamy Japanese corn potage from scratch at home! For ingredient quantities, check out the recipe card below!
Homemade croutons
This is totally optional but I personally love adding some croutons to compliment the rich creaminess of corn potage. These homemade croutons are so easy to make and only take 10 minutes!
Mix seasonings and baguette
First, preheat your oven to 180°C (360°F).
Mix olive oil, melted butter, salt and dried herbs in a bowl until well combined, then add cubed baguette and mix until evenly coated.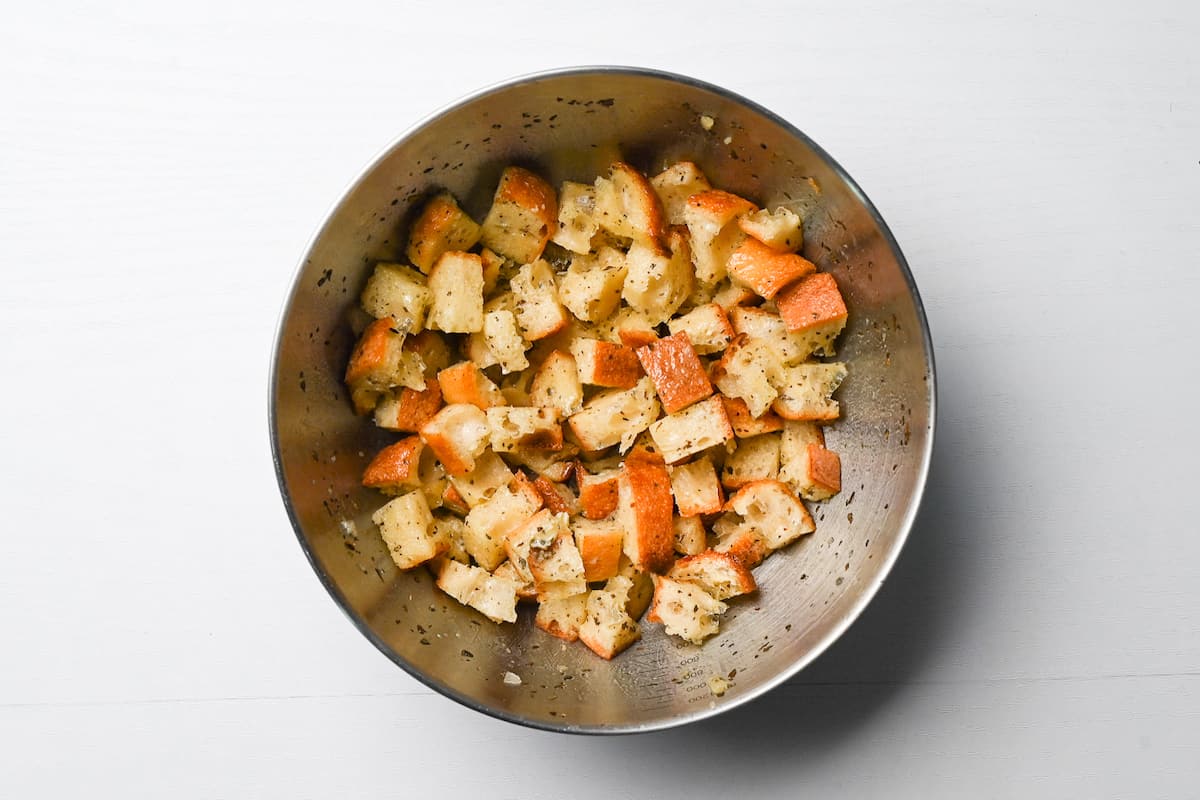 Spread the croutons over a baking tray so that they're all one layer. They shouldn't be piled up or overlap. Then simply bake for 10 minutes or until golden and crispy!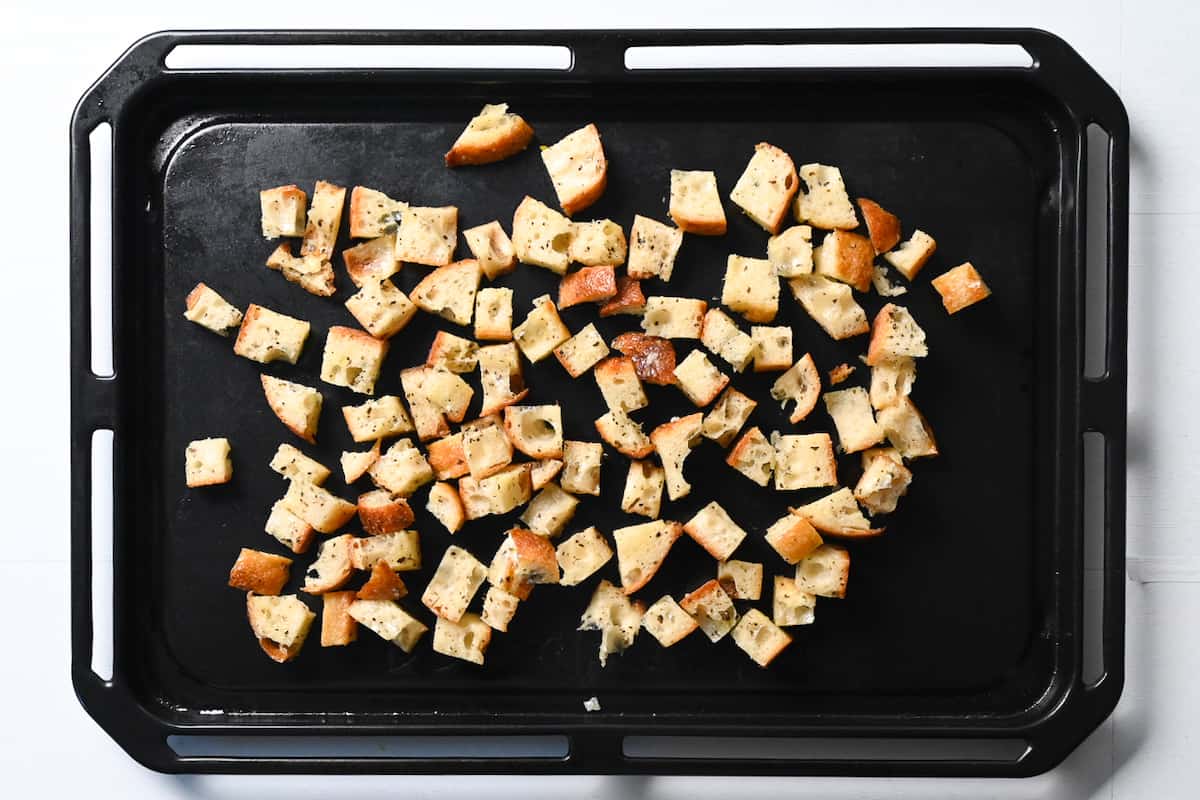 While you're waiting for your croutons, you can move on to the soup! Make sure to set a timer for 10 minutes and simply take them out of the oven and set them aside when they're done.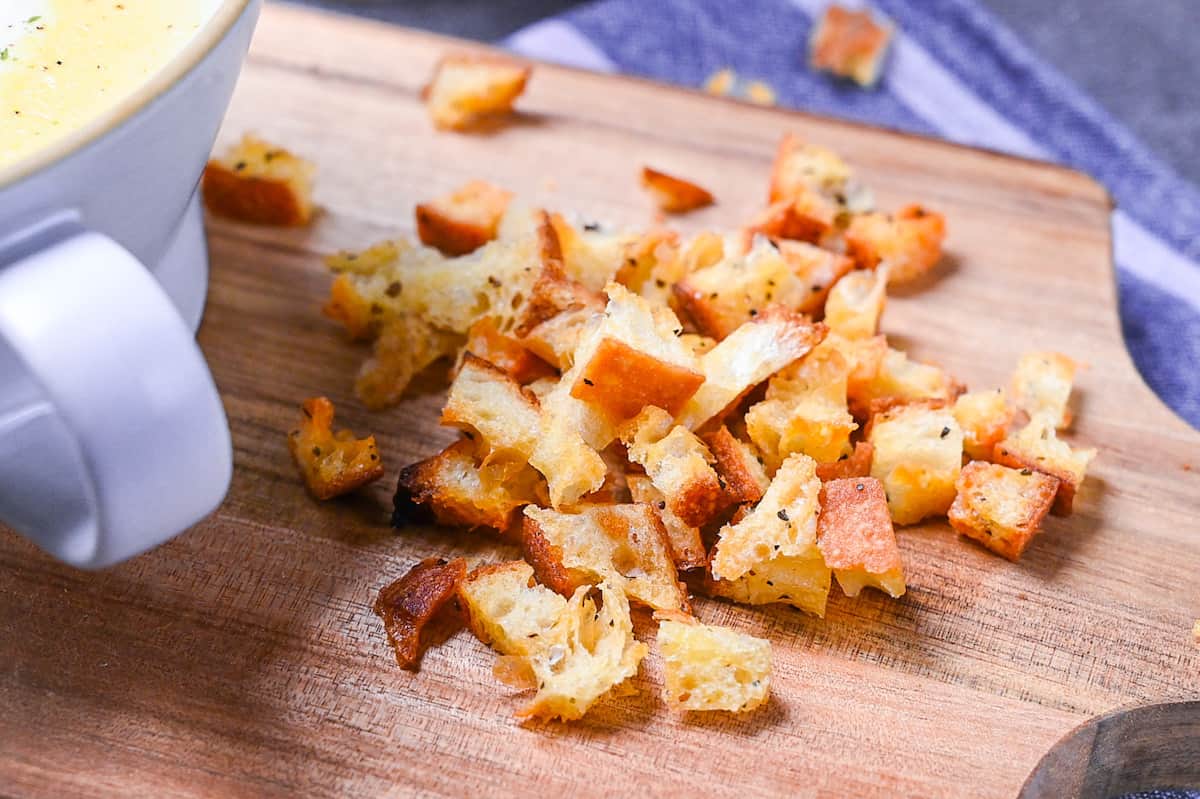 Make the corn potage
First, prepare your corn by cutting off the kernels and cutting the cores into thirds or quarters. Don't throw the core away, because actually it holds a lot of flavor and can be used in the soup. I'll explain a little more about this later.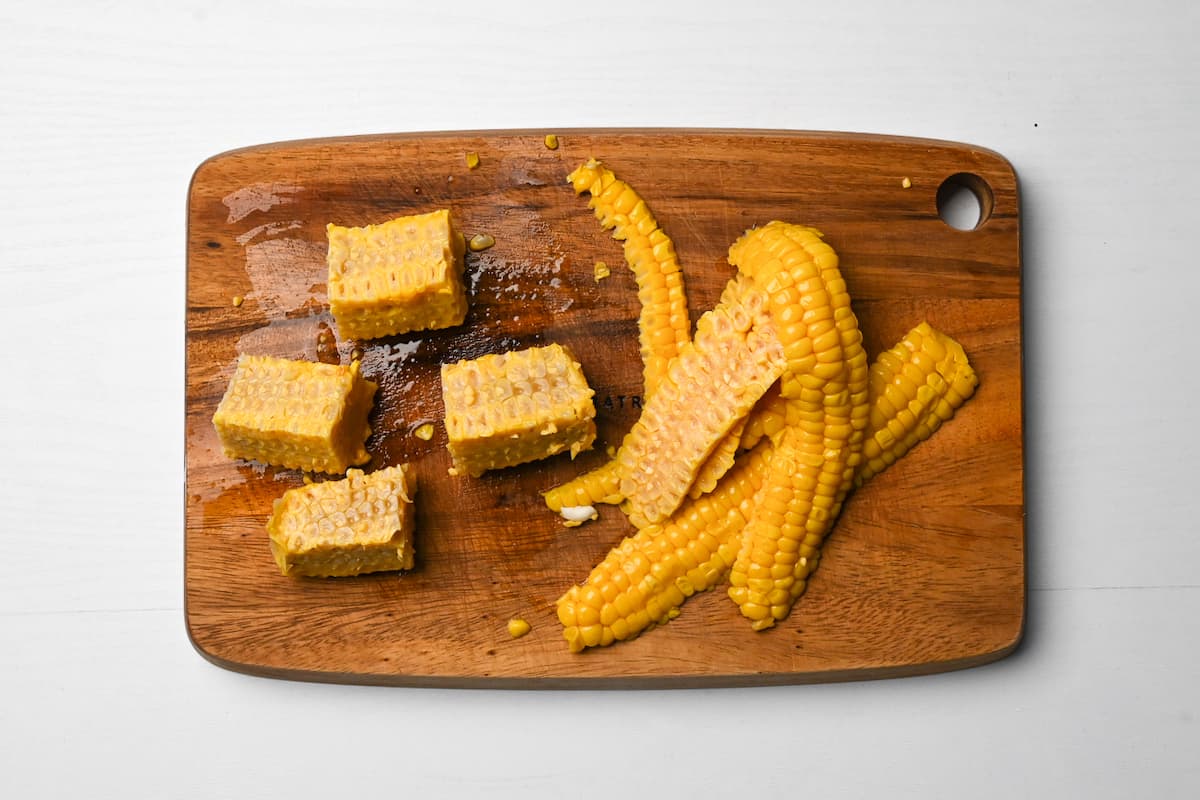 If you're using canned or frozen corn you can skip this step.
Heat your pot on medium and melt the butter. Once melted, add the onions and fry them until they become soft and golden. When they get to this point, turn the heat down to low.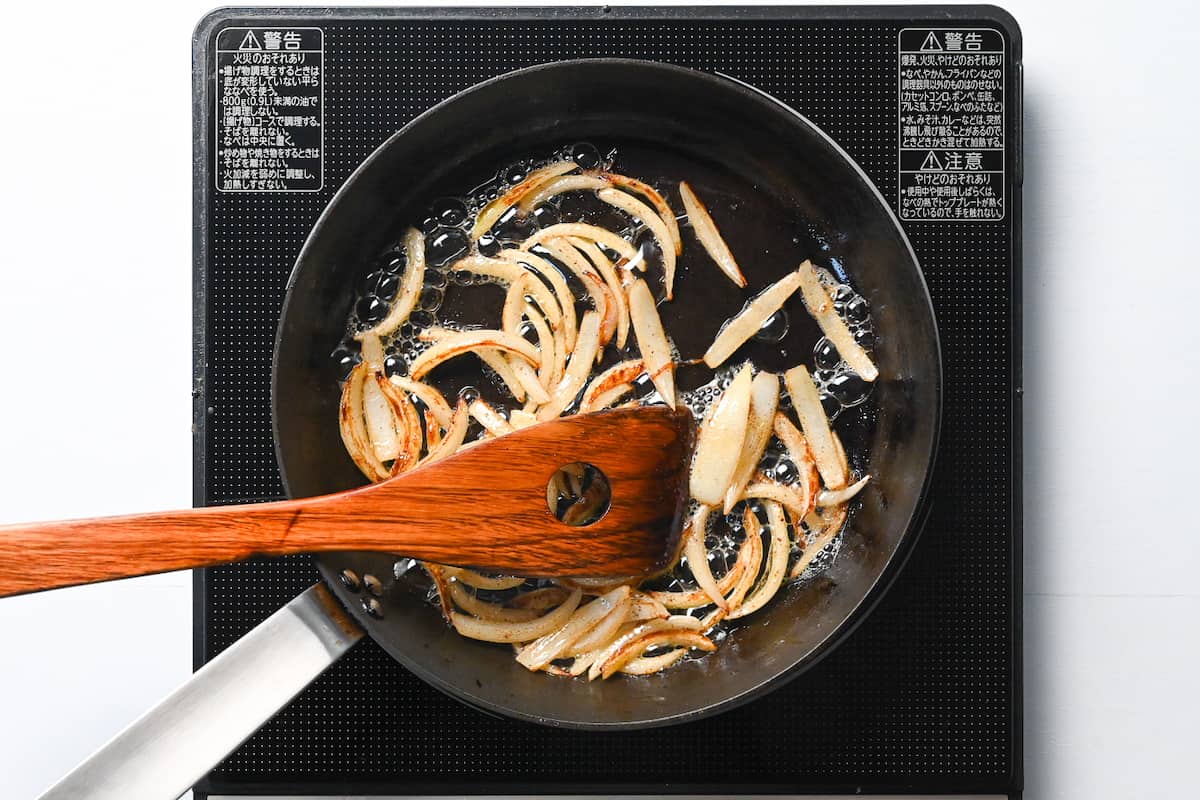 Next, pour the whole milk into the pan with a pinch of salt and white pepper. If you used whole corn cobs, place the cores in the milk and bring it to a low simmer. These cores hold extra flavor and essentially create a "corn stock". (Using the cores is optional but they do intensify the corn flavor.)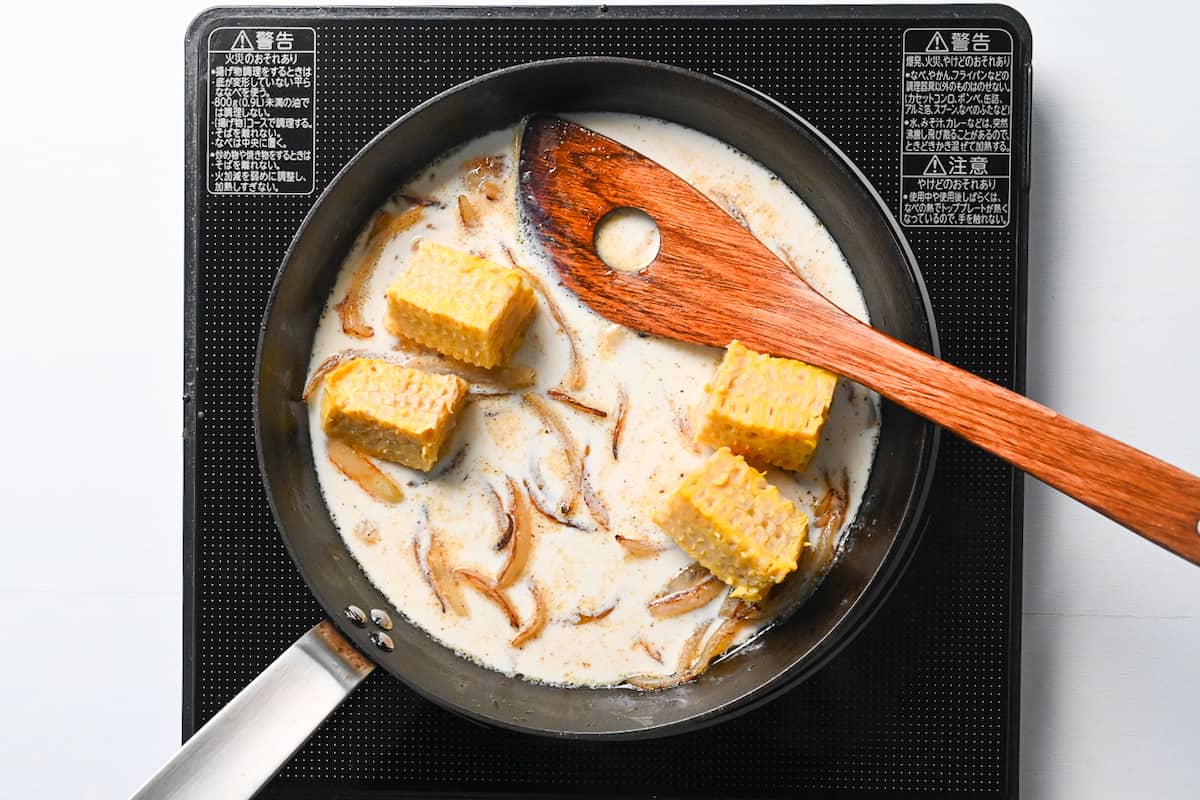 Let the temperature of the milk rise gradually over a low or medium-low heat to prevent it from curdling and don't let it boil!
Once the milk is almost bubbling, turn off the heat and discard the cores of the corn if you used them.
Add the corn kernels with another pinch of salt and pepper and mix. Turn the heat back on to low or medium-low and bring it back to a low simmer.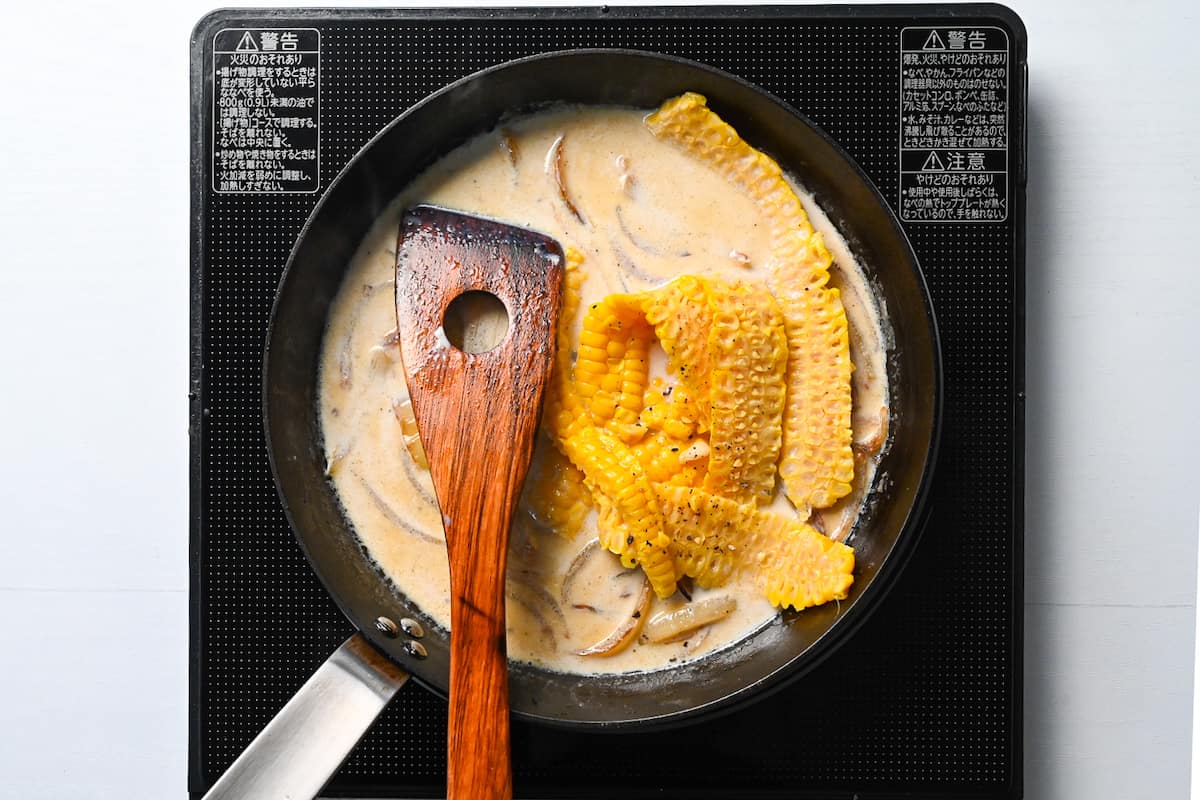 When you start to see small bubbles appearing around the edge, remove it from the heat and allow to cool slightly.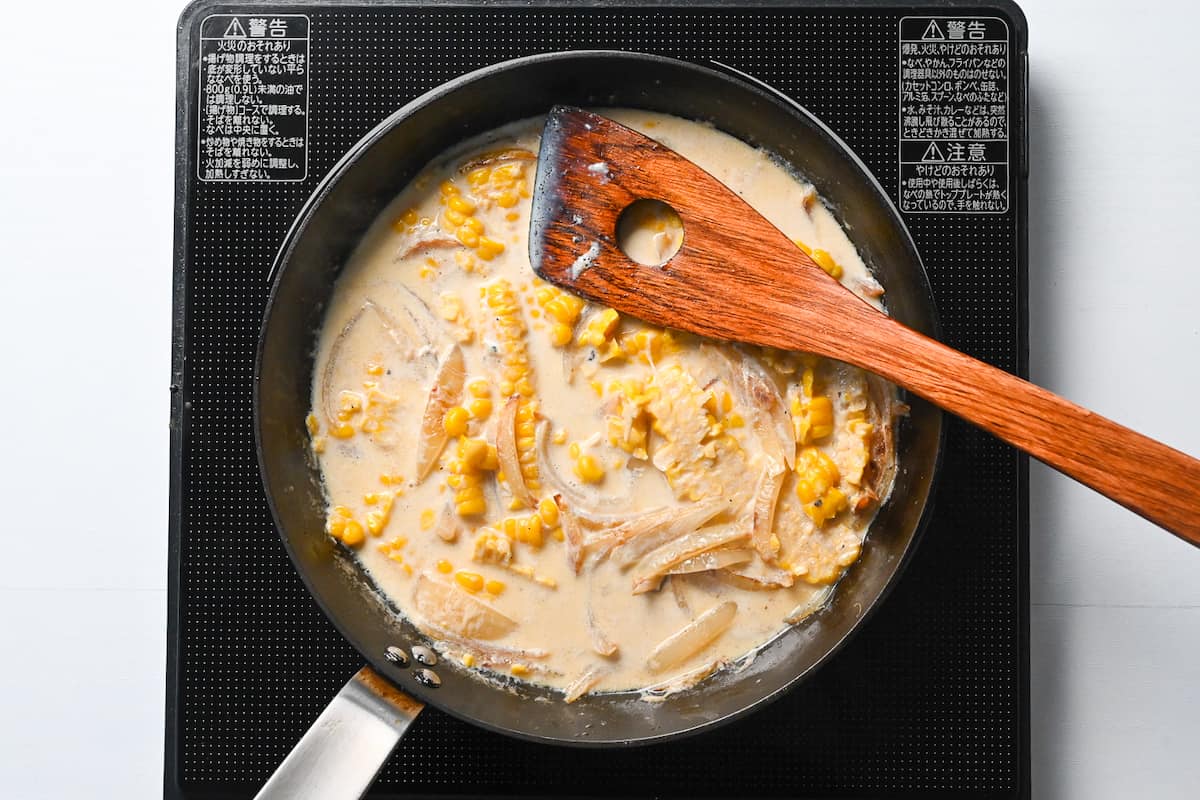 Transfer the corn potage to a blender. (Alternatively, you could use an immersion blender if you own one.)
Blitz until smooth.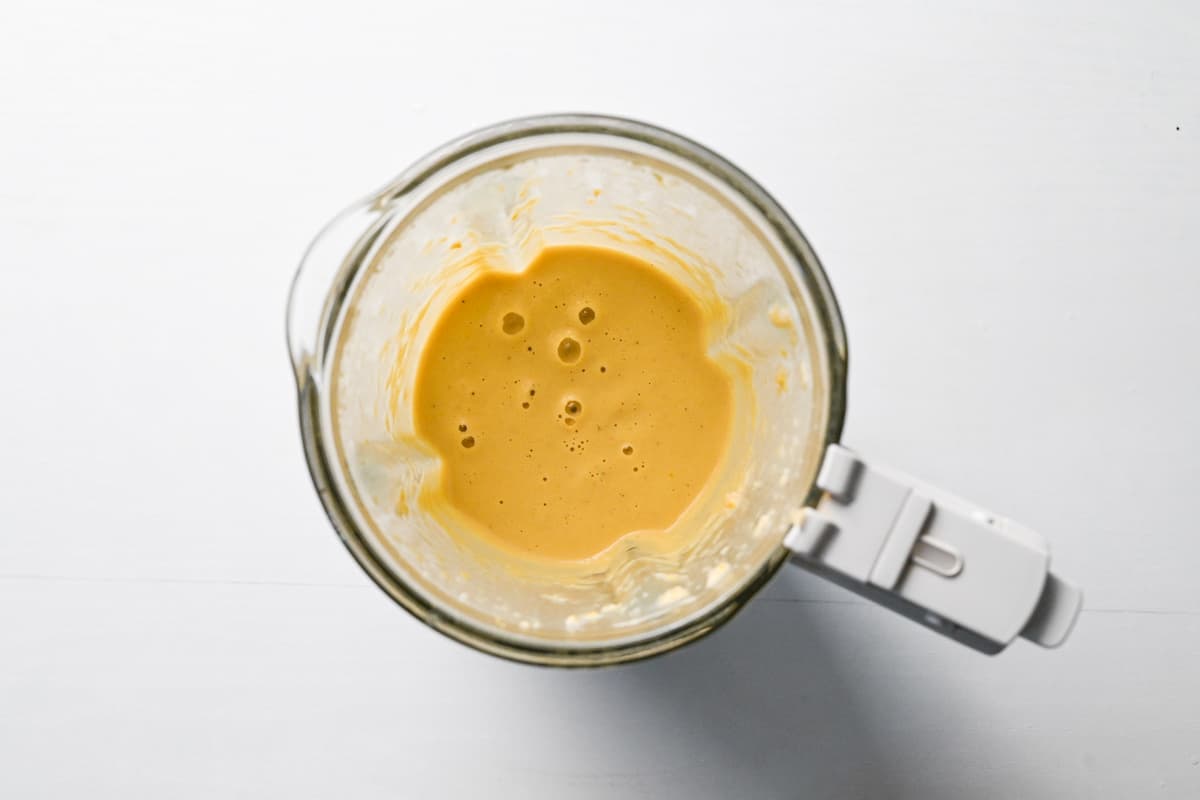 For an extra smooth result, I pour my corn potage through a wire mesh sieve. This will remove any bits that the blender might have missed. You might need to use a spatula to help work it through so that you don't lose too much soup.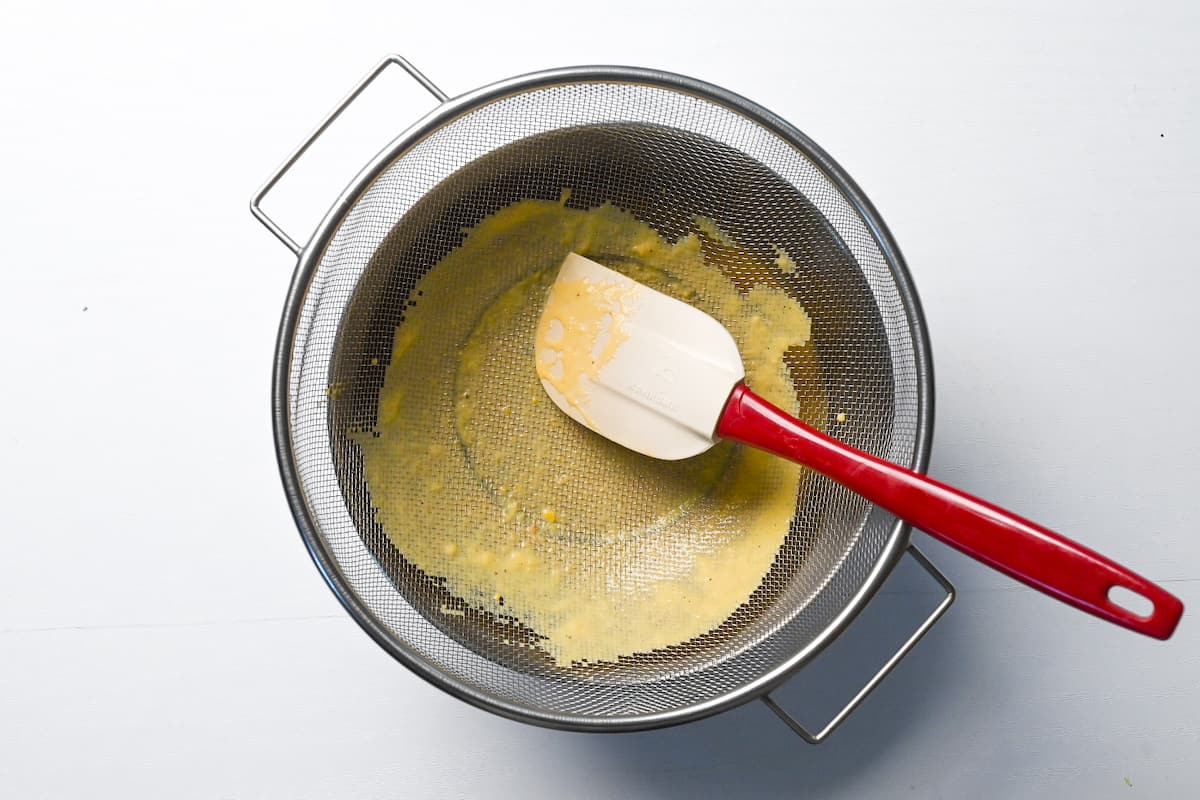 The corn potage is complete and can be warmed again on the stove or in the microwave before serving.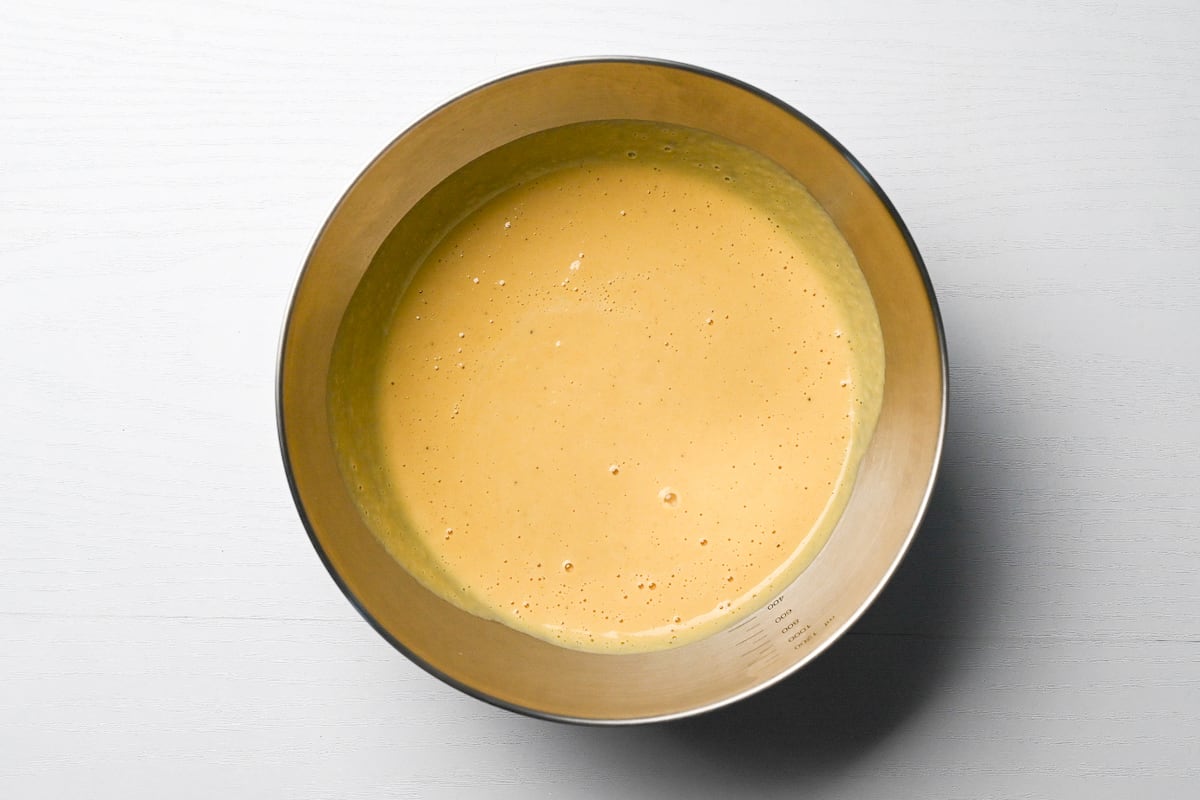 Divide the soup into bowls, drizzle with fresh cream and top with your crunchy homemade croutons.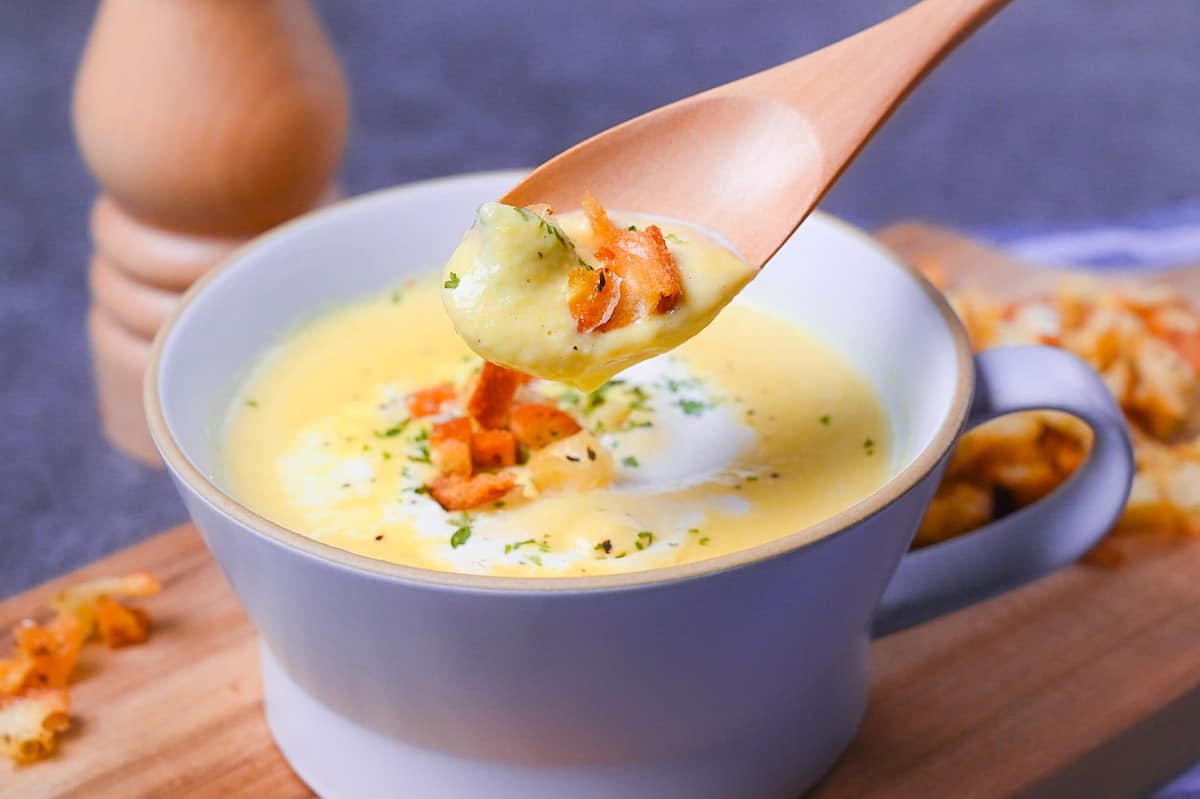 Enjoy!
How to store
Corn potage can be kept for 3 days in the fridge or up to 1 month in the freezer.
Homemade croutons can be kept in an airtight container at room temperature for about 5 days or frozen for 4-6 weeks.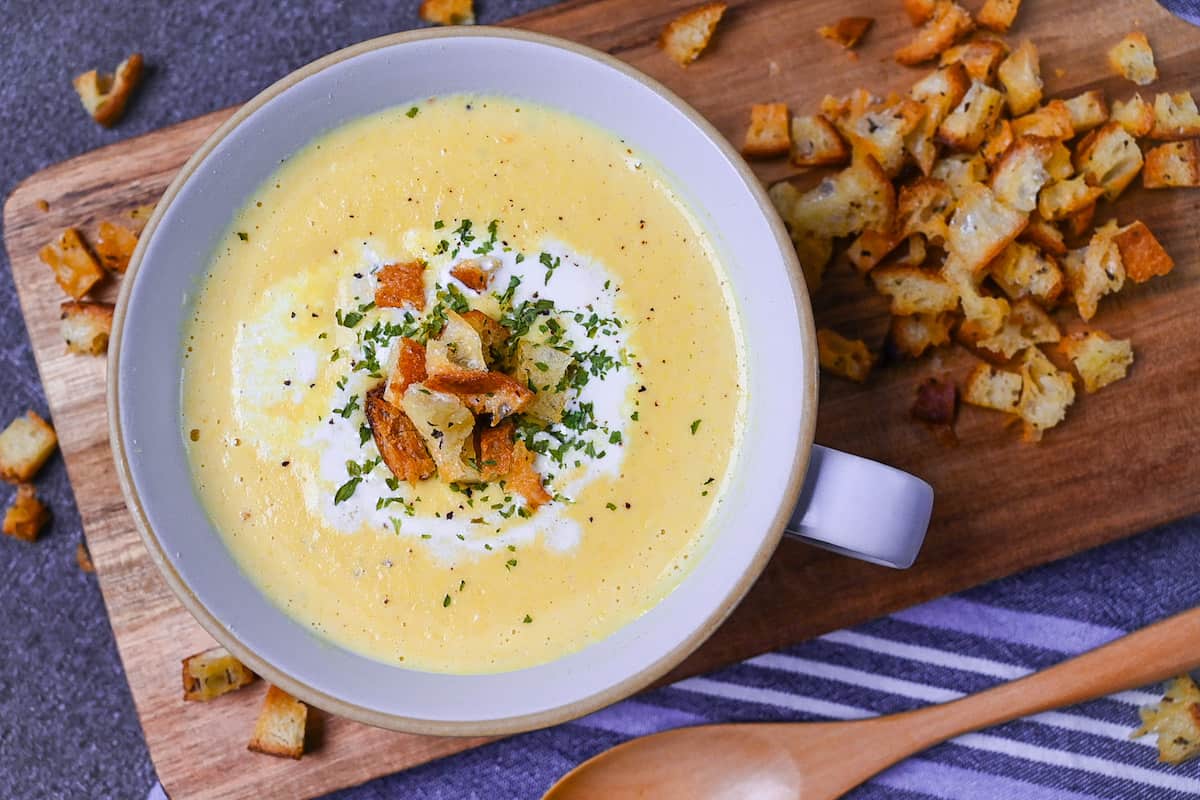 I hope you enjoy this rich and creamy corn potage, one of Japan's favourite soups! If you tried my recipe, I'd really appreciate it if you could let me know what you thought by leaving a review and star rating in the comments below. Thank you!
Corn Potage (Japanese Corn Soup) with Homemade Croutons
How to make sweet and creamy Japanese Corn Potage with crunchy, herby homemade croutons.
Ingredients
Croutons
150

g

baguette

-

cubed

1

tbsp

olive oil

1

tsp

dry mixed herbs

⅛

tsp

salt

1

tbsp

unsalted butter

-

melted
Corn potage
2

ears of corn

-

see note for using canned/frozen

2

tbsp

unsalted butter

100

g

yellow onion(s) -

thinly sliced

300

ml

whole milk

4

pinches

salt

4

pinches

white pepper

heavy cream

-

optional
Instructions
Homemade Croutons
Preheat the oven to 

180

°C

.

Mix

1 tbsp olive oil

,

1 tbsp unsalted butter

,

1 tsp dry mixed herbs

and

⅛ tsp salt

in a mixing bowl until well combined. Add the cubed

150 g baguette

and mix until evenly coated.

Spread the baguette over a baking tray. Make sure it's one layer and no cubes are overlapping, then bake for 10 mins on the bottom shelf.

Once golden and crispy, remove from the oven and set aside for later.
Corn Potage
Wash

2 ears of corn

and slice off the kernels in rows. Cut the cores into thirds or quarters.

Take a pot and heat it on medium. Melt

2 tbsp unsalted butter

and add

100 g yellow onion(s)

(finely sliced). Fry until soft and golden, then turn down the heat to medium-low.

Add

300 ml whole milk

to the pot and add the cores of cob along half of the salt and pepper.

Continue to heat until it reaches a low simmer (small bubbles around the edge). (Do not allow the milk to boil). Turn off the heat, remove the cores and discard. 

Add the kernels along with the other half of the salt and pepper, then turn the heat back on to low/medium-low.

Heat until small bubbles start to appear around the edge, then remove the pot from the heat and leave to cool slightly.

Transfer the mixture to a blender and blitz until smooth. (Alternatively, use an immersion blender.)

Pour the corn potage through a mesh sieve to make it smooth.

Reheat on the stove if necessary, then serve with a drizzle of

heavy cream

and a sprinkling of homemade croutons.
Notes
1 ear of fresh corn is equal to approximately 200g (7oz) canned or frozen corn. 
Nutrition
Calories:
348
kcal
Carbohydrates:
46.3
g
Protein:
9.2
g
Fat:
15.4
g
Saturated Fat:
7.2
g
Polyunsaturated Fat:
1.3
g
Cholesterol:
29
mg
Sodium:
534.3
mg
FAQ
What does corn potage taste like?
Corn potage tastes sweet and savoury with milky/creamy touch.
Is soup popular in Japan?
Soups are very important element of a meal in Japan. This can include the obvious traditional Japanese soups such as miso soup or tonjiru, Chinese inspired kakitama jiru or Western inspired such as corn potage. Many people have soup with at least one meal every day.
What is soup called in Japan?
Generally, we call it soup (or more precisely the Japanese pronunciation "suupu") but traditionally, it's called shiru mono (汁物).
How do you pronounce corn potage?
It is basically a phonetic translation of "corn potage" in Japanese, which becomes kōn potāju (コーンポタージュ).