A delicious Japanese take on the classic Chinese spring roll, these harumaki are made with pork, vegetables and rice vermicelli wrapped in a crispy shell and served with Japanese mustard and soy sauce. They're the perfect appetizer or party food!
Disclaimer: This post contains Amazon affiliate links. Sudachi Recipes earn a small percentage from qualifying purchases at no extra cost to you. See disclaimer for more info.
What is Harumaki (Japanese Spring Rolls)?
Harumaki (春巻き) is the direct translation of "spring roll" in Japanese, with "haru" denoting spring and "maki" meaning roll. The term "maki" might sound familiar from "makizushi" (巻きずし), which refers to sushi rolls.
While harumaki shares similarities with the traditional Chinese spring roll, it's been adapted to cater to Japanese palates. The essence of harumaki lies in its flexibility; virtually any ingredient can be used as a filling, as long as it's encased in the signature spring roll wrapper.
A distinctive feature of Japanese spring rolls is their accompaniment: they're typically served with Japanese mustard (karashi) and soy sauce, diverging from the thicker sauces like sweet chili or plum sauce commonly paired with other Asian spring rolls.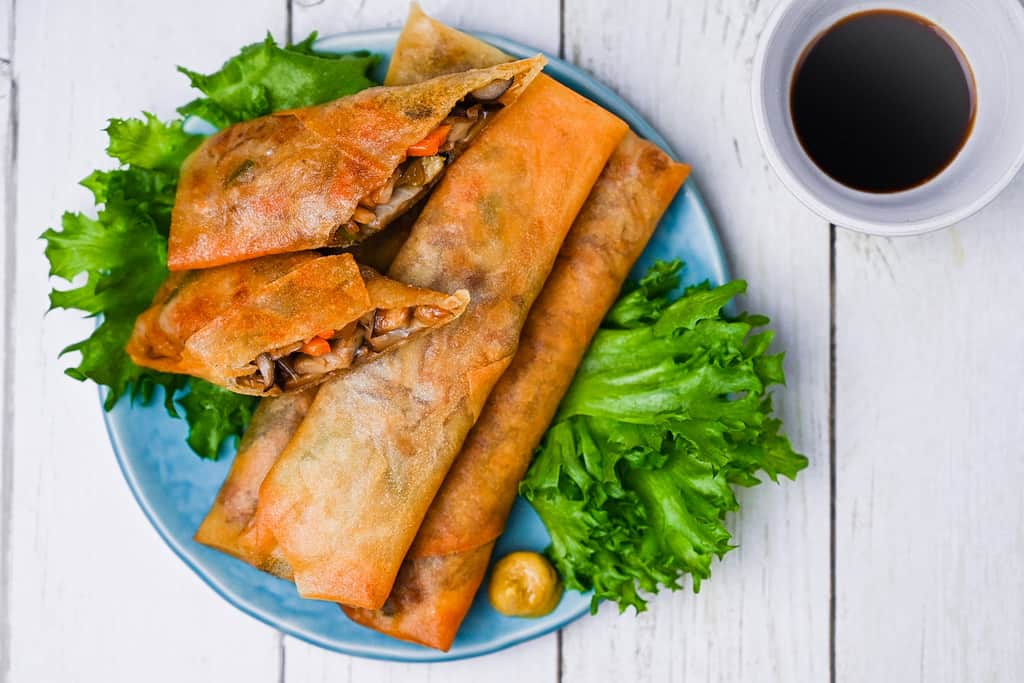 The beauty of harumaki lies in its versatility. Every household boasts a unique recipe, allowing for endless customization. Common ingredients used in Japanese harumaki include:
Pork
Shiitake mushrooms
Bamboo shoots
Carrots
Cabbage
Piman (small green peppers)
Harusame, Japanese glass noodles akin to rice vermicelli
However, this list is by no means exhaustive, and the possibilities are endless.
How I Developed This Recipe
Harumaki, as previously noted, is a dish with diverse interpretations across households and eateries.
Inspired by nostalgia, I've crafted this recipe to mirror the spring rolls from a beloved restaurant of my childhood. This rendition is distinct, boasting unique ingredients.
I'm proud to say I've successfully recaptured the flavor that once captivated my young palate. Now, I hope you'll relish it as much as I do!
Ingredients and Substitution Ideas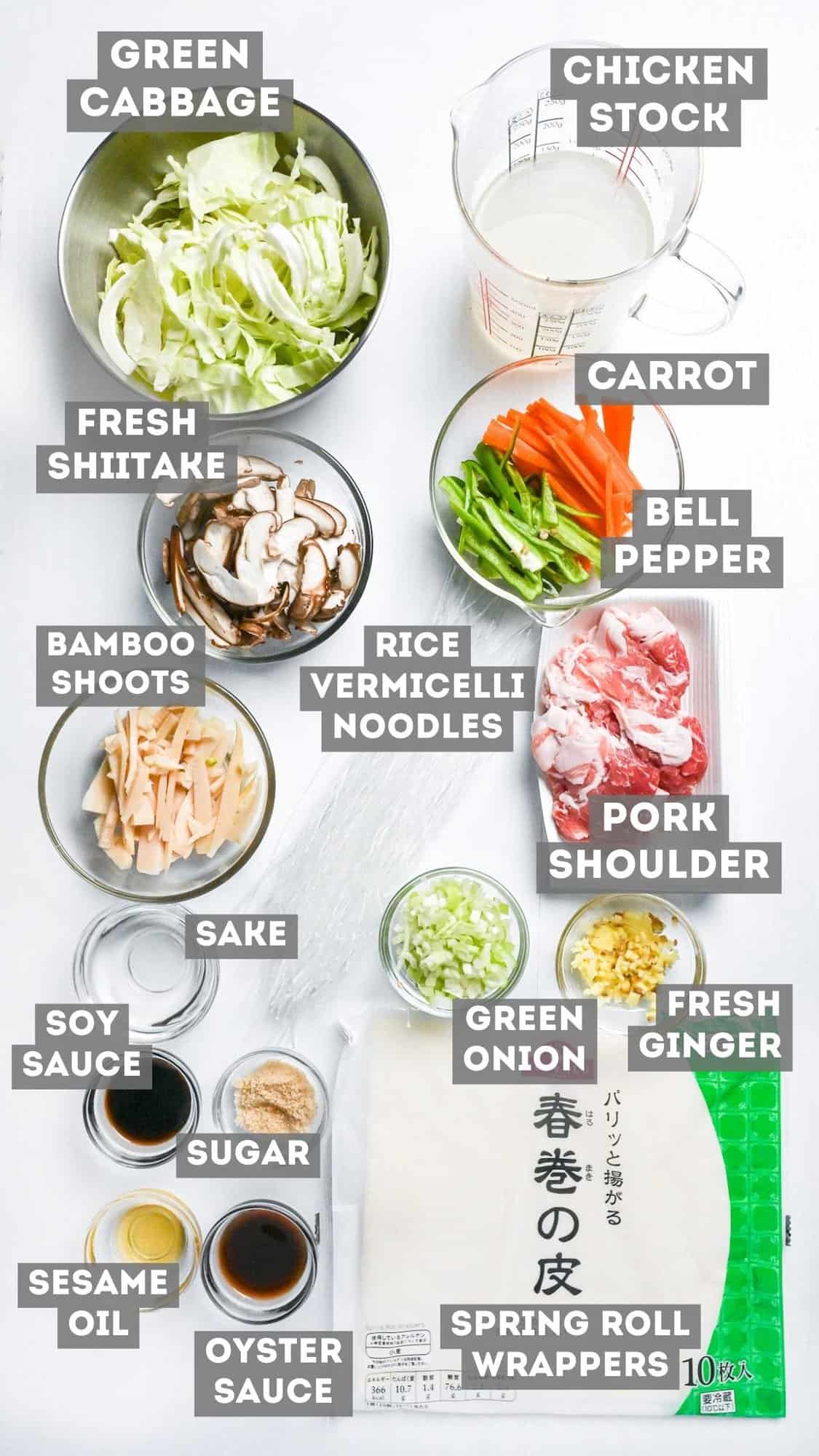 Green cabbage: Though green cabbage is ideal, other variants can also be utilized, especially since it'll be shredded and stir-fried.
Green onion: The white part is utilized in this recipe, adding depth and sweetness.
Fresh shiitake mushrooms: A vital element providing umami and texture to the harumaki. In its absence, other mushrooms can fill the gap.
Carrot: Cut into thin strips. Its inherent sweetness is pivotal for the Harumaki's flavor profile.
Bell pepper: While any variant works, in Japan, the slightly bitter "piman" bell pepper is a favored choice, enriching the Harumaki's taste.
Boiled bamboo shoots: Integral for texture, it's best not skipped. A feasible alternative is young corn.
Fresh ginger: A small amount elevates the flavor complexity and compliments the pork.
Thinly sliced pork shoulder or belly: While this is optimal, minced pork or chicken can be replacements.
Salt and pepper: I use regular sea salt and freshly ground black pepper.
Sesame oil: Kadoya's sesame oil is recommended because of its understated flavor.
Sake: Don't have sake? Dry sherry or white wine can be used as substitutes.
Chicken stock: Though I prefer Youki's additive-free Garasupu to make Chinese-style chicken stock, brands like Knorr or other Western-style chicken stocks work seamlessly. Always refer to the package for the correct powder/water ratio. If using homemade chicken stock, make sure to season accordingly.
Soy sauce: Kikkoman soy sauce is hard to beat for a quality, budget-friendly option. Dive deeper into soy sauce nuances with our guide to soy sauce.
Oyster sauce: A touch of this adds profound depth.
Sugar: Regular sugar is fine, I've found light brown cane sugar to be particularly delightful in most savory dishes.
Rice vermicelli noodles (Harusame): The fine variety is preferable over its thicker counterpart.
Square spring roll wrappers: In Japan, large wheat flour wrappers (190 x 190 mm) are favored. If smaller wrappers are your choice, ensure the wrapper quantity is adjusted accordingly. Note: This isn't the same as rice paper.
Cooking oil: High-smoke point neutral oils, such as canola, sunflower, and peanut, are recommended. I personally lean towards rice bran oil or extra virgin (white) sesame oil for my frying needs.
Japanese mustard (karashi): For those pairing harumaki with a Japanese-style dip, karashi is non-negotiable. It's the zing that completes the dish.
Curious about the exact brands and products that bring my recipes to life? Discover the brands and ingredients behind my recipes at the Sudachi Amazon Storefront. Explore my handpicked pantry essentials and find your next kitchen favorites!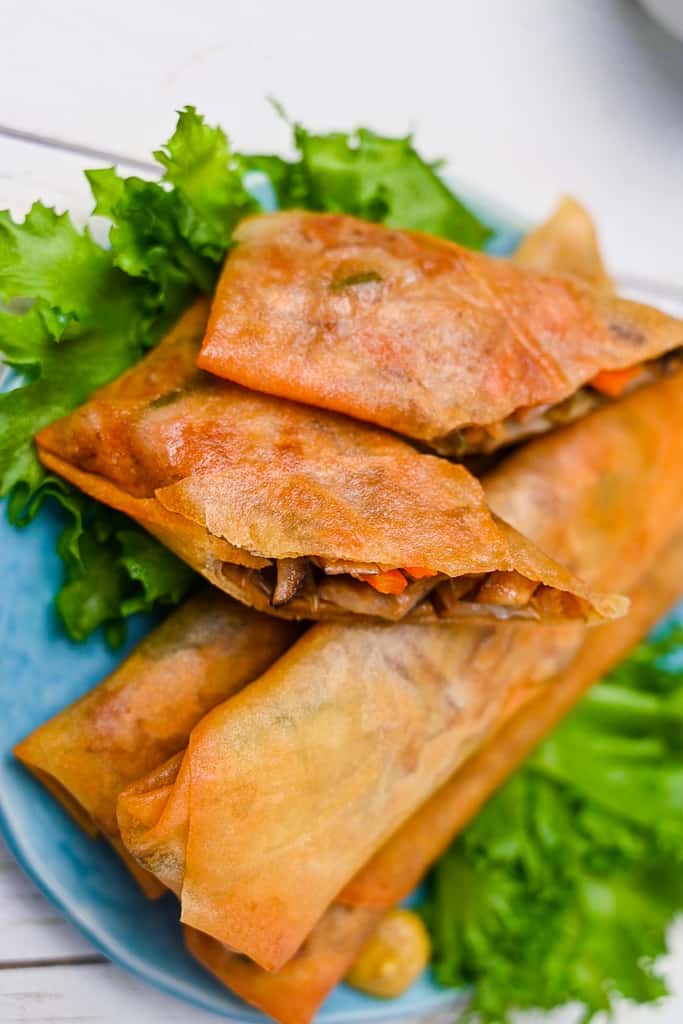 Step-by-Step Process
Here are my step-by-step instructions for how to make crispy and delicious Japanese-style spring rolls at home. I've divided the instructions into filling, rolling and frying to make it easier to follow. For ingredient quantities and simplified instructions, scroll down for the printable recipe card below.
How to make the filling
Take your pork belly or shoulder and roughly cut it. I do this so that my spring rolls have a chunkier texture, but if you're using ground meat you can skip this step.
Place it in a mixing bowl with salt, pepper and sesame oil and mix until evenly distributed.
Heat up a pan (one that has a lid) on medium and add the shredded cabbage. Depending on your choice of pan, add a small amount of oil to prevent sticking.
Once the cabbage has softened slightly, add chicken stock and sake and place the lid on top. Simmer for 3 minutes and then turn off the heat.
Heat a large pan on medium-low and add the pork. Stir fry until sealed.
Add aromatics and vegetables
Add the finely chopped fresh ginger and green onion, and stir fry until the ginger becomes fragrant.
Once fragrant, add the rest of the vegetables. These should be cut into thin strips (julienne) to make it easier to roll the harumaki later.
Stir fry for a few minutes.
Add soy sauce, oyster sauce and sugar to flavor the filling. Mix thoroughly to ensure they're evenly distributed.
Pour the contents of the other pan (cabbage and chicken stock) into the wok and mix well.
Add the rice vermicelli, make sure they're submerged in the chicken stock so that they can soften.
Once the noodles have softened, take a small bowl and mix 1 tbsp of cold water with 1 tsp of cornstarch to make a slurry. Pour the slurry into the pan and mix well.
Simmer until thick and glossy, then remove the pan from the heat.
Transfer the filling to a wide container and allow it to cool until cool enough to touch.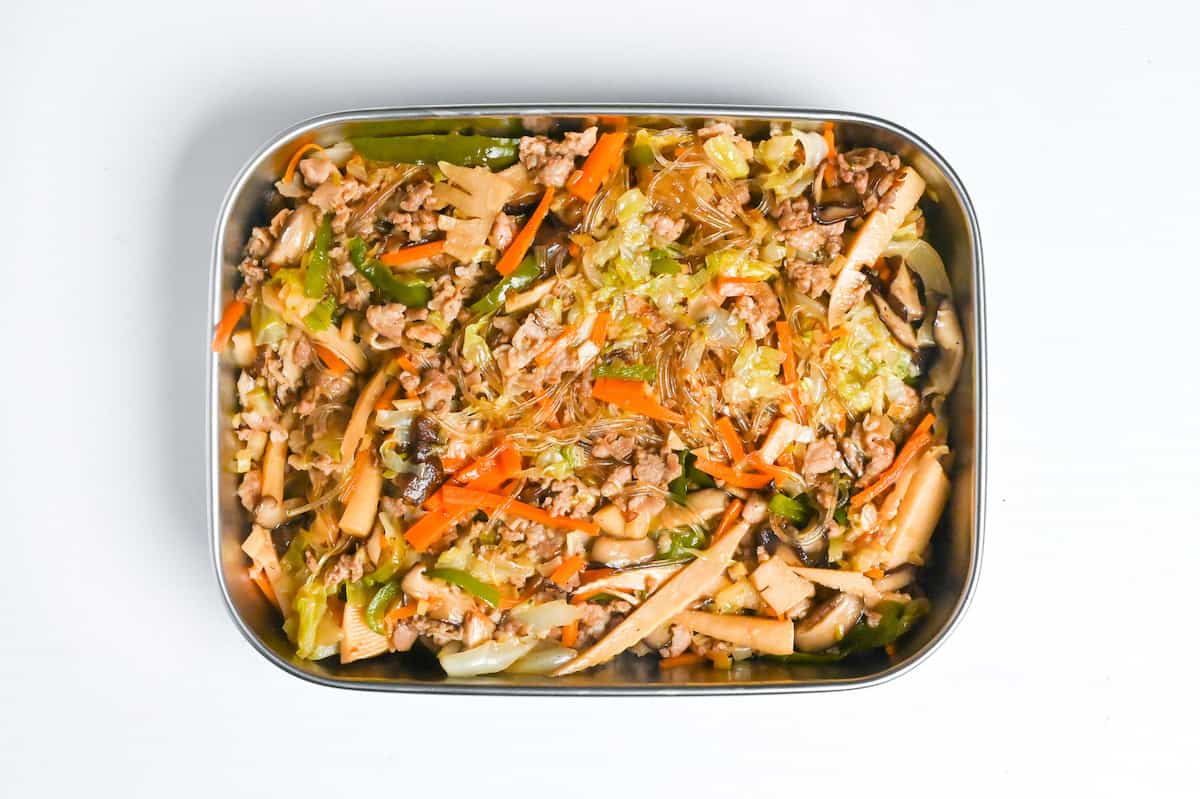 Once cool, use scissors to cut the noodles (this will make it easier to divide the filling).
Divide the filling into portions equal to the number of wrappers you have. This will ensure the size is uniform and you don't have any leftover filling!
You are now ready to roll your harumaki!
How to roll spring rolls
Take a small bowl and add water and flour at a ratio of 2:1 to make a paste. Place your spring roll wrapper in front of you at a 45-degree angle so that it looks like a diamond.
Most harumaki wrappers have a smooth side that should be on the outside of the roll, and a rough side that should be inside. When placing your wrapper down, make sure the rough side is facing up.
If you can't tell by eye, use touch to determine which side is which.
Spread the filling horizontally just below the center, making sure not to spread it too close to the edges.
Pull the bottom corner tightly over the filling to start the roll.
Fold the left and right edges over to make the harumaki resemble an envelope. Press the folds down to secure them. There shouldn't be any gaps.
Continue to roll the harumaki upwards 1-2 times (depending on the size of your wrapper) and leave the flap at the top.
Spread the paste you made earlier along the edges of the flap and then roll once more to complete. Press the harumaki down to secure it.
Pressing the harumaki will also make it flatter so that it won't roll in the oil. This will help it cook more evenly!
Repeat until all of your wrappers and filling are used up.
You are now ready to cook them!
Frying
Add about 2cm of oil to a pan and heat to 160°C (320°F). Once hot, place the harumaki in the oil with the sealed side (point) facing down. Fry until golden.
Once golden underneath, flip and repeat on the other side. They don't need to be cooked for too long since the filling is already cooked.
Once golden and crispy all over, rest on a wire rack for a few minutes to drain the excess oil.
To enjoy these harumaki the Japanese way, serve with soy sauce and a blob of karashi mustard.
Enjoy!
Tips and Tricks
If you follow these tips, you can make perfect, uniform harumaki every time!
Tips for Perfect Harumaki
Uniform ingredients – Cut the ingredients for the filling thin or small to make it easier to distribute them evenly.
Thicken thoroughly – Cook the filling well to reduce excess moisture. I add a slurry to thicken the mixture so that the moisture doesn't get absorbed into the wrapper.
Cool filling thoroughly – Make sure the filling is thoroughly cooled before wrapping, hot filling will make the wrappers warm, soggy and likely to break.
Divide the portions before rolling – not only will this ensure you don't have too much or too little filling for your wrappers, but it also makes them more uniform.
Wrap them tightly – Loose wrapping can leave air in your harumaki, which can lead to explosions. Press down on the skin while wrapping to release any trapped air and ensure no gaps on the edges.
Seal with paste – This will stop the wrappers from unraveling. I make a paste with water and flour, ratio 2:1.
Press them flat – Once sealed, press the harumaki flat to prevent it from rolling in the oil. This will help them cook more evenly.
Fry at 160°C / 320°F – This is high enough for a perfect crispy shell but not too high that it burns easily.
Troubleshooting and FAQ
Making harumaki at home can sometimes present challenges. Here are some common issues and their solutions to prevent:
Why did my wrappers burst?
This issue is perhaps the most bothersome, often resulting in a significant mess near the stove. The causes might be due to trapped air during the rolling process or the ingredients not being sufficiently cooled before being rolled. When fried, the filling heats up quickly, leading the ingredients to expand and burst.
There are holes in my wrappers
This issue can also arise if the ingredients aren't cooled sufficiently or if the filling is too watery. When the inner contents spill out, it's not just unsightly; it also leads to oil splatters. This can result in extensive cleaning and the risk of oil burns. Truly a nightmare! Prevent this by cooking the filling sufficiently to remove excess moisture and cooling thoroughly before rolling.
My harumaki got burnt. What did I do wrong?
If harumaki burns, it's likely due to excessively high oil temperatures or prolonged frying. For optimal spring roll frying, it's best to begin at a low temperature and remove them once they achieve a golden brown hue. The filling inside is cooked in advance to help avoid this problem.
Why did my harumaki get soggy after a little while?
After some time, harumaki loses its crispiness and becomes oily. This can be attributed to the oil's temperature or the preparation of the filling. Starting the frying process at a high temperature means the moisture in the wrappers isn't fully released, leading to sticky rolls post-frying. Furthermore, if the filling isn't thickened adequately during preparation, it releases water, contributing to the sogginess of the spring rolls.
There are air bubbles formed on my wrappers
A common issue when making harumaki is the formation of air bubbles on the surface. This typically stems from the oil being too hot. When spring rolls are cooked at high temperatures, the water in the wrapper expands rapidly. This causes the wrapper to swell and, when fried in the hot oil, hardens with bubbles on its surface. However, this primarily affects the appearance, so it's not a significant concern.
Storage
For those looking to make and store a large batch of harumaki, freezing before frying is the best choice. Avoid freezing them post-frying, as the wrapper turns soggy upon defrosting, a problem that also arises with refrigeration.
By freezing them pre-frying, you can ensure a crispy harumaki when you're ready to enjoy them or pack them for lunch. Uncooked homemade harumaki can be frozen for up to 1 month.
The filling can be stored alone in the refrigerator for up to 2 days and wrapped right before frying. Avoid prolonged refrigeration of assembled harumaki, as this can cause the wrapper to absorb the moisture in the filling and become soggy.
If you've already fried and then frozen or refrigerated your harumaki, re-frying is essential to regain (still won't be the same) that desired crispiness. Always aim to fry only what you'll consume immediately.
Room temperature – Not recommended.
Refrigerated – About 2 days (filling only).
Frozen – Wrapped harumaki before frying, up to 1 month (the best option).
I hope you enjoy this Japanese-style spring roll recipe! If you try it out, I'd really appreciate it if you could spare a moment to let me know what you thought by giving a review and star rating in the comments below. It's also helpful to share any adjustments you made to the recipe with our other readers. Thank you!
More Chinese-inspired Japanese Recipes
Check Out Some of My Other Chuka Recipes
Harumaki (Japanese Spring Roll)
---
How to make delicious Harumaki (Japanese-style spring rolls) made with seasoned pork, vegetables and rice noodles in a golden, crispy shell. Best served with karashi mustard and soy sauce for dipping.
---
---
---
---
Ingredients
150

g

green cabbage

roughly cut

30

g

green onion(s)

finely chopped

60

g

fresh shiitake mushroom(s)

thinly sliced

30

g

carrot(s)

julienned/fine strips

30

g

bell pepper(s)

julienned/fine strips

50

g

boiled bamboo shoots

julienned/fine strips

10

g

fresh ginger

finely diced

150

g

pork shoulder or belly

alternatively pork mince

1

pinch

salt and pepper

1

tsp

sesame oil

2

tbsp

sake

300

ml

chicken stock

½

tbsp

soy sauce

½

tbsp

oyster sauce

½

tbsp

sugar

30

g

rice vermicelli noodles

dry

1

slurry

1tbsp cold water + 1 tsp corn starch

10

sheets

square spring roll wrappers

1

water/flour paste

2 tbsp cold water + 1 tbsp all-purpose flour

cooking oil

for shallow frying
Instructions
Make the filling
First, Cut all the vegetables (

150 g green cabbage

,

30 g green onion(s)

,

60 g fresh shiitake mushroom(s)

,

30 g carrot(s)

,

30 g bell pepper(s)

,

50 g boiled bamboo shoots

,

10 g fresh ginger

) according to the ingredients list and cut

150 g pork shoulder or belly

into small pieces.

In a bowl, mix the pork with

1 pinch salt and pepper

and

1 tsp sesame oil

. Mix.

Heat up a pan (that has a lid) on medium and fry the cabbage until softened slightly. 

Once softened, add

2 tbsp sake

and

300 ml chicken stock

. Steam with the lid on for 3 minutes and then remove from the heat.

In a separate, larger pan, fry the pork on a medium-low heat until the meat is sealed.

Add the ginger and green onion, and fry until fragrant.

Add the rest of the vegetables to the pan with the pork and stir fry together for a few minutes.

Season the filling with

½ tbsp soy sauce

,

½ tbsp oyster sauce

and

½ tbsp sugar

and mix well.

Pour the contents of the other pan (cabbage and chicken stock) into the pan with the pork and vegetables.

Submerge

30 g rice vermicelli noodles

into the chicken stock and simmer until softened.

Make a slurry by mixing 1 tbsp cold water and 1 tsp cornstarch in a small bowl. Pour it into the pan and simmer until thick and glossy.

Remove from the heat and transfer to a container to cool.

When it's cool enough to touch, cut the glass noodles with scissors so that they are 5-10cm in length. (This is only necessary if your glass noodles are long.)

Store in the refrigerator until you're ready to roll your harumaki.
How to roll
Divide the filling into portions equal to the number of wrappers.

Take a small bowl and add water and flour at a ratio of 2:1. (2 tbsp water to 1 tbsp flour) and position the wrapper in front of you at a 45-degree angle so it looks like a diamond.

Spread the filling horizontally just below the center, making sure not to spread it too close to the edge.

Tightly wrap the bottom point over the filling.

Fold the left and right edges over and press them down to secure.

Roll it up, leaving a point at the top.

Wet the top edges of the point with the water/flour mixture and finish the roll. Press down to secure.

Repeat until all the wrappers and filling are used up.
Fry
Take a pan and add 2cm (1 inch) of cooking oil. Heat to

160

°C

(

320

°F

) and add the spring rolls with the sealed side (point) facing down.

Cook for a few minutes until golden and then flip and repeat on the other side. (The filling is already cooked, so the main purpose is to make it golden and crispy.)

Rest on a wire wrack for a few minutes to drain the excess oil.

Serve with soy sauce and Japanese mustard, and enjoy!
Notes
Best served immediately after frying.
If preparing in advance, make the filling and roll, then fry just before serving.
Nutrition
Calories:
144
kcal
|
Carbohydrates:
22.4
g
|
Protein:
5.94
g
|
Fat:
3.8
g
|
Saturated Fat:
0.96
g
|
Polyunsaturated Fat:
0.69
g
|
Cholesterol:
10.1
mg
|
Sodium:
270.8
mg
|
Fiber:
2.07
g