Learn how to make your own delicious Japanese pork gyoza from scratch! These addictive dumplings are filled with seasoned ground pork and spring onions and wrapped in a thin dough. I've got a few secret tips for frying them to crispy perfection too!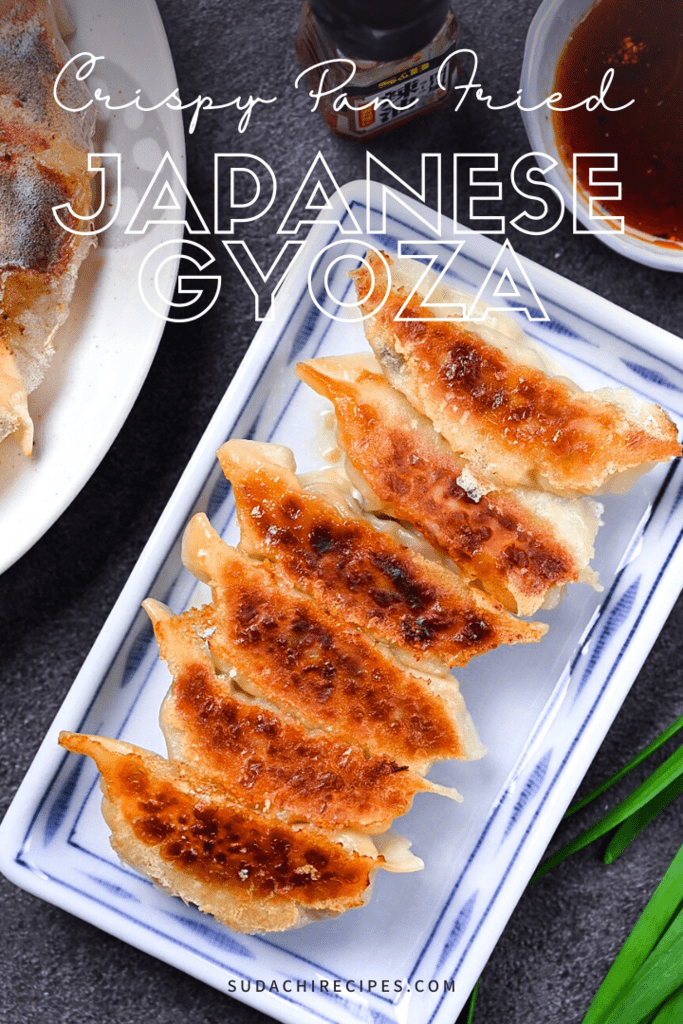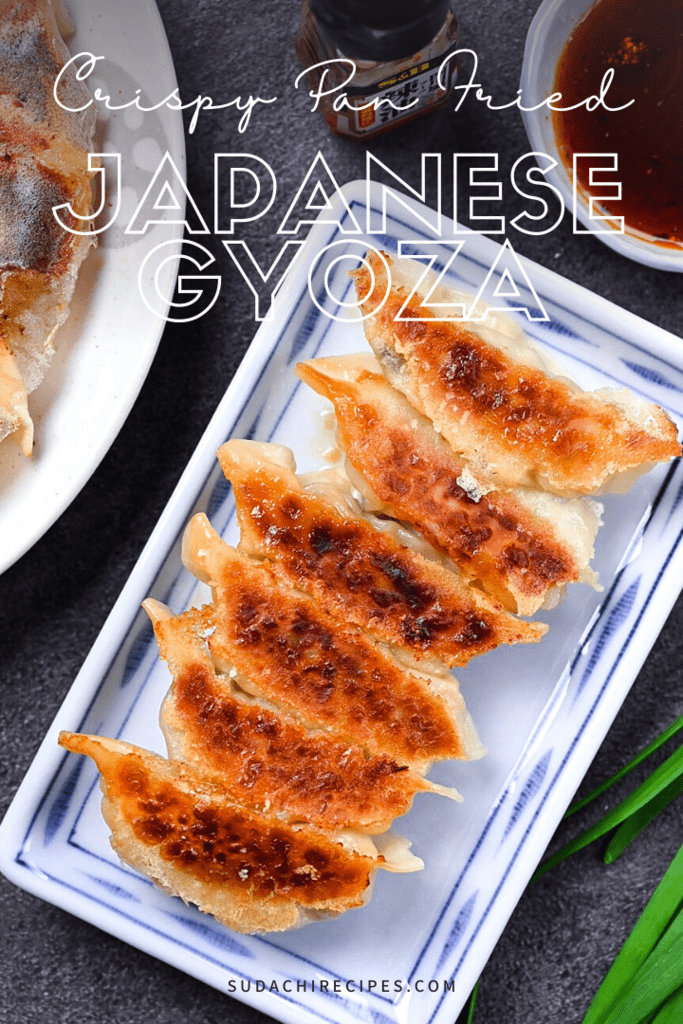 Disclaimer: This post contains Amazon affiliate links. Sudachi Recipes earn a small percentage from qualifying purchases at no extra cost to you. See disclaimer for more info.
Jump to:
What are gyoza?
Gyoza (餃子) are dumplings most commonly filled with meat, vegetables and seasonings which are then wrapped in a thin wheat dough. Although they are eaten all across Japan, the dish originates from China and are originally called "Jiaozi".
In English you probably know them as dumplings or pot stickers, although the term "gyoza" is becoming more commonly used to refer to Japanese style dumplings in particular.
A complete recipe for how to make homemade gyoza with lots of tips
Extremely juicy filling
Perfectly crispy base
A Brief History of Gyoza
The very first emergence of gyoza dumplings in Japan is obscure, yet one theory says that they came in from China around the 18th century. Despite its early existence, only the higher class had access to the dish for a long time. Gyoza actually didn't become a common dish with regular working class people until after World War II.
While steamed dumplings are a lot more popular and common in China, Japanese gyoza are usually pan fried. There are many Japanese dishes inspired and influenced by Chinese cuisine, and gyoza is another example of a Chinese dish that has been adapted to suit Japanese tastes.
Gyoza is most often seen at at ramen restaurants or Chinese restaurants. They are also widely available at supermarkets and convenience stores across Japan, either cooked (ready to eat), chilled or frozen. Many Japanese families cook large batches of gyoza and enjoy them as a main dish with rice rather than as a side with ramen, but it's fine to enjoy them however you like!
Cooking method
Gyoza are pretty versatile and can be cooked in a number of different ways.
Steaming
Deep frying
Pan frying
Boiling
Most Japanese people fry them in a pan and then add a lid so they can steam for a little while. That way, they become crispy on the bottom and soft on the top, delicious!
Regional Variations of Gyoza in Japan
Gyoza is now a very common family dish all around Japan, and even different regions of Japan have their twists and their own versions of it. Such as:
Enban gyoza (円盤餃子) : Fukushima Pref
Utsunomiya gyoza (宇都宮餃子) : Tochigi Pref
Hamamatsu gyoza (浜松餃子) : Shizuoka Pref
Jumbo gyoza (ジャンボ餃子) : Hyogo Pref
Yahata gyoza (八幡餃子) : Fukuoka Pref
Who's up for a gyoza tasting tour of Japan?!
Gyoza Fillings
As I said before, gyoza are pretty versatile and you can make them how you like! So here are some popular fillings.
Although it's uncommon for Japanese people to make gyoza wrappers from scratch at home (pre-made wrapper is more convenient and cheap to buy in Japan), you can't beat the taste and texture of your own homemade gyoza wrappers!
Gyoza vs Shumai: what are the differences?
Gyoza and Shumai are both popular Chinese inspired dumplings in Japan, but what are the differences?
Firstly, gyoza and shumai differ in ingredients, shape and cooking methods. In Japan, gyoza is usually made with more variety of ingredients including ground pork, chives, cabbage, garlic, etc., while shumai is usually made with less elements.
The cooking method of choice for gyoza in Japan is generally pan-frying, while shumai is always cooked by steaming.
Incidentally, although shumai's and gyoza's wrappers are both made of wheat flour, they differ in shape and thickness. Shumai is made with thin square wrappers similar to won ton wrappers, while gyoza is made using slightly thicker, round wrappers.
It is said that gyoza's wrapper is slightly thicker in order to accommodate ingredients with more moisture (such as watery vegetables like cabbage etc.) and can withstand various types of cooking methods: pan-frying, deep-frying, or boiling. But please note that this is the situation in Japan, and it might be different to the original Chinese wrappers.
Ingredients to make this pan-fried pork gyoza
Here are the ingredients you will need to make the gyoza and dipping sauce. If you're interested in making your own gyoza wrappers from scratch, check out my recipe here.
Pork mince
Spring onion
Ginger paste (or grated ginger)
Garlic paste (or grated garlic cloves)
Salt
Sugar
Black pepper
Warm water
Toasted sesame oil OR lard (or half and half)
Chives
Don't be put off by the long list, these pork gyoza actually only use a few ingredients and are mostly flavoured with common household condiments that you would find in almost any Asian-inspired kitchen!
Instructions on how to make homemade pork gyoza
From making the filling to shaping the gyoza itself, here is my extensive step by step guide on how to make delicious, meaty and crispy pan fried gyoza at home! There are a lot of steps, but actually, making gyoza is actually quite fun and therapeutic once you get the hang of it. You could even get friends or family members involved with wrapping! (See at the bottom of the page for ingredient quantities and simplified printable recipe card.)
Finely cut the spring onion
In this recipe, I focus on a meaty and flavourful gyoza, the vegetables are minimal! If you're looking for a veggie gyoza, you should check out my vegetable and tofu gyoza recipe here.
Anyway, the main vegetable is spring onion (also known as "naganegi", green onion, long onion etc). Vegetables for gyoza fillings should always be finely diced like below. (You could use a food processor for to speed things up if you like.)
If you're using fresh garlic and ginger, I recommend grating them. For convenience, I use S&B garlic paste and ginger paste.
Knead the filling
First, add the pork mince, spring onion, garlic, ginger and condiments to a large mixing bowl.
Gently knead them together until evenly distributed. Try not to knead it too much as this will cause it to become too smooth and meatball like, we want to keep as much texture as possible!
Add warm water
You might be surprised about this step, but adding some warm water to the filling will make it extra juicy! Usually you would rely on the liquid from the vegetables to make the filling more juicy, but not in this case!
Add the warm water one third at a time and mix it in by hand.
Add lard and chives
Finally add the lard (and/or sesame oil) and chives. I add these last so that they don't get over mixed.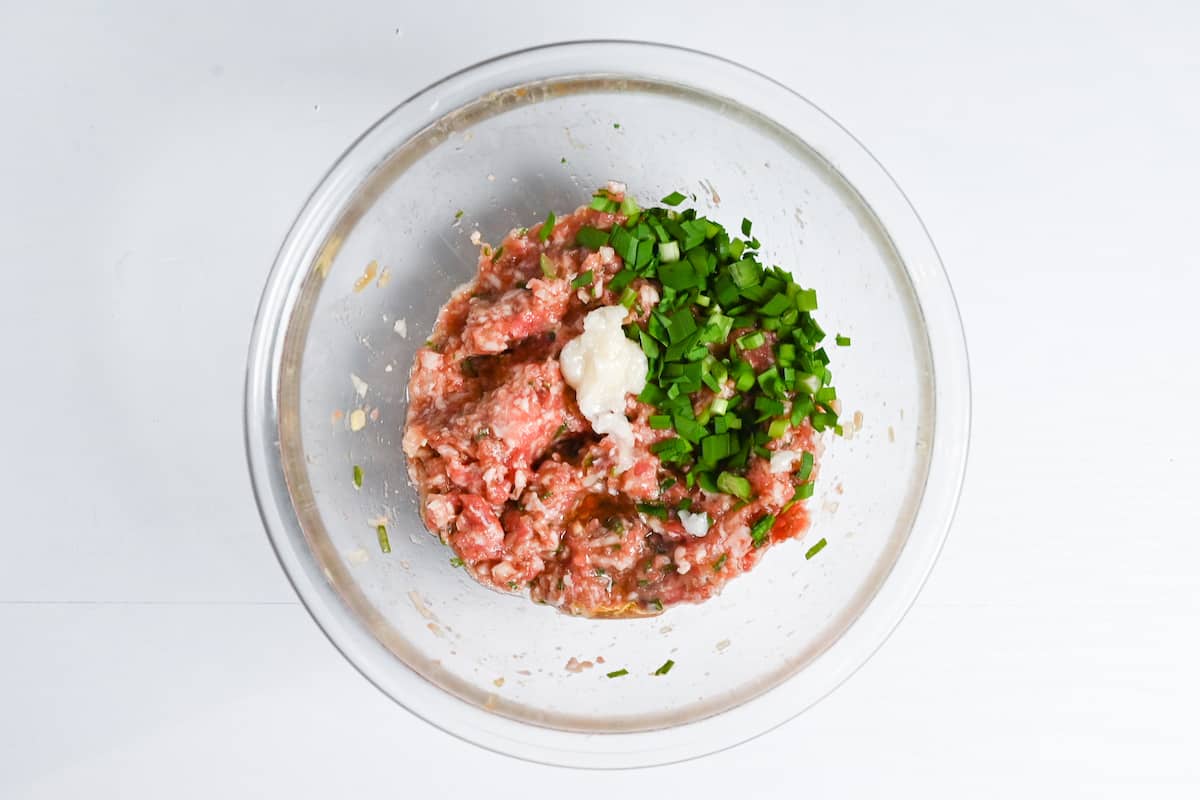 Give the filling a final knead and now you're ready to shape!
If you have time, rest the filling in the fridge for 30 minutes. This will give the flavours time to mingle and deepen. It will also make the filling firmer so it will be easier to wrap.
Shaping the gyoza
Add about 1 level tablespoon of filling to the centre of wrapper, leaving a thick border around the edge. This border is necessary to seal the gyoza.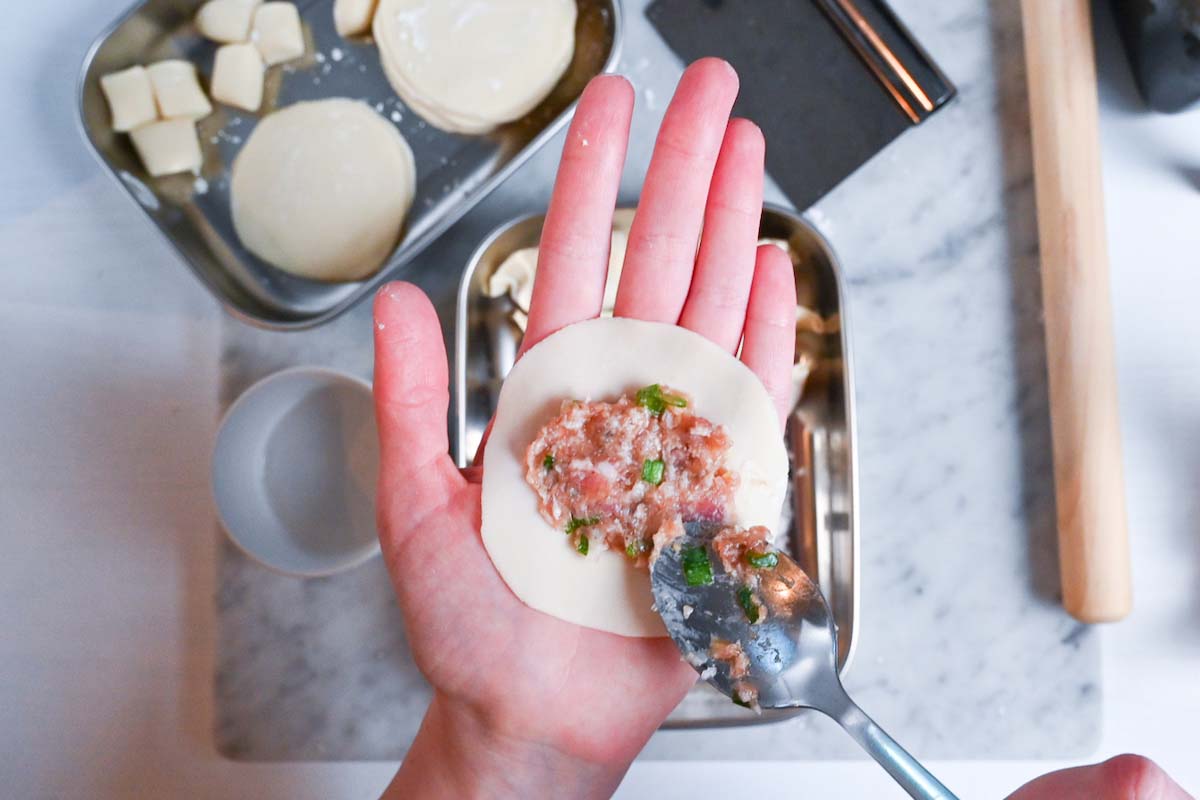 It's very important not to overfill the wrapper. If you put too much filling, the wrapper could tear or not close properly. If there are holes, the juices will leak out into the pan and ruin the finish.
Avoid holes or tears by filling the gyoza with the appropriate amount of filling. Don't be tempted to overfill!
Next, dab the top half edge with water. This will act as a "glue" to seal the gyoza shut. Keep a small bowl of water nearby for convenience.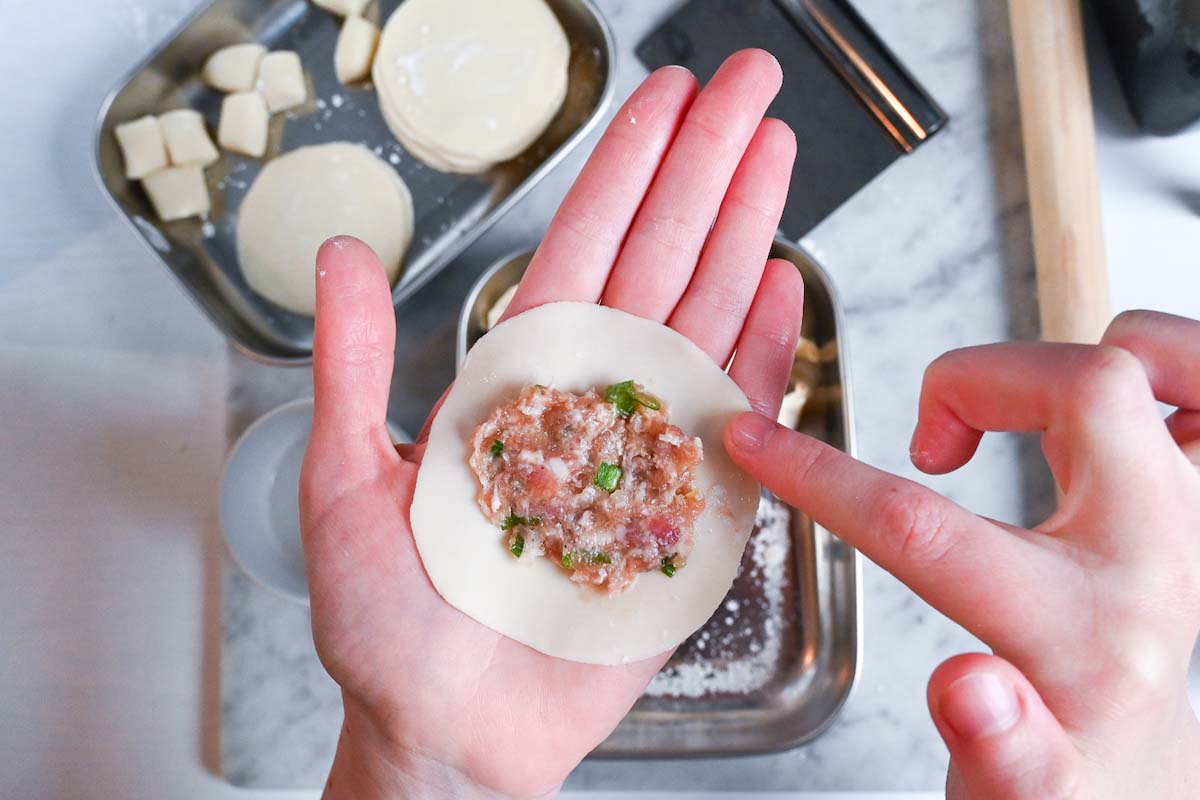 Pinch one side of the wetted edge to start shaping. If you're right handed, this will probably be on the right side and vice versa.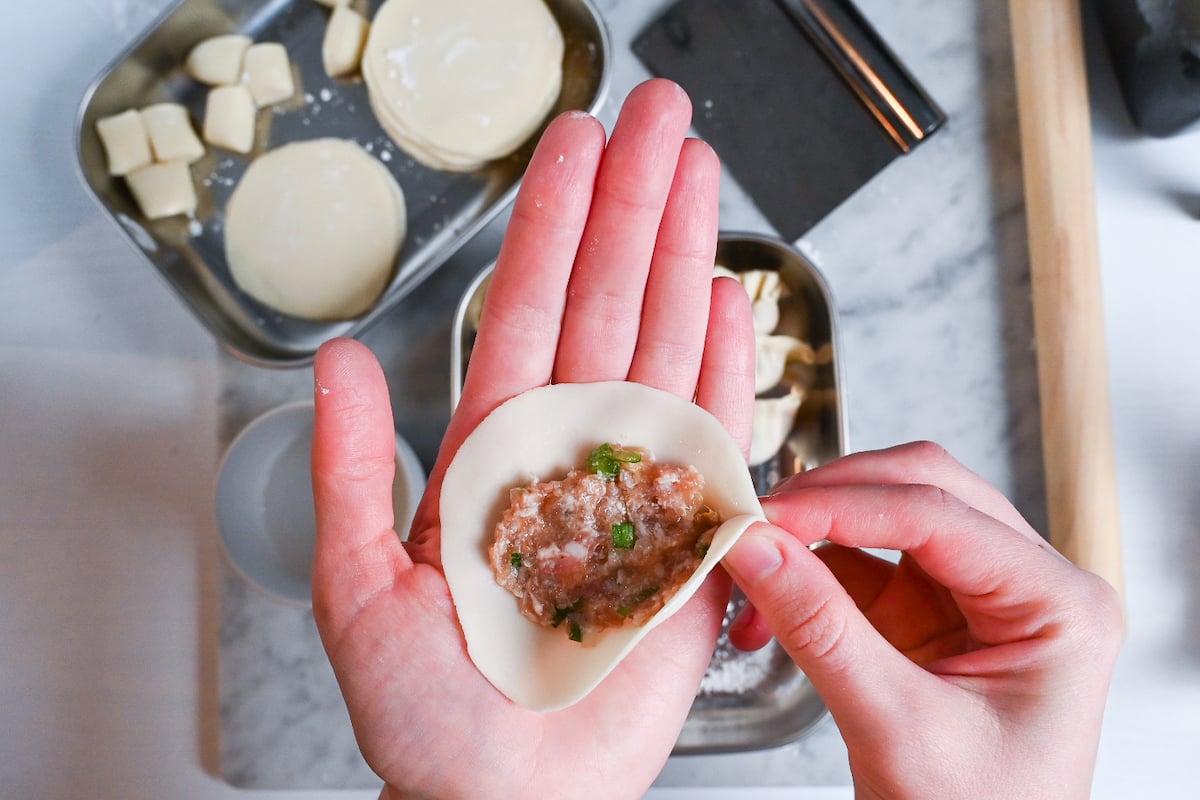 To pleat the top, make a small flap on the edge of top half and push it toward the pinched corner, Press it down and continue to make small pleats until the gyoza is closed. Press it firmly along the edge to seal it securely.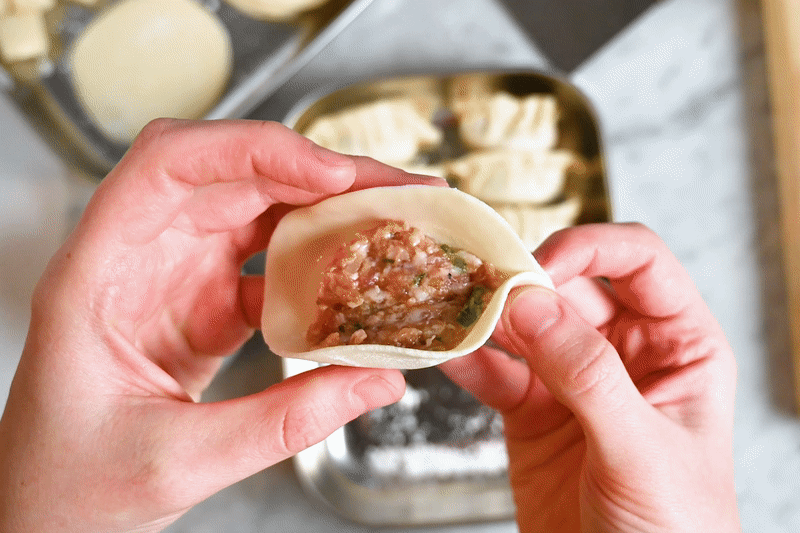 You can also flatten the base by tapping it on the counter or the palm of your hand a few times. This is important for crisping up the bottom when it's frying!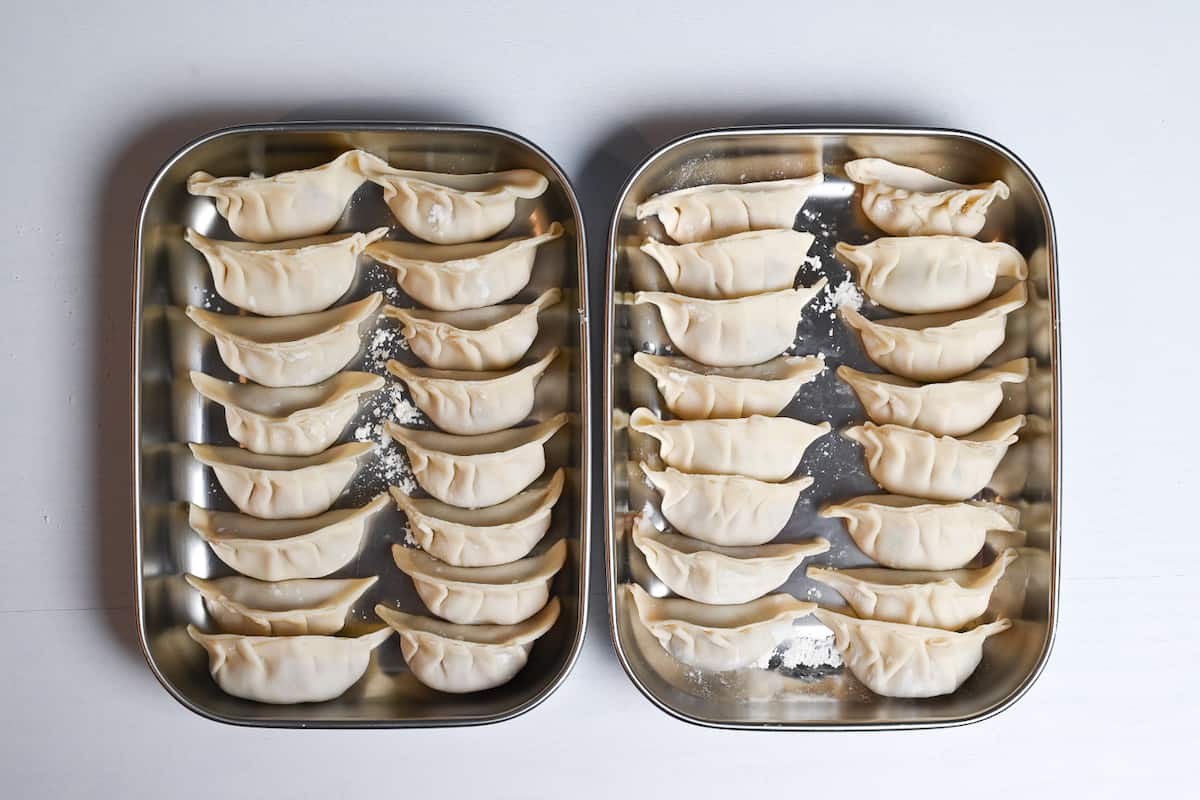 Dust your plates/containers with a generous amount of flour to prevent the gyoza from sticking together. This is especially important if you don't plan to cook them straight away!
You can cook your gyoza straight away or store them using the storage instructions later on in the post.
Cooking the gyoza
Preheat your pan on medium and add a generous amount of oil. Be sure to spread the oil evenly over the pan to ensure that the gyoza doesn't stick or tear.
Fill the pan with as many gyoza that will fit in one layer. It's okay if they're close together, but make sure the bottom of the gyoza is fully in contact with the surface of the pan (otherwise it won't get crispy!) If possible, try and leave a tiny bit of space between them so the wrappers don't stick together.
Fry one layer at a time to ensure every gyoza gets a crispy golden base!
Check the underneath occasionally to see when they start to change colour. Once all the gyoza have a golden base, pour in a thin slurry made with ½ tsp of flour mixed with 50ml (approx 3 tbsp) of cold water.
Place a lid on top and allow them to steam for a few minutes. (Approximately 4-5 minutes from chilled, a few minutes longer from frozen.)
Rotate the pan for even cooking
It's common for pans or stoves to have heat spots (where one place gets hotter than another). To ensure the gyoza cooks evenly, I recommend rotating the pan from time to time.
Typically, you can add boiling water to the pan for steaming (about 80ml per 10 pieces) however I love to make my gyoza extra crispy with a slurry mixture. We call this type of gyoza, "hanetsuki gyoza" (羽付き餃子) which means "gyoza with wings". Wings of crispy deliciousness!
Be careful not to add too much flour to the slurry otherwise it can become gummy or sticky.
Make the dipping sauce
While the gyoza are steaming, mix soy sauce, rice vinegar, chilli oil and black pepper in a small bowl.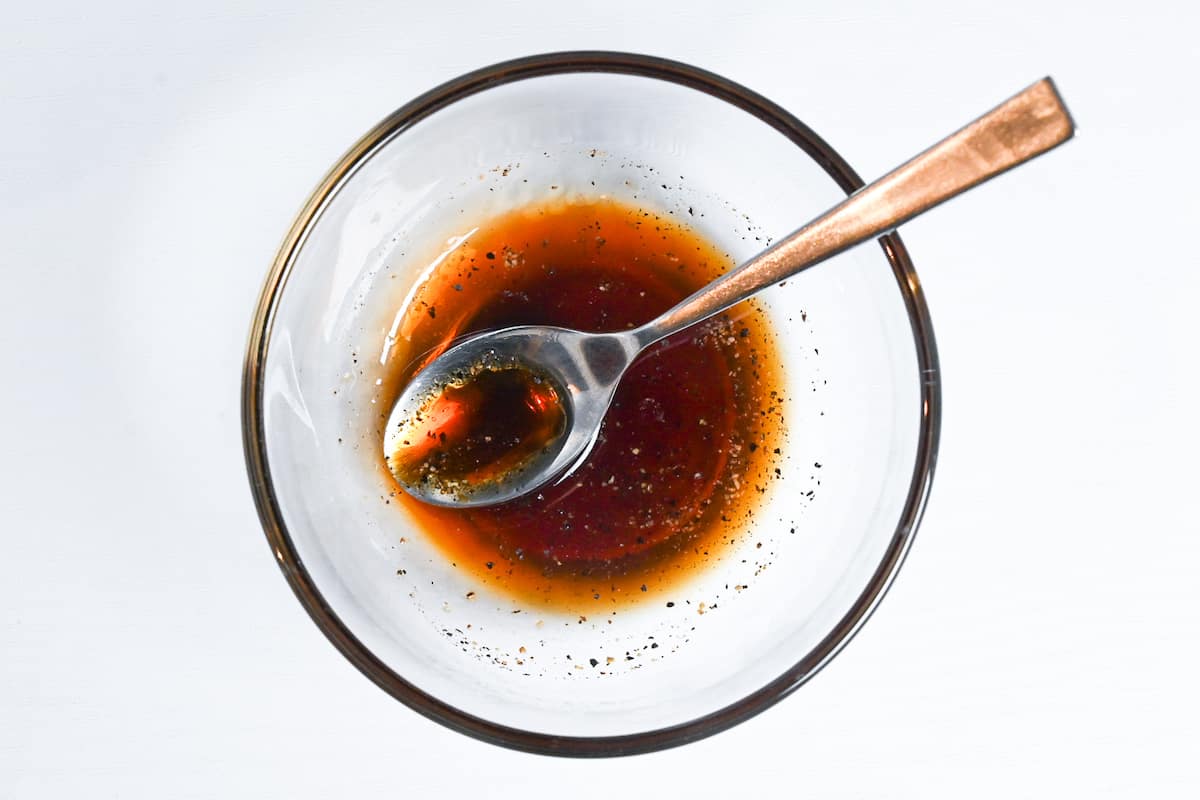 If you want to learn about ways to customise your dipping sauce, check out my gyoza dipping sauce post here!
Dishing up
Once you start to hear crackling or notice the flour at the bottom start to change colour, remove the lid and allow the steam to evaporate.
Finally, add a drizzle of sesame oil over the top and flip the cooked gyoza out onto a plate.
Enjoy these delicious meaty and crispy pan fried gyoza with your homemade dipping sauce. They go perfectly with ramen, rice or serve as a party dish!
How to freeze gyoza to store
Unless you have a big family, we tend to make too many gyoza dumplings. While you can store in the fridge for a day or two, I recommend storing them in the freezer.
If you freeze them, they will keep for longer (up to 1 month).
Here are some tips when you want to freeze them. There are 3 stages where you can freeze gyoza:
The filling
Before frying
After frying
I will explain each below.
Freezing the filling
If you decide to freeze the filling, you will need to divide it into individual portions for each gyoza. This can be quite time consuming, you will also need to store them on a tray and not touching (otherwise they'll stick together) which takes up a lot of freezer space.
Once frozen, you can transfer them to a zip lock bag to free up space in your freezer, but all these steps are quite a lot of hassle.
I only recommend this if you run out of wrappers and want to save the filling for next time. Try and use the filling within 1 month.
Before frying (wrapped)
Once you've shaped your gyoza, you can store them in the freezer for about 1 month.
There are two ways to do this. First, you can place them in layers in an airtight, freezer-safe container and sprinkle them with flour or starch to prevent them from sticking together. I also put a sheet of baking paper between each layer, this is also to stop them to sticking together.
The other option is to arrange them on a tray spaced apart and freeze them. Once fully frozen, transfer to a ziplock bag to save freezer space.
Whichever way you choose, it's always important to arrange the dumplings so that they do not overlap.
Freezing wrapped gyoza is very convenient and you can cook small batches for a quick and easy meal or side! You don't need to defrost them, just steam them in the pan for a few extra minutes.
After frying
If you have leftover gyoza after cooking, you can divide them into portions, wrap them in plastic wrap and place in an airtight container before freezing.
However, I should mention that the flavour will deteriorate when you freeze the dumplings after being cooked, so it is best to freeze them before cooking ideally.
If you do freeze them after cooking, you can microwave them and then put under grill or simply fry them again in a frying pan. Again, there's no need to defrost. Defrosting gyoza will make them soggy.
What can I use instead of gyoza wrappers?
If you don't have access to gyoza wrappers (and don't have time to make them from scratch) you might wonder if you can use other types of wrappers instead.
First of all, spring roll (harumaki) wrappers are large, thin and quite different from gyoza wrappers. Because they're so thin, they need to be wrapped around a few times to make multiple layers. It's almost possible to get a gyoza shape this way so we do not recommend substituting them. You could however, use the gyoza filling to make spring rolls if spring roll wrappers are all you can find.
It is also possible to substitute gyoza wrappers with shumai wrappers. However, because they are thinner, it is more difficult to shape and cook them as they are more likely to break. They are also square shaped, so your gyoza will be triangles rather than semi-circles. I don't recommend it, but using shumai wrappers is possible.
The most likely candidate is wonton wrappers (which are slightly thicker than shumai wrappers but still thinner than gyoza wrappers), however, they are small in size, so it is quite tricky to wrap the dumpling filling. They are also square so the gyoza won't be round, but you can give it a try in a pinch!
If you don't have access to premade gyoza wrappers, I highly recommend checking out my post on how to make homemade gyoza wrappers from scratch! It takes time, but it's so worth it!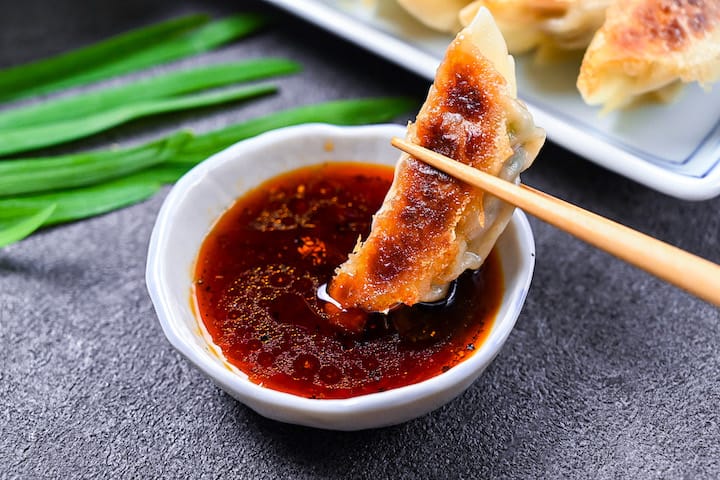 I hope you enjoy my crispy homemade pork gyoza recipe! If you try it out, make sure to rate the recipe and comment below to let me know how it went!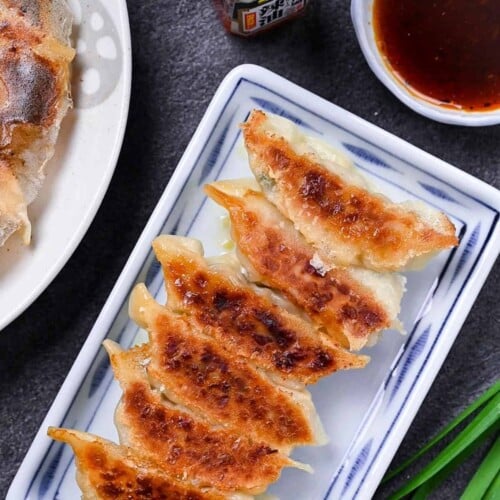 Crispy Pork Gyoza (Japanese Pan Fried Dumplings)
How to make crispy and juicy Pork Gyoza (Japanese Pan Fried Dumplings) from scratch at home!
Ingredients
Gyoza filling
300

g

ground pork

70

g

green onion(s) -

finely diced

1 ½

tsp

grated ginger

- or ginger paste

1 ½

tsp

grated garlic

- or garlic paste

½

tsp

salt

½

tsp

sugar

2

tsp

soy sauce

1

tsp

oyster sauce

1

pinch

freshly ground black pepper

50

ml

warm water

1

tbsp

lard

-

or sesame oil, or half of each

10

g

garlic chive(s)

-

chopped
Cooking
50

ml

warm water

-

for slurry

½

tsp

all-purpose flour

-

for slurry

½

tbsp

cooking oil

1

tbsp

sesame oil
Dipping Sauce
1

tbsp

rice vinegar

2

tsp

soy sauce

½

tsp

chili oil

¼

tsp

freshly ground black pepper
Instructions
Filling
Take a large mixing bowl and add

300 g ground pork

,

70 g green onion(s)

,

1 ½ tsp grated ginger

,

1 ½ tsp grated garlic

,

½ tsp salt

,

½ tsp sugar

,

2 tsp soy sauce

,

1 tsp oyster sauce

and

1 pinch freshly ground black pepper

.

Knead the filling until the flavours are well distributed. (Be careful not to over mix.)

Measure out

50 ml warm water

and add it to the filling mixture one third at a time, kneading each time until it's well distributed.

Finally add

1 tbsp lard

and

10 g garlic chive(s)

.

Knead one last time to make sure all the ingredients are evenly spread throughout the mince.

If you have time, rest for 30 minutes in the fridge. (Optional)
Wrapping
Place the gyoza wrapper flat in the centre of your palm and spread about 1 level tablespoon of filling in the middle, leaving a wide gap all the way around the edge. (Be careful not to overfill.)

Wet the top half border of the wrapper with a small amount of water.

Carefully fold the gyoza in half but don't let the edges touch yet. Pinch the corner of the semi circle shape, and then using your thumbs, fold small pleats, pressing down each pleat until the gyoza is completely sealed.

Tap the base of the on the counter or your palm to flatten the bottom.

Place the completed gyoza onto a flour dusted plate/container and repeat until you've used all of your wrappers and filling.
Cooking
Heat a non-stick pan on medium and once hot, add

½ tbsp cooking oil

. Spread it evenly around the pan and place the gyoza in with the flat side facing down, leaving a little space between each one. Fry until the bottom starts to brown.

Mix

50 ml warm water

and

½ tsp all-purpose flour

in a bowl to make a slurry, and pour it around the gyoza.

Place a lid on top and allow the gyoza to steam for a few minutes.

Once the slurry has browned slightly, remove the lid and allow the excess liquid to evaporate.

Make the dipping sauce by mixing

1 tbsp rice vinegar

,

2 tsp soy sauce

,

½ tsp chili oil

(or sesame oil) and

¼ tsp freshly ground black pepper

in a small dipping bowl.

Once all of the slurry has evaporated, drizzle the top of gyoza with

1 tbsp sesame oil

.

Flip them all onto a plate together (or divide into individual servings) and serve with the dipping sauce.

Enjoy!
Notes
This recipe makes 32 dumplings and can be served as a main with rice or a side dish.
32 gyoza will serve 3-6 people depending on whether it's a main or side.
Uncooked gyoza can be stored in the freezer for up to 1 month and pan fried from frozen for 2-3 minutes longer than the original cooking time.
Leftover cooked gyoza can be kept in the fridge for 1-2 days and reheating by microwaving (or pan frying again to restore the crispiness). Make sure to reheat until piping hot before serving.
Nutrition
Serving:
29
g
Calories:
43
kcal
Carbohydrates:
2.9
g
Protein:
2.1
g
Fat:
2.7
g
Saturated Fat:
0.73
g
Polyunsaturated Fat:
0.63
g
Cholesterol:
7
mg
Sodium:
114
mg
Fiber:
0.2
g
FAQ
What is gyoza?
Gyoza is a type of Japanese dumpling filled with meat and vegetables, it's usually pan fried.
Are gyoza Japanese or Chinese?
Gyoza is a Japanese dish that originates from China, Japan has many foods that are Chinese in origin made with Japanese methods or ingredients. The word u0022gyozau0022 (餃子) is Japanese.
What is gyoza dumpling made of?
Gyoza are usually filled with seasoned meat and/or vegetables. It's can also be filled with tofu or seafood too, gyoza are very versatile! The wrapper is simply made from wheat flour, salt and water.
Are gyoza fried or steamed?
Gyoza in Japan are mostly pan-fried with water or slurry so I would say they are both fried and steamed. You can also deep fry or boil gyoza. Boiled gyoza that is served in soup is called u0022suigyozau0022 (水餃子) which means u0022water gyozau0022 and deep fried gyoza is called u0022agegyozau0022.
What do you serve with gyoza?
Lots of people in Japan like to enjoy a plate of gyoza with a bowl of ramen. It's also common to eat gyoza with rice at home. Gyoza is usually served with a dipping sauce too, I've included my favourite dipping sauce in my recipe.
Do you eat gyoza hot or cold?
They're better hot for sure, but it's not uncommon to eat them cold in a bento box.