Agedashi tofu is one of my all time favourite tofu recipes! Made with firm tofu coated in a thin, light and crispy batter and served in a thick umami-rich sauce, you won't know how addictive tofu can be until you try this popular Japanese side dish!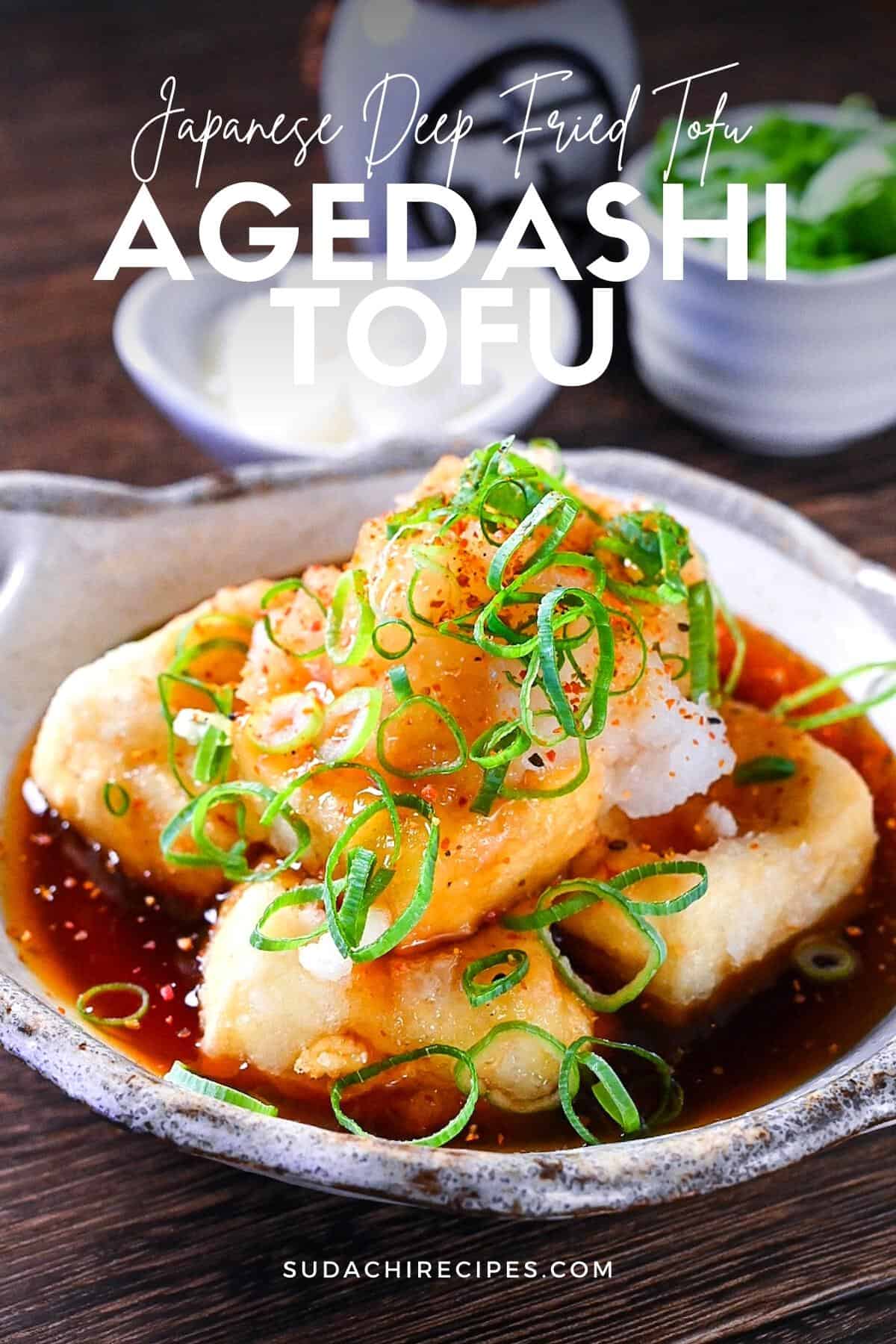 Disclaimer: This post may contain affiliate links. Sudachi Recipes is part of the amazon associates programme and earns a small percentage from qualifying purchases at no extra cost to you. See disclaimer for more info.
What is Agedashi tofu?
Agedashi tofu (揚げ出し豆腐) is a popular dish served at both Japanese-style pubs and at home, where tofu is coated with a flour or potato starch and deep-fried, then dipped in soy sauce based broth.
It is a popular dish in Japanese restaurants in Japan and around the world.
Brief history of agedashi tofu
In 1782, a book titled "Tofu Hyakuchin" (豆腐百珍) became a bestseller, and "agedashi tofu" was introduced in this book. This means that agedashi tofu has existed since at least the mid-Edo period (1603-1868). Some say it existed even before that, making it a dish with a surprisingly long history.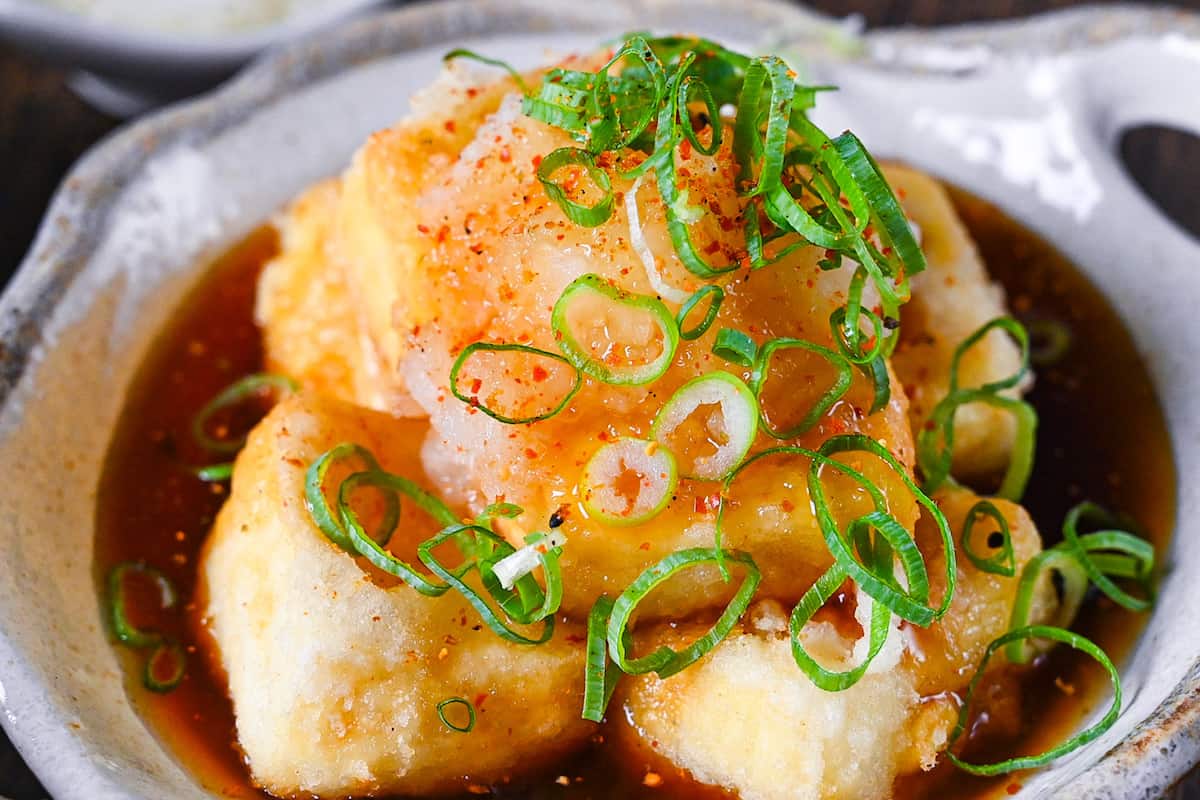 What is the meaning of "agedashi"?
It is thought that the word "agedashi" originally meant "to deep-fry and serve," and that it came to be used because it is simply deep-fried and served without any other modification. Another theory is that the name "agedashi" comes from the fact that deep frying (age) releases (dashi) water from the tofu, while some believe the name "agedashi" derives from the fact that the tofu is dipped in dashi stock.
In the past, not only tofu, but also eggplant, daikon radish, and different kinds of potatoes were fried without batter, and also called "agedashi". These days, however, the term "agedashi" almost always refers to "agedashi tofu".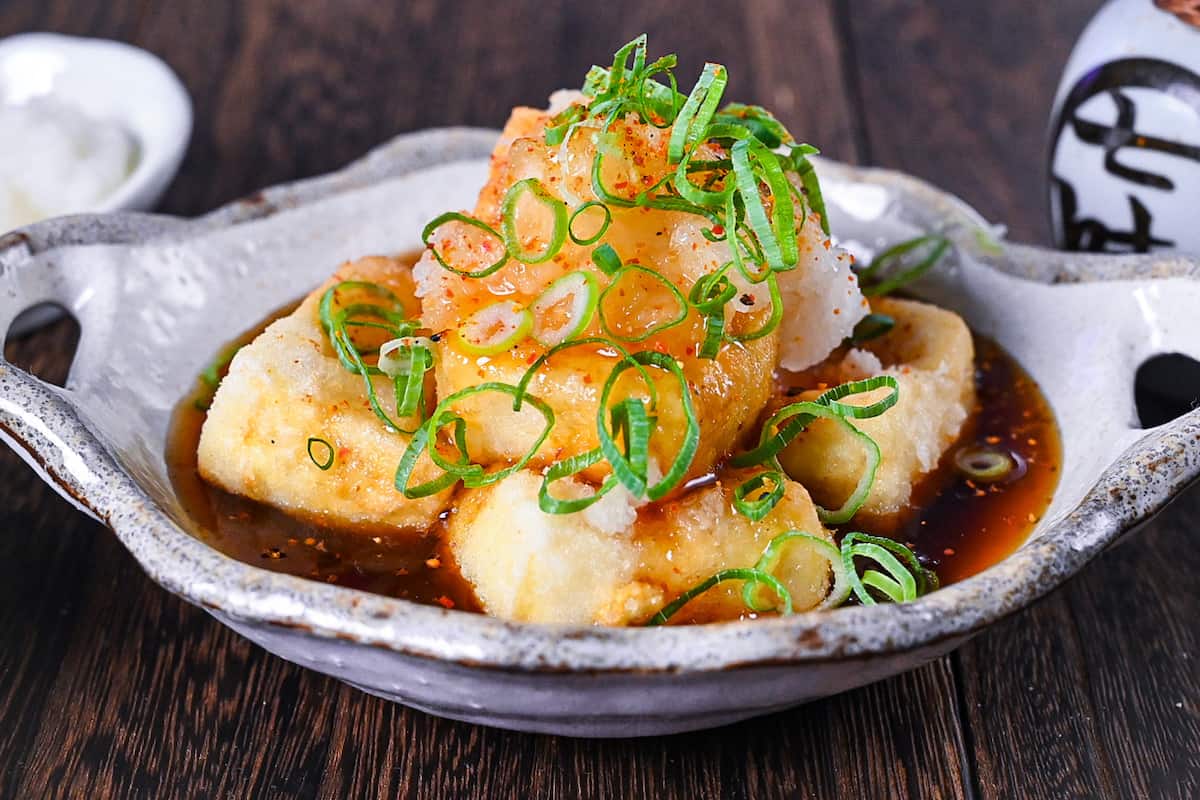 Should I use normal flour or starch?
The crispy outside of agedashi tofu is mostly created with one of two different ingredients: potato starch or flour. There is no right or wrong one to use and it depends on personal preference and the household. The use of different starches or flours makes a difference in the oil drainage after frying and on the texture of the outside.
In this particular recipe, I decided to take the best of both worlds and use both flour and starch with a special trick to make it extra crispy. So stay tuned!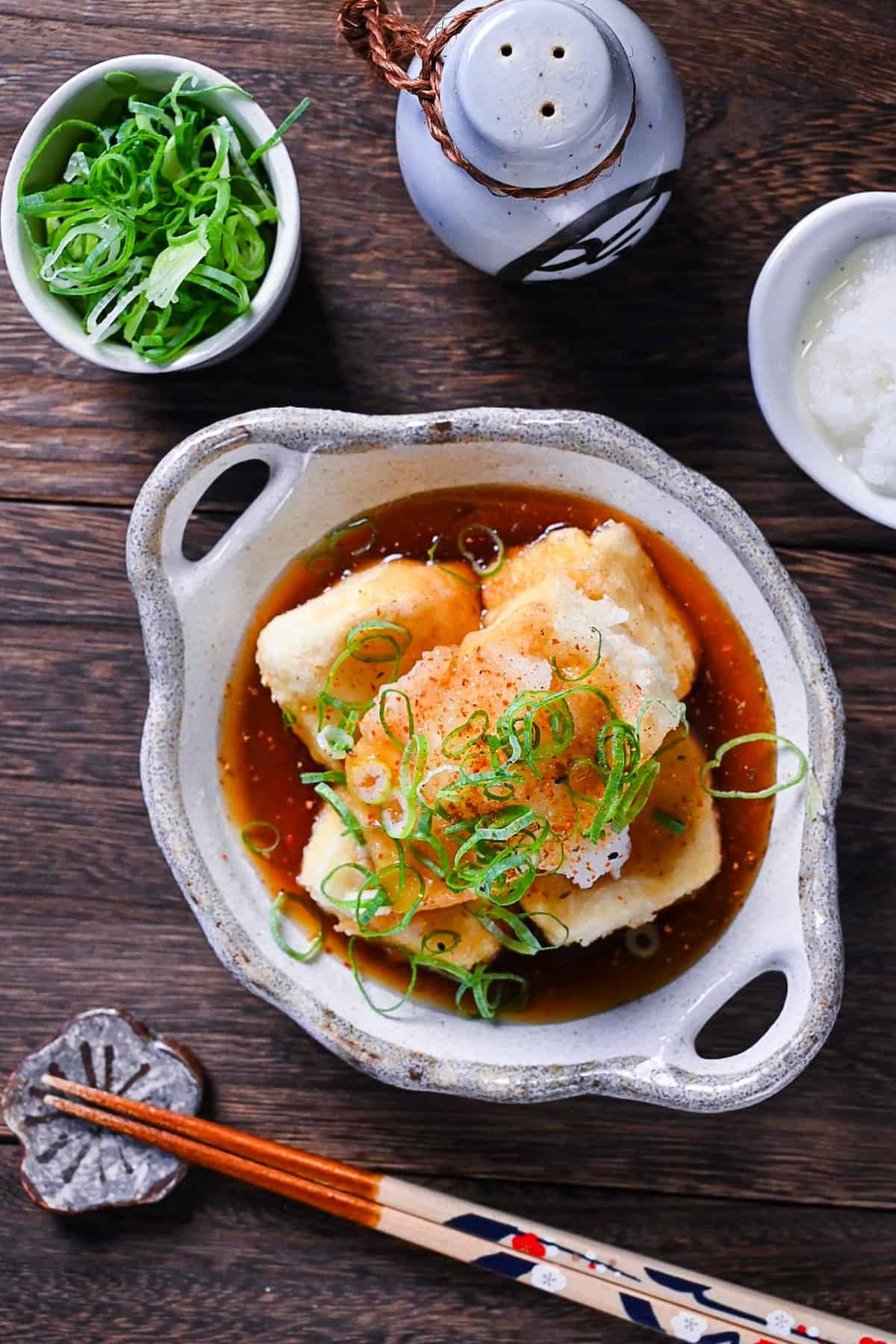 Ingredients to make homemade agedashi tofu
Ingredients for agedashi tofu are very simple, here is the list:
Firm tofu
Potato starch (or tapioca starch)
All purpose flour
Chopped spring onion (optional topping)
Grated daikon radish (optional topping)
Shichimi togarashi (optional topping)
I go over the ingredients in more detail below!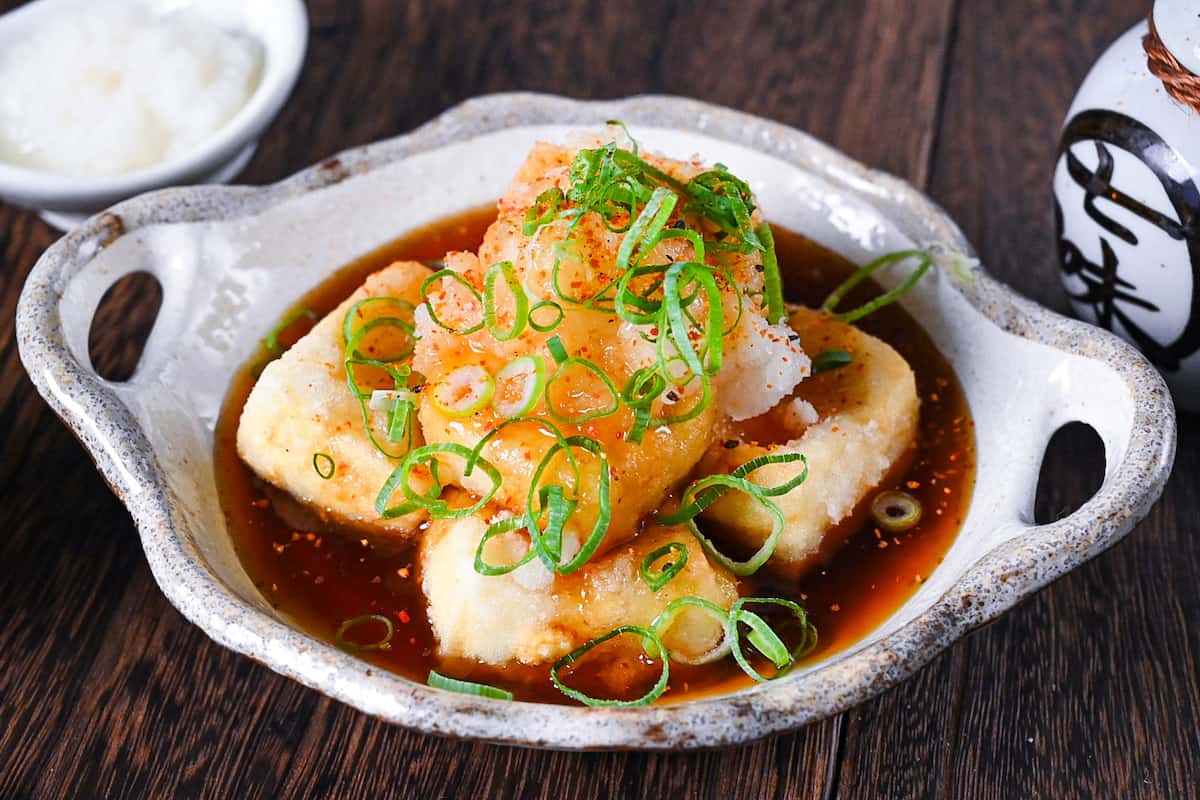 Sauce
Agedashi tofu is served in a thick umami rich sauce, here are the ingredients I use:
I thicken the sauce with a slurry by mixing potato starch with cold water and pouring it in towards the end. By making a thicker sauce, it&s more likely to coat the batter rather than be absorbed and make it soggy.
For more detailed instructions, scroll down to the instruction part or recipe card in this post.
Use a vegetarian dashi stock to make this dish suitable for vegetarians! I have a kombu and shiitake dashi recipe here.
Firm Tofu
Tofu is a popular ingredient made with soy milk curds that are pressed into a block shape. There are different types of tofu with different textures based on their water content, they range from extra soft "silken tofu" with a custard-like consistency to "extra firm tofu" which is dense and holds its shape when cut.
For this recipe I use firm tofu and microwave it as a shortcut to evaporate the extra water, you can also press it if you prefer. Extra firm tofu also works for this recipe.
Silken or soft tofu is not recommended for agedashi tofu as it is very soft and more likely to fall apart during the preparation process. Also, the high water content can also be quite dangerous when deep frying so you need to be more thorough with the draining process. It's still possible to do, but it becomes quite a bit more difficult.
Potato starch
Potato starch (known as katakuriko in Japanese) is a type of starch extracted from potatoes. It is extremely light and fine and a popular ingredient for deep fried goods in Japan as it produces a light yet crispy batter.
Because it's so light, I like to make a second layer of hailstone-like coating by mixing a small amount of water with potato starch and mixing it together to make small clumps of starch. This hailstone effect makes the agedashi extra crispy, it also stays crispy even in the sauce!
You can buy potato starch on Amazon (affiliate link), but tapioca starch also works for this recipe. I would avoid cornstarch just because it tends to turn gummy when it comes into contact with moisture.
Flour
While many recipes only use potato starch, I like to mix in some plain flour when coating my tofu. It just makes the outside a bit thicker and robust. As you can probably tell, I'm a big fan of crispy and crunchy foods, soggy agedashi tofu is a no-go for me!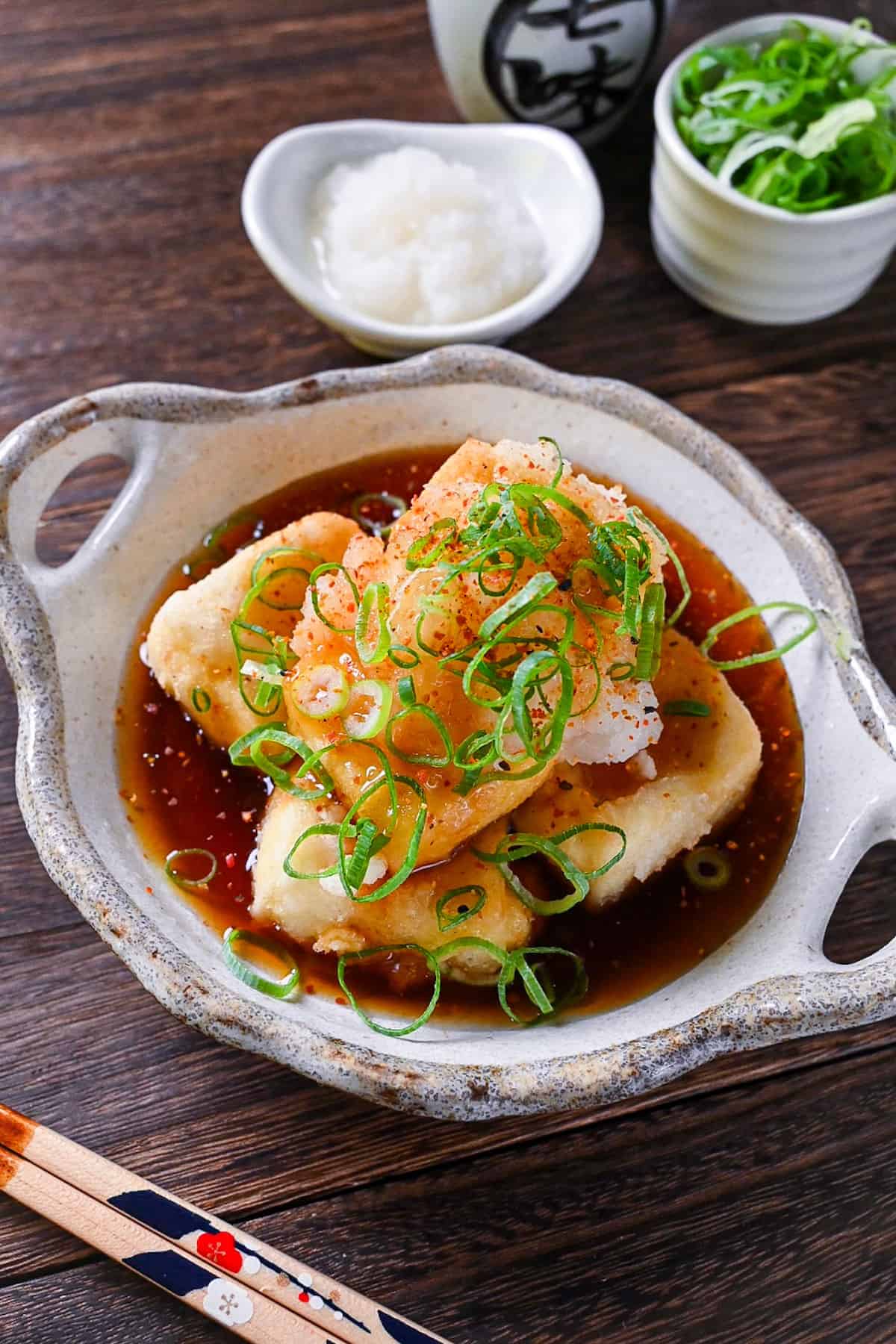 Instructions on how to make agedashi tofu
Here are the detailed instructions on how to make agedashi tofu in a delicious homemade sauce. For ingredient quantities and basic instructions, scroll down to the recipe card below.
Remove excess water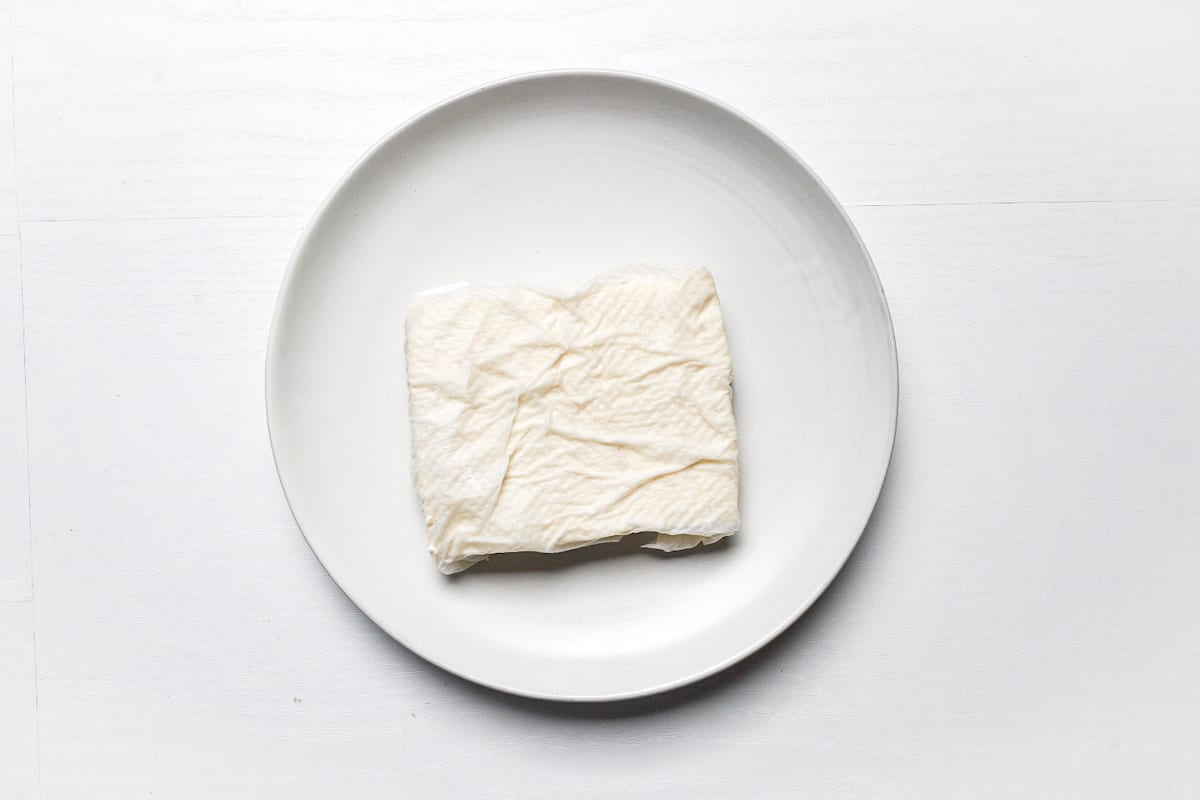 The first step is to remove the excess water from the tofu. Many people like to press it by placing something heavy on top, but this takes a bit of time so I opt for a shortcut here!
Simply wrap the tofu in kitchen paper, place it on a microwavable plate and microwave it for 1 ½ at 600W. I always use this technique when I'm trying to save time (which is always!) and it works like a charm!
When making deep-fried tofu, many people are afraid of splashing oil when putting the tofu into the oil. While it's true that it can splash, you can easily avoid it by draining water from tofu properly.
Cut into cubes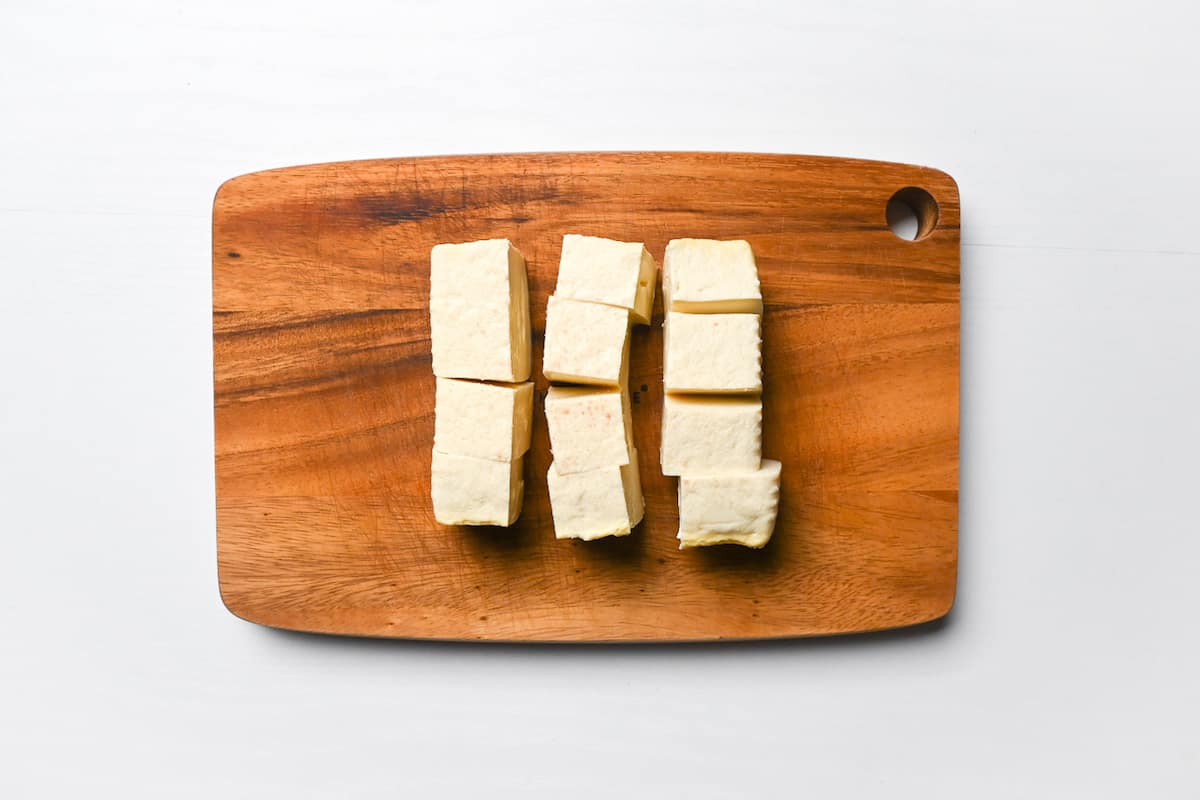 I recommend cutting the tofu into approximately 3cm cubes, they don't need to be perfectly square, the picture above makes the tofu look square but from the side they're more rectangular. They should be a little bigger than bitesize.
Once cut, dry the surface with kitchen paper and sprinkle with salt.
Coat with potato starch and flour
The first coat is a mixture of potato starch and flour (50/50 ratio) which helps absorb some of the excess moisture on the outside and builds the foundation for the crispy outer layer. You will find that the starch and flour seems to disappear and the outside might still seem a bit moist. That's okay, because we need a little moisture for the next layer.
Make "hailstones"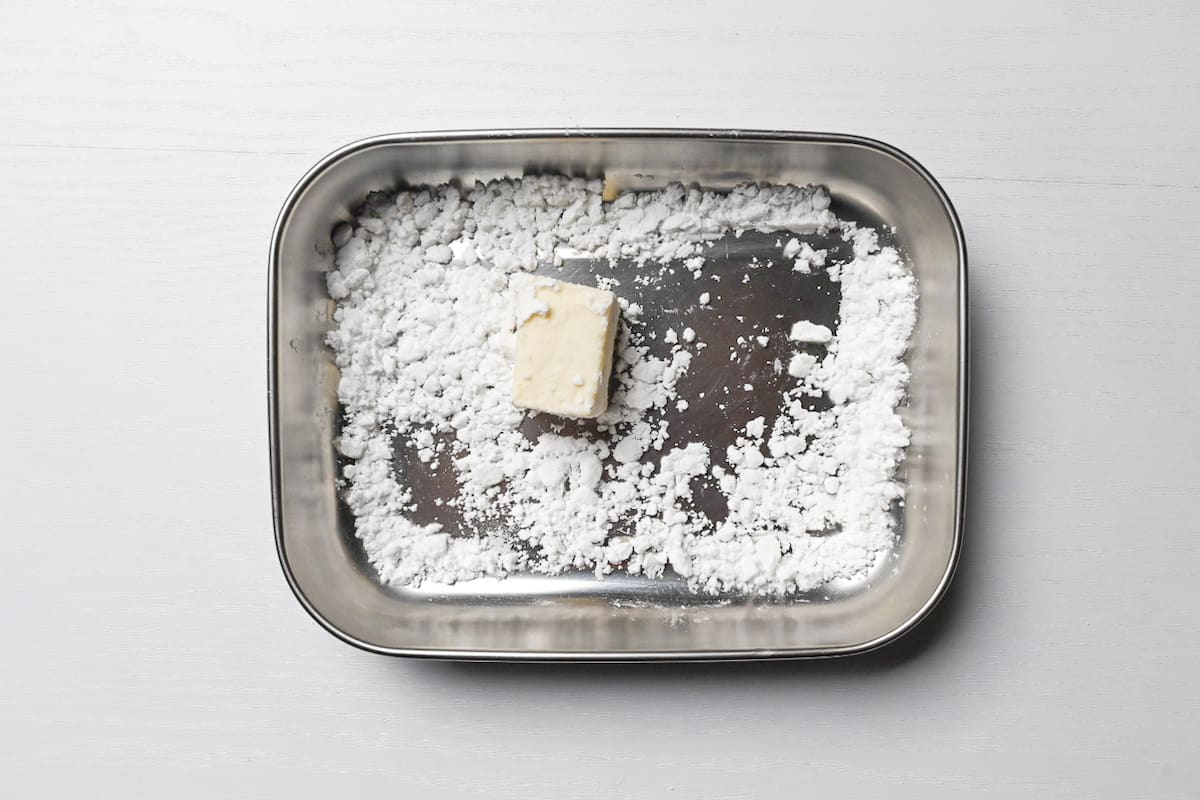 The final layer is made by mixing a very small amount of water with potato starch. This step causes clumps of potato starch to stick together creating small crumbs or what I like to call "hailstones".
Heat your oil before rolling the tofu in the hailstones, if you try to coat them in advance the hailstones tend to "melt" into the surface. For best results, roll the tofu in the hailstones and put them straight into the pre-heated oil.
For best results, place the tofu in the oil immediately after coating in the potato starch "hailstones".
Deep fry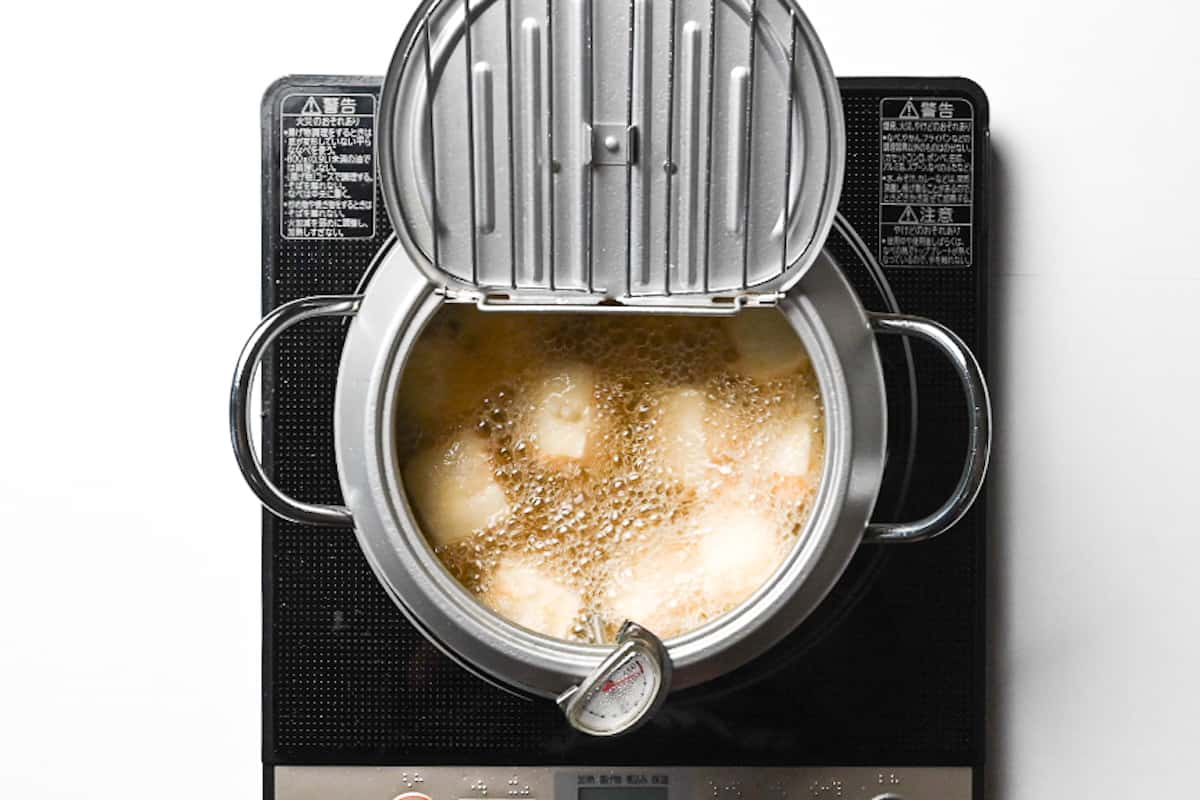 The oil should be preheated 170°C (340°F). Use a neutral flavoured oil with a high smoke point such as vegetable oil or canola oil.
Once you've coated the tofu in the "hailstones", put them straight in the oil! (I know I keep repeating this, but it's important!) Be careful of splashing, sometimes the moisture in the tofu can react with the oil making it splash out.
Don't put tofu directly from the packet to the oil
Tofu contains a lot of moisture and can react violently with hot oil. Never put unprepared tofu straight from the packet into hot oil as it will splash, this can cause serious burns.
Deep fry for 3 minutes, turning each piece half way through. They should be lightly golden. Once finished, place on a wire rack while you make the sauce.
Make the sauce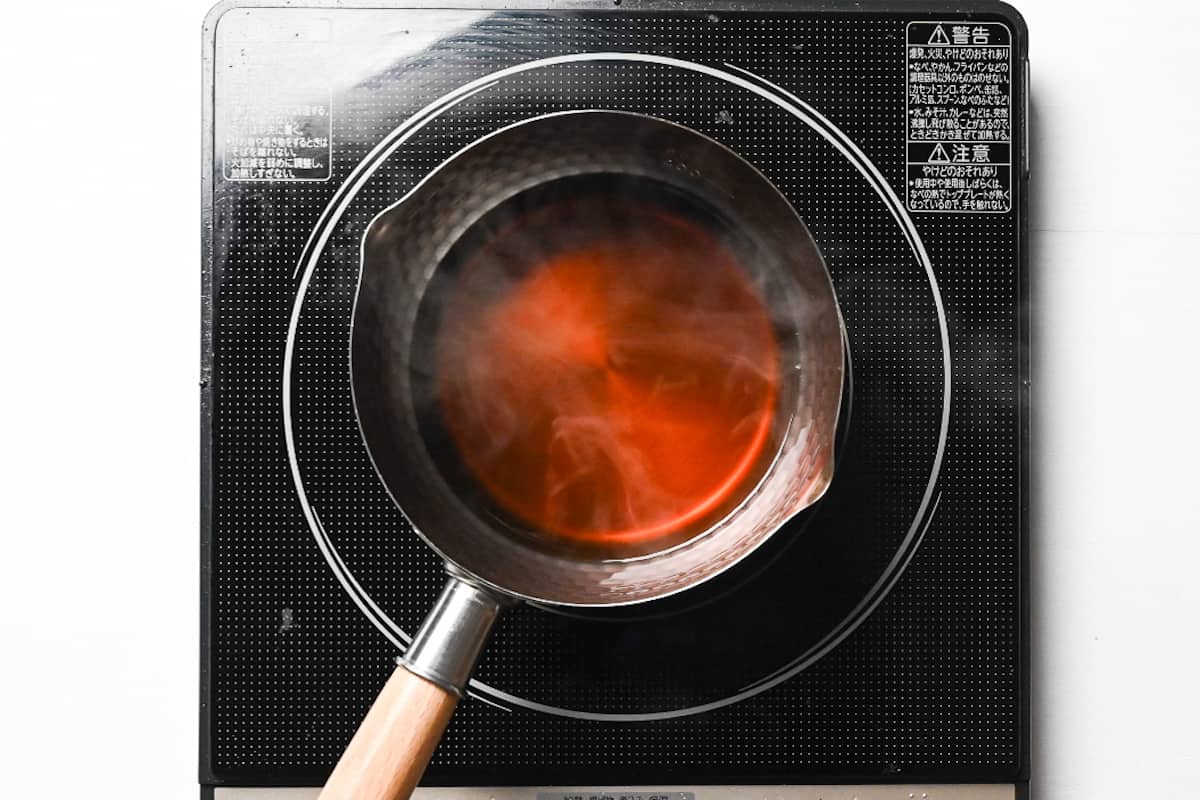 Add the dashi, soy sauce, mirin, sake and salt to a small saucepan and bring to a boil. Allow it to bubble for 30 seconds. Lower the heat, mix up a slurry in a separate bowl (I mix 1 tsp of potato starch with 1 tbsp of cold water) and pour it into the sauce. Mix continuously until the sauce is slightly thickened and then remove from the heat.
Dish up and add toppings (optional)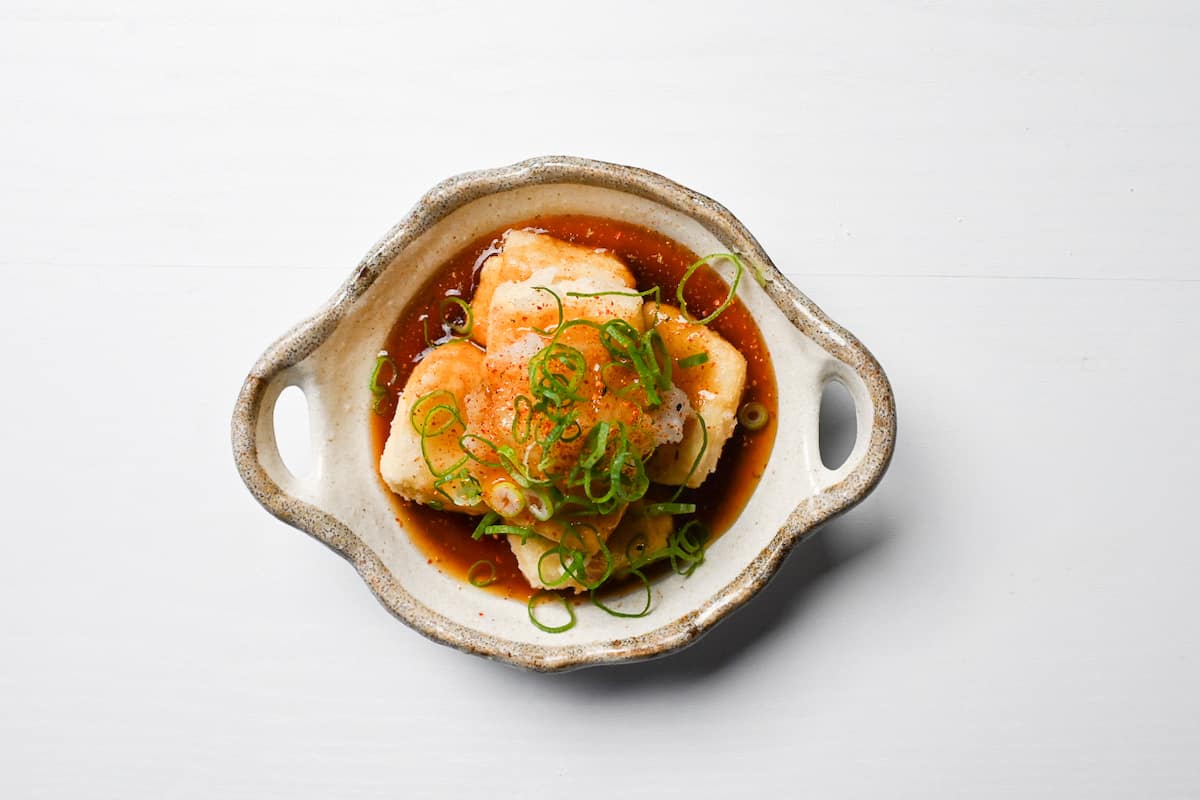 Pile up the fried tofu in the serving bowl and pour the sauce over the top.
Optional toppings include chopped spring onions, grated daikon and shichimi togarashi (Japanese chili pepper).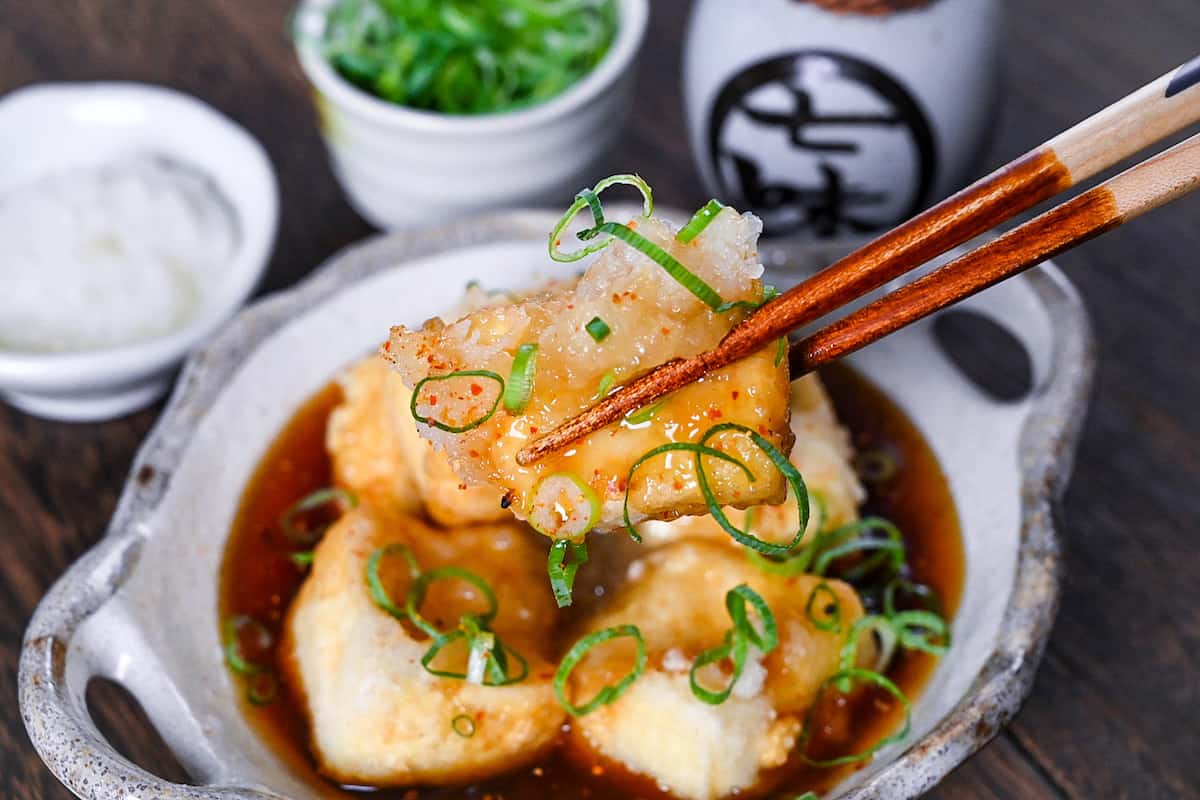 This is one of my favourite tofu dishes of all time, I hope you enjoy it too!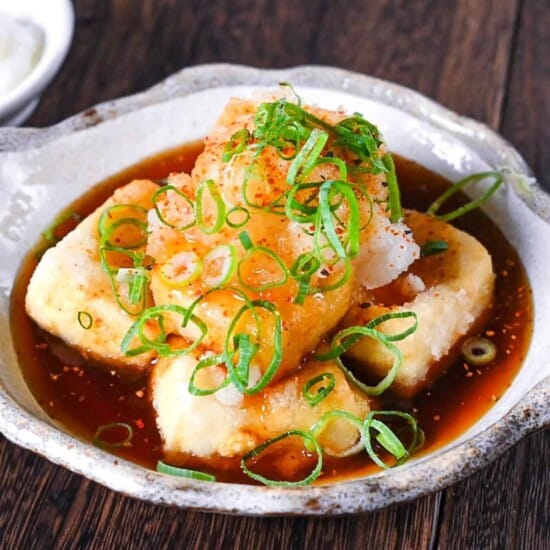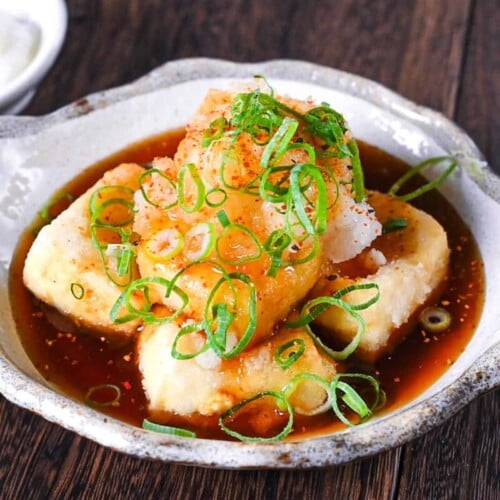 Agedashi tofu (Japanese deep fried tofu) with homemade sauce
---
How to make Agedashi Tofu (Japanese Deep Fried Tofu) in a thick homemade sauce.
---
---
---
---
Equipment
Japanese-style fryer

Stainless steel cooking tray with wire rack

Yukihira saucepan
Ingredients
300

g

firm tofu

momen tofu

4

tbsp

potato starch

or corn starch

2

tbsp

all-purpose flour

1

pinch

salt

1

tsp

water

cold

1

tbsp

finely chopped green onion(s)

optional

1

tbsp

grated daikon

optional

1

pinch

Japanese chili powder

shichimi togarashi, optional
Instructions
Open

300 g firm tofu

, drain the water and wrap it in kitchen paper. Place on a microwavable plate and microwave for 1 1/2 minutes at 600W.

Unwrap the tofu and cut into approximately 12 pieces. (About 3cm cubes) Dry the surface of each piece with kitchen paper and sprinkle with

1 pinch salt

.

Preheat the oil to 

170

°C

(

338

°F

).

Mix

2 tbsp all-purpose flour

and half of the potato starch, roll each piece of tofu in the mixture until coated all over.

In separate tray, add the other half the potato starch and mix with

1 tsp water

to make "hailstones". Roll the tofu in the hailstones and place them directly into the preheated oil one by one.

Fry the tofu for 3 mins, turning half way. Once 3 minutes are up and the tofu is golden, transfer to a wire rack to allow the excess oil to drain off.

Take a small saucepan and add 150 ml dashi stock,

1 tbsp soy sauce

,

1 tbsp mirin

,

1 tsp sake

and

1/4 tsp salt

. Mix and heat on medium, bring to a boil and allow to bubble for 30 seconds. Lower the heat and make slurry in a separate bowl, pour the slurry into the sauce and stir continuously over the low heat until slightly thickened.

Place the tofu in the serving bowl and drizzle with the sauce. Top with

1 tbsp finely chopped green onion(s)

,

1 tbsp grated daikon

and

1 pinch Japanese chili powder

(optional).

Enjoy!
Notes
To make it suitable for vegetarians, use vegetarian dashi in the sauce. I have a recipe here.
Nutrition
Calories:
266
kcal
|
Carbohydrates:
30
g
|
Protein:
12.2
g
|
Fat:
10.5
g
|
Saturated Fat:
1.5
g
|
Polyunsaturated Fat:
5
g
|
Sodium:
867
mg
|
Fiber:
1.9
g
FAQ
Is agedashi tofu vegan?
Generally speaking, tofu itself is vegan but most often dipping sauce isn't as it contains fish essence. However, if you make dashi from vegan ingredients such as kombu or shiitake mushroom, it can easily be made vegan.
How do you pronounce agedashi tofu?
It is pronounced as "ah-geh-dashee-doh-foo".
Can agedashi tofu be main dish?
It can if you add other toppings, but I personally think it's better as a side dish/good beer snack.
Can I make agedashi tofu with silken tofu?
You can, but the difficulty will be a lot higher as silken tofu can easily crumble. I highly recommend using firm tofu for this.