Ebi Chili is a quick, easy and delicious Chinese inspired dish that is well loved in Japan. Juicy prawns and fragrant spring onions served in a thick homemade sweet and spicy chili sauce. Perfect served with fluffy, Japanese rice!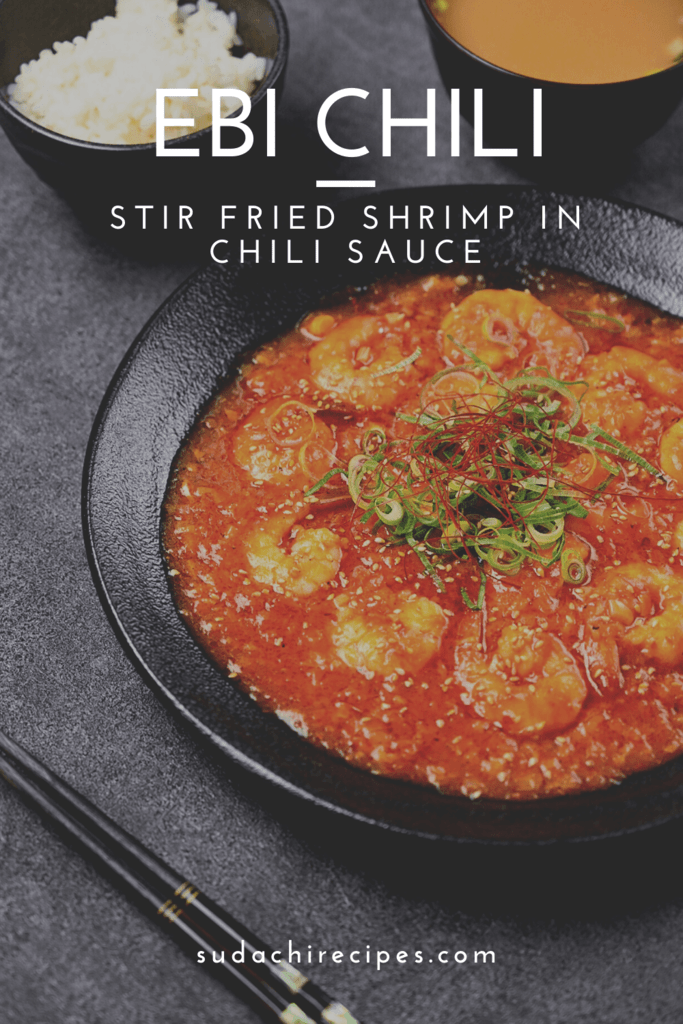 Disclaimer: This post may contain affiliate links. Sudachi Recipes is part of the amazon associates programme and earns a small percentage from qualifying purchases through Amazon at no extra cost to you.
Jump to:
What is Ebi Chili?
Ebi chili is a popular dish made with juicy stir-fried shrimp served in a vibrant sweet and spicy sauce. The dish is a type of "chuka ryori" (Chinese-inspired Japanese dish) and a popular appetizer in many Chinese restaurants in Japan. It is typically served with steamed rice or noodles.
In Japanese, "ebi" (エビ) means shrimp and "chili" comes from the English "chili pepper". Despite its vivid red color and use of "chili" in the name, Japanese ebi chili is actually not that spicy. Japanese people are known for not being so good with very spicy foods, so ebi chili is not as spicy as you might expect!
I'm actually a big fan of hot and spicy foods so my ebi chili recipe is a little hotter than what you might find in Japan, however you can easily adjust the spice level to suit your tastes! I'll explain how in the recipe.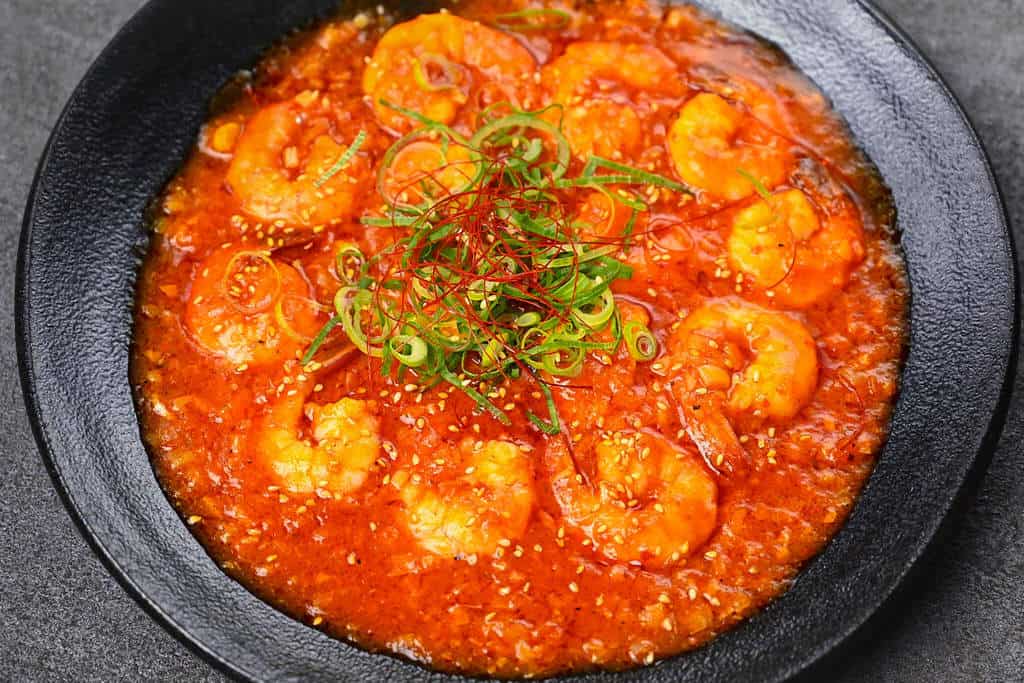 A brief history of ebi chili
It is believed that Ebi Chili appeared in Japan around when a Chinese chef named Jianmin Chen opened a Chinese restaurant in 1958. One of his speciality dishes was a Sichuan dish known as "Kanshao Sharen" (乾焼蝦仁) which is usually made with boiled shrimps and Chinese spicy bean paste.
Since Japanese people were not accustomed to the heat of Chinese spicy bean paste, Chen made the dish with ketchup, sugar and egg yolks to soften the spiciness and adapt it to the tastes of the Japanese people. Since then, ebi chili has become one of the most popular Chinese-inspired dishes in Japan!
What is chuka ryori? (中華料理)
Chuka Ryori is a style of Japanese cooking that is inspired by Chinese cuisine. The term "Chuka Ryori" (中華料理) literally translates to "Chinese cuisine" in Japanese. It was introduced to Japan during the Meiji era (1869-1912) and has since become one of the most popular cuisines in Japan.
Chuka Ryori dishes typically feature a blend of Chinese and Japanese cooking techniques and ingredients. Just like the case of ebi chili, many famous Chuka dishes were created by Chinese chefs living in Japan. The dishes are usually savory and often incorporate noodles, vegetables, seafood, and meat. Some popular Chuka Ryori dishes include gyoza (dumplings), ramen and chahan (fried rice).
Within Chuka Ryori, Sichuan inspired dishes are particularly popular in Japan. This may come as a surprise since Sichuan cuisine is known for its famous hot and spicy "Sichuan Pepper". However, Sichuan dishes in Japan are adapted to be milder and are popular home-cooked dishes that are eaten by the whole family including children. Some examples include ebi chili, mabo dofu (mapo tofu) and tantanmen (spicy sesame ramen).
Ingredients to make ebi chili
Here is everything you'll need to make this delicious homemade ebi chili:
Shrimp
Fresh ginger
Garlic
Spring Onion
Ketchup
Doubanjian (Chinese chili paste)
Sugar
Pepper
Salt
Sesame seeds
Chili threads (optional to garnish)
Let's look at a few key ingredients in more detail.
Doubanjian / Tobanjan
One of the most important ingredients in this dish is a spicy fermented bean paste from Sichuan called "la doubanjian" (affiliate link). It is also commonly spelled as tobanjan (豆板醤 or トウバンジャン) in Japanese and commonly known as "Chili Bean Paste" in English. It's spicy, aromatic and packed with umami. It's also the base flavour for this dish so it's pretty much an essential ingredient for ebi chili.
Tobanjan should be available in well stocked Asian supermarkets, so look for a label with "辣豆瓣酱" or ask for Chinese chili bean paste. Once opened, you can keep it for up to a year in the fridge, so it's a great investment if you plan on trying more Chuka dishes!
Other chili pastes that can work are Sambal Oelek (Thai chili paste) or Gochujang (Korean chili paste) but the dish will have a different base flavour.
Ketchup
Surprisingly, one of the key ingredients in ebi chili is ketchup! This is one of the original ingredients that was added to make the dish more suited to Japanese tastes. It also made it more accessible for home cooks, since ketchup is a common household item. Ketchup adds sweetness, a hint of sourness and softens the spice.
Instructions on how to make the best Japanese Ebi Chili at home
Ebi chili is a quick, easy and delicious dish, that's why it's such a popular home dish in Japan! Here is my step by step recipe including how to prepare the shrimps. For the full ingredient list, see the printable recipe card at the bottom of the page.
How to prepare shrimp for stir frying
The first step is to remove the shells. Use your fingers to split the shell in the middle and gently pull it off. You can keep the tail intact if you like, tails are sometimes left on for presentation (they also add more depth to the sauce).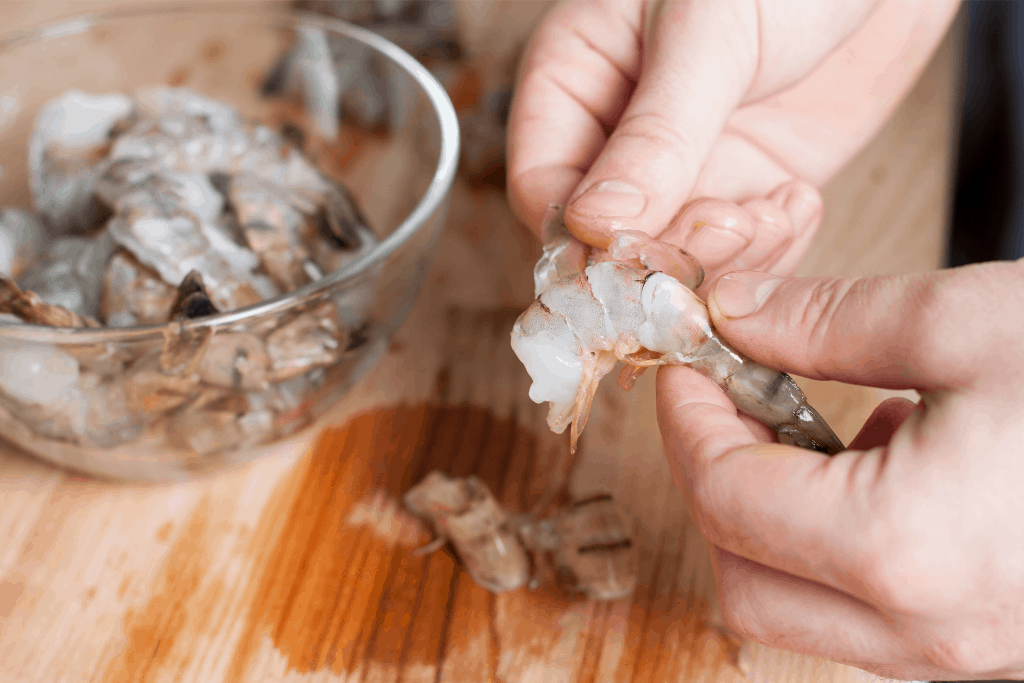 Use a sharp knife to cut down the back of the shrimp and reveal the vein. You can pull it out using the tip of the knife, a toothpick or a deveining tool.
If you don't want to cut the shrimp, you can use a toothpick to pierce the middle, hook the vein and pull it out. There is a chance it will snap if you do this so I recommend to take your time and be quite gentle with this method.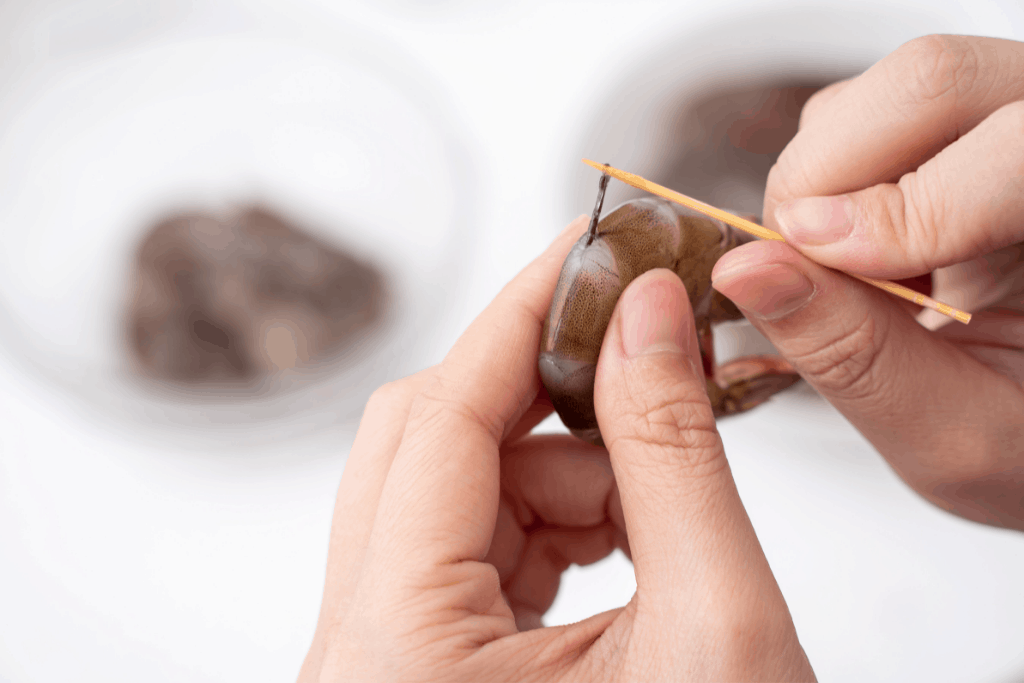 Finally clean the shrimp by placing them in a bowl of water and rubbing the surface with 1 tsp of corn starch and a few pinches of salt. Once fully covered, rinse thoroughly with fresh water and pat them dry with kitchen paper. This will remove any dirt or debris and hugely improve the flavour of your shrimp!
Fry the shrimp
Preheat a large frying pan on medium and once hot, add a drizzle of oil. Add the shrimps and fry until they turn pink.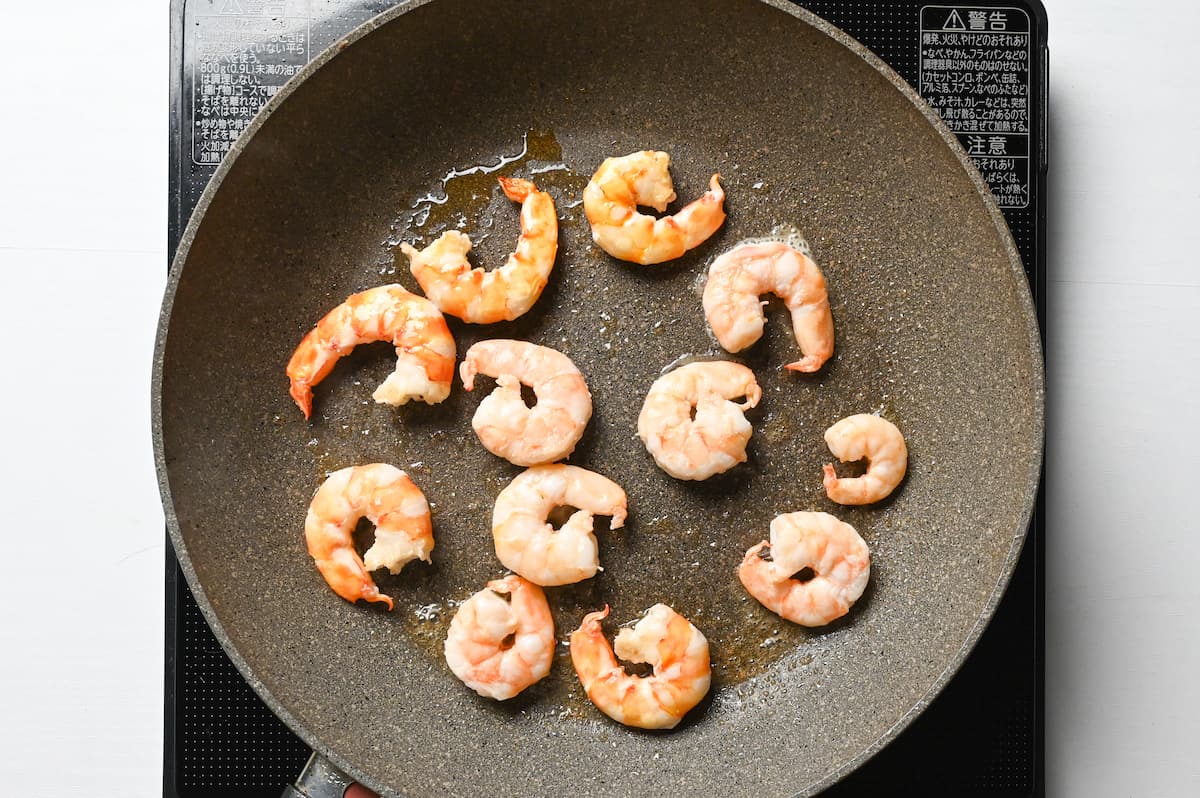 Transfer the shrimps to a plate or container lined with kitchen paper (this is to absorb any excess oil) and set aside for later.
Make the sauce
Using the same pan, lower the heat and add finely diced garlic, fresh ginger and the white part of a spring onion.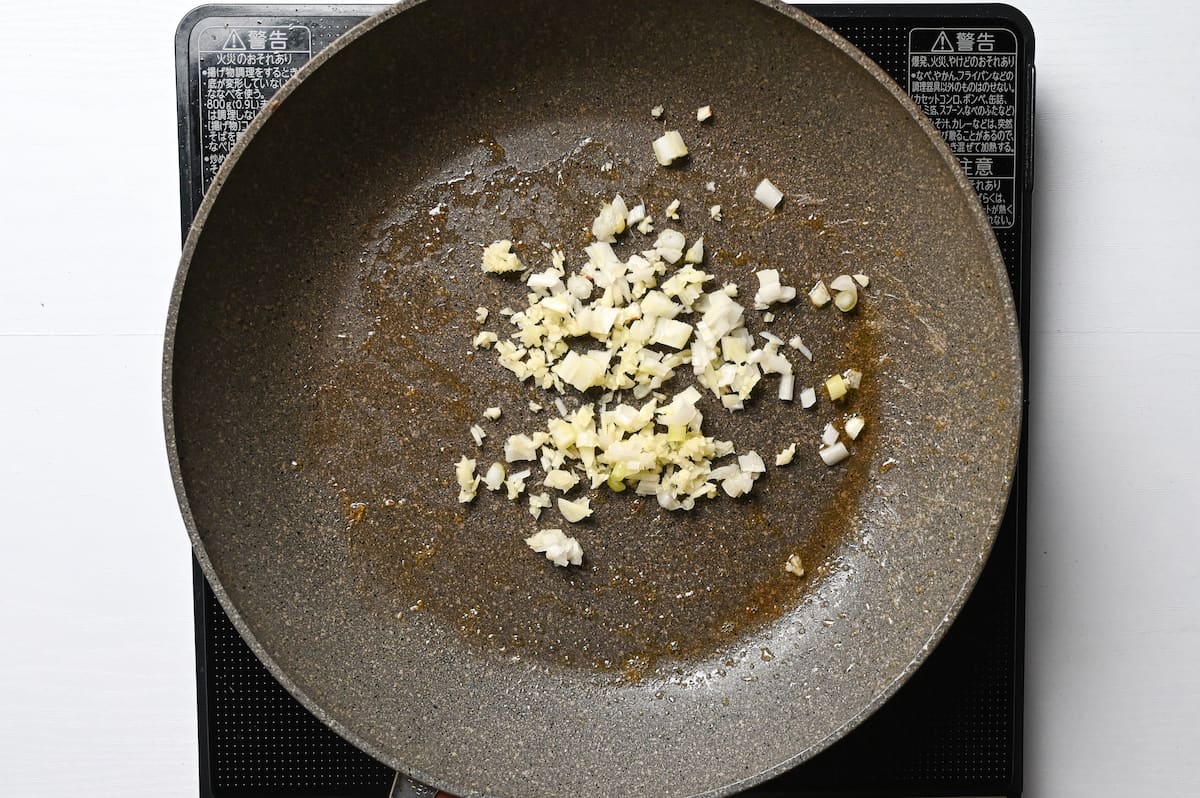 Once fragrant, add the ketchup and doubanjian. Stir fry for about 1-2 minutes.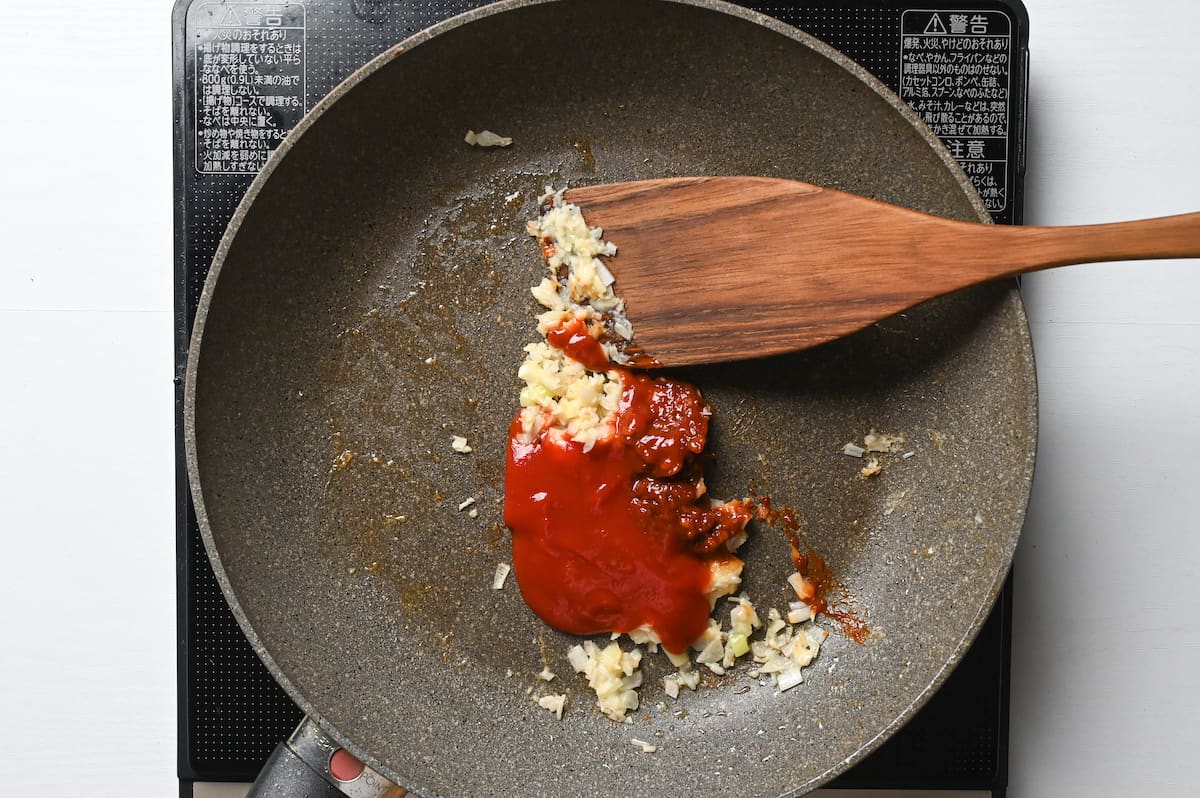 Next, add the water and chicken stock powder. Turn up the heat to medium, mix well and bring it to a boil.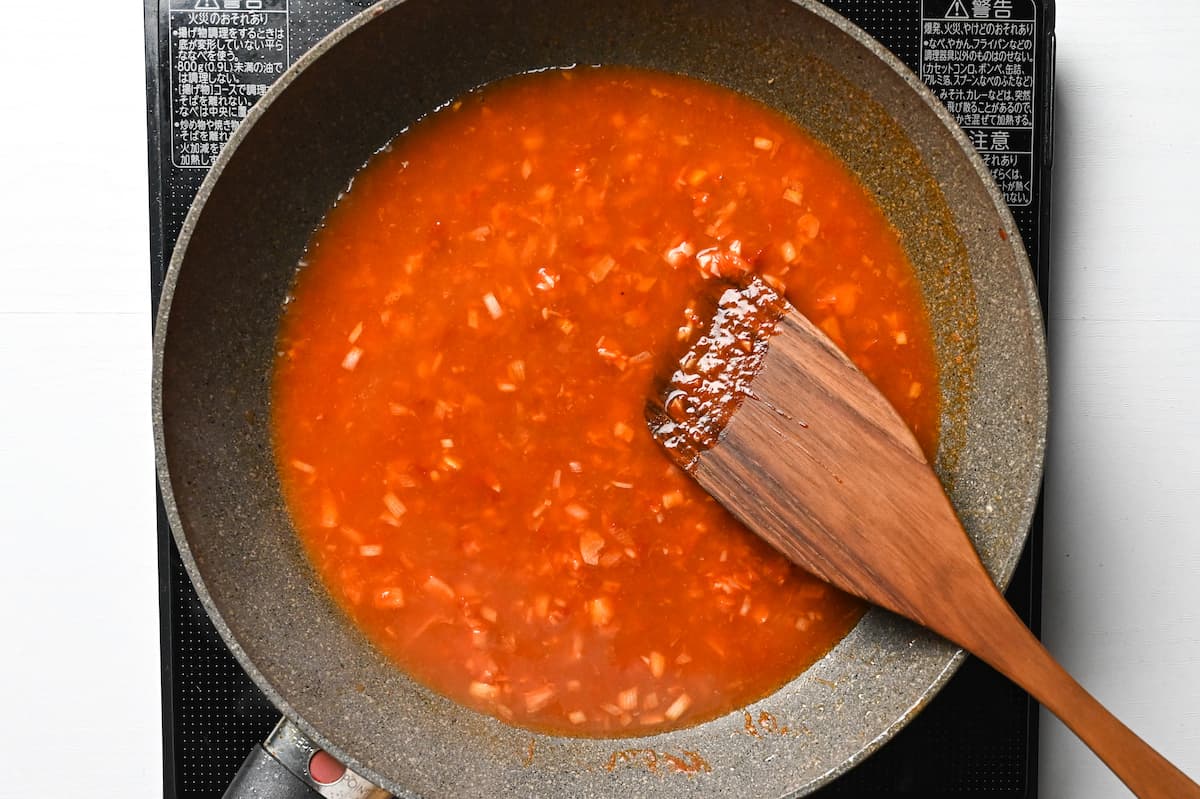 Add the shrimps and thicken the sauce
Once the sauce is bubbling, add the shrimps back in and lower the heat back down to a simmer.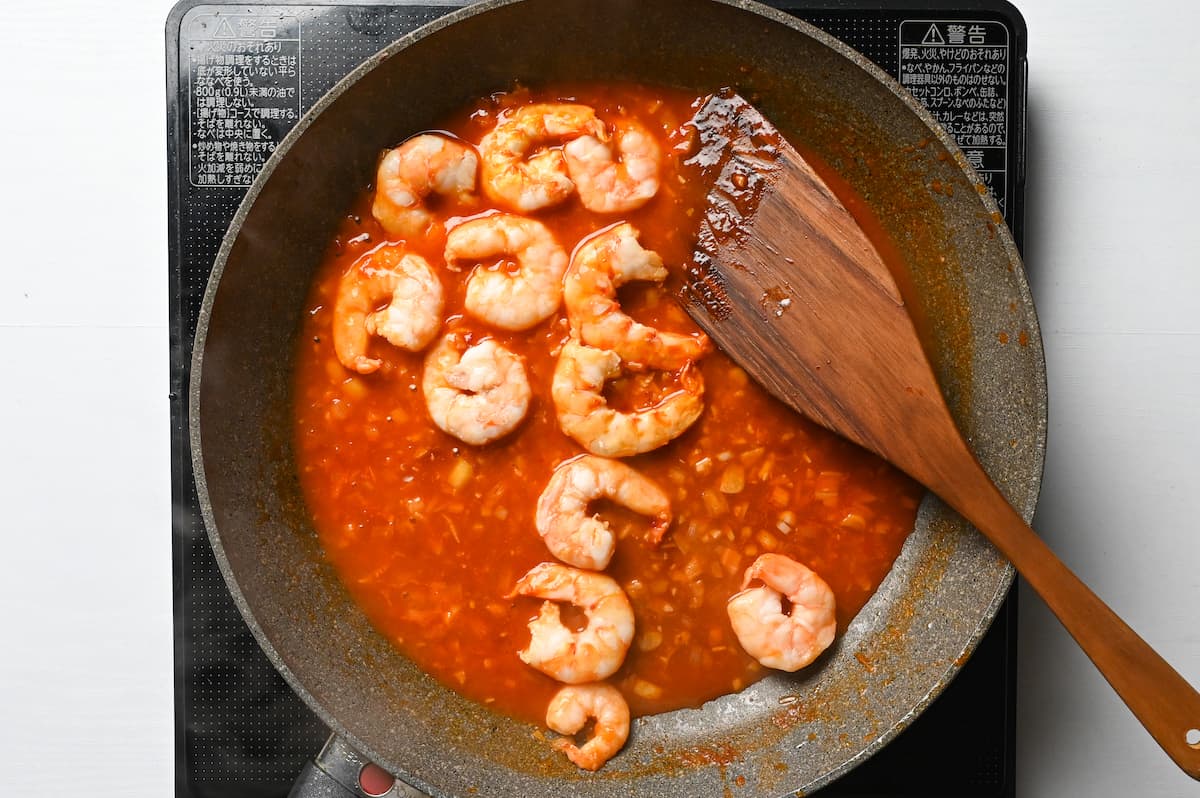 In a small bowl, mix 1 tbsp of cold water with 1 tsp of corn starch to make a slurry. Pour the slurry into the pan and mix well. The slurry helps to thicken the sauce and make it glossy.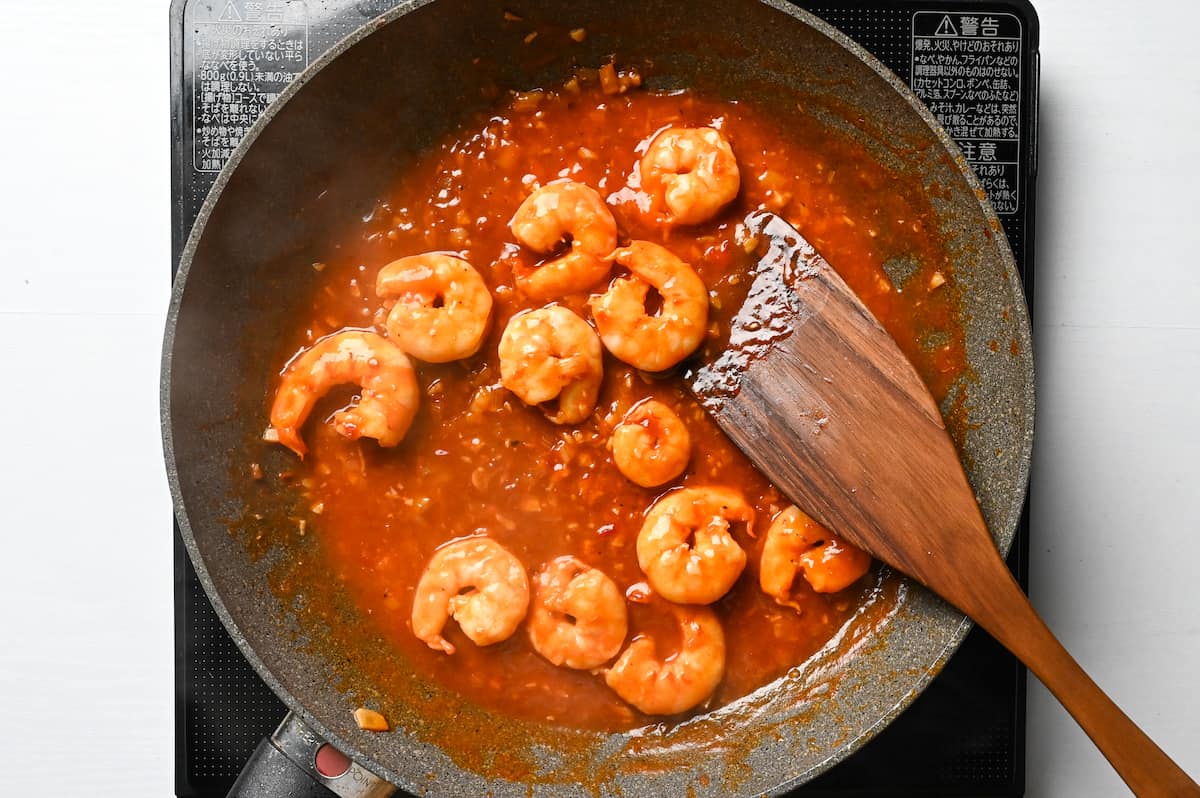 Sprinkle with a pinch of salt, pepper and sugar to taste, mix well and continue to simmer until thickened.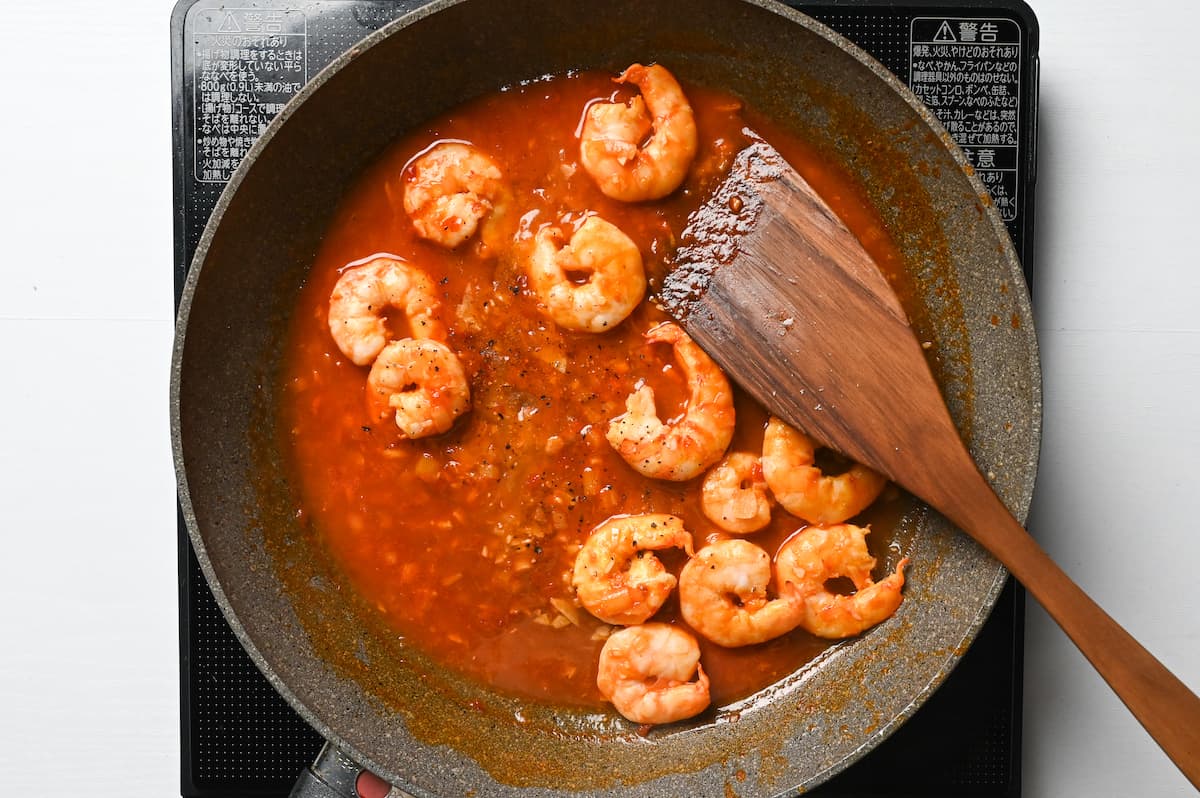 Once thick and glossy, remove the pan from the heat.
Dish up
Transfer the ebi chili to a serving dish and sprinkle with chopped spring onion (green part), sesame oil and chili threads for decoration.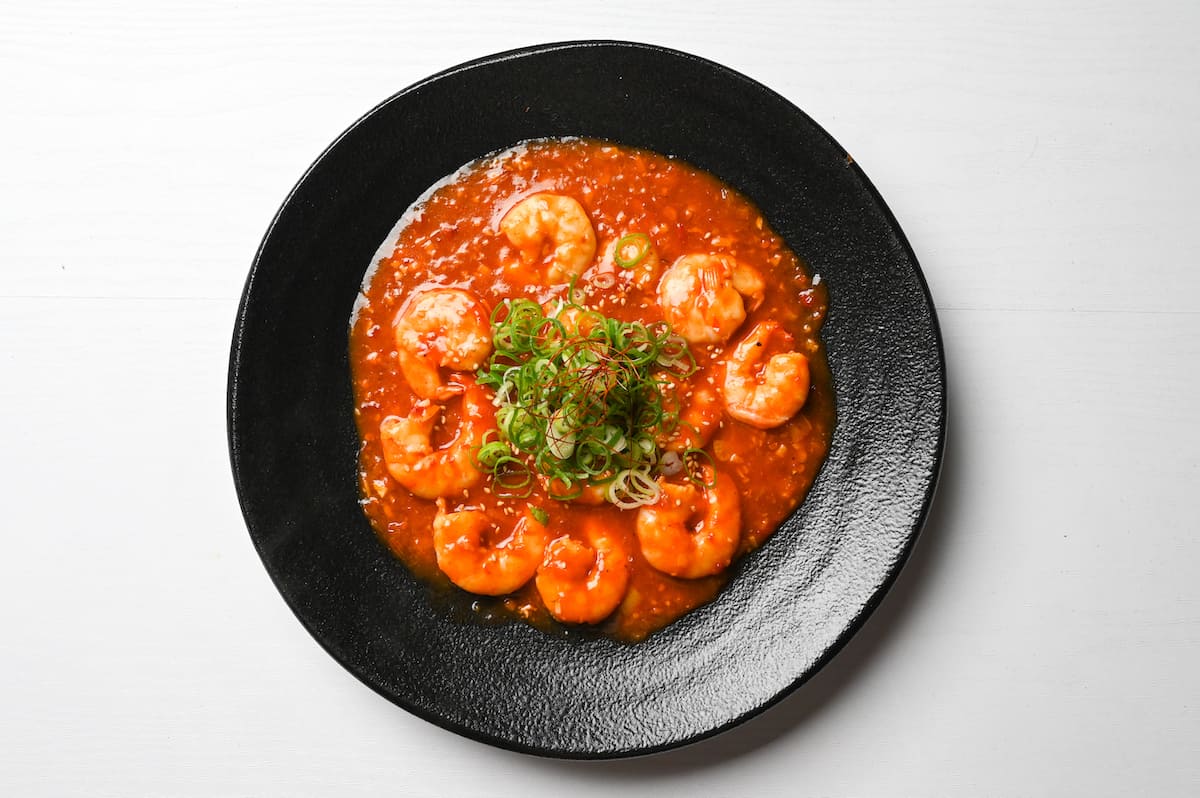 And enjoy!
I hope you enjoy this delicious Japanese ebi chili inspired by Chinese cuisine! If you try the recipe, be sure to let me know what you thought in the comments below!
Japanese "Ebi Chili" Stir fried Shrimp in Chili Sauce (エビチリ)
How to make Japanese Ebi Chili (エビチリ) a quick and delicious Chinese inspired dish made with juicy shrimp served in a spicy and fragrant chili sauce.
Ingredients
230

g

shrimp(s)

-

peeled and deveined (see in post for instructions)

2

pinches

salt

1

tsp

cornstarch

2

tbsp

cooking oil

1

tbsp

fresh ginger

-

finely diced

2

cloves

garlic

-

finely diced

30

g

green onion(s) -

white part, finely diced

2

tbsp

tomato ketchup

1

tsp

chili bean sauce

-

toban djan, use double for a spicier ebi chili

150

ml

water

1

tsp

Chinese-style chicken bouillon powder

1

tsp

cornstarch

-

to make slurry

1

tbsp

cold water

-

to make slurry

1

pinch

salt

1

pinch

black pepper

1

pinch

sugar
Instructions
Place

230 g shrimp(s)

in a bowl and rub

1 tsp cornstarch

and

2 pinches salt

over the surface. Once evenly covered, leave for 1-2 minutes.

Wash thoroughly with cold water and pat dry with kitchen paper.

Heat a large pan on medium, once hot, add

2 tbsp cooking oil

and the shrimps. Fry until the shrimps turn pink.

Once cooked, transfer the shrimps to a container lined with kitchen paper.

Lower the heat and in the same pan, add

1 tbsp fresh ginger

,

2 cloves garlic

and

30 g green onion(s)

. Stir fry until fragrant.

Next, add

2 tbsp tomato ketchup

and

1 tsp chili bean sauce

. Mix and fry for 1-2 minutes.

Add

150 ml water

and

1 tsp Chinese-style chicken bouillon powder

, turn up the heat to medium and bring to a boil. Mix occasionally.

Once boiling, lower the heat down to a simmer and add the shrimps back in.

In a small bowl, mix

1 tsp cornstarch

with

1 tbsp cold water

to make a slurry. Add it to the pan along with

1 pinch salt

,

1 pinch black pepper

and

1 pinch sugar

.

Mix and continue to simmer until the sauce becomes thick and glossy.

Transfer to a serving dish and top with

1 tsp finely chopped green onion(s)

,

1 tsp white sesame seeds

and

½ tsp chili threads

.

Enjoy!
Nutrition
Serving:
190.4
g
Calories:
260
kcal
Carbohydrates:
12.3
g
Protein:
25.8
g
Fat:
12.8
g
Saturated Fat:
1.44
g
Polyunsaturated Fat:
5.09
g
Cholesterol:
196
mg
Sodium:
572
mg
Fiber:
1.2
g