Learn how to make traditional ochazuke, fluffy white rice steeped in a delicate Japanese green tea and garnished with a variety of savory toppings. It's quick and easy, and the perfect way to use up leftover rice and ingredients!
Disclaimer: This post may contain affiliate links. Sudachi Recipes is part of the amazon associates programme and earns a small percentage from qualifying purchases at no extra cost to you. See disclaimer for more info.
Jump to:
What is Ochazuke?
Ochazuke (お茶漬け) is a simple dish made by pouring hot tea over cooked rice and adding a variety of toppings. It's a quick and easy dish to make and a common way to use up left over ingredients.
While ochazuke is most commonly made with Japanese green tea, in recent years, it is not uncommon to see ochazuke made with things like oolong tea, soup, and dashi (Japanese soup stock) too. This shows that despite the name, "ochazuke" doesn't necessarily have to be made with "ocha" (green tea) at all.
In summer, it is sometimes served with chilled tea. This way of eating ochazuke was introduced on TV during the Showa period (1926-1989).
History of Ochazuke
The definite history of ochazuke is not known for certain, but in the Heian period (794-1185), there was a dish called "yuzuke" (湯漬け) which was made by pouring hot water over cold rice. This was also found at formal banquets in the Muromachi period (1336-1573) as well.
While this could be considered the origin of the idea, yuzuke and ochazuke are not quite the same thing.
In the Edo period (1603-1868), ochazuke became a well-known dish amongst ordinary people. It is recorded that servants at merchant houses and other establishments ate their meals in between their extremely busy work schedule, and they preferred ochazuke as it allowed them to finish their meals in a short time.
In short, ochazuke was and is a fast food.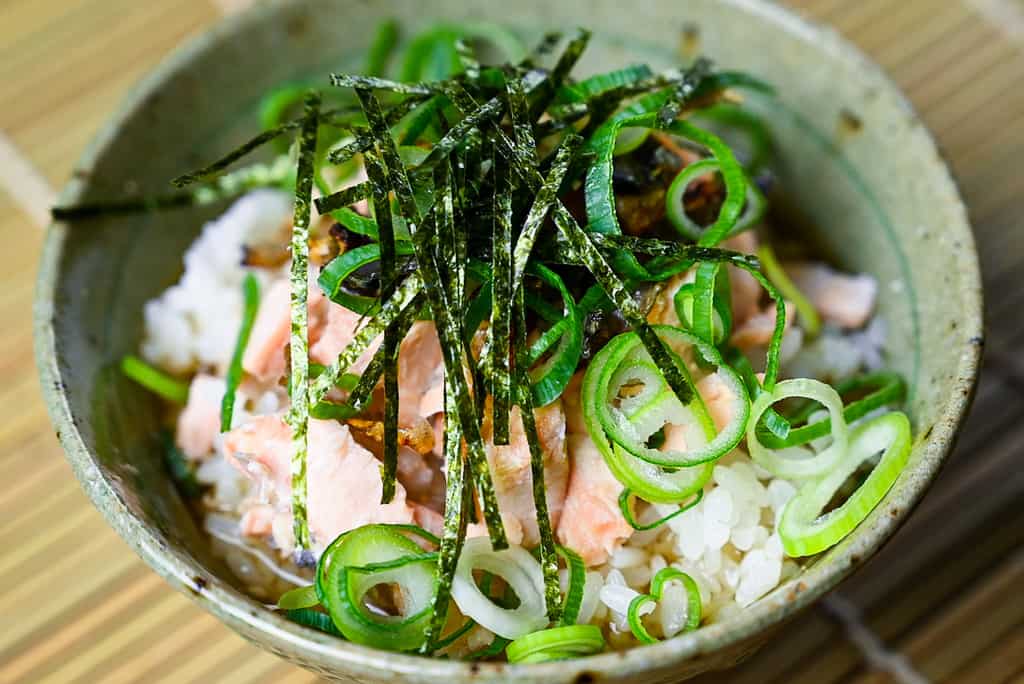 Around that time, toppings like pickled plums, salmon, nori (seaweed), tsukudani, cod roe, and many others started to be added to enjoy ochazuke. In those days, the basic rule was to cook rice once a day, so rice was cooked in the morning and eaten freshly cooked and hot, while the evening meal would consist of cold rice that was heated by pouring hot tea over it.
From the Genroku era (1688-1704), "chazukeya (ochazuke restaurant)" appeared and became widely popular as fast food for the common people. Chazukeya was not just a place to enjoy ochazuke, but also a place where you could enjoy simple and humble meals in general.
What kind of tea to use for Ochazuke
"Ocha" (お茶) is the Japanese word for tea and we use this as an umbrella term for many types of Japanese green tea. Black tea is called "koucha" (紅茶) and Chinese teas are called by their full names. "Ochazuke" basically means "steeped in green tea".
Ochazuke was traditionally made with Japanese teas such as:
However these days it's not uncommon to use other kinds of tea.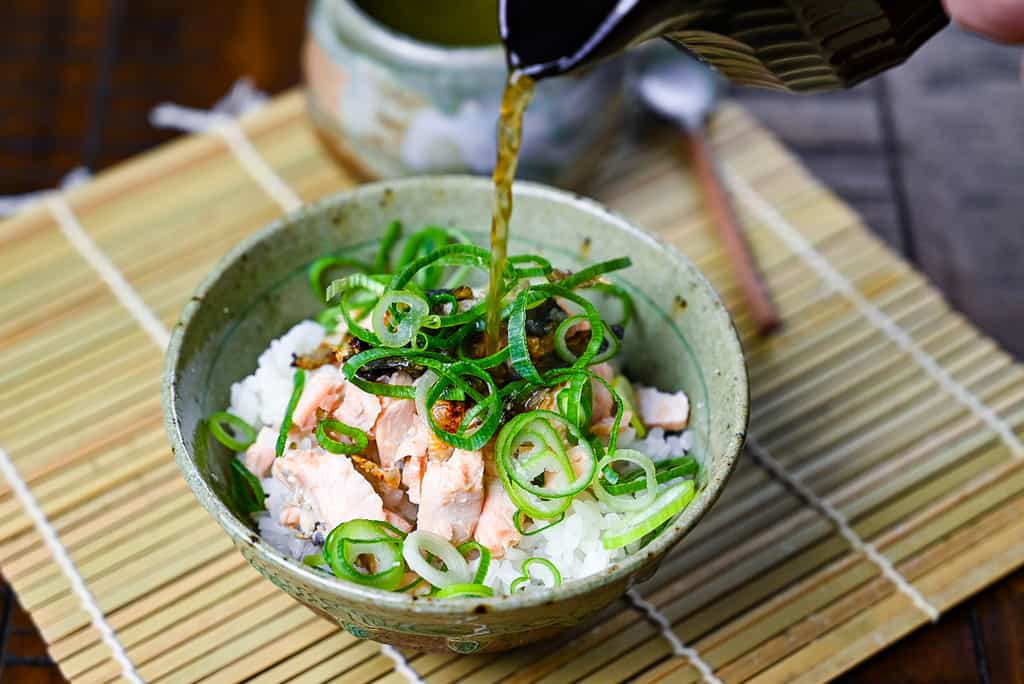 Popular Ochazuke toppings
Ochazuke most commonly comes with a variety of toppings. Here are some popular examples:
Umeboshi (pickled plum)
Tsukemono (pickled vegs)
Mentaiko (spiced cod roe)
Nori (dried seaweed sheets)
Tai (red snapper)
Baby sardines...etc
It's nice to add ingredients with different textures like soft, crunchy, crispy. In this recipe I make crispy salmon skin and use it to sprinkle on the top of the dish.
Instant Ochazuke
In modern days, we have rice cookers that are convenient and keep rice warm. Instead, instant ochazuke has become the mainstream way to eat ochazuke.
In fact, the instant ochazuke already contains tea powder and soup stock in the package, so all you need to do is sprinkle it over rice and add hot water. I'm sure a lot of people think that ochazuke is rice with hot water because of this instant variety.
You can buy instant ochazuke on Amazon (affiliate link) and it also comes in different flavours such as sake (salmon), ume (pickled plum), wasabi, etc.
Restaurants use their own special broth to make ochazuke as well, so overall, you are not limited to only using hot tea to make ochazuke these days.
Using dashi
I like using dashi to make ochazuke, it gives it extra flavour and umami! Not to mention, it's the perfect way to use up left over dashi.
If you're interested in making dashi, you can check out my recipe here.
To be honest, ochazuke is supposed to be a quick dish that uses up leftovers. If you don't have leftover dashi, it's more common to use instant dashi like dashi bags or dashi powder.
I personally boil water and then add dashi powder and a green tea bag, this is the quickest and most convenient way to make ochazuke.
Popular dish after drinking
One of the most common occasions to consume ochazuke these days is post late night drinking. We call this type of dishes "shime (〆)" and other example of shime is ramen.
After drinking alcohol, our bodies usually become dehydrated and crave salty foods. The beauty of "shime" in Japan is that they're both salty and soupy, so things like ochazuke and ramen are a perfect way to curb that craving!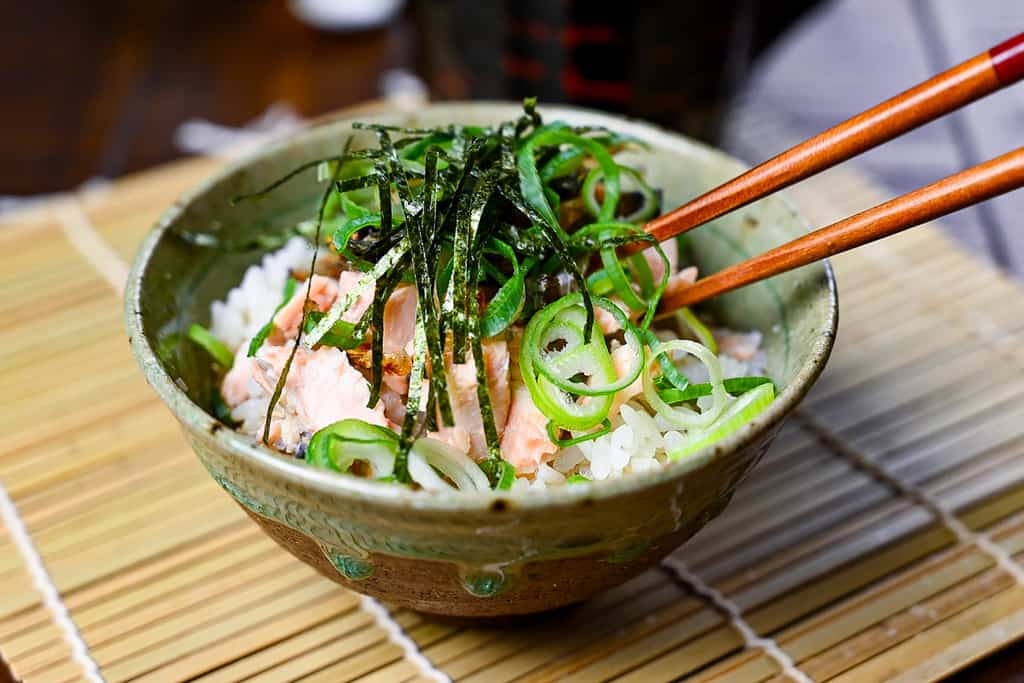 I hope you enjoy making and eating this quick and easy Japanese Ochazuke! Feel free to customize it using your favourite ingredients.
My personal favourite toppings are salmon and pickled plum with wasabi! How about you?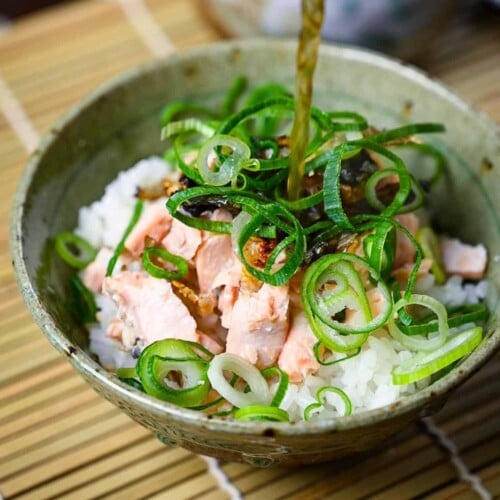 Salmon Ochazuke (Japanese Tea on Rice)
How to make Japanese tea rice "Ochazuke" with salmon and crispy salmon skin.
Instructions
Dry the surface of

200 g salmon fillets

with kitchen paper and rub

½ tsp salt

over both sides.

Preheat the grill or broiler on a medium-high setting. 

Once the grill is hot enough, rub

1 tsp sake

over the salmon (optional) and place under the grill with the skin side facing up.

Grill for 3-4 minutes or until the skin is golden and crispy.

Once crisped up, turn down the heat to medium and flip the salmon over. Grill the other side for 3-4 minutes or until it's cooked through. 

Remove the salmon from the grill and peel off the skin. Cut the crispy skin into thin slices.

Place the salmon meat in a bowl and break it into flakes. 

Take teapot or jug and add

300 ml dashi stock

(approx

80

°C

). Place

1 green tea bag

inside and brew for 1 minute.

Remove the tea bag and add

2 tsp soy sauce

.

Take out one serving bowl per portion and divide

300 g cooked Japanese short-grain rice

and

½ tsp ground sesame seeds

into each bowl.

Distribute the salmon flakes, salmon skin and

finely chopped green onion(s)

evenly on top of each portion of rice.

Pour the dashi tea just before serving and sprinkle with

shredded sushi nori seaweed "kizami nori"

and a small blob of

wasabi paste

(optional).
Notes
It's common to add pickles to ochazuke, feel free to customize!
Enjoy ochazuke chilled in the summer (simply chill the dashi/tea in the refrigerator)