Udon is a Japanese noodle made by adding a small amount of salt to wheat flour, kneading it with water, rolling it out, and cutting it into strips, then boiling it. It is believed to be introduced by Tang during the Nara period (710-794).
They come in a wide range of thicknesses but are popular for their distinctive firm and slightly chewy texture.
Udon is extremely versatile and has been loved by people in Japan for hundreds of years, hence there are so many kinds of udon recipes in Japan. So in this article, I will introduce a list of authentic Japanese udon recipes you must try!
1. Kake udon (かけうどん)
Kake udon is a dish of boiled udon topped with hot dashi broth. It's considered as the simplest form of udon noodle soup dish. Kake udon is the base of most hot udon dishes and once you master this fundamental recipe, you'll be able to make many more udon soups.
Once you know how to make kake udon broth, you can make a lot of different udon dishes. In my recipe, I included a step-by-step process from making dashi from scratch to the kake udon soup itself!
2. Beef udon (肉うどん)
Beef udon is one of the varieties of niku udon (meat udon). Although chicken and pork can be used for niku udon, beef goes the best in my opinion.
It's not necessary to use expensive beef for this dish, but I do recommend a thinly sliced, fatty cut for the best texture and flavor. In Japan, we often use fatty end cuts. The beef fat dissolves into the broth and makes it richer and tastier! Thigh, loin, or belly all work fine.
3. Pork Udon (豚肉うどん)
Another variation of niku udon! Pork udon (豚肉うどん) or "butaniku udon" is a type of hot noodle dish made with thick udon noodles served in a tasty dashi broth and topped with marinated pork and sautéed onions.
I find that beef udon is rich and meaty, while pork udon is a bit lighter but packed with umami. They're both delicious, that's for sure!
4. Curry Udon (カレーうどん)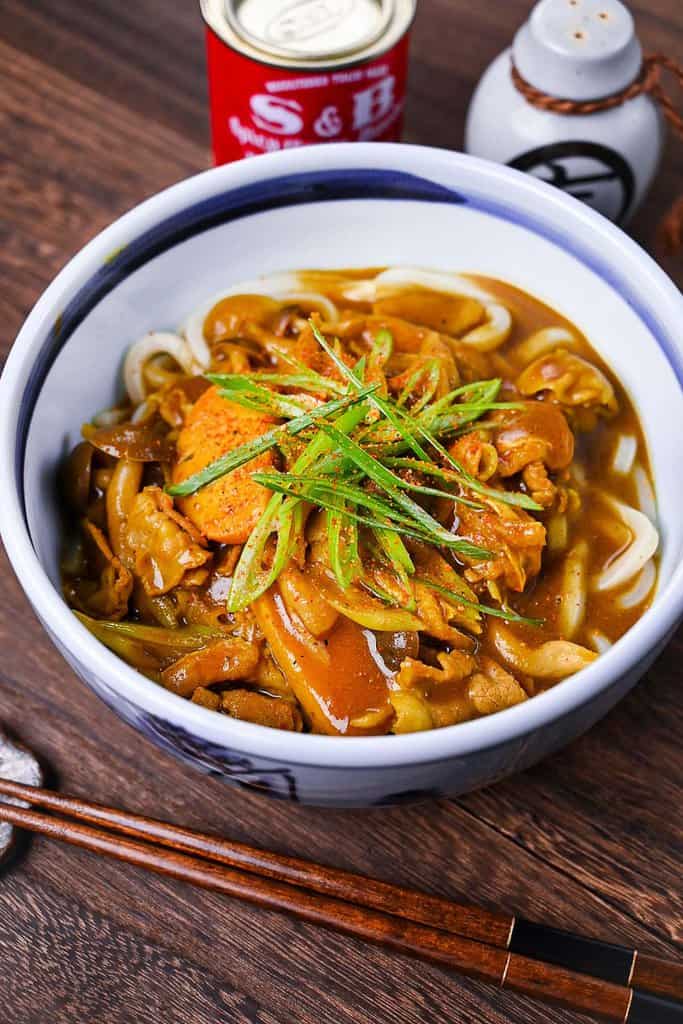 General curry udon can be explained as "curry-flavored ankake udon," which is made by dissolving curry powder and thickening it with potato starch in a sauce made with bonito flakes or other Japanese-style dashi used for udon in general.
Today, it is one of the most popular noodle dishes served at udon and soba restaurants throughout Japan.
5. Zaru Udon (ざるうどん)
Zaru Udon is a dish of boiled noodles that are then cooled and served in a colander or bamboo tray called a "zaru". As you can guess, this is everyone's favorite in the humid and hot summer in Japan!
In my recipe, I explain not only how to cool down udon, but also how to make homemade dipping sauce for zaru udon from scratch!
6. Kitsune Udon (きつねうどん)
Kitsune Udon is one of the ultimate Japanese comfort dishes with its iconic sweet and flavourful twice-fried tofu pouch we call "aburaage". This is a classic dish that you can enjoy down to the very last slurp!
Although it varies from region to region, the aburaage used here is boiled in hot water to remove the excess oil and then seasoned with sugar, soy sauce, and mirin.
7. Chicken Yaki Udon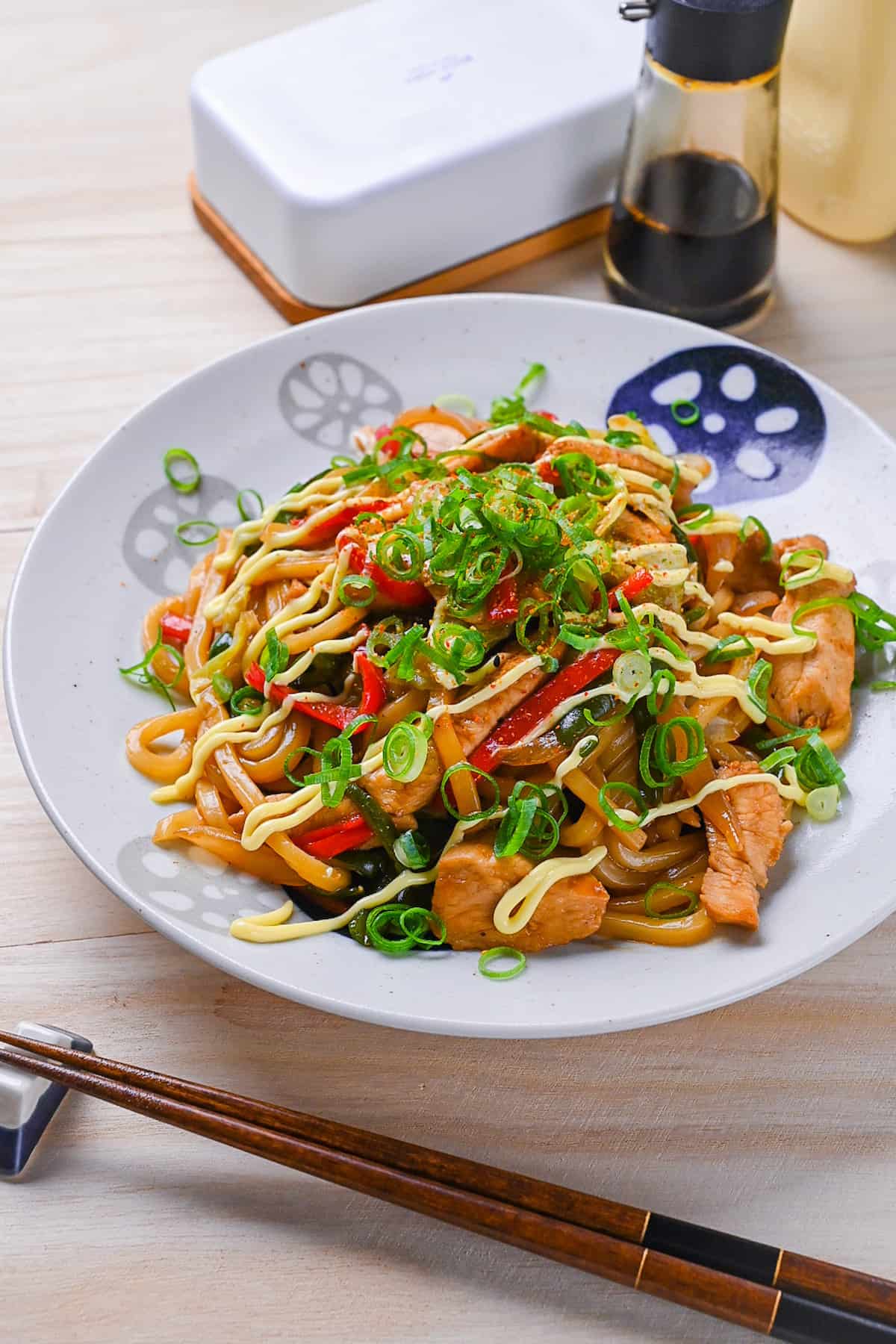 Yaki udon is a dish made by stir-frying udon noodles with meat, vegetables, or other ingredients with various seasonings. It's an udon version of yakisoba.
In my chicken yaki udon recipe, I opted for a golden combo of garlic, butter, and soy sauce! Check out the recipe for details.
8. Shrimp Yaki Udon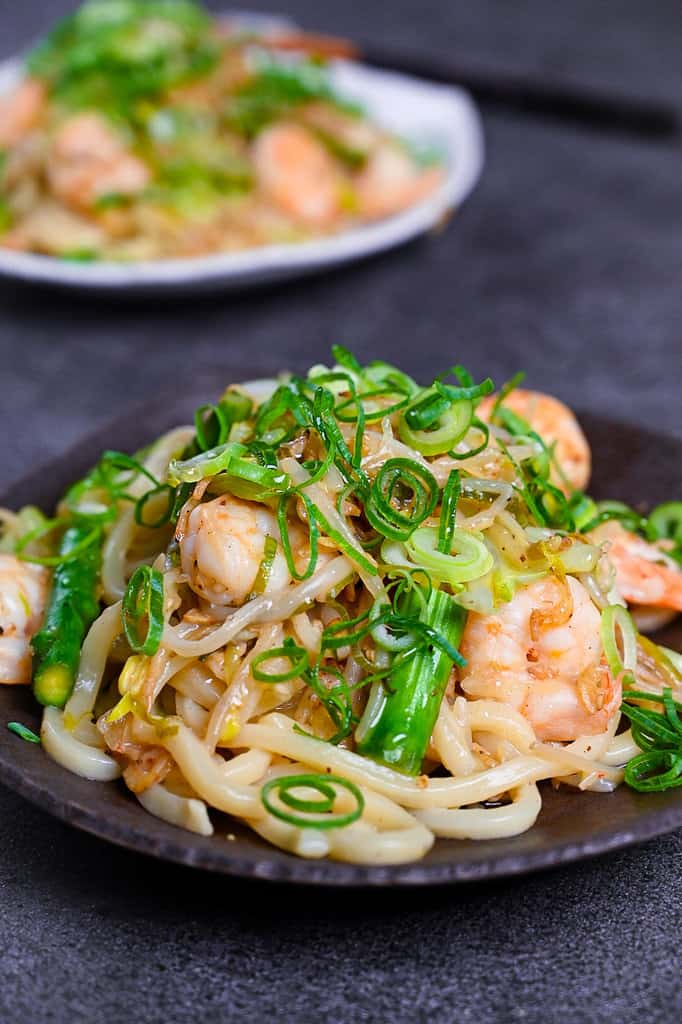 This is another variation of yaki udon using shrimps! Yaki udon is best known for containing some meat (usually pork but it can also be chicken or beef). However, in this recipe, I use king prawns.
Unlike the chicken one above, I made lemon sauce to make it more refreshing which is suitable for seafood. Check out the sauce on the recipe page!
9. Bukkake Udon (ぶっかけうどん)
Bukkake udon is a type of udon dish and one of the specialties of Okayama and Kagawa prefectures. It is characterized by the strong dipping sauce that is "bukkake" directly onto the noodles.
The word "bukkake" (ぶっかけ) in a food context means "simple food that only has sauce on". It implies bukkake udon is a simple and fast udon dish.
10. Miso Nikomi Udon (味噌煮込みうどん)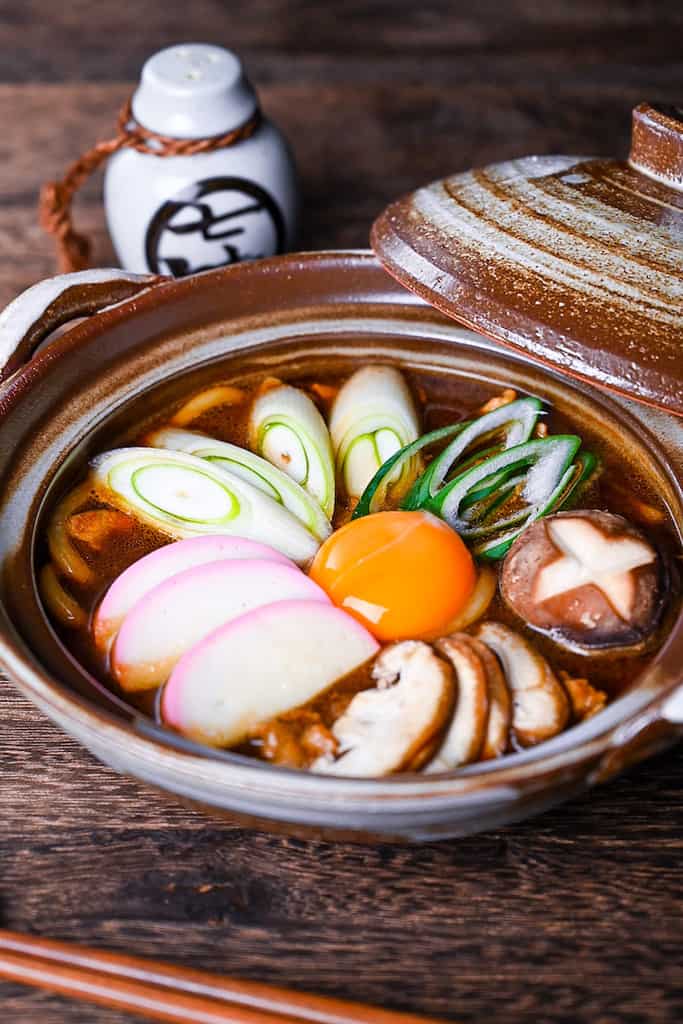 Miso nikomi udon is a classic noodle dish from Nagoya, Japan. It's roughly where I'm from, so I've been eating this dish regularly my whole life!
Thick udon noodles are served in a rich and warming red miso broth, then topped with thinly sliced pork and various ingredients. It's especially recommended for someone who likes thick soup or the rich flavor of red miso!
11. Nabeyaki Udon (Hot Pot Udon)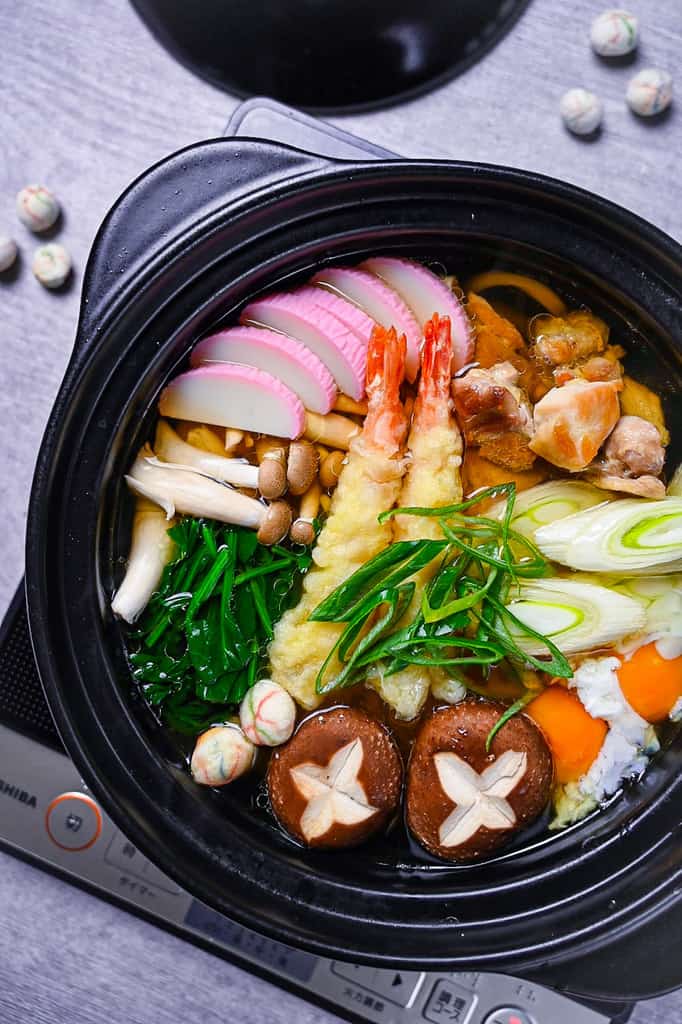 Nabeyaki udon is a dish of udon noodles, dashi-based soup, and ingredients simmered in a pot. It is one of the dishes that not only warms the body from the inside out, but also allows the broth's flavor to soak into the body.

Although "yaki" is the Japanese word for fry/grill, it is completely different from "yaki udon" which is a kind of noodle stir fry. Nabeyaki udon falls under the category of hotpot dishes.
12. Beef Sukiyaki Nabe Udon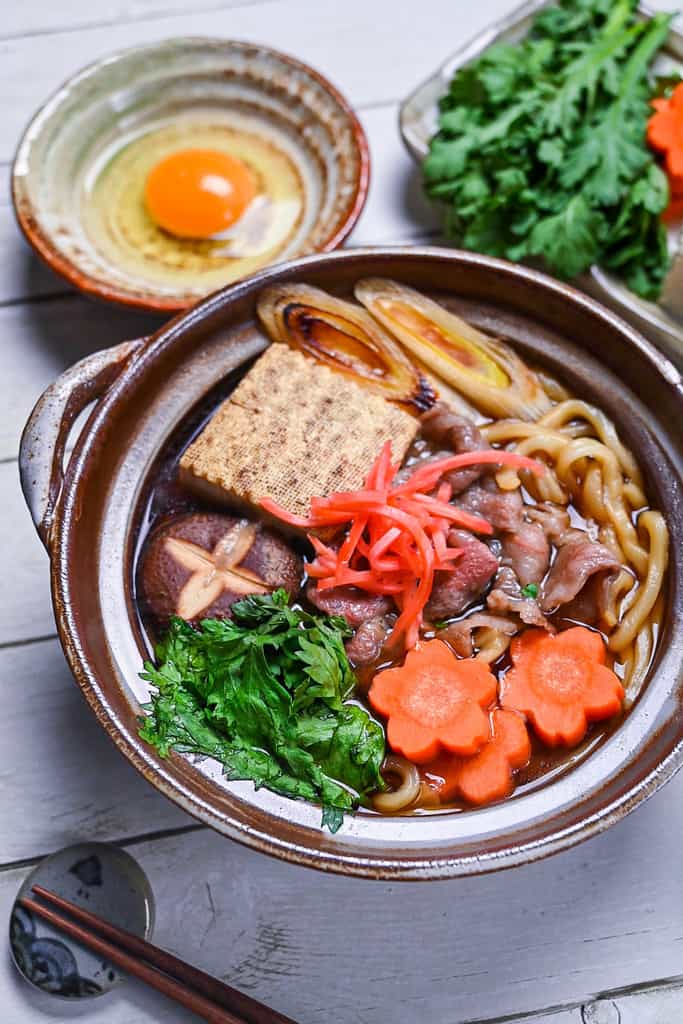 Sukiyaki udon is a rich and tasty dish made with udon noodles served in a simplified "sukiyaki soup" and simmered with meat, tofu, and vegetables. The process is simple so it doesn't require much work, unlike actual sukiyaki.
You could say that it's an easy way to enjoy sukiyaki without all the hassle!
13. Oyako Udon (Chicken and Egg Udon Soup)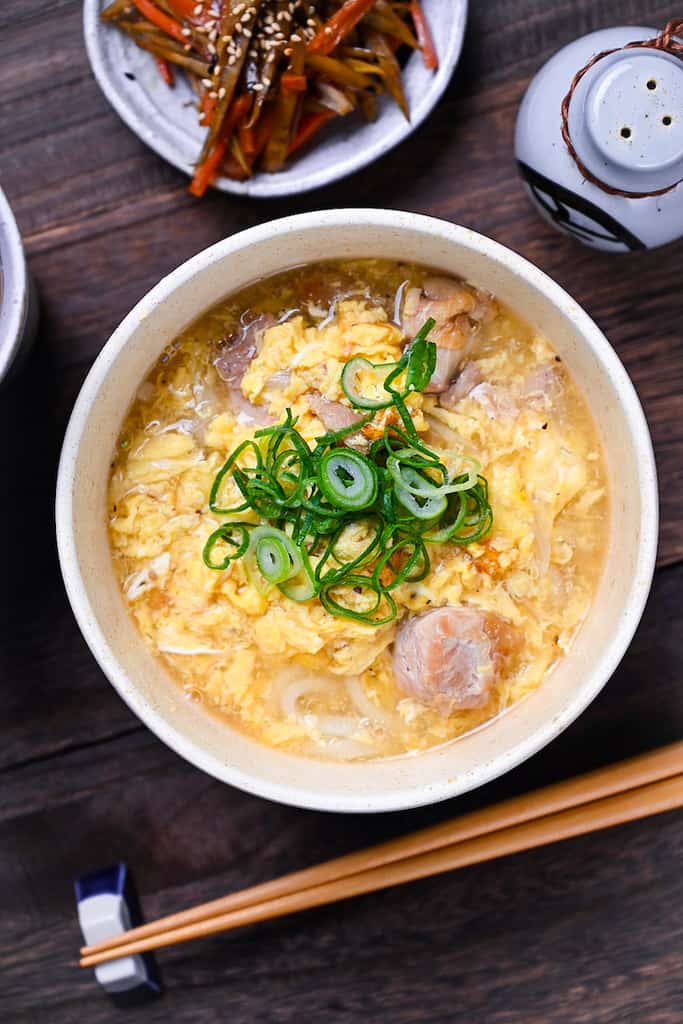 Oyako udon (親子うどん) is a simple dish made with pan-fried chicken thigh and simmered egg served in a light, dashi base udon soup. You could say that it's a combination of oyakodon, kake udon soup, and egg drop soup!
This popular Japanese home-cooked dish is comforting, filling, and warming. Many people eat oyako udon when they're feeling under the weather or they've lost their appetite, it's a healing dish that always goes down a treat!
14. Shrimp Tempura Udon
Shrimp tempura udon is a classic Japanese dish with chewy udon noodles in a tasty dashi broth topped with delicious shrimp tempura, spring onion, and kamaboko (Japanese fish cakes). It's one of the most popular noodle dishes in Japan! Without a doubt, shrimp is by far the most popular kind of tempura in Japan.
On Ranking.net, shrimp is ranked first out of 60 other ingredients! It's usually placed on top of the udon, allowing it to soak up the broth, but you can serve it on the side, depending on your preference!
15. Vegetable Tempura Udon
This is the vegetable tempura variation! It's kake udon with vegetable tempura. The great thing about this dish is that you can use any of your favorite vegetables.
16. Hiyashi Tanuki Udon (Cold)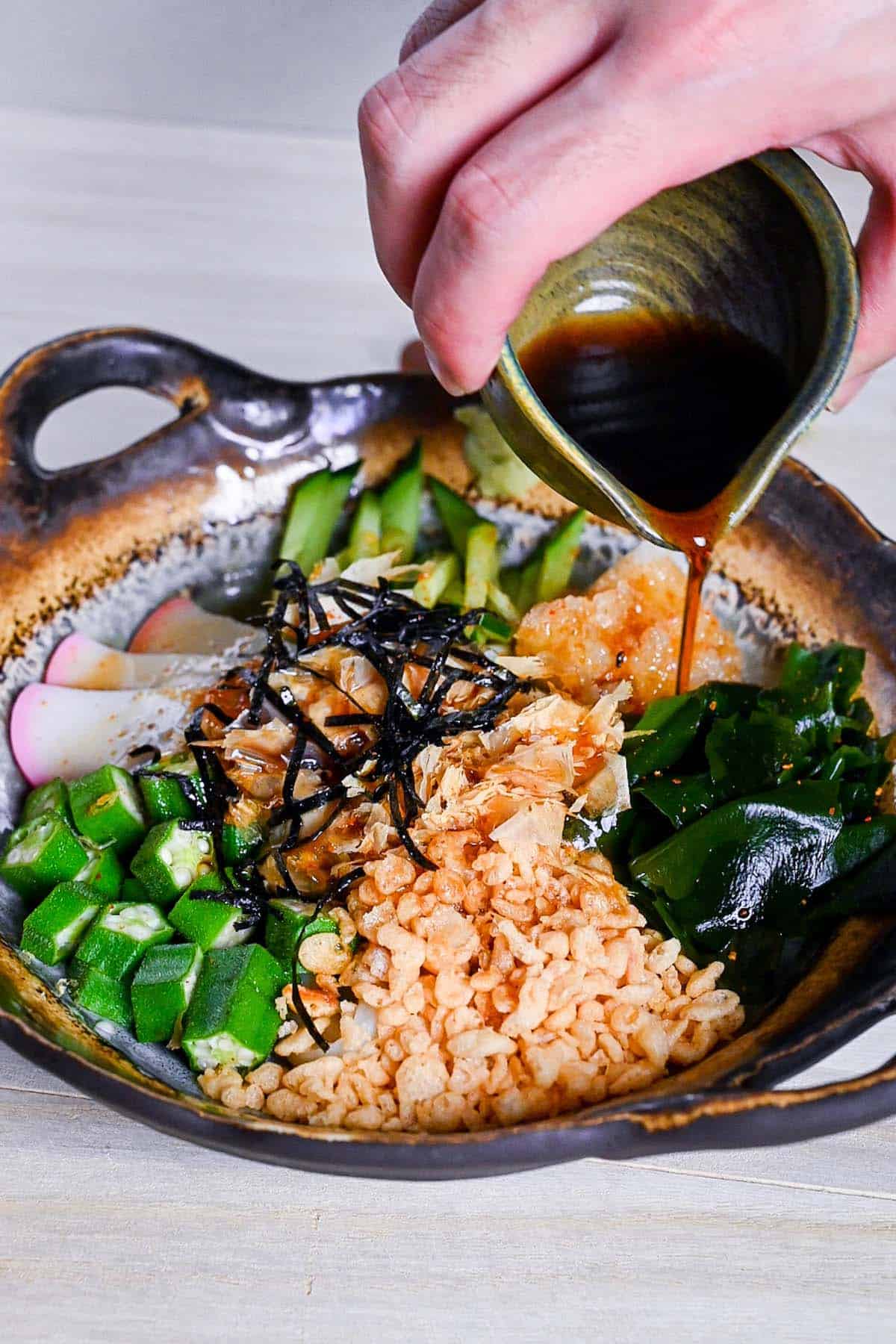 Hiyashi Tanuki Udon is the chilled version of a popular noodle dish known as "Tanuki Udon".
Made with thick Japanese wheat noodles topped with deep-fried tempura flakes and served in a flavourful cold dashi broth, this customizable dish is perfect for lunch or dinner! Highly recommended for summer.
17. Chicken Udon Noodle Soup (Tori Nanban Udon)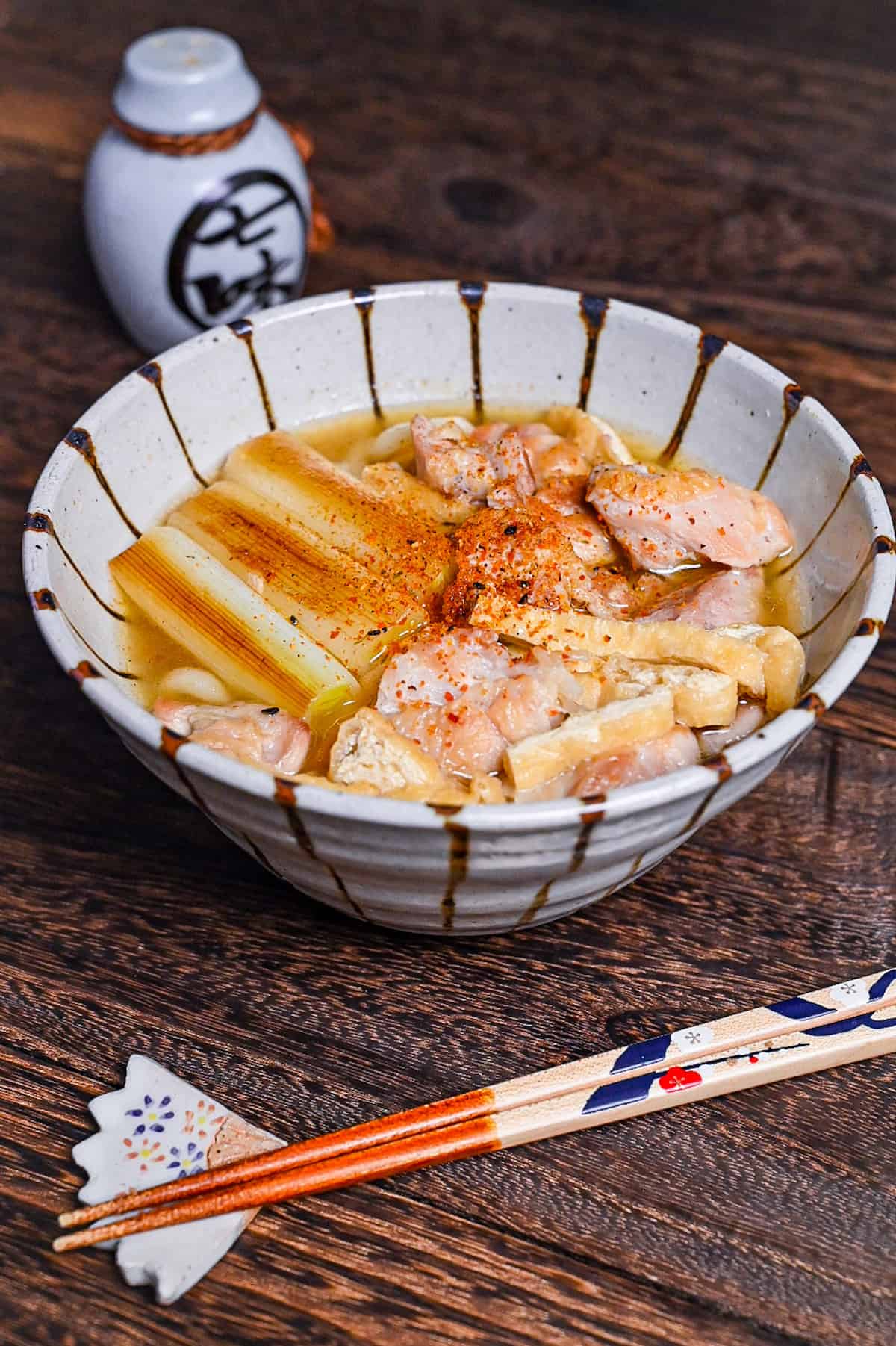 Chicken udon noodle soup is a delicious udon dish featuring chicken, with soups ranging from the simplicity of traditional dashi stock and soy sauce to bases of green onions and salt.
It is prepared with juicy chicken thigh, charred spring onion, and twice-fried tofu, all served over chewy udon noodles in a rich dashi broth. Discover how to create this tasty dish at home with this straightforward recipe!
18. Mentaiko Udon (Cod Roe Ankake Udon)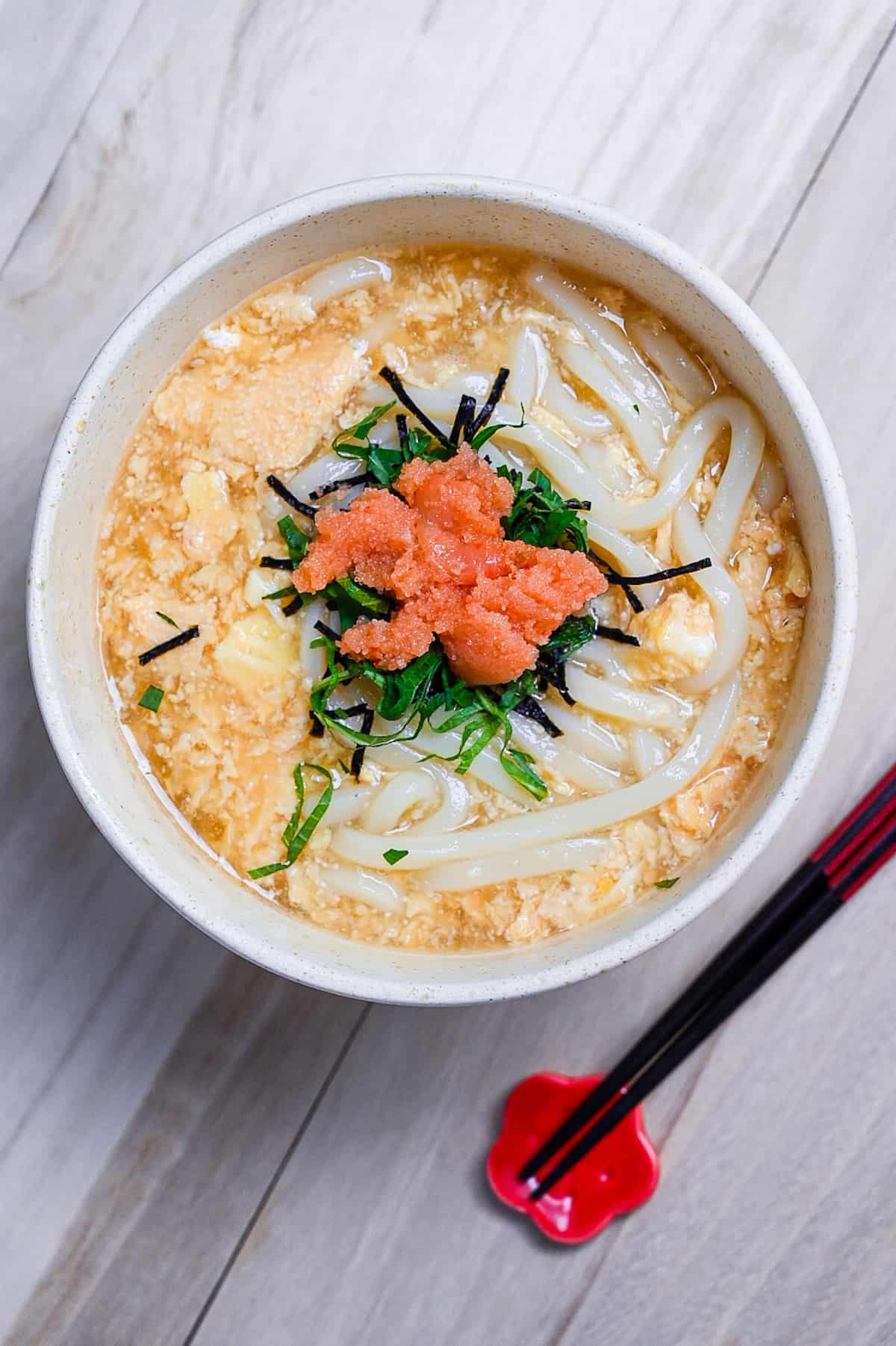 Mentaiko udon combines udon - a thick wheat-based noodle - with spicy cod roe, known as "mentaiko (originally from Korea)".
Mentaiko ankake udon is a savory noodle soup dish, offering chewy udon noodles in a thick broth, enhanced with spicy pollock roe, robust dashi, and smooth egg. Despite being packed with umami, its flavor is gentle and comforting, making it irresistibly addictive!