"Vegetable Tempura Udon" is a classic dish consisting of a warming udon soup served with perfectly light and crispy tempura vegetables. Learn how to make it completely from scratch with this delicious recipe!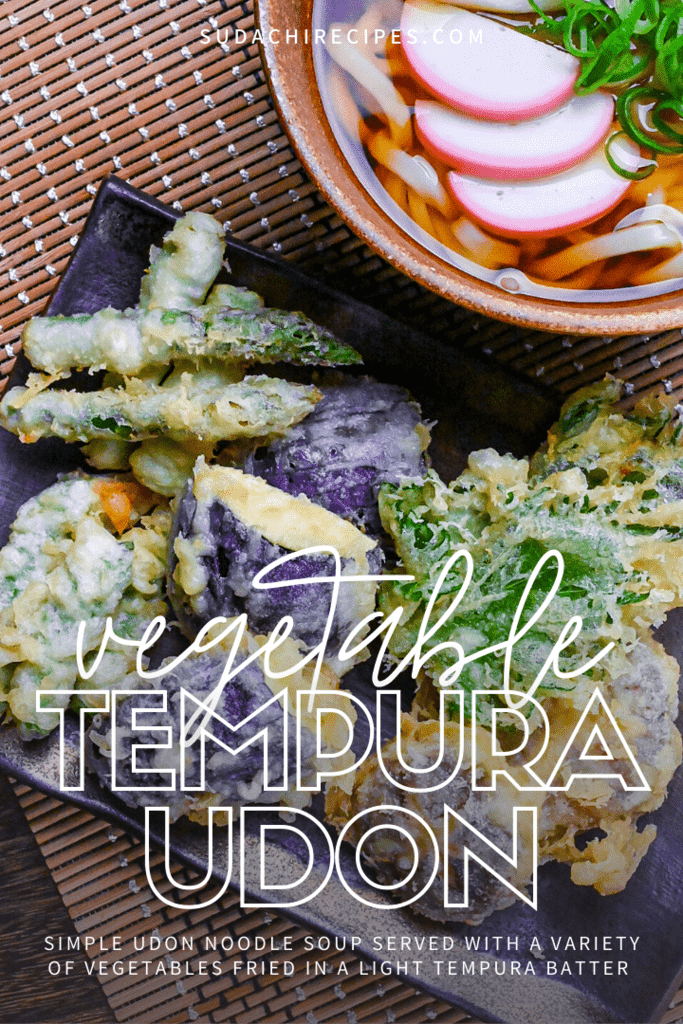 Disclaimer: This post may contain affiliate links. Sudachi Recipes is part of the amazon associates programme and earns a small percentage from qualifying purchases at no extra cost to you. See disclaimer for more info.]
Tempura Udon
Tempura Udon (天ぷらうどん) is a classic Japanese noodle dish made with thick wheat "udon" noodles in a dashi based soup served with vegetables (and seafood, usually shrimp) that have been deep fried in a light, crispy batter we call "tempura".
The tempura can either be placed on top of the udon soup so that it soaks up the flavour, or served on the side so that it keeps its crunch. You can also dip the tempura in the noodle soup as you eat, it's up to you!
In this recipe, I will only be using vegetables for my tempura.
Hot or Cold
Tempura udon can actually be enjoyed hot or cold. The hot version on its own is known as "kake udon" and is served in a warming dashi based broth. That's what I'll be showing you how to make today.
The cold version is called "zaru udon" (ざるうどん) and is often enjoyed in the summer months. Chilled udon noodles are served on a tray called a "zaru" with a cold, concentrated dipping sauce. You can learn how to make zaru udon and homemade dipping sauce with my recipe here.
Udon noodles
Udon noodles are a type of thick and chewy Japanese noodle made from wheat flour. They have a neutral flavour which is great for using in delicate broths.
There are a few different types of udon noodles, the most popular one in Japan is called "Sanuki Udon" (讃岐うどん).
Sanuki udon are from Kagawa prefecture which is in Shikoku, one of the five main islands in Japan. Sanuki udon are particularly thick and chewy with flat edges.
You can buy udon noodles chilled, dried or frozen. I personally like stocking up on frozen Sanuki udon because they cook quickly, keep for a long time and have a great texture. The ones I buy in Japan can be microwaved in the package so it's very convenient!
Dry udon noodles need to be boiled and washed separately to avoid making your broth starchy and the chilled type are generally better for stir fries like yaki udon. If you have limited choices then any udon will work, just make sure to follow the instructions on the packaging.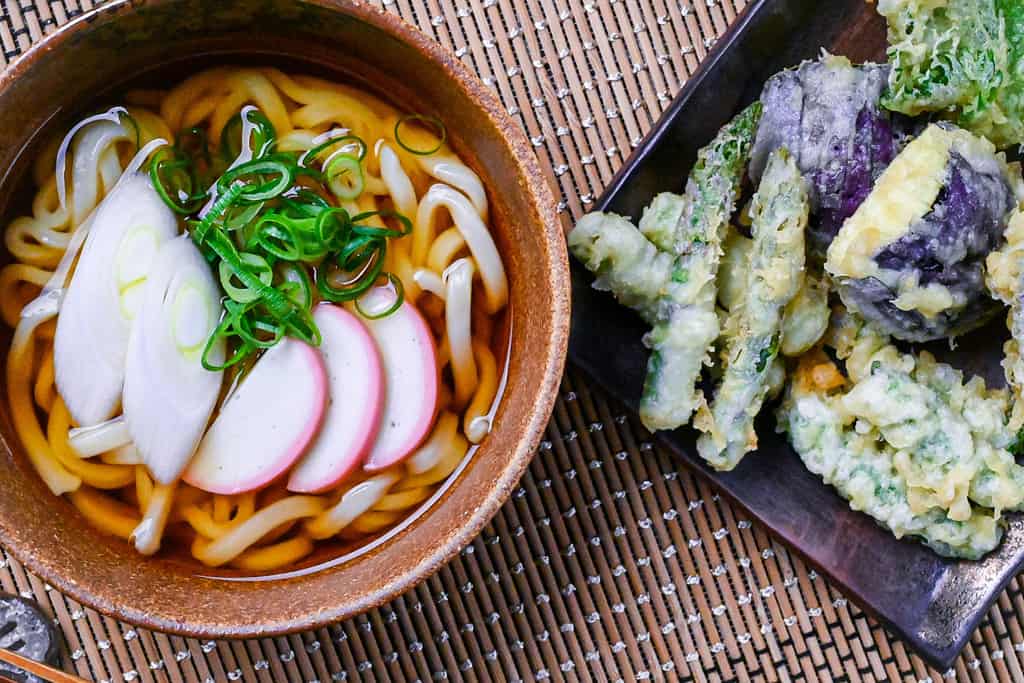 Udon soup
Udon noodles served in a hot dashi broth are known as "kake udon". A basic kake udon broth is made from dashi stock, soy sauce and mirin. There are a number of different ways to make it so I'm going to summerize each method.
3 ways to make kake udon soup
There are three main ways to make kake udon soup:
Homemade dashi stock tastes the best and will give your udon soup a superior flavour, however dashi bags (like a tea bag that contains dashi instead) only take a few minutes to brew and using mentsuyu is basically instant so use whatever works best for you.
Make it vegetarian
It's extremely easy to make kake udon suitable for vegetarians. Simply use a plant based dashi to make your broth.
You can check out my plant based awase dashi made with kombu (dried kelp) and shiitake mushrooms here.
Unfortunately, because my tempura batter recipe contains eggs, it's not suitable for vegans.
Tempura
Tempura is a classic dish with a long history. It's typically made with seafood and vegetables that are coated in a light, fluffy batter and then deep fried.
While it's known around the world as a Japanese dish, the method of frying tempura was actually introduced to Japan by Portuguese merchants in the 16th century. We've literally been enjoying tempura for hundreds of years!
What vegetables can I use to make tempura?
The great thing about this recipe, is that you can use any of your favourite vegetables. I personally use the following:
Eggplant
Asparagus
Perilla leaf (known in Japanese as "shiso" or "oba")
Shiitake mushrooms
Other popular options are:
Lotus root (renkon)
Kabocha (Japanese pumpkin/squash)
Sweet potato
Bell peppers / piman
Okra
Carrot
Mushrooms
What are your favourite vegetables to use for tempura? Comment below!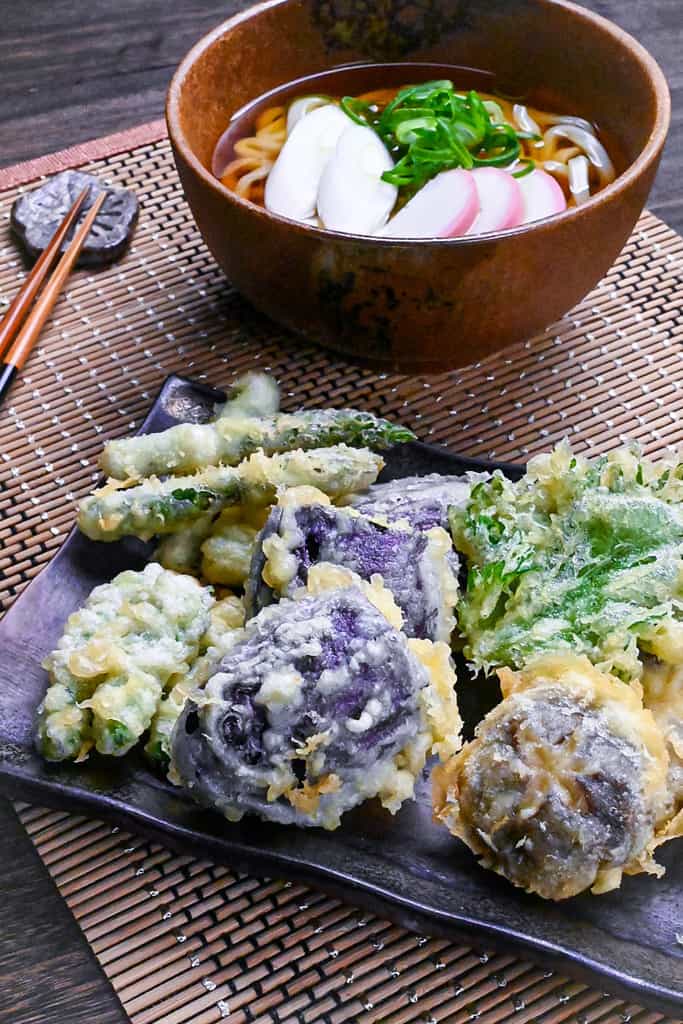 Tips for making perfect tempura batter
Tempura should be light, crispy and the colour should be pale/white (not golden).
It can be tricky to make the perfect tempura so I've put together a list of tips and tricks, follow these tips and you will be making delicious tempura in no time!
Use chilled ingredients
Rather than making a batter and resting it in the fridge, use chilled ingredients instead.
I make sure to refrigerate my water, eggs and even flour for at least 30 minutes before I start mixing the batter.
A nicely chilled batter reacts more strongly with the hot oil, making the tempura extra puffy and light.
Once your batter is mixed, I recommend keeping it in the fridge or freezer when you're not using it. This will help keep it cold between frying each batch.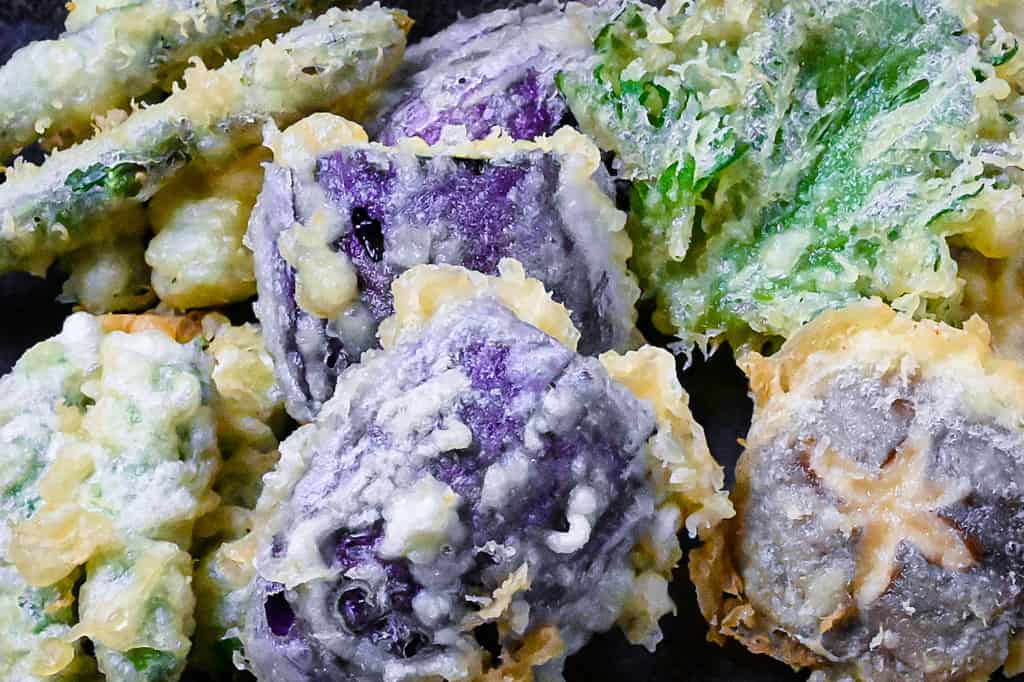 Prevent oily vegetables & batter falling off
Different vegetables require different preparation before frying, so it's better to have everything washed/peeled/cut etc before you make the batter.
Vegetables like eggplant or potatoes tend to soak up oil and become greasy. You can prevent this by soaking them in cold water for 5-10 minutes and then dry them thoroughly before frying.
One of the most common problems people face when making tempura is the batter falling off. To prevent this, be sure to dry each vegetable thoroughly with a paper towel and then coat them with a thin layer of flour before dipping them in the tempura batter.
So in a nutshell, before dipping any ingredient in tempura batter you should:
Wash, peel and cut your ingredients
Soak eggplants or potatoes in cold water for 5-10 minutes
Dry all ingredients with a paper towel
Coat in a thin layer of flour (all purpose or cake flour)
Don't overmix the batter!
Tempura is well known for its bubbly texture so it's important not to pop the bubbles through overmixing. If you make your batter too smooth, your tempura will be flat and not so airy.
Rather than whisking, I recommend using chopsticks (or a fork/spatula) to draw crosses in the batter instead of actually mixing it.
Tempura batter should be lumpy, a few lumps of flour is actually a good thing!
Oil type and Temperature
Tempura is always deep fried (not shallow fried) and requires an oil with a high smoke point. You can use vegetable oil, canola oil or peanut oil for example.
Interestingly, many professional tempura chefs in Japan use white sesame oil made from raw sesame seeds. It does make a perfectly light and crisp batter, but it's pretty expensive so I don't recommend it unless you plan to make tempura often.
As for the temperature, I recommend heating the oil to about 180°C (355°F). If the temperature is too low, the batter becomes oily and soggy whereas a high temperature will cook the outside too quickly and you risk not cooking the inside properly.
Scoop out the crumbs (and make tenkasu)
When frying tempura, you will find pieces break off and float around in the oil. Make sure to remove these pieces between batches otherwise they will burn and make your oil bitter, spoiling future batches.
In Japanese these little pieces of tempura batter are called "tenkasu" (天かす) and we actually have a use for them! You can use them as a topping in noodle soups or in recipes like devil's onigiri!
You can even drizzle any leftover batter straight into the oil to make a large batch of tenkasu! Just place them on kitchen paper to absorb the excess oil and then keep them in a zip lock bag in the freezer.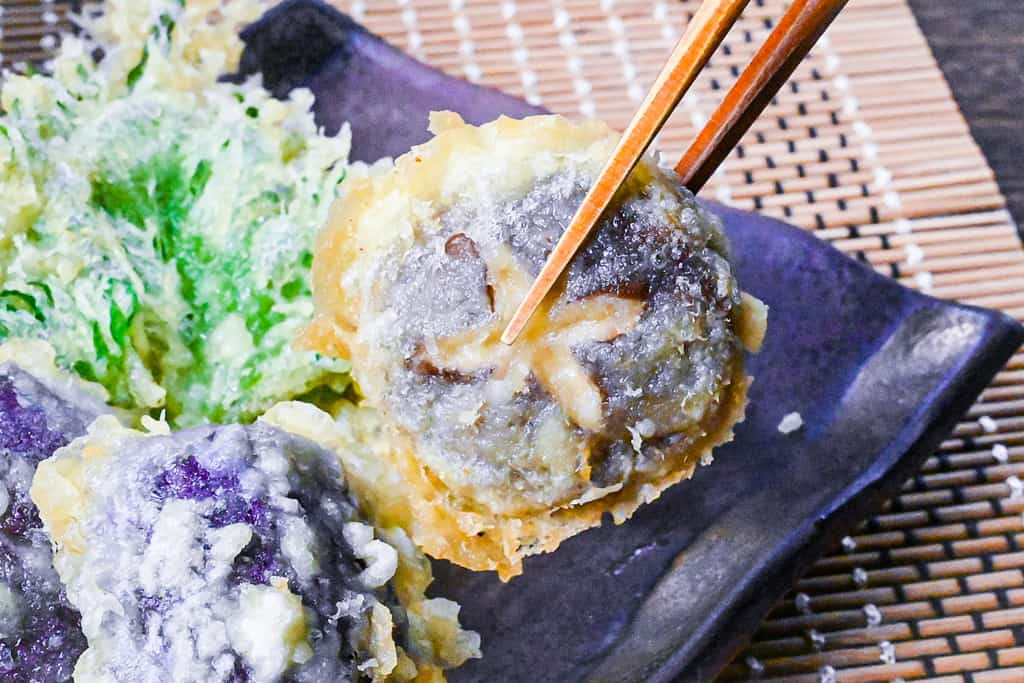 Vegetable Tempura Udon
---
How to make vegetable tempura udon from scratch!
---
---
---
---
Ingredients
Tempura
200

ml

water

chilled

100

ml

sparkling water

chilled

30

g

potato starch

150

g

cake flour

plus extra for dusting

1

medium egg(s)

chilled

4

fresh shiitake mushroom(s)

stems removed

100

g

eggplant(s)

cut into wedges and soaked in cold water

8

perilla leaves

(ooba/shiso)

4

stalks of asparagus

cut into halves or thirds

cooking oil

for deep frying (vegetable, canola, peanut or white sesame)
Instructions
Tempura
Measure out

200 ml water

and place in the fridge for 20-30 mins. Place the sparkling water in the fridge too. (Preferably an unopened bottle.)

Measure out

30 g potato starch

and

150 g cake flour

into a small bowl. Mix them together and place the bowl in the fridge/freezer for 20-30 minutes to chill.

After 30 minutes have passed, start preheating your

cooking oil

to

180

°C

(

356

°F

).

While you wait for the oil to heat up, wash, peel, cut and dry all your vegetables. (Use kitchen paper to dry thoroughly.) Coat each piece with a thin layer of flour and set aside ready to batter.

Pour the chilled water and

100 ml sparkling water

into a bowl. Add 

1 medium egg(s)

 straight from the fridge and whisk until well incorporated. (If any foam has formed from whisking, scoop it out with a spoon.)

Sift the flour/starch mixture into the egg mixture one-third at a time. Using chopsticks or a spatula, draw crosses in the mixture to mix in the flour. Do not overmix, it should contain lumps.

Once there are no more dry bits of flour, your tempura batter is ready. Keep in the fridge until the oil is ready.

Test your oil by adding a drop of batter, if it sizzles and floats it's ready to go. (If it sinks, heat for longer.)

Dip your floured ingredients into the batter one by one and place them straight into the oil. I recommend cooking each type of ingredient together in batches to ensure even cooking.

Remove each ingredient when it becomes crispy but before it turns golden. Tempura should be pale in colour.

Place on a wire rack to allow excess oil to drip off.

Set aside until serving.
Broth
Cook the udon noodles according to the instructions on the packaging. Once cooked, drain the water by pouring the noodles through a strainer, then rinse them with fresh boiling water.

In a large pot, add

1 liter dashi stock

and bring to a boil.

Once boiling, add

75 ml soy sauce

and

30 ml mirin

. Boil for 2 minutes. 

Turn off the heat and add

½ tsp salt

.
Assembly
Place a portion of noodles in each bowl and evenly divide the broth. Place 2-3 slices of kamaboko on top of each portion.

Add a mixture of the tempura to each bowl (or alternatively serve it on the side to keep it crispy).

Enjoy! 
Notes
I listed the vegetables I used personally, feel free to use any vegetables you like!