Kitsune Udon is a true Japanese comfort dish made with thick udon noodles served in a delicious umami-packed dashi broth and topped with a sweet and flavourful simmered tofu pouch. This is a classic noodle dish you can enjoy until the last slurp!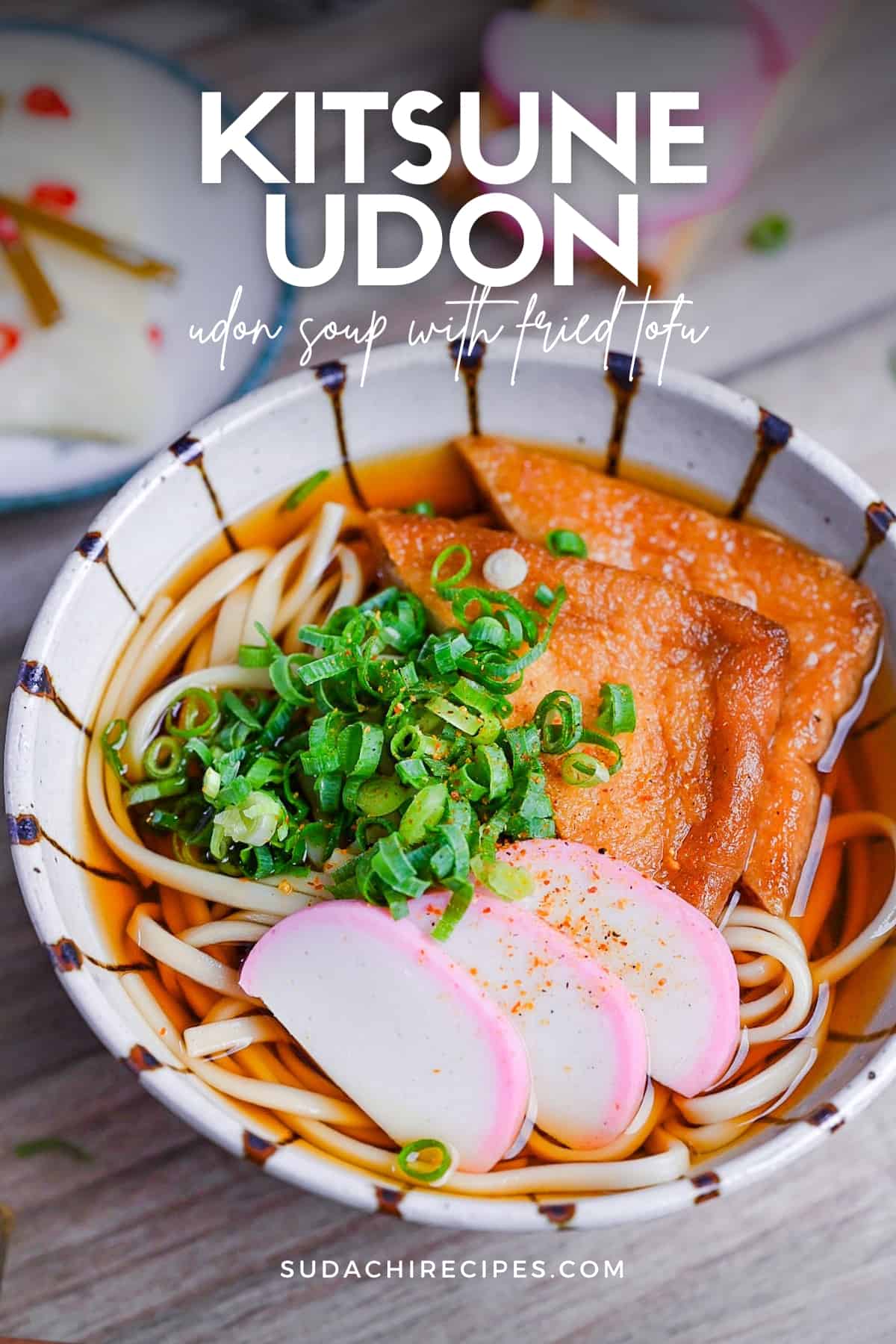 Disclaimer: This post contains Amazon affiliate links. Sudachi Recipes earn a small percentage from qualifying purchases at no extra cost to you. See disclaimer for more info.
What is Kitsune Udon?
Kitsune udon (きつねうどん) is a popular Japanese noodle soup dish made with thick, chewy udon noodles served in a savory dashi broth, topped with seasoned aburaage (fried tofu pouch).
Although the fried tofu used in kitsune udon varies from region to region, it is typically boiled in hot water to remove its excess oil and then seasoned with sugar, soy sauce, and mirin. Kitsune udon can be served hot, cold, or even in hot pots.
The history of kitsune udon is unclear, with some theories suggesting it dates back to the Edo period (1600-1868) and others suggesting it emerged during the Meiji period (1868-1912).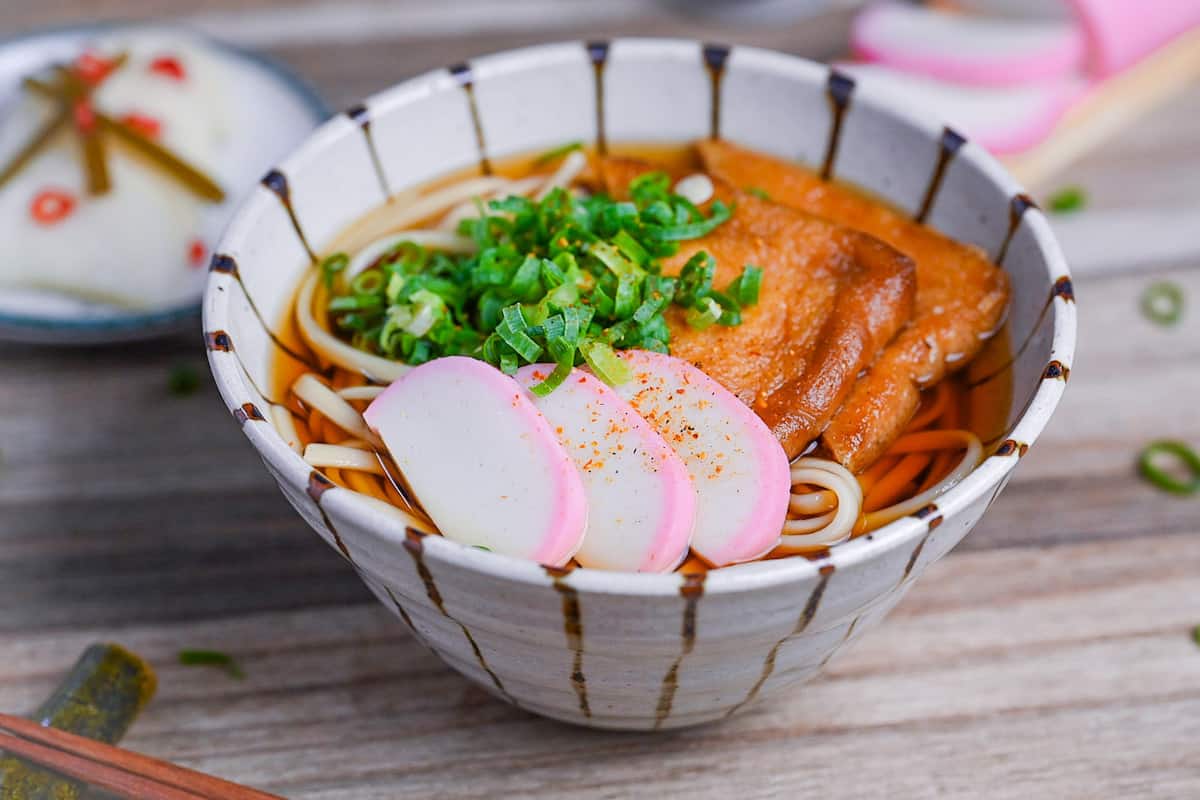 Interestingly, the word "kitsune" means fox in Japanese, and there are several theories about the origin of the name. In Japanese folklore, foxes are said to enjoy twice-fried tofu, and the color and shape of the aburaage resemble that of a fox.
Despite its simplicity, kitsune udon remains a favorite comfort food in Japan and is available at udon restaurants and as an instant dish.
The most well-known brands of instant kitsune udon are Maruchan's Akai Kitsune and Nissin Donbei Kitsune Udon, which can be found in most supermarkets and convenience stores in Japan.
How I Developed This Recipe
My objective in creating this recipe for kitsune udon was to replicate the flavor of the dish served at local udon restaurants.
To achieve this, preparing juicy kitsune (deep-fried tofu) with a delicate sweetness is vital. The process is straightforward, resulting in a delicious kitsune and a soup that complements it perfectly. Give it a try!
Ingredients and Substitution Ideas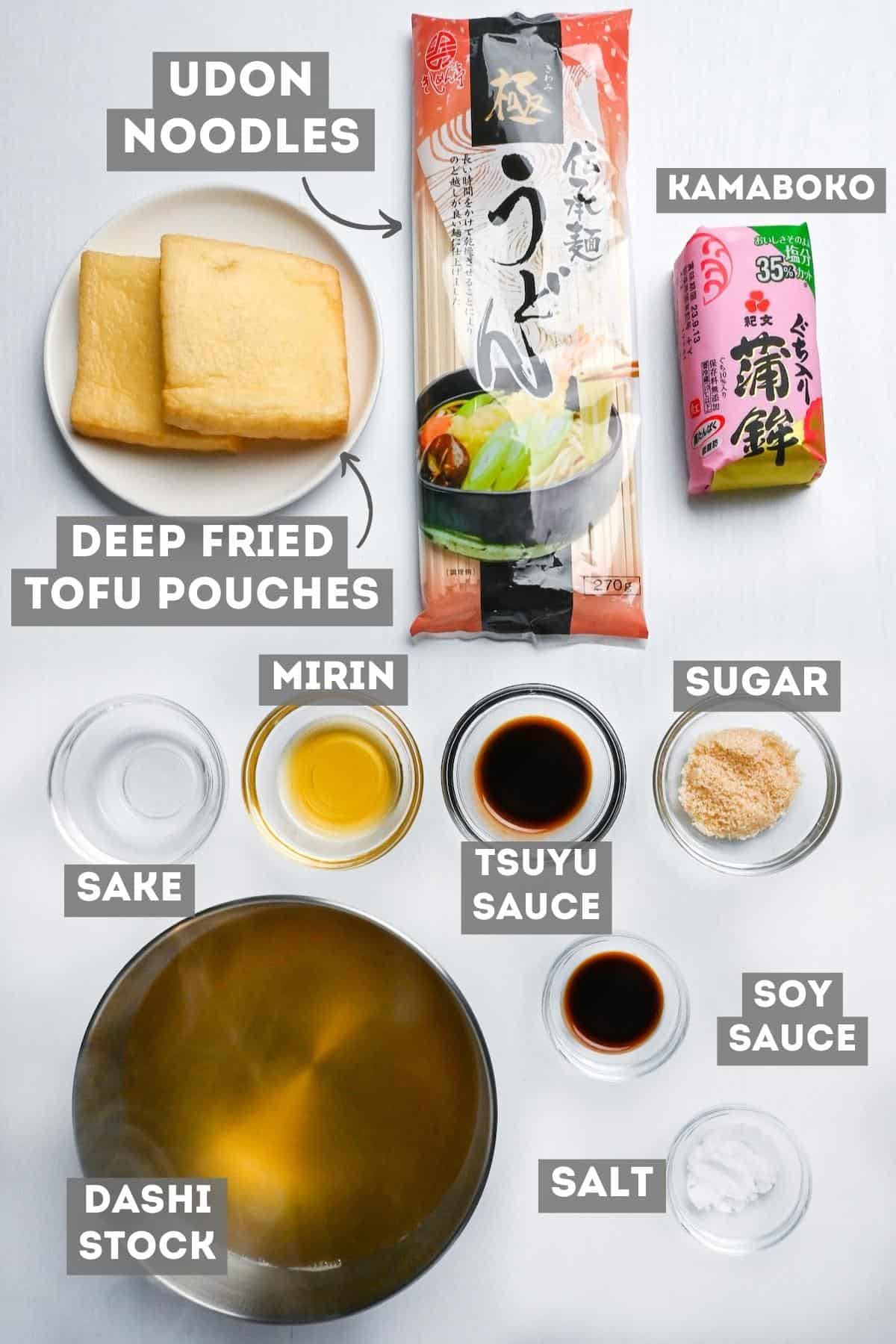 Udon noodles: These thick, chewy wheat noodles are integral to the dish. You can use frozen, pre-boiled, or dried udon, depending on the availability in your area.
Dashi stock: Choose from a variety of dashi options, with dashi bags and instant granules being convenient choices. For those interested in a homemade version, consider my favorite dashi, the simple awase dashi, or even vegan dashi recipes.
Fried tofu pouch (aburaage): A must-have for kitsune udon, aburaage consists of thinly sliced tofu that's been deep-fried.
Sugar: While regular sugar works, I've recently favored light brown cane sugar for its rich flavor.
Sake: If unavailable, white wine or dry sherry can be used as a substitute.
Mirin: When shopping for mirin, opt for "hon mirin" (本みりん) to ensure the best taste. Hinode Hon Mirin is a top-quality yet affordable choice. For more on Japanese condiments and seasonings, refer to my 20 Most Useful Condiments and Seasonings for Japanese Cooking post.
Tsuyu sauce: If you don't have tsuyu sauce, a mix of soy sauce and extra sugar will suffice. For a homemade version, check out the tsuyu sauce recipe.
Soy sauce: Kikkoman soy sauce is a reliable and reasonably priced option. For a comprehensive guide on selecting the right soy sauce, refer to our complete soy sauce guide.
Toppings: Enhance your udon with toppings like chopped green onions, shichimi pepper, and Japanese fishcakes (kamaboko).
Use a plant-based dashi and tsuyu sauce, and omit the fishcakes to make this dish suitable for vegetarians and vegans!
Curious about the exact brands and products that bring my recipes to life? Discover the brands and ingredients behind my recipes at the Sudachi Amazon Storefront. Explore my handpicked pantry essentials and find your next kitchen favorites!
Step-by-Step Process
Here are my step-by-step instructions for how to make authentic Japanese kitsune udon at home. For ingredient quantities and simplified instructions, scroll down for the printable recipe card below.
Since aburaage is an ingredient that has been deep fried, it can be quite oily. To prevent the oil from seeping into the noodle broth, it should be boiled in water to help remove the excess. This step not only removes the extra oil, but it also makes the aburaage softer and helps the sauce absorb better.
Simply bring a pot of water to a boil, then add salt and the aburaage. The salt also helps remove the oil and will be washed off later.
Fried tofu pouches are light and tend to float so I recommend placing a drop lid on top to submerge them. You can buy drop lids made from made from wood, stainless steal and silicone on Amazon (affiliate links), or you can make one yourself with my homemade otoshibua tutorial.
If you don't have a drop lid, you can push the aburaage down with cooking chopsticks or long tongs, just be careful of the steam and cover your arms and hands to prevent burns.
Boil for 3 minutes and then remove from the heat.
Remove the aburaage from the pot and place it in cold water to cool it quickly.
Drain and then squeeze the abuurage to remove any excess water.
Add water, sugar, sake and mirin to a sauce pan and mix well over a medium heat.
Once the sugar has dissolved, add tsuyu sauce and soy sauce. Bring the liquid to almost boiling and then lower to a simmer.
Add the aburaage and place a drop lid on top.
Simmer for 15 minutes or until the liquid is reduced by one-third.
Transfer the seasoned aburaage to a heatproof container and leave them to cool. Once cool to the touch, cover and transfer to the fridge until serving.
It's not essential, but resting the kitsune aburaage in the fridge after it's been cooked in the sauce will greatly improve the flavor! If you have enough time, I definitely recommend putting them in fridge for a few hours or even overnight.
Cook the noodles and make the soup
Start cooking your udon noodles according to the instructions on the packaging. While you wait, prepare the broth.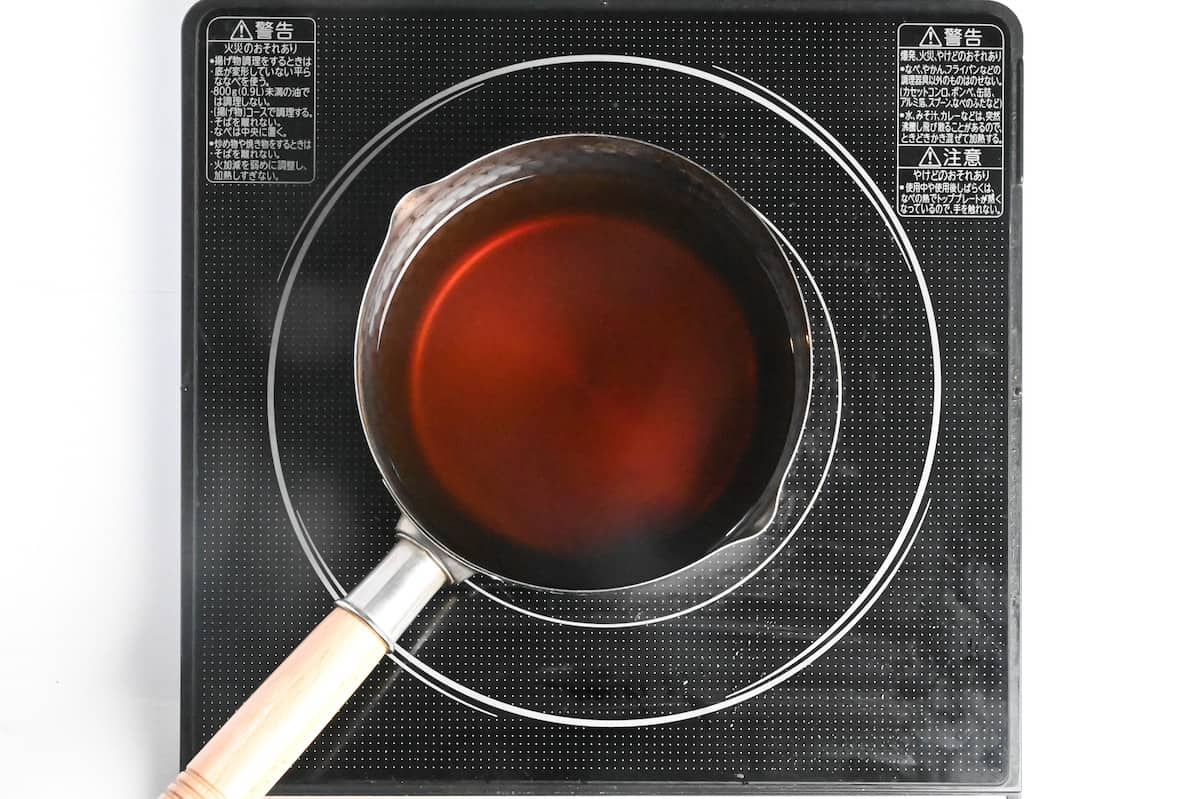 Add dashi, soy sauce and mirin to a saucepan and heat on high. Boil for 1-2 minutes and turn off the heat. Add salt and mix well.
Once the noodles are cooked, pour them into a colander and rinse with hot water to remove the excess starch.
Divide the noodles and broth into serving bowls and top with your seasoned kitsune aburaage, a few slices of kamaboko fish cakes and chopped green onion.
Enjoy!
Storage
It is advised not to store kitsune udon with mixed soup and udon. It is best to prepare it based on the amount you plan to eat.
However, you can store the soup and kitsune (deep-fried tofu) separately. Refrigerated kitsune can last for 2 to 3 days, while frozen ones can last for up to 3 weeks.
Udon soup should be refrigerated in sealed Tupperware for up to 3 days or frozen for 2 weeks. I recommend dividing the soup into portions for convenience.
Room temperature – Not recommended.
Refrigerated – Seasoned tofu pouch, 2-3 days. Udon soup, 3 days.
Frozen – Seasoned tofu pouch, 3 weeks. Udon soup, 2 weeks.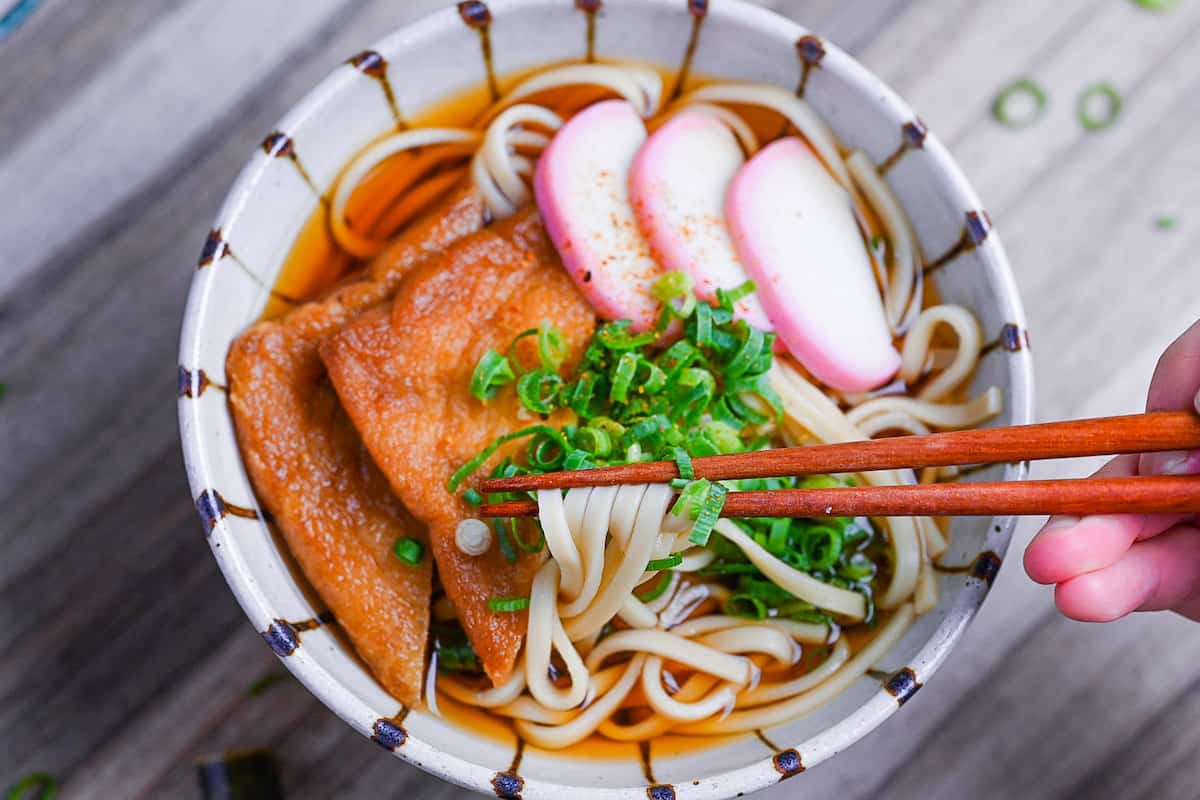 I hope you enjoy this authentic Japanese kitsune udon recipe! If you try it out, I'd really appreciate it if you could spare a moment to let me know what you thought by giving a review and star rating in the comments below. It's also helpful to share any adjustments you made to the recipe with our other readers. Thank you!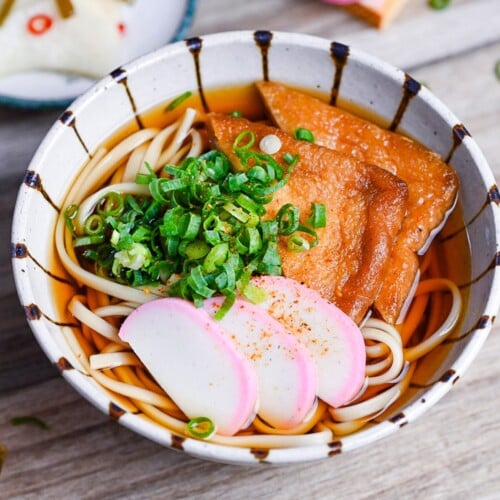 Kitsune Udon (Udon Noodles with Deep Fried Tofu)
---
How to make authentic Japanese Kitsune Udon with thick, chewy udon noodles served in a light dashi broth and topped with deliciously seasoned twice fried tofu.
---
---
---
---
Ingredients
Kitsune
2

pieces

fried tofu pouch(s)

(aburaage)

½

tsp

salt

100

ml

water

2

tbsp

sugar

1

tbsp

sake

2

tbsp

mirin

2

tbsp

tsuyu sauce

use kombu base for plant-based diets

1

tbsp

soy sauce
Other elements
2

portions

udon noodles

finely chopped green onion(s)

1 tbsp each for each portion

6

slices

Japanese fishcakes

(kamaboko) omit for plant-based diets
Instructions
Making the kitsune aburaage
Fill a pot with enough water to submerge the aburaage and bring it to a boil. Add 

½ tsp salt

 and 

2 pieces fried tofu pouch(s)

 to the pot.

Place a drop lid on top to help keep them submerged and boil for 3 minutes.

Remove the aburaage from the pot and wash them in cold water.

Squeeze out the excess liquid.

Take another pan and add

100 ml water

,

2 tbsp sugar

,

1 tbsp sake

,

2 tbsp mirin

and mix. Heat on medium.

Once the sugar is dissolved, add

2 tbsp tsuyu sauce

and

1 tbsp soy sauce

.

Bring the liquid to almost boiling, then turn the heat down to simmer and add the aburaage.

Place the drop lid on the top and simmer for 15 minutes or until the liquid is reduced by one third.

Place the aburaage into a container and leave them to cool. Once cooled, place in the fridge for at least a few hours, preferably overnight.
Noodles and Broth
Boil

2 portions udon noodles

according to the instructions on the packaging.

Pour

500 ml dashi stock

into the pan and add

2 tbsp soy sauce

,

1 tbsp mirin

and turn the heat on high. Boil for 1-2 minutes, turn off the heat and add

¼ tsp salt

.

Cut the seasoned tofu pouches into triangles by cutting in half diagonally.

Drain the water from the udon noodles and rinse them with hot water to remove the excess starch. Divide into serving bowls, pour the broth over the top and garnish with the seasoned tofu pouches, kamaboko fish cakes and chopped green onion.

Enjoy!
Notes
The nutritional value is based on drinking all the soup soup (we do not typically drink up the soup when it comes to udon).
Nutrition
Calories:
396
kcal
|
Carbohydrates:
75.6
g
|
Protein:
10
g
|
Fat:
3.1
g
|
Saturated Fat:
0.5
g
|
Polyunsaturated Fat:
1.5
g
|
Cholesterol:
1.8
mg
|
Sodium:
3346
mg
|
Fiber:
4.2
g
FAQ
Why is it called Kitsune Udon?
There are several theories, but the most popular ones are:
• Aburaage (deep-fried tofu) is a fox's favorite food in Japanese folklore.
• Aburaage is the color of a fox.
• Aburaage is a similar shape to a fox.
Is Kitsune Udon made out of a fox?
It is true that the Japanese word "kitsune" means fox, but it is not a dish made with fox meat or anything like that, it's actually made with seasoned deep-fried tofu.
What does Kitsune Udon taste like?
Overall, kitsune udon has a well-balanced flavor, with a perfect combination of sweet, rich fried tofu and a refreshing, simple udon broth.
Is Kitsune udon suitable for vegetarians/vegans?
Because most dashi broth contains fish elements, it's not suitable for vegetarians. It usually has kamaboko or narutomaki, which are Japanese fishcakes. However, they can easily be made vegetarian-friendly by replacing them with vegetarian/vegan ingredients.