Shrimp tempura udon is a classic Japanese dish made with chewy udon noodles in a tasty dashi broth topped with delicious shrimp tempura, spring onion and kamaboko (Japanese fish cakes). It's one of the most popular noodle dishes in Japan!
Disclaimer: This post contains Amazon affiliate links. Sudachi Recipes earn a small percentage from qualifying purchases at no extra cost to you. See disclaimer for more info.
Jump to:
Shrimp Tempura Udon
Shrimp tempura udon is a simply a hot udon soup dish served with shrimp tempura. We often call it "ebiten udon" (海老天うどん). The shrimp tempura is most commonly served on top of the noodles, allowing the batter to absorb the delicious flavour of the soup.
Without a doubt, shrimp is by far the most popular kind of tempura in Japan. On Ranking.net, shrimp is ranked first out of 60 other ingredients.
Shrimp is king of tempura, and this dish is king of hot udon soup dishes.
What is udon?
Udon noodles are made by kneading flour with water and processing it into noodles. They come in a range of thicknesses and are popular for their firm and chewy texture.
Udon has a longer history than it's cousin soba (buckwheat noodles) and is Japanese people's longest-loved noodle.
Other popular udon dishes
The beauty of udon lies in the fact that it is smooth and easy to eat. Its mild flavour also makes it extremely versatile and you can make a lot of different dishes with it.
If you're interested in udon dishes, check out some of my other recipes:
Tempura
It is believed Portuguese missionaries introduced tempura and deep frying as a cooking method to Japan around the 16th century. In turn, tempura followed its own path in Japanese culture.
Shrimp Tempura
As I mentioned earlier, shrimp is the most popular ingredient in tempura and widely prepared in homes and restaurants throughout Japan.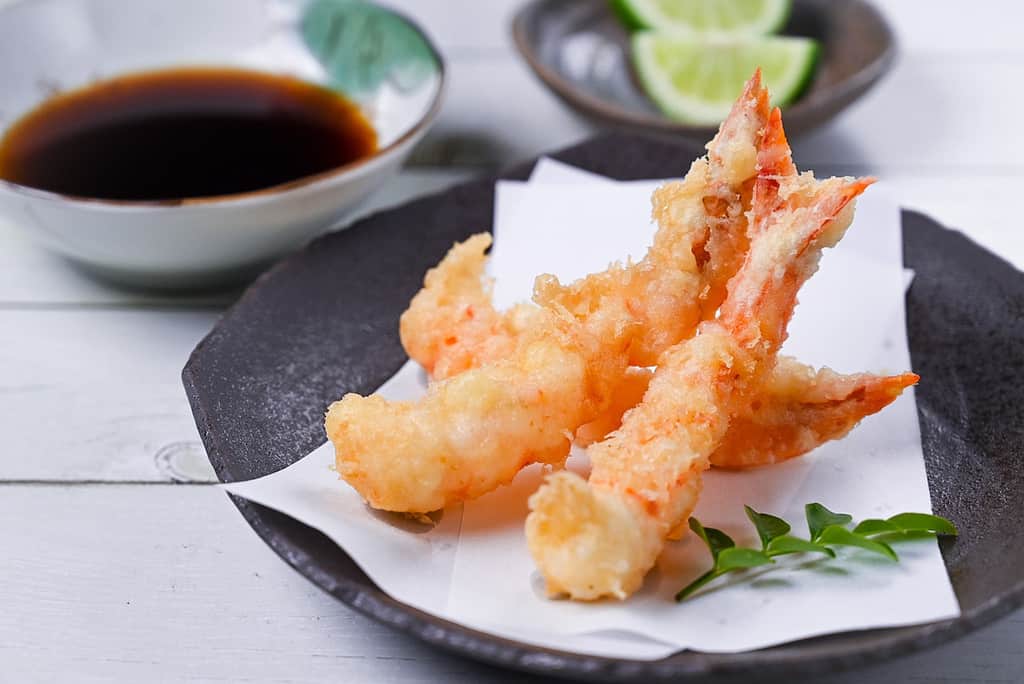 In addition to being eaten on its own, prawn tempura is also used in noodle dishes such as soba and udon, and also rice dishes like tendon (tempura bowls) and tenmusu (tempura shrimp onigiri riceball).
You can check all the detailed information including what kind of shrimps to use, how to prepare them and tips on how to make the perfect shrimp tempura on my post, "how to make Japanese shrimp tempura".
Tips for making great shrimp tempura
There are a few tricks to making delicious shrimp tempura every time. If you follow my advice, you'll be making restaurant quality shrimp tempura in no time!
Wash the shrimps with salt and cornstarch. (See how here)
Remove the shells and veins but leave the tail intact for presentation.
Make diagonal incisions on the belly that go halfway through the prawn. This will break the muscle and stop your shrimps from curling when deep fried.
Coat the shrimps in a thin layer of flour to help the batter stick.
Sift the flour for the batter.
Use ice cold water.
Mix starch with the flour (potato starch or corn starch).
Use sparkling water (or lager beer even) to make it light.
Do not over mix (Leaving lumps is actually better than smooth batter).
Fry in oil with a high smoke point at 180-190°C (355-375°F).
Udon soup
In this recipe, I use the same soup as I used in my kake udon recipe. It consists of:
This udon sauce is a base for many udon noodle recipes so it's definitely worth perfecting!
Toppings to consider
I keep this shrimp tempura udon simple in order to let the shrimp tempura shine. I only add the 3 following extra ingredients:
Kamaboko
Chopped spring onions
Tenkasu (tempura flakes)
However, if you want to make it more filling or add other elements of flavour, you can also consider these below as toppings:
Wakame (seaweed)
Grated daikon
Shiitake mushroom
Other types of tempura
Katsuobushi (bonito flakes)
Aburaage (kitsune)
Have fun customising this classic Japanese noodle dish and enjoy the recipe!
Shrimp Tempura Udon Noodle Soup (Ebiten Udon)
How to make delicious Ebiten Udon, chewy udon noodles served in a dashi-based soup and topped with light, crispy homemade shrimp tempura.
Ingredients
Shrimp Tempura
100

ml

cold water

-

chilled

50

ml

sparkling water

-

chilled

75

g

cake flour

15

g

potato starch

-

or cornstarch

8

black tiger shrimp

-

or similar

2

pinches

salt

-

for washing the shrimp

1

tsp

cornstarch

-

for washing the shrimp

all-purpose flour

-

for dusting

½

tbsp

Japanese mayonnaise

-

or ½ a whisked egg

cooking oil

-

for deep frying
Instructions
Sift 

75 g cake flour

 and 

15 g potato starch

 into a mixing bowl and place in the refrigerator along with a jug of

100 ml cold water

and an unopened bottle of sparkling water. Chill for 30 minutes.
Prepping the Shrimp
First, deshell

8 black tiger shrimp

, leave the tail on and remove the veins.

Place the shrimp in a bowl with

2 pinches salt

and

1 tsp cornstarch

and rub it over the surface. The salt is to dehydrate them so they fry better and the corn starch helps clean them out.

After a few minutes have passed, rinse the salt and cornstarch off the shrimp under cold running water and dry them with kitchen paper.

Place a shrimp on a chopping board on its side with the tail folded in half and trim it diagonally. The pointy tip should be cut off and be the shorter part of the diagonal. (This stops oil from splattering out when it's frying and it looks nicer too.)

Turn the shrimp so the belly is facing up and make shallow diagonal incisions along the whole body. The incisions should be about 1cm apart and go about ½ way through the prawn. You should be able to lay them out flat and straight.

Repeat for all of the shrimp.
Tempura
Preheat your

cooking oil

to

180

°C

.

Take the

100 ml cold water

and pour it into a bowl along with

50 ml sparkling water

.

Add

½ tbsp Japanese mayonnaise

to the water (or half a whisked egg) and mix until incorporated.

Take the

75 g cake flour

and

15 g potato starch

from the fridge and add it to the bowl of water one-third at a time. Mix roughly between each addition. (It's fine if it still has lumps.)

Dry your shrimp with a paper towel and then lightly coat them in

all-purpose flour

or potato starch. Dust off any excess.

Test your oil by adding a drop of batter, if it floats and sizzles it's ready to start cooking. (Don't dip the shrimp in the batter until the oil is ready).

Dip the shrimp in the batter and then place them in the oil one by one. Be careful not to overcrowd the pot. (I recommend keeping the batter in the fridge between batches.)

Fry for about 2 minutes or once the batter puffs up and becomes crispy. Remove the tempura from the pot before they become golden and place them on a wire rack to allow the excess oil to drop off.

Repeat until all your tempura shrimp are cooked.
Udon noodle soup
Boil

4 portions udon noodles

in a separate pot, follow the instructions on the packaging.

Bring

1 liter dashi stock

to a boil and then add

75 ml soy sauce

and

30 ml mirin

. Boil for 2-3 minutes.

Turn off the heat, add

½ tsp salt

and mix.

Once the udon noodles are ready, pour them into a colander and then rinse them under hot water to remove any excess starch.

Divide them into serving bowls and pour the broth over the top.

Place the tempura on top of the noodles and then garnish with

green onion(s)

and

Japanese fish cake "kamaboko"

. For an added kick, sprinkle with Japanese chili powder.

Enjoy!
Notes
If you want to keep the crispy batter, it is also fine to serve the tempura on the side and use the udon soup as a dipping sauce.