Miso nikomi udon is a classic noodle dish from Nagoya, Japan. Thick udon noodles are served in a rich and warming red miso broth, then topped with thinly sliced pork and a variety of ingredients. This is one of the soul food dishes from Aichi prefecture, you've gotta try it!
Disclaimer: This post contains Amazon and Dokodemo affiliate links. Sudachi Recipes earn a small percentage from qualifying purchases at no extra cost to you. See disclaimer for more info.
Jump to:
Miso Nikomi Udon
Miso Nikomi udon (味噌煮込みうどん) is a noodle dish made with udon noodles served in a red miso broth. It's most commonly made with pork, but can also be made with chicken if prefered.
While most udon dishes are served in a light dashi broth, miso nikomi udon breaks the rules. The broth is strong, rich and flavoured with red miso paste.
It can be said that miso nikomi udon is a type of "nabeyaki udon". Nabeyaki udon (鍋焼きうどん) is usually served in a "donabe" (earthenware pot) and topped with a variety of ingredients such as kamaboko and spring onions.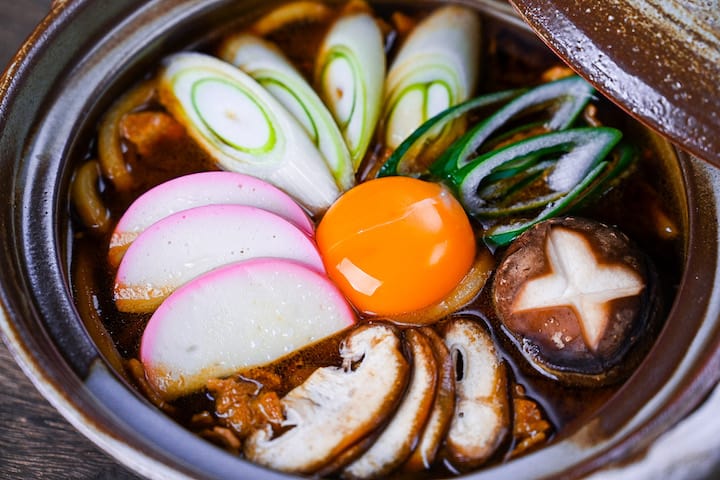 A regional speciality
Miso nikomi udon is known for its rich and deep flavour which comes from the use of red miso paste. Red miso is mainly produced and consumed in Aichi Prefecture, which is located in central Japan. It's actually where I'm from!
In recent years, it has been regarded as one of Aichi's specialties nationwide. In our culture, the term "Miso-nikomi" automatically refers to udon noodles cooked in miso.
However, even though it is technically Aichi's specialty, other parts of Japan call it "Nagoya meshi" which simply means Nagoya's specialties.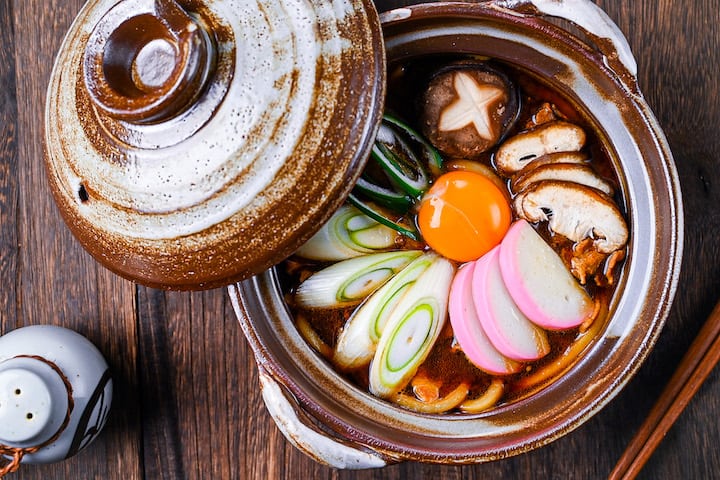 Nagoya meshi (名古屋めし)
As a "foodie prefecture" (which I'm greatly proud of), the term "Nagoya Meshi" has been widely recognised throughout Japan. Nagoya is no longer just a big city sitting between Tokyo and Osaka anymore!
Nagoya has become famous nationwide for its collection of dishes that belong to a category called "B-class (casual) gourmet" and some of them can be traced back to around 50 years ago.
A few examples of Nagoya meshi are:
Aichi is not known for being sophisticated in any way... but I can confirm, as a man who was born and raised here, that casual food from around this prefecture is one of the best in all of Japan!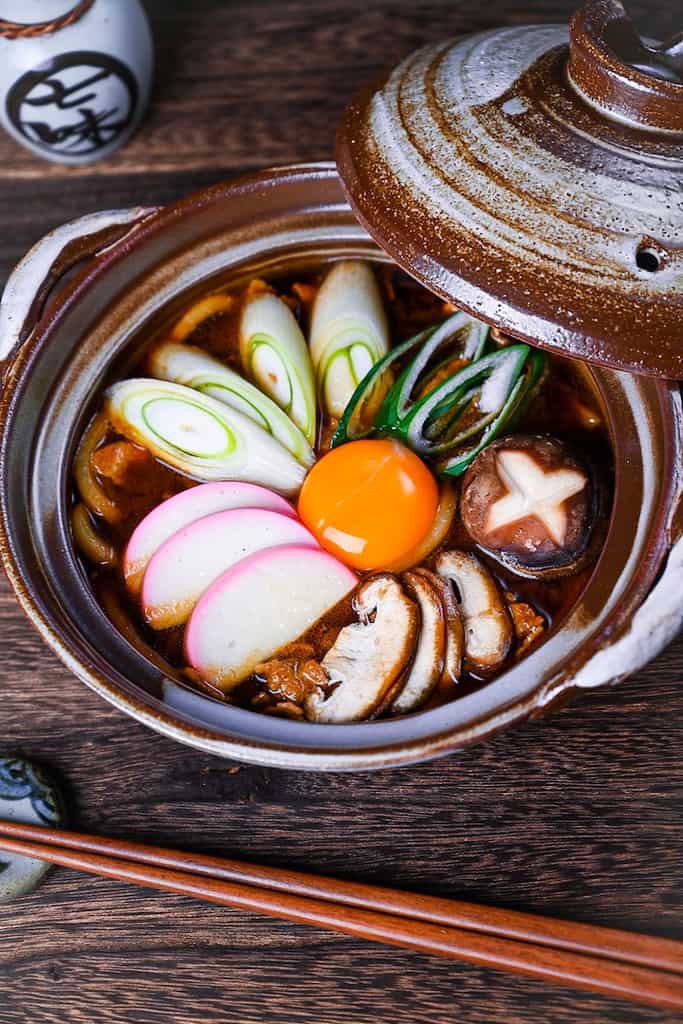 Main components of miso nikomi udon
Here I will explain about each component of miso nikomi udon in detail.
Dashi
Dashi is a broth that is used in Japanese dishes. It creates depth of flavour and an authentic Japanese taste. Dashi can be used for anything, but it's most commonly used in noodle soups. It's easy to make too, check out my favourite dashi recipe here!
Types of Dashi
Kombu Dashi (made with dried kelp seaweed)
Katsuobushi Dashi (made with bonito fish flakes)
Awase Dashi (made with a mixture of kelp and bonito flakes)
Niboshi Dashi (made with small dried sardines or anchovies)
Shiitake Dashi (made with dried shiitake mushrooms)
Miso nikomi udon usually uses "awase dashi" but you can use your prefered dashi. If you use kombu or shiitake dashi, you can also make this dish suitable for vegetarians. I have a plant-based dashi recipe you can follow here.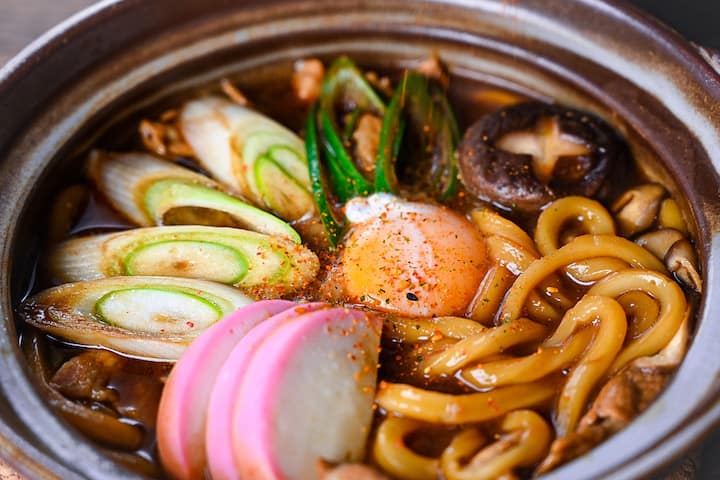 Red Miso Paste
The most famous red miso paste is "Hatcho Miso", which is actually from my home city, Okazaki. Hatcho miso is most commonly used for this dish and if you can get it, it creates the most authentic flavour for miso nikomi udon.
Red miso is made from a combination of soybeans, barley and grains. It has the highest soybean concentration out of all the types of miso paste and it's fermented for the longest time too!
Because of this, red miso paste has a strong and almost pungent flavour. It tends to be quite salty as well, so a little goes a long way. I personally love it but it is a bit of an acquired taste, especially if you're new to Japanese food.
You can buy Hatcho brand miso paste (it's the best!) or Shirakiku red miso paste on Amazon.
Udon
Udon noodles are thick, long and chewy noodles that are made from a simple mixture of flour, water and salt.
Actually, the udon specifically used in Miso Nikomi Udon are often made without salt because the dish is already salty enough. If you can't find udon without salt, you can reduce the miso paste a little in the recipe.
Udon noodles can be bought dried, frozen and refrigerated. Frozen are usually best for their chewiness but any udon noodles will work for this recipe.
One of the characteristics of miso nikomi udon is cooking everything together in the pot so that the red miso paste's flavour penetrates all of the ingredients. However, udon needs to be partly-cooked separately (3-5 minutes less than the packaging says) and then washed to remove the starch, otherwise your broth will become thick and cloudy!
Meat
Miso Nikomi Udon is most commonly made with pork but chicken is also delicious in this dish!
For this recipe I used thinly sliced pork belly. Cuts of meat that have fat on them help add flavour to the soup. If you choose to use chicken, I recommend chicken thigh because not only does it become extremely soft and tender, but the fat also adds great flavour to the broth.
If you want to make this dish vegetarian, you can also omit the meat and add tofu or extra vegetables. Red miso paste is suitable for vegetarians.
Vegetables
The most common vegetables used in Miso Nikomi Udon are
Japanese green onions (negi)
Mushrooms (shiitake, shimeji, enoki etc)
You can also add other vegetables such as carrots, gobo (burdock root) or any of your favourite kinds of mushrooms.
Other
Egg - Eggs are usually added last. They are lightly poached in the miso dashi broth so that the yolk is still runny. You can cook longer if you prefer a firmer egg. Alternatively you can add the yolk alone just before serving. (Make sure to use pasteurized eggs when eating them raw or runny.)
Kamaboko - A pink and white Japanese fish cake is common in noodle dishes. It adds bright colour and makes the dish look more appealing but it's not essential for the dish. You can leave it out if you can't find it in your local Asian supermarket.
Aburaage - Aburaage is a deep fried tofu and it's really delicious in soupy dishes like udon or hot pot. You might also know it as "Inari Age". The dish is more authentic with this ingredient, but it's also okay to leave it out.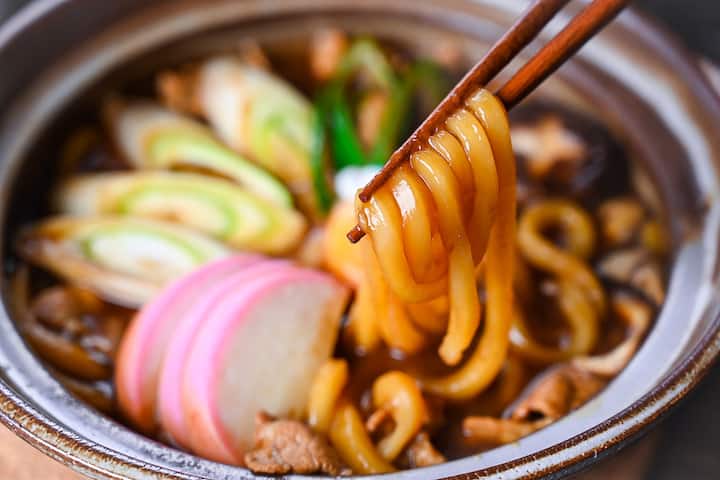 Miso nikomi udon is a dish close to my heart, so I really hope you enjoy it!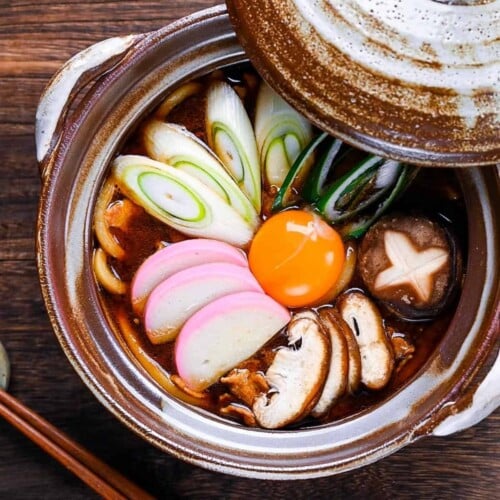 Miso Nikomi Udon (味噌煮込みうどん)
How to make rich and warming "Miso Nikomi Udon" (味噌煮込みうどん). Thick udon noodles in a rich red miso broth with various toppings.
Ingredients
150

g

pork belly

-

thinly sliced, or chicken bitesize pieces

500

ml

dashi stock

2

tsp

sugar

2

tsp

mirin

1

tbsp

red miso paste

- to flavor the ingredients, preferably hatcho miso

2

tbsp

red miso paste

-

finishing touch

2

portions

udon noodles

50

g

green onion(s) -

sliced

50

g

fresh shiitake mushroom(s)

-

sliced

2

medium egg(s)

2

pieces

fried tofu pouch(s)

-

aburaage (optional)

6

Japanese fish cake "kamaboko"

-

kamaboko, sliced, optional
Instructions
Heat up a frying pan on a medium heat, once hot add a drizzle of oil and

150 g pork belly

. 

Brown the meat until it's seared on the outside and the fat is slightly crispy.

Take a pot and add

500 ml dashi stock

. Heat up on medium/medium-high.

Once the dashi is almost boiling, add

2 tsp sugar

,

2 tsp mirin

and mix.

Place

1 tbsp red miso paste

onto a mesh spoon or ladle and submerge it into the dashi broth briefly. Use a small whisk or chopsticks to break it up and gradually incorporate it into the broth. (Alternatively, place the miso paste in a small bowl with a few tbsp of the hot dashi, break up/whisk until there are no more lumps of miso and then pour it into the rest of the broth.)

Cook

2 portions udon noodles

in a separate pot for 3 minutes less than the packaging states and rinse to remove the excess starch.

Transfer the udon noodles, meat and the rest of the ingredients (

50 g green onion(s)

,

50 g fresh shiitake mushroom(s)

,

2 pieces fried tofu pouch(s)

,

6 Japanese fish cake "kamaboko"

) to the broth and cook for 3 minutes.

Turn the heat down to low and incorporate

2 tbsp red miso paste

. (Use same method as step 5.) 

Crack

2 medium egg(s)

into the broth and place a lid on the pot, allow to cook for 2 minutes or until the eggs are done to your liking.

Enjoy!
Notes
You can use chicken or pork for this recipe. Thinly sliced meat works best.