Hiyashi Tanuki Udon is the chilled version of a popular noodle dish "Tanuki Udon". Made with thick Japanese wheat noodles topped with deep fried tempura flakes and served in a flavourful cold dashi broth, this refreshing dish is perfect for lunch or dinner on a hot day!
Disclaimer: This post may contain affiliate links. Sudachi Recipes is part of the amazon associates programme and earns a small percentage from qualifying purchases at no extra cost to you. See disclaimer for more info.
Jump to:
What is tanuki udon?
Tanuki udon is a Japanese noodle dish and a variation of "kake udon". Kake udon are dishes consisting of udon noodles served in a hot dashi broth. While "kake udon" is the general term, the actual name of the dish changes depending on the toppings. A few examples of kake udon are:
Tanuki udon in particular, is topped with flakes of deep fried tempura batter known as "agedama" (揚げ玉) or "tenkasu" (天かす) and chopped spring onions, but the toppings can vary from region to region.
For this reason, depending on where you go in Japan, the name "tanuki udon" can conjure up different results!
Tanuki udon: West vs East
If you have read some of my other recipes, you might already know that Eastern Japan (Kanto) and Western Japan (Kansai) have completely different cultures, this of course includes food! When it comes to tanuki udon, the cultural differences can actually become quite confusing.
In the Kanto (Eastern) region, udon topped with deep-fried tofu (aburaage) is known as "kitsune udon" and udon with tenkasu (tempura flakes) on top is called "tanuki udon". However, when you say "tanuki udon" to someone in the Kansai region, you might be met with a look of confusion. This is not because the dish doesn't exist there, but instead it's known by a different name.
I mentioned before that tempura flakes are called tenkasu (or agedama), and in the Kansai region, Tanuki udon is more commonly known as simply "Tenkasu Udon". It also used to be called "Haikara Udon" in the past which means "trendy udon", a term that also seems to be common in the Chugoku and Kyushu regions (Southwest).
To add to the confusion, in Kyoto specifically, Tanuki Udon is something different entirely and is made by cutting fried tofu into strips and placing them on top of udon noodles with starchy sauce and kujo leeks.
Okay, I know it's pretty confusing, but I will settle this as a man who literally grew up between East and West. To me, Tanuki Udon has always been an udon dish with tempura flakes. I might get complaints from Kansai people, but I'd say this is more of a norm for Tanuki Udon, at least in modern days.
Why is it called "Tanuki Udon"?
The word "tanuki" is a type of animal known in English as the Japanese raccoon dog. Taunki are classified as a member of the Canidae family and are endemic to Japan. Before you ask, no, this dish does not contain any tanuki meat or anything, just to make that clear!
But before we dive into why tanuki udon is called "tanuki" udon, let's look at its sister dish "kitsune (fox) udon". Again, kitsune udon does not contain fox meat or anything related to foxes, but the name has roots in Japanese culture. Kitsune Udon originated from Osaka, and at that time the fox was considered a lucky animal that brought prosperity to business. There was a common belief that the fox's favorite food was deep-fried tofu (aburaage), and the name "Kitsune Udon" was derived by putting aburaage on top of udon noodles.
Unfortunately, tanuki udon doesn't have such a deep meaning to the name. There are various theories as to the origin of the name "Tanuki Udon." One theory goes that the word "tanuki" is a play on words coming from "tanenuki". Tane refers to the ingredients used for tempura and "nuki" means "without", in other words, just the tempura batter without the ingredients. Whether it's true or not, the main point is that Tanuki Udon doesn't seem to have anything to do with the animal itself.
What does "hiyashi" mean?
The word "hiyashi" (冷やし) means "chilled" in Japanese and any noodle dishes that would usually be served hot can also be served cold by chilling the cooked noodles and serving them in a cold broth.
Hiyashi dishes are often enjoyed in the summer and one of the most popular examples is hiyashi chuka (cold ramen noodle "salad").
While tanuki udon is usually known for being a hot udon dish, it's also great cold and goes perfectly with summer vegetables like cucumber and okra!
Ingredients to make hiyashi tanuki udon
Making hiyashi tanuki udon is quick and simple! Here is the ingredient list (with affiliate links) for this recipe:
Udon noodles
Okra
Cucumber
Grated daikon radish
Dried wakame seaweed
Kizami nori
Kamaboko fish cake
Light brown sugar
Ice cubes
Read on for substitutions!
Substitutions and variations for hiyashi tanuki udon
In this section, I will list all the alternative ingredients, substitutions and variations to make the hiyashi tanuki udon to your preference.
Soft boiled eggs
Firm or silken tofu
Benishoga pickles
Chopped spring onion
Grated ginger (instead of wasabi)
Ooba leaves
Tomato
Crab sticks (instead of kamaboko)
You can substitute or omit ingredients depending on your preference and what is available to you!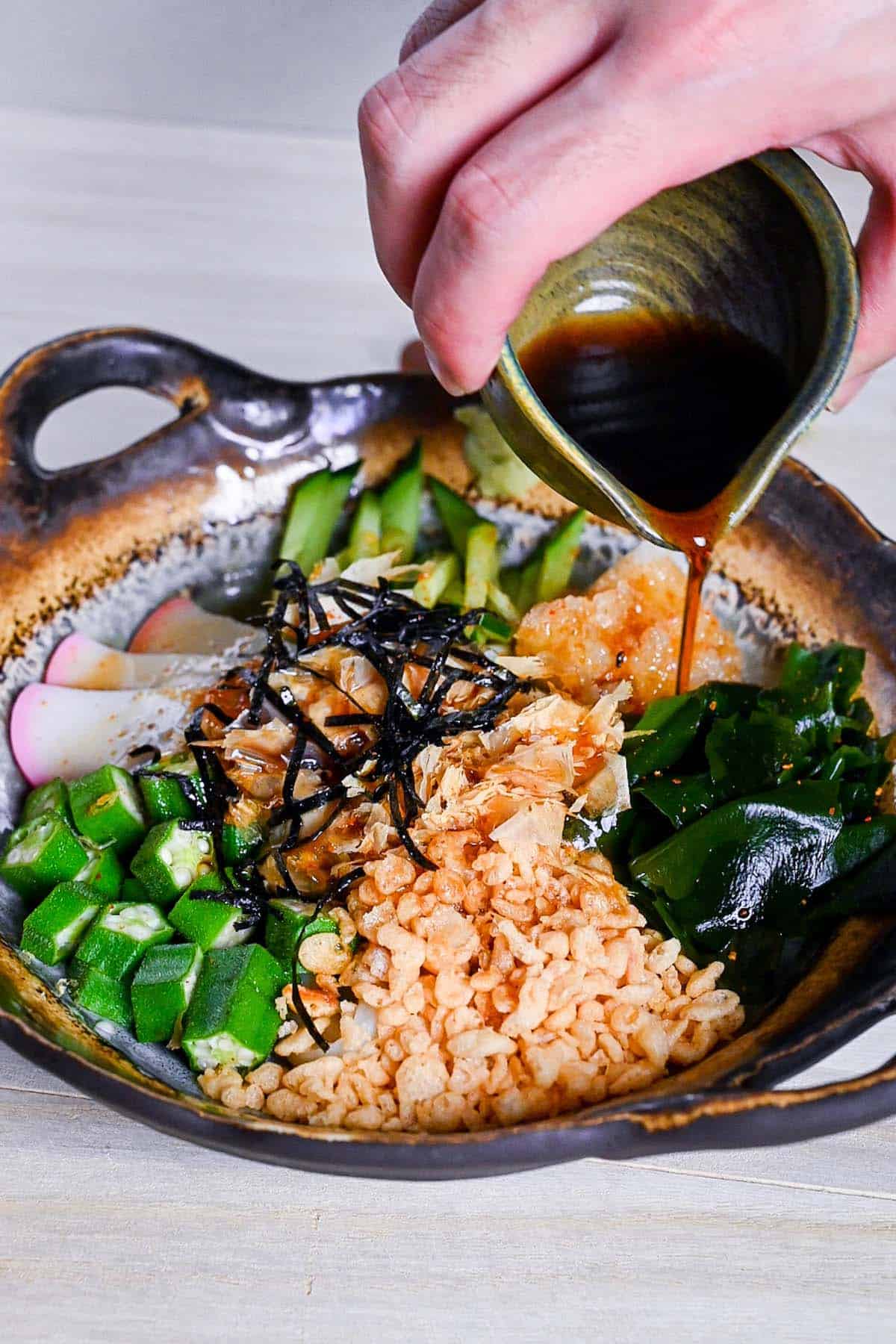 Instructions on how to make hiyashi tanuki udon
Hiyashi tanuki udon is a simple and straightforward dish, here is a run down of the steps with tips for the best flavour!
Make the sauce
The sauce for this recipe is made with just 4 ingredients: dashi, soy sauce, mirin and brown sugar. Simply boil them in a sauce pan for a few minutes to melt the sugar and burn off the alcohol in the mirin, that's all there is to it!
It's a concentrated sauce so I like to cool it quickly with a couple of ice cubes, but you can add a little bit of cold water instead if you don't have any ice readily available.
For a hiyashi tanuki udon sauce that is suitable for vegetarians, simply use a vegetarian dashi stock. I have a recipe for kombu and shiitake dashi here!
Cook and chill the udon
Cooking times vary depending on what kind of udon you use. I personally always use frozen udon for its great texture and the fact you can cook it in the microwave, but of course, dried or chilled udon are also fine to use. Just follow the cooking instructions on the packaging.
To cool it quickly and remove excess starch, pour the cooked udon into a colander over the sink and wash with cold running water. Although this step cools them down quickly, it doesn't make them cold so I like to add a few ice cubes to the noodles while I prepare my toppings.
For nicely chilled udon noodles fast, wash with cold water and leave them in a colander with a few ice cubes for 5 minutes. (Place the colander over the sink or a large mixing bowl to catch the melting ice.)
Grate the daikon
Grated daikon radish (oroshi daikon) is a common addition to many Japanese dishes due to its slightly peppery, yet reshreshing taste. I particularly enjoy oroshi daikon with fish or oily dishes such as grilled mackerel (saba no shioyaki) or deep fried eggplant in dashi (nasu no agebitashi).
Did you know that when grating daikon, it's important to grate the right part? The bottom of the daikon (the point) is strong and bitter, which is best used for pickles or strongly flavoured soups or hotpots. The middle part is sweeter and great for simmered dishes. Finally, the top part near the stem is mild and best for eating raw in salads or as oroshi (grated). It's also better to peel the outside of the daikon before grating.
Grate the top of daikon (closest to the stem)
For the most pleasant flavour, be sure to use the top part of the daikon when making daikon oroshi (grated daikon radish).
Prepare ingredients and arrange
Because the toppings will be mixed in with the noodles, I recommend cutting everything thin and fine for best results. The toppings you choose affect the texture of the dish so in order to balance the chewy noodles and soft, sauce soaked tenkasu, I recommend choosing a few crunchy toppings with some bite (I used okra and cucumber).
If, like me, you use wakame for this dish, soak it according to the instructions on the packaging.
Once all of your ingredients are ready, place a portion of the udon noodles in each bowl.
Arrange the ingredients beautifully on top of the udon, feel free to get creative here!
Add the sauce
The final step is drizzling the toppings with sesame oil (which adds flavour and makes them easier to mix) and then pouring the sauce over the top! Make sure to divide the sauce equally between portions.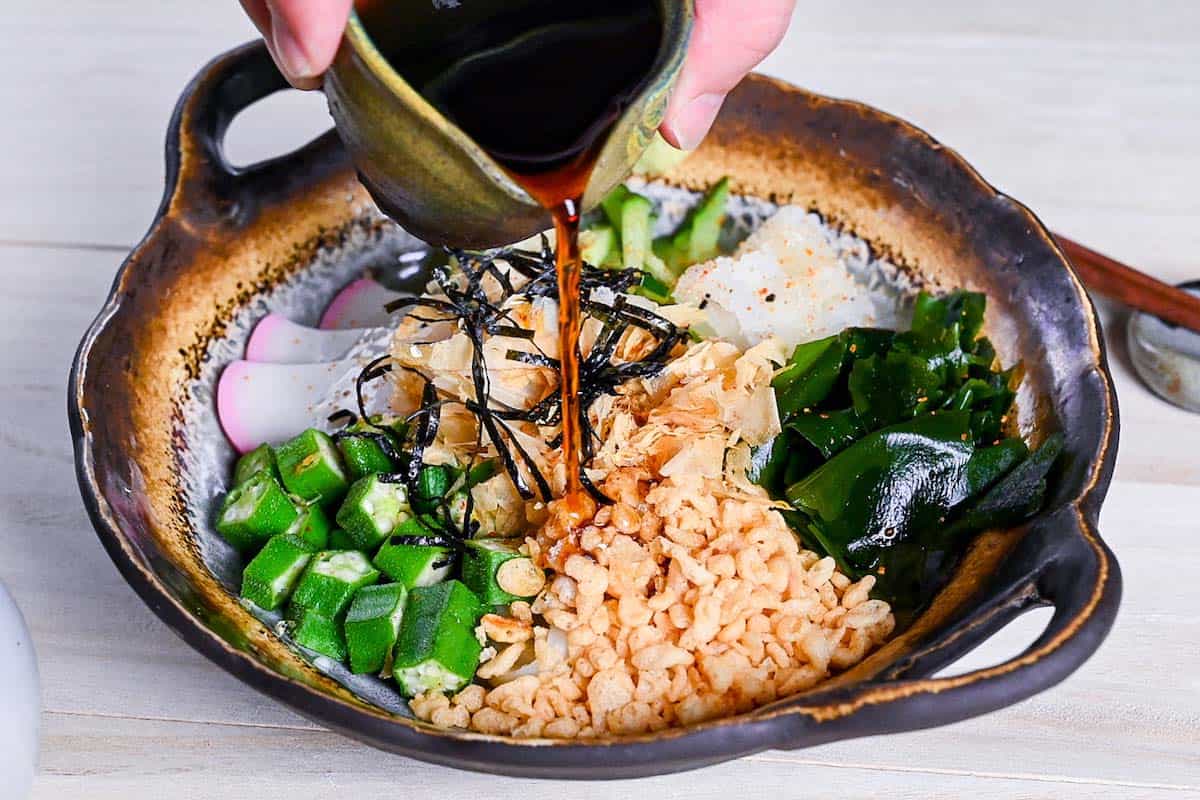 If you love food with a spicy kick, feel free to add a touch of wasabi to the side of the dish. You can use this for dipping or mix it in with the sauce!
Mix thoroughly before eating and enjoy!
I hope you enjoy this chilled version of Tanuki Udon. Let us know what you thought of the recipe in the comments below!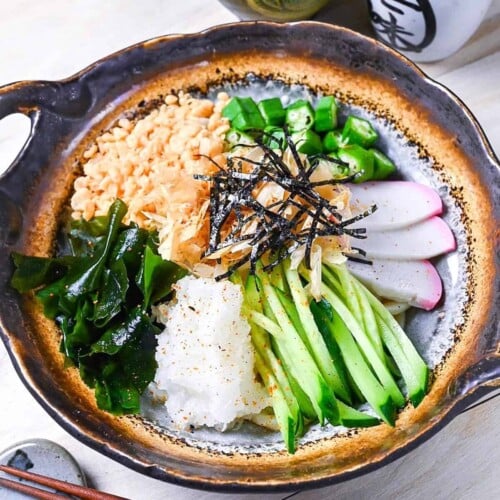 Hiyashi Tanuki Udon (Cold)
How to make refreshing Hiyashi Tanuki Udon (chilled) with tempura bits and summer vegetables drizzled with a delicious, easy homemade sauce.
Ingredients
Noodles and Toppings
2

portions

cooked udon noodles

ice cubes

-

to chill the udon noodles

2

tbsp

tempura flakes

-

tenkasu

6

slices

Japanese fish cake "kamaboko"

-

optional, omit for plant-based

50

g

Japanese or Persian cucumber(s)

-

julienned

40

g

okra

-

sliced

2

tbsp

daikon radish(s)

-

grated

1

tbsp

dried wakame seaweed(s)

2

tbsp

bonito flakes -

(katsuobushi) optional, omit for plant-based

1

tsp

sesame oil

1

tbsp

shredded sushi nori seaweed "kizami nori"

-

kizami nori

1

tsp

wasabi paste -

optional
Instructions
Mix

2 tbsp dashi stock

,

1 ½ tbsp soy sauce

,

½ tbsp mirin

and

½ tsp light brown sugar

in a saucepan and bring to a boil on a medium heat. Allow to boil for 1-2 minutes and then remove from the stove.

Add

2 medium ice cubes

to the sauce to cool it quickly. Once cool, store in the fridge until serving time.

If using wakame, soak according to the instructions on the packaging. (Usually about 5-10 mins.)

Cook the udon noodles according to the instructions on the packaging.

Once the noodles are cooked, pour them into a colander and wash with cold running water. Leave the noodles in the colander either over the sink or a large mixing bowl and add a few ice cubes. Leave to chill for 5 minutes.

Prepare your toppings according to the instructions in the ingredient list.

Divide the udon into serving bowls and arrange the toppings on top.

Add a small amount of wasabi to the side of the bowl (optional) and drizzle with sesame oil.

Finally, pour the chilled sauce over the top.

Mix thoroughly before eating and enjoy!
Nutrition
Calories:
472
kcal
Carbohydrates:
92.5
g
Protein:
16.1
g
Fat:
5.7
g
Saturated Fat:
0.6
g
Polyunsaturated Fat:
1.4
g
Cholesterol:
8.5
mg
Sodium:
2554.5
mg
Fiber:
8
g