Shoyu ramen is an absolute classic and with this recipe you will be able to make it totally from scratch! Made with chewy ramen noodles served in a chicken and dashi based broth, flavoured with soy sauce and garnished with quintessential ramen toppings, you can enjoy authentic Japanese ramen in the comfort of your own home!
Jump to:
What is shoyu ramen?
Shoyu ramen is a type of ramen born in Japan that uses soy sauce for the tare (sauce), it's often referred to as "chuka soba" as well. Compared to other types of ramen, it is the most rustic and classic. However, the broths nowadays vary considerably from restaurant to restaurant, ranging from light soups with a chicken or vegetable broth base to thicker ones made with pork bones.
Just so you know, the soup of this recipe is made with a base of chicken wings and dashi together, it heavily follows the fundamentals of classic shoyu ramen rather than the contemporary ones with twist. Because I make soup and tare from scratch, it does take time but I made it so that the actual process is fairly simple!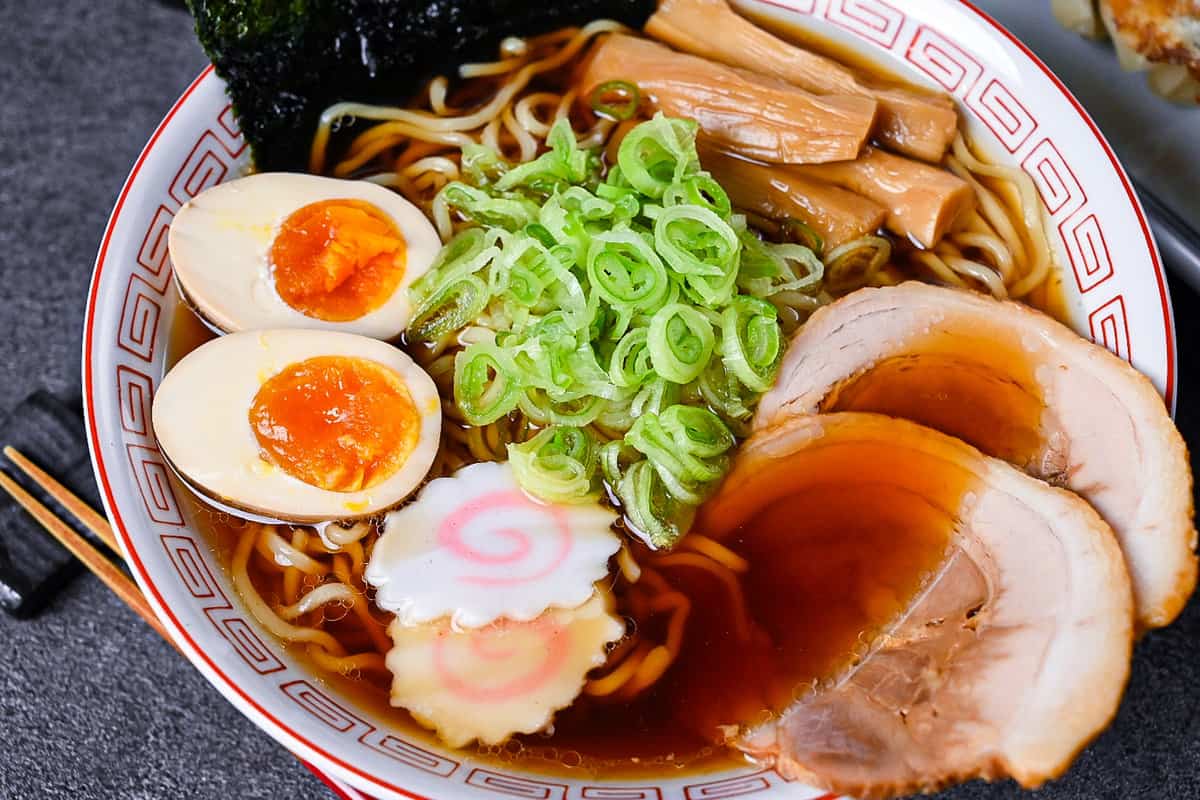 Brief history of shoyu ramen
Long story short, it is said that the shoyu ramen served at Rairaiken (來々軒) in Asakusa, Tokyo in 1910 was the first shoyu ramen in Japan. At the time, it was called "Tokyo Ramen," and Tokyo Ramen is still popular as a local ramen to this day. Like shio ramen, shoyu ramen, which can be called the prototype of Japanese ramen, has a longer history than other types of ramen.
Because of its long history, there are many regional ramen dishes based on shoyu ramen throughout Japan such as:
Asahikawa ramen (旭川ラーメン) in Hokkaido
Tsugaru ramen (津軽ラーメン) in Aomori Prefecture
Hachioji ramen (八王子ラーメン) in Tokyo
Toyama black ramen (富山ブラック) in Toyama Prefecture
Takayama ramen (高山ラーメン) in Gifu Prefecture
Banshu ramen (播州ラーメン) in Hyogo Prefecture
Onomichi ramen (尾道ラーメン) in Hiroshima Prefecture
...and many more!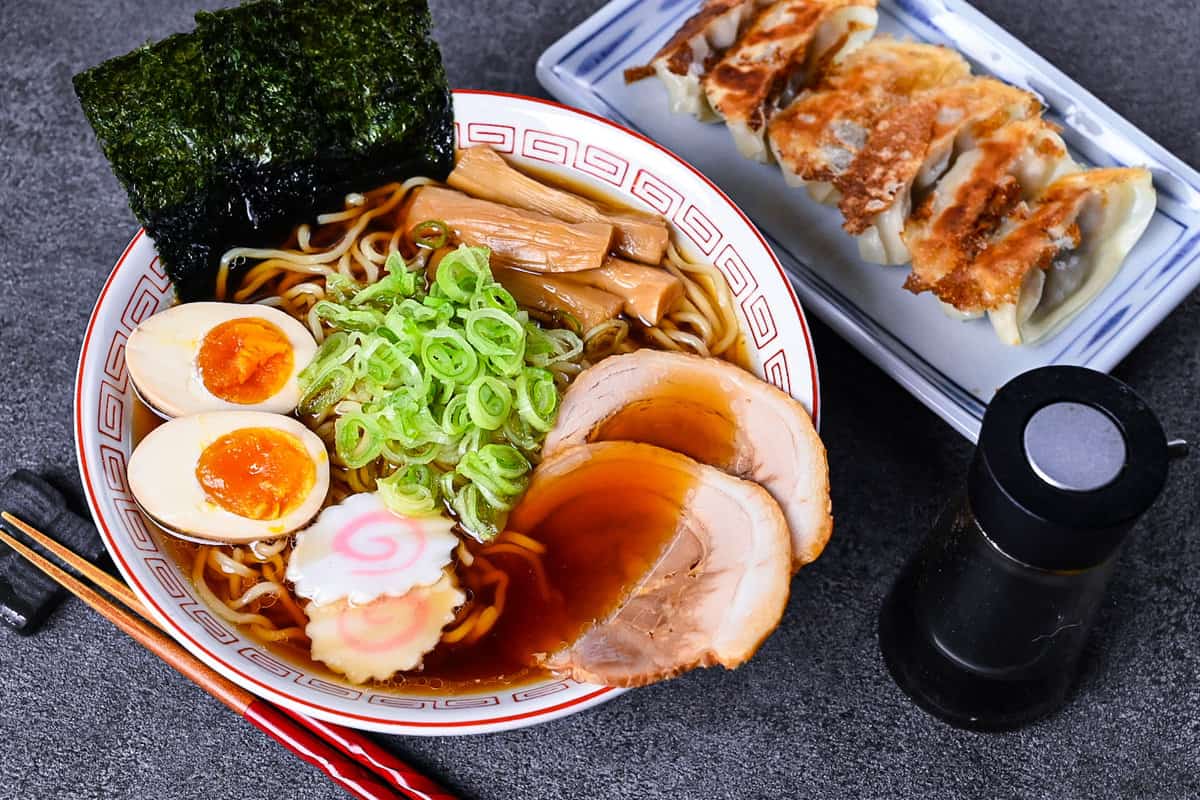 Shoyu ramen vs miso/shio/tonkotsu ramen
As you might already know, Japanese ramen roughly has 4 different kinds:
Shoyu (soy sauce)
Miso
Shio (salt)
Tonkotsu (pork bones)
Each term refers to the base of broth, and every ramen restaurant (except for big chains) is specialised in one of them. I know there are more kinds out there in Japan, but the list goes on and on so I just stop with these 4 main types.
| | | | | |
| --- | --- | --- | --- | --- |
| | Shoyu | Miso | Shio | Tonkotsu |
| Broth | Soy sauce base | Miso base | Salt base | Pork bones base |
| Popularity | Medium | High | Low | High |
| Homemade difficulty | Moderate | Easy | Easy | Very hard |
These are just based on my experience of having had ramen for +25 years, but at the end of the day, it's all down to personal preference. However, one thing I can say for sure is, making tonkotsu ramen at home is extremely time consuming.
So if you want to try to make ramen at home, I recommend using this shoyu ramen recipe or my other miso ramen recipe (which is a lot easier).
My other ramen recipes: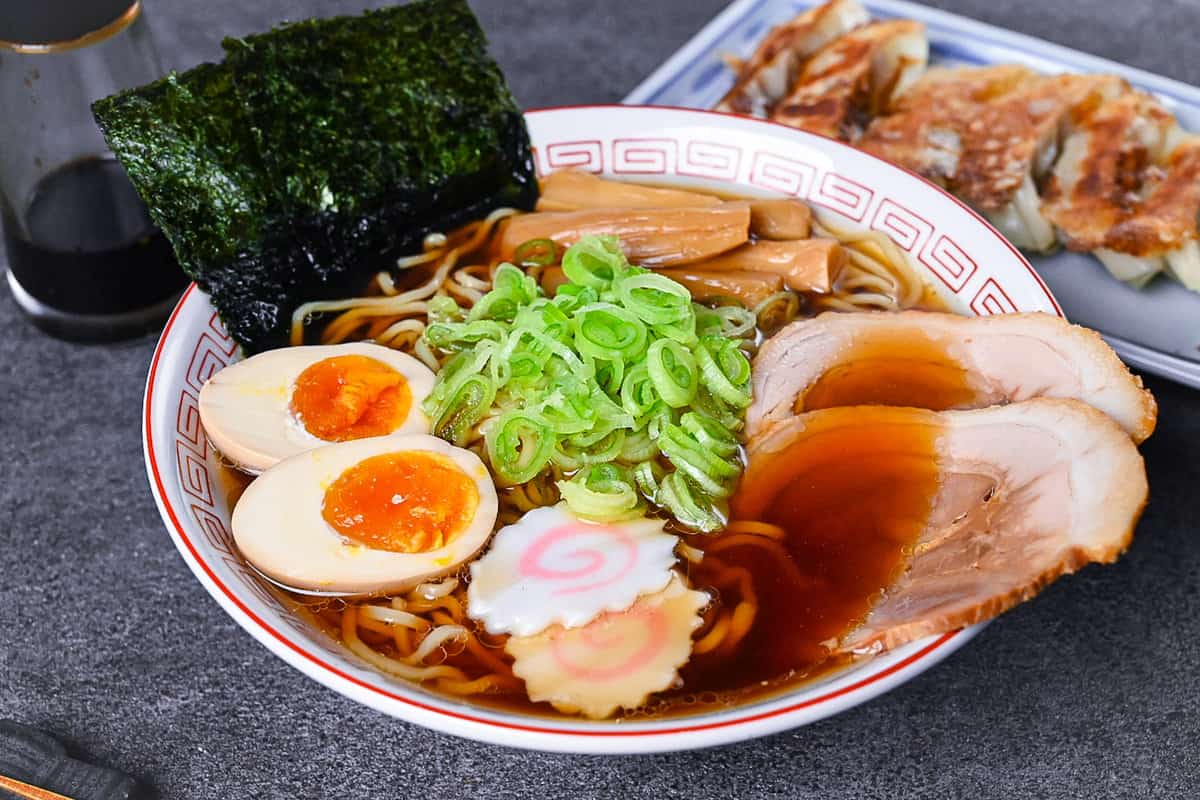 What is the most popular type of ramen?
Although I have explained the different types in my experience above, I thought I should include third person view in it. Here is the ranking based on 510 people in Japan according to Mynavi News (2020):
Shoyu: 26.5%
Miso: 25.3%
Tonkotsu: 22.5%
Shio: 12.9%
Others: 12.8%
As I expected, there is no clear winner for ramen preference in Japan. Shoyu, miso and tonkotsu ramen are more or less equal. For example, if I have to pick my favourite, I'd choose miso but I still eat shoyu, tonkotsu or shio when I feel like it. In other words, they're all pretty equal in popularity.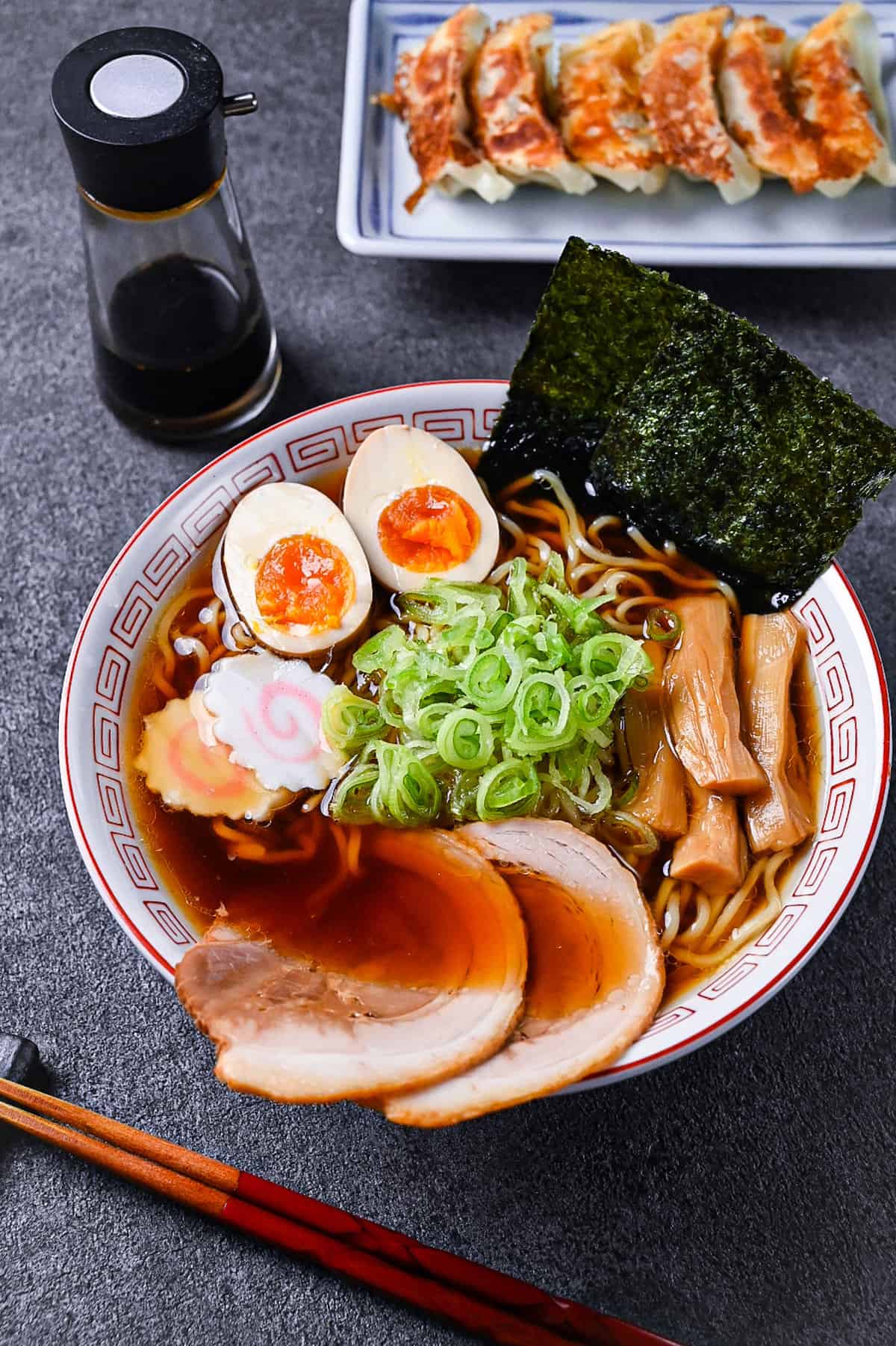 Ingredients to make homemade shoyu ramen
In this homemade shoyu ramen recipe, I use following ingredients to make the broth (includes Amazon affiliate links):
See recipe card for details and quantities. As for the toppings, I use following:
Chashu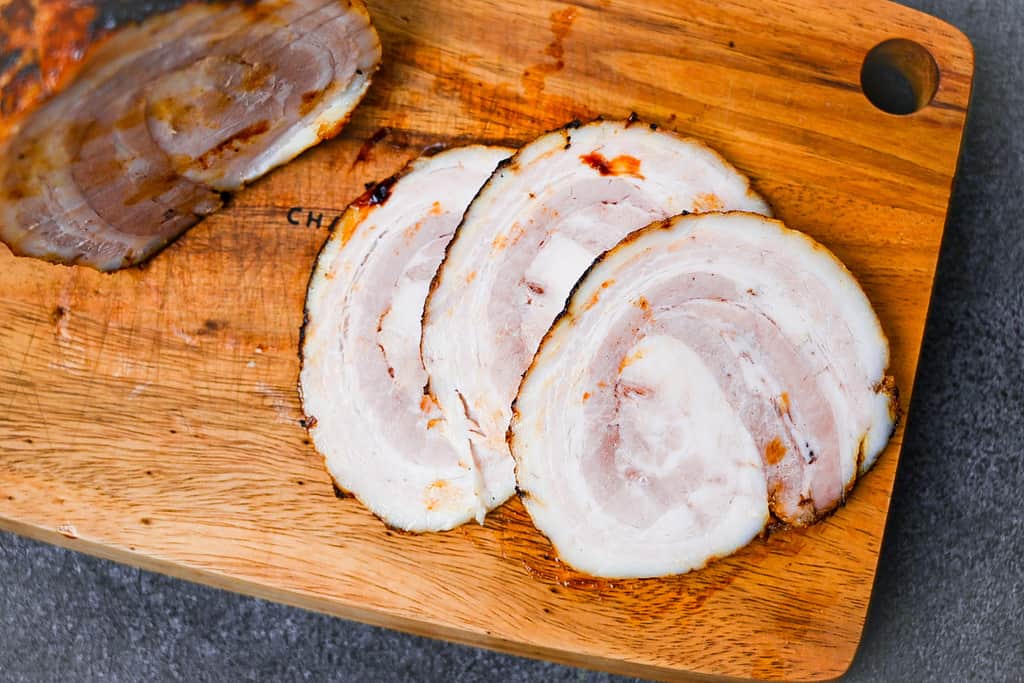 Chashu, used in Japanese ramen, generally refers to braised pork belly. It is made by binding a block of pork with strings (takoito) and then simmering it with soy sauce, mirin, sake, and aromatic vegetables.
It is often used not only as a topping for ramen, but also as an ingredient in chahan (fried rice) and steamed buns. You can buy it at supermarkets in Japan but even if you cannot find it in your local supermarket, I have a recipe for homemade chashu! So if you're interested, please check it out!
Ramen egg/Nitamago
As the name in English suggests, ramen egg is almost essential for any kinds of ramen not only in taste but also the look. A ramen egg is simply a boiled egg seasoned with broth or other seasoning.
Again, you can easily get it in Japanese supermarket, but I have an easy homemade ramen egg recipe so please check it out! You could also marinate soft boiled eggs in the leftover chashu broth if you want to go down that route!
Menma
Menma is a food originally from southern China and Taiwan, made by fermenting a kind of bamboo. Unlike chashu and ramen egg, it is almost impossible to make proper menma at home. So you can either omit it, or buy premade menma on Amazon.
Nori (dried seaweed)
The word "nori" is a general term for edible algae, but in cooking it refers to a food product made by processing the seaweed into a crisp paper-like sheet. It's not as essential as the ones above, but I personally like to have it with ramen. It's relatively easy to buy and you can use this for a lot of different dishes including sushi and onigiri!
Narutomaki
Narutomaki is a type of fish cake made of pink-dyed fish paste wrapped in white paste and steamed. Incidentally, the name "Narutomaki" is named after the whirlpool pattern formed on the cross section of the fish, which is named after the whirlpools of the Naruto Straits.
Unlike any other toppings above, this is more about looks rather than taste, so you can easily omit this one. I personally don't feel sad if narutomaki isn't on my ramen.
Instructions on how to make homemade shoyu ramen from scratch at home
Making homemade ramen from scratch might seem like a daunting task, but I've got you covered with my extensive step by step recipe that includes pictures and tips! (See recipe card at the bottom of the page for ingredient quantities.) Let's get started!
Make the dashi
I like to use my favourite awase dashi broth for this recipe. It's super easy to do and adds depth to the broth, but feel free to use premade dashi or dashi powder if you prefer to speed things up.
Start by soaking dried sardines (niboshi) and dried kelp (kombu) in water for 30 minutes.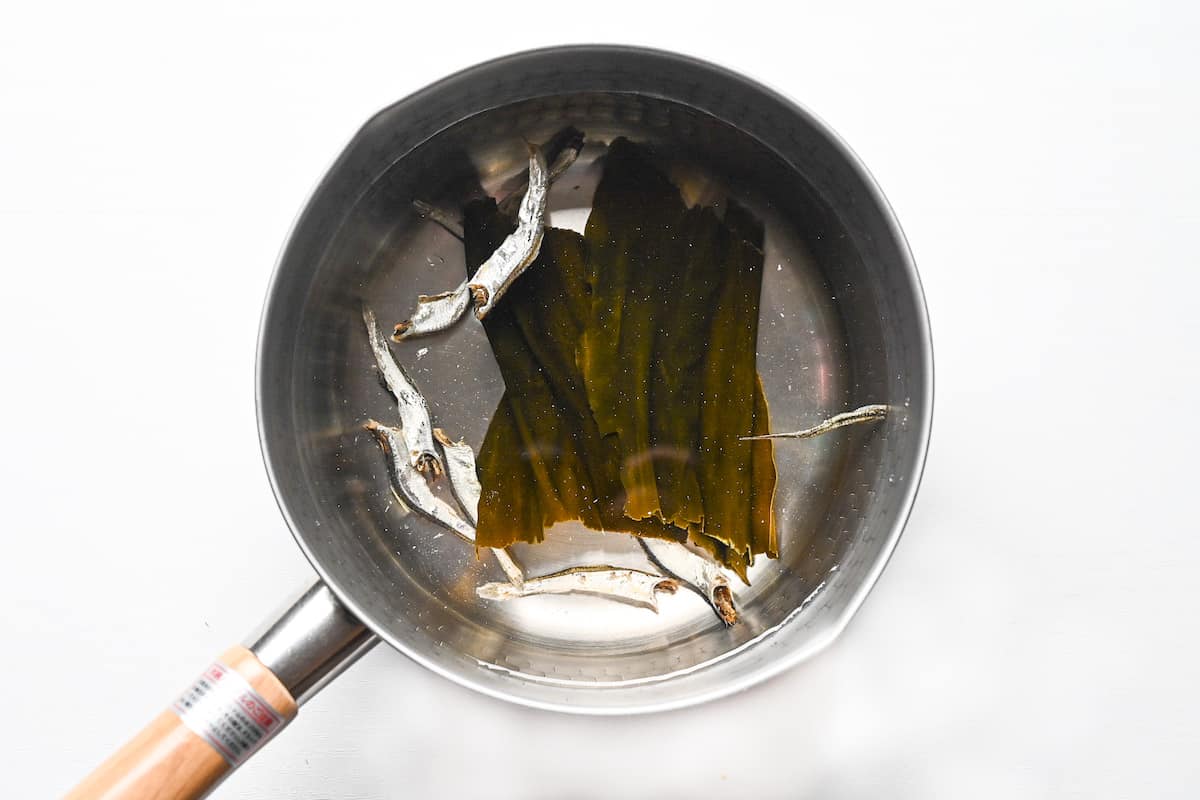 After 30 minutes, place the pan on the stove and then bring to almost boiling over a medium heat.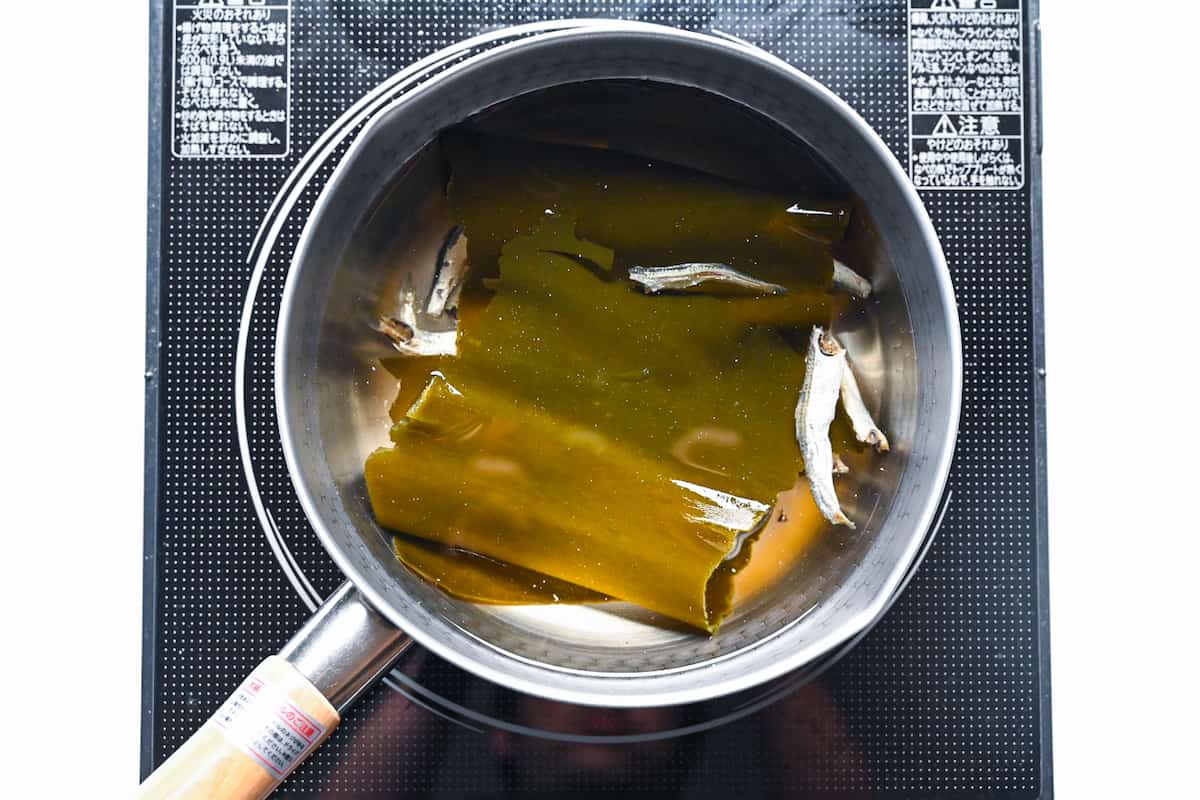 Simmer the broth
Once the broth is almost boiling, turn the heat down to a simmer and add bonito flakes (katsuobushi), spring onion, chicken wings, fresh ginger and garlic cloves to the broth and simmer for 30 minutes. This will make a complex yet light broth that is rich in flavour.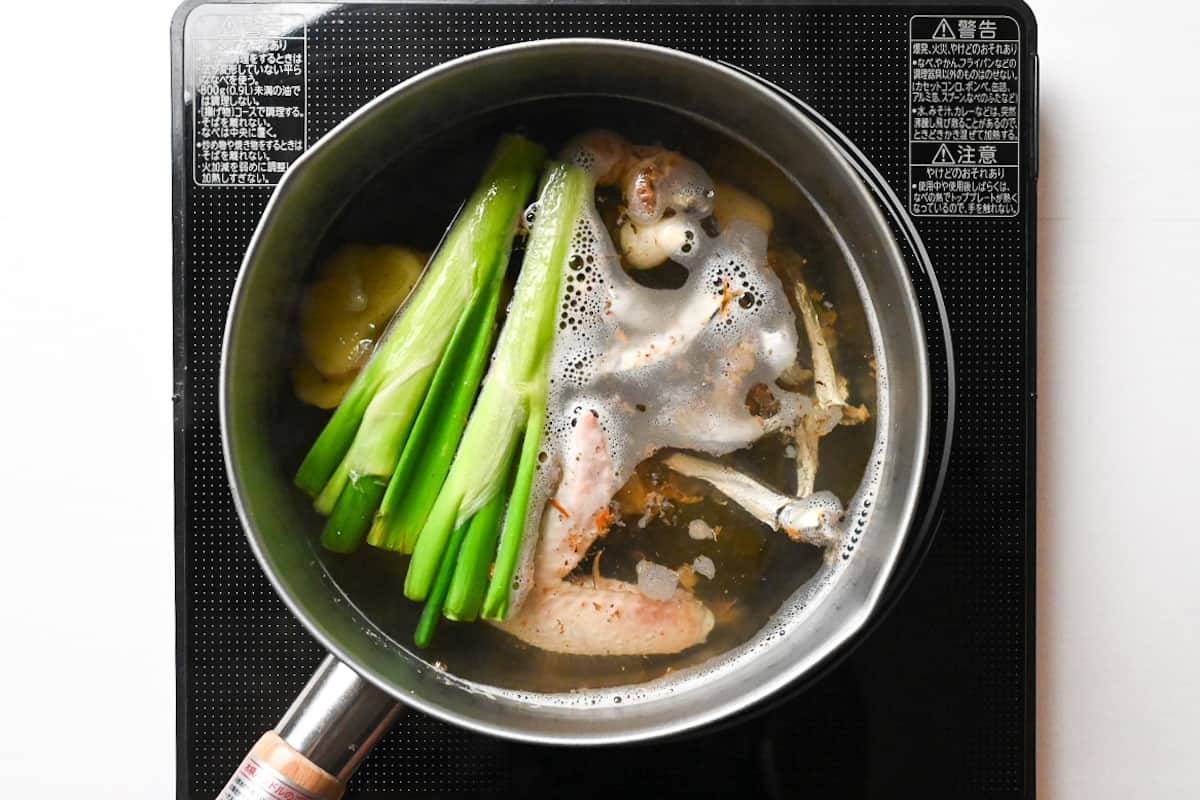 After 30 minutes of simmering, pour the broth through a sieve lined with kitchen paper placed over a large heatproof mixing bowl.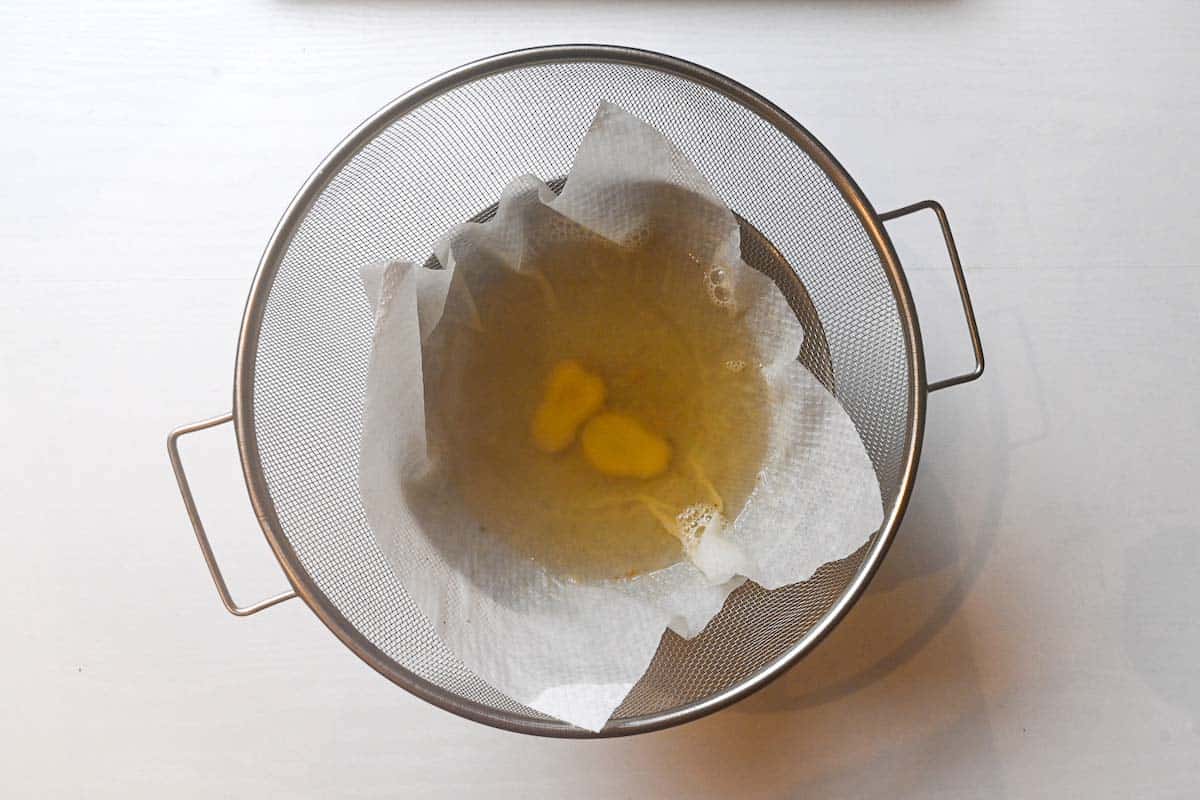 You should be left with a beautiful clear and golden broth like this.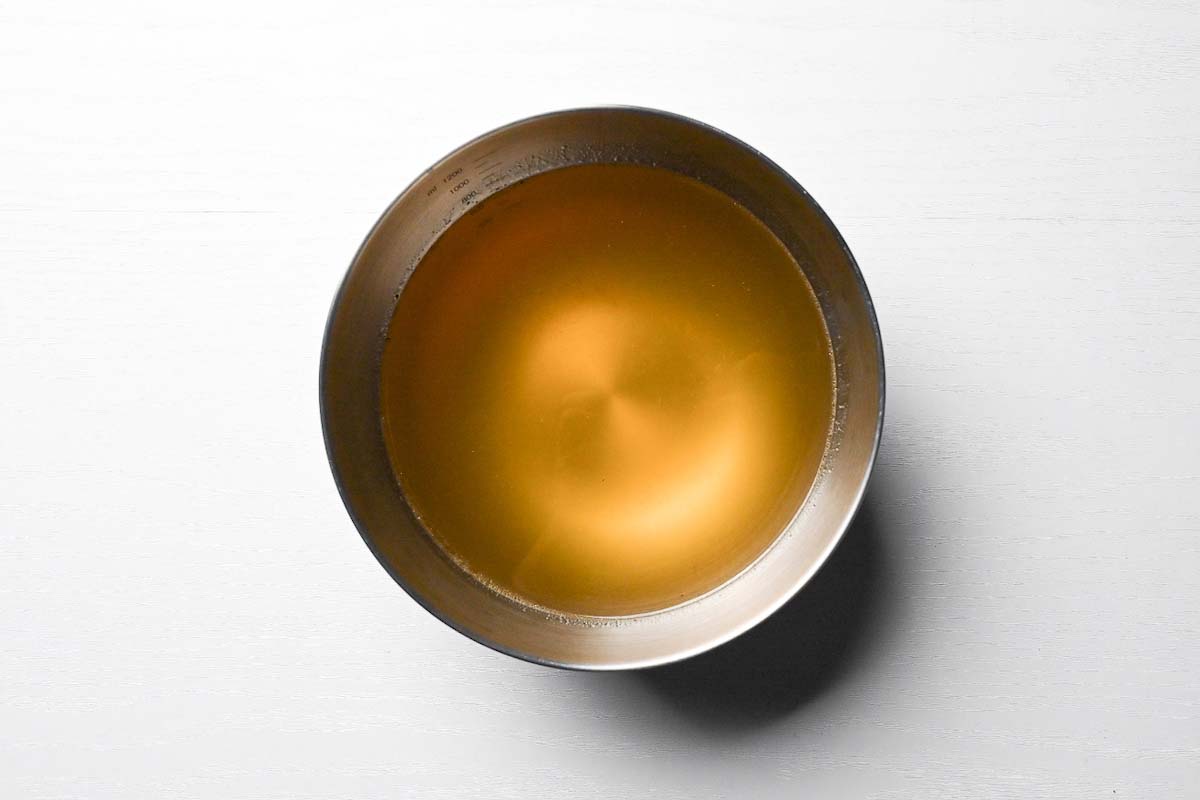 Set aside for later and reheat right before serving.
Render the chicken skin
When making the tare (sauce) I like to render chicken skin so that the fat comes out and adds more flavour to the over all dish. Start by heating a small pan on low/medium low and add lard. Once it has melted, add the chicken skin.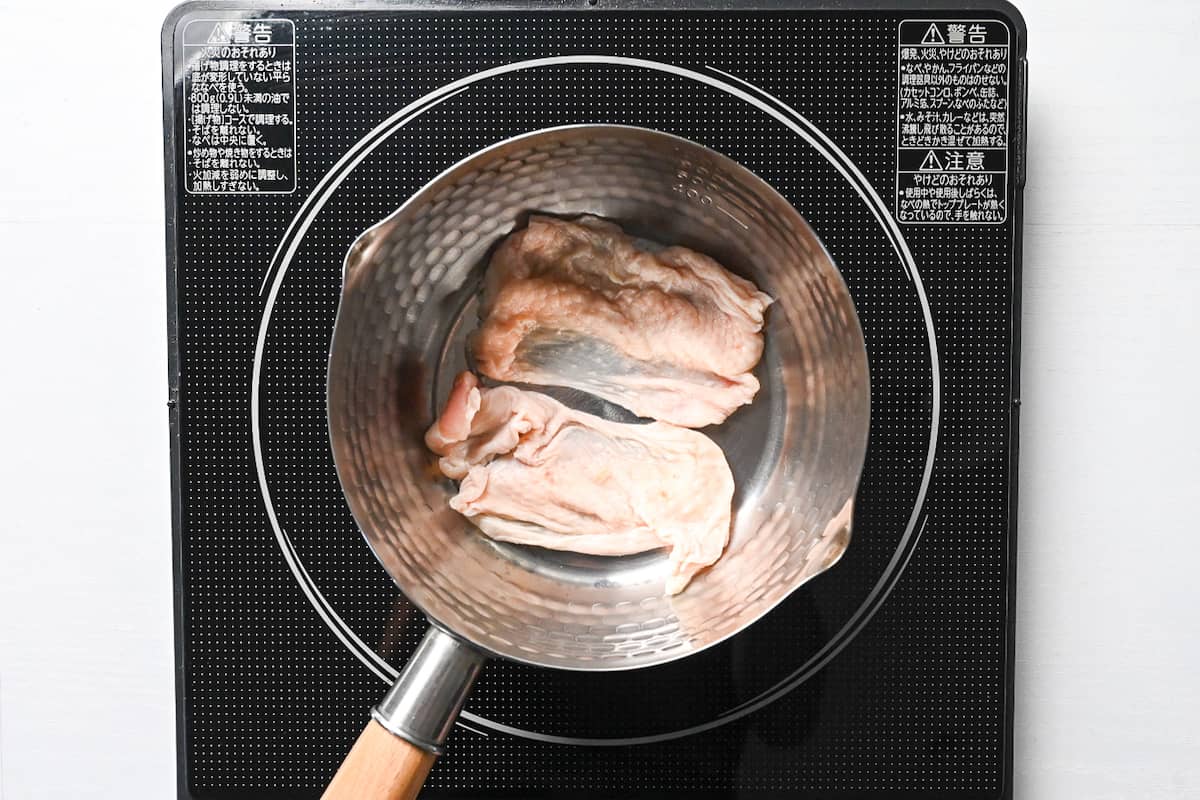 Fry the chicken skin until crispy/browned on both sides and the fat has rendered out. This usually takes about 10 minutes.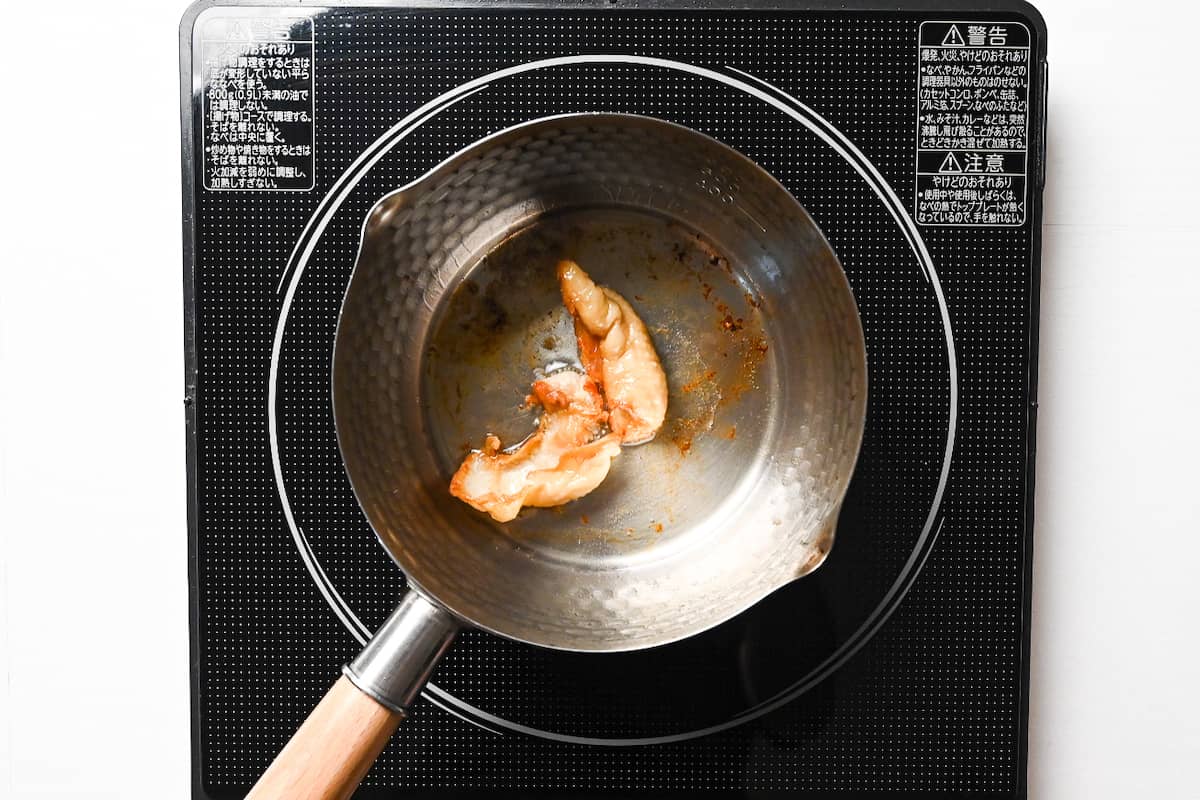 Once the fat has rendered out, remove the chicken skin. I love crispy chicken skin so once it's cooked I like to just eat it as it is, but you can also cut it up and use it as a ramen topping if you like!
Make the "tare" (sauce)
Making a tare is an essential step when making ramen. As this is "shoyu" ramen, the tare is mainly flavoured with soy sauce.
To make the tare, add soy sauce, water, sake, mirin, sugar and salt to pan with the chicken fat. Simmer the tare for 15 minutes to reduce it down until it's thick and glossy.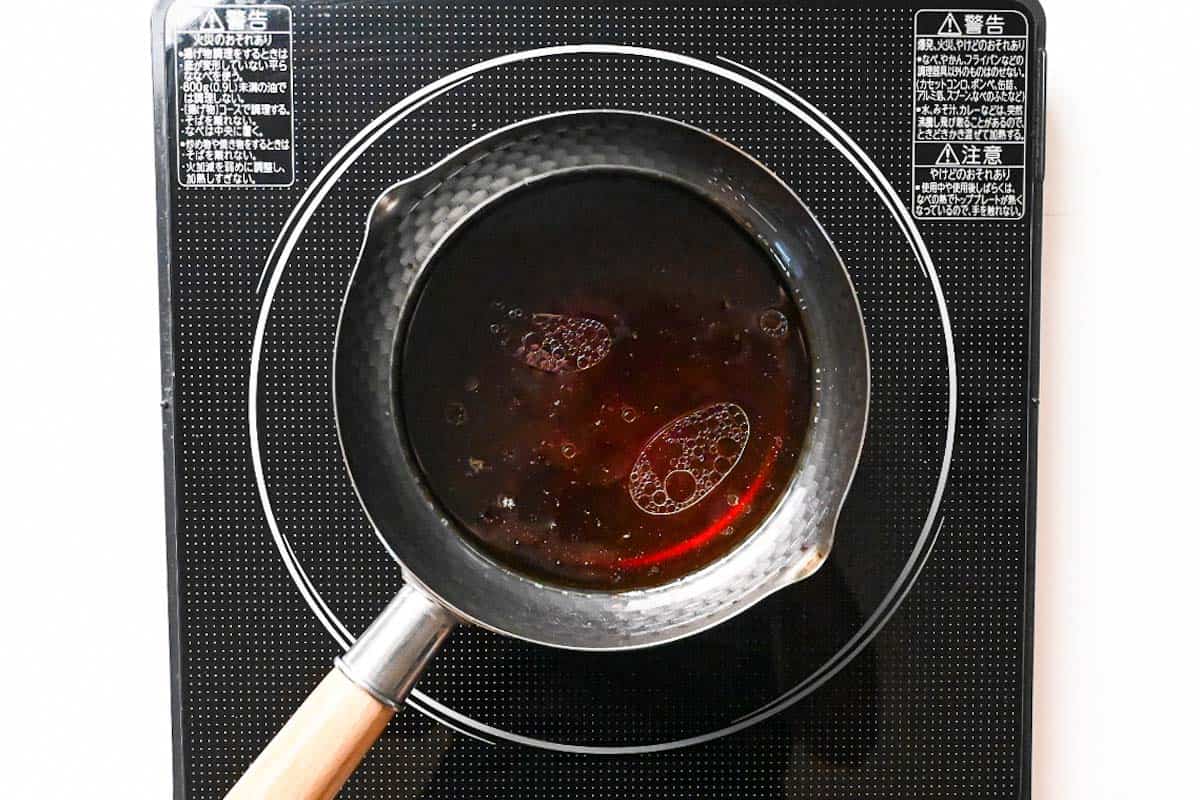 Once it's done, divide it into your serving bowls. Alternatively, you can leave it to cool and store it in the fridge until it's time to use it.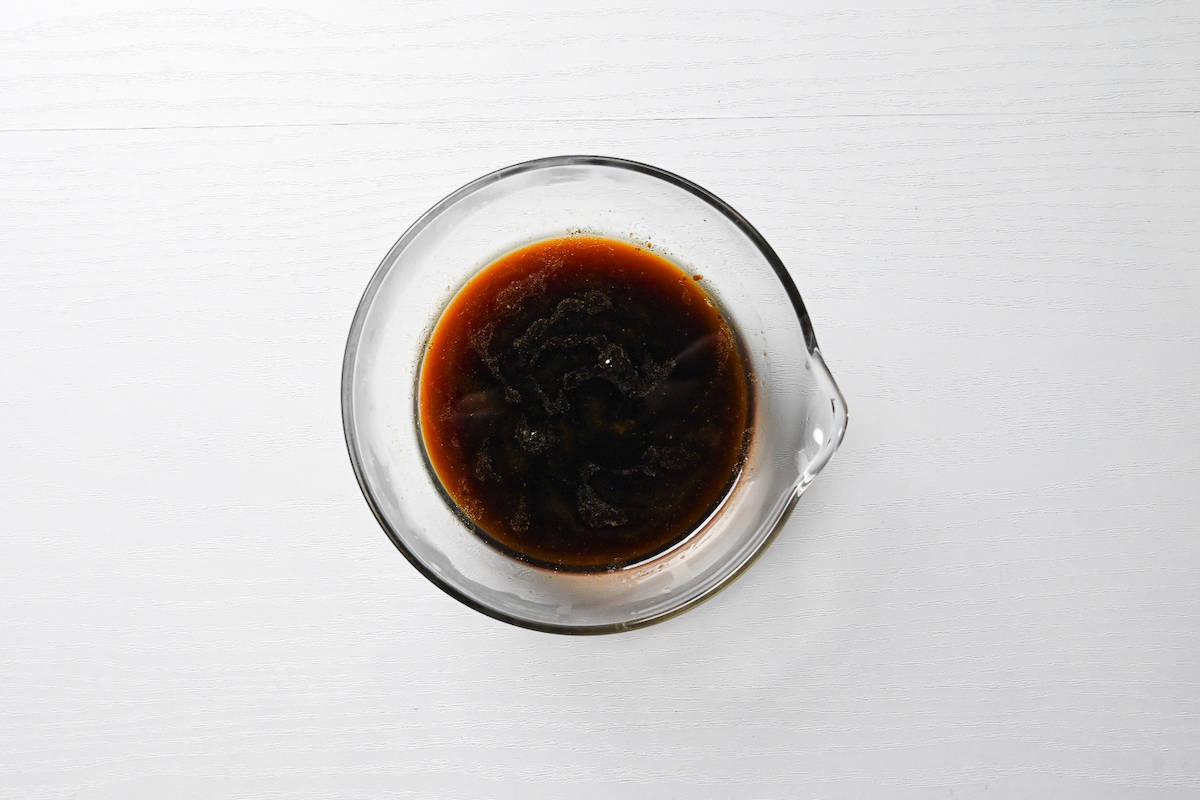 Assembly
The order in which the ramen is assembled is pretty straight forward. You start by dividing the tare between the bowls. My recipe makes two portions so simply half it for each bowl. If you're making multiple portions then you will need to multiply the recipe and then divide the tare accordingly.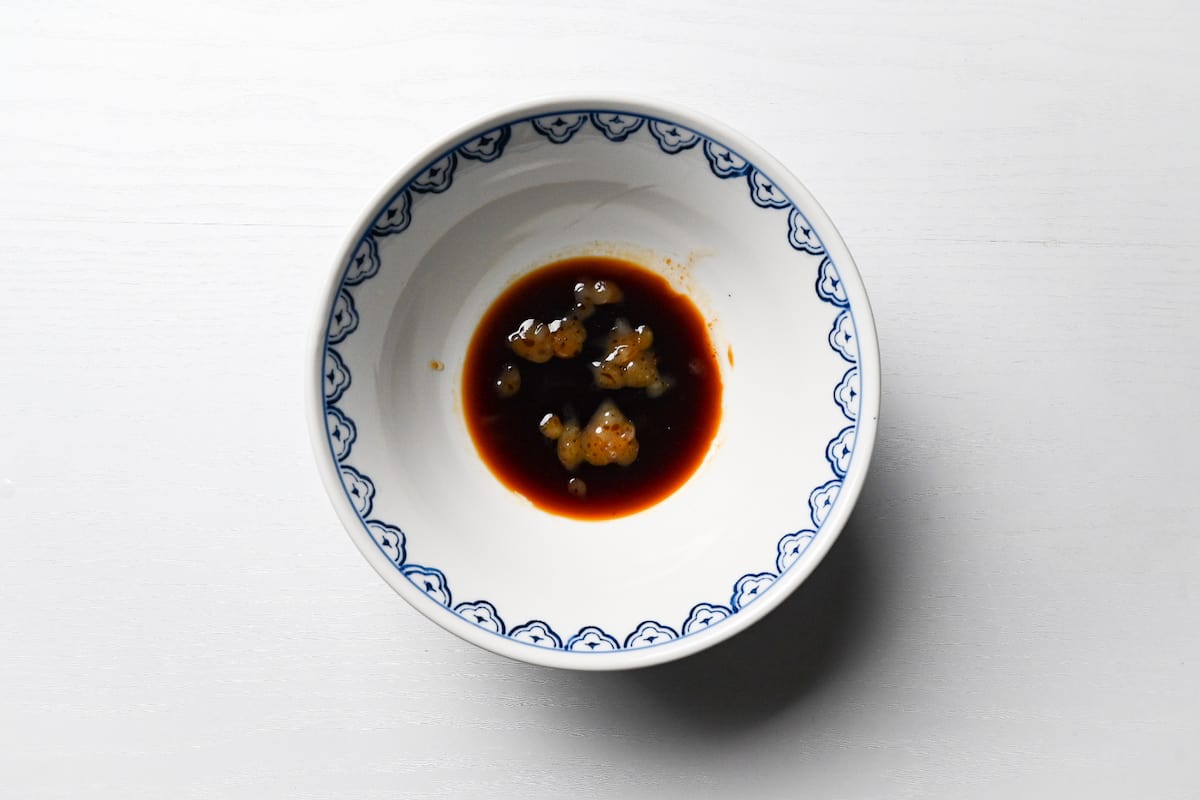 Next, add 300ml of broth to each bowl and mix it with the tare. The broth will be reduced after the simmering time, but you might still have some leftover. You can store this in the fridge and use it for next time, I recommend using it up within a week. Don't be tempted to use more than 300ml of broth per serving otherwise the tare to broth ratio will be unbalanced.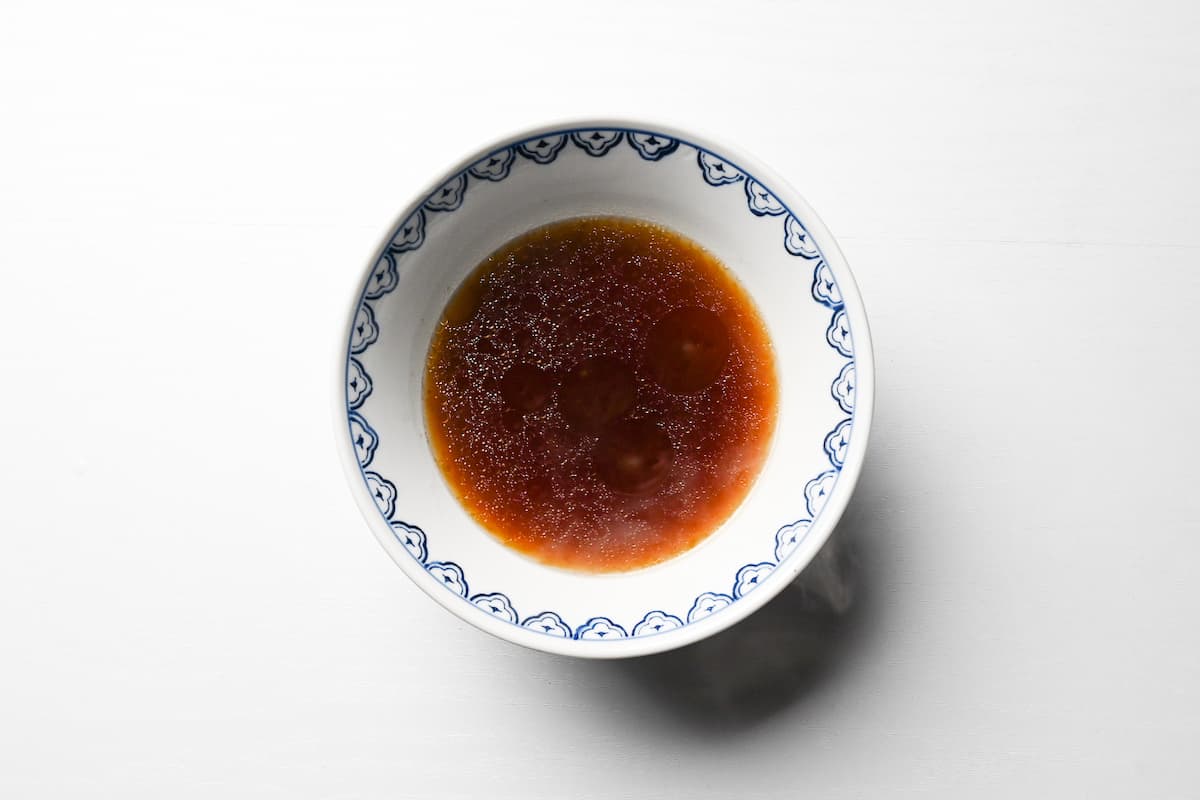 Add the ramen noodles and toppings
Cook your ramen noodles in a separate pot and follow the instructions on the packaging. Drain the water and place the noodles in the broth.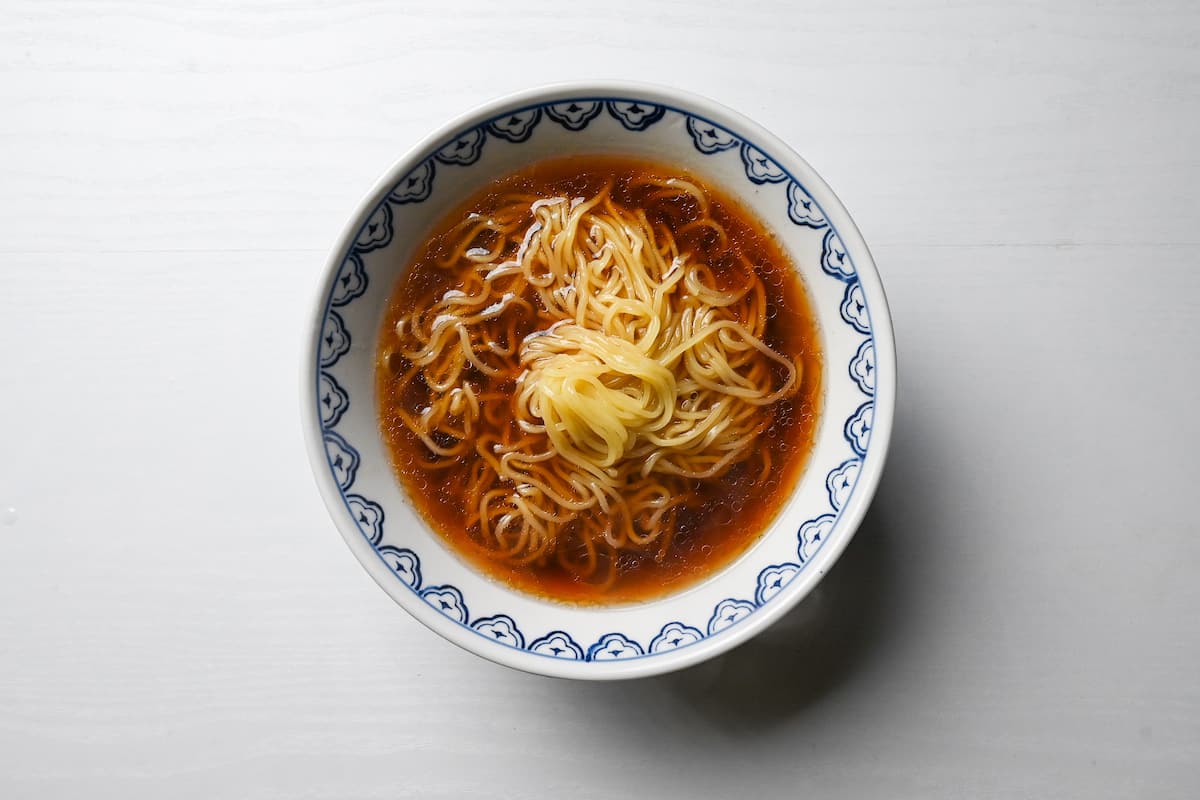 Finally, top with your favourite ramen ingredients and enjoy this authentic Japanese shoyu ramen at home!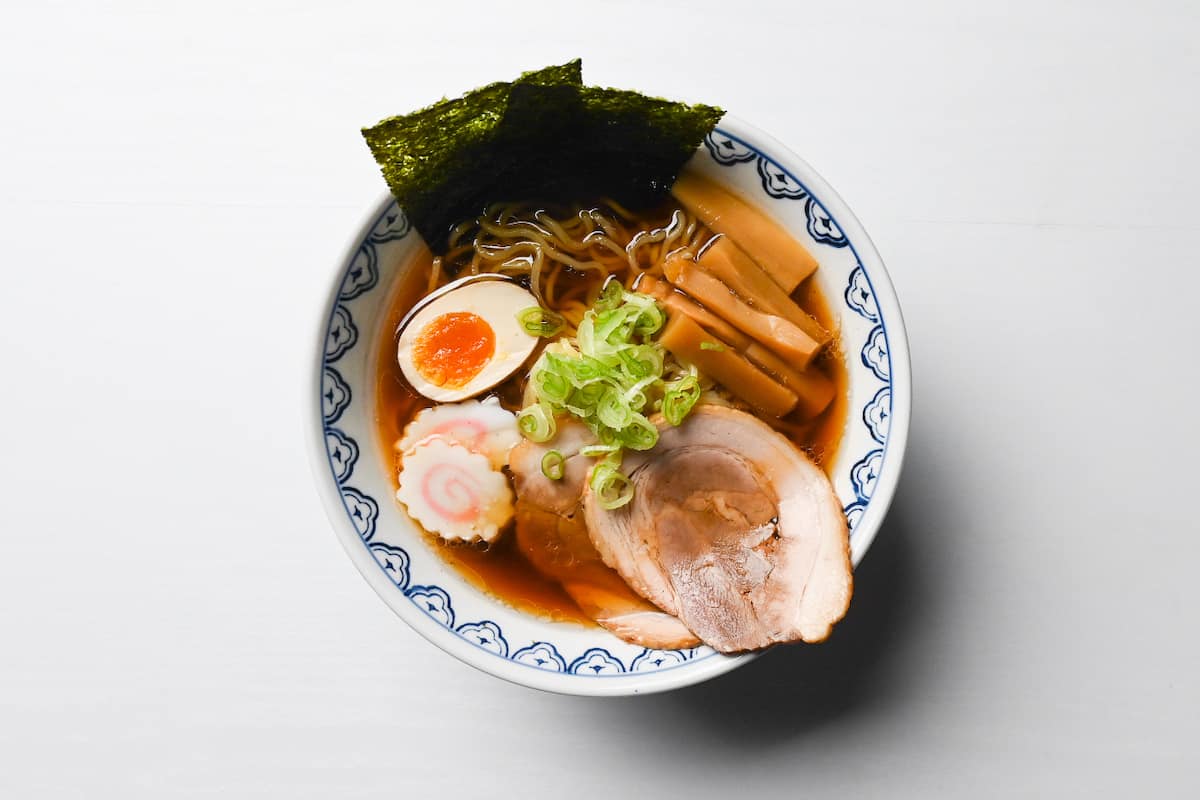 Substitutions to use in this shoyu ramen recipe
Even though it's hard to change the broth part for this recipe, you can use different ingredients for toppings. For example, if your local supermarket doesn't sell chashu and you don't want to make it from scratch, you can use chicken instead!
So in here, I will list all the substitutions for specific ingredients as much as possible.
Chicken breast: if you want to substitute pork chashu, you can use chicken and make a chashu-like topping! If you want to know how to make this easy chicken, please check the "salad chicken" part of this chicken salad recipe!
Fried/grilled pork: I do understand making pork chashu from scratch takes a lot of time. If you still want to use pork, you can consider frying or grilling pork belly with soy sauce/mirin/sake mix sauce.
Soft boiled egg: ramen eggs are definitely preferred, but you can simply use soft boiled eggs instead of ramen eggs. Simply cook eggs in boiling water for 7-8 minutes.
Boiled spinach/pak choi: it's hard to substitute menma, but if you replace menma with something else, you can add boiled spinach or pak choi for topping. You can find how to prep spinach in this Japanese sesame spinach salad recipe.
Fried beansprouts: Another additional topping option is fried beansprouts. Simple stir fry them with a bit of salt and pepper and place them on top of your ramen!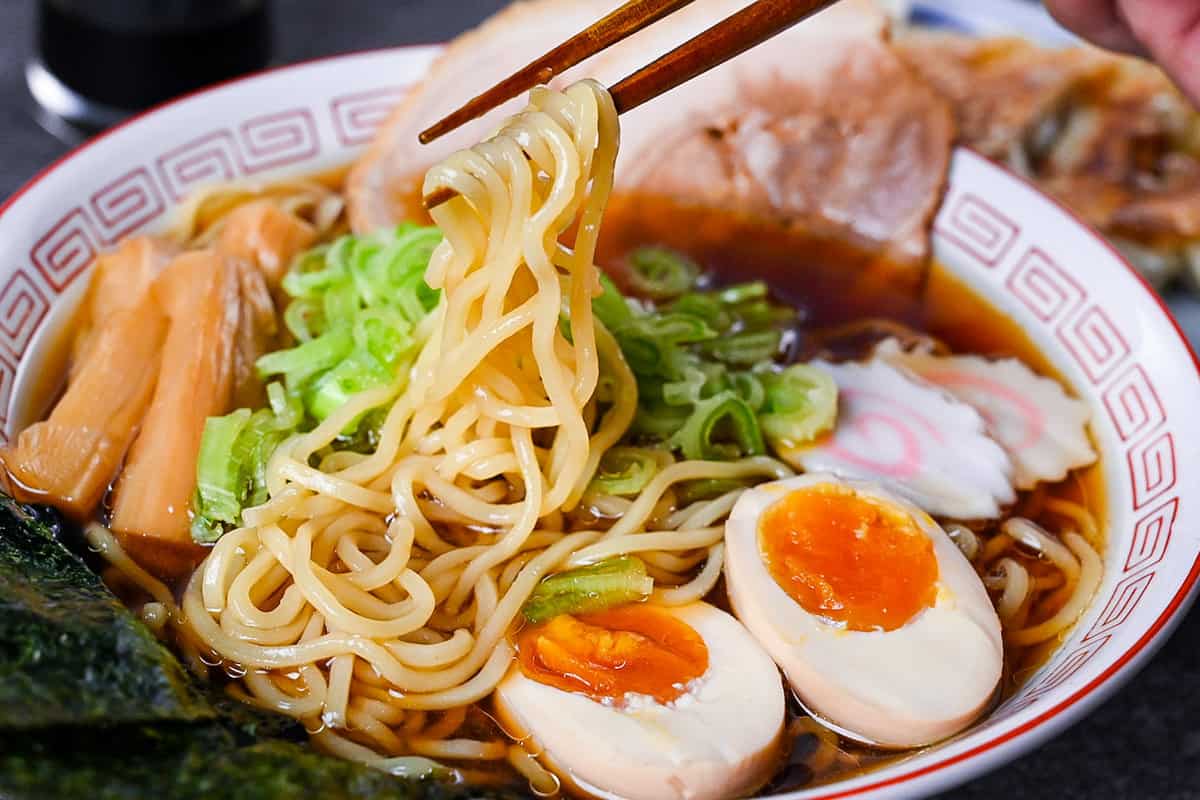 I hope you enjoy this restaurant style shoyu ramen at home! If you try the recipe, let me know what you thought in the comments below!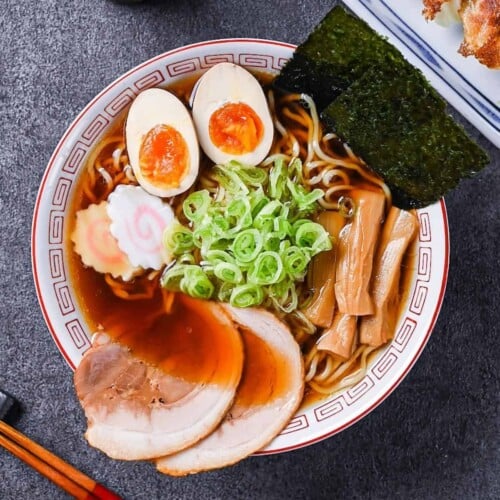 Homemade Shoyu Ramen Noodles (soy sauce flavored chuka soba)
How to make classic Japanese shoyu ramen with a soy sauce flavoured broth from scratch!
Ingredients
Instructions
Broth
Pour

1000 ml water

into a large pot and add

10 g dried kelp(s)

and

10 g dried sardines

, soak for 30 minutes.

After 30 minutes, place the pot on the stove and heat on medium. Heat to almost boiling.

Once it's almost boiling, turn the heat down to simmer and add

3 chicken wings

,

15 g bonito flakes

,

20 g fresh ginger

,

2 cloves garlic

and

50 g green onion(s)

. Simmer for 30 minutes. (While it's simmering you can work on the tare steps below.)

When 30 minutes have passed, pour the broth through a sieve lined with kitchen paper.

The completed broth should be golden and clear.
Tare
Heat a small sauce pan on low/med-low and add

½ tbsp lard

. Once it's melted, add

50 g chicken skin

.

Fry the chicken skin until crispy/browned on both sides and the fat has rendered out, this typically takes about 10 mins.

Remove chicken skin (you can eat it or use it as topping), then add

100 ml water

,

50 ml soy sauce

,

1 tbsp sake

,

1 tbsp mirin

,

½ tsp sugar

and

1 pinch salt

to the pan. Simmer for 15 mins.

Divide into two bowls or allow to cool and store in the fridge until you are ready to use it.
Assembly
Cook

2 portions ramen noodles

according to the instructions on the packaging.

Add half of the tare to each of the two bowls. (If you increase the recipe, divide accordingly.)

Add 300ml of hot broth to each bowl and mix.

Drain the water from the cooked ramen noodles and place an equal portion in each bowl.

Add the toppings of your choice.

Enjoy!
Notes
If you have space on your stove you can make the broth and tare at the same time to speed things up
NOTE: The nutritional value is based on when you drink up the soup (we rarely drink up the soup when it comes to ramen)
Nutrition
Calories:
548
kcal
Carbohydrates:
83.2
g
Protein:
25.1
g
Fat:
10.6
g
Saturated Fat:
3.5
g
Polyunsaturated Fat:
1.7
g
Cholesterol:
126
mg
Sodium:
3111.5
mg
Fiber:
7.2
g
FAQ
shoyu ramen vs miso ramen, what are the differences?
Shoyu ramen refers to ramen with soy sauce based broth, while miso ramen, which originated in Sapporo, Hokkaido, uses miso paste in the broth. Also, miso ramen is often made by stir-frying vegetables and meat in a wok and then adding broth and sauce, so the process can also differ slightly.
shoyu ramen vs tonkotsu ramen, what are the differences?
While shoyu ramen uses a soy sauce-based tare, tonkotsu (pork bones) ramen, as the name suggests, features a broth made from pork bones and is often cooked over high heat to produce a thick cloudy white soup.
Does shoyu ramen taste good?
Yes, it's the most classic form of Japanese ramen. It's not as rich as tonkotsu ramen or miso ramen, but if you like modest flavour, you will definitely like it!
Which ramen is better shoyu or miso?
It's all down to personal preference. A lot of researches and surveys show that a lot of Japanese ramen lovers like both of them equally. I personally like miso ramen for rich flavour, but I still like shoyu ramen when I want rustic flavour.
What are the 4 main types of ramen?
4 main types of ramen in Japan are shoyu (soy sauce) ramen, miso ramen, tonkotsu (pork bones) ramen, and shio (salt) ramen.