"Tsukemen" is an unusual dish where the ramen noodles and soup are served separately. Enjoy my spicy version of tsukemen served with a hot, aromatic homemade broth flavoured with ginger, garlic, miso and chilli. It's delicious, warming and ready in just 15 minutes!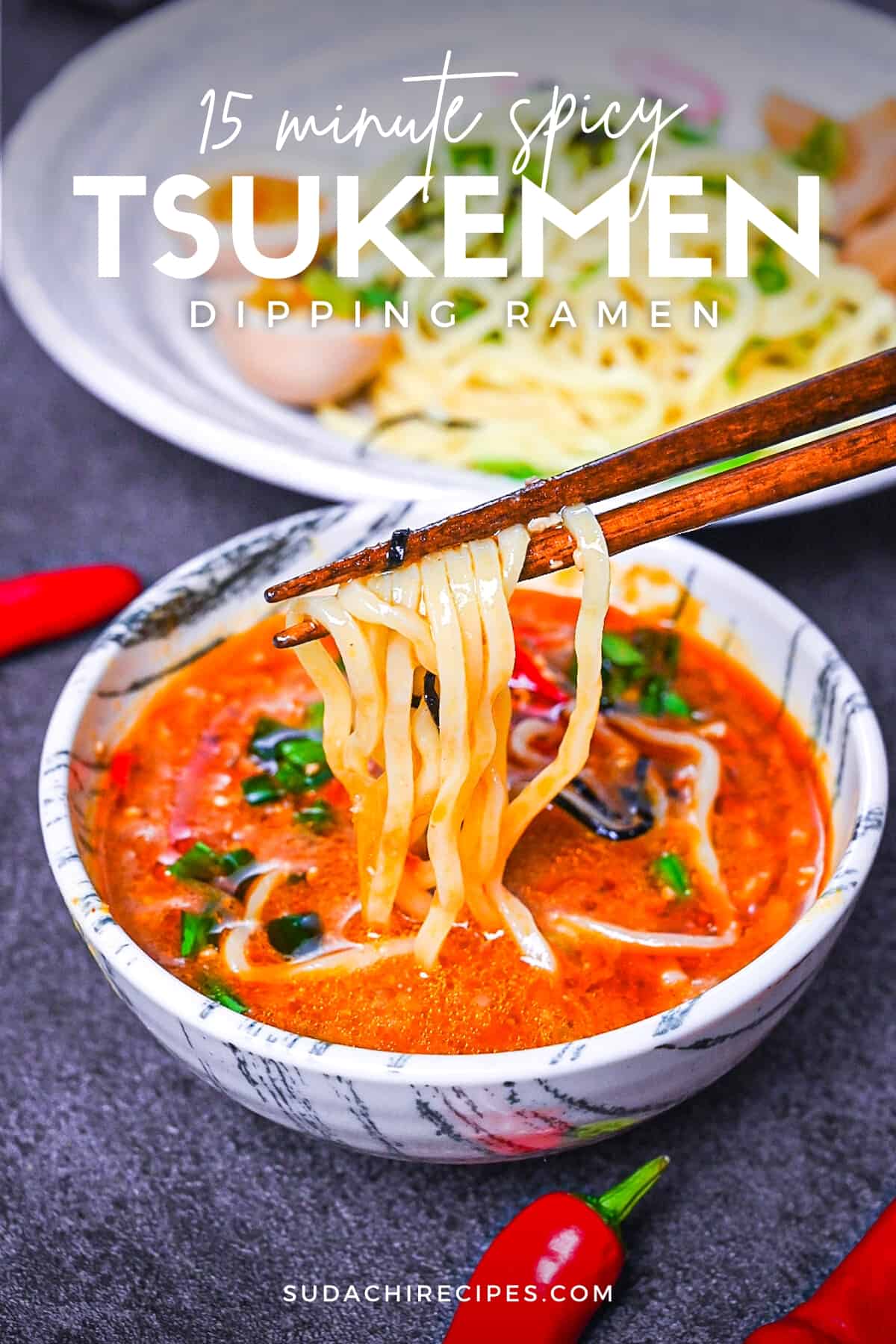 Disclaimer: This post may contain affiliate links. Sudachi Recipes is part of the amazon associates programme and earns a small percentage from qualifying purchases at no extra cost to you. See disclaimer for more info.
What is tsukemen (dipping ramen)?
Tsukemen (dipping ramen) is a type of ramen in which boiled noodles are washed in water and served with a separate bowl of dipping sauce or soup (a bit like zaru soba or zaru udon). Most tsukemen dipping sauces are richer and saltier in flavor than usual ramen soups. They are also sometimes thicker in consistency and this helps the sauce stick to the noodles when dipping.
Toppings can be placed on the bowl of dipping "soup", the bowl of noodles, or both, and are basically the same as the toppings served on regular ramen dishes. These often include things like nori, chashu, menma, ramen egg, etc.
In this recipe however, I specifically make tsukemen with a spicy dipping sauce for a bit of a change.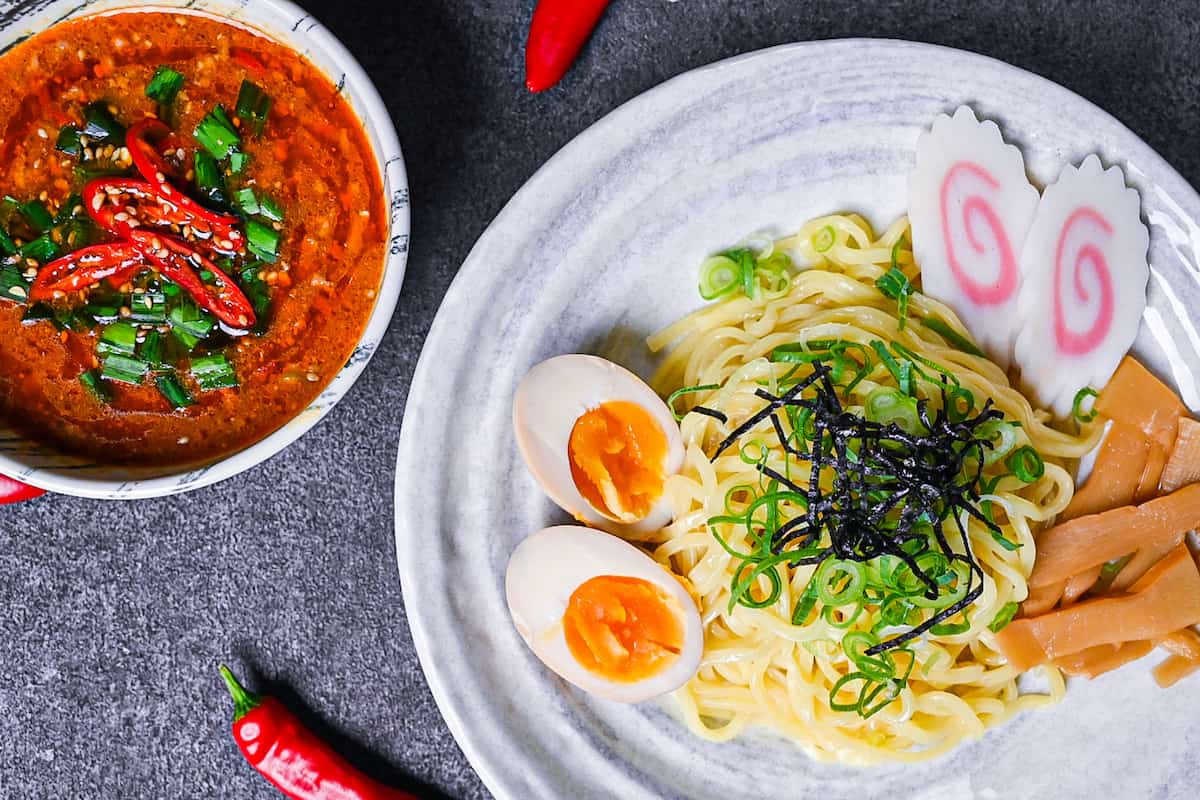 Brief history of tsukemen
There are different theories regarding the history of tsukemen, but the most common theory is that it was created in 1955 by Kazuo Yamagishi, the owner of a ramen restaurant called "Daishoken" located in the Nakano Ward in Tokyo.
It is said that the origin of this dish is by "makanai-meshi (meals for employees)," where leftover ramen noodles served with soup and soy sauce in a bowl were served to workers during the training period. Apparently, a customer happened to see the worker's meal and asked if they could try it too.
After serving it to the customer and receiving positive feedback, Yamagishi decided to add it to the menu for everyone to enjoy. After various trials and errors, the amount of noodles was increased by 30%, he named it "morisoba" and it became a popular dish across Japan. While the name "tsukemen" is more widely known these days, there are still some restaraunts that stick with the original name of "morisoba".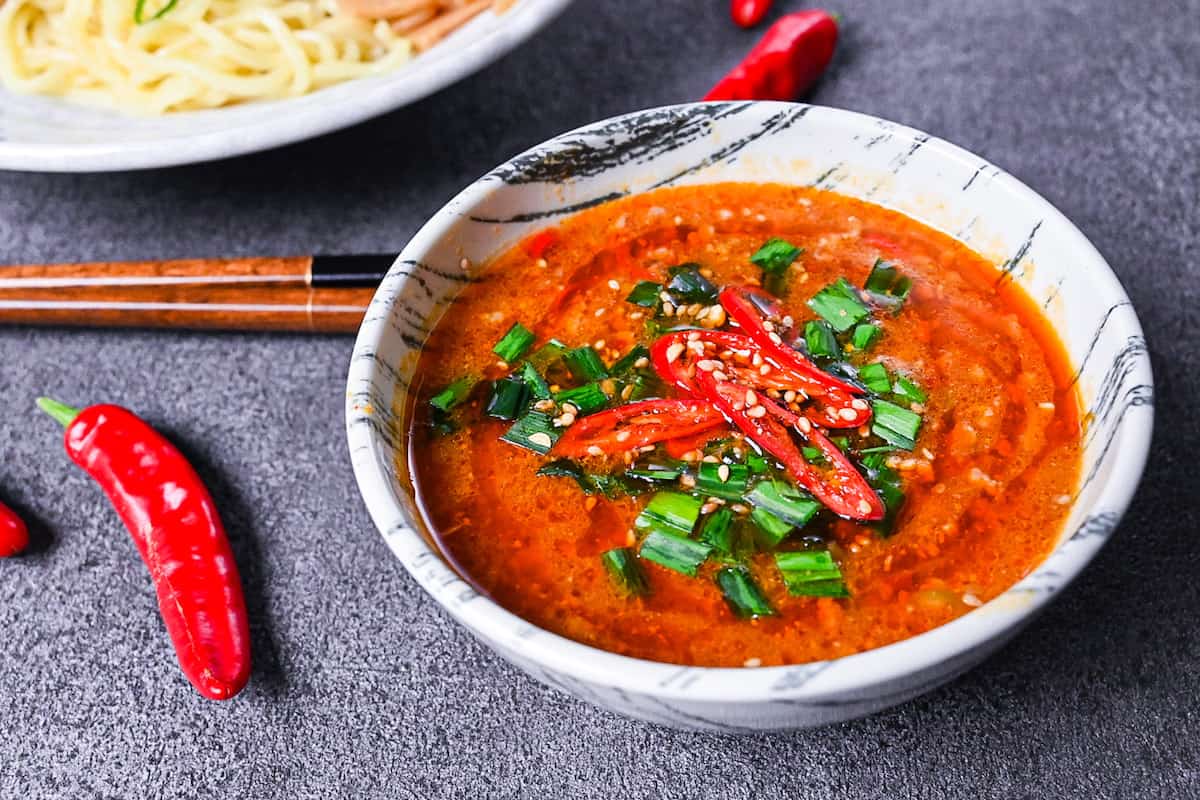 Broth of tsukemen
Generally speaking, many tsukemen restaurants use seafood base or pork bone (tonkotsu) base broth. While they're so good, it's not particularly an ideal choice if you make it at home as it is extremely time consuming and also requires a lot of specific ingredients that can be difficult to find or expensive to use for small batches.
I don't want to spend a tonne of money and simmer broth for hours and hours to make a few portions of casual tsukemen at home. I may as well go to ramen restaurant in that case right?
So, in this recipe, I came up with the idea of spicy and hot tsukemen which can be made within 15 minutes! If you like spicy food, this recipe is for you!
Which type of noodles should be used for tsukemen?
When choosing noodles for ramen, you need to consider which noodles will suit the broth, base of the soup, color, and flavor intensity of the soup, as well as keeping your preferences in mind.
In the case of tsukemen, you need to consider that the soup and noodles are served separately and the noodles are cooled and tightened with cold water to give them elasticity and a slippery texture.
Since the noodles need to be well mixed with the thicker and richer soup, it is common to use thicker noodles that will not lose against the intense flavour of the broth.
Tsukemen vs Ramen: What are the differences?
Ramen is a noodle dish that generally consists of ramen noodles in a broth topped with various other ingredients such as chashu pork and menma (fermented bamboo shoots). You can see that it's a soupy dish in the pictures below.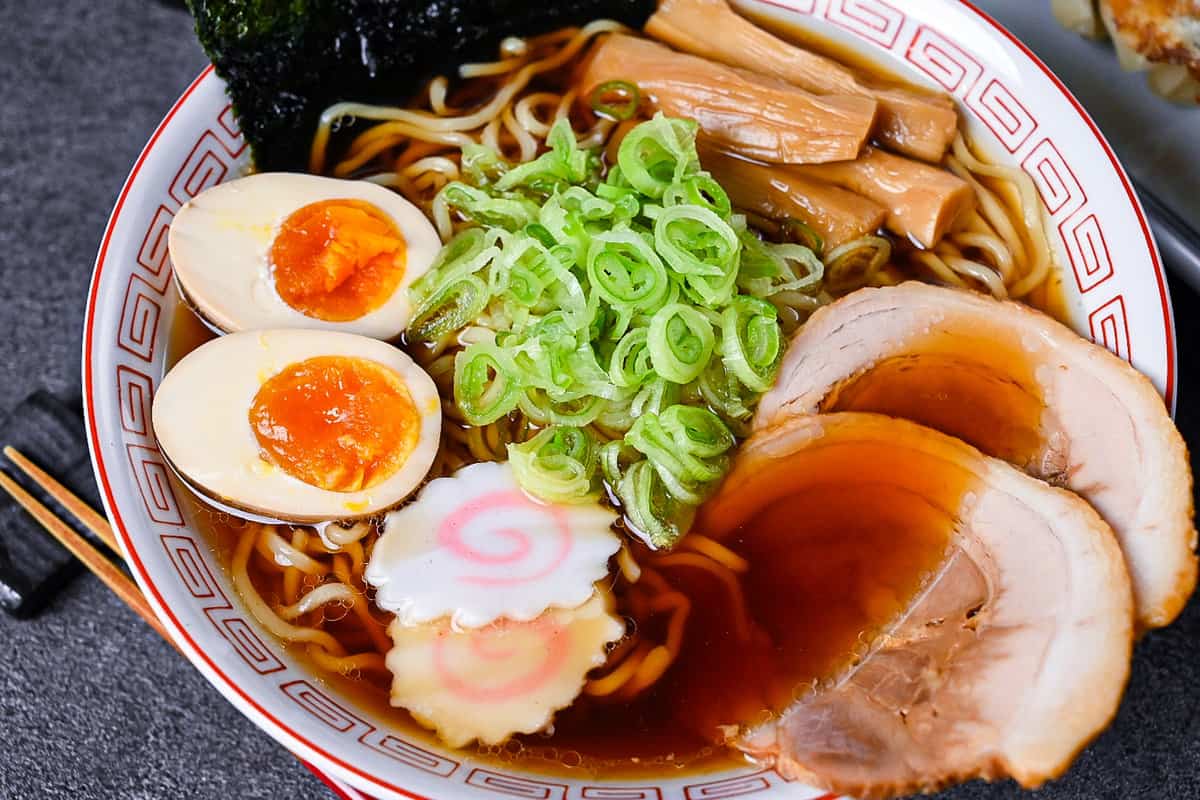 Tsukemen, on the other hand, is a ramen dish in which the noodles and soup are served separately, and the noodles are dipped into the soup one bite at a time. This aspect is very much like zaru soba or zaru udon, so you can kind of say tsukemen is kind of like a ramen version of these.
Also, there are generally more noodles in a bowl of tsukemen than there are in a bowl of ramen. The reason is that because the noodles are delivered alone, if the amount was the same as regular ramen, the portion would look very small.
As for the soup vs dipping sauce, because tsukemen's dipping sauce is richer and thicker, you're not supposed to drink it up (not that you necessarily need to drink up the ramen soup though). This aspect is again very similar to zaru soba and zaru udon.
In conclusion, here is the guide for these differences:
| | | |
| --- | --- | --- |
| | Tsukemen | Ramen |
| How to eat | Dipping ramen noodles in a separate dipping sauce. | Slurp the noodles together with the soup.. |
| Soup/sauce | Thicker, richer and saltier. Generally not for drinking. | Generally thinner and can drink if you like. |
| Type of noodles | Thick ramen noodles. | Variety of different ramen noodles (thin to thick depending on the restaurant, soup base etc). |
| Amount of noodles | More. | Less. |
| Popularity | Lower. | Higher. |
How to eat tsukemen ramen
Long story short, you can just dip ramen noodles in the dipping sauce, but there are certain ways to eat tsukemen to enjoy the fullest.
1. Eat the noodles on their own
Shockingly, but not shockingly, tsukemen's main character is the noodle. The flour used, the shape of the noodles, and other particulars vary from restaurant to restaurant. So true tsukemen lovers taste a little bit of the noodles on its own first.
However, it's not the case for home cooking, so you can skip this step at home.
2. Dip noodles in dipping sauce
Typically, tsukemen is served with cold noodles and hot broth. Quickly dip the noodles into the soup and slurp it up in one gulp.
It is recommended to eat roughly three noodles at a time by dipping them quickly into the soup so that the soup will not get cold easily. If the soup gets cold during the meal, you can reheat it if you make this dish at home.
3. Enjoy changing the taste with condiments
Tsukemen has a thick soup that you can adjust and personalise according to your own tastes as you go. This is done by adding seasonings such as vinegar and chilli oil.
4. "Soup-wari"
The most different way to eat ramen is by doing something called "soup-wari". The thick tsukemen dipping sauce is diluted by pouring hot dashi into the leftover sauce to drink. It is considered a blissful moment for enthusiasts who want to savor every last bit of the soup.
However, I don't personally do this step at home, this is more for when you eat tsukemen at tsukemen restaurants. It's a great option if you still feel hungry though!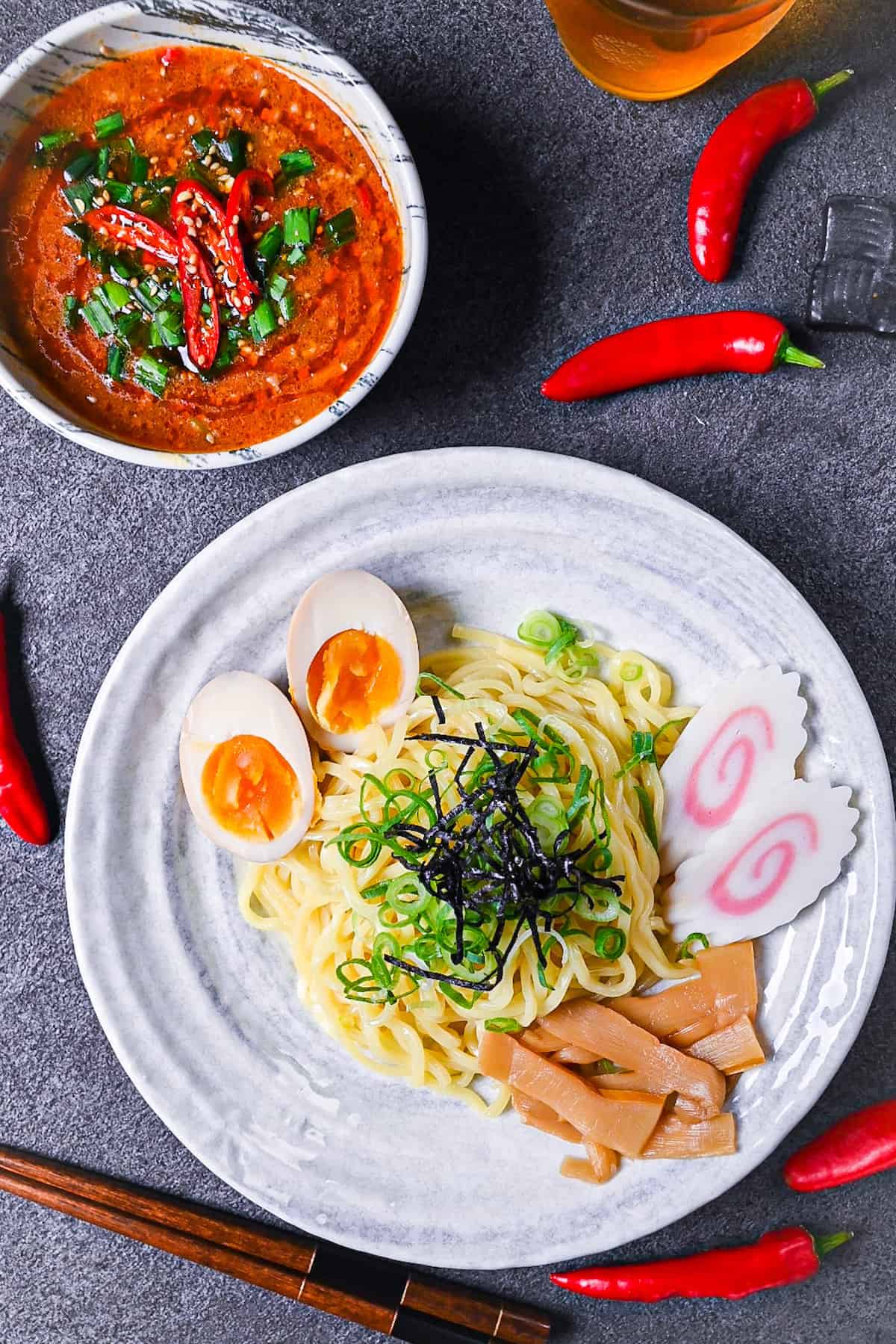 Ingredients to make spicy tsukemen at home
So as I said earlier, I tried to simplify tsukemen as much as possible and I ended up coming up with this spicy tsukemen recipe. The ingredients are a lot simpler than normal seafood base tsukemen and accessible around the world.
The full ingredient list looks quite long and intimidating (but it's actually not that much if you cook Japanese food regularly!) so I've broken it down into sections for each element of the dish.
Flavouring the meat
For the meat part of the dish I use the following:
Spring onion (white part)
Garlic
Ginger
Pork mince
Tobanjan (chilli bean paste)
Ground sesame seeds
Black pepper
These ingredients all fried together will make your kitchen smell amazing!
For the Tsukemen soup
Because I make the soup in the same pan as the pork, it picks up all the aromatic flavours from the garlic, ginger, tobanjan and miso paste. This means that the broth itself is extremely simple!
To help the sauce stick to the noodles when dipping, I thicken it up by making a slurry with cold water mixed with potato starch. You could use corn starch instead if that's what you have at home.
Noodles and toppings
Other than the ramen noodles, what toppings you choose are up to you. I opt for traditional ramen toppings like the ones in the list below.
Ramen noodles (preferably the thick type)
Kizami nori shredded nori seaweed (optional)
Narutomaki fish cakes (optional)
Menma fermented bamboo shoots (optional)
Ramen egg (optional)
Of course you can add additional meats or vegetables according to your preference. I also like to decorate the soup with chilli oil, sesame seeds and Chinese chives.
See substitute ingredients below and ingredient quantities in the recipe card!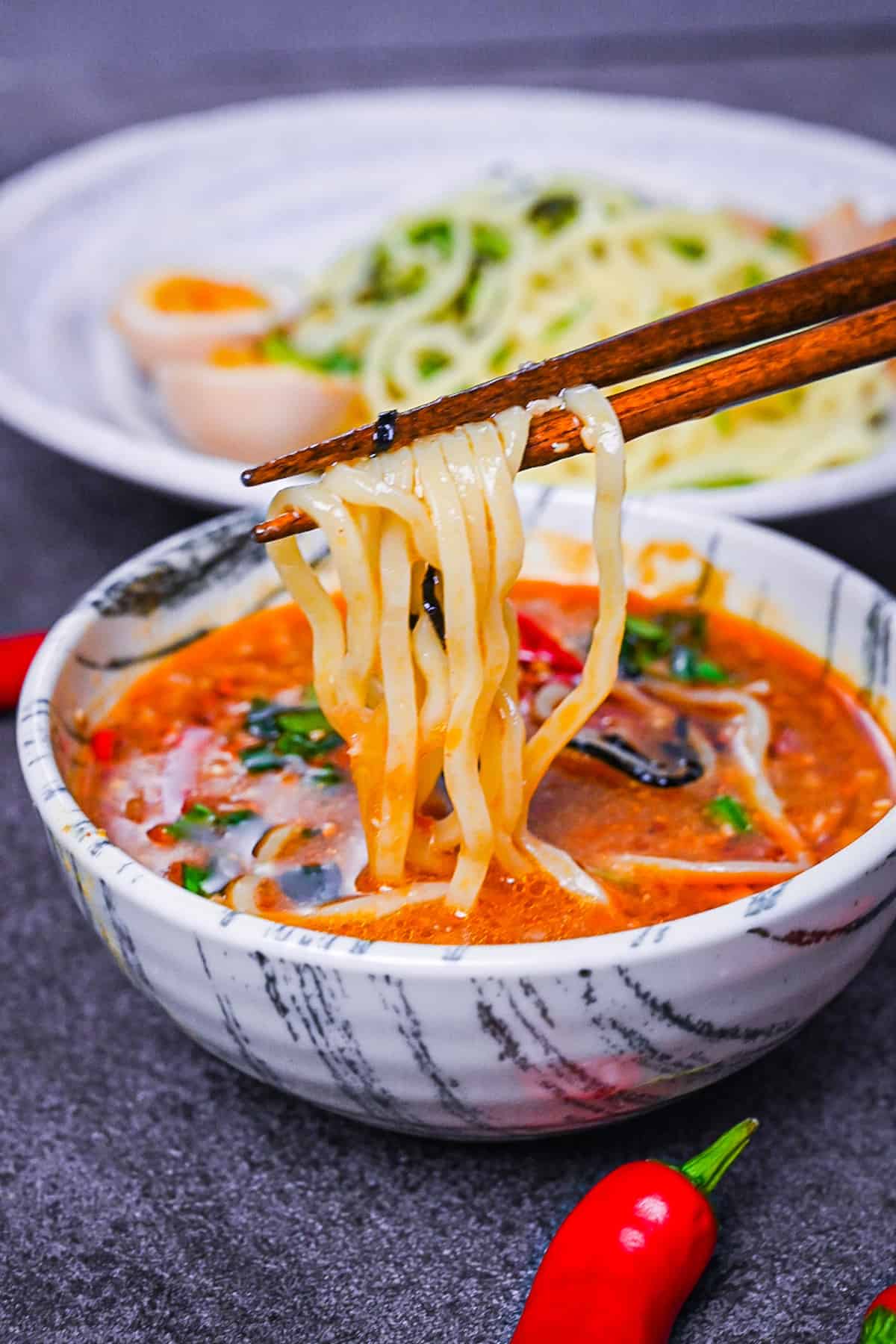 How to make spicy tsukemen from scratch
Making this spicy tsukemen from scratch at home is surprisingly quick and easy. Here are the main steps!
Releasing the flavours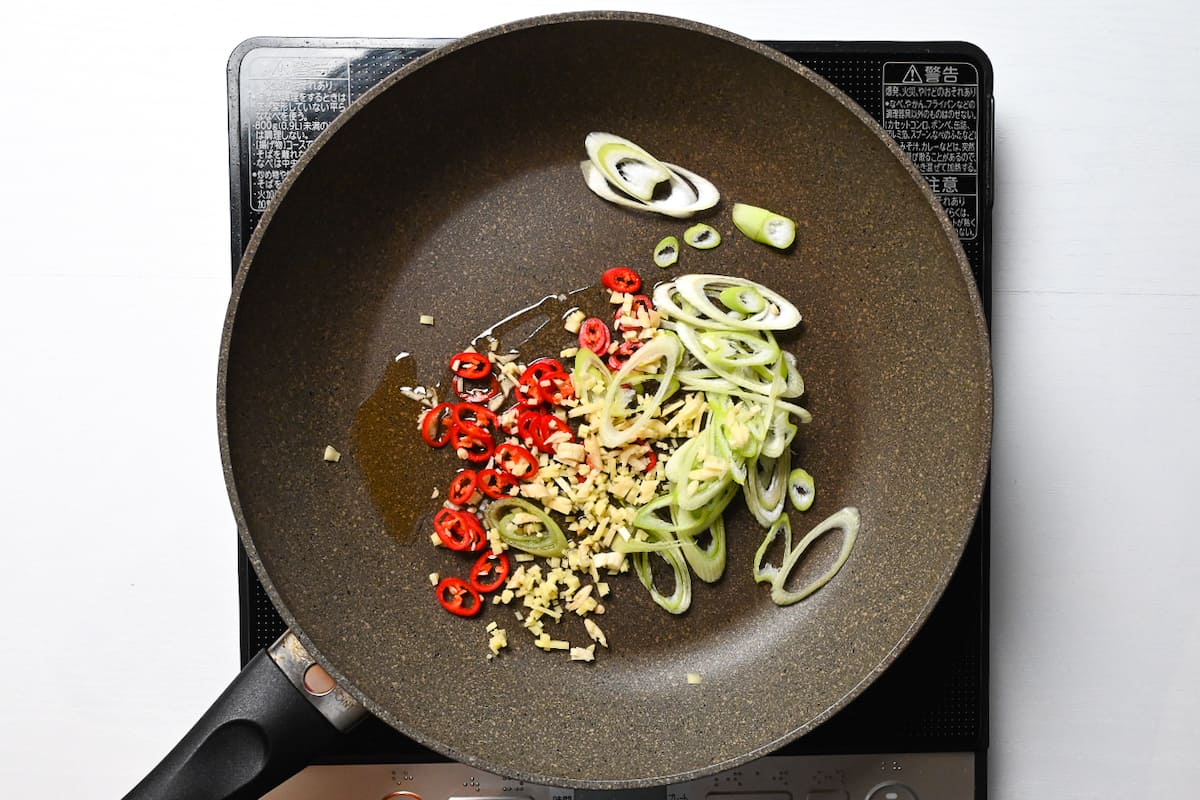 The first step is heating the aromatics to release their full flavour potential. (Cut everything in advance according to the ingredients list in the recipe card below.) Make sure to use a pan or pot large enough to make the soup, we will make the soup in the same pan later.
Start by heating a pan on medium low and adding some sesame oil. Once the pan is warm, add the garlic, ginger, chilli and spring onion, it should sizzle lightly.
Be careful not to use a high heat for this, otherwise the oil and ingredients might burn and leave a bitter taste. Fry these for a few minutes until you can smell the aromas.
Add the meat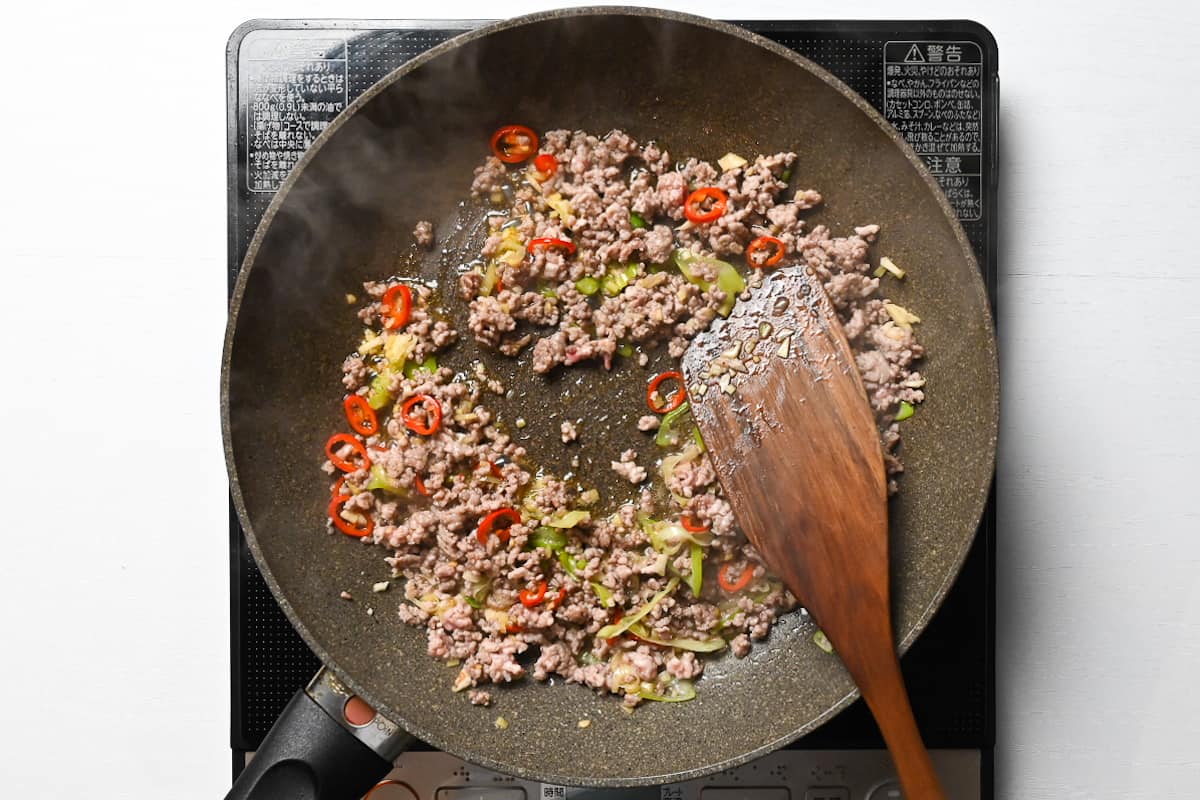 Next, turn up the heat to medium and add the mince. The fat will render out of the meat so there's no need to add any more oil. Stir fry until the meat is browned.
Add miso and tobanjan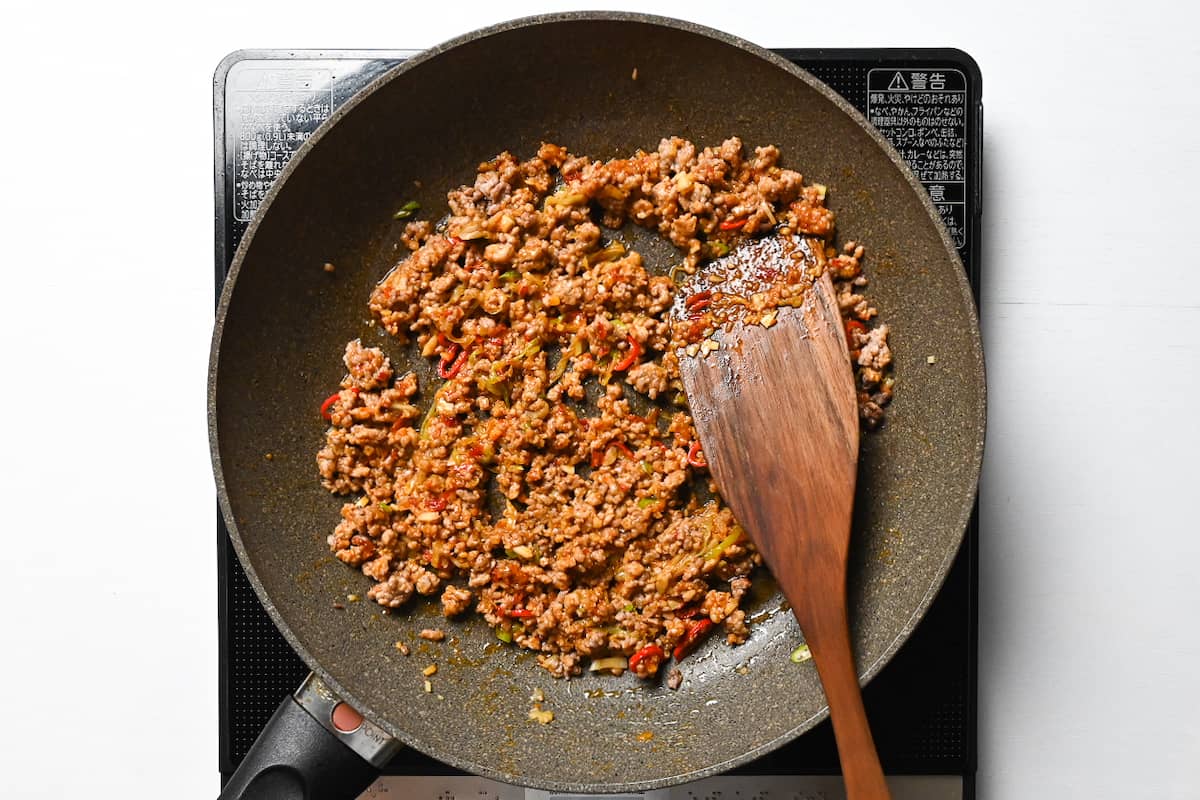 Next, add the miso paste, tobanjan (fermented chilli paste), ground sesame seeds and a pinch of black pepper. Stir fry for 1 minute. The main purpose here is to flavour the meat, but the flavour will also distribute into the broth!
Make the soup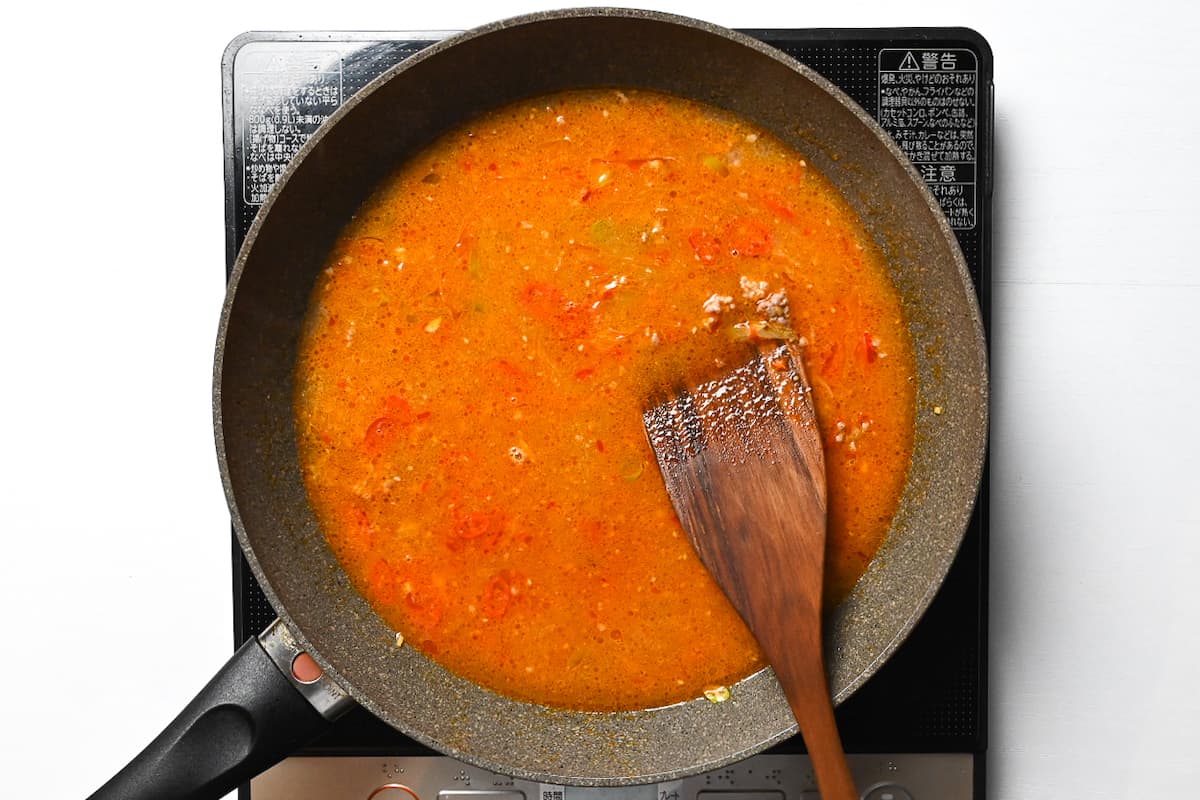 Now it's time to make the soup! Add water and chicken bouillon powder to the pan, mix it well and bring it to a boil. Once boiling, turn the heat down to a simmer and add soy sauce and sugar.
Thicken the soup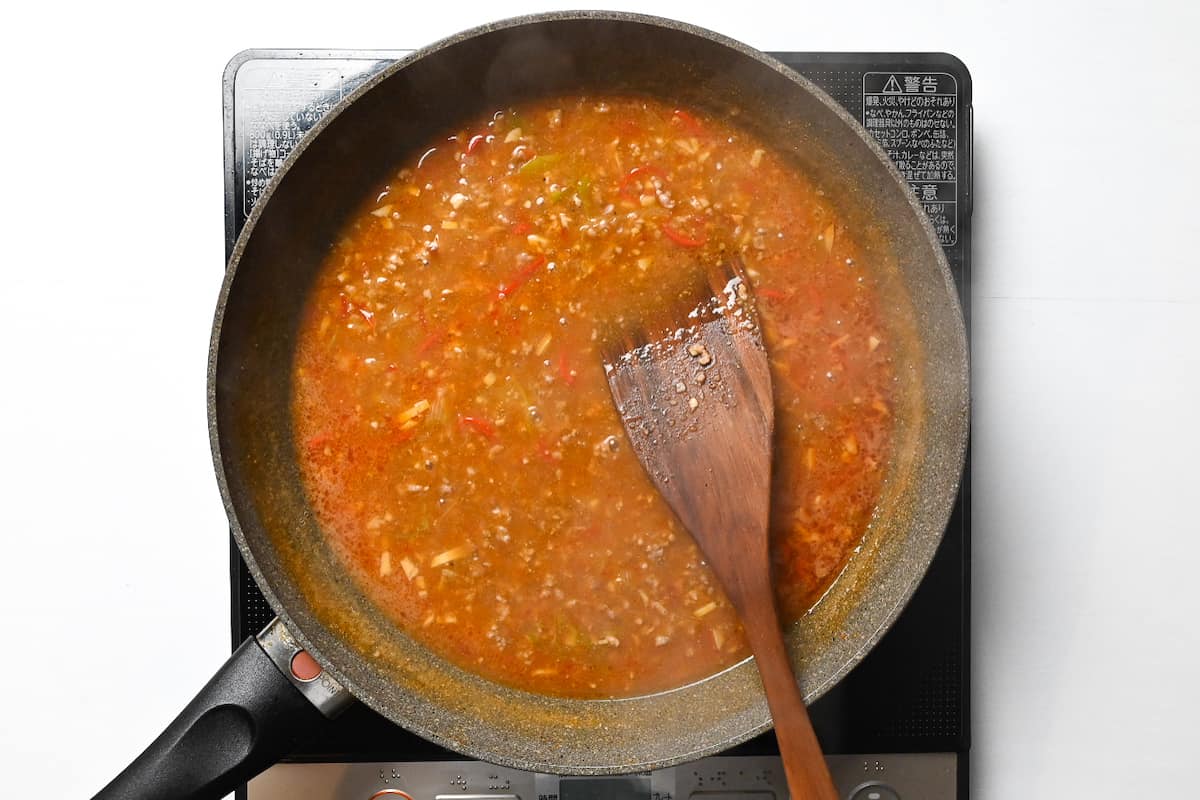 The final step for the dipping broth is to thicken it up. Make a slurry by mixing 1 tbsp of cold water with 1 tsp of potato starch in a small separate bowl. Pour the slurry into the pan and continue to stir over the low heat until glossy and slightly thickened.
Never add starch directly to hot liquid, it will clump together and leave gelified lumps in your soup!
Once the soup is thickened, remove it from the heat and place a lid on top to keep it warm.
Boil the noodles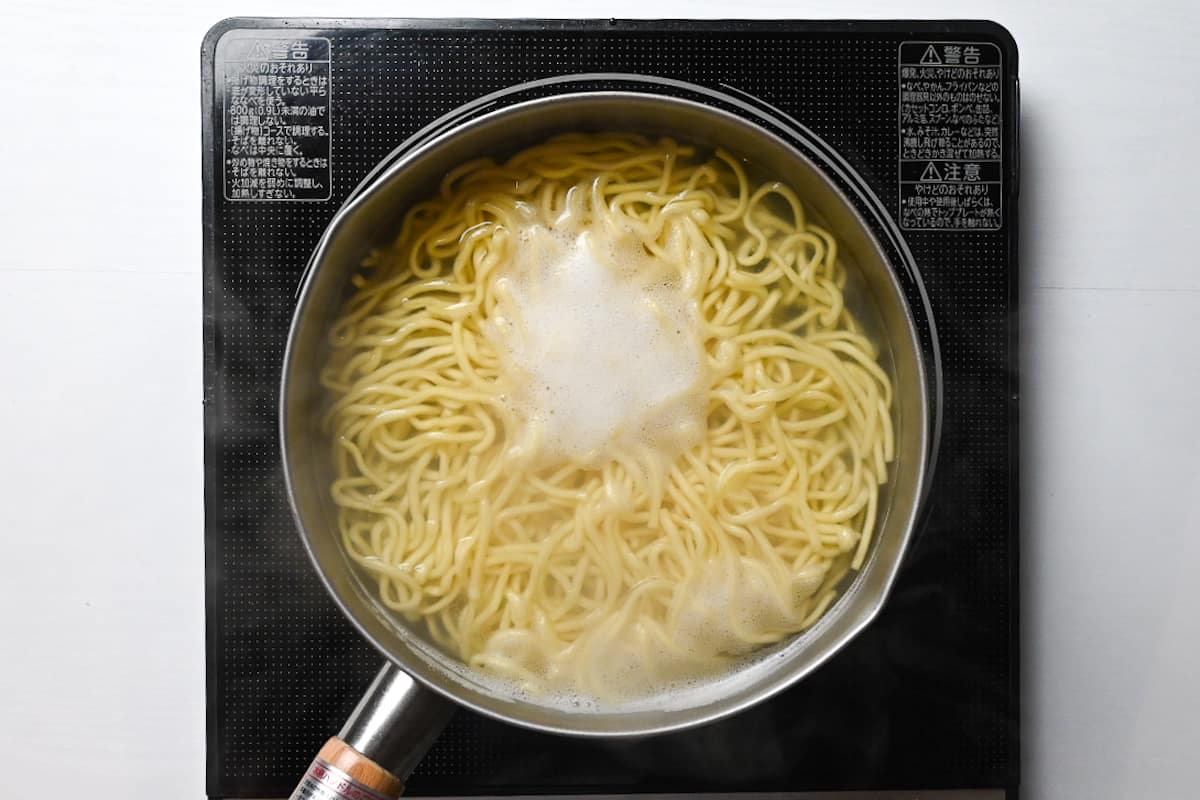 Once your soup is complete, start cooking your ramen noodles according to the instructions on the packaging. The reason we leave the noodles until last is because they're served separately, there is a high chance of them sticking together.
Here are my tips to prevent ramen noodles sticking together when serving tsukemen:
Drain using a colander and wash with running water to remove the excess starch
Place the noodles in a mixing bowl and add a drizzle of sesame oil, mix until evenly coated
Serve immediately to prevent them from drying out
If you follow these tips you should have the perfect ramen noodles for tsukemen!
Dish up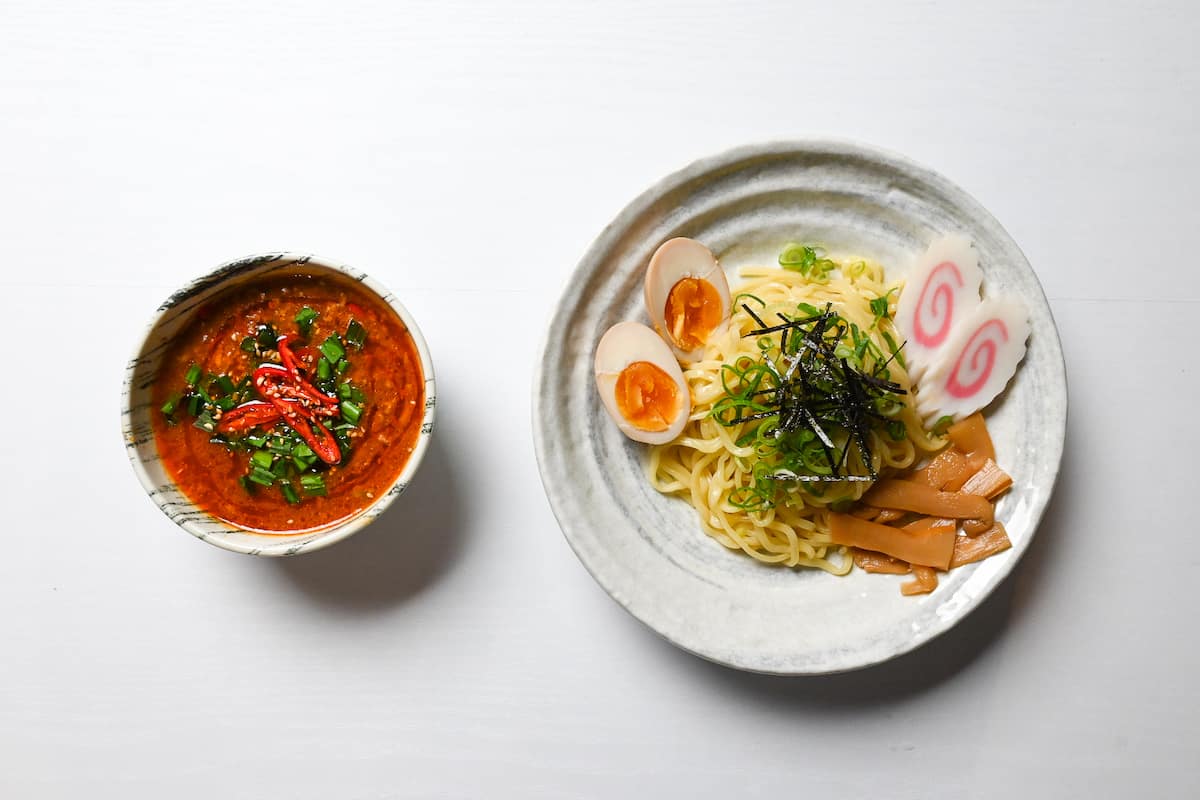 Finally it's time to dish up. Place the noodles on a wide plate and top with your ramen toppings. I serve my noodles with naturomaki (fish cake with a pink swirl), menma (fermented bamboo shoots) and ramen egg, then finish it off with a sprinkle of chopped spring onion and kizami nori.
The soup should be served on the side in a small bowl. I topped mine with thinly sliced fresh chilli, Chinese chives, a sprinkle of sesame seeds and a drizzle of chilli oil. Choose your toppings according to taste!
To eat, simply dip the noodles in the soup before eating and enjoy!
Substitutions and variations of tsukemen
In this section, I will list all the alternative ingredients, substitutions and variations to make the best tsukemen to your preference. First, here are the alternatives for this particular recipe:
Beef/chicken mince (instead of pork mince)
Soft/hard boiled eggs (instead of ramen eggs)
Chives (instead of Chinese chives)
Gochujang (instead of tobanjan)
Thick spaghetti with noodle hack (instead of thick ramen noodles)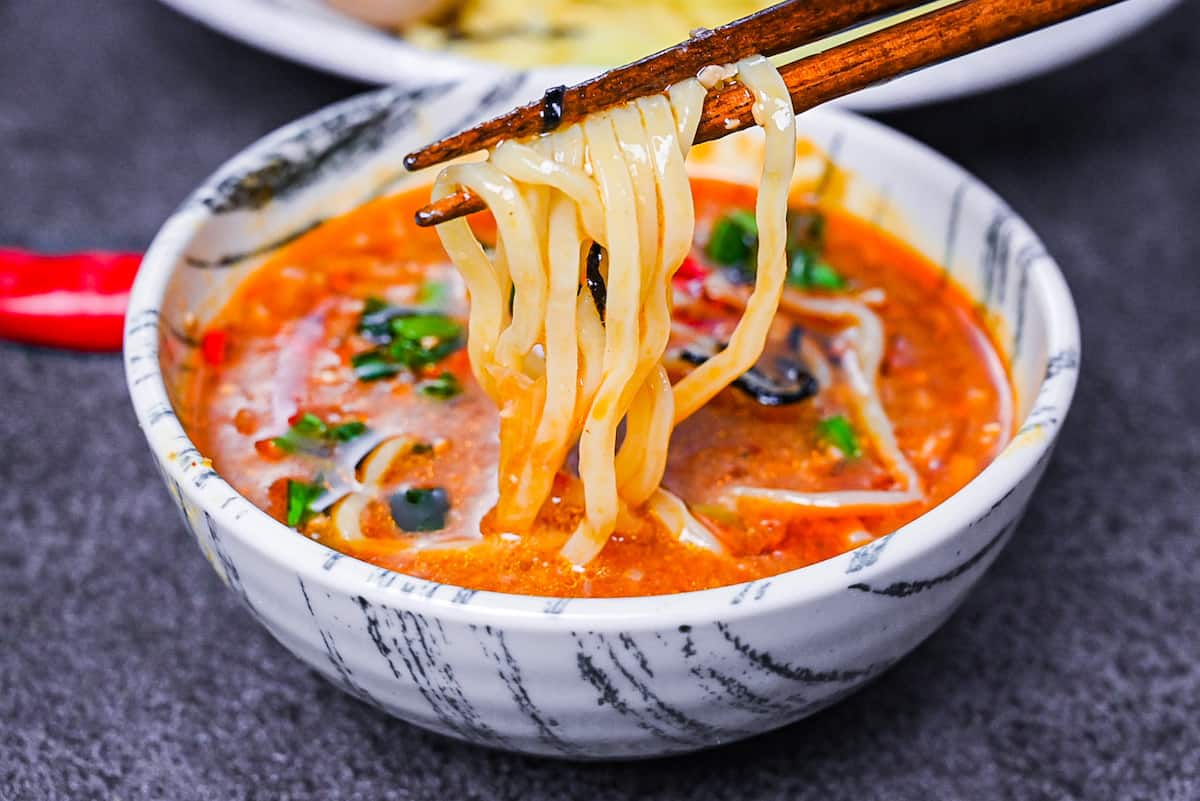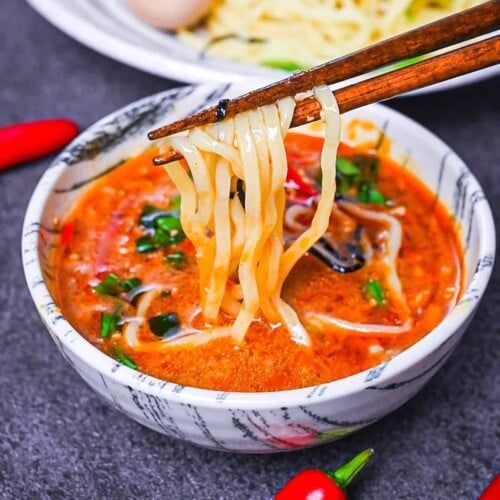 15 Minute Spicy Tsukemen (Dipping Ramen)
---
How to make spicy, aromatic Tsukemen dipping noodles with homemade soup!
---
---
---
---
Ingredients
For the mince
½

tbsp

sesame oil

30

g

green onion(s)

white part finely sliced

1

red chili pepper(s)

dry or fresh finely sliced

1

clove

garlic

finely diced

1

tbsp

ginger

finely diced

50

g

ground pork

1

tbsp

chili bean sauce

1

tbsp

miso paste

1

tbsp

ground sesame seeds

1

pinch

black pepper
For the soup
300

ml

water

1

tsp

Chinese-style chicken bouillon powder

1

tsp

sugar

1

tsp

soy sauce

slurry (1 tbsp water and 1 tsp potato starch)

1

tsp

sesame seeds to garnish

1

dash

chili oil

1

red chili pepper(s)

finely sliced to garnish

30

g

garlic chive(s)

nira, roughly chopped to garnish
Ramen noodles and toppings
2

portions

ramen noodles

thick

water

for boiling

1

tsp

sesame oil

1

tbsp

green onion(s)

green part finely chopped

2

tbsp

shredded sushi nori seaweed "kizami nori"

kizaminori, finely chopped

40

g

Japanese fish cake "kamaboko"

narutomaki

2

tbsp

seasoned bamboo shoots "menma"

menma
Instructions
Heat a large frying pan (it will need to fit the soup later) on medium low and add

1/2 tbsp sesame oil

. Once hot, add

30 g green onion(s)

,

1 red chili pepper(s)

,

1 tbsp ginger

and

1 clove garlic

and fry until fragrant.

Once fragrant, turn up the heat to medium and add

50 g ground pork

. Fry until browned.

Next, add

1 tbsp chili bean sauce

,

1 tbsp miso paste

,

1 pinch black pepper

and

1 tbsp ground sesame seeds

. Mix well and stir fry for 1 minute.

Add

300 ml water

and

1 tsp Chinese-style chicken bouillon powder

, then bring it to a boil.

Once the liquid is boiling, turn down heat to simmer and add

1 tsp soy sauce

and

1 tsp sugar

.

In a small separate bowl, mix the potato starch and cold water to make a

slurry (1 tbsp water and 1 tsp potato starch)

. Add the slurry to the soup and cook until slightly thickened, stirring continuously.

Once thickened, remove from the heat and place a lid on top of the pan to keep it hot until serving.

Cook

2 portions ramen noodles

according to the instructions on the packaging.

Once the noodles are cooked, pour them into a colander to drain the water and rinse with warm running water to remove excess starch.

Transfer the noodles to mixing bowl and drizzle with

1 tsp sesame oil

. Mix until evenly coated and then divide onto serving plates. Top each portion with

1 tbsp green onion(s)

,

2 tbsp shredded sushi nori seaweed "kizami nori"

and your choice of toppings.

Pour the soup into individual dipping bowls and top with

30 g garlic chive(s)

,

1 red chili pepper(s)

,

1 tsp sesame seeds to garnish

and

1 dash chili oil

.

Enjoy!
Notes
Adjust the amount of chili and chili oil depending on your personal tolerance. 
This recipe is moderately spicy, the spiciness can be lowered by reducing the chili, chili oil and tobanjan. (If you reduce tobanjan, I recommend increasing the amount of miso paste.)
NOTE: The nutritional value is based on when you drink up the dipping sauce, which we don't.
Nutrition
Calories:
584
kcal
|
Carbohydrates:
80.4
g
|
Protein:
26
g
|
Fat:
21.7
g
|
Saturated Fat:
5.1
g
|
Polyunsaturated Fat:
6.4
g
|
Cholesterol:
209.5
mg
|
Sodium:
2267
mg
|
Fiber:
10
g
How do you pronounce tsukemen?
The "T" is quite soft and we don't really pronounce the "u" so it sounds like "tskeh-men" or even "skeh-men".
What is the difference between ramen and tsukemen?
Simply put, ramen is a noodle dish with soupy broth, whereas noodles and dipping broth are served separately for tsukemen. For more technicalities, I have explained in detail in the post.
What is the point of tsukemen?
You might think it's pointless to make tsukemen if noodles are mixed with broth anyway, but the broth of ramen and tsukemen are very different. Tsukemen dipping broth is thicker, saltier and richer and optimised for dipping use. Also, dipping broth of tsukemen is not meant to be drunk unless it's diluted with dashi (soup-wari).
Do you drink the broth in tsukemen?
Generally speaking, no. But depending on the restaurant, they might offer "soup-wari" service where they add dashi broth to dilute the broth so that it's not too rich and salty to drink as it is.
Is tsukemen hot or cold?
It's actually both. The noodles are served cold but the dipping broth is hot. The temperature difference is one of the attractions of tsukemen.
Does tsukemen have meat?
Yes, it usually have some kind of meat, often chashu pork.
What noodles are used in tsukemen?
Usually the thick type of ramen noodles are preferred over the thin ones.