As a Japanese guy who's lived abroad, I know it can be difficult or expensive to find authentic ramen outside of Japan. In this article, I will teach you how to use regular, run-of-the-mill dry spaghetti to create delicious and chewy ramen-style noodles using just 3 accessible ingredients!
Jump to:
Finding Ramen Noodles Abroad Can Be Tricky
A common problem Japanese ramen lovers like myself face when living abroad is the fact that there aren't ramen restaurants on every corner like back home. When I lived in a small city in England for years, I always had this problem of not being able to find ramen.
Of course, it would be absolutely wrong to expect the same environment in other countries as in Japan, but I grew up with ramen and my occasional craving for it will probably never disappear.
Can cup noodles or instant noodles satisfy that craving? Unfortunately, no. Of course, I like cup noodles too, but I consider ramen from a ramen restaurant and cup noodles to be two completely different dishes.
Here is my personal opinion on whether or not I recommend against known measures for such a problem of not being able to reach ramen from my experience.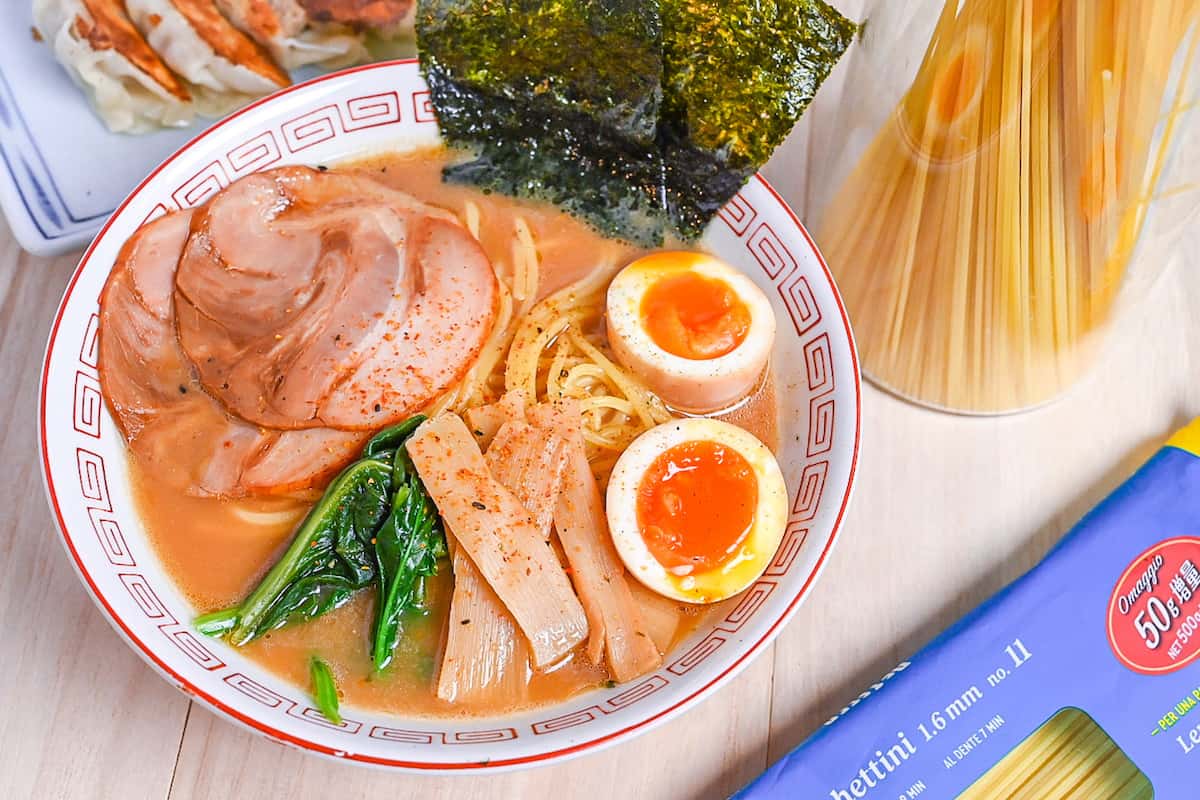 Making it from scratch at home
My first attempt to tackle the ramen puzzle was to roll up my sleeves and try making the noodles from scratch at home. Believe me, it's not for the faint of heart. Between assembling the ingredients and wrestling with a manual pasta machine, it was a messy affair that tested my patience back then!
The result was quite a triumph I must say but, it was quite a hassle! Making the soup and chashu from scratch alone requires time and effort. Add homemade noodles into the mix, and it turns into a day-long culinary marathon. Another drawback is the need for equipment such as a pasta machine.
So, while it's entirely possible to create authentic ramen noodles at home, it's also a commitment - of time, effort, and extra cleaning. If you ask me, I wholeheartedly recommend trying homemade ramen noodles, but only if you've got time on your hands to spare.
Using the noodles from packaged instant ramen
Another common workaround involves the use of dried, instant noodles from packets, for instance, Maruchan instant ramen. This method is undeniably straightforward. However, as I've previously emphasized, instant ramen and authentic ramen are similar yet entirely different.
While some instant soups and flavors have become unbelievably authentic these days, the most significant distinction lies in the noodles themselves. Ramen shops always serve fresh, raw noodles, made in-house or at a noodle mill, then boiled to perfection. In contrast, instant ramen noodles are essentially preserved food—dried and fried before packaging.
So, while I do appreciate instant ramen, it doesn't quite capture the essence of ramen in Japan. Also, it is wasteful and expensive to buy instant ramen just to take the noodles and throw the seasonings away.
But don't lose hope! In the next section, I'll share a handy trick using spaghetti—a pantry staple more akin to genuine ramen than instant noodles.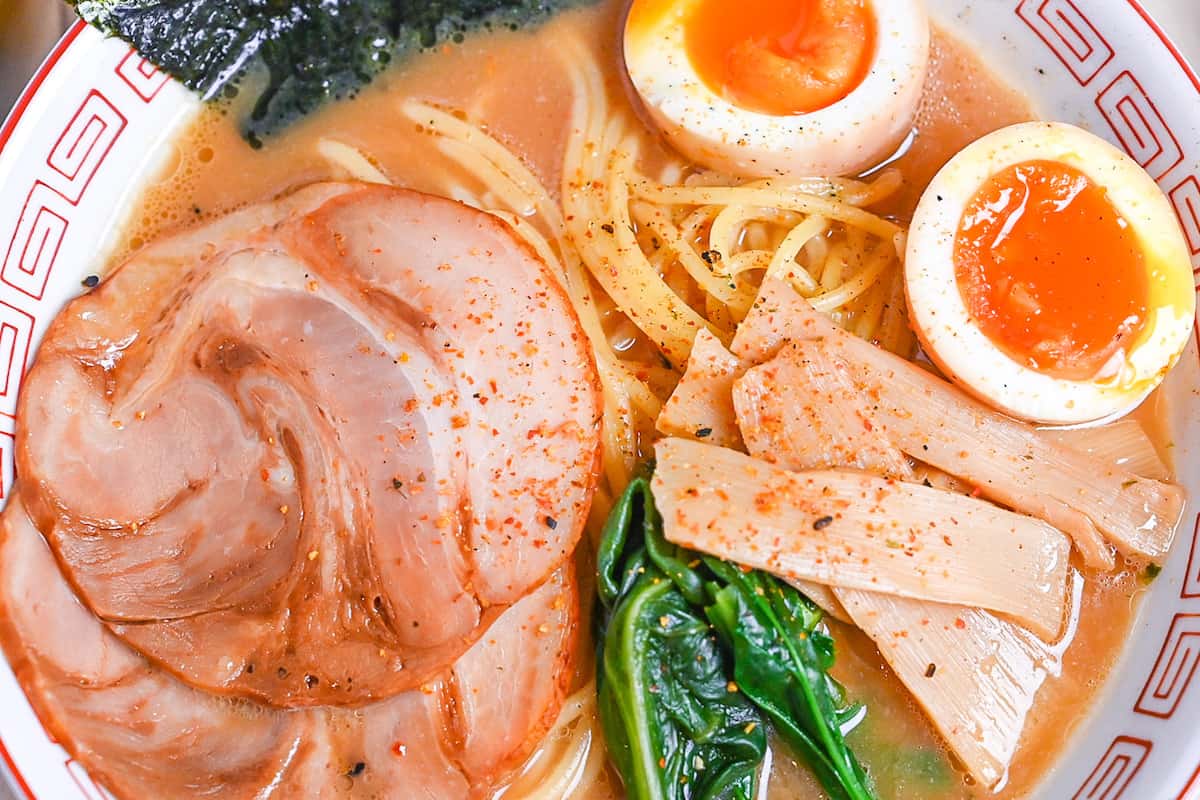 Ramen with spaghetti noodles
Following my homemade ramen adventure, I was nearly ready to abandon and ignore my ramen craving. But then, I stumbled upon an amazing workaround—making ramen noodles from spaghetti!
This hack is quite popular among many Japanese ramen lovers living abroad. How I wish I'd discovered it sooner, before turning my kitchen upside down with my earlier attempts!
In the following section, we'll explore the steps to morph your everyday spaghetti into a satisfying ramen noodle substitute. It's simpler than you might imagine!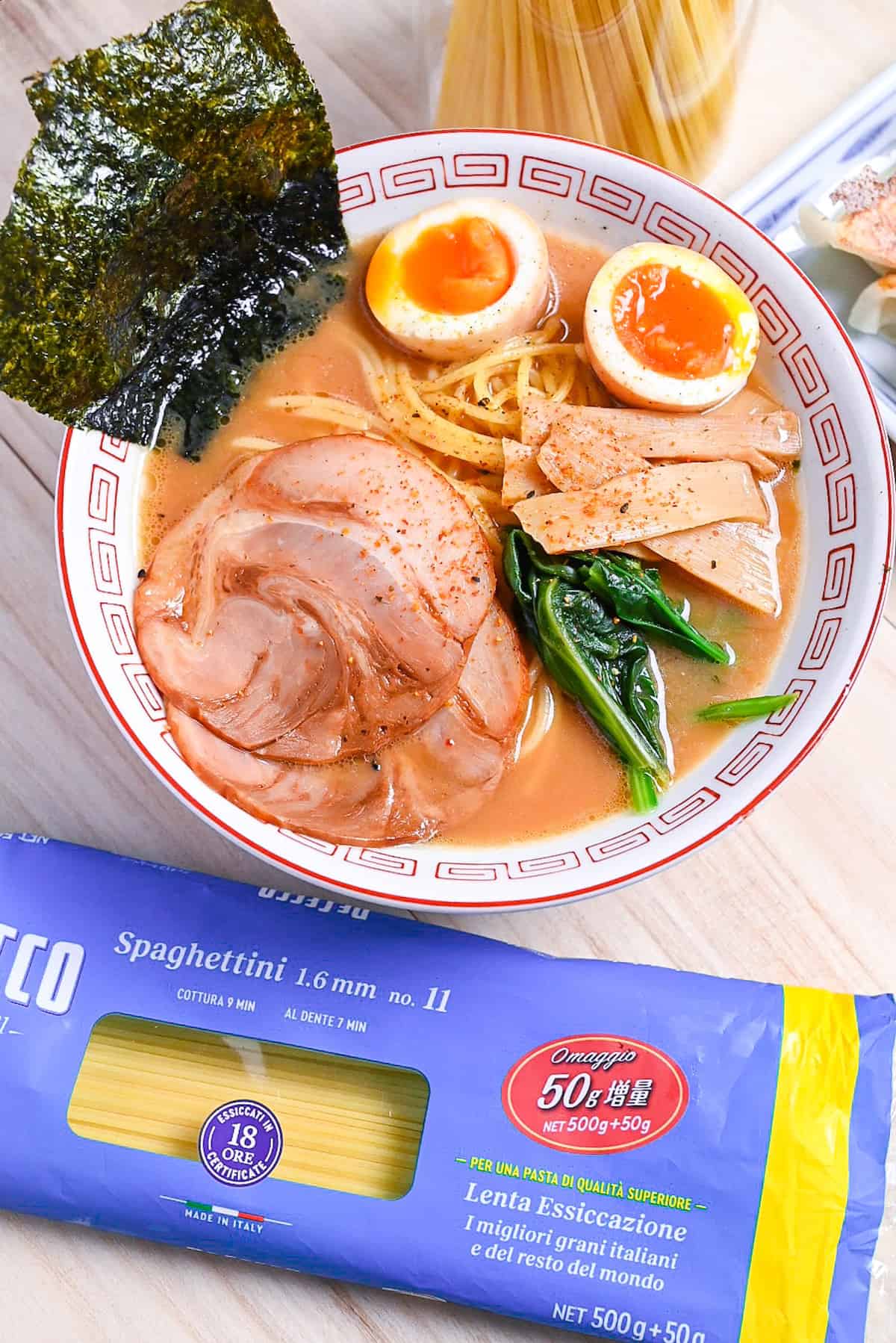 How to Make Ramen with Spaghetti Noodles
Here's the surprising twist—this trick is not only my secret but also a well-loved hack among many Japanese people who, like me, can't easily find premade fresh ramen noodles.
The secret lies in cooking regular spaghetti with a bit of baking soda! It's as straightforward as that!
Before we proceed, it's essential to clarify—this hack is not magic that will transform spaghetti into exact replicas of the noodles you'd find in a ramen restaurant. Instead, it's the most convenient way to make something similar to ramen noodles abroad. Please keep this in mind as we dive into the details.
Furthermore, spaghetti is usually cheap and easily available in basically any country, so it is also economical. Don't waste buying instant ramen only take out the noodles and throwing away the soup!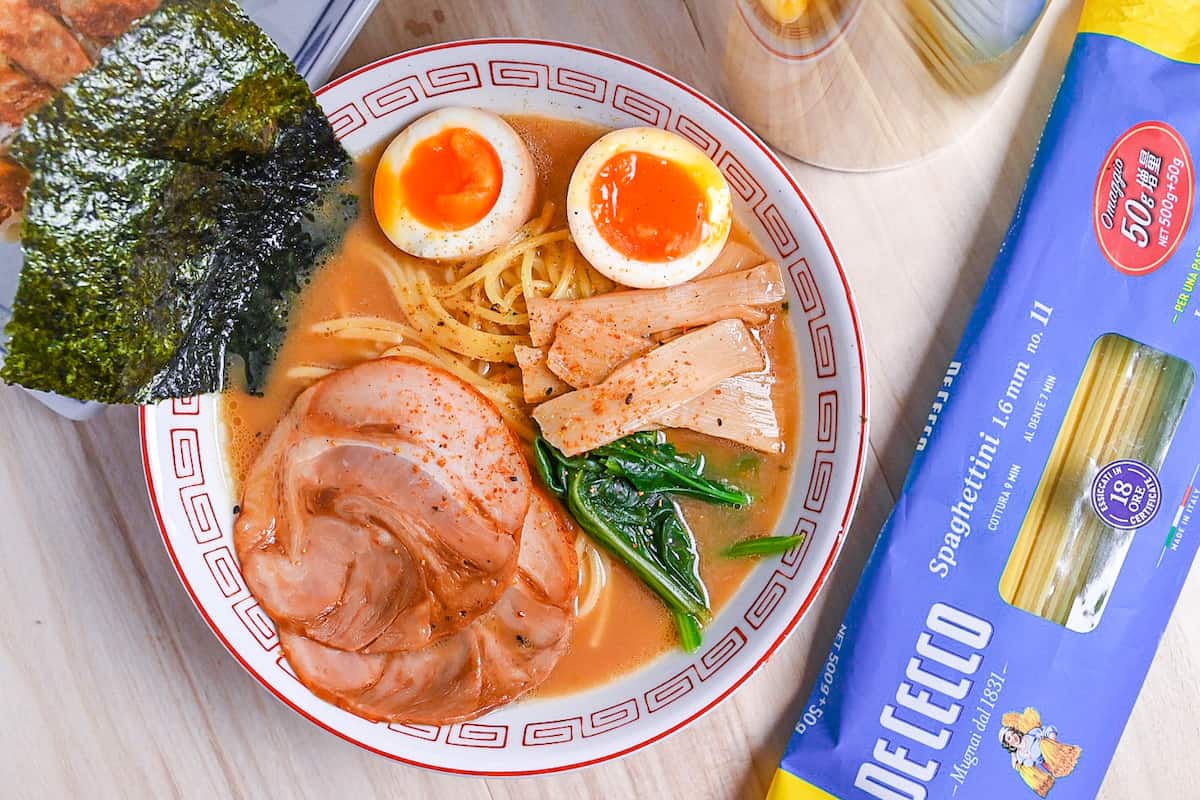 The chemistry behind the ramen hack
Ramen noodles owe their distinctive chewiness and yellowish hue to "lye water" known as "kansui" (かん水) in Japanese". Lye water is an alkali salt solution mixed into the flour during preparation. Without it, you'd simply be kneading regular wheat flour into what would become udon noodles. On the other hand, pasta lacks this lye water component, giving it a distinct texture that's firmer and less chewy than ramen noodles.
The crucial ingredient in lye water is sodium carbonate. The thought process behind using baking soda while boiling pasta is to mimic a basic environment that encourages a reaction between the base and gluten—similar to the process of making ramen noodles in the first place.
Now, baking soda, or sodium bicarbonate, does have an extra hydrogen. However, when it's heated, it decomposes into sodium carbonate, water, and carbon dioxide. Hence, the theory goes that boiling spaghetti with baking soda essentially morphs it into something similar to ramen noodles.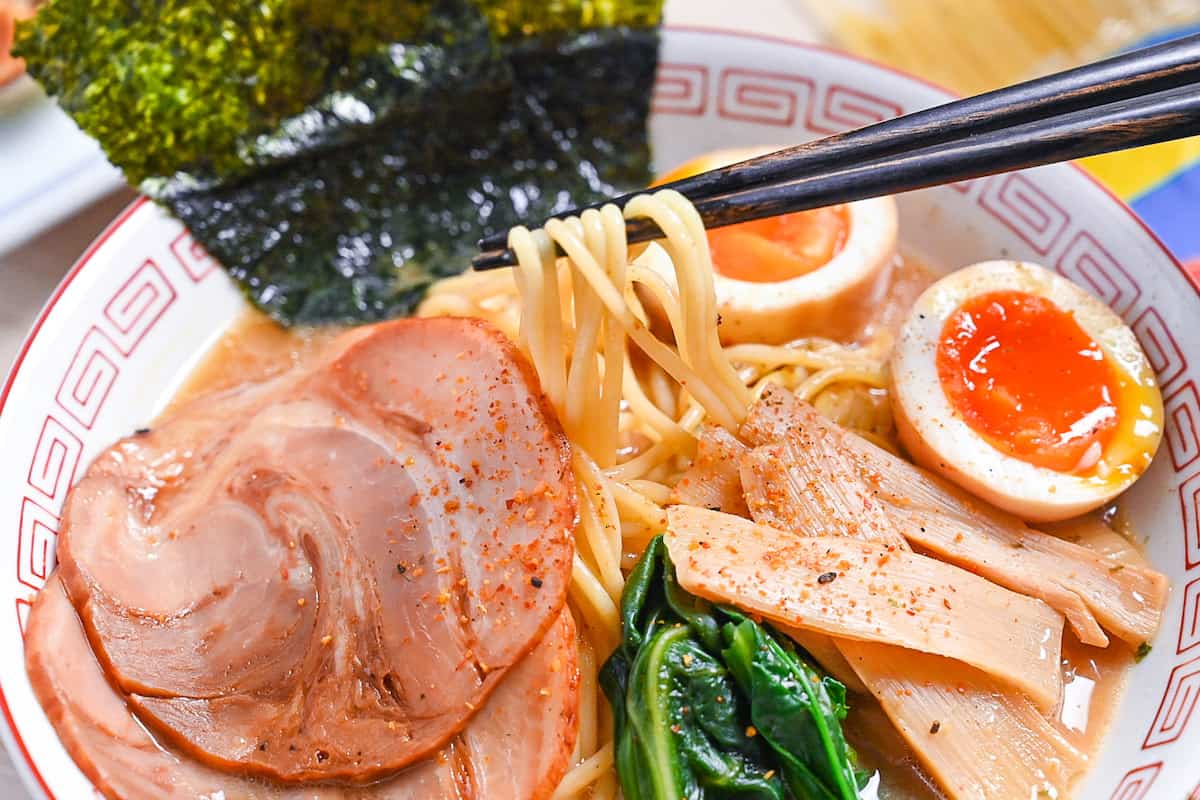 Ingredients to make this ramen hack with spaghetti
Dried long pasta - I recommend capellini for those who like extremely thin ramen noodles, spaghettini for those who like thin noodles, and spaghetti for those who like slightly thicker noodles. Generally from 1.0 mm to 1.8 mm thick would work depending on your preference.
Water - Boil the noodles in plenty of water, just as you would boil ramen noodles.
Salt - Add salt to the water, noodles need a bit of flavor too!
Baking soda - Be sure to use baking soda, not baking powder. This hack will not work with baking powder. This is because baking powder contains a variety of substances other than sodium bicarbonate.
Step-by-step instructions on how to turn spaghetti into ramen
Bring a large pot of water to a rolling boil and add salt.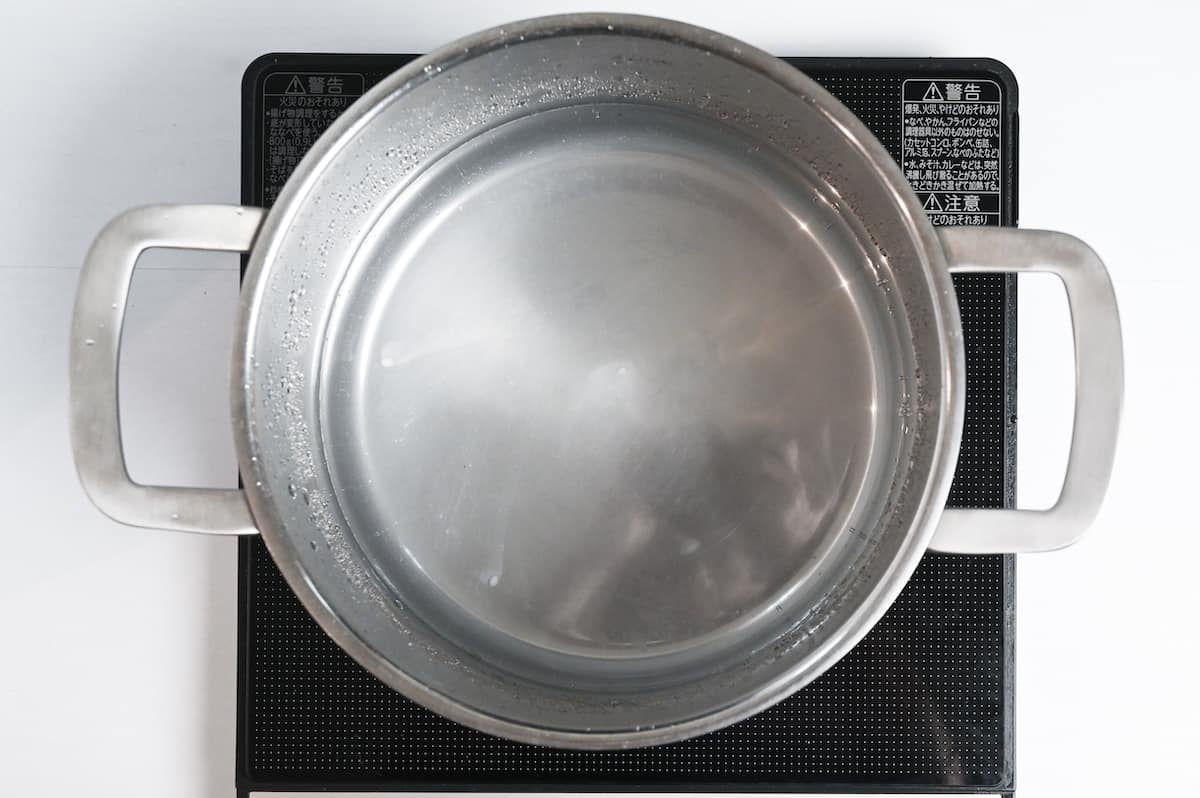 3 important tips for perfect pasta
Use plenty of water - pasta needs a lot of water because as it cooks, the starch is released which can cause the pasta to stick together. Using plenty of water dilutes the starch and also gives the pasta more room to move around.
Add salt - just because pasta is served in sauces (or in our case, ramen broths) doesn't mean that it shouldn't be seasoned. A little salt in the water will enhance the flavor of the pasta inside and out.
Make sure the water is boiling before adding the pasta - adding pasta before your water is boiling will result in a mushy mess!
Add the baking soda and pasta
Once the water is boiling, add the baking soda and mix until it has dissolved. Then you can add your pasta. Boil for 2 minutes longer (if you use a thinner type, reduce the time a bit) than the time stated on the packaging.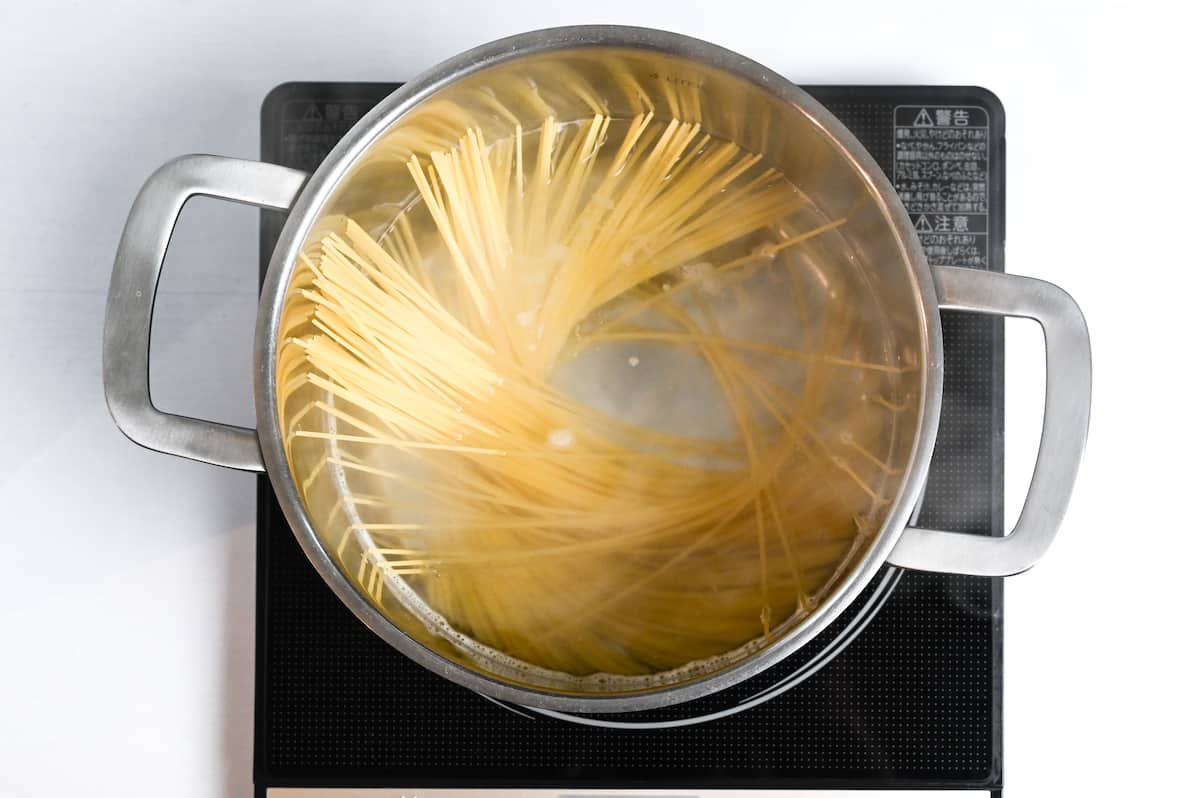 After boiling, place the noodles in a colander and rinse them thoroughly with tap water to remove any sliminess. If they are to be used for hot soup, it is OK to wash them with hot water. Once washed, place them in a bowl.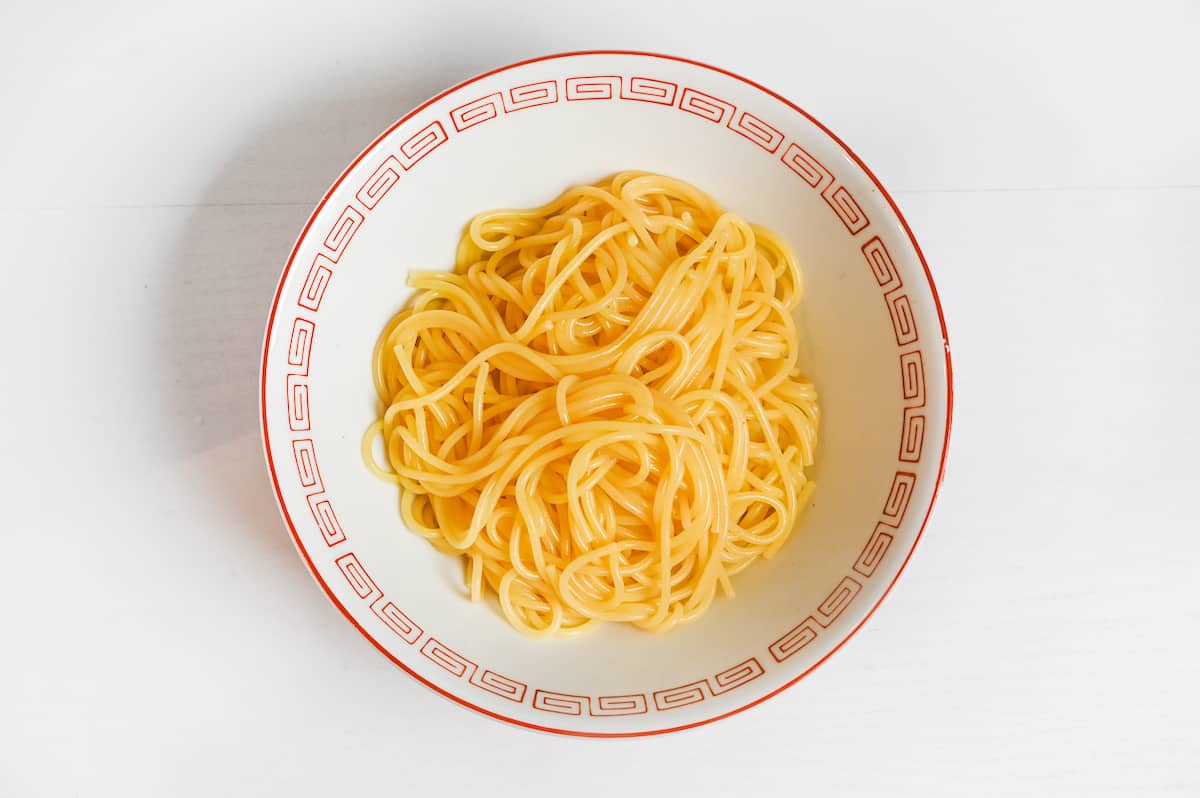 Enjoy your spaghetti-hack ramen with your favorite ramen broth and toppings!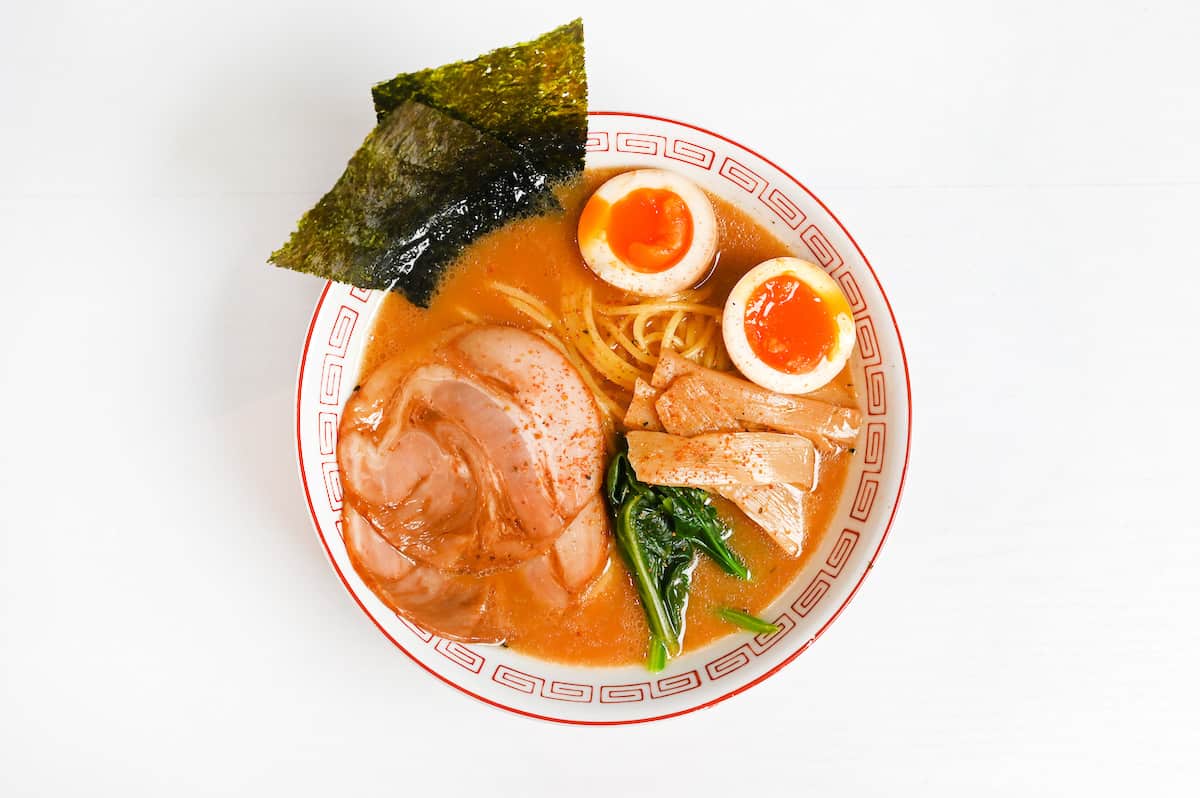 5+ Recommended Ramen Recipes Using This Hack
There are many dishes in which you can use ramen noodles, including these spaghetti hack ramen noodles. Making ramen noodles from scratch can be difficult, but making authentic ramen soup can be quite easy!
So, in this section, I will introduce a handful of recommended ramen recipes that can be made using this ramen hack!
Shoyu ramen (soy sauce base ramen)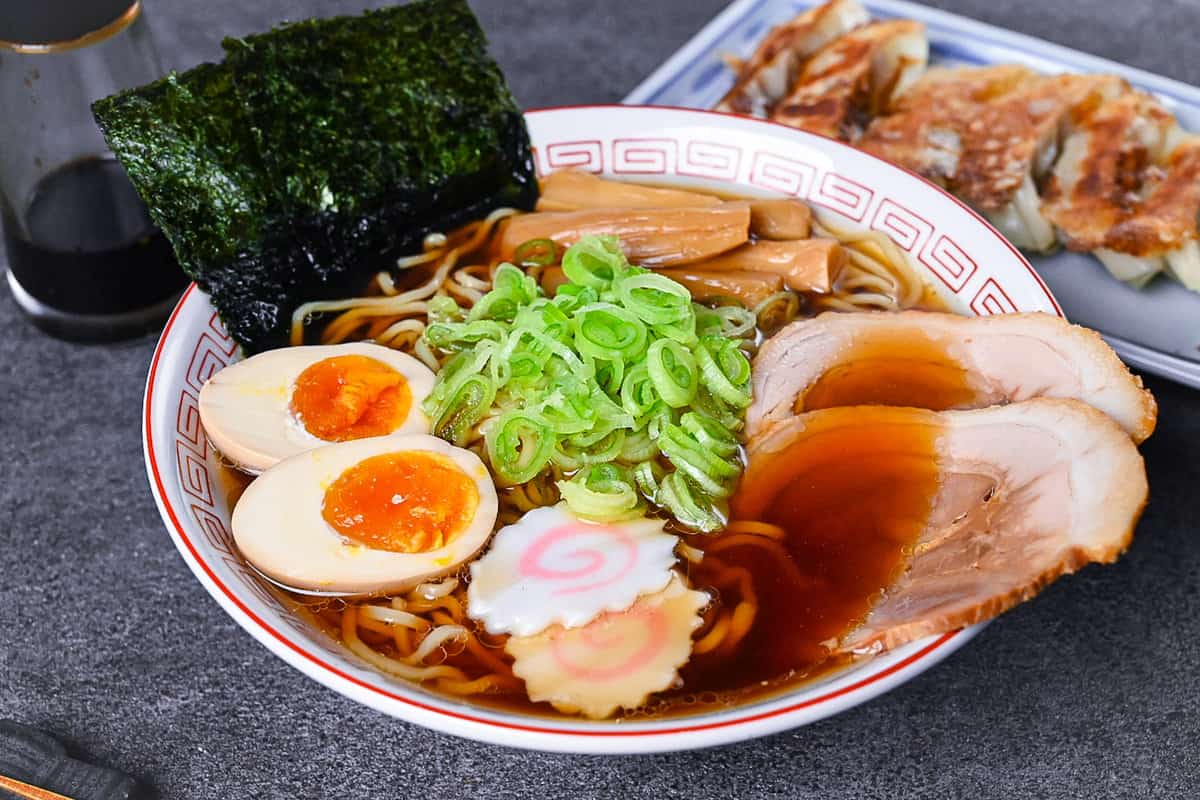 Shoyu ramen, or "chuka soba," is a traditional Japanese ramen characterized by its soy sauce-based tare (sauce). Its soup base varies widely, ranging from light chicken or vegetable broths to denser, pork bone-infused ones. This recipe sticks to classic shoyu ramen, with a soup base from chicken wings and dashi.
The history of shoyu ramen dates back to 1910 in Tokyo's Rairaiken, where it was first introduced as "Tokyo Ramen."
Homemade Shoyu Ramen Noodles (soy sauce flavored chuka soba)
How to make classic Japanese shoyu ramen with a soy sauce flavoured broth from scratch!
Check out this recipe →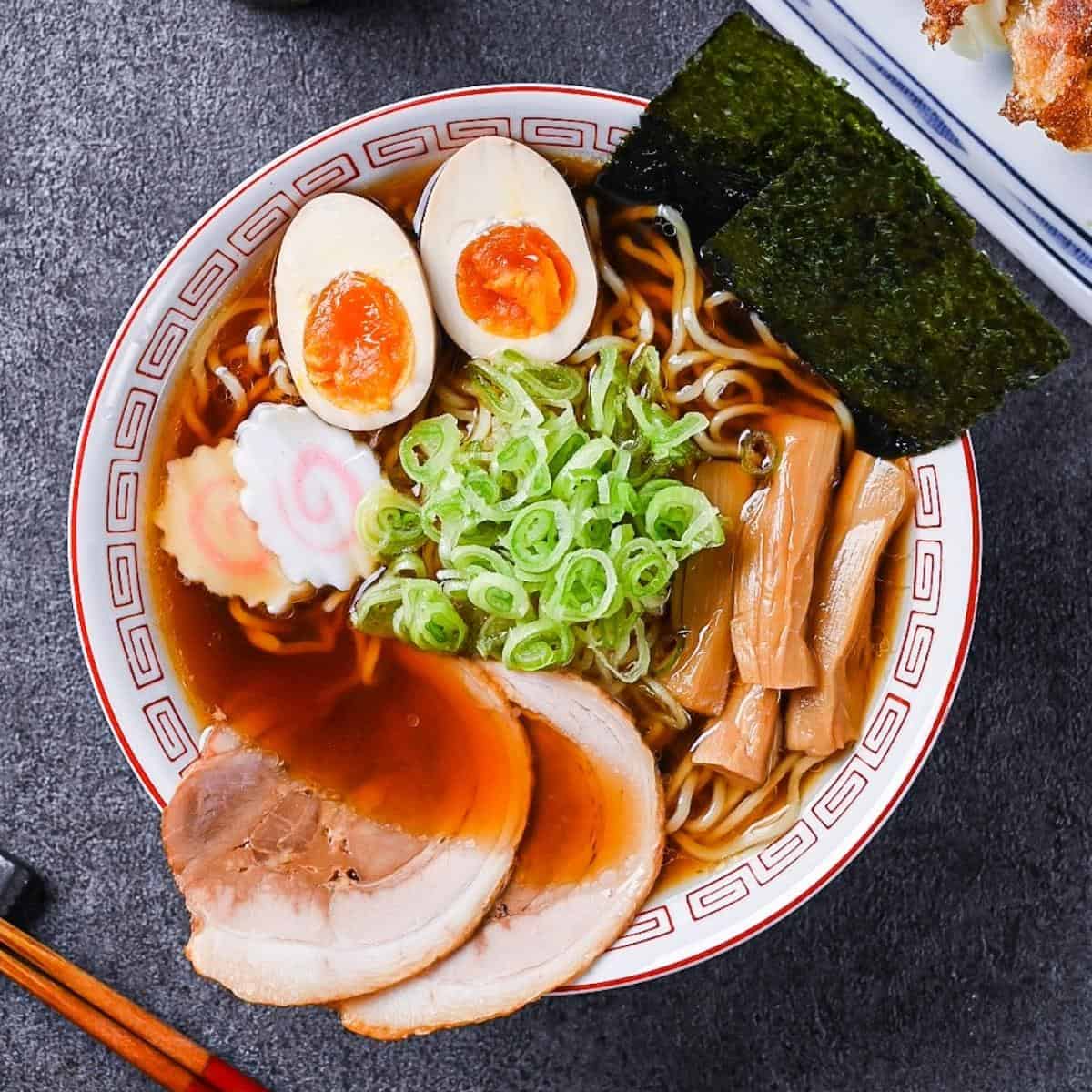 Chicken shio ramen (salt base ramen)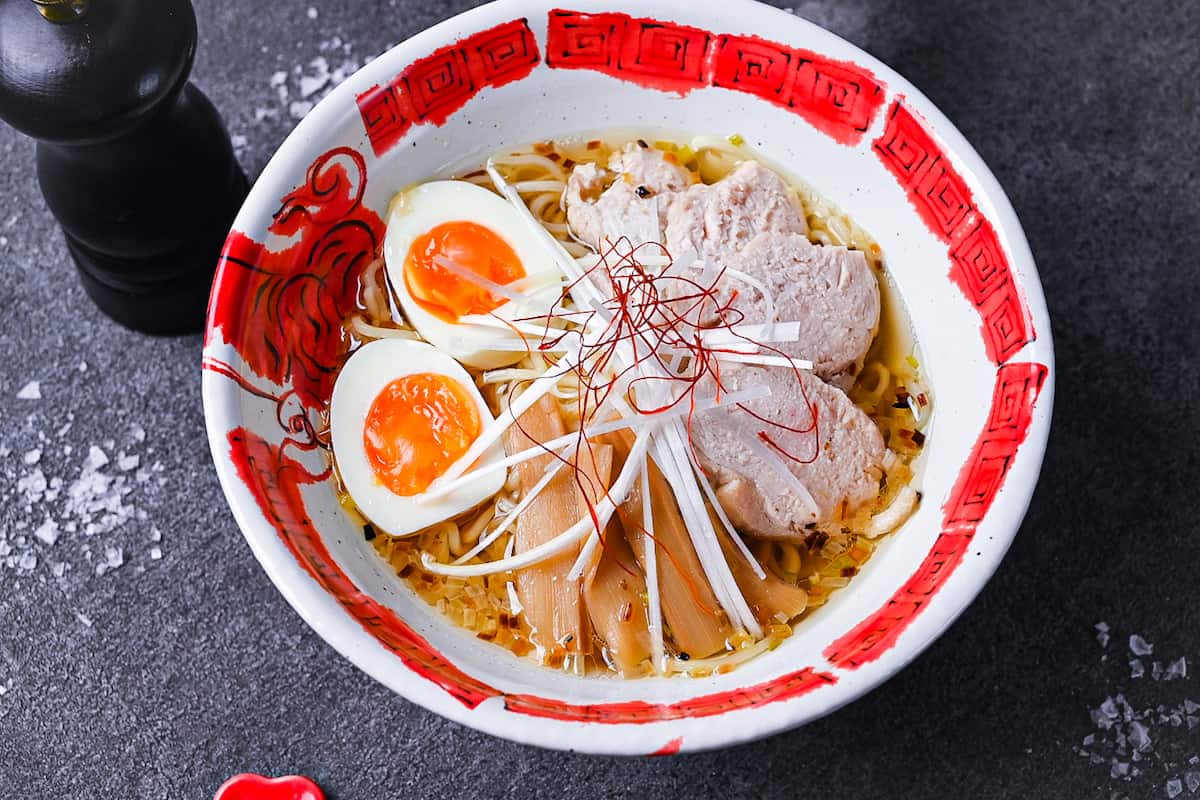 Shio ramen is a traditional type of ramen where a salt-based "tare" (sauce) is mixed with dashi (Japanese soup stock) to create its distinct, refreshing broth. Its simple profile, devoid of rich condiments like soy sauce or miso, makes it difficult to perfect, but it has garnered a dedicated following for its light and refreshing taste.
The history of shio ramen traces back to a noodle dish first served in 1884 at Yowaken in Hakodate, Hokkaido. This dish is regarded as the origin of today's shio ramen and regional Hakodate ramen.
Chicken shio ramen (salt base broth)
How to make delicious Chicken Shio Ramen with salt based broth from scratch at home!
Check out this recipe →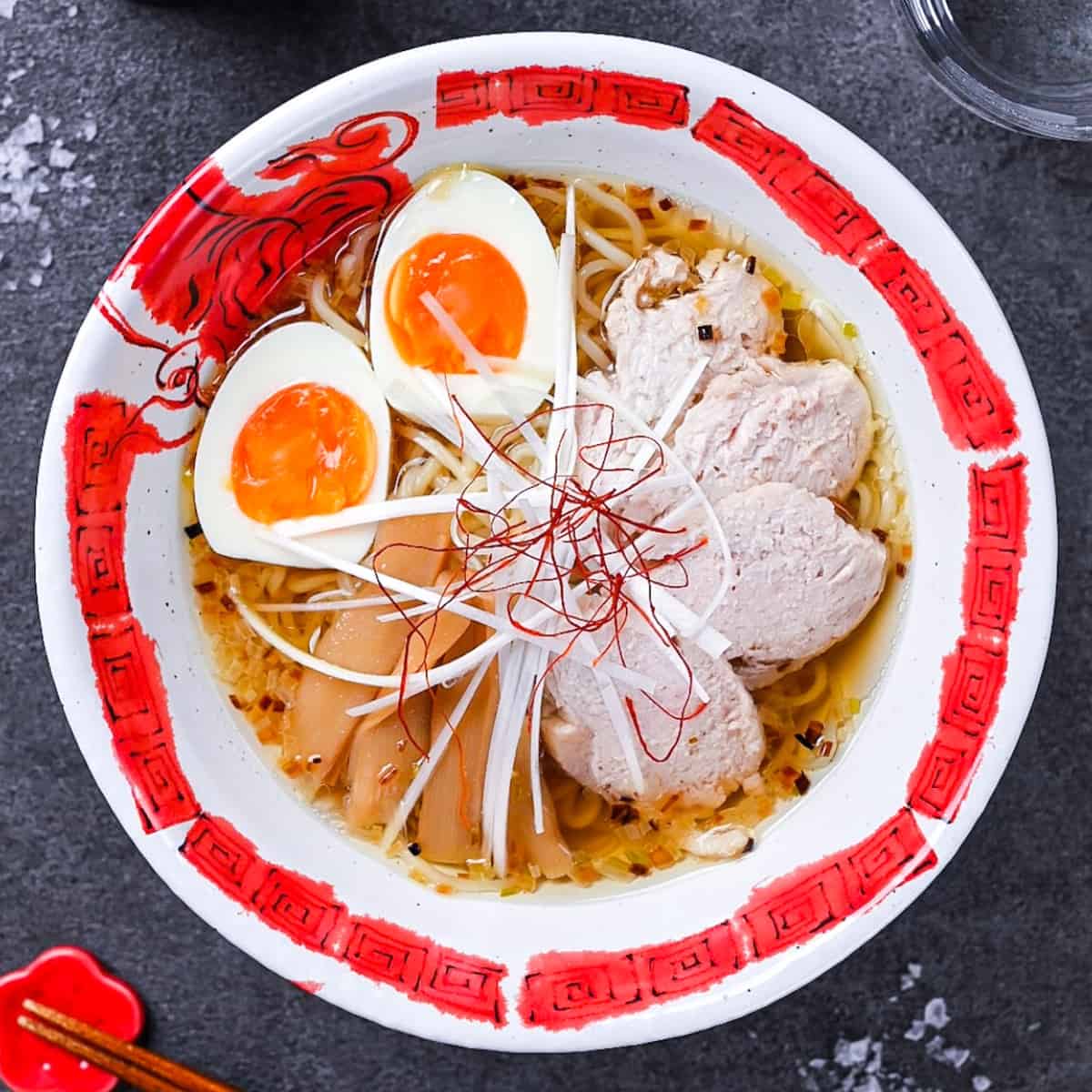 15 minutes Tantanmen (spicy ramen)
Do you like spicy ramen? Tantanmen, a rich and spicy ramen dish inspired by the Szechuan Chinese dish "Dandan mian", is characterized by its sesame-flavored broth, ground pork, pak choi, and noodles, all seasoned with Chinese chili paste. Despite its deviation from the typical Japanese ramen, it holds its own unique place in the cuisine.
The introduction of Tantanmen to Japan traces back to the renowned Chinese chef, Chén Jiànmín, who arrived in Japan in the 1950s and adapted it to cater to Japanese tastes. This recipe is so simple that can be ready in 15 minutes!
Tantanmen (Tan Tan Ramen)
How to make 15 minute Japanese-style Tantanmen Ramen served in a spicy, nutty broth, topped with seasoned pork mince and blanched pak choi.
Check out this recipe →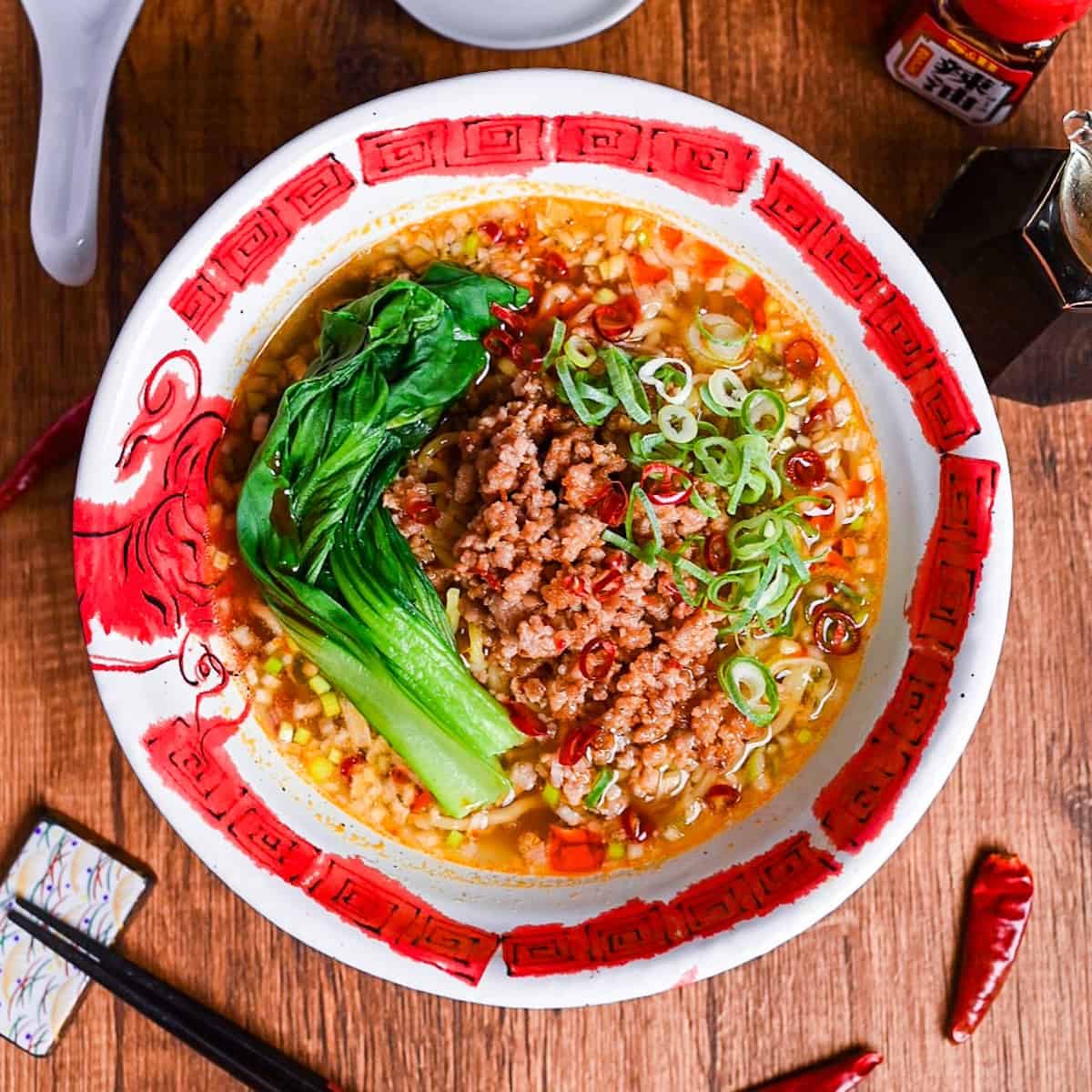 Miso ramen
Another quick and easy ramen recipe for you to try! Miso Ramen, a noodle dish utilizing miso paste as its base, hails from Hokkaido, with "Sapporo Miso Ramen" being a well-known variant. This recipe guides you to create a rich, buttery miso broth from scratch in just 15 minutes.
The origins of miso ramen are linked to the restaurant "Aji no Sanpei" in Hokkaido, where it was first served in 1955. The owner supposedly got the idea from a regular customer who suggested making ramen in tonjiru (pork miso soup). Since then, it has grown into the most popular miso ramen dish in Japan.
Pork Miso Ramen in 15 Minutes (Sapporo Style)
How to make quick, delicious Sapporo-style pork miso ramen from scratch with chewy noodles served in a rich, buttery broth topped with seasoned pork, vegetables and soft-boiled eggs.
Check out this recipe →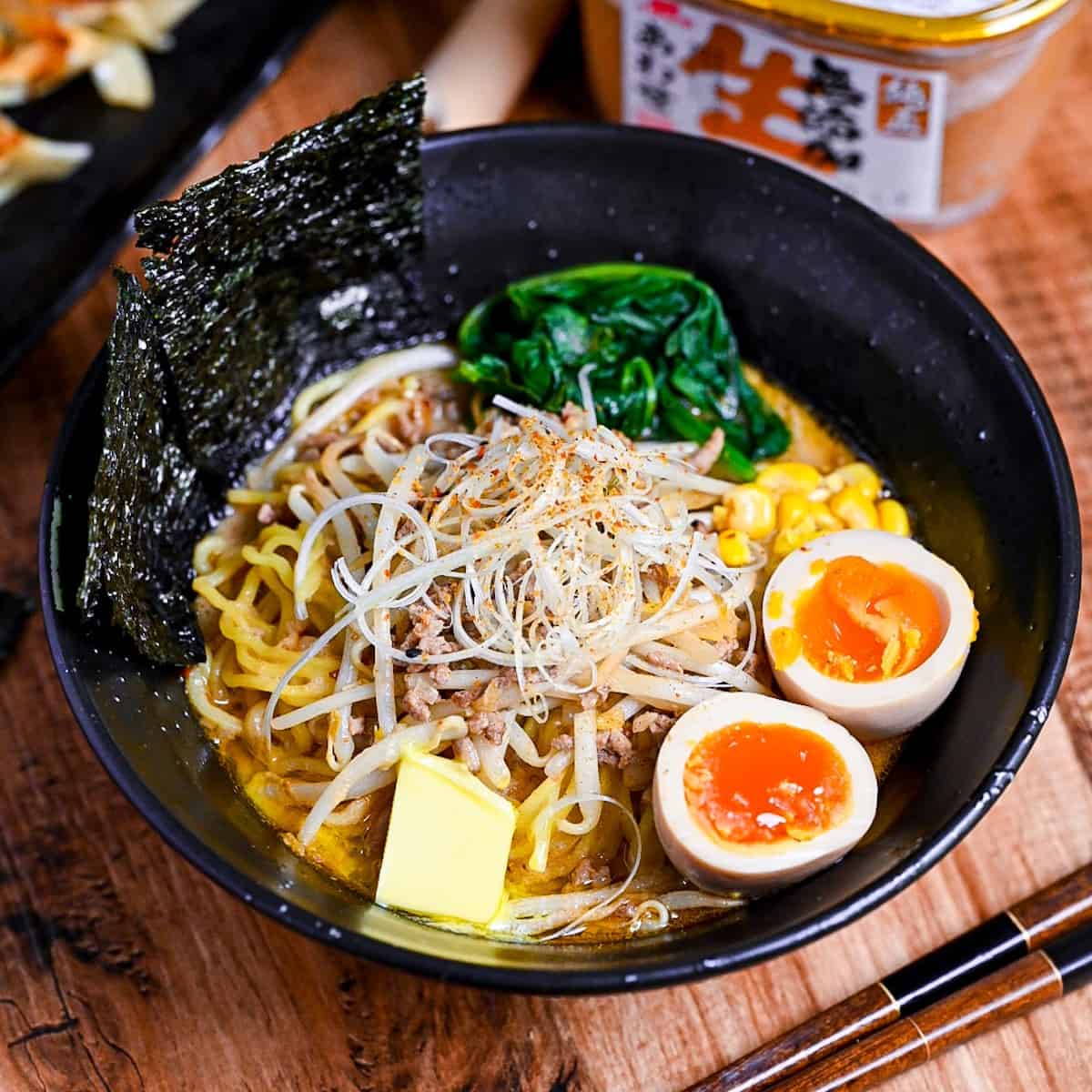 Abura soba (soupless ramen)
Not feeling like a soupy dish? Abura soba, translating to "oil noodles", is a variety of ramen that shys away from the traditional soupy broth for a sauce that the noodles and toppings are mixed into before eating. While it might lack a broth, it compensates with an abundance of flavor.
The dish is known by various names such as Monja soba, Maze soba, Tenuki soba, or Abu ramen, with the chosen name often depending on the restaurant, region, or variations in sauce and toppings.
Abura Soba (Soupless Ramen) 油そば
How to make quick and easy "Abura Soba" (soupless ramen) with delicious homemade tare.
Check out this recipe →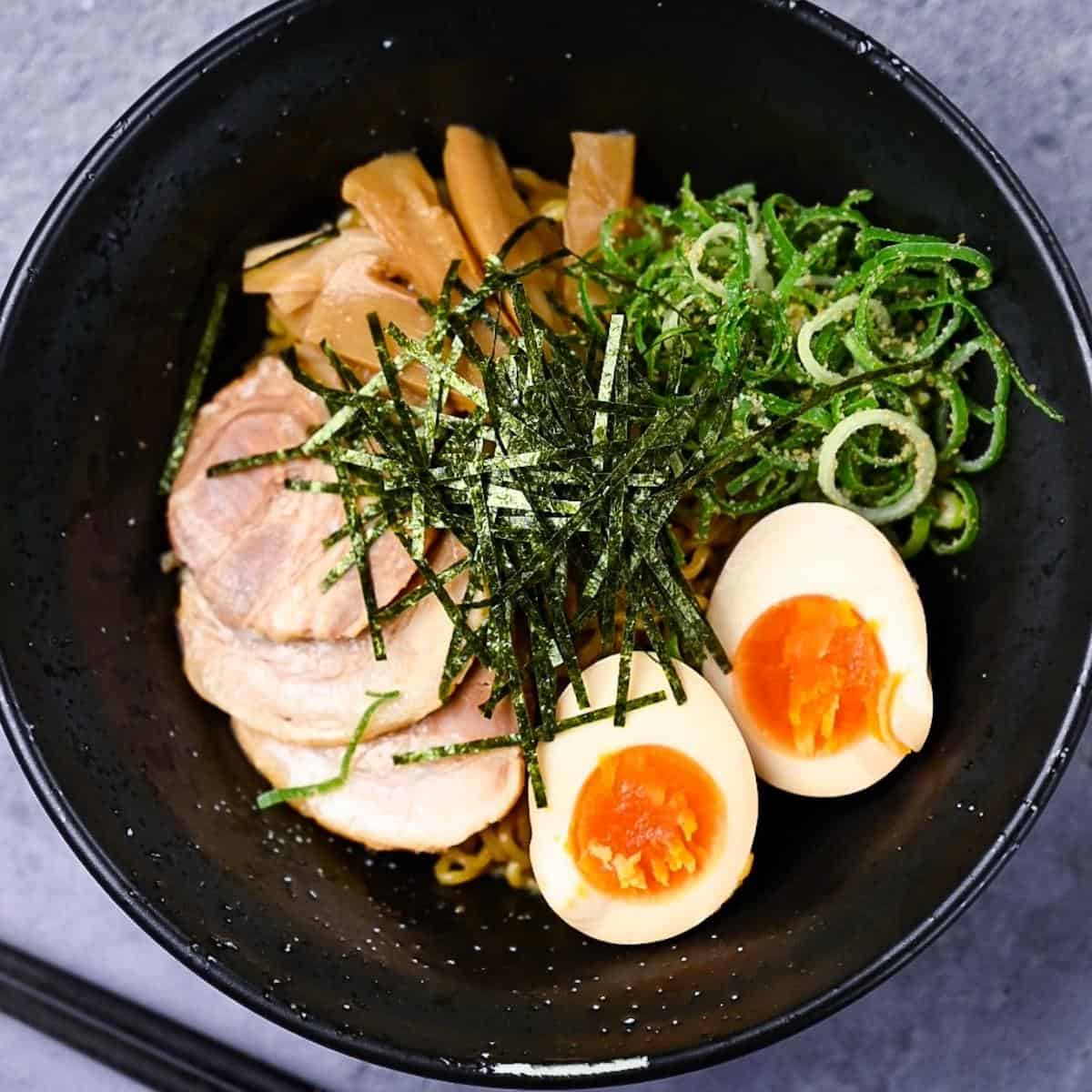 So far, I have only selected five recipes, but you can use this ramen hack for other recipes such as the following!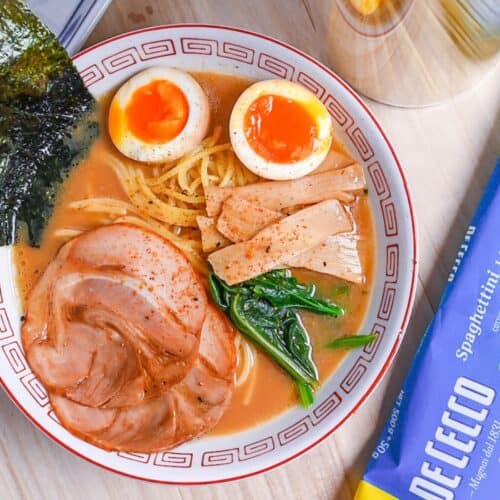 How to Make Ramen Noodle Using Spaghetti (Hack)
How to turn regular spaghetti into delicious, chewy ramen-style noodles with just 3 simple ingredients!
Ingredients
160

g

dry spaghetti

-

1.0-1.8mm depending on your preference

2000

ml

water

½

tsp

salt

1

tbsp

baking soda
Instructions
First, fill a large pot with

2000 ml water

and

½ tsp salt

. Bring it to a rolling boil.

Once it's boiling, add

1 tbsp baking soda

and

160 g dry spaghetti

. Boil for 2 minutes longer (if you use a thinner type, reduce the time a bit) than stated on the packaging.

Pour the spaghetti into a colander and rinse with fresh water. Use hot water if you're serving it hot and cold water if serving it cold.

Enjoy with your favorite ramen broth and toppings!