Horenso no Goma-ae is a delicious side dish made up of blanched spinach mixed with ground sesame seeds and flavored with Japanese condiments. It's tasty, addictive and perfect for bento boxes too!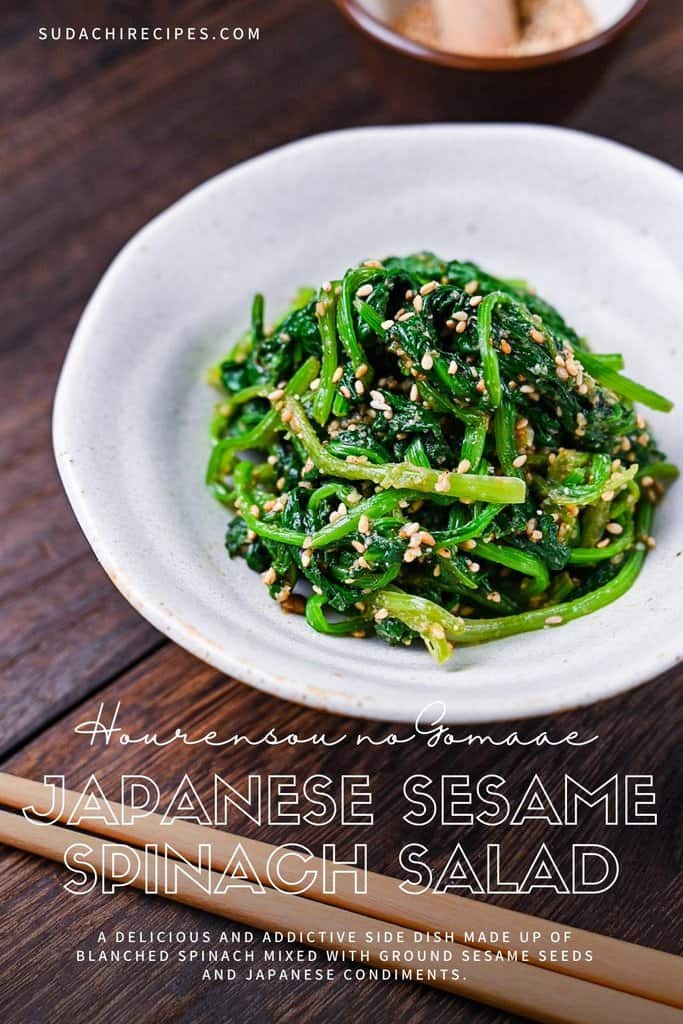 Disclaimer: This post contains Amazon and Dokodemo affiliate links. Sudachi Recipes earn a small percentage from qualifying purchases at no extra cost to you. See disclaimer for more info.
What is Goma-ae?
Goma-ae (胡麻和え) is a type of salad made up of vegetables mixed with ground sesame seeds dressed with sugar, soy sauce and other seasonings. It is also sometimes known as goma yogoshi (ごまよごし).
Spinach (or horenso ほうれん草 in Japanese) is the most popular ingredient, but other vegetables are also used. A few examples of other common ingredients include:
Green beans
Canola flower
Broccoli
Beansprouts
Tomatoes
Avocado
Okra
Goma-ae can also be made with fish such as red snapper or horse mackerel.
Japanese style restaurants in other countries sometimes use peanuts instead of sesame seeds, in which case it's called peanuts-ae (ピーナッツあえ).
For a bit of language reference, ae (和え) generally means "mix" but in the culinary context, it's considered as a set phrase meaning "A mixing ingredients with seasonings or other substances that add flavor."
Ingredients to make Japanese Sesame Spinach Salad
Making horenso no goma-ae only requires a few ingredients. For this recipe, you will need:
Spinach – in Japan, Asian spinach (also known as Chinese spinach) is most commonly used. The leaves of Asian spinach are fine to eat raw, but the stems are thick and best cooked either by sautéeing or stir-frying. In this recipe we will blanch them.
Salt – to help bring out the flavor of the spinach. Sea salt or your regular cooking salt works fine.
Ground sesame seeds – known as "surigoma" in Japanese. Since they're ground, they have a stronger flavor and pleasant texture. If you can't find ground sesame seeds where you live, you can grind them yourself using a mortar and pestle or coffee grinder. You can also use ground peanuts to make "peanuts-ae".
Sesame seeds – called "irigoma" in Japanese, adds flavor and improves texture of the dish.
Soy sauce – adds saltiness and umami to the dish. It also works well with the flavor from the sesame seeds. If you want to learn about my favorite Japanese soy sauce brands, check out my post 20 essential condiments used in Japanese cooking.
Light brown sugar – adds sweetness and depth to the dish. It's ok to substitute with white sugar.
Dashi stock – a small amount adds depth and umami to the dish. If you don't have dashi, you can use water instead. If you have instant dashi powder, add a pinch with some water to maintain the same consistency. Vegans and vegetarians should use kombu (dried kelp) or shiitake dashi.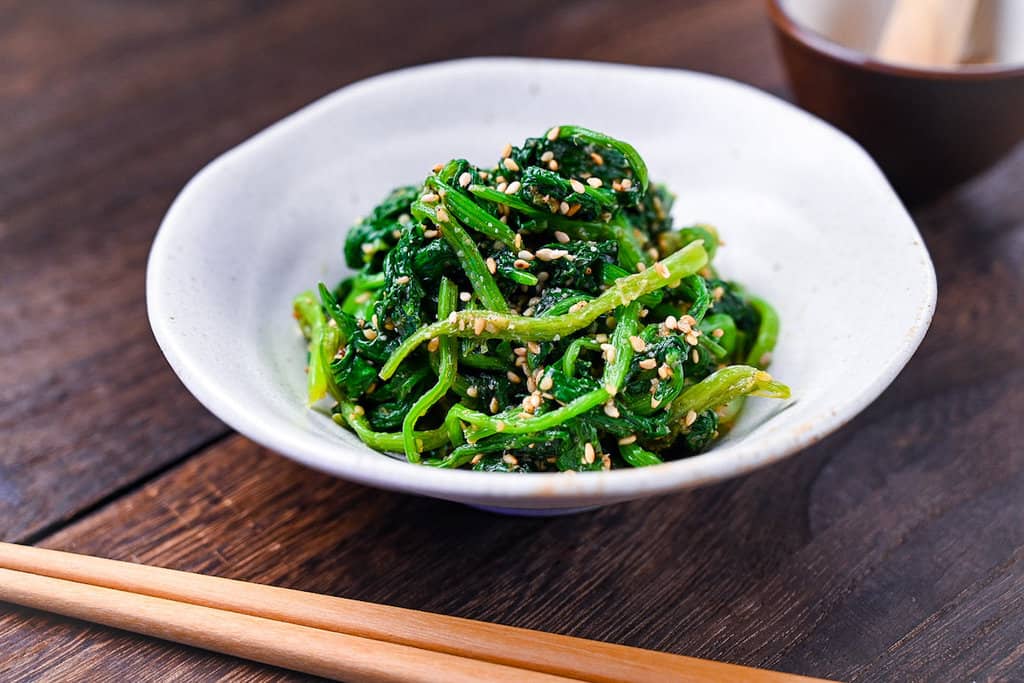 How to make Japanese Sesame Spinach Salad
Making horenso no goma-ae is extremely quick and easy to do, it can be ready in 15 minutes or less! It's easy to overcook spinach, so here I will show you how to prepare and cook it perfectly!
How to prepare Asian spinach for Horenso no Goma-ae
Horenso is sold in bunches with the bottom of the stem/top of the root still attached. Cut this off first to that it can be cleaned more thoroughly.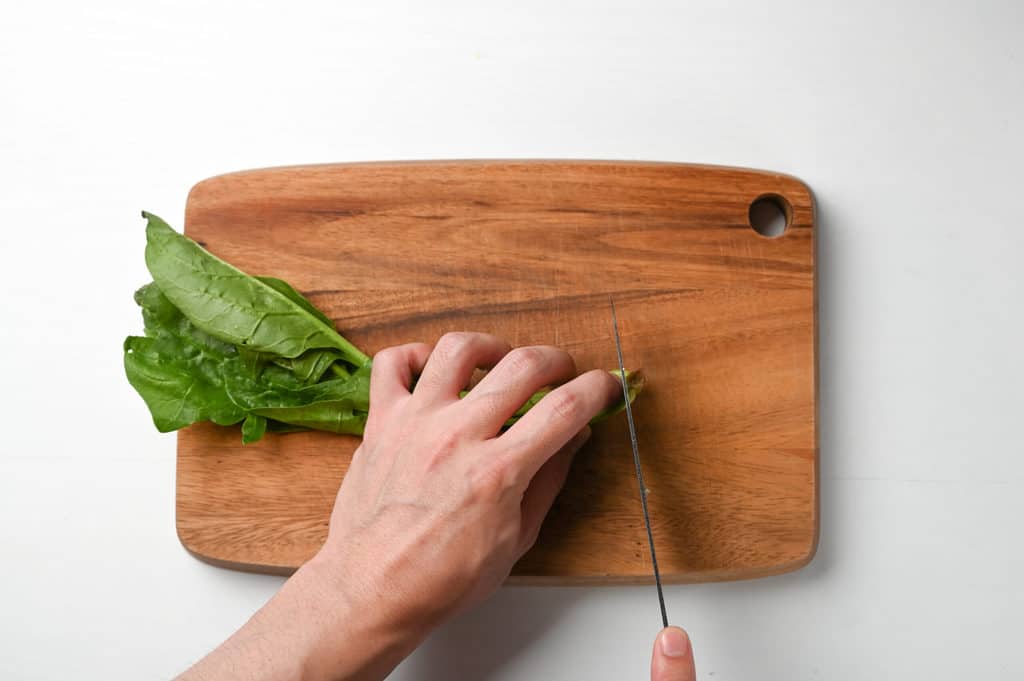 Fill up a mixing bowl with fresh cold water and submerge the stems. Rub off any dirt or mud, then rinse the whole spinach from leaves to stems with cold running water.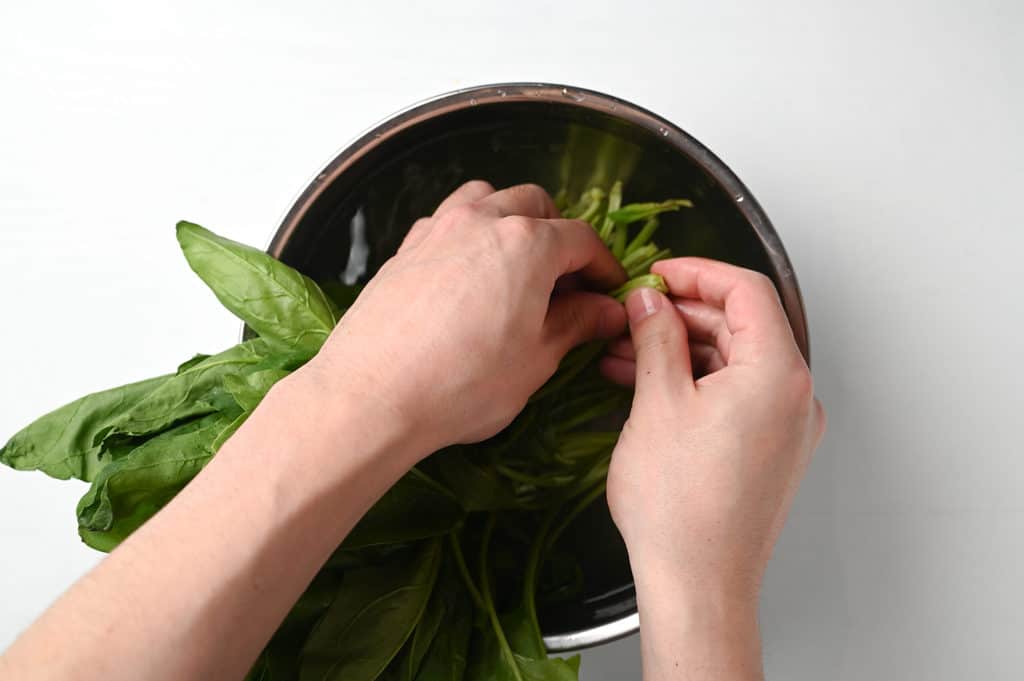 Once your spinach is washed, cut them into 3 parts: the top (leaves), the middle (thinner stems) and bottom stems (thick). Since each part is a different thickness, they need to be blanched for different durations. The bottom of the stem is thicker and needs longer cooking than leaf, which is thin and only needs to be blanched for 30 seconds.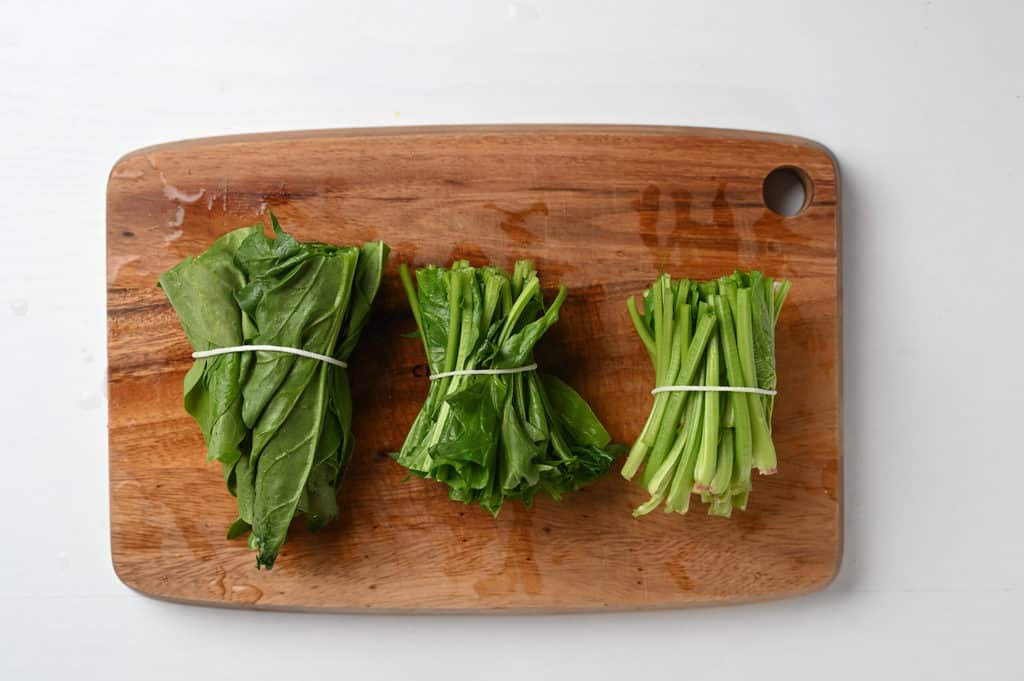 I recommend tying them up with butcher's string (food safe) so that they're easy to transfer to the cold water after blanching.
Bring a pot of water to a rolling boil and add salt. There should be enough water to completely submerge the spinach. While you wait for it to boil, prepare a bowl filled with cold water and ice.
Once boiling, add the thickest part of the stems and set a timer for 1 minute.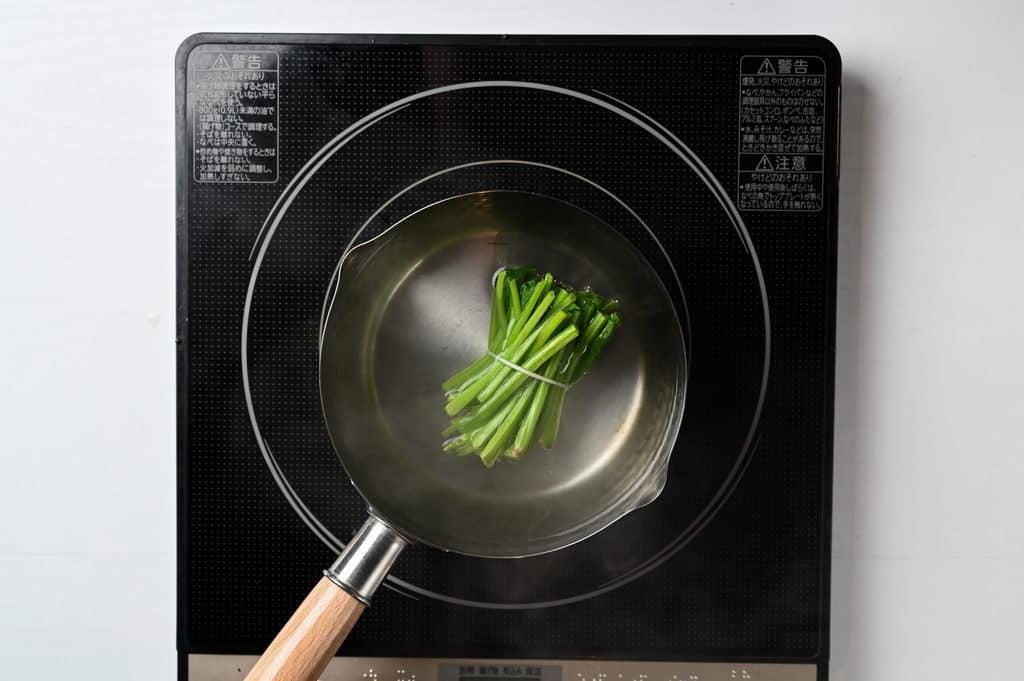 After one minute, add the middle stems and set a timer for 45 seconds.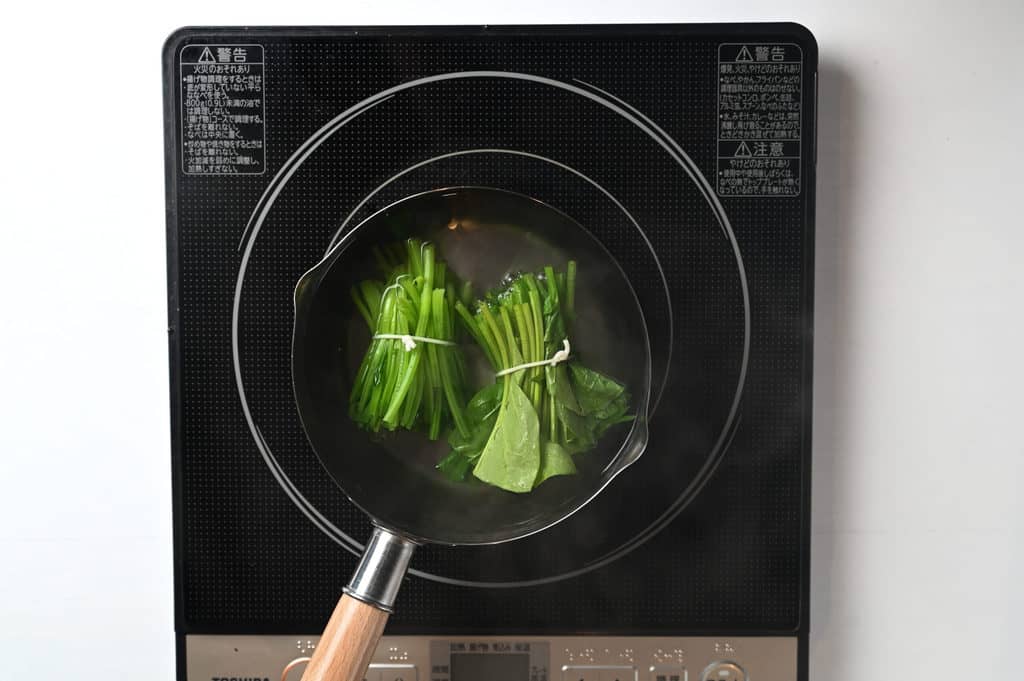 Finally, add the leaves and set a timer for 30 seconds. If you're using baby spinach or similar (instead of Asian spinach) you can simply blanch them for 30 seconds.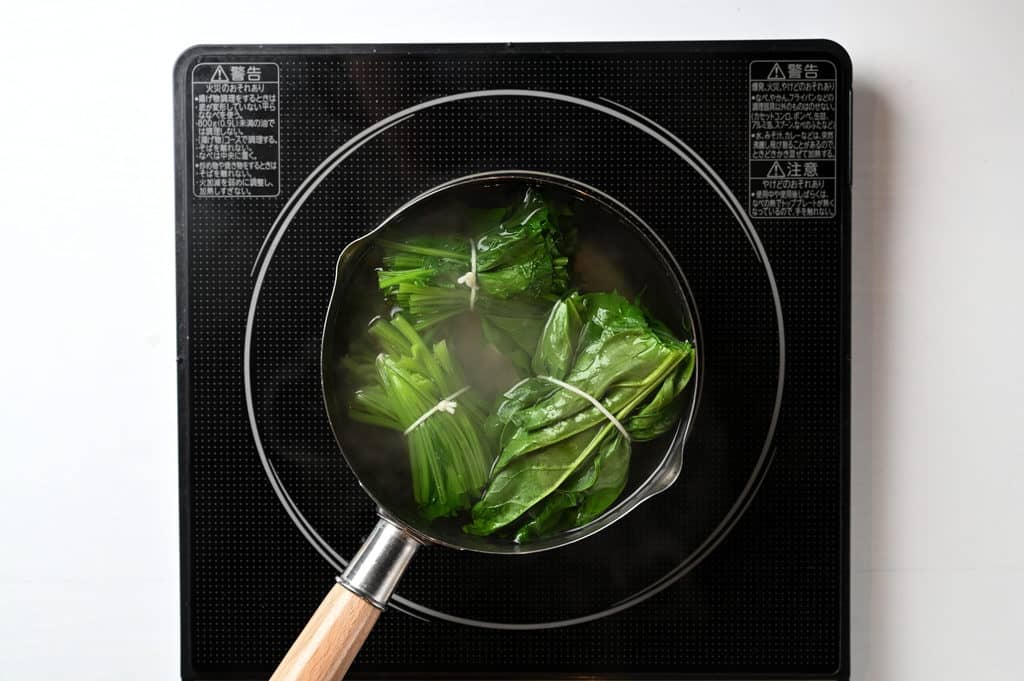 After 30 seconds, immediately transfer the spinach to a bowl of ice-cold water. This will halt the cooking process and prevent the spinach from becoming overcooked which ensures the best texture, color and taste.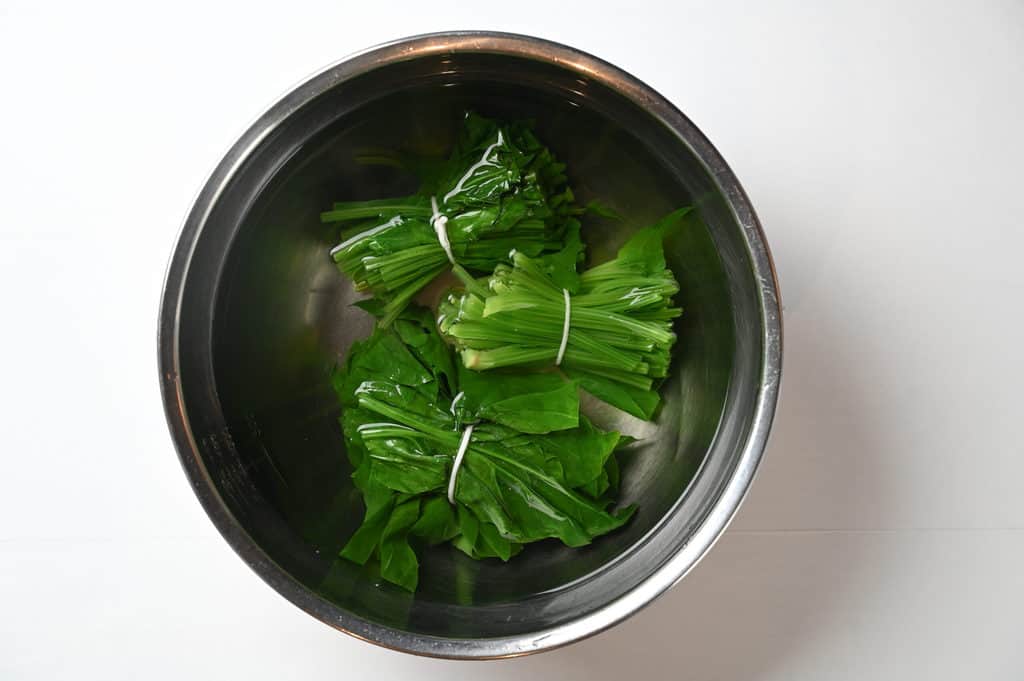 You can leave the spinach in the water while you prepare the sauce.
How to make Horenso Goma-ae
In a large mixing bowl, add salt, soy sauce, ground sesame seeds, whole sesame seeds, light brown sugar and dashi stock. Mix together until the ingredients are well combined and the sugar has dissolved.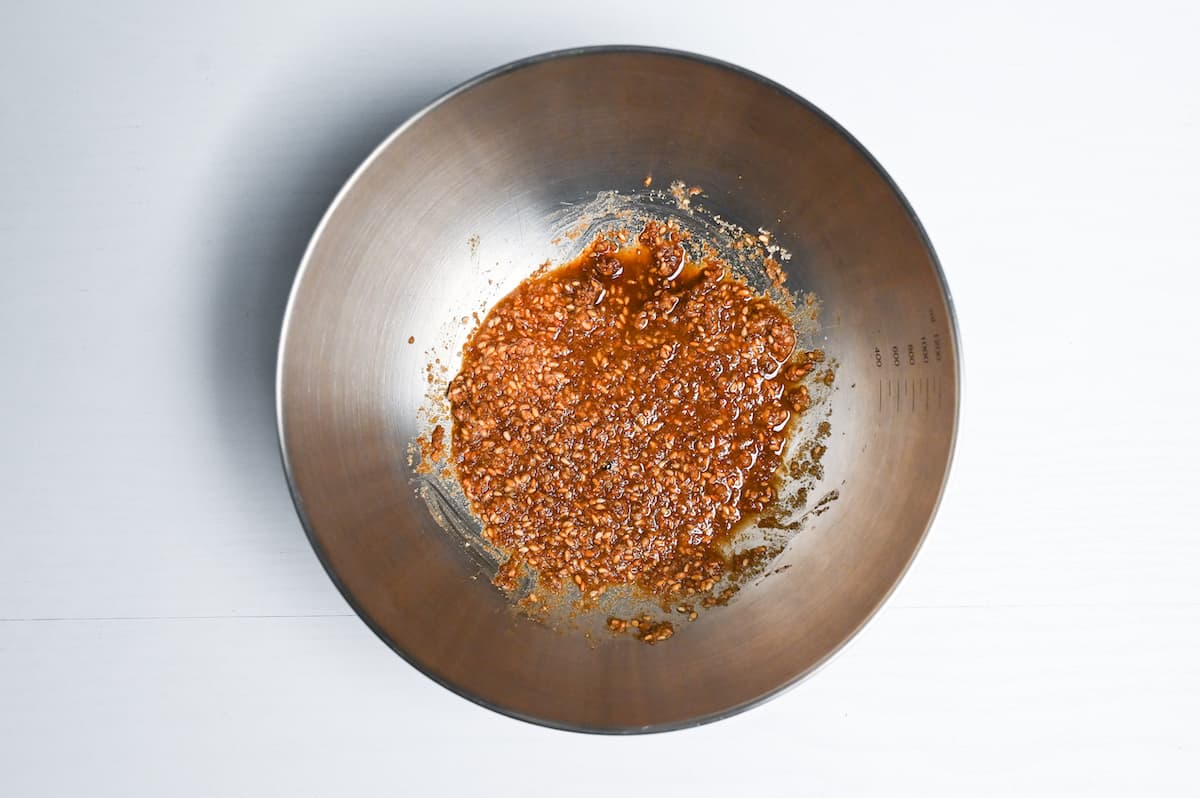 Drain the water from the bowl of spinach and squeeze each bunch thoroughly to remove the excess water. Remove the string and place them in the bowl of sauce. Mix until evenly coated.
Transfer to serving dishes and enjoy!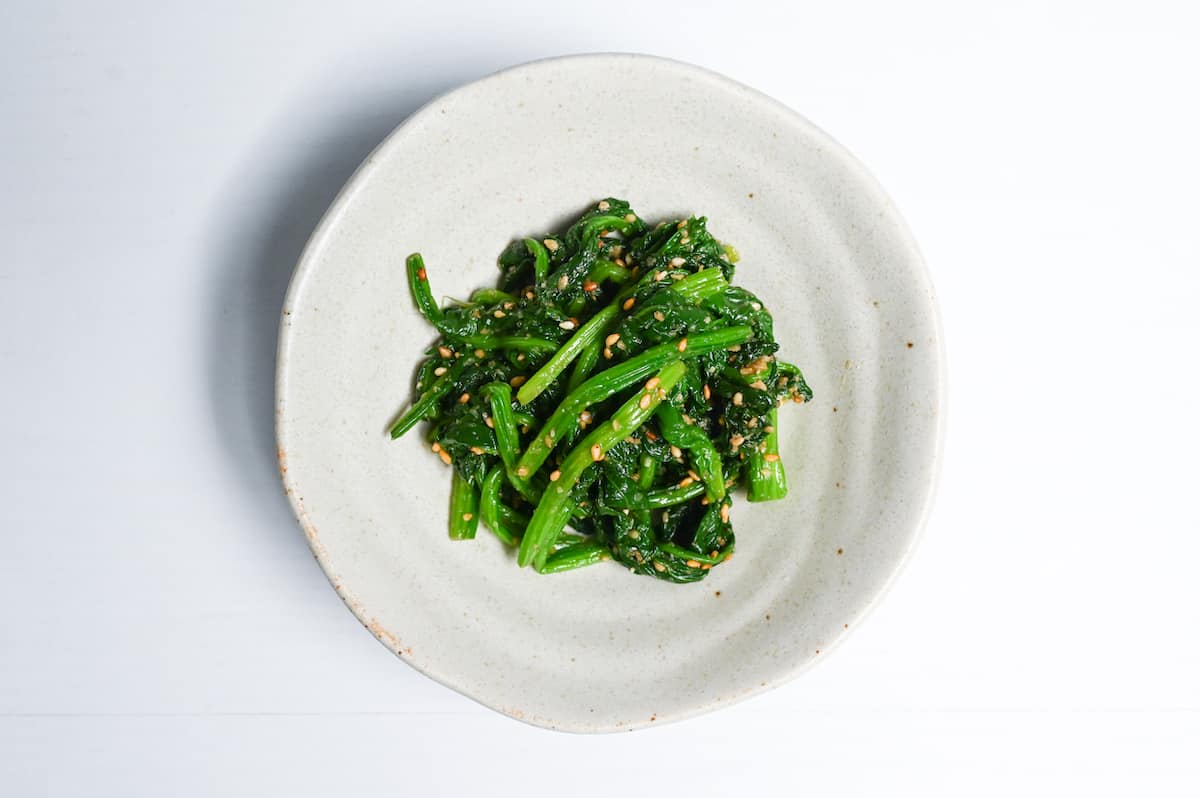 Storage
Horenso no goma-ae can be stored in an airtight container in the refrigerator for 2-3 days. (Please note that this depends on the freshness of the spinach at the time of making.)
Since this recipe is a popular side dish to use in bento boxes, it is also common to freeze it. Divide it into small portions and place each portion into a cupcake case or similar. Arrange the cases in a lunchbox and freeze. It can be kept for up to 2 weeks in the freezer.
Japanese sesame spinach salad should be served chilled or cold, so thaw in the fridge or at room temperature (do not microwave).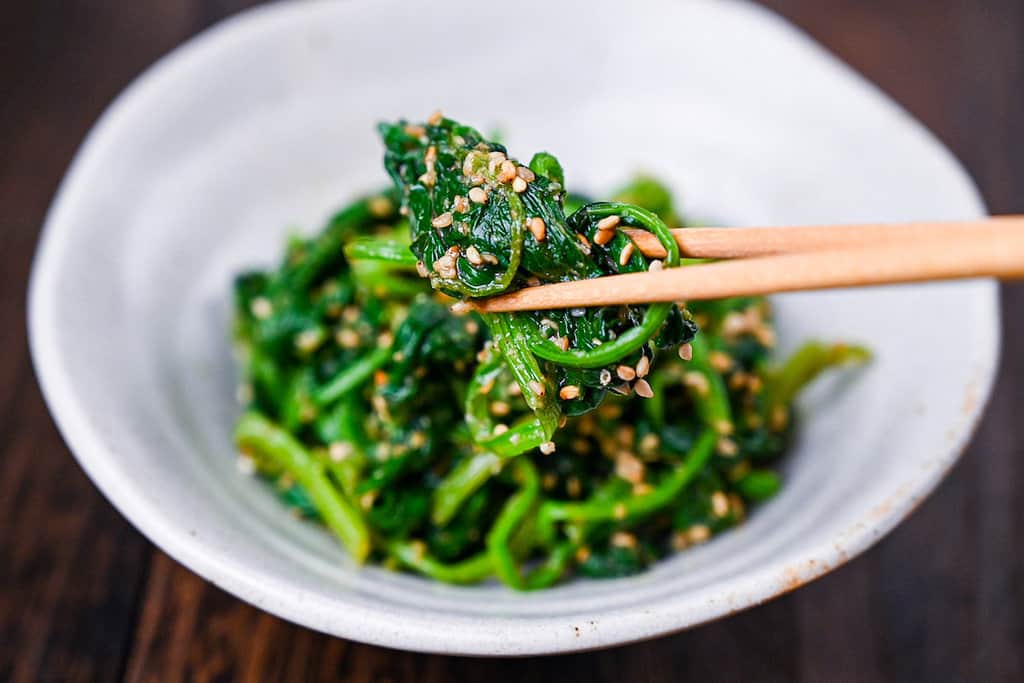 I hope you enjoy this easy and delicious Japanese sesame spinach salad recipe! If you try it out, I'd really appreciate it if you could spare a moment to let me know what you thought by giving a review and star rating in the comments below. It's also helpful to share any adjustments you made to the recipe with other readers. Thank you so much!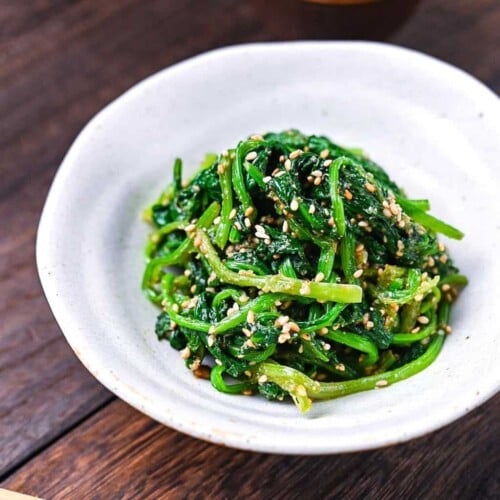 Japanese Sesame Spinach Salad (Horenso no Goma-ae)
---
How to make a delicious and addictive Japanese spinach salad mixed with ground sesame seeds and condiments.
---
---
---
---
Ingredients
water

for boiling

1

tsp

salt

250

g

spinach

1

bowl

ice cold water
Sesame sauce
¼

tsp

salt

½

tbsp

soy sauce

2

tbsp

ground sesame seeds

1

tbsp

light brown sugar

½

tbsp

white sesame seeds

½

tbsp

dashi stock

or water
Instructions
Start by filling a pot with enough water to cover the spinach and add

1 tsp salt

. Bring to a boil.

While the water is heating up, cut off the ends of the stems of

250 g spinach

and wash thoroughly in a cold bowl of water to remove the dirt.

Remove the spinach from the water and cut it into three parts, the thick stems, the middle part (thinner stems with some leaf) and the leaves. Preferably tie each type in bunches. (Optional)

Prepare a bowl of cold water and set it next to the stove.

Once the water in the pot is boiling, add the thick stems and allow them to boil for 1 minute.

Next, add the middle part and boil together with the stems for 45 seconds.

Finally add the leaves and boil everything together for 30 seconds.

Remove the spinach from the water and transfer straight to the bowl of cold water to stop the cooking process.

Take a mixing bowl (big enough to add the spinach) and add

1/4 tsp salt

,

1/2 tbsp soy sauce

,

2 tbsp ground sesame seeds

,

1 tbsp light brown sugar

,

1/2 tbsp white sesame seeds

,

1/2 tbsp dashi stock

. (If you don't have dashi you can use an equal amount of water instead.) Mix well.

Remove the spinach from the bowl, gently squeeze out the excess water and add it to the bowl of sauce. Mix thoroughly until evenly coated.

Serve and enjoy!
Notes
Keep refrigerated in an airtight container and eat within 2-3 days.
Nutrition
Calories:
58
kcal
|
Carbohydrates:
5.8
g
|
Protein:
2.8
g
|
Fat:
3.3
g
|
Saturated Fat:
0.5
g
|
Polyunsaturated Fat:
1.4
g
|
Sodium:
286.3
mg
|
Fiber:
2.6
g