Skip the broth and enjoy ramen in a unique way with this delicious abura soba! Made with chewy ramen noodles mixed with a rich and flavorful sauce, abura soba is quick to prepare and can be enjoyed with all your favorite ramen toppings!
Disclaimer: This post contains Amazon affiliate links. Sudachi Recipes earn a small percentage from qualifying purchases at no extra cost to you. See disclaimer for more info.
What is "Abura Soba"?
Abura soba (油そば) is a type of ramen dish that features noodles and a variety of toppings served on top of a rich and flavorful sauce known in Japanese as "tare" (たれ).
Prior to eating, it is important to thoroughly mix the ingredients until they are evenly coated in the sauce. Often, vinegar and chili oil are added to enhance the taste.
What distinguishes this dish from traditional ramen is the absence of a soupy broth. Nonetheless, it more than compensates for this by delivering a delectable explosion of flavors.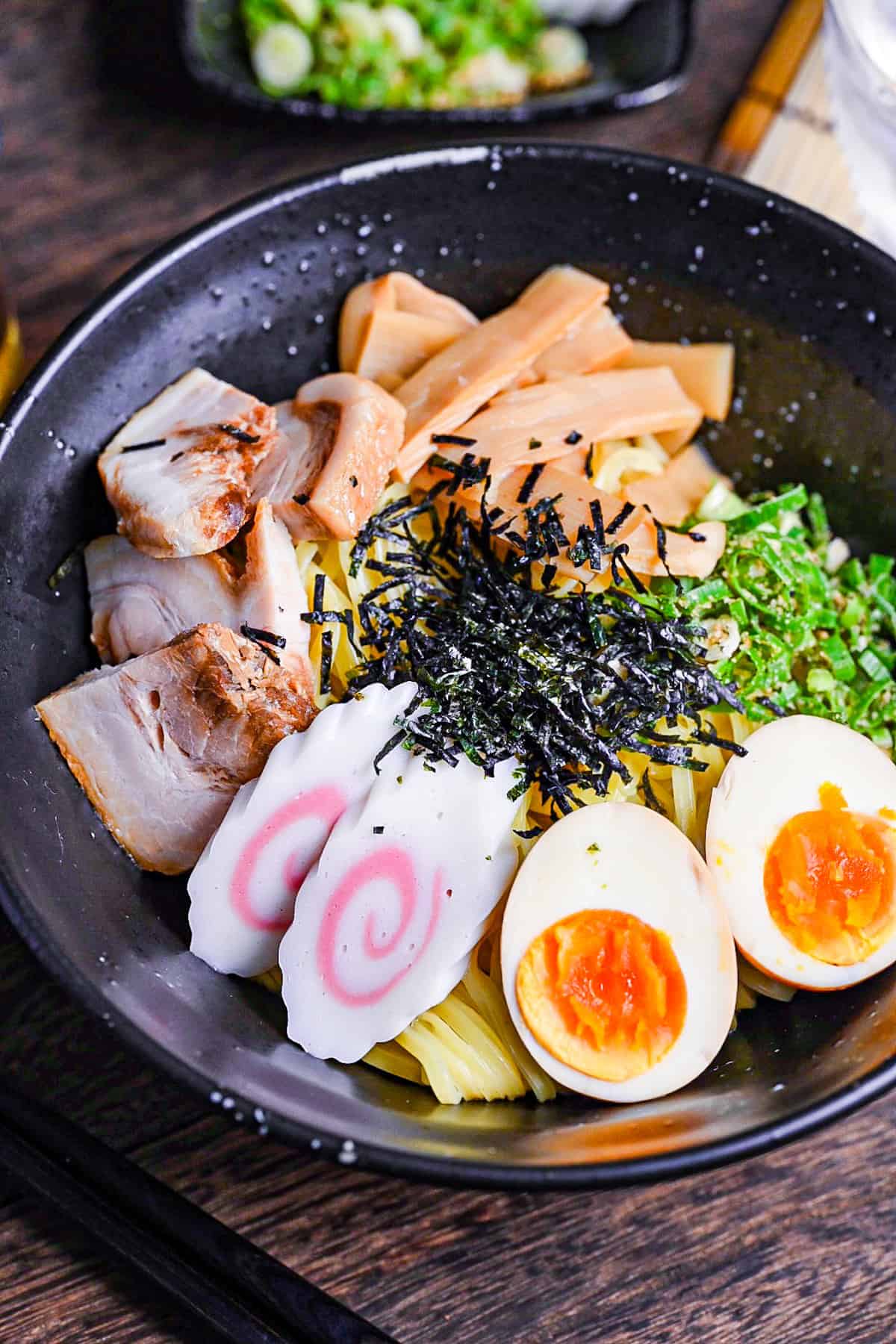 How I Developed This Recipe
If you have seen my Shio Ramen and Shoyu Ramen recipes, you already know that creating authentic ramen from scratch can require a lot of time and effort.
With abura-soba, I saw an opportunity. Given its soup-less nature, I pondered on how I could streamline the process without compromising on authenticity. After much experimentation and tweaking, I'm proud to present a recipe that strikes the perfect balance.
It's a delightful blend of ease and authenticity, capturing the essence of abura-soba in a fraction of the time.
Ingredients and Substitution Ideas
Tare (Sauce) Ingredients: For that rich and flavorful sauce, I combined water, oyster sauce, soy sauce, rice vinegar, sesame oil, Chinese-style chicken bouillon powder, lard, garlic paste, and light brown sugar. This mix gives the Abura Soba its signature taste, packed with depth and umami.
Ramen Noodles: Fresh ramen noodles are the way to go if you can find them. But if they're hard to come by, try spaghetti instead of settling for instant ramen noodles. Trust me on this one; spaghetti can mimic ramen texture with a few tweaks. Curious about how? Check out my Spaghetti Ramen Hack article.
Toppings: Here's where you can get creative. I love adding finely chopped green onion, ground sesame seeds, a sprinkle of black pepper, tender pork chashu, perfectly cooked ramen eggs, seasoned bamboo shoots (menma), narutomaki, and a bit of chopped sushi nori seaweed. But remember, it's your bowl of ramen. If you're not into chashu pork, swap it out for your favorite grilled meat. And if ramen eggs aren't your thing, a simple soft-boiled egg works wonders.
Finishing Touch: I take a cue from Abura Soba restaurants to elevate the dish. A splash of vinegar and a drizzle of chili oil (sesame oil base) mixed in just before eating adds that extra layer of flavor.
Curious about the exact brands and products that bring my recipes to life? Discover the brands and ingredients behind my recipes at the Sudachi Amazon Storefront. Explore my handpicked pantry essentials and find your next kitchen favorites!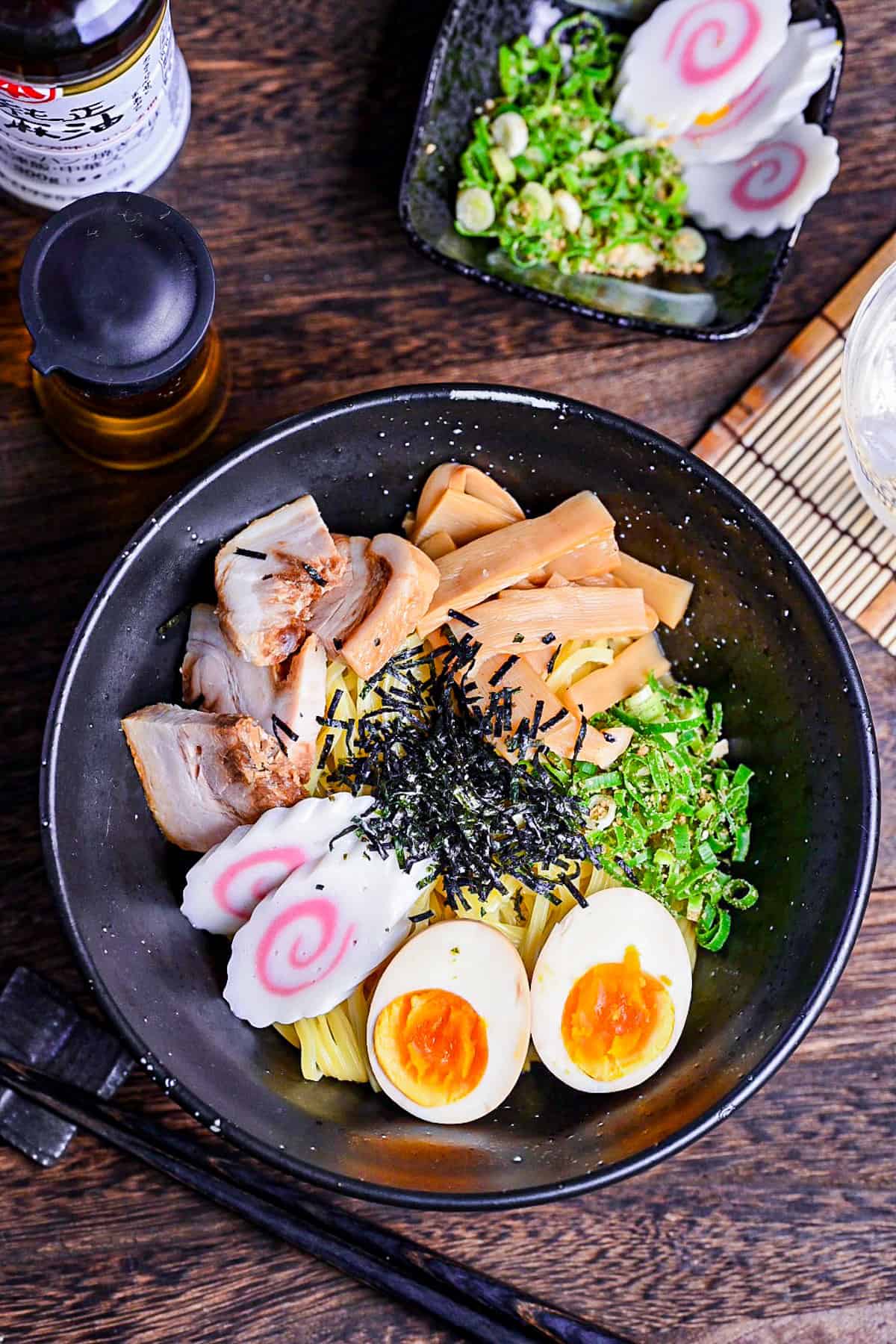 Step-by-Step Process
Preparing the Abura Soba Tare (Sauce)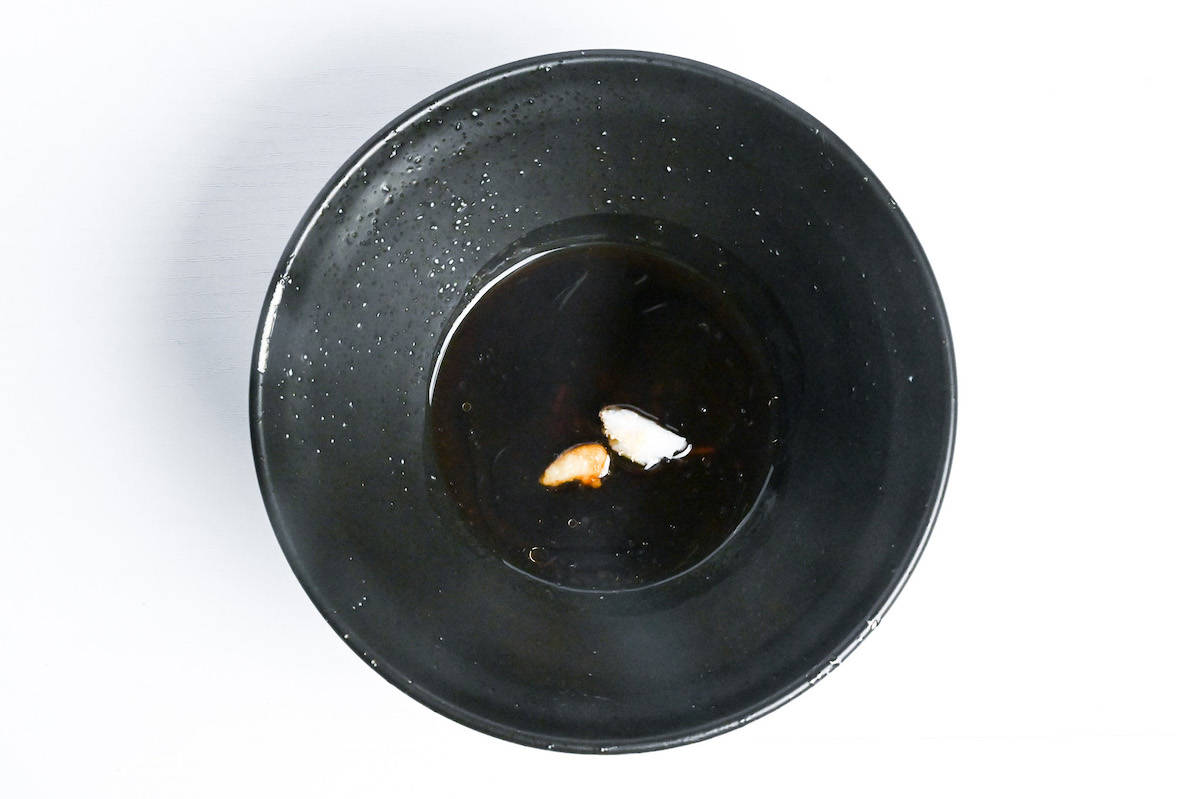 The tare sauce is the heart of Abura Soba. Grab your noodle bowls, and in each one, pour water, oyster sauce, soy sauce, rice vinegar, and sesame oil. Add chicken stock powder, lard, garlic paste, and light brown sugar. Give it a good mix.
Note: Make sure to use microwavable bowls since we will heat the tare later.
Mix your tare ingredients in a jug rather than having to measure out each bowl individually. Just make sure to divide it equally later!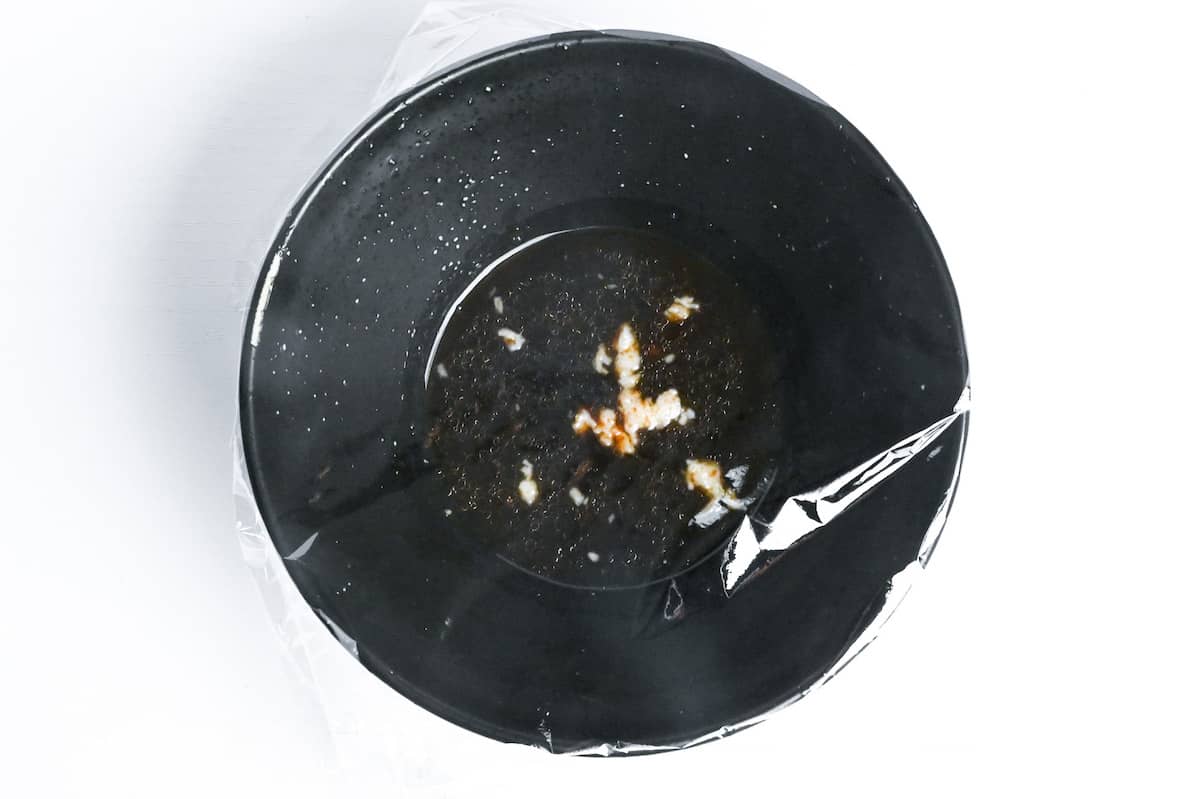 Cover the bowls with plastic wrap, then set aside for now.
Cooking the Noodles and Prepping Toppings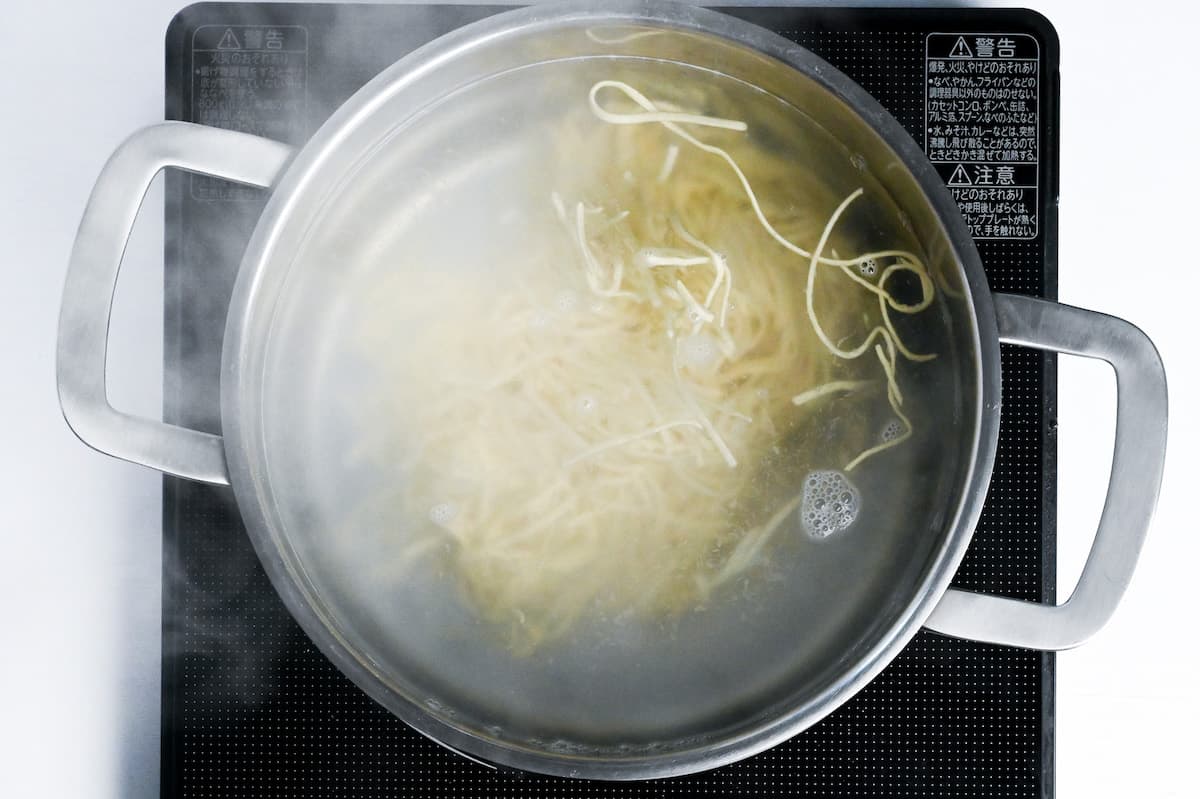 Boil ramen noodles as per the instructions on the packaging. Make sure you use a large pot of water to allow the noodles plenty of room to move.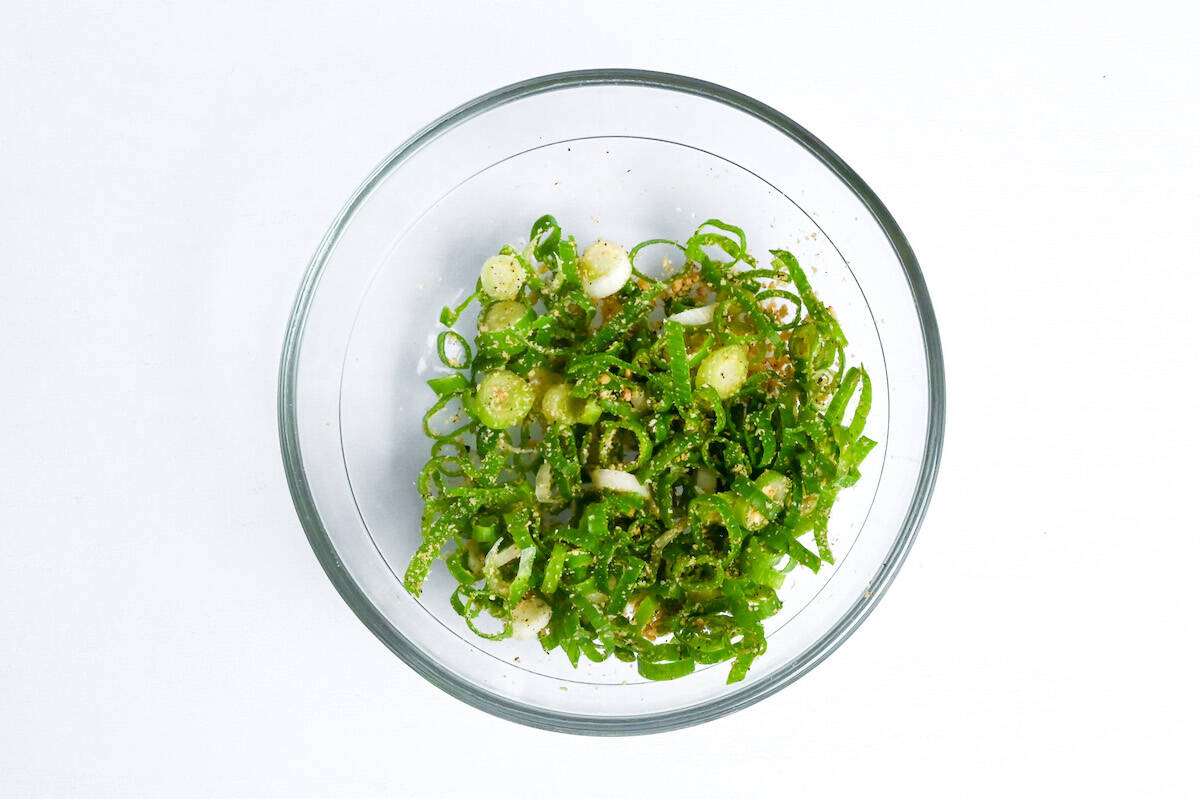 While they're cooking, let's prep the toppings. Mix chopped green onions, ground sesame seeds, and black pepper in a separate bowl. This mix adds a delicious flavor to the dish.
You can also use this time to slice your chashu, narutomaki and prepare the toppings of your choice.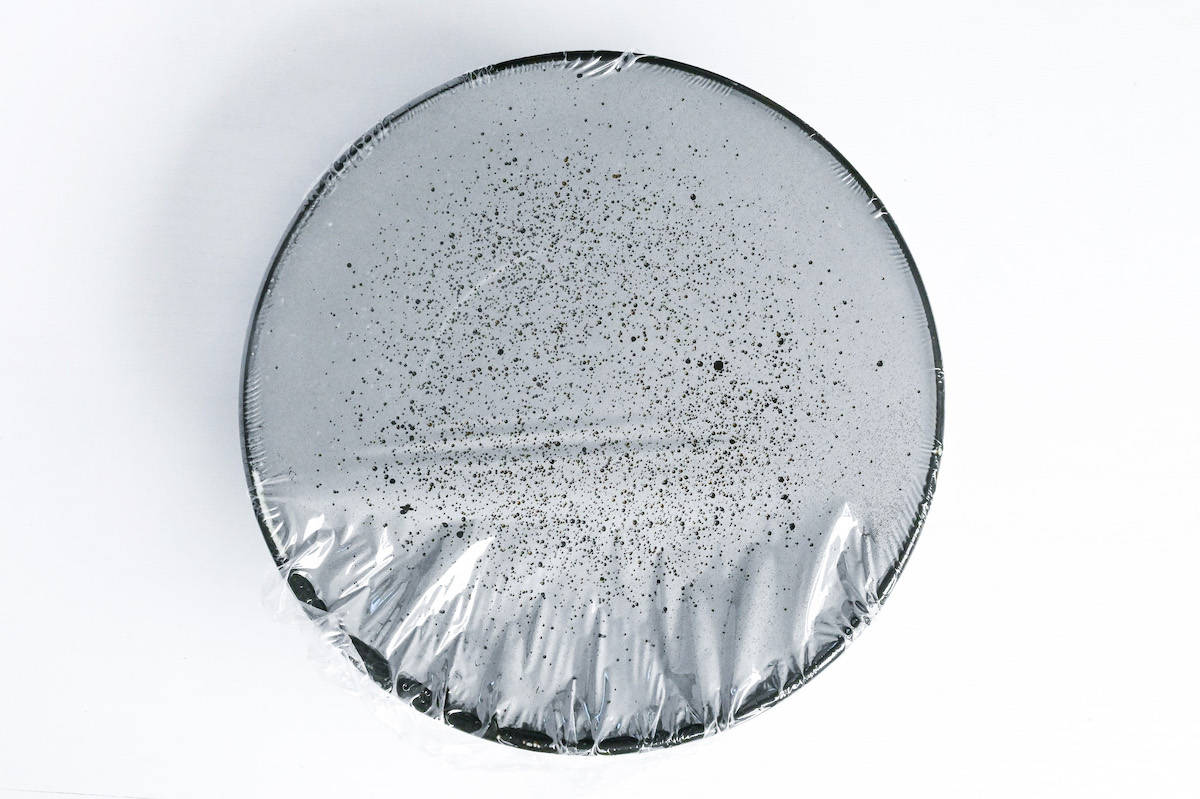 When there's just 1 minute left for the noodles to cook, pop the covered bowls with tare into the microwave.
Heat them for 1 minute at 600W. This warms the sauce through and helps the ingredients dissolve and meld together, ensuring even flavor when mixed with the noodles.
Tip: If making a large batch in a jug, increase the microwave time accordingly.
Assembling the Abura Soba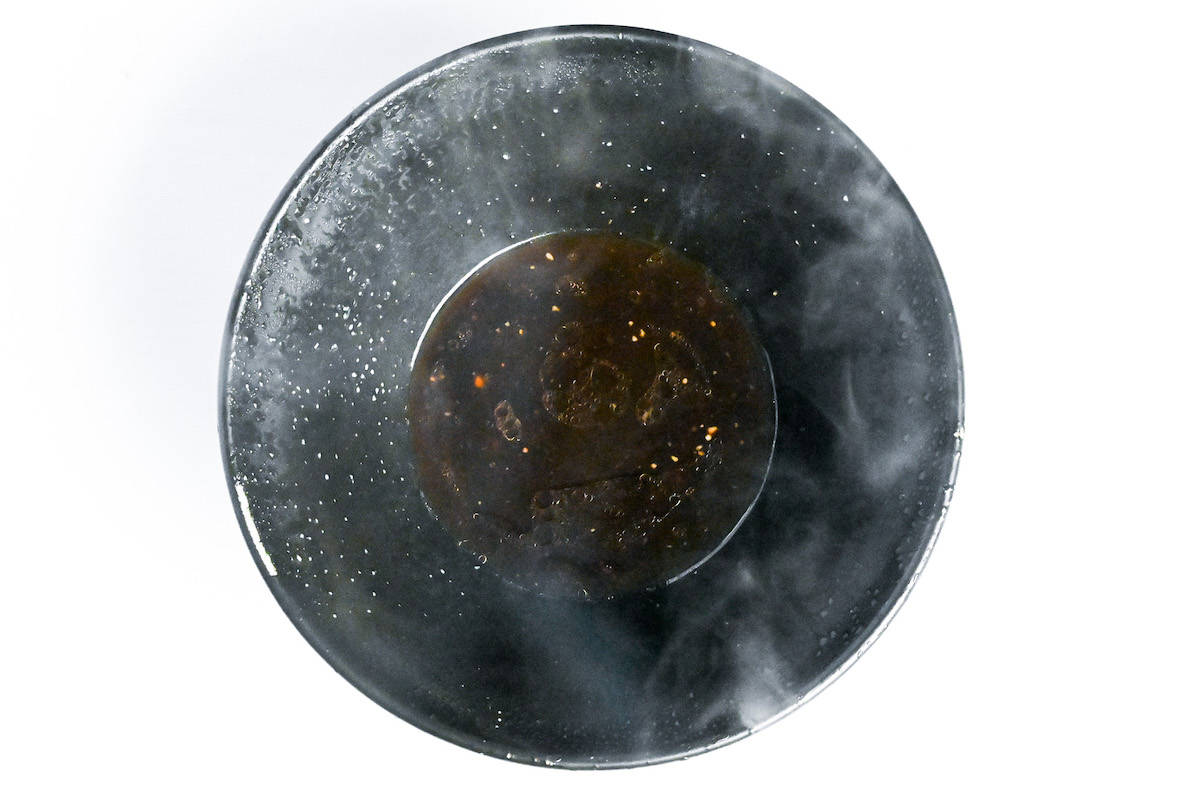 Once done, carefully remove the bowls from the microwave, remove the plastic wrap and give it a final mix.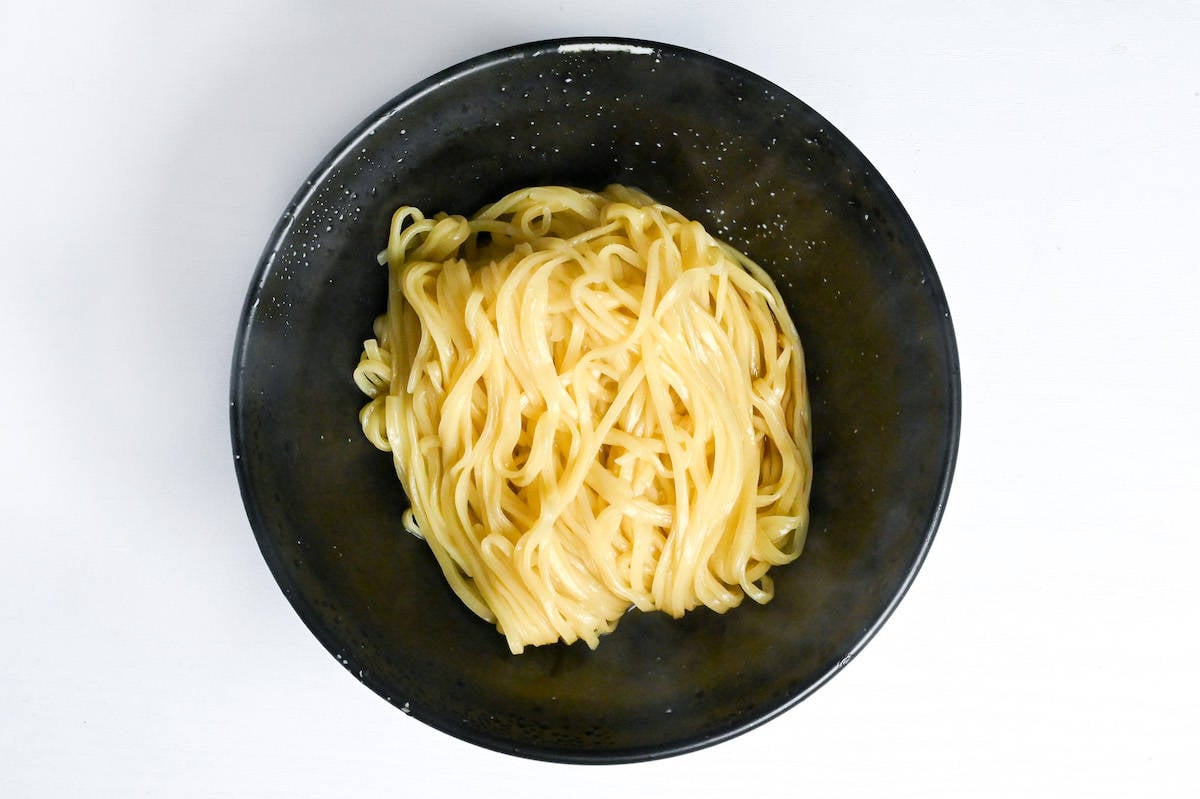 Drain the cooked noodles using a sieve or colander and rinse with fresh hot water to remove any excess starch. Divide them between the serving bowls, placing them directly on top of the tare.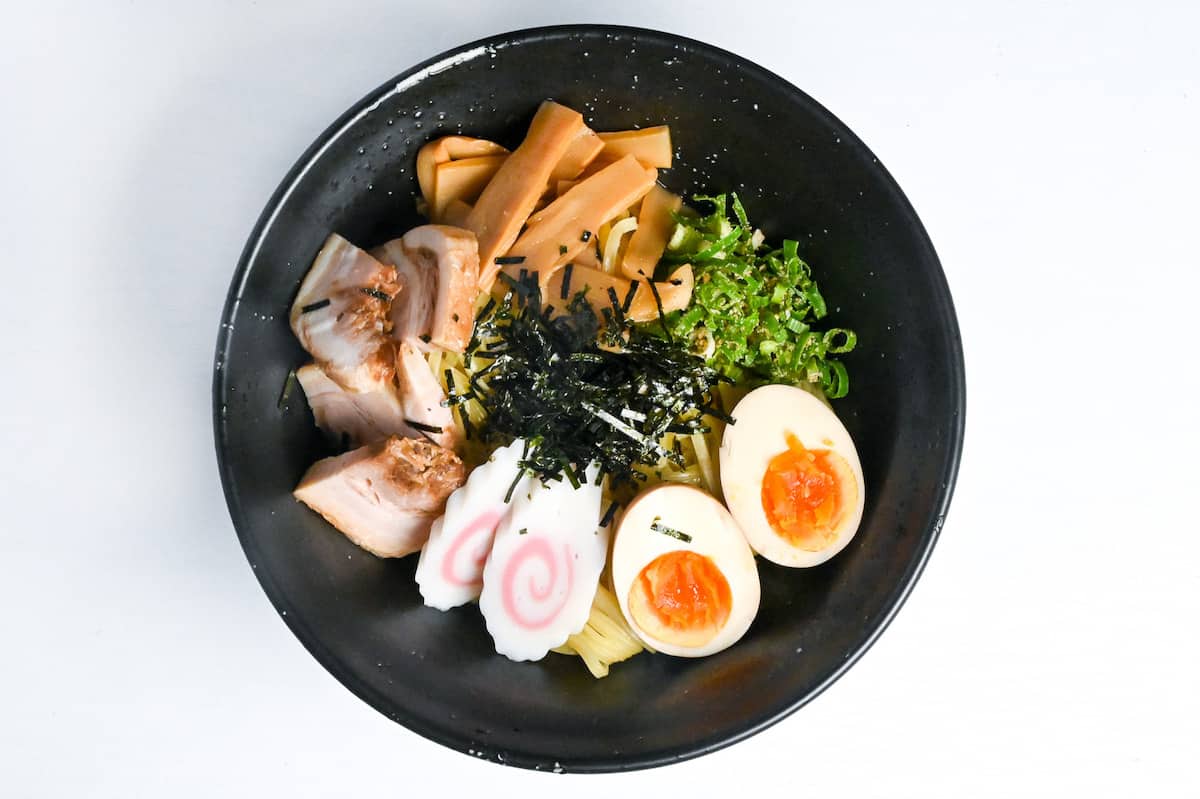 Now, for the fun part! Arrange slices of pork chashu, ramen eggs, bamboo shoots, and narutomaki over the noodles. Garnish with nori seaweed for that extra touch.
Finishing Touches Like A Pro
Abura soba is one dish with its own set of "rules" recommended to be followed to savor the dish to the max. Though these rules may differ from one restaurant to another, here are some common steps to apply to your homemade abura soba!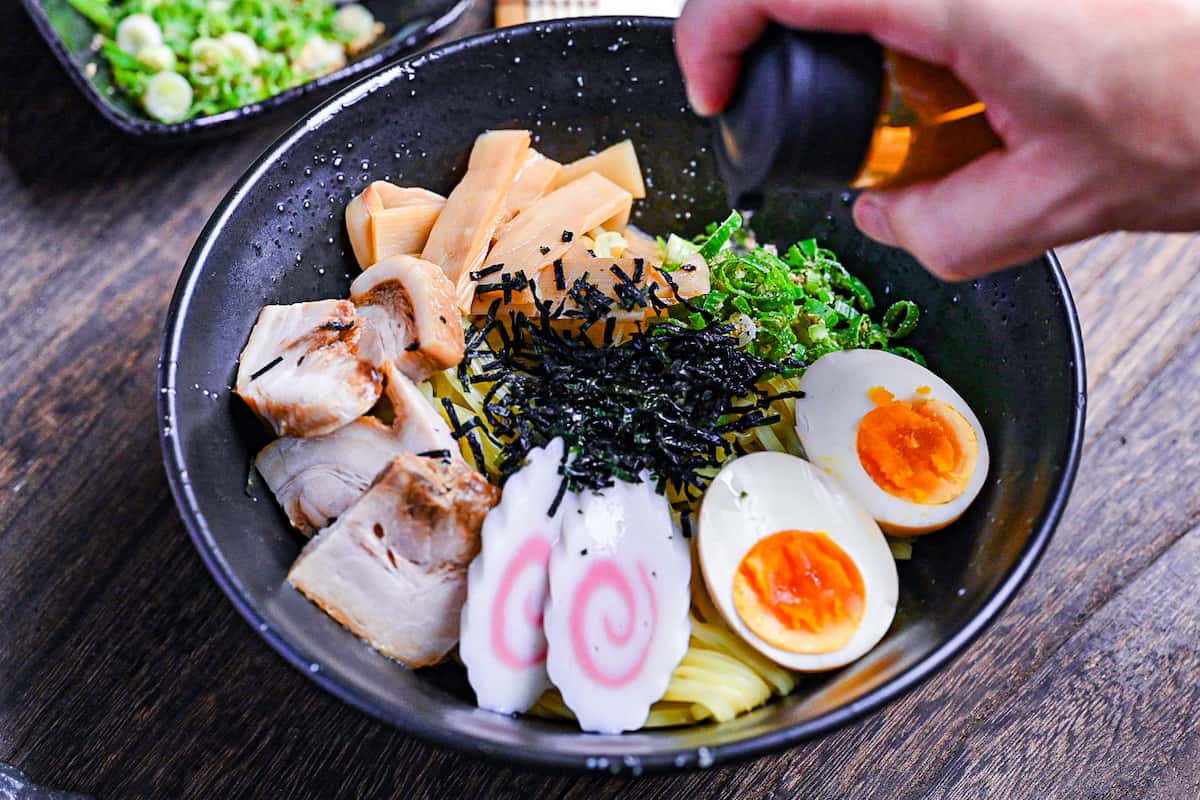 Firstly, add vinegar to the bowl. You can pour a dash of rice vinegar on a regular serving to add balance to the dish. The amount you add depends on preference, but add a little at a time to ensure you don't overdo it.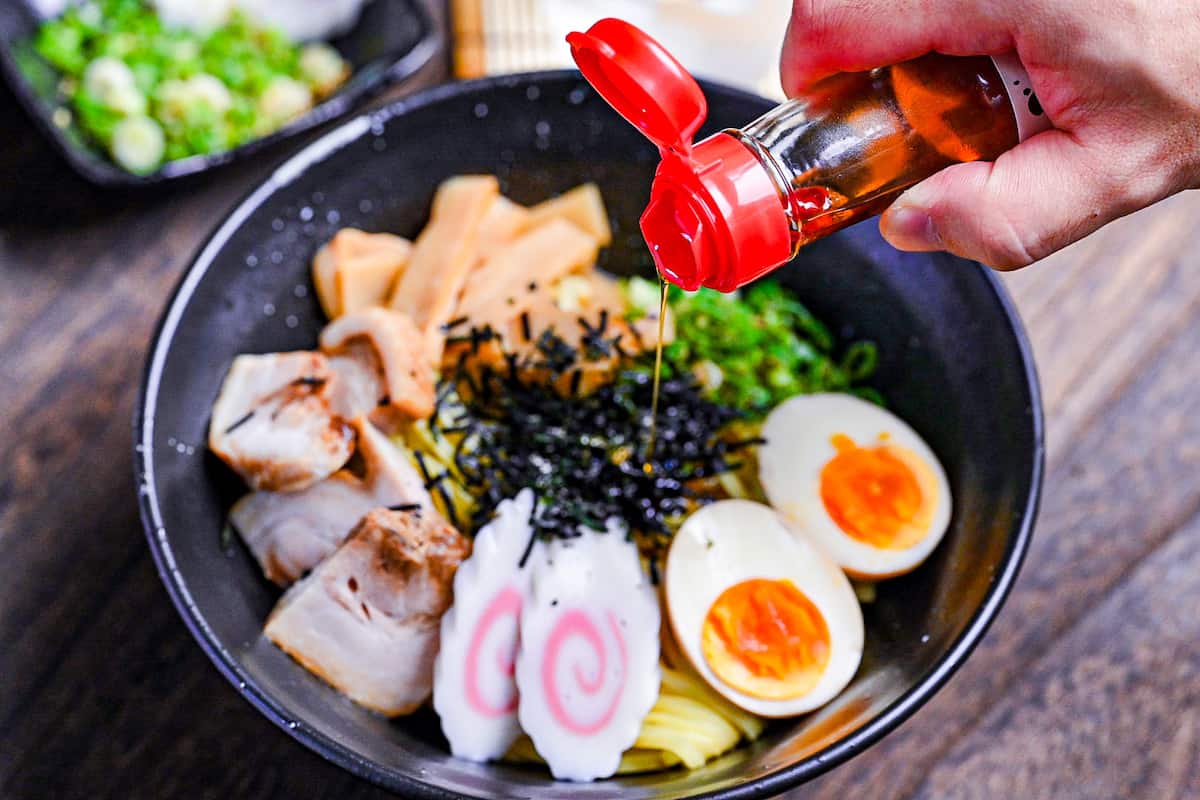 Next, pour sesame-based chili oil (raayu) over the bowl. The amount of chili oil should be roughly the same as vinegar. Adjust the amount according to your taste and spice tolerance.
If you don't like spicy food, you could substitute this with plain sesame oil.
Mixing the ingredients and sauce thoroughly is essential to avoid uneven taste. This step is crucial and should not be skipped. It may look messy, but that's the beauty of abura soba!
Lastly, make sure to eat while it's hot. Abura soba tends to lose its flavor as it cools down. Serve it hot with vinegar and raayu.
You should add the vinegar and raayu at the beginning before mixing so that they can combine well with the hot noodles that heat up the sauce. Adding them later will result in uneven flavor.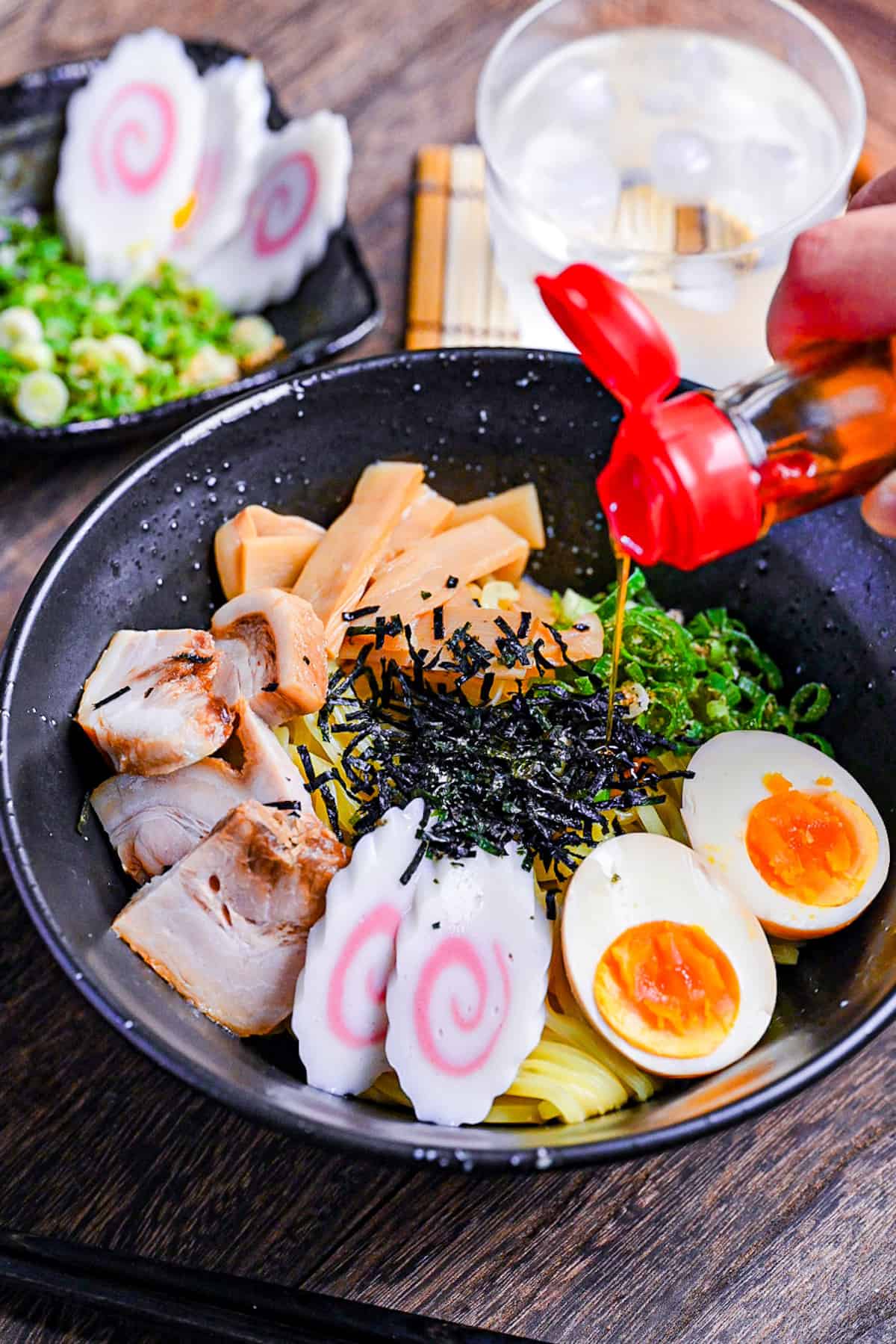 Storage
It is not advisable at all to store abura soba considering its soupless nature. It is recommended to prepare only the amount of ramen you plan to eat.
Ramen noodles become mushy and lose their texture terribly when stored, making them unappetizing. Therefore, it is best to avoid storing ramen altogether.
More Ramen Recipes
If you loved this recipe, check out some of my other soupless ramen dishes: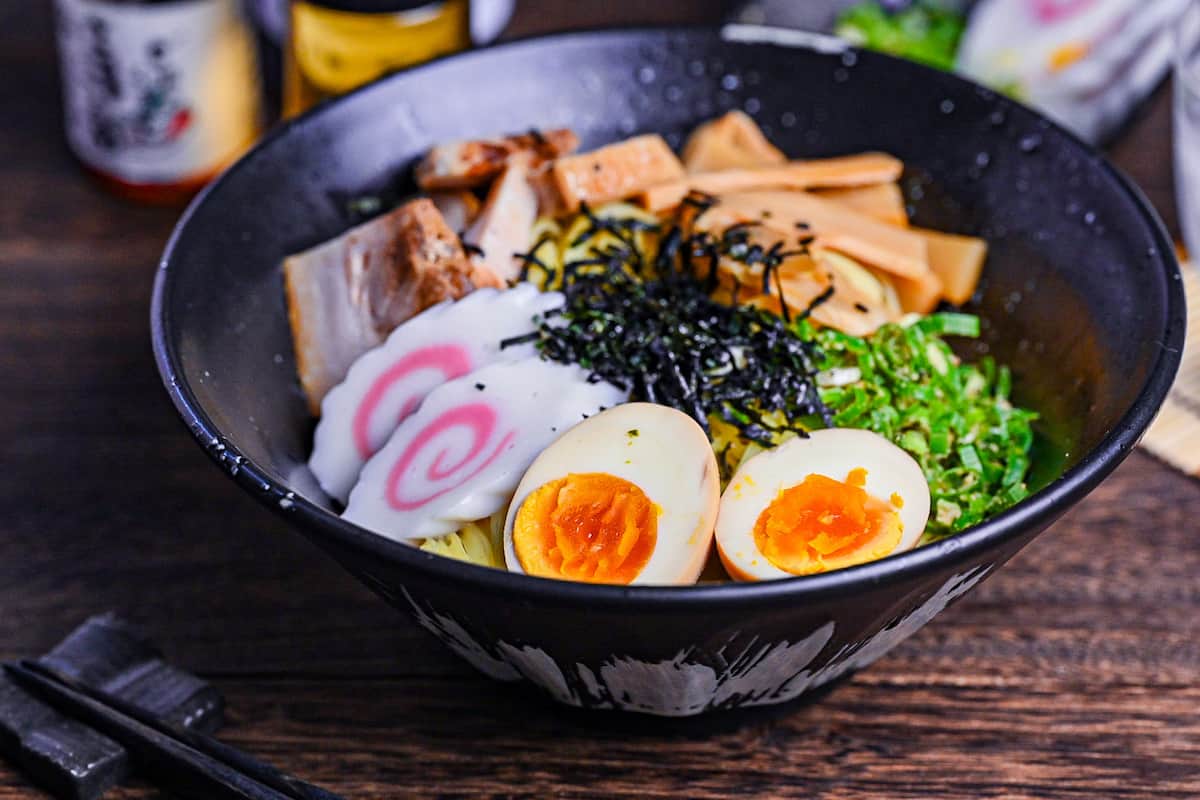 I hope you enjoy this easy abura soba recipe! If you try it out, I'd really appreciate it if you could spare a moment to let me know what you thought by giving a review and star rating in the comments below. It's also helpful to share any adjustments you made to the recipe with our other readers. Thank you!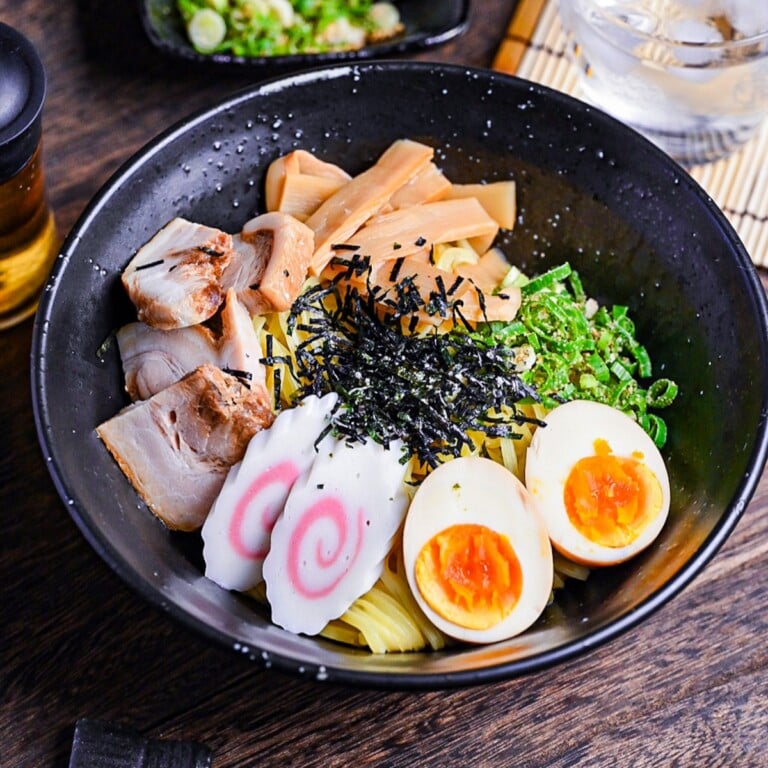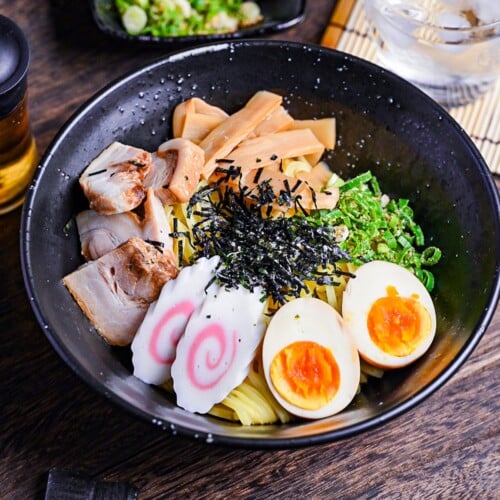 Abura Soba (Soupless Ramen)
---
How to make quick and easy abura soba, a soupless ramen dish made with a rich and flavorful sauce served with all your favorite ramen toppings!
---
---
---
---
Ingredients
Tare (sauce)
2

tsp

water

4

tsp

oyster sauce

4

tsp

soy sauce

2

tsp

rice vinegar

2

tsp

sesame oil

2

pinches

Chinese-style chicken bouillon powder

optional

1

tsp

lard

1

tsp

garlic paste

½

tsp

light brown sugar
Abura Soba
2

portions

ramen noodles

3

tbsp

green onion(s)

finely diced

½

tbsp

ground sesame seeds

1

pinch

black pepper

4

pieces

pork chashu

2

ramen egg(s)

or soft boiled egg

seasoned bamboo shoots "menma"

menma

naruto fish cake "narutomaki"

narutomaki, optional

sushi nori seaweed(s)

nori seaweed, to garnish

chili oil

to garnish

rice vinegar

to garnish
Instructions
Mix the Tare
Add the following to each (microwavable) serving bowl: 1 tsp water, 2 tsp oyster sauce, 2 tsp soy sauce, 1 tsp rice vinegar, 1 tsp sesame oil, a pinch of chicken stock powder, 1/2 tsp lard, 1/2 tsp garlic paste and 1/4 tsp of light brown sugar.

Mix the sauce and cover the bowls with plastic wrap, then set aside.
Prepping and Assembling the Abura Soba
Boil

2 portions ramen noodles

according to the instructions on the packaging. 

Mix

3 tbsp green onion(s)

,

1/2 tbsp ground sesame seeds

and

1 pinch black pepper

together in a bowl.

When the noodles have 1 minute left of cooking time, place the covered bowls with tare in the microwave and heat for 1 minute on 600W.

Take the bowls from the microwave and remove the plastic wrap. 

Drain the noodles using a sieve and rinse with fresh hot water to remove excess starch. Divide them between serving bowls, placing them on top of the tare.

Arrange pork chashu, ramen eggs, bamboo shoots and narutomaki on top of the noodles. Garnish with shredded nori.

Drizzle with chili oil and rice vinegar to taste, then mix thoroughly before eating. Enjoy!
Nutrition
Serving:
264
g
|
Calories:
467
kcal
|
Carbohydrates:
70.3
g
|
Protein:
23.1
g
|
Fat:
16.4
g
|
Saturated Fat:
4.18
g
|
Polyunsaturated Fat:
4.26
g
|
Cholesterol:
215
mg
|
Sodium:
2066
mg
|
Fiber:
7.4
g
FAQ
What is the origin of Abura Soba?
Abura soba is a dish that is believed to have originated in Tokyo in the mid-1950s. There are two theories about its origins.

The first theory suggests that abura soba was first served at a restaurant near Hitotsubashi University in Kunitachi, Tokyo around 1953.

The second theory states that it was created in a restaurant near Asia University in Musashino, also located in Tokyo. Since these two universities are only about a 30-minute train ride away from each other, it is reasonable to assume that abura soba originated from that general area.
Why is it called "abura (oil)"?
The Japanese word "abura" means "oil," which is reflected in the name of the dish "abura soba." However, contrary to the name, the dish is not that oily. In fact, only a small amount of oil is used in the dish. It is essentially a soupless version of ramen, made with the same noodles and toppings as a typical ramen dish. Therefore, a more accurate translation for "abura soba" would be "soupless ramen".
Are there any other ways to call soupless ramen?
Different names are used for the dish, including Monja soba (もんじゃそば), Maze soba (まぜそば), Tenuki soba (手抜きそば), and Abu ramen (あぶらーめん). The specific name depends on the restaurant or region, and may also depend on the sauce or toppings used. The name "mazesoba" (混ぜそば) or "mixed soba" actually originated in Aichi, where I live.
What kind of noodles are used for abura soba?
The name "abura soba" is quite misleading as they are not made with soba noodles. In Japanese, ramen noodles are sometimes referred to as "Chinese noodles" (chuukamen / 中華麺) or "Chinese soba" (Chuuka Soba / 中華そば). Therefore, the "soba" part of the name means "chuuka soba" and not buckwheat soba noodles. In general, ramen noodles made with wheat flour and cooked in lye are used for abura soba.