Katsuobushi, widely known as "bonito flakes", are a unique ingredient made of thin shavings of wood smoked bonito fish and play an important role in Japanese cuisine. The smokey aroma and rich taste add deep flavour and umami to each dish in which they're added. Learn everything you need to know about katsuobushi from its history and how it's made, to how to make your own katsuo dashi like a pro!
Disclaimer: This post contains Amazon affiliate links. Sudachi Recipes earn a small percentage from qualifying purchases at no extra cost to you. See disclaimer for more info.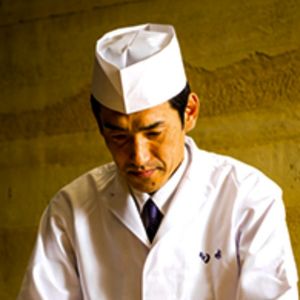 Jump to:
What are bonito flakes (katsuobushi)?
Katsuobushi is made from a type of fish called bonito (katsuo in Japanese), a close relative of the skipjack tuna. The flesh is simmered, smoked over firewood, and dried to a crisp (arabushi) or by attaching a fungus to it (honkarebushi) to allow it to ferment.
In Japan, dried bonito flakes are shaved and boiled to extract the aroma and flavor, just like brewing tea, and used as "katsuo dashi" (bonito stock) in all kinds of cooking. This "bonito dashi" is unique to Japan and is an essential part of Japanese cuisine.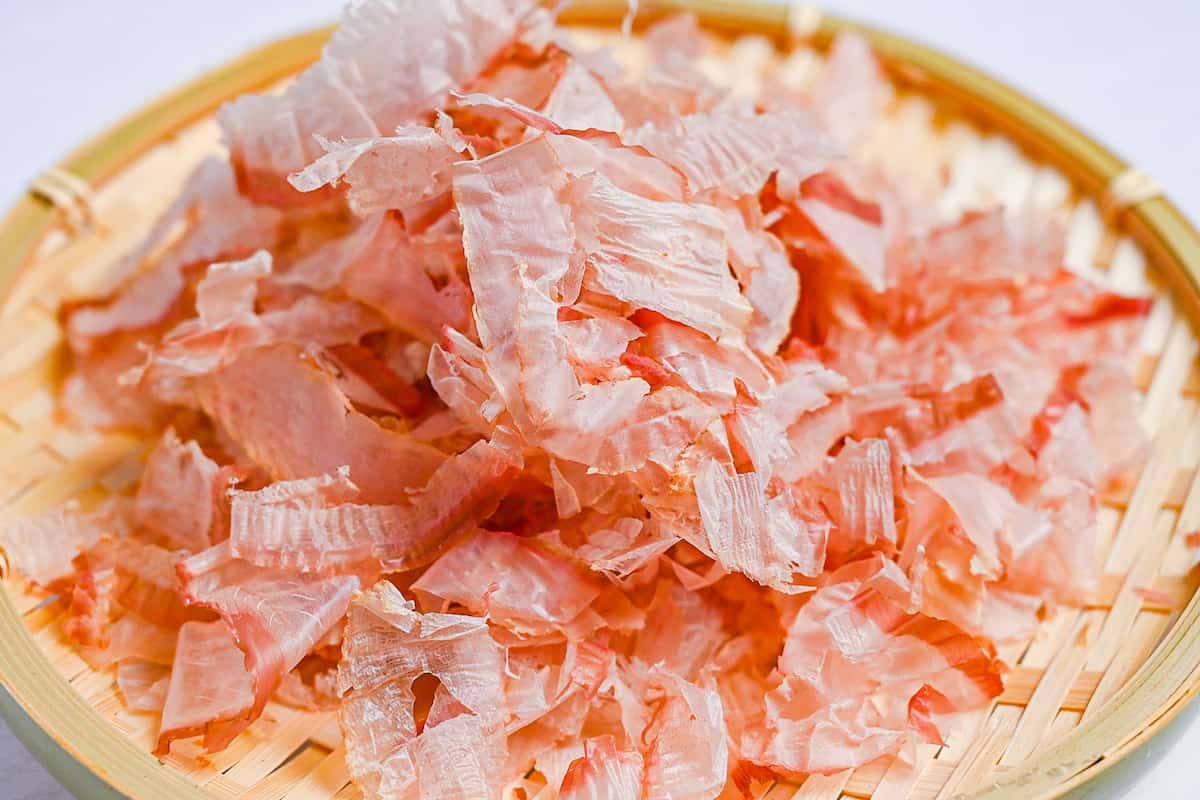 Brief history of katsuobushi
Japan's love for bonito, or "katsuo," goes back to the Yayoi period (300 B.C. - 250 A.D.), when rice farming spread and bonito soup became a popular source of protein.
It was during the Edo period (1603-1867) that katsuobushi, or dried bonito flakes, were made using today's methods. This period also saw the start of using katsuo dashi (bonito broth), which revolutionized and expanded Japanese cuisine. So, after much trial and error, dried bonito flakes have become a crucial part of Japan's culinary tradition.
How are bonito flakes are made?
Dried bonito flakes are made from bonito fish that are low in fat and not very large in size. This is because high-fat bonito would oxidize quickly, losing quality and making the broth cloudy.
Larger bonitos are more difficult to dry, so only selected bonito are used. Want to know how dried bonito flakes are made? Let's take a quick look at the process!
Cutting fish (Namakiri/生切り)
Cut selected bonito, remove the head and entrails, and form into comb-like shape.
Arrange the knotted bonito in a basket (Kagodate/籠立て)
Arrange the bonito in a basket for boiling and ripening.
Remove the bones from the bonito that has been boiled.
In the process up to this point, parts of the bonito that are missing are reshaped and repaired with bonito paste (A mixture of fresh and cooked bonito meat).
Heating by steam (Jousha/蒸煮)
Steam at high temperature to tighten the bonito and sterilize the surface.
The bonito is dried in a wood-fired room while being smoked to remove water.
The tar on the surface is scraped off and shaped. Arabushi (荒節) are shipped in this state, while the honkarebushi (本枯れ節) proceed to the next stage of the process.
The mold, which is safe to eat, is adhered to the surface, allowing the mold to grow and break down the fat.
Sun drying (Tenpiboshi/天日干し)
Once the mold has grown, it is dried in the sun, the mold is brushed off, and the drying in the sun is repeated several times with more mold, until the dried bonito flakes are ready for the katsuobushi craftsman to assess its condition. This is how honkare-bushi is made.
Types of katsuobushi
There are two types of dried bonito flakes: "Ara-bushi (荒節)" and "Honkare-bushi (本枯れ節)". Ara-bushi is katsuobushi that have been smoked without mold and has the following characteristics:
Has a smoky aroma and strong flavor.
Tends to produce acidity and astringency in the broth.
Often used for boiled dishes, miso soup, etc.
On the other hand, "Honkare-bushi" is katsuobushi with the tar removed when "Ara-bushi" is smoked and it's fermented with an edible mold. Its characteristics are as follows:
Has richer umami than "Ara-bushi".
The mold reduces acidity and astringency, giving it a clean flavor and aroma.
Has a mild umami taste with less acidity, so it is often used for clear soups.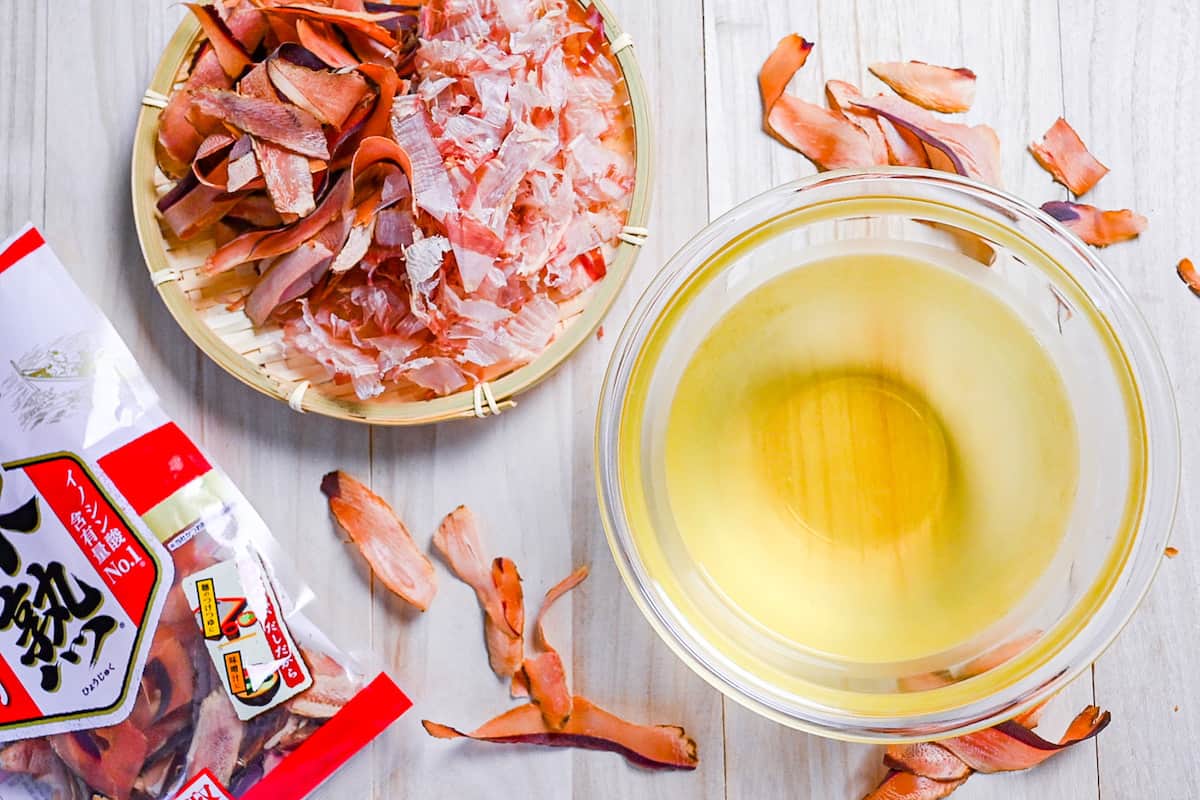 There are also differences between the different types of katsuobushi depending on the method of shaving. Here are the four types of dried bonito flakes and their characteristics.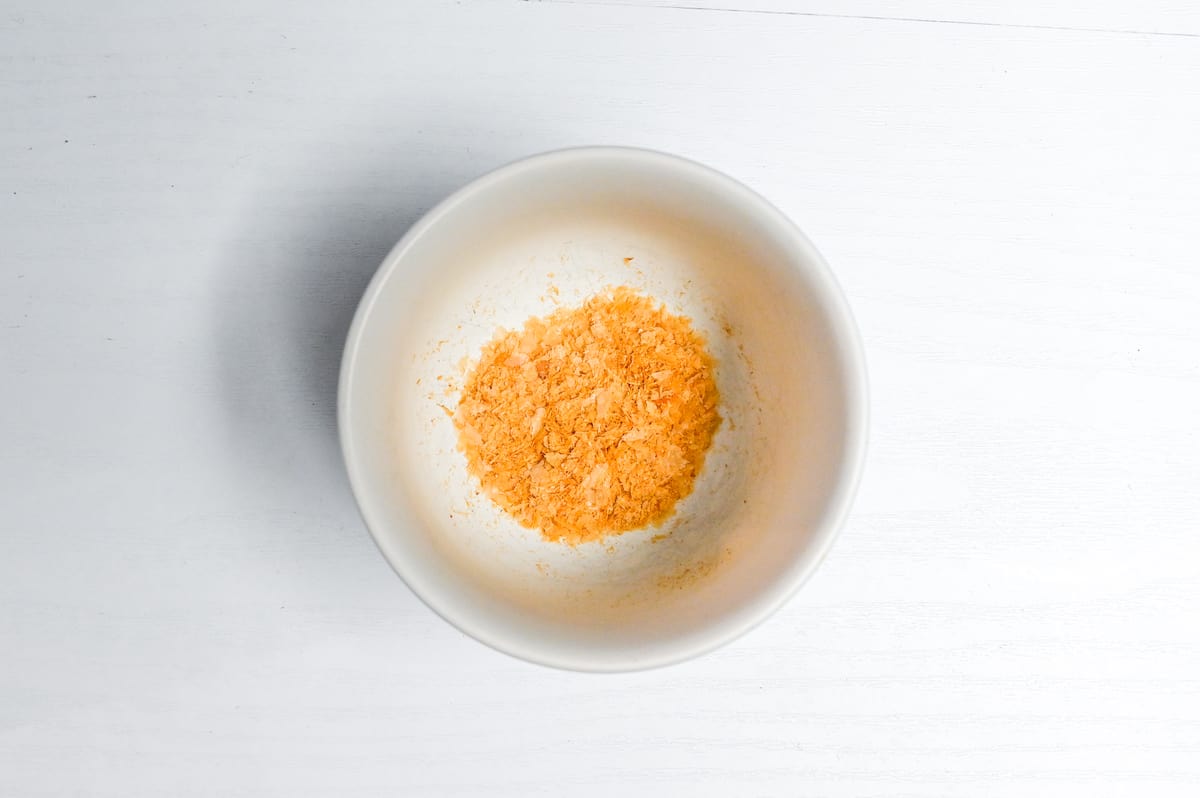 How many times can the same dried bonito flakes be used?
Professional cooks like us typically use dried bonito flakes twice when making dashi: Ichiiban-dashi (first time) and Niban-dashi (second time). In writing this article, I dared to try to see if I could get dashi the third time, but it has no aroma and little umami, so I think it should be used up to twice.
To reuse the used katsuobushi after making broth, you can microwave or pan-dry it, add seasonings, and turn it into furikake (sprinkles). However, busy professional kitchens often don't reuse the already used katsuobushi and throw it away.
As the concept of sustainable practices becomes more widespread, though I feel like we should strive to make the most of our limited resources.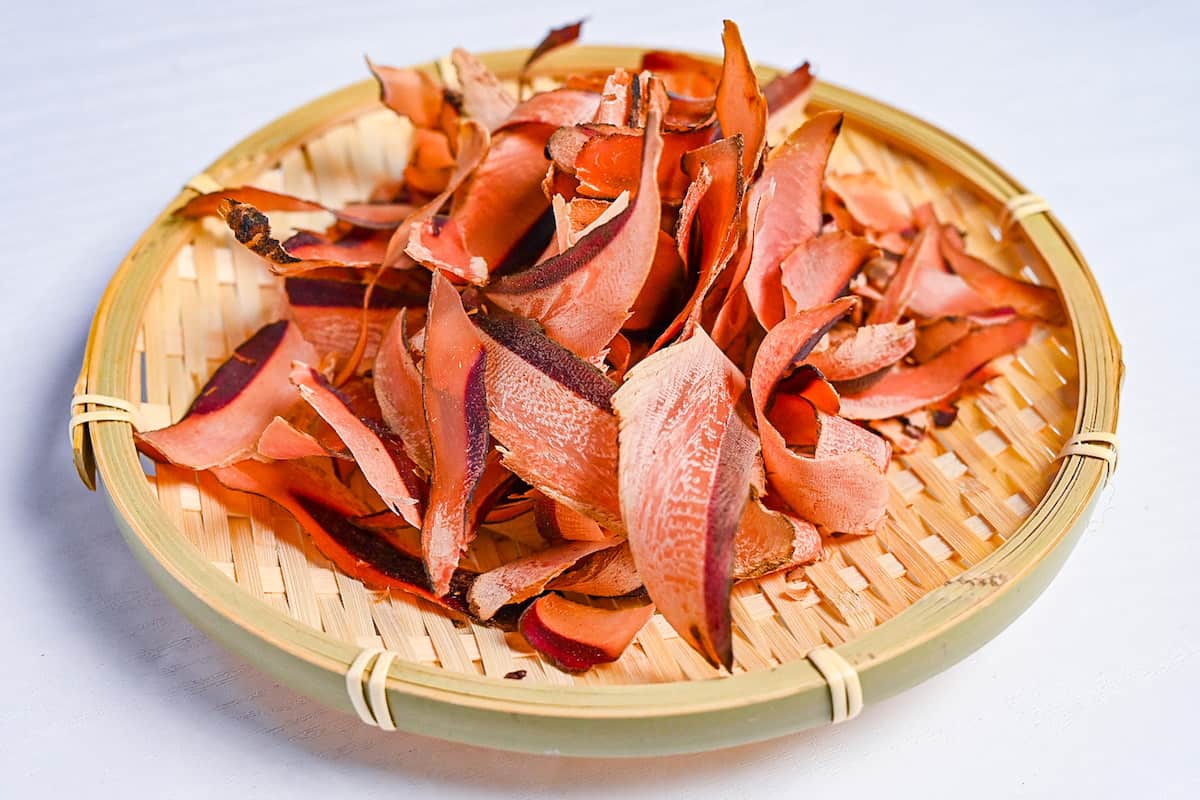 Why the umami of katsuobushi is essential in Japanese cuisine
Taste, the sensation our tongues perceive, includes umami, a term discovered by the Japanese and now recognized worldwide. Dried bonito flakes contain inosinic acid, one of the three most common umami flavors (glutamic acid, inosinic acid, and guanylic acid).
It is safe to say that dried bonito broth forms the foundation of Japanese cuisine. It's so essential that cooking without it is like cooking without a knife and cutting board.
Up until about mid-showa period (1926-1989), even home cooks began their day shaving katsuobushi, but today, many use powdered bonito broth. Japanese restaurant kitchens still start our day preparing dashi broth from dried bonito, using it in soups, miso soup, simmered dishes, boiled vegetables, pickled vegetables, dashimaki tamago, chawanmushi (steamed egg custard), and more.
As the flavor base for every dish, Japanese food and dried bonito flakes go hand in hand.
How to choose good dried bonito flakes
What should you consider when choosing dried bonito flakes? Each type has unique characteristics, so the best one depends on your needs. Let me explain the four main types, starting with the pricier options.
Type
Characteristics
Recommended usage
Honkare-bushi without blood (With the blood part removed)
本枯れ節血合抜き
It produces a clean, highly aromatic bonito broth with little acidity and a rich umami flavor.
Clear soup
Ara-bushi (With the blood part removed)
荒節血合抜き
The shavings are made by removing the blood from the meat, so you can get a clear, elegant soup stock with little cloying taste.
Clear soup
Honkare-bushi
本枯れ節
Molding action breaks down fat and produces a mild, robust broth.
Nimono (simmered dishes) and other Japanese dishes in general.
Ara-bushi
荒節
Smoked fish flavor comes out well and goes well with simmered dishes, miso soup, and other dishes that have strong/rich flavors.
Nimono (simmered dishes) and other Japanese dishes in general.
The four types of dried bonito shavings come from the same fish but go through different processes, giving each its unique traits. Choose the one that best matches your purpose, taste, and budget.
Remember, fish shavings oxidize when exposed to air, so use them quickly. If you have leftovers, store them in the freezer or refrigerator.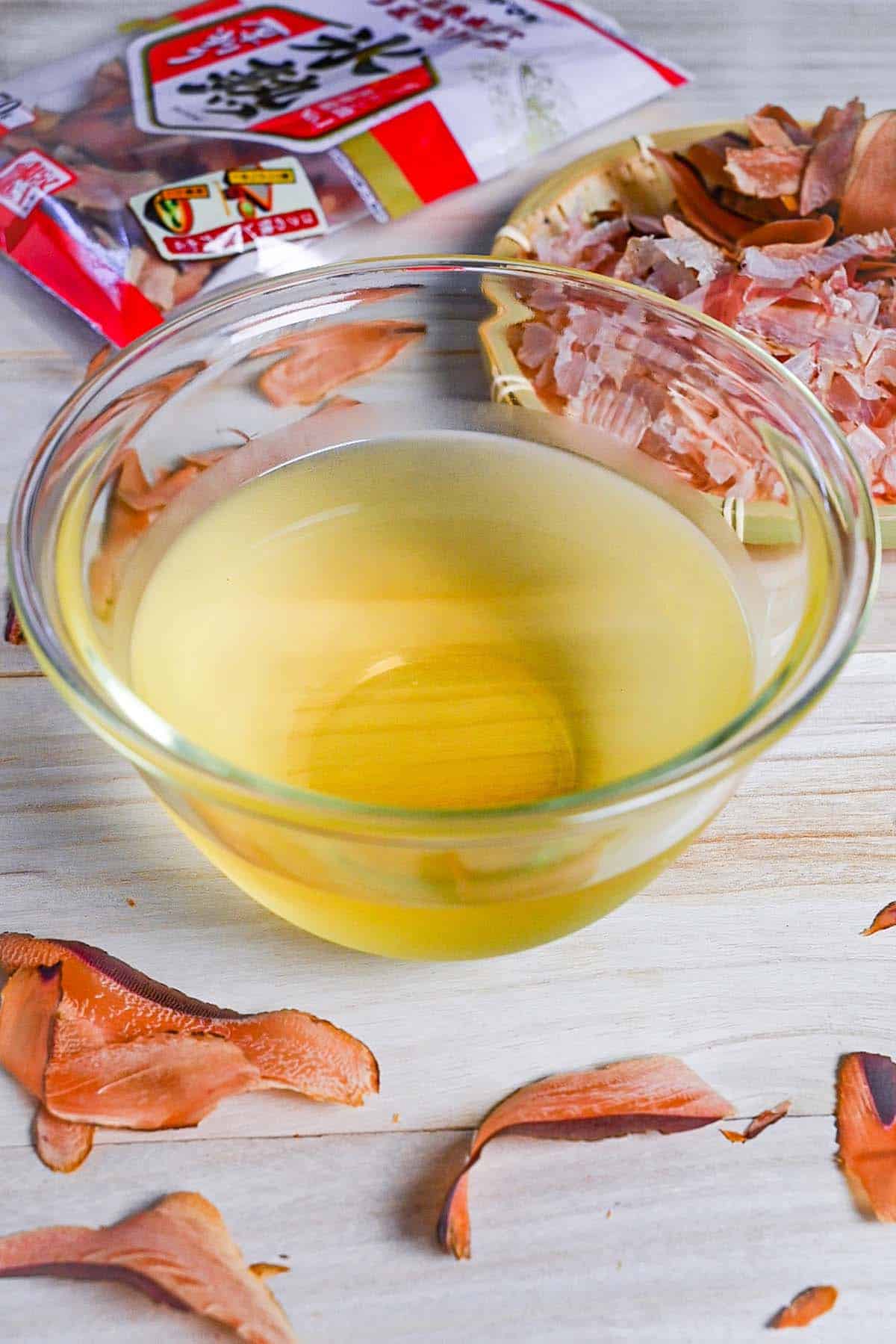 How to make katsuo dashi stock from bonito flakes like a professional
Water plays a crucial role in making dashi, and Japanese water is typically soft. Some countries have hard water, which depends on the region's soil and landscape. The umami of dashi, like dried bonito, shines best with soft water.
Keep in mind that other aspects of Japanese food and drink culture, such as green tea, also rely on soft water. So, when making dashi, use soft water if possible to get the best results.
How to make ichiban (first) dashi
Start by boiling water in a pot. To make a typical bonito dashi, use 1 liter of water for every 30 grams of dried bonito flakes.
Once the water is boiling, turn off the heat and add the bonito flakes. Gently press them down with chopsticks to immerse them in the hot water. Allow to soak for about 1 to 2 minutes, letting them sink to the bottom of the pot.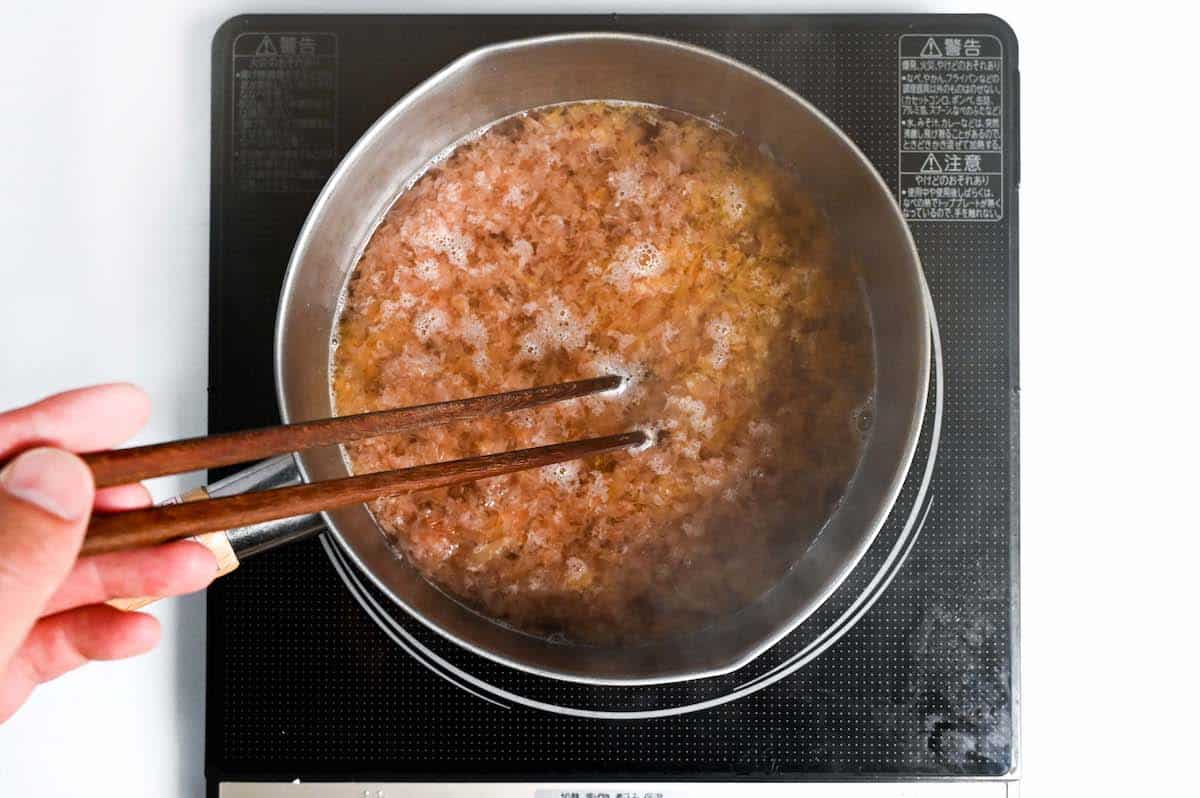 Strain the flakes through a cloth-lined colander. A cloth or kitchen paper is vital for catching the small pieces of bonito flakes and ensuring a clear broth.
Also, don't squeeze too hard at this stage, or you'll get a tangy taste and miss out on a great dashi.
How to make niban (second) dashi
Transfer the leftover bonito flakes from the ichiban dashi back into the pot.
Add 1 litre of fresh water and bring it to a boil.
Add half the original amount of new bonito flakes, in this case, 15g.
Simmer for about 10 minutes on a low heat.
Pour the niban dashi into a cloth lined sieve over a large bowl to strain.
Unlike ichiban dashi, it's okay to squeeze this one since niban-dashi isn't used for clear soup. Use it in simmered dishes or miso soup instead.
Here is a picture of ichiban katsuo dashi (left) and niban dashi (right). As you can see, niban dashi is slightly paler in color.
How to make awase (combined) dashi
Here's how to make the basic ichiban dashi soup stock, which combines dried bonito flakes and kelp umami (glutamic acid):
Ingredients
1 liter of water
30g dried bonito shavings without blood
30g kombu (Rishiri kombu, etc.)
Place kombu in a pot and add the water, then heat the water to 60°C (140°F). Hold the temperature for 1 hour to extract the kelp flavor.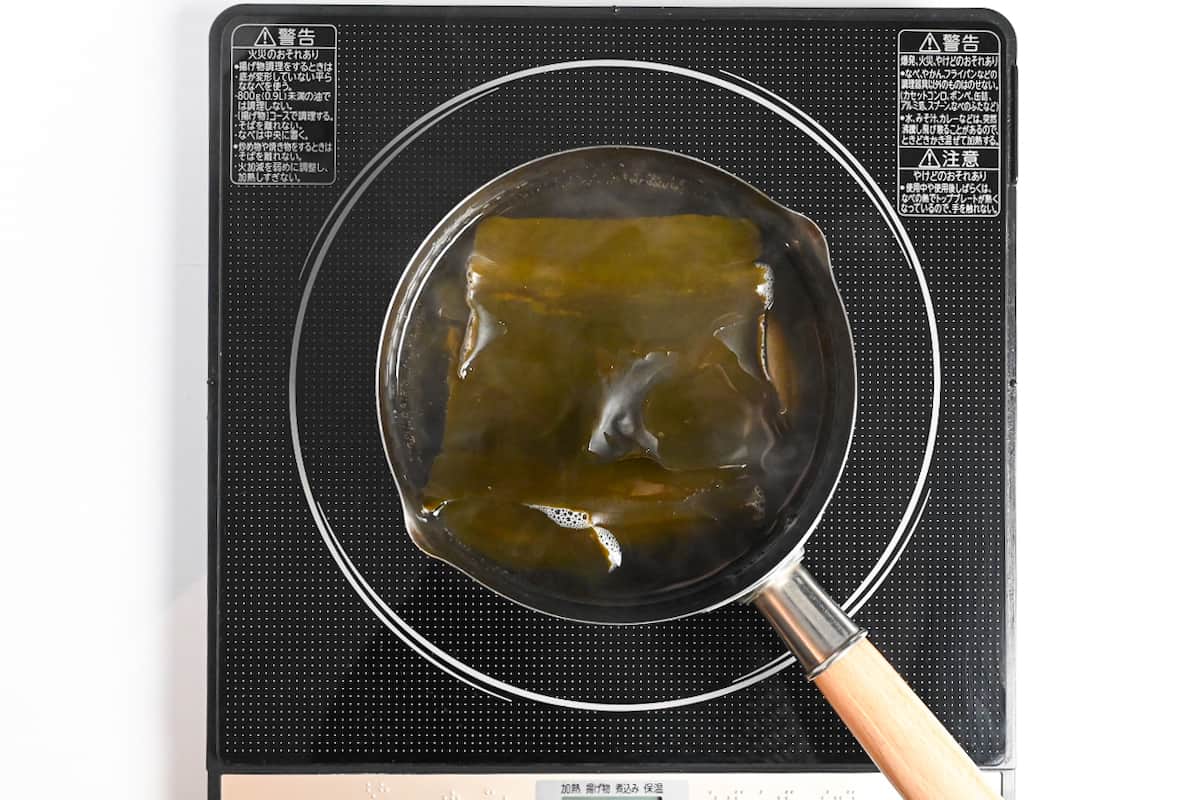 Remove the kelp and add the bonito flakes
Remove the kelp, increase the water temperature to 85°C (185°F), and add dried bonito flakes to release their flavor. Maintain the temperature for 3 to 5 minutes.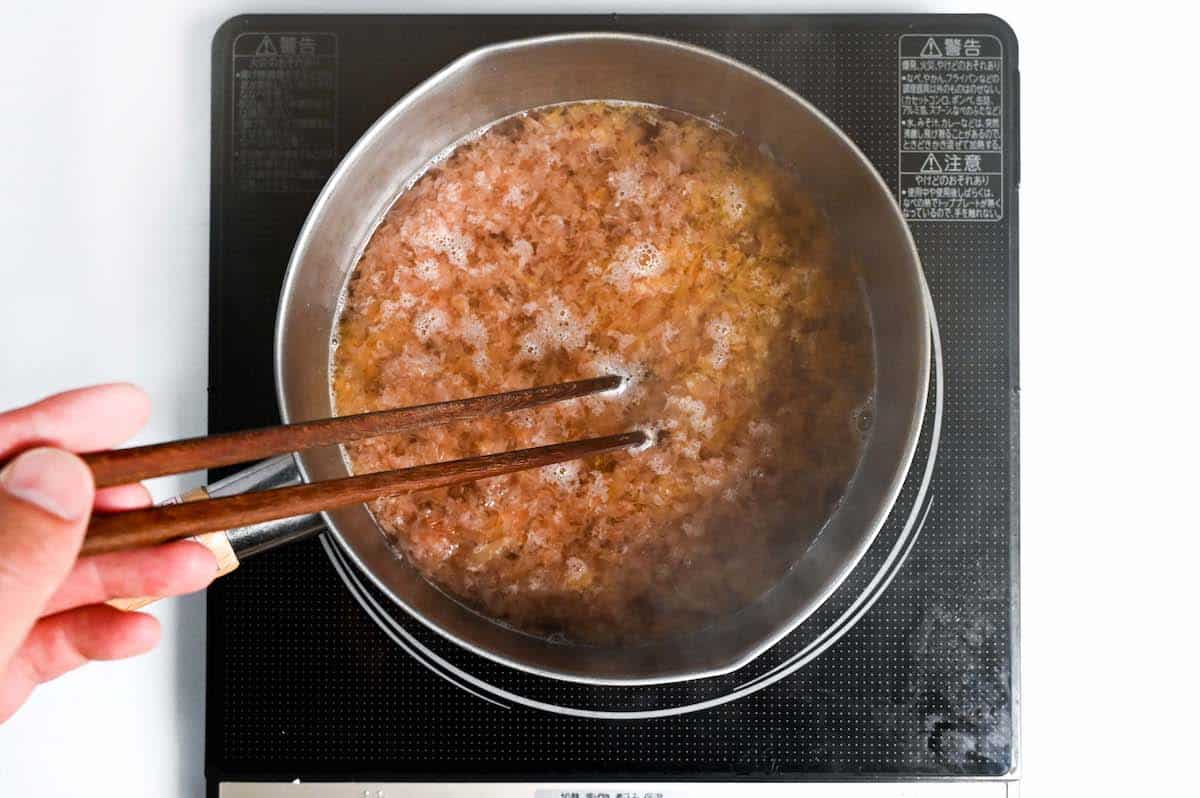 Slowly strain the broth by pouring it through a cloth lined sieve, avoid squeezing to get the best soup stock.
Dashi stock greatly influences a restaurant's overall taste, so even professional chefs that have decades of experience like myself are often nervous about making it. While all dishes are important, even professional Japanese chefs take extra care with dashi.
3 katsuobushi alternatives
If you don't have dried bonito flakes at home to make dashi, don't worry! Here are three alternatives you can find at supermarkets or online:
Granulated dried bonito flakes like this are popular and easy to use. Just add the desired amount to your dish for bonito flavor. Remember, these granules contain salt, so adjust your seasoning accordingly.
Dashi packets like these are like tea bags filled with dried bonito powder (and other elements). Just place a packet in water, heat it, and simmer to make dashi.
Shiro (white) dashi like this is a concentrated type of dashi/light soy sauce, mirin...etc. Dilute it with water based on its intended use.
My wife uses all three options to make delicious meals at home. They taste good, but different from restaurant-prepared bonito broth. This difference is what sets apart Japanese restaurant flavors from home-cooked meals.
Also, dried bonito isn't the only type of fish used for dashi in Japanese restaurants. Some other examples include:
Saba-bushi (mackerel) for simmered dishes, udon, and soba noodle soup stocks, often combined with bonito flakes.
Maguro (tuna)-bushi produces a light and elegant soup stock, it is often used as a soup stock for clear soup.
Iwashi-bushi (sardine) are used in miso soup and for soba and udon soup.
Bonito flakes are generally used as the base, but depending on the broth used and the application, the restaurant owner uses a specific blend. The skillful use of different types of dashi broth results in a unique and delicious flavor of each restaurant.
Storage
Restaurants make dashi fresh every day, but at home, you can save leftovers for later. Homemade katsuodashi can be refrigerated for 1-2 days.
Alternatively, you can freeze it for up to 1 week. You can divide it into conveniently sized portions or even an ice cube tray.
How to make Katsuo Dashi (Bonito flakes soup stock)
How to make katsuo dashi (bonito flakes soup stock) from scratch like a professional!
Ingredients
Ichiban dashi (first stock)
1000

ml

water

-

preferably soft water

30

g

bonito flakes -

katsuobushi
Niban dashi (second stock)
leftover bonito flakes from "ichiban dashi"

1000

ml

water

-

preferably soft water

15

g

new bonito flakes

-

katsuobushi
Instructions
Ichiban (first stock)
Heat

1000 ml water

in a pan until boiling. Once boiling, turn off the heat.

Add

30 g bonito flakes

and gently push it down with chopsticks until fully submerged.

Leave to steep for 1-2 minutes.

Line a sieve with a clean cloth or kitchen paper and place it over a large bowl. Pour the dashi through the sieve to make a clear broth. (Do not squeeze the cloth.)
Niban (second stock)
Transfer the used katsuobushi back into the pot and add

1000 ml water

.

Bring to a boil and then lower the heat to a simmer.

Add

15 g new bonito flakes

and allow to simmer for 10 minutes.

Again, line a sieve with clean cloth or kitchen paper over a large bowl and strain the niban dashi. This time you can squeeze it to ensure you get all the dashi out.