Delicious Japanese style rolled omelette flavoured with dashi stock, soy sauce, sugar and mirin, this iconic dish is the perfect addition to any bento box and sushi roll!
Disclaimer: This post may contain affiliate links. Sudachi Recipes is part of the amazon associates programme and earns a small percentage from qualifying purchases at no extra cost to you. See disclaimer for more info.
Jump to:
What is Dashimaki Tamago / Tamagoyaki?
Tamagoyaki or Dashimaki Tamago are types of Japanese rolled omelette. Generally speaking, the eggs are beaten, seasoned and then cooked in a special square frying pan we call a "tamagoyaki nabe" (卵焼き鍋).
This particular dish has a few different names such as:
Tamagoyaki (玉子焼き)
Dashimaki Tamago (だし巻き玉子)
Atsuyaki Tamago (厚焼き玉子)
However, if you dive into the technicalities, there are some slight differences among these.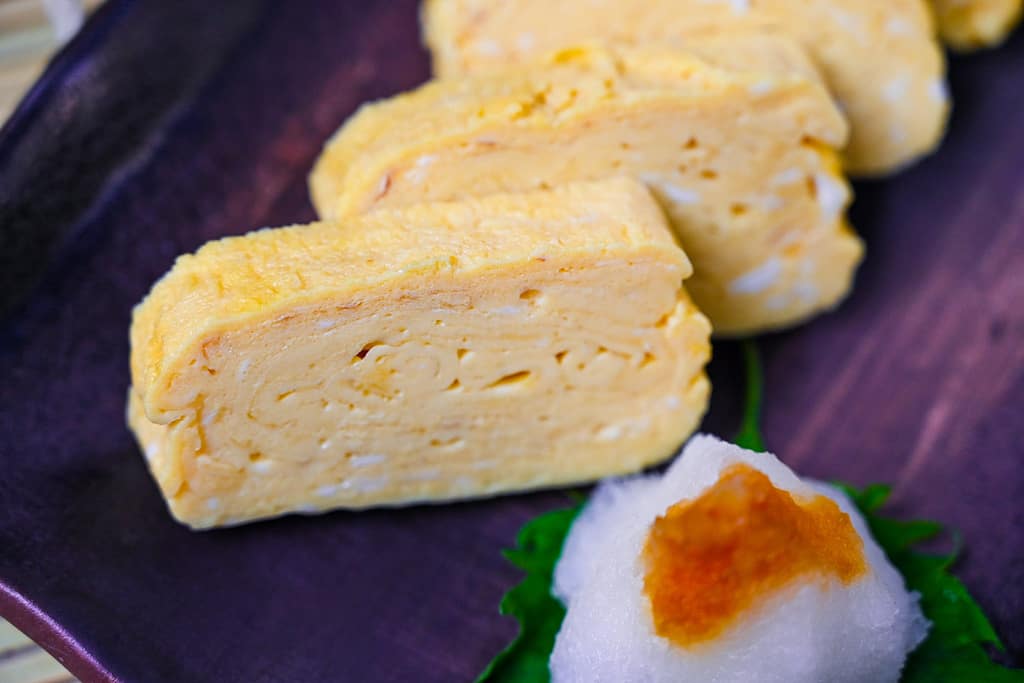 How to say dashimaki tamago
Here is my recording of how to say "dashimaki tamago".
The Difference between Tamagoyaki and Dashimaki Tamago
Tamagoyaki and Dashimaki Tamago are very similar dishes so they are often confused with each other because of their similarity in preparation and appearance.
However, technically speaking these are not the same dish.
Tamagoyaki (玉子焼き)
Tamagoyaki is an egg dish in which lightly beaten eggs are seasoned with sugar, salt and soy sauce, then rolled and formed into a cylindrical shape using a special square pan (tamagoyaki nabe).
It is especially known as a staple in bento lunchboxes. In addition to the seasonings listed above, it can be seasoned differently depending to the household. Some of these other seasonings including mirin, tsuyu, black pepper, Worcestershire sauce, mayonnaise, etc.
It can also be mixed with other ingredients such as spring onions, spinach, cheese...as well!
To be honest, tamagoyaki is like an umbrella term for all the variations of Japanese rolled omelettes so you could say that dashimaki tamago is a type of tamagoyaki.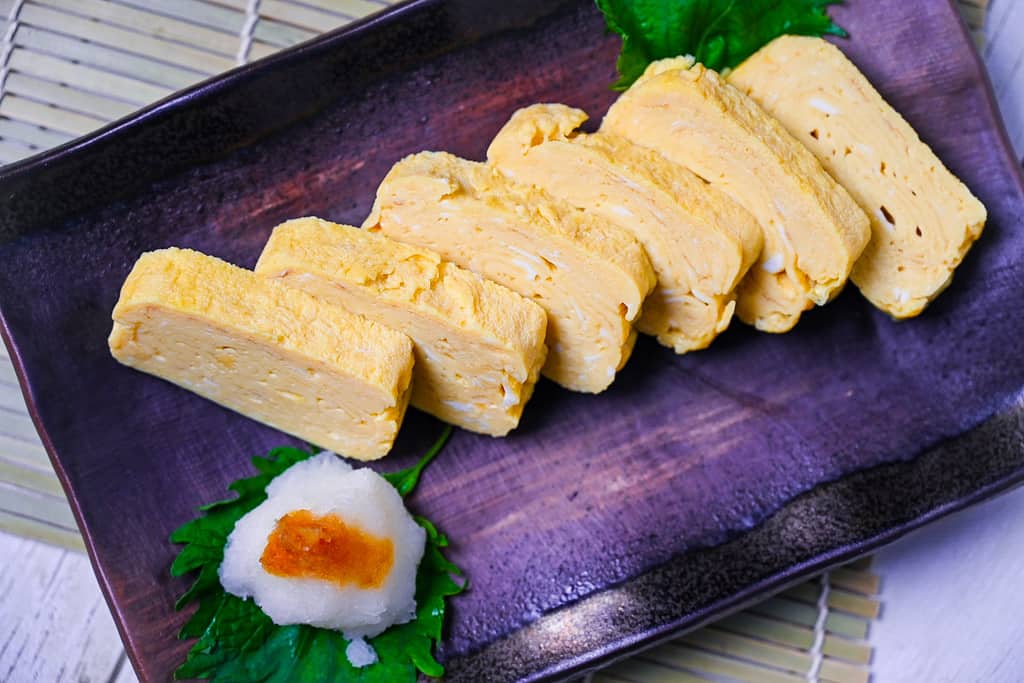 Dashimaki Tamago (出汁巻き玉子)
Dashimaki Tamago is almost the same as tamagoyaki, but the main difference is that it is made with dashi stock. (If you're unsure about dashi, check out my favourite dashi recipe here!)
After cooking, they are often perfected by pressing them in a sushi mat. (The mat is usually used backwards so that a stripy pattern appears on the surface of the egg.)
Dashimaki tamago is often served with grated daikon radish and soy sauce and is a popular dish at Japanese style pubs called "izakaya" too. We also call it "dashimaki" for short.
| | Tamagoyaki | Dashimaki Tamago |
| --- | --- | --- |
| Definition | General term for Japanese rolled egg omelette. | Specific name for rolled egg omelette with dashi stock. |
| Ingredients | Can have different ingredients such as spinach or cheese. | No added ingredients. (Only egg and seasonings) |
| Used in | Often seen in bento lunch box. | Often seen at izakaya or sushi restaurants, soba restaurants...etc |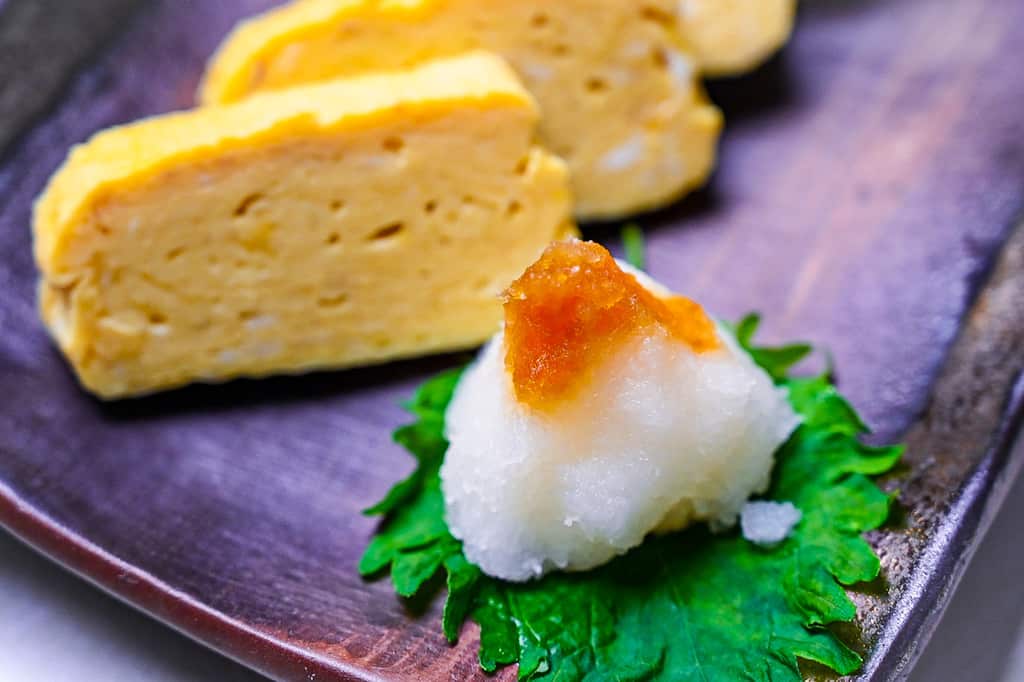 Atsuyaki Tamago (厚焼き卵)
So I have just explained the main differences between tamagoyaki and dashimaki tamago, but there is one more called "atsuyaki tamago" (厚焼き卵).
Long story short, "atsu" means "thick" in Japanese and as the name suggests, thickness is the key for atsuyaki tamago. What this means is that each layer of atsuyuki tamago is thicker than the layers in tamagoyaki and dashimaki tamago.
They are usually seasoned with sugar and soy sauce, but not with dashi stock. The added soy sauce gives it a characteristic slightly browned appearance.
Choosing a Tamagoyaki Pan
The easiest way to make any kind of tamagoyaki is to use the special rectangular tamagoyaki pan we call "tamagoyaki nabe". (玉子焼き鍋)
Using the tamagoyaki nabe will ensure you get the straight edges and rectangular shape with ease. Tamagoyaki nabe can be purchased on Amazon and come in a variety of different materials.
Material
Pros
Cons
Aluminum (non-stick coating)
Cheap
Lightweight
Easy to use
Heat is not always even
Easily scratched
Not so durable
Cast Iron
Naturally non-stick
Durable (can last a lifetime)
Makes food taste better
Needs more care (seasoning)
Expensive
Takes longer to preheat
Copper
Very even cooking
Used by professionals
Easy to clean
Lighter than cast iron
Needs more care (polishing)
Expensive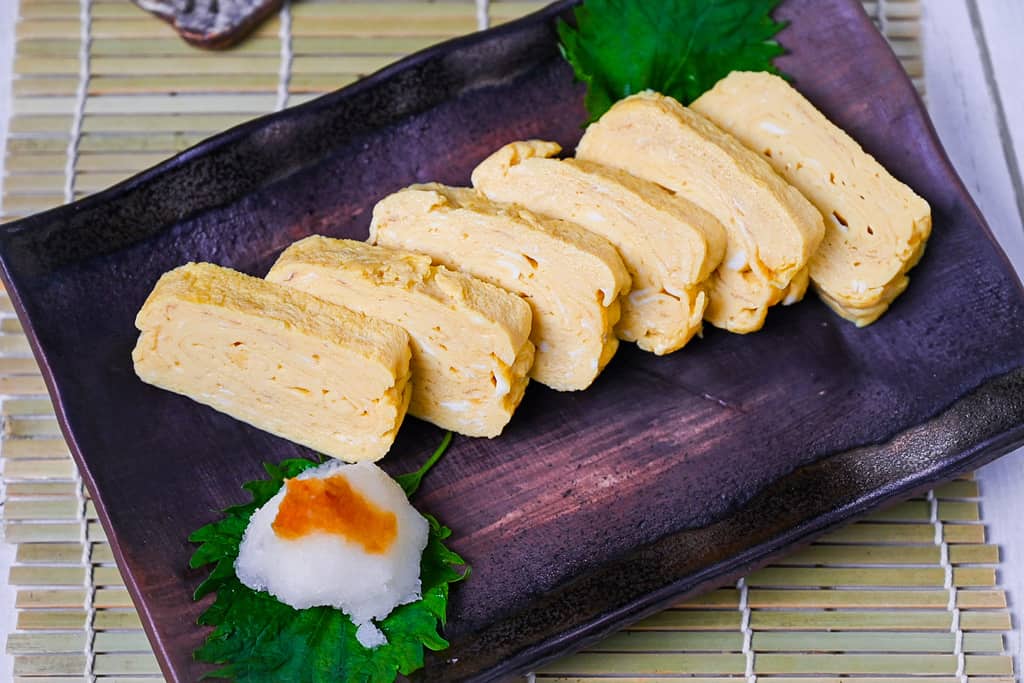 West VS East
As I have explained in so many other recipes, western Japan and eastern Japan have different styles of cooking and yes, dashimaki tamago is no exception.
Kanto (eastern) style dashimaki tamago
Eastern style dashimaki tamago is generally made with sugar, dark soy sauce and dashi stock, resulting in sweet and strong flavour.
The surface is browned because of the use of sugar and dark soy sauce. It is slightly browner than the western style dashimaki tamago.
Kansai (western) style dashimaki tamago
Western style dashimaki tamago is made without sugar, uses dashi as a base and light soy sauce (usukuchi soy sauce) or mirin to add flavour.
So rather than being sweet, the western one has more savoury and dashi taste.
The colour of the dish is also more yellow than the eastern style.
| Feature | Kanto Style (East) | Kansai Style (West |
| --- | --- | --- |
| Uses sugar | Yes | No |
| Dashi stock | Less | More |
| Soy sauce | Dark soy sauce | Light soy sauce (usukuchi) |
| Flavour | Sweet | Savoury |
| Colour | More brown | More yellow |
| Pan | Completely square | Rectangle |
In case you're wondering which way I follow in my recipe, well...I'm literally from central Japan (geographically) so I don't take sides.
As a inbetweener, I'll take the best of both worlds. But the end of the day though, it is down to your personal preference and what ingredients you can access.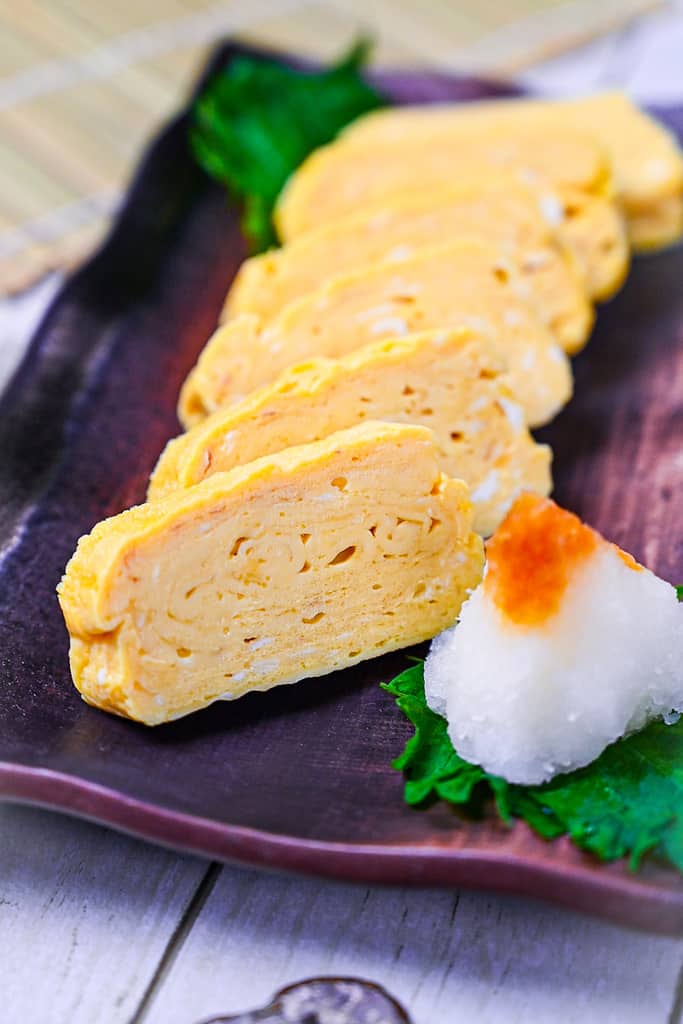 Tips and tricks to make the best dashimaki tamago at home
"Rome was not built in a day" is a true story for making dashimaki tamago. I don't think there has been anyone in history who made a perfectly shaped dashimaki tamago for the first try.
This is such a delicate dish that could go wrong at any time (shape wise, not the taste). Of course, it took me many tries to be able to make decent shaped one myself.
So don't get upset even if the first one went wrong! Every single one of us has gone through it.
However, throughout my journey to make the perfect dashimaki tamago, I learned many useful techniques and tips by watching others and from my own experience. I will list every single one of them here so hopefully you'll achieve success in a shorter time!
Mix dashi and condiments in advance
If the condiments are added directly to the eggs, the sugar and salt may not dissolve completely, resulting in an uneven taste and a rough texture.
To avoid this, mix the dashi and condiments together in a separate bowl until everything is well combined and then add them to the eggs!
Beat the eggs and pour through a strainer
Crack the eggs into a bowl and beat well using chopsticks but not whisking. Whisking can be the cause of losing eggs' firmness. Over-mixed eggs do not set well when cooked and lose their soft texture as well.
Add all of your dashi and condiments, then pour the mixture through a strainer or colander so that the tamagoyaki will be have finer texture.
That way, egg whites and yolks will mix well together too.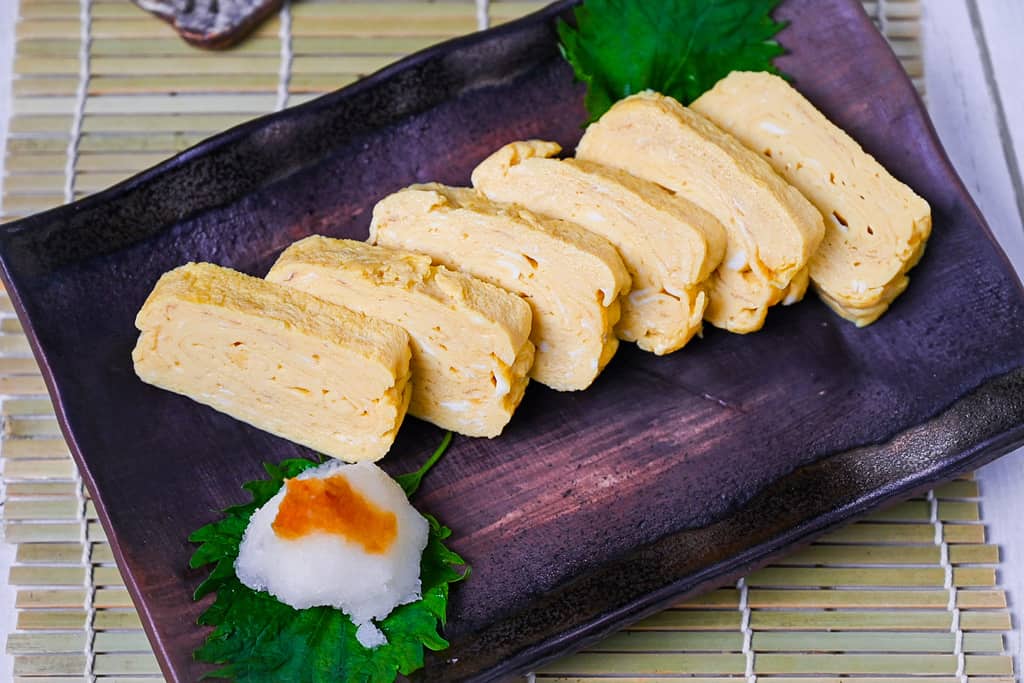 Constant heat
When cooking the eggs, preheat your pan thoroughly and cook them quickly over a medium heat.
If the temperature of the egg liquid is above 100°C, the liquid evaporates instantly and the proteins coagulate at the same time, resulting in a finer finish. That means if you roll it too late, the dashimaki tamago will brown too quickly.
On the other hand, if you turn the heat down, fearing the eggs will burn, they won't be as fluffy. You need to find a good balance.
If you hear a bit of a sizzle when you add the egg mixture, it's a good temperature!
Roll from back to front
When the eggs don't look too runny anymore, turn them from the back to the front using chopsticks. You might think it's easier to use spatula but I personally find long chopsticks do the best job at rolling because they have precision.
This is the bit that needs practice mostly!
Push the first piece to the back of the pan and add the second batch using the same amount of egg mixture as before. Make sure to pour it underneath the first piece of rolled egg too to make sure they become attached. Lift the omelet slightly and pour it underneath.
From then. it is just a repeat until you dashimaki tamago reaches the desired size.
Lift it off the heat from time to time
If you find the pan gets too hot, you might not need to lower the temperature. Instead, you can lift the pan off the heat for a little then place it back on the stove when you need more heat.
The focus should be the temperature of the pan, not the setting of the stove.
Not to mention, both your hands will be full (one holding the pan handle, the other holding chopsticks), so setting something down to change the temperature of the stove is not convenient.
Squash the air bubbles
Squash the air bubbles by piercing them with chopsticks. This is another tip to ensure a nicely shaped tamagoyaki. If you roll the omelet with air bubbles in it, the egg will have hollow spaces inside which is not desirable!
Start rolling the eggs when they are half-cooked
The residual heat will cook the egg, so you can start rolling when the egg is half-cooked.
This is actually very important because overcooked tamagoyaki will not only be dry and too brown, but it's also less flexible and more likely to break when you roll it.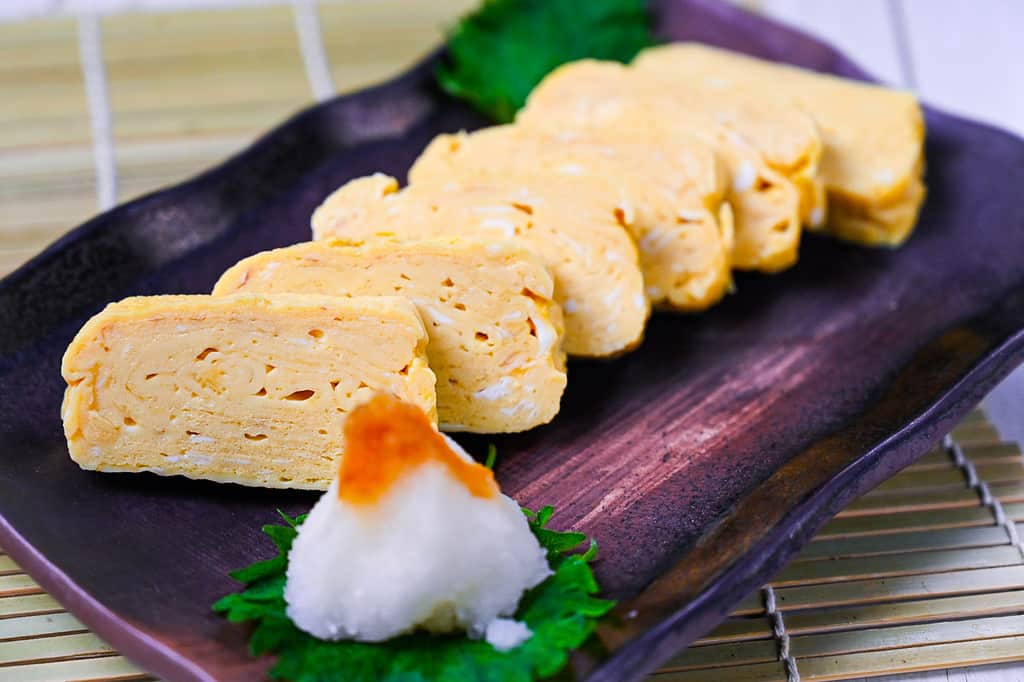 Apply oil between each mixture
To avoid scorching or sticking, apply small amount of oil each time before adding the egg mixture.
I recommend using a paper towel to wipe the oil over the surface, this will make an even layer and remove the excess. It will also make the surface of your tamagoyaki smooth and evenly coloured.
Use a bamboo rolling mat (sushi mat)
If you have a sushi mat, place the cooked egg rolls in it and leave them to settle until they form a good shape and a pattern.
You can purchase bamboo sushi rolling mats on Amazon.
You can also line the mat with a piece of plastic wrap to prevent any egg getting in-between the gaps.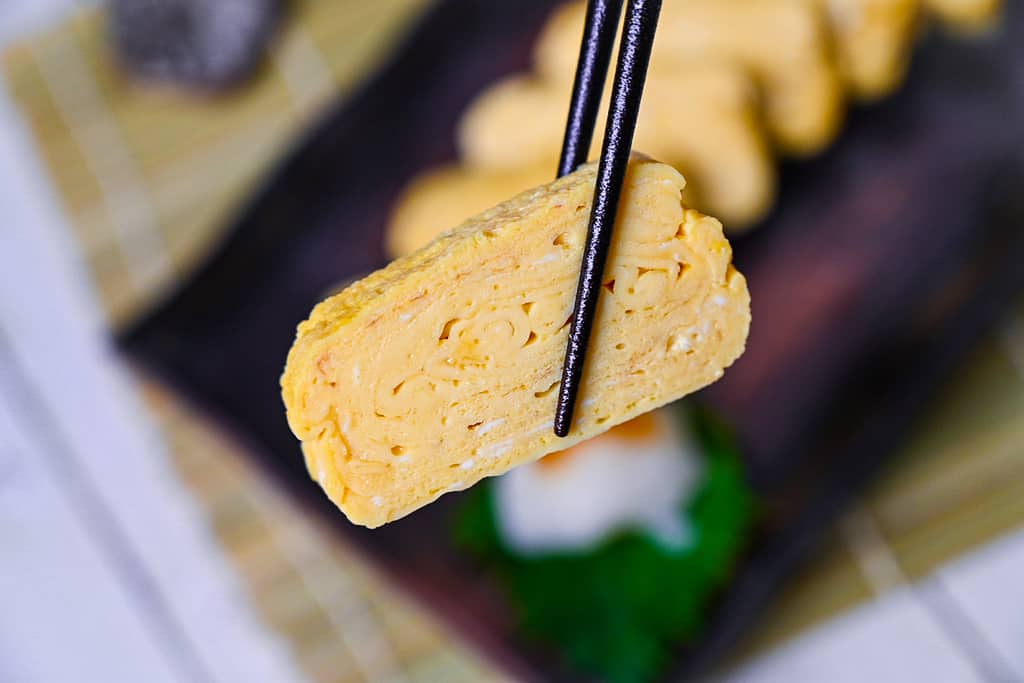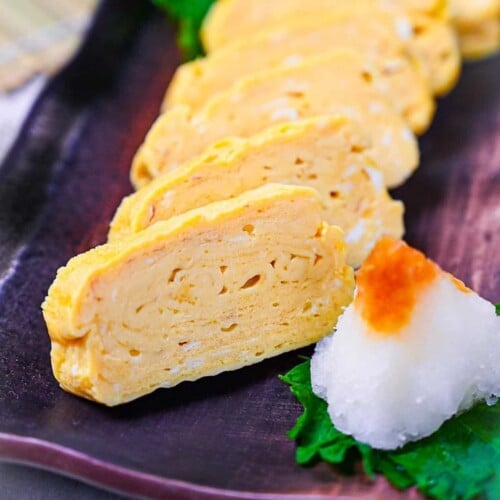 Dashimaki Tamago (Japanese Rolled Omelette with Dashi)
How to make delicious dashimaki tamago (出汁焼き卵) Japanese rolled omelette flavoured with dashi. Perfect for Japanese style breakfast, bento lunchboxes and to use in sushi.
Ingredients
4

medium egg(s)

20

ml

mirin

1

tsp

sugar

¼

tsp

salt

½

tsp

soy sauce

1

tsp

cooking oil

1

tbsp

grated daikon radish

-

optional
Instructions
Crack

4 medium egg(s)

into a bowl and beat lightly with chopsticks in a back and forth motion. (This is to break up the yolks and whites, don't whisk in a circular motion.)

In a separate medium-sized bowl, mix

50 ml dashi stock

,

20 ml mirin

,

1 tsp sugar

,

¼ tsp salt

and

½ tsp soy sauce

. Mix thoroughly until the salt and sugar are dissolved.

Place a sieve on top of the bowl and pour the eggs into the dashi mixture. Mix gently to prevent too many air bubbles forming.

Pour

1 tsp cooking oil

into a tamagoyaki (rectangular) pan and place on the stove over a medium heat.

Use a piece of kitchen paper to spread the oil around the pan and wipe away the excess. Keep the kitchen paper close-by, we will re-use it to lightly grease the pan later.

Once the pan is heated, pour the egg mixture into the pan until the base is coated in a thin, even layer. It should be thin enough that it cooks quickly, but not so thin that it breaks. If you see air bubbles, pierce them with chopsticks.

If you notice some parts cooking too quickly or you realize it's getting too hot, lift the pan off the heat temporarily and readjust as necessary. (Try and avoid changing the temperature too much.)

When it's half cooked, begin to roll the egg starting from the back of the pan first and rolling towards you. The first step is to lightly pinch the edge furthest from you. Then, with your other hand holding the panhandle, make a gentle scooping motion to help flip the far edge over and start your roll. (Don't rely purely on the chopsticks to fold it over, otherwise it will surely break.)

Repeat this action to keep rolling the egg until it reaches the edge of the pan closest to you, and then use the kitchen paper from earlier to grease the empty space.

Push the rolled tamagoyaki back to the far end of the pan and lightly grease the remaining side.

Pour another layer of the egg mixture into the pan and gently lift the rolled piece while tilting the pan so that some of the mixture goes underneath. This will create a seamless roll. 

Tilt the pan again to make sure the rest of the mixture is flat and even. Once again wait for it to become half cooked, popping air bubbles and lifting the pan off the heat when you feel it's necessary. 

Roll and repeat until you've used all of the egg mixture.

Once it's done, transfer the dashimaki tamago to a inverted bamboo sushi mat (this will make a striped pattern on the surface.) Press into shape and then transfer to a chopping board.

Cut into slices approx 1 inch pieces and served with

1 tbsp grated daikon radish

.

Enjoy!