Learn how to make this essential kake soba made with buckwheat noodles served in a delicious hot dashi soup. It's tasty, warming and typically enjoyed on New Year's Eve in Japan!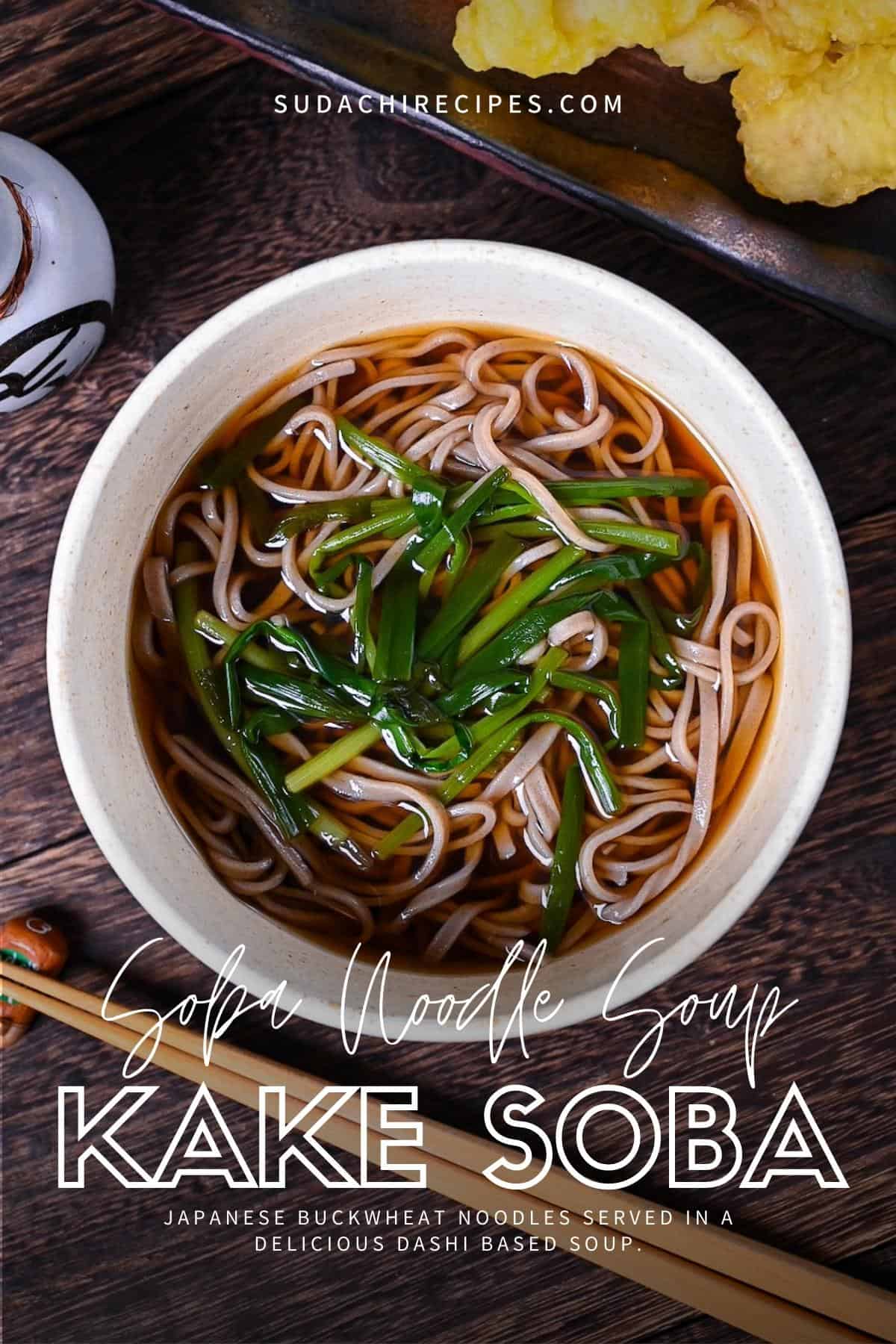 Disclaimer: This post may contain affiliate links. Sudachi Recipes is part of the amazon associates programme and earns a small percentage from qualifying purchases through Amazon at no extra cost to you.
Jump to:
What is kake soba?
Kake soba (かけそば), originally called "bukkake-soba," is a buckwheat noodle dish made by pouring hot dashi based soba soup over boiled soba noodles. At soba restaurants, the word "kake" alone can refer to kake soba.
When udon noodles are used instead of soba noodles, it is called kake udon, but in Osaka and other parts of the Kansai region, it is also sometimes called su-udon.
Brief history of kake soba
Originally, soba noodles were eaten with dipping sauce. However, due to the impatient personality of the Edo (now Tokyo) people, the value of dipping the noodle in tsuyu (sauce) was considered a hassle, and the practice of eating soba in soup was born.
Since kake soba can be made with just one bowl (less dishes to wash!), it is said that soba restaurants liked it and as a result, it spread nationwide.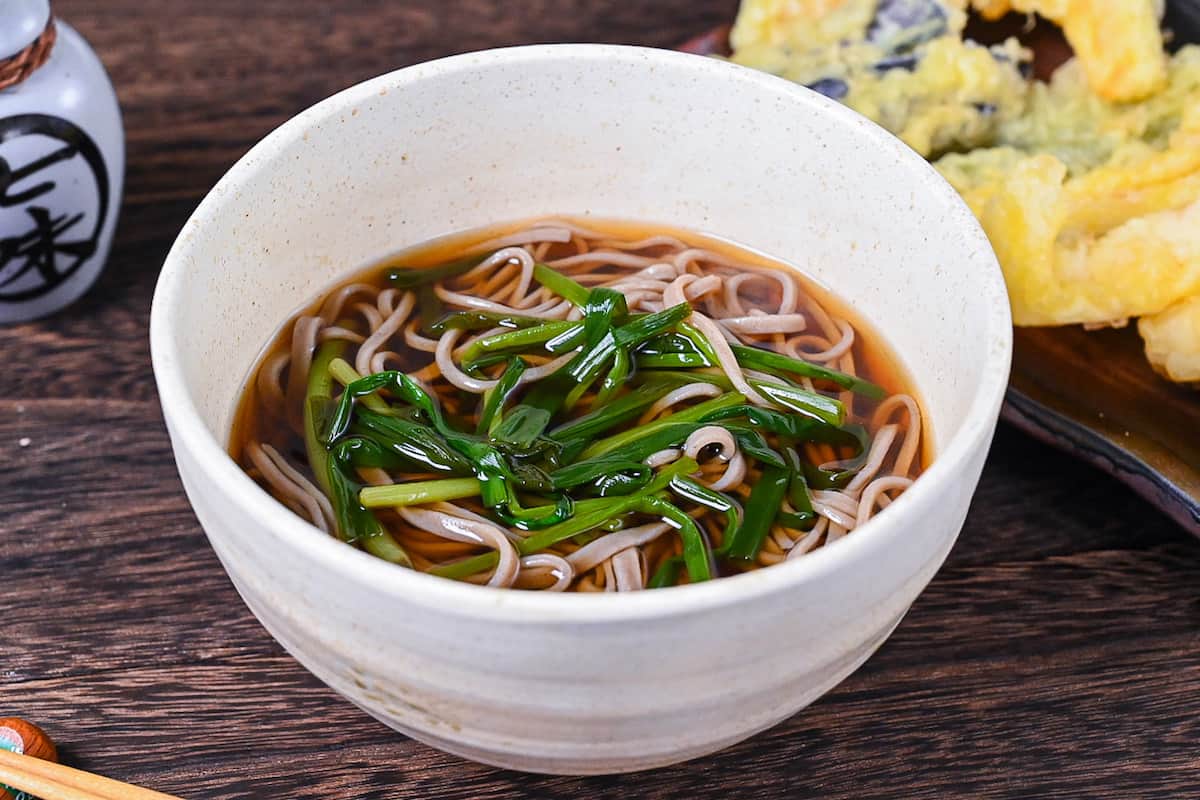 Kake soba vs zaru soba: what are the differences?
The differences between kake soba and zaru soba are extremely simple, it's just a matter of kake soba being hot and zaru soba being cold. Technically there are a few more small differences but the temperature is the main one.
The other thing is, zaru soba is served on a bamboo tray with dipping sauce, whereas kake soba is served in a bowl with hot soup.
Are kake soba and toshikoshi soba (New Year's Eve Soba) the same?
You might have heard about a tradition of eating soba on New Year's Eve in Japan. We call this "toshikoshi" soba (年越しそば) which means "crossing into the New Year" soba and it's said to bring good luck. Generally we eat the soba close to midnight (around 11 something) but some regions wait until after the clock has struck 12, there's no official rule about this.
The "long and thin" feature of soba noodles has led people to eat it for good luck, symbolising good health, longevity and long family fortunes. New Year's celebrations in Japan often involve eating auspicious foods that bring good luck in the New Year.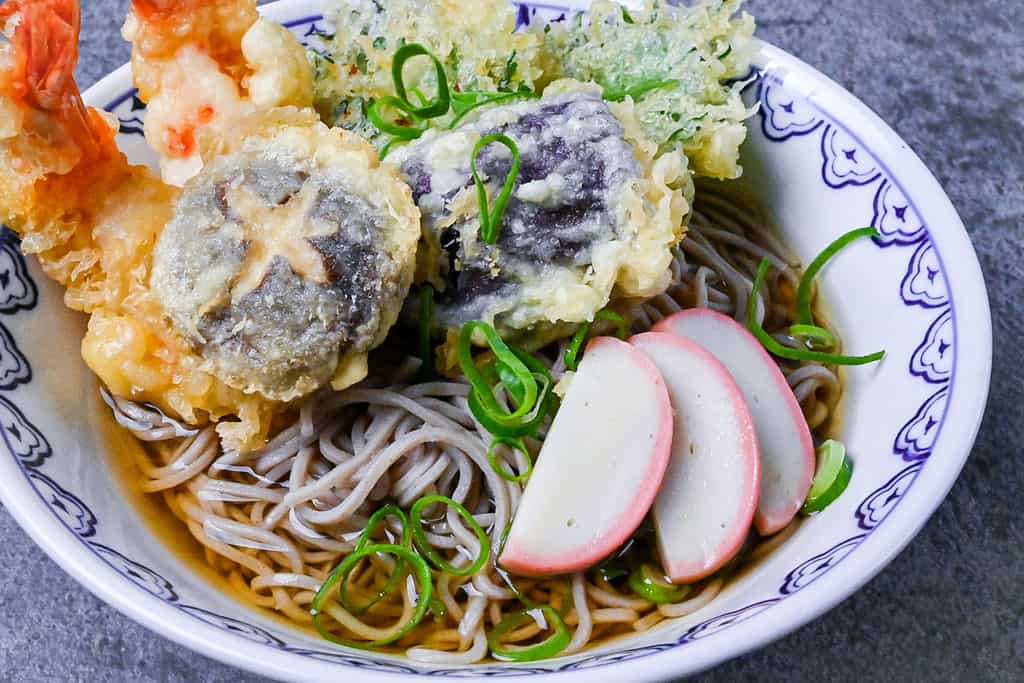 However, toshikoshi soba is actually not a specific dish, it's more like a concept that refers to any soba noodle dish you eat on New Year's Eve. So other than kake soba (which is most common as it's quick and easy to make), you can also have tempura soba or duck soba...etc.
Of course New Year's Eve in Japan is always very cold so hot soba dishes are preferred and because it's a time to spend with family and friends, most people don't want to spend too much time on preparing food on the day. Kake soba is usually the go-to option on New Year's Eve because it's warming, comforting and quick to make.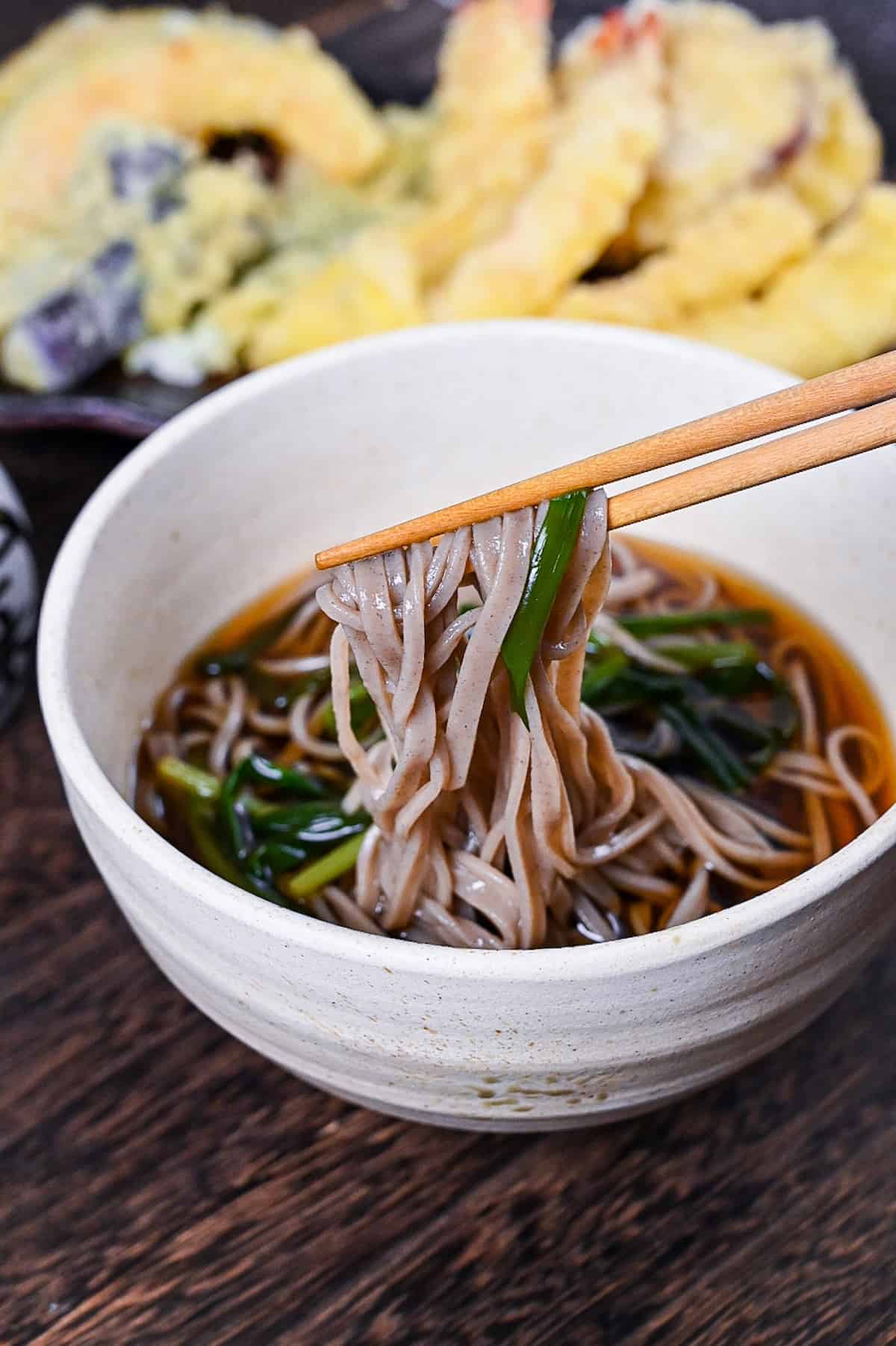 Ingredients to use for my kake soba
In this kake soba recipe, I use following ingredients:
Soba noodles (Japanese buckwheat noodles)
Mirin
Sake
Spring onions
Kamaboko fishcake (optional)
Shichimi chilli pepper (optional)
See recipe card for details and quantities.
Soba Noodles
Soba noodles are a type of traditional Japanese noodle made with buckwheat flour. They are known for their brown-ish grey colour and earthy taste. They are typically a similar thickness to spaghetti.
It's common to use dried soba noodles (like these ones on Amazon) which typically take about 5 minutes to cook. I also like to use frozen soba and then heat them in the microwave, so if you live near a Japanese supermarket be sure to check out the frozen section for convenient frozen soba noodles!
Of course, soba is the star of this dish and can't be substituted for any other kinds of noodle in this case. However, if you decide to use udon noodles instead then you can make this dish into "kake udon"!
Dashi
Dashi is another essential ingredient when making soup based soba and udon dishes. It gives the broth a more authentic Japanese flavour and adds umami. You can make your own dashi using one of my recipes:
All of my dashi recipes take about 30 minutes to make. Alternatively, if you don't want to make your own dashi from scratch you can buy dashi bags or dashi powder on Amazon.
Dark Soy Sauce vs. Light Soy Sauce
In this recipe I use both dark and light soy sauces. Dark soy sauce (koikuchi shoyu) is characterised by its dark colour and deep soy flavour, while light soy sauce (usukuchi shoyu) is lighter in colour and has a more salty flavour. Using them together creates the right colour broth with the perfect balance of saltiness and umami.
In the case that you only have dark soy sauce, replace the light quantity with an equal amount of dark and add a few pinches of salt to taste.
Sake
Sake is a type of alcoholic beverage made from fermenting rice. It is typically adds more depth to the soup. This recipe only uses a small amount of sake so if you don't want to use it, you can omit it in this case.
Mirin
Mirin is a type of rice wine packed with natural sweetness that developed during the fermentation process. You can buy it here on Amazon.
If you want to substitute mirin you can add 1 teaspoon of sugar for every tablespoon of mirin in this recipe. (I recommend light brown sugar for added depth in the soup.)
Kake Soba Toppings
Kake soba soup is a basically a base for many soba recipes and can be customised with various toppings. Some toppings might even turn it into another dish! Here are a few recommendations:
Chopped spring onions
Kamaboko (Japanese pink and white fish cake)
Shichimi togarashi (Japanese chilli powder)
"Tenkasu" tempura bits (becomes "tanuki soba")
"Aburaage" twice fried sweet tofu (becomes "kitsune soba")
Fried duck breast (becomes "kamo nanban soba")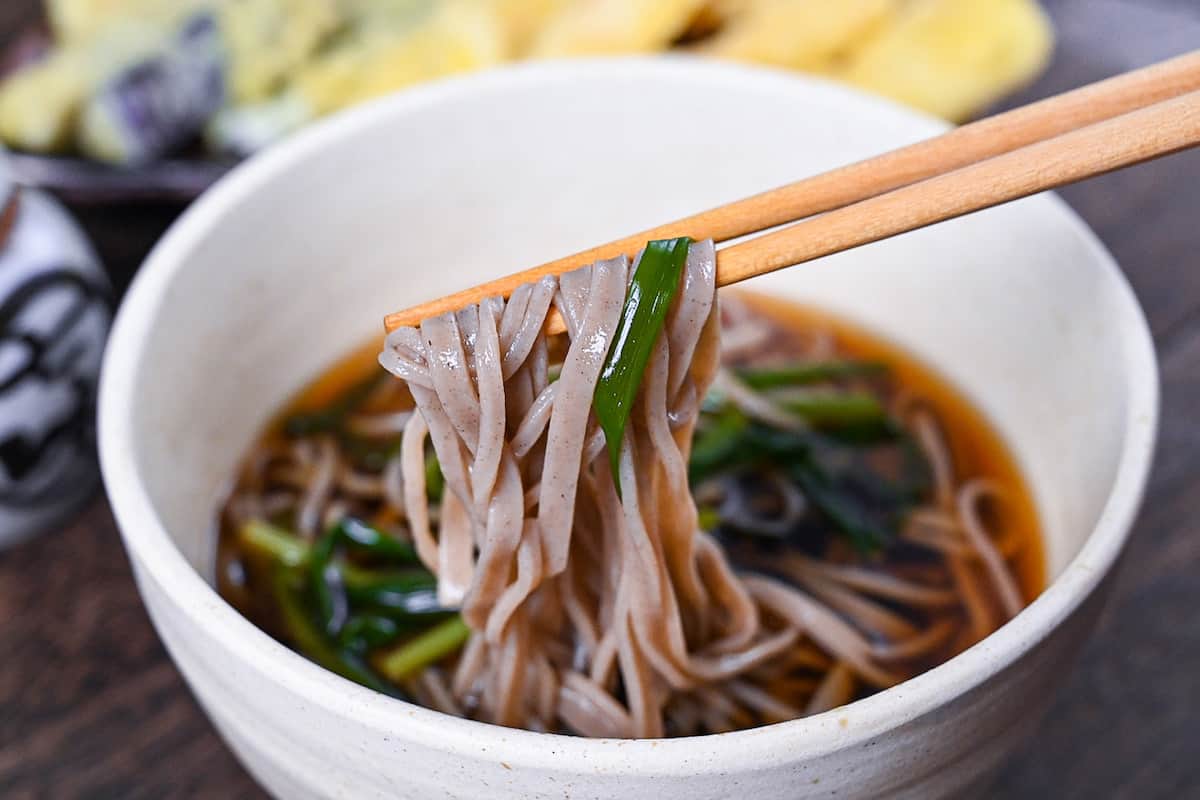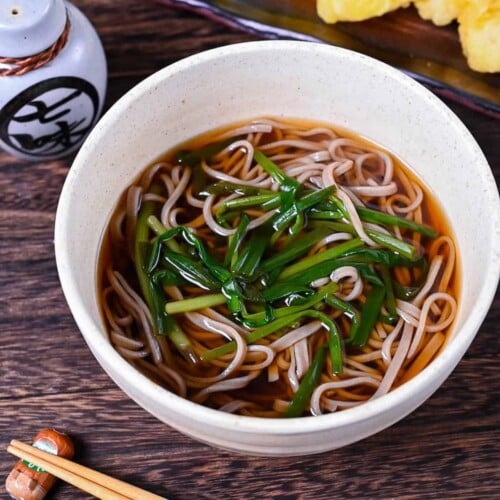 Kake Soba (New Year's Eve Soba Noodle Soup)
How to make essential kake soba (soba noodle soup) with homemade broth.
Instructions
Cook

2 portions soba noodles

according to the packaging.

Add

500 ml dashi stock

,

20 ml dark soy sauce

,

20 ml light soy sauce

,

50 ml mirin

and

1 tsp sake

to a separate saucepan and bring to a boil.

Once boiling, lower to a simmer and add

30 g green onion(s)

. Allow to simmer for 2-3 minutes.

Divide the cooked soba into serving bowls and pour the broth over the top.

Place the cooked spring onion on top of each bowl.

Sprinkle

2 pinches Japanese chili powder

or your choice of additional toppings (see in post).

Enjoy!
Notes
NOTE: The nutritional value is based on when you drink up the soup (we DO NOT drink up the soup when it comes to soba)
Nutrition
Calories:
455
kcal
Carbohydrates:
87.7
g
Protein:
15.5
g
Fat:
2.5
g
Saturated Fat:
0.5
g
Polyunsaturated Fat:
1.1
g
Sodium:
1540.5
mg
Fiber:
8.2
g
FAQ
What are soba noodles made of?
Traditionally, soba noodles are made from buckwheat flour. However, these days they are often not 100% buckwheat but a mixture of buckwheat and wheat flour.
Are soba noodles gluten free?
If the soba noodles are made from 100% buckwheat flour then they are gluten free, but many of them aren't 100% so please check the packaging before purchasing.
What is soba noodle soup made of?
The broth of a soba noodle soup is generally made with dashi (Japanese soup stock) and flavoured with soy sauce, mirin and sometimes sake.