Tempura Soba is a classic Japanese noodle dish. Buckwheat noodles are served in a hot dashi broth and then topped with deep fried tempura shrimp and vegetables. It's perfect for lunch or dinner!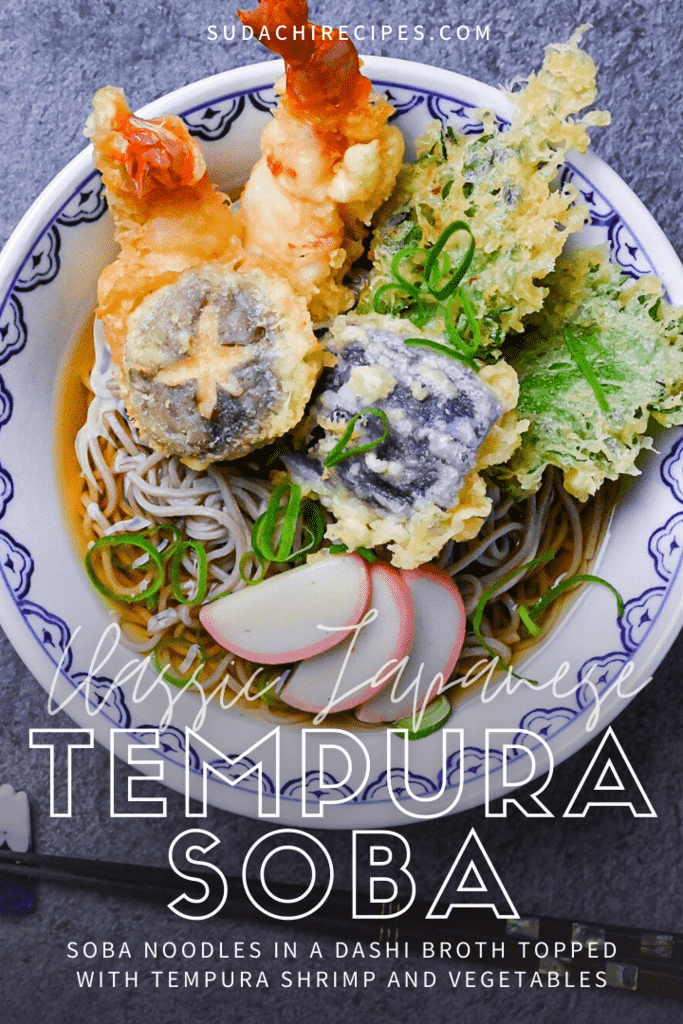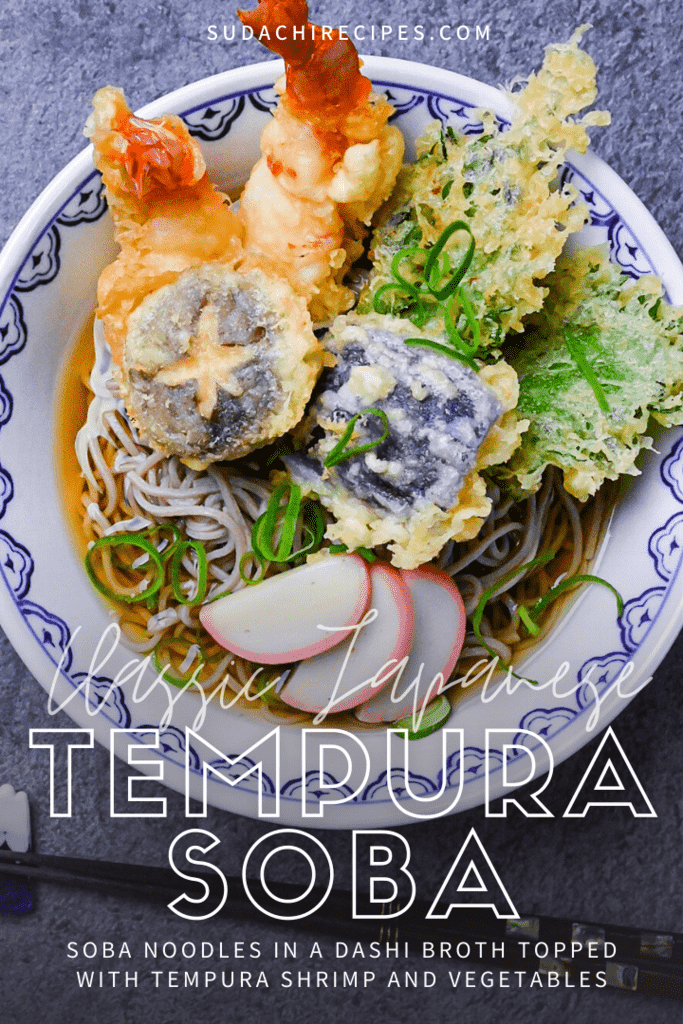 Disclaimer: This post contains Amazon affiliate links. Sudachi Recipes earn a small percentage from qualifying purchases at no extra cost to you. See disclaimer for more info.
Jump to:
Tempura Soba (天ぷらそば)
Tempura soba (also known as "tensoba" for short) is like two classic Japanese dishes in one. Soba noodles are served in a hot dashi broth which on its own this dish is known as "kake soba". (You can check out my kake udon recipe here too!)
The kake soba is then topped with a variety of tempura, a popular dish made by frying ingredients in a light crispy batter. Shrimp is the most common ingredient served on tempura soba, but a variety of vegetables can be used too.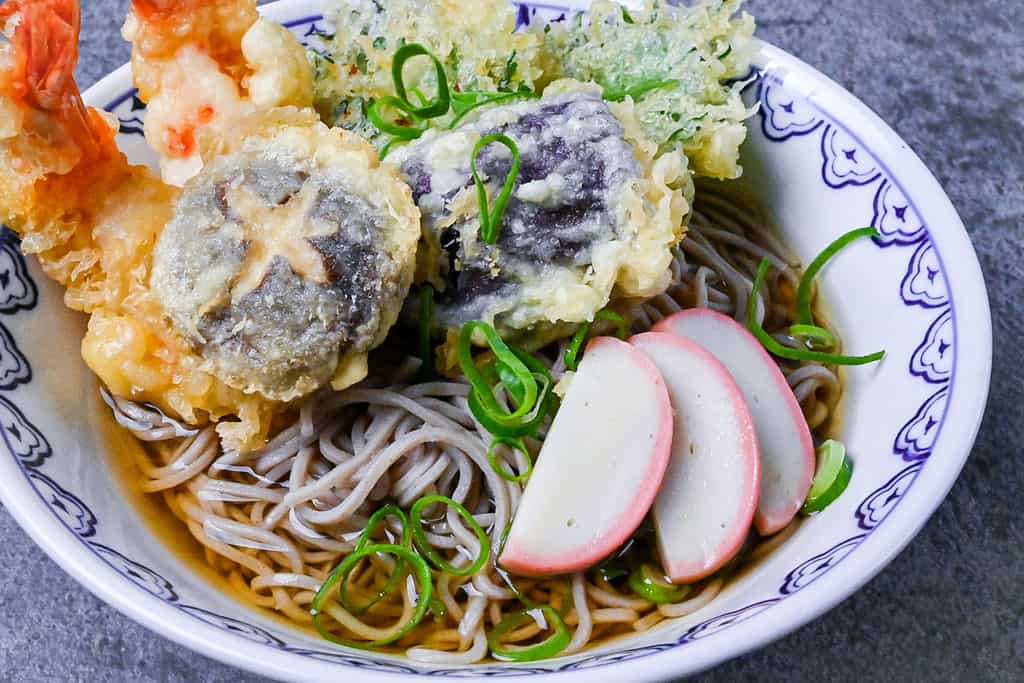 Soba noodles
Soba is a type of noodle made from buckwheat flour and has a distinctive greyish brown colour. The dried variety are most readily available and you can purchase them here on Amazon.
Compared to other types of noodles, soba are considered relatively healthy and are known for having a low gluten content. (They're not considered gluten-free unless they're 100% buckwheat flour so always check the packaging.)
Soba noodles also have a great history of roughly 1400 years and are considered one of the most iconic Japanese dishes along with sushi or tempura.
Making the broth
A basic kake soba broth is made from a Japanese dashi stock, soy sauce and mirin, and there are a few different ways to make it.
In my opinion, homemade dashi tastes the best and it's easier to adapt to your own preferences. (Check out my homemade vegetarian dashi if you want to make a vegetarian version.)
However the other two methods are definitely quicker. Dashi bags can be added to hot water and then mixed with mirin and soy sauce.
Mentsuyu is a concentrated noodle broth that you simply mix with water. It already contains mirin, soy sauce and dashi so you don't need any other special ingredients. You can purchase mentsuyu sauce on Amazon here and learn more about how to use it on my kake udon post here.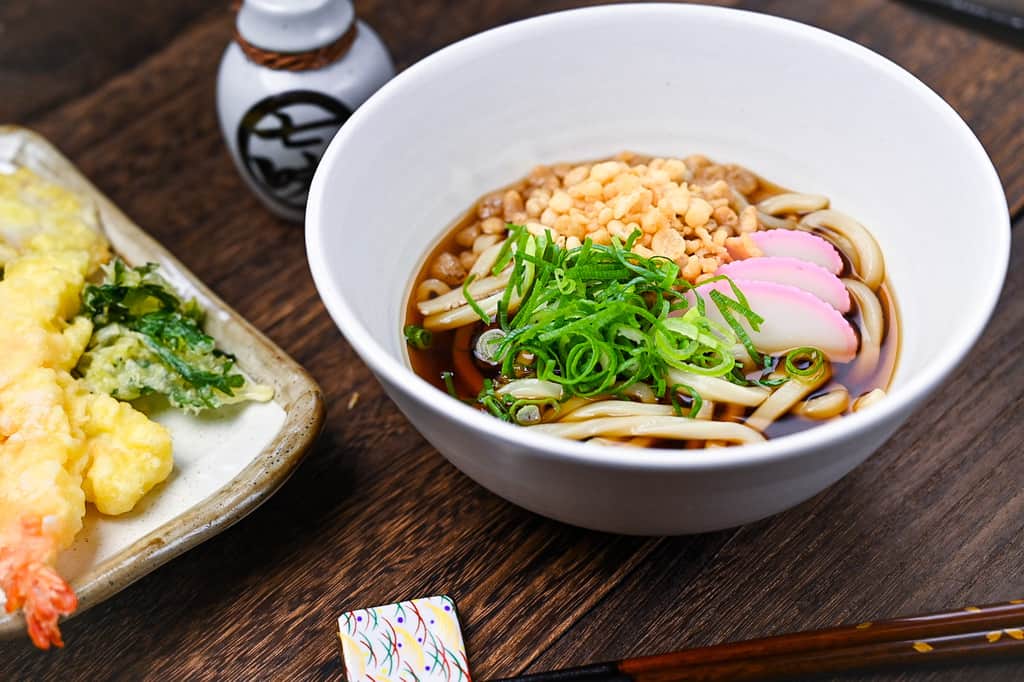 Hot VS Cold
The great thing about tempura soba, is it can be served hot OR cold and be enjoyed all year around.
In summer, you might feel it's too hot to be eating noodles in hot soup. In this case, you can serve the soba noodles cold with a dipping sauce instead. We call this dish "zaru soba" and you can learn how to make the dipping sauce with my recipe here.
Tempura
Tempura is typically made with seafood and vegetables that are coated in a light, fluffy batter and then deep fried. It's an iconic dish with a long history.
Tempura was actually brought to Japan by Portuguese merchants back in the 16th century, we've literally been enjoying tempura for hundreds of years!
There's no strict rule on what ingredients you use, but in my recipe I use the following:
Shrimp (large type like tiger shrimp)
Eggplant
Shiitake mushrooms
Shiso/Oba (perilla leaves)
Of course, you can "tempura" anything you like! Other options include kabocha (Japanese squash), renkon (lotus root), asparagus and okra just to name a few!
Tips for making the perfect tempura batter
Tempura should be light, crispy and pale in colour. It can be tricky to get it right so I've put together a list of tips and tricks to help you achieve the perfect Japanese tempura batter!
Cold Ingredients
Before you even start mixing anything, your ingredients should be chilled.
A cold batter is going to react more strongly when it hits the hot oil, making it puff up quickly. This is the main characteristic of tempura!
So that's why every ingredient should be chilled. And that's every ingredient, even the flour! I like to store everything in the fridge for at least 30 minutes before I use it.
Once your batter is mixed, I recommend keeping it in the fridge or freezer when you're not using it. This will help keep it nice and cold between frying batches.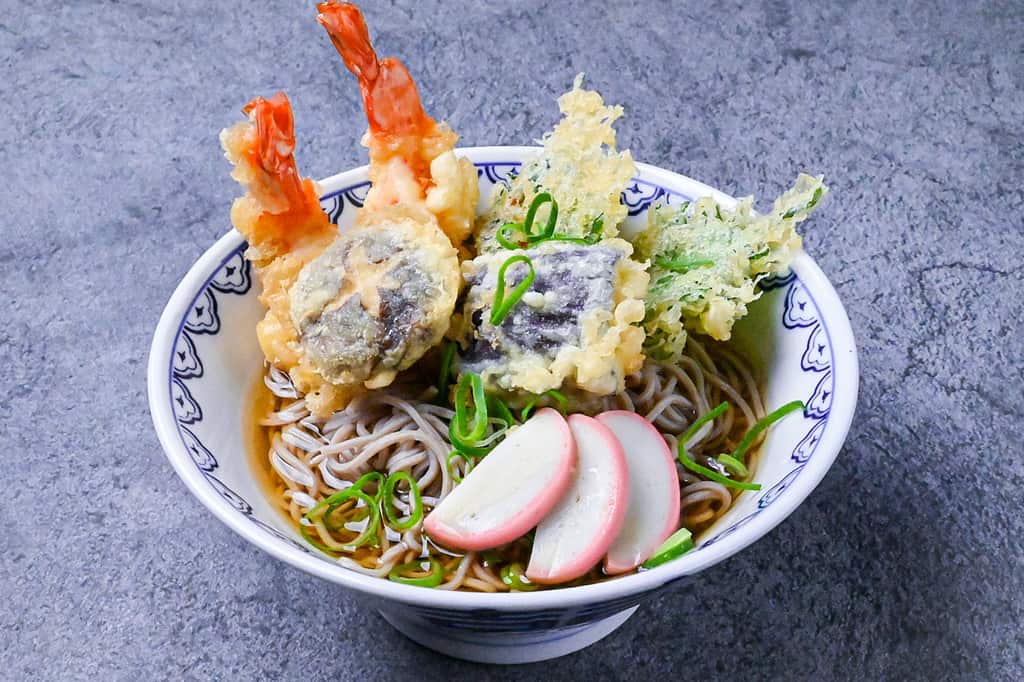 Prepping your ingredients
Before mixing your batter, I recommend having all your ingredients prepared in advance.
Shrimp should be deshelled and deveined, and vegetables should be washed, dried (thoroughly with a paper towel) and cut.
Tip: If you use eggplant or any type of potato for tempura, soak it in cold water for 5-10 minutes and then dry thoroughly before frying. This prevents them soaking up too much oil.
I also coat the ingredients with a thin layer of weak flour, this helps the batter stick to the surface.
Don't overmix!
It's important not to overmix your batter. One of the characteristics of tempura is the bubbly texture and if your batter is too smooth then the surface of your tempura will look too flat.
To avoid this, rather than using a whisk, I use chopsticks (a spatula is also fine) and draw crosses in the mixture rather than actually mixing it.
This is the rare case where a lumpy batter is a good thing!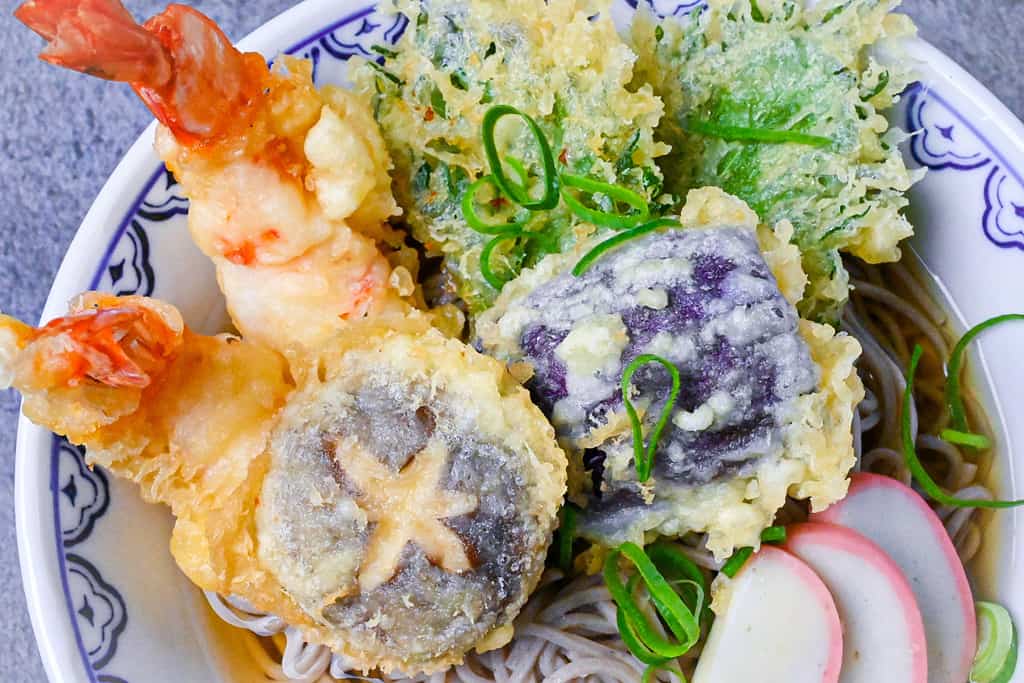 Oil type and temperature
It's important to use an oil with a high smoke point. Examples of this would be vegetable oil, canola oil or peanut oil.
Actually, many professional chefs in Japan make tempura using white sesame oil made from raw sesame seeds (not the roasted kind!). It makes a difference but it's pretty expensive so I don't recommend it unless you plan to make tempura often.
In terms of the temperature, I recommend frying tempura at about 180°C (355°F). If the temperature is too low, the batter becomes oily and soggy while if it's too high, the batter becomes too dark and the inside might not be cooked enough. (This is especially important for prawns/fish!)
Tenkasu
When frying tempura, you will find pieces break off and float around in the oil. Make sure to remove them between batches otherwise they will burn and make your oil bitter, spoiling future batches.
In Japan, we call these little pieces of tempura batter "tenkasu" and we save them for other dishes! Just place them on kitchen paper to absorb the excess oil and then keep them in a zip lock bag in the freezer. You can use them as a topping in noodle soups or in recipes like devil's onigiri!
FAQ
What are soba noodles made of?
Soba noodles are made mainly buckwheat flour, wheat flour and water.
What is the difference between soba noodles and udon noodles?
Soba noodles are thin, grey-ish brown and made mainly from buckwheat flour whereas udon noodles are thick, white and made from regular wheat flour.
Can vegans eat soba noodles?
The noodles themselves are suitable for vegans but of course, it depends on the dish. (Broths/dipping sauces might contain fish or meat.)
What is the difference between tempura and panko?
Tempura is made from a light batter, the result is crispy and airy whilst being pale in colour. Panko is a type of breadcrumb coating. The layer is thicker and crunchier and the color is golden.
What oil is best for frying tempura?
Any oil that can handle high temperatures is good for deep frying. Vegetable oil, canola oil and peanut oil are common. Professionals in Japan sometimes use light/raw sesame oil (not toasted) which can be quite expensive.
Why isn't my tempura crispy?
Either your batter wasn't cold enough or your oil wasn't hot enough. Those are usually the two main reasons for soggy tempura batter. See in post for tips on how to make the perfect tempura batter.
Classic Tempura Soba Noodles (天ぷらそば)
Classic Tempura Soba, buckwheat noodles in a hot broth served with light crunchy tempura prawns and vegetables.
Ingredients
Tempura
200

ml

cold water

-

chilled

100

ml

sparkling water

-

chilled

30

g

potato starch

-

sifted and chilled in fridge

150

g

cake flour

-

sifted and chilled in fridge

cake flour

-

for dusting

1

medium egg(s)

-

chilled

8

giant tiger prawn

-

or similar large prawns

4

fresh shiitake mushroom(s)

-

stems removed

100

g

eggplant(s)

-

cut into wedges and soaked in cold water

8

perilla leaves

-

ooba/shiso

cooking oil

-

for deep frying
Soba
1000

ml

dashi stock

5

tbsp

soy sauce

2

tbsp

mirin

½

tsp

salt

400

g

dry soba noodles

-

approx 100g per serving

finely chopped green onion(s) -

to garnish

12

slices

Japanese fish cake "kamaboko"

-

optional, kamaboko

Japanese chili powder

-

shichimi togarashi, optional
Instructions
Prepping the Prawns
First, deshell

8 giant tiger prawn

leaving the tail on, and remove the veins.

Put the prawns in a bowl with 2 pinches of salt and a tsp of corn starch and rub it over the surface of the prawns. The salt is to dehydrate them so they fry better and the corn starch helps clean them out.

After a few minutes run the prawns under cold running water to rinse off the salt and corn starch, you will notice how clean they look!

Dry them off with kitchen paper and transfer them to your chopping board.

Next cut the tails. Place the shrimp on its side and with the tail folded in half and trim it diagonally. The pointy tip should be cut off and be the shorter part of the diagonal. (This stops oil from splattering out when it's frying and it looks nicer too.)

Turn the prawn so the underbelly is facing up, and make diagonal incisions along the whole body. The incisions should be about 1cm apart and go about ½ way through the prawn.

You should be able to lay out the prawn flat and straight.

Repeat for the rest of your prawns.
Tempura
Preheat your oil to

180

°C

.

Take

200 ml cold water

and

100 ml sparkling water

from the fridge and pour them into a bowl.

Add

1 medium egg(s)

and whisk. Remove any foam with a spoon.

Take

150 g cake flour

and

30 g potato starch

from the fridge and add it to a bowl one third at a time. Mix roughly between each addition. (It's fine to have lumps.)

Dry your prawns and vegetables (

4 fresh shiitake mushroom(s)

,

100 g eggplant(s)

,

8 perilla leaves

), then lightly coat them in potato starch or flour. Dust off any excess.

Test your oil by adding a drop of batter, if it floats and sizzles it's ready to start cooking.

Dip each ingredient in the batter and then place it in the oil. Be careful not to overcrowd the pot. (I recommend cooking each type of ingredient together in batches rather than mixing them. Example: Shiso leaves batch, aubergine batch, shrimp batch etc.) Keep the batter in the fridge between batches.

Once the batter puffs up and becomes crispy, remove the tempura from the pot before they become golden. Place on a wire rack to allow the excess oil to drop off.

Repeat until all your tempura is cooked.
Broth
Boil

400 g dry soba noodles

in a separate pot, follow the instructions on the packaging.

Bring

1000 ml dashi stock

to a boil and then add

5 tbsp soy sauce

and

2 tbsp mirin

. Allow to boil for 2-3 minutes.

Turn off the heat and add

½ tsp salt

. Mix.

Once the soba noodles are ready, pour them into a colander and then run them under cold water and divide them into serving bowls.

Pour the broth over the top of the noodles.

Place the tempura on top of the noodles and then garnish with green onions and kamaboko.

For an added kick, sprinkle with Japanese shichimi powder.

Enjoy!
Notes
Be careful not to let the tempura turn golden, real tempura is very light in color.
For specific tips on how to make crispy tempura, check the post above.