Kamo nanban soba is one of the lesser known soba noodle dishes, but it's seriously good. Succulent pan fried duck breast and charred spring onions served on top of buckwheat noodles in a rich dashi based broth. This umami filled dish is a must try!
Disclaimer: This post contains Amazon affiliate links. Sudachi Recipes earn a small percentage from qualifying purchases at no extra cost to you. See disclaimer for more info.
Jump to:
What is nanban soba/kamo seiro?
Kamo nanban (also known as kamo seiro) is a Japanese soba noodle dish served in a hot broth with duck meat and chunky spring onions.
To be honest, duck meat is rarely used in Japanese cooking. However, because duck meat is very fatty, the juices mix into the broth resulting in a delicious and rich soup that is packed with umami. It compliments the simple taste of soba noodles perfectly!
Duck can be expensive or difficult to find in Japan, so sometimes skin-on chicken thigh is used as a substitute.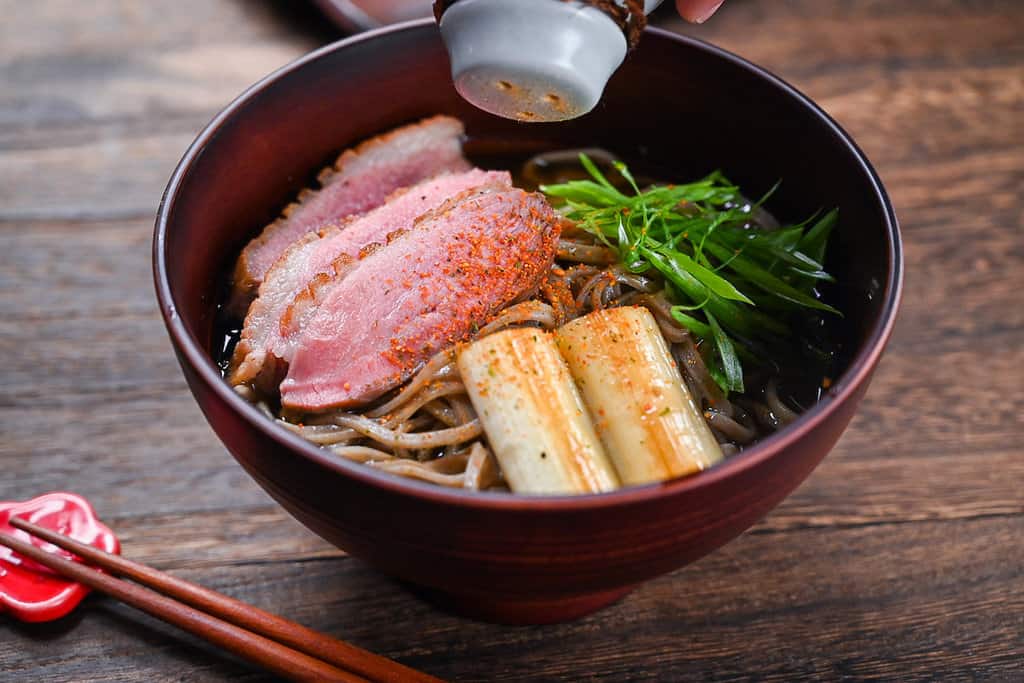 Brief history of duck soba in Japan
As I mentioned in chicken nanban recipe, nanban (南蛮) generally referred to European people back in Edo era (1600-1868). More specifically, people from Southern Europe (mostly Portuguese). In fact, the history and relationship between Japan and Portugual are very old and important in terms of Japanese history as a whole. Even to this day, some of the most well-known Japanese dishes such as tempura or even Japanese words were created with Portuguese influence.
However, the reason why the duck soba is called "nanban" is not because of the Portuguese influence. One of the most prominent theories goes, in soba restaurants back then, spring onions were called "nanban", and nanban soba refers to soba with spring onions. It's funny that the origin of the name actually has nothing to do with duck but with spring onions instead. But in a way, you can understand how important spring onions are in this dish!
It is believed that it was a restaurant named Sasaya located in Nihonbashi Bakuro-machi in Tokyo that created a form of duck nanban by putting duck meat and spring onions on top of bukkake soba. It suited the tastes of the time and thrived.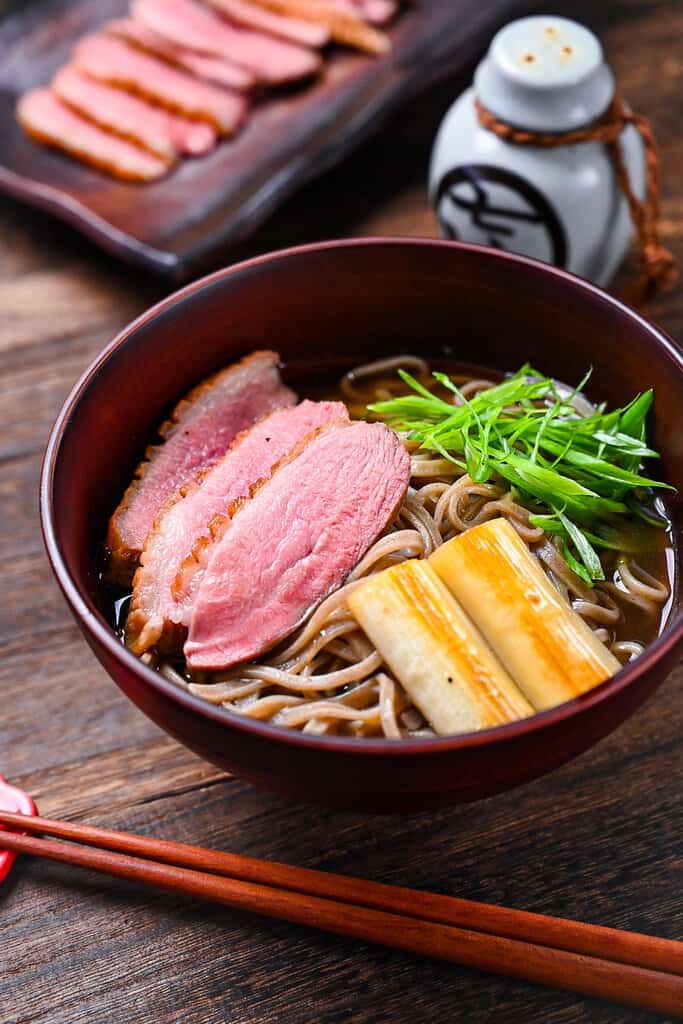 Different types of duck soba
Other than kamo nanban soba, there are a few other duck soba variations:
Kamo nuki: without soba noodles
Kamo seiro: Instead of hot noodles in hot broth, serve with cold soba noodles and dip them in a hot sauce
Kamo nanban udon: the same dish with udon noodles instead
Tori nanban: a similar dish that uses chicken instead of duck
Soup ingredients
Without a doubt, the star of the dish is the soup.
The general ingredients are:
It is a general soba noodles soup, but with the sweet and rich duck fat! I must say, the soup of this duck soba is by far the best soba soup that I have ever made!
Because you can get a lot of slices out of one duck breast, I made this recipe to serve 4 people. However if you want to reduce it to serve 1 or 2 people, simply divide the broth ingredients accordingly and then serve the extra slices of duck on the side or save them for another recipe. Enjoy!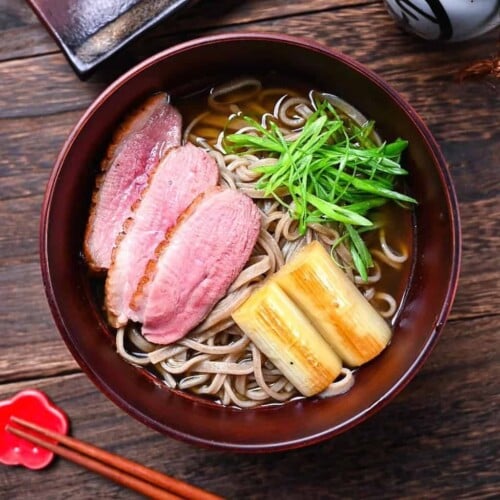 Duck soba noodles soup (kamo nanban soba)
How to make rich and delicious Japanese duck soba noodle soup (kamo nanban soba).
Instructions
Wash

300 g duck breast

under cold running water and pat it dry with a paper kitchen towel.

Make shallow diagonal incisions on the skin 0.5cm apart, then repeat in the opposite direction to make a crisscross pattern.

Sprinkle with a pinch of salt and pepper on each side.

Take a cold frying pan and place the duck inside with the skin facing down.

Move the pan to the stove and turn on the heat to medium high. Fry for 4 minutes. (Electric stoves take a bit longer to heat up so if you use electric stove, increase the cooking time by an extra minute or so.)

Flip it over and fry on the other side for 30 seconds.

Remove the duck breast from the pan and wrap it with aluminum foil. Leave it to rest in the foil for 3 minutes.

Return the pan to the stove and heat it on medium-high. Once hot, place the duck breast back into the pan, again with the skin side down. Fry for 3 minutes.

During the 3 minutes, baste the duck with the fat and juices that come out.

Once 3 minutes are up, flip it over and fry on the other side for 30 seconds again.

Remove from the pan and wrap it in the aluminum foil once again. Rest it in the foil until it's time to cut and serve.

Cook

4 portions soba noodles

according to the packaging.

In the pan with the duck fat, add the cut spring onion and fry until slightly charred on the surface.

Add the

1000 ml dashi stock

,

40 ml dark soy sauce

,

40 ml light soy sauce

,

100 ml mirin

and

2 tsp sake

to the pan with

100 g green onion(s)

and bring to a boil. Simmer for 2-3 minutes to cook off the alcohol in the mirin and sake.

Divide the cooked soba into serving bowls and pour the broth over the top. Place 2 pieces of spring onion in each bowl.

Cut the duck into slices and place on top. 

Sprinkle with chopped green onion, shichimi (optional) and enjoy!