Zaru soba is a traditional Japanese dish made with buckwheat noodles served on a bamboo tray. It's enjoyed with a dashi based dipping sauce called "mentsuyu" and served cold. It's a refreshing dish perfect for hot days!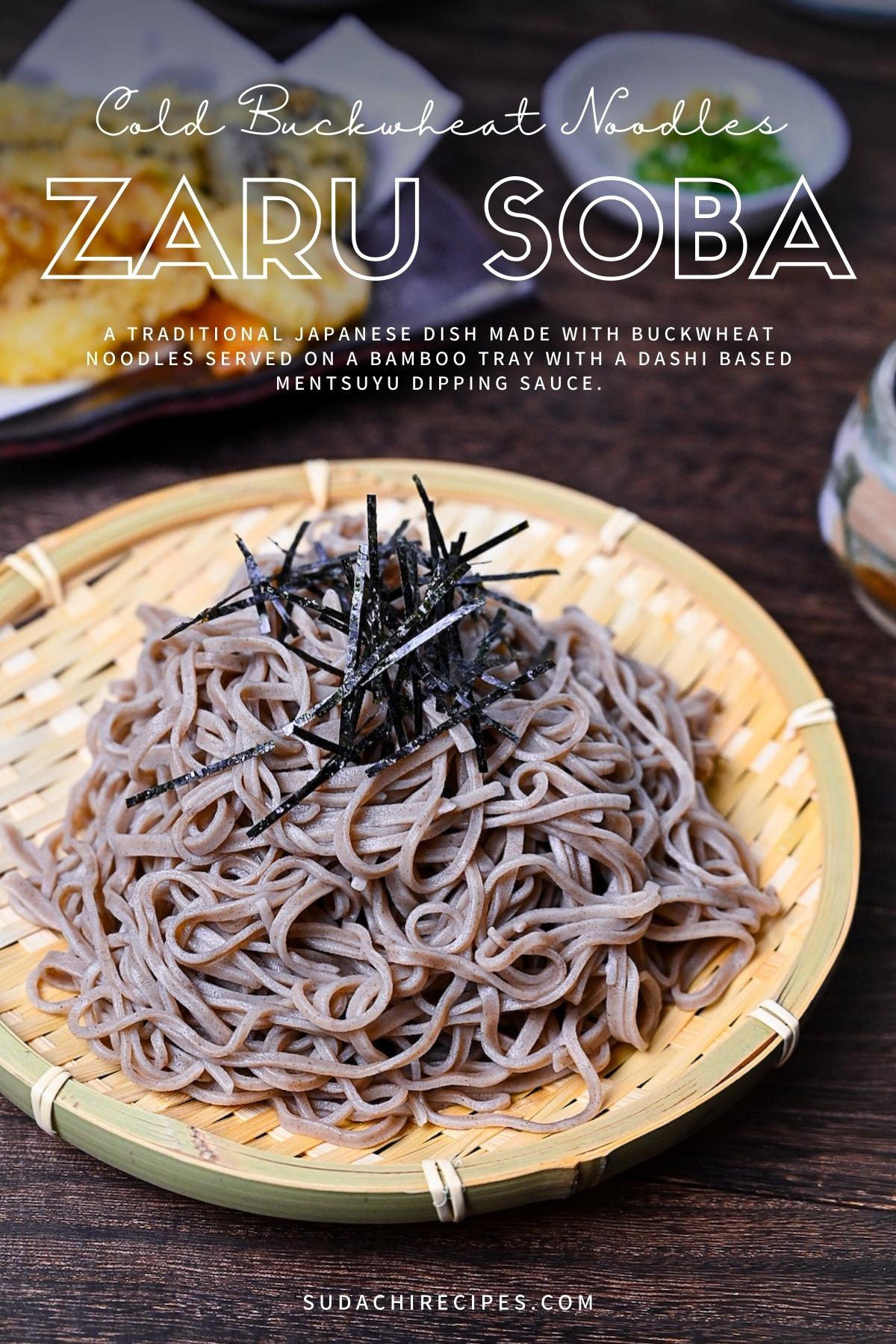 What is Zaru Soba?
Zaru Soba (ざるそば) is a Japanese dish that consists of buckwheat noodles boiled, cooled in cold water, and served on a bamboo tray called a "zaru."
The dish is typically served with finely chopped nori seaweed, chopped spring onions, wasabi, and other condiments. It is then dipped in a dashi-based dipping sauce.
According to the National Federation of Noodle Manufacturing Cooperative Associations, true Japanese soba noodles (日本そば) are made from a mixture of 30% buckwheat flour and 70% wheat flour.
The "zaru" is a flat bamboo straining tray commonly used to drain excess water from cold soba or udon noodles in Japan. If you do not have a zaru, you can use a bamboo sushi mat or sieve placed on top of a bowl or plate as an alternative option.
The origins of Zaru Soba can be traced back to the Edo period (1600 – 1868). Soba noodles were originally served on bamboo trays at a Tokyo restaurant called "Iseya." Later on, nori seaweed was added to the dish to differentiate it from the original dish called "morisoba," which was served without the seaweed.
How I Developed This Recipe
I aimed to create an authentic and simple taste with my zaru soba recipe, just like I did with zaru udon.
The dipping sauce is entirely homemade, making it easy for you to replicate at home. Give it a try and share your thoughts!
Ingredients and Substitution Ideas
Curious about the exact brands and products that bring my recipes to life? Discover the brands and ingredients behind my recipes at the Sudachi Amazon Storefront. Explore my handpicked pantry essentials and find your next kitchen favorites!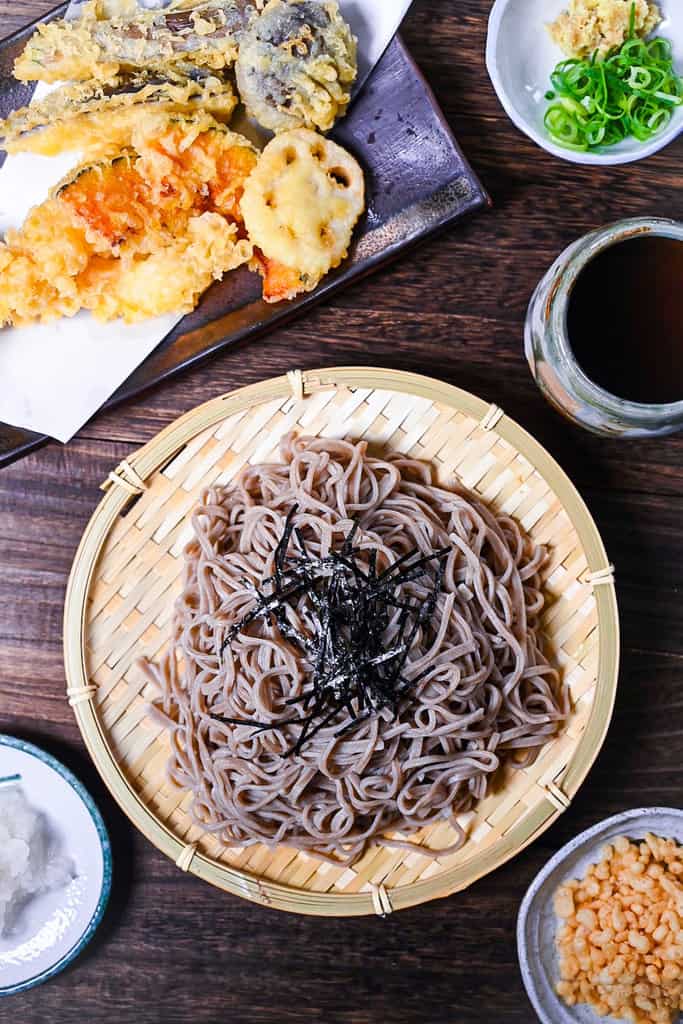 Step-by-Step Process
Here are my step-by-step instructions for how to make delicious Japanese zaru soba at home. For ingredient quantities and simplified instructions, scroll down for the printable recipe card below.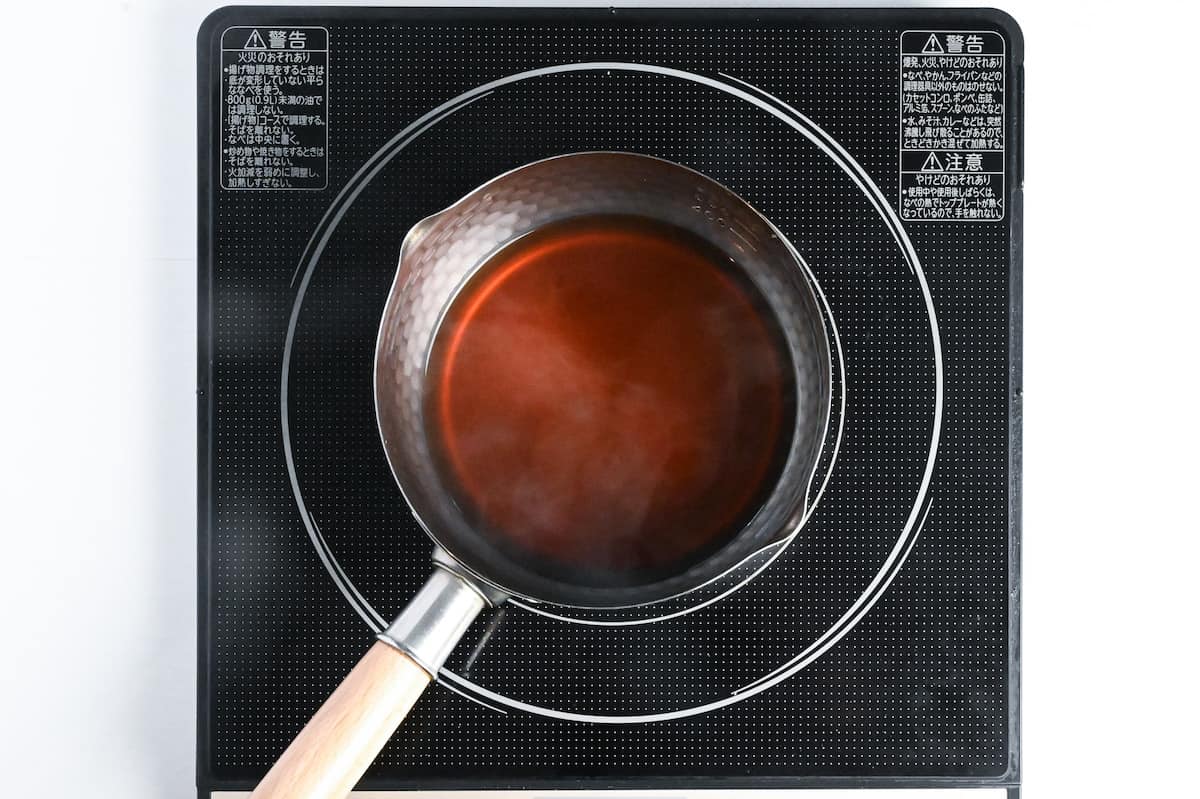 Add the dashi stock, soy sauce and mirin to a saucepan and boil for 1 minute. Add the sugar and mix until dissolved, then remove from the heat.
Transfer the sauce to a heatproof jug and add 1 dried shiitake mushroom. Allow to cool, and once cool to the touch, chill in the fridge until it's time to serve.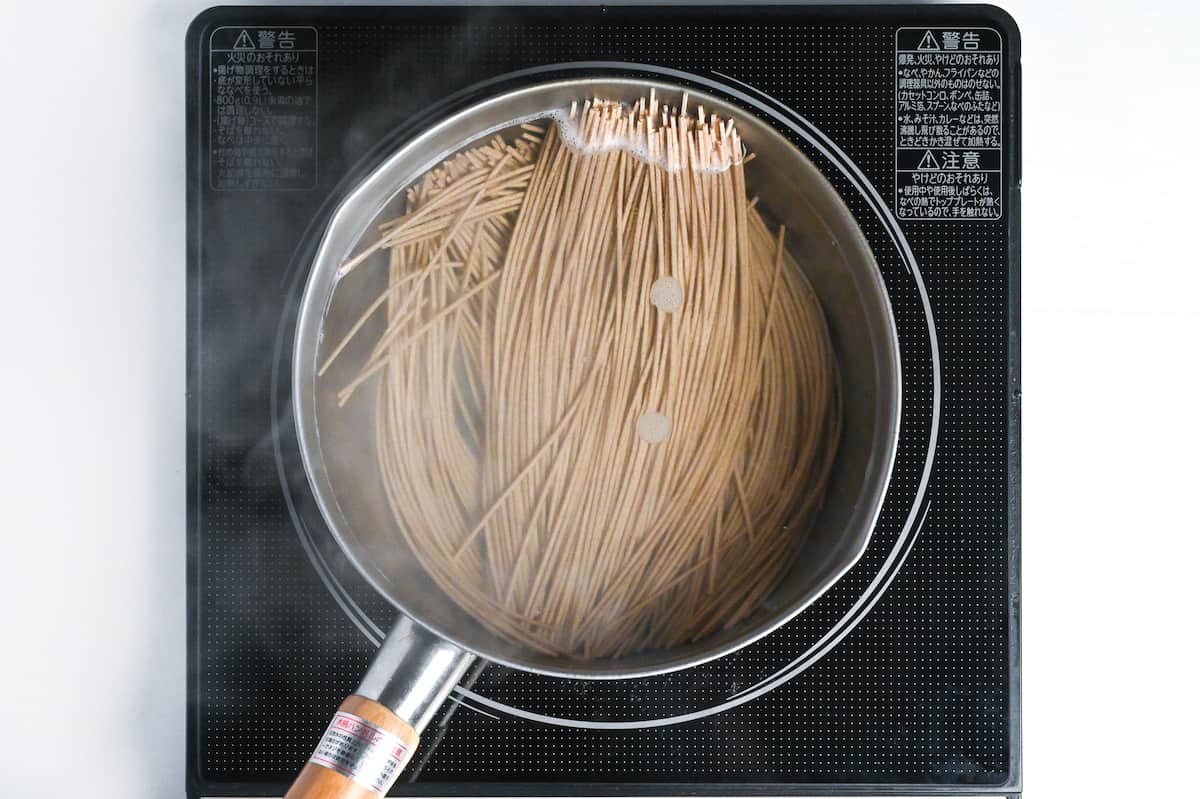 Bring a pot of water to a rolling boil and cook your soba noodles according to the instructions on the packaging.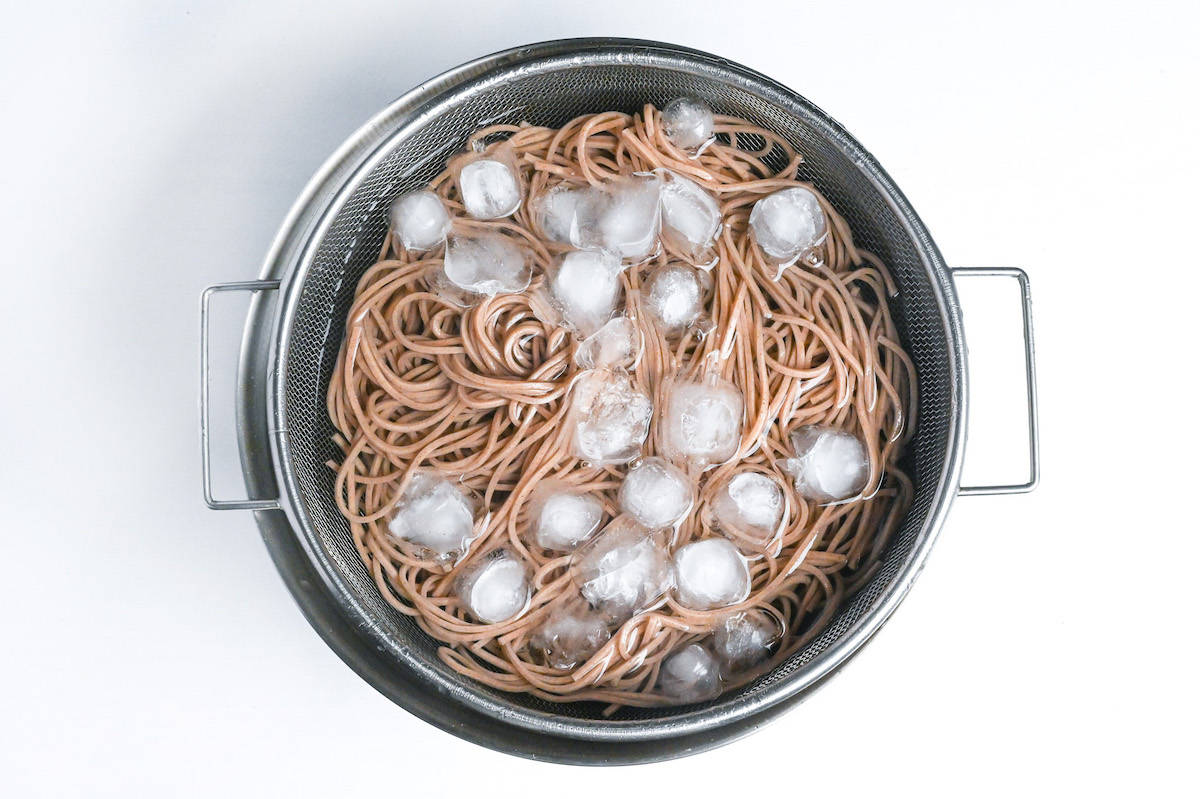 Place a sieve or colander in the sink and pour the soba noodles in to drain. Rinse with cold water to cool them quickly, then place the sieve in a bowl of cold water and add ice to make the noodles extra cold and stop them from sticking together.
Arrange extra ingredients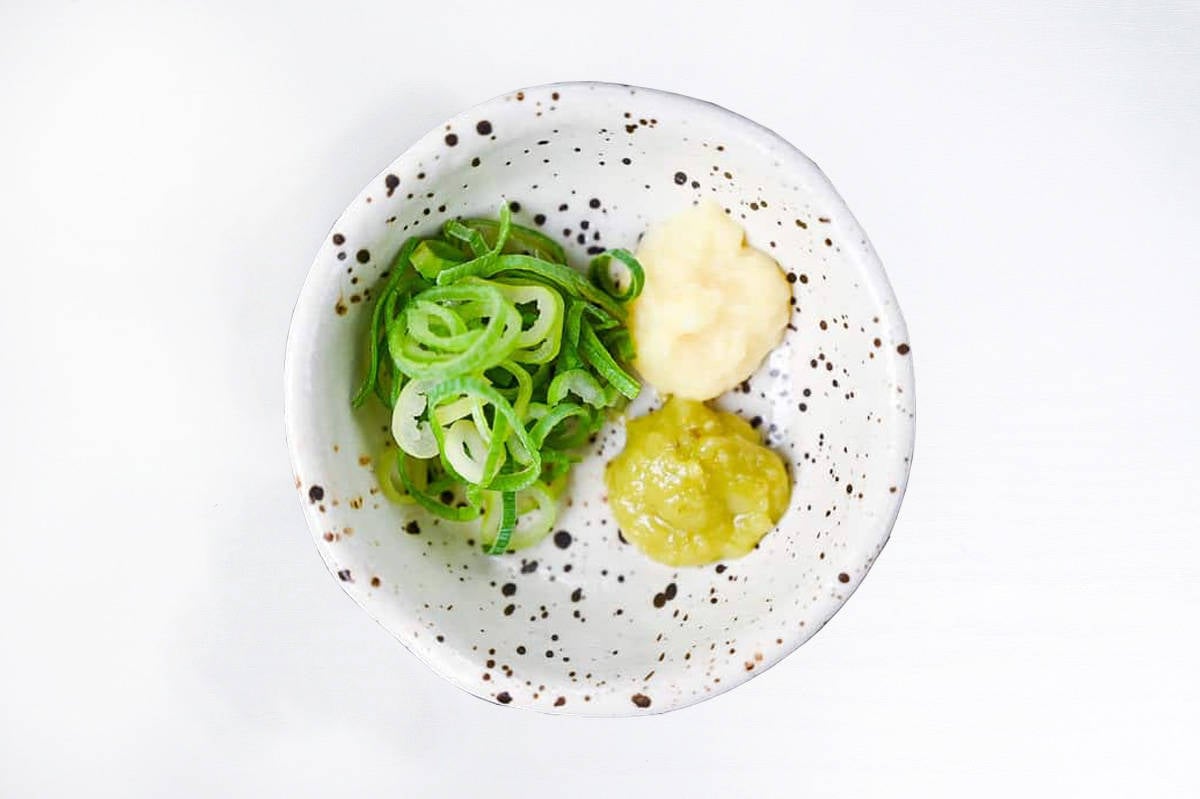 For each serving, arrange a small plate with a pinch of chopped green onion and a blob of grated ginger and wasabi (optional). I also recommend serving zaru soba with tenkasu (tempura bits) to soak up the flavor of the sauce!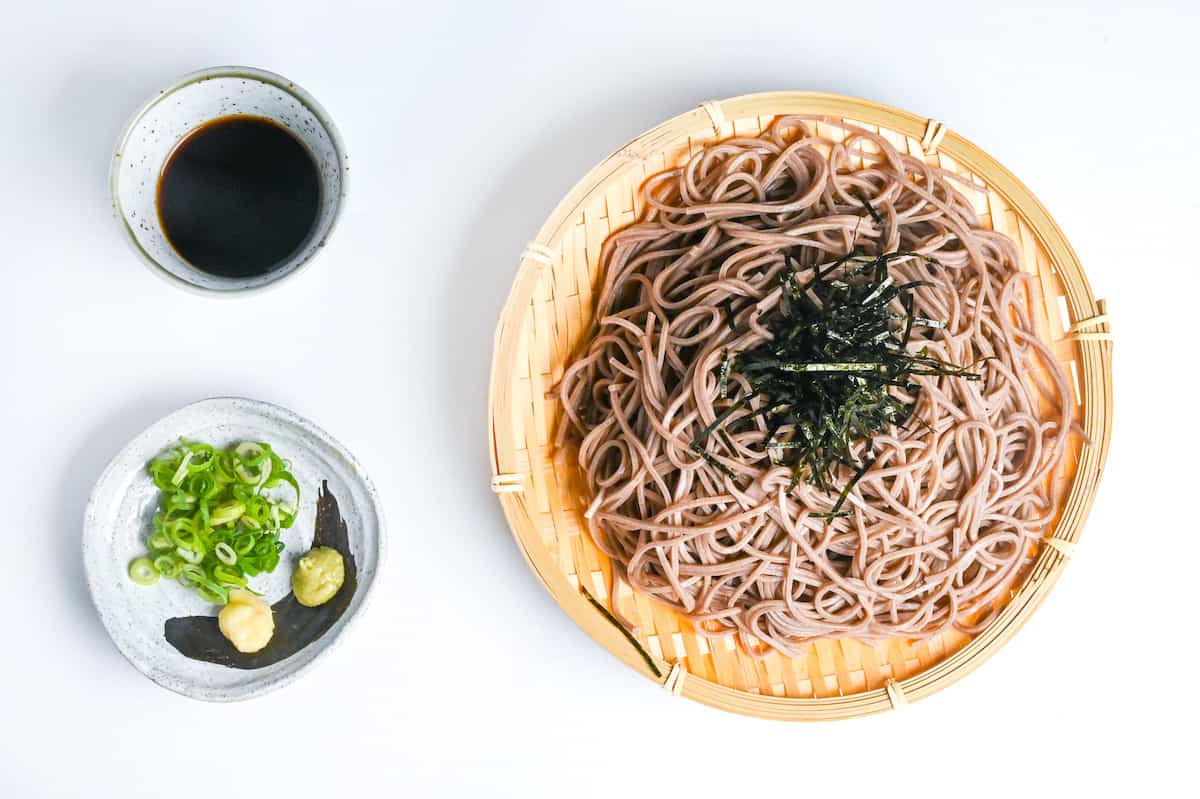 Drain the soba and transfer it to a bamboo tray (or similar) with a plate underneath to prevent leaks. Top with shredded nori and serve each portion with its own bowl of dipping sauce and small plate of additional ingredients.
Mix your choice of ingredients into the sauce, dip the noodles in and enjoy!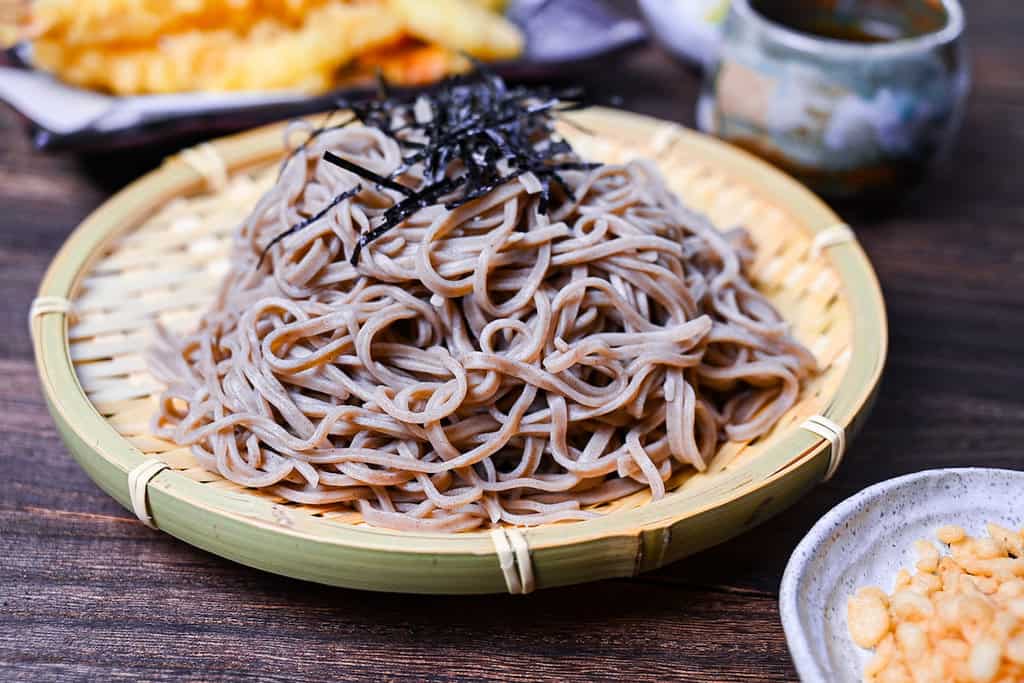 Storage
For optimal soba texture, eat them immediately after cooking. If they dry and clump together, rinse with fresh water to revive and unstick them. For later use, wrap in plastic, refrigerate, and eat within 24 hours.
You can keep the mentsuyu sauce in a sterilized container in the fridge for up to two weeks or freeze it for up to one month.
More Cold Noodle Dishes
If you're looking for more refreshing Japanese noodle dishes to keep you cool in summer, check out some of my other recipes: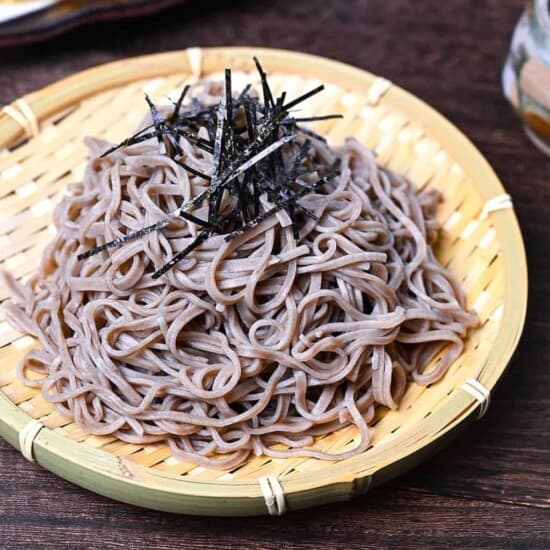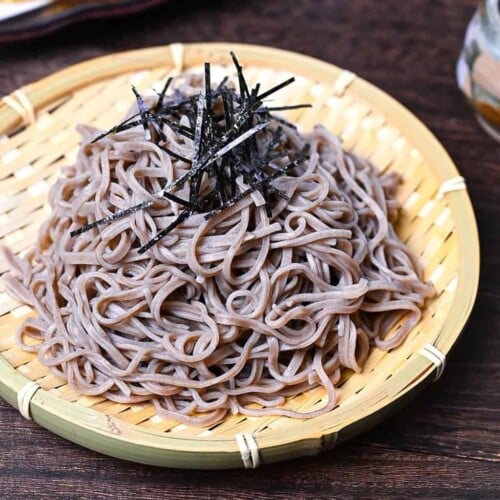 Zaru Soba (Cold Buckwheat Noodles with Homemade Dipping Sauce)
---
How to make refreshing Japanese zaru soba (cold buckwheat noodles) with homemade mentsuyu dipping sauce.
---
---
---
---
Ingredients
Additions
1

tsp

wasabi paste

1

tsp

fresh ginger

grated

2

tbsp

tempura flakes

(tenkasu/agedama)
Instructions
Take a small pan and add

100 ml dashi stock

,

20 ml soy sauce

and

20 ml mirin

. Boil for 1 minute, add

1 tsp sugar

to the pan and mix until dissolved.

Take the pan off the heat, pour the dipping sauce into a heatproof jug and add

1 dried shiitake mushroom(s)

. Leave to cool, then once cool to the touch, chill in the fridge for 20-30 minutes.

Cook

120 g dry soba noodles

according to the instructions on the packaging (usually 5-6 minutes).

Once cooked, pour the soba noodles into a strainer and drain away the cooking water. Rinse under cold water and add a few

ice cubes

to chill them quickly.

Divide

1 tsp wasabi paste

,

1 tsp fresh ginger

,

2 tbsp tempura flakes

and

2 tbsp finely chopped green onion(s)

between small individual serving plates.

Place the soba noodles on the "zaru" and sprinkle

2 tbsp shredded sushi nori seaweed "kizami nori"

over the top. Serve each portion with individual cups of dipping sauce and the plate of additional ingredients to mix in.
Notes
You can use the same recipe to make zaru udon, just replace the udon noodles with soba noodles.
If you're doubling or tripling the recipe, the mentsuyu will take longer to cool.
You can keep left over mentsuyu in the fridge for about 1 month so I recommend making extra if you plan to make zaru udon or zaru soba often during the summer!
If you want to make it vegan, you can use my vegan awase dashi recipe.