Learn how to make simple, authentic homemade awase dashi with kombu and bonito flakes. It's easy to do and will bring your Japanese cooking to the next level!
Disclaimer: This post contains Amazon affiliate links. Sudachi Recipes earn a small percentage from qualifying purchases at no extra cost to you. See disclaimer for more info.
What is Kombu Bonito Awase Dashi?
Awase dashi (合わせ出汁) is a flavorful Japanese soup stock that blends multiple ingredients to achieve a deep and harmonious taste. Unlike dashi made from a single element, awase dashi combines its components' unique flavors and aromas.
The most popular awase dashi combination is dried bonito flakes and kelp. While the bonito flakes provide a robust richness, the kelp adds a subtle sea aroma and lightness.
This synergy is like an orchestra, where each ingredient complements the other, creating a unified and rich flavor. Rather than dominating a dish, awase dashi enhances and complements it. It's a versatile broth, essential for many Japanese dishes, such as miso soup.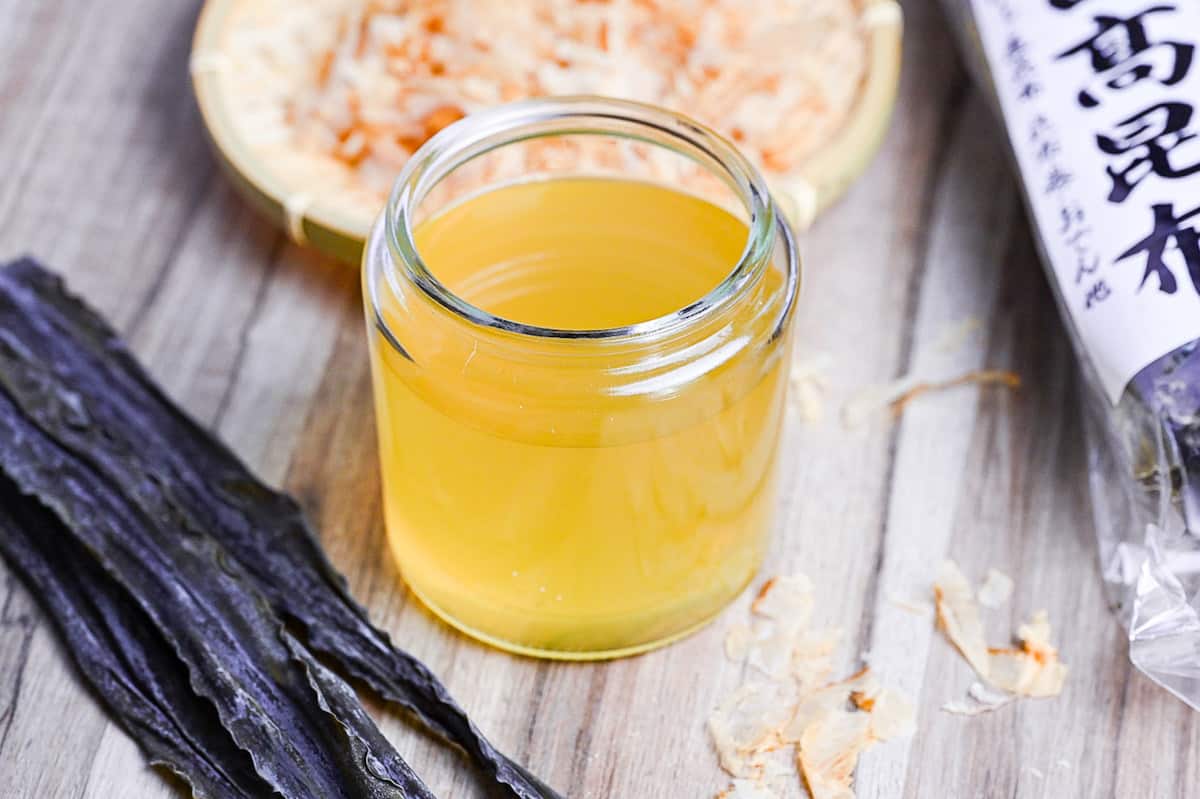 How I Developed This Recipe
Creating a foundational recipe often means going back to basics, and that's precisely what I aimed for with this awase dashi.
By focusing solely on dried bonito flakes and kelp, I've crafted a dashi that embodies the essence of traditional Japanese cuisine. Its simplicity doesn't just make it easy to prepare but also ensures that the dashi is adaptable, fitting seamlessly into many Japanese dishes.
Mastering this basic dashi recipe is a valuable addition to your kitchen and will bring your Japanese cooking to the next level!
How The Umami is Created
The magic behind the rich umami of the awase dashi lies in the blend of their primary components: glutamic acid and inosinic acid. These compounds are renowned for tantalizing our taste buds and elevating the overall dining experience.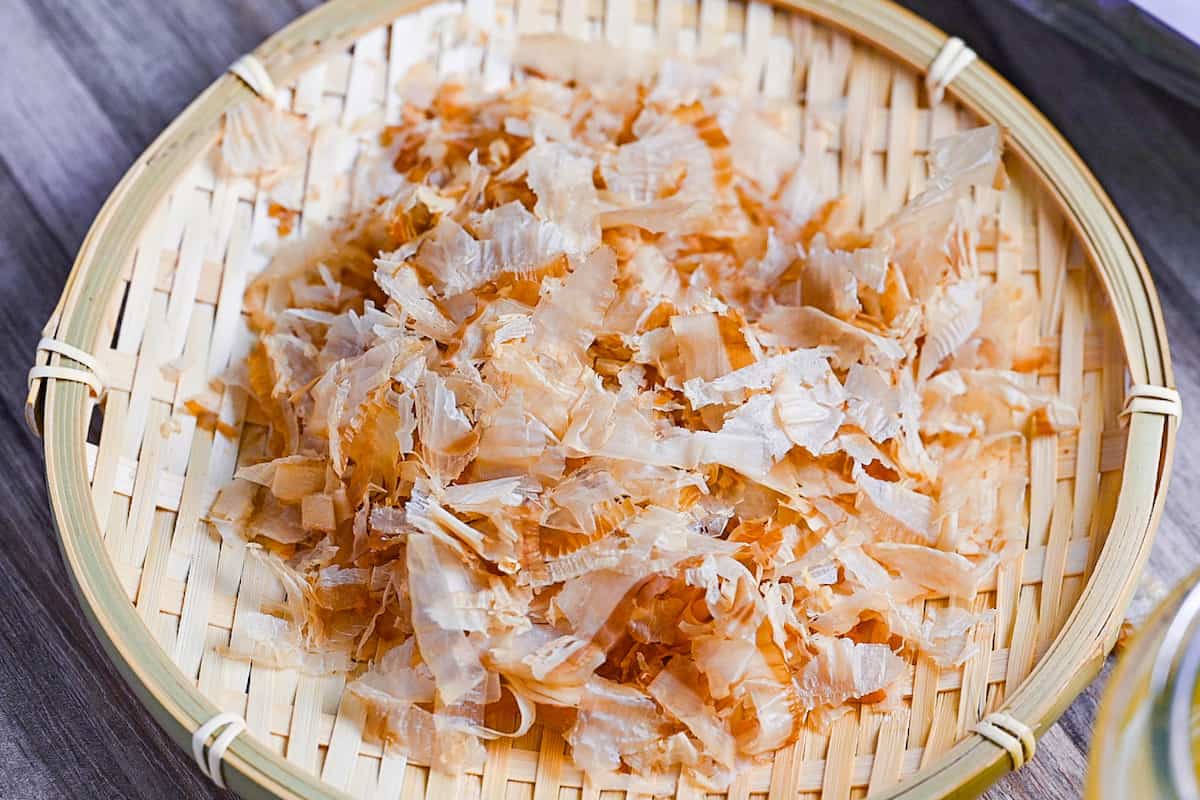 Bonito flakes, derived from dried, fermented, and smoked skipjack tuna, are a treasure trove of inosinic acid. This particular umami compound originates from ATP (adenosine triphosphate), an essential molecule that provides energy within our cells. When inosinic acid from bonito flakes meets glutamic acid, the synergy intensifies the umami sensation, giving the bonito its characteristic deep flavor.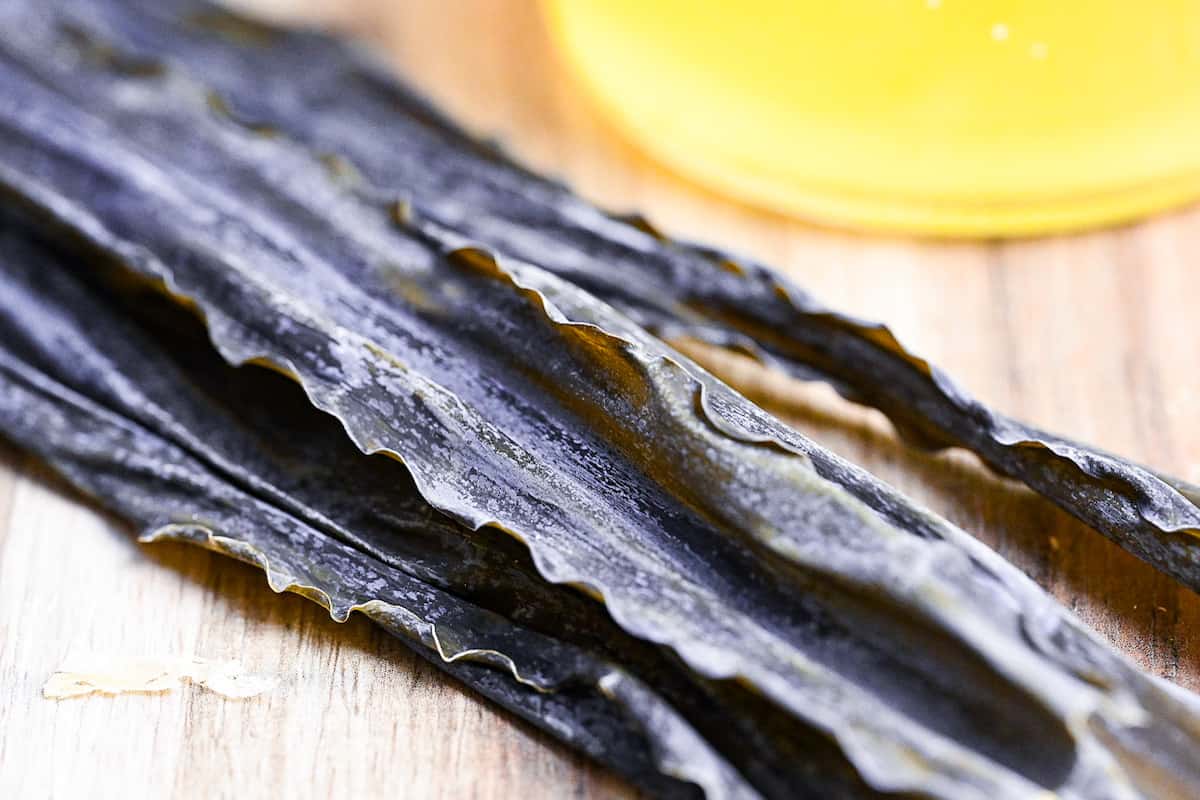 On the other hand, kelp boasts high levels of glutamic acid. This amino acid is pivotal in protein synthesis and various nutritional processes within our bodies. As kelp is simmered, its glutamic acid dissolves into the water, imparting its unique taste and umami to the broth.
When bonito flakes and kelp come together in a dashi, the interplay between glutamic acid and inosinic acid creates a flavor profile. This dynamic collaboration stimulates our taste receptors, producing the unparalleled umami flavor that has become a cornerstone of Japanese cuisine.
Ingredients You Will Need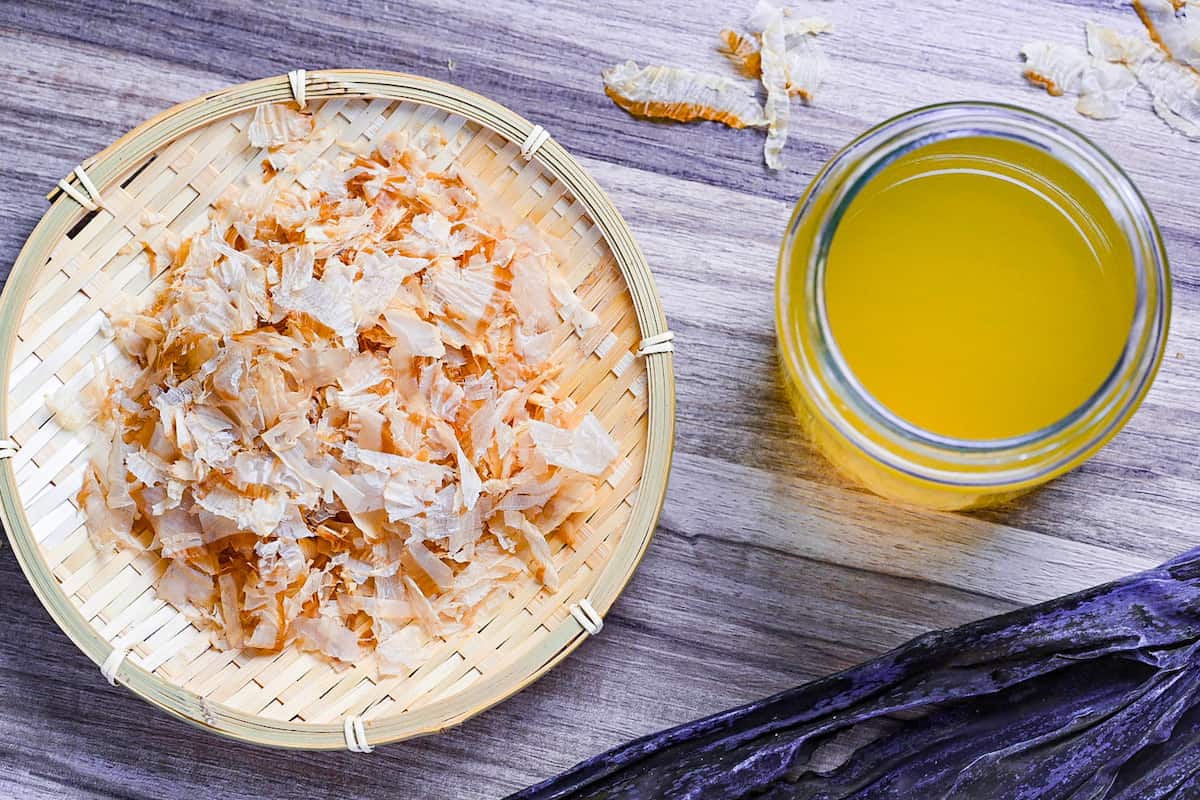 Cold Water: For the best Japanese dashi, use soft water with a hardness ranging from 0 to 30. Soft water effectively extracts the umami flavors from kombu and dried bonito flakes. On the other hand, hard water can react with the protein in kelp, potentially resulting in a bitter taste.
Dried Kelp (Kombu): While there are numerous kelp varieties, Rausu, Rishiri, Ma, and Hidaka kelp are particularly recommended. For an in-depth exploration of each type, refer to my comprehensive kombu guide.
Bonito Flakes (Katsuobushi): Like kelp, bonito flakes come in various types and grades. Check out my detailed katsuobushi guide to understand the distinctions and choose the suitable variant.
Since bonito flakes are made from fish (specifically, skipjack tuna) this awase dashi is not suitable for vegetarians or vegans. For a plant-based awase dashi, check out my shiitake and kombu dashi recipe.
Curious about the exact brands and products that bring my recipes to life? Discover the brands and ingredients behind my recipes at the Sudachi Amazon Storefront. Explore my handpicked pantry essentials and find your next kitchen favorites!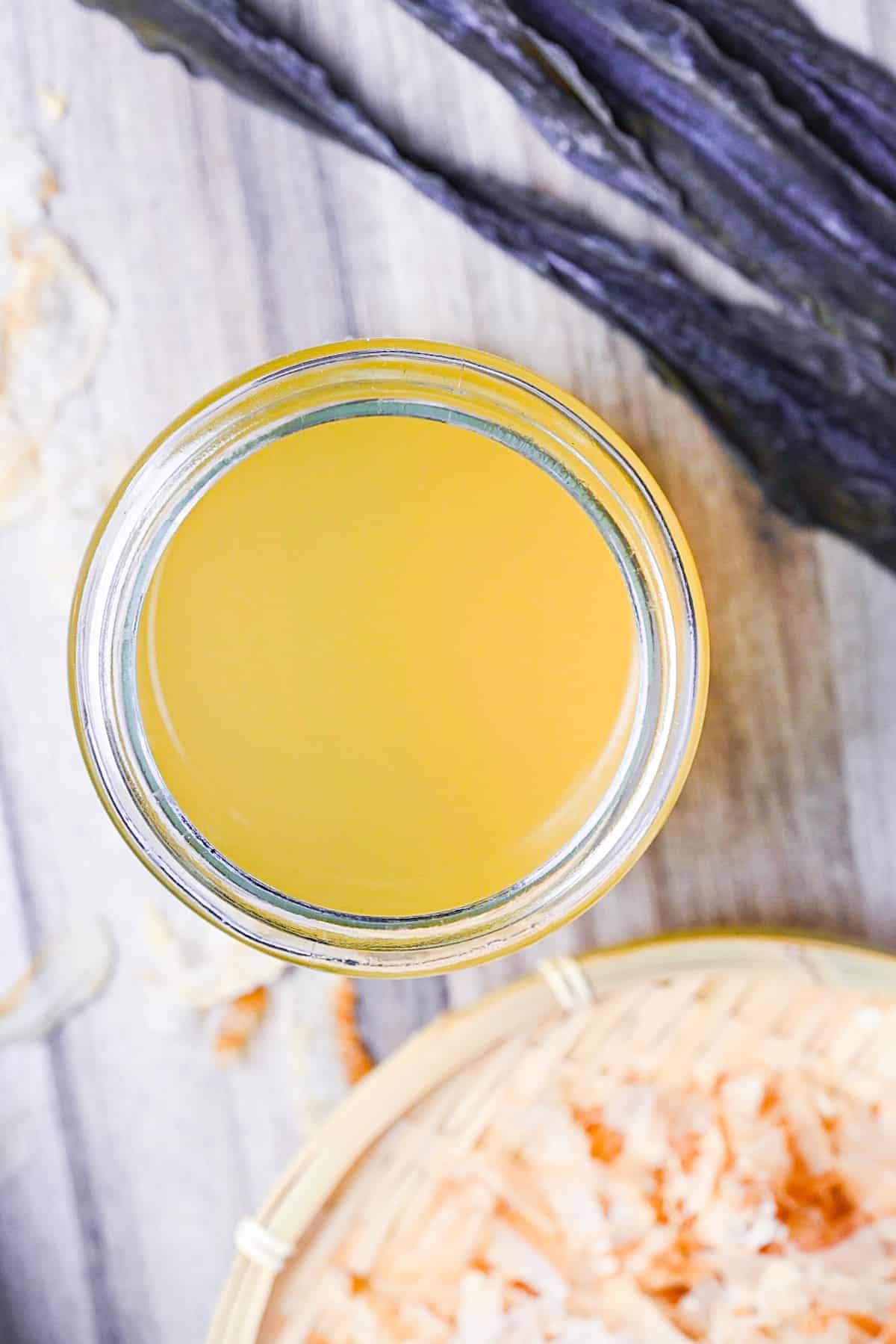 Step-by-Step Process
Here are my step-by-step instructions for how to make homemade awase dashi from scratch using kombu and bonito flakes. For ingredient quantities and simplified instructions, scroll down for the printable recipe card below.
Place the kombu in water and leave to rehydrate for at least 30 minutes or up to 24 hours. If you choose the longer soaking time, cover with a lid and store in the refrigerator. Rehydrating the kombu enables us to extract its flavor through simmering later.
Unless you are using "Rausu" or "Ma" kombu, soaking alone is generally not enough to extract its full flavor potential.
Place the pot on the stove and slowly heat the dashi on medium or medium-low. The slow heating will fully extract the flavor of the kombu. Be careful not to let it boil, since this can extract bitterness and sliminess.
Once almost boiling, reduce the heat to the lowest setting and remove the kombu. You can discard it, freeze it or use it to make tsukudani rice ball filling.
Add the bonito to the pan and leave to simmer on the lowest heat for 5 minutes.
Bonito has a strong smokey and fishy flavor, so if you prefer it to be more subtle, feel free to reduce the amount of bonito flakes according to your preference.
Bonito flakes are very fine, so it is vital to strain thoroughly to ensure the dashi broth is clear. To do this, line a fine mesh sieve with kitchen paper and place it over a heatproof bowl. Pour the dashi through and the bonito flakes will be caught in the kitchen paper.
Incorporate your authentic homemade dashi stock into your favorite Japanese recipes and enjoy!
Storage
Making a large batch of dashi in advance is indeed a time-saver, but it's essential to store it correctly to maintain its freshness and flavor. Storing dashi at room temperature is a no-go, as it can quickly deteriorate and spoil.
Refrigeration is the way for those who plan to use the dashi quickly. However, it's crucial to let the hot dashi cool to room temperature before transferring it to an airtight container, like a jar or Tupperware. Once sealed, you can store it in the refrigerator for up to a week.
If you want to keep a larger stock of dashi for future use, freezing is your best bet. Like refrigeration, ensure the dashi has cooled down before sealing it in an airtight container. Once properly stored, you can keep it in the freezer for up to one month.
Room temperature – Not recommended.
Refrigerated – Up to a week.
Frozen – Up to a month.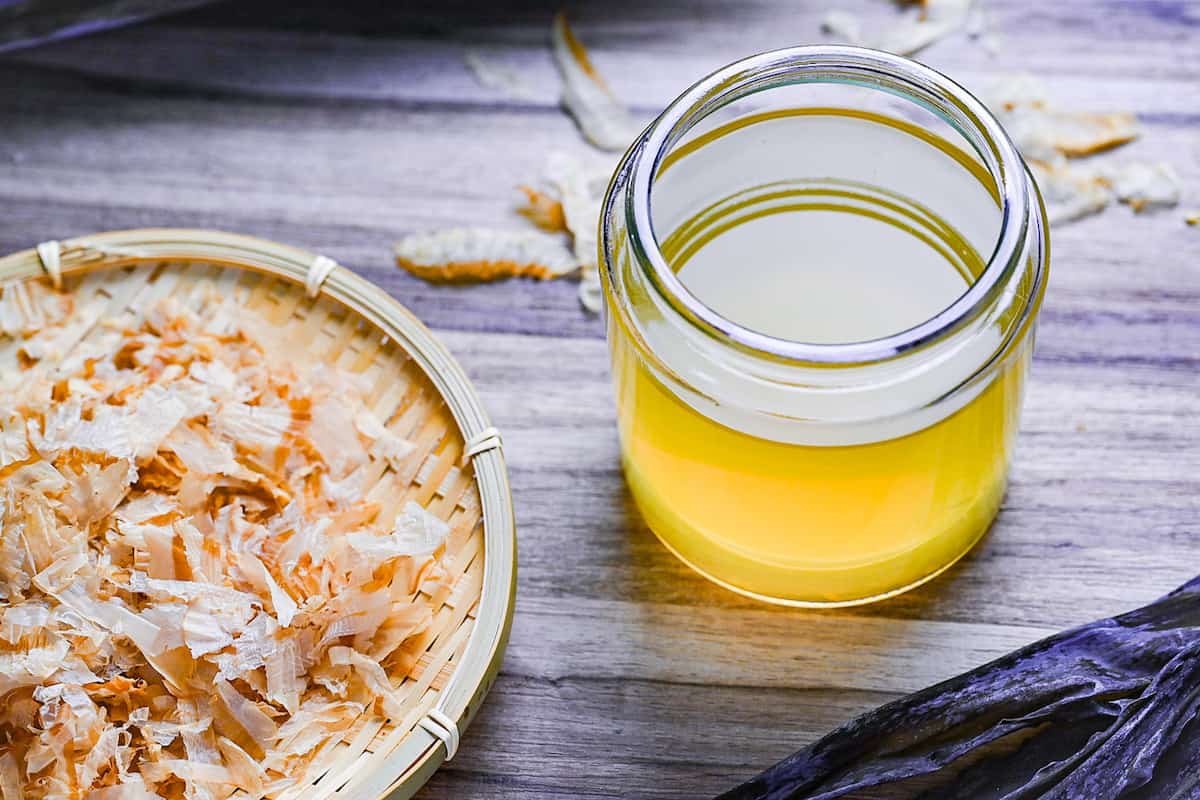 I hope you enjoy this authentic homemade awase dashi recipe! If you try it out, I'd really appreciate it if you could spare a moment to let me know what you thought by giving a review and star rating in the comments below. It's also helpful to share any adjustments you made to the recipe with our other readers. Thank you!
More Recipes
Try out these recipes using your homemade dashi stock!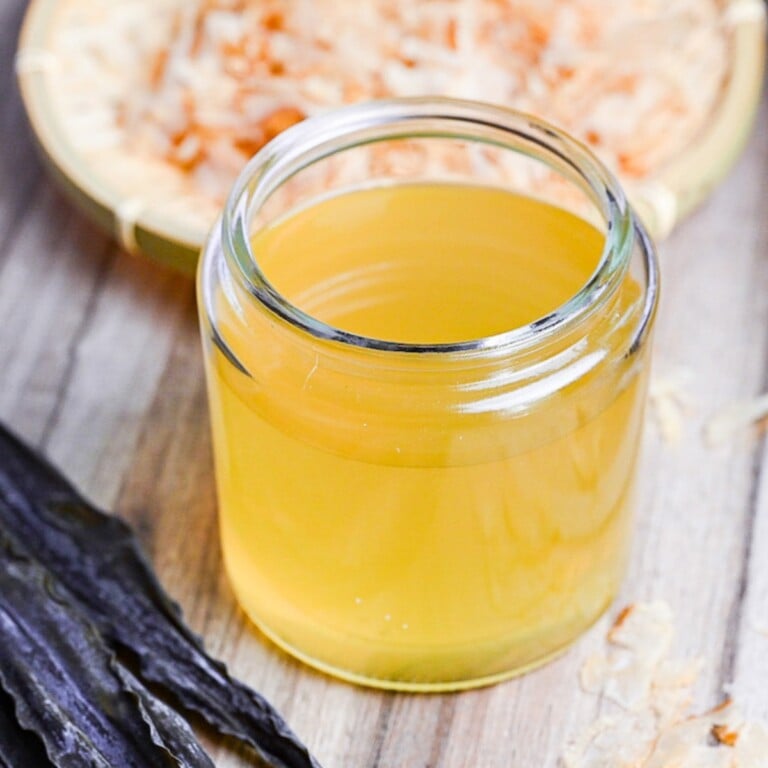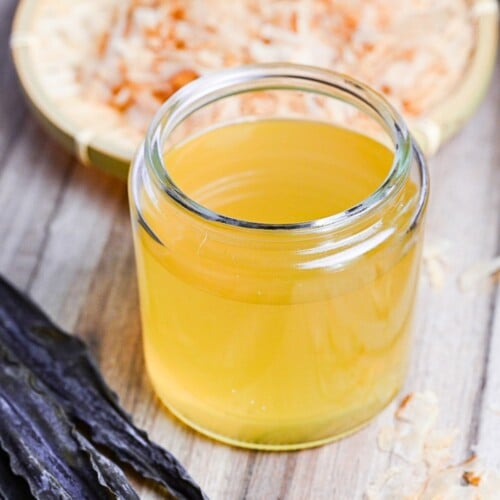 Kombu Bonito Awase Dashi Stock
---
How to make umami-packed Japanese Awase Dashi Stock with kombu (dried kelp) and katsuobushi (bonito flakes).
---
---
---
---
Instructions
Pour

1000 ml cold water

into a pot and add

12 g dried kelp(s)

. Let the kombu soak until softened. This will take at least 30 minutes. (You can soak it over night if you like, put a lid on if you do.)

Move the pan to the stove and slowly heat over a medium-low or medium setting. Bring to almost (but not quite) boiling, then remove the kombu.

Add

15 g bonito flakes

, turn down the heat and simmer on low for 5 minutes. (For a more subtle bonito flavor, reduce the amount of bonito flakes to taste.)

Line a sieve with a paper towel and place a pan or heatproof bowl underneath. Pour the dashi through the paper towel to catch the bonito flakes. The paper towel helps catch all the small bits leaving you with a clear broth.

Use in your favorite Japanese recipes and enjoy!
Notes
As the bonito flakes are made from tuna, this dashi is not suitable for vegetarians.
Can be kept for 1 week in the refrigerator or 1 month in the freezer.