Rainy season in Japan coincides with an abundance of Japanese plums (or apricots!) called "ume". Ume are unique in taste. They're too sour to be eaten as they are but make a wonderful, fruity and flavourful ingredient to turn into pickles, syrup, jams and drinks. With just two ingredients you can make this delicious ume syrup!
Disclaimer: This post contains Amazon affiliate links. Sudachi Recipes earn a small percentage from qualifying purchases at no extra cost to you. See disclaimer for more info.
Jump to:
What are "ume"?
Ume (梅) is a popular Asian fruit introduced to Japan from China. Although it is commonly known as a plum, it's actually more closely related to the apricot. Ume is known under several names; Japanese plum, Japanese apricot or Chinese plum.
It starts off as a brilliant green colour called "ao ume" (青梅) and eventually turns to a yellow-orange once ripened which is called kanjuku ume (or ripened plum).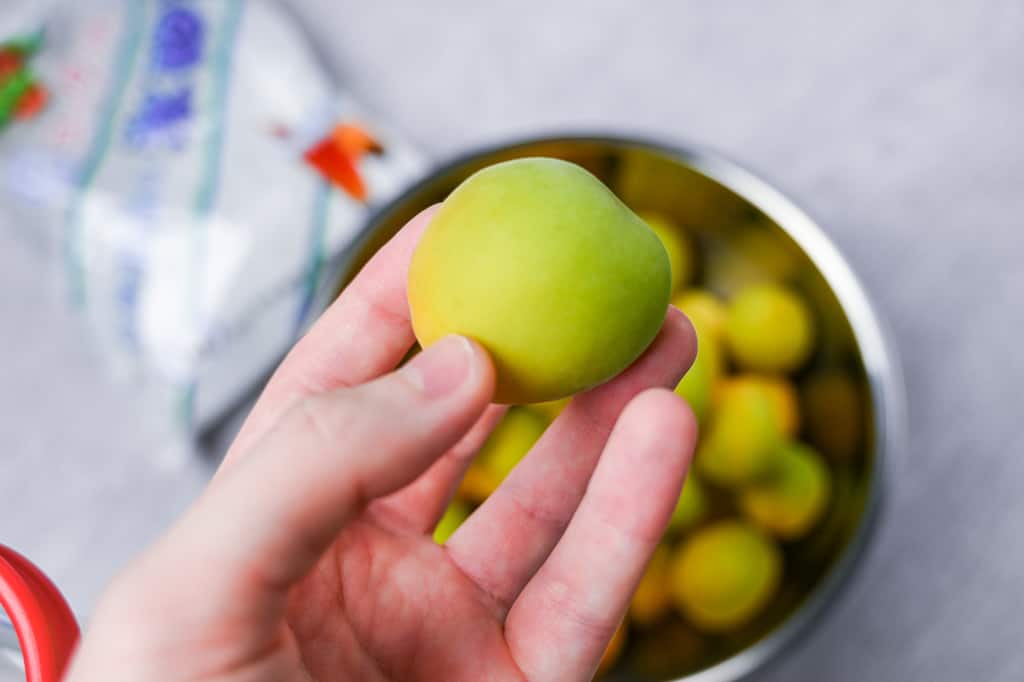 The ume blossom tree usually flowers in January or February and marks the start of spring. The flowers are a deep pink with a wonderful floral fragrance. When rainy season arrives in Japan in around June, supermarkets are stocked up with fresh ume and everything you could need to make ume recipes! Actually, in Japanese, the word for rainy season is "tsuyu" (梅雨) which means "plum rain"!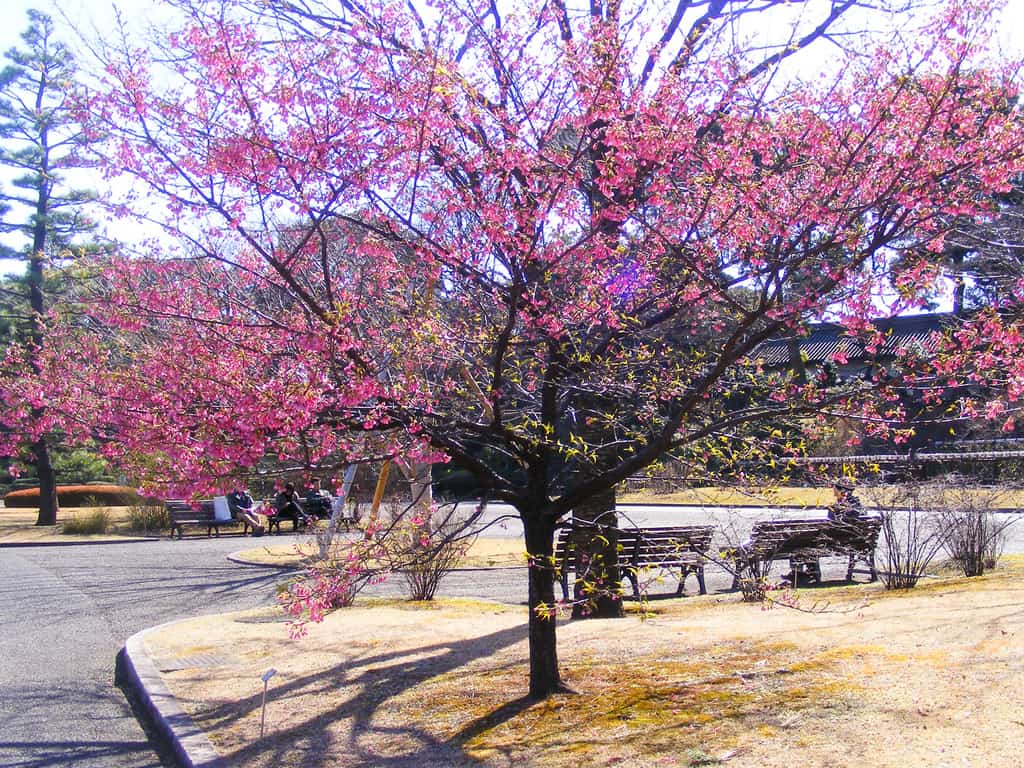 How do I eat Ume?
Japanese ume cannot be eaten raw. Instead, it's most commonly made into umeboshi (梅干し) a pickled salted plum or umeshu (梅酒) a sweet plum liquor.
The green ao ume are best for making umeshu, whereas the ripened yellow ume are best for making umeboshi or ume syrup.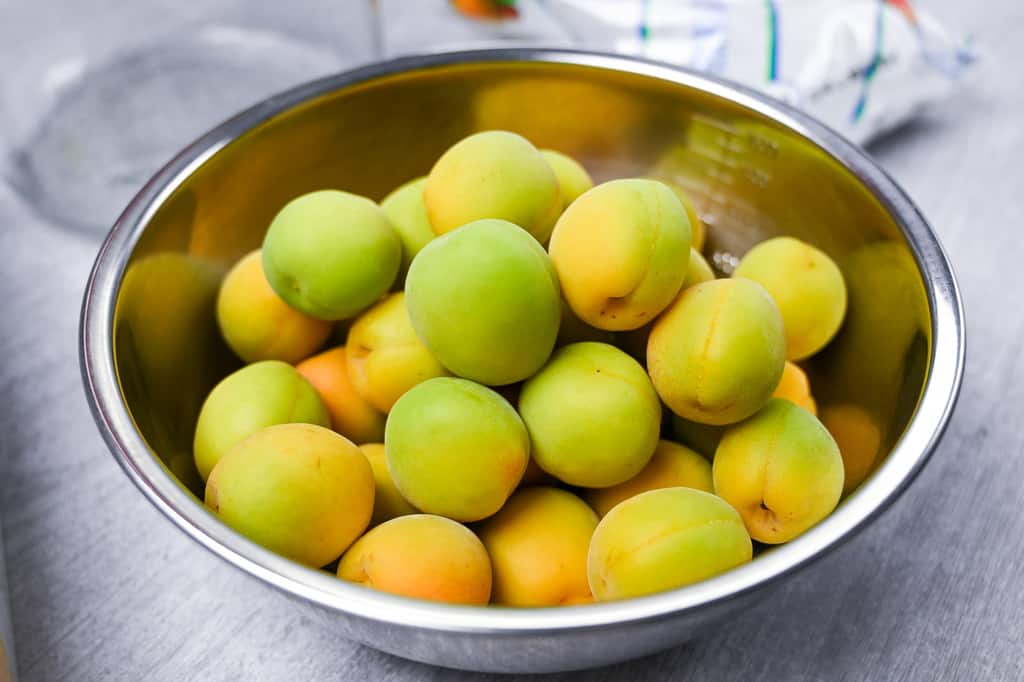 Seeing as making umeshu takes at least 6 months, and umeboshi around 3, I'm going to show you a quicker recipe. Making ume syrup only takes about 1 week in comparison.
Where can I buy ume?
Unfortunately, if you don't live in Japan, it can be hard to find fresh ume plums.
I recommend checking your local Asian supermarket, especially around May-June when they're in season. If you know where to buy them, please comment below so we can add it to the post and help our readers! I've never ordered them myself, but I've seen a few shops on Etsy selling fresh ume with worldwide shipping.
Ume Syrup
Making syrup from ume takes time, but it's extremely easy and only requires 2 ingredients! Here I'm going to share some top tips for speeding up the process and making delicious ume syrup.
Ingredients needed for Ume Syrup
Although the ingredients can be a little hard to find, fortunately, ume syrup only requires two ingredients.
Frozen Ume - to flavour the syrup
Rock candy / Koorizato (氷砂糖) - A type of sugar that comes in large crystals.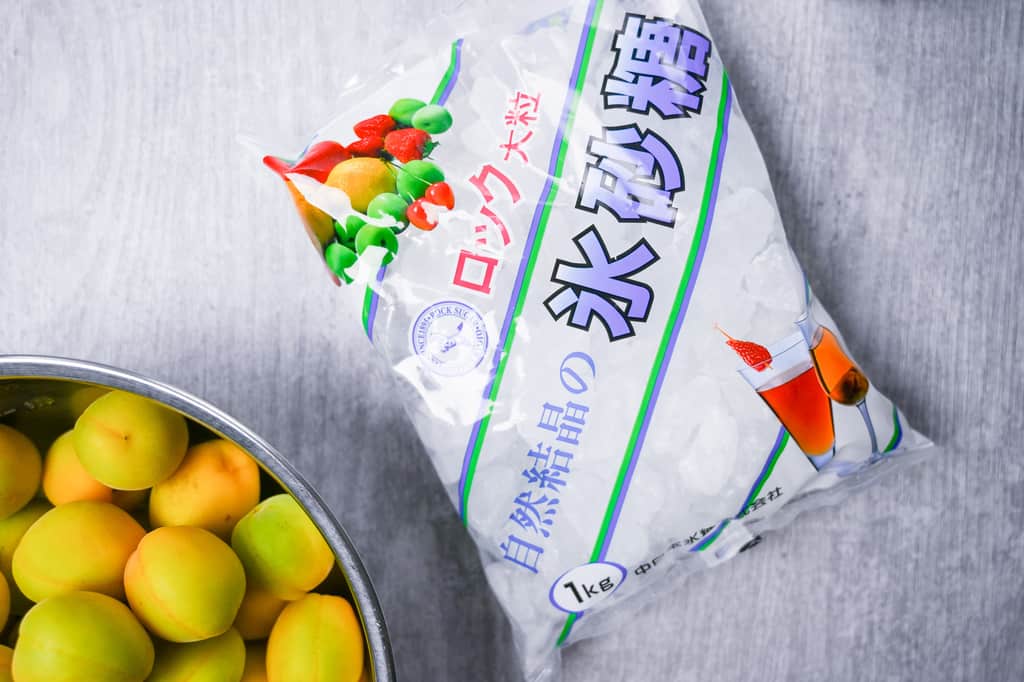 The ratio of ume to rock candy is 1:1. In my recipe, I use 500g of plums and 500g rock candy, this will yield a little somewhere between 500-750ml of syrup depending on how juicy the ume are. I wouldn't recommend reducing the sugar as this is what helps preserve the plums. The rock sugar slowly dissolves around the plums, absorbing the flavour and then sinking to the bottom.
You'll also need, a 2 litre air-tight glass container. I recommend this kind of container. (This is the closest I found to the ones we use in Japan.)
Can I use a different kind of sugar?
Koorizato (氷砂糖) is one of the purest kinds of sugar so this helps the flavour of the ume shrine through more than any other kind of sugar.
In addition to this, the large surface area means that the sugar dissolves slowly. This is important because it actually dissolves at a similar rate as the extraction rate of the juices in the ume.
If you use a sugar with small granules, it will melt too quickly and result in a syrup with a weaker ume taste.
Why use frozen ume?
You might be wondering why I freeze the ume, well there are two main reasons why I highly recommend it!
Note: You should only freeze ume if you're making ume syrup or ume jam, this method doesn't work for umeshu or umeboshi.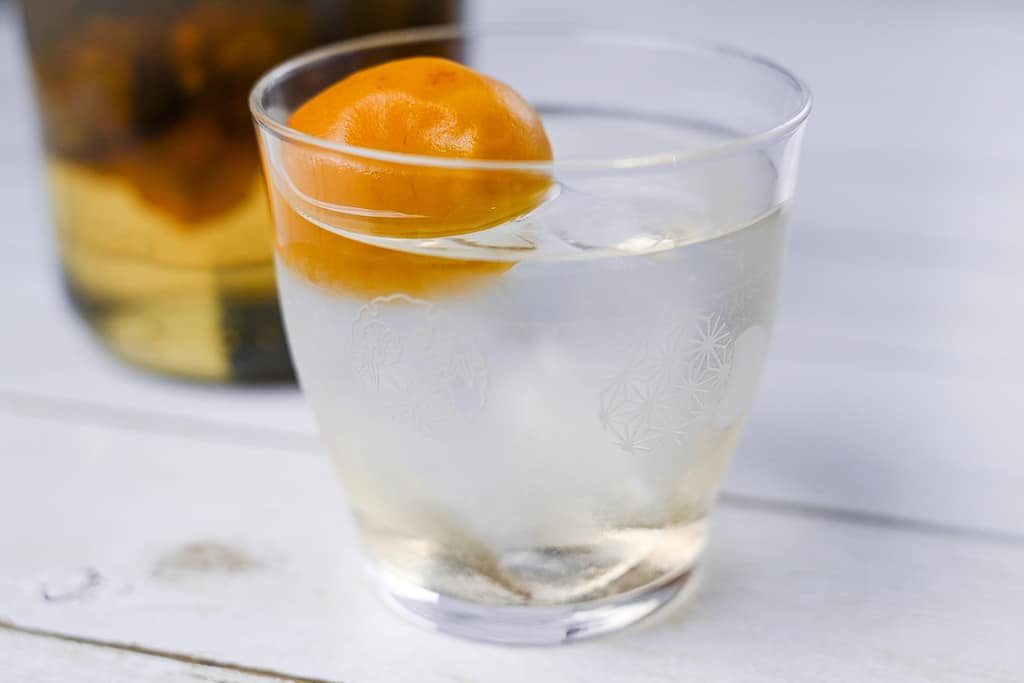 It's fast
Okay, maybe a recipe that takes a week isn't that fast... but if you use fresh ume, it takes 3 weeks for the syrup to develop. By freezing the plums, you knock 2 weeks off the time meaning you can enjoy your syrup sooner.
Why is it faster, you ask? When the plums are frozen, the water inside expands and turns to ice. This destroys the structure so when it's defrosted it becomes mushy. The juices leak out onto the sugar and turns into syrup very quickly. On the note of mushy plums, I must warn you not to defrost them before making your syrup. Allow them to defrost in the jar together with the sugar.
Better Taste
When I made ume syrup with fresh plums, one batch failed because mold started to grow on the plums after 2 weeks. The other batch was okay, but it had a slight fermented taste and was a bit bubbly like soda.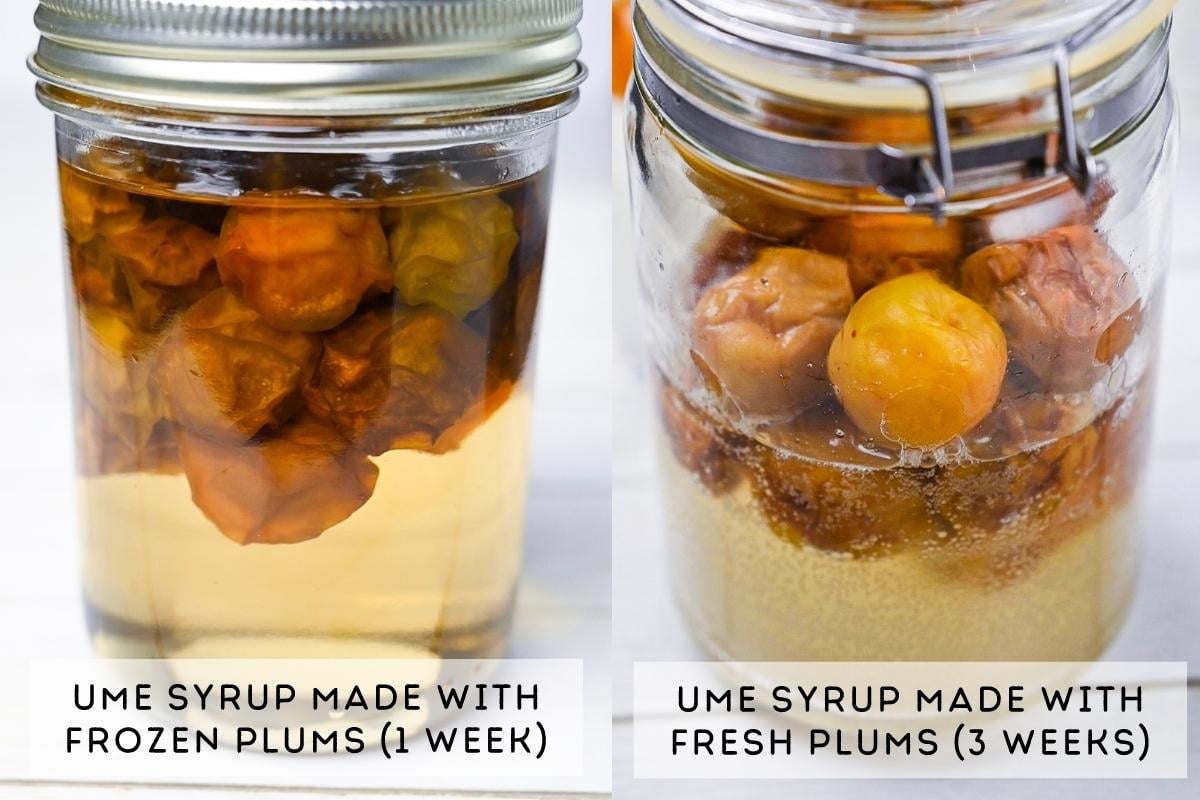 When I tried the frozen method, my syrup was clear, smooth and had a refreshing taste. I couldn't believe that this method was quicker and tasted better!
Enjoy anytime
Ume syrup is something Japanese people make during the rainy season to enjoy during the summer, but the great thing about freezing the ume, is there's no rush! If you're busy, you can keep them in the freezer for up to 6 months before you use them.
Process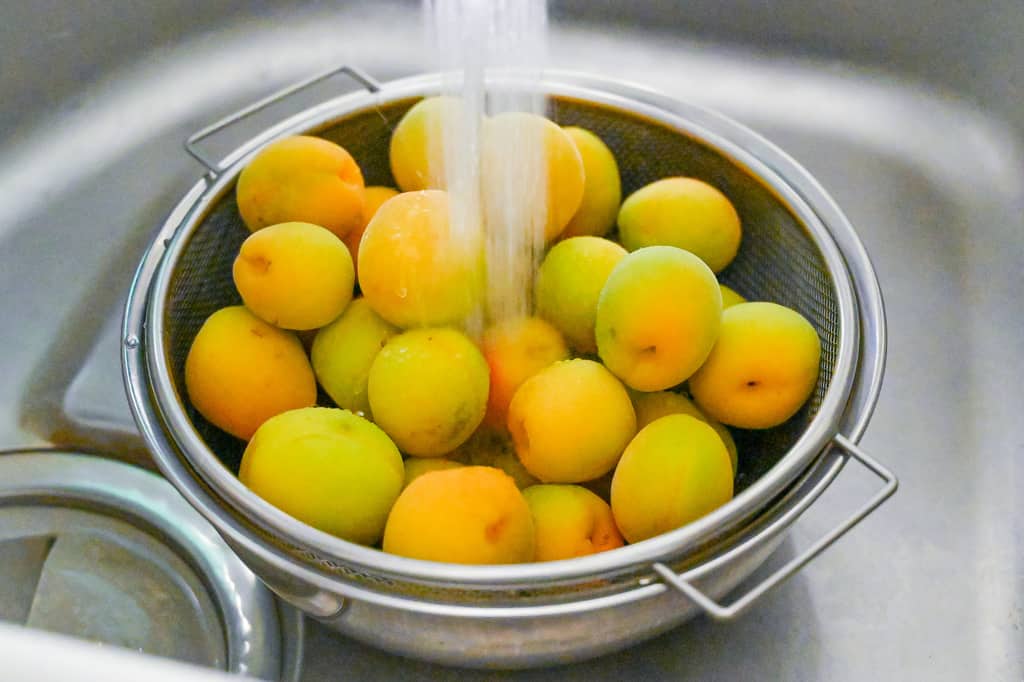 STEP ONE Cleaning the plums to remove any bacteria. Make sure to wash your hands thoroughly before handling the plums. Wash the ume with warm running water.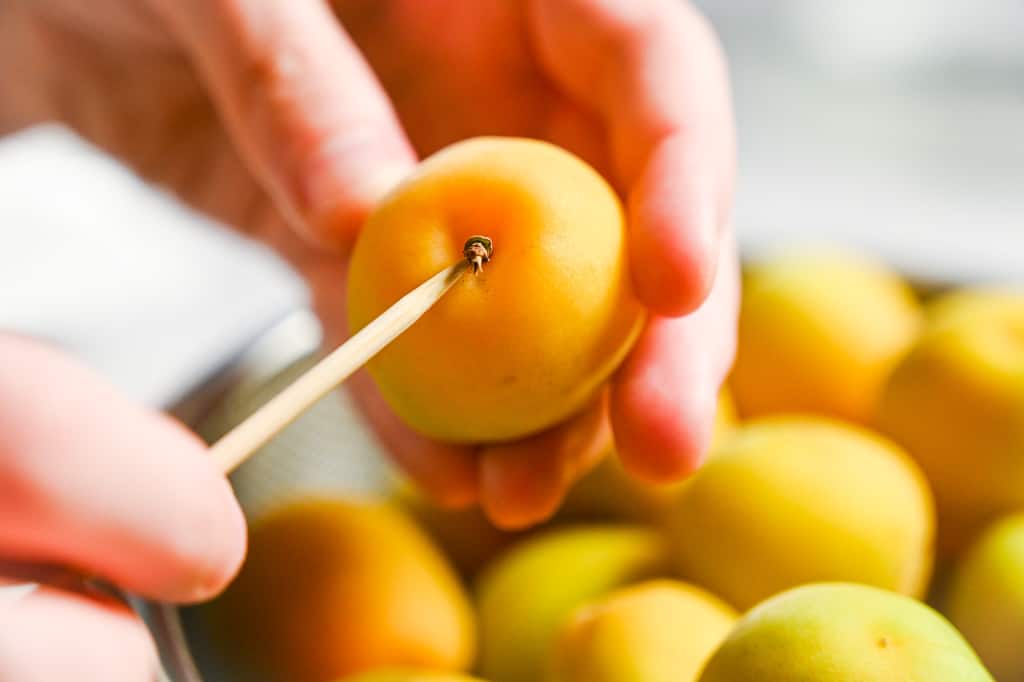 STEP TWO Drying the plums and removing the stems. If you leave the stems in, your syrup could become bitter. Drying the plums helps preserve them better, I use a clean towel but you can also use paper towels. Some people also wipe them over with alcohol as well.
STEP THREE Place your washed plums into a ziplock bag and store them in the freezer for 24 hours or until you're ready to use them. (Use within 6 months.) Do not defrost!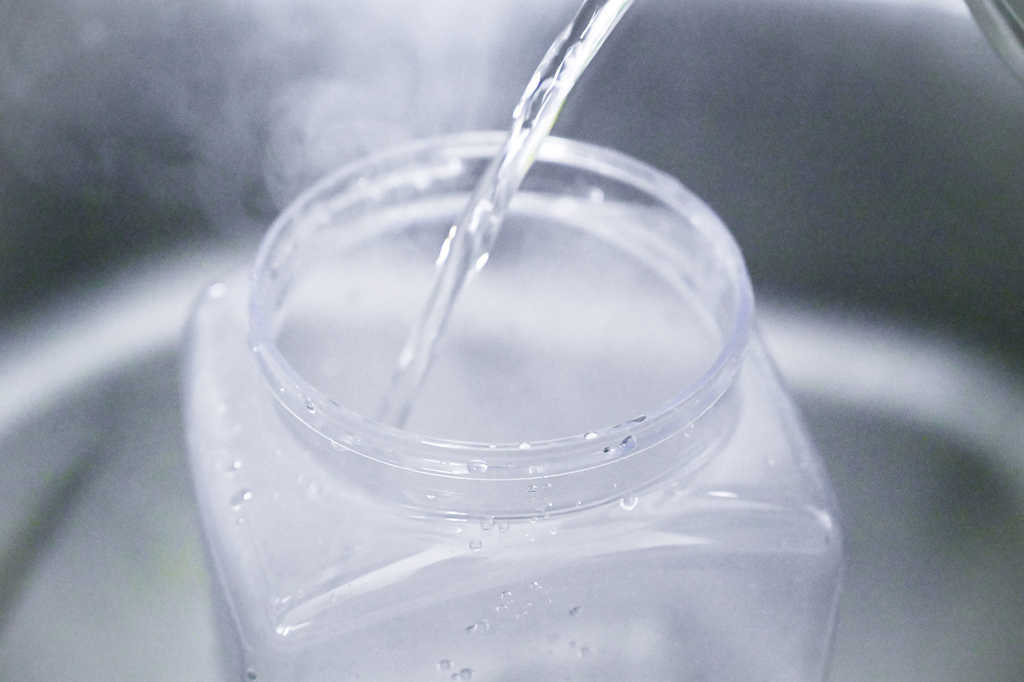 STEP FOUR Before you can make ume syrup, you'll need to sterilize the jar. Make sure to use a glass jar so that you can clean it with boiling water and allow it to steam. Plastic will melt and glass is more sturdy. Once it's steamed for a few minutes, empty the water and allow it to air dry. (If you're impatient like me, you can use a paper towel.) Wipe the inside with alcohol to sterilize it.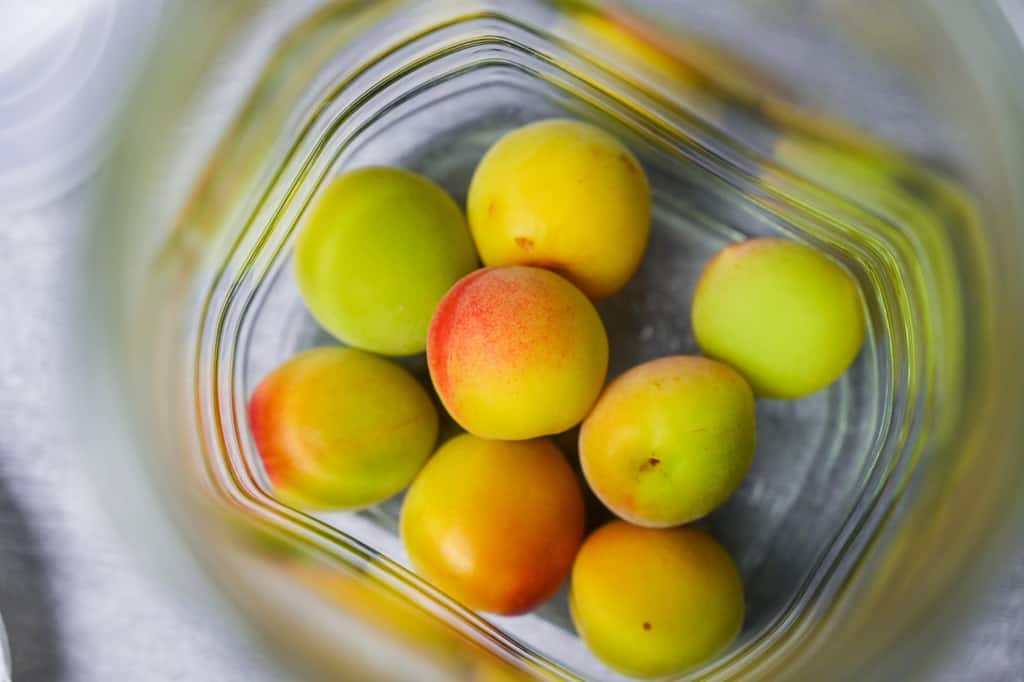 STEP FIVE Layering the plums and sugar. Line the bottom of the jar with frozen plums, then add a layer of rock sugar over the top. Repeat until the container is full.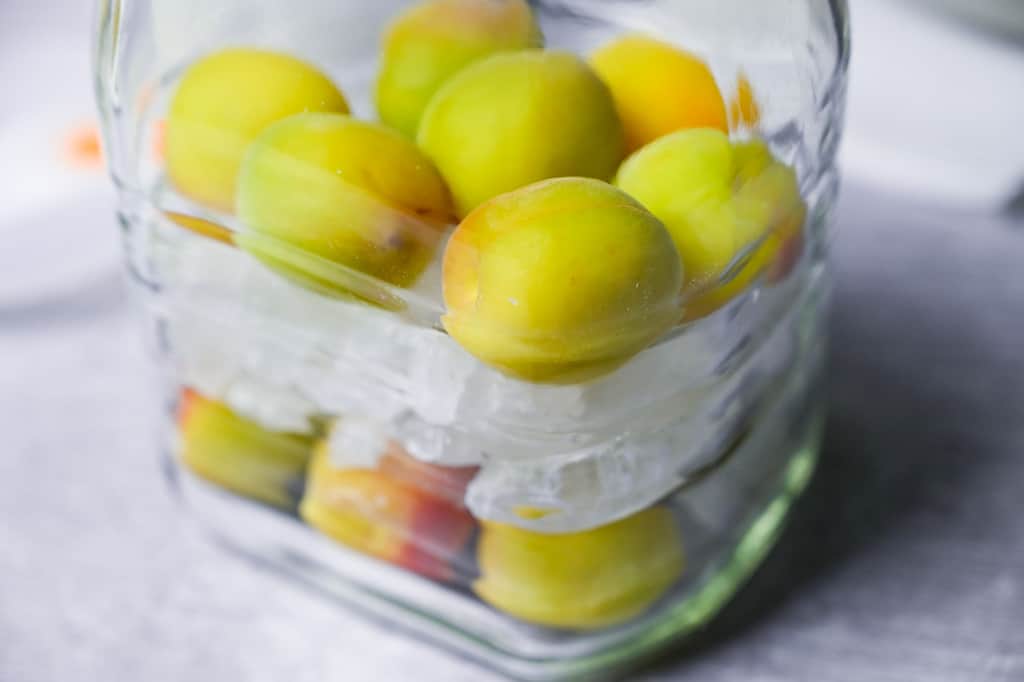 STEP FIVE Seal the jar and make sure it's airtight, then store in a cool dark place. Shake/tilt the jar once a day to move the plums around and make sure they're all in contact with the sugar.
The plum syrup should be ready in about 7-10 days.
Storing
Once the syrup is ready, it's better to take the ume out, I recommend leaving them in no longer than one month.
TIP: You might find that there are still a few lumps of sugar in the syrup, you can melt them by heating the syrup in a pan on the stove. (Make sure to take the ume out before heating.)
Once the last sugar rocks are dissolved, you can transfer the syrup to a smaller sterilized jar and keep it in a cool dark place for 2-3 months or in the fridge for up to one year!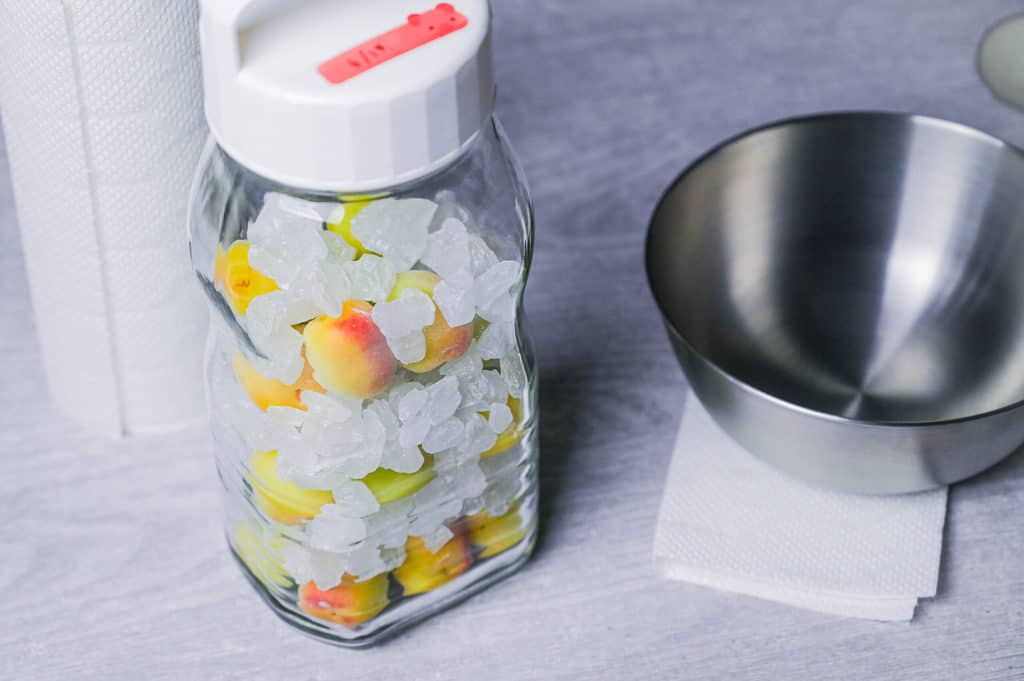 Ways to use Ume Syrup
Ume syrup can be used to make different drinks and desserts!
How to make ume juice
Ume syrup is most commonly used to make "ume juice". The syrup is simply mixed with sparkling water and ice and enjoyed in the summer.
The ratio of syrup to liquid is 1 part ume syrup: 4 parts soda/water.
So, 100ml of syrup would need 400ml of water or soda. This becomes 500ml of liquid and is a good amount for 2-3 servings. You can increase it if you like it sweeter.
How to make ume jelly
I like to make ume jelly a bit stronger/sweeter than ume juice. So here's my recommended recipe using gelatin or kanten.
150ml Ume syrup
350ml water
1 tbsp gelatin powder + 3 tbsp water OR 1 stick (4g) kanten powder
Gelatin recipe: sprinkle the gelatin powder into a small bowl of 3 tbsp of warm water. Wait 5 minutes for it to bloom and then microwave it for 20-30 seconds. Mix with 150ml ume syrup and 350ml water and chill in the fridge for 3 hours.
Kanten recipe (vegan friendly): Mix 1 stick of kanten powder with 350ml of water in a saucepan. Bring to boil and let it boil for 2 minutes. Turn off the heat and mix in 150ml ume syrup. Chill for 1 hour.
Other ideas how to use ume jelly
Here are a few more ideas for using ume syrup:
On shaved ice
In iced tea
With yogurt
With milk
For cocktails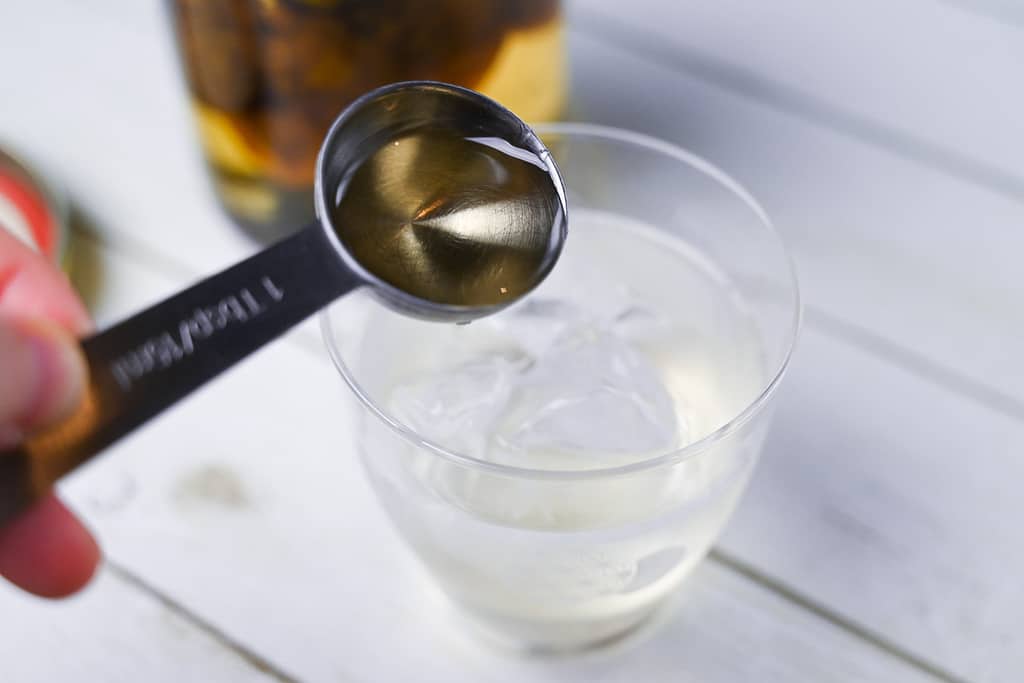 If you're lucky enough to have access to Japanese ume plums, I highly recommend this recipe. Ume syrup can be used in a number of drinks and desserts. Not to mention that it's sweet, perfectly tart and loved by adults and children alike!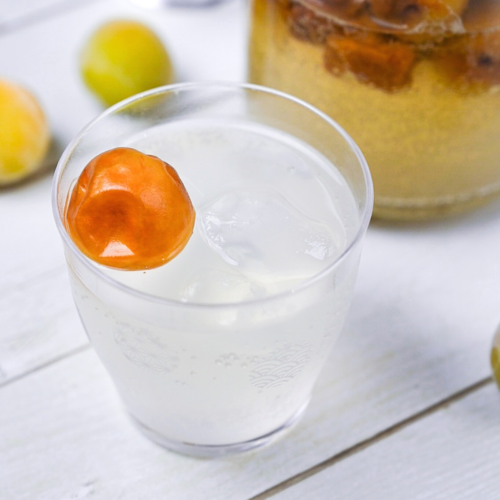 Japanese Ume Plum Syrup (梅シロップ)
Delicious homemade Japanese ume plum syrup made with just two ingredients! Perfect for making ume juice or mixing with iced tea, yogurt, jelly and shaved ice.
Ingredients
500

g

Japanese plums

-

(ume) before freezing

500

g

rock sugar

-

(korizato)
Equipment
1

tooth pick / cocktail stick
Instructions
Preparing the plums
Wash your hands thoroughly and then wash

500 g Japanese plums

with warm water. 

Next, take a few clean tea towels. Use one tea towel to dry the plums and one or two to lay them out.

While drying the plums, remove the stems with a cocktail stick. (If they're left in, the syrup can become bitter.) 

Once all of your plums are dry and destemmed, place them in a ziplock bag or sealable container and store them in the freezer for at least 24 hours. 
Making the Syrup
Sterilize the jar by filling it with boiling water and letting it sit for a few minutes.

After a few minutes, pour the liquid out. (Pick up the jar using oven gloves as the glass will be very hot.)

Place the jar on a clean drying rack and allow to air dry. (If you're impatient, wipe with a paper towel blotted with some alcohol.)

Measure out

500 g rock sugar

. Place a layer of frozen ume at the bottom of the jar, then top them with a layer of the rock sugar.

Continue to add layers of plums and sugar until the glass is full or you've used up all the plums and sugar.

Seal the lid tightly and then store in a cool dark place. (Cupboards or basements are perfect.)

Make sure to tilt the jar every day to move the sugar and plums around. 

The ume syrup will be ready in 7-10 days.

Enjoy in a drink (mix 1 part syrup with 4 parts water/soda) or pour over shaved ice, yogurt, etc.

After 3 weeks, remove the ume. TIP: If your syrup still has lumps of sugar, transfer it to a pan and heat it on the stove on a low heat until completely dissolved. You can then transfer it to a smaller sterilized jar.

Keep in a cool dark place for up to 3 months, or up to 1 year in the fridge!
Notes
Do not defrost the ume before use, place them in the jar while they're still frozen.
Make sure to tilt the jar every day to move the sugar and Japanese plums around. I recommend setting a reminder so you don't forget!
After 2-4 weeks remove the ume from the jar.