Onigiri are the perfect snack for on the go. They're tasty, filling and fun to make! Learn how to make one of Japan's most popular rice ball flavours, onigiri with salmon! Delicious salmon flakes fried in butter and soy sauce and mixed with spring onion and sesame seeds makes this rice ball one of my absolute favourites! And I think it will become one of your favourites too!
Disclaimer: This post contains Amazon affiliate links. Sudachi Recipes earn a small percentage from qualifying purchases at no extra cost to you. See disclaimer for more info.
Jump to:
A portable lunch
Wherever you're from, I'm sure you have some kind of convenient, portable food that is used for lunchboxes and picnics right?
It could be sandwiches, wraps, anything that you can pack in the morning and it still tastes good by lunchtime. Something you can hold in your hand and eat with ease.
In Japan, it's safe to say that the most popular lunch box food is onigiri rice balls. If you ever visit Japan, you will find a whole selection of them in supermarkets, convenience stores, bento shops...etc
You can often see them in Japanese TV dramas, films and anime too.
What is onigiri?
Onigiri (おにぎり) is the Japanese word for "rice ball". The name pretty much says it all, it's literally cooked rice shaped into a ball (or more likely, a triangle) and then wrapped in nori seaweed.
In order for the onigiri to hold it's shape, it's important to use Japanese short grain white rice (sushi rice) for its sticky texture. You can learn how to cook Japanese style rice here.
The beauty of onigiri is the fact that you can put anything inside! Meat, vegetables, or even just seasonings if you prefer! The possibilities are endless.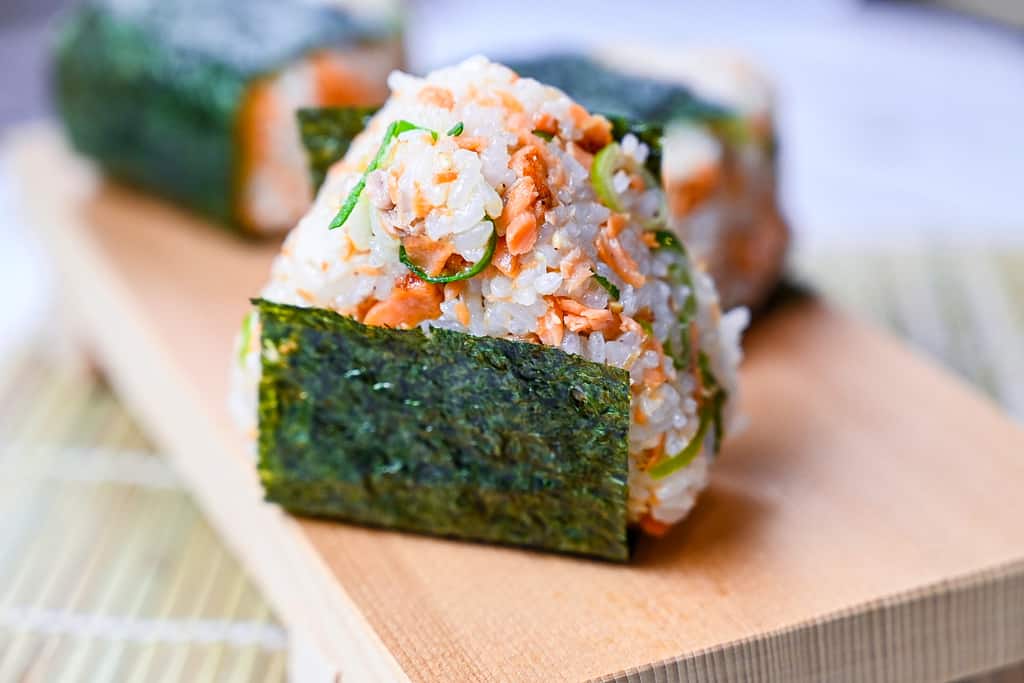 Origin and history of Onigiri
Onigiri is a common food that has been around for a long time so it's no wonder it has a number of different names.
Nigiri (にぎり)
Nigiri meshi (にぎりめし)
Musubi (むすび)
Omusubi (おむすび)...etc
Although the term "onigiri" is most widely known across the world, the terms above are also commonly used in Japan so if you see them in shops don't feel confused. They all mean the same thing.
As for where onigiri started... it's not so clear. That's because it's just too old! The first ever trace of onigiri goes all the way back to BC! Pretty unbelievable right? This could possibly be the most ancient Japanese dish!
Onigiri is very portable. That's why in medieval times onigiri rice balls were military supply food, and even in modern Japan, it's the most popular lunch box food without a doubt.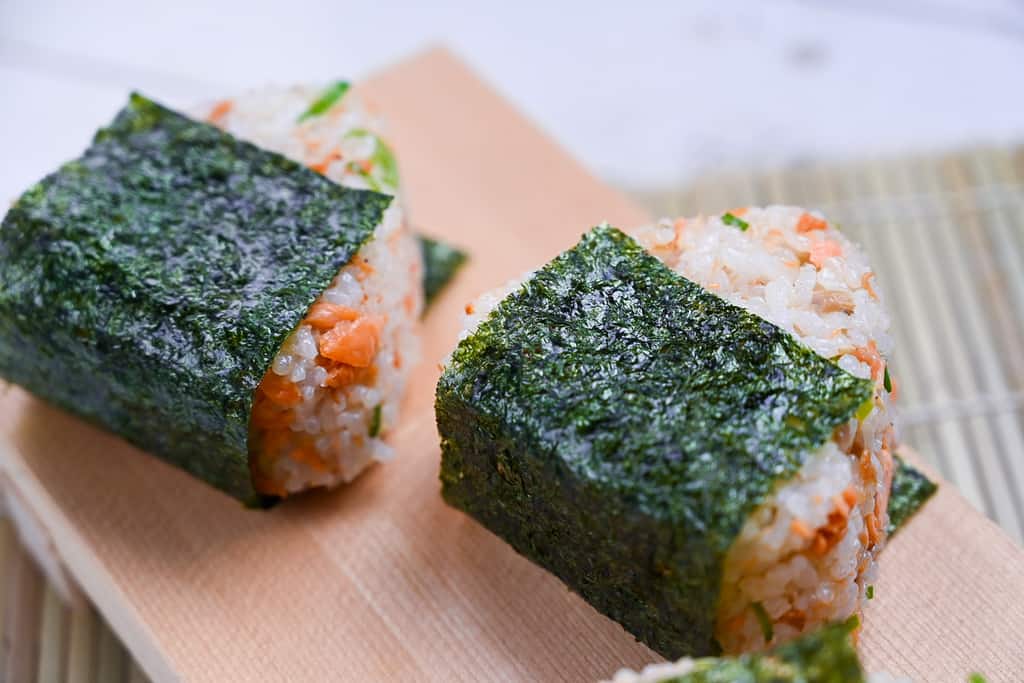 Popular Onigiri Fillings
Onigiri are a very versatile food and people enjoy putting many kinds of fillings inside.
According to CanCam.jp (2020) the most popular onigiri fillings in Japan are:
Seasoned cod roe (辛子明太子)

Hard cod roe (たらこ)

Salted plum (梅)
Takana (高菜)
I have many of these onigiri recipes available here on Sudachi Recipes so feel free to click the links above to learn more about each one!
As well as standard fillings, there are some more creative ones as well such as cheese, steak meat, karaage (fried chicken) and more. In the end, you can put anything you like in a rice ball, there isn't any rule!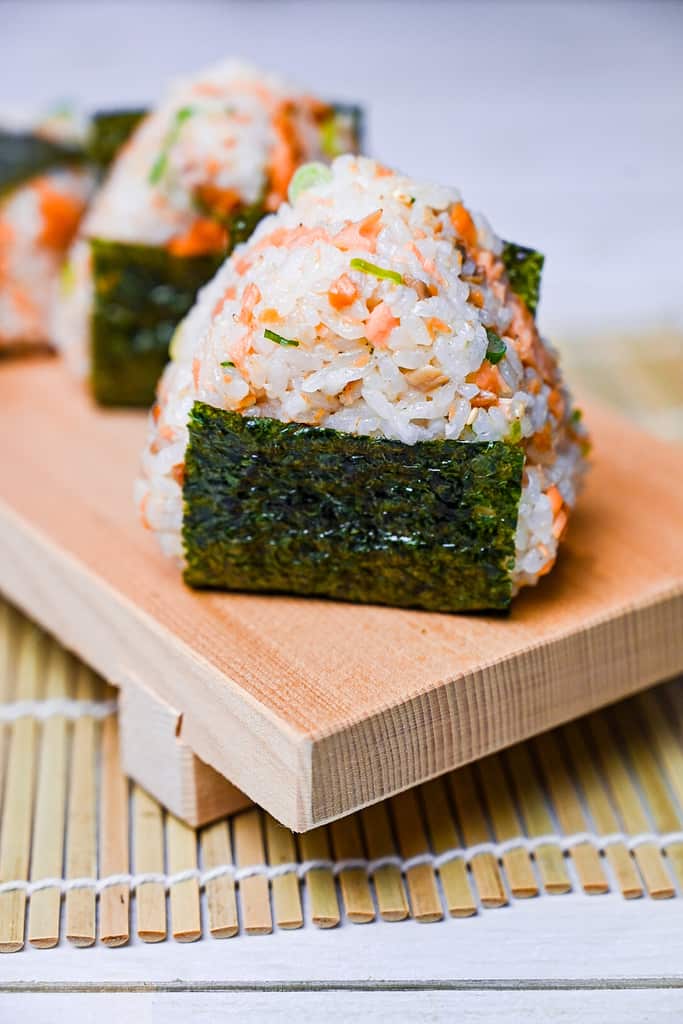 Onigiri with Salmon
Salmon onigiri is undoubtedly one of the classic onigiri flavours and one of the most popular as well.
Salmon onigiri in Japan is usually labeled "鮭" which is pronounced as "sha-keh", not to be confused with the alcoholic beverage, sake.
There are many ways to make onigiri with salmon, but today I'm going to show you how to make a delicious and flavourful variation using salmon fillet cooked in butter and soy sauce. It's easy to make and uses accessible ingredients!
Shaping the rice ball
There are a number a different ways to shape a rice ball.
Shape with cold, wet hands
Wrap with plastic wrap
Using a mold
Whichever method you choose, the most important point is to press the rice down firmly so that it holds its shape. You also need to be careful not to use ingredients that are too wet or greasy as these will cause the rice to lose its sticky texture.
In the end, shaping onigiri takes a bit of practice, you can learn about each onigiri shaping method on my post, "3 ways to shape the perfect onigiri rice ball".
Storing
For the best texture, I highly recommend eating onigiri as soon as possible without refrigerating it. We use salt to preserve the rice for a few hours so you shouldn't worry about getting sick.
If you make too many or want to save some for later, another great tip is keeping them wrapped in plastic wrap in the freezer. When it's time to eat, just microwave it until it's warmed through and then eat it as if it's fresh! (Tip: make sure to freeze it without the nori, you can place nori on it after it's defrosted.) You should consume the frozen onigiri within one month.
The last (and least recommended) method is wrapping it and keeping it in the fridge. Refrigerating tends to dry out the rice and make it hard so the only way to try and prevent this is wrap it in plastic wrap and place it in an airtight container. Some people wrap it in extra layers of kitchen paper or tea towels to keep it soft. You will need to eat it within 24 hours if you do this.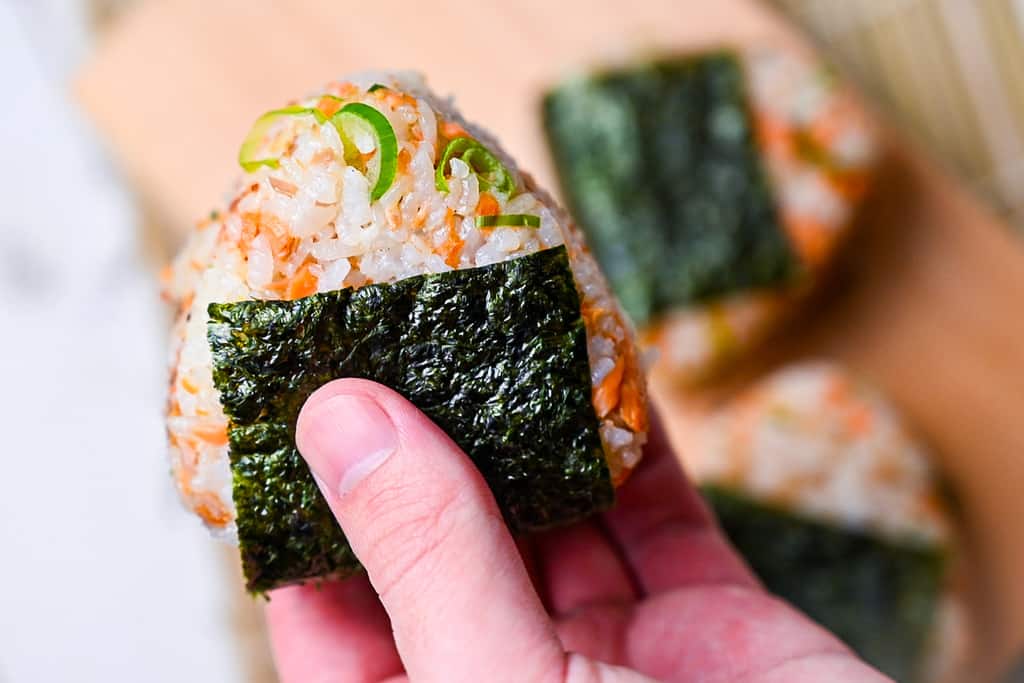 FAQ
What rice do you use to make onigiri?
Onigiri are made with Japanese white rice or sushi rice. The sticky texture means it will hold its shape.
Can I make onigiri with other kinds of rice?
Long grain and brown rice aren't sticky so they won't hold their shape. Some people do mix the sushi rice with brown rice or grains to make it a bit healthier but it might be harder to shape.
Do you eat onigiri with chopsticks?
Nope! You eat it with your hands. We wrap the nori to stop the rice sticking to our hands but you can also just hold it in plastic wrap if you don't use nori.
Is onigiri the same as sushi?
Onigiri is different to sushi. Onigiri are made with salted rice that is shaped into a triangle or disk shape. The ingredients can be sealed inside or mixed in with the rice. On the other hand, sushi is made with vinegared rice and either rolled into a cylinder (makizushi) or shaped into an oblong with sashimi placed on top (nigirizushi).
How do you keep the onigiri soft?
The best way to make sure you eat a soft and delicious onigiri, is to eat it on the day that you make it without putting it in the fridge. If you want to prepare it in advance, I recommend freezing it (without the nori) and microwaving it on the day of use. If you wrap the onigiri in plastic wrap, then again in a towel or kitchen paper, it won't get as cold and so won't become so hard.
Check out our video for How to Make Onigiri Rice Balls At Home
Salmon Onigiri Rice Balls (鮭おにぎり)
How to make flavorful Japanese salmon onigiri rice balls (鮭おにぎり) made with salmon flakes fried in butter and soy sauce, then mixed with chopped spring onions and sesame seeds.
Ingredients
100

g

salmon fillet

-

skinless

1

tbsp

soy sauce

1

tsp

unsalted butter

½

tbsp

white sesame seeds

2

sheets

sushi nori seaweed(s)

-

nori, cut into 5-6 strips
Instructions
Heat up a frying pan on medium and add

1 tsp unsalted butter

.

Once the butter is melted, add

100 g salmon fillet

to the pan and fry until it's cooked through and flakey.

Using a wooden spatula, break up the salmon into smaller flakes.

Add

1 tbsp soy sauce

to the pan, mix with the salmon flakes and cook until liquid is gone.

Turn off the heat and transfer the cooked salmon flakes to a large heatproof bowl.

Add

700 g cooked Japanese short-grain rice

,

½ tbsp white sesame seeds

and

2 tbsp finely chopped green onion(s)

to the bowl.

Mix well until the ingredients are evenly distributed through the rice.

Take approx 100-130g of the rice and shape it into a rounded triangle using your preferred method. (Make sure to sprinkle salt on your hands/plastic wrap/mold first. If using bare hands, submerge them in ice cold water and rub salt over them before shaping.)

Don't handle the rice for too long, quicker is better. Once you're happy with the shape, wrap it with nori.

Repeat steps 8-9 until you have 5-6 rice balls

Eat straight away or put in your lunch box with an ice pack. Best eaten the same day. (See note)

Enjoy!
Video
Notes
Practice makes perfect but if you're having trouble shaping your onigiri, watch our youtube video or check out this post "3 ways to shape the perfect onigiri"!
If you want to make them for tomorrow's lunch you can wrap them in plastic wrap and store them in the freezer. Microwave to defrost. 
Alternatively store in the fridge wrapped with a layer of plastic wrap and a towel towel or kitchen paper. Preferably keep them in an airtight container. 
Nutrition
Calories:
223
kcal
Carbohydrates:
41.5
g
Protein:
6.6
g
Fat:
4.2
g
Saturated Fat:
0.9
g
Polyunsaturated Fat:
1.1
g
Cholesterol:
12.1
mg
Sodium:
182
mg
Fiber:
2
g