Temari sushi is a beautiful and delicious variation of sushi made with balls of vinegared rice topped with a variety of vibrant toppings. It's easy to make and customize, and sure to be a show-stopper at parties and gatherings!
Disclaimer: This post contains Amazon affiliate links. Sudachi Recipes earn a small percentage from qualifying purchases at no extra cost to you. See disclaimer for more info.
Jump to:
What is Temari Sushi (Temarizushi)?
Temari sushi or temarizushi (手まり寿司) is a type of sushi made into small ball shapes and decorated with various fish and vegetables, making it more visually appealing. Interestingly, "temari" refers to a traditional Japanese handball made with decorative fabric.
This sushi variation is relatively new, and its clear origins are unknown. However, it's believed that it was created so that Maiko (apprentice geisha) could eat elegantly without the food touching their lipstick. With that background, it's also called "Kyo-zushi (Kyoto's sushi)."
Unlike nigiri sushi, Temari Sushi doesn't require a high level of skill. It is easy to make at home, and is a fun and creative activity to enjoy with family or friends. Thanks to its cute appearance, it's also popular as a celebratory sushi dish for Girls' Day, along with chirashizushi and finger food at parties.
How I Developed This Recipe
Given the background of temarizushi, I paid particular attention to its appearance when developing this recipe. Temari sushi is a simple dish, so I also wanted to introduce various beautiful variations.
Additionally, I will teach you how to prepare delicious and fail-free sushi rice that will enhance the taste of your temari sushi. Give it a try at your next sushi party!
Ingredients and Substitution Ideas
Just like hand-rolled sushi and futomaki sushi, there are no strict rules for the ingredients used in Temari Sushi, allowing for endless possibilities. In this section, I will share the ingredients I used and commonly used ingredients in other variations of temari sushi.
Ingredients I Used
Sushi rice (sumeshi): While Japanese rice is sometimes labeled as sushi rice outside of Japan, it's essential to distinguish between the two. "Sushi rice" in this context means rice seasoned with vinegar, salt and sugar. For a homemade version, refer to my sushi rice recipe.
Sashimi grade fish: For this dish, I've chosen tuna, salmon, and yellowtail. If you're using the fish raw, ensure it's of sashimi grade for safe consumption.
Shrimps: These are boiled and then flattened for use on the sushi.
Scallops: I used boiled scallops, but raw ones can also be incorporated.
Salmon roe (ikura): This vibrant topping is more for garnish than as a primary ingredient, adding a pop of color to the sushi.
Perilla leaves (ooba): Wrapping the rice in these leaves creates a visually appealing green temari sushi.
Kinshi tamago: This involves cooking eggs in a thin layer, akin to crepes, and then slicing them. For a detailed guide, refer to the hiyashi chuka recipe.
Cucumber: Slice it ultra-thin with a slicer or sharp knife. If you're looking for an alternative, red radish slices work beautifully.
Soy sauce - Used for dipping sushi. If you are looking for something reasonably priced, you can't go wrong with Kikkoman soy sauce. Please see our complete soy sauce guide to learn more about how to choose soy sauce in Japanese cuisine.
Wasabi - This is optional. S&B's nama wasabi paste works great. If you can source it, you could also try grating fresh wasabi root to make your own wasabi paste, I have a tutorial here.
Other Ingredient Ideas
Other Sashimi Choices: Red snapper, octopus, and squid are popular sashimi options.
Crab Sticks (Imitation Crab): Crab sticks are a viable alternative for those in regions where sashimi is not accessible. Simply shred the meat before use.
Grilled Fish: Elevate your sushi with toppings of grilled fish. Choices like mackerel, salmon, or eel are particularly delightful.
Smoked Salmon: If sashimi-grade salmon is out of reach, smoked salmon is a fantastic substitute.
Shiitake Mushrooms: For a snug fit atop sushi rice, use only the caps of shiitake mushrooms and grill them.
Dry-Cured Ham: For a Western twist on Temari sushi, dry-cured ham is a top pick. Its pink hue is not only visually appealing but is also a favorite choice in Japan these days.
Thinly Sliced Roast Beef: While unconventional, thinly sliced leftover roast beef can be repurposed for temari sushi. The combination of roast beef with soy sauce and wasabi is surprisingly harmonious.
Vegetable varieties: Incorporate boiled vegetables like carrots, snow peas, and lotus root, ensuring they're cut to the correct size to sit atop temari sushi.
Pickles: Thinly sliced pickles such as pickled ginger for sushi (gari), pickled eggplant or pickled napa cabbage add great color and variety to temari sushi.
Toppings: Temari sushi is a dish where the presentation is just as important as the taste. Feel free to go wild with various toppings such as edible leaves and flowers, herbs, lemon slices, sesame seeds etc.
I have listed my recommended Japanese condiments, tools, and ingredients in the Sudachi Recipes Amazon shop. If you want to keep making various Japanese foods at home, please check it out!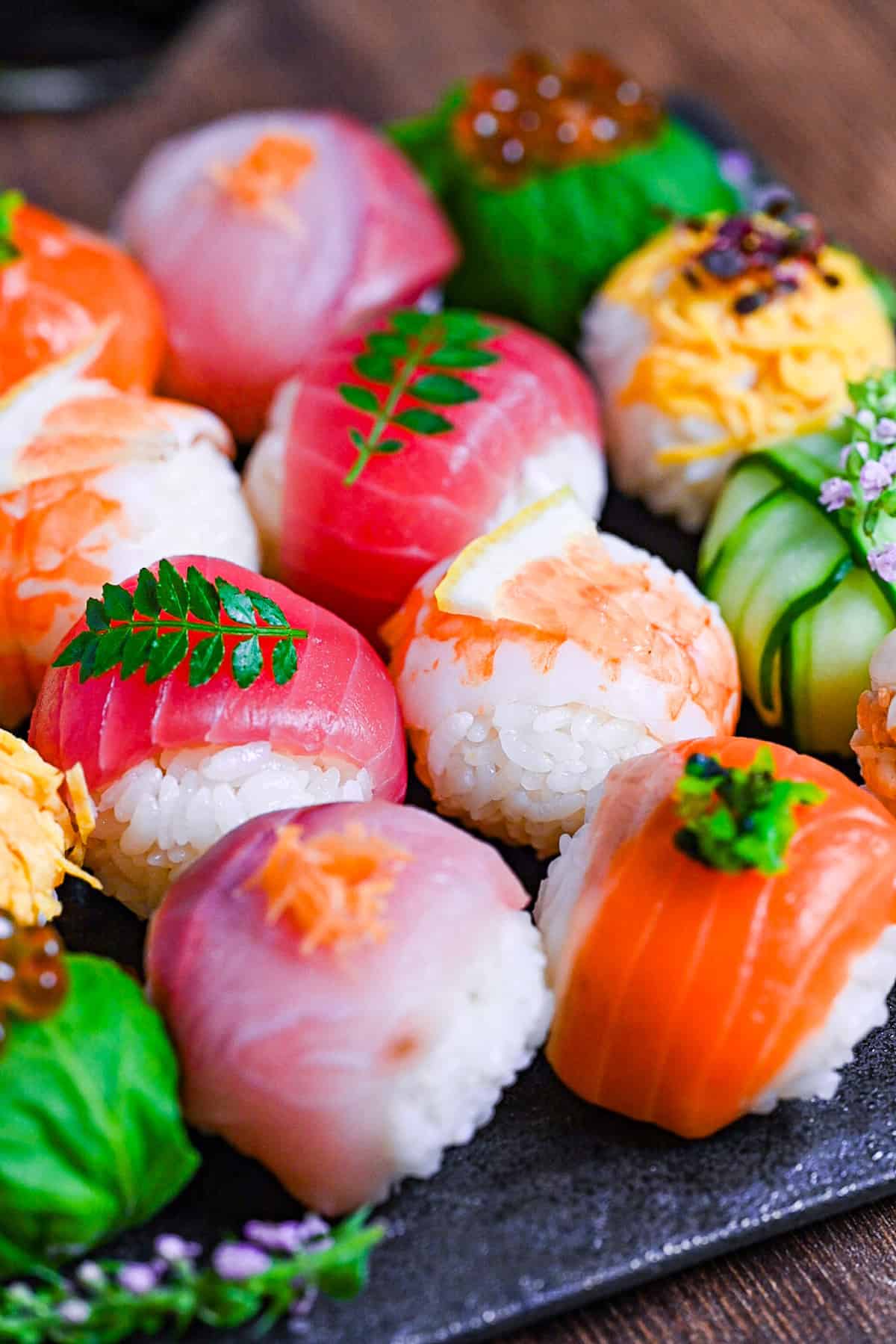 Step-by-Step Process
Here are my step-by-step instructions for how to make beautiful bitesize temarizushi at home. For ingredient quantities and simplified instructions, scroll down for the printable recipe card below.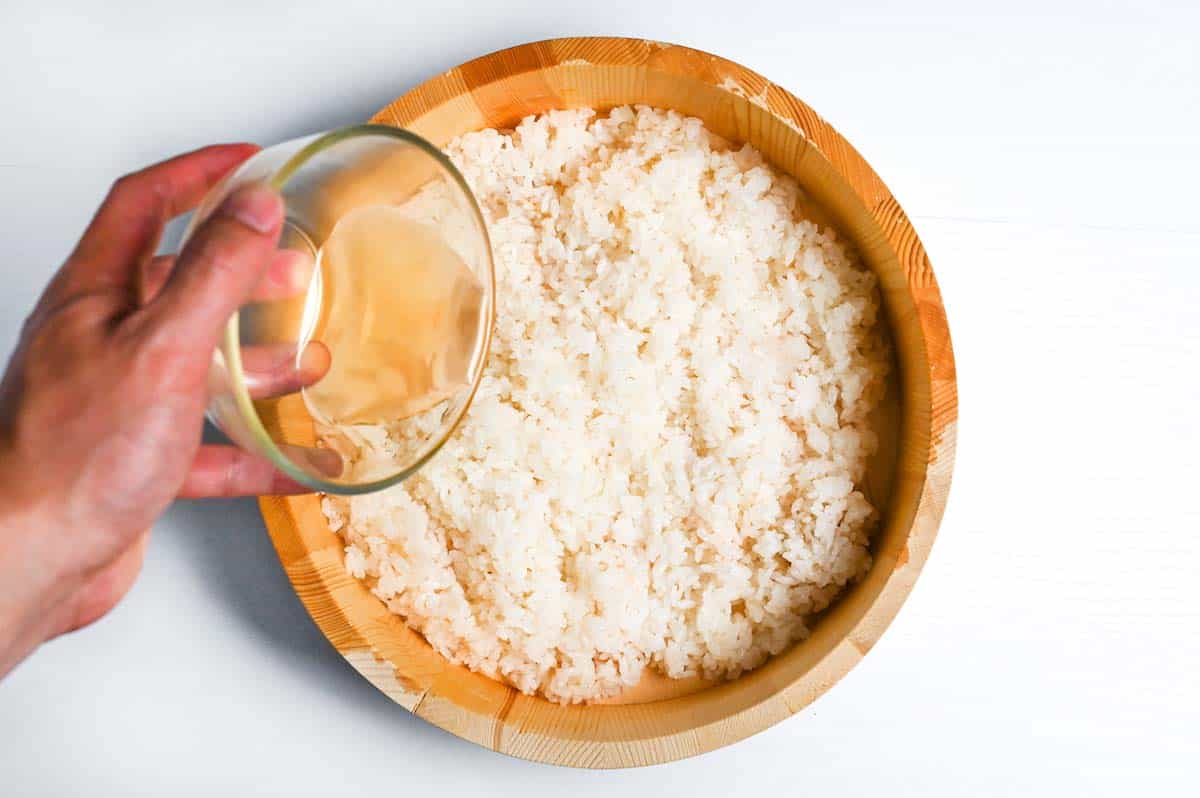 Cook short-grain Japanese white rice using your preferred method. Once cooked, transfer to a wide container and make sushi vinegar by mixing salt, sugar and rice vinegar in a small bowl. Pour the homemade sushi vinegar over the rice while still hot and mix thoroughly, but gently enough not to crush the grains. For a more detailed guide to making sushi rice, check out my ultimate sushi rice recipe here.
Cover with a damp tea towel and leave to cool slightly while you prepare the other ingredients.
If using any cooked toppings, prepare them in advance and leave them to cool before assembling the sushi.
If you buy sashimi grade fish in a block, you will need to thinly slice it. Refer to my tuna, yellowtail and salmon sashimi articles for detailed guides on how to cut.
Prepare your vegetables with decoration in mind. Raw vegetables that don't need cooking are most often used for temarisushi. I recommend using a peeler or mandoline slicer to ensure they're thin enough to flexibly wrap around the sushi rice.
I only used cucumber, but other popular options include red radishes, red daikon and pickled ginger.
Soak sliced cucumber in lightly salted water to improve the taste and stop them from drying out.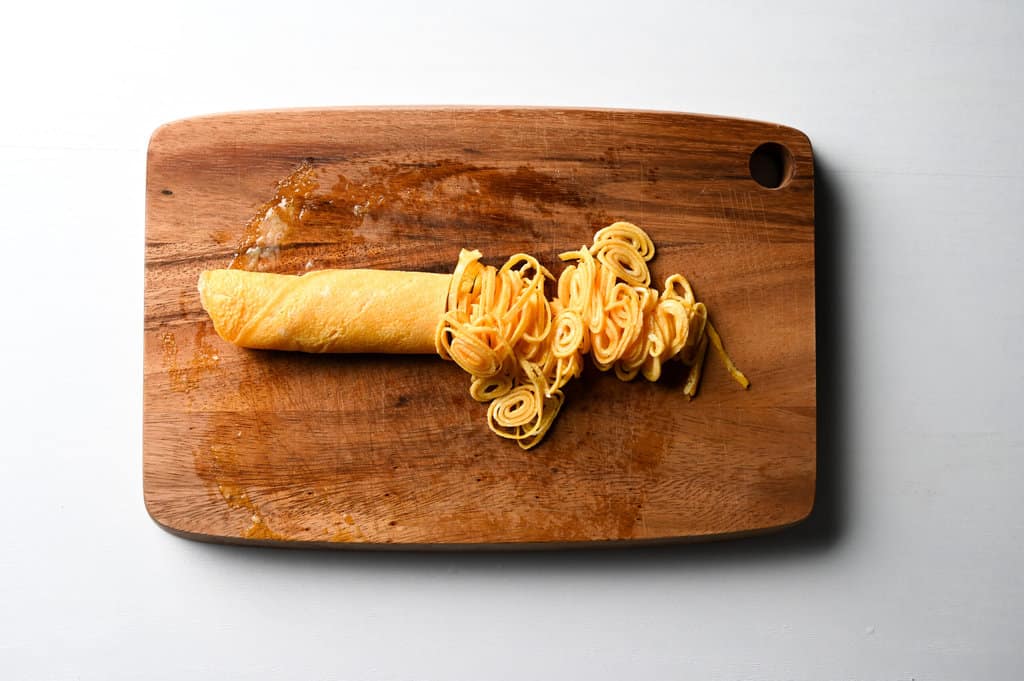 If you would like to make kinshi tamago (Japanese egg crepe) for an additional topping, refer to my hiyashi chuka recipe for step by step instructions.
Once you've finished preparing the toppings, you are ready to assemble!
Divide the rice into portions of 25-30g, equal to about 2 tbsp of rice. Consider the size of your ingredients, if they're on the thicker side, aim for the lower end to prevent the temarizushi becoming too big (they should be bitesize). Lightly wet your hands with cold water and roll into a rough ball.
Place your ingredients of choice on a piece of plastic wrap. The side you want to show on top should be facing down.
Place the ball of rice in the center.
Shape into a ball with the plastic wrap and twist the excess to tighten. This will press the topping against the rice and secure it.
Once secured, unwrap and place it on a serving plate. Repeat these steps reusing the plastic wrap as you go to prevent waste.
Try out different designs
Experiment with different cuts and ingredient combinations to create a beautiful and unique display.
Add your choice of decorative toppings and serve with soy sauce, and wasabi (optional).
Enjoy!
Storage
I advise against storing homemade sushi, as it is best consumed immediately after it is made. Refrigeration is possible, but it can cause the rice to become hard and dry.
This is because the sushi rice cools and dries out in the refrigerator. Freezing is not recommended at all, so please avoid storing it frozen.
Consuming sushi with fresh and tasty ingredients is vital, especially when using fish. It is recommended to make only what is needed and to consume it.
Room temperature - Not recommended.
Refrigerated - Not recommended.
Frozen - Not recommended.
I hope you enjoy this temarizushi recipe! If you try it out, I'd really appreciate it if you could spare a moment to let me know what you thought by giving a review and star rating in the comments below. It's also helpful to share any adjustments you made to the recipe with our other readers. Thank you!
More Sushi Recipes
Check out some of my easy sushi recipes!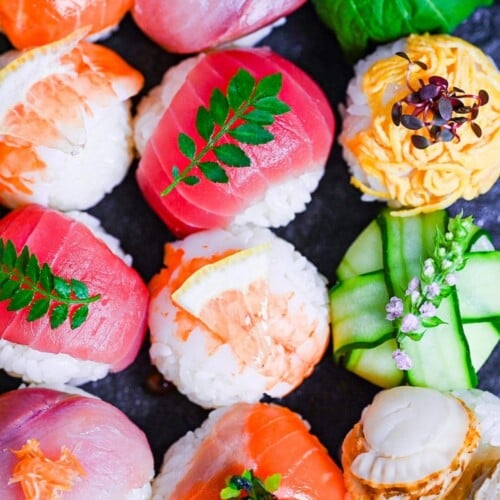 Temari Sushi (Bitesize Sushi Balls)
How to make vibrant and beautiful Temari Sushi with seasoned balls of rice decorated with various seafood, vegetable and egg toppings.
Ingredients
Sushi Rice (Sumeshi)
1 ½

tbsp

rice vinegar

½

tsp

sugar

¾

tsp

salt
Toppings
2

slices

sashimi grade salmon

2

slices

sashimi grade tuna

2

slices

sashimi grade yellowtail

4

boiled scallops

2

tbsp

kinshi tamago

- (Japanese egg crepe) get recipe here.

2

tsp

salmon roe

-

(ikura)

2

boiled shrimp

15

g

cucumber

-

(thinly sliced)

soy sauce -

for dipping

wasabi paste -

optional
Instructions
If using any cooked ingredients (such as 

2 tbsp kinshi tamago

) cook them now and allow them to cool before assembling the sushi.

Mix

1 ½ tbsp rice vinegar

,

½ tsp sugar

and

¾ tsp salt

in a small bowl until dissolved.

Pour the mixture over

480 g cooked Japanese short-grain rice

and mix until evenly distributed.

Cover with a clean damp tea towel while you prepare the other ingredients.

Thinly slice

15 g cucumber

and soak in a bowl of lightly salted water. Thinly slice the rest of your fish and vegetables if necessary.

Divide the sushi rice into 25-30g (approx 2 tbsp) balls and gently roll into a ball with damp hands. Keep them covered to stop them from drying out.

Break off a piece of plastic wrap and place it on a flat surface. Place the topping of your choice in the center with the side you want to show facing down.

Place a ball of rice on top.

Wrap up the edges of the plastic wrap up and twist the excess to tighten and secure the topping to the rice (be careful not to crush the rice though).

Unwrap and place on a serving plate. Repeat until all the rice and toppings are used up.

Experiment with different cutting methods and ingredient combinations to create your own unique display.

Decorate with your choice of toppings and serve with

soy sauce

and

wasabi paste

.