Japan is renowned worldwide for its unique cuisine, and three dishes that immediately come to mind are sushi, sashimi and nigiri. While these dishes may seem similar at first glance, they each have their distinct characteristics, methods of preparation and presentation. In this article, you will learn the subtle yet distinctive differences between sushi, sashimi and nigiri as explained by a professional chef with more than 20 years of experience in the industry.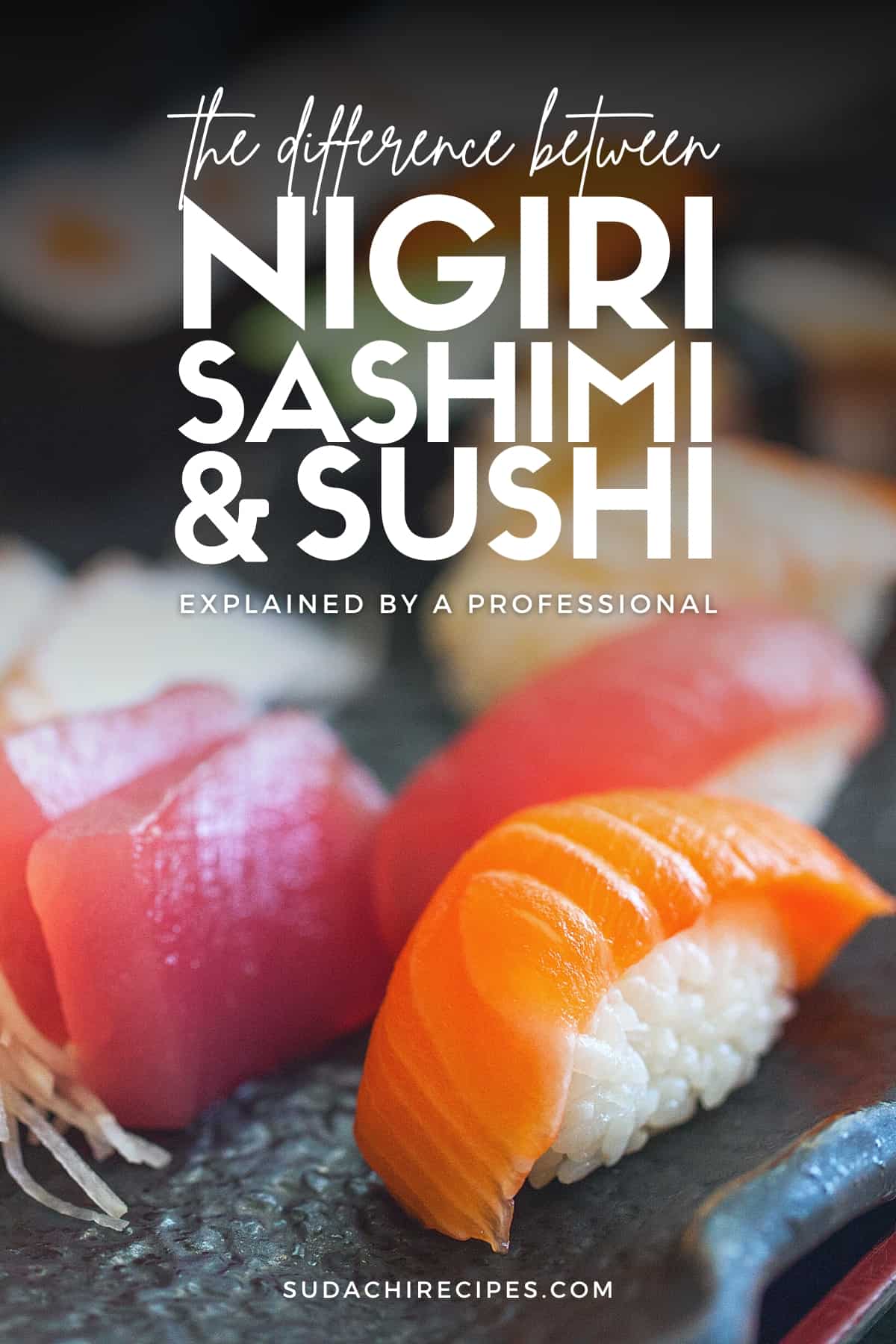 Yuhiko Okamoto
Contributing writer
In 2002, with zero experience, Yuhiko began his career in Japanese cuisine and has since worked as a chef and executive chef at a kappo restaurant, a high-end sushi restaurant, and izakayas.
Jump to:
Characteristics of Sushi, Sashimi and Nigiri
Sushi, sashimi and nigiri are three types of Japanese dishes made primarily with seafood. Since the seafood is often served raw, the freshness of the ingredients is extremely important. Even if the ingredients are aged or otherwise processed, they must be fresh at the time of purchase.
To understand the difference between the three, it is necessary to understand the basic characteristics of each dish first.
Sushi: any combination of sushi rice and seafood or vegetables.
Nigiri: a small piece of vinegared rice topped with seafood.
Sashimi: raw seafood cut into bite-sized pieces.
To put it simply, sushi is a dish that combines vinegared rice and fish or seafood, while nigiri is one of many variations of sushi where a slice of seafood is placed on top of the vinegared rice. Sashimi on the other hand, is specially sliced raw and fresh seafood eaten on its own without rice and is not technically a type of sushi.
So you may be thinking, "If I put sashimi on top of vinegared rice, will it become sushi?" The answer is no, it probably won't taste as good. This is because there are differences between sushi/nigiri and sashimi in terms of cutting, temperature and aging.
Let's look at each dish in further detail and then compare the key differences.
What is sushi?
Sushi refers to any combination of shari (sushi rice) and neta (ingredients). Shari (シャリ), also known as sumeshi (酢飯), is made with short grain Japanese white rice that has been cooked with kombu (dried kelp) and seasoned with rice vinegar, sugar and salt. Neta (ネタ) are the ingredients served either inside or on top of the rice and can include anything from raw, cooked or processed seafood, to vegetables, eggs or even meat.
It is said that each piece of sushi is made up of 40% ingredients (neta) and 60% rice, so it is not an overstatement to say that the flavor of the rice determines the taste of the sushi.
Is there a difference between sushi rice and regular rice?
Sushi rice (shari) is made by mixing freshly cooked white rice with vinegar and other seasonings, but it is not just the seasoning that distinguishes sushi rice from regular white rice. The key things to consider when making sushi rice are:
What type of rice to use
How to wash the rice
How to cook the rice properly
As you can expect, sushi rice is made with short grain Japanese white rice. While its fine to use just one type of rice for homemade sushi, professional sushi restaurants often use a mixture of sasanishiki and koshihikari rice. Koshihikari is one of the most famous types of Japanese rice and well known for its sweet and sticky qualities, however sasanishiki is less sticky and well known in Japan for maintaining a good taste and texture even when cooled.
For the rice used in shari, it is important to gently wash it to remove any dirt or impurities. This is to prevent the rice from breaking during the cooking process. If the rice is broken, the starch inside can leak out, causing the rice to become overly sticky when cooked.
When cooking rice for sushi, it is common to use slightly less water than usual and cook the rice to a firmer texture.
Normal rice: 1 part rice, 1.2 parts water
Sushi rice: 1 part rice, 1 part water
Types of sushi
Sushi as a general term covers all combinations of sushi rice and ingredients, but there are many kinds of sushi that are prepared and presented in different ways.
Some of the most common types of sushi include:
Nigiri - ingredients placed on top of the rice.
Maki - rolled sushi.
Gunkanmaki - "warship" sushi made with sushi rice shaped into an oval, wrapped with nori and topped with ingredients.
Inarizushi - sushi rice wrapped in pockets of deep-fried tofu.
Oshizushi - sushi pressed in a box.
Temakizushi - hand rolled sushi in the shape of a cone.
Chirashizushi - scattered sushi
Differences between Kanto and Kansai regions
There is a difference between Edomae-zushi, which is mainstream in the Kanto (Eastern) region, and sushi in the Kansai (Western) region. Edomae-zushi (Tokyo style sushi) is the original "nigirizushi" and traditionally made with fish caught in Edomae (Tokyo Bay). It is usually hand shaped with rice and ingredients, with tuna being an essential ingredient.
In Kansai region, oshi-zushi, which is pressed into a mold and hardened, was originally the mainstream, and battera (pressed sushi with mackerel) and sabazushi (another kind of pressed sushi with mackerel) are still valued as gifts.
Nigiri in Kansai is characterized by the use of the flavors of the ingredients themselves. A lot are eaten with salt and citrus juice, and white fish such as sea bream and flatfish are often used as ingredients.
What is Nigiri?
Nigiri (or nigirizushi にぎり寿司) is a bite-sized piece of sushi consisting of the shari (vinegared rice) most commonly topped with a thin slice of raw fish or seafood (neta). Nigirizushi gets is name from the placing and shaping (nigiri 握り) of the neta on top of the shari by hand. There is often a small amount of wasabi between the shari and neta, and sometimes a thin piece of nori is wrapped around the middle to help the nigiri keep its shape.
In the Edo period (1603-1867), when nigiri was born, there were no refrigerators. In order to prevent the neta from going bad, various measures had to be taken and it was often preserved using vinegared rice, salt, sugar and soy sauce. This traditional method of preparation has been handed down, practiced and brushed up over time.
You might wonder why "Gunkanmaki" is not considered a type of nigiri, since the ingredients are also placed on top. However, gunkanmaki is characterized by the fact that not only is it wrapped in a strip of nori (seaweed), but it can also hold multiple toppings that can either be served raw or prepared by boiling or steaming. Some fish, such as tuna and white fish, may be aged for one to two weeks.
Rice used for nigiri
I mentioned earlier that sushi restaurants in Japan often use a mixture of sasanishiki and koshihikari rice to make their shari (sushi rice). This is particularly important when it comes to making good nigirizushi, as using koshihikari alone would make the rice too sticky. The best quality nigirizushi allows you to feel the unity between the rice and ingredients, so adding sasanishiki helps make the rice slightly looser and gives almost a melt-in-mouth texture.
Common ingredients used for nigirizushi
Although raw slices of fish or seafood are most commonly associated with nigiri, it can also be made with aged or cooked ingredients, as well as vegetables or meat. Slices of rolled egg (tamago nigiri) is also popular, especially amongst children.
Almost anything can be used to make nigirizushi, so I won't list every possible ingredient, however here is a list of some of the most commonly used ingredients, including how they are prepared.
| Types of Preparation | Typical Neta (ingredients) |
| --- | --- |
| Raw | Tuna (maguro), yellowtail (hamachi/buri), red snapper (tai), scallops (hotate), shrimp (ebi) |
| Simmered | Sea eel (anago), octopus (tako) |
| Steamed | Abalone (awabi), shrimp (ebi) |
| Boiled | Japanese tiger prawn (kuruma ebi), mantis shrimp (shako) |
| Marinated | Red part of tuna (zuke) |
| Cured | Kohada (with vinegar), sea bream and flatfish (with kelp) |
Isn't salmon one of the most popular sushi ingredients?
You might be thinking I made a huge error and missed salmon from this list, but did you know that salmon is actually not a traditional sushi ingredient? Since salmon lives in both salt water and fresh water, it is more likely to carry parasites and was not considered safe to eat raw until farmed salmon became more common in the 80's. Since high end sushi restaurants only use wild fish (not farmed), salmon is not typically used.
How fish is cut for nigiri
The fish for nigiri is thinly sliced using a specific cutting method known as "sogi-giri". To achieve this, the block of fish (known as "saku") is placed with the skin-side facing down, and the knife is held diagonally to the right to begin cutting from the left. Hold the top of the left edge of the saku (block) with your left hand, lean the knife down, and slice the fish thinly and diagonally, as if you were shaving.
The size of the fish for nigiri can be adjusted by changing the angle of the knife during the cutting process. The larger the angle between the saku and the knife, the longer the piece of fish will be. On the contrary, the further down the knife is, the wider the cross section of the fish will be. Generally, a width of four fingers is considered an appropriate length for a piece of nigiri.
The tip to sogi-giri is to start by slicing diagonally, but then turn the knife before the end so that the blade is 90 degrees, then cut the last part straight down. The change in the angle of the knife creates a nice bump on the fish which improves the appearance and texture.
The purpose of making a bump on nigiri neta
To improve the appearance.
To create different textures within a single slice.
Soy sauce can attach more easily to the fish.
What is Sashimi?
Sashimi is commonly mistaken for a type of sushi, but its actually its own dish made with raw seafood cut into bite-sized pieces and served on a platter. It is usually served with wasabi and soy sauce, but depending on the type of fish, it may be eaten with salt and citrus fruits as well.
There are several theories as to why it is called sashimi:
It was believed that the samurai disliked the word "kiru" (to cut) and called the sliced fish "sashimi" instead.
Since the fish was impossible to identify once it had been cut and filleted, it was customary to "pierce" ("sashi" in Japanese) fins or gills back into the fillet for future identification.
Since sashimi is simply cut and served, the way in which it is cut directly affects how good it tastes. By changing the movement of the knife, you can change the texture and flavor.
Cutting sashimi requires a special knife called a yanagiba (柳刃) knife, the name roughly translates as "willow-leaf blade" which comes from its long and slender shape.
Blocks of fish used for sashimi and sushi: the difference between kirimi and saku
This is a more technical topic, but the flesh of the fish has different names at each stage of processing. The term "kirimi" refers to a piece of fish that has been cut into individual portions which will then be sold to be used for cooking. On the other hand, "saku" is a block of fish that has been cut into large pieces in a way that can be easily cut into sashimi or nigiri.
Saku contains muscle fibers, called "suji (筋)" or "me (目)" and when cutting for nigiri or sashimi, the rule of thumb is to cut perpendicularly to the muscle. If the fish is cut along the fibers, it will be difficult to chew and may linger in your mouth while eating.
How to cut fish for sashimi
To cut thick slices for sashimi, a method called hira-giri (hira-zukuri) is used, and it is suitable for cutting soft fish or a thick saku (block).
Place the saku in front of the cutting board and begin cutting from the right. Hold the saku with your left hand and use the knife to make a single stroke cut from the root to the tip. Avoid pushing or pulling the knife as if you were sawing, sashimi should be sliced smoothly.
The trick to hira-zukuri is to tilt the blade of the knife slightly outward, creating an angle while cutting. This technique makes the corners of the ingredients stand out, improving the appearance of the fish when it is placed on a platter.
Key Differences between Nigiri (Sushi) and Sashimi
Nigiri and sashimi are two of the most popular and delectable seafood dishes in Japanese cuisine. While they share a common ingredient, the nuances of their preparation make them distinct in terms of flavor, texture, and presentation.
One of the most significant differences between nigiri and sashimi is the way they are cut and the temperature in which they are served. Due to the different skills involved, they are also priced differently. Here is a table outlining the key differences between nigirizushi and sashimi.
| | Nigiri sushi | Sashimi |
| --- | --- | --- |
| Cut | Cut diagonally as if laying down the knife, and cut in a slender manner with a slight bump (sogi-giri) | Cut with the knife in a straight line, without slanting it too much, and pull the knife smoothly across the blade (hira-giri) |
| Temperature | Body temperature (36-37°C/97-98.5°F) | Chilled (About 12°C/55°F) |
| Price | 1,500-40,000 yen per person on average | 500-800 yen per person on average |
Let's look at each difference in more detail.
Difference in cutting method
When it comes to nigiri and sashimi, the way in which the fish is cut is essential to each dish's unique flavor and texture.
For nigiri, the cutting technique is called "sogi-zukuri" or "sogi-giri". The key to nigiri's exceptional taste is the harmony between the fish and sushi rice. The fish is cut thin and wide, allowing the neta to wrap the shaped rice. As the two flavors combine in the mouth, a unique taste experience is created that sets it apart from sashimi.
In contrast, sashimi is all about savoring the flavor and texture of the fish itself. The cutting technique used is called "hira-zukuri" or "hira-giri," which involves cutting the fish into thick and narrow cross-sections. With each chew, the flavor of the fish expands in the mouth, creating a sensational taste experience. To get the most out of the ingredients, the fish is cut according to its type and condition, ensuring that its quality is enjoyed to the max.
Difference in temperature
The primary distinction between nigiri and sashimi lies in the temperature. The optimal temperature at which fish is enjoyed differs depending on whether it is served with sushi rice or on its own.
Nigiri: body temperature (about 36°C /97F)
Sashimi: about 12°C/55°F in the mouth
Human oral cavity: about 36-37°C/97-98.5°F
To ensure the best taste experience when enjoying Nigiri, it is recommended to adjust the temperature to that of human body by either keeping the rice cool or bringing the ingredients to room temperature before shaping the sushi.
In contrast, sashimi is consumed without rice, and it tastes best when served cold, at around 12°C/55°F in the mouth. To achieve this temperature, the plate should be chilled beforehand, and the fish should be kept at a temperature of around 8-9°C/46-48°F until it's ready to be served.
When sashimi is warm, it can produce an unpleasant fishy smell. Therefore, it is important to keep it cool in a refrigerated room (3-5°C/37-41°F) or a cold room (0°C/32°F) until just before serving.
Difference in price
When assessing the cost of sashimi versus nigiri, nigiri tends to have a higher price point due to level of precision and expertise required to expertly craft each piece. The process involves shaping the rice and seafood together by hand, a labor-intensive task that demands years of experience and skill to perfect.
The market price of nigiri can vary greatly, ranging from thousands of yen to tens of thousands of yen. The reason behind this is the vast contrast in pricing is due to the affordable conveyor-belt sushi and the luxurious, reservation-only sushi.
The primary distinction between conveyor-belt sushi and high-end sushi lies in the quality of the ingredients and preparation. At high-end sushi restaurants, the ingredients undergo careful selection and expert preparation, naturally commanding a significantly higher price.
| | Conveyor-belt sushi | High-end sushi |
| --- | --- | --- |
| Average price per person | About 1,500 yen ($11.5) | 6,000-40,000 yen ($46-$307) |
| Neta (ingredients) | Mainly farmed fish that arrive stably | Mainly carefully selected seasonal wild caught fish |
Yen to dollar conversion according to currency rates in April 2023.
On the other hand, the price of sashimi is primarily determined by the quality of the fish and does not involve as much labor as nigiri. You can simply say that sashimi is more affordable than nigiri mainly because it does not include rice as well.
The bottom line: nigiri and sashimi are two different dishes
Nigiri is a type of sushi, which refers to all dishes that combine shari (sushi rice) and seafood. A summery of all the differences we have covered in this article are listed in the table below.
| Nigiri | Sashimi |
| --- | --- |
| Shari (vinegared rice) topped with the neta (ingredients) | Raw seafood cut into bite-size pieces |
| The sense of unity between the rice and the fish is important. | Focus on the taste and texture of the fish itself. |
| Sliced thinly with a wide cross section using a cutting method called "sogi-giri". | Thickly cut into bite-size pieces using a cutting method called "hira-giri". |
| Delicious at 36-37°C/97-98.5°F | Chilled to 8-9°C/46-48°F, should be around 12℃/55°F during consumption. |
| Includes labor cost for preparing neta and nigiri. | The quality of the fish almost determines the price. |
If you're dining at a high-end sushi restaurant that requires reservations, they may serve you a sashimi platter before the nigiri. If you'd like to try both, be sure to let them know when making your reservation.
If you have no particular likes or dislikes, I recommend the omakase menu.
I hope this post has helped you feel well informed about the differences between sushi, nigiri and sashimi. If you have any questions, feel free to comment below!