Learn everything you need to know about Yellowtail Sashimi, from how to select, cut and store, to the differences between "hamachi" and "buri". I also introduce how to use Yellowtail Sashimi to make a unique regional dish known as "Ryukyu" with a simple yet delicious homemade marinade.
Yuhiko Okamoto
Contributing writer
In 2002, with zero experience, Yuhiko began his career in Japanese cuisine and has since worked as a chef and executive chef at a kappo restaurant, a high-end sushi restaurant, and izakayas.
Jump to:
What is Yellowtail Sashimi?
Yellowtail sashimi is a dish made with raw slices of yellowtail fish, sometimes known as "Japanese Amberjack" in English, and "Buri" or "Hamachi" in Japanese. The fish is usually sliced into small, bite-sized pieces and served with soy sauce or other dipping sauces.
Yellowtail is a large fish that can reach up to 1 meter in length and weigh up to 10kg (22lbs). It is known for its delicate texture, rich flavor, and high-fat content. The fish has a distinct aroma and a unique taste due to its bloody part.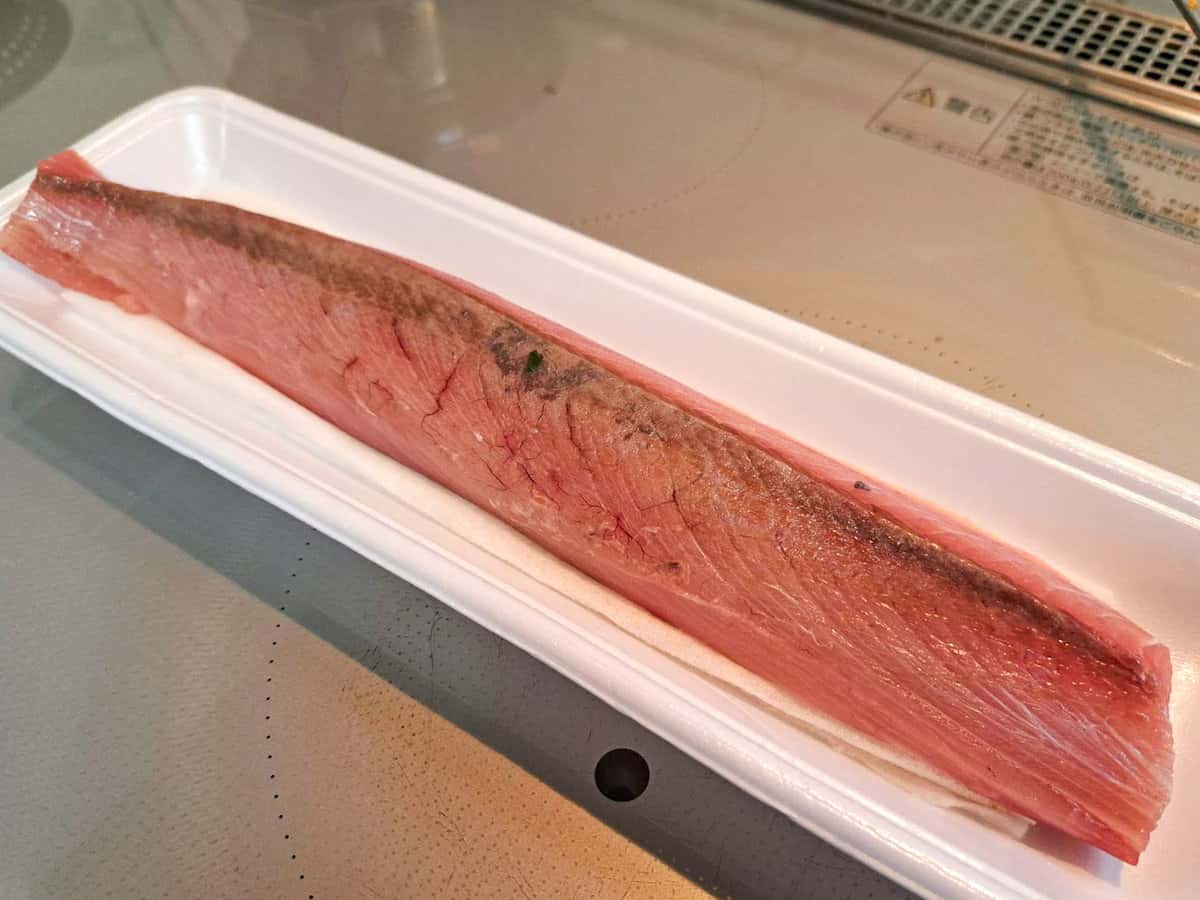 A Brief History of Yellowtail Sashimi
For many centuries, people in Japan have enjoyed eating yellowtail during celebrations and as part of New Year's Osechi dishes, believing it to bring luck and success. In Japanese literature, it was first mentioned 500 years ago during the Muromachi period (1492-1501) and was known as "hamachi."
Yellowtail fishing grew in popularity during the Edo period (1603-1867), and with the advancements in fishing technology during the Meiji period (1868-1912) to the Showa period (1926-1989), the number of catches increased. Since then, the cultivation of hamachi, a young yellowtail, has drastically increased, and today, the term "farmed yellowtail" often refers to hamachi (young yellowtail) instead of buri (fully grown yellowtail).
Differences Between Sashimi-grade Yellowtail and Yellowtail for Cooking
Other than simply being able to eat it raw or not, there are other differences between sashimi-grade yellowtail and the yellowtail used for cooking.
| | Label | Bone and Skin | Condition |
| --- | --- | --- | --- |
| Sashimi-grade | Yes | Removed | Saku (block) or pre-sliced for sashimi use |
| For Cooking | No | On | Fillet |
When it comes to sashimi-grade yellowtail in Japan, the label must indicate that it is safe to eat raw. This is stated in Article 19 of the Appended Table of Food Labeling Standards. Only fresh yellowtail processed for raw consumption can be sold as sashimi-grade.
Yellowtail that is no longer fresh is typically processed for cooking usage instead.
What is the Difference Between Buri and Hamachi?
Wild yellowtail is a type of fish that is called by different names as they grow. Starting with the smallest first, the name changes from Wakashi (ワカシ), to Inada (イナダ) or Hamachi (ハマチ), to Warasa (ワラサ), and finally to Buri (ブリ) once fully grown. In the Kanto (East) region, small fry yellowtail is called inada, while in the Kansai (West) region, it is known as hamachi.
Yellowtail is also widely farmed; farmed buri of about 60cm (23 inches) are often called hamachi.
How to Select a Good Sashimi-grade Yellowtail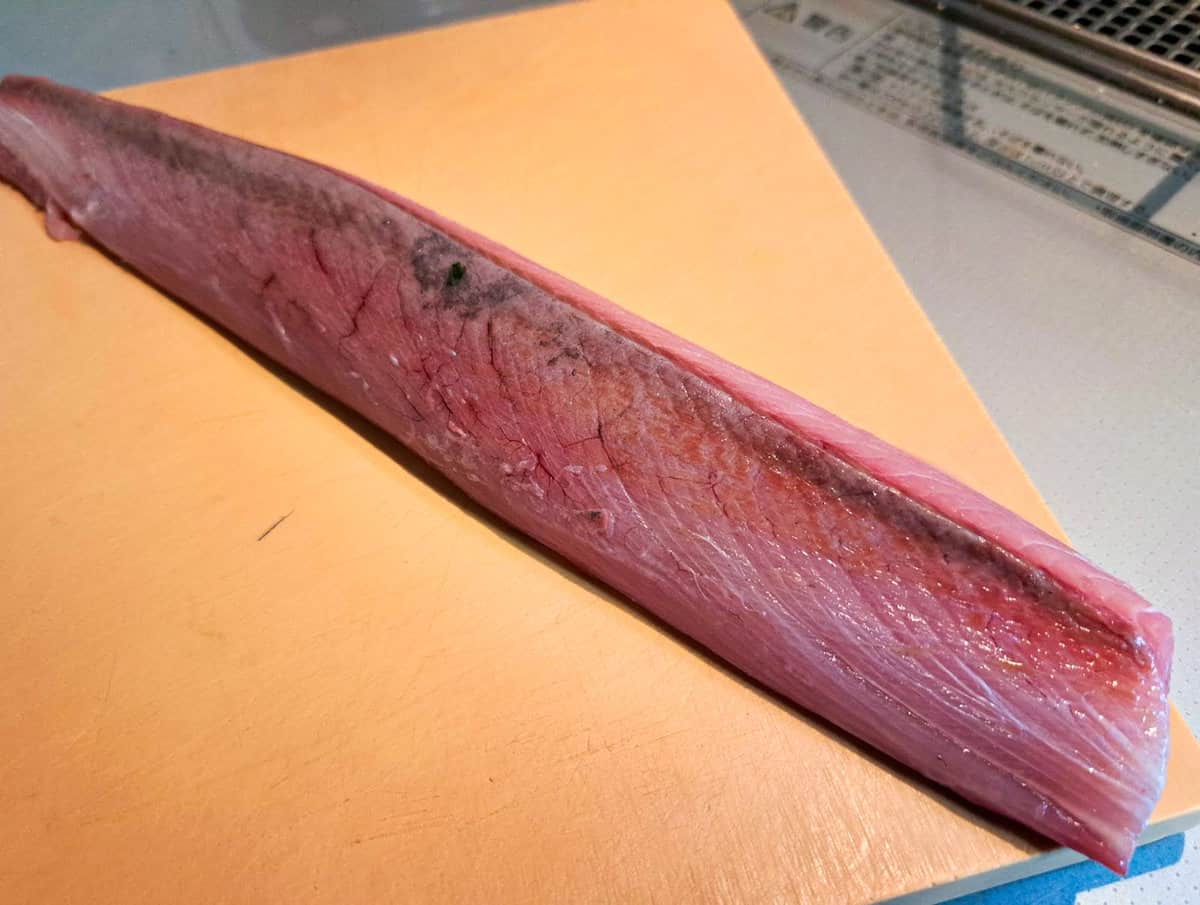 When choosing a high-quality sashimi-grade yellowtail, there are two important factors: the blood's color and the shape of the fish.
It is advisable to purchase the block before it is sliced to ensure the best quality, as the surface of sliced yellowtail can oxidize quickly and may not be as fresh.
Blood's Color
The blood spot is a triangular area located on the border between the dorsal and ventral sides beneath the skin of the yellowtail. This area is the most obvious indicator of loss of freshness and is easy for anyone to recognize.
The color of the blood spot serves as an indicator of freshness. The brighter the red, the fresher the fish. Over time, the color will turn a dull ochre. Yellowtail is particularly susceptible to deterioration, resulting in a fishy odor when it loses its freshness.
Yellowtail with beautiful and shiny skin or white spots on the meat contains more fat. It is best to avoid fish with dry surfaces or excessive moisture (drips).
The Shape
Regarding yellowtail, there are two types of meat: dorsal and belly, which differ in texture and fat content. If you prefer lighter meat, go for the dorsal. If you want something richer, choose the belly.
Remember that the dorsal meat is usually cut into two pieces due to the size of the fish. You may see long, thin blocks of meat in supermarkets; this is made by cutting the dorsal meat into smaller pieces. Consider your preference and intended use when selecting which type of yellowtail meat to purchase.
Dorsal
Belly
Skin is black and silver
The flesh is generally red (if wild)
Block is thick
Muscular and elastic
Rich natural yellowtail flavor
Moderate fat content
Melt-in-your-mouth texture
More fatty flavor
How to Identify
Skin is black and silver
Flesh is generally red (if wild)
Block is thick
Skin is silvery white
Red and white gradient (if wild)
Block is flat
How to Identify Wild and Farm-raised
Yellowtail is also widely farmed, so distinguishing between natural and farmed fish will broaden your options.
While wild-caught seems the better option, the advantage of farmed yellowtail is that it is safer than wild one because it is raised in an environment where water quality, feed, and other factors are thoroughly controlled.
Wild Yellowtail
Farmed Yellowtail

Differences
Moderately fatty
Tight flesh
Strong bloody taste
Seasonal (tastes best in Winter)
Very fatty
Tender meat
Consistent quality
Does not lose its flavor throughout the year
How to Identify
Labeling is optional
Overall flesh is red
The blood spot is dark red
Labeling is compulsory
Overall flesh is white
The blood spot is light pink
How to Cut Yellowtail Sashimi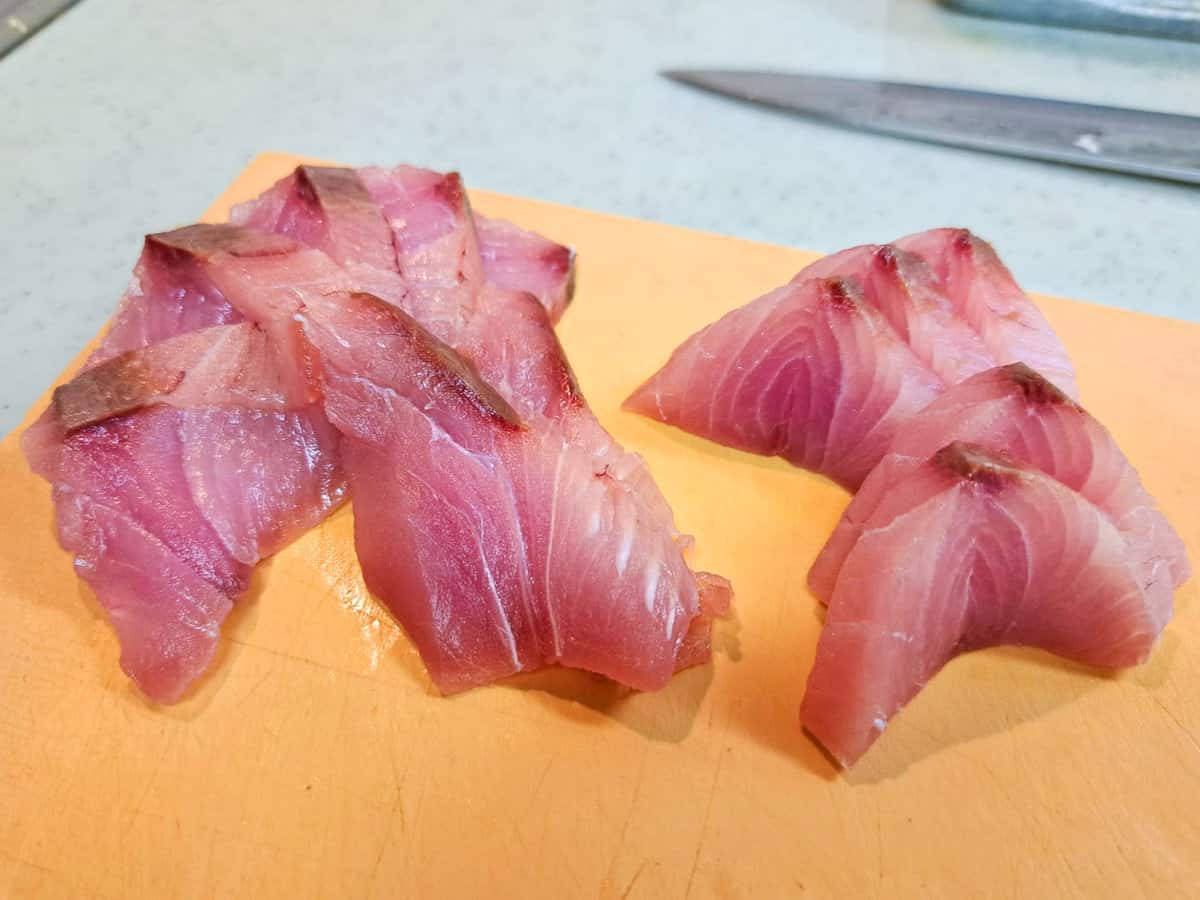 If you want to make sashimi with yellowtail, there are two main cutting techniques to remember. These methods can also be applied to most other types of fish too.
The first method is called Hira-zukuri (平造り), which is best suited for making tall blocks. The second method, Sogi-giri (そぎ切り), is better suited for using flat blocks.
I recommend using a knife with a long, sharp blade for sashimi cutting, such as a Yanagiba knife or salmon slicer. This will ensure that your cuts are clean and precise.
Hira-zukuri
Hira-zukuri is the basic way to cut sashimi in general and is often used for thicker blocks or to cut the dorsal meat of the fish.
Place the block horizontally in front of you
Align the base of the knife with the thickness you want to cut
Yellowtail has a lot of fat, so be careful not to make it too thick.
Bend the first joint of your fingers and press down on the block
Arrange them in a row, pulling them to the edge with a knife
Sogi-giri
Sogi-giri is a technique for slicing sashimi into thin pieces or cutting belly flesh. The knife's angle determines the sashimi's length, while the width of the cross-section is influenced by the amount it is laid down.
Place the block at an angle
Align the base of the knife with the place you want to cut
Yellowtail's belly meat is especially fatty, so cut it as thinly as possible.
Press down with the belly of your fingers
Stand the knife up when there is hardly any meat left
3 Ways to Enjoy Yellowtail Sashimi at Home
Yellowtail is a large fish often difficult to consume solely as sashimi due to its size. To address this issue, I have put together three simple yellowtail dishes popular in areas where yellowtail fishing is common.
These dishes can be prepared using leftover sashimi or fish block scraps. The dishes include Buri Shabu, Ryukyu, and Nuta.
Yellowtail Shabu Shabu (Buri-Shabu)
Buri shabu is a delicious regional dish from Toyama Prefecture, famously known for its yellowtail. The "Himi's Kan-buri (氷見の寒ブリ)" is considered the best quality yellowtail caught at Himi fishing port. The fish's flesh is supple and rich in high-quality fat.
Buri-shabu is a shabu shabu dish that uses yellowtail instead of beef or pork. To prepare, thinly slice sashimi-grade yellowtail and quickly dip it into boiling soup stock. You can then enjoy it with a sauce of your choice. The trick is to heat only the surface of the fish and keep the inside rare.
To relish the yellowtail's taste, it's best to keep the other ingredients to a minimum, such as green onions, mizuna (potherb mustard), and mushrooms. Ponzu (Japanese sauce), sesame sauce, or men-tsuyu are great dipping sauce options.
Ryukyu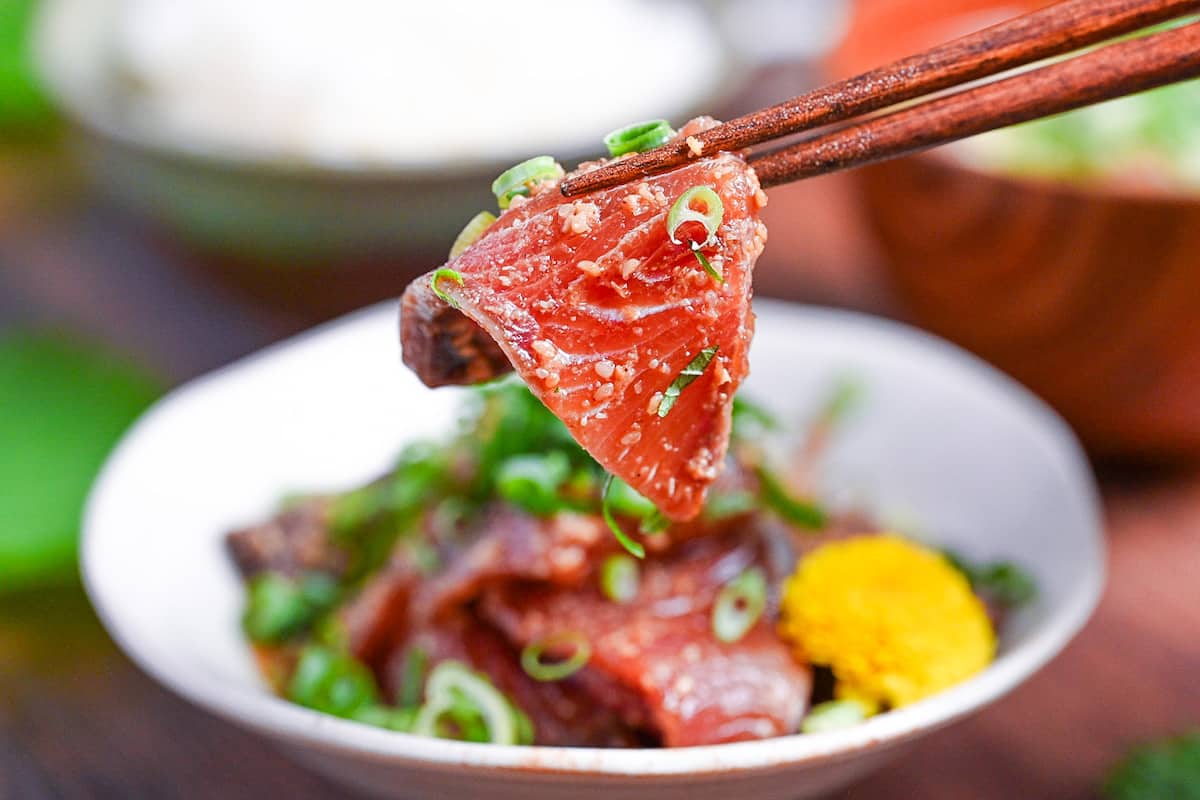 Oita Prefecture is well-known for its yellowtail farming, and a local delicacy from the southern coast is ryukyu (りゅうきゅう). To make this dish, dress a piece of blok or leftover sashimi with a sauce made by mixing soy sauce, sake, mirin, ginger, and sesame seeds.
Add shiso, myoga, wasabi, or any other ingredients you like for a refreshing taste. At the restaurant where I used to work, ryukyu made with sweet soy sauce unique to the Kyushu region was very popular.
Another reason for its popularity is that it can be served in various ways, such as on top of white rice in a bowl or with dashi (Japanese soup stock) in ochazuke (rice with green tea). When served over rice, the dish is known as "buri no atsumeshi".
Nuta
"Nuta (ぬた)" is a classic seasoning from Kochi Prefecture prepared by marinating yellowtail in vinegar, miso, and sugar. The dish is typically served with leaf garlic (the leafy part of garlic harvested during its growth).
In Kochi Prefecture, nuta is commonly used as a condiment for yellowtail sashimi instead of the traditional wasabi soy sauce. This is achieved by mixing chopped and ground-leaf garlic with vinegar, miso, sesame seeds, and sugar. For an even more flavorful experience, some locals also add scallion and yuzu to their nuta.
Nuta is a versatile seasoning that can be customized to your preference and enhance the taste of many dishes.
How to Store Sashimi-grade Yellowtail
If you want to keep yellowtail fresh for sashimi, it should be refrigerated. Freezing is also an option, but it can make the yellowtail lose its quality much more easily.
Regardless of how you store it, keeping yellowtail away from moisture and air is crucial. Moisture can spoil the fish, while air can cause it to deteriorate due to oxidation and drying.
To extend its shelf life, it's recommended to season the yellowtail. Marinating it in a seasoning solution can coat the fish and prevent it from oxidizing and drying out.
Refrigerated: 1 to 2 days
Refrigerated (Marinated): 2 to 3 days
Frozen: 1 to 2 weeks (Not recommended)
Frozen (Marinated): 2 to 3 weeks (Not recommended)
Refrigerated Storage
Sprinkling a touch of salt is an age-old trick to stave off spoilage in fish. The salt exerts osmotic pressure, slightly dehydrating the fish, which helps preserve and eliminate unwanted odors.
Before you start, thoroughly pat the yellowtail dry using kitchen paper. Damp spots on fish can develop a fishy smell that can permeate the entire fish.
Once you've treated the fish with water and salt, it's time to store it. Bundle the yellowtail snugly in fresh kitchen paper to guard it from air exposure. Slip it into a sealable bag and store it in your refrigerator's chilliest section. Rest it on an aluminum container for added cooling—its high thermal conductivity helps maintain a low temperature.
Lastly, remember that fish blood can exude a fishy smell as the yellowtail ages. To sidestep this, scrape off any visible blood before storage.
Frozen Storage
If your plans include having yellowtail as sashimi after thawing, freezing is not your best bet. Thawing is a delicate process—any minor drips during the process can cause a noticeable dip in quality.
However, if freezing is your only option, quickly freeze raw yellowtail. Although, re-freezing already thawed yellowtail may lead to considerable degradation in its texture and flavor.
Remember, yellowtail blood can discolor quite quickly. For optimal results, make sure to remove any blood traces before freezing. A top tip to prevent the yellowtail from oxidizing and drying out is to freeze it while it's still marinating before storing. This little trick helps lock in the yellowtail's freshness and flavor.
Marinated Yellowtail Sashimi (Buri no Ryukyu)
How to make regional Buri no Ryukyu with fresh yellowtail sashimi marinated in a delicious soy-based sauce.
Instructions
Cut

200 g sashimi-grade yellowtail

l into thin slices using your preferred method below.
Hirazukuri Method (Recommended for Dorsal Meat)
Place the block of sashimi-grade yellowtail horizontally in front of you.

Align the base of the knife with the thickness you want to cut. Be careful not to make the slices too thick.

Bend the first joint of your fingers and press down on the block.

Arrange the slices in a row by pushing them to the edge with the knife.
Sogigiri Method (Recommended for Belly)
Place the block at an angle.

Align the base of the knife with the place you want to cut.

Press down with your fingers.

Slice diagonally in a slight arc but don't cut all the way through.

When the knife is almost at the bottom, change the direction so that it is standing and finish the cut.
Buri no Ryukyu Marinade
Pour

1 tbsp sake

and

1 tbsp mirin

into a small saucepan and boil for 1 minute to burn off the alcohol.

Pour the sake and mirin into a heatproof bowl and add

2 tbsp soy sauce

,

1 tbsp ground sesame seeds

,

½ tsp grated ginger

and

½ tsp wasabi paste

. Mix until well combined.

Place the yellowtail in the bowl and turn until each piece is fully coated in the marinade.

Lay a piece of plastic wrap over the top so that it is touching the surface of the yellowtail. This will help prevent oxidization. Marinate for at least 1 hour, preferably overnight.

Garnish with

sesame seeds

, shredded

perilla leaves

and

finely chopped green onion(s)

. Enjoy on its own or with rice as "buri no atsumeshi".
FAQ
Is yellowtail suitable for sashimi?
Yellowtail is one of the most delicious fish to eat as sashimi. However, be sure to use yellowtail labeled as "sashimi grade."
Can yellowtail be eaten raw?
If it is fresh and processed for sashimi, it can be eaten raw.
Is yellowtail used for sushi raw?
It is mostly raw, but some restaurants use blanched, seared, or marinated yellowtail.