Ehomaki is a thick sushi roll filled with seven delicious ingredients and eaten on Setsubun (February 3rd) every year to bring good luck! Celebrate this unique Japanese holiday with delicious homemade ehomaki!
Disclaimer: This post contains Amazon affiliate links. Sudachi Recipes earn a small percentage from qualifying purchases at no extra cost to you. See disclaimer for more info.
What is Ehomaki?
Ehomaki is a type of makizushi (sushi roll) eaten on the Japanese holiday "Setsubun" held on February 3rd.
The word "eho" (恵方) means "lucky direction" and "maki" (巻き) means roll. The name "ehomaki" supposedly came from Hiroshima Prefecture.
When eating ehomaki, the custom is to face the direction that will bring good fortune and eat one whole ehomaki silently while making a wish.
It is important not to cut the ehomaki as eating it whole is believed to bring good luck for the rest of the year.
The history of Ehomaki
The tradition of ehomaki is said to have originated from Osaka at some point between the Edo (1603-1867) and Meiji (1868-1912) periods. Ehomaki were eaten particularly by merchants to celebrate prosperous business and the beginning of the lunar new year.
In those days, ehomaki was often referred to as "futomakizushi" (thick sushi roll) or "marukaburi-zushi" (in-one-go sushi roll), and made seven ingredients. Different ingredients have different meanings and are supposed to represent "seven blessings".
However, this custom of using seven ingredients is not a strict rule and is unique to a few regions rather than practiced nationwide.
In 1989, convenience store 7-Eleven started selling futomakizushi especially for Setsubun. Since then, the popularity of ehomaki quickly spread across Japan and supermarket and deparments also began to sell ehomaki.
Just like chocolate on Valentine's day or the Japanese custom of eating KFC on Christmas day, the modern popularity of ehomaki is a byproduct of good marketing by companies!
Popular fillings used in ehomaki
Ehomaki doesn't have a rule for which fillings you must use, so you can choose 7 of your favourite ingredients!
Salmon (sushi grade)
Tuna (sushi grade)
Imitation crab meat (crab sticks)
Ikura (salmon roe)
Ebi (shrimp)
Unagi (eel)
Tamagoyaki (Japanese rolled omelette)
Cucumber
Kampyo (cooked and flavoured gourd strips)
Shiso/Ooba (perilla leaves)
Sakura dembu (a type of flaked fish)
And if you want to try making ehomaki with more unusual fillings, why not try some of these:
Smoked salmon
Tinned tuna/salmon
Thinly sliced beef/pork (cooked and seasoned)
Avocado
Lettuce
Tofu
Carrots
Boiled shiitake mushrooms
The possibilities are endless! Let us know what 7 ingredients you used in the comments below!
General rules for eating ehomaki
There are a few rules to follow when eating ehomaki on Sestubun:
Prepare enough ehomaki for each family member.
Confirm this year's lucky direction (more info below).
Facing the lucky direction, eat the ehomaki in silence while thinking about your wish.
Eat the ehomaki whole without cutting it into pieces.
I know it's quite a superstitious idea, but it is believed that if you follow these rules, your wish will come true!
Lucky direction
There are four possible lucky directions, "east-northeast", "west-southwest", "south-southeast", and "north-northwest".
You might be wondering why the direction changes each year and how it's decided.
Well, it's believed that the direction depends on the position of "Toshitokujin" (歳徳神) or "The God of the New Year".
Toshitokujin's position is decided by the Chinese counting system "10 heavenly stems and 12 earthly branches" which are the most important counting systems in the Chinese (lunar) calendar. (This system also decides the Chinese zodiac, ying/yang, element etc for each year.)
Fortunately you don't need to memorise the heavenly stems and earthly branches, there is also a way to figure out which direction is lucky using the Gregorian Calendar!
| Years ending with | Lucky Direction |
| --- | --- |
| 0 or 5 | West – Southwest |
| 1, 3, 6 or 8 | South – Southeast |
| 2 or 7 | North – Northwest |
| 4 or 9 | East – Northeast |
2023 – South-southeast
The lucky direction in 2023 was south-southeast. In 2023, instead of making them at home, we bought and ate unconventional ones and conventional one from a department store.
So using the chart above, you can see that the lucky direction for Setsubun in 2024 is east-northeast!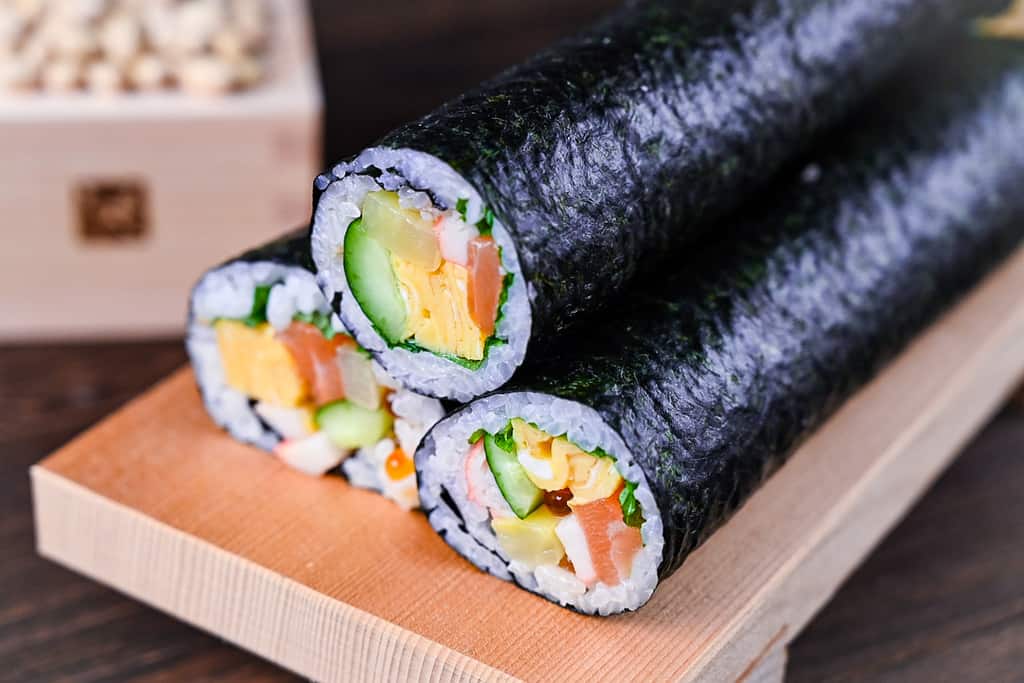 Why do you eat ehomaki in silence?
People believe that if you speak while eating ehomaki, the luck will run away from you. So make sure to eat ehomaki in silence while thinking about your wish!
Why do you eat ehomaki whole?
The reason we eat the whole roll in one go is because people believe that you will receive happiness and good fortune for the whole year.
Don't miss out on a years worth of luck by cutting your ehomaki or stopping in the middle of the meal, eat it whole to get the best luck all year round!
What is setsubun?
Setsubun (節分) is an annual Japanese holiday that falls on the last day of winter according to the old Japanese calendar. This generally falls on February 3rd.
The word "Setsubun" means the division of the seasons and while it doesn't mark the beginning of the new year, the start of spring is considered to be a time of renewal. Rituals and traditions are held to drive away bad fortune for the coming year.
Bean throwing (mamemaki)
When translating "Setsubun" into English, it's often called the "Bean-Throwing Festival".
The name comes from the tradition of throwing roasted soybeans either around your front-door, or at an unlucky family member wearing a demon mask to drive away the evil spirits.
Not only is this done at home, but also at local shrines or temples. At some events, packets of roasted soybeans or even sweets or prizes are thrown into the crowd. It's great fun for kids!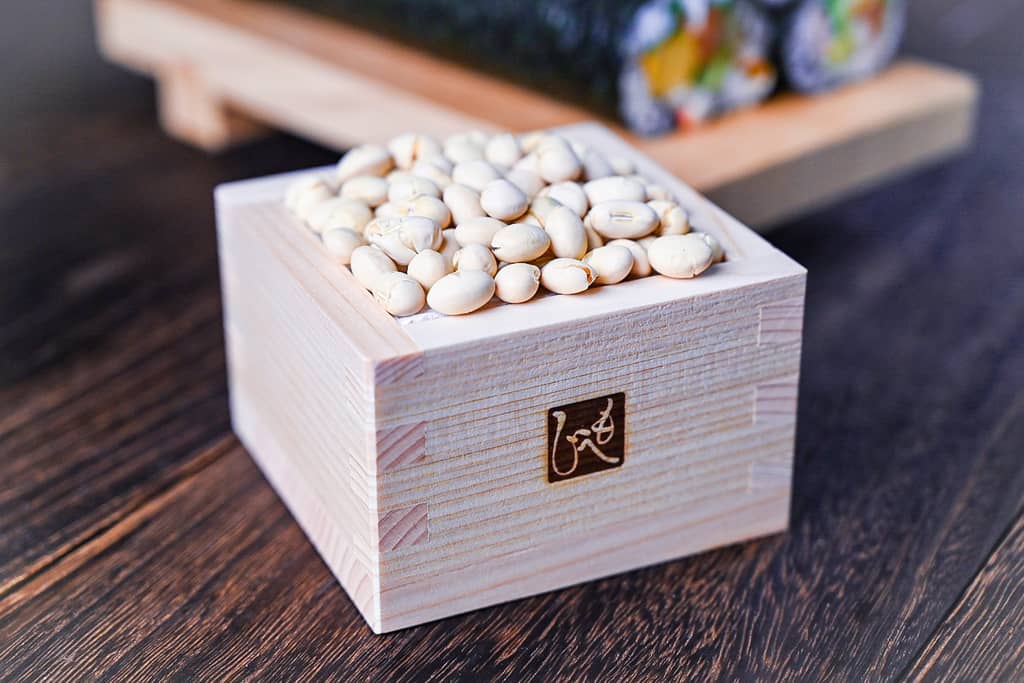 Bring the good luck in
Setsubun is a time for driving out the bad luck and bringing in the good.
In addition to eating ehomaki, it is lucky to eat 1 roasted soybean for each year of your life, plus one more for the year ahead.
Ehomaki (Lucky Direction Sushi Rolls)
---
How to make Japanese "Ehomaki" sushi rolls to enjoy on Setsubun (February 3rd). 
---
---
---
---
Equipment
Sushi oke

Bamboo Sushi Rolling Mat
Ingredients
300

g

uncooked Japanese short-grain rice

400

ml

cold water

2

tbsp

rice vinegar

½

tsp

sugar

1

tsp

salt

6

sheets

sushi nori seaweed(s)

approx. 21cm x 19cm (8.27 inches x 7.48 inches)

1

block

Japanese rolled omelet

tamagoyaki (dashimaki tamago)

200

g

Japanese or Persian cucumber(s)

preferebly Japanese or Persian

12-18

perilla leaves

shiso/ooba leaves

6

imitation crab(s)

1

block

sashimi grade salmon

or tuna

salmon roe "ikura"

ikura

yellow pickled daikon

takuan
Instructions
Washing the rice
First, measure out

300 g uncooked Japanese short-grain rice

. You can use kitchen scales to measure, or use 2 rice cooker cups.

Next, pour the rice into a sieve and place it over a large bowl. Pour cold water over the rice and wash. When the water becomes cloudy, drain it out and repeat this step 2 more times (3 times in total).

Transfer your rice to a rice cooker or a pot with a lid and add

400 ml cold water

.

Leave it to soak for 30 minutes. (If it's winter, extend soaking time to 1 hour.)

Once soaked, start your rice cooker or follow the steps below to cook rice on the stove.
How to cook sushi rice on a stove
Place your pot on the stove and bring the water to a boil over a medium heat.

Don't remove the lid, listen for the boiling water. Once you can hear it boiling set a timer for 2 minutes.

After 2 minutes are up, reduce the heat to medium-low and set a timer for 3 minutes.

Once 3 minutes are up, reduce the heat to the lowest setting and simmer for 5 minutes.

Turn up the heat to max for 10 seconds and then turn off the heat completely, leave the rice to steam for 10 minutes. Don't be tempted to take off the lid or mix it.

After the 10 minutes are up, the rice is ready and can be transferred to a large mixing bowl. Wet the bowl slightly before putting the rice in, this will help stop it from sticking too much. Spread the rice in a thin layer. The thinner the layer, the quicker it will cool down, so it helps to use a large bowl and spread the rice up the edges. (Be careful not to crush the rice.)
Seasoning
In a small bowl, mix

2 tbsp rice vinegar

,

1/2 tsp sugar

and

1 tsp salt

until the salt and sugar are dissolved.

Once the rice is slightly cooled (still warm), pour the vinegar mixture over the rice.

Using a rice paddle (or spoon) mix the rice until the vinegar is evenly distributed throughout.
Fillings
Cut

1 block Japanese rolled omelet

,

1 block sashimi grade salmon

and

yellow pickled daikon

into long strips. If the block is approx 10cm long, you will need 12 strips of each.

Cut each crab stick in half lengthways.

Take a chopping board and sprinkle a generous amount of salt. Roll

200 g Japanese or Persian cucumber(s)

in the salt, rinse with cold water and dry with a paper towel.

Cut the ends of the cucumber, scoop out the seeds and cut each cucumber lengthways into 12 strips. (See my kappamaki post for more details on how to cut Japanese cucumber for sushi.)

Place the nori on a bamboo rolling mat with the rough side facing up. Spread the sushi rice (approx 50-60g) evenly over the surface. (You can use wettened hands to prevent it sticking, or use a rice paddle.) Make sure to leave a 1-2cm gap along the top edge (furthest away from you) so that you can seal the sushi roll.

Add a small blob of wasabi and use your finger to spread it lengthways through the middle of the rice.

Place 2-3 perilla leaves (shiso) through the middle.

Lay the rest of your cut ingredients over the perilla leaves and sprinkle with ikura (cod roe).

Carefully lift the edge of the bamboo mat closest to you and fold it over the top of the fillings.

Continue to roll until the far edge comes into contact and seals your sushi roll. 

Repeat steps 5-10 until you have rolled all of your ehomaki.

Face the lucky direction for the year and enjoy! 
Notes
You can use different ingredient depending on your preference. See post above for more ideas.
FAQ
What is ehomaki?
Ehomaki is a thick sushi roll containing 7 ingredients. It's eaten on February 3rd or the day before the first day of spring on the Lunar calendar. This day is known as "Setsubun".
Are ehomaki and futomaki the same?
In a broad sense, yes, they are essentially the same thing. Ehomaki simply refers to the "futomaki" eaten on Setsubun. However in some regions, ehomaki should have 7 ingredients whereas futomaki generally has 4 or more fillings.
Where did ehomaki come from?
It's not confirmed but apparently ehomaki orginated from Osaka.
How do you eat ehomaki?
Ehomaki should be eaten whole, in silence and facing the lucky direction (eho) of the year.
How long is ehomaki?
Ehomaki shouldn't be cut, so the length is the same as a sheet of nori. (Approx 20cm or 8″)