This delicious tsuyu sauce will add extra umami and authenticity to your Japanese cooking. It is versatile and great for noodles, soups and seasoning. It can be hard to find outside of Japan, but luckily, it's easy to make at home and adapt for plant-based diets!
Disclaimer: This post contains Amazon affiliate links. Sudachi Recipes earn a small percentage from qualifying purchases at no extra cost to you. See disclaimer for more info.
Jump to:
What is Tsuyu Sauce?
Tsuyu sauce" is a multi-purpose condiment made from dashi stock, soy sauce, and mirin (sweet cooking rice wine). There are concentrated types and diluted types that are ready to use. In Japan, the concentrated type is often called "Tsuyu-no-moto," "Kaeshi" or "Tsuyu," and these can be watered down depending on the usage (dipping, broths etc). The ready-to-use type is called "mentsuyu" or "straight" and are most commonly used for noodles.
The type of dashi (or dashi ingredients) used varies widely depending on the brand. Some use bonito flakes or mackerel flakes, some use only kombu (kelp), and others use a combination of various types.
With the recipe I will introduce in this post, you can easily change the type of dashi ingredients you use to suit your personal preferences and dietery needs. It can be used as a dipping sauce for zaru udon, zaru soba, or tempura by diluting it with water or can even be used straight as a condiment in cooking.
3 Dashi Variation Ideas for Your Own Tsuyu Sauce
Tsuyu sauce can be customized to your liking and dietery needs by using different dashi ingredients. Dashi is a Japanese stock that is rich in umami, and is essential in Japanese cuisine. The four most common ingredients used to make dashi stock are katsuobushi (bonito flakes), kombu (dried kelp), dried shiitake mushrooms, and niboshi (dried sardines). I have made three different variations of tsuyu sauce for this article, including a plant-based type that is suitable for vegetarians and vegans.
Bonito Flakes and Dried Kelp
Katsuobushi (bonito flakes) and kombu (dried kelp) are a classic and simple dashi combination! The umami component in bonito flakes is inosinic acid, while the umami component in kelp is glutamic acid.
When these two umami components meet, the umami of the dashi becomes much stronger. This synergistic effect is why bonito/kelp dashi is so loved in Japanese cuisine. Naturally, it is also one of the best combinations to use to make tsuyu sauce.
Dried Kelp and Dried Mushroom (Vegan)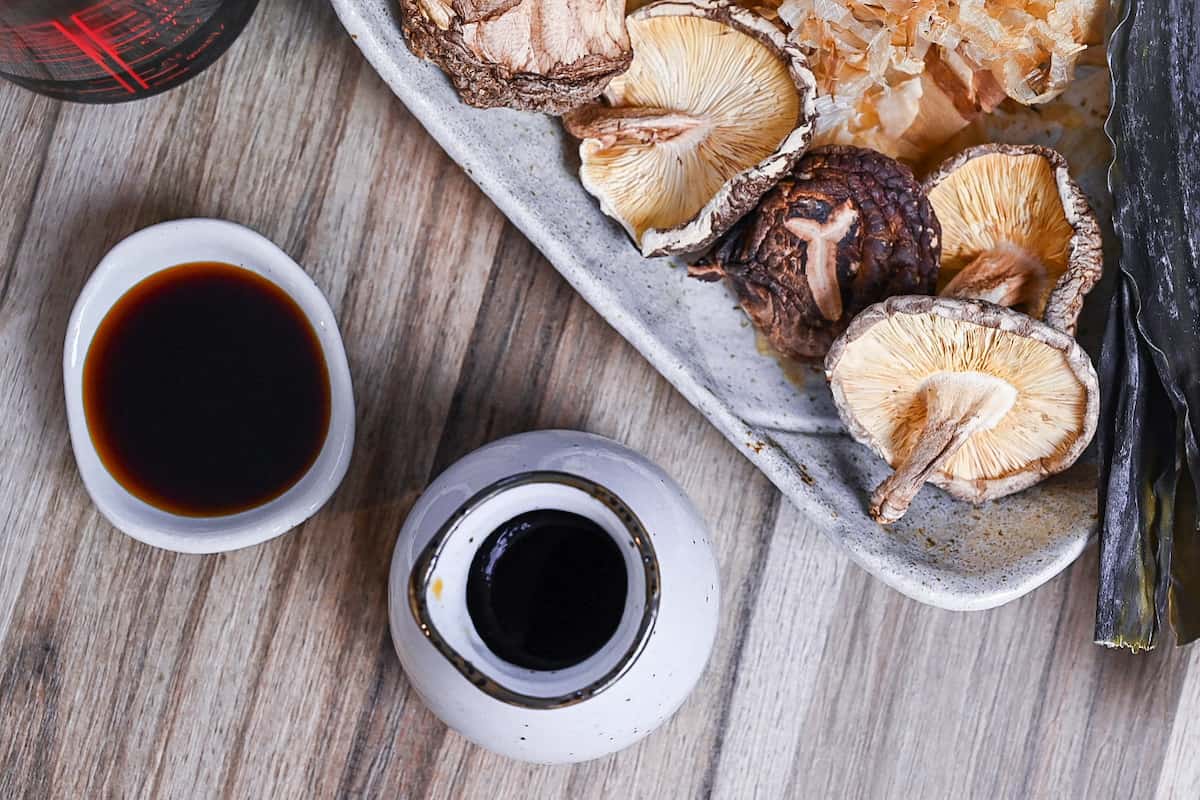 This kombu and shiitake dashi is a classic dashi combination for vegetarian dishes. The glutamic acid in kelp and guanylic acid in dried shiitake mushrooms combine to create a delicious flavor.
This is a great option for those who do not want to use fish products in their dashi!
Bonito Flakes, Dried Kelp and Dried Sardine
The last combines dried bonito flakes, kelp, and niboshi (dried sardines). My favorite dashi recipe inspires this one. The addition of dried sardines adds a richer flavor with more depth and has more of a briny taste, but it is especially good for making miso soup, noodle soups and hot pot broths.
Ingredients to Make This Tsuyu Sauce Recipe
Soy sauce - It is an important element of the base of the sauce. Please see our guide to soy sauce article to learn more about how to choose soy sauce in Japanese cuisine.
Mirin - When purchasing mirin, it is recommended to look for "hon mirin" (本みりん) for the best flavor. I recommend Hinode Hon Mirin as a high-quality and affordable option. See my 20 Most Useful Condiments and Seasonings for Japanese Cooking post for more recommendations.
Dashi elements - You can adjust to your own taste, such as bonito flakes, kelp, dried shiitake mushrooms, etc. Examples of combinations are presented in a later section.
Sugar - The sugar you normally use is fine, but I've been using light brown cane sugar for most dishes lately.
I have listed my recommended Japanese condiments, tools, and ingredients in the Sudachi Recipes Amazon shop. If you want to keep making various Japanese foods at home, please check it out!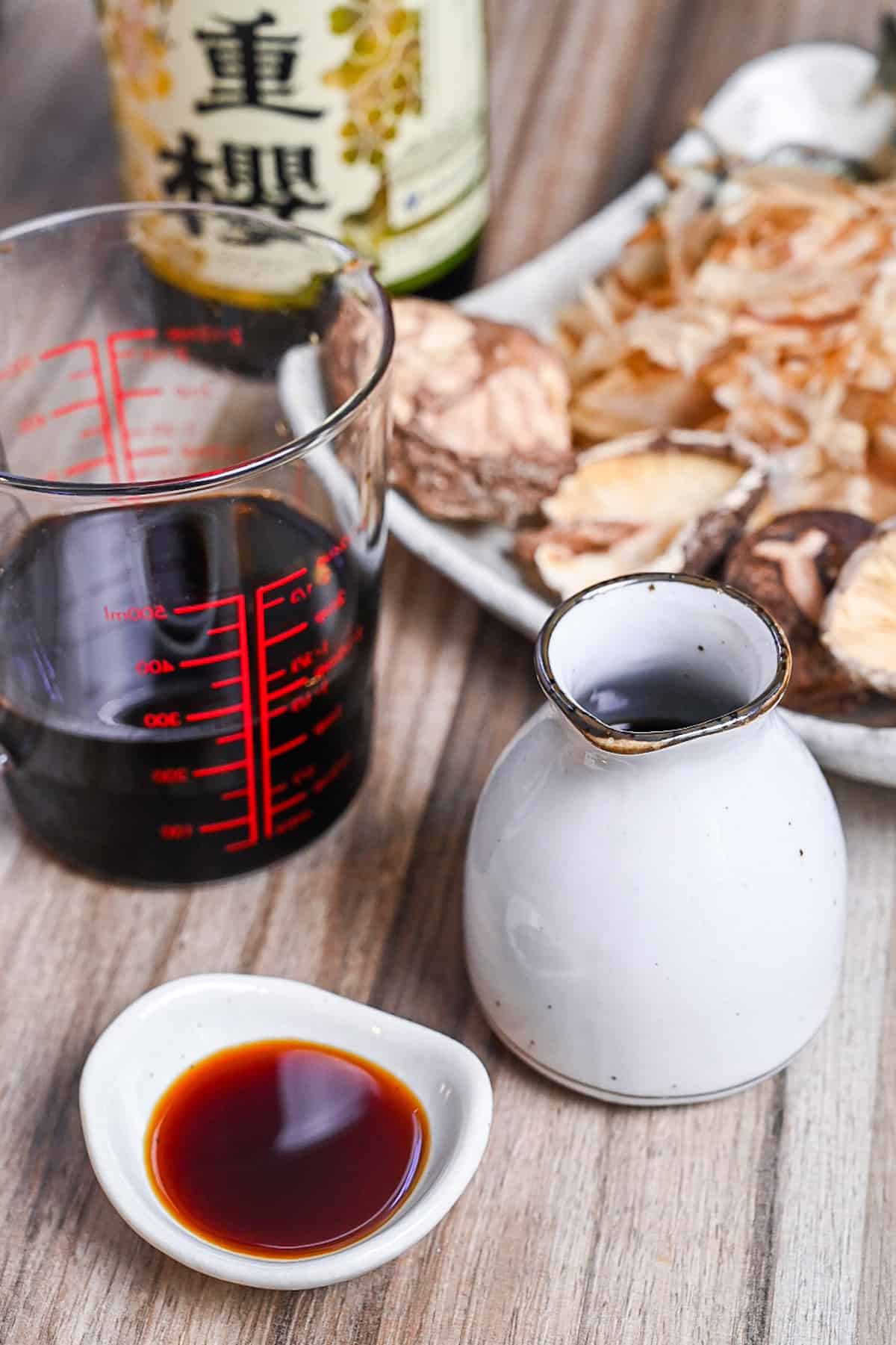 Step-by-Step Process
Here are my step-by-step instructions for how to make versatile homemade Japanese tsuyu sauce from scratch. For ingredient quantities and simplified instructions, scroll down to see the printable recipe card.
Pour the mirin into a saucepan and boil for 30 seconds to burn off the alcohol.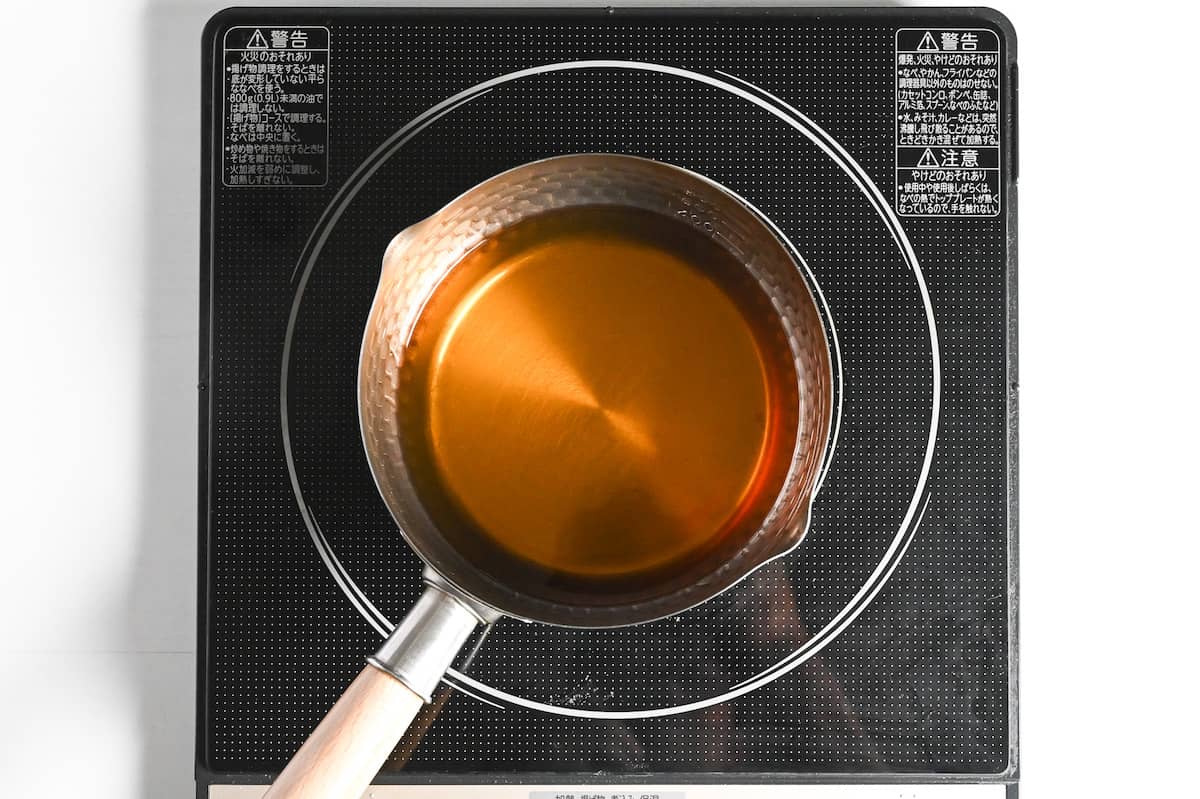 Add the soy sauce and sugar and allow to boil for 30 more seconds before removing the pan from the heat. Mix well to ensure the sugar has dissolved.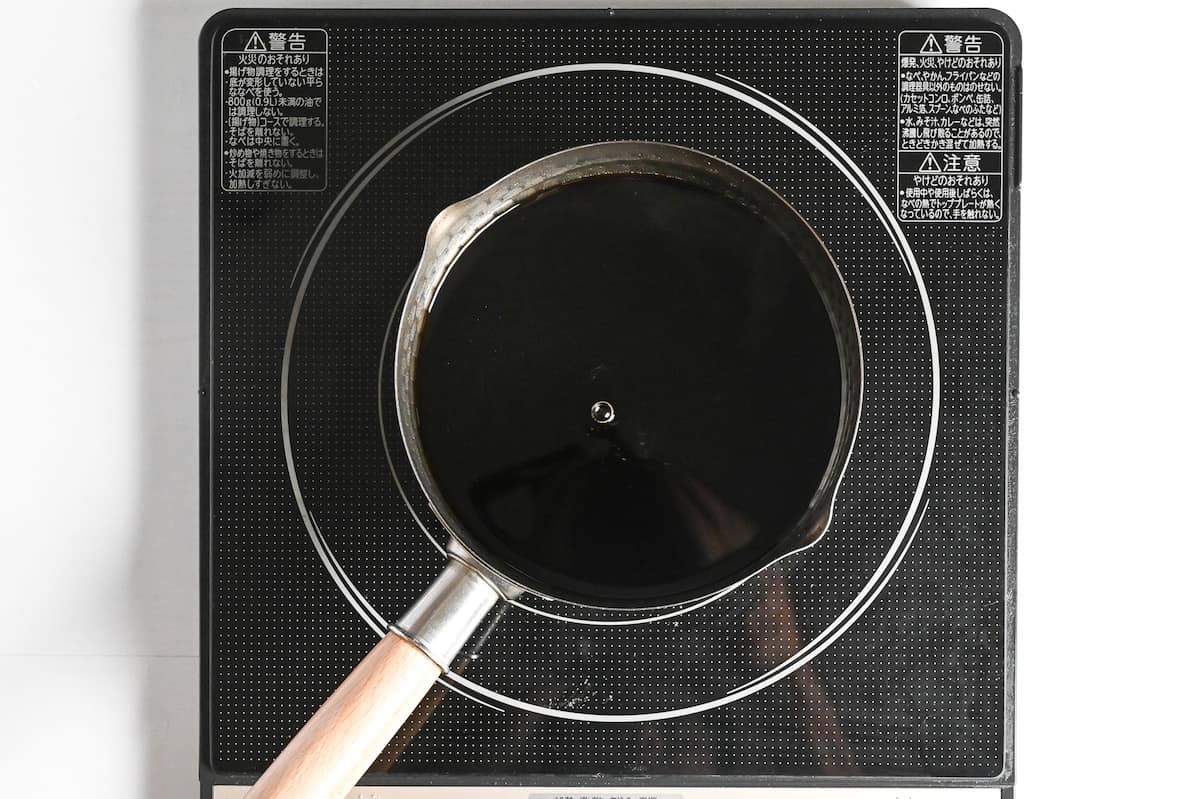 Pour the sauce into a heatproof container (choose a container with a lid for later storage). Leave to cool to room temperature.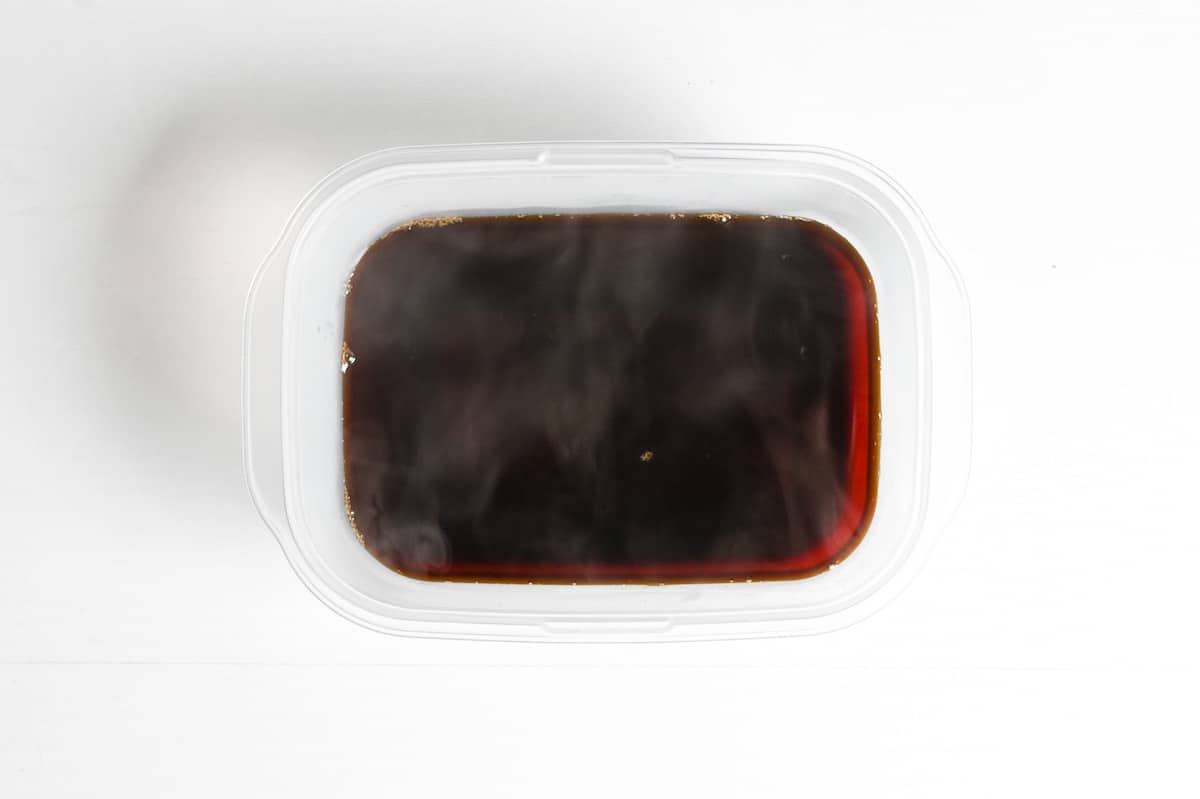 Add your choice of dashi ingredients. The classic combination is bonito flakes and kombu. For a plant-based version, use shiitake and kombu. For my favorite "rich" tsuyu, add bonito flakes, kombu and dried sardines. Feel free to mix and experiment with different combinations!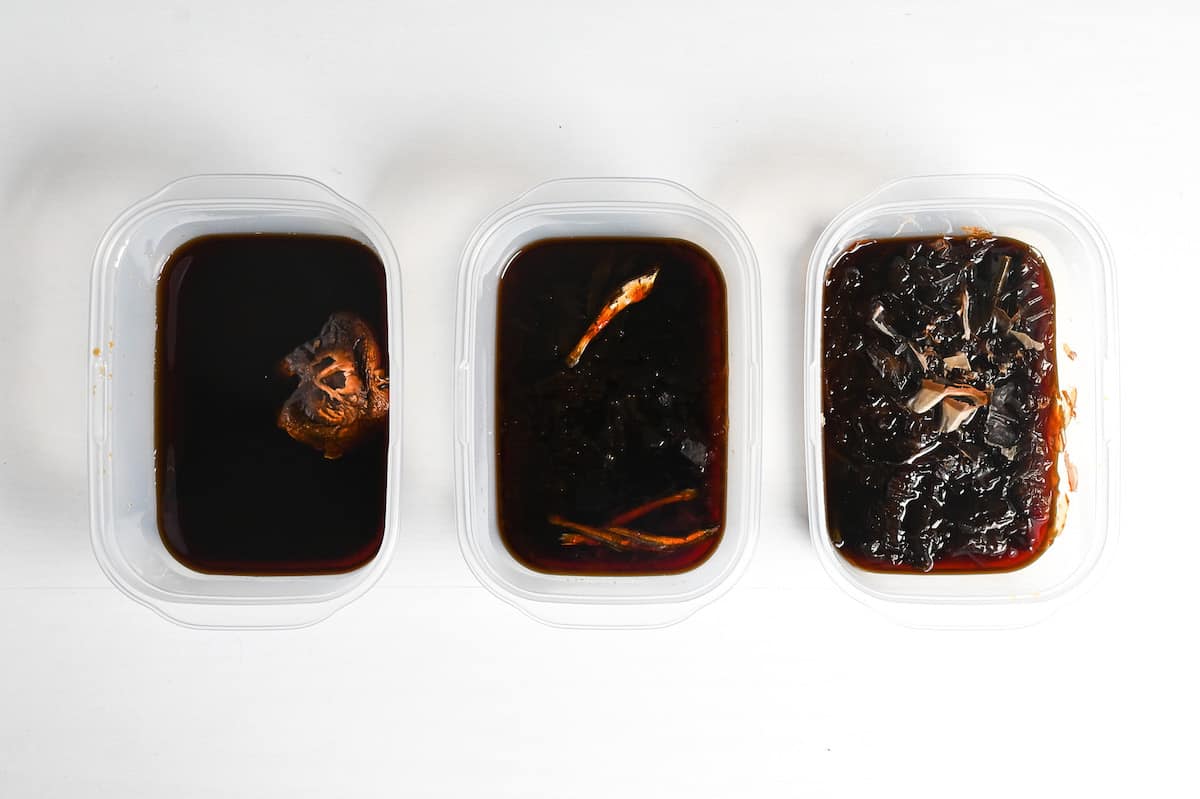 Place a lid on and store in the fridge overnight (at least 12 hours).
Place a fine mesh sieve over a pourable container and pour the tsuyu sauce in to remove the dashi ingredients. If you used bonito flakes, be sure to squeeze them to catch all the tsuyu sauce and prevent any waste.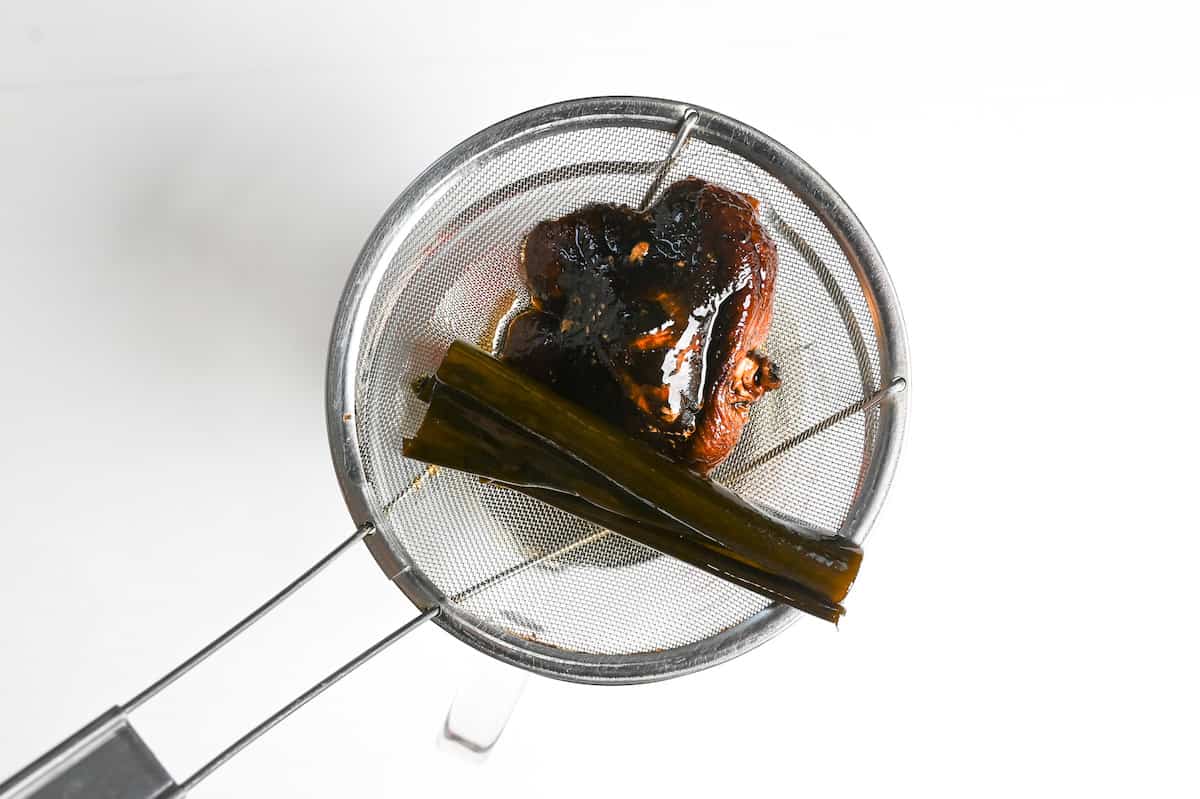 Use your homemade tsuyu sauce as a dipping sauce or to make soups or noodle broths! To store, transfer to a sterilized container and keep in the fridge for up to 2 weeks. See more storage options below.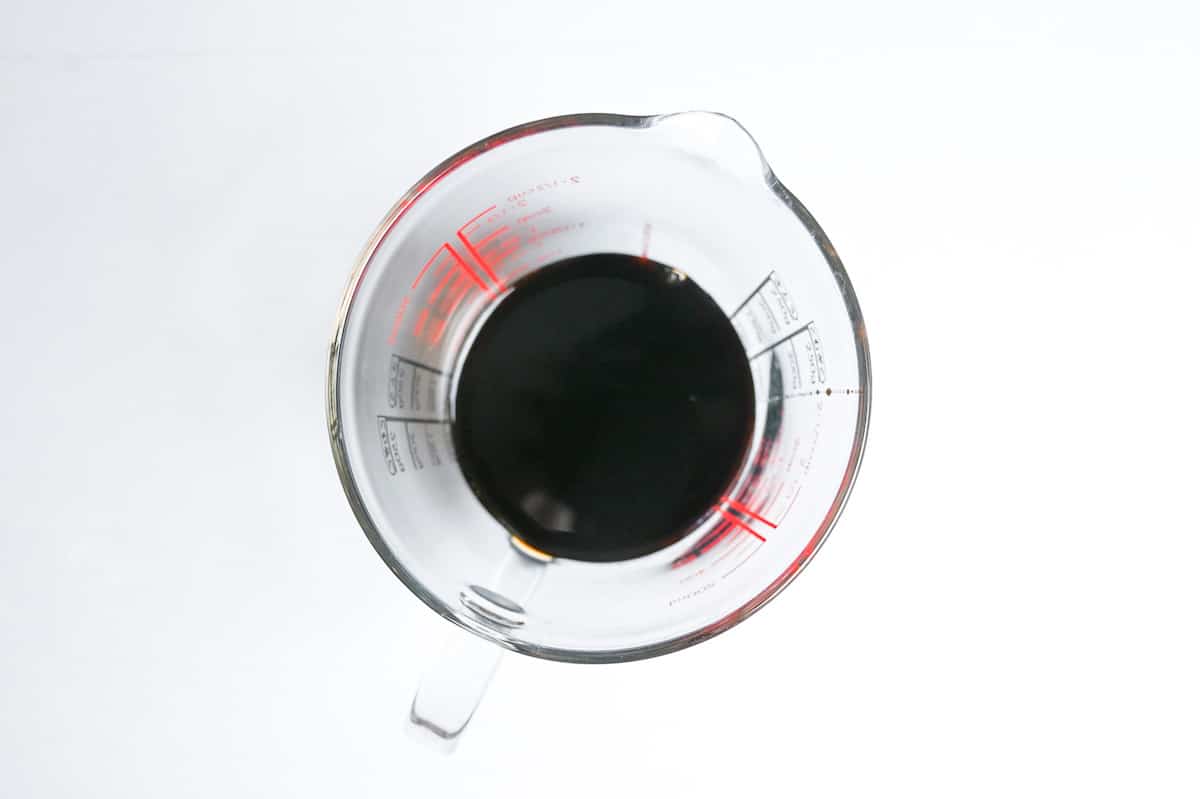 How to Use Tsuyu Sauce (water ratio)
As tsuyu is a concentrated sauce and there are many ways to use it. Here is a general guide on how much it should be diluted depending on the useage.
As a condiment for cooking - Use as it is.
Tempura dipping sauce - 1 part tsuyu, 3-4 parts water.
Agedashi tofu - 1 part tsuyu, 3 parts water.
This is just a general guide and you can dilute according personal preference.
Storage Options
Homemade tsuyu sauce requires specific storage methods to maintain its freshness. They are not suitable for room temperature storage; after using the required amount, immediately store the remaining sauce in a clean, sterilized container in the refrigerator. By only using a clean spoon to retrieve the amount needed and promptly returning it to the fridge, the sauce can be safely stored for up to two weeks.
For longer storage, freezing is an effective option. Place the sauce flat in a zipper storage bag or freeze it in small portions using an ice tray. This allows for easy portioning, letting you thaw only the amount needed. The estimated shelf life for frozen homemade dipping sauces is about one month.
Room temperature - Not recommended.
Refrigerated - 2 weeks in a sterilized container.
Frozen - Up to a month.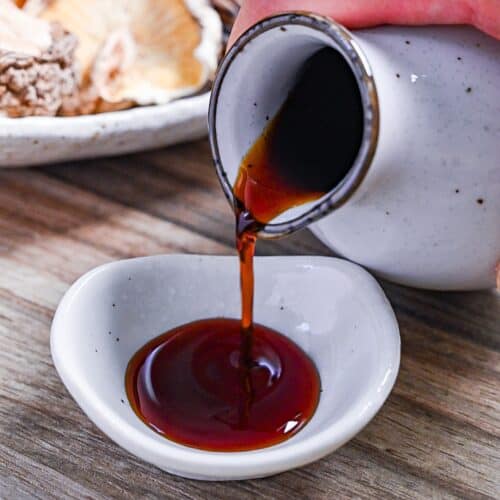 Homemade Tsuyu Sauce (Multipurpose Dashi-Based Sauce)
How to make versatile homemade Japanese Tsuyu Sauce from scratch. Great for adding umami flavor to noodles, broths and sauces.
Instructions
Pour

100 ml mirin

into the saucepan and boil for 30 seconds over a medium/medium-high heat.

Add

100 ml soy sauce

and

1 tsp sugar

and boil for another 30 seconds.

Transfer to a heatproof container and allow to cool to room temperature.

Once cooled, pour into a jar or sealable container and add your choice of dashi ingredients. (Classic:

3 g bonito flakes

and

5 g dried kelp(s)

. Plant based:

3 g dried shiitake mushroom(s)

and

5 g dried kelp(s)

. Rich:

3 g bonito flakes

,

5 g dried kelp(s)

and

3 g dried sardines

)

Seal the container and soak in the refrigerator overnight (at least 12 hours).

After 12 hours, remove the dashi ingredients. (If you used bonito flakes, I recommend using a fine mesh sieve to strain and squeeze them to prevent wasting any sauce.) Transfer to a sterilized container for storage and keep it in the fridge.

Enjoy using your homemade tsuyu sauce for dipping, noodle soups and broths!
Notes
This sauce can be kept in the refrigerator for up to 2 weeks.
See the post above on how to use tsuyu and how much water to mix for different dishes/uses.
Recommended Tsuyu Sauce If You Want to Buy Store-bought One
In this article, I introduced a recipe for making homemade tsuyu sauce at home, but few Japanese families make their tsuyu from scratch since tsuyu of all kinds is available at supermarkets.
In fact, it is sometimes more convenient to buy store-bought ones for small quantities, so in this section, I will introduce some recommended commercial tsuyu brands.
Kikkoman Hon-Tsuyu - Classic choice! All dashi ingredients are made from Japanese bonito flakes, tuna flakes, sardine flakes, Soda bonito flakes, and ma-kombu (Japanese kelp), giving it a rich, umami flavor. While the dashi has a rich aroma, the sweetness is kept to a minimum, and the beautiful color makes it a truly versatile tsuyu sauce that is easy to use.
Ninben Tsuyu no Moto - Another classic tsuyu sauce with an iconic orange label! This best-selling tsuyu has been a favorite of Japanese families for decades. Compared to Kikkoman's Hon-tsuyu, it has a sweeter taste and almost no sourness.
Yamaroku Kikutsuyu - Compared to the above two products, this kikutsuyu is a premium product of higher quality. It is more expensive, but it is based on Yamaroku's Kikubishio soy sauce and is made with kelp from Rausu and dried bonito flakes from Makurazaki, and sweetened with sugar from Tanegashima to create an aromatic broth. If you are looking for a higher grade of tsuyu, give it a try!
Recipe Ideas Using Tsuyu Sauce
I often use tsuyu in my cooking; it has a more complex flavor than soy sauce alone. Here are some popular recipes that use tsuyu!
Use your homemade tsuyu in these recipes!
FAQ
What is tsuyu sauce made of?
Tsuyu is made by adding dashi to a seasoning called kaeshi, a mixture of soy sauce, mirin (sweet cooking sake), and sugar.
What is a substitute for tsuyu sauce?
When used in small quantities in cooking as a seasoning, soy sauce can be used instead.
Is tsuyu a soy sauce?
No, tsuyu sauce is made based on soy sauce, but it is sweeter because it contains mirin and sugar and has more depth than soy sauce because of its dashi elements.
Is tsuyu the same as dashi?
While tsuyu is seasoned with soy sauce and mirin, dashi is just a flavor extract from dried bonito flakes and kelp, so it is not salty on its own.
What does tsuyu taste like?
While tsuyu has a strong soy sauce flavor, it is also sweet because of mirin and sugar, and the dashi gives it a deep umami taste.