Hey everyone, it's Yuto here from (@sudachi.recipes) and today I'm going to show you how to make a classic and well loved rice ball recipe called "Okaka Onigiri".
Disclaimer: This post contains Amazon affiliate links. Sudachi Recipes earn a small percentage from qualifying purchases at no extra cost to you. See disclaimer for more info.
Onigiri
What is Onigiri?
Every country has their own go-to lunch box food, and for Japanese people, it's onigiri.
Onigiri is a rice ball most commonly shaped into a triangle. (Although they can also be round or cylindrical.)
Rice balls are super versatile and come in many different flavours. You can flavour the rice or add a tasty filling, it's totally up to you.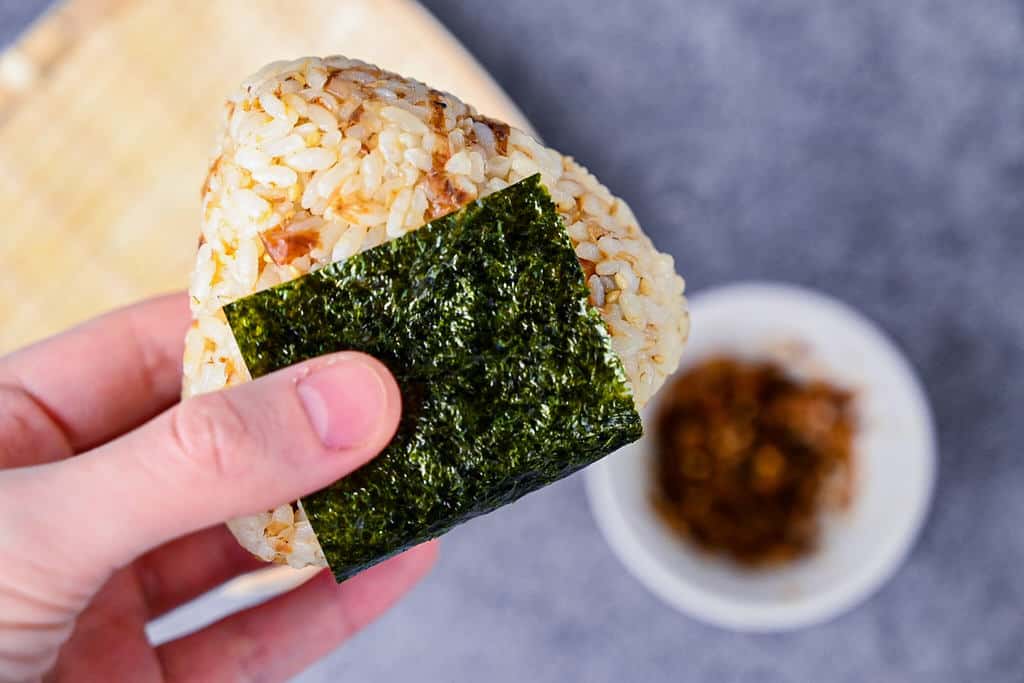 Ideas for Onigiri Fillings
We've got lots of onigiri recipes on our site, here are some of our favourites.
Okaka
What is Okaka?
Okaka is a type of rice seasoning made from "katsuobushi", known as bonito flakes in English.
The katsuobushi is seasoned with soy sauce or tsuyu to give it a salty and slightly sweet taste.
I've also added white sesame seeds to my recipe for extra flavour. The nuttiness from the sesame seeds works really well in okaka!
Okaka is always served on rice, so it's perfect for rice balls! Okaka onigiri is very popular, it's easy to find it in any convenience store in Japan.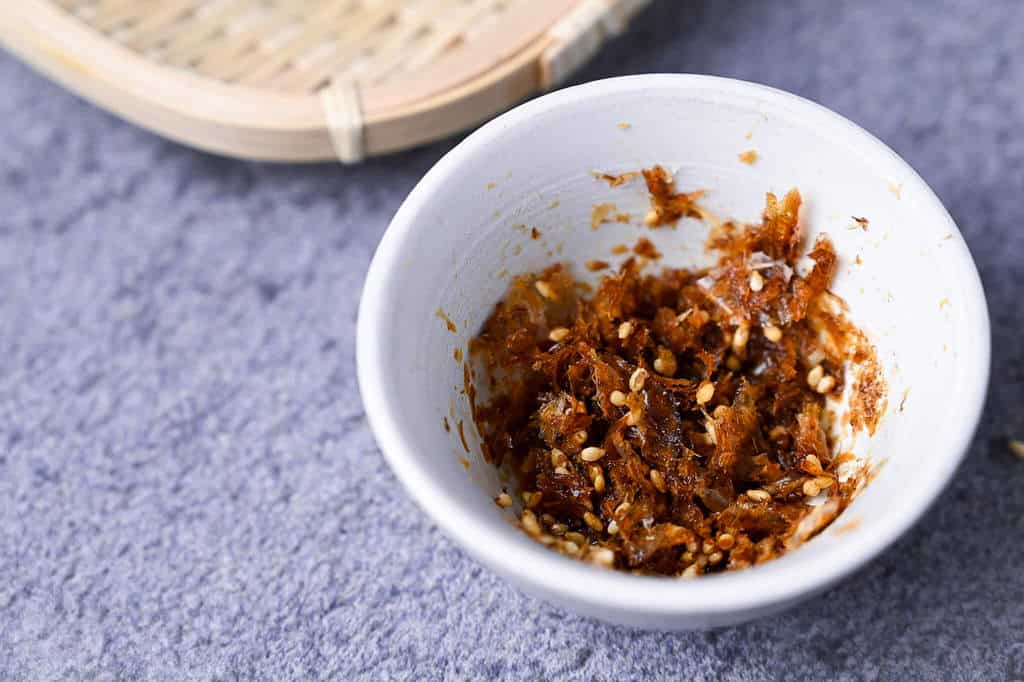 Katsuobushi
Katsuobushi (鰹節) is the Japanese name for "bonito flakes".
Bonito flakes are made from skipjack tuna that has been dried, fermented and smoked. It is then shaved into very thin flakes.
It has a fishy and smoky flavour. This recipe uses 15g (1¼ cups) of katsuobushi to make 4-6 rice balls, but you can increase or decrease the amount to suit your tastes.
You can buy bonito flakes for Okaka on Amazon. (Affiliate link)
Dishes with Katsuobushi
If you're wondering whether it's worth buying katsuobushi and if you'll use it for other things, the answer is, of course! There are so many recipes that use katsuobushi and most importantly, you can use it to make dashi which is essential for creating umami in Japanese cooking. (Especially noodle broths!)
Here are some of our other recipes that require katsuobushi:
Here you can see the katsuobushi sprinkled on top of the okonomiyaki. It's delicious!
"Okaka Onigiri" Bonito Flake Rice Ball
---
How to make classic Okaka Onigiri (bonito flake rice ball)
---
---
---
---
Ingredients
Shaping
1

bowl

ice cold water

1

tbsp

salt
Instructions
Add

15 g bonito flakes

,

3 tbsp tsuyu sauce

and

1 tbsp white sesame seeds

to a large bowl and mix.

Once all the liquid is absorbed, add

600 g cooked Japanese short-grain rice

to the bowl.

Mix well until all of the ingredients are spread evenly through the rice.

Divide the rice into 6 portions (depending on how big you want the onigiri to be).

Prepare

1 bowl ice cold water

and a small bowl with 1 tbsp salt.

Wash your hands well and then submerge them into the bowl of icy cold water for about 15-20 seconds. This stops the rice sticking to your hands. (See note if you don't want to handle the rice)

Rub 1-2 pinches of salt over the palms your hands. This not only adds the flavour to the rice ball, but also acts as a preservative whilst it's in your lunchbox.

Take a handful of the rice mixture and start to shape it in your palms, pressing the edges to form a triangle shape. If you press and turn, press and turn, press and turn, you should make a good firm triangle shape.

Don't handle the rice for too long, quicker is better. Once you're happy with the shape, wrap it with nori.

Put your hands back in the icy water and repeat. This recipe makes 4-6 rice balls (depending on size).

Eat straight away or put in your lunch box with an ice pack. They're best eaten the same day.

Enjoy!
Notes
If you don't like the idea of handling the rice too much with your bare hands, you can also put the rice into plastic wrap and shape it like that, just don't forget to salt the outside of the rice ball before or after shaping.
If you want to make them for tomorrow's lunch you can wrap them in plastic wrap and store them in the fridge. To stop the rice from getting too hard overnight, wrap the plastic-wrapped rice ball once more in a towel or kitchen paper.
Practice makes perfect but if you're having trouble, watch our YouTube video or feel free to contact us!