Dried shiitake mushrooms are a valuable and versatile ingredient in Japanese cuisine. Not only can they be rehydrated and used in countless recipes, but they can also take the spotlight when used to make umami-rich soup stock called dashi. Learn everything you need to know about dried shiitake mushrooms, from their history and cultivation methods, to how to dehydrate, rehydrate and use them at home!
Disclaimer: This post contains Amazon affiliate links. Sudachi earns a small percentage from qualifying purchases at no extra cost to you. See disclaimer for more info.
What Are Dried Shiitake Mushrooms?
Shiitake mushrooms, primarily cultivated in Japan and other East Asian areas, represent an intriguing intersection of agriculture and nature. While most shiitake mushrooms on the market now are farm-grown, their natural counterparts are much harder to find.
Two prominent methods of shiitake cultivation exist: log cultivation and mycorrhizal cultivation. Each employs distinctive techniques and demonstrates the versatility of agricultural practices.
Log cultivation is often perceived as more aligned with nature. In this method, hardwood logs, commonly oak, are drilled with holes and sowed with shiitake mushroom inoculum. These logs are then strategically placed in a natural forest, shielded from direct sunlight, for one and a half to two and a half years. The patience required in this lengthy cultivation process pays off with a robust harvest of shiitake mushrooms.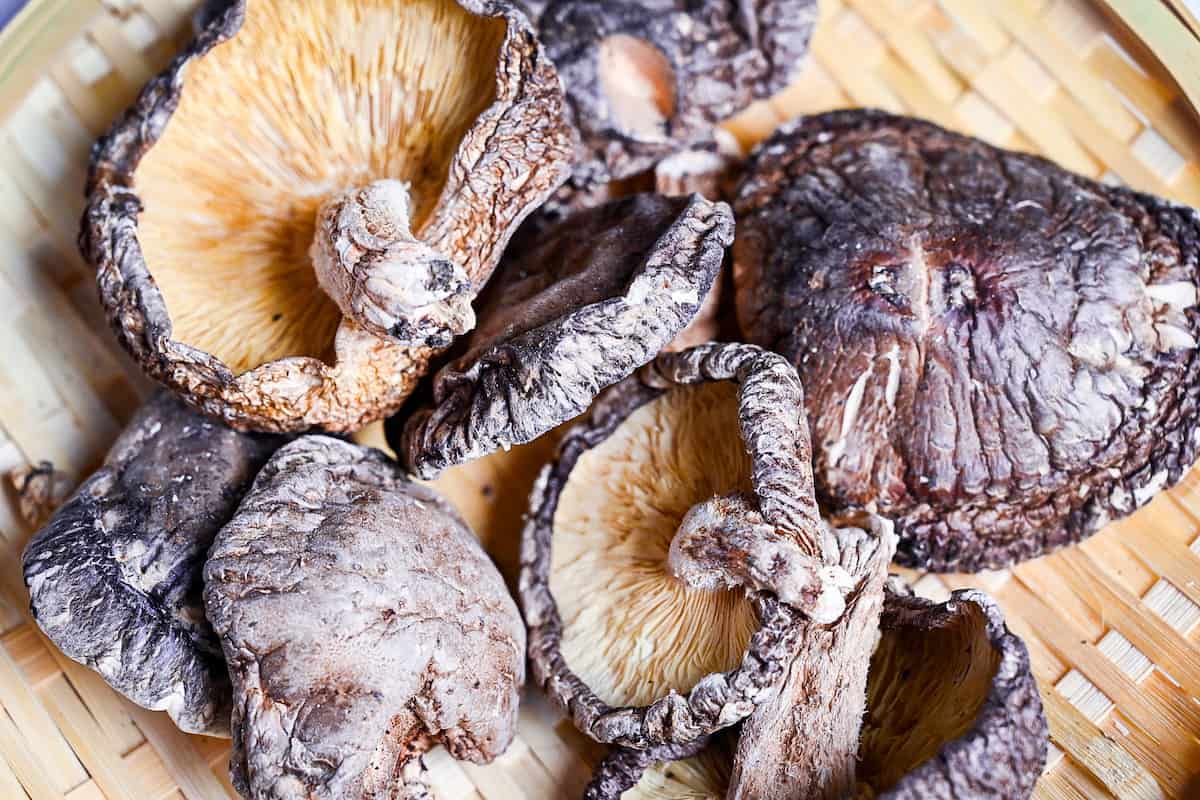 In contrast, mycorrhizal cultivation incorporates a more controlled environment. A mold is created from hardwood sawdust, water, bran, and added nutrients, which are then sterilized with heat. Shiitake mushroom inoculum is implanted into this prepared environment. The ensuing cultivation process unfolds in a sterile room with regulated temperature and humidity. After approximately six months, the cultivated shiitake mushrooms are ready for harvesting.
Dried shiitake mushrooms are produced by dehydrating fresh mushrooms, either naturally under the sun or mechanically in a specialized drying machine. By adjusting variables such as drying time, temperature, thickness, and moisture content, the fresh mushrooms are transformed into the dried variety.
Understanding these cultivation methods provides an enriching perspective on the journey of shiitake mushrooms from farm to table.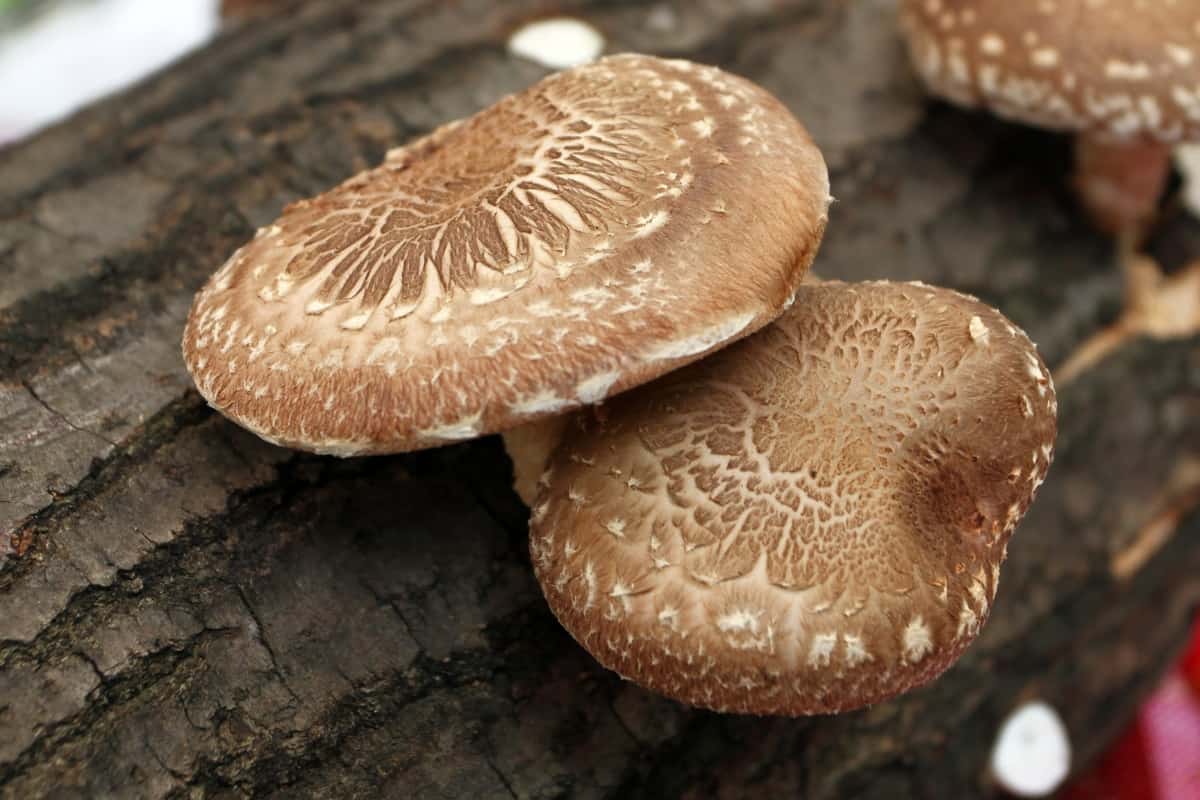 A Brief History
The rich history of dried shiitake mushrooms in Japan unfolds back to the 9th century. This tradition was introduced by Kobo Daishi (弘法大師), who brought the practice of consuming dried shiitake mushrooms from China. Interestingly, in the early stages, Japan exported more shiitake mushrooms to China than it consumed domestically.
In ancient China, it was recognized that drying fresh shiitake mushrooms not only preserved them but also heightened their umami and nutrient content. This ancient wisdom largely initiated the widespread tradition of dried foods.
Dried shiitake mushrooms were embraced in Japanese cuisine during the Edo period (1603-1867). This period saw the advent of artificial cultivation, which significantly boosted production compared to traditional harvesting methods.
Around 1970, a pivotal period in shiitake history emerged as food manufacturers began developing high-quality fungus varieties. The popularization of mycorrhizal cultivation further enhanced shiitake mushroom production, broadening its availability to the public. These developments in mushroom cultivation not only increased supply but also helped integrate this unique food item into everyday diets, enriching home cooking experiences.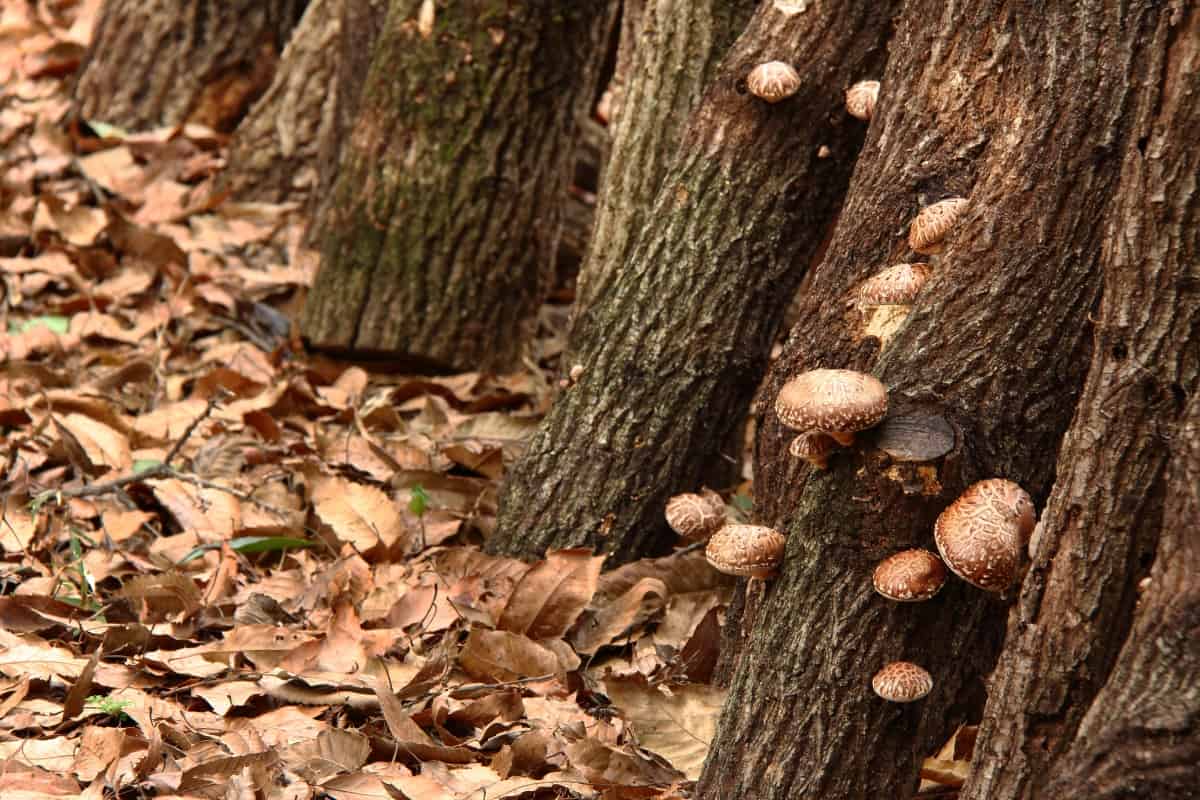 Differences between Dried and Fresh Shiitake Mushrooms
Dried and fresh shiitake mushrooms offer different cooking experiences and nutritional benefits. There are three main distinguishing characteristics between these two variants of the same species.
The first distinction lies in the "umami" factor. Dried shiitake mushrooms deliver a depth of flavor, thanks to a glutamic acid content 15 times higher than that found in fresh shiitake. Dried ones also feature guanylic acid, rarely found in fresh shiitake, further accentuating their rich taste.
The second difference concerns the nutritional content. Dried shiitake mushrooms come packed with twice the dietary fiber and ten times the vitamin D compared to their fresh counterparts, making them a more nutrient-dense option.
The third is in their shelf life. Fresh shiitake mushrooms can be kept for about a week, while dried shiitake mushrooms, when stored correctly, can last for up to a year.
These differences underscore that dried and fresh shiitake mushrooms while stemming from the same source, provide vastly distinct tastes, nutritional benefits, and storage options.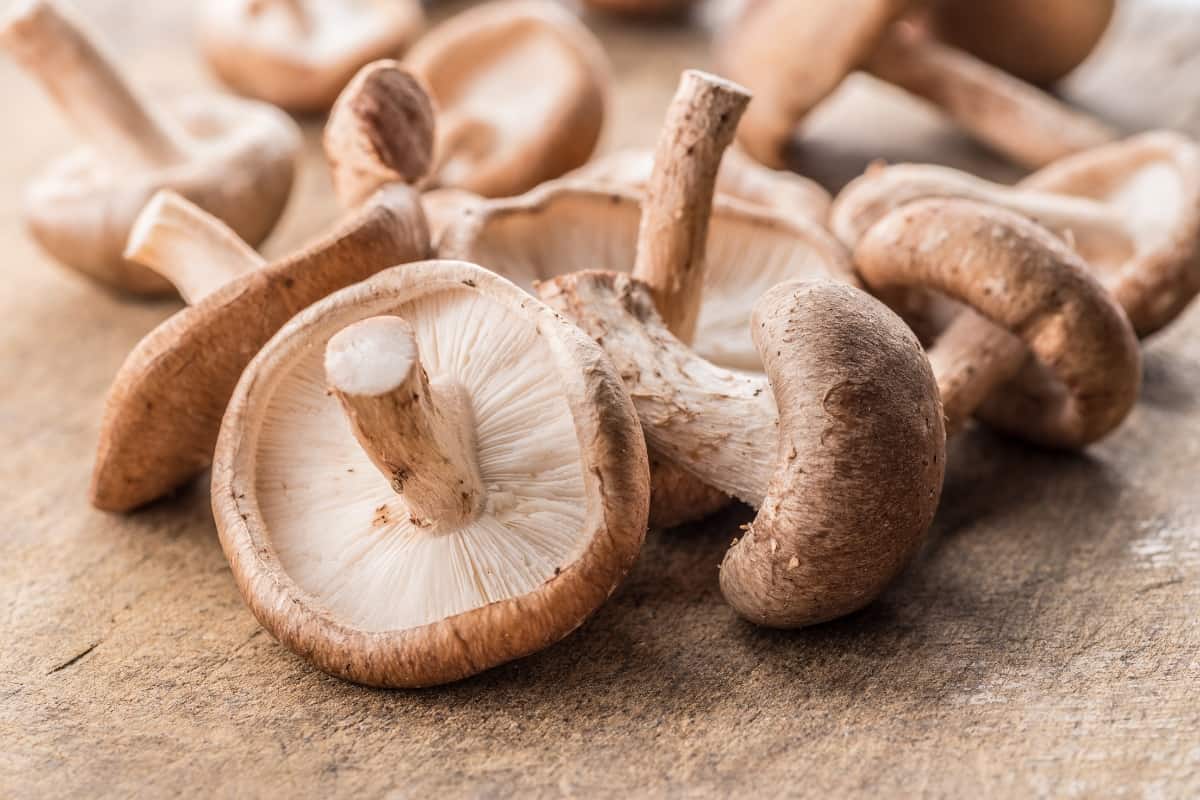 The Umami Produced by Dried Shiitake Mushrooms
Dried shiitake mushrooms are distinguished by their high concentration of guanylic acid, one of the three primary umami components—glutamic acid and inosinic acid. Guanylic acid, produced during the drying process, is a unique element that sets shiitake mushrooms apart from other ingredients.
Contained in significant quantities, this element bestows dried shiitake mushrooms with a distinctive and robust umami flavor. This is the secret behind the unparalleled depth that dried shiitake mushrooms bring to dishes, enhancing the culinary experience for the palate. Thus, the presence of guanylic acid is a key factor contributing to the unique sensory appeal of dried shiitake mushrooms.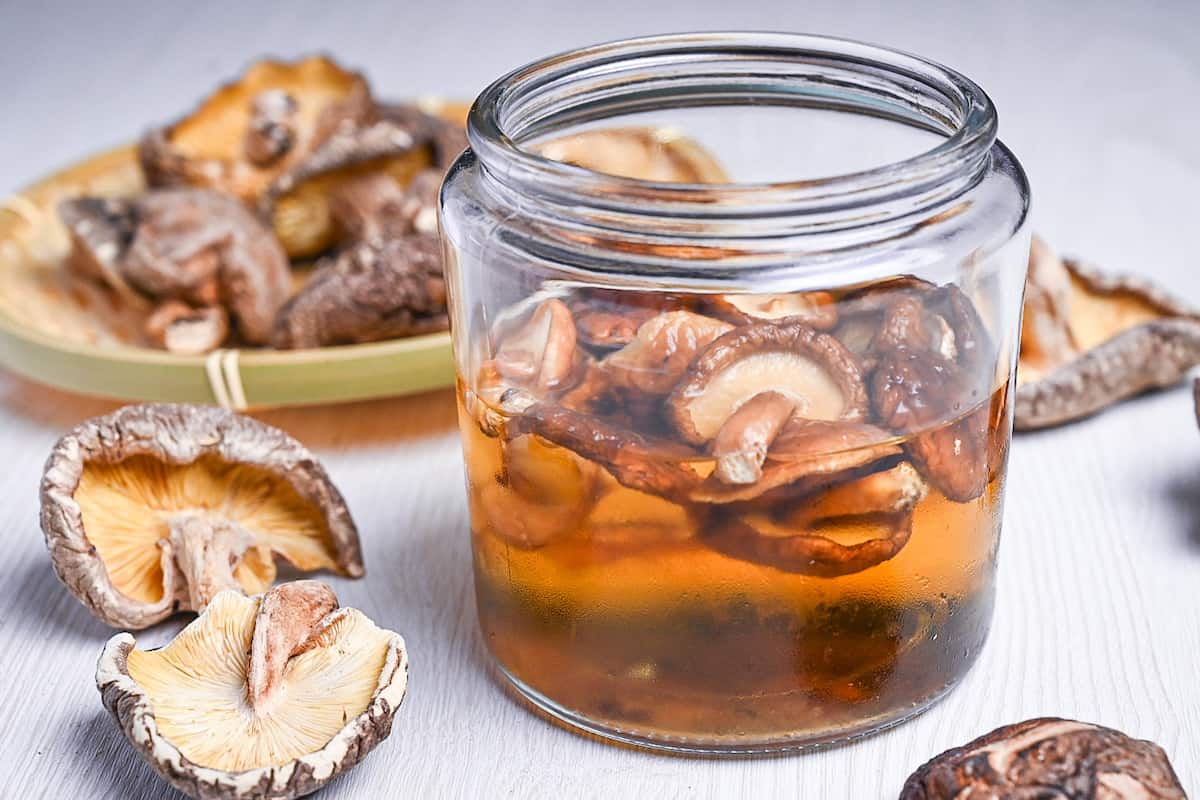 The Role of Dried Shiitake Mushrooms in Japanese Cooking
In Japanese restaurants, we use dried shiitake mushrooms not only as an ingredient but also as a seasoning.
As an ingredient, dried shiitake mushrooms are difficult to chew after being rehydrated in water, so they are cooked in bite-sized pieces or finely chopped. It soaks flavor easily and is suitable for simmered dishes such as chikuzenni and takikomi-gohan. It is also delicious with kiriboshi-daikon, cooked with konnyaku, in soups, and in chawanmushi (steamed egg custard).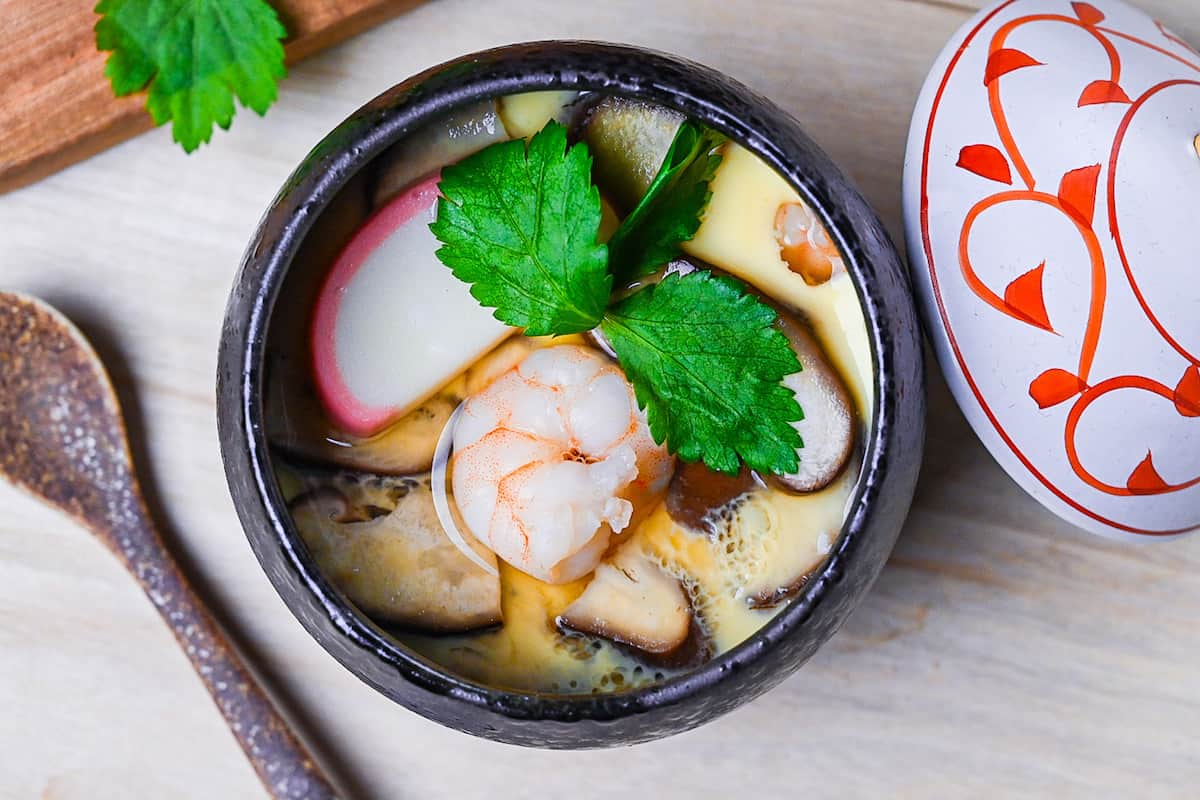 As a seasoning, it can be chopped and added to, for example, chicken tsukune, hambagu, and gyoza dumplings to give them a delicious flavor. In addition, water in which dried shiitake mushrooms (guanylic acid) have been rehydrated is often used as dashi (soup stock). Kombu (glutamic acid) dashi, bonito (inosinic acid) dashi, and seasonings are combined and used as dashi for soup stock, boiled tofu, somen noodles, soba noodles, etc.
Foods such as tofu, which has a light flavor, can be especially tasty when combined with a dashi broth rich in umami from dried shiitake mushrooms, bonito flakes, and kombu (dried kelp). The abundance of umami ingredients makes the soup taste even more delicious.
How to Dry Shiitake Mushrooms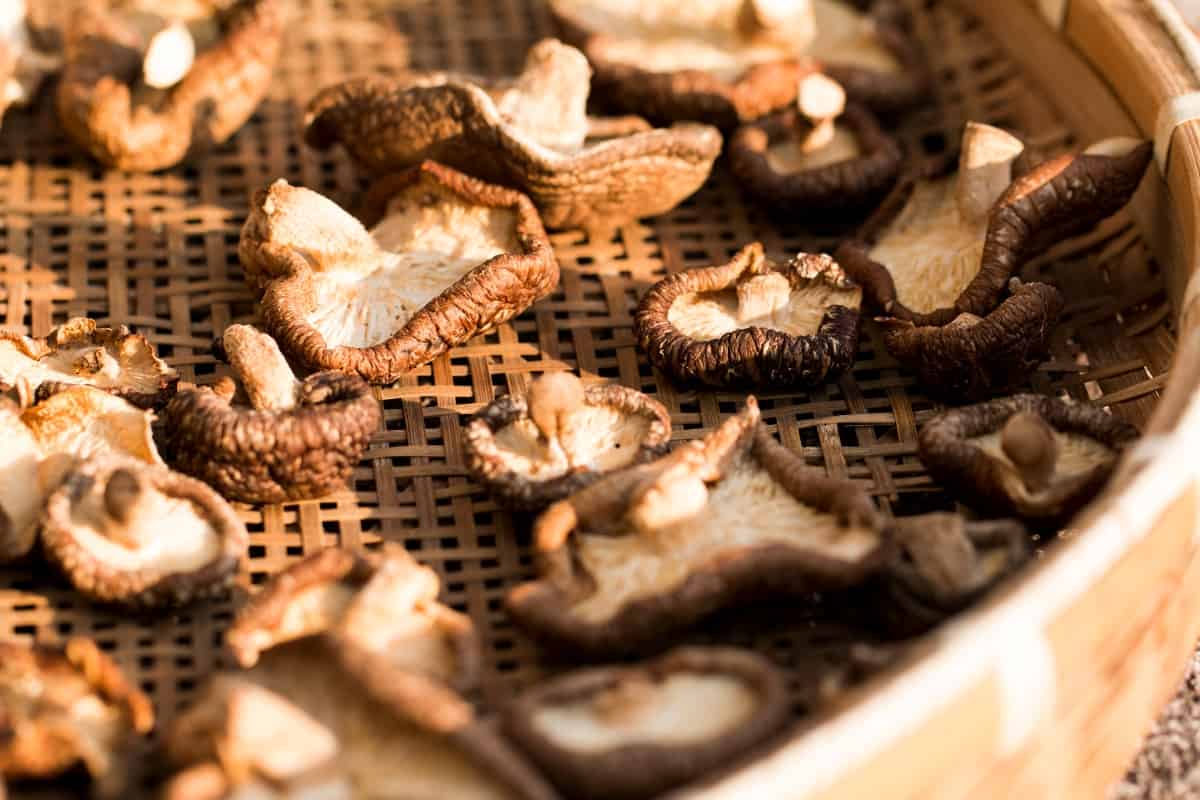 Commercially available dried shiitake mushrooms undergo a meticulous drying process. Initially, they are dried at high temperatures, followed by sun drying, which serves as the final touch. This sun exposure, under the power of ultraviolet rays, significantly enhances the vitamin D content of the mushrooms.
This process can be replicated at home quite easily, given a stretch of sunny days. Begin by removing the stems from the shiitake mushrooms. Place them in a colander or any perforated surface, positioning the underside of the umbrella upwards to maximize sun exposure.
Allow them to bask in the sunlight for 5 to 7 days until they achieve a dry texture. This simple method lets you create your own nutrient-packed dried shiitake mushrooms right at home.
How Long Dried Shiitake Mushrooms Last?
The longevity of dried shiitake mushrooms can be extended to about a year if stored correctly, avoiding high temperatures and humidity.
When you rehydrate these mushrooms in water, they will remain fresh in the refrigerator for approximately 3 days. If you need to store them beyond this period, it's best to freeze them.
Freezing the broth of shiitake mushrooms requires a bit of planning. You should portion them out in small quantities, ideally in a household ice cube tray or similar containers. This way, they're conveniently sized and ready to use whenever needed.
However, if you plan to store rehydrated mushrooms, there's a time limit. Avoid soaking them for more than 2 days, as prolonged soaking can cause them to lose their distinctive aroma. Store the mushrooms separately from the rehydration liquid (broth) to preserve their flavor.
Like most dried products, dried shiitake mushrooms prefer a storage environment away from direct sunlight and humidity. Freezing is a great option, but if that's not feasible, a clean, airtight jar with a desiccant should suffice. These methods will help maintain their quality and prolong their shelf life.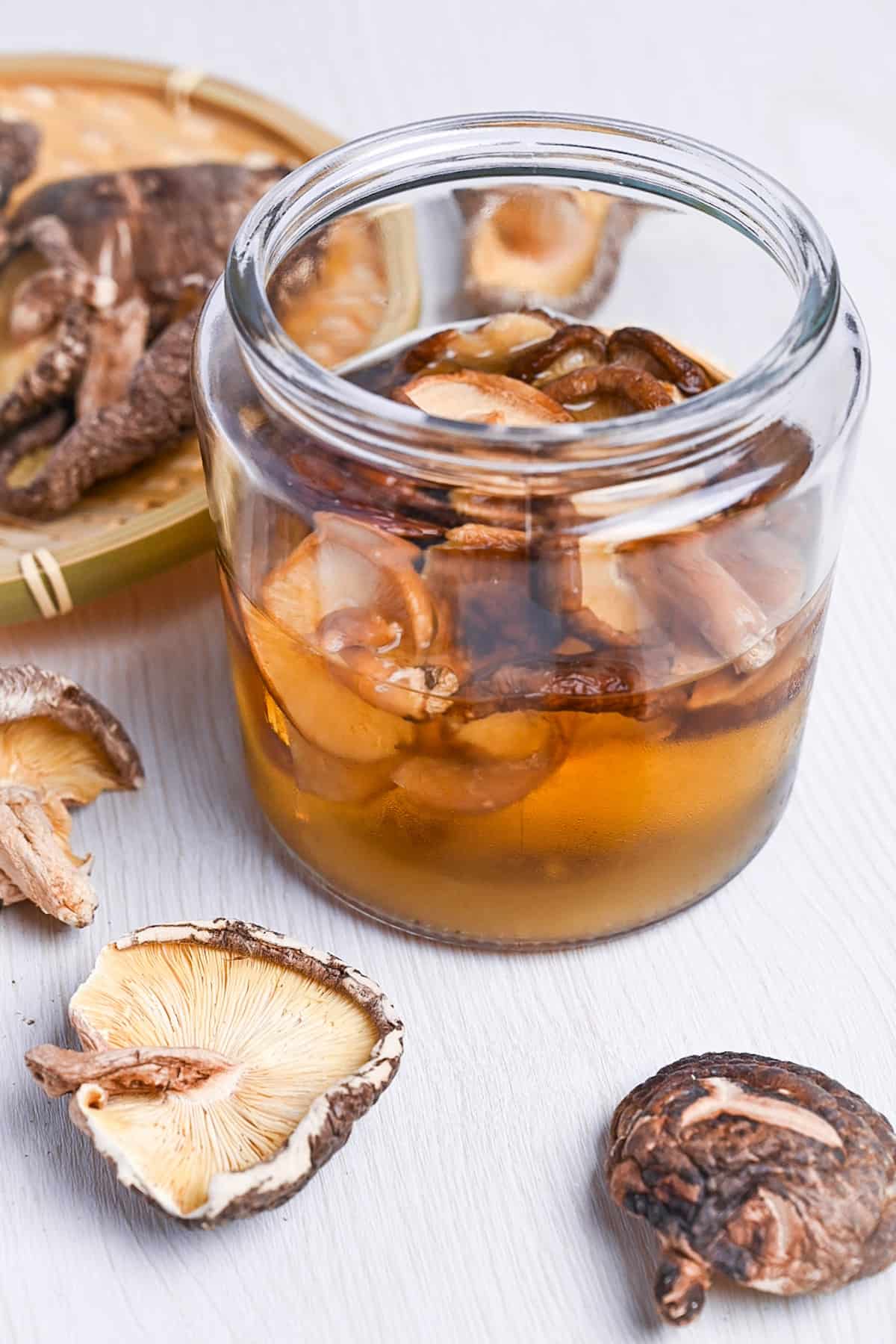 How to Rehydrate Dried Shiitake Mushrooms and Make Shiitake Stock Like A Pro
Since dried shiitake mushrooms may accumulate dust and debris during their production process, it's crucial to rinse them briefly with water first. The next step is rehydrating them, done slowly in cold water, ideally around 5 degrees Celsius (41 degrees Fahrenheit). This should be carried out in the refrigerator for 12 to 24 hours.
The magic lies in the cold water soak. When rehydrated slowly in this chilly environment, the shiitake mushrooms release their umami components, such as guanylic acid, enriching the water with savory goodness. To ensure the mushrooms are thoroughly rehydrated, they should be fully submerged.
For convenience, consider using a storage bag, like a Ziploc bag, to hold the shiitake mushrooms during this process. This method not only ensures even rehydration but also makes it easier to store them in the refrigerator.
Rehydrated shiitake should not be thrown away, but reused as an ingredient in dishes such as miso soup, chikuzenni, and tenshinhan.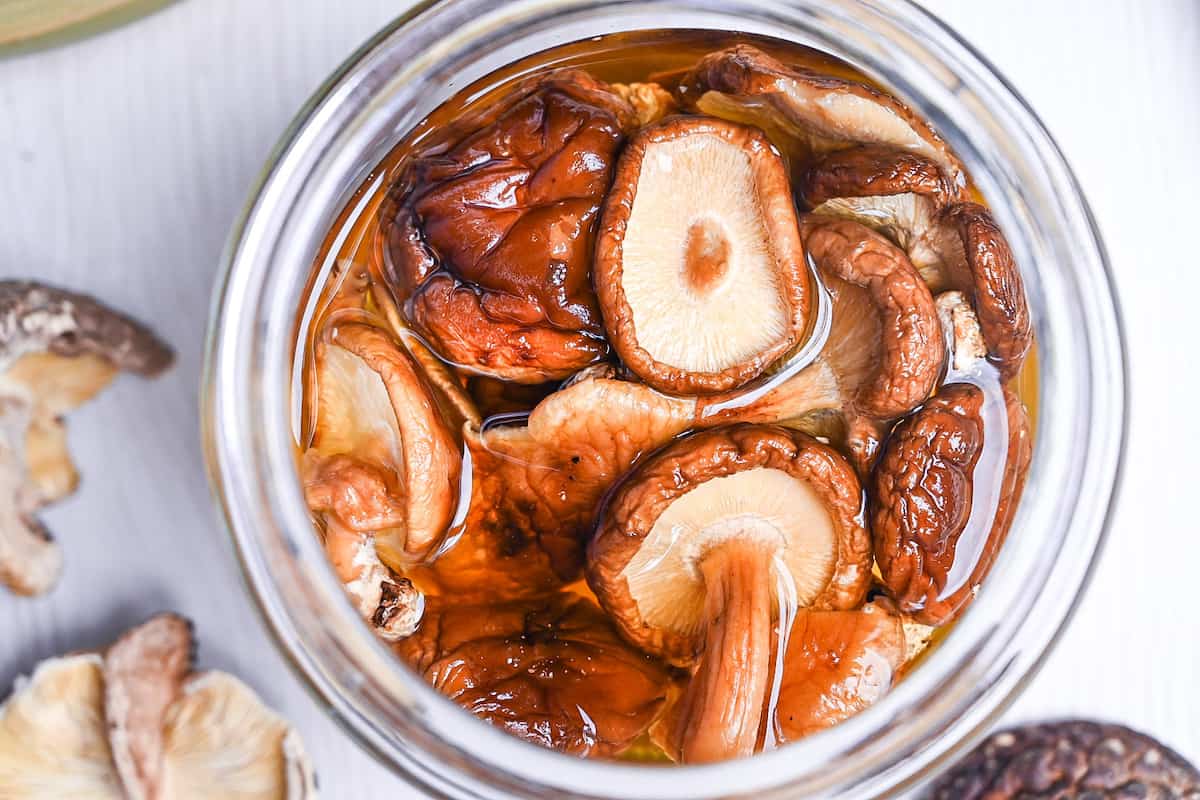 Storage
Once the shiitake mushrooms are rehydrated and the broth is complete (12-24 hours), the shiitake should be removed to avoid loss of flavor.
Stored seperately, both the dashi and rehydrated shiitake can be stored in the refrigerator. Rehydrated shiitake mushrooms will keep for up to 3 days in the fridge, while the dashi will last for up to one week. If freezing, both should be consumed within one month.
Room temperature – Not recommended.
Refrigerated – Rehydrated shiitake: 3 days. Shiitake dashi: 1 week.
Frozen – Up to 1 month.
Shiitake Mushroom Dashi
---
How to make umami-rich shiitake dashi soup stock like a pro!
---
---
---
---
Instructions
Gently wash

25 g dried shiitake mushroom(s)

in a bowl of cold water to remove any dust or debris.

Place them in a ziplock bag.

Add

500 ml cold water

to the bag and seal. Store in the refrigerator for 12-24 hours.

After 12-24 hours, remove the shiitake and use them as ingredients in cooking. Rehydrated shiitake can be refrigerated for up to 3 days or frozen for up to 1 month.

Store the dashi in a sealed container in the fridge for up to 1 week or freeze for up to 1 month.
FAQ
Why do you use dried shiitake mushrooms instead of fresh ones?
It takes more time and effort, but the taste is better and they are richer in nutritients.
What is the reason for drying shiitake mushrooms?
Drying shiitake mushrooms is to make them last longer and to increase their nutritional value. In addition to this, the umami component is increased, making their flavor more concentrated and delicious.
Can I use fresh shiitake instead of dried shiitake?
While fresh and dried shiitake mushrooms are the same at their core, their culinary uses can vary significantly due to differences in flavor and texture. I treat them as distinct ingredients due to these contrasts. Undoubtedly, the deeper, richer flavor of dried shiitake mushrooms makes them the superior choice for many Japanese dishes. Their concentrated umami imparts an unbeatable taste that elevates the entire dish. Using dried goods like shiitake mushrooms might seem a bit more time-consuming and labor-intensive compared to their fresh counterparts. But believe me, mastering such ingredients truly attests to your culinary prowess. I highly encourage you to embrace this challenge!