Takoyaki is an iconic Japanese street food that you can enjoy making at home. Light, crispy outside with soft chewy centre, filled with octopus, pickled ginger and topped with a variety of tasty toppings, these authentic, festival style takoyaki are totally addictive and perfect for parties or fun family dinners!
Disclaimer: This post contains Amazon and Dokodemo affiliate links. Sudachi Recipes earn a small percentage from qualifying purchases at no extra cost to you. See disclaimer for more info.
Jump to:
What is Takoyaki (Japanese Octopus Balls)?
Takoyaki (たこ焼き) is a type of Japanese street-food snack. It's a small dumpling, made from a thin batter and cooked in a special circular mold so that it becomes a round ball shape.
"Tako" (たこ) is the Japanese word for "octopus" and "yaki" (焼き) means to fry. In other words, takoyaki is a fried octopus ball.
It often contains other ingredients such as tenkasu (pieces of tempura batter) and benishoga (red pickled ginger) which add great taste and texture. It is then usually topped with a delicious Worcestershire sauce based sauce, mayonnaise, aonori (dried seaweed powder) and katsuobushi (bonito flakes). No wonder every bite is a taste sensation!
Although takoyaki is most commonly found at yatai (屋台) food stands during summer festivals and events, they can be found all year round in convenience stores, supermarkets and specialist takoyaki restaurants.
Easy-to-make authentic homemade takoyaki batter
Tips and tricks to fry takoyaki in takoyaki pan
Different sauce options included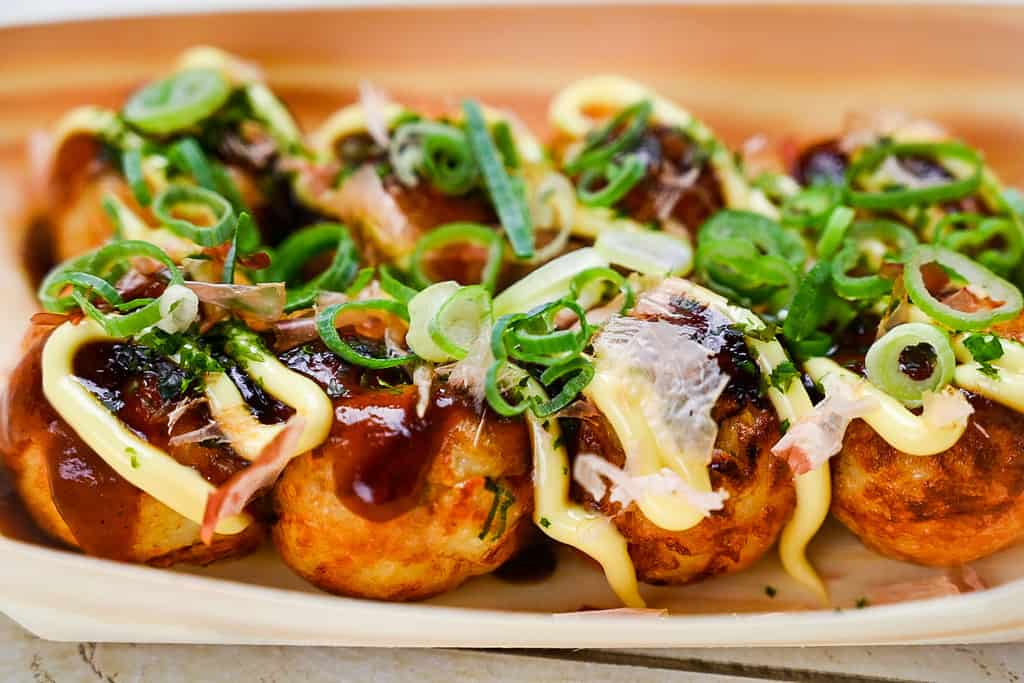 Brief history of Japanese octopus balls
When you think of Osaka's street food, takoyaki often comes to mind along with okonomiyaki. Its origin traces back to "choboyaki (ちょぼ焼き)," a popular kids' snack sold at candy stores and fairs during the late Meiji (1868-1912) to Taisho (1912-1926) periods. Choboyaki contained konjac, dried shrimp, and takuan (pickled radish) with soy sauce in a batter made from udon or wheat flour.
In the late Taisho period (1912-1926), "radio yaki" emerged, made by baking a mix of konjac, red ginger, and sinew in a round, soy sauce-flavored batter. Its name came from the modern image of radios, which were becoming "the big and new innovative thing" at that time. In 1935, Mr. Endo, founder of "Aizuya" in Osaka, replaced sinew with octopus after hearing about a similar dish "akashiyaki" from a customer. Akashiyaki is a local dish of Akashi City, Hyogo Prefecture, where octopus is baked in batter and dipped in dashi sauce.
Initially, takoyaki was eaten without sauce. But after WW2, thick sauces like tonkatsu sauce were created, leading to a modern way of serving takoyaki. These days, takoyaki is topped with sauce, aonori (green laver), and bonito flakes, served on a boat-shaped plate with toothpicks. As an Osaka specialty, takoyaki has become a beloved street (yatai) food for many people.
What is typical takoyaki made of?
A basic takoyaki consists of the following ingredients
Takoyaki dough: wheat flour, water, dashi stock (often from kelp or dried bonito flakes), eggs.
Fillings: octopus (steamed or boiled), finely diced benishoga (red pickled ginger), tenkasu (tempura bits) and thinly sliced green onion
Sauce: takoyaki sauce (Worcestershire sauce based), mayonnaise, katsuobushi (dried bonito flakes), aonori (seaweed)
Takoyaki is made using a special takoyaki maker/cooker, which can be gas-fired or electric. Professional restaurants or stalls use large gas-fired cookers, while at home, people often use smaller electric appliances or cast-iron pans that sit on a gas stove.
I'll talk more about the equipment and ingredients for making takoyaki later on.
Takoyaki sauce vs Okonomiyaki sauce
Besides takoyaki, okonomiyaki is another popular soul food and street food in Osaka. It's a savory pancake, but you might wonder if there's a difference between the sauce used for okonomiyaki and takoyaki.
They look almost identical, and even a lot of people in Japan don't know the difference. The differences between takoyaki sauce and okonomiyaki sauce can vary depending on the company that makes them, so there isn't a specific difference. However, generally, takoyaki sauce tends to be sweeter and not as thick as okonomiyaki sauce.
For instance, Otafuku Foods, a leading sauce manufacturer, makes their takoyaki sauce sweeter with the addition of apples and sugar and also adds scallop and seafood broths to complement the flavour of the octopus.
But keep in mind, each company has its own unique recipe, so it's difficult to make a general statement about the difference between the two.
Ingredients to make this octopus balls recipe
There are actually so many different ingredients you can use to make takoyaki, so I'm going to break it down into the batter, the fillings and the toppings. Let's look at each element in detail!
To make takoyaki sauce
Worcestershire sauce - Worcestershire sauce is available worldwide, so you may use the one that is available in your area.
Tsuyu sauce - By using tsuyu sauce instead of soy sauce, a light seafood essence is added. If you are looking for a premade one, I recommend Kikkoman's tsuyu sauce made from katsuobushi (dried bonito flakes). You can also use my recipe for tsuyu sauce if you want to make it at home.
Ketchup - It is used to add sweetness, tanginess and thicken the sauce.
Honey - It is used to add deep sweetness and thickening.
It's quick and easy to make your own takoyaki sauce, but can skip this part if you have store-bought takoyaki sauce such as Otafuku Foods' Takoyaki sauce.
To make batter
Dashi stock - For takoyaki, it's essential to use dashi (Japanese soup stock) instead of water to add depth to the batter. The difference between using dashi and not using it is significant, so make sure to use dashi. Check out this recipe with awase dashi soup stock. Or if you do not make homemade dashi, you can use dashi packets in tea bag form or dashi granules mixed with water.
Egg - Use eggs for deliciously fluffy texture.
Cake flour - Also known as weak flour. The low gluten content in cake flour makes the texture light and soft.
Tsuyu sauce - I used it for the sauce, but I also use the sauce for making batter.
Sesame oil - For cooking and adding a nutty hint.
The ingredients for takoyaki batter can vary, but the basic elements remain the same. I prefer using cake flour to create a light and fluffy texture with a thinner batter.
However, if you use store-bought takoyaki flour, you won't need to make the batter from scratch. In that case, I recommend Otafuku Foods' takoyaki flour, which is the biggest manufacture in Japan.
Fillings
Boiled (or steamed) octopus - If using completely raw octopus, be sure to boil it before using it to make takoyaki.
Benishoga (pickled red ginger) - It is used to add a slight sourness to takoyaki.
Chopped green onion - The slight bitterness of the onion matches well with the flavor of the takoyaki.
Tenkasu (tempura bits) - Tenkasu adds richness and umami to takoyaki, and also helps to make them crispy and beautifully baked. The oil from the tenkasu also makes it easier for the batter to peel off the plate. Simply use store-bought ones.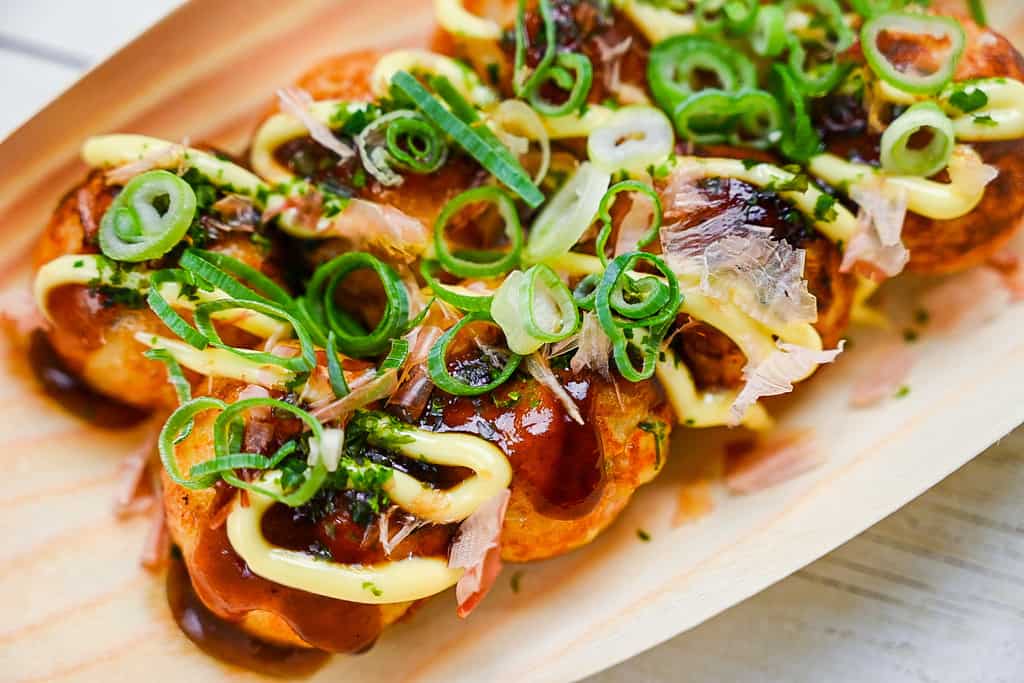 Toppings
Japanese mayonnaise - Regular mayonnaise is fine, but for a more authentic taste, Japanese Kewpie mayonnaise is recommended.
Aonori (Dried green laver powder) - Otafuku Foods' aonori is the most authentic.
Katsuobushi (Dried bonito flakes) - Although it is optional, I like it with dried bonito flakes.
Chopped spring onion - Adds fresh flavor and color, but also optional.
Alternative ingredients to make takotaki
As you might guess from its name, takoyaki usually contains octopus. But if you can't find octopus where you live, don't worry! In this section, I'll share some tasty alternatives you can use to fill your takoyaki.
Shrimp - One of the closest seafood alternatives.
Squid - One of the closest seafood alternatives.
Sausage - This is a popular option among kids in Japan.
Cheese - Ball shaped processed cheese would work the best.
Beef - Not so well-known but cubed beef steak with moderate fat content would work well!
Mushrooms - As a vegetable alternative.
Kimchi - A fusion dish with a completely different taste, but it is a popular option in Japan these days.
Keep in mind that takoyaki doesn't take long to cook so your fillings should be precooked. (The octopus in takoyaki is always pre-boiled.)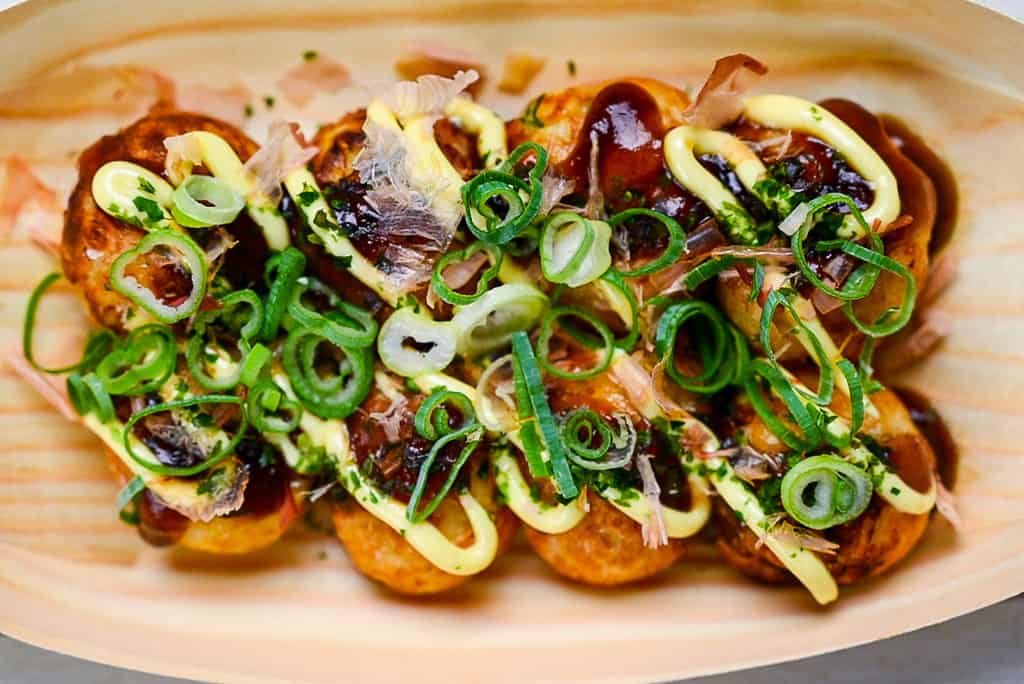 Equipment: How to choose takoyaki pan/maker
Unfortunately, you will need some specialised equipment to make takoyaki at home. The equipment in question is the "takoyaki pan" known as called takoyaki-ki (タコ焼き機) in Japanese.
A takoyaki pan is basically a cooking mold made up of small hemispherical grooves. The batter is poured into the mold and then turned occasionally with skewers to make a ball shape.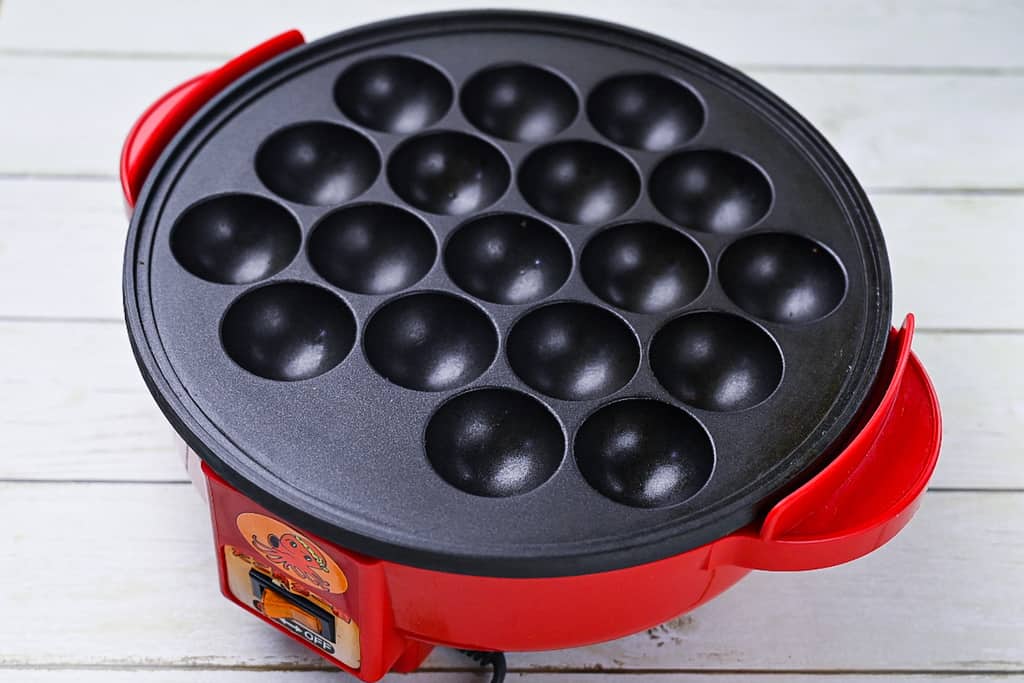 The electric takoyaki pan in the picture above is from my family home and is quite typical amongst Japanese families. (I don't know the brand.) These are great for sitting in the middle of the dinner table and making a fun activity out of "takoyaki night". These days, I personally use an Iwatani Takoyaki Grill Pan on a gas stove since it takes up less room in my kitchen and it's easier to clean. (You could even take it camping!)
It's not too difficult to find electric takoyaki pans online these days, just bear in mind that if you are buying electrical products from Japan, contact the seller and ask about the outlet and voltage compatibility to make sure it will work in your country.
I've also heard of people using Danish Aebleskiver pans, I'm not sure how big they are but the shape looks perfect for making takoyaki.
How to make the perfect Takoyaki at home
Making takoyaki at home is surprisingly easy and fun. Here is my step by step recipe with detailed instructions to ensure your homemade takoyaki is perfect every time!
This recipe makes two batches of 16 so I use half of the batter and ingredients for each batch. Please spread out the ingredients according to the size of your takoyaki pan.
Prepare ingredients and make batter
Mix the Worcestershire sauce, tsuyu sauce, ketchup and honey in a small bowl and set aside for later.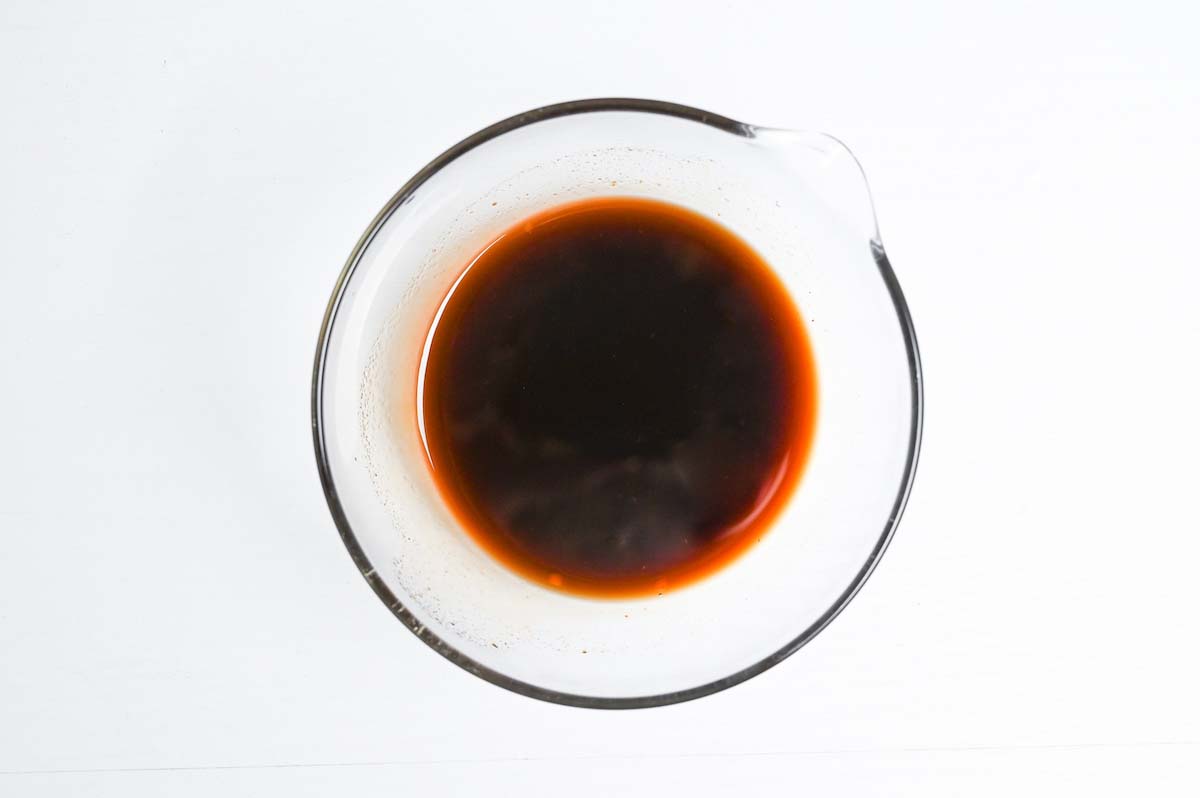 The octopus should be cut into bitesize pieces so that you can fit one in each of the grooves of the takoyaki pan. The rest of the ingredients should be finely chopped or diced so it's easy to scatter them across the batter.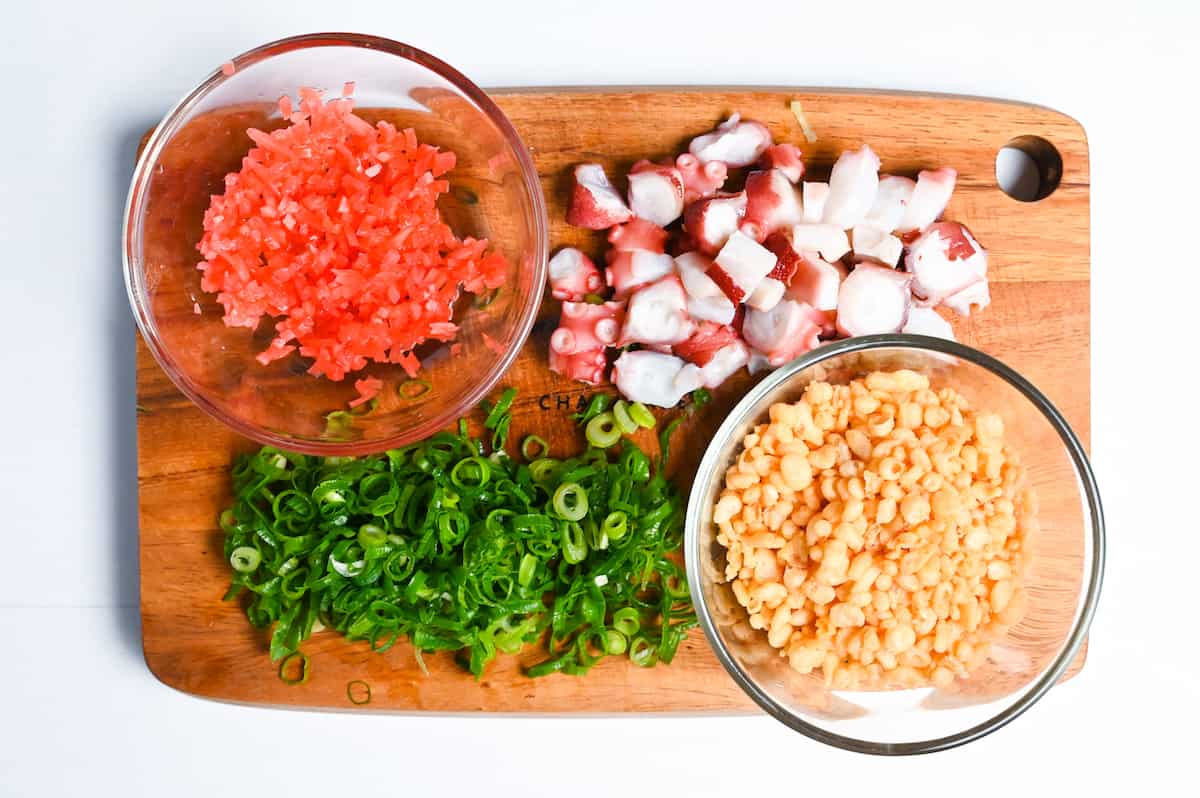 Mix the egg, tsuyu sauce and dashi together in a bowl or jug. The dashi should be cold or lukewarm at the most (not hot!) to avoid accidentally cooking the egg.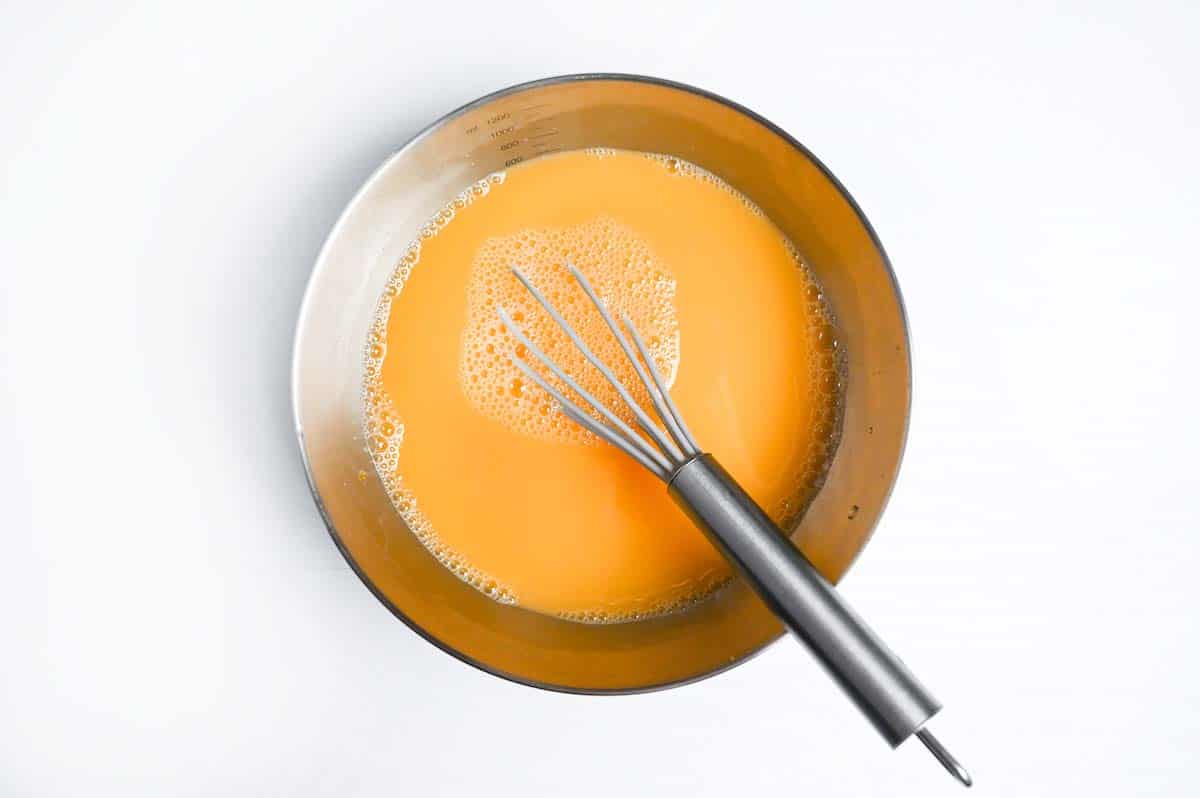 In a separate bowl, add the flour and make a well in the middle. Pour the dashi and egg mixture into the well while whisking.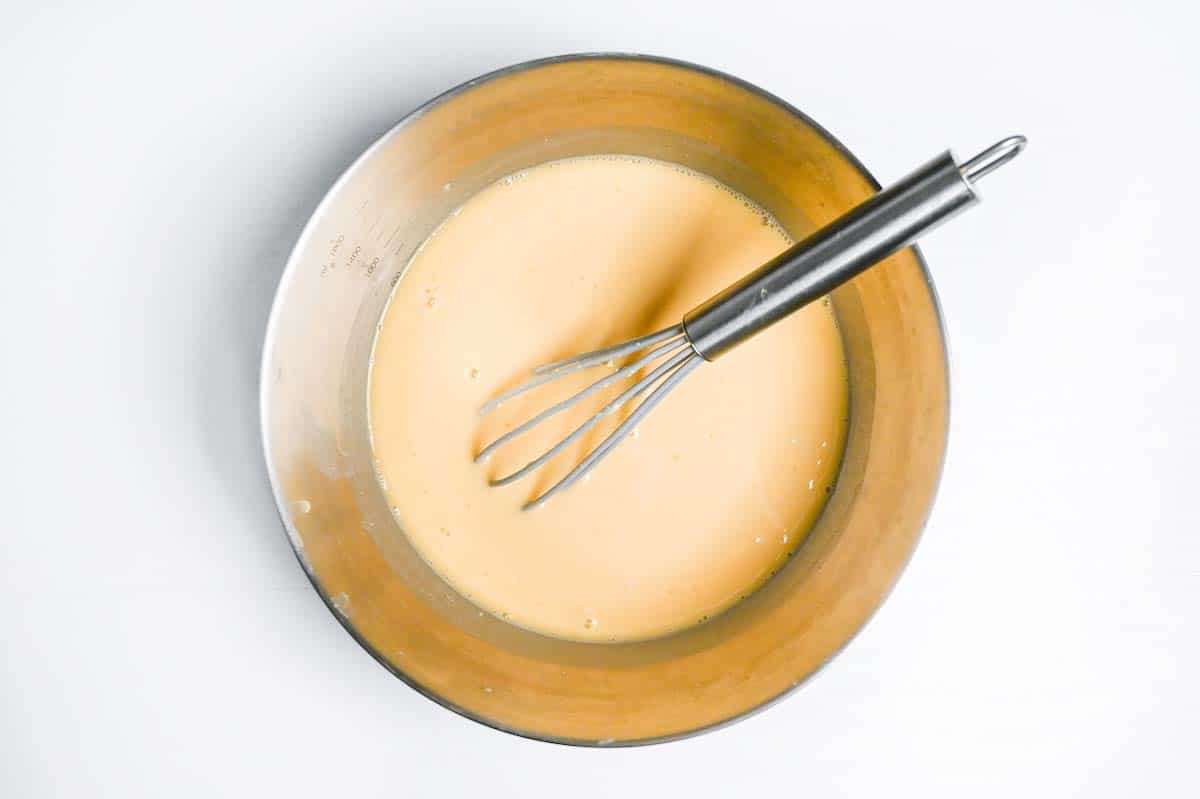 The batter should be smooth and thin, the consistency is thinner than pancake batter and easy to pour.
How to cook octopus balls in a takoyaki pan
Here are my step by step instructions on how to cook takoyaki in a takoyaki pan including pictures and videos!
Preheat the takoyaki pan on a medium heat. Once hot, pour oil generously across the top and use a brush to evenly coat each groove. This will ensure that the takoyaki doesn't stick.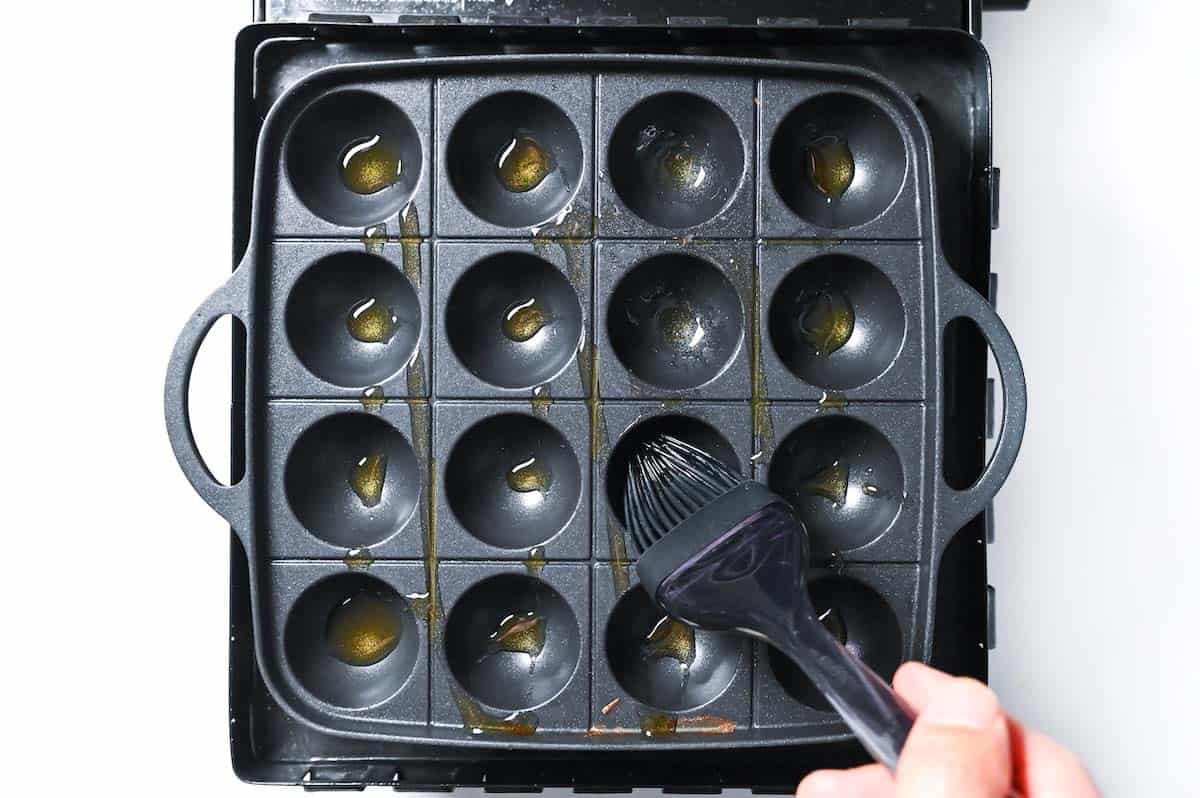 Pour the batter over the molds, filling each one about half way. Don't worry if some batter goes outside of the mold, it will all be rolled into the takoyaki later.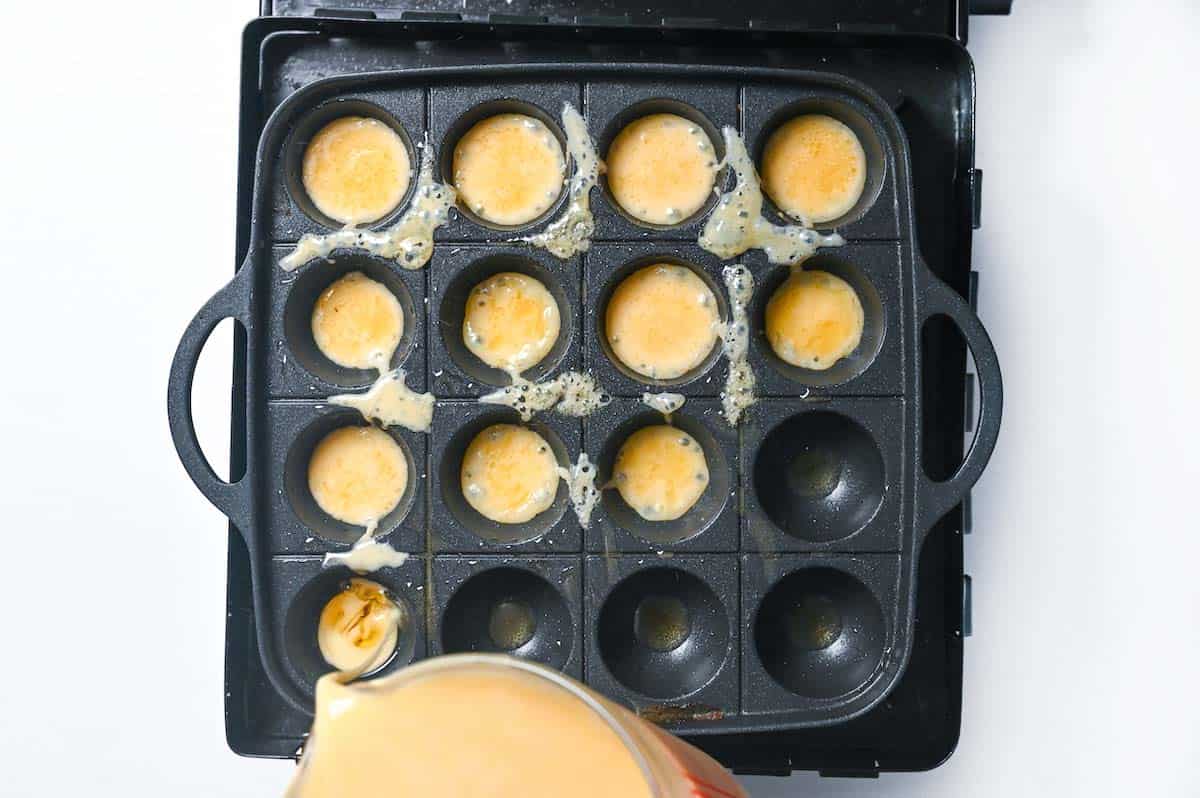 Add fillings and the rest of the batter
Place a piece of octopus in each mold.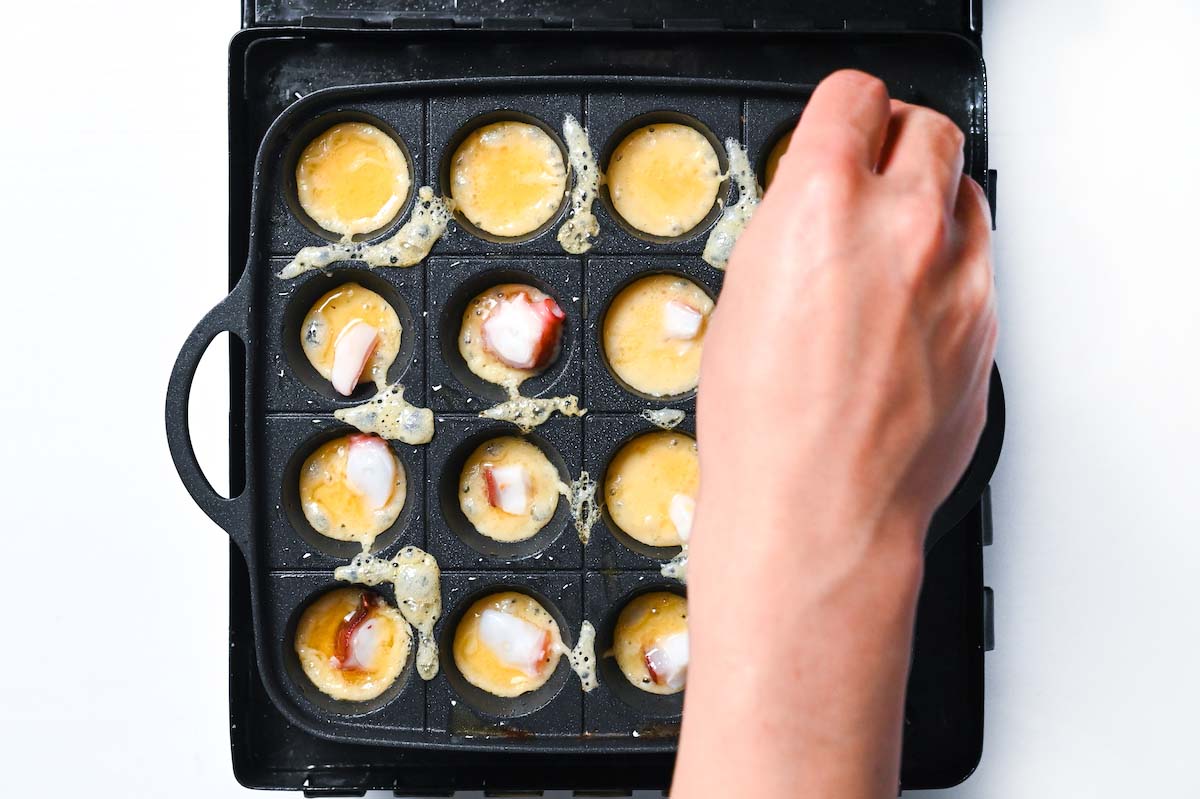 Pour more batter over the top so that the surface is completely covered, even the surface around the edges.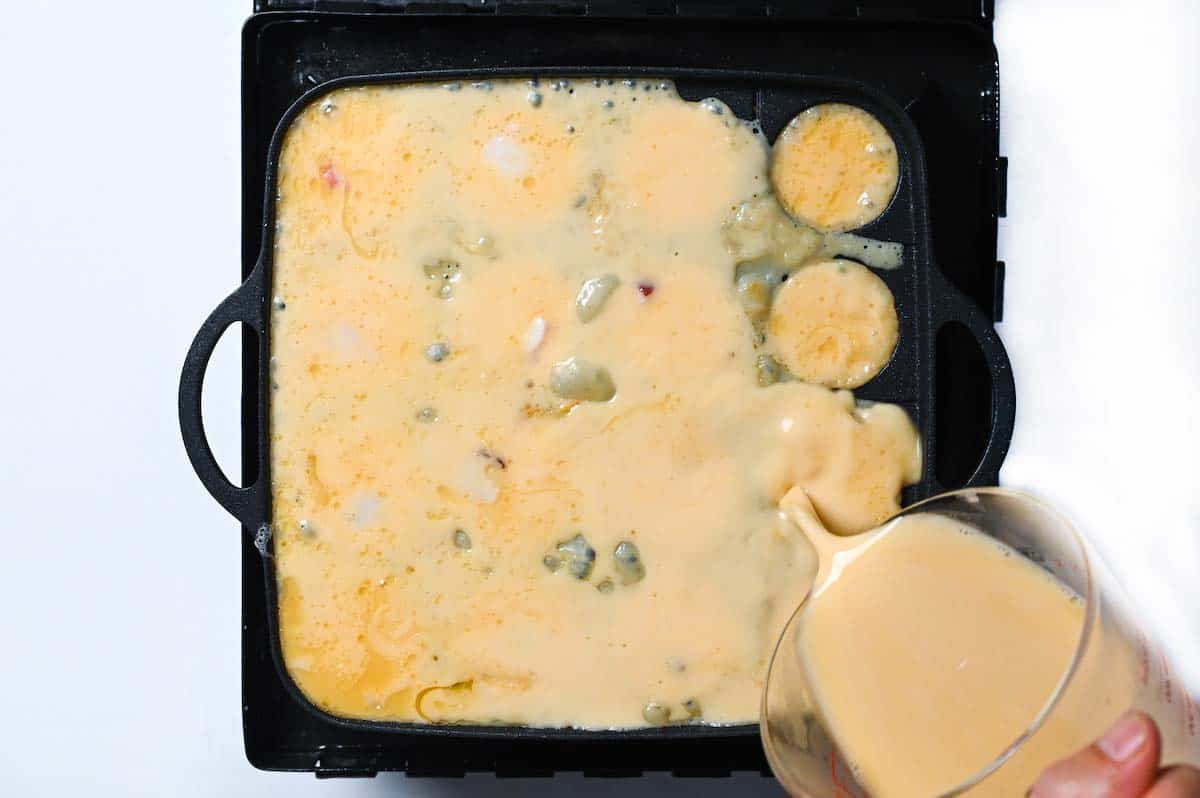 Then sprinkle the tenkasu (tempura bits) evenly over the surface.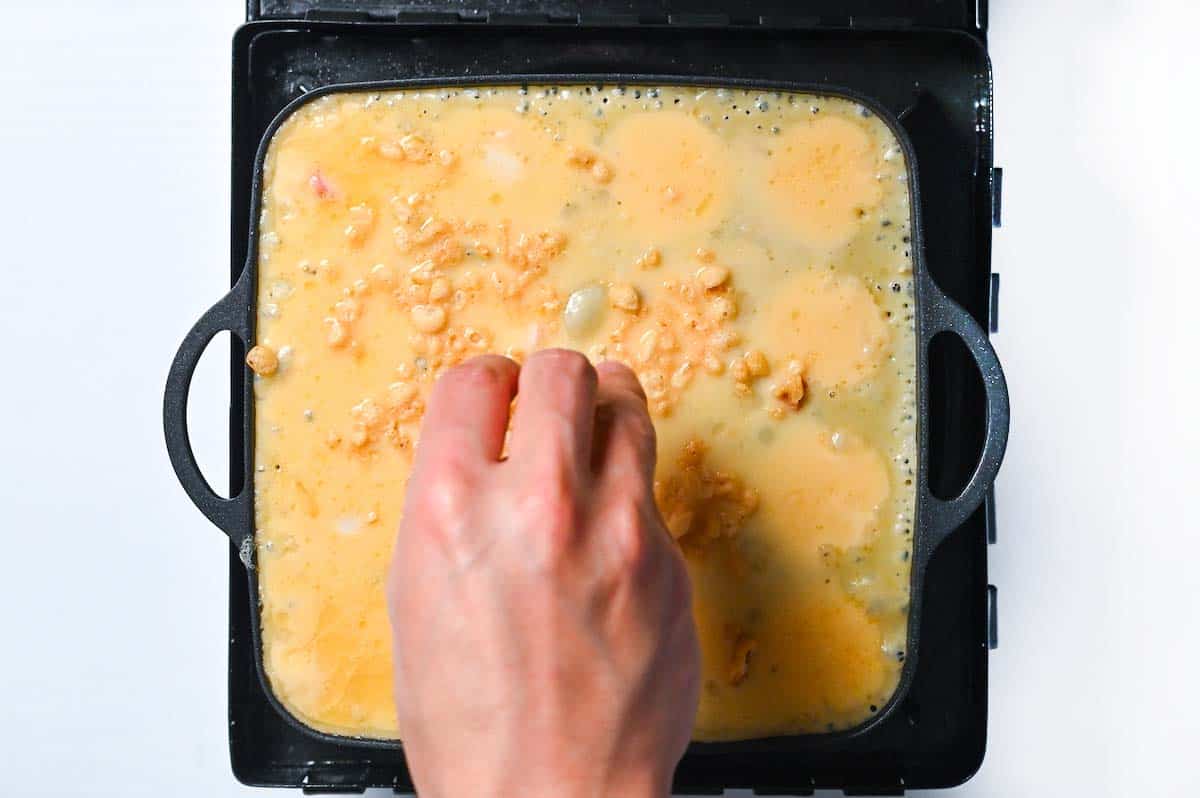 Followed by the benishoga and chopped spring onion.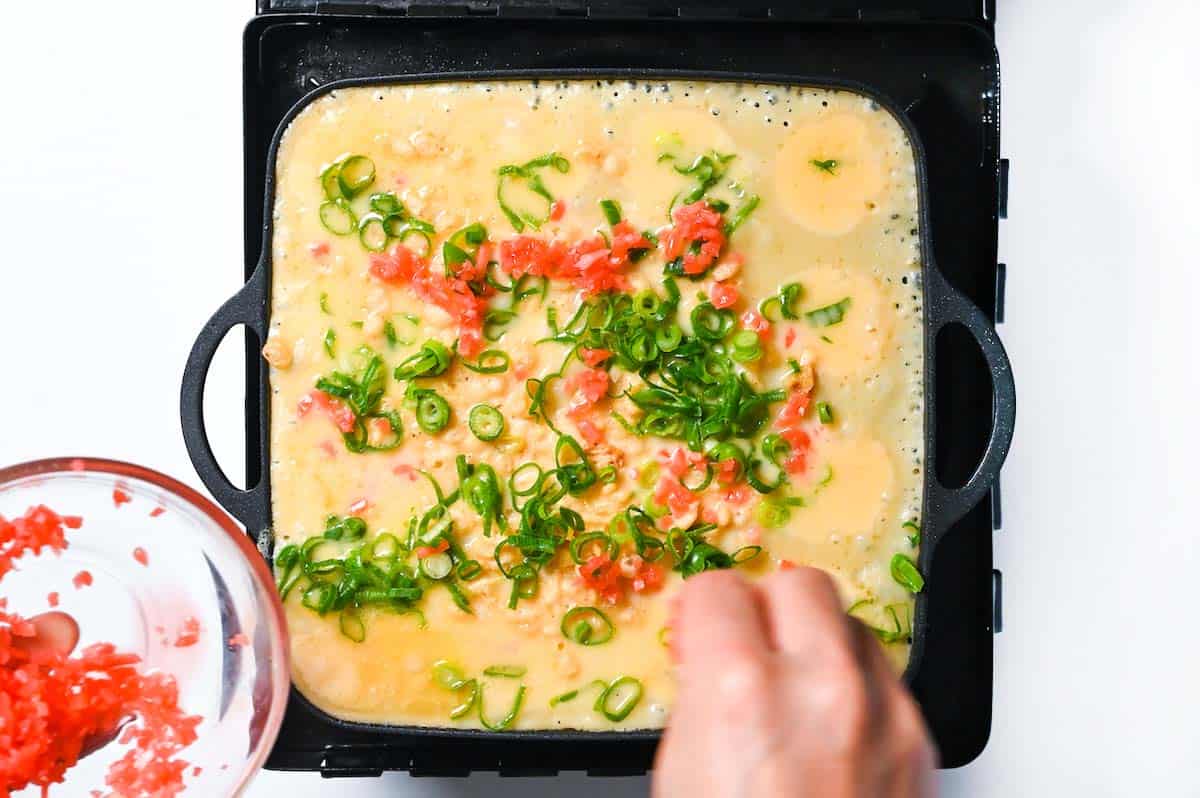 Once the batter starts to cook and firm up a little, use a bamboo skewer to draw lines between each mold to divide it into squares.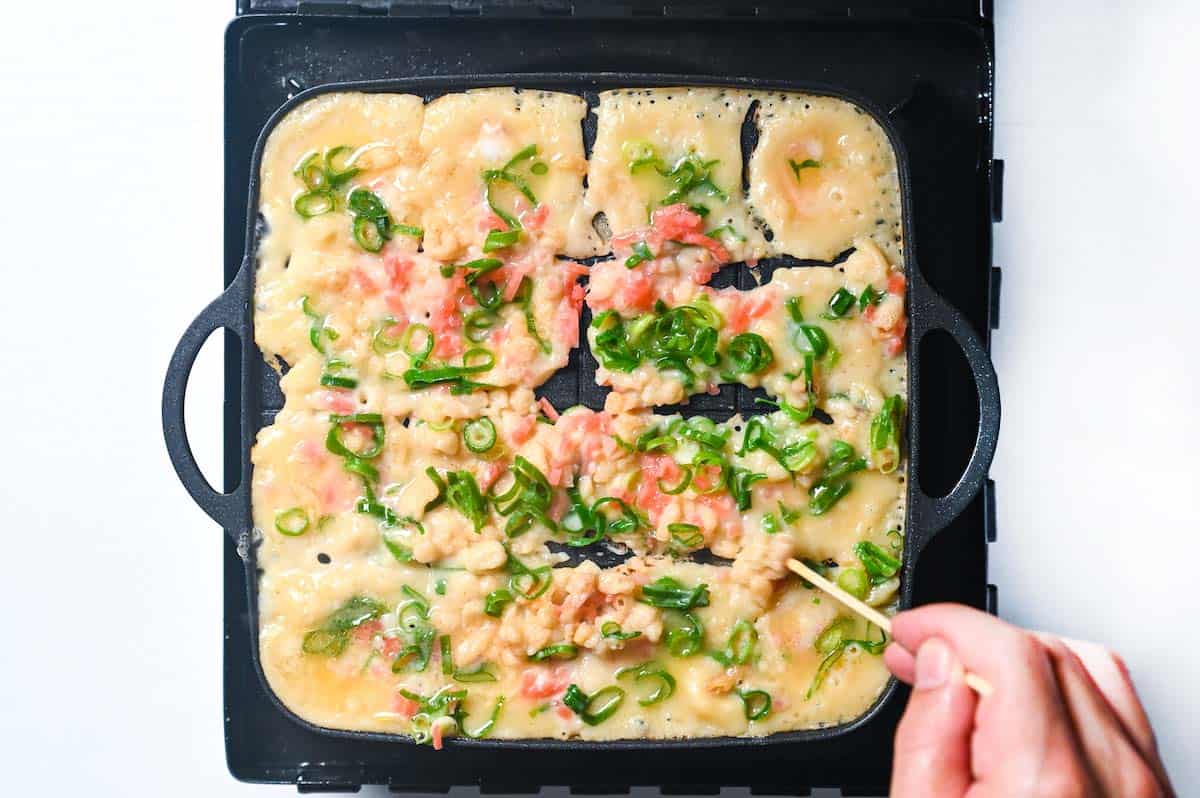 Use the skewer to scrape the edge of the slot in a circular motion to turn the takoyaki over about half way. The reason we don't turn it all the way is so that we can push the messy parts into the middle of the takoyaki.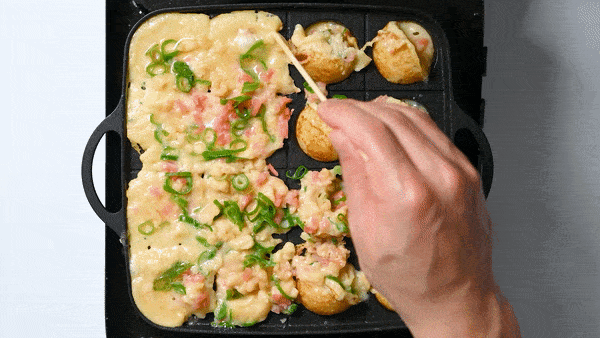 Leave it to cook for a few minutes. Once browned underneath, roll again to cook the bottom of the takoyaki and tuck any messy bits underneath. This will help make them perfectly round.
Once all the takoyaki are round, drizzle with another layer of sesame oil and continue to turn them from time to time.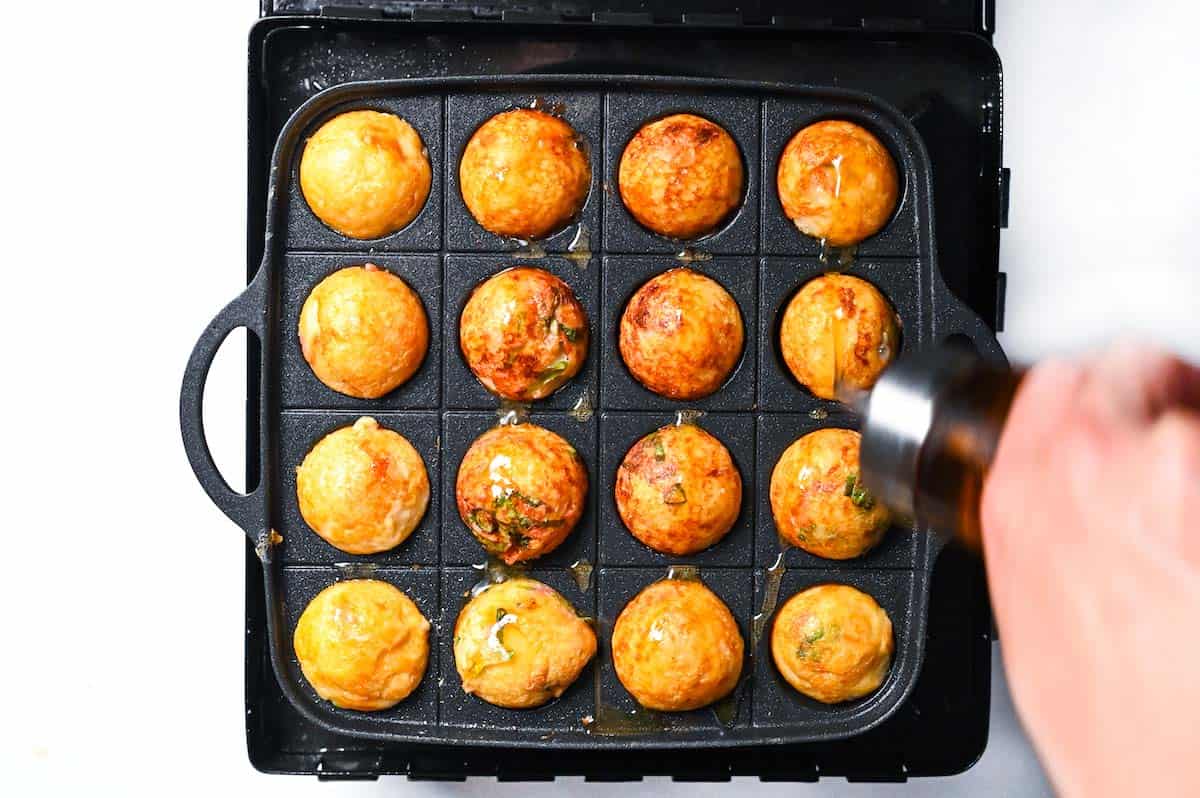 Turning the takoyaki will help them cook evenly all over.
If there appears to be some takoyaki that are paler than others, you might have heat spots. This is a common problem that is easily solved, simply swap the pale takoyaki with the darker ones. This will ensure all the takoyaki are evenly cooked and browned.
The completed takoyaki should be golden and lightly crispy on the outside, and soft and a little runny on the inside.
Once cooked, transfer the takoyaki to a serving plate and top with your choice of toppings. In this case I added the sauce, Japanese mayonnaise and chopped spring onion.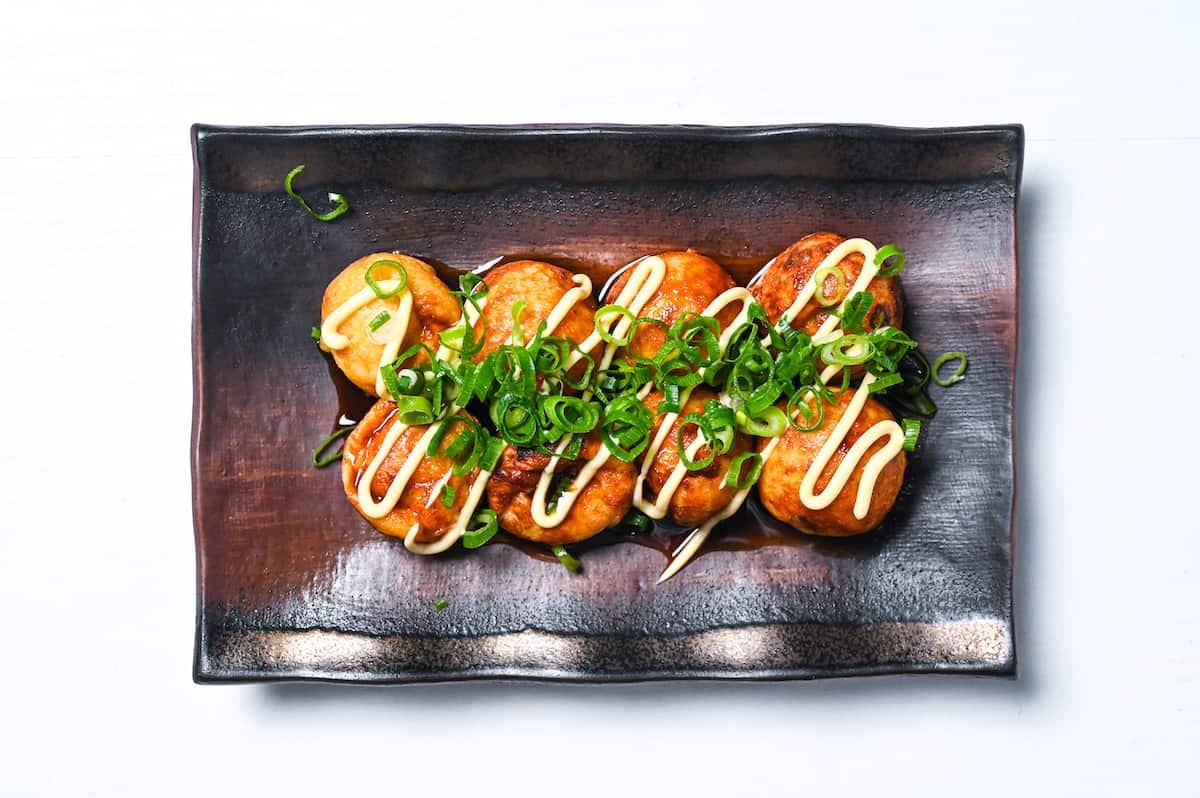 And enjoy your delicious homemade takoyaki that tastes like it's straight from a Japanese street food stall!
Tips and tricks
Making perfectly round takoyaki takes a little bit of practice, but if you follow these tips, you'll have it in no time!
Use plenty of oil - This will ensure that the outside gets a bit crispy and the takoyaki doesn't get stuck to the pan when you're turning it.
Overfill the mold - If you just fill each mold with a small amount of batter you will find that, either the takoyaki becomes quite small or they're not round enough. You need to overfill it and then when it starts to cook and firm up, push the excess batter into the mold and turn it.
Use picks or bamboo skewers to turn them - It's easy to use a pick to scoop around the edges and turn each takoyaki.
Swap places - Usually the heat isn't 100% evenly spread across the takoyaki pan, even with high quality ones. That's why it's good to swap the pale ones with golden ones occasionally to ensure they're all evenly cooked.
Storing and reheating
Of course takoyaki is always best when it's freshly cooked which is why I don't recommend making them in advance, but how about leftovers? Can they be stored? If so, for how long? How can I reheat them? I will answer all these questions here!
Storing
Takoyaki can be stored in the refrigerator for 1-2 days. For best results, store without sauce and toppings and add them after reheating. (See more about reheating below!)
Takoyaki can also be frozen and has recently become a popular freezer food in Japan. When freezing them, allow them to cool completely and then place them on a tray spaced apart. Freeze for about 30 minutes and then transfer to a sealable freezer bag or container, this will stop them from sticking together. Takoyaki can be frozen for about 2 weeks.
Reheating
Whether chilled or frozen, it's better to reheat takoyaki after storing. I recommend using an over or toaster oven, but air friers and even a frying pan will work. Avoid microwaving, as it makes them soggy and unevenly heated.
Oven or toaster oven: Preheat to 350°F (175°C). Place takoyaki on a parchment-lined baking sheet and heat for 10-15 minutes until warm and crispy.
Air fryer: Preheat to 350°F (175°C). Cook takoyaki in the basket for 5-8 minutes until heated and crisp.
Pan-fry: Heat a nonstick skillet or takoyaki pan with a bit of oil. Cook takoyaki, turning occasionally, until heated and crisp.
Some people heat them in the microwave for a short time to heat the middle and then finish off in the oven or toaster to crisp up the outside. This is an option for frozen takoyaki but I don't recommend it for chilled.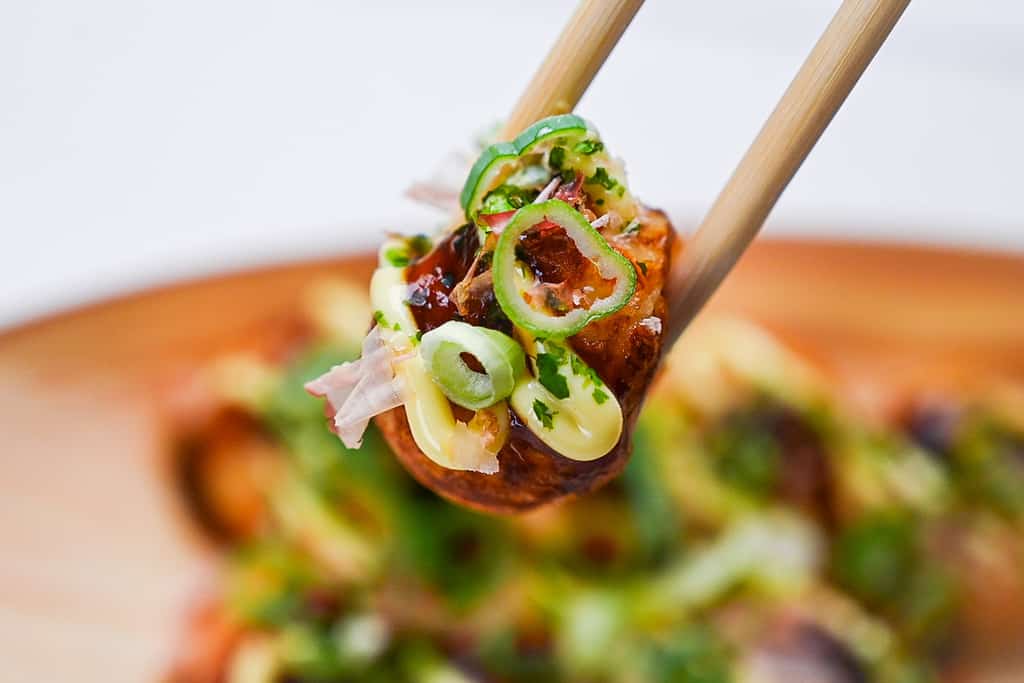 8 different variations of takoyaki you can make at home
While takoyaki sauce, mayo, katsuobushi and chopped spring onion are the most standard toppings, there are many more variations of toppings for takoyaki!
If you've ever been to takoyaki shop in Japan, I'm sure you must have seen extensive menu more than just "sauce takoyaki."
So here, I will share 8 ideas you can use at home to create takoyaki with twist!
Soy sauce (shoyu takoyaki)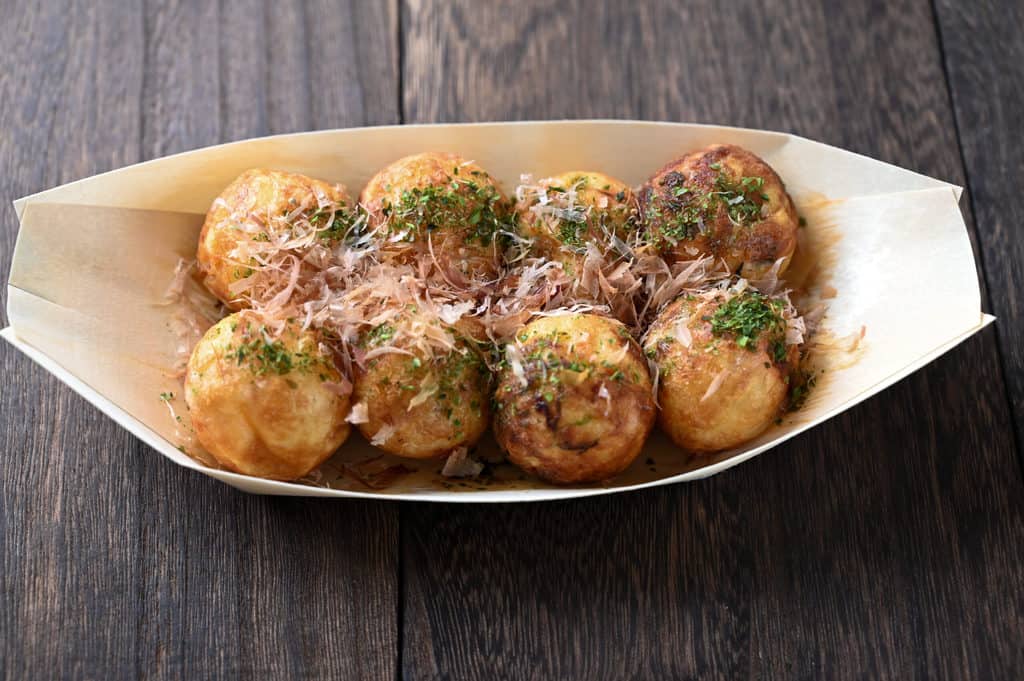 The biggest competitor against sauce takoyaki is soy sauce takoyaki!
There is this old school takoyaki shop near my house, and they only serve sauce takoyaki and soy sauce takoyaki.
That being said, this is a classic twist.
All you need to do is replace "takoyaki sauce" with soy sauce, but be careful with the amount as adding soy sauce is much saltier.
How to make differently: Use soy sauce instead of takoyaki sauce, I also remove mayo and chopped spring onion for this
Amount: 1 - 1 ½ tsp per 8 balls
Recommended: For a saltier flavour
Grated daikon + ponzu (a.k.a negipon)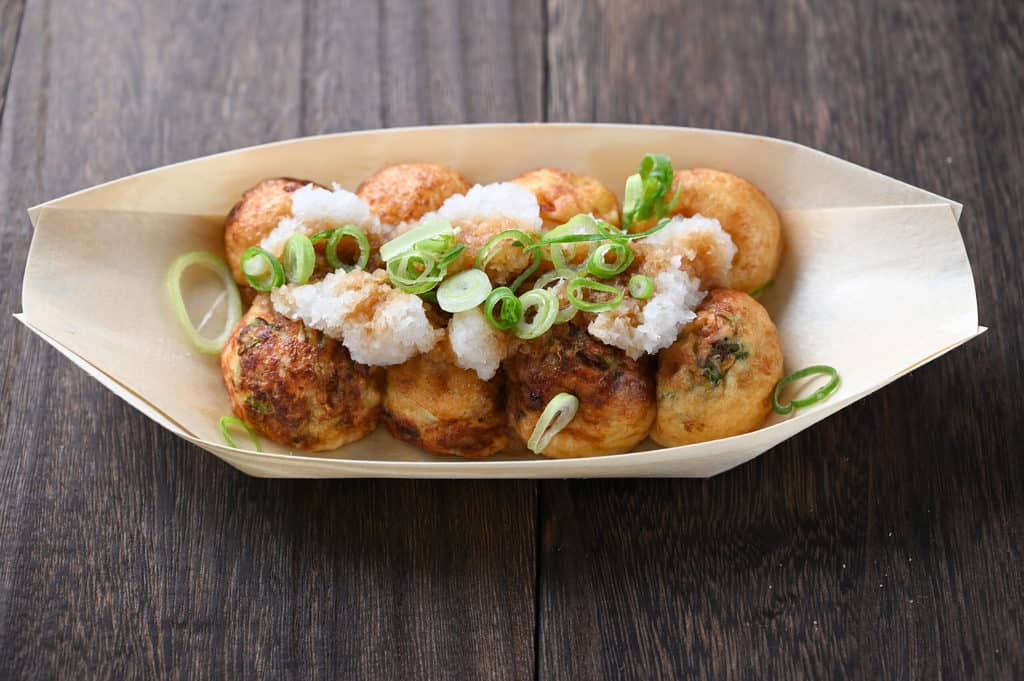 Refreshing flavour from a mountain of grated daikon and sourness from a citrus soy sauce called "ponzu"? This is another Japanese favourite!
I love how takoyaki can be transformed into a refreshing dish like this!
It's also known as "negipon" in Japan and when something has a loveable nickname, it must be good right?
How to make differently: Top with large amount of grated daikon, ponzu and chopped spring onion
Amount: desired amount of grated daikon, 1 tbsp ponzu and 1 tbsp spring onion
Recommended: For refreshing flavour
Ponzu + Shichimi chilli powder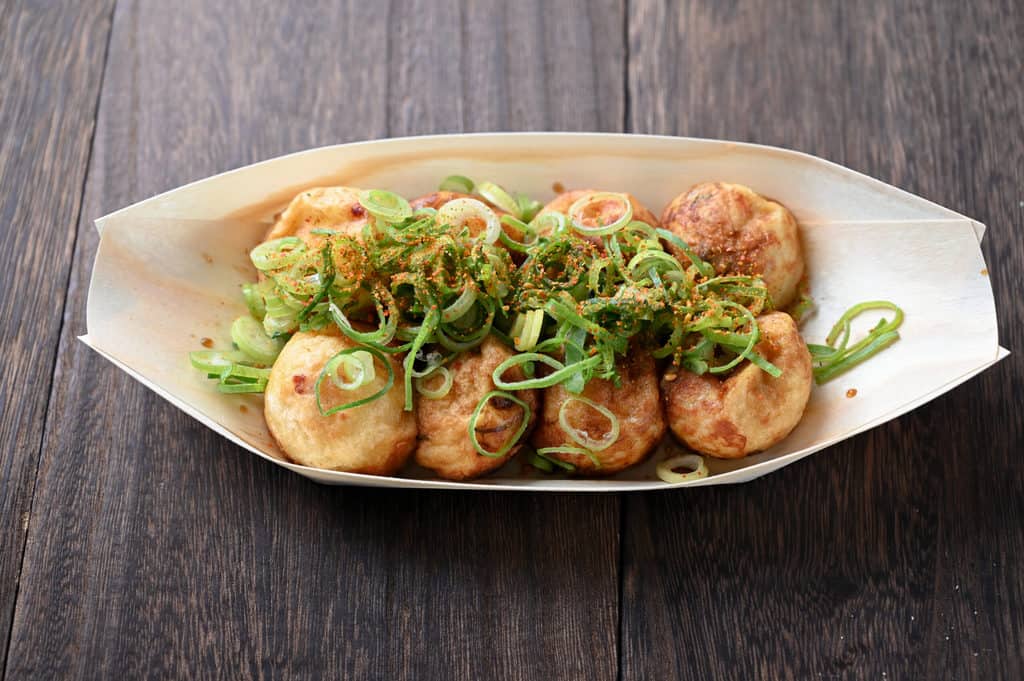 Do you like spicy flavour? Then this can be the topping variation for you!
The sourness of ponzu and hint of spiciness from shichimi chilli powder are a great combo!
How to make differently: Top with ponzu, chopped spring onion and shichimi chilli powder
Amount: 1 tbsp ponzu, 1 tbsp spring onion and ¼ tsp shichimi chilli powder
Recommended: For some sour / spicy kick
Salt + Mayo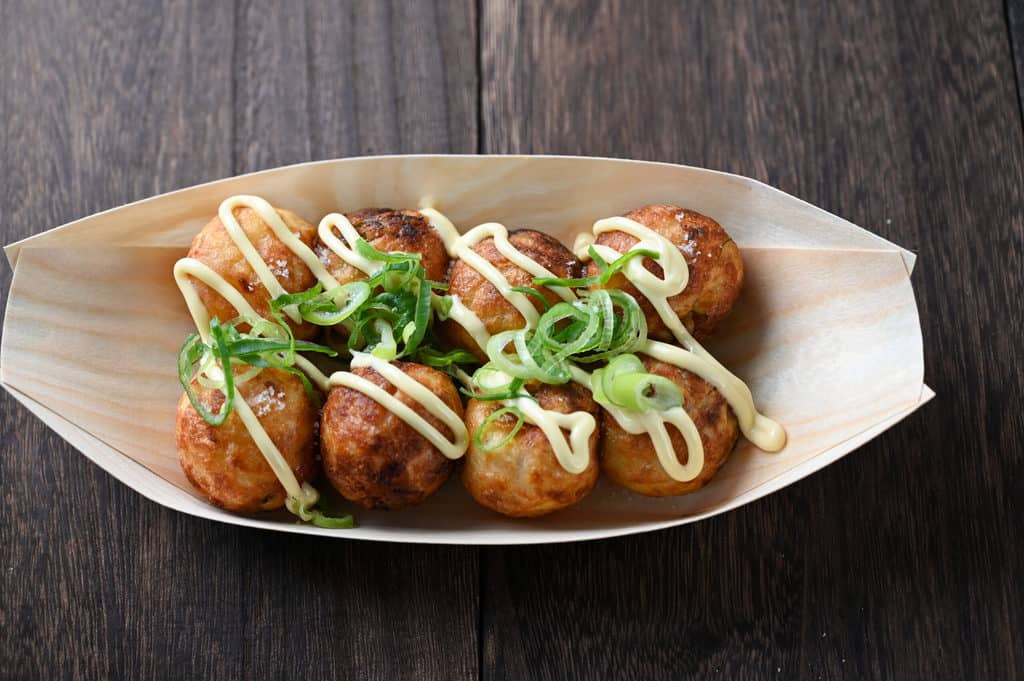 Whether you believe it or not, one trend in Japan is "salt takoyaki"
The idea is, by removing fancy flavoursome sauce, you can savor every bit of takoyaki balls themselves.
While it seems like going backward, this is actually very very good.
How to make differently: Sprinkle with salt and drizzle with Japanese mayo, finish with chopped spring onion
Amount: 2 pinches of salt, 1 tbsp mayo and 1 tbsp spring onion
Recommended: To enjoy more "authentic" taste of takoyaki
Pure salt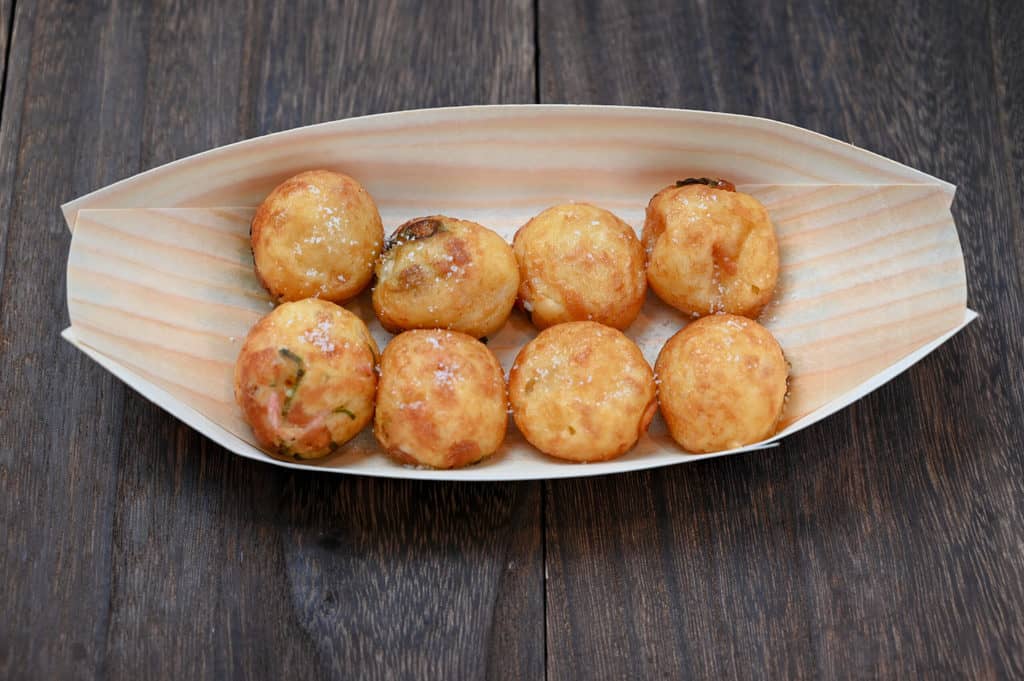 This one goes even beyond as it's a pure takoyaki with pinches of salt.
You might think it's too boring, but this is the best way to enjoy deep dashi flavour!
How to make differently: Sprinkle with salt
Amount: 2 pinches
Recommended: To enjoy takoyaki as it is to the fullest
Lemon juice, salt and chopped spring onions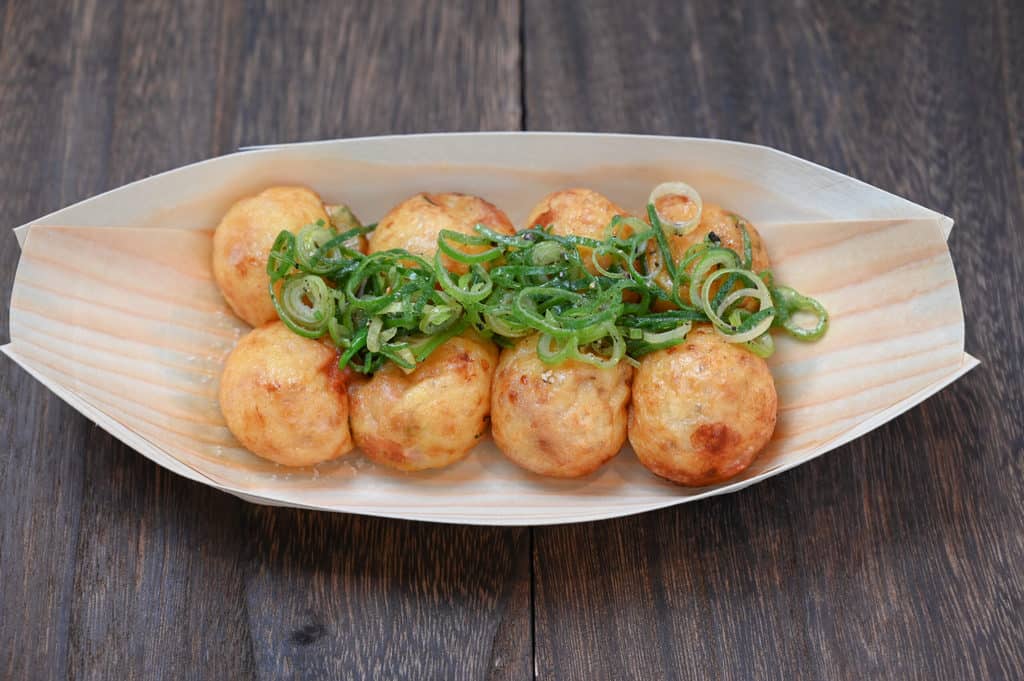 Looking for refreshing kick in takoyaki?
If so, this is a kind of takoyaki you should try! Simply pre-mix chopped spring onion, salt and lemon juice and then put it on!
How to make differently: Sprinkle with lemon juice, salt, spring onion mixture
Amount: 1 tbsp chopped spring onion, pinch of salt and ½ to 1 tsp lemon juice
Recommended: To make takoyaki refreshing
Mentai mayo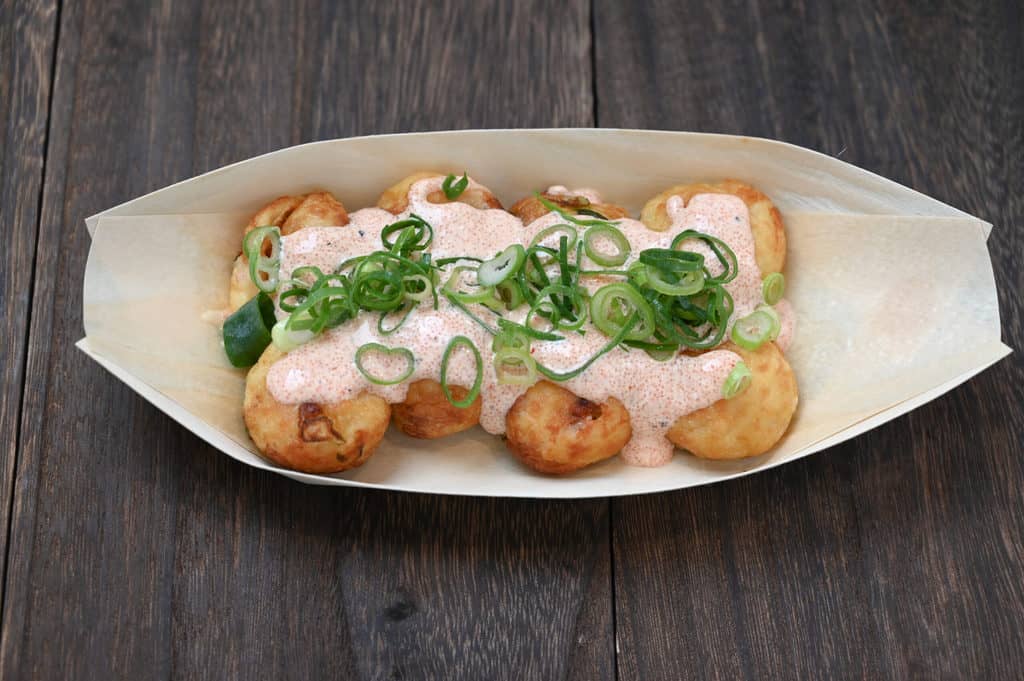 Wanna try something completely different?
This topping is made from a pickled spicy cod roe called "mentaiko" mixed with Japanese mayonnaise. You can often see this topping at some takoyaki stalls as well!
It might not be for everyone, but if you like mentaiko, you'll definitely love it!
How to make differently: Add mentaiko and mayonnaise mixture topped with chopped spring onion
Amount: 40g mentaiko and 2 tbsp mayonnaise (mix together) and sprinkle with 1 tbsp chopped spring onion
Recommended: To try something completely different
With dashi tsuyu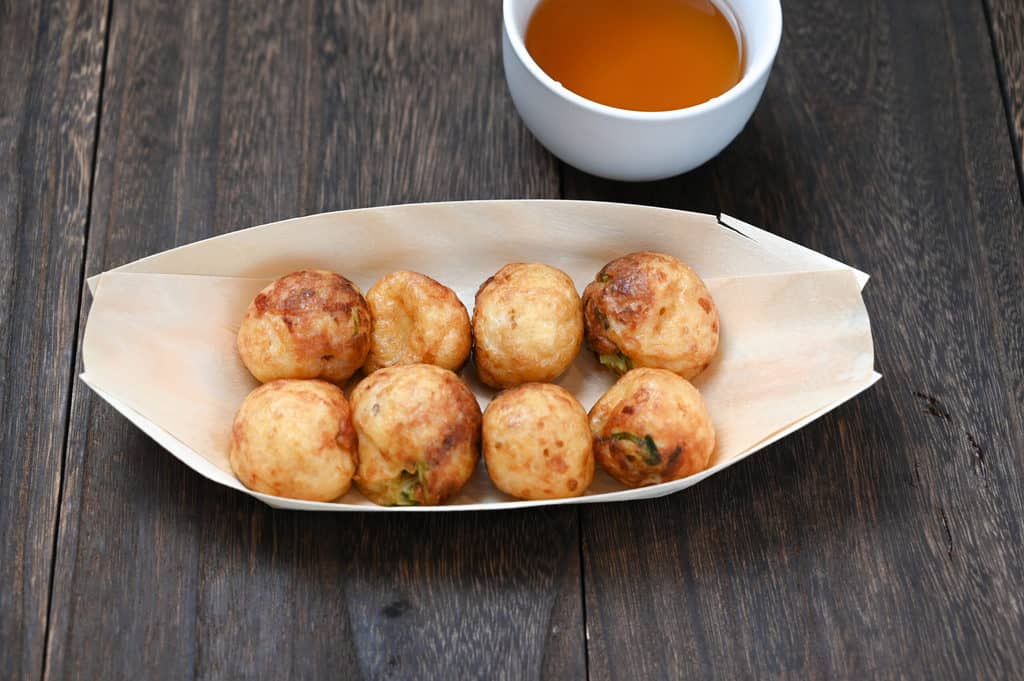 This is surely something different to the others as it's takoyaki with dipping sauce!
It's a homage to takoyaki's descendant "akashiyaki" and you can experience something different.
For dashi tsuyu, you can simply use the same sauce as kake udon soup or premade tsuyu sauce mixed with water.
How to make differently: Prepare dashi tsuyu and dip takoyaki
Amount: 100ml dashi tsuyu (if you want to make it from scratch, you can refer to kake udon recipe)
Recommended: To try something completely different
Friends and families often enjoy having takoyaki parties. Show off your skills and have fun making this street-food favourite at home! And if you try the recipe, please take a moment to review the recipe and leave a star review in the comments below!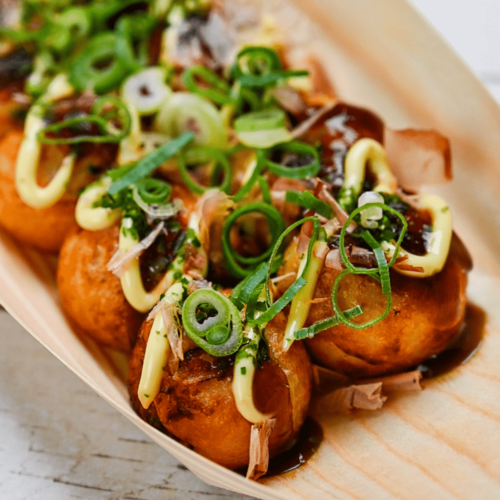 Japanese Fried Octopus Balls (Takoyaki)
Learn how to make authentic Takoyaki with chewy pieces of boiled octopus encased in a ball of fluffy batter with a crispy exterior, it's easy to make this iconic Japanese street food at home!
Ingredients
Instructions
First, make the sauce by adding the

1 ½ tbsp Worcestershire sauce

, ½ tbsp tsuyu sauce,

½ tbsp tomato ketchup

and

1 tbsp honey

to a small bowl and mix thoroughly. Set aside for later.

Next, take a mixing bowl, pour in the

500 ml dashi stock

and 1 tsp tsuyu sauce. Crack

1 medium egg(s)

into the bowl and whisk until combined.

Add

100 g cake flour

to a separate bowl and make a well in the center. Pour the dashi mixture into the well while whisking until it forms a smooth batter.

Cut

120 g boiled octopus

into small pieces (approx 1 inch / 2.5cm) and finely chop

4 tbsp red pickled ginger

and

50 g green onion(s)

. 

Heat up the takoyaki pan and generously coat the mold with

sesame oil

. Brush the oil into each crevice until evenly coated. (If you don't have a brush, spread the oil using kitchen paper.)

Once the takoyaki pan is hot (almost smoking), pour the batter into the mold, filling the crevices half way. 

Place a piece of octopus in each slot and then pour more of the batter over the top, making sure the surface is completely covered, even the surrounding surface.

Sprinkle the chopped green onion, chopped pickled ginger and

30 g tempura flakes

generously over the top of the wet batter and allow to cook for 1-2 minutes.

Using a long bamboo skewer (or similar), draw lines between the slots to divide the batter around each takoyaki.

Roll the takoyaki about half way by scraping the bamboo skewer around the edge of the slot in a circular motion with your wrist. It's okay if the shape is still messy at this point. Leave to cook for a few minutes.

Roll the takoyaki again, tucking any messy parts into the bottom to shape it nicely. After the second roll it should already be more or less round. 

Once the takoyaki is round enough, brush with another layer of sesame oil and keep rolling the takoyaki one by one.

Swap any pale takoyaki with the more golden ones to ensure even cooking. (This is due to the inevitable heat spots on the pan, generally the ones in the middle directly over the heat source cook faster.)

Once the outside looks golden and crisp, remove the takoyaki from the pan. (The middle is still usually a bit runny, this is normal and you don't need to cook it until it's firm all the way through.)

Place the cooked takoyaki on a plate and brush the with the sauce from earlier. Drizzle with mayonnaise and sprinkle with your choice of toppings.

Repeat until the all the batter and ingredients are used up.

Enjoy!
Notes
Cooking time depends on the pan you use, the size of the molds and the strength of the heat source.
Nutrition
Calories:
39.4
kcal
Carbohydrates:
4.4
g
Protein:
1.6
g
Fat:
1.8
g
Saturated Fat:
0.1
g
Polyunsaturated Fat:
0.3
g
Cholesterol:
12.1
mg
Sodium:
94.4
mg
Fiber:
0.3
g
FAQ
What is takoyaki batter made of?
I use dashi stock, egg, cake flour, and tsuyu sauce in this recipe.
What's in traditional takoyaki?
Traditional takoyaki has batter made of wheat flour, water, dashi stock, and eggs. Fillings include boiled octopus, red ginger, tenkasu and green onion. To season, we use sauce, mayo, bonito flakes, and aonori. Ingredients can vary by region or shop, and you might find cheese, shrimp, or squid too.
Is takoyaki always octopus?
While "tako" means octopus in Japanese, takoyaki can have different fillings like shrimp, squid or even cheese, sausage, or vegetables. They're not traditional but not uncommon either.
What do Japanese put on takoyaki?
Typical toppings are takoyaki sauce, Japanese mayo, katsuobushi (bonito flakes), and aonori. Toppings can vary by region, restaurant, or personal taste.
What are the brown flakes in takoyaki?
Brown flakes, called bonito flakes (katsuobushi in Japanese), come from dried, fermented, and smoked bonito. They add a smoky, umami flavor and are one of the key elements of the dish.
What is takoyaki sauce called?
The sauce used for takoyaki is simply called "takoyaki sauce". It is a sweet and savory sauce made specifically for takoyaki, similar in taste to Worcestershire sauce. Sometimes people also use okonomiyaki sauce, which has a similar taste.
Is takoyaki raw or cooked?
Takoyaki is cooked with a batter of flour, water, dashi stock, and eggs. It has a crispy exterior and gooey interior, served with toppings and sauces.
Can I use squid instead of octopus in takoyaki?
Sure, squid is a popular alternative to octopus. It has a different texture and flavor but keeps the same cooking process and presentation.
How do I eat takoyaki without burning myself?
Let it cool, use a toothpick or chopsticks, take small bites, and blow on it. These tips help you enjoy takoyaki without burning your mouth.
Can I eat takoyaki every day?
Eating takoyaki daily isn't the healthiest choice.
What's a good takoyaki sauce substitute?
Try okonomiyaki sauce or mix Worcestershire sauce, ketchup, soy sauce, and sugar for an extremely simplified homemade version.
Should takoyaki batter be runny?
Yes, runny batter helps it flow into the mold and create a soft and gooey inside.
Why do my takoyaki deflate?
Reasons include undercooked batter, not enough batter, turning too early. To fix, adjust cooking time and use enough batter.
Can you reheat takoyaki?
Absolutely! While fresh takoyaki is amazing, reheating it still tastes great. To reheat without losing flavor or texture, try these methods:
Oven or toaster oven: Preheat to 350°F (175°C). Place takoyaki on a parchment-lined baking sheet and heat for 10-15 minutes until warm and crispy.
Air fryer: Preheat to 350°F (175°C). Cook takoyaki in the basket for 5-8 minutes until heated and crisp.
Pan-fry: Heat a nonstick skillet or takoyaki pan with a bit of oil. Cook takoyaki, turning occasionally, until heated and crisp.
Avoid microwaving, as it makes them soggy and unevenly heated.
Should takoyaki be hot or cold?
Takoyaki tastes best warm, with a crispy outside and a soft, gooey inside for a delicious experience.