Akadashi is a rich and flavorful variation of miso soup that hails from the Aichi region in Japan. Made with red miso paste, tofu and wakame seaweed, you can make this delicious regional delicacy in just 15 minutes with my easy and authentic recipe!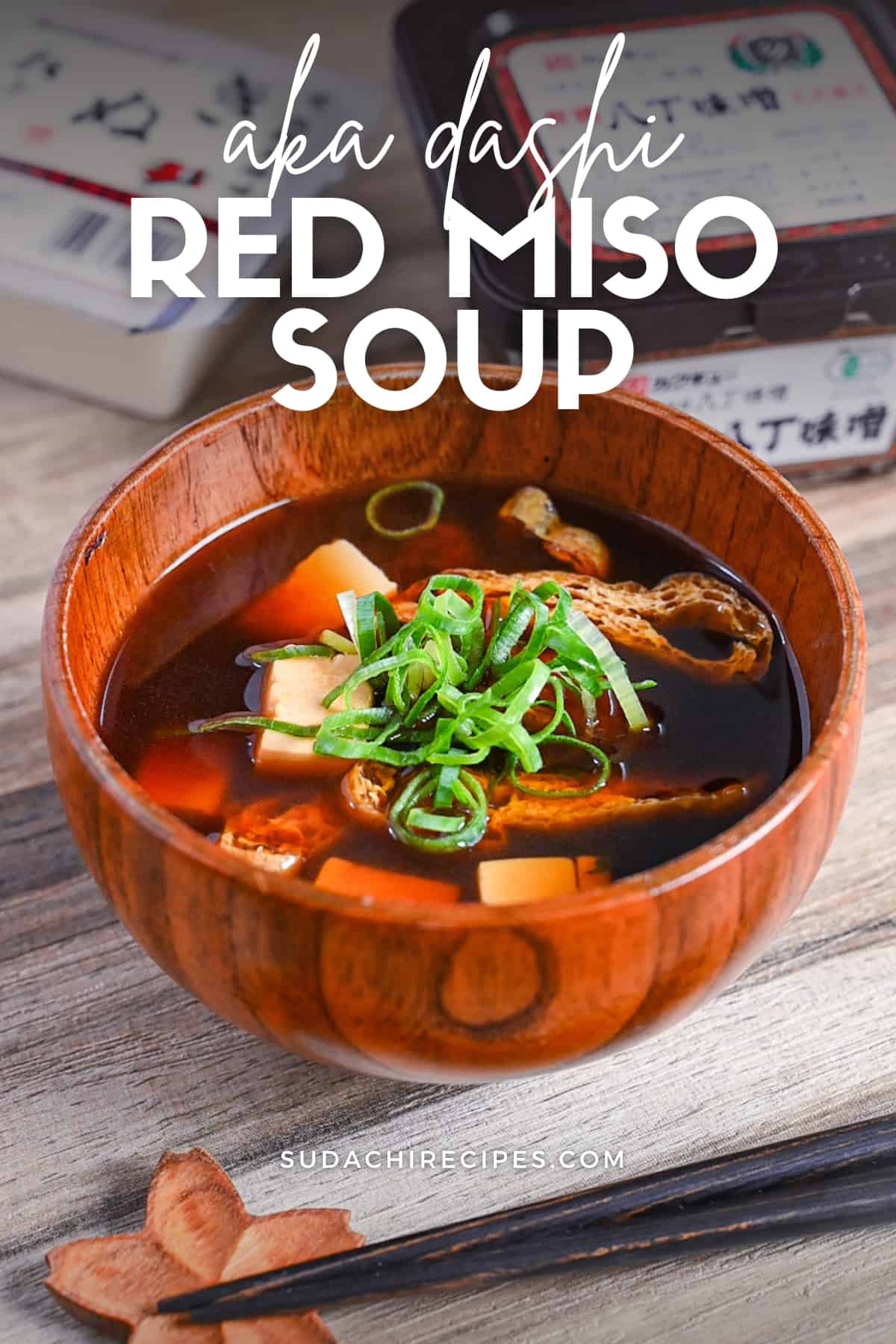 Disclaimer: This post contains Amazon affiliate links. Sudachi Recipes earn a small percentage from qualifying purchases at no extra cost to you. See disclaimer for more info.
Jump to:
What is Red Miso Soup (Akadashi)?
Red miso soup, or aka-dashi, is a specific variety of miso soup predominantly prepared using red miso mixed with soybean miso. Esteemed for their distinct flavor, Hatcho miso and Nagoya miso are prime examples of the red miso types used in preparing aka-dashi.
Incidentally, I grew up about a 15-minute walk from the Hatcho Miso factory, and it is no exaggeration to say that aka-dashi is the most common type of miso soup in my hometown. It is commonly eaten in the Tokai region, mainly in Aichi Prefecture.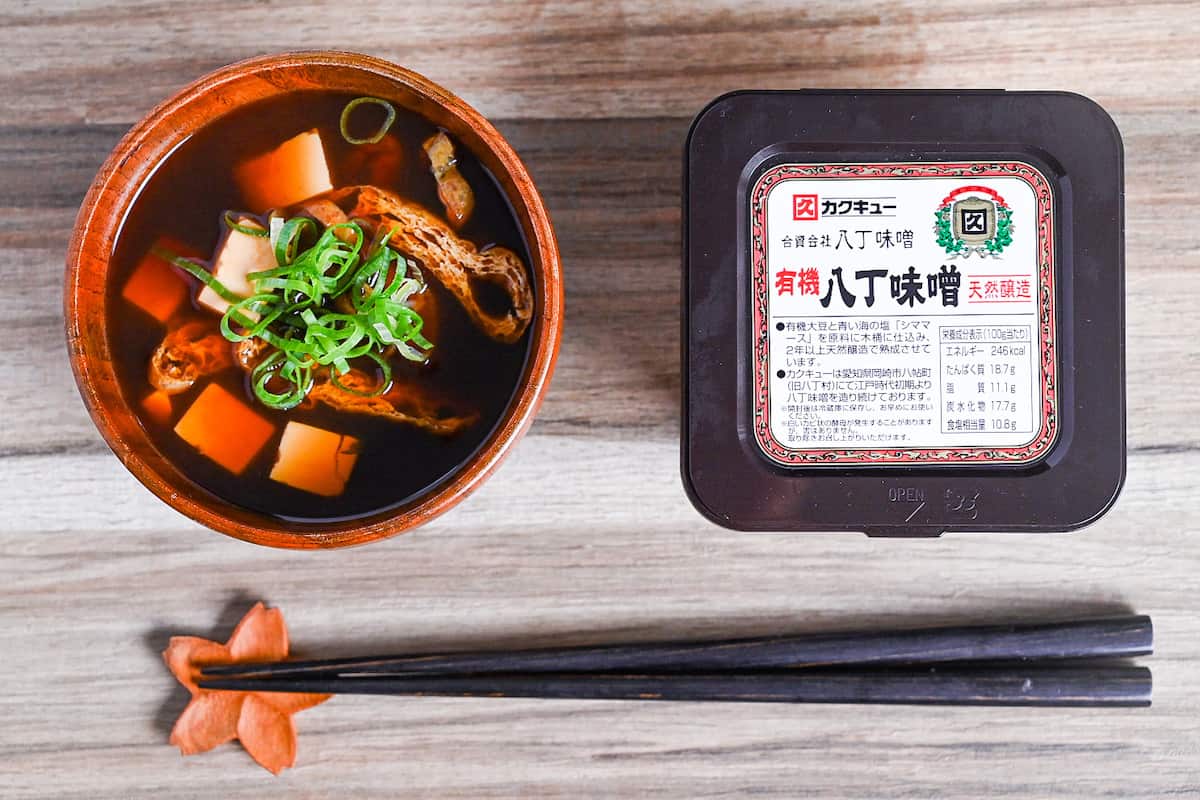 Despite "dashi" in its name, aka-dashi does not necessarily indicate the inclusion of dashi. Products can be labeled as "aka-dashi," regardless of the presence or absence of dashi. Instead, the defining characteristics of aka-dashi derive from using soybean miso—a meticulously aged blend of soybeans, salt, soybean koji (malt), and water. This results in a flavor profile abundant in bean richness, profound depth, and a hint of bitterness.
Historically, aka-dashi was a dish predominantly prepared in traditional Japanese-style restaurants. However, it eventually infiltrated the commercial sphere and gained recognition as a popular home-cooked dish. This transition was spearheaded by the commercialization of "aka-dashi miso" in Nagoya around 1955. Subsequently, numerous companies within the Tokai region producing soybean miso began commercializing their products, leading to the nationwide popularity of aka-dashi.
However, in my experience, red miso is an acquired taste and people outside Aichi Prefecture are divided between those who like aka-dashi and those who do not.
Ingredients You Will Need
Hatcho miso paste - Hatcho miso made in Japan is not easily accessible outside of Japan, but Hatcho miso style miso paste is available.
Soy sauce - If you are looking for something reasonably priced, you can't go wrong with Kikkoman soy sauce. I also recommend their organic marudaizu soy sauce, characterized by its mild flavor and depth.
Dashi broth - This broth is the base of the miso soup. Choose from dashi made with dried bonito flakes and/or kelp, or plant-based dashi made with kelp and shiitake mushrooms if you want to make it suitable for vegetarians and vegans. You could also use instant dashi or dashi bags if you like.
Tofu - Either silken or firm tofu can be used depending on your preference.
Aburaage - This is also known as "deep fried tofu pouch" in English.
Dried wakame (seaweed) - Dried wakame is easier to use and more suitable for miso soup.
I have listed my recommended Japanese condiments, tools, and ingredients in the Sudachi Recipes Amazon shop. If you want to keep making various Japanese foods at home, please check it out!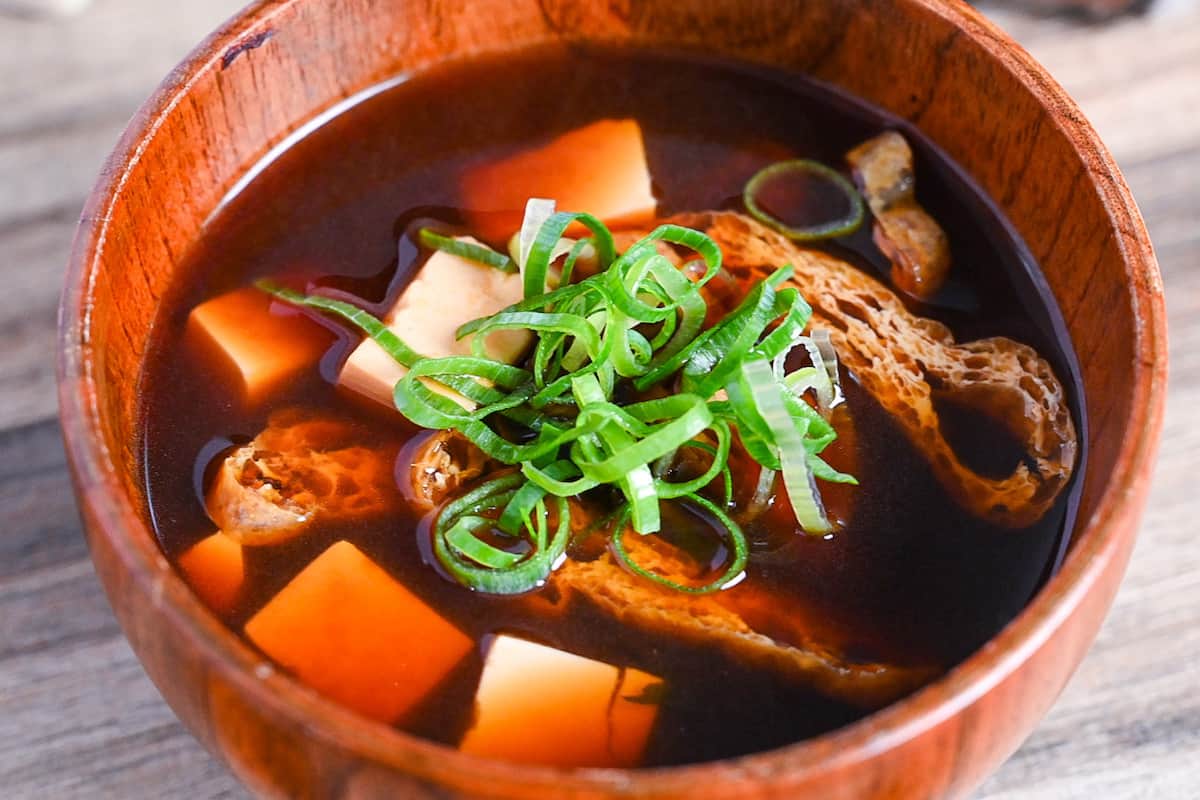 Step by Step Process
Here are my instructions for how to make authentic aka-dashi red miso soup in just 4 easy steps! For ingredient quantities and simplified instructions, see the printable recipe card below.
Start by pouring your dashi into a saucepan and bring it to a boil over a medium heat.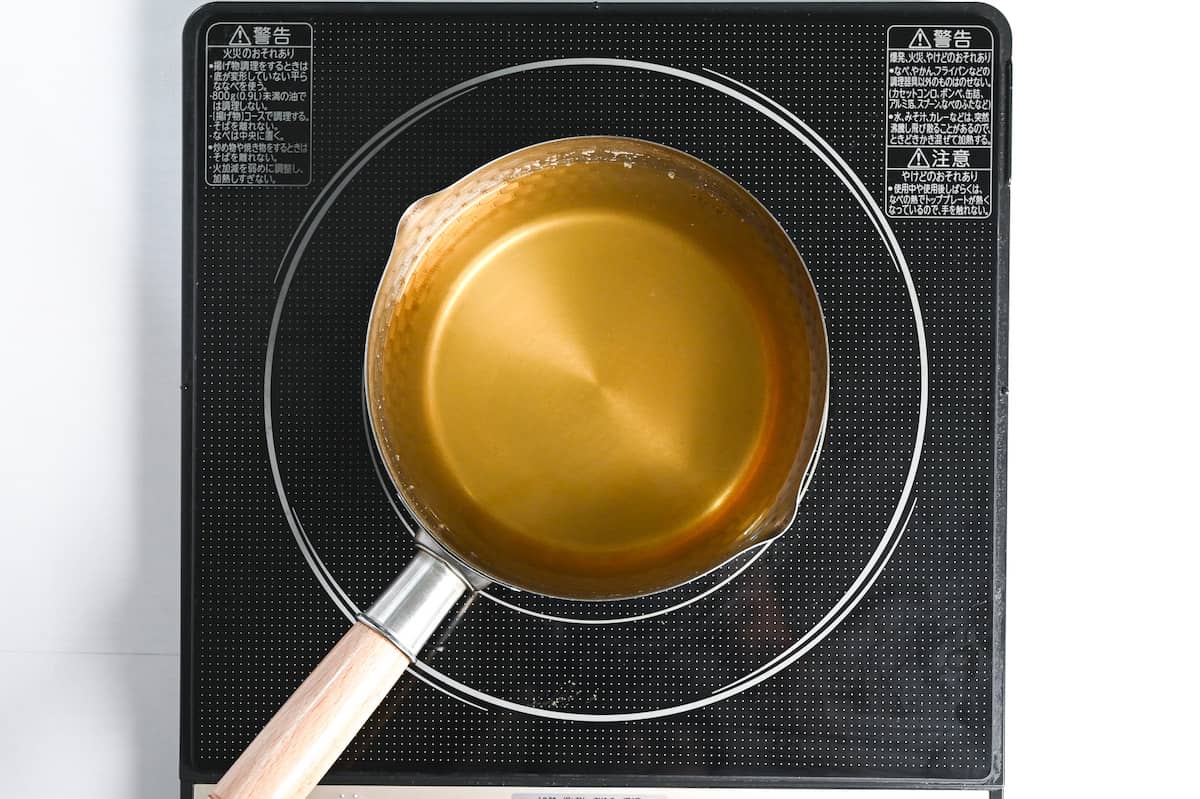 Add tofu pouch and wakame
Cut the tofu pouch into thin slices and add them to the dashi broth along with the dried wakame. Wakame expands a lot once added to the water so a little goes a long way.
Adding the ingredients will lower the heat of the dashi, so wait for it to bubble again and then lower the heat to a simmer.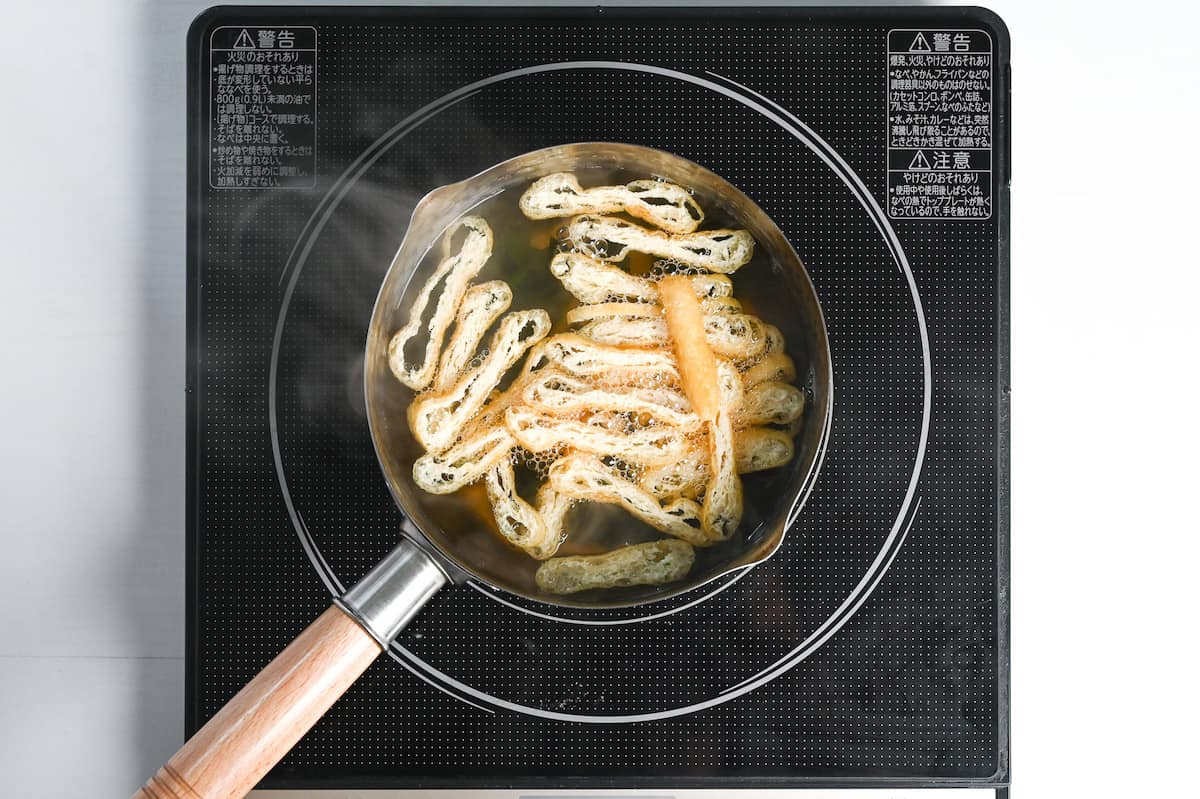 Cut the tofu into cubes and add it to the soup. Continue to simmer until the tofu is heated through, turn off the heat and add the red miso paste and a dash of soy sauce. Since miso paste is prone to clumping, I recommend placing the miso onto a mesh spoon, submerging it into the dashi and using a mini whisk to break it up and evenly incorporate it into the broth.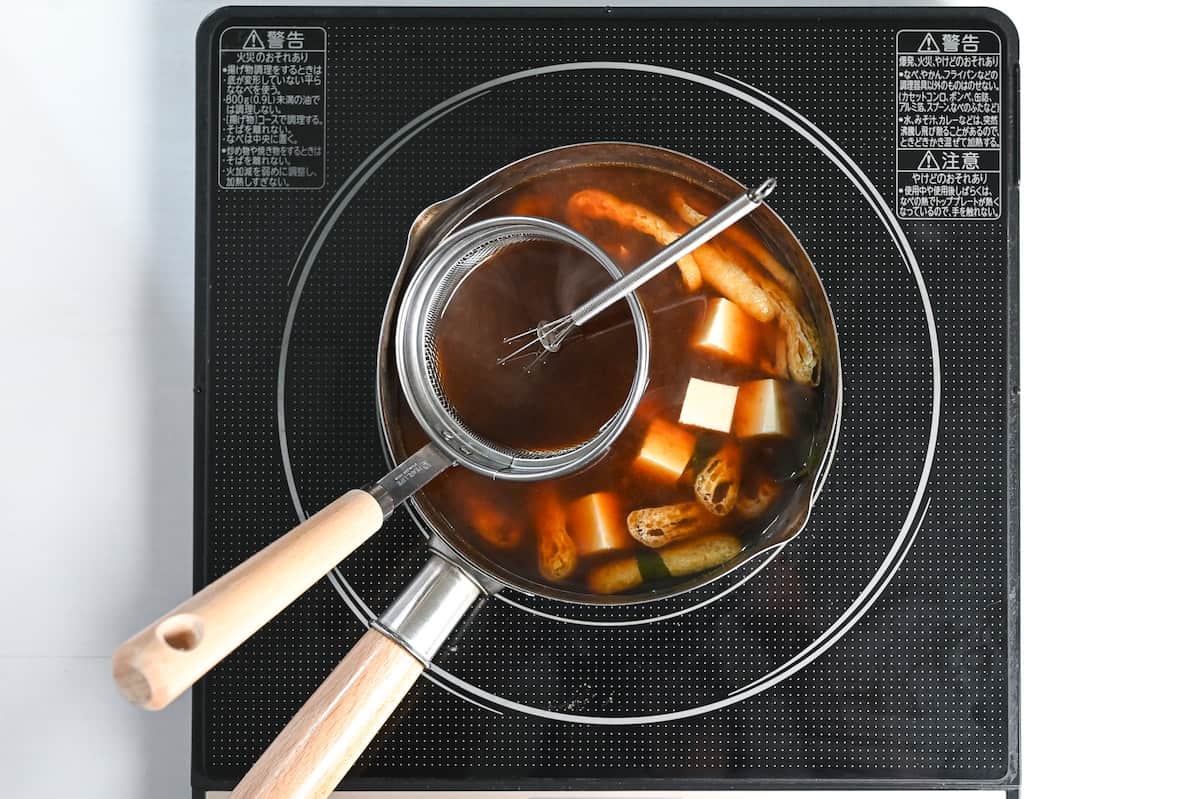 If you don't have a mesh spoon, pour a small amount of hot dashi into a heatproof bowl and whisk in the miso paste to loosen up the consistency before adding it to the rest of the soup.
Divide into serving bowls and enjoy! I often top my aka-dashi with chopped green onion for a pop of color and a refreshing taste to complement the richness of the soup.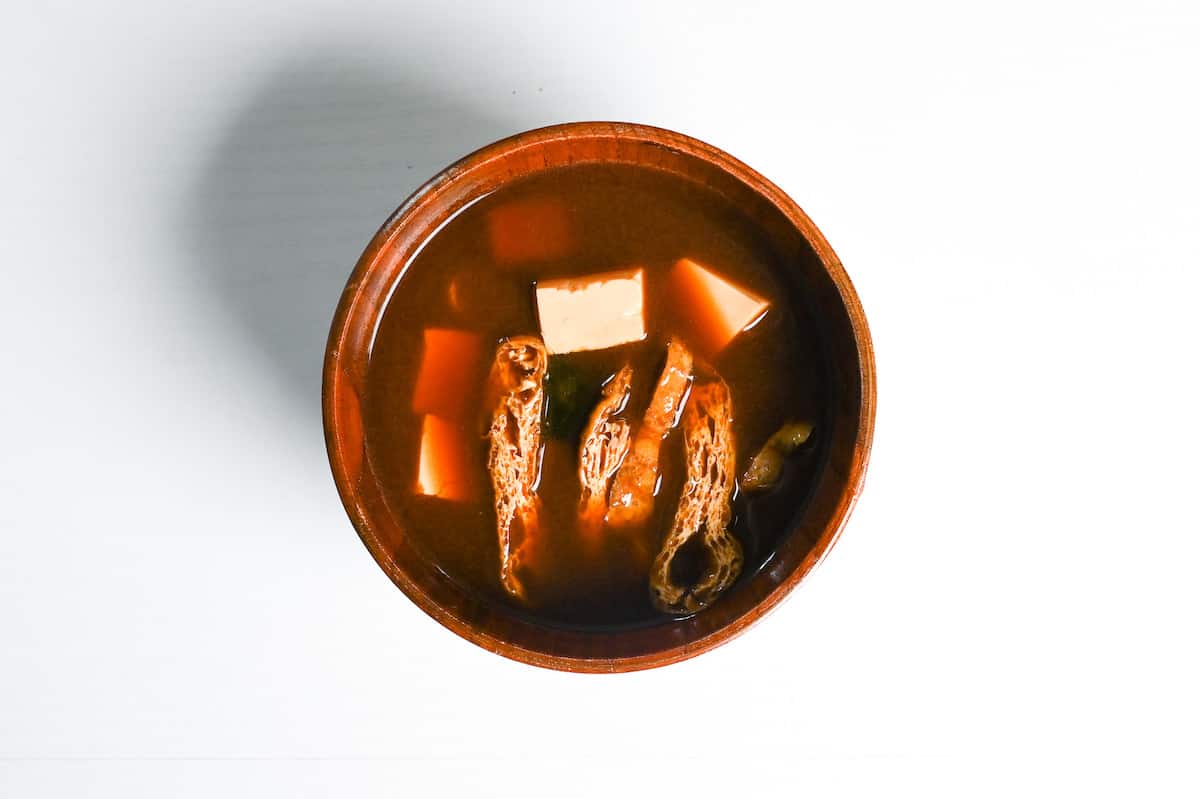 Storage Options
When it comes to the storage of miso soup, it is pivotal to note that room temperature is not an ideal condition. Although the soup may last longer in winter, it can spoil within half a day in the summer if left at room temperature. As a general rule, the storage of miso soup at room temperature should be avoided.
Should refrigeration be necessary, it is advisable to keep the pot containing the miso soup in the refrigerator. Before refrigeration, ensure that the miso soup has cooled down enough. By refrigerating the soup in this manner, it can be stored for approximately 3 to 4 days during winter and around 2 days during the summer.
It should be noted that the shelf life may vary depending on the ingredients used. If the soup includes meat or rapidly perishable ingredients like bean sprouts, it might be prudent to consume it half a day before the suggested storage timeframe. Regardless of the shelf life, always inspect the soup for any change in appearance or smell before consumption.
Miso paste tends to lose its flavor when it is overheated, so it is recommended to warm it up on the stove rather than using a microwave if possible.
Freezing is generally not recommended for the ingredients such as tofu typically found in miso soup, as they are not conducive to reheating from a frozen state.
Room temperature - Not recommended.
Refrigerated - 2 - 4 days.
Frozen - Not recommended.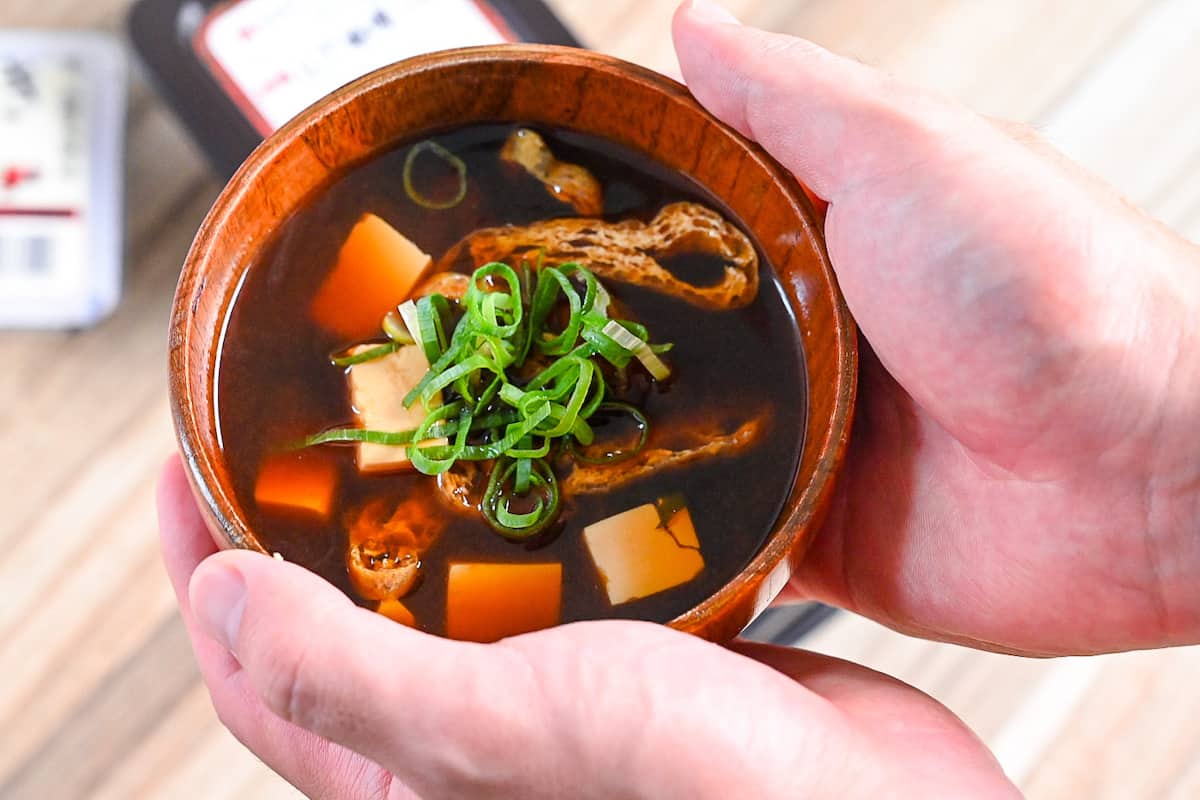 I hope you enjoy this authentic akadashi red miso soup recipe! If you try it out, I would really appreciate it if you could spare a moment to let me know what you thought by giving a review and star rating in the comments below. It's also helpful to share any adjustments you made to the recipe with other readers. Thank you so much!
Red Miso Soup (Akadashi)
How to make rich and flavorful red miso soup with pieces of silky tofu, wakame seaweed and fried tofu pouches.
Ingredients
500

ml

dashi stock - make it vegetarian/vegan by using plant-based dashi

½

tbsp

dried wakame seaweed(s)

15

g

fried tofu pouch(s)

-

(aburaage) sliced

75

g

firm tofu

-

(or silken tofu depending on preference) cubed

2

tbsp

red miso

-

I recommend Hatcho Miso if you can get it

1

dash

soy sauce
finely chopped green onion(s) -

optional garnish
Instructions
Pour

500 ml dashi stock

into a saucepan and bring to a boil over a medium heat.

Add

½ tbsp dried wakame seaweed(s)

and

15 g fried tofu pouch(s)

and bring to a boil once more. Then lower the heat to a simmer.

Add

75 g firm tofu

and place

2 tbsp red miso

onto a mesh spoon. Submerge the spoon into the dashi and whisk until it breaks up into the soup. (See note) Add

1 dash soy sauce

and mix well to distribute.

Divide into serving bowls and enjoy with a sprinkle of

finely chopped green onion(s)

!
Notes
If you don't have a mesh spoon, pour a small amount of hot dashi into a heatproof bowl and whisk in the miso paste to loosen up the consistency before adding it to the rest of the soup.
To store, allow to cool before placing it in a covered container in the fridge. Use within 2-4 days depending on the season and reheat on the stove (avoid boiling since this will make the miso lose its flavor).
Other Miso Soup Recipes to Try at Home
Miso soup is a highly customizable soup that can be made by changing the ingredients and the type of miso, changing all the flavors and textures. Here are some examples of miso soups that use different miso ingredients.
The Basic Miso Soup
If you are not sure what kind of miso soup to make, read this "authentic Japanese miso soup" article first. In addition to the most basic miso soup recipes, we introduce ideas and combinations of various ingredients.
I also write in-depth about the history of miso soup, so please check it out!
Authentic Homemade Japanese Miso Soup (味噌汁)
How to make authentic Japanese miso soup from scratch with homemade dashi stock.
Check out this recipe →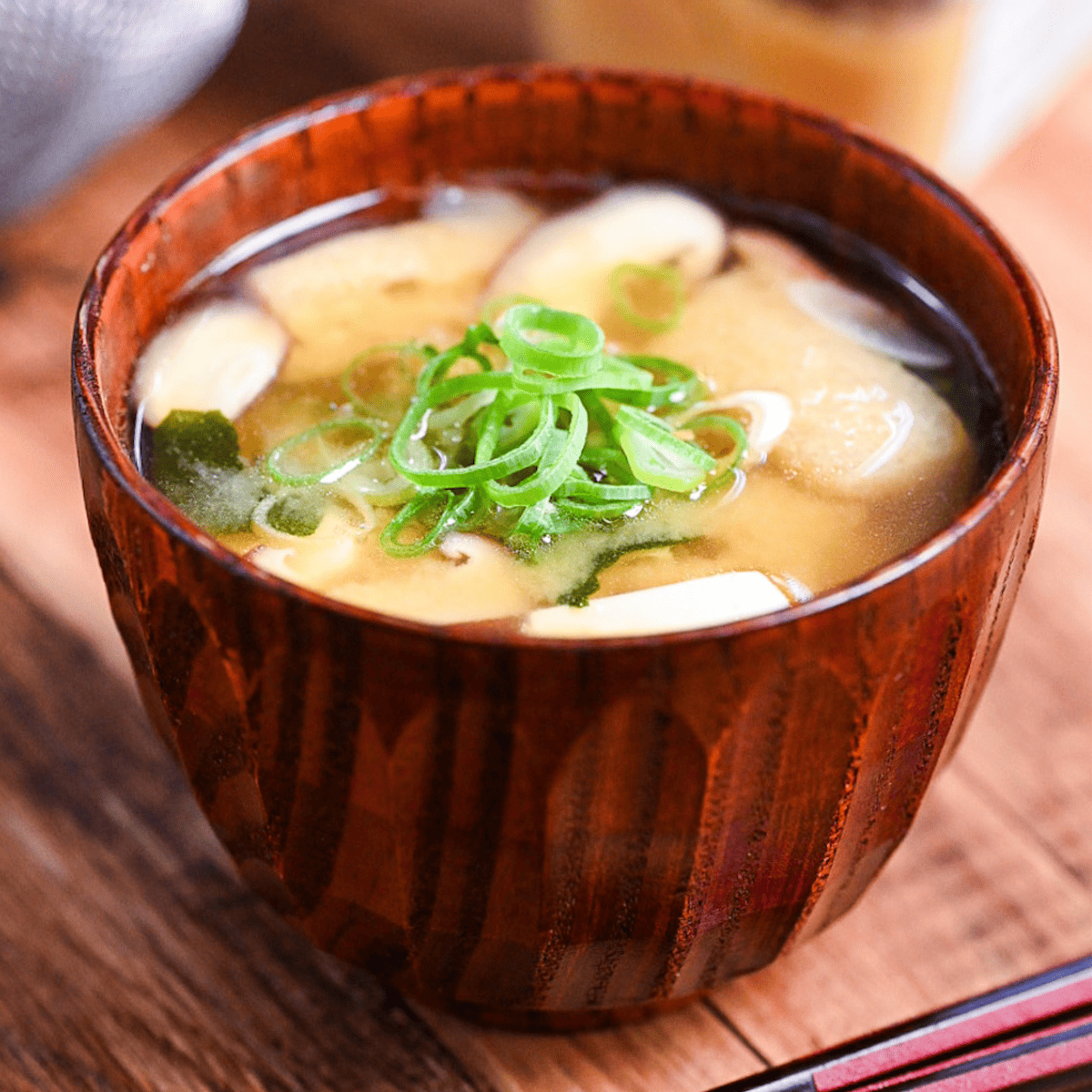 Tonjiru (Butajiru)
Tonjiru is a great way to add meat to miso soup for a hearty and enjoyable meal! This recipe can be used regardless of the type of miso, yellow miso, red miso, white miso, or white miso!
Step-by-step instructions as well as numerous tips and tricks are also included!
Tonjiru (Butajiru) Japanese Pork Miso Soup
How to make classic Japanese homemade Tonjiru (豚汁) Pork and Vegetable Miso Soup. Tender pork belly cooked in a dashi broth with a variety of vegetables and then flavored with a rich miso paste.
Check out this recipe →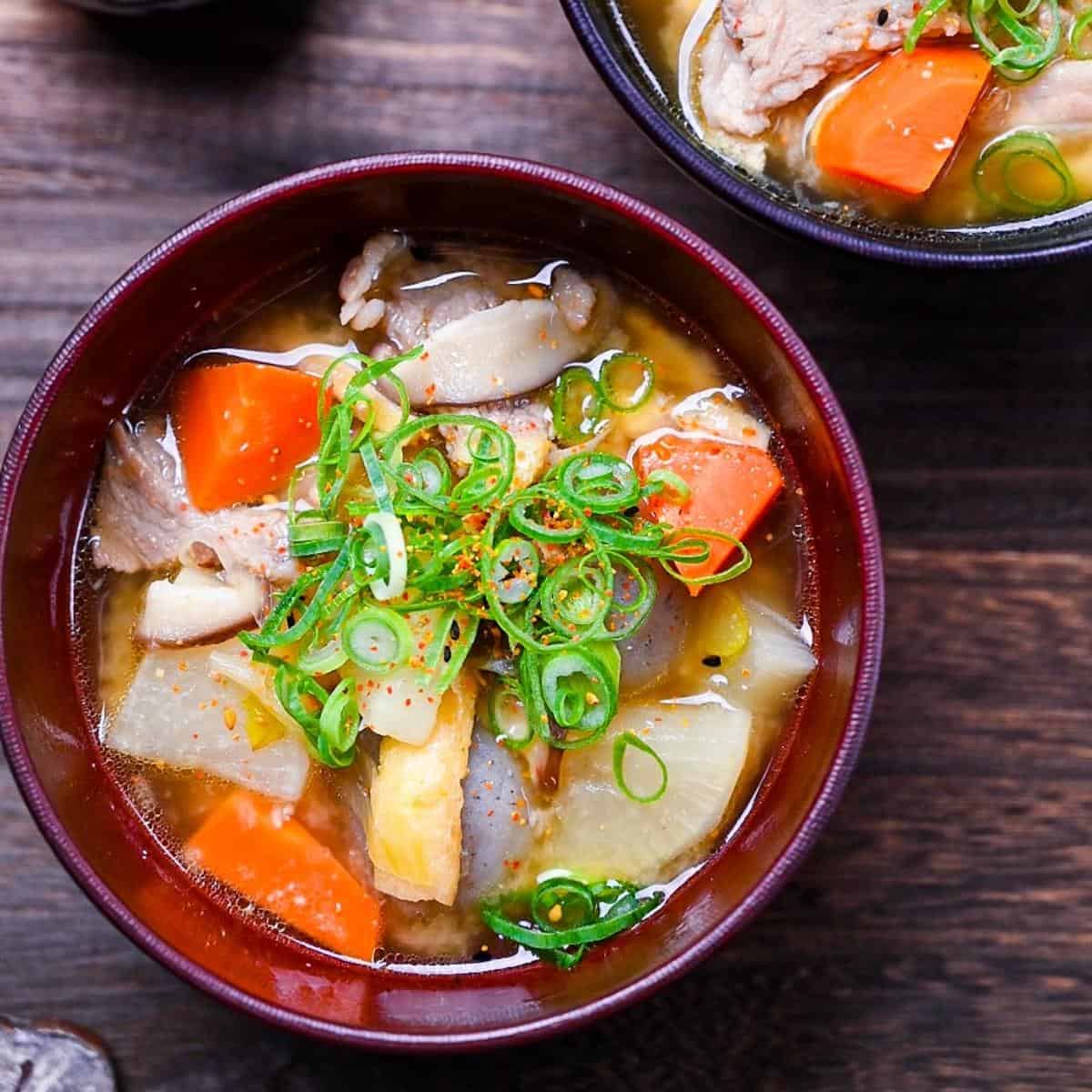 Mushroom miso soup
Do you like mushrooms? If so, we recommend this Mushroom Miso Soup!
It is a mushroom-filled miso soup using four different kinds of mushrooms and introduces various ideas for mushrooms to use!
Mushroom Miso Soup (Kinoko no Miso Shiru)
How to make easy and authentic Japanese mushroom miso soup with 4 kinds of mushrooms!
Check out this recipe →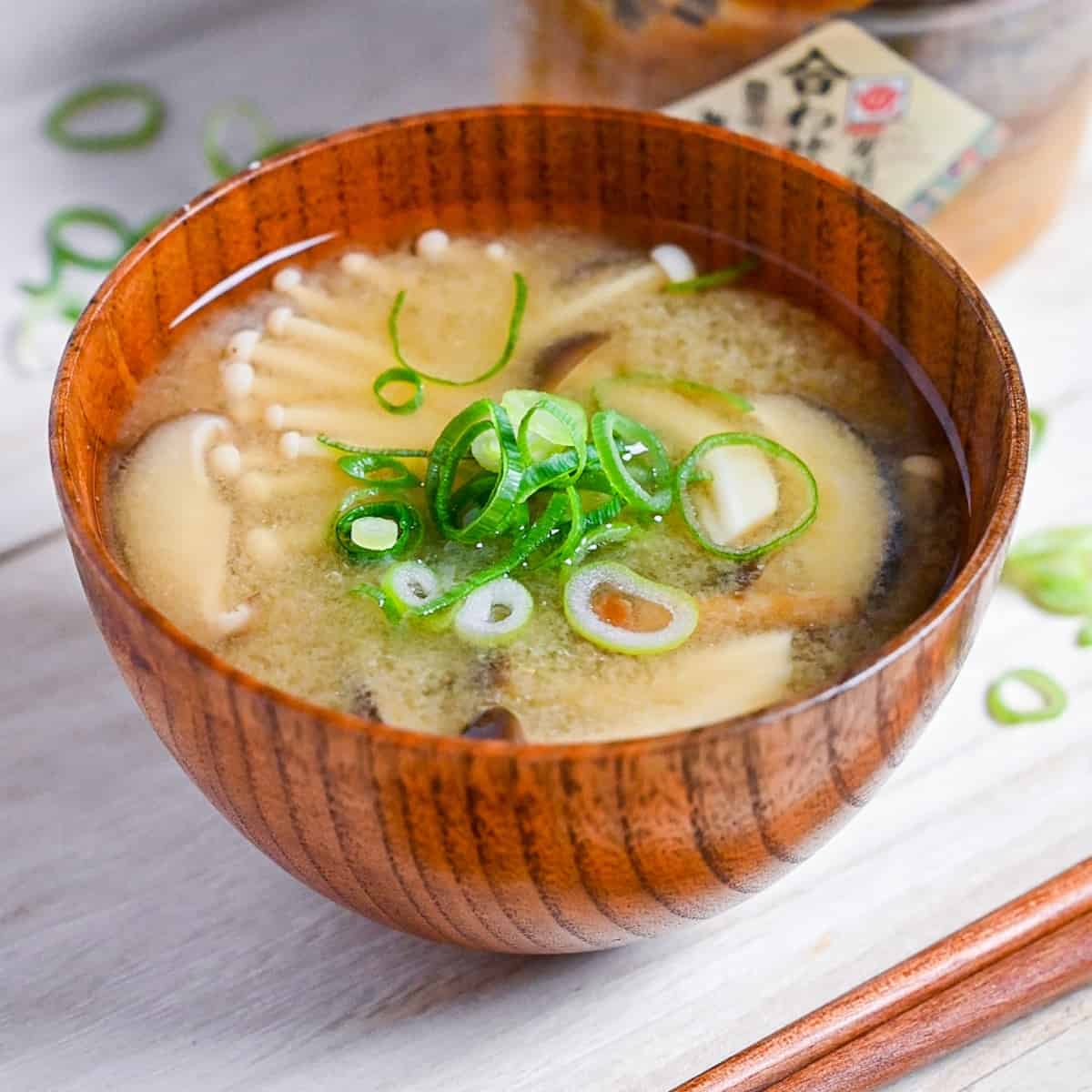 Ginger Miso Soup (Plant-based)
With a mindful selection of ingredients, a delicious and plant-based miso soup is entirely possible. This tantalizing recipe features a comforting, umami-rich broth made from kombu and shiitake dashi, flavored with awase miso paste and a hint of fragrant ginger.
Not only does this dish promise a delightful symphony of flavors, but it also adheres to particular dietary requirements, making it a versatile staple suitable for various palates.
Ginger Miso Soup (Plant-based)
How to make fragrant and delicious ginger miso soup from scratch with a homemade plant-based dashi. Suitable for vegetarians and vegans!
Check out this recipe →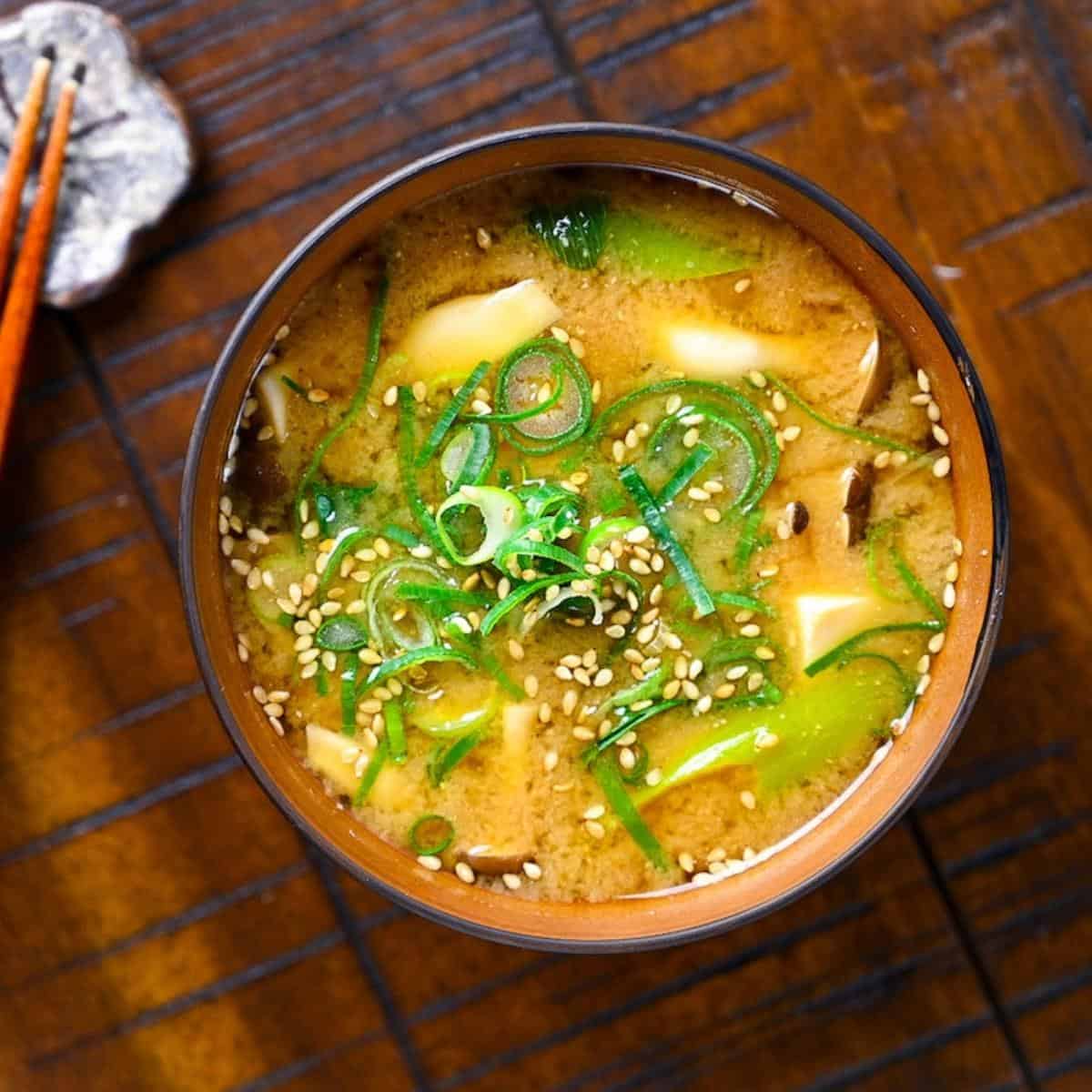 FAQ
What is red miso soup made of?
Red miso soup is typically made with dashi stock, red soybean miso such as hatcho miso, tofu, wakame seaweed, and other common miso soup ingredients.
What is the difference between miso and red miso?
"Miso" is a conventional Japanese condiment produced by fermenting soybeans, wheat, rice, and other cereals. Aka-miso, or red miso, gets its varying hues from the "Maillard reaction" that happens throughout the fermentation and aging. This reaction involves the interaction between amino acids present in the base ingredients, such as soybeans and koji, and sugar, leading to a brownish color. If the Maillard reaction occurs thoroughly, the reddish-brown miso is called "red miso."
Is red miso used for soup?
Yes, red miso is often used to make miso soup.
What is the flavor of red miso soup?
Miso soup made with red miso has a rich bean flavor, deep richness, and a hint of bitterness.