Learn everything you need to know about ponzu! This unique Japanese condiment is made with dashi ingredients soaked in citrus juice, vinegar and soy sauce. It's the perfect balance of salty, sour and sweet and can be used as a dipping sauce, in cooking, as a marinade or even to make salad dressings!
Disclaimer: This post may contain affiliate links. Sudachi Recipes is part of the amazon associates programme and earns a small percentage from qualifying purchases at no extra cost to you. See disclaimer for more info.
Jump to:
What is ponzu sauce (ポン酢)?
Ponzu is a sour condiment unique to Japanese cuisine made with the juice of citrus fruits. Strictly speaking, the term "ponzu" refers to the juice of lemons, limes, bitter oranges, yuzu, sudachi, kabosu, and other citrus fruits to which vinegar is added to enhance the flavor and preserve them.
In addition, citrus juice in which no vinegar is added is sometimes specifically called nama-ponzu (生ポン酢), but it is not generally recognized even in Japan.
In fact, what we Japanese think of when we hear the word "ponzu" is "ponzu shoyu," a mixture of ponzu and soy sauce, and ponzu shoyu is also referred to together as "ponzu" for short.
What you will need to enjoy...
Everything you need to know about ponzu sauce
5 variations of ponzu
Authentic ponzu sauce recipe better than store-bought bottles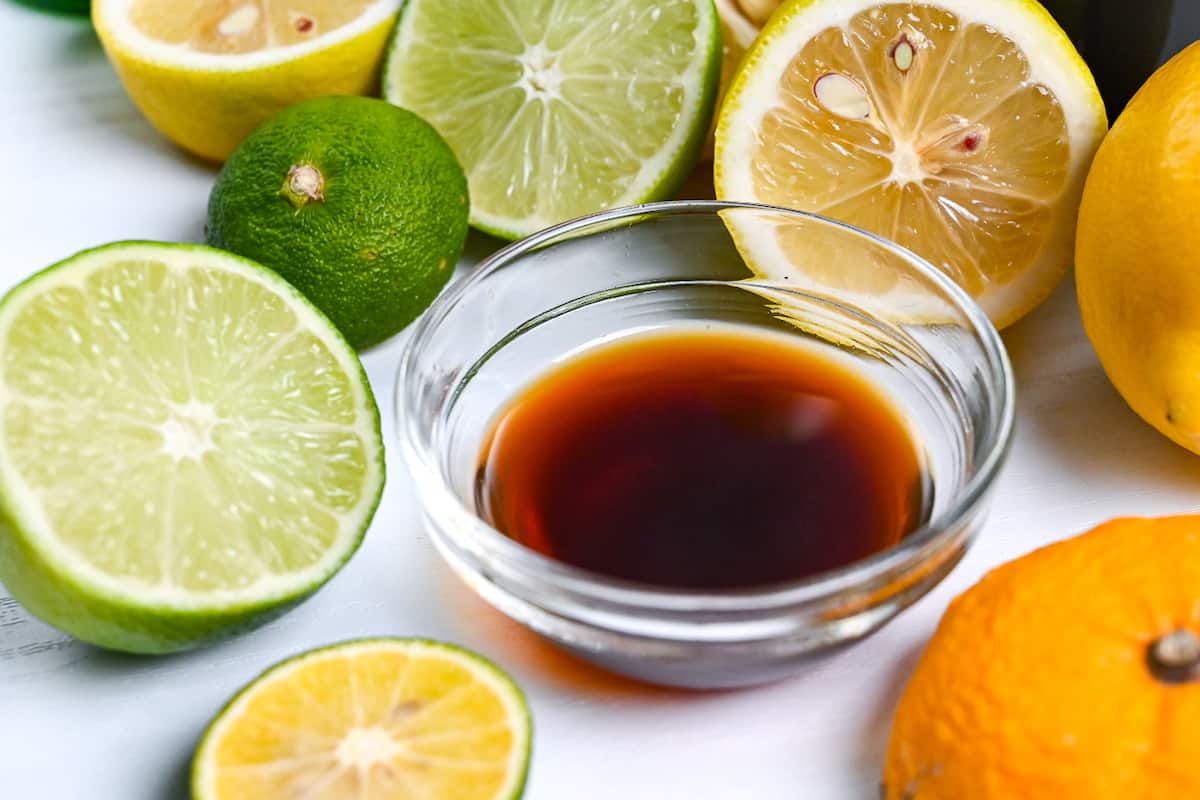 A brief history of ponzu
The history of ponzu is very interesting. Although it is a condiment unique to Japan, the origin of the word is not Japanese. The name "ponzu" originally derived from the Dutch word "pons", which refers to certain alcohol and citrus fruits and was adopted into the Japanese language.
The Netherlands was the only Western country that traded with Japan during a certain time of the Edo period (1603-1868), when the country was closed to the the rest of the outside world (precisely 1641-1853). At that time, pons was introduced to Japan from the Netherlands as an aperitif, but it eventually became a word for the citrus juice used in pons, and the word became Japanese. It is said that pons was often drunk by Dutch sailors on Dejima Island in Nagasaki.
Incidentally, the kanji for "zu" (酢) in ponzu means "vinegar," said to be because it had a sour taste like vinegar. Originally, ponzu did not contain vinegar, but the kanji character for "vinegar" was applied to it to mean something sour.
Ponzu sauce today
The prototype of today's ponzu was created again in Dejima, Nagasaki during the Edo period. As a condiment with a Japanese twist on pons, it spread mainly in Kyushu area. However, due to its ease of oxidation, ponzu with soy sauce was considered difficult to handle in the home until the 1950s.
However, as technology evolved, ponzu with soy sauce and other seasonings became widely spread throughout the nation's dining tables, and is now widely enjoyed as an indispensable seasoning for a variety of dishes. Nowadays, ponzu with soy sauce is also called ponzu.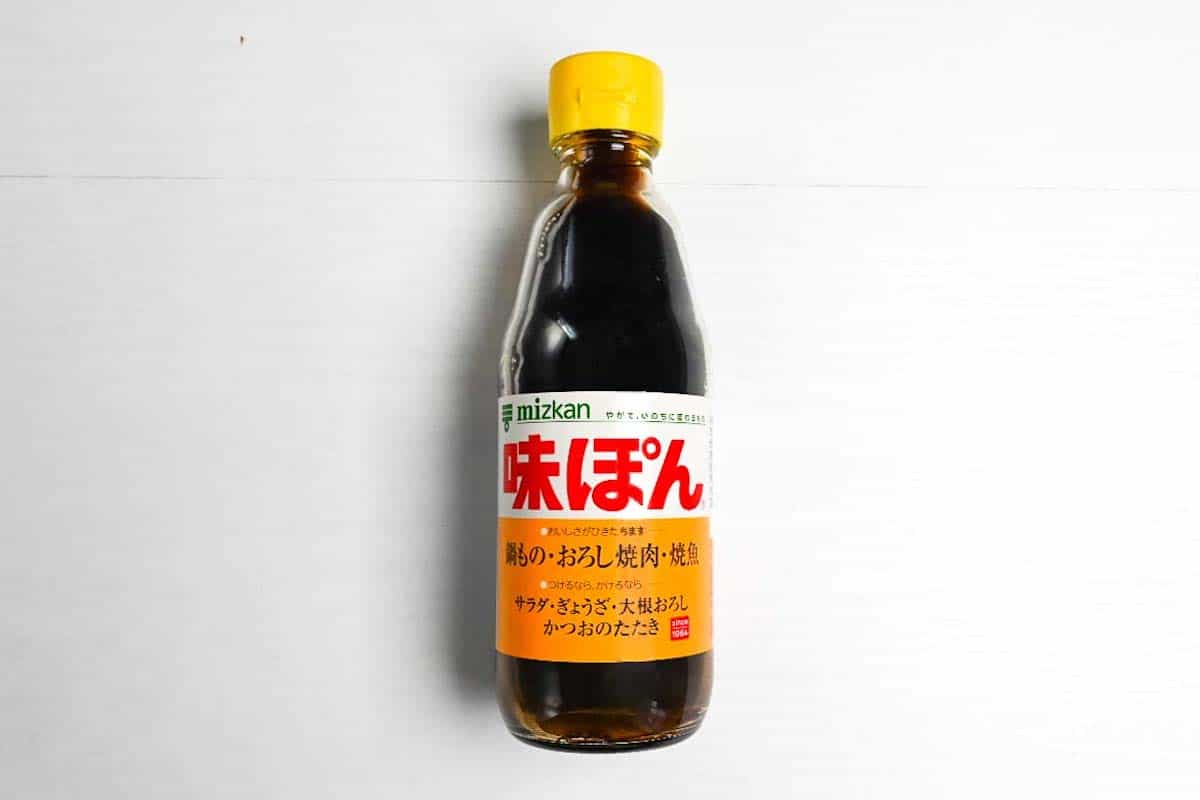 One of the most widely sold brands of ponzu is "Ajipon" by "Mizkan" which has been on the market since 1964. Due to its popularity, you should be able to find it in your local Asian supermarket. I couldn't find Ajipon on Amazon, however there is "yuzupon" (yuzu ponzu) from the same brand available here on Amazon US.
How is ponzu different from soy sauce?
Soy sauce is a condiment made with soybeans and is known for its saltiness and rich umami taste.
Technically speaking, the original meaning of the word "ponzu" refers to a condiment made by adding vinegar to citrus juice. Once soy sauce (and dashi) is added, it was originally called "ponzu shoyu" (ポン酢しょうゆ) or "ponzu soy sauce". However, these days, the name is simply shortened to "ponzu".
Ponzu is a condiment with a strong sourness, a hint of sweetness, and depth from dashi in addition to its salty taste contributed by the soy sauce. So, although modern ponzu is soy sauce-based, it is a completely different condiment to soy sauce.
What does ponzu sauce taste like?
If I were to describe the taste of ponzu in a few words, it could be described as "fruity vinegar". However, it does not have a strong vinegary smell that goes straight to your nose, and its flavor is somewhere between vinegar and citrus juice, making it most suitable for rich, fatty dishes such as karaage fried chicken and pan fried gyoza.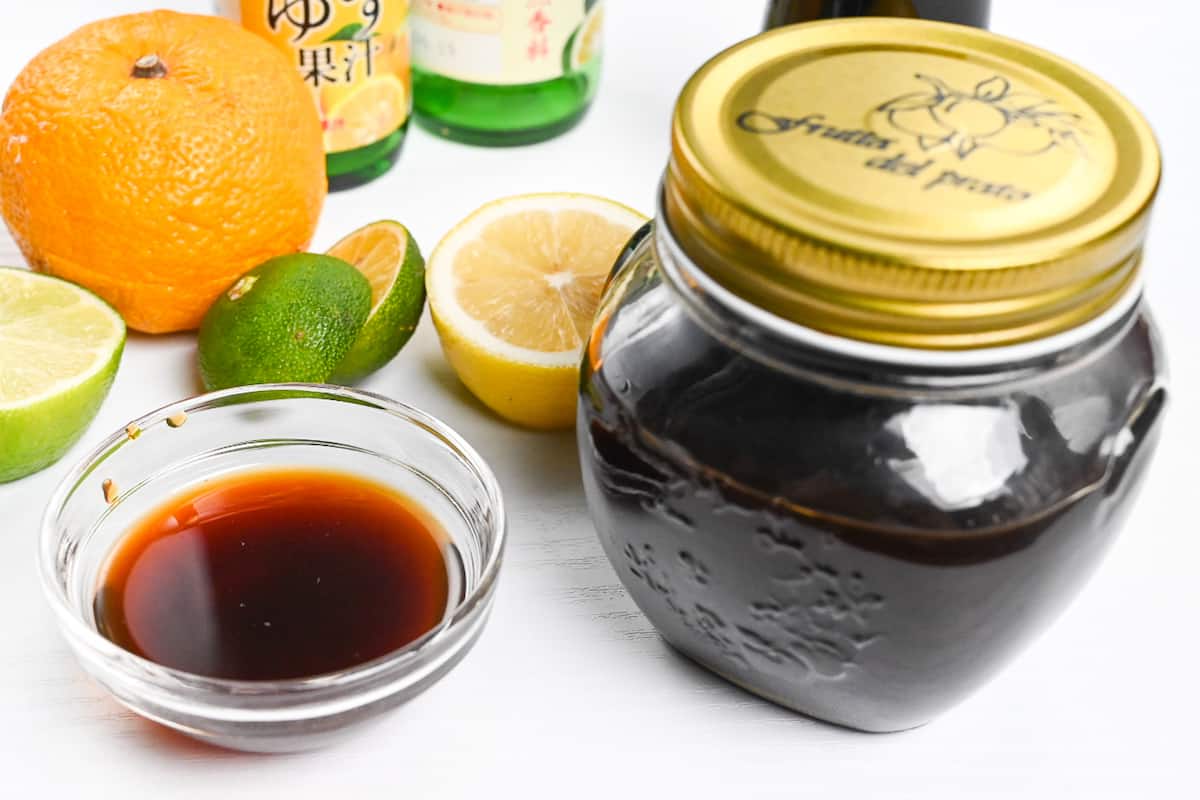 3 substitution ideas for ponzu sauce
As I will show in recipe later, homemade ponzu is very easy to make, and I would really like you to try and make it at home.
However, if you are really looking for an easy substitute, here are some ideas.
Soy sauce and citrus juice 50:50
It is an extremely simplified version of ponzu. Simply mix half soy sauce and half citrus juice together. However, the disadvantage is that there are no other seasonings in the mixture, so it's lacking depth compared to real ponzu.
Soy sauce, mirin and citrus juice
For this substitution, mix soy sauce, citrus juice and mirin with a ratio of 2:2:1 respectively. For example, if soy sauce and citrus juice are mixed with 2 tablespoons of each, the amount of mirin would be 1 tablespoon.
The mirin adds some sweetness and umami that helps balance the sour and salty flavours from the soy sauce and citrus juice so it's a good addition!
If using this substitute, be sure to heat the mirin on the stove for a 1-2 minutes to burn off the alcohol. Once this is done, you can mix it with the soy sauce and citrus juice.
Soy sauce, mirin, citrus juice, vinegar, granulated dashi
This is the closest composition to actual ponzu. As before, there are equal parts of soy sauce and citrus juice, half that amount of mirin, a little less vinegar than mirin, and a pinch of granulated dashi.
The important points to keep in mind are to remove the alcohol from the mirin and to dissolve the granulated dashi thoroughly before mixing it. In this case, you can also mix while heating quickly if it's easier for you.
Nonetheless, homemade ponzu is very easy to make, so please keep reading the article to find out how to make it!
Kinds of citrus that can be used to make ponzu
The presence of citrus juices is essential in making homemade ponzu. But with a vague term like "citrus", I'm sure you're thinking "which kind of citrus should I use?".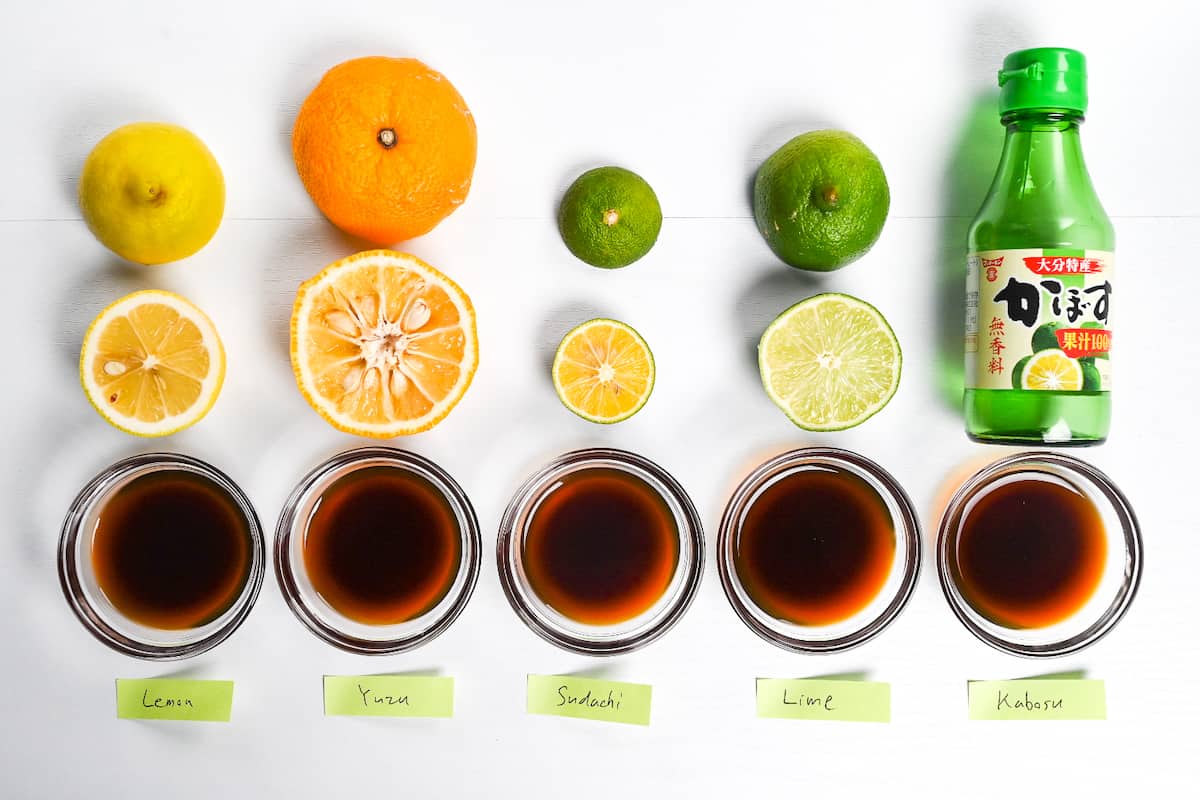 For those who are interested, I have made ponzu using five different types of citrus fruits, ranging from ones that can be found anywhere in the world to rare citrus fruits unique to Japan. The citrus I've selected are lemon, yuzu, sudachi, lime and kabosu.
I will write my impressions of each citrus, and also compare which one was the best.
Of course, there are other citrus fruits you can try such as grapefruit, shikuwasa (Citrus depressa) or even some varieties of bitter orange (such as navel or Valencia).
Lemon ponzu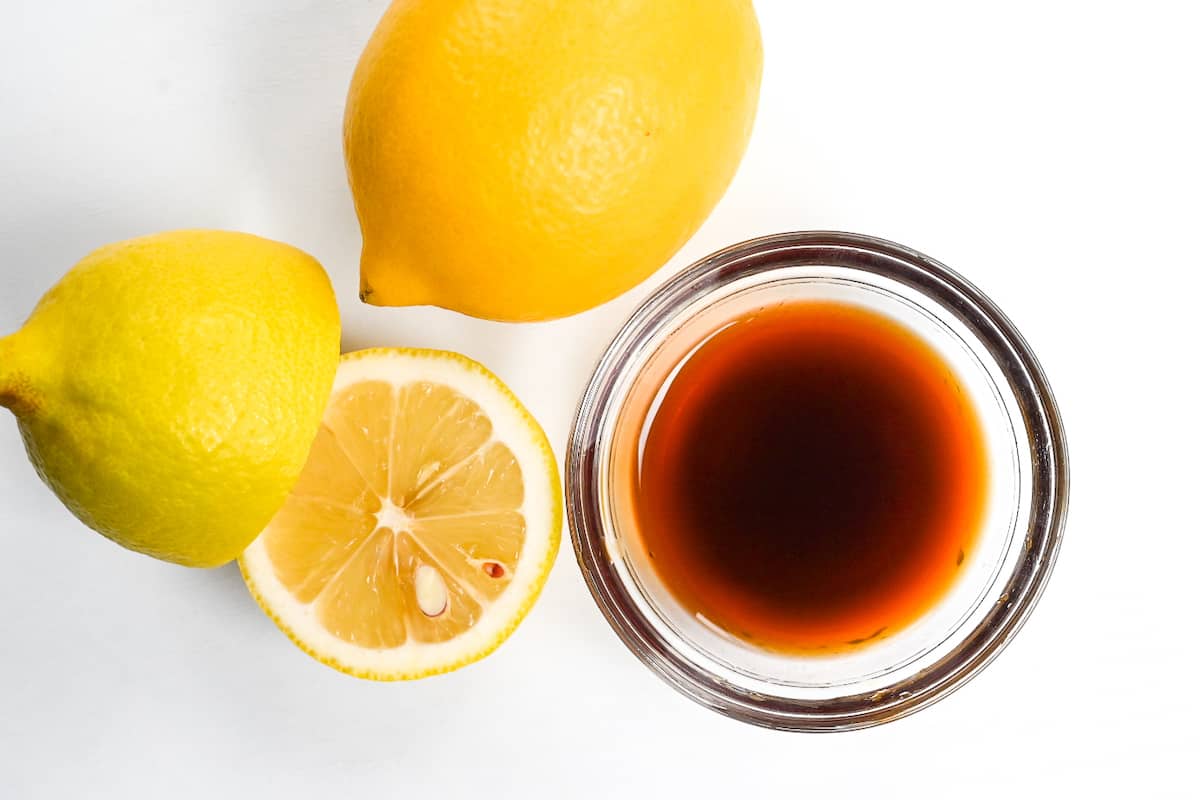 Lemon is the most accessible on the list, a type of citrus fruit that is enjoyed around the world mainly for its acidity and aroma.
You can probably find them at your local supermarket easily, so you might want to start with lemons for simplicity's sake!
On average, a lemon contains approximately 45ml of juice (depending on size). For my recipe that requires 100ml of citrus juice, I recommend about 2 ½ to 3 lemons. Alternatively, you can use bottled 100% lemon juice.
I feel that the taste of the lemon juice really highlights the saltiness of the soy sauce, somehow more than the other kinds of citrus I used.
Yuzu ponzu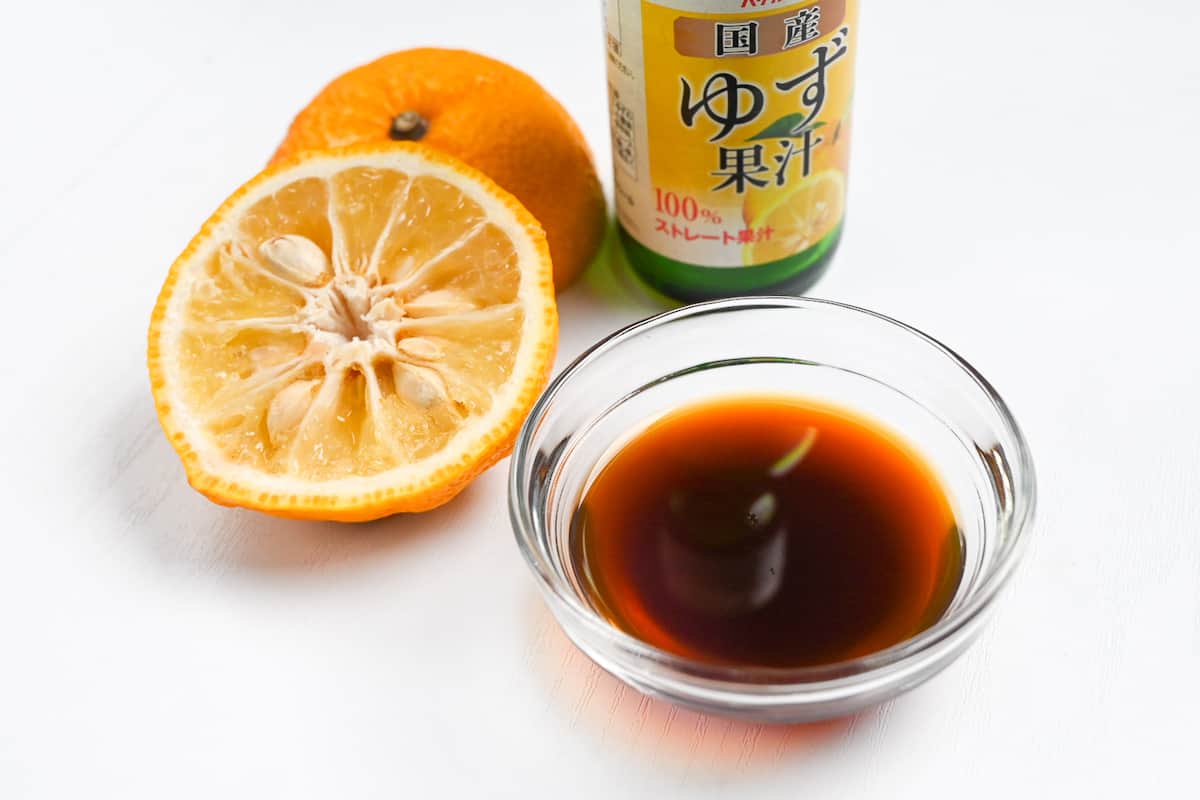 Yuzu is a citrus fruit with a long history, having been cultivated in Japan since the Nara period (710-794). Generally, yuzu is harvested after it has ripened to yellow.
Packaged ponzu sold in Japan is often made from this yuzu, and it is a citrus fruit that goes very well with it.
I have to say that yuzu was my favourite of the 5. Yuzu has a distinct flavour that works perfectly for ponzu, it's not really a flavour I can describe well but kind of between lemon and orange. If you can find yuzu where you live, I highly recommend it!
Yuzu is the least "juicy" on the list, it has lots of seeds and 1 fruit only produces about 1 tsp of juice. You will need about 20 yuzu for 100ml of juice! It's fine (and more economical) to use store-bought yuzu juice (100% straight juice) instead of fresh yuzu. Please check your local Asian supermarket, I checked Amazon and I couldn't find any trustworthy brand there. If you live in the UK you can buy yuzu juice from Waitrose or Japan Centre.
Sudachi ponzu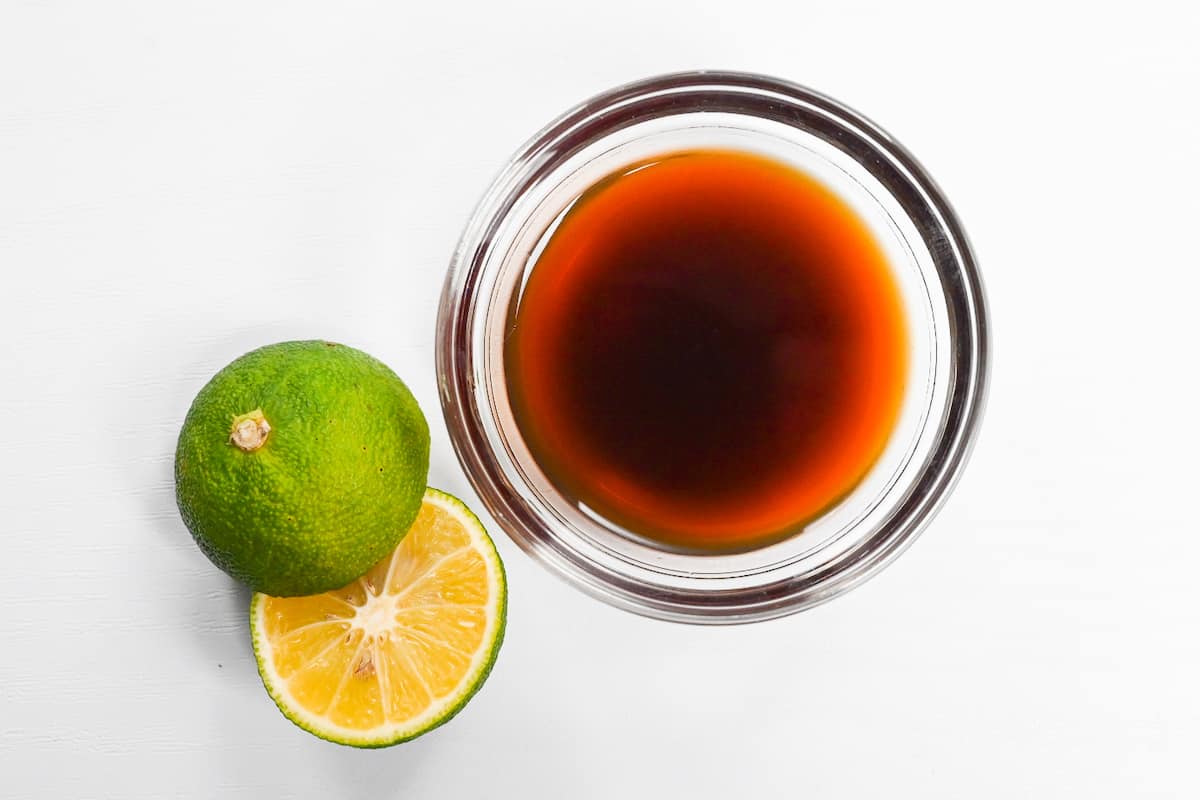 Sudachi, which is also used as the name of this website, is an aromatic citrus fruit produced mainly in Tokushima Prefecture, Shikoku. Like yuzu and lemon, it is used as a flavor enhancer for fish, tofu, noodles, meat, etc.
It is characterized by its unique, refreshing aroma and crisp acidity, and is sometimes called "green treasure ball" because of its elegance. It was also used as vinegar in cooking in the past, hence the kanji character for it is "酢橘". I personally think it's a very elegant combination of kanji.
Despite their small size, sudachi actually contains a decent amount of juice. For 100ml as needed in this recipe, you will only need about 4-5 fresh sudachi fruits. Alternatively, you can buy 100% sudachi juice on Amazon.
As for the sudachi ponzu, I would say that the taste is more sophisticated than lime or kabosu and has a distinctive refreshing flavour which sudachi is famous for.
Lime ponzu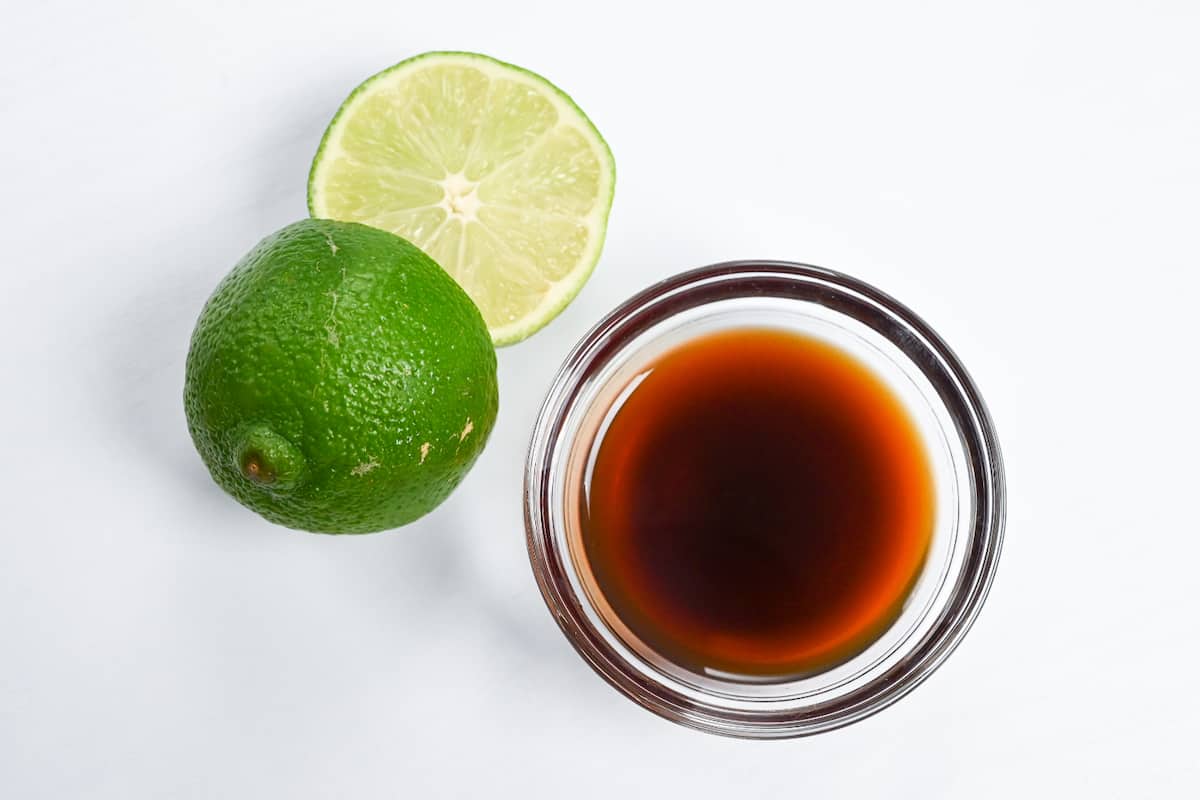 Lime is a citrus fruit of the tangerine family that is believed to originate in the Himalayan region. It is a member of the citrus family like lemon and yuzu, and is often used as a flavoring or condiment rather than eaten raw.
The average lime contains approximately 30ml of juice (depending on size). For my recipe that uses 100ml of citrus juice, you will need about 3 ½ to 4 fresh limes. Alternatively, you can use bottled 100% lime juice.
It is slightly less acidic than lemon and has a slightly bitter taste, and can be used in ponzu. In my personal opinion, lime ponzu is better than lemon and I would recommend it if you can't get hold of Japanese citrus fruits. It works really well!
Kabosu ponzu
Kabosu is a dark green fruit and part of the tangerine family. It is used to add aroma and acidity to food, and its juice can be made into fruit juice as is or added to alcohol instead of lemon juice. It is said to have originated in the Himalayan region and was introduced to Japan during the Edo period (1603-1868).
Most of the kabosu currently cultivated in Japan is produced in Oita Prefecture. Apparently it was brought back to Oita from Kyoto by a doctor in the Edo period, and it seems to have been actively cultivated in Oita since then. It is also famous for being used in Oita's toriten (chicken tempura).
Unfortunately kabosu was out of season when I created this post so I used bottled kabosu juice. I will update later when I can use real kabosu.
It has a strong acidity but also contains a moderate sweetness, creating the perfect balance of sweet and sour. It's safe to say that kabosu is a very elegant citrus. I would say that using it to make ponzu yields a similar result to lime but with a little more elegance.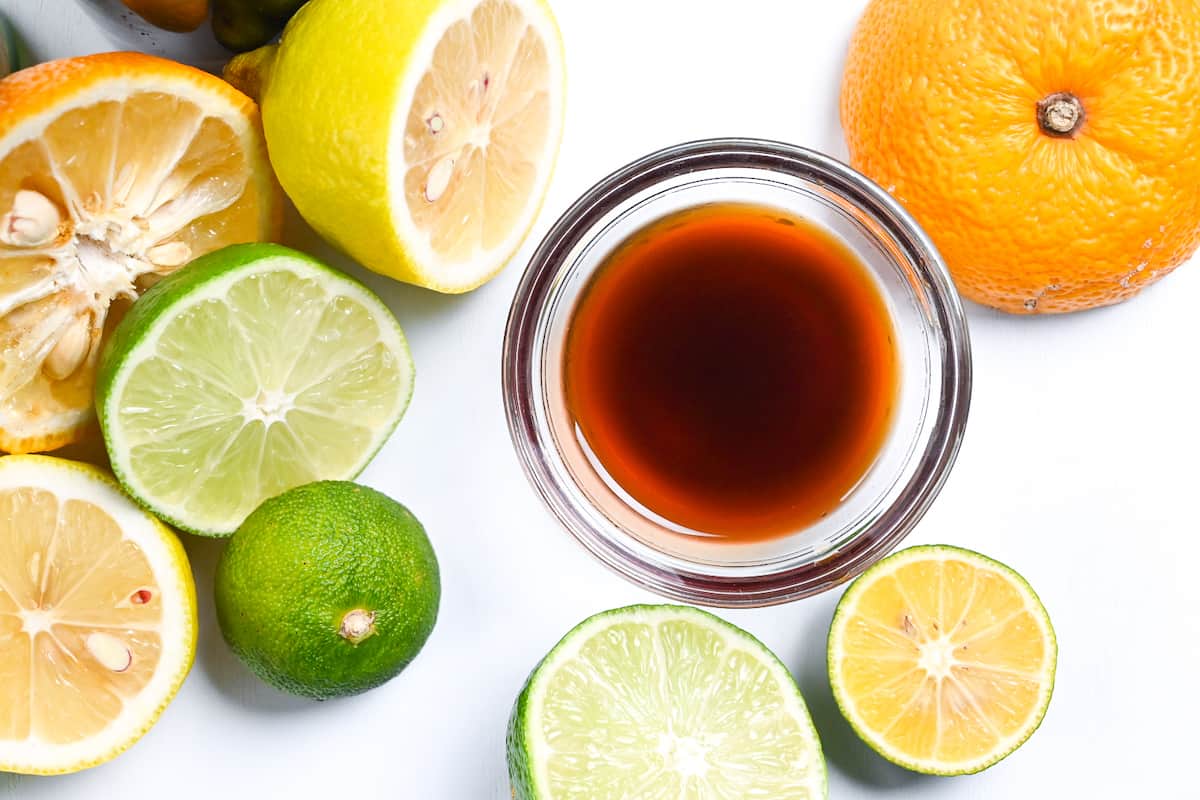 Ponzu sauce uses: what is ponzu sauce used for?
In Japanese households, ponzu is a condiment that goes well with a wide variety of dishes, so much so that it is called "all-purpose condiment". It's can be used as a dipping sauce, marinade or drizzle and goes well with meat, fish or tofu. It can also be used in hotpots or stir fries.
Here I list some Japanese dishes that go well with ponzu sauce and explain how it can be used.
Ponzu is especially useful to make deep-fried dishes somewhat refreshing and not so heavy to eat.
Karaage fried chicken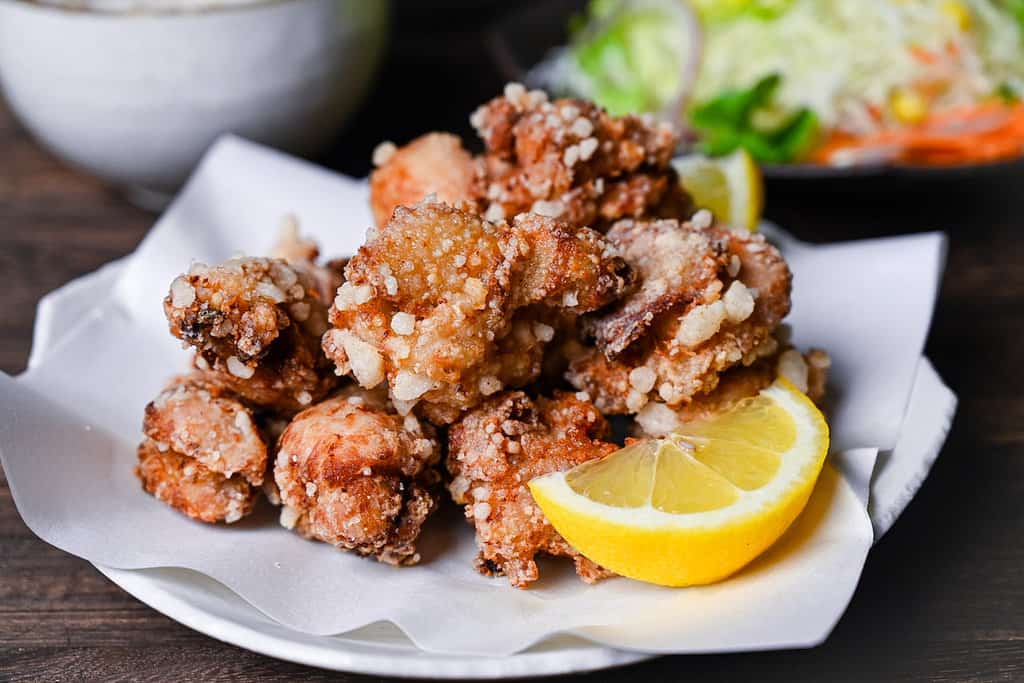 Japanese karaage fried chicken usually comes with lemon wedges, but those who want more punch can enjoy it with ponzu sauce over it or dipping the fried chicken in ponzu. If you add grated daikon and chopped spring onion with ponzu sauce, it will be extra refreshing!
I have a recipe for karaage fried chicken with an authentic yet modern twist. If you are interested, please take a look.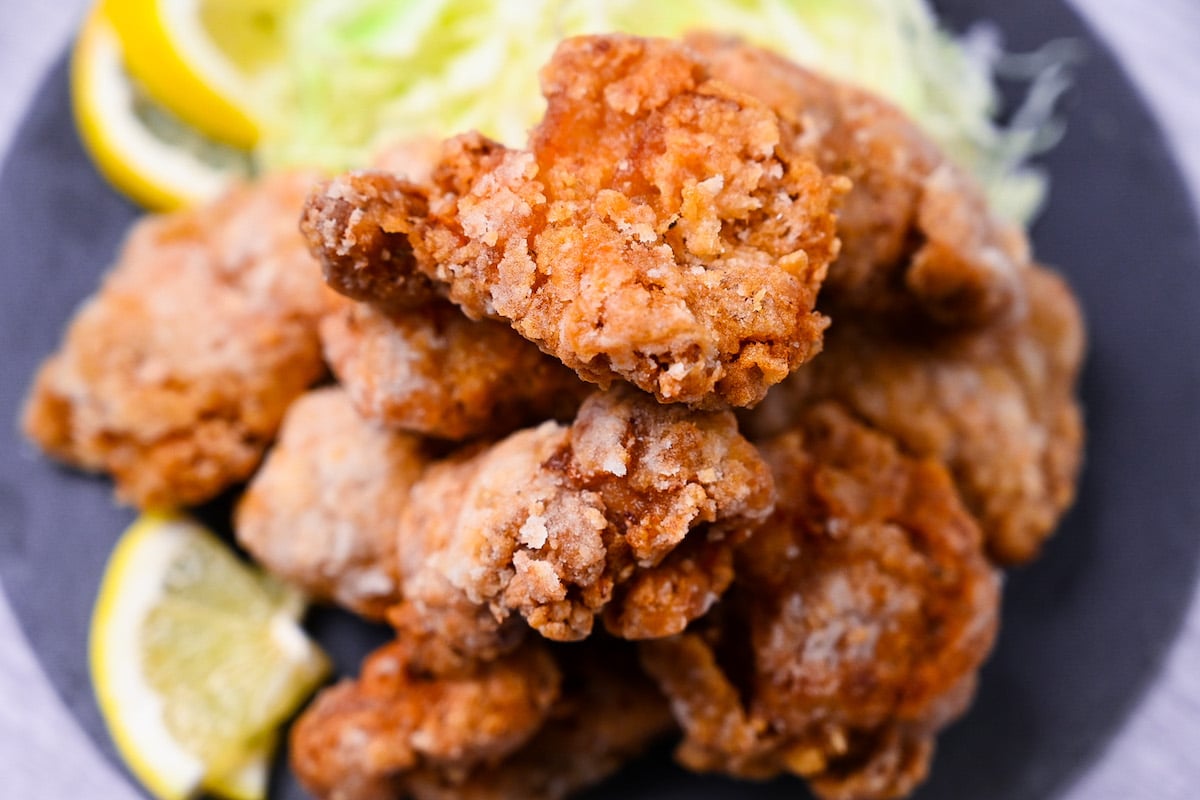 Same goes with another type of Japanese fried chicken such as tatsuta age above!
Chicken tempura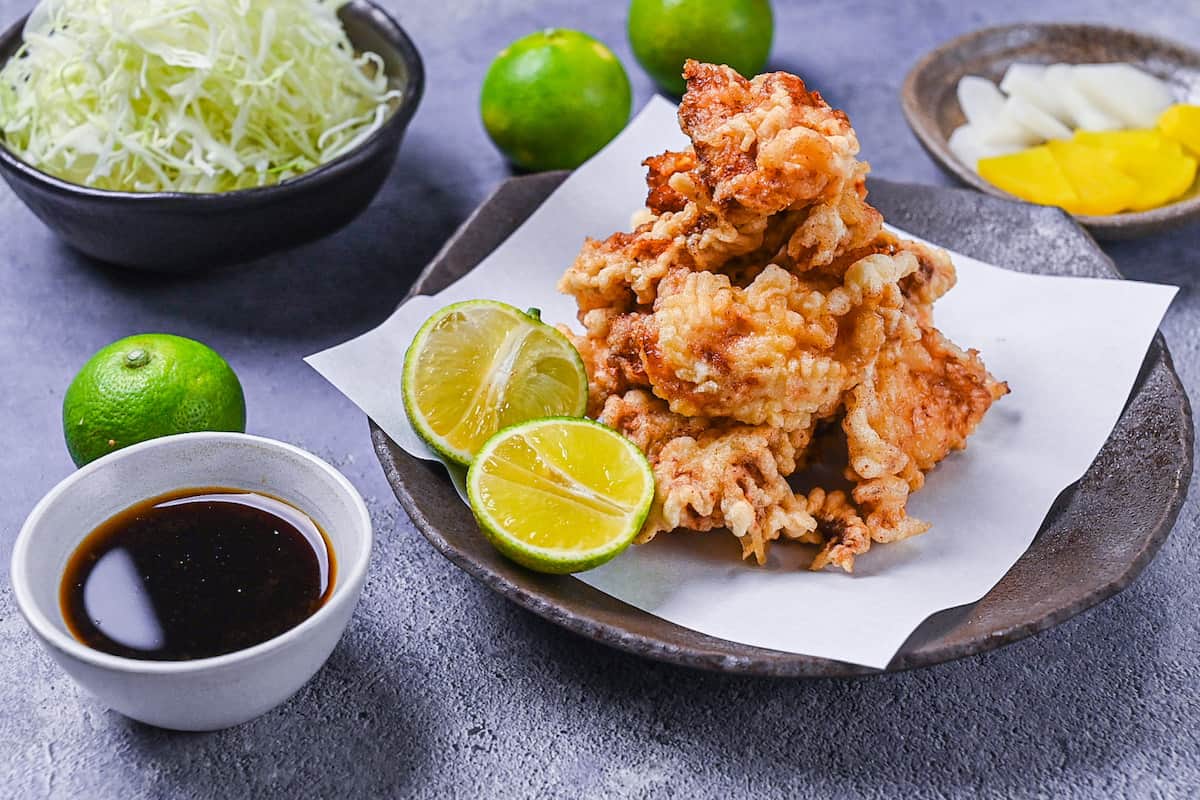 Chicken tempura, a.k.a "toriten", usually comes with kabosu and ponzu-like sauce for dipping. So basically, you can replace the dipping sauce with ponzu easily! If the homemade ponzu was made with kabosu, it would be especially good!
My chicken tempura recipe is very simple and easy to make, and the flavors are easy to eat, so please give it a try.
Gyoza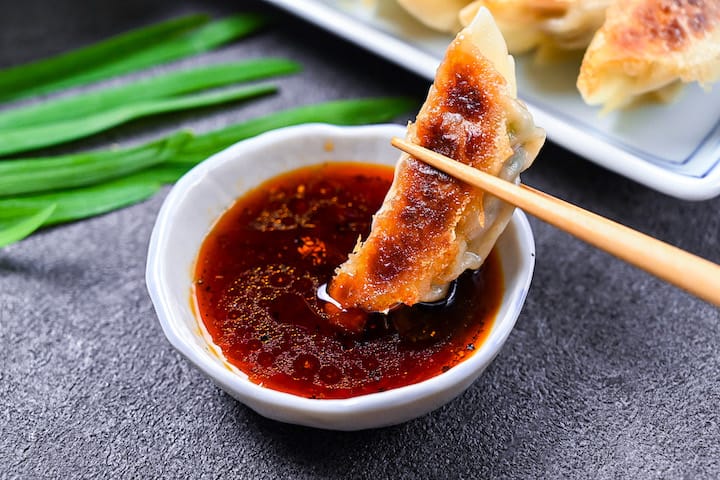 Again, Japanese style pork gyoza usually comes with sour tasting dipping sauce! What you need to do is try using ponzu sauce instead of gyoza dipping sauce! In fact, some people even prefer using ponzu sauce over typical gyoza dipping sauce! It's also a great substitute option for those who are not big fan of vinegar.
I must say, they go really well! My gyoza recipe is a complete recipe post that you explain everything you need to know to make homemade gyoza from scratch (even including how to make homemade gyoza wrappers). Why not try it on weekends when you have time!
Shumai
In Japan, lots of people dip shumai in simply soy sauce and Japanese mustard, including me. However, if you want more refreshing and sour kick, you can try using ponzu sauce instead!
I recommend this recipe if you have any types of steamers at home!
Grilled mackerel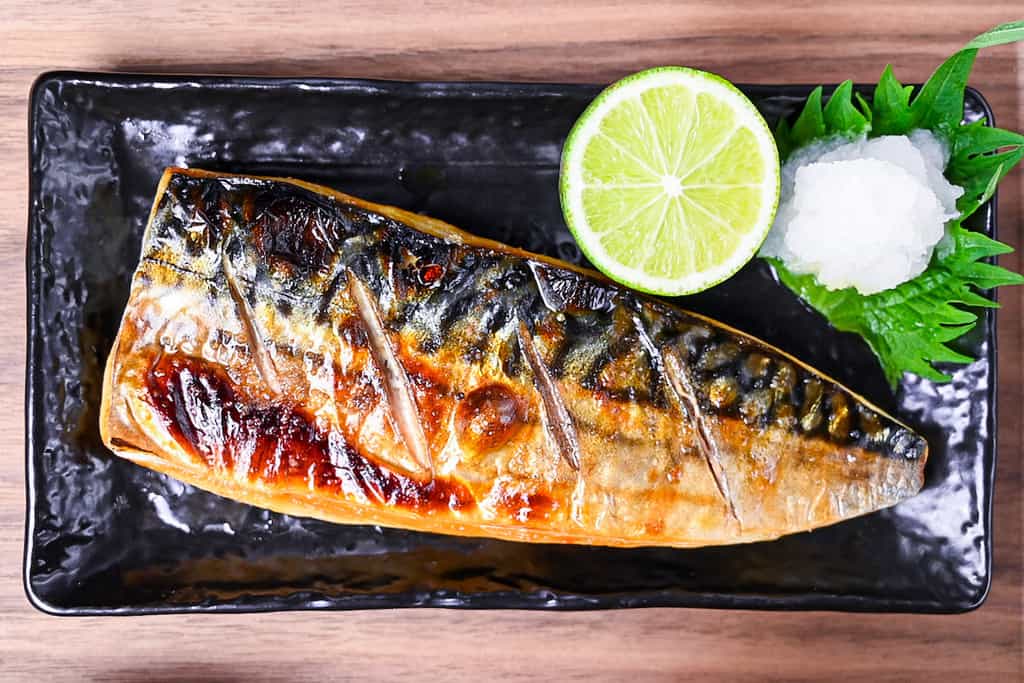 As you can see in the picture, I usually like having one citrus fruit and grated daikon with my grilled mackerel (saba no shioyaki). But a lot of people drizzle some drops of soy sauce over the grated daikon. I mean, if you use ponzu sauce here instead, you don't even need citrus fruit, right?
Feeling like fish dish today? Try and make grilled mackerel today!
Tonkatsu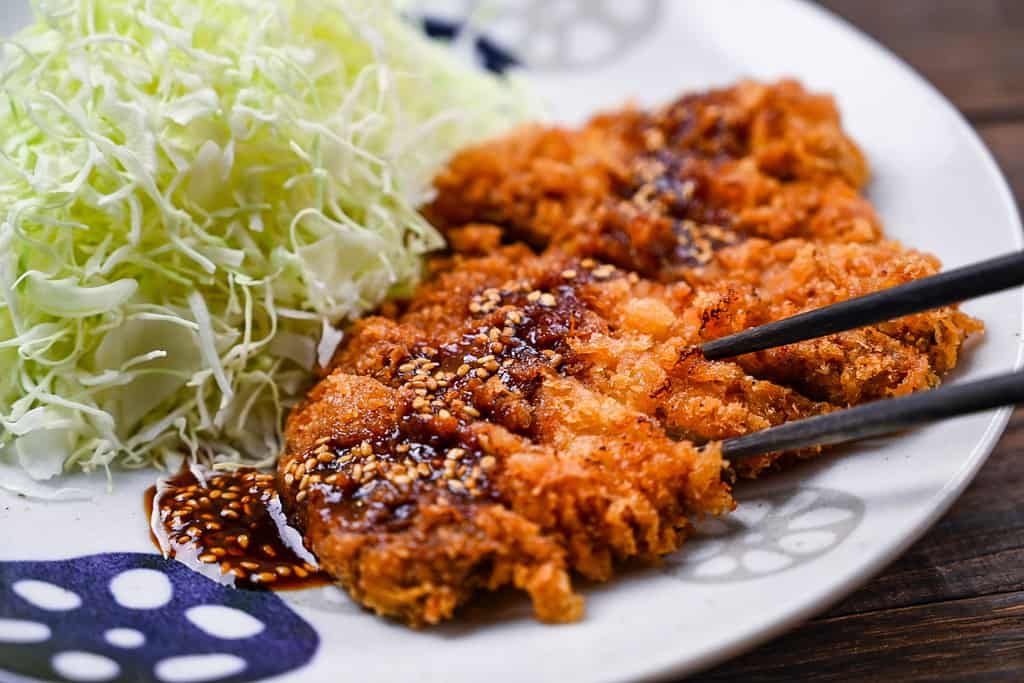 You might be surprised, but you can use ponzu sauce for tonkatsu instead of tonkatsu sauce! Rather than directly pouring the ponzu over the tonkatsu (which would make the crust too soggy), grate some fresh daikon, squeeze out the excess liquid and pour ponzu over the top. Grated daikon with ponzu is a delicious and refreshing option to enjoy with tonkatsu!
Nonetheless, I have a fail-free tonkatsu recipe, give it a try if you feel like it!
Takoyaki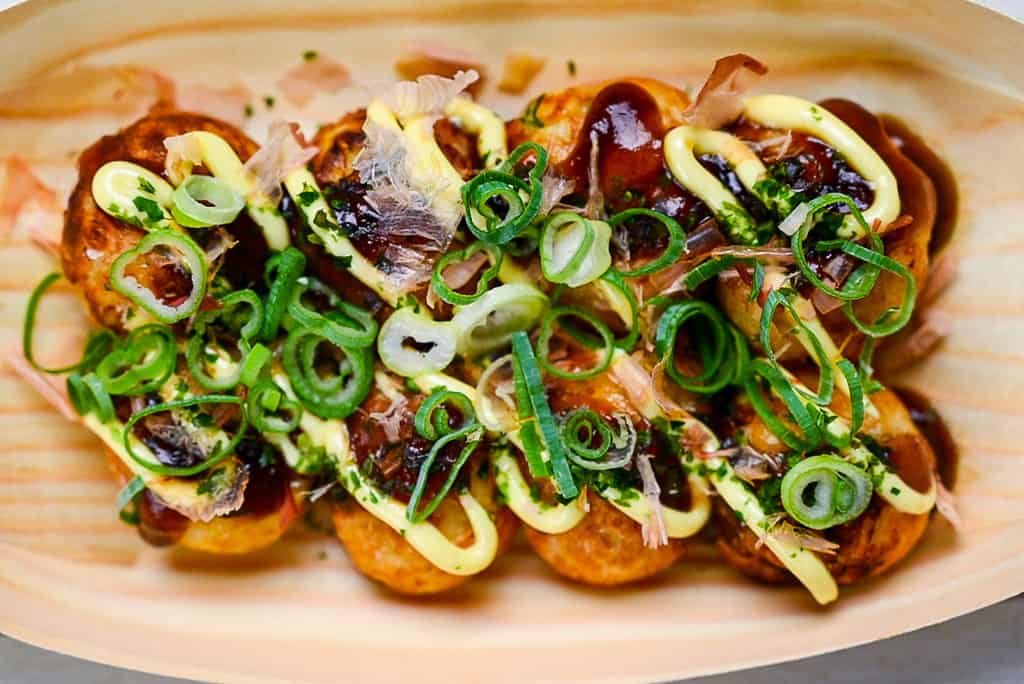 Takoyaki usually comes with sweet takoyaki sauce and mayonnaise, but did you know a variation called "negipon"? It simply means spring onion (negi) and ponzu (pon). It's a popular variation at many takoyaki shops in Japan!
So as you can see, all you need to do to make negipon are grated daikon, ponzu sauce and chopped spring onion. You now can guess ponzu and grated daikon are the great combo right?
Hiyayakko (cold tofu)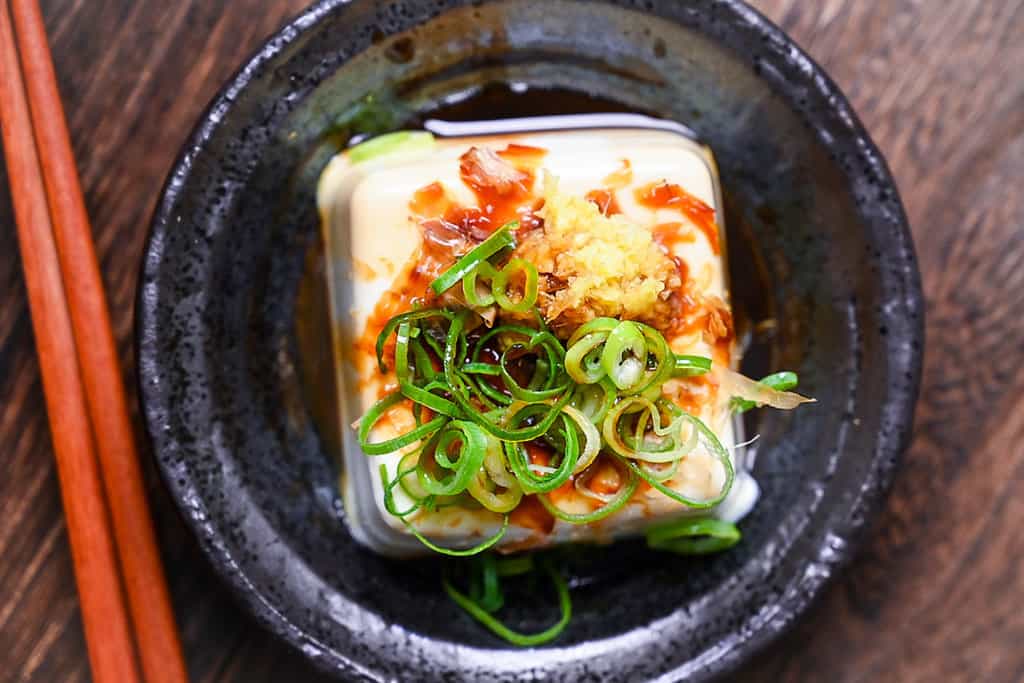 Hiyayakko is basically a cold tofu with variety of toppings and sauces. Although soy sauce and tsuyu sauce are the top picks for hiyayakko, a lot of people like adding ponzu sauce to their hiyayakko.
In my hiyayakko 101 post, I included 15 topping variations with rating! Check it out if you're interested!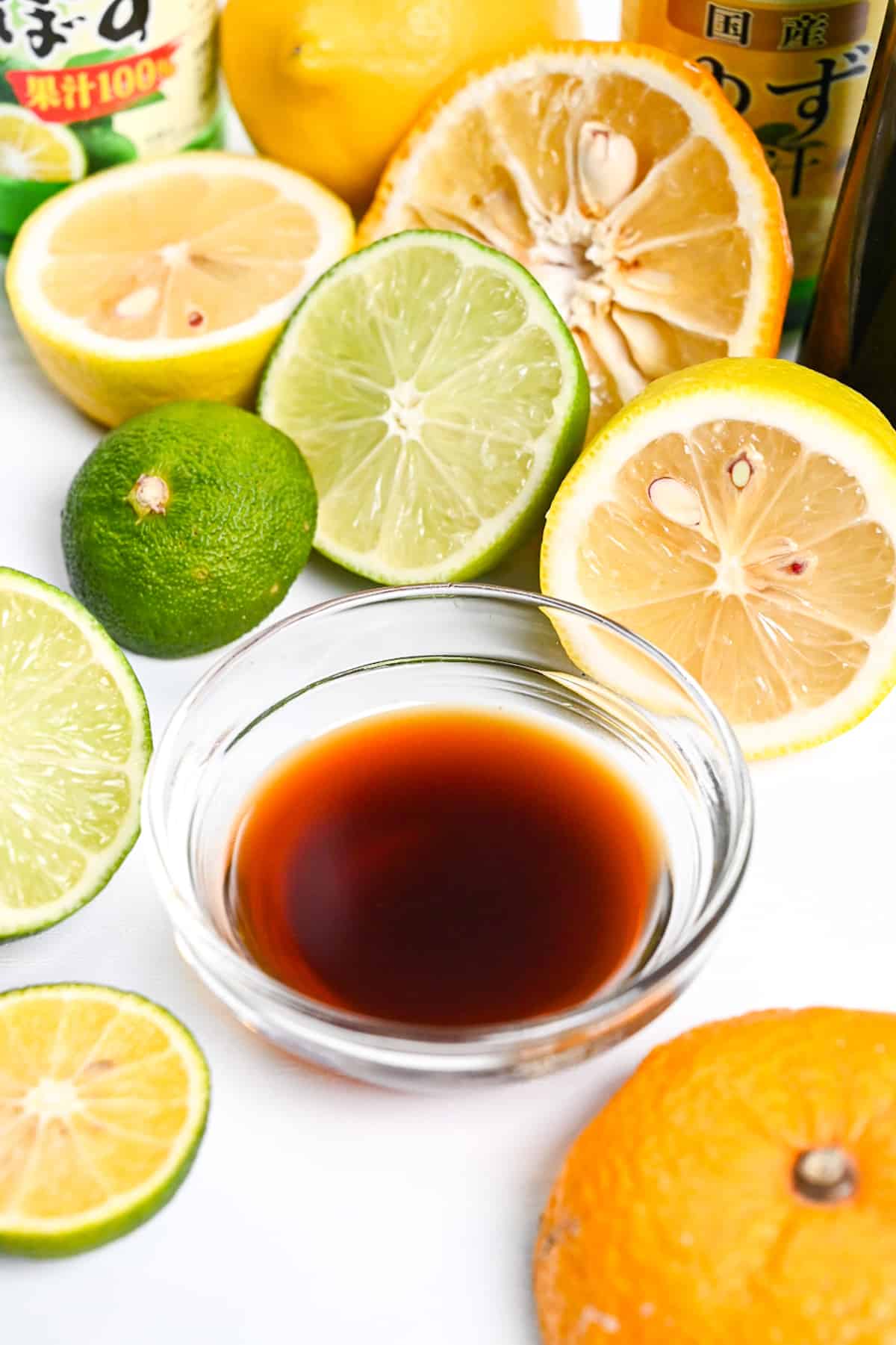 Ingredients to make authentic ponzu sauce recipe
Here are the ingredients you will need to make homemade ponzu sauce at home. See the recipe card at the bottom of the page for ingredient quantities.
If you can't use for mirin for any reason, see instructions below for a simple substitute!
Instructions on how to make ponzu sauce at home
Making ponzu at home requires a day to marinate, but the actual process of making it is very quick and simple. Here is my recipe with process pictures for clarity. For the full printable recipe card with ingredient quantities, scroll to the bottom of the page!
Boil the mirin
To add sweetness and authentic Japanese flavour to the sauce, we use mirin. Mirin contains a small amount of alcohol, and because ponzu can be used raw (for dipping or salad dressings) we need to burn off the alcohol first.
To do this, simply heat the mirin in a sauce pan and boil it for 1-2 minutes.
If you can't use mirin, you can substitute by mixing sugar in hot water until it dissolves. In my recipe I use 30ml of mirin (2 tbsp) so an ideal substitute would be 1 tsp of sugar mixed with 2 tbsp of water. Increase accordingly if you are doubling or tripling the recipe.
Combine all the ingredients
Mix the boiled mirin in a container with citrus juice, vinegar and soy sauce. Once mixed, add katsuobushi (bonito flakes) and kombu (dried kelp).
If you're using fresh citrus, make sure to squeeze the juice thoroughly into a measuring jug. It's okay if some of the pulp is in the juice, no need to strain it yet.
Omit the katsuobushi to make your ponzu suitable for vegetarians and vegans.
Rest in the fridge
Ponzu needs time for the dashi ingredients to release their flavour and allow your ponzu to reach its full potential. I recommend resting it in the fridge for at least 24 hours. If you have time, 2-3 days is optimal.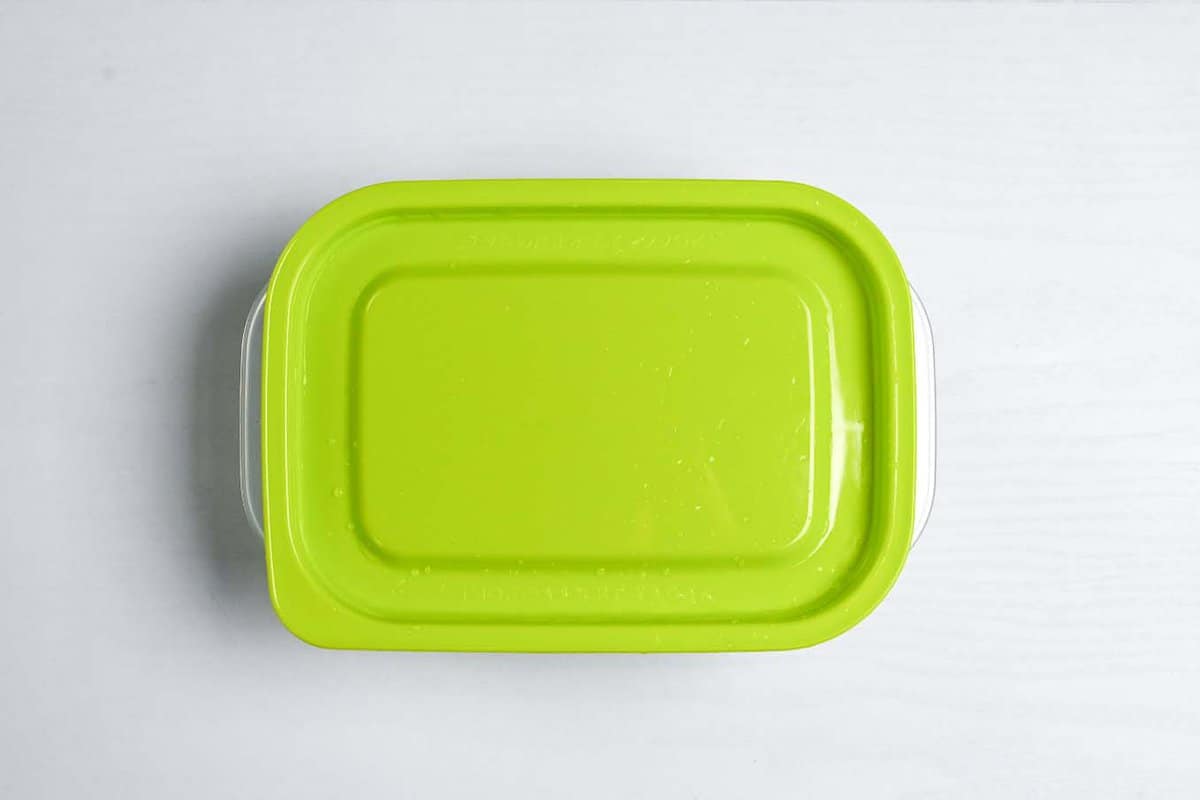 Strain
Ponzu is a thin and clear condiment, so you need to remove the dashi ingredients and any pulp that might have been present in the citrus juice. Pour the mixture through a fine mesh sieve to remove them.
Store in a sterilised airtight jar in the fridge and enjoy ponzu for dipping, cooking and marinating!
Storage
Ponzu is prone to oxidation which causes the taste, colour and smell to deteriorate if not stored properly.
For best results, ponzu should be kept in a sterilised air-tight glass container in the fridge, preferably in a vegetable drawer or near the back to avoid the fluctuating temperature of the opening and closing fridge door.
Opening the container often will also contribute to oxidation, so if you don't plan to use it often, dividing it into smaller containers and using them one by one will help keep it fresh for longer.
If containers are disinfected and stored properly, homemade ponzu can be kept in the refrigerator for about 6 months. However, please check for any change in taste in smell, taste or appearance and try and use it up as quickly as possible.
Alternatively, you can freeze ponzu in an ice cube tray and defrost as you use it, I recommend using up frozen ponzu within a year.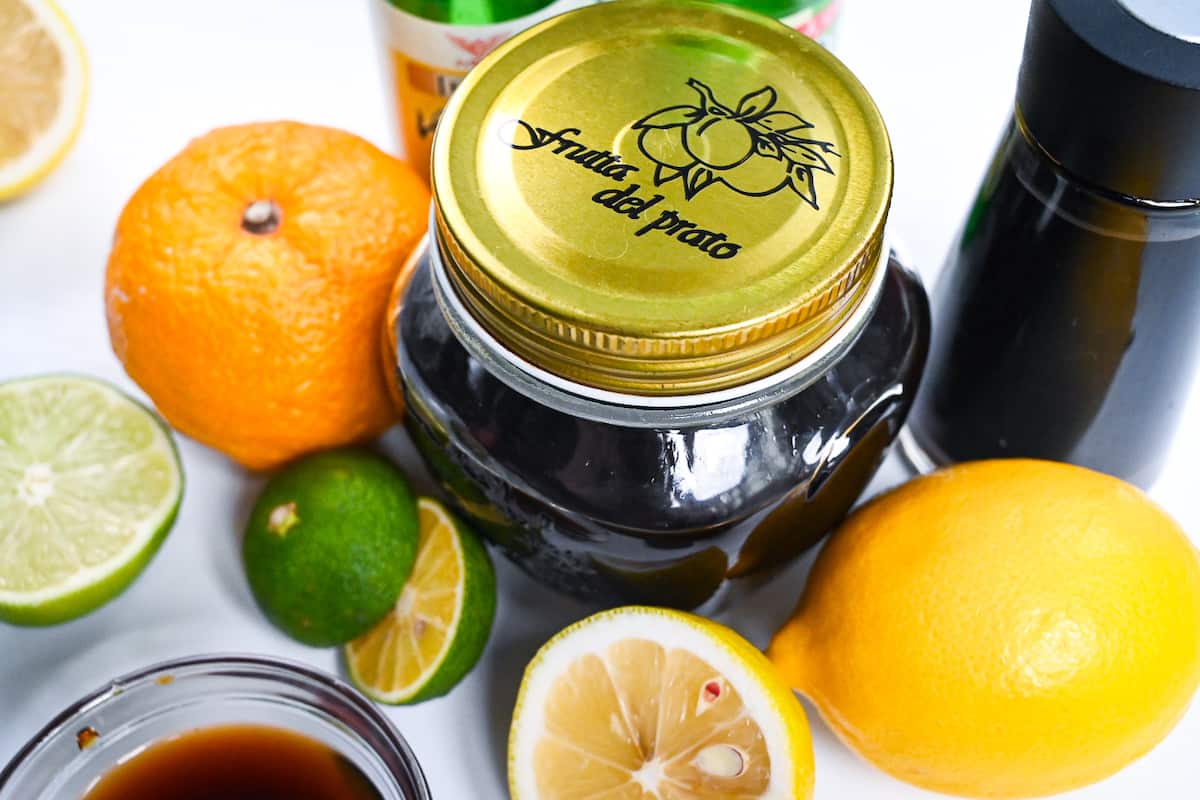 I hope you enjoy this homemade ponzu! Let me know what citrus you used and what you thought in the comments below!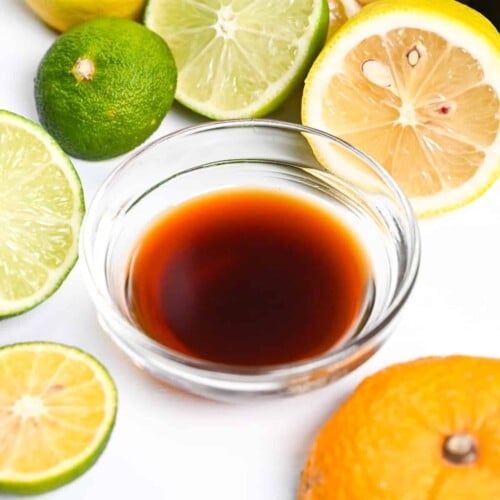 Easy Homemade Ponzu Sauce
How to make homemade ponzu sauce from scratch with lemon, yuzu, lime, kabosu or sudachi. This versatile condiment can be used for almost anything from dipping and marinating to cooking hot pots and stir fries.
Instructions
Heat

30 ml mirin

in a saucepan and allow to bubble for 30 seconds to 1 minute to burn off the alcohol.

Pour the mirin into a container along with

100 ml citrus juice of your choice

,

25 ml rice vinegar

and

125 ml soy sauce

. Mix well, then add

5 g bonito flakes

 and 

10 g dried kelp(s)

 to the container and seal.

Rest in the fridge for at least 24 hours. (Preferably 2-3 days)

Strain the ponzu and transfer to a sterilised container. 

Store in the fridge for up to 6 months.

Enjoy!
Notes
For larger batches, store the ponzu in smaller containers and use one at a time to extend the shelf life.
Store in the fridge and use within 6 months. Check for any change in smell, colour and taste and discard if you're unsure.
Nutrition
Calories:
15
kcal
Carbohydrates:
2.4
g
Protein:
1
g
Cholesterol:
1
mg
Sodium:
418.6
mg
Fiber:
0.3
g
FAQ
Is ponzu sauce gluten free?
Unfortunately, ponzu is not gluten-free because it uses soy sauce that most contain wheat. However, homemade ponzu can be made gluten-free by using gluten-free soy sauce specifically.
What is ponzu sauce made of?
Ponzu is a general term for a condiment made by combining the juice of citrus fruits (mainly lemons, limes, kabosu, sudachi, and yuzu) with vinegar. However, what is commonly referred to as "ponzu" is a condiment made by adding soy sauce to it.
Is ponzu sauce vegetarian?
Yes, homemade ponzu sauce can be 100% vegetarian friendly.
Eel sauce vs ponzu: what are the differences?
Eel sauce and ponzu sauce are completely different sauces that cannot be replaced each other. Eel sauce is very sweet, rich and sticky, and is specifically used for grilled eel. Ponzu sauce, on the other hand, is thin, sour, and is used for a variety of purposes. If you want to know how to make eel sauce, please click here for the recipe.
Is ponzu sauce spicy?
Not at all. Traditional ponzu sauce is supposed to be sour and refreshing with citrus flavour.
Ponzu vs tamari (shoyu): what are the differences?
Ponzu and tamari soy sauce are completely different condiments. Tamari is a type of soy sauce (shoyu in Japanese), while ponzu is a condiment made by adding citrus, vinegar, and other elements to soy sauce.
Is ponzu sweet or salty?
I would say neither, as it's predominantly sour. However, it contains high percentage of soy sauce so it's somewhat salty, and it also contains mirin too so you can feel tiny bit of sweetness too.
Is ponzu like teriyaki?
Not at all. Teriyaki is supposed to be quite sweet and savoury, but ponzu sauce is a sour condiment.
Where can I buy ponzu sauce?
You can check out your local supermarkets or Asian supermarkets, or you can definitely buy it online. However, if you have access to the ingredients, I highly recommend making it by yourself!