Learn how to make rich, sweet and delicious Japanese "unagi" eel sauce from scratch at home. Using just 5 ingredients, this recipe is ready within 15 minutes and can be used for grilled eel and so much more!
Disclaimer: This post may contain Amazon affiliate links. Sudachi Recipes earn a small percentage from qualifying purchases at no extra cost to you. See disclaimer for more info.
Jump to:
What is unagi sauce?
Unagi sauce (うなぎのタレ or "unagi no tare") is a special and iconic sauce that is used for Japanese eel dishes such as unagi donburi, una jyu, kabayaki and sushi. It's thick, sweet and dark in colour. The eel is usually basted with the sauce during the cooking process and then drizzled with extra sauce at the end.
If you have ever passed by an eel restaurant in Japan, you know that there is an indescribably delicious aroma wafting through the air. Some people in Japan even say the sauce is the determining factor on whether an unagi restaurant is good or not.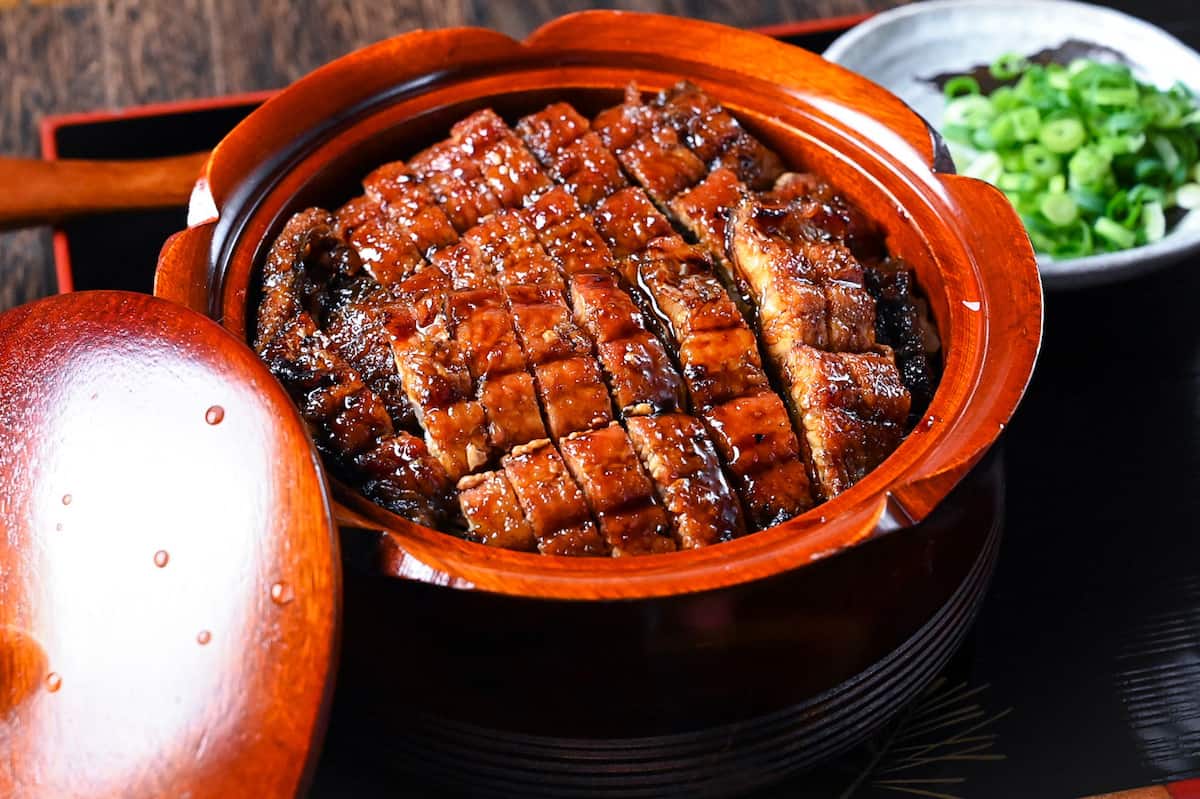 The reason why eel sauce at unagi restaurants is special
I know I'm going to describe how to make eel sauce at home, but I have to say, nothing can beat eel sauce at unagi speciality restaurants and there are a few solid reasons behind it.
First of all, most eel restaurants make unagi sauce from sake, mirin, sugar, soy sauce. At this point, it doesn't seem too hard to recreate right? However, at proper eel restaurants, they use the head and bones of the eel together after grilling to create depth. Okay, even though it's a lot of hassle, this could be achieved at home too, right? But this is not the end.
The main reason is because long-established eel restaurants have been using the exact same unagi sauce for decades, even centuries, by topping up the original sauce. The sauce itself carries the history. It's incredible to think that the sauce in these restaurants is actually from centuries ago...
The depth of the sauce is achieved by continuing to add and use it over and over again, day after day, month after month, topping it up continuously. In addition, the smokey smell adds a unique flavor to the sauce, which is cannot be achieved in the first sauce or homemade sauce.
But you might be wondering, "Is it hygienically safe to keep it for that long?" Long story short, it's fine because of these 3 following reasons:
They become pasteurized: by soaking the freshly grilled eel in the sauce, the temperature of the sauce rises, resulting in pasteurization.
High salt and sugar content: the high salt and sugar content makes it difficult for bacteria to grow (but not completely rot-proof).
The contents are replaced by adding additional sauce: I know it sounds like it defeats the purpose, but even though the sauce has been spliced for more than 100 years, the contents have actually been replaced, so in reality the old sauce is a tiny amount.
What does eel sauce taste like?
When it comes to the taste, eel sauce is very sweet sauce compared to other Japanese sauces. It has a good balance of sweetness and saltiness, a flavor that makes the rice go down a treat. As for the consistency, it's definitely quite thick and sticks to grilled eels very well.
If I have to compare with some other sauces, it's kind of similar to tendon sauce and yakitori sauce. However, tendon sauce contains dashi broth, so it gives the dish a typical Japanese flavor and gently envelops the ingredients such as shrimp.
As for yakitori sauce, the base ingredients are more or less the same but it may have different ingredient ratios and contain additional ingredients such as garlic, ginger or chilli.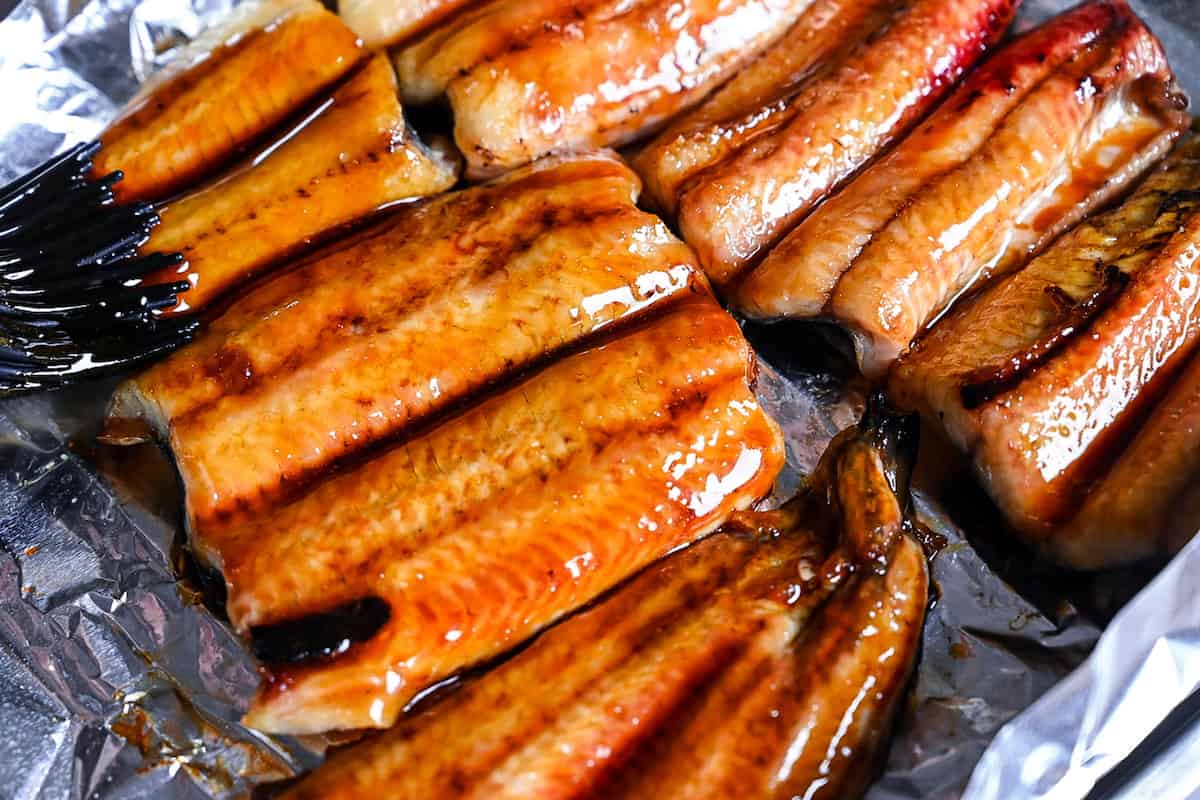 Where to buy eel sauce?
In Japan, most supermarkets have eel sauce so you can easily get it everywhere. Outside of Japan however, the easiest option to buy decent eel sauce would be ordering online.
For example, on Amazon, you can get pre-made Japanese eel sauce. But as you will find out, making homemade eel sauce is so easy and the ingredients are pretty accessible, so I highly recommend making it at home!
Ingredients needed to make eel sauce
In this eel (unagi) sauce recipe, I use following ingredients:
The combination of turbinado sugar and muscovado gives the sauce a deep, sweet slightly molasses flavour which becomes nicely balanced with the soy sauce.
See recipe card for details and quantities.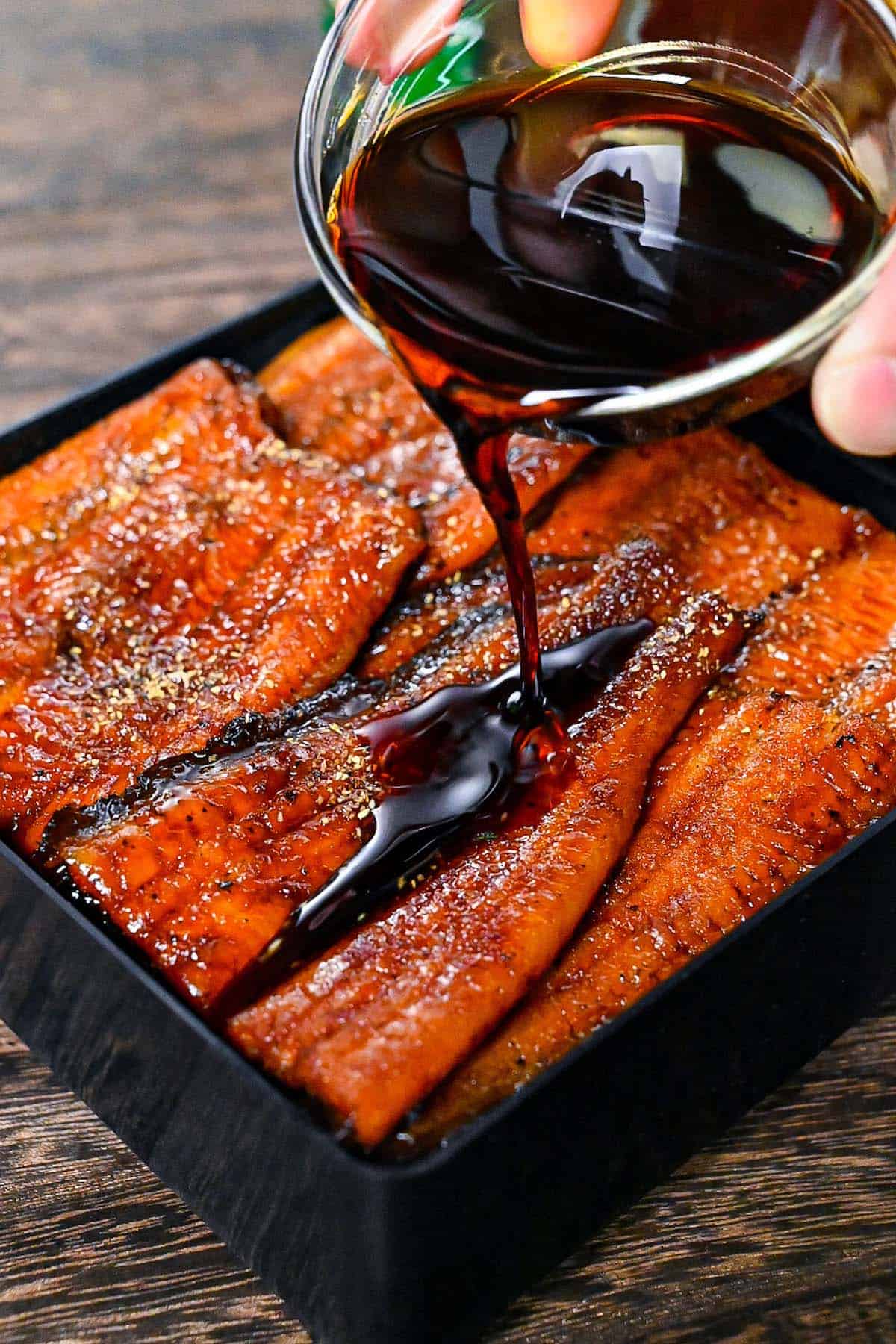 Instructions on how to make homemade unagi sauce
Making homemade unagi sauce is very simple, just follow these steps! For ingredient quantities and a printable recipe card, see below!
Melt the sugar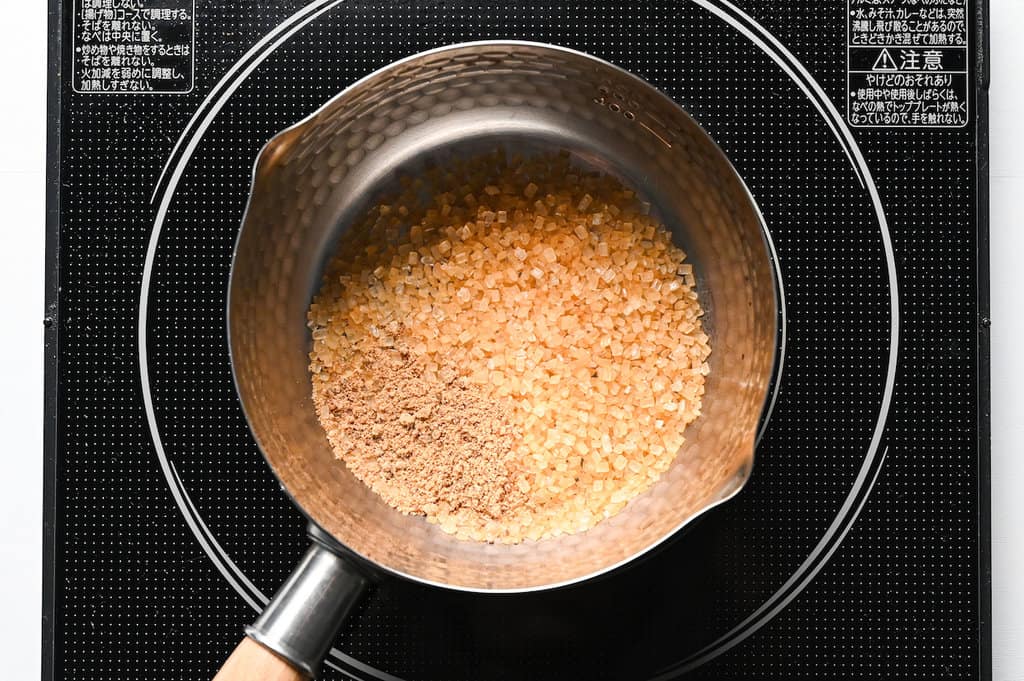 Start by adding the sugar to the pan on heating it on medium. The goal here is to start melting the sugar to make a caramel. Once it starts melting, move onto the next step (it doesn't need to be fully melted at this point).
Add sake and mirin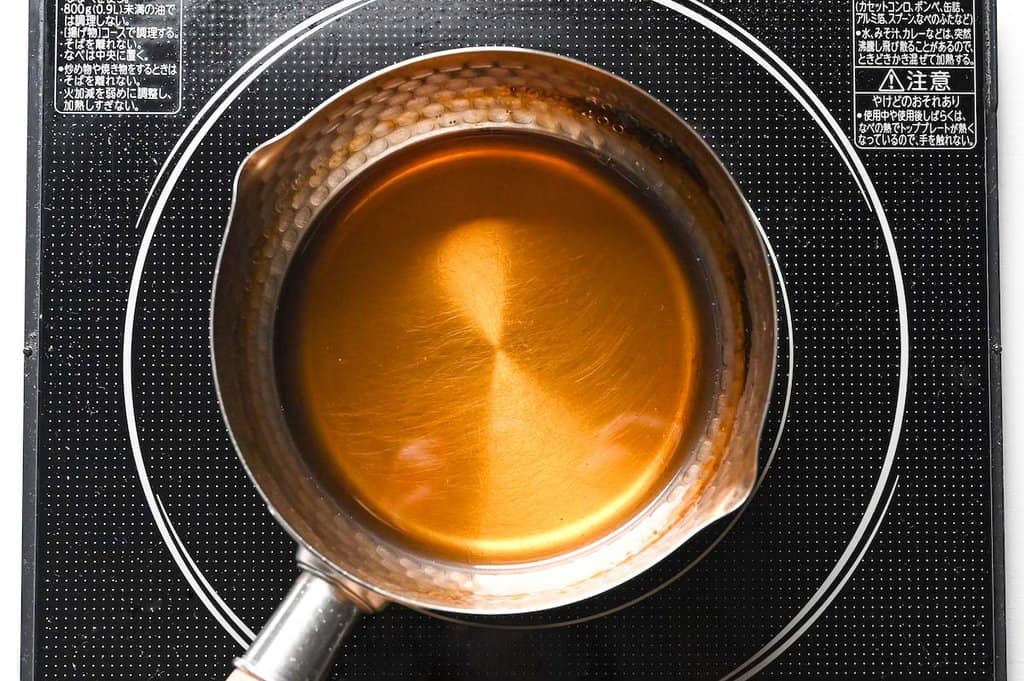 Next, add the mirin and sake. Mix well until the sugar is fully dissolved and bring it to a boil. Allow it to bubble for 1-2 minutes to burn off the alcohol in the mirin and sake.
Add the soy sauce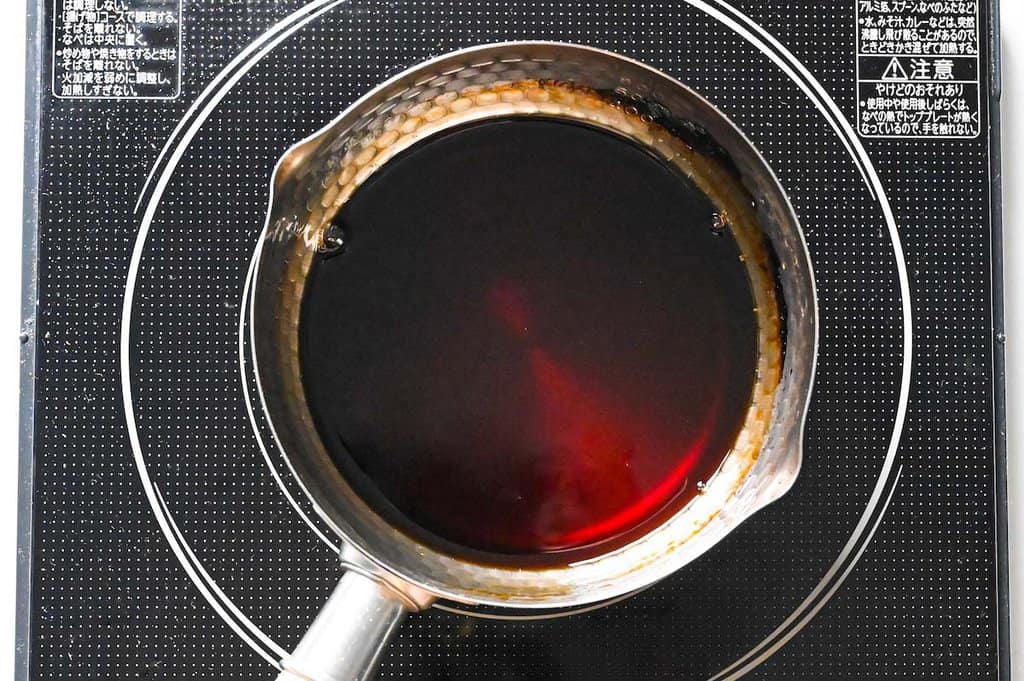 Lower the heat to a simmer and add the soy sauce. The reason we add it last is because soy sauce burns quite easily, if it's added at the beginning your sauce could become bitter.
Simmer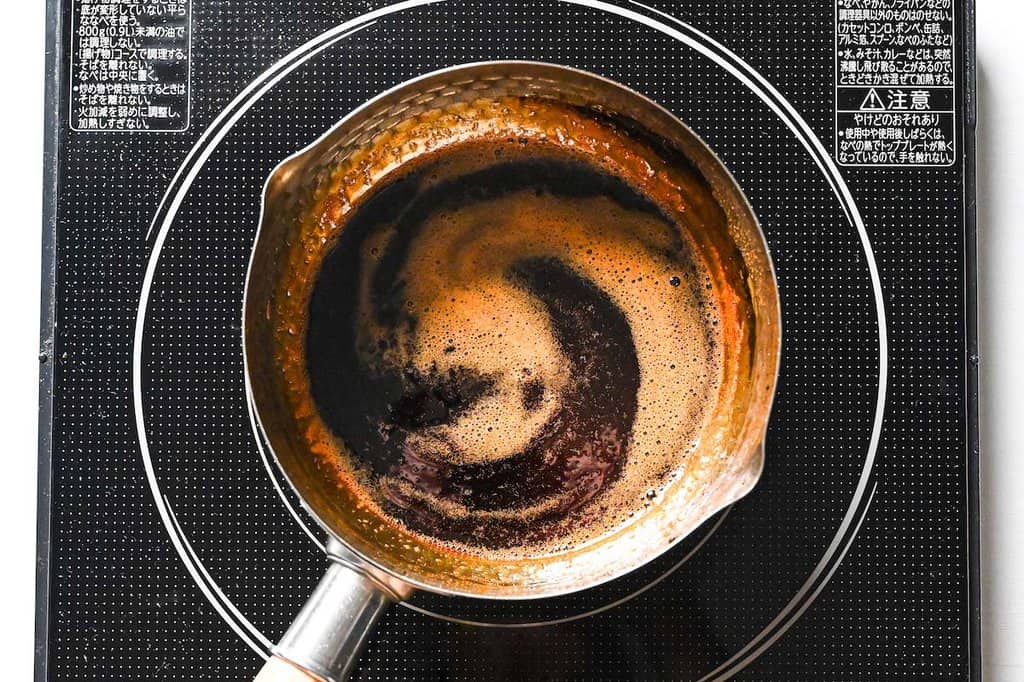 Allow to simmer over the low heat while mixing occasionally until the sauce is thickened, this should take about 10 minutes. You will find some foam forms around the top, scoop this out with a spoon to make your sauce glossy and clear.
Cool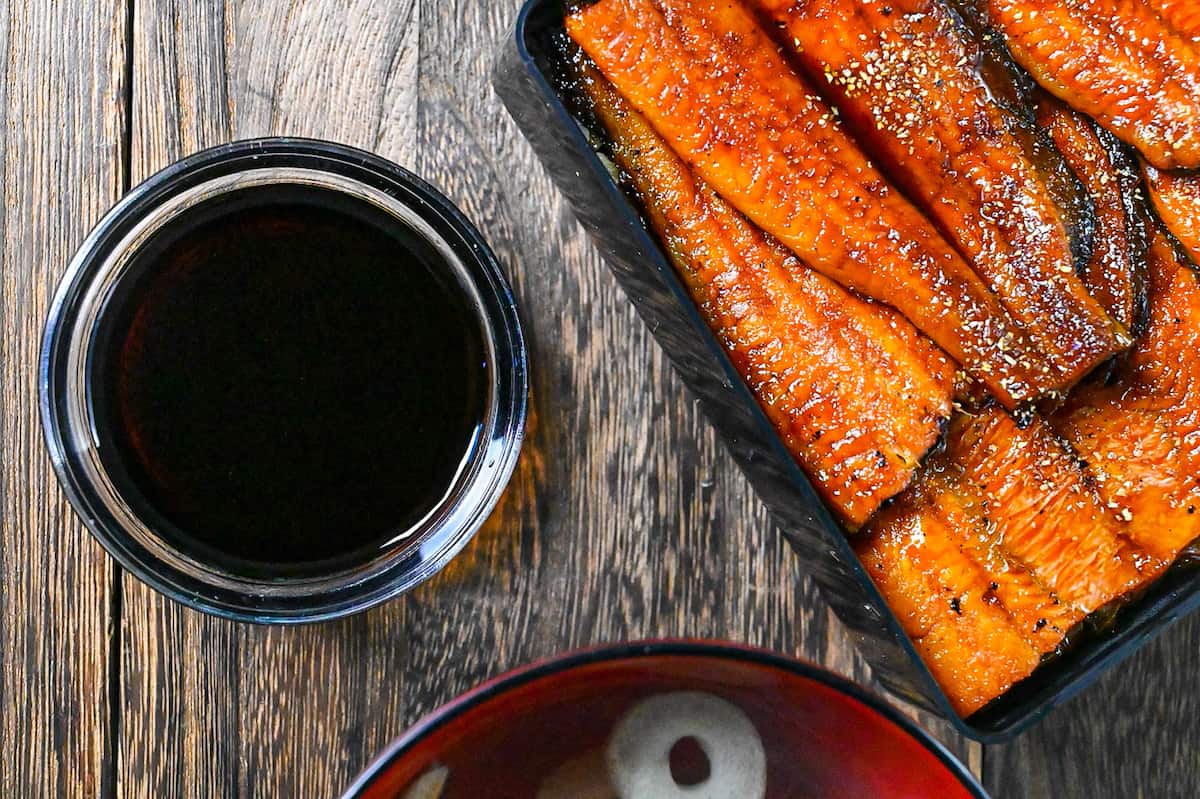 Allow the sauce to cool before use.
Storage
Generally leftover homemade unagi sauce should be kept in an airtight container in the fridge and used within 1-2 weeks.
However, because of the high sugar content, it is possible to keep it for longer if stored properly, directly after cooking (this doesn't work for leftovers). Once it's cooked, transfer it directly to a sterilised, airtight jar then you can keep it in the fridge for 2-3 months.
Please note that once it's opened for the first time after sterilisation, it should be used within the original "1-2 weeks".
Other ways to use unagi sauce
Unagi sauce doesn't only have to be enjoyed with eel, it's actually very versatile and goes with lots of different things! Here are a few ideas on different ways to enjoy unagi sauce:
Mixed with rice
On yaki onigiri (grilled rice ball)
With tamago kake gohan
Stir fried pork
On other kinds of grilled/fried fish (yellowtail, mackerel, etc)
With grilled/pan fried chicken
For yakitori (Japanese grilled chicken skewers)
On ribs
What's your favourite way to use up leftover unagi sauce? Let us know in the comments below!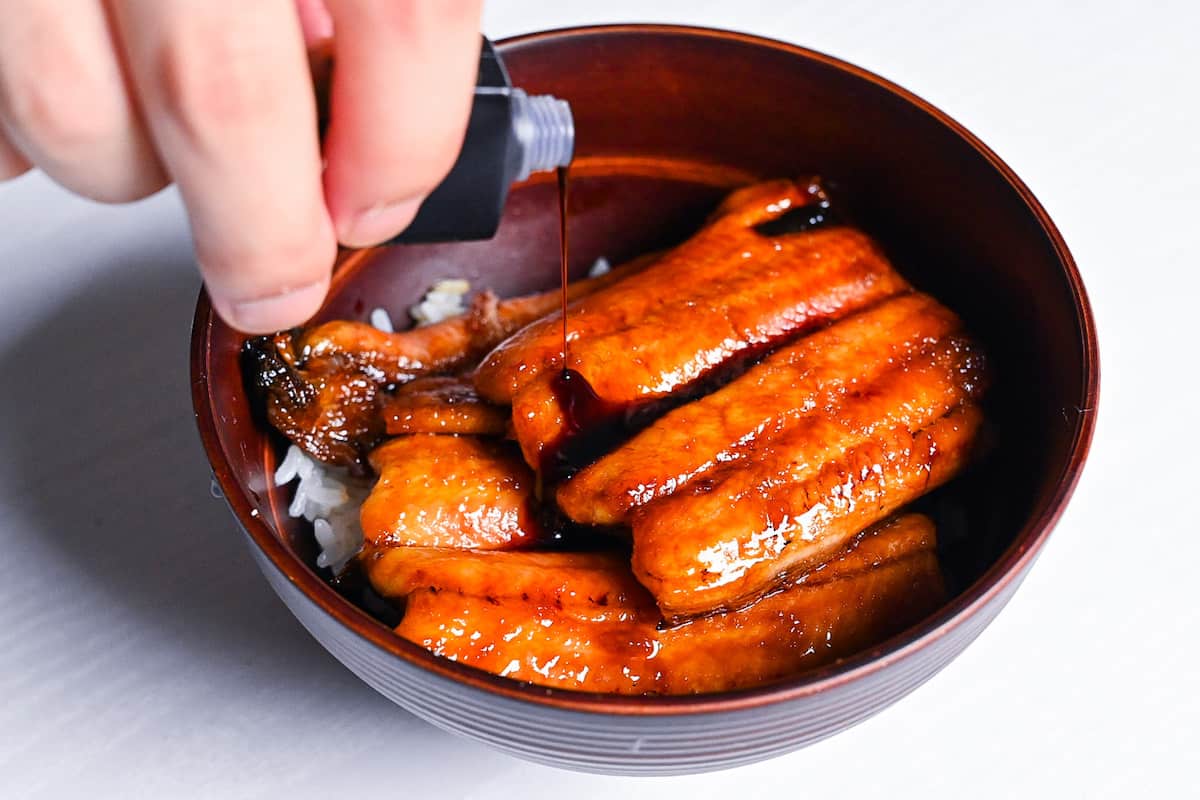 Homemade Unagi Sauce (Sweet Eel Sauce)
How to make rich, sweet and delicious unagi sauce (Japanese sweet eel sauce) at home!
Ingredients
3

tbsp

turbinado sugar

-

(zarame) light brown coarse sugar

1

tsp

muscovado sugar

-

dark brown sugar

75

ml

sake

75

ml

mirin

75

ml

soy sauce
Instructions
Add

3 tbsp turbinado sugar

and

1 tsp muscovado sugar

to a small saucepan and heat on medium.

Once it starts to melt, add

75 ml sake

and

75 ml mirin

. Stir occasionally while you bring it to a boil.

Allow to boil for 1-2 minutes and then turn the heat down to low, then add

75 ml soy sauce

and simmer for 10 minutes or until thickened.

Scoop out any foam that forms on the surface.

Once thickened to a syrup-like consistency, remove from the heat and allow to cool.

Enjoy!
Notes
Store in the fridge in a sterilized jar for up to 2-3 months and use within 1-2 weeks of opening.
Nutrition
Calories:
157
kcal
Carbohydrates:
26.6
g
Protein:
2.5
g
Sodium:
1929
mg
Does eel sauce have eel in it?
In really depends on the restaurant or manufacturer. A lot of unagi specific restaurants use eel's heads and bones to create depth. However, homemade eel sauce rarely has actual eels in it.
Is eel sauce vegan?
Again, it really depends on the restaurant or manufacturer, whether they use eel bones in their sauce, but my homemade eel sauce recipe is vegan friendly.
Is there another name for eel sauce
Yes, you can either say unagi sauce, or in Japan, we call it "unagi no tare (うなぎのタレ)".
Is eel sauce sweet?
Yes, it's a very sweet sauce containing high amount of sugar and mirin.