Tentsuyu is a delicious sauce made especially for dipping tempura. It's light yet packed with umami. Learn how to make your own tentsuyu at home with just 3 simple ingredients!
Disclaimer: This post contains Amazon affiliate links. Sudachi Recipes earn a small percentage from qualifying purchases at no extra cost to you. See disclaimer for more info.
What is Tentsuyu?
Tentsuyu is dipping sauce used to serve with tempura. Although you can buy bottles of premade sauce, it's so easy to make by simply boiling soy sauce, mirin and dashi broth together.
The Difference between tentsuyu and mentsuyu
Tentsuyu and mentsuyu taste similar, but there is slight difference between them.
Tempura is often eaten as a side dish rather than as a meal, so tempura dipping sauce has a milder taste than mentsuyu. It is also common to add grated daikon or ginger to the tempura sauce to make it more refreshing. This compliments the tempura which can be a little rich and oily.
On the other hand, mentsuyu refers to a dipping sauce used for noodles such as somen, udon or soba noodles.
Although the ingredients are almost identical, the quantities are different and mentsuyu has a stronger taste and saltiness while tentsuyu is milder and sweeter.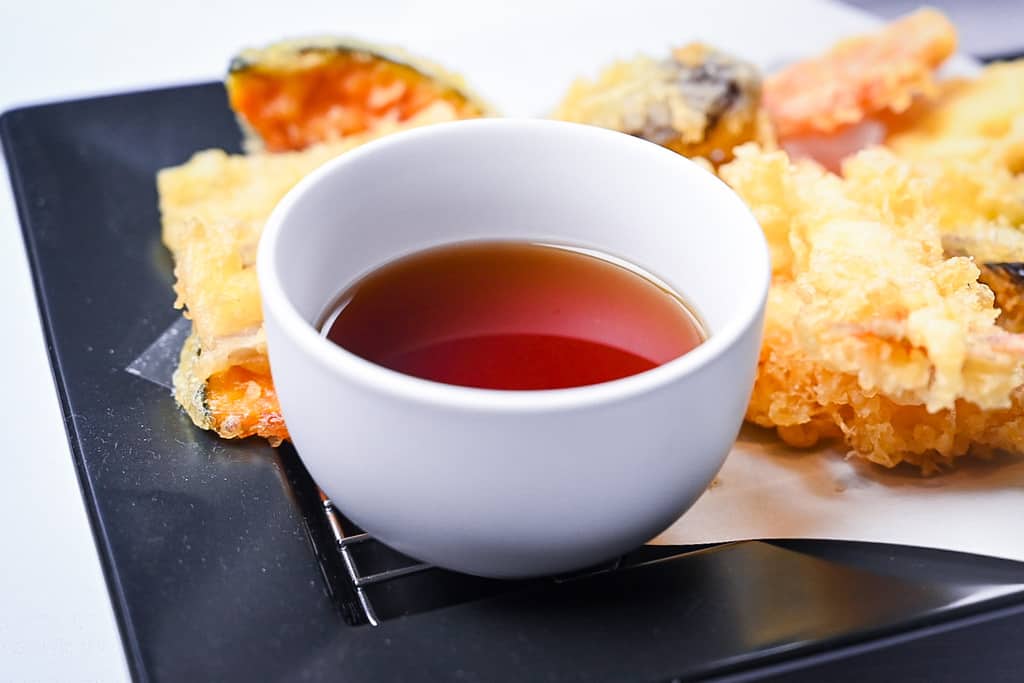 Can you use mentsuyu instead of tentsuyu for tempura?
Yes, you can. However, mentsuyu as it is has a strong taste and saltiness, so the easiest way is to dilute it with hot water.
If you want to get closer to the original taste, you can add a bit of sugar or mirin to it and cook it down.
On the other hand, you cannot use tentsuyu as a substitute for mentsuyu.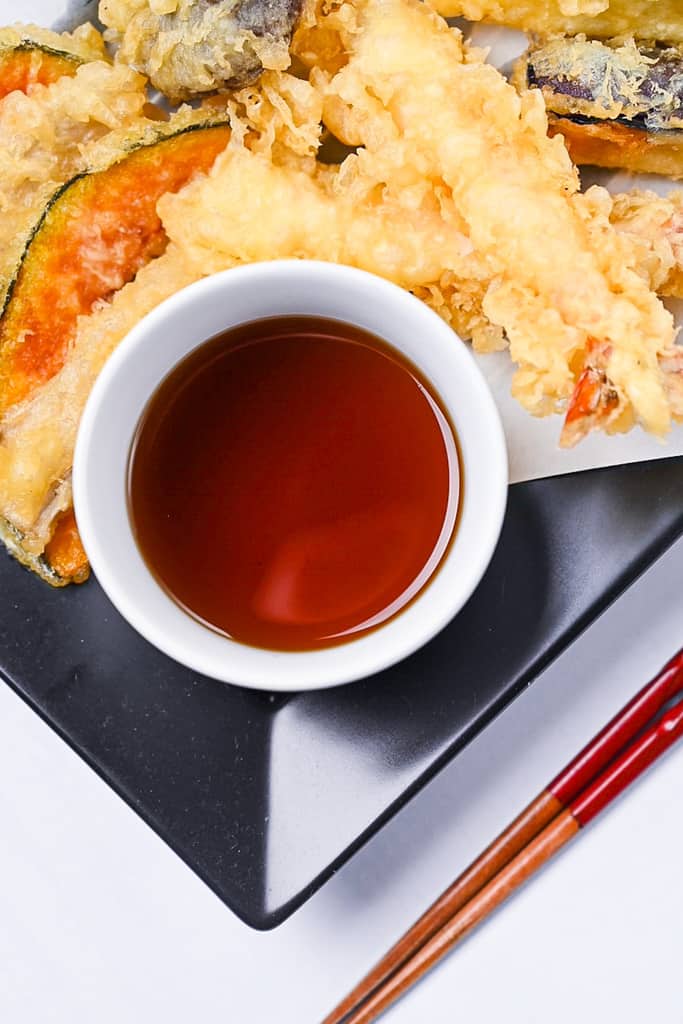 Ingredients to make tentsuyu
You only need 3 ingredients to make tentsuyu sauce. Every Japanese kitchen has these, let's go over each element in detail!
Soy sauce
Soy Sauce (known as "shoyu in Japanese) is a savory condiment used for cooking and dipping sauces. It's made from fermented soy beans, roasted wheat and brine and originated from China, it has been around for more than 2000 years!
There are five main types of soy sauce in Japan, the most common type is "koikuchi" which is a dark soy sauce which is rich in umami and has a perfect balance of sweetness, bitterness and acidity.
Japanese and Chinese soy sauce have slight differences so I recommend using a Japanese brand such as Kikkoman. Kikkoman soy sauce is widely available all over the world and can be purchased on Amazon.
Mirin
Mirin is another essential Japanese condiment. It's a mildly sweet rice wine made by fermenting steamed glutinous rice and cultured rice called "koji" in a rice liquor we call "shochu".
Because of the alcohol content (approximately 14%), adding mirin to dipping sauces means that you need to boil the sauce for a few minutes to burn off the alcohol.
Mirin adds an important depth of flavour to tentsuyu and can be purchased on Amazon here.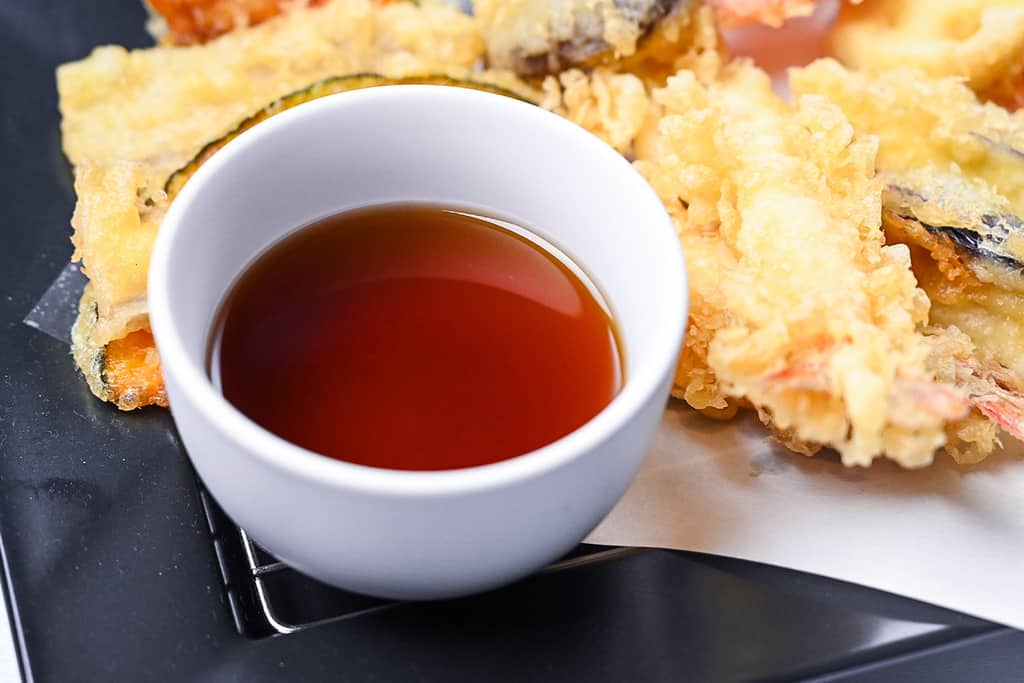 Dashi
The final element of tentsuyu sauce is a type of Japanese liquid stock called "dashi". Dashi can be made with various ingredients with the most common being kombu (dried kelp), katsuobushi (bonito skipjack tuna flakes), shiitake mushrooms and niboshi (dried sardines).
The type of dashi you use affects the flavour of the tentsuyu sauce. It's quick and easy to make your own dashi from scratch too! I recommend using one of the following:
Extra flavours you can add to tentsuyu
As I mentioned earlier, tentsuyu is often served with extra ingredients we call "yakumi". Here are the common ingredients you can add for a slightly different experience!
Each person should have their own bowl of dipping sauce. You can simply serve these yakumi on the side and mix them into the tentsuyu to suit your preference!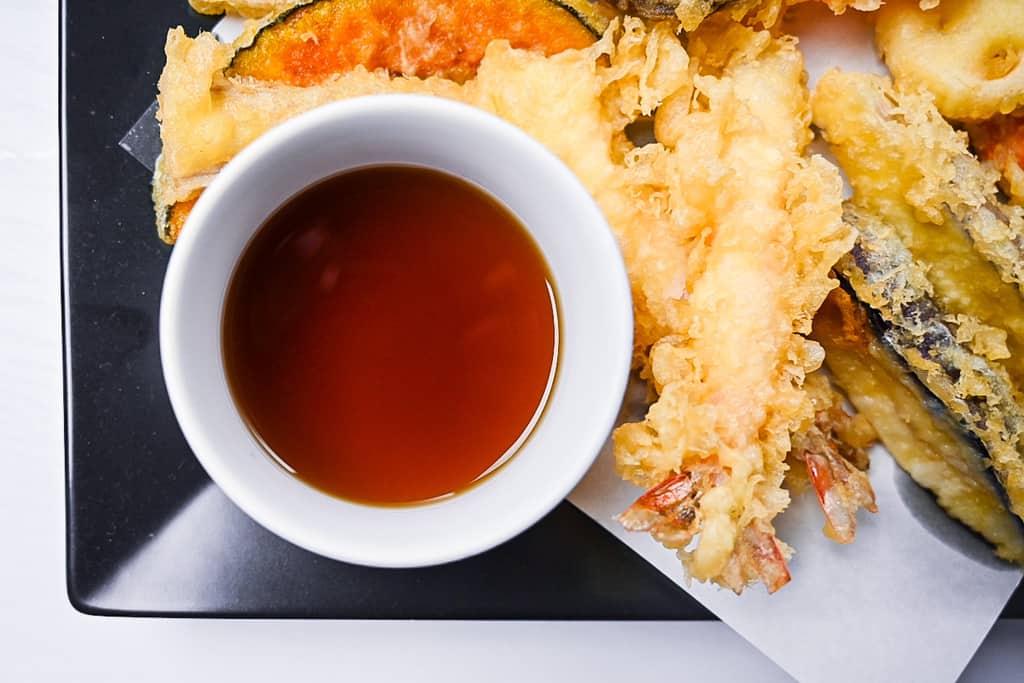 Grated daikon
This is the most commonly used classic topping.
The refreshing taste and sharpness of the grated daikon adds a nice accent to the sauce. Some people add pickled plum to make "Ume Oroshi" for an even more refreshing experience with a sour kick.
Momiji oroshi (grated daikon with chilli)
The word "momiji" (もみじ) means Japanese maple, but of course it's not grated Japanese maple leaves. It is actually grated daikon with a reddish colour like the colour of a maple leaf, hence the name.
Momiji oroshi has a mature flavour and a gorgeous appearance, which makes it a great addition to dishes.
It is usually made by inserting red chillies into daikon and grating them together.
You can buy already made momiji oroshi on Amazon.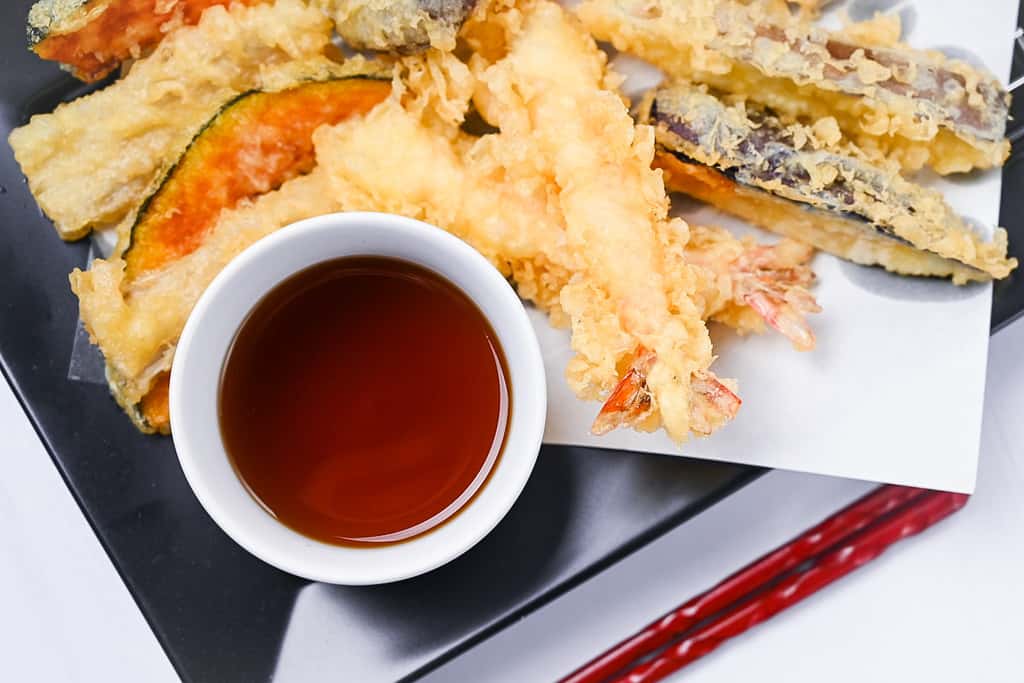 Grated ginger (oroshi shoga)
Grated ginger is another popular option. It gives a pleasantly fragrant and appetising flavour.
It's a great way to enhance the flavour of the tempura ingredients and make them even more delicious.
Either finely grate fresh ginger or you can buy oroshi shoga on Amazon.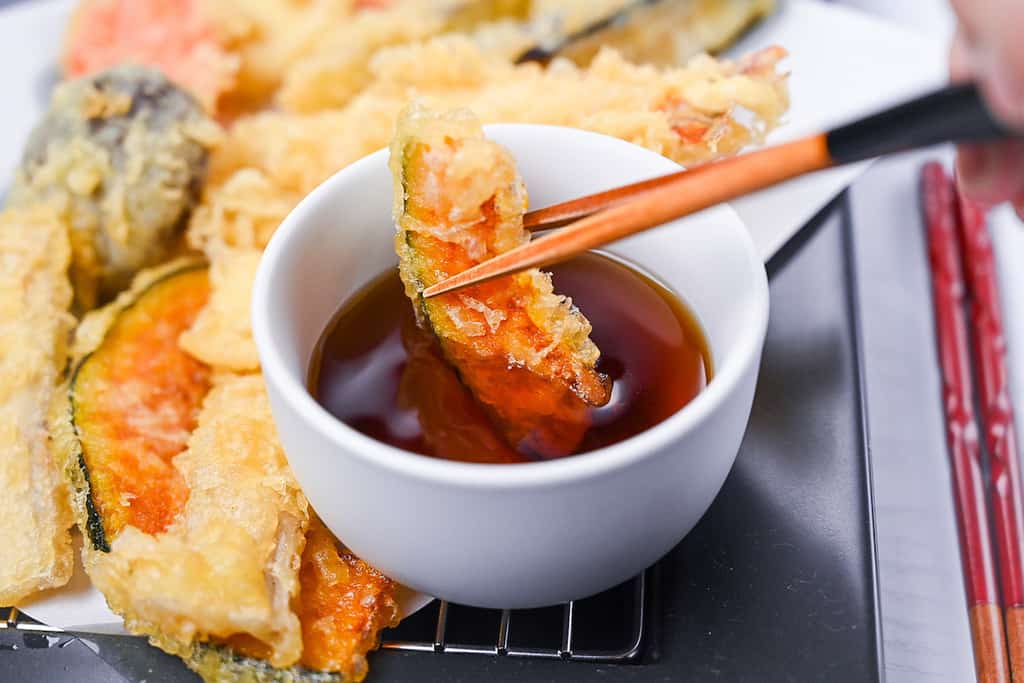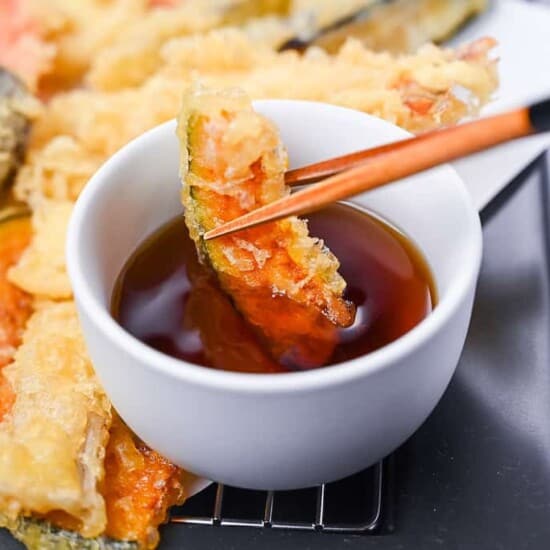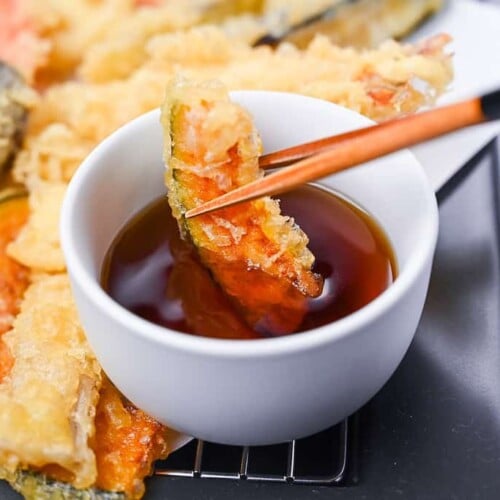 Tempura Dipping Sauce (Tentsuyu)
---
How to make your own tempura dipping sauce (tentsuyu) from scratch with just 3 ingredients!
---
---
---
---
Ingredients
Optional additions
grated daikon radish

(daikon oroshi)

grated fresh ginger

(oroshi shoga)

grated daikon with chili

(momiji oroshi)
Instructions
Add

100 ml dashi stock

,

4 tsp mirin

and

4 tsp soy sauce

to a small saucepan and turn on the heat to medium/high.

Bring to boil and allow the sauce to bubble for 1-2 mins to burn off the alcohol in the mirin.

Remove the pan from the heat and leave to cool.

Once cool to the touch, refrigerate until it's time to serve.

Serve in individual dipping bowls and add grated daikon, ginger or momiji oroshi to taste.
Notes
Keep refrigerated and use within one week.