Learn how to make the ultimate Japanese Ebi Furai, a popular deep-fried dish made with juicy black tiger prawns coated in crunchy golden panko breadcrumbs and served with an creamy homemade tartar sauce!
Disclaimer: This post contains Amazon affiliate links. Sudachi Recipes earn a small percentage from qualifying purchases at no extra cost to you. See disclaimer for more info.
What is Ebi Furai?
Ebi Fry or Ebi Furai (エビフライ) is an iconic Japanese deep-fried dish made with large shrimp coated in flour, egg, and panko breadcrumbs. This dish is often paired with Japanese-style tartar sauce.
In Japanese, "Ebi (エビ)" means shrimp, and "Furai (フライ)" is the Japanese pronunciation of "fry" referring to fried food. When combined, the literal translation becomes simply deep-fried shrimp.
The dish is believed to have been created at Renga Tei, a long-established Western-style restaurant in Ginza, Tokyo, and some theories suggest that it was created as a variation of tonkatsu (deep-fried pork cutlet) or menchi katsu (deep-fried mince meat).
When preparing Ebi Furai at home, black tiger or king prawns are commonly used. In the case of Ebi Fry, bigger prawns are typically better.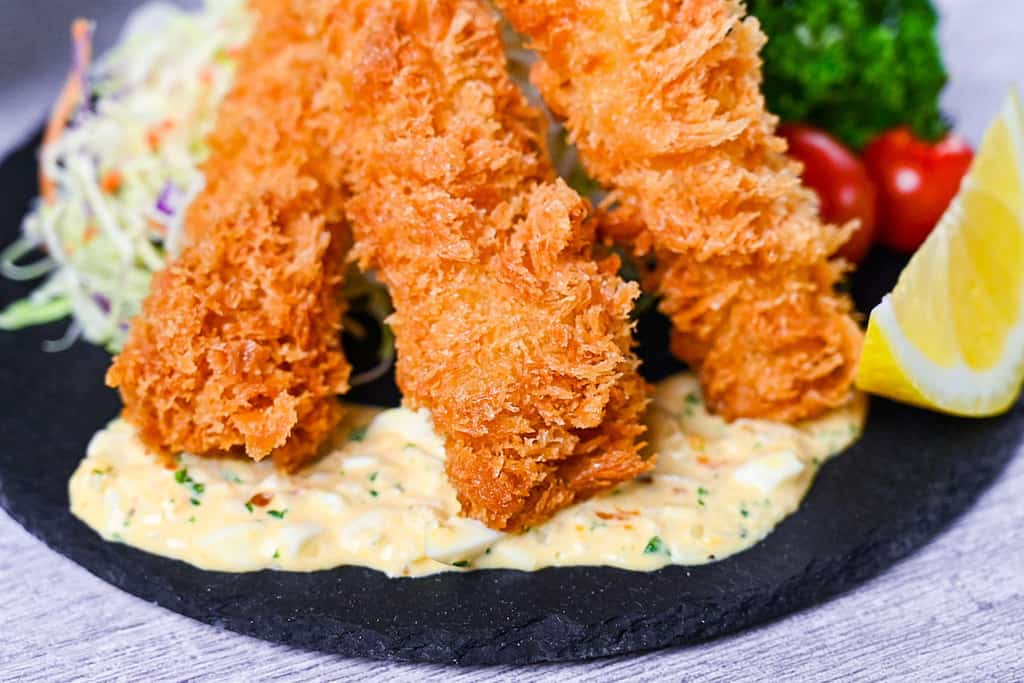 How I Developed This Recipe
As someone born and raised in the Nagoya area, authenticity was the primary consideration in creating this recipe for Ebi furai.
I aimed for the kind of ebi furai you would find at teishoku restaurants and paired it with a homemade Japanese-style tartar sauce.
Ingredients and Substitution Ideas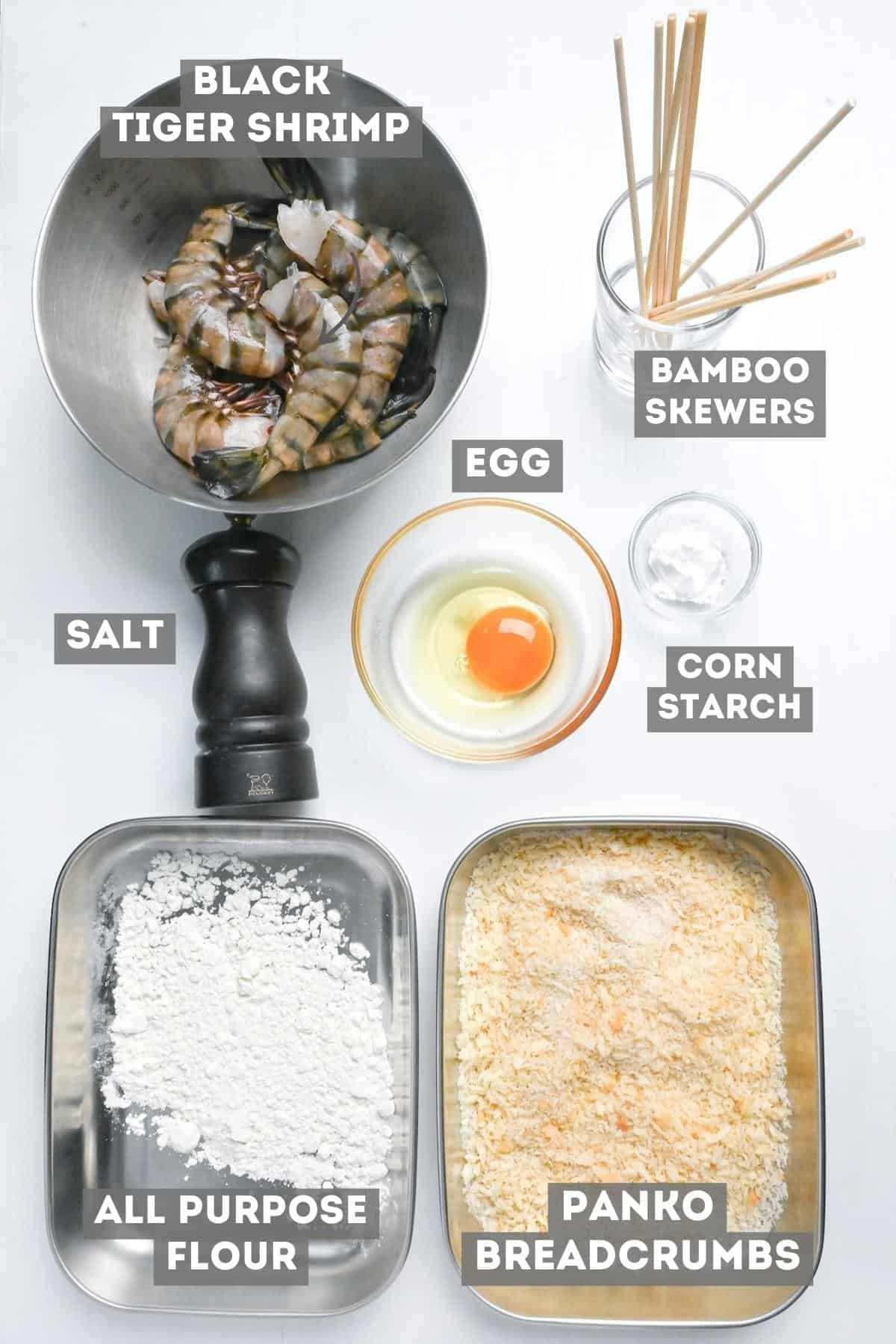 Shrimps: In Japan, black tiger or king prawns are commonly used.
Bamboo skewers: Ensure the skewers are longer than the shrimp.
Cleaning agents: Utilize salt and cornstarch for effective shrimp cleaning.
Coating: Sequentially coat the shrimp in flour, egg, and panko breadcrumbs in preparation for frying.
Cooking oil: Suitable for shallow frying. Opt for neutral oils with high smoke points, such as canola, sunflower, or peanut oil. My personal recommendations are rice bran oil and extra virgin (white) sesame oil, both apt for shallow and deep frying.
Homemade tartar sauce ingredients: This sauce is crafted using finely diced yellow onion, hard-boiled egg, Japanese mayonnaise (specifically Kewpie Mayonnaise), lemon juice, sugar, salt & pepper, and a touch of parsley.
Curious about the exact brands and products that bring my recipes to life? Discover the brands and ingredients behind my recipes at the Sudachi Amazon Storefront. Explore my handpicked pantry essentials and find your next kitchen favorites!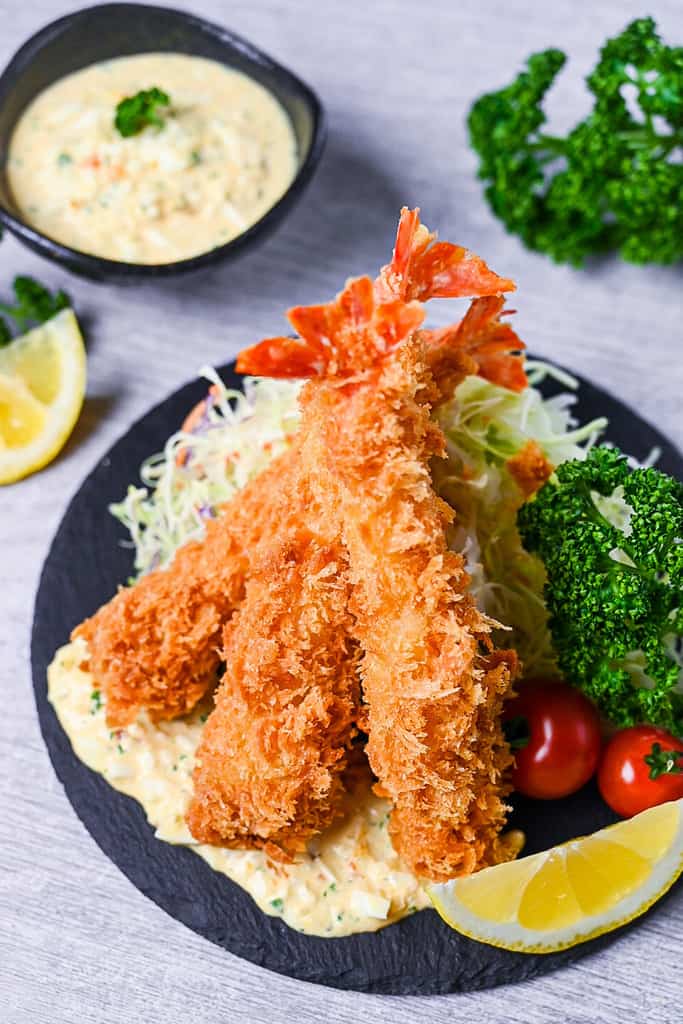 Step-by-Step Process
Here are my step-by-step instructions for how to make delicious, crunchy and golden Japanese ebi furai at home. For ingredient quantities and simplified instructions, scroll down for the printable recipe card below.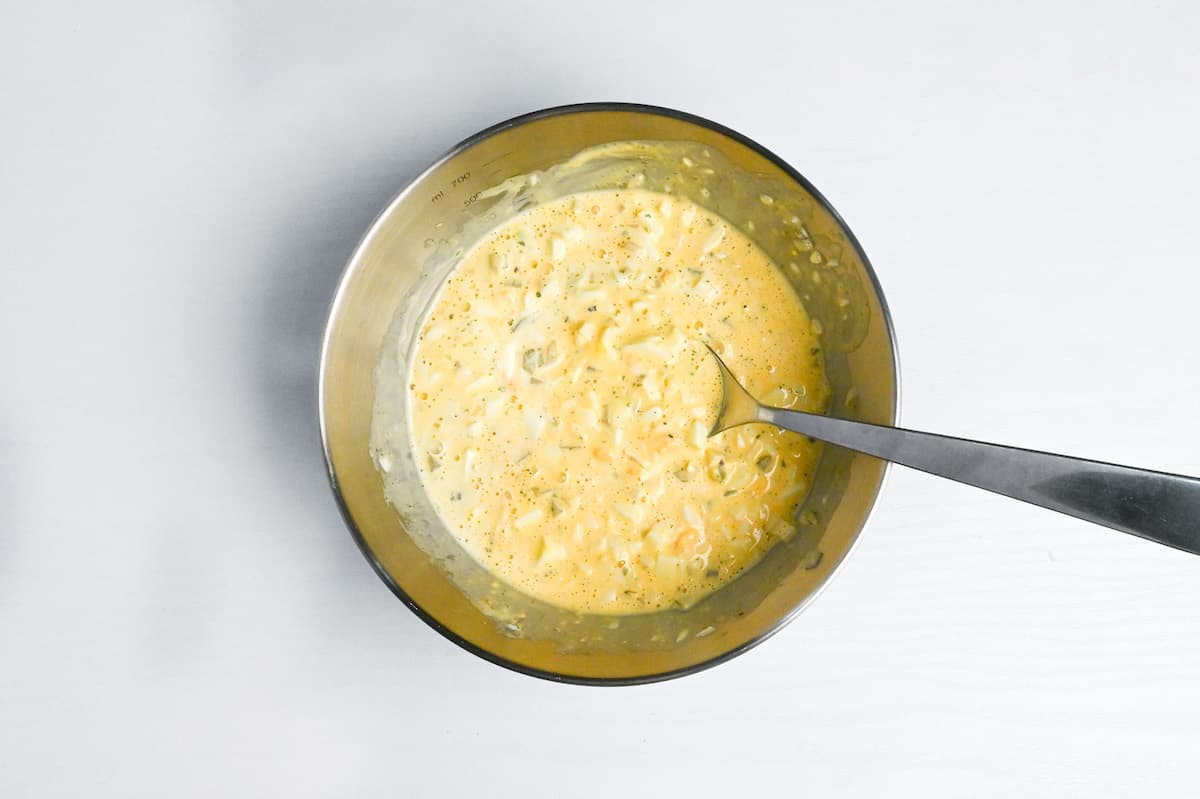 Cut the boiled eggs into halves, scoop out the yolks and place them in a mixing bowl. Mash them up and add Japanese mayonnaise, lemon juice, sugar, parsley and a pinch of salt and pepper. Mix until well combined, then add finely diced onion and egg whites. Cover and store in the refrigerator until serving time.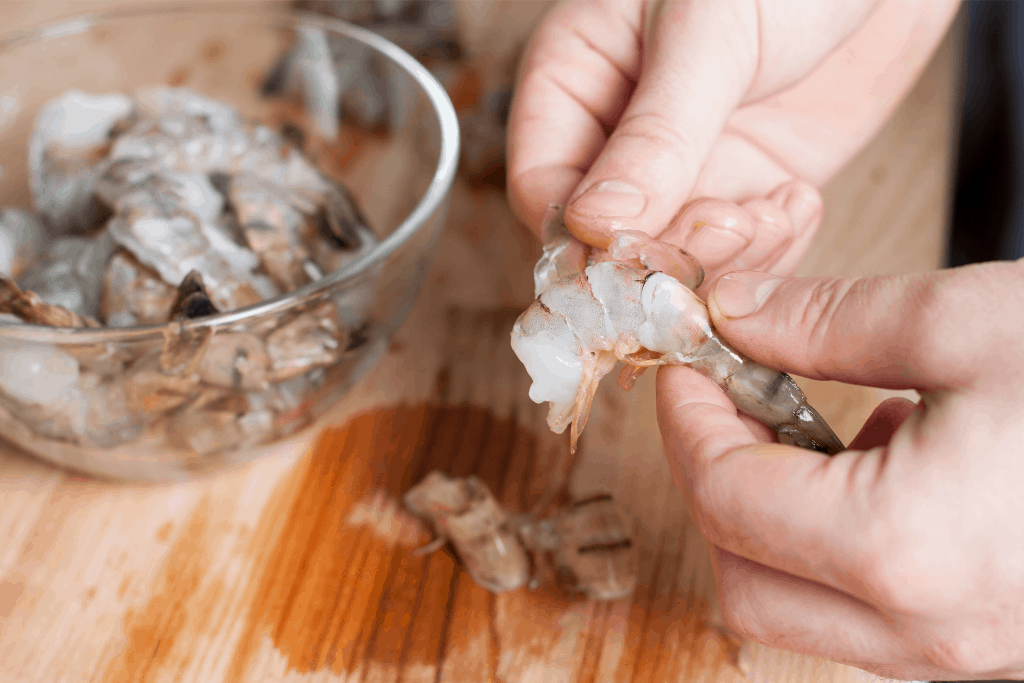 Remove the shells by splitting the shell in the middle of the legs and pulling it clean off. For presentation purposes, we usually leave the tail on.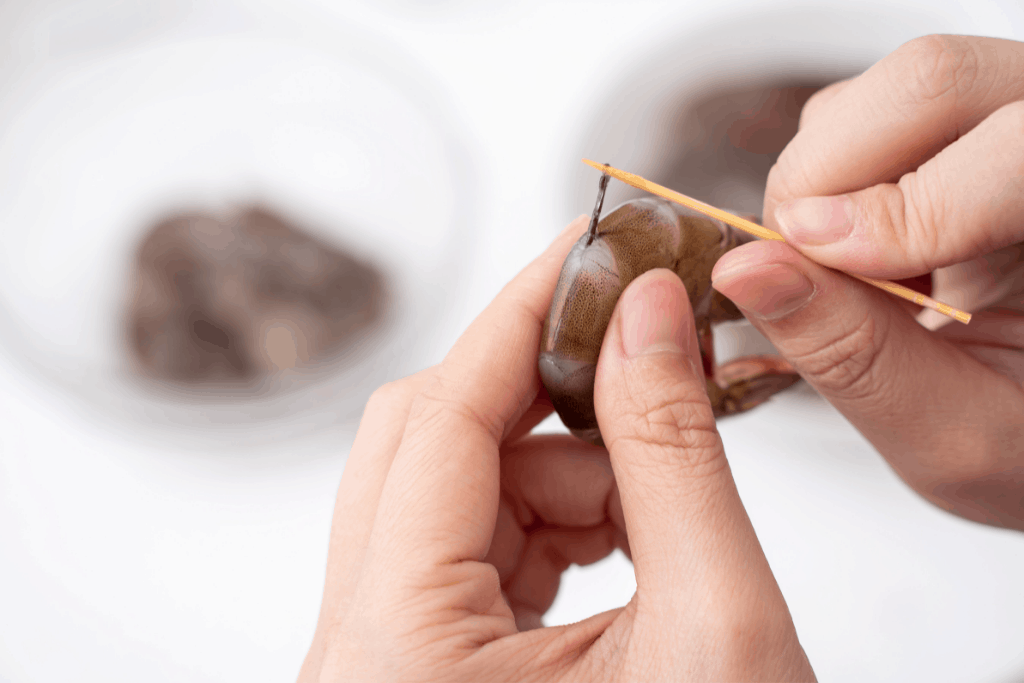 For deveining, cut down the back of the shrimp to reveal the vein. You can pull it out using the tip of the knife, a toothpick or something similar.
If you don't want to cut it, you can use a toothpick to pull it out from the top. (Although sometimes it snaps if you do this so be gentle.)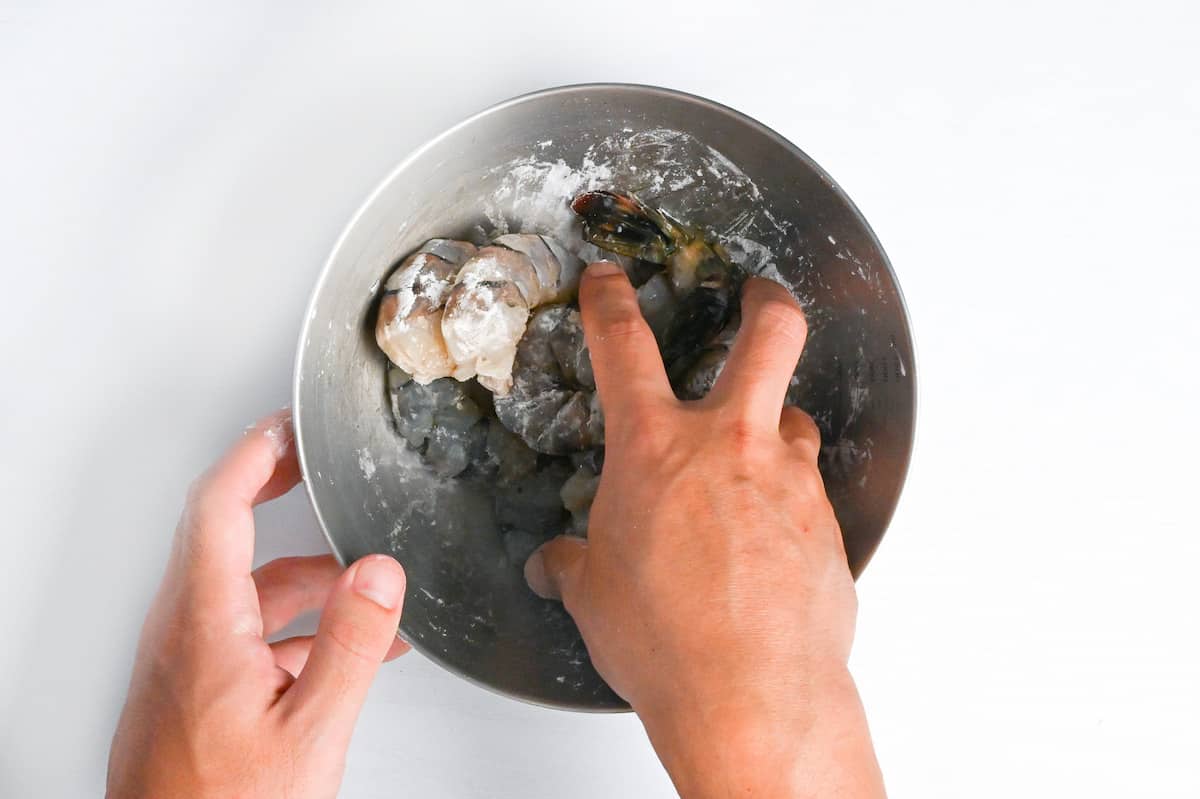 Place the shrimps in a bowl and rub the surface with salt and cornstarch. Salt dehydrates the shrimp which improves the texture and starch absorbs the dirt, this step will ensure your shrimp will be delicious!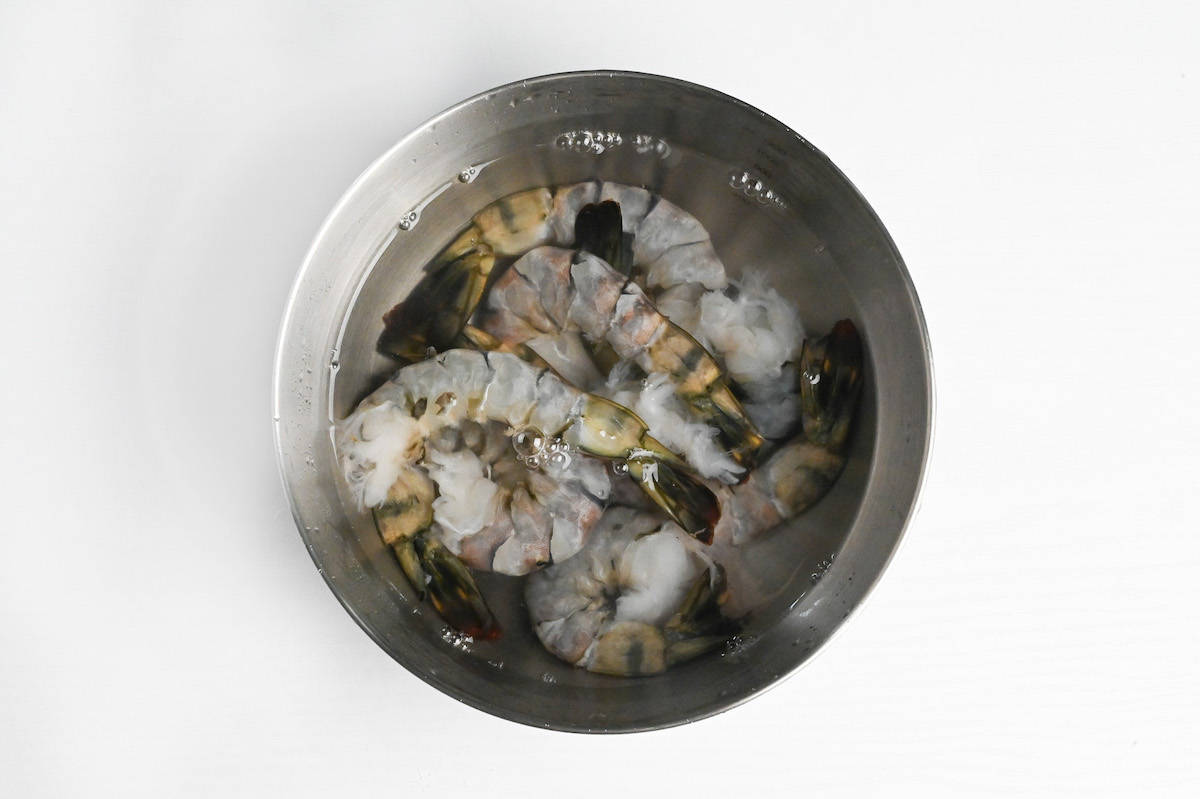 After a few minutes, wash the shrimps thoroughly in clean water.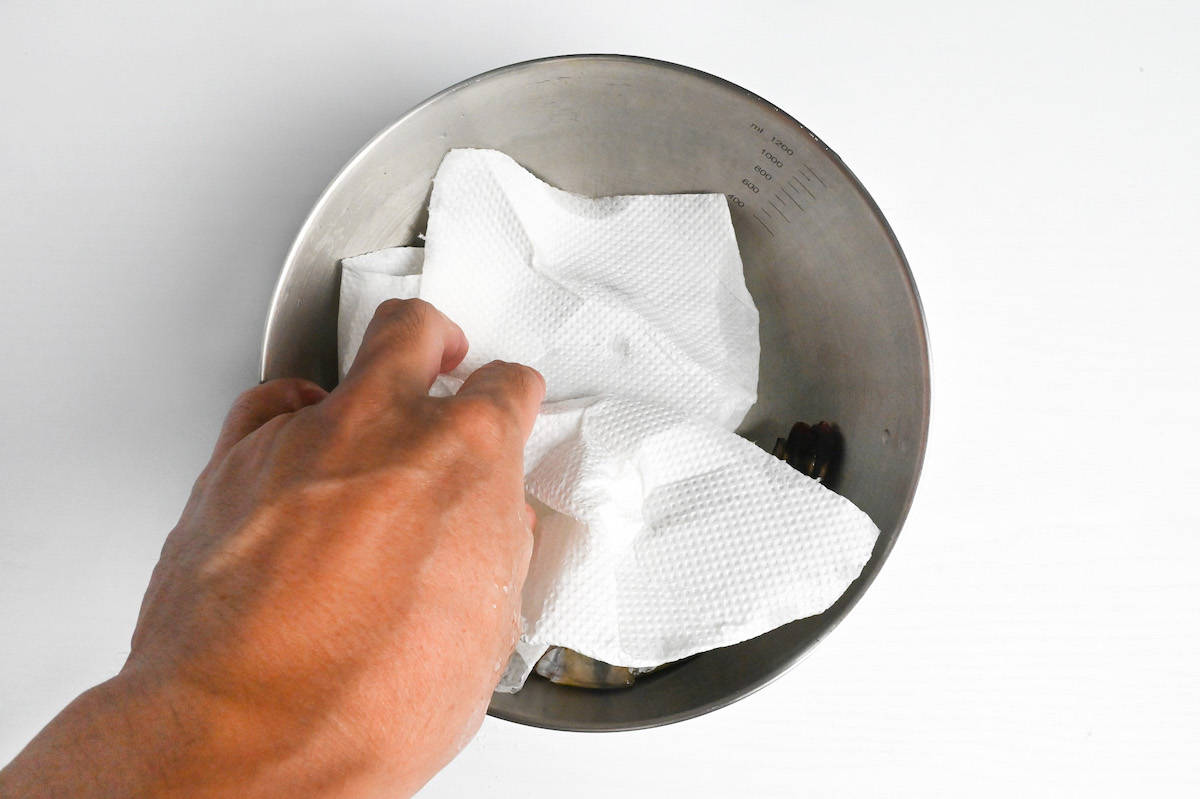 Drain the water and dry the surface with kitchen paper.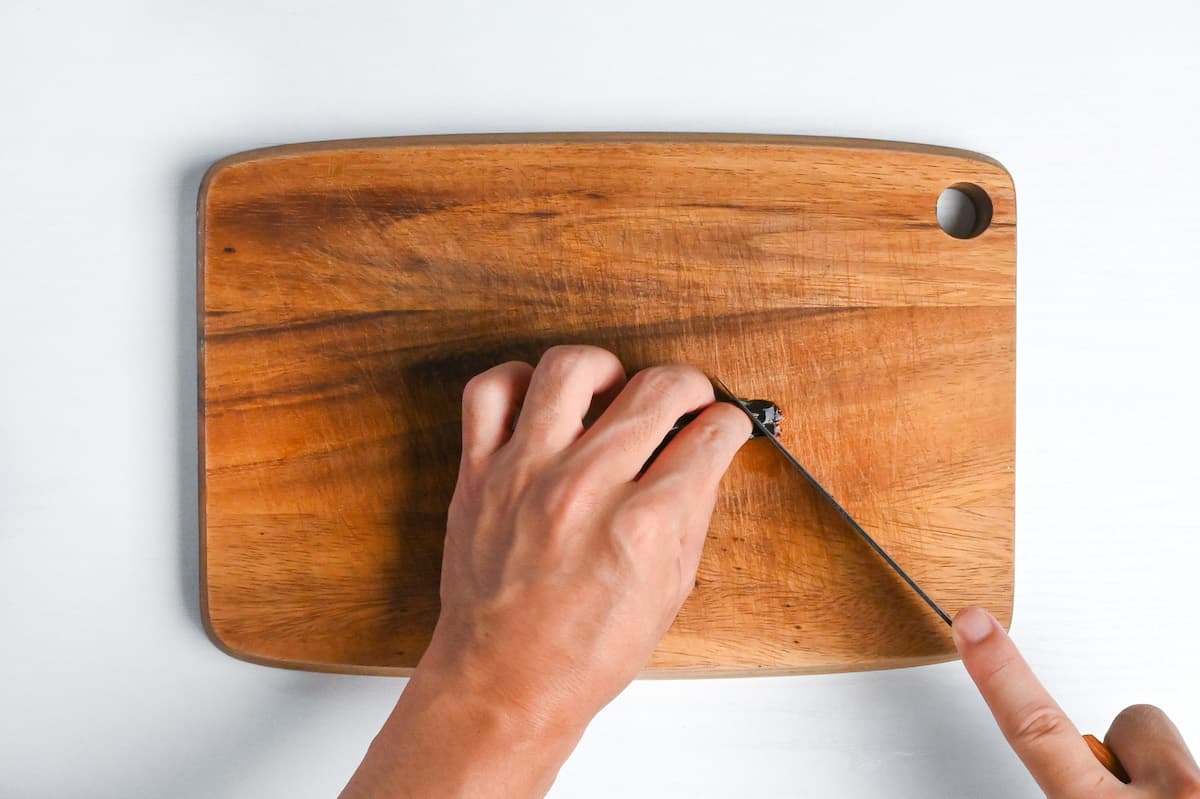 There are 3 tails on a shrimp, two fins on the sides and a pointy one in the middle.
Place the shrimp on its side and with the tail folded in half and trim it diagonally. This step is not only decorative, but also prevents oil from splattering out when it's frying.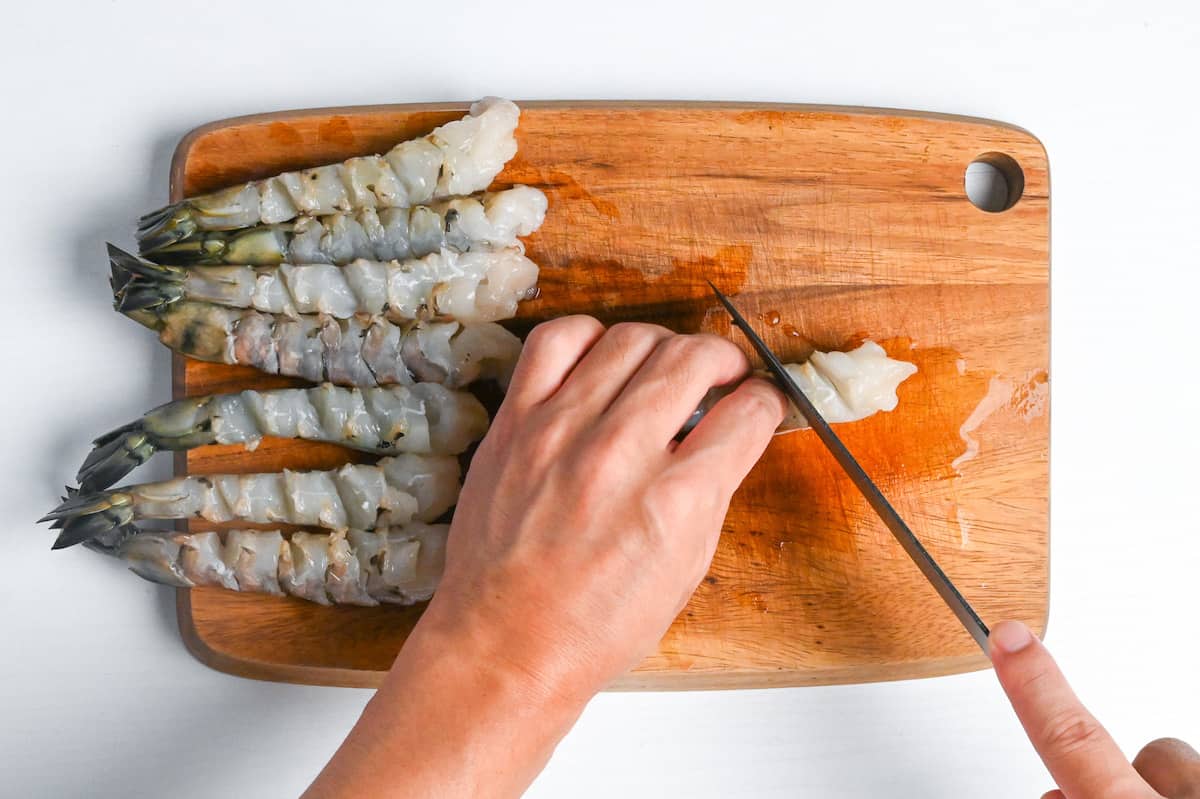 Turn the shrimp so the belly is facing up and make shallow incisions diagonally all the way along the body. Gently press the back of the shrimp to stretch the muscle, these steps will help keep them straight during cooking.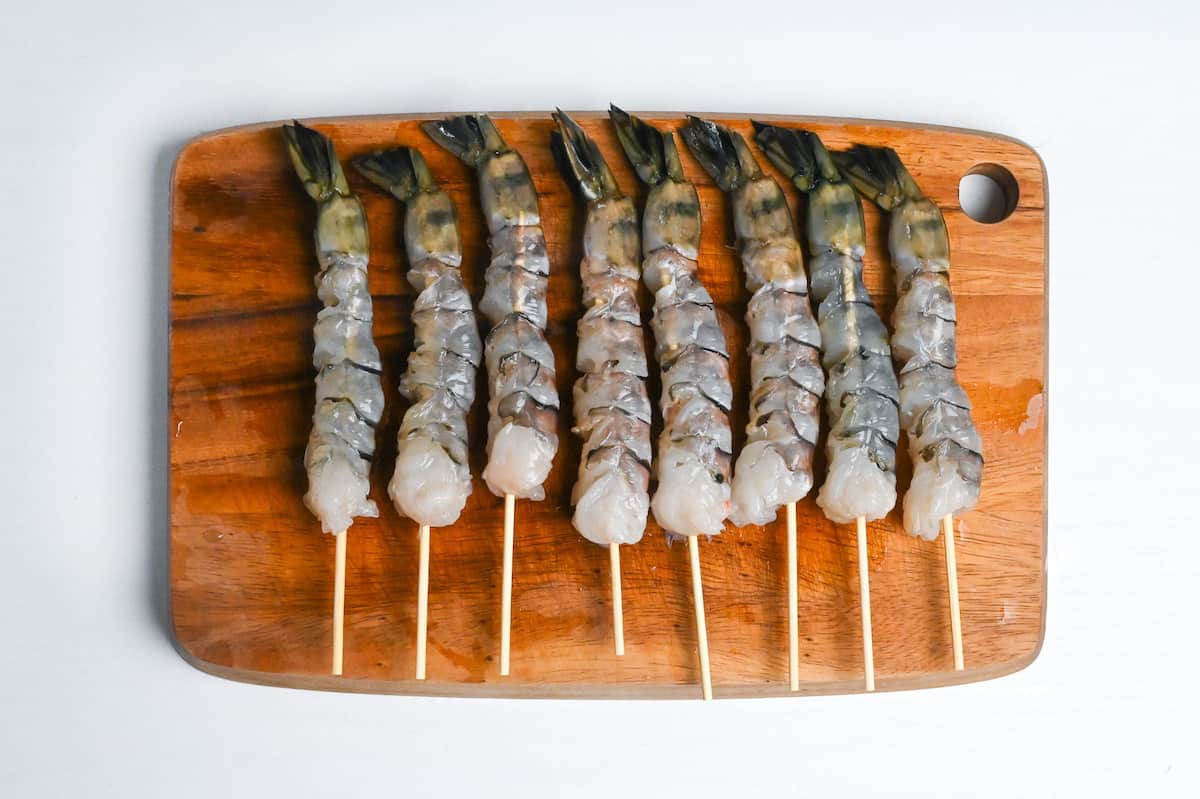 An optional additional step to help prevent curling is pushing a long bamboo skewer through the shrimp. I recommend soaking the skewers in water or lightly coating them in oil to make them easier to remove after frying.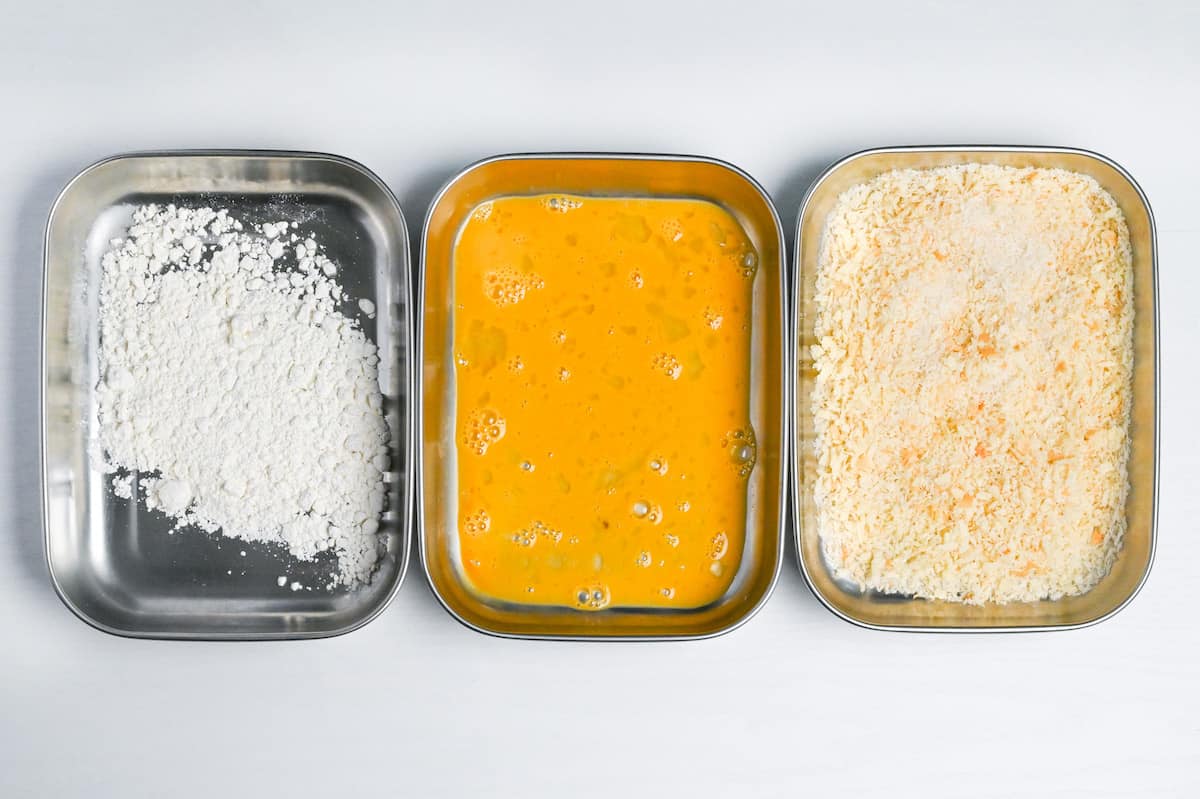 Prepare a coating station with three containers, one with flour, one with whisked egg and one with panko breadcrumbs.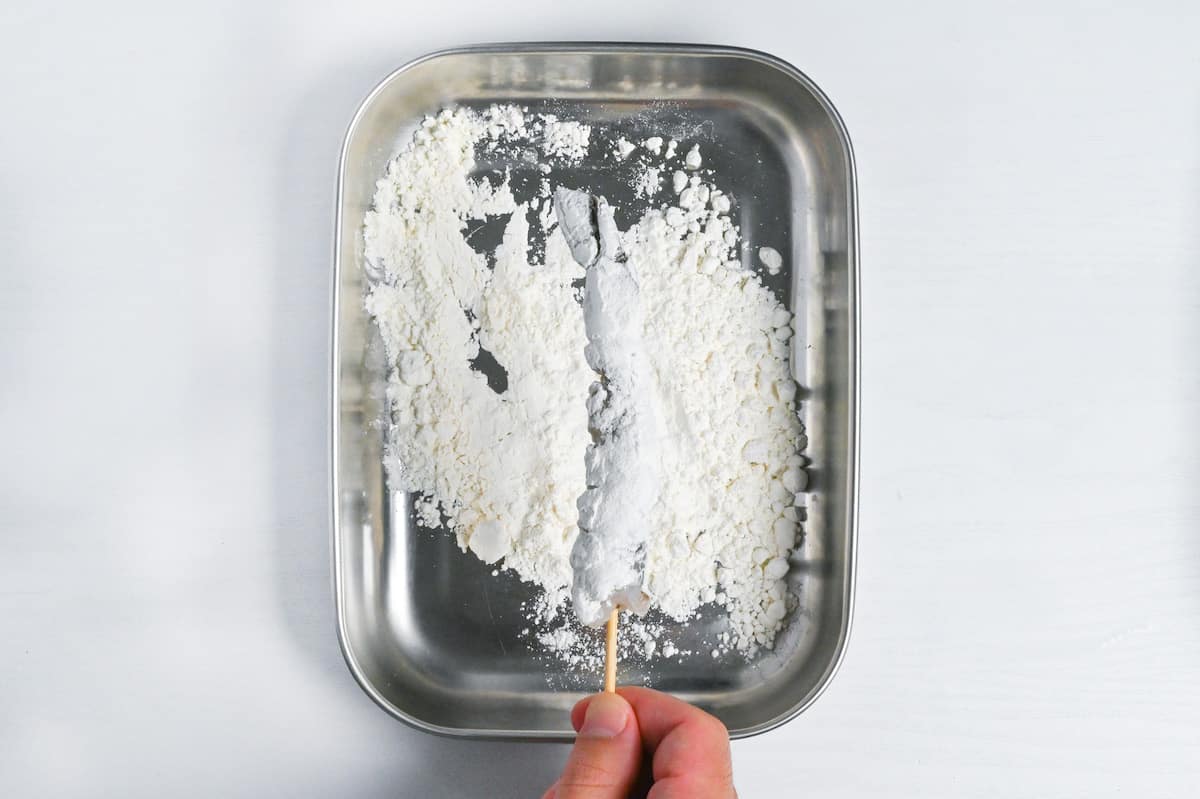 Coat with flour first and brush off the excess.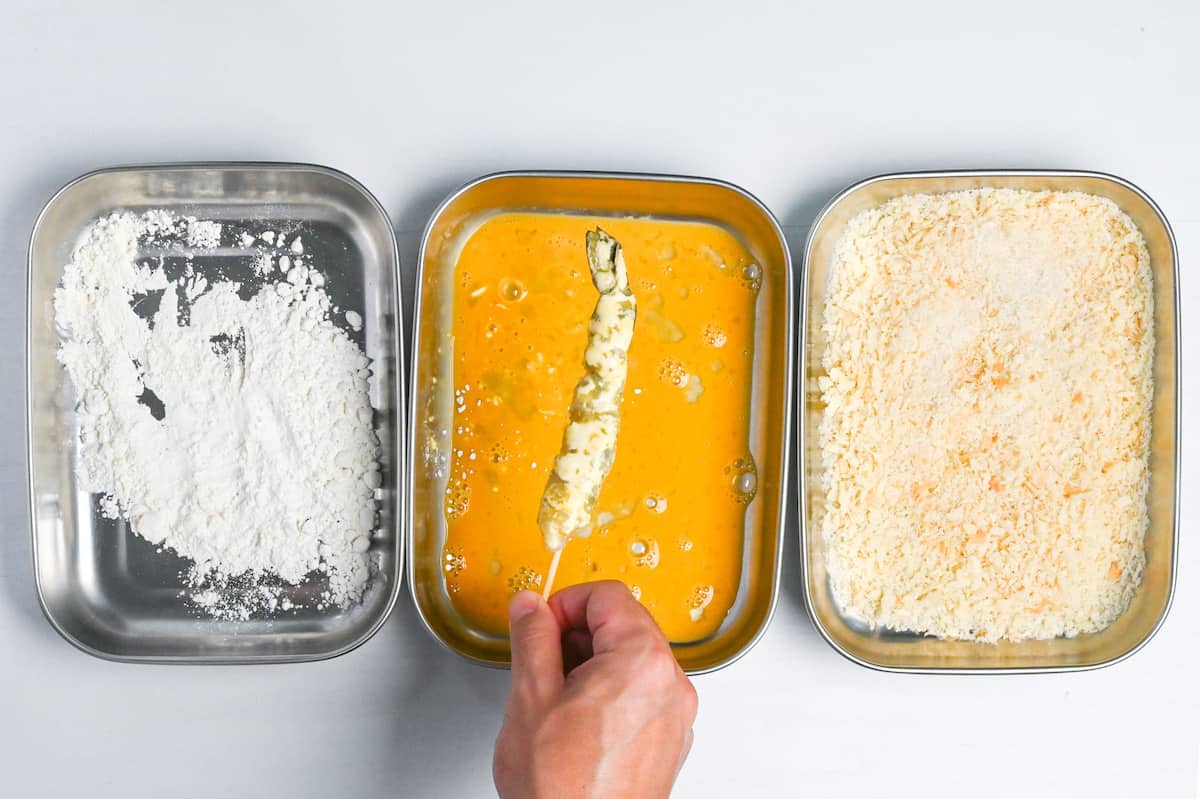 Coat with egg and then roll in the panko breadcrumbs. If there are any gaps, coat in an extra layer of egg and panko to ensure they are full covered.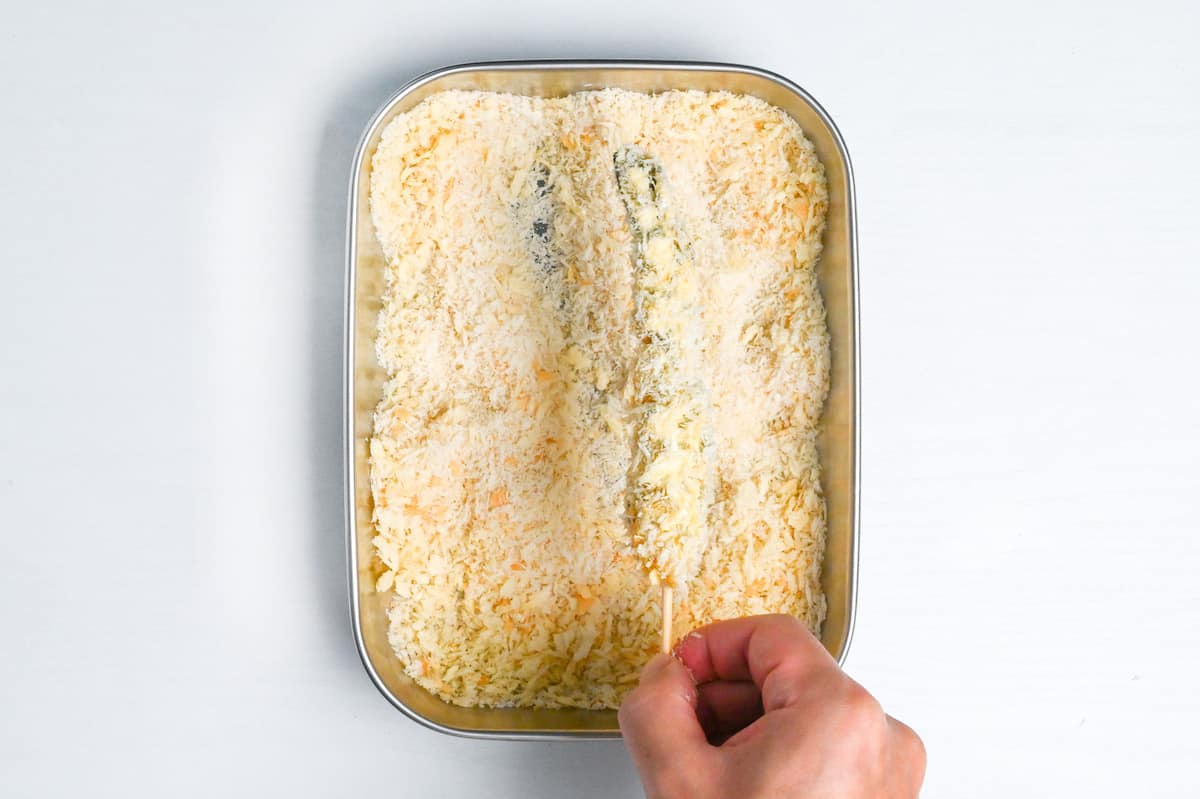 Repeat until all of your shrimps are fully coated and preheat your oil to 190°C (374°F).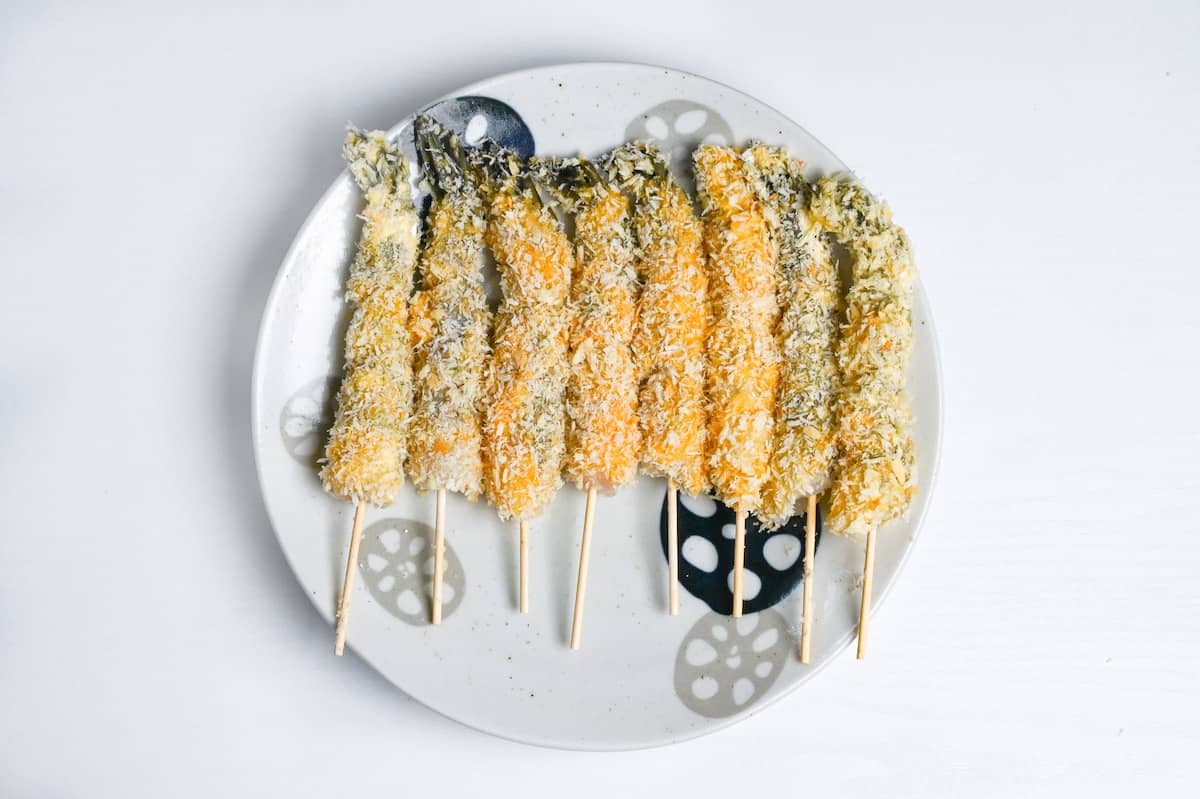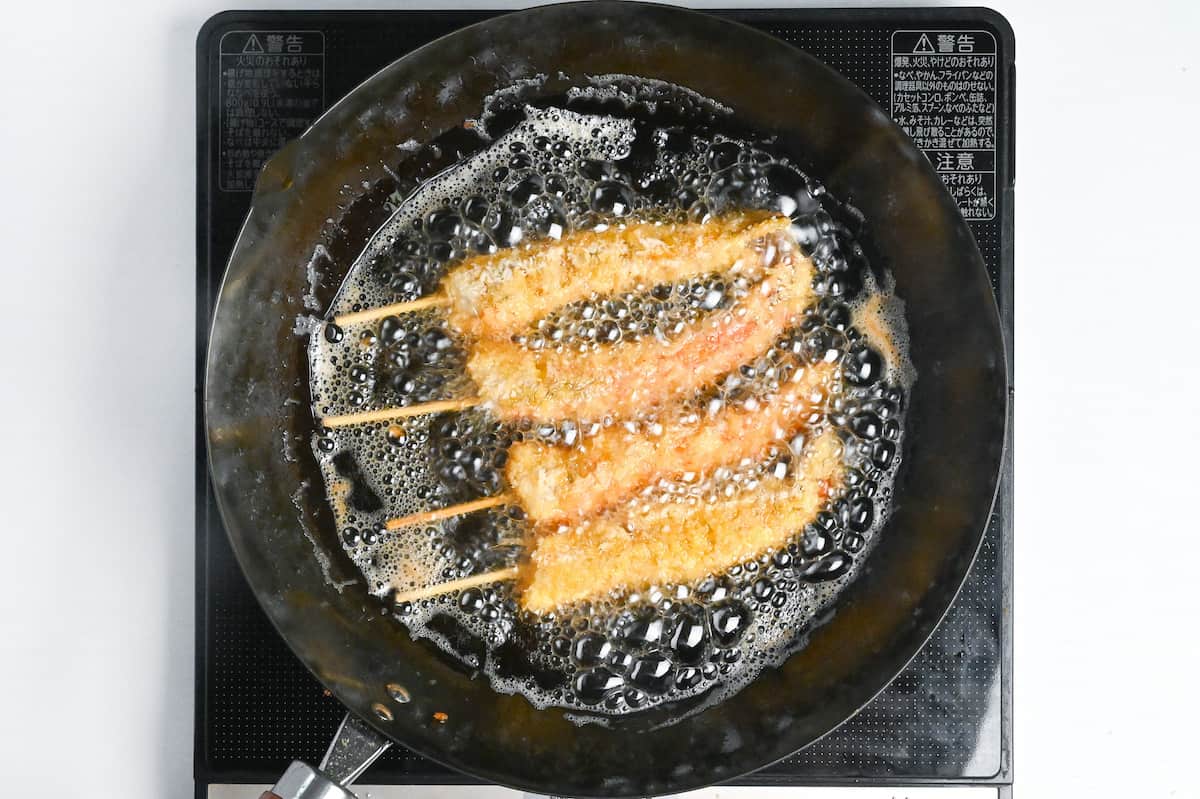 Once the oil has finished heating, add the ebi furai and make sure not to overcrowd the pan. When you first add them, the oil will bubble and crackle loudly. This is the reaction between the hot oil and the moisture in the shrimp.
Don't touch them for the first minute (this is to prevent the panko from falling off), then turn occasionally to ensure they're evenly cooked. Fry until the bubbles quieten down and the panko is golden all over.
Place on a wire rack to drain any excess oil and leave to cool for a few minutes. Once the stick is cool to touch, hold the ebi furai with tongs and carefully pull out the skewers.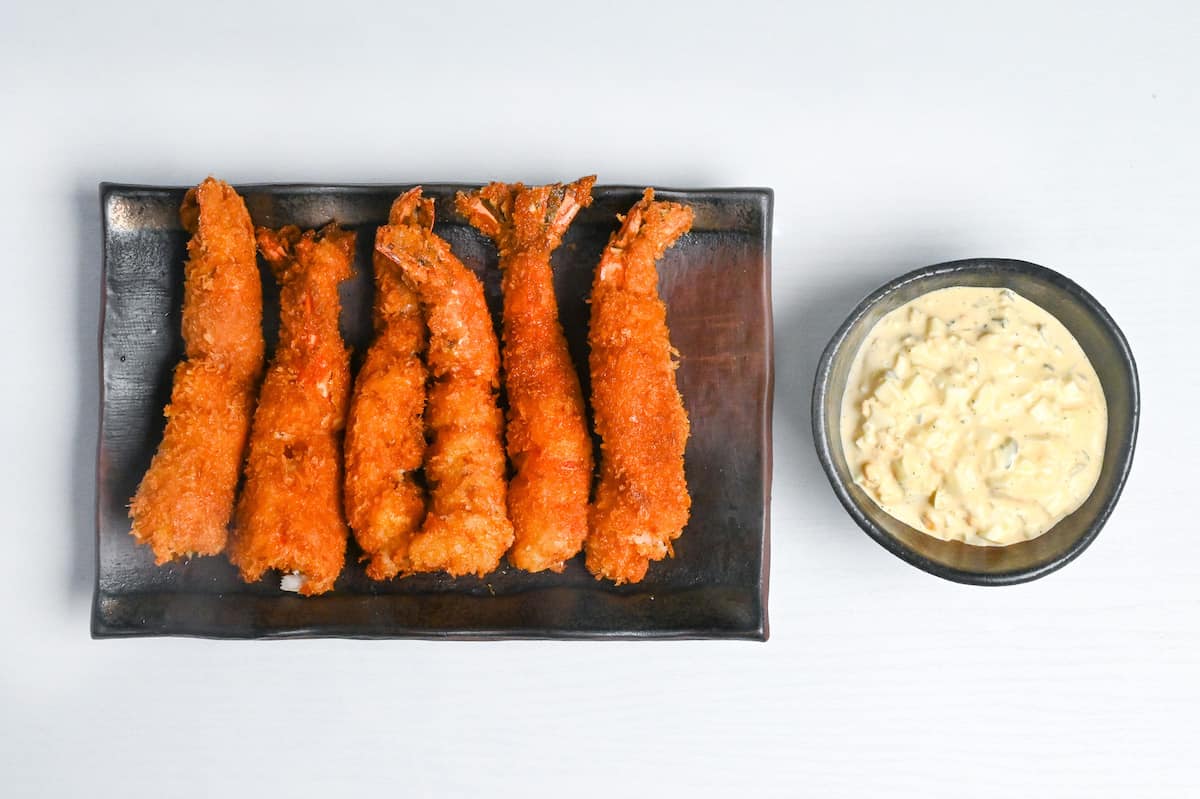 Serve the ebi furai with your homemade tartar sauce and enjoy!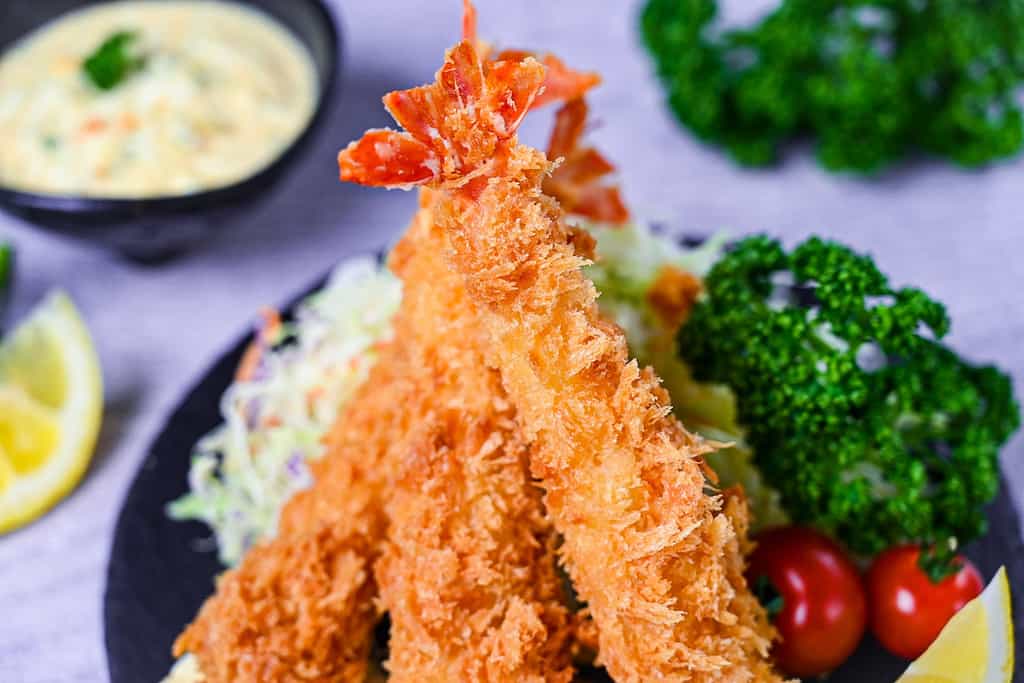 Storage
To store ebi furai short-term, wrap each individually and refrigerate for up to two days. For longer storage, follow the same wrapping method and freeze for up to one month.
Remember, while freezing extends freshness, the quality will decline over time.
Panko-coated shrimps can also be frozen raw (pre-fried state) in sealed containers for convenient future cooking. It is not recommended to thaw uncooked ebi furai as it can make the panko soggy. Instead, you should deep fry from frozen and increase the frying time to ensure they are cooked all the way through.
Room temperature – Not recommended.
Refrigerated – Up to 2 days.
Frozen – Up to a month.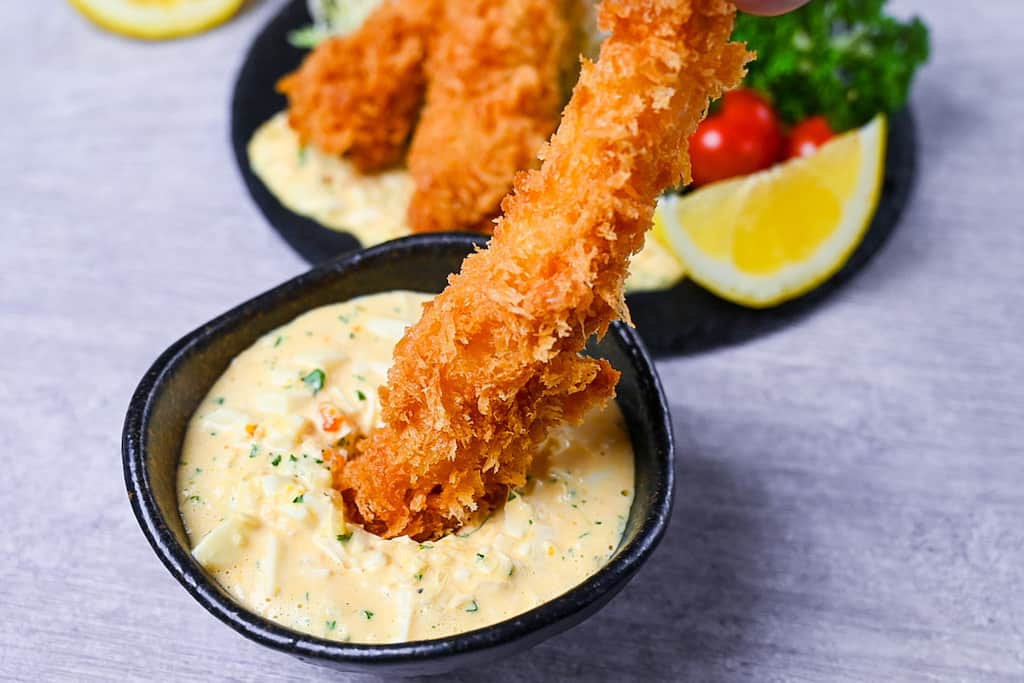 I hope you enjoy this delicious Japanese ebi furai with homemade tartar sauce! If you try it out, I'd really appreciate it if you could spare a moment to let me know what you thought by giving a review and star rating in the comments below. It's also helpful to share any adjustments you made to the recipe with our other readers. Thank you!
More Recipes You'll Love
If you loved this ebi furai recipe, check out some of my other deep fried seafood dishes!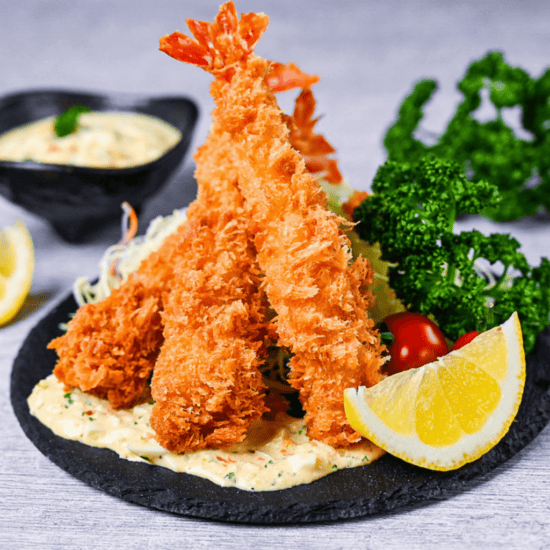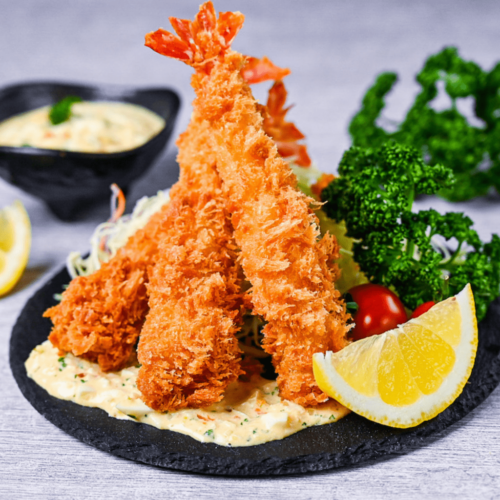 Ebi Furai (Japanese Deep-fried Shrimp with Panko)
---
How to make Japanese Ebi Fry, juicy shrimp coated with a thick and crunchy panko batter served with a mild, creamy homemade tartar sauce.
---
---
---
---
Ingredients
Tartar Sauce
25

g

yellow onion(s)

finely diced

2

hard-boiled egg

4

tbsp

Japanese mayonnaise

I use Kewpie Mayonnaise

1

tbsp

lemon juice

2

tsp

sugar

1

pinch

salt and pepper

1

pinch

parsley
Ebi Fry
6

black tiger shrimp

or similar large prawn

6

bamboo skewers

longer than the prawns

2

pinches

salt

1

tsp

cornstarch

1

medium egg(s)

30

g

all-purpose flour

50

g

panko breadcrumbs

cooking oil

for deep frying
Instructions
Tartar Sauce
Cut

2 hard-boiled egg

into halves and scoop the yolks out into a medium sized bowl. Mash them and add

4 tbsp Japanese mayonnaise

, 

1 tbsp lemon juice

, 

2 tsp sugar

, 

1 pinch parsley

 and 

1 pinch salt and pepper

. Mix well, finely dice the egg whites and

25 g yellow onion(s)

and mix once more. Store in the fridge until serving.
Prepping the Prawns
De-shell 

6 black tiger shrimp

 and leave the tails intact.  Place them in a bowl and rub the surface with

2 pinches salt

and

1 tsp cornstarch

.

After a few minutes, wash the prawns in fresh water to rinse off the salt and corn starch.

Drain the water and dry them with kitchen paper.

Place the shrimp on a chopping board their sides with the tail folded in half and trim it diagonally. The pointy tip should be cut off and be the shorter part of the diagonal.

Turn the prawn so the belly is facing up and make diagonal incisions along the whole body. The incisions should be about 1cm apart and go about 1/2 way through the prawn.

Optional step: Push bamboo skewers through the prawns to ensure they stay straight during cooking. Soak the bamboo skewers or coat with a thin layer of oil to make removal easier later.
Breading and Cooking
Heat up your

cooking oil

to

190

°C

(

374

°F

).

Arrange 3 dishes. One with

30 g all-purpose flour

, one with

1 medium egg(s)

(whisked) and one with

50 g panko breadcrumbs

.

Coat the prawn with flour and brush off the excess.

Next, roll in the whisked egg until fully covered.

Roll the prawn in the panko breadcrumbs until well covered. Press the panko down firmly to stop it from falling off.

Repeat until all of your prawns are coated.

Optional: Coat with egg and panko one more time. The double layer will make your ebi fry extra crunchy!

Place the prawns in the hot oil and fry until golden brown. When you first place the prawns in the oil, it will bubble loudly. You know the prawns are cooked all the way through when the bubbling subsides and becomes quiet.

Place the shrimps on a wire rack and allow any excess oil to drip off. If you used skewers, wait a few minutes before trying to remove them. Once the skewers are cool enough to touch, carefully twisting them and slowly pull them out.

Serve up the crispy ebi fry with homemade tartar sauce!

Enjoy!
Notes
You can make your tartar sauce and prep the prawns ahead of time. Fry just before serving.
Leftover tartar sauce can be stored in the refrigerator for up to 1 week.
Ebi fry can be frozen for up to one month (fried or unfried!)
When testing the oil temperature, you can drop in a piece of panko. If it sizzles and floats at the top, the oil is ready! (If it sinks, it needs more time.)
FAQ
What is the difference between Ebi Fry and Shrimp Tempura?
Ebi fry and shrimp tempura are both deep-fried shrimp dishes, but they differ in coating and presentation. Ebi fry uses panko breadcrumbs for a thick, golden crust and is typically paired with tartar sauce. Tempura shrimp has a light, airy batter, resulting in a pale and crispy exterior. It's often served with salt or a dashi-based "tentsuyu" sauce.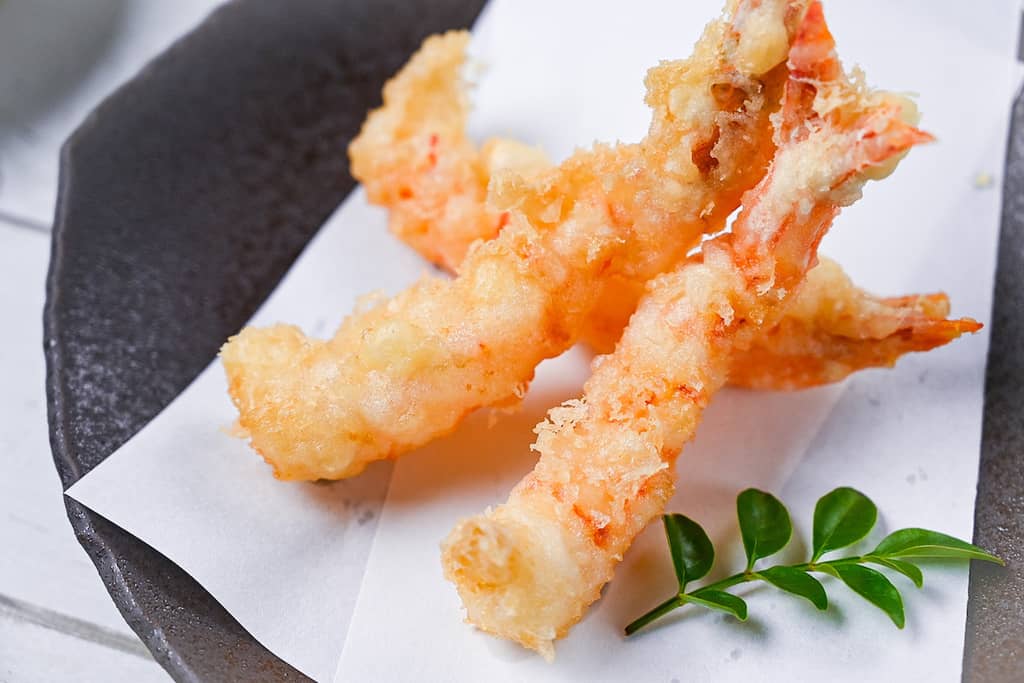 What do you eat with ebi fry?
Ebi fry is very versatile. You can serve it on its own as a starter or with rice, salad, sushi, and burgers, there are so many ways to enjoy ebi fry!
Is Ebi Furai from Nagoya?
Nagoya's ebi fry is a popular dish, but contrary to popular belief, it's not from Nagoya. The actual origin is Renga Tei, a long-established Western-style restaurant in Ginza, Tokyo. The misconception began when Nagoya residents supposedly called it "Ebi Fryaaa" on national TV. This led to the assumption that it's a Nagoya dialect and that the dish originated there. Capitalizing on this myth, many Nagoya restaurants began offering giant ebi fry alongside local favorites like hatcho miso sauce and kishimen. However, it's worth noting that locals don't actually refer to it as "えびふりゃー."