Okayu is a comforting and warming rice porridge dish made with minimal ingredients, it's perfect for those days when you're feeling under the weather and looking for a simple dish to pick you back up!
Disclaimer: This post contains Amazon affiliate links. Sudachi Recipes earn a small percentage from qualifying purchases at no extra cost to you. See disclaimer for more info.
What is Okayu (お粥)?
Let's delve into the world of Okayu (お粥), a cherished Japanese dish. It's prepared by gently boiling rice or various grains like barley, millet, and an assortment of beans and potatoes in a substantial volume of water until they reach a soft, comforting consistency. The most common form of Okayu, often referred to as Japanese rice porridge, is primarily made with rice.
Okayu's unique characteristic is the ample water content which results in a soft texture and a soothing sensation. This, combined with its nurturing warmth, has cemented Okayu's status as a universal comfort food in Japan. It serves as a trusted remedy for those times when you're not feeling 100% and is appreciated across generations. If you're seeking a dish that provides both nourishment and comfort, Okayu might just be the perfect choice for you.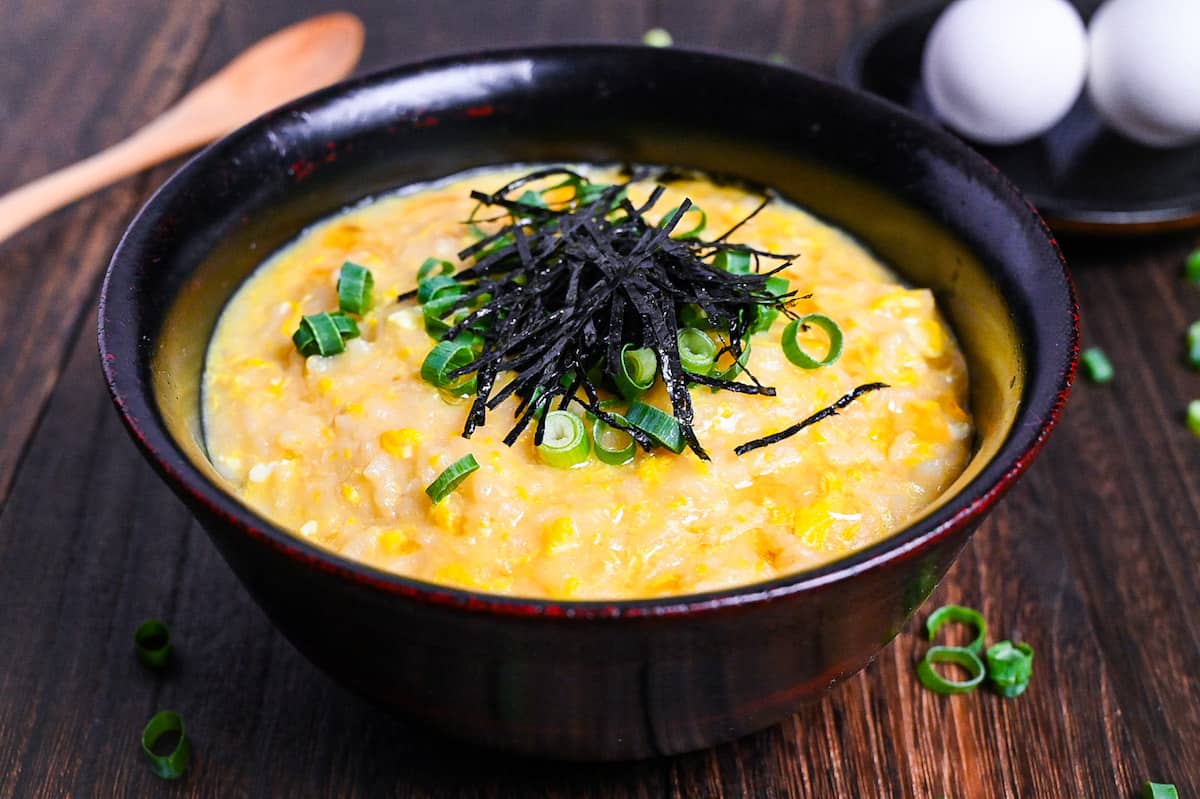 3 ways to make okayu
Bet you didn't know there are not just one or two, but three ways to cook okayu. First, let me introduce you to "taki-kayu" and "ire-kayu" – two unique styles of making okayu.
Taki-kayu (炊き粥) is the method of making rice porridge from scratch with raw rice grains. The word "taki" comes from the verb "taku" which means "to cook grains" and is most commonly refers to the cooking of rice. The rice is washed, soaked and cooked in a higher volume of water than regular rice. This method of cooking okayu results in firmer grains in a thin liquid.
On the other hand, "ire-kayu" (入れ粥) is made by adding pre-cooked rice to liquid. The Japanese word "ire" (入れ) means to put something in, in this case, putting the rice in the liquid. The rice becomes extra soft since it's essentially cooked twice, and the starch from the rice creates a thicker and stickier texture.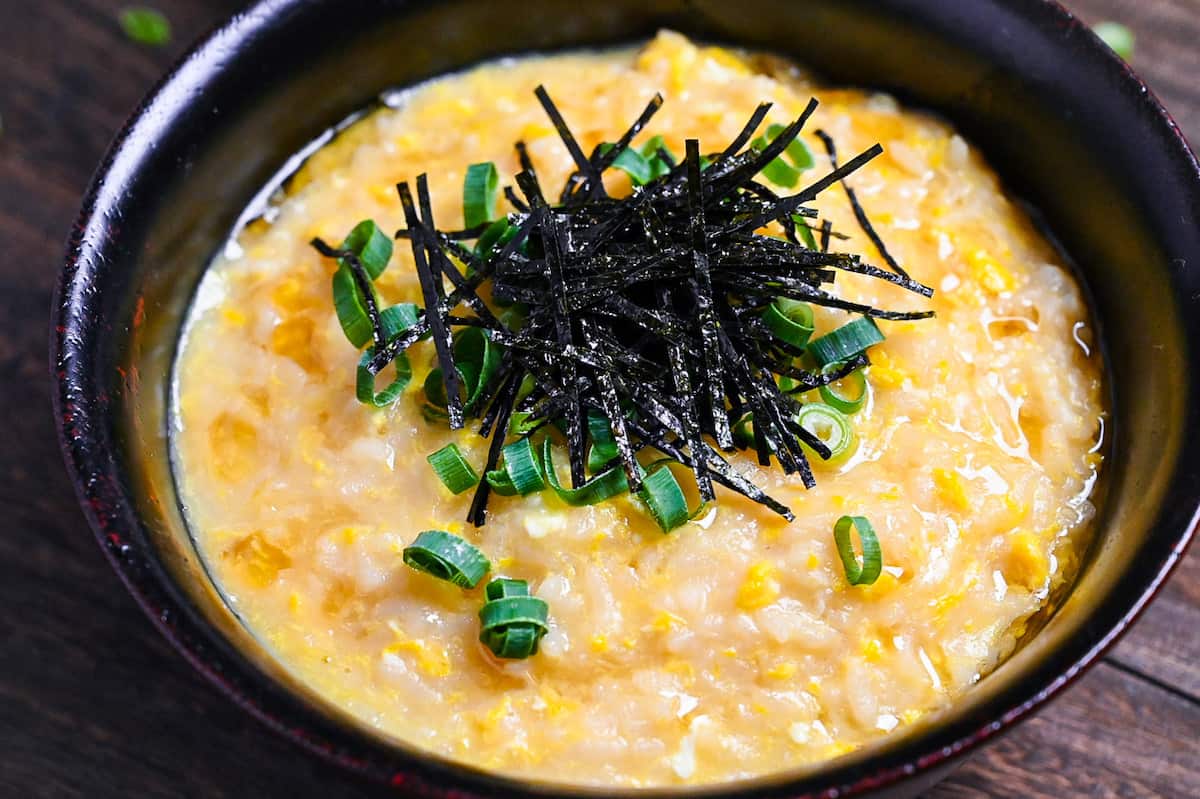 The third method is very similar to ire-kayu, however it contains one extra step, washing the cooked rice before adding it to the liquid. When you add the rice unwashed, the broth becomes thick and sticky but some people prefer a thinner and lighter broth, and so they wash the cooked rice first and then add it to the liquid. Strictly speaking, when the cooked rice is washed and then added, it is called "zosui", not okayu.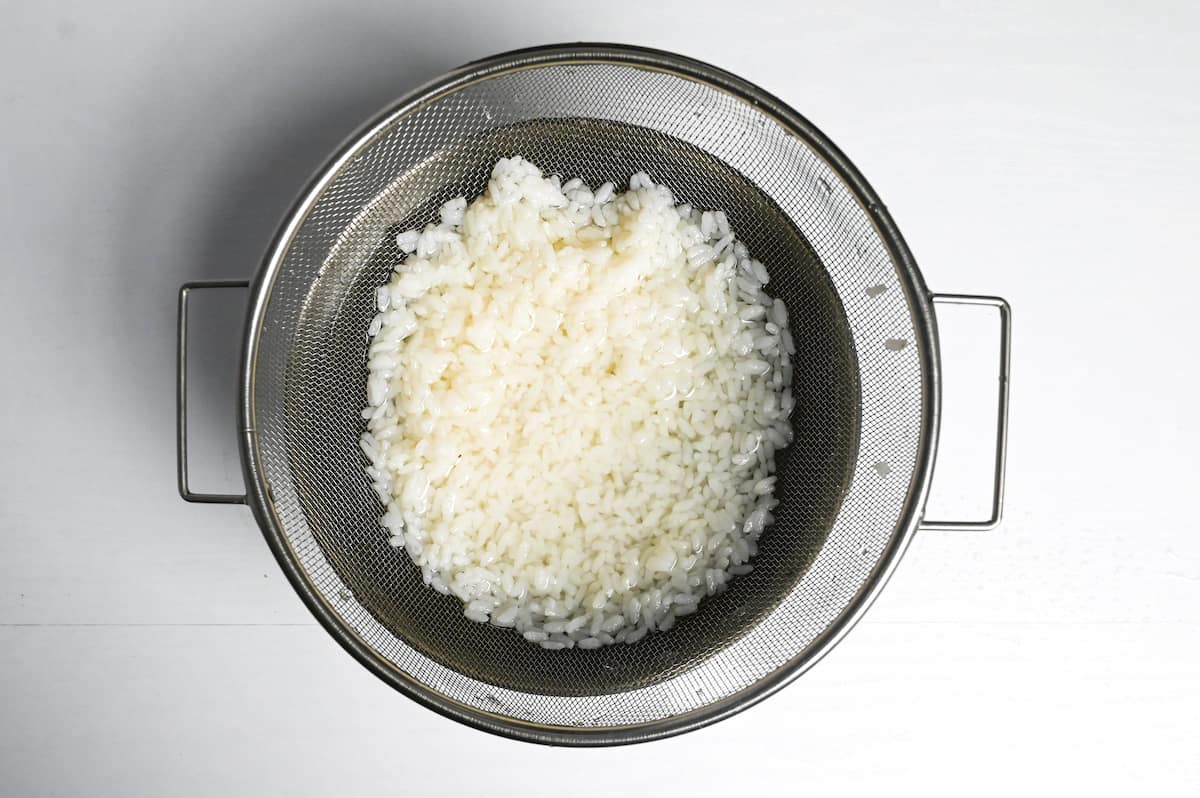 Zosui also tends to be more complex with added flavours, meat and vegetables, this makes it a dish to savour on its own or as a way to enjoy leftover broth from hotpot dishes. If you're interested, I have more information about zosui on my Chicken Zosui recipe. On the other hand, okayu is usually plain and most commonly served to people when they're sick or to people who require food with a softer texture such as babies and the elderly. It can eaten on its own, with minimal toppings or served in the same way as regular rice with a main dish and side dishes such as miso soup and pickles.
In the end, the texture of okayu comes down to the cooking method, and everyone has their own personal preference. Most Japanese households opt for "ire-kayu" since it's easier to make. In fact, the recipe I'm sharing here is also for an "ire-kayu" style porridge.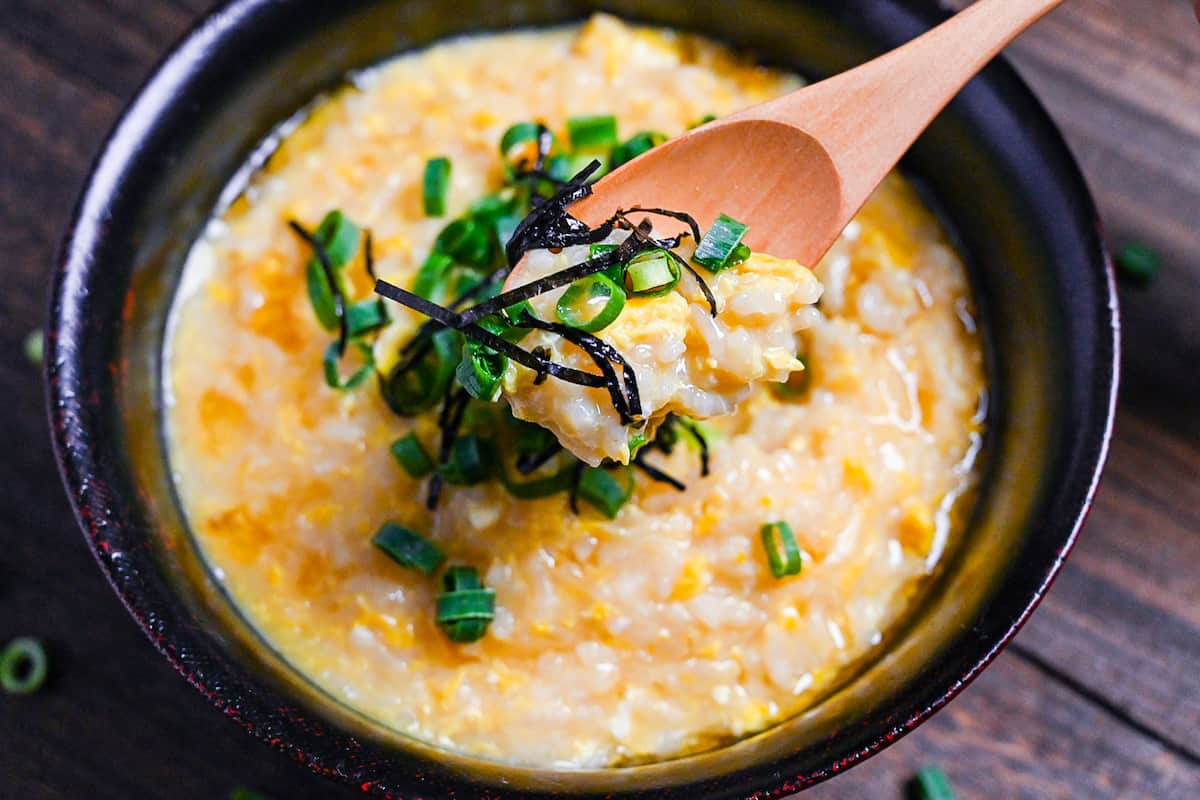 Ingredients to make this Japanese rice porridge
The recipe I'm about to share is not your average okayu and is certainly not what springs to mind when Japanese people think of this simple comfort dish. I wanted to stay true to the spirit of okayu, so there are no punchy, in-your-face flavors, but I also didn't want to make it boring either, so it's subtly flavoured with dashi for depth and drizzled with a touch of sesame oil for a mild nutty hint.
So, if you're up for a fun, tasty twist on homemade okayu, you will need the following ingredients:
Cooked short grain Japanese rice – Cooked to a firm and slightly sticky consistency. I recommend using a rice cooker, but if you don't have one you can also read my article "How to Cook Japanese Rice in a Pot".
Eggs – M to L size recommended.
Dashi stock – Awase dashi containing dried bonito flakes is recommended. If you do not make homemade dashi, you can use dashi packets in tea bag form or dashi granules. For a more traditional okayu you can also just use water.
Sake – Adds umami and distinctive sweetness to the soup. If you can't get it, it's okay to omit.
Mirin – Adds depth and sweetness to the soup. If you want to know my recommended brands for mirin, check out my "20 Most Useful Condiments and Seasonings for Japanese Cooking" post.
Light soy sauce – You can substitute for dark soy sauce, but in that case you will need to increase the amount just a little bit (because the usuuchi soy sauce is higher in salt) and your soup colour will be darker.
Chopped green onion – This is to garnish.
Sesame oil – The aroma and flavor of the elegant toasted sesame seeds match the broth. I recommend Kadoya's sesame oil.
Kizami nori – The taste of nori and okayu is a perfect match! However, if it is not easily available, omitting it is not a problem.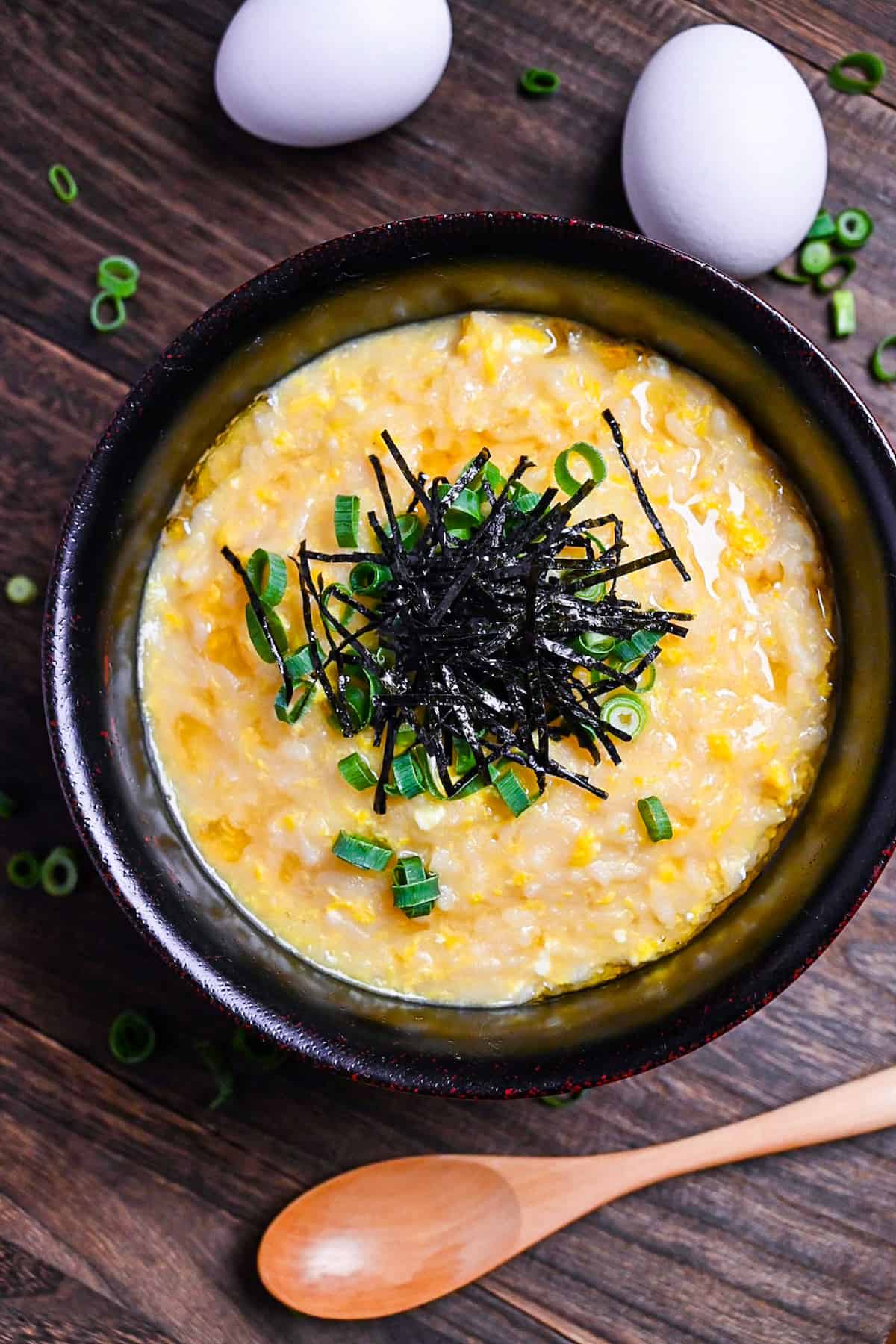 Instructions on how to make this okayu recipe
A simple dish should be simple to make too! Follow these easy instructions to make this delicious okayu from scratch!
Start by preparing the dashi. I opt for homemade awase dashi made with dried kelp and bonito flakes, but you could make a vegetarian/vegan kelp and shiitake mushroom stock if you prefer. Alternatively, you can use instant dashi or dashi bags.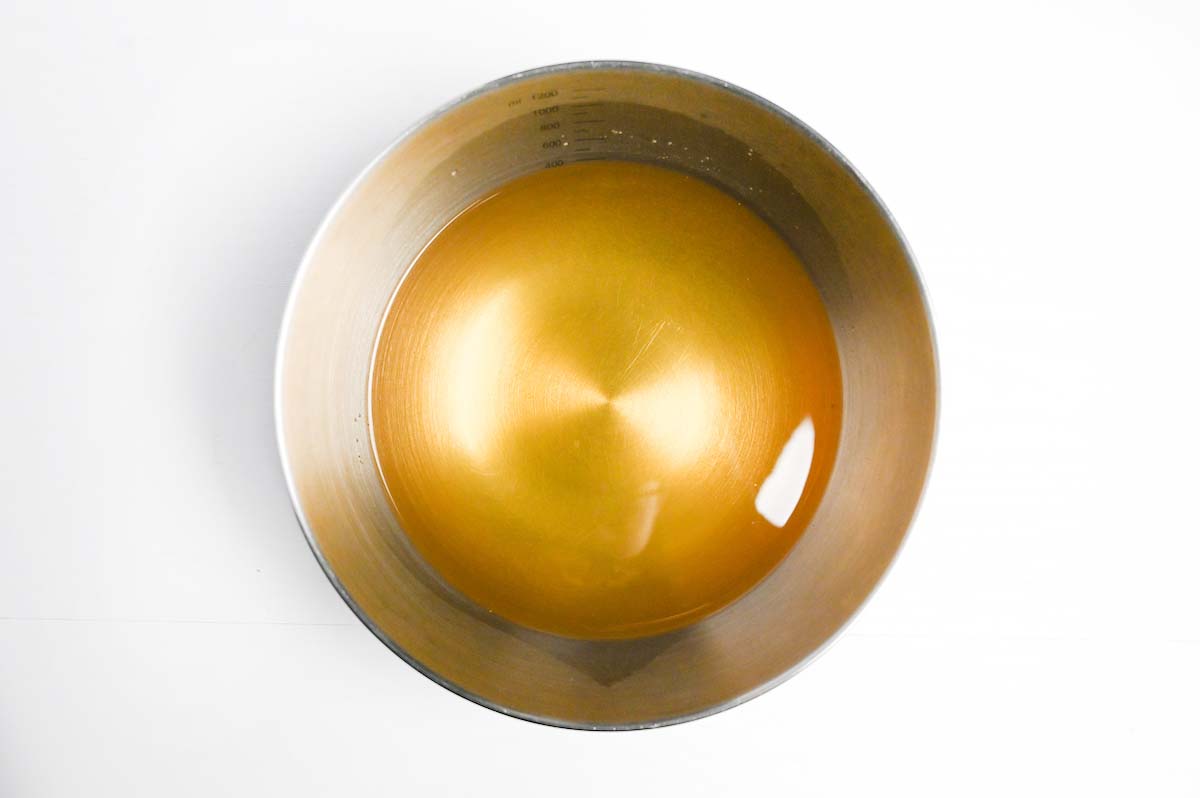 Transfer the dashi to a pot and bring it to a boil over a medium heat.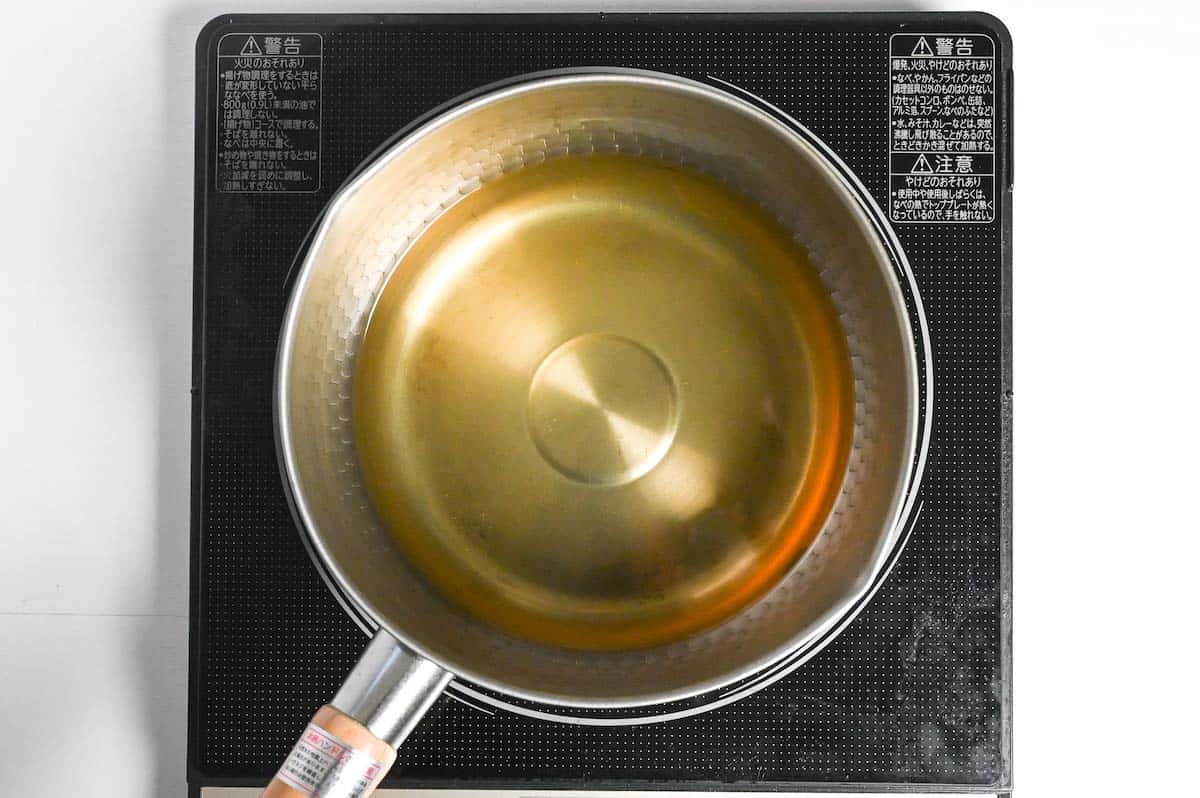 While the dashi is heating, whisk the egg in a bowl until the yolk and whites are combined.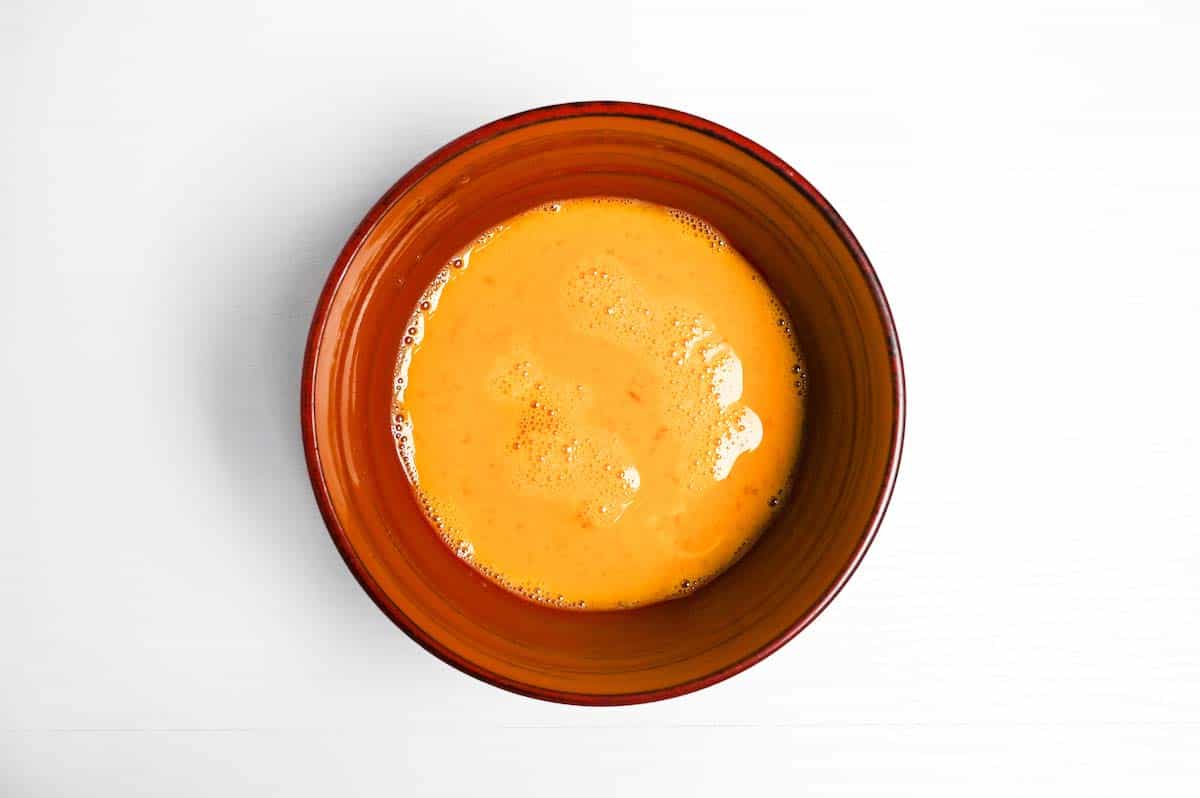 Add the rice and condiments
If you prefer a thinner consistency porridge, you can wash the cooked rice in a sieve before adding it to the broth. Be sure to shake it thoroughly to remove the excess water.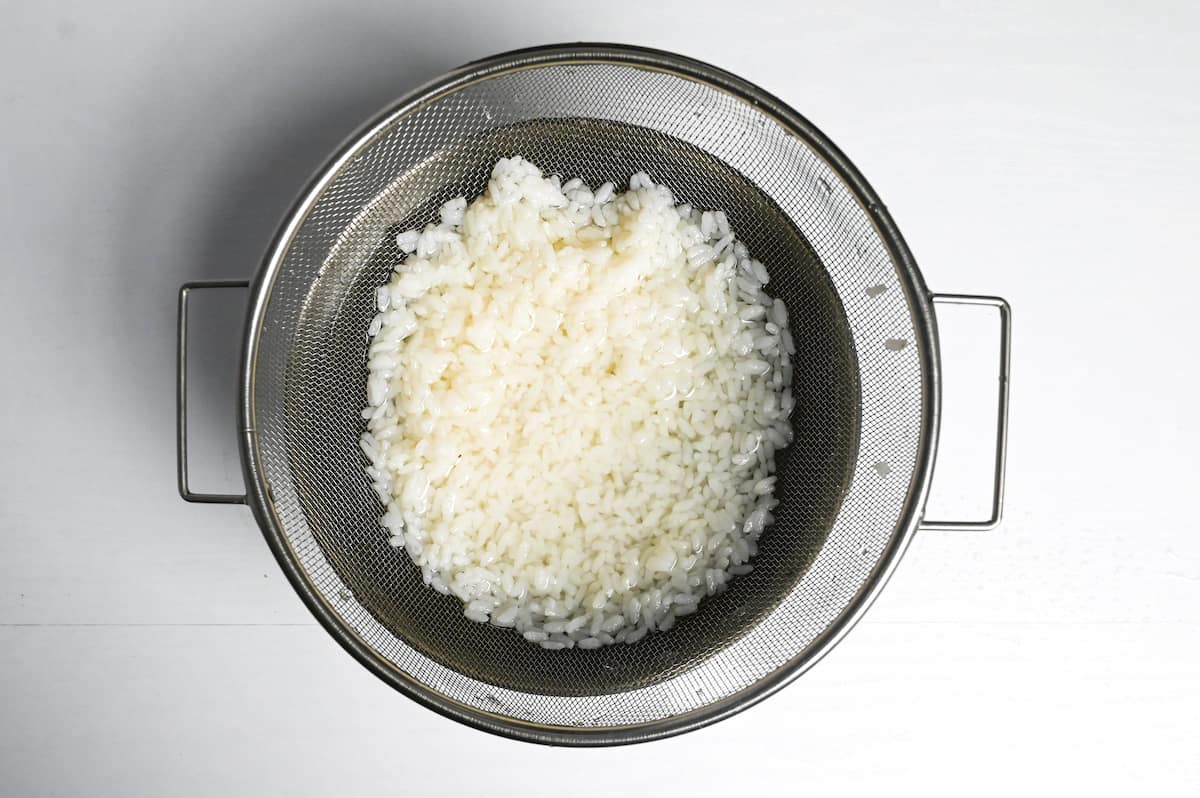 Once the dashi is boiling, add the cooked rice.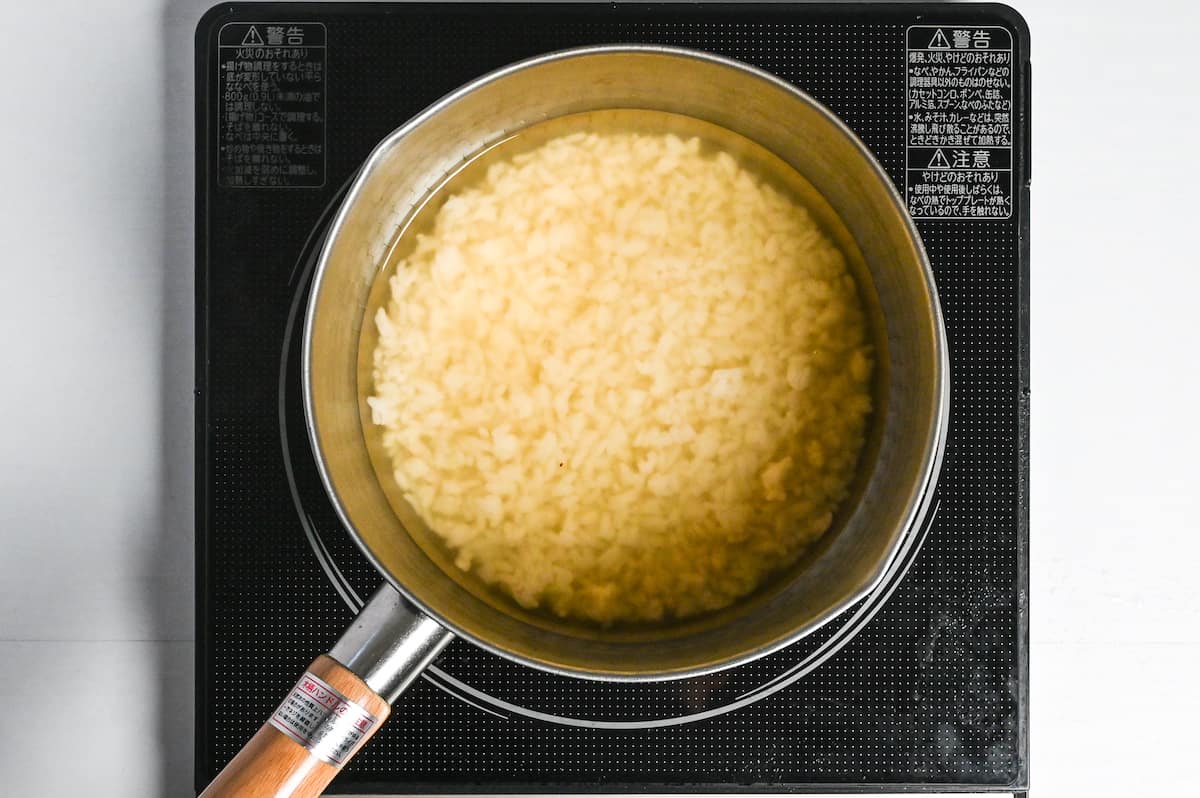 Next, add the sake, mirin and light soy sauce and mix.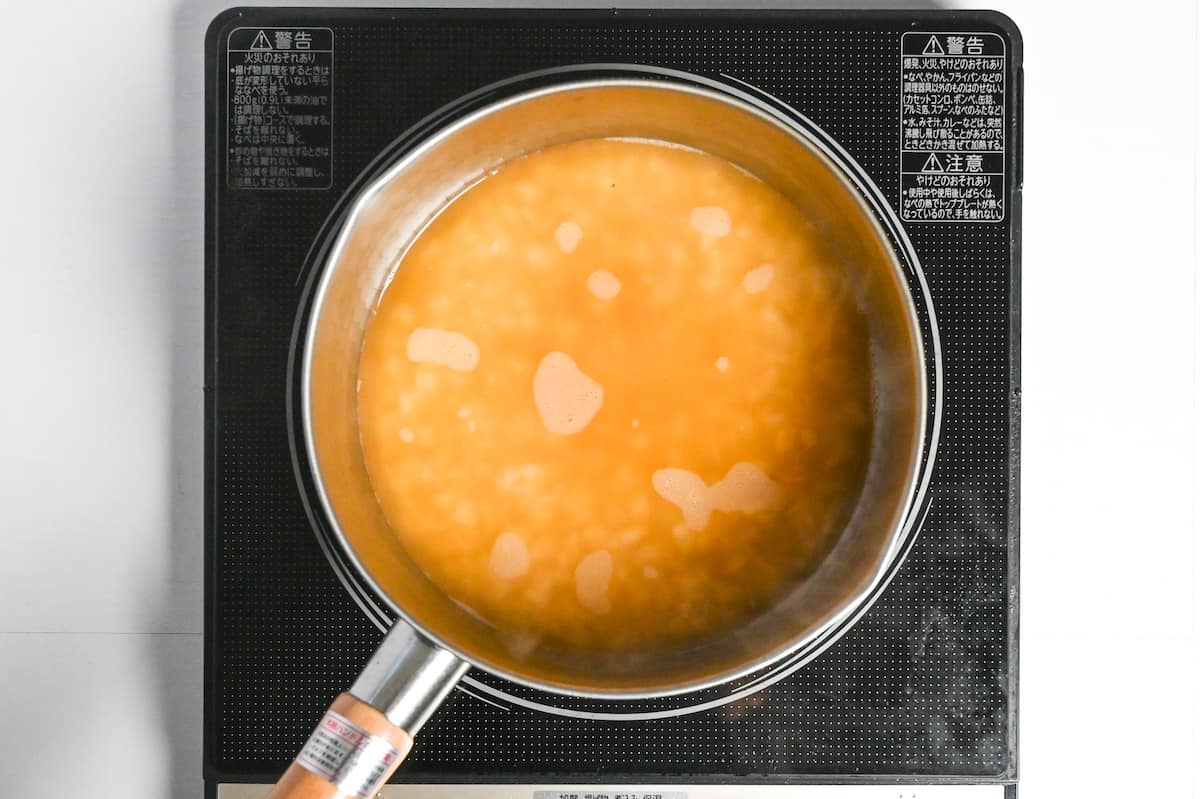 Lower the heat to a simmer and place a lid on the pot slightly ajar to allow the liquid to reduce a little. Check frequently to access the consistency, the longer you cook it the thicker it will become.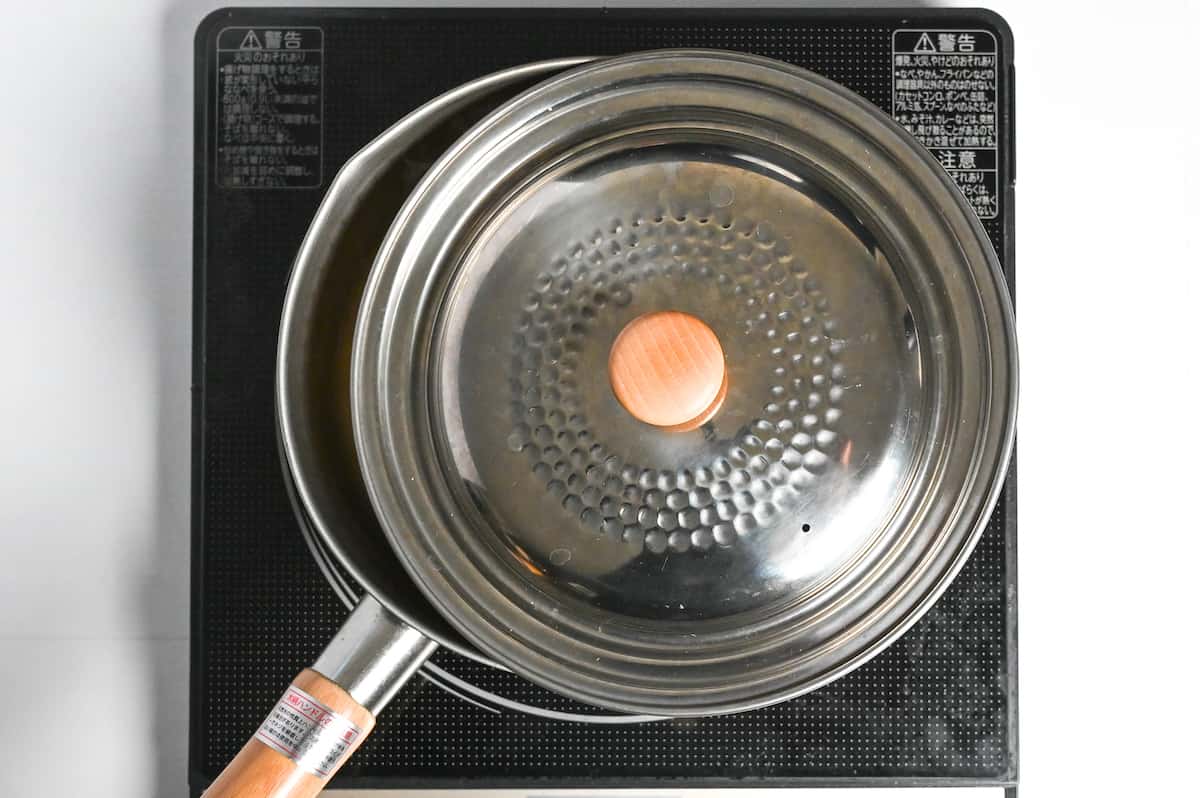 Once the okayu reaches your desired consistency, pour the whisked egg into the pot and don't touch it for 20-30 seconds.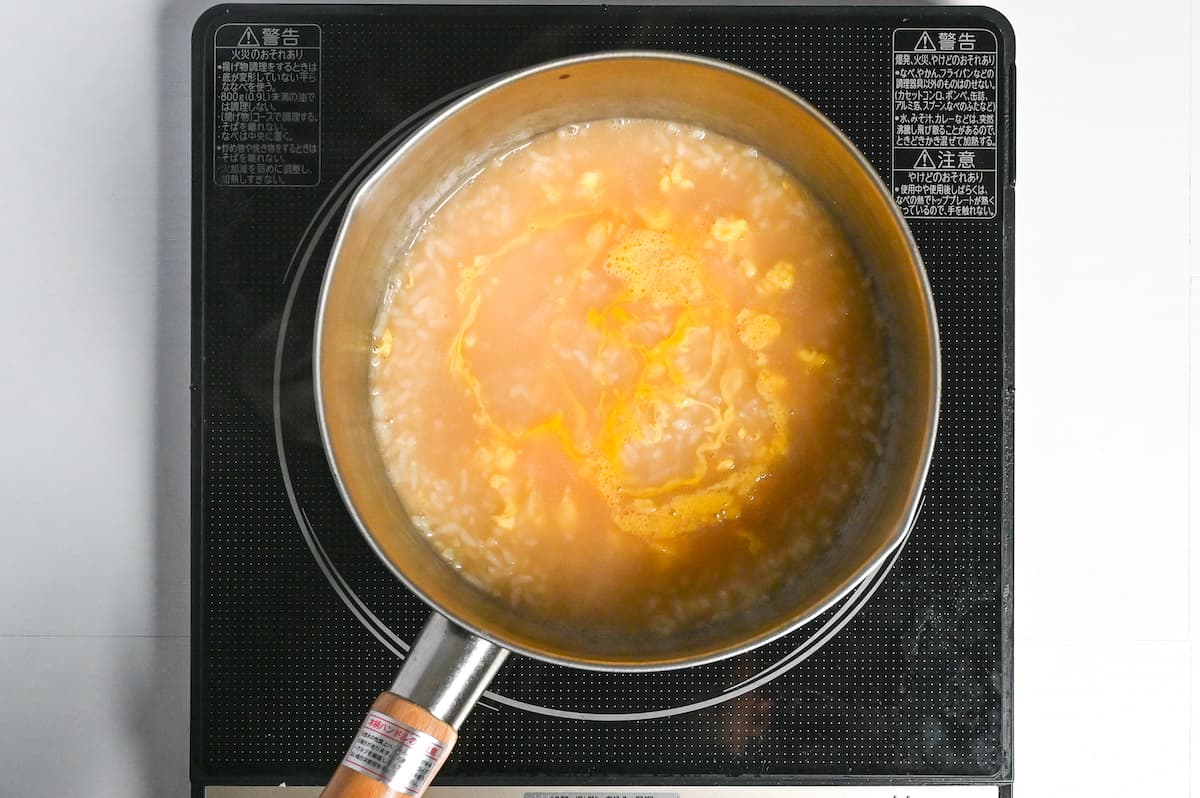 After 20-30 seconds have passed, mix the egg to break it up and evenly distribute it throughout the rice.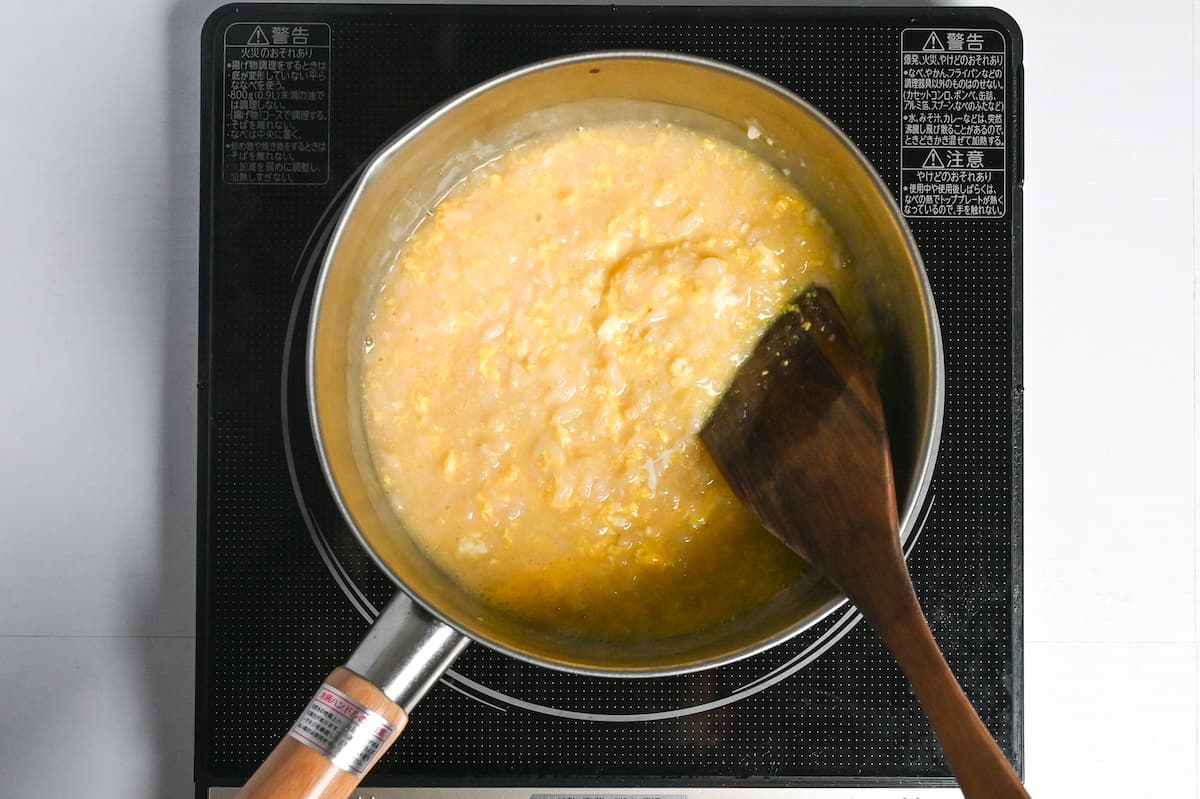 Transfer to a bowl and top with a drizzle of sesame oil, a sprinkle of chopped spring onion and kizami nori (or toppings of your choice).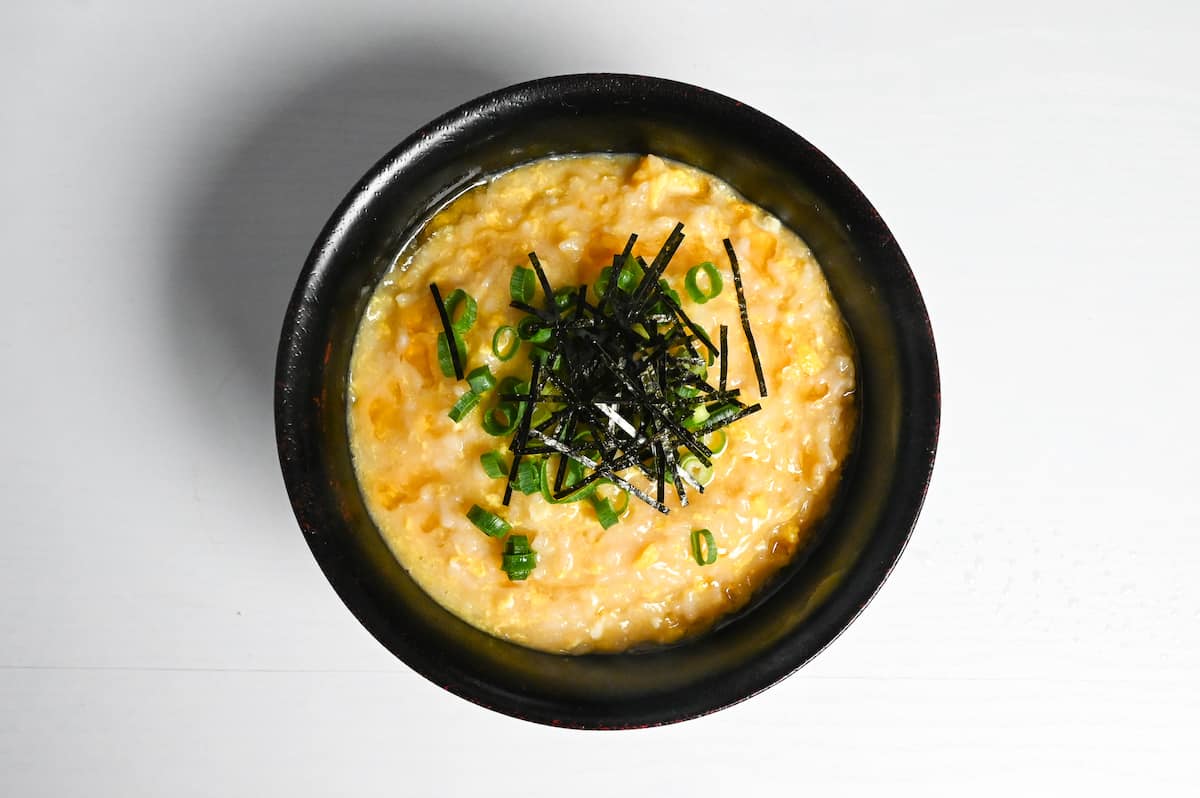 Enjoy!
Storing and reheating
Leftover okayu can be stored in the fridge for up to 2 days, or 2-3 weeks in the freezer. To prevent bacterial growth, don't save half eaten okayu, only store untouched okayu that is still in the pot. It's recommended to divide it into individual portions and store in airtight containers.
To reheat refrigerated okayu, simply heat it in a pot on the stove. Alternatively, you can warm it in the microwave. Mix it every 30 seconds to 1 minute to ensure even heating.
To defrost frozen okayu, either thaw in the fridge over night or place the container in a bowl of hot water (be careful not to let the hot water enter the container). You can also defrost in the microwave by removing the lid, adding about 1 tsp of water and covering with plastic wrap. Microwave for about 2 minutes at 500-600W and mix every 30 seconds to 1 minute.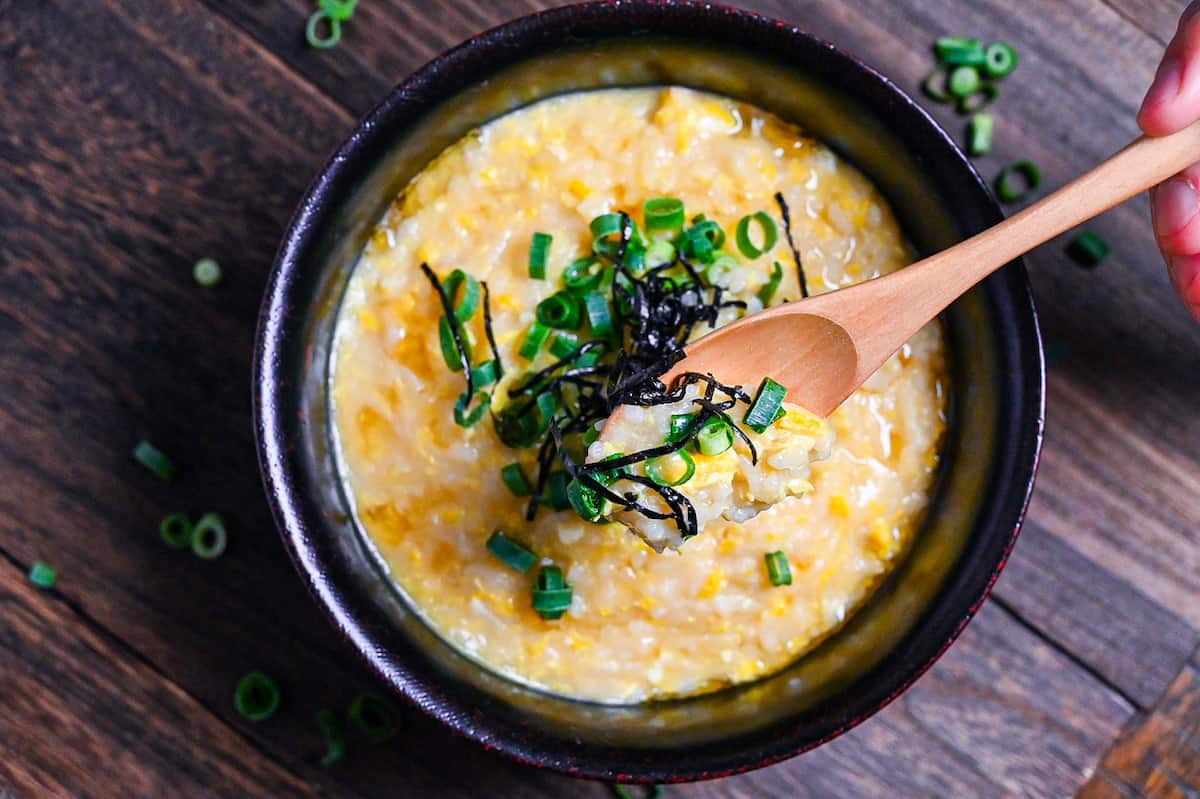 Pairing/Serving Suggestions For Okayu
Ever wondered what side dish pairs well with okayu? It can be a bit tricky, right? Especially since we usually eat it when we're not at our best. But hey, I've got your back! I've handpicked five dishes that I absolutely love to pair with okayu. So, let's dive in!
Spinach ohitashi (Japanese spinach salad in dashi)
If you're diving into a bowl of okayu, my go-to vegetable side is "Spinach ohitashi." The subtle flavors of dashi really bring out the taste of the okayu. Plus, you might also want to try sesame spinach salad and wakame seaweed salad – they're both great choices too!
Cucumber pickles
If you fancy a smaller side dish, why not try pickled cucumbers? My recipe throws in a bit of ginger too, which is just another ticket if you're feeling a bit unwell. Plus, these tangy cucumber pickles are the perfect sidekick to all sorts of Japanese dishes!
Simmered pumpkin
For those looking for a more filling vegetable side dish, I also recommend the simmered pumpkin. It has a moderate sweetness and a gentle flavor that goes well with porridge!
Sakana no nitsuke (simmered fish)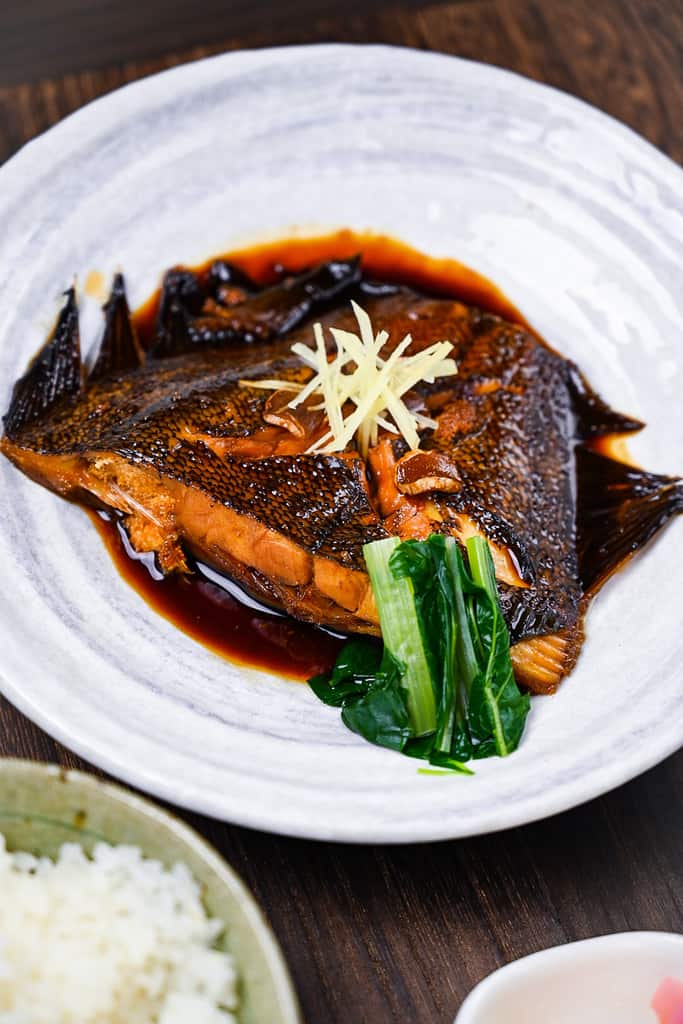 Craving a main dish instead of a side? No worries! For those who want a main dish, I also recommend sakana no nitsuke (simmered fish)!
If you feel that's a bit too rich to pair with okayu, I've got you covered. Grilled mackerel or saury are also fantastic options with a more simple flavour that you'll surely love.
Chicken tsukune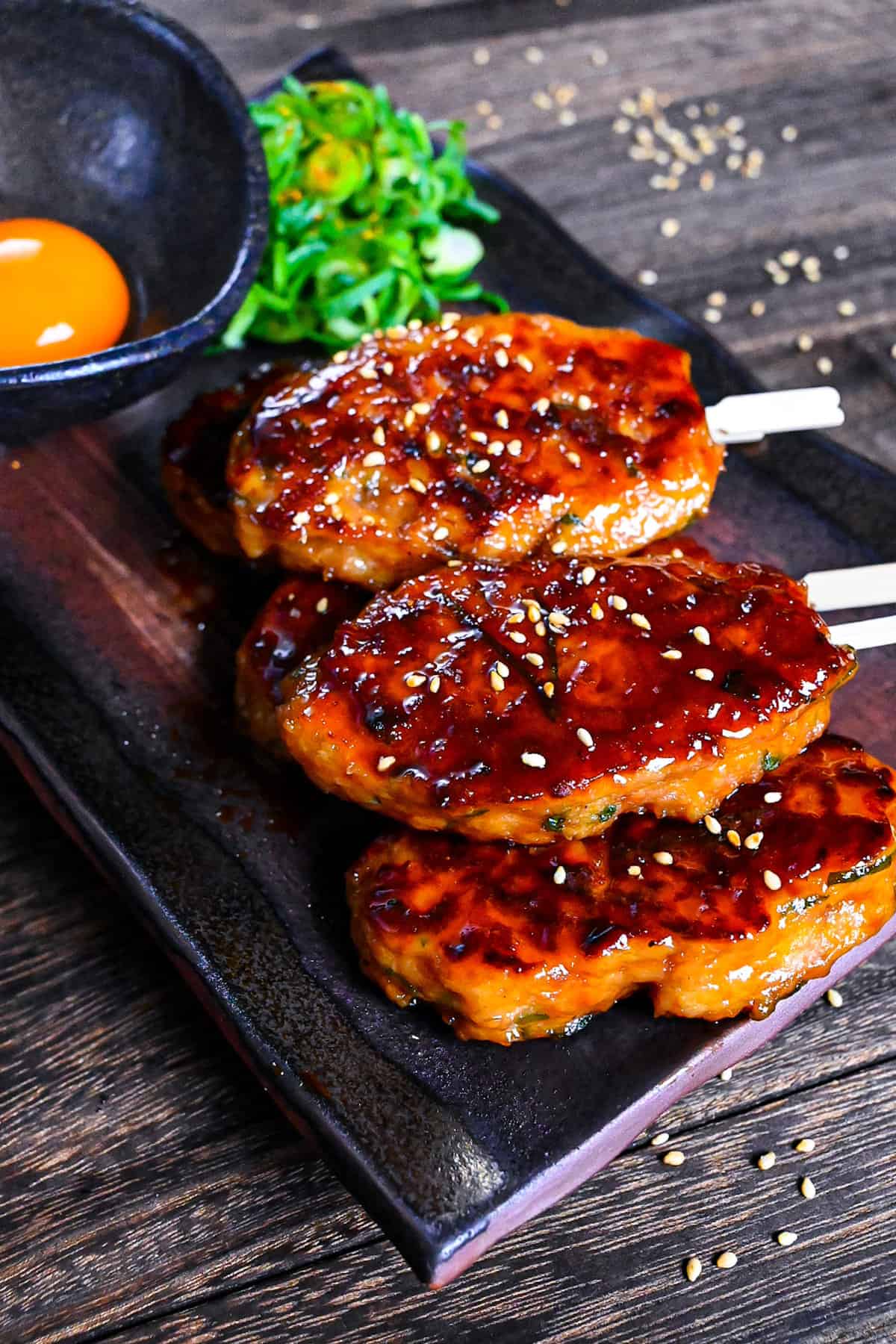 If you want a meat dish instead of fish, we recommend chicken tsukune! Chicken tsukune is a dish made by shaping minced chicken, skewering it, and cooking it with sweet and savory sauce. It is easy to make as well!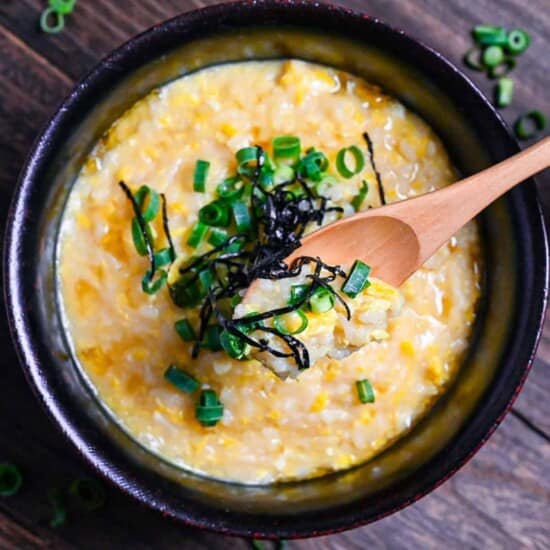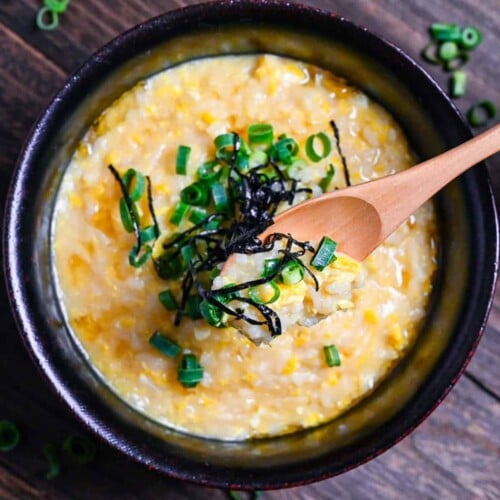 Easy Okayu with Egg (Japanese rice porridge)
---
How to make simple and comforting Japanese rice porridge "Okayu" flavored with dashi and egg.
---
---
---
---
Equipment
Zojirushi Rice Cooker

(optional)
Instructions
Pour

400 ml dashi stock

into a pot and bring to a boil over a medium heat.

While you wait for the dashi to boil, whisk

2 medium egg(s)

in a small bowl until the yolk and whites are combined.

Optional: If you prefer your porridge with a thinner consistency, wash the cooked rice in a sieve and shake thoroughly to remove excess water.

Once the dashi is boiling, add

200 g cooked Japanese short-grain rice

,

1 tsp sake

,

1 tsp mirin

and

1 tbsp light soy sauce

.

Turn heat down to simmer and continue to heat with a lid set slightly ajar. Check the consistency frequently.

Once it reaches your desired consistency, pour the whisked egg into the pot and and cook for 20-30 seconds without mixing.

After 20-30 seconds, mix thoroughly to break up the egg and evenly distribute it through the rice.

Remove from the heat and divide into serving bowls.

Serve with

1 drizzle sesame oil

and

1 tbsp finely chopped green onion(s)

or

2 tbsp shredded sushi nori seaweed "kizami nori"

(or toppings of your choice).

Enjoy!
Notes
Store leftovers for up to 2 days in the fridge or 2-3 months in the freezer. (See in post above for more information on storing and reheating.)
Nutrition
Serving:
375
g
|
Calories:
256
kcal
|
Carbohydrates:
40.3
g
|
Protein:
10.4
g
|
Fat:
5.9
g
|
Saturated Fat:
1.82
g
|
Polyunsaturated Fat:
0.87
g
|
Cholesterol:
204
mg
|
Sodium:
748
mg
|
Fiber:
1.6
g
FAQ
What is the meaning of okayu?
"Okayu" is a Japanese rice porridge that people love for its simple, comforting taste. Traditionally made with only rice and water, it is cooked until the rice is thick and creamy. It's often served to people who are sick, young babies, or anyone who is in need of a comforting meal. You can enjoy okayu on its own or spice it up with toppings like pickles, umeboshi (pickled plums), or sesame seeds.
Is Okayu or Kayu Japanese?
Both "Okayu" and "Kayu" refer to the same dish, a Japanese rice porridge. In Japanese, the use of "o" in front of an object is called a beautifying word, which is used to "raise the level of elegance and beauty of expression."
What is the difference between okayu and zosui?
Zosui is made from washed rice, while okayu is traditionally made from raw rice cooked with an extra water. Also, okayu is usually lightly seasoned. For the full scoop on the many ways to whip up okayu, check out the article above.