This delicious Japanese style fried rice is stir fried with pork and vegetables and flavoured with miso paste to give it a deep umami flavour. Not only is it a real treat (instead of ordering take away!) but it only takes 15 minutes!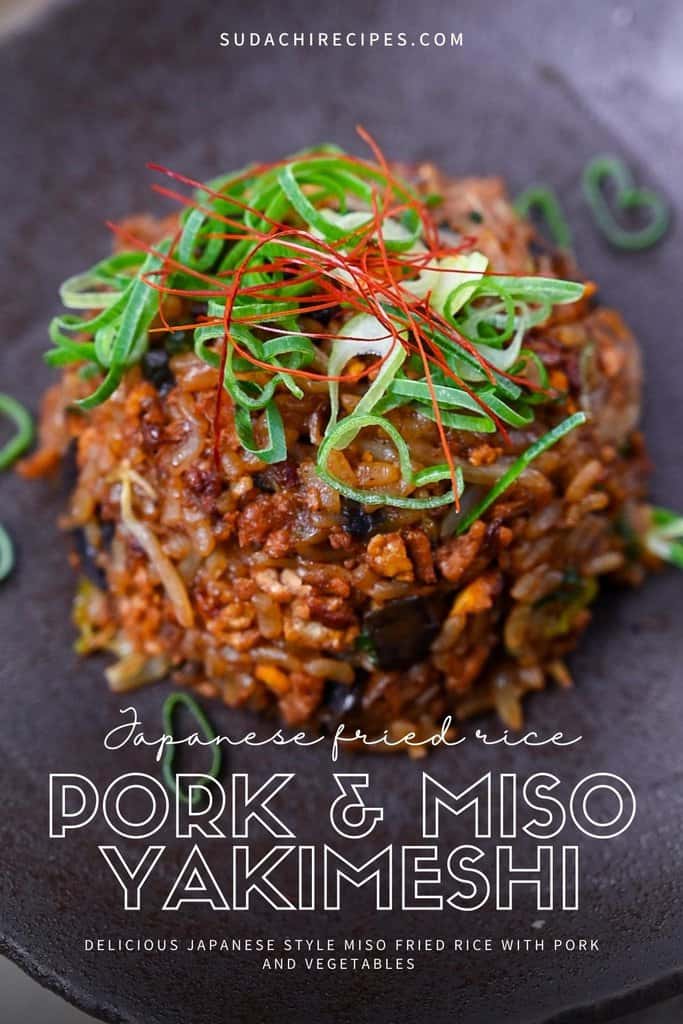 Disclaimer: This post contains Amazon affiliate links. Sudachi Recipes earn a small percentage from qualifying purchases at no extra cost to you. See disclaimer for more info.
Jump to:
What is Yakimeshi?
Long story short, yakimeshi is one of a few ways to say "pan-fried rice" in Japanese. This dish is often enjoyed at ramen restaurants, teppanyaki restaurants, chuka (Chinese style) restaurants and of course at home. It's safe to say it's a staple dish for Japanese households as its quick to make and a great way to use up leftover ingredients.
You can easily say yakimeshi is just a Japanese variation of fried rice like any other Asian countries.
In this context, yaki (焼き) means fried and meshi (飯) is rice. The word "yaki" is often used for a lot of fried Japanese dishes such as:
Yakimeshi VS Chahan: what's the difference?
Yakimeshi is simply a way to say "fried rice" in Japanese, but it is also commonly called "chahan". So, what about chahan? Is there any technical differences? Well, not really.
The name "chahan" is said to be derived from the Chinese word "chao fan" (fried rice). In fact, the term "chahan" is more common in eastern Japan, while the term "yakimeshi" is more common in western Japan. To me personally, yakimeshi has more home cooked fried rice feeling in a frying pan.
If you want to get technical, another way to distinguish between yakimeshi and chahan is the timing of adding the eggs. It is often said that "chahan" is when the egg is stir-fried before adding rice, and "yakimeshi" is when the egg is added after the rice is stir-fried.
Also some people say "yakimeshi" is a home-style fried rice using more down to earth ingredients like cabbage, fish sausage, chikuwa, etc... and chahan is the fried rice that is served in Chinese restaurants.
To be honest, there's no concrete answer to this. All you need to know is that both yakimeshi and chahan both mean "fried rice", there's no right or wrong!
Yakimeshi VS Hibachi fried rice: what's the difference?
From a Japanese perspective, hibachi is a ceramic, metal, or wooden utensil that is filled with coals and used to generate heat. It was often used to heat rooms, boil tea, and perform simple cooking by lighting embers or charcoal fires inside to heat the hands and feet. However, hibachi is rarely seen or mentioned in Japan now.
So why is word "hibachi" used with "fried rice" in American-English? This specific usage is particularly seen in U.S. and means cooked on a large griddle, in Japan we call this "teppanyaki". The theory is, when teppanyaki was introduced to the U.S. for the first time, it was confused with hibachi or more accurately, a "shichirin" which is a type of small charcoal BBQ grill.
Just like there are English terms in Japanese, there are also Japanese terms in English that are used differently to the original meaning. So in conclusion, there aren't any differences between yakimeshi and hibachi fried rice, just the name and how they were originally cooked. It's quite interesting for me as a Japanese because the word "hibachi" has almost died out in Japan, but it's actively used in another country for a completely different definition!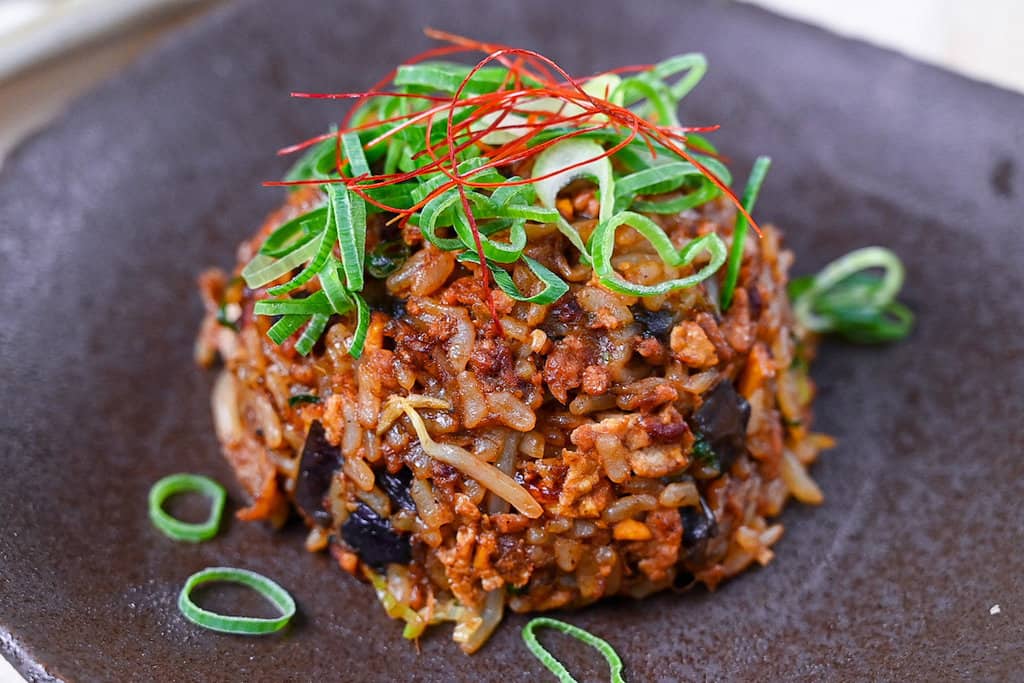 What does Japanese Fried Rice taste like?
It's really hard to say what makes Japanese fried rice different because there is no one strong example. It comes in a lot of different forms and differs from family to family and restaurant to restaurant. As you can suspect, fried rice is extremely versatile dish, I mean that's why it's got so many different variations throughout Asia.
However, here is the list of popular fried rice variations in Japan:
In this recipe, I opt for red miso base yakimeshi with pork belly, ground pork and aubergine.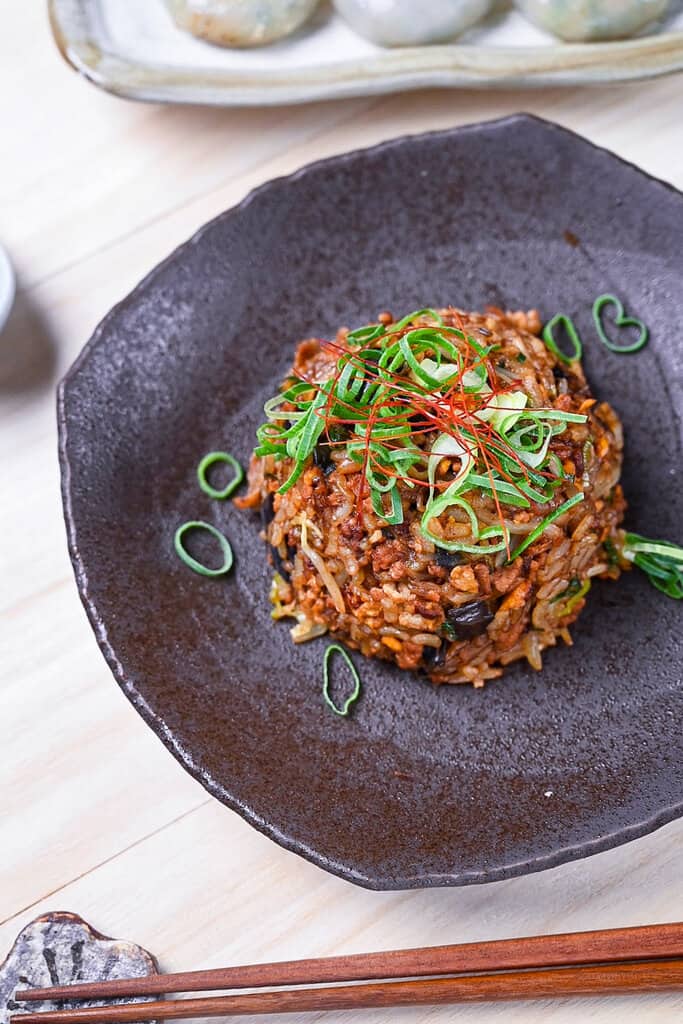 Tips and tricks to make a good yakimeshi at home
When I first started cooking, I literally started with yakimeshi. I was like 13 or 14 years old back then and ingredients at home were very limited. Also, because I didn't have mobile phones or laptops, I had to cook only with my imagination.
It's true that I failed so many times, but I learnt so many things at the same time. All I thought was "How can I make my meal better next time?"
Since then, I got to know what works and what doesn't over time. So here, I will list some of the tips and tricks that I picked up over these 15 years.
Cool down the rice
By saying that, try not to use steaming hot rice from rice cooker, but warm or cool rice. The reason is, if the rice is too hot, it tends to get too sticky. Cold rice is absolutely fine if you have good fire stove at home. However, if you have electric stove, cold rice takes a long time to cook and can easily become lumpy, resulting in inconsistent flavors.
If you use cold rice, warm it up a little bit in a microwave.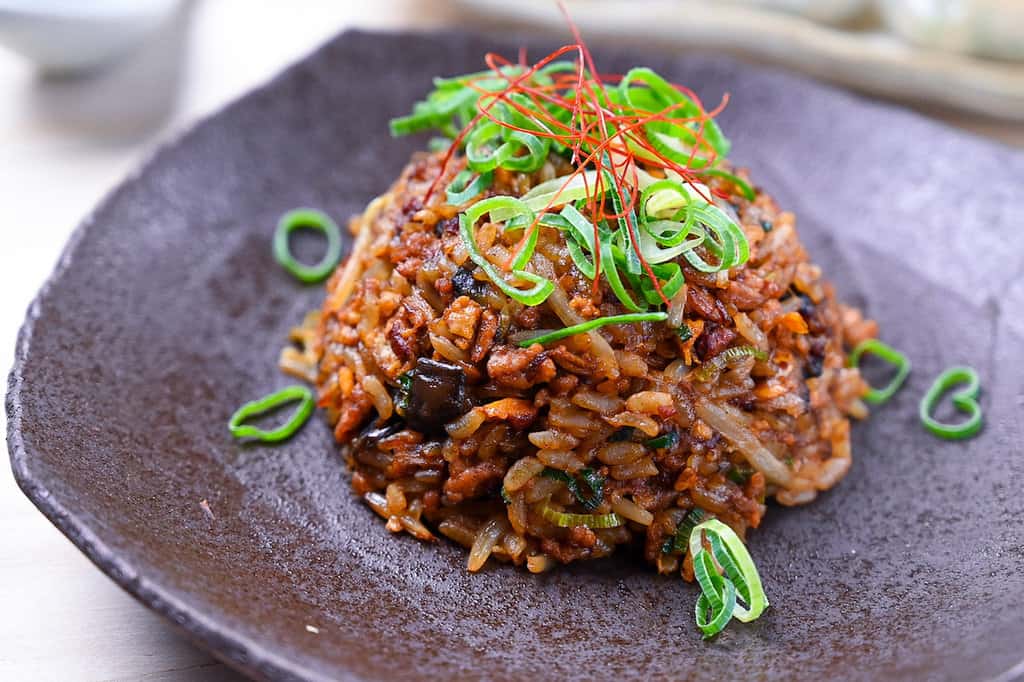 Do not cook too much at a time
The more ingredients you add, the lower the temperature in the pan, so I would recommend to make 2 portions at the same time at most. If the quantity is too big, it will be difficult for the ingredients and seasonings to mix throughout as well.
Prepare the ingredients before you start to cook
This includes cutting vegetables and meat, as well as measuring condiments. Timing and efficiency are extremely important when it comes to making yakimeshi as it's a extremely quick dish to make.
If you fry and cut vegetables at the same time, it will end up being over cooked or even burnt at the bottom.
Use a generous amount of oil
If there is not enough oil, the eggs will absorb all the oil, or the oil will not be distributed throughout the rice, causing burnt or soggy fried rice. So it's best to use generous amount of oil for fried rice. Just make sure it evenly coats the pan.
Make half-cooked scrambled egg first
There are so many tricks about eggs and rice on the internet. However, after trying almost all of them, I came to the conclusion that I like the scrambled egg way the most.
Basically, before anything, add generous amount of oil into the pan and flash cook the eggs while mixing to make half-cooked scramble eggs, then add the rice. That way, the nice texture of egg will remain.
Don't cook for too long
I made the same mistake over and over back then thinking "the longer I cook it, the drier the rice and the better the texture" but it would just end up being burnt.
Nice consistency of rice is not determined by the long cook time, but the other processes.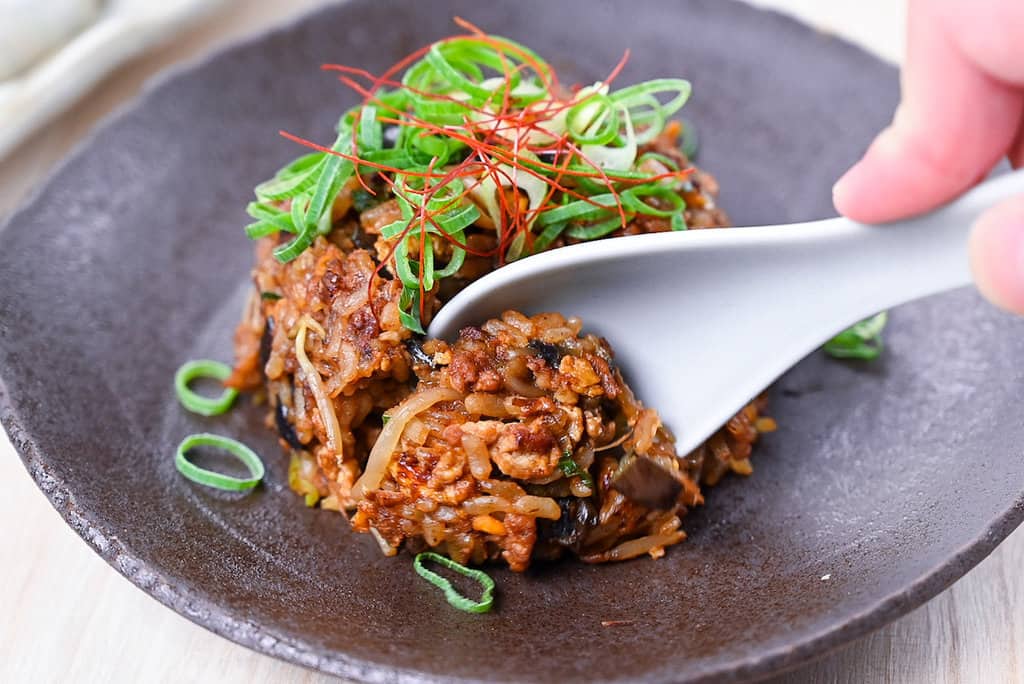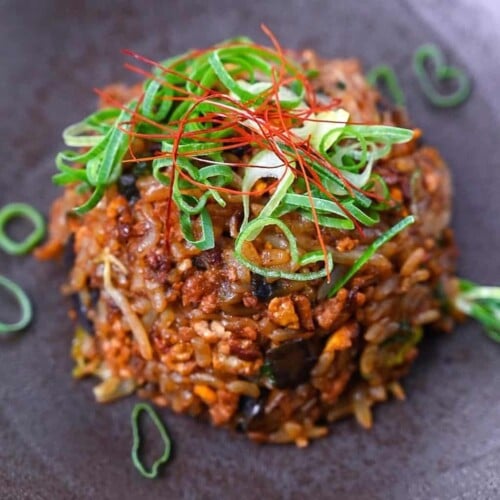 Pork and Miso Yakimeshi (Japanese fried rice)
How to make Japanese style miso flavour fried rice "yakimeshi" with pork and vegetables.
Ingredients
1

tsp

lard

1

tbsp

green onion(s) -

finely diced

1

tsp

ginger

-

finely diced

2

garlic clove(s)

-

finely diced

100

g

ground pork

50

g

pork belly

-

finely diced

60

g

eggplant(s)

-

cubed

1

pinch

salt and pepper

1

tbsp

red miso paste

½

tsp

soy sauce

½

tsp

oyster sauce

1

tsp

Chinese-style chicken bouillon powder

2

medium egg(s)

100

g

beansprouts

finely chopped green onion(s) -

garnish

chili oil

-

optional

chili threads

-

optional
Instructions
Heat a wok on medium-high and melt

1 tsp lard

. Once melted, add

1 tbsp green onion(s)

,

1 tsp ginger

and

2 garlic clove(s)

(finely diced). Stir fry until fragrant.

Next, add

100 g ground pork

,

50 g pork belly

and

60 g eggplant(s)

(cubed) with

1 pinch salt and pepper

. Stir fry everything together until the meat is sealed.

Add

1 tbsp red miso paste

,

½ tsp soy sauce

,

½ tsp oyster sauce

and 

1 tsp Chinese-style chicken bouillon powder

, mix until everything is well incorporated.

Once mixed, push the contents of the wok to one side and crack

2 medium egg(s)

into the empty space.

Scramble the egg and fry until half cooked. 

Add

200 g cooked Japanese short-grain rice

and stir fry until all the ingredients are evenly distributed throughout the rice.

Crush

100 g beansprouts

in your hands and add them to the wok. Stir fry for 1-2 minutes.

Remove the wok from heat and dish up. Top the yakimeshi with

finely chopped green onion(s)

,

chili oil

and

chili threads

.

Enjoy!
Notes
Best made with day-old cooked rice that has been chilled. 
If using freshly cooked rice, leave it to cool down before making yakimeshi.