Hitsumabushi is a famous regional Nagoya dish made with grilled eel coated in a delicious, sweet unagi sauce served over rice in a wooden container. There are 3 delicious ways to enjoy this recipe, so here I will teach you how to make it from scratch and eat it like a pro!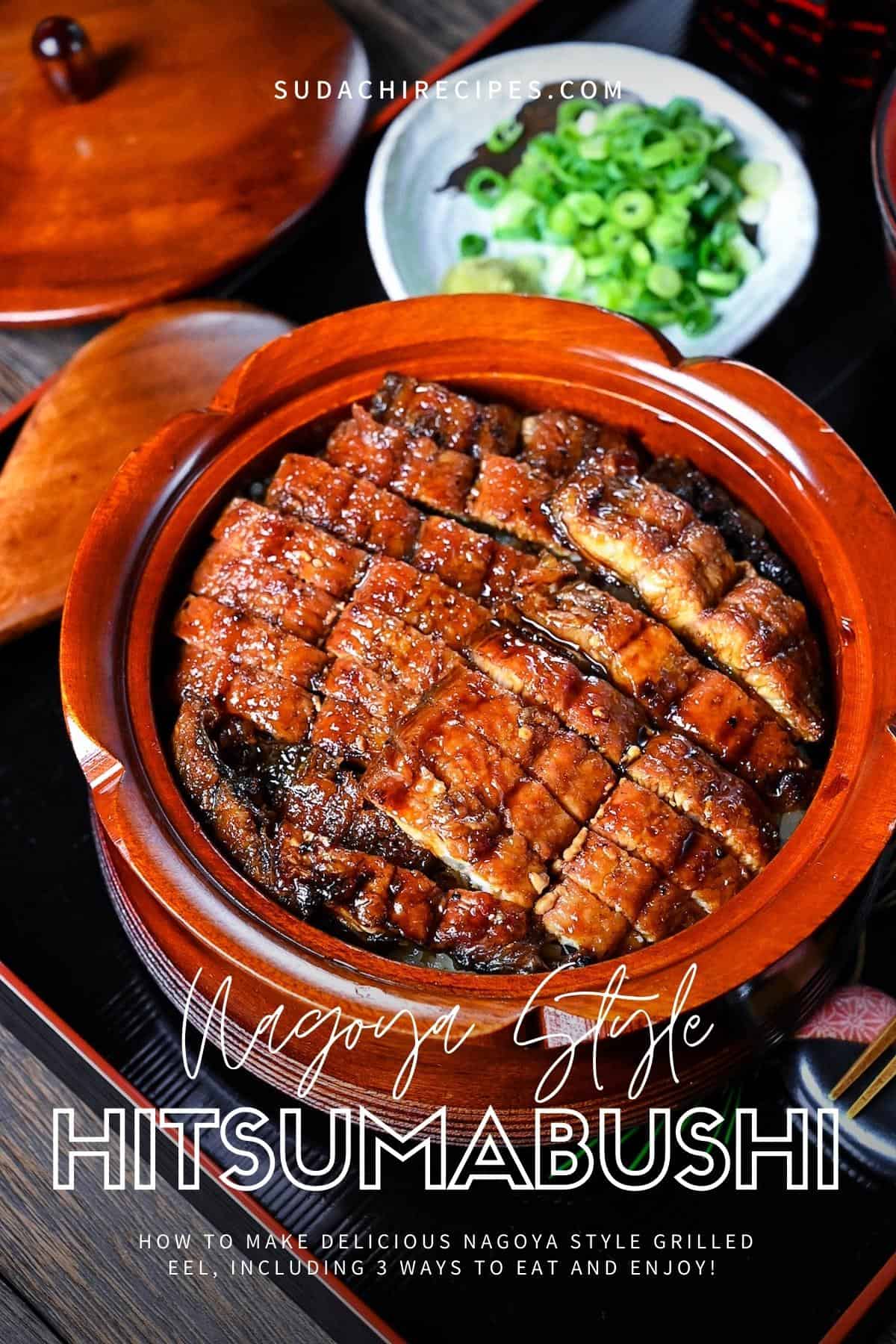 Disclaimer: This post contains Amazon affiliate links. Sudachi Recipes earn a small percentage from qualifying purchases at no extra cost to you. See disclaimer for more info.
Jump to:
What is unagi hitsumabushi?
Hitsumabushi (ひつまぶし) is a local dish of Nagoya City, Aichi Prefecture (where I was born and currently live), consisting of chopped grilled eel mixed with rice. Using an abundance of grilled eel and rice soaked in a special eel sauce, this dish is a specialty worthy of Nagoya, a city with a penchant for luxury.
Although this dish has spread throughout Japan, the name "Hitsumabushi" is actually a registered trademark of the "Atsuta Horaiken" (where the dish was born) restaurant in front of Atsuta Jingu Shrine in Nagoya City. The word "hitumabushi" originates from the finely chopped eel kabayaki scattered (mabusu) over rice in a wooden rice container (hitsu).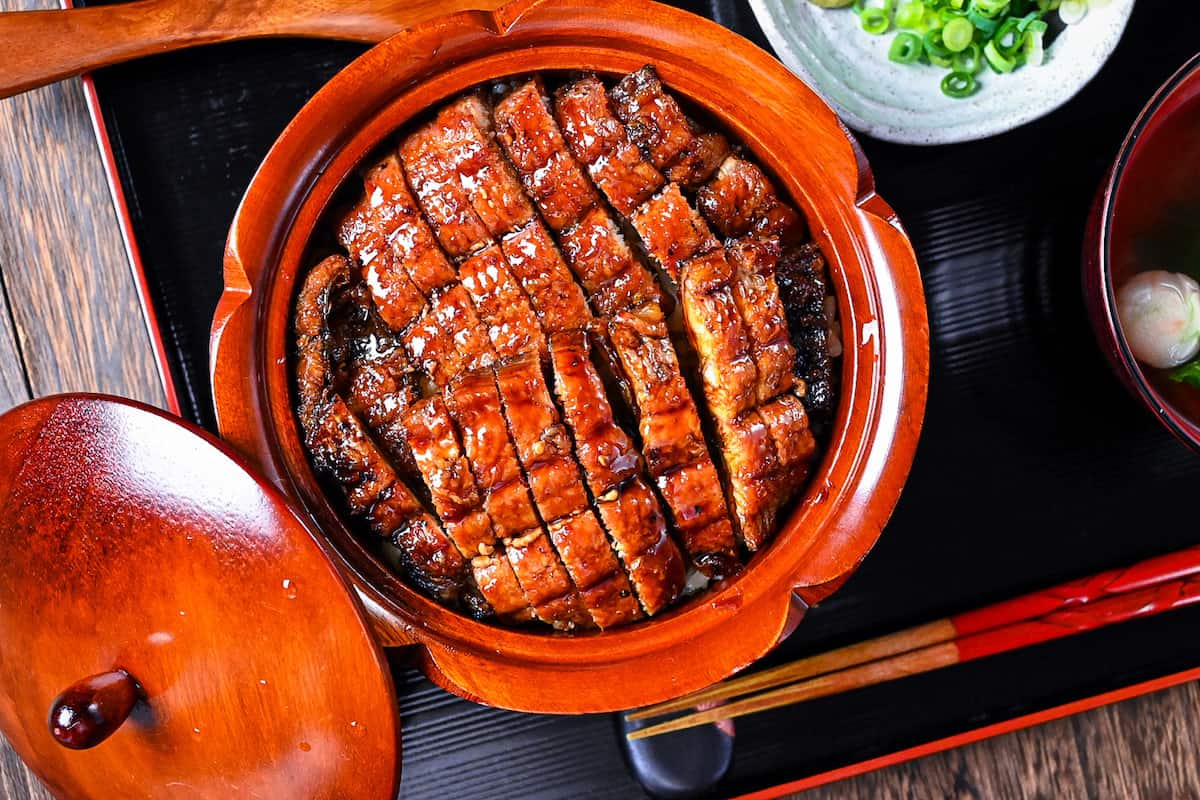 Brief history of hitsumabushi
Before Hitsumabushi was invented, Houraiken used to deliver unagi donburi in Setoyaki (a type of local ceramics), but it is said that the bowls would break after each delivery and the restaurant staff would be annoyed and look for the solution.
So, they started to deliver eel and rice for multiple people in a large hitsu (wooden container). It is because of this history that no ceramics are used to serve Hitsumabushi to this day. However, when rice for several people was put into one container, some people would leave some of it behind, so the owner back then came up with the idea of cutting the eel into small pieces and mixing it with the rice. This was essentially the birth of hitsumabushi.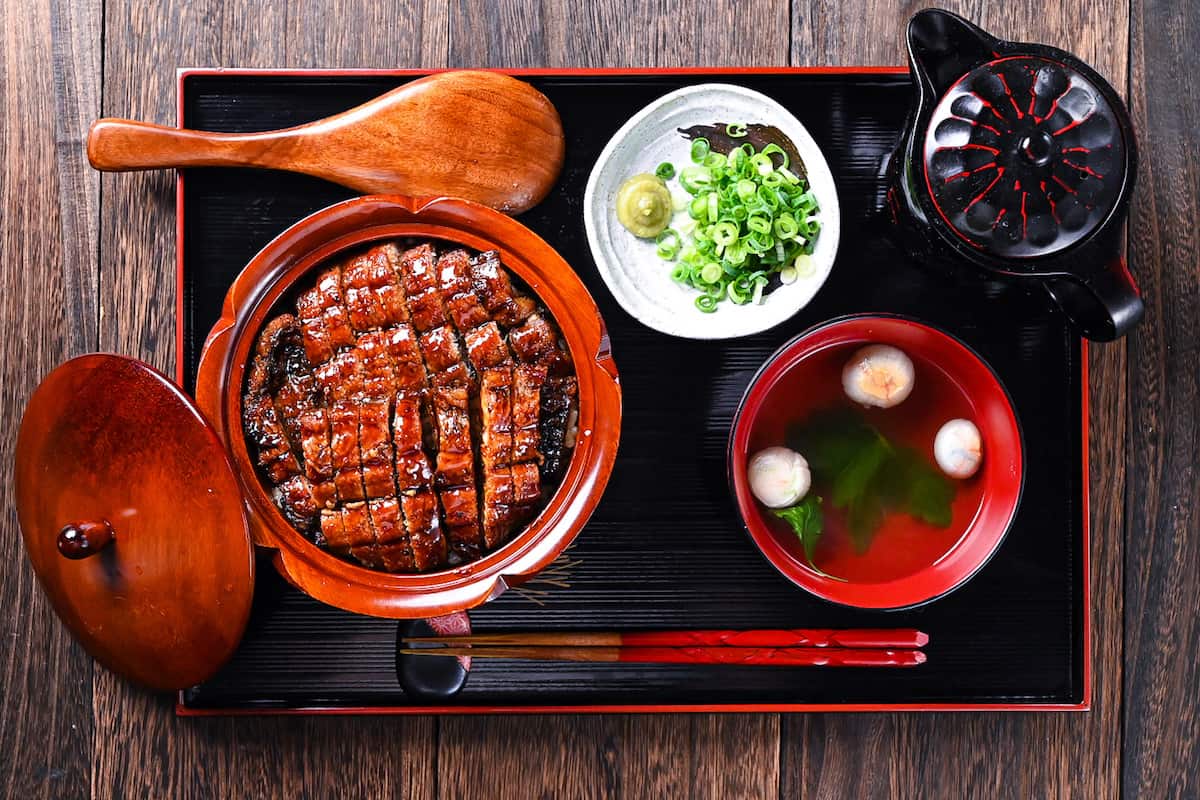 Enjoy the eel in three different ways at once
Unlike unagi don, there are three ways to eat hitsumabushi.
Enjoy as it is.
Enjoy with condiments (chopped spring onions, kizami nori...etc).
Eat it as ochazuke (with hot tea or dashi broth)
You can enjoy eels in three different ways to the end. The beauty of Hitsumabushi is that you can arrange the eel to your liking. My favourite way is actually ochazuke with wasabi.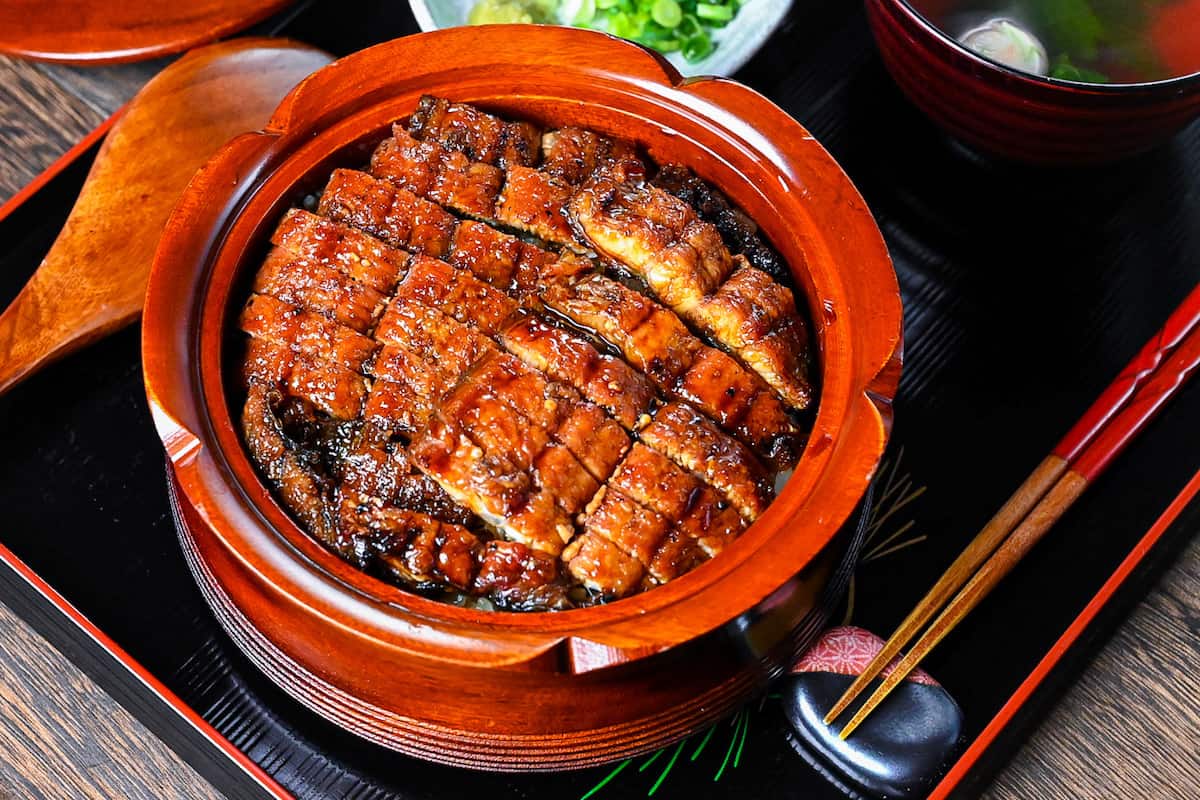 Nagoya meshi (名古屋めし)
As a "foodie prefecture" (which I'm greatly proud of), the term "Nagoya Meshi" has been widely recognised throughout Japan. Nagoya is not just a big city sitting between Tokyo and Osaka!
Nagoya has become famous nationwide for its collection of dishes that belong to a category called "B-class (casual) gourmet" and some of them can be traced back to around 50 years ago.
A few examples of Nagoya meshi are:
Aichi is definitely not known for being sophisticated in any way... but I can confirm, as a man who was born and raised here, that casual food from around this prefecture is one of the best in all of Japan!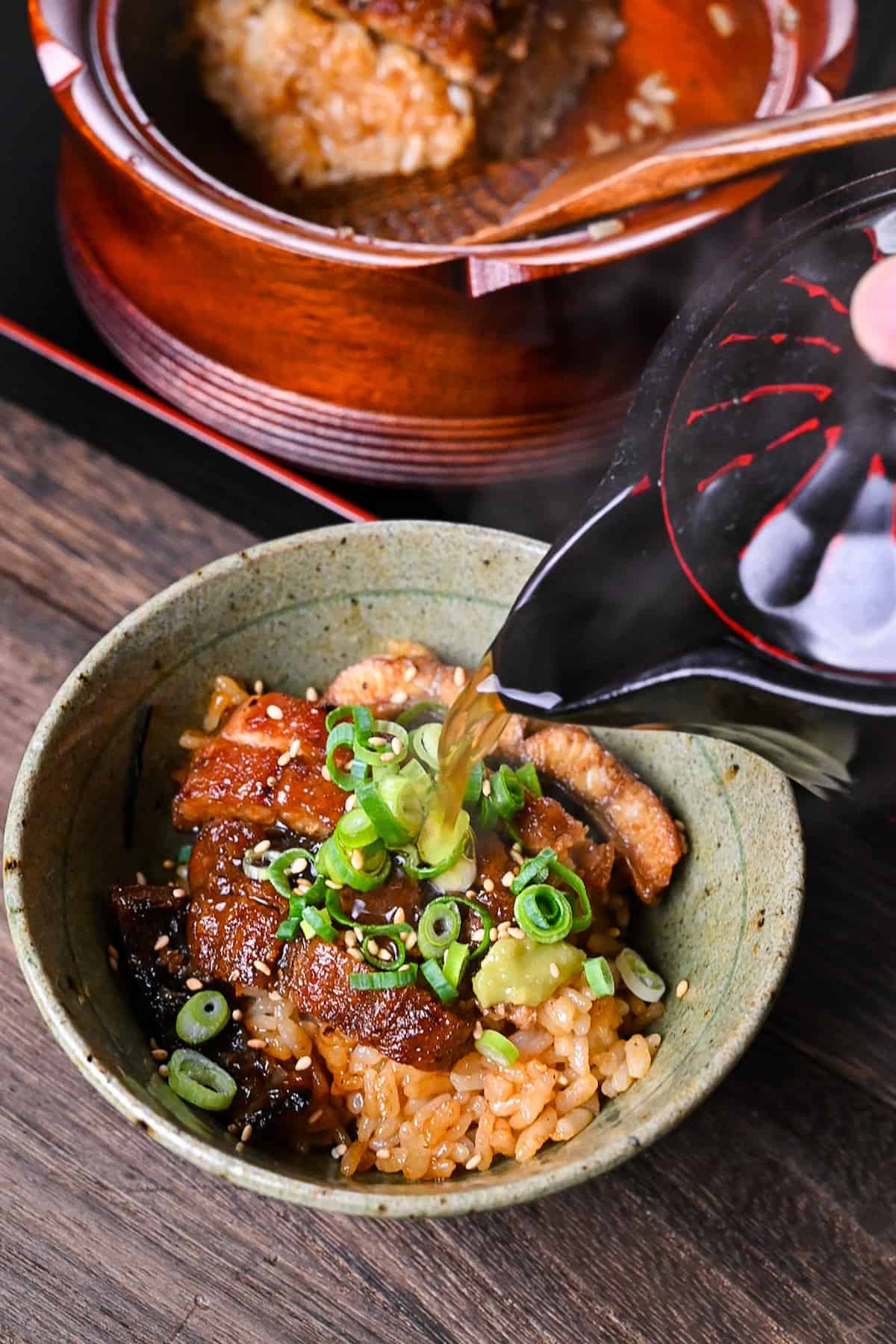 Ingredients to use for my hitsumabushi
In this homemade hitsumabushi recipe, I use following ingredients:
Eel (unagi) sauce
Green tea bag
Chopped spring onions
White sesame seeds
See recipe card for details and quantities. Also, if you want to know how to make Japanese style grilled eels and eel sauce at home, please check out each recipe for more details!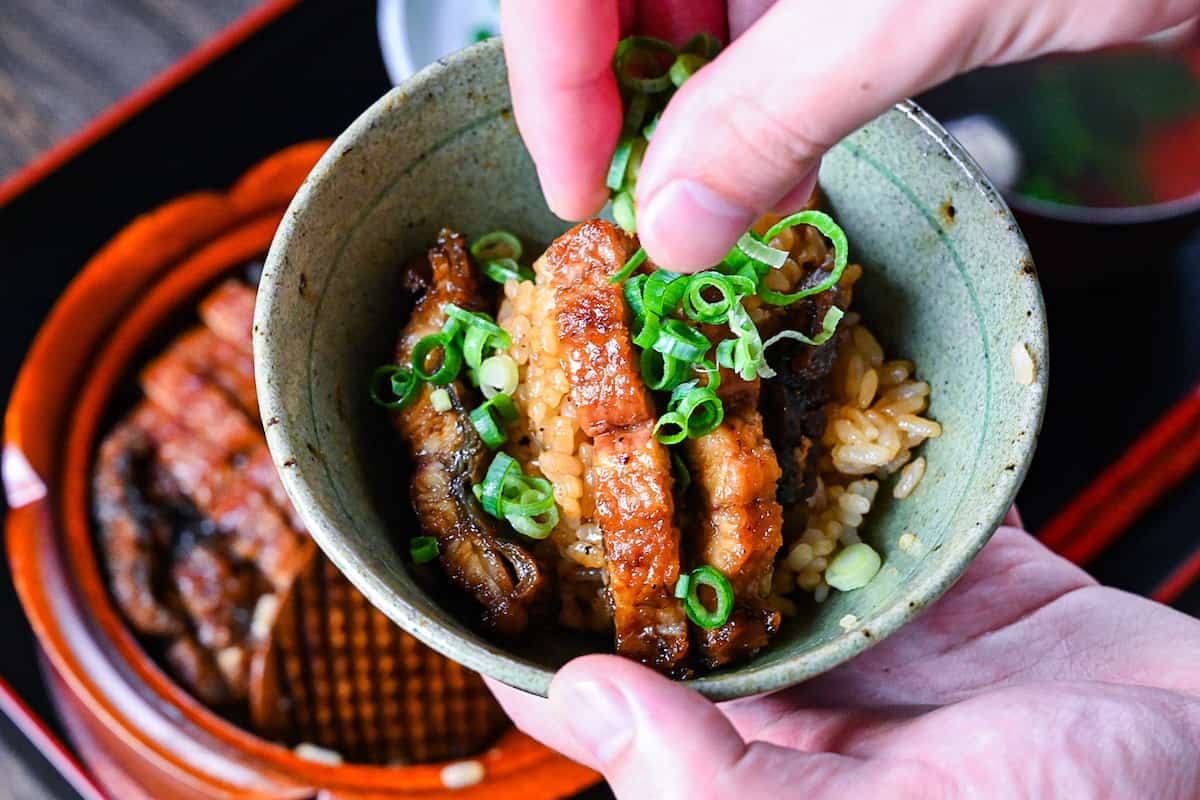 How to eat hitsumabushi like a native
Hitsumabushi is a local dish, so unless you are from the Nagoya area, even many Japanese do not know how to eat it. But don't worry, you're all covered as I'm a native to the area.
Here, I will explain how to eat Hitsumabushi in five general steps.
Step 1: divide it into 4 equal portions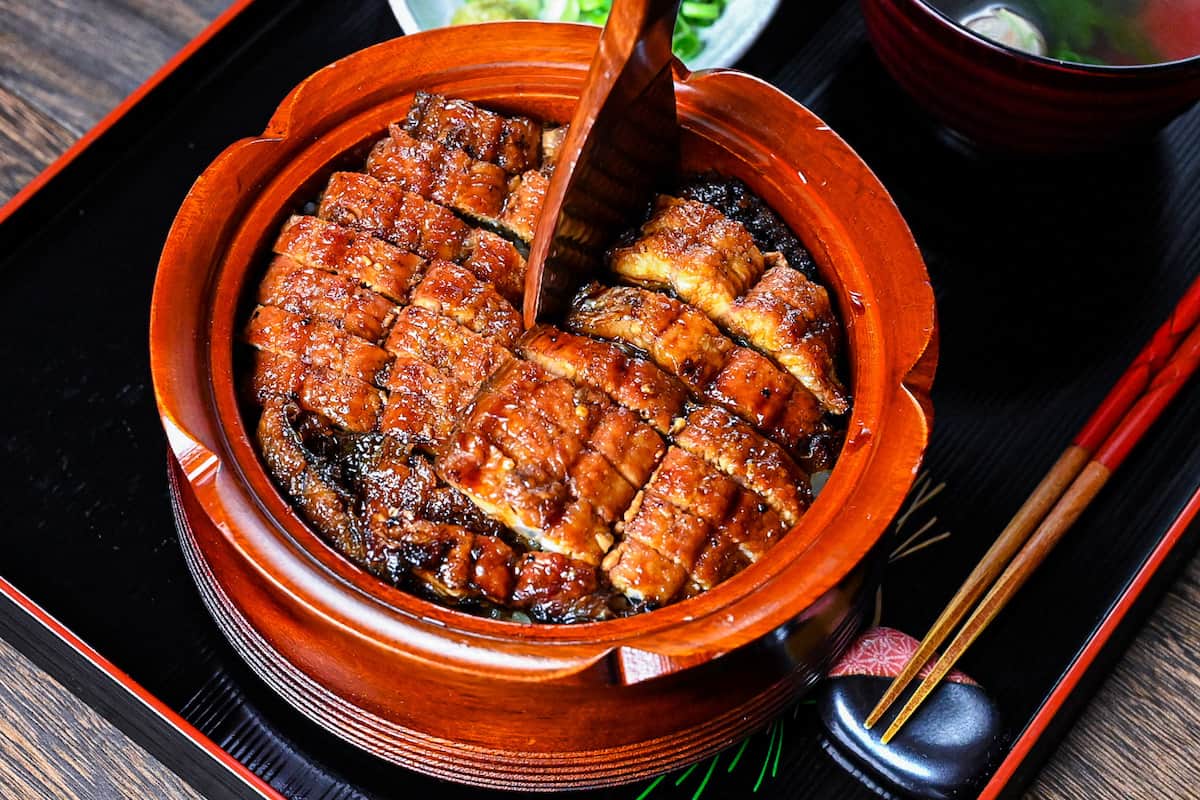 First, divide the hitsumabushi in the bowl into four parts by dividing it crosswise. Rather than dividing with chopsticks, it is easier to divide neatly by using a rice paddle in this step.
Nagoya meshi does not need to be elegant or classy, so let's be bold here.
Step 2: Enjoy as it is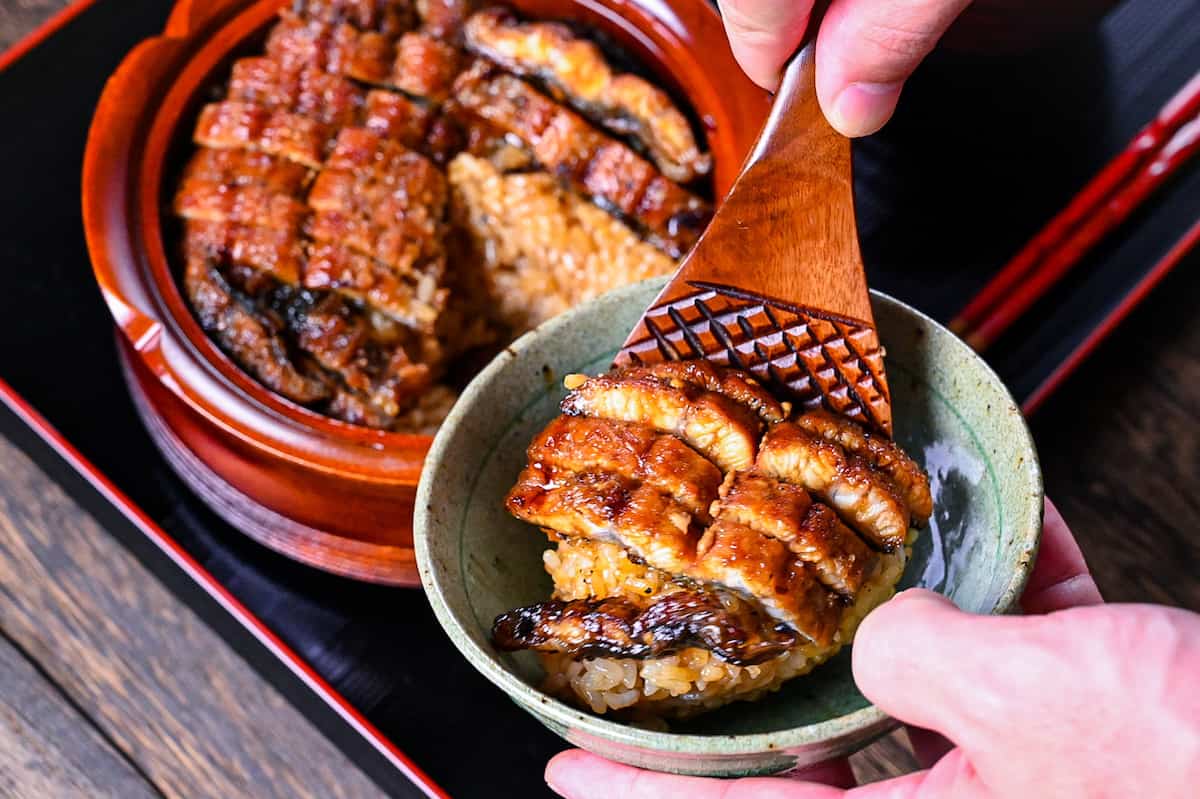 For the first quarter, place it straight into a small bowl and enjoy the taste of the eel and sauce by itself. You can enjoy the same sweet and rich flavor as a regular unagi donburi.
I also recommend to add additional sauce or sansho (Japanese pepper) to taste, or to mix the rice and eel. I personally love sansho with unagi!
Step 3: With condiments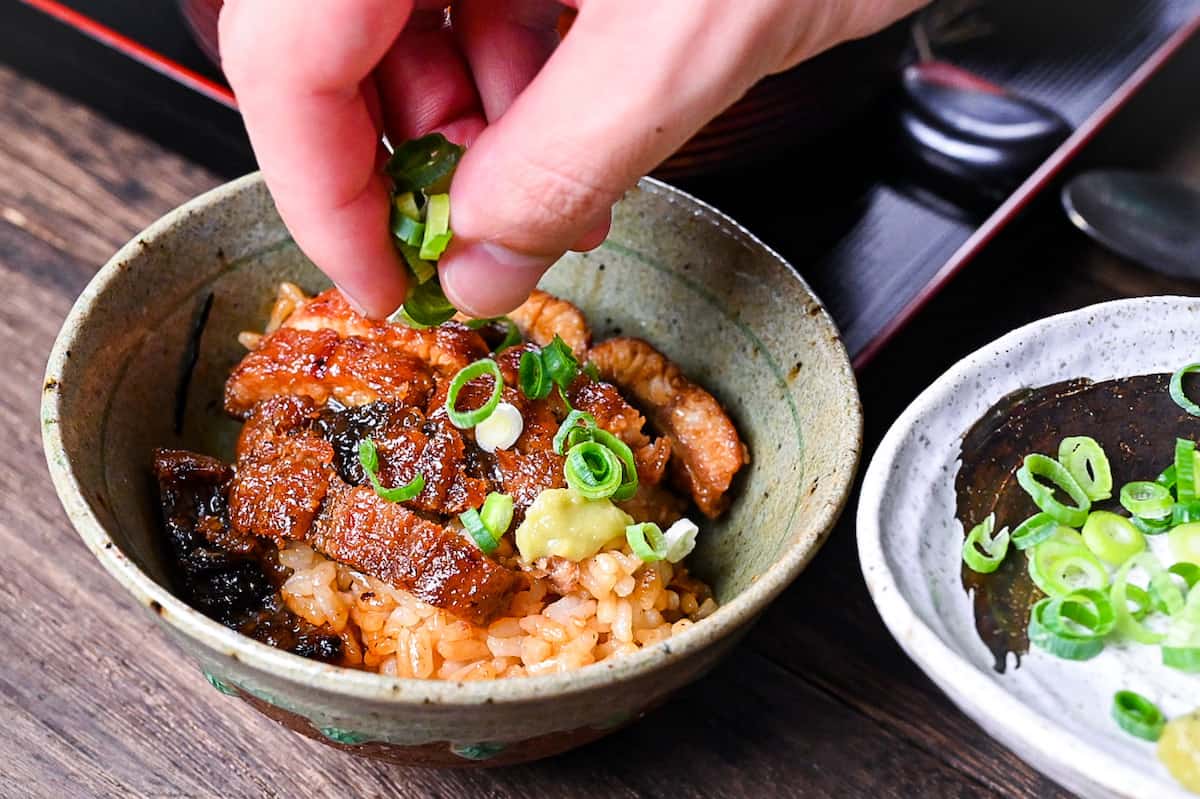 Next, top with finely chopped spring onions, shredded nori, wasabi and other condiments you like. The best part of this step is to enjoy the arrangement by putting on your favorite condiments.
I personally added spring onions and kizami nori this time! I also highly recommend the fresh wasabi because aroma and the spicy taste go well with the sweet eel.
Step 4: As ochazuke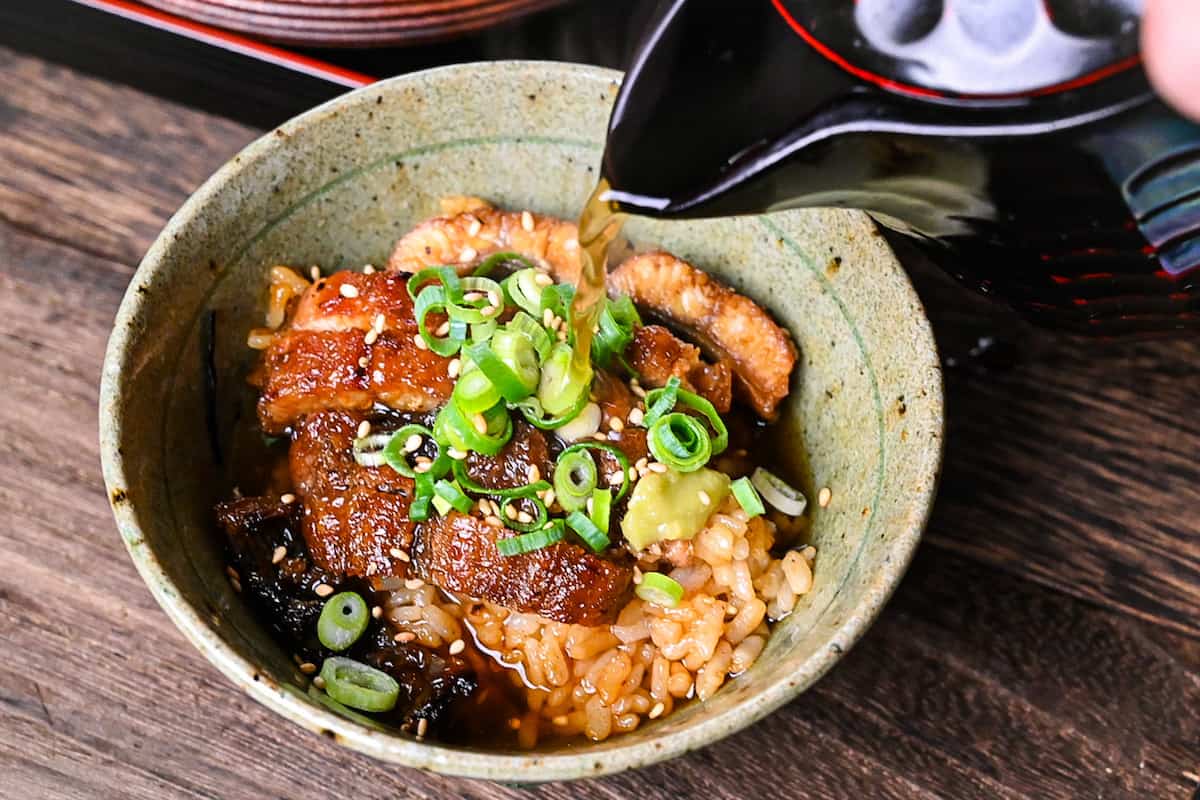 For the third quarter, it is most common to pour dashi/green tea over the hitsumabushi along with toppings and condiments such as wasabi. We call this version "unagi chazuke". The refreshing taste allows you to enjoy eel in a completely different way.
This is actually my favourite part of hitsumabushi!
You can learn more about ochazuke as a dish on my salmon ochazuke post!
Step 5: Eat it in your favorite way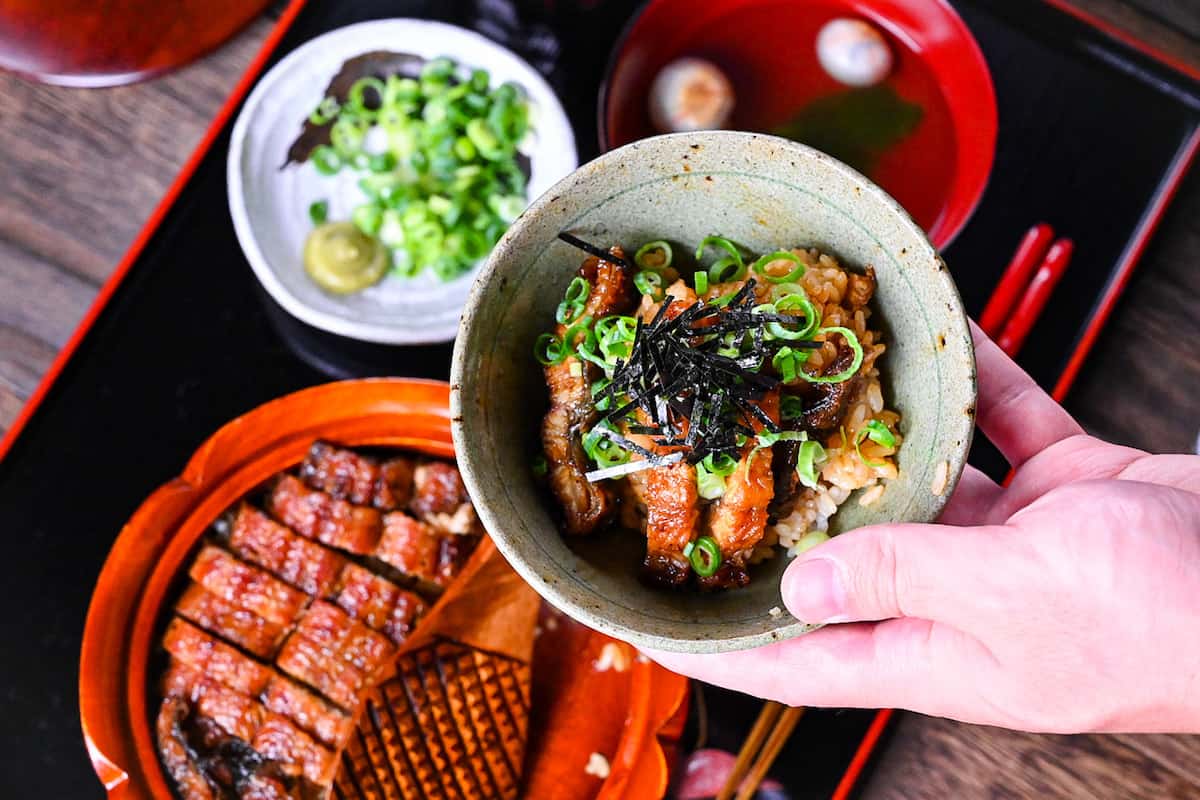 You can eat the last quarter of Hitsumabushi in the way you like the most. That said, you can eat it as it is, with additional condiments or as ochazuke.
I like the ochazuke the most so I ate my last portion as "unagi chazuke" with extra toppings and broth!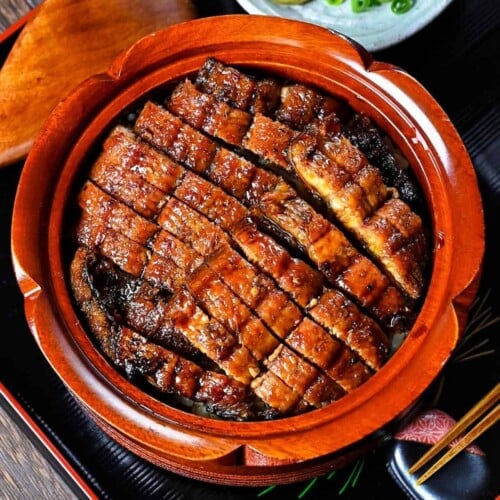 Hitsumabushi (Nagoya style grilled eel)
How to make Hitsumabushi (Nagoya style grilled eel on rice)
Ingredients
Unagi Sauce
3

tbsp

turbinado sugar

-

light brown with coarse texture

1

tsp

dark brown sugar

-

muscovado

5

tbsp

sake

5

tbsp

mirin

5

tbsp

soy sauce
Unagi
300

g

filleted eels

2

tbsp

sake

1

pinch

Japanese pepper (sansho)

-

optional
Extra condiments / toppings for hitsumabushi
½

tbsp

unagi sauce

-

to mix with rice

300

ml

dashi stock -

for ochazuke

2

g

green tea bag

-

for ochazuke

2

tsp

soy sauce -

for ochazuke

1

tbsp

shredded sushi nori seaweed "kizami nori"

-

kizami nori

1

tsp

wasabi paste

1

tsp

white sesame seeds
Instructions
Unagi Sauce
Add

3 tbsp turbinado sugar

and

1 tsp dark brown sugar

to a sauce pan. Place the pan on the stove and turn on the heat to medium-high.

Once the sugar starts to melt, add

5 tbsp sake

and

5 tbsp mirin

. Bring to boil and allow to bubble for 1-2 minutes, stirring occasionally.

Add

5 tbsp soy sauce

and lower the heat to a simmer. 

Simmer until thickened slightly (about 10 minutes). Stir occasionally to prevent the sugar from burning. Remove the scum/foam that forms on top.

Remove from the heat and allow to cool while preparing the eel.
Unagi don
Wash

300 g filleted eels

with cold running water.

Cover a chopping board with a sheet of plastic wrap and place the eel on top. Cut each eel into 2-3 pieces by pressing a sharp knife into the area you want to cut, and pushing the eel back and forth over the plastic wrap.

Place the eel in a frying pan with the skin side down and add

2 tbsp sake

.

Turn on the heat to medium and steam for 5 minutes with the lid on.

Remove it from the heat and line the grill with aluminium foil. Preheat the grill on medium-high for 5 minutes.

Place the eel on the foil with the skin side down and grill for 6 minutes. 

Turn the eel over and grill the skin side for 5 minutes.

Apply the sauce generously but evenly over the skin and grill for 30 seconds.

Turn the eel over and apply the sauce on the meat side and grill for 30 seconds.

Repeat steps 8 and 9 twice more (3 times on each side in total). 

Cut the grilled eel into strips.

Mix some of the left over unagi sauce with the rice. (Approx ½ tbsp per 2 portions of rice.)

Divide the rice into wooden bowls and top with the grilled eel. Brush liberally with more unagi sauce.
How to enjoy hitsumabushi (3 ways)
Brew

2 g green tea bag

in

300 ml dashi stock

(approx

80

°C

) and add

2 tsp soy sauce

. Brew for 2-4 minutes then remove the teabag. Serve in a teapot or jug placed on the table.

Divide the eel and

300 g cooked Japanese short-grain rice

into quarters using a rice paddle.

Take out the first quarter and place it in an individual rice bowl. Eat as it is. (Optional - Sprinkle with

1 pinch Japanese pepper (sansho)

to taste.)

Place the second quarter into the same bowl and add toppings such as

1 tbsp finely chopped green onion(s)

,

1 tbsp shredded sushi nori seaweed "kizami nori"

or

1 tsp wasabi paste

.

For the third quarter, add it to the bowl and then pour the dashi tea over the top. (This is also good with wasabi and additional toppings such as

1 tsp white sesame seeds

.)

Enjoy the final quarter using your favourite from the 3 above.

Enjoy!
FAQ
What is Hitsumabushi?
Hitsumabushi is a dish made with rice topped with glazed eel in a sticky sauce served with various toppings.
Where is Hitsumabushi from?
Hitsumabushi originates from Nagoya in central Japan. It is considered a regional food (Nagoya-meshi).
How do you eat Hitsumabushi?
Hitsumabushi can be enjoyed with a variety of toppings to suit your tastes. Popular options include chopped spring onion, kizami nori (thinly cut strips of nori seaweed), wasabi and in dashi (unagi chazuke).
What is the difference between unadon and Hitsumabushi?
Unadon (unagidon) is simply made with grilled eel served over rice and coated with unagi sauce, donburi dishes are usually served in ceramic bowls. Hitsumabushi contains the same ingredients (eel, rice, unagi sauce) but it's always served in a wooden bowl or container. The rice is also mixed with the unagi sauce and it is always served with a variety of toppings and a hot broth made with dashi / green tea.