Warm up with this delicious and comforting Japanese kimchi nabe. Made with crispy pork belly and cabbage kimchi simmered in a rich dashi broth with tofu and vegetables, not only is it warming and comforting, but it's also packed with flavor!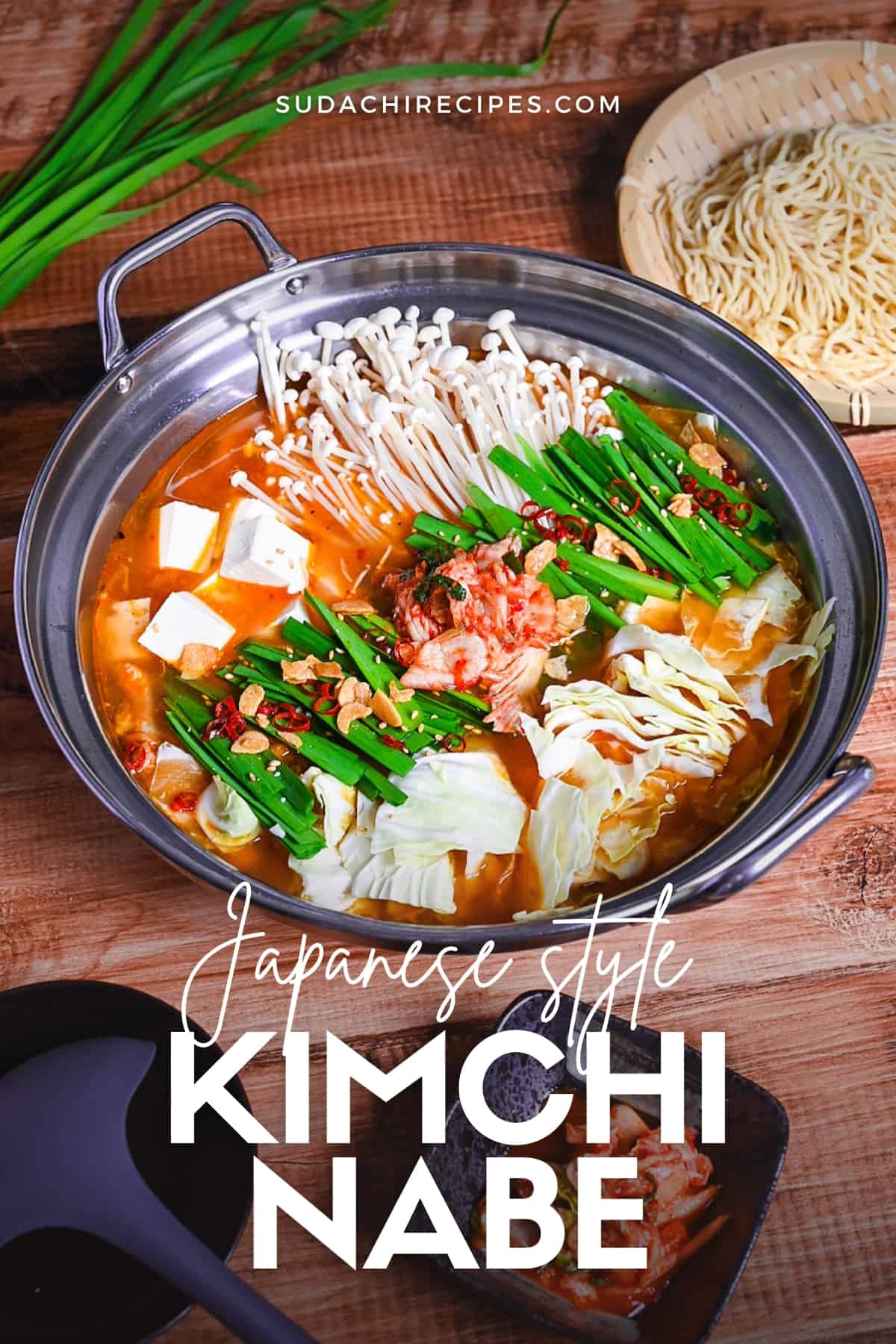 Disclaimer: This post contains Amazon affiliate links. Sudachi Recipes earn a small percentage from qualifying purchases at no extra cost to you. See disclaimer for more info.
Jump to:
What is Kimchi Nabe?
"Nabe" is Japanese for hotpot, so kimchi nabe simply refers to a hotpot dish made with kimchi, a popular Korean ingredient loved by many Japanese people.
Korea has this original dish known as kimchi jjigae, but it's important to note the slight differences. Essentially, kimchi jjigae has been adapted to suit Japanese palates (for example, less spicy) to create kimchi nabe. While the primary distinctions are the flavor adjustments to fit Japanese preferences, another notable difference is that "jjigae" is typically served in a small pot for one person, whereas "kimchi nabe" is frequently prepared in a large pot and shared, like other Japanese hotpot dishes. Japanese kimchi nabe also tends to contain more vegetables such as mushrooms and cabbage.
Most Japanese homes make kimchi nabe using store-bought kimchi nabe stock. However, in this recipe, I'll be taking inspiration from my buta kimchi and motsu nabe recipes (which you should definitely check out by the way!) to make kimchi nabe from scratch.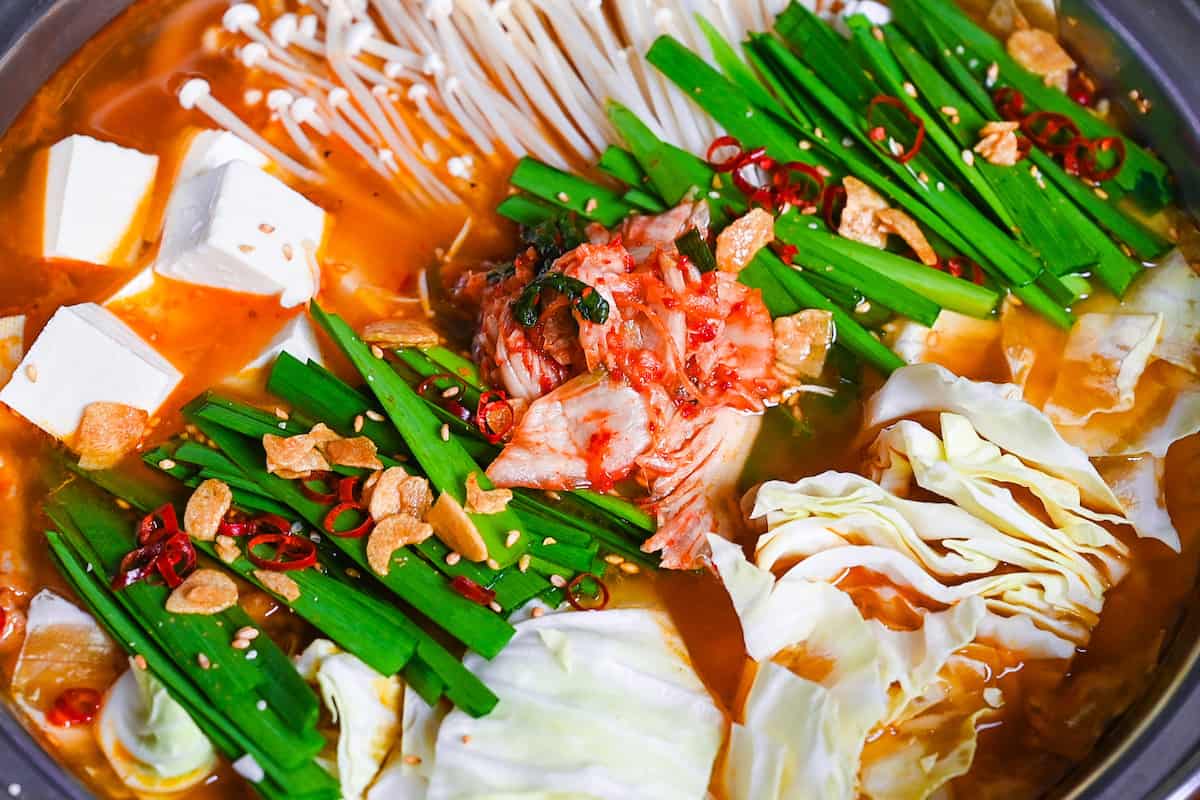 Ingredients and Substitutions
Pork belly block - Usually, thin slices of pork belly are used, but I prefer to use pork with more texture, so I cut a block of pork belly into slightly thicker slices.
Cake flour - To dredge the pork and help create a delicious crispy surface. All-purpose flour is also works fine.
Sesame oil - It is used to add depth and a subtle nutty flavor. I recommend Kadoya's sesame oil.
Garlic cloves - Since the garlic will be finely diced and used to flavor the oil, I recommend fresh garlic cloves for the best flavor in this dish.
Fresh ginger - As with the garlic cloves, the ginger will add flavor to the oil and fresh works best for this purpose.
Yellow onion - If white onions are more readily available in your area, white or red onions are also fine.
Oyster sauce- The addition of oyster sauce adds depth and umami.
Kimchi - Not too sour, sweet kimchi goes well with kimchi nabe. Choose a spice level according to your preference.
Enoki mushroom - You may substitute other mushrooms if convenient.
Tofu - You can use either silken or firm tofu, but I prefer the firm tofu, which is less prone to breaking.
Green cabbage - I used green cabbage, but you can use another cabbage, like Napa cabbage if you prefer.
Dashi broth - This broth is the base of the miso soup. Choose from dashi made with dried bonito flakes and/or kelp, or vegetarian dashi made with kelp and shiitake mushrooms. You could also use instant dashi or dashi bags if you like.
Chinese-style chicken bouillon powder - I use it as a base for the soup. I use Youki's additive-free Garasupu all the time.
Soy sauce - If you are looking for something reasonably priced, you can't go wrong with Kikkoman soy sauce. I also recommend their organic marudaizu soy sauce, characterized by its mild flavor and depth.
Miso paste - Any miso paste you have will do, but for this recipe, an awase miso paste (yellow miso) will work best.
Mirin - When purchasing mirin, it is recommended to look for "hon mirin" (本みりん) for the best flavor. I recommend Hinode Hon Mirin as a high-quality and affordable option. See my 20 Most Useful Condiments and Seasonings for Japanese Cooking post for more recommendations.
Sake - If you do not have it, substitute white wine or dry sherry.
Garlic chives - An important ingredient that goes extremely well with kimchi. However, if you cannot find it in your area, substitute regular chives or green onions.
I have listed my recommended Japanese condiments, tools, and ingredients in the Sudachi Recipes Amazon shop. If you want to keep making various Japanese foods at home, please check it out!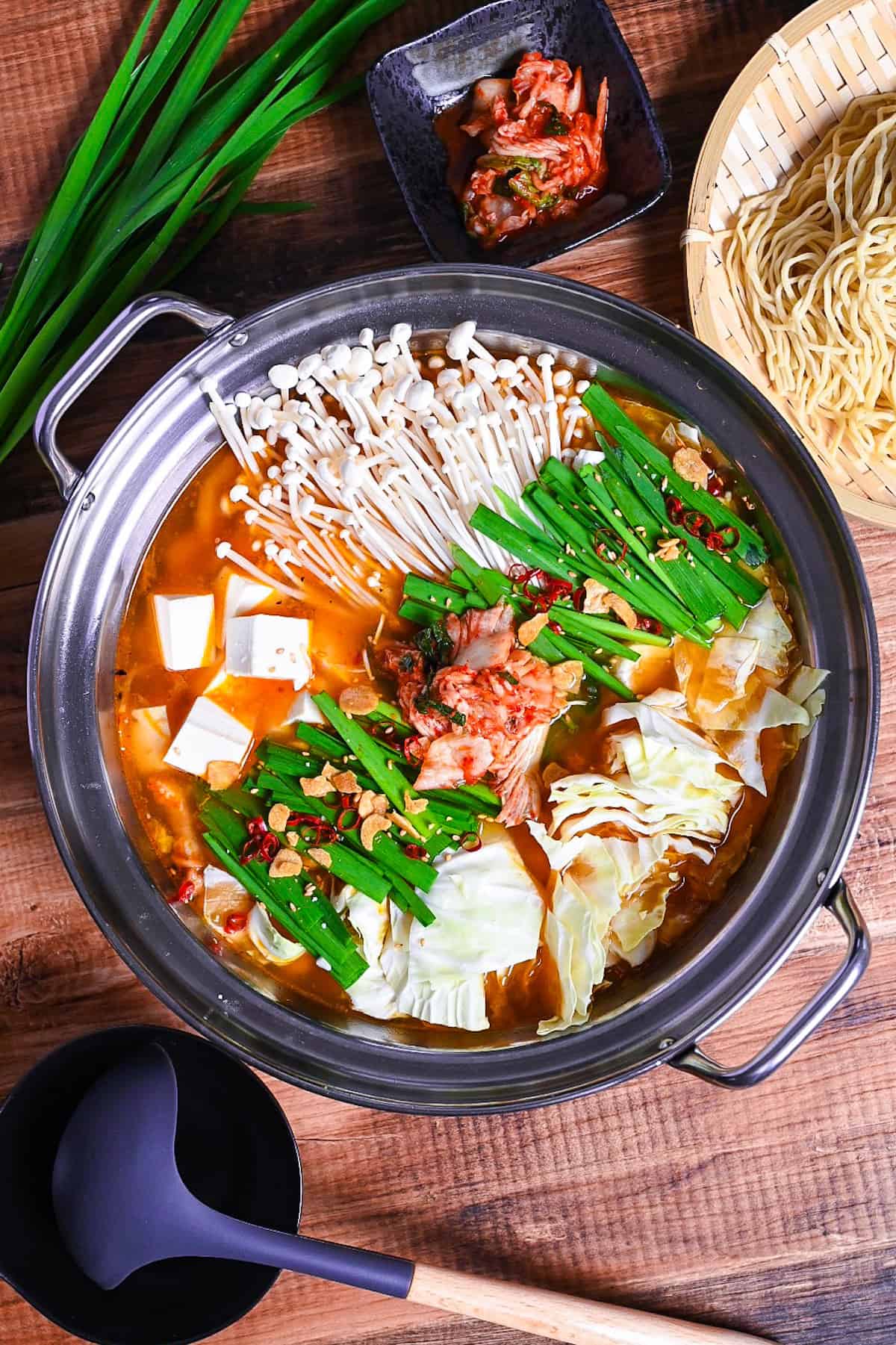 Step by Step Process
Here are my step-by-step instructions for how to make delicious Japanese-style kimchi hot pot from scratch. For ingredient quantities and simplified instructions, see the printable recipe card below.
Cut a pork belly block into thick slices (according to your preference) and season with a sprinkle of salt and pepper on both sides.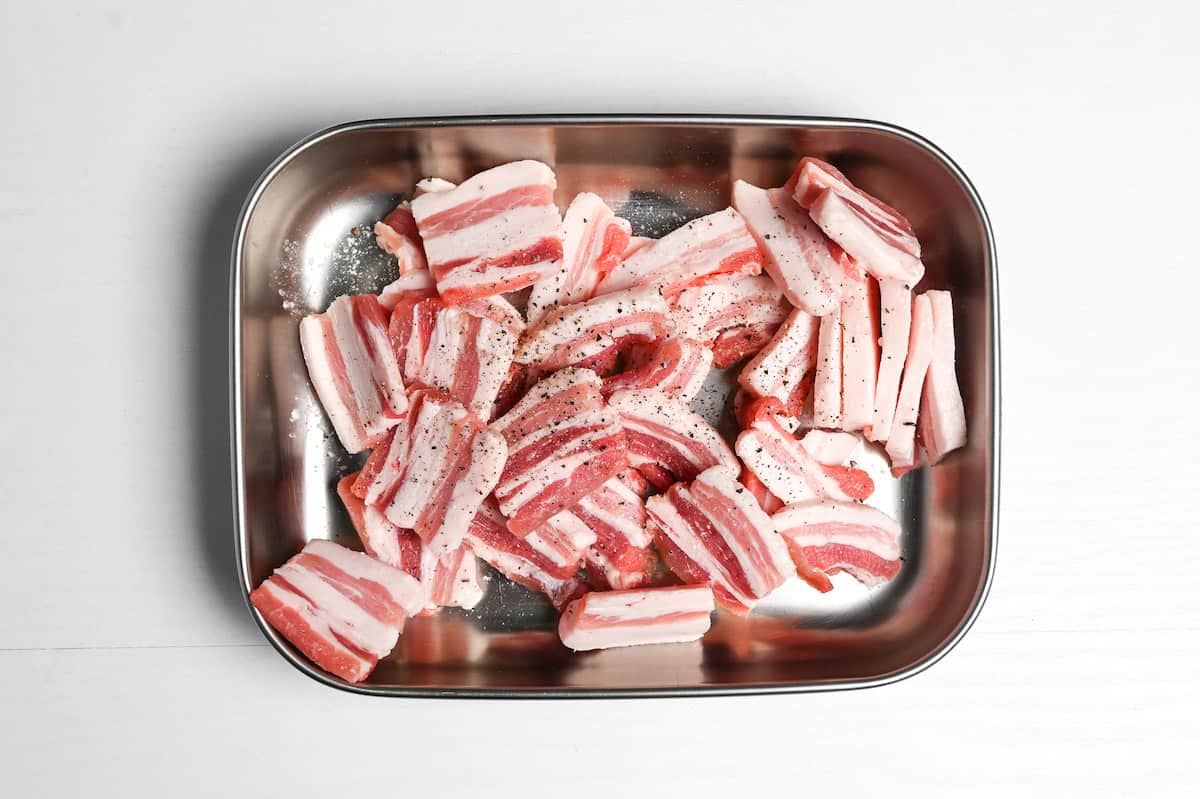 Coat with a thin layer of all purpose flour. This will help the pork crisp up better and add more flavor to the dish.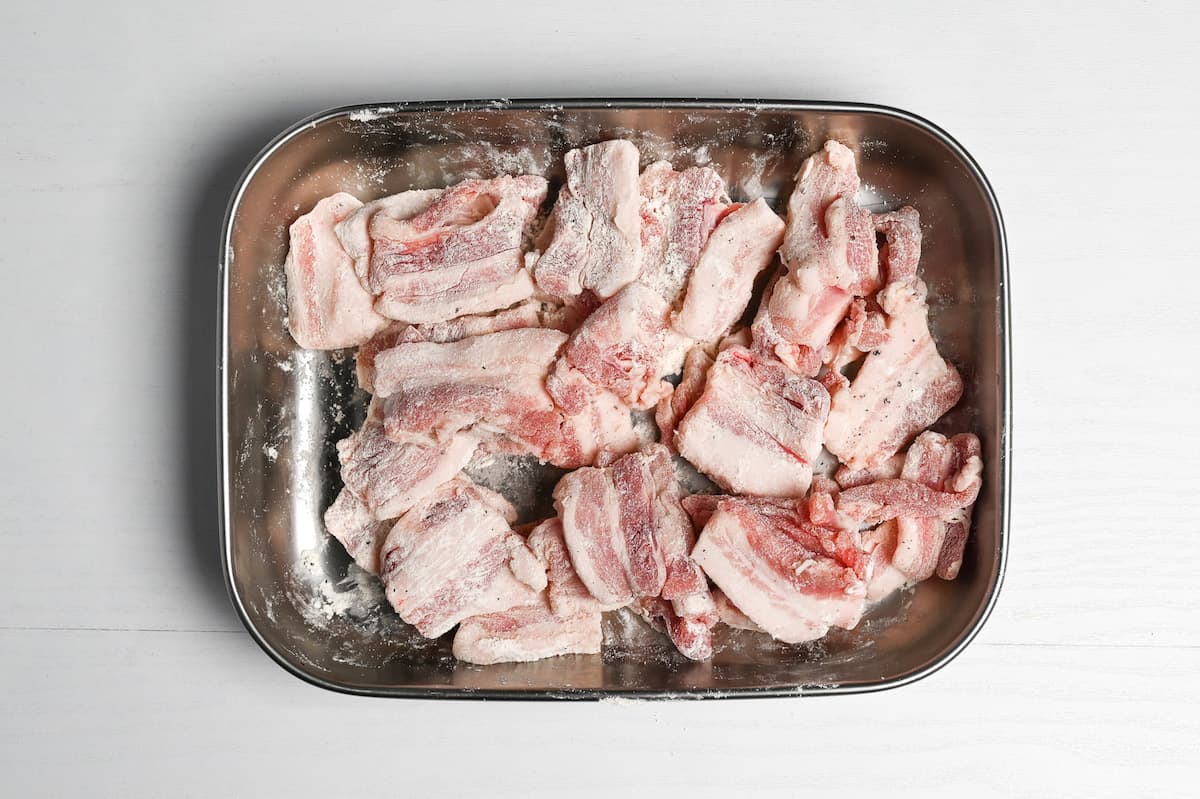 Heat a wok on medium-low and drizzle in some sesame oil. Add finely diced garlic and ginger and fry until fragrant. This step flavors the oil which will carry to the other ingredients. Be careful not to burn the garlic and ginger, lower the heat if it starts to brown too quickly.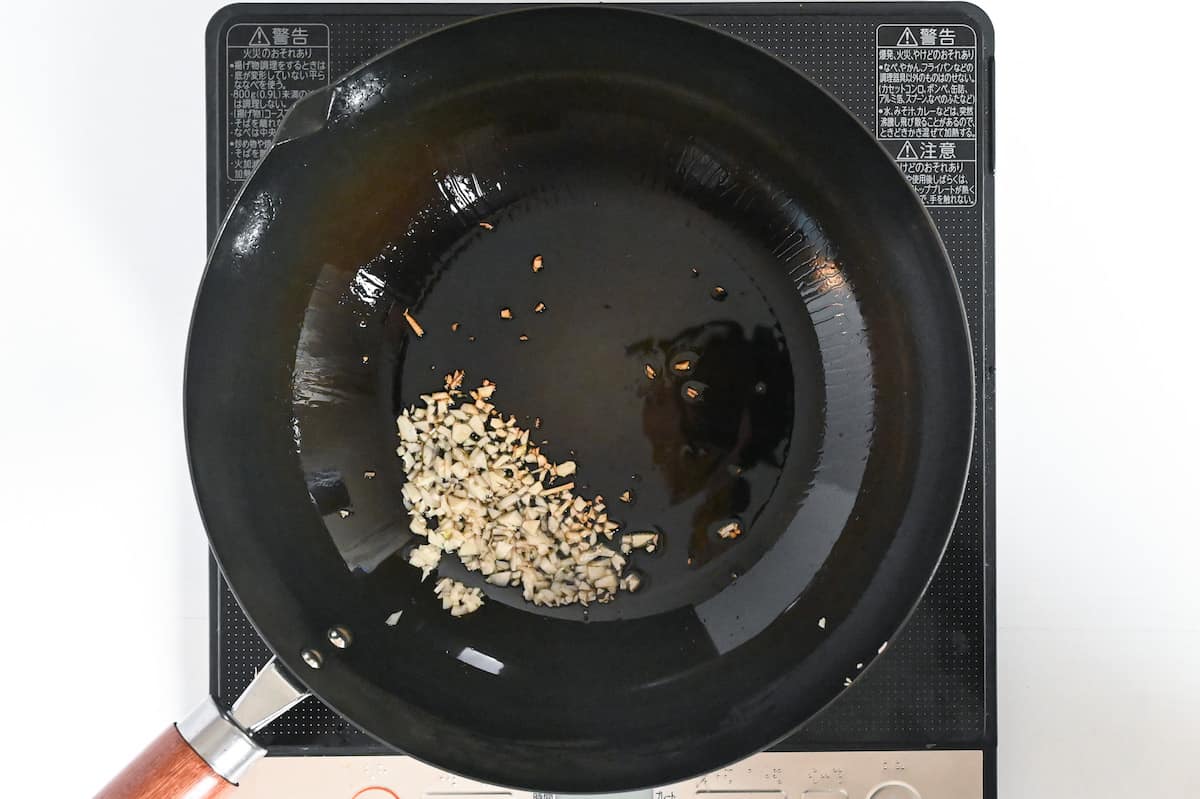 Add the pork and stir fry until both sides are lightly browned and the fat has turned golden and crispy.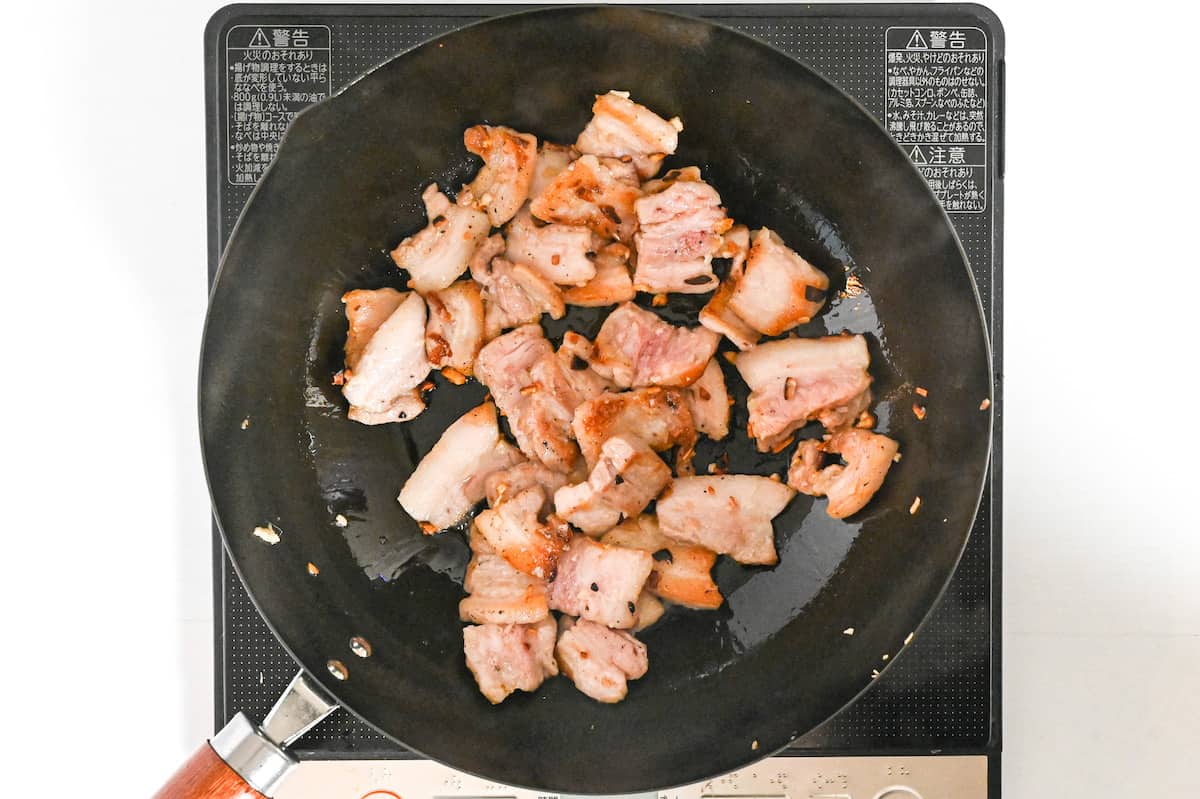 Once browned, add the onions and stir fry until slightly softened.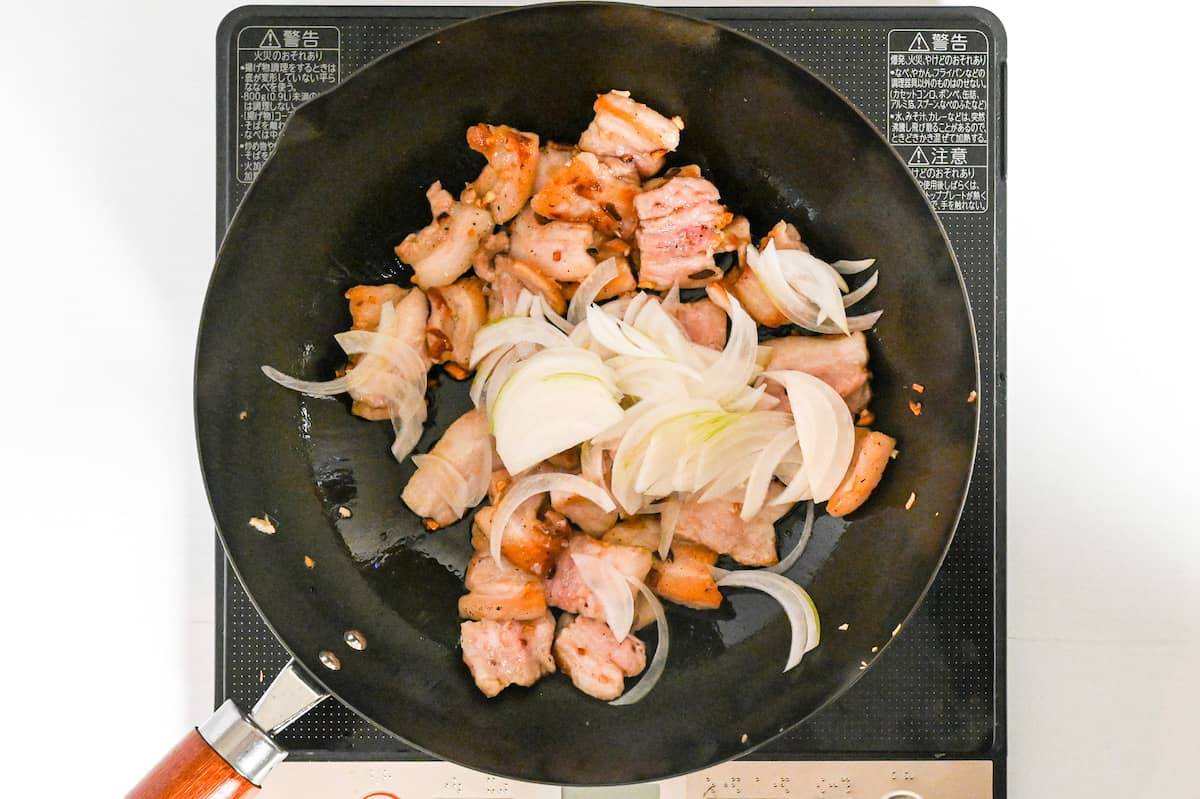 Add the kimchi to the pan along with oyster sauce and light brown sugar. Stir fry for about 1 minute.
Remove from the heat and set aside for later.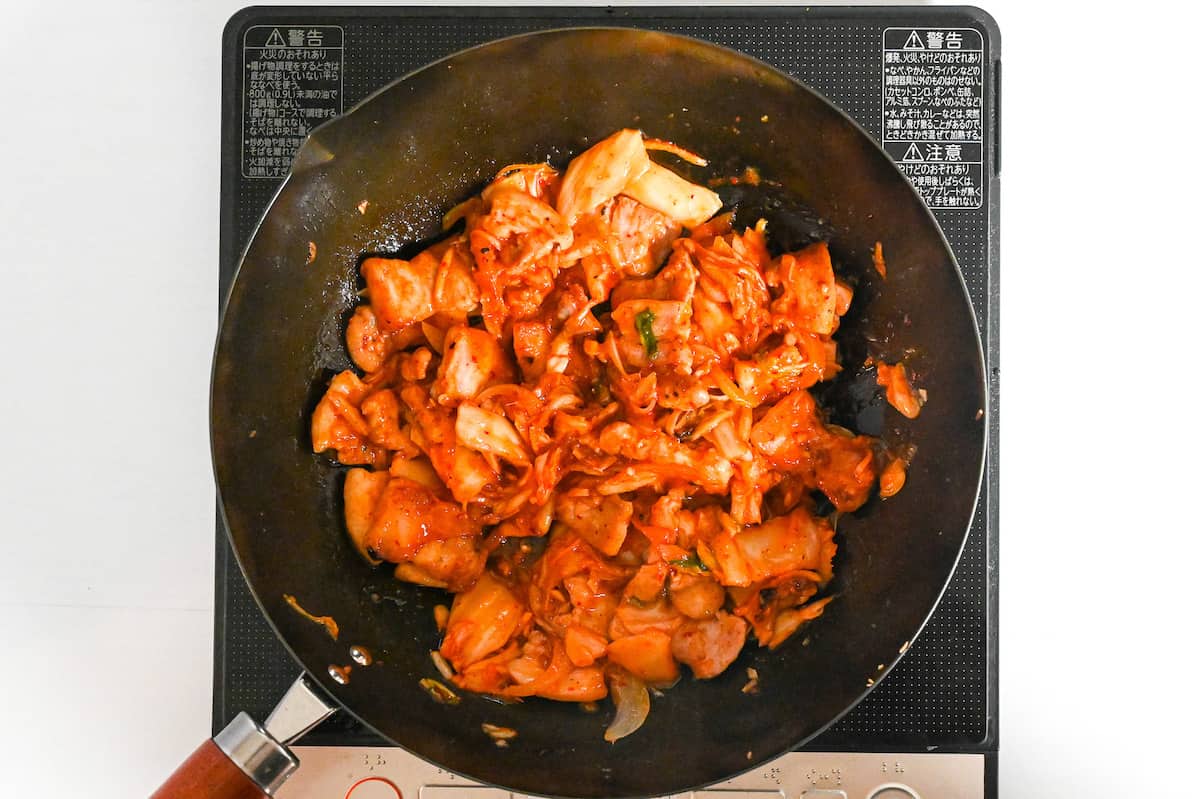 In a large pot, heat dashi stock over a medium heat.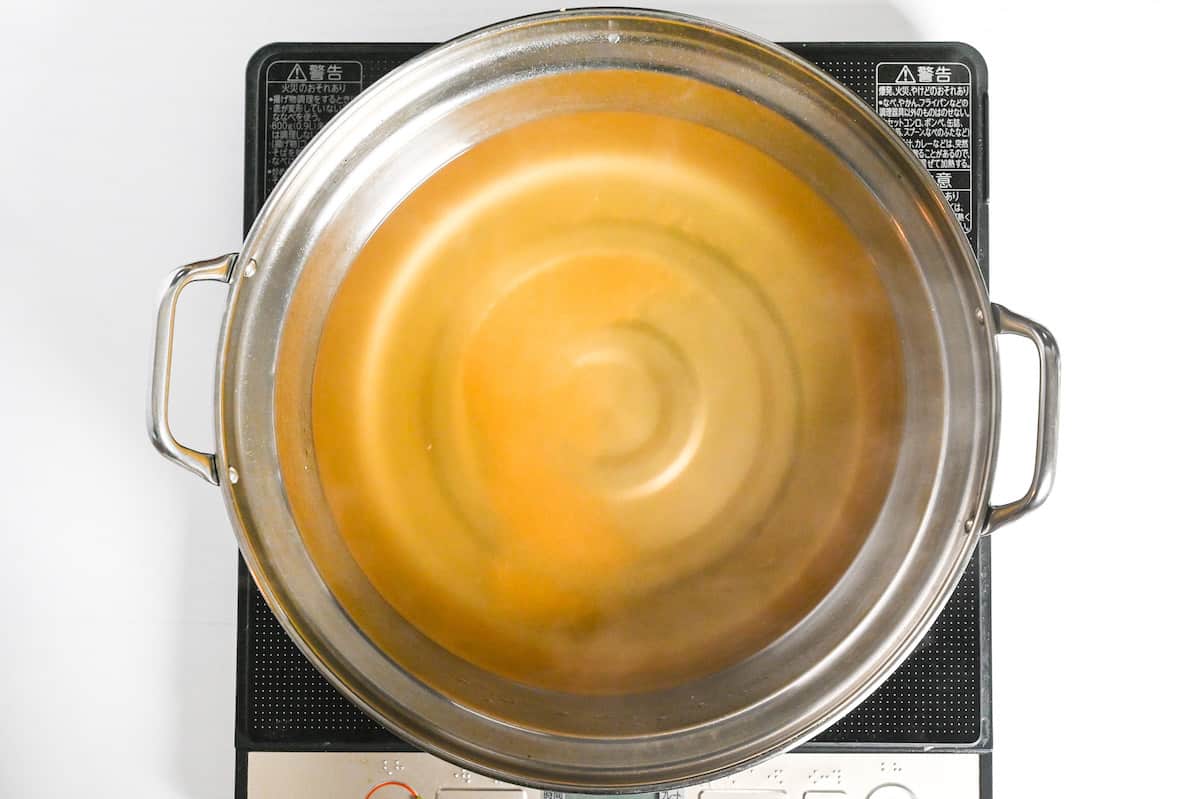 Add chicken bouillon powder, soy sauce, mirin, sake and awase miso paste. I recommend placing the miso paste on a mesh spoon, dip it in the broth and whisk to avoid lumps of miso in your broth.
Bring the broth to a boil and then lower to a simmer.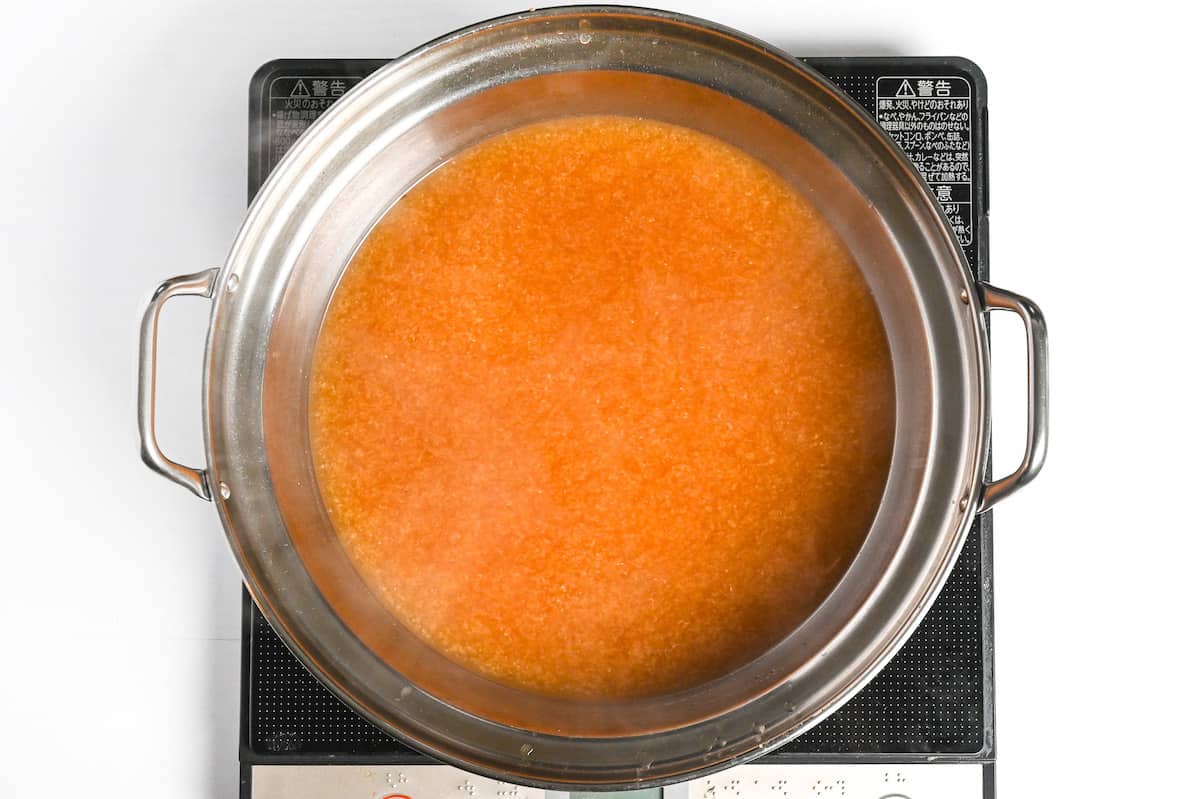 Empty the contents of the pan from earlier into the broth and mix thoroughly.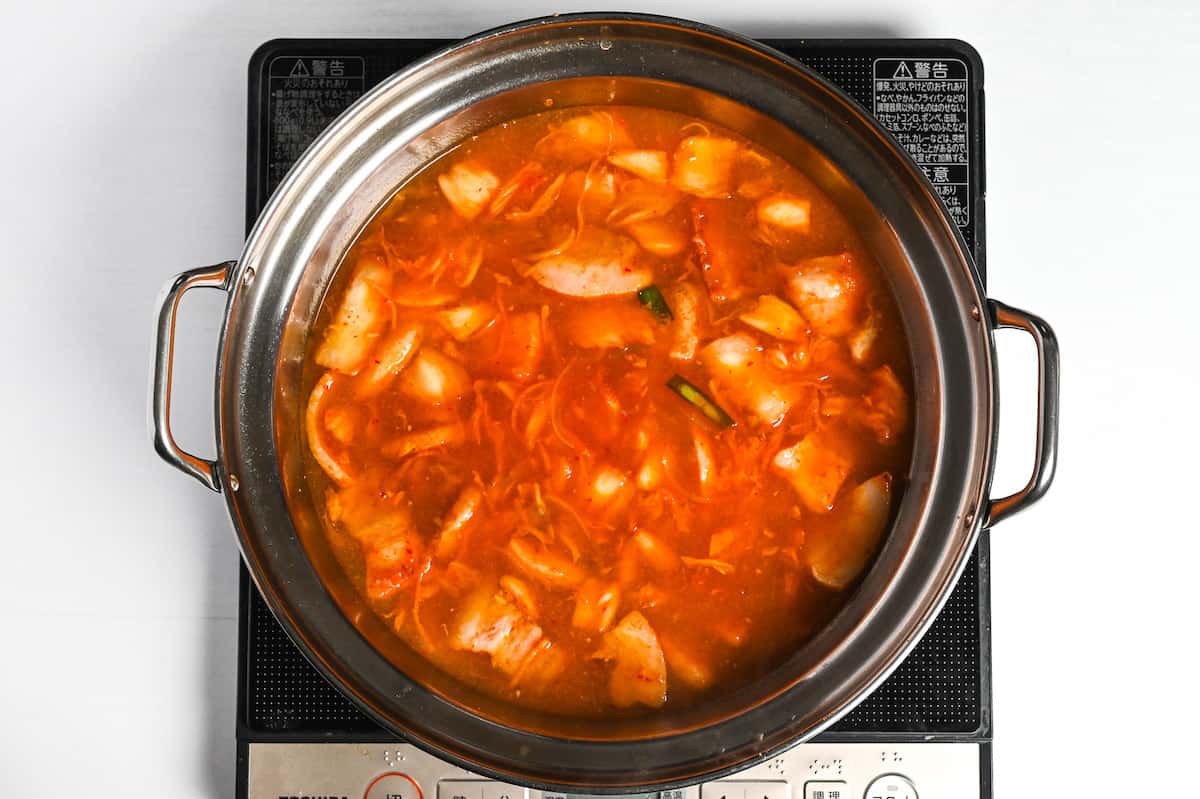 Add the tofu, vegetables and toppings of your choices. I used enoki mushrooms, cabbage, garlic chive, dry chilis, garlic chips and sesame seeds.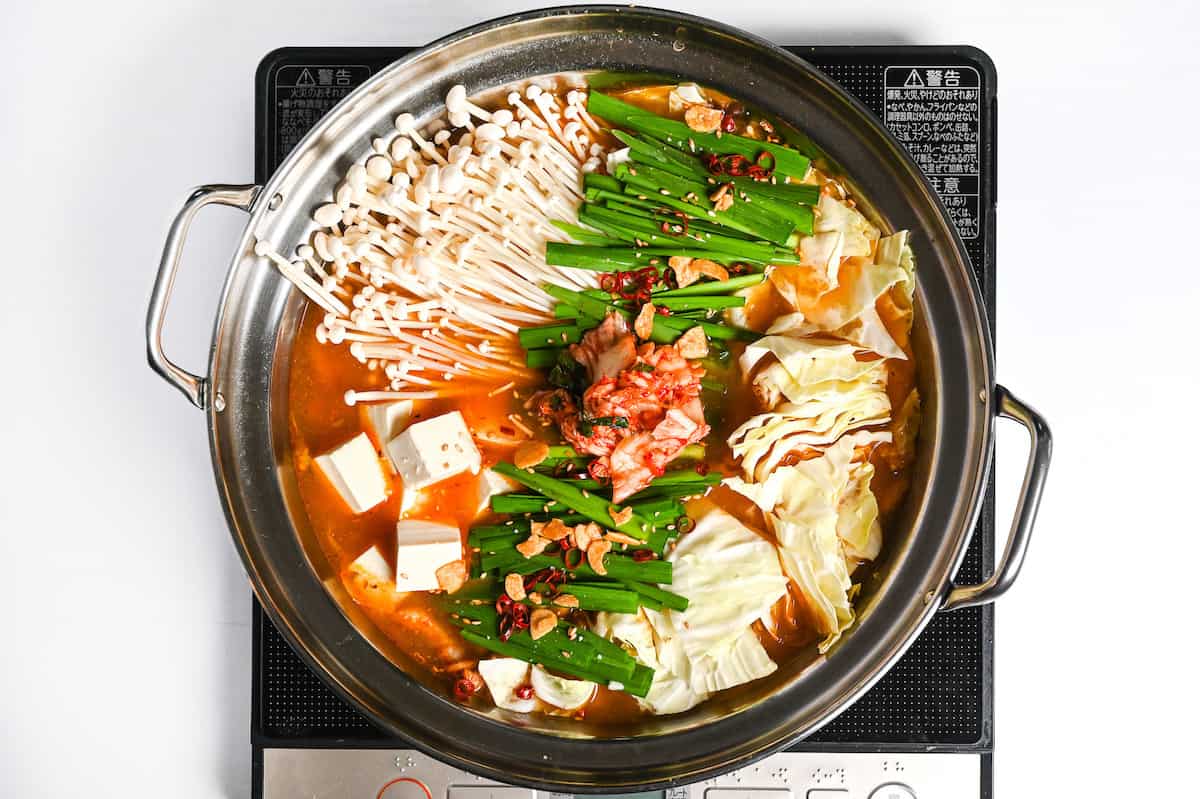 Continue to simmer until the cabbage is softened and the tofu is warmed through.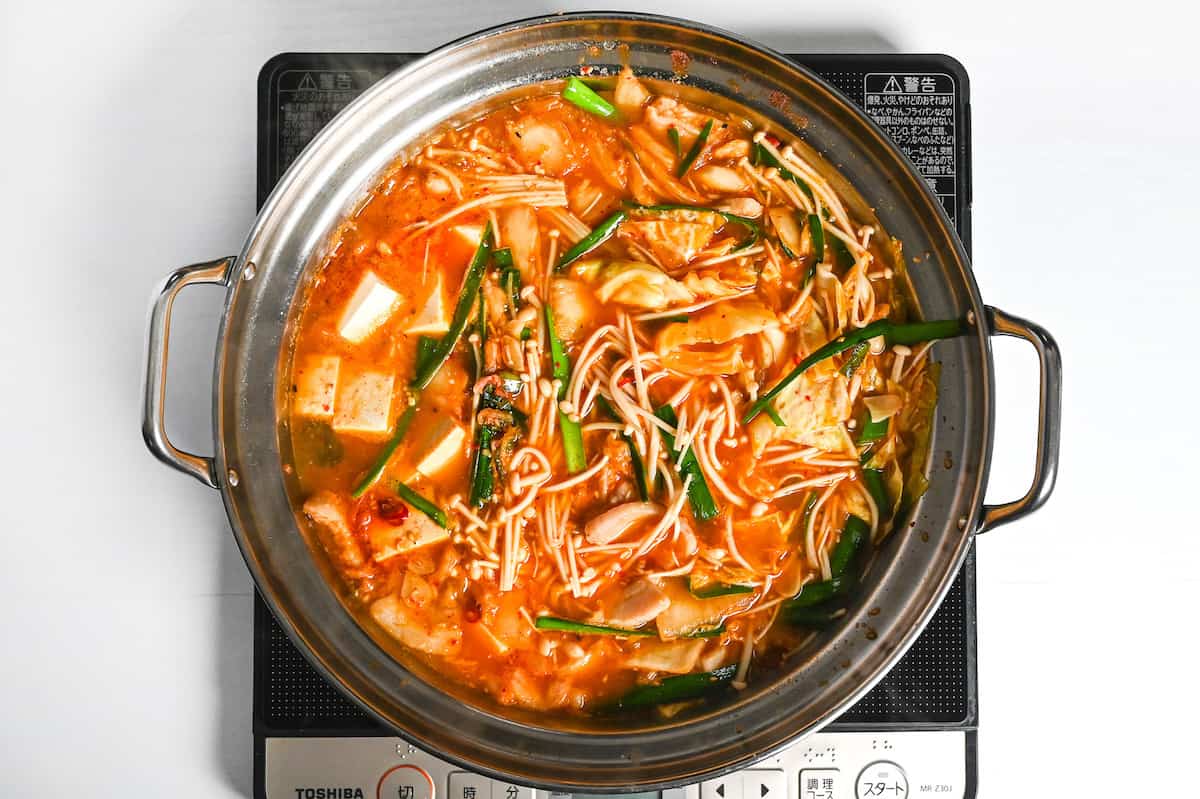 Serve and enjoy!
This is optional, but if you have leftover broth and don't want to waste it, enjoy with cooked ramen noodles, udon noodles or rice!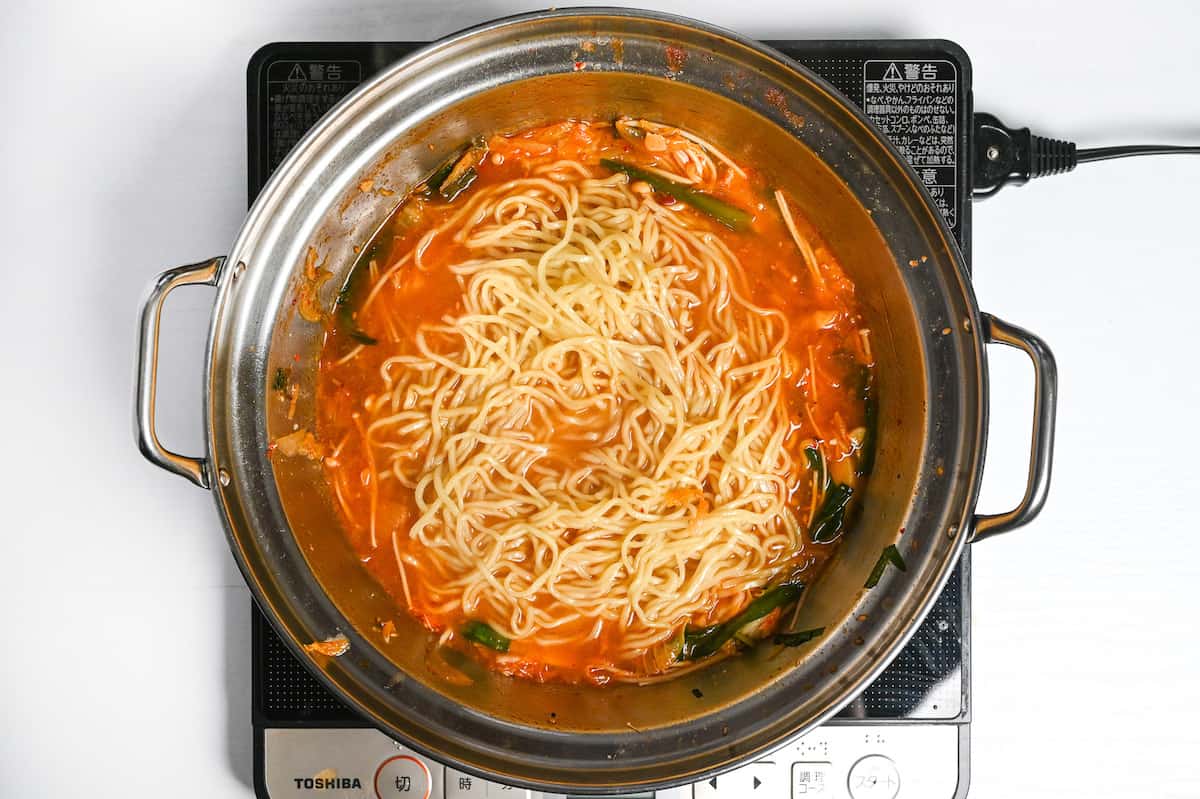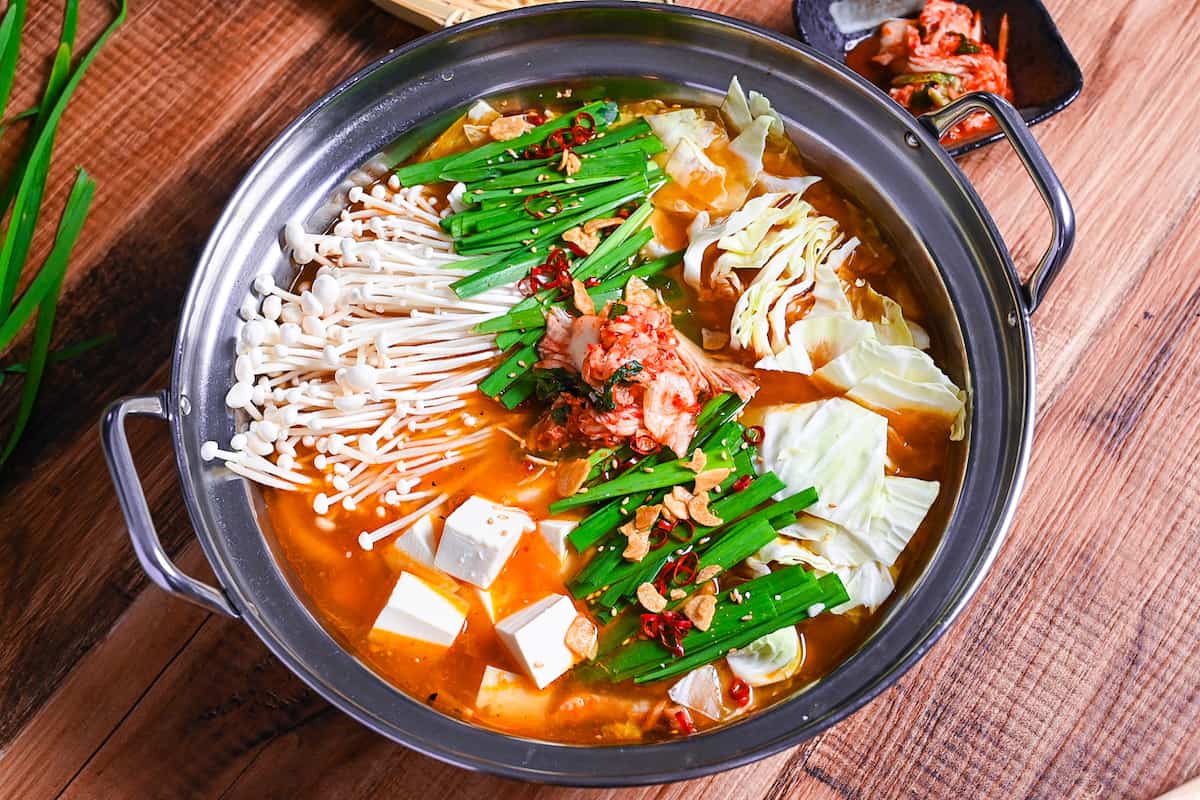 Storage Options
Kimchi nabe's shelf life at room temperature is estimated to be between half a day to a full day, assuming it's stored in a cool location during winter. However, this shelf life shortens if the kimchi nabe is left out in summer or a heated room. It may even spoil, so leaving it at room temperature isn't recommended.
In the refrigerator, kimchi nabe can last about 2 or 3 days at most. But since the entire pot can take a while to cool and may have uneven temperature distribution, it's better to transfer the nabe to a container, like Tupperware, for storage.
If frozen, kimchi nabe can be preserved for about a month, but be mindful that the flavor will decline significantly over time.
However, kimchi nabe should be consumed by the end of the day if possible, and there's no need to finish the soup for nabe dishes in general. This is because, whether it's refrigerated or frozen, kimchi nabe has a tendency to infuse its aroma and color into the storage container. Because of this, I recommend glass storage containers if possible.
Room temperature - Not recommended.
Refrigerated - 2 to 3 days.
Frozen - Up to a month.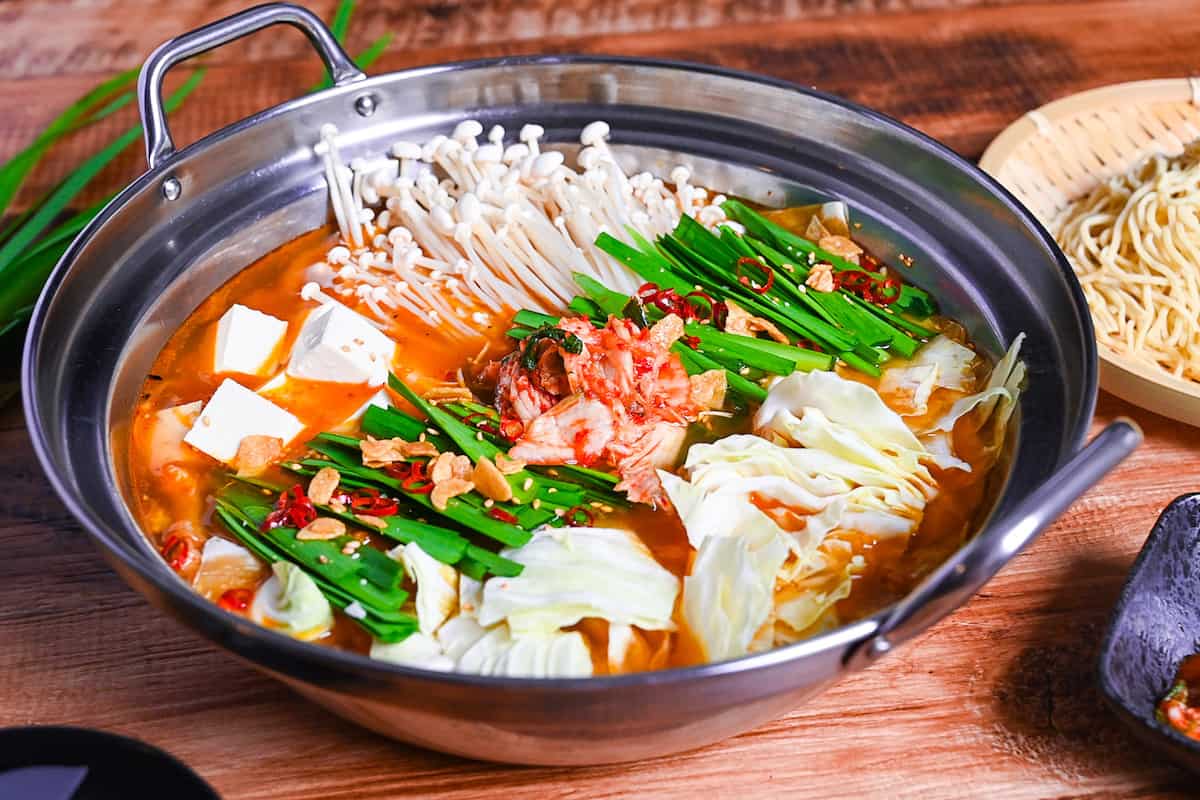 I hope you enjoy this warming and flavorful Japanese kimchi nabe recipe! If you try it out, I'd appreciate it if you could spare a moment to let me know what you thought by giving a review and star rating in the comments below. It's also helpful to share any adjustments you made to the recipe with other readers. Thank you!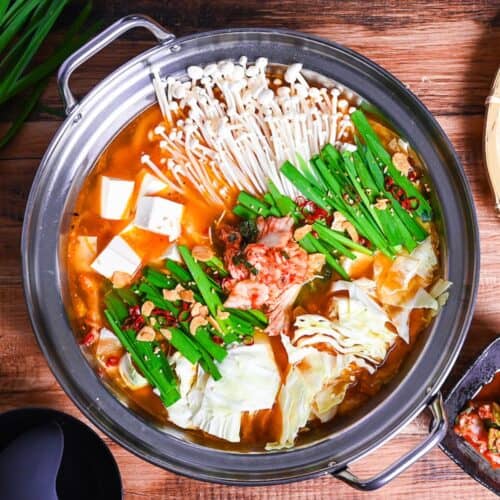 Kimchi Nabe (Kimchi Hotpot)
Warm up with this delicious and comforting Japanese kimchi nabe. Made with crispy pork belly and cabbage kimchi simmered in a rich dashi broth with tofu and vegetables.
Ingredients
200

g

pork belly block

-

sliced

1

pinch

salt and pepper

1

tbsp

cake flour

1

tbsp

sesame oil

1

tsp

garlic clove(s)

-

finely diced

1

tsp

fresh ginger

-

finely diced

50

g

yellow onion(s) -

thinly sliced

1

tsp

oyster sauce

200

g

cabbage kimchi

1

tsp

light brown sugar
Broth
800

ml

dashi stock

2

tbsp

Chinese-style chicken bouillon powder

2

tbsp

soy sauce

2

tbsp

awase miso paste

-

(yellow)

2

tbsp

mirin

2

tbsp

sake

150

g

firm tofu

-

or silken if you prefer

100

g

enoki mushroom(s)

-

or mushroom of your choice

100

g

green cabbage

-

or napa cabbage
Toppings
30

g

garlic chive(s)

½

tsp

dried red chili pepper

-

thinly sliced

1

tsp

garlic chips

-

optional

1

tsp

white sesame seeds

2

portions

cooked ramen noodles

-

or udon noodles (optional)
Instructions
Season

200 g pork belly block

with

1 pinch salt and pepper

on both sides.

Sprinkle with

1 tbsp cake flour

and rub over the surface of the pork until evenly coated.

Drizzle

1 tbsp sesame oil

into a heated frying pan (medium-low) and add

1 tsp garlic clove(s)

and

1 tsp fresh ginger

. Fry until fragrant.

Add the pork to the pan and fry until both sides are browned and the fat is a little bit crispy.

Add

50 g yellow onion(s)

and stir fry until slightly softened.

Add

1 tsp oyster sauce

,

200 g cabbage kimchi

and

1 tsp light brown sugar

. Stir fry for 1 minute.

Remove from the heat and set aside for later.
Broth
Add

800 ml dashi stock

to a large pot and turn on the heat to medium.

Add

2 tbsp Chinese-style chicken bouillon powder

,

2 tbsp soy sauce

,

2 tbsp awase miso paste

,

2 tbsp mirin

and

2 tbsp sake

, and bring to a boil.

Once boiling, turn the heat down to simmer and add the contents of the pan from earlier.

Add

100 g enoki mushroom(s)

,

150 g firm tofu

,

100 g green cabbage

and

30 g garlic chive(s)

, and top with

½ tsp dried red chili pepper

,

1 tsp garlic chips

and

1 tsp white sesame seeds

.

Mix and simmer until the cabbage is softened.

Optional: Add

2 portions cooked ramen noodles

to the leftover broth.
Notes
This dish is has more depth when made with pork, but feel free to use the protein of your choice. Skin-on chicken thigh is a good substitute.
Other Nabe Recipes You Can Try at Home
Kimchi nabe is just one of the many hotpot dishes loved in Japan. During winter, it's quite common for families to rely on various nabe dishes as they not only provide warmth but are also comforting, delicious and nutricious. Here are some other nabe dishes you might want to try during the colder months:
Chanko Nabe (Sumo Stew)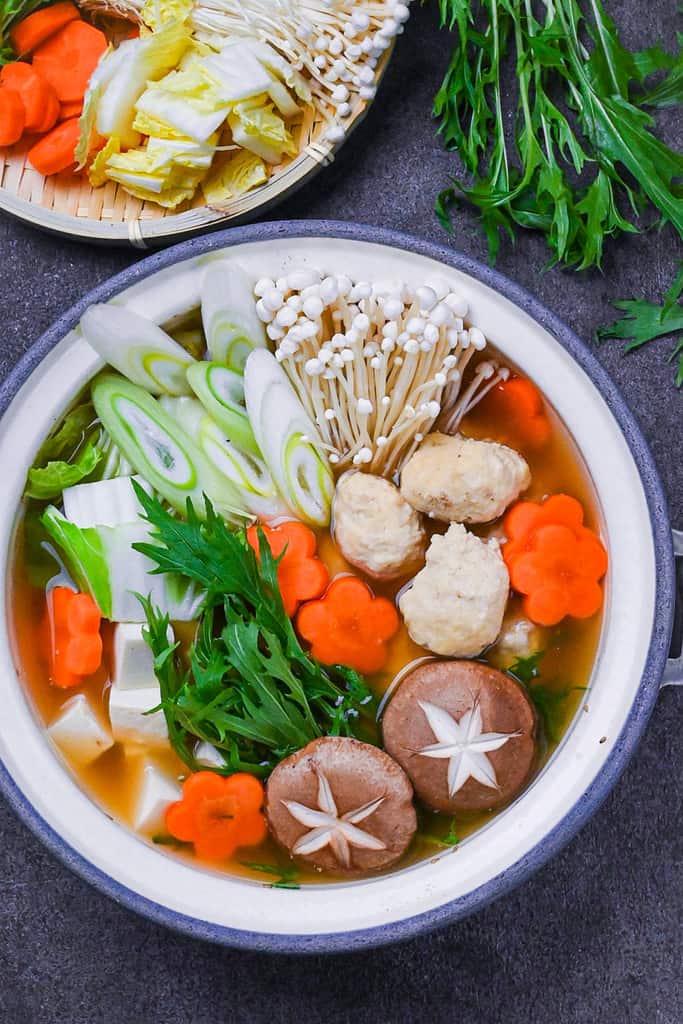 Chanko Nabe, a traditional dish beloved by Japanese sumo wrestlers, is a hearty and nutritious concoction brimming with wholesome vegetables, tofu, and delectable homemade chicken meatballs, all simmered in a light dashi and chicken broth.
Offering a perfect blend of taste and nutrition, this warming dish brings the vibrant culinary culture of Japan right into your kitchen. Indulge in the delightful textures and flavors of Chanko Nabe, and enjoy a sumo-sized feast in the comfort of your own home!
"Chanko Nabe" Sumo Stew (ちゃんこ鍋)
How to make rich, warming and nutritious "Chanko Nabe" (ちゃんこ鍋) Sumo Wrester Hot Pot with homemade chicken meatballs, a variety of vegetables and tofu in a light chicken stock and dashi broth.
Check out this recipe →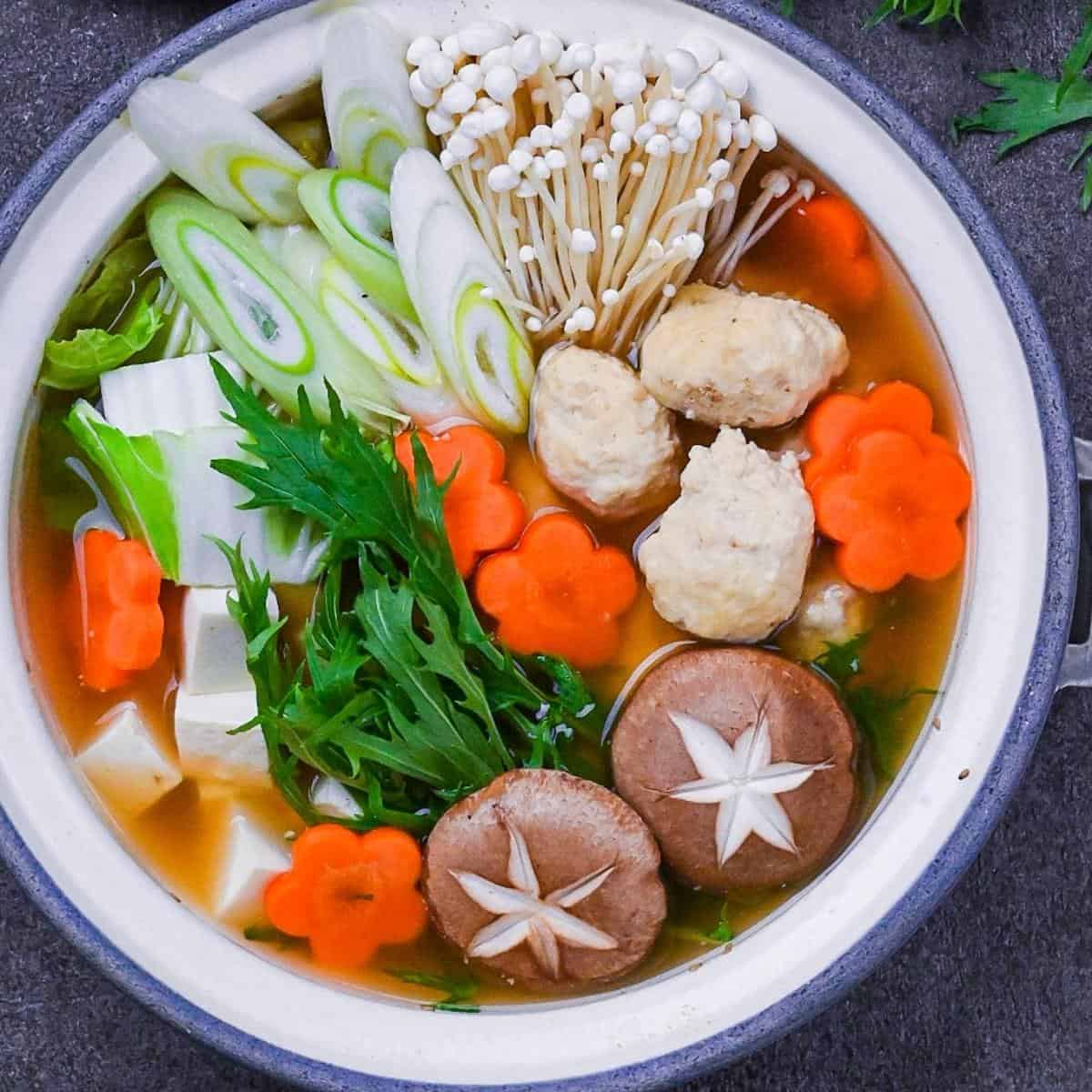 Oden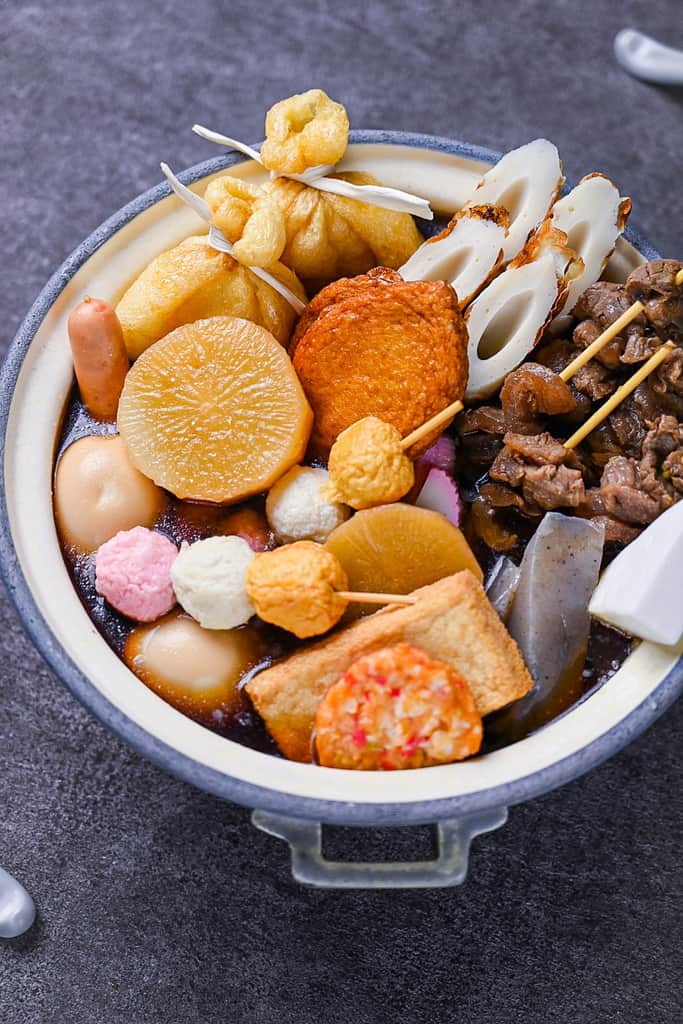 Oden is a cherished one-pot dish in Japan, offering the comfort food experience. This versatile recipe is brimming with a diverse assortment of ingredients such as fishcakes, tofu, eggs, meat, and vegetables, all simmered to perfection in a light, soy sauce-infused dashi broth.
The true charm of Oden lies in its adaptability. While it boasts a list of common, well-loved ingredients, the dish is by no means confined to these. It encourages creativity, inviting you to explore and add your favorite elements, thereby personalizing and elevating your Oden experience to new, delicious heights.
Oden (Japanese Winter Stew)
How to make classic  "Oden" (おでん), a Japanese winter stew made with fishcakes, meat, vegetables and tofu simmered in a light dashi broth.
Check out this recipe →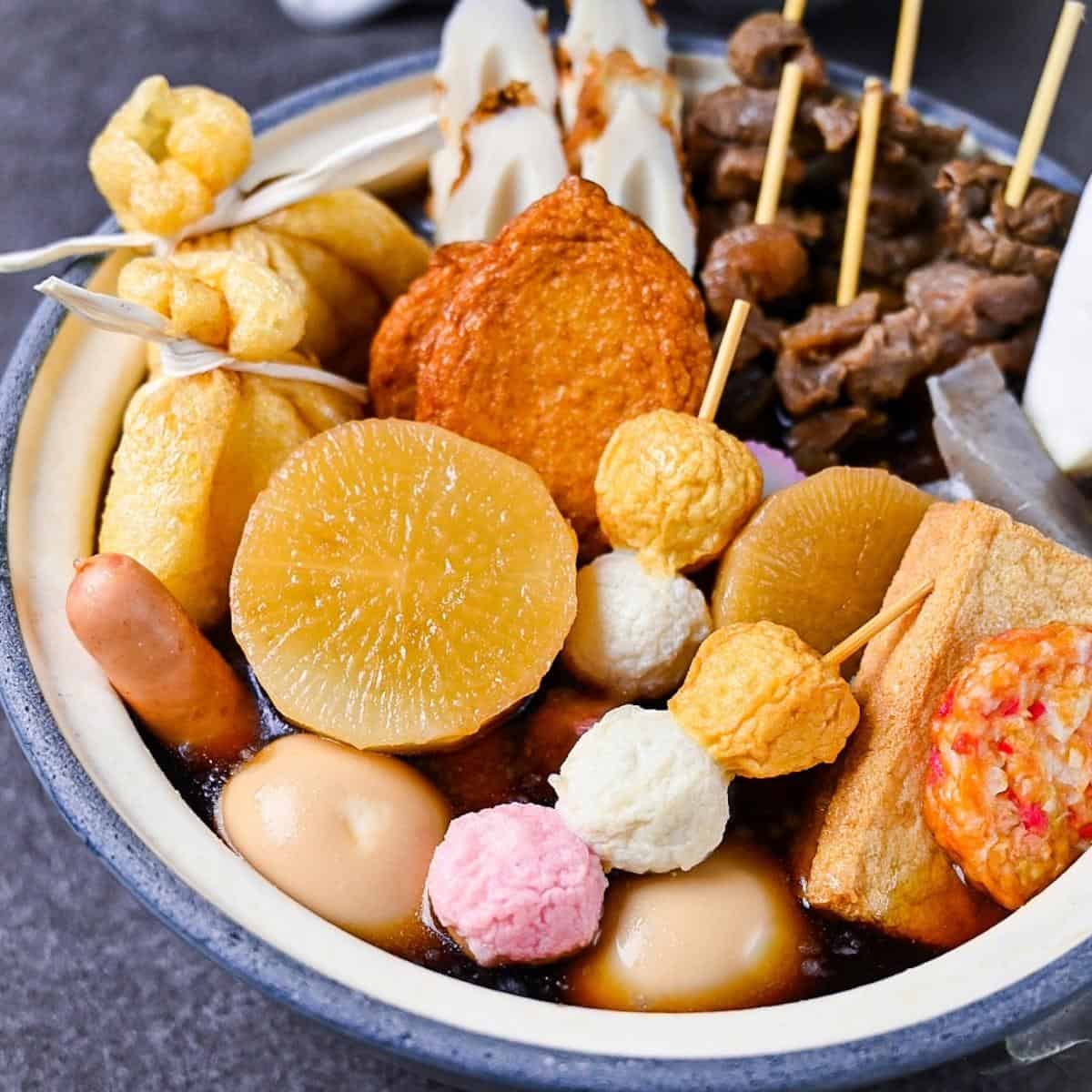 Nabeyaki Udon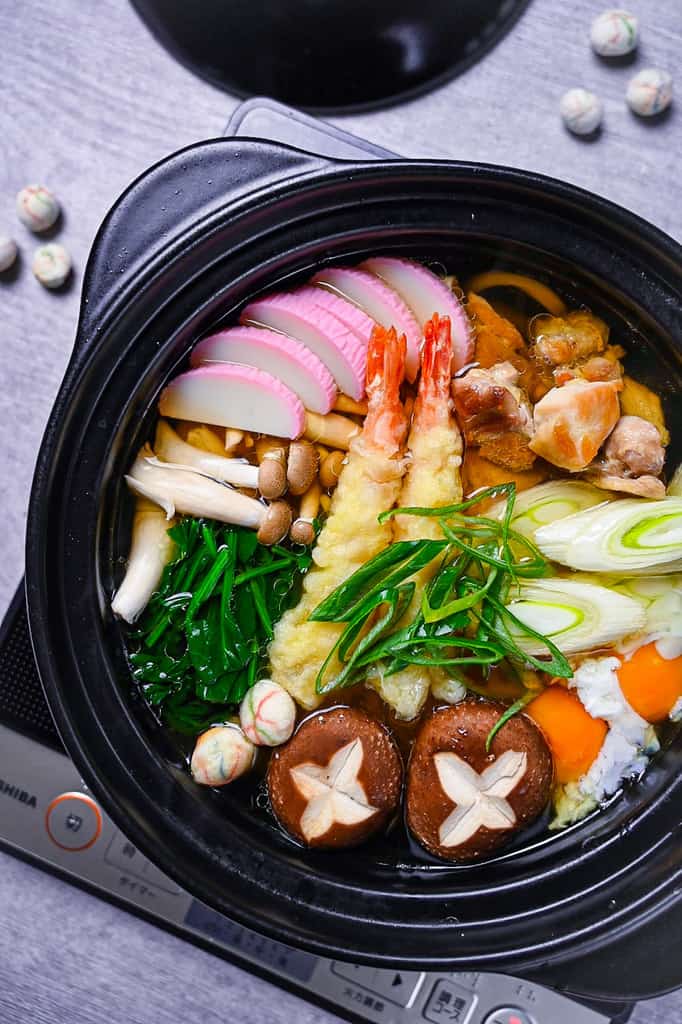 Nabeyaki Udon, often simply termed "Nabeyaki", stands apart from typical udon dishes. This variant is cooked in a traditional Japanese earthenware pot, or "donabe", with a variety of meats and vegetables, resulting in a filling, nutrient-rich dish.
Perfect as a comforting meal in the cold months, it is, unlike its name might suggest, not a noodle stir-fry, but a hotpot. Immerse yourself in this unique, warming culinary delight.
Nabeyaki Udon
How to make delicious Nabeyaki Udon (鍋焼きうどん) with chicken, shrimp tempura and vegetables.
Check out this recipe →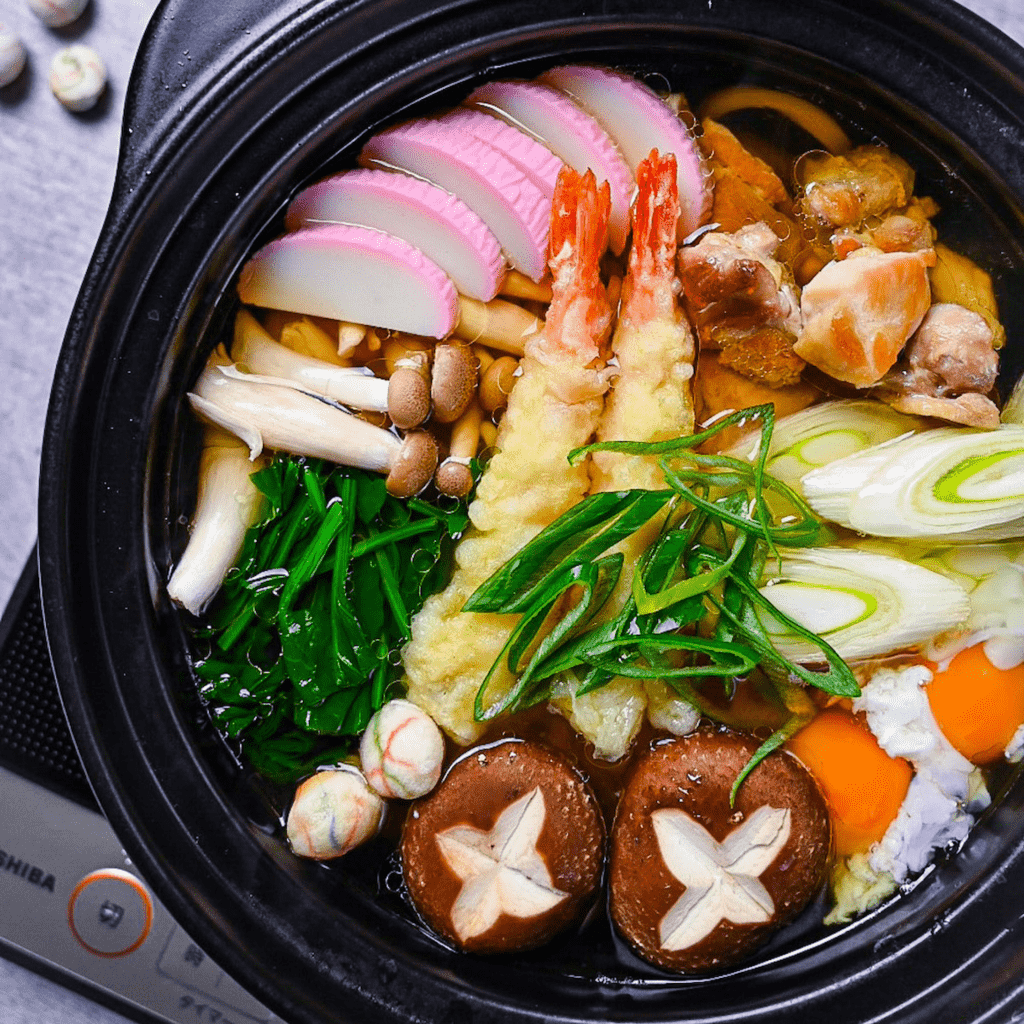 Chicken Mizutaki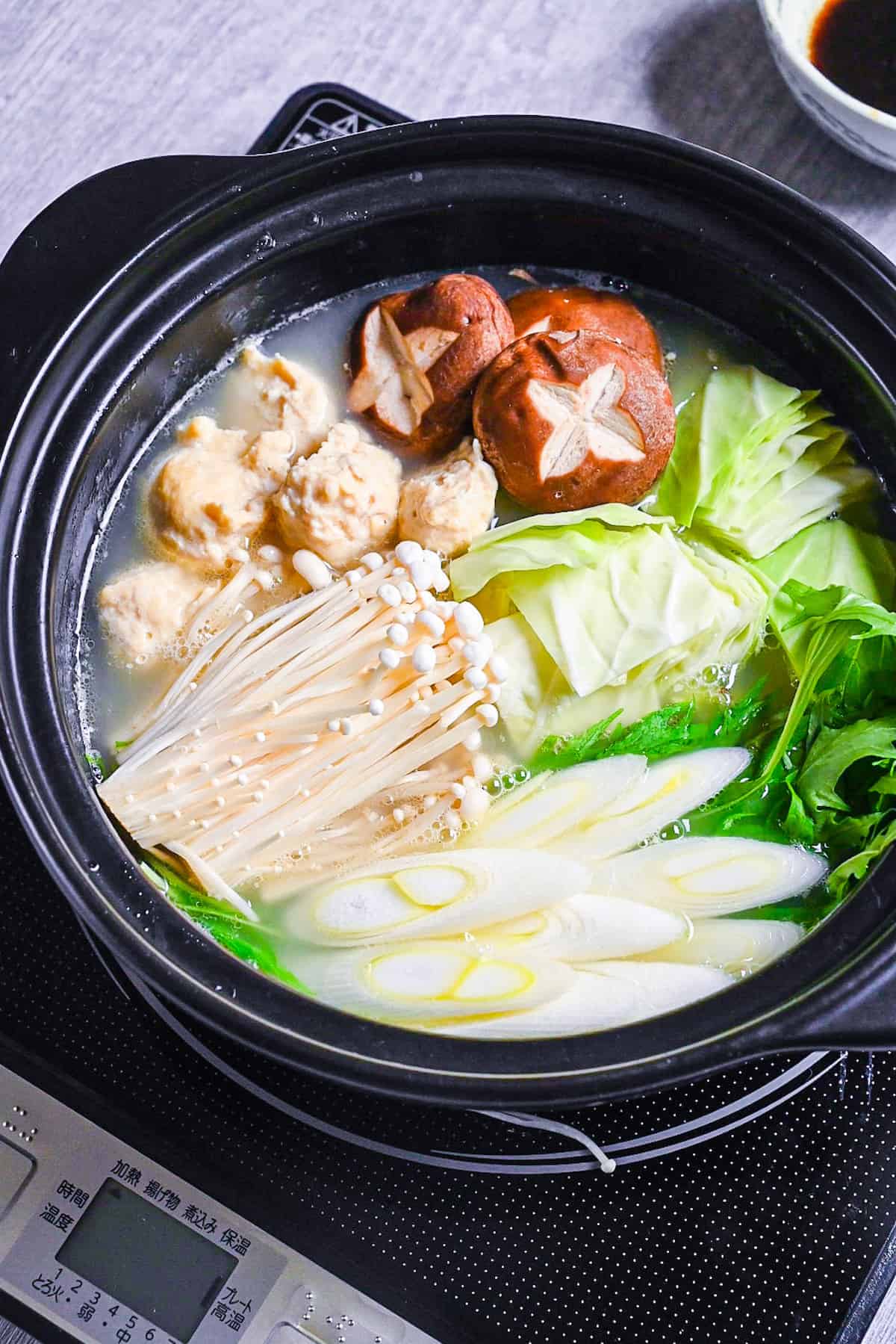 Mizutaki Nabe, one of Japan's signature chicken hot pots, is a minimalist dish that involves boiling ingredients in water or dashi broth, without added condiments. The standout version is Hakata Mizutaki from Fukuoka Prefecture, which combines chicken and seasonal vegetables in a light broth, served with ponzu sauce.
Despite its prominence, Hakata Mizutaki is a mystery to many outside Hakata or Kyushu. This post will reveal how to prepare this distinctive dish from scratch, and showcase the diverse ways it can be enjoyed.
Chicken Mizutaki: Ultimate Guide To Hakata's Mizutaki Hotpot At Home
How to make Hakata style Chicken Mizutaki hot pot at home from scratch. A simple and elegant chicken and kombu broth served in 5 different ways for a course meal experience!
Check out this recipe →
Motsunabe (Japanese Offal Hot Pot)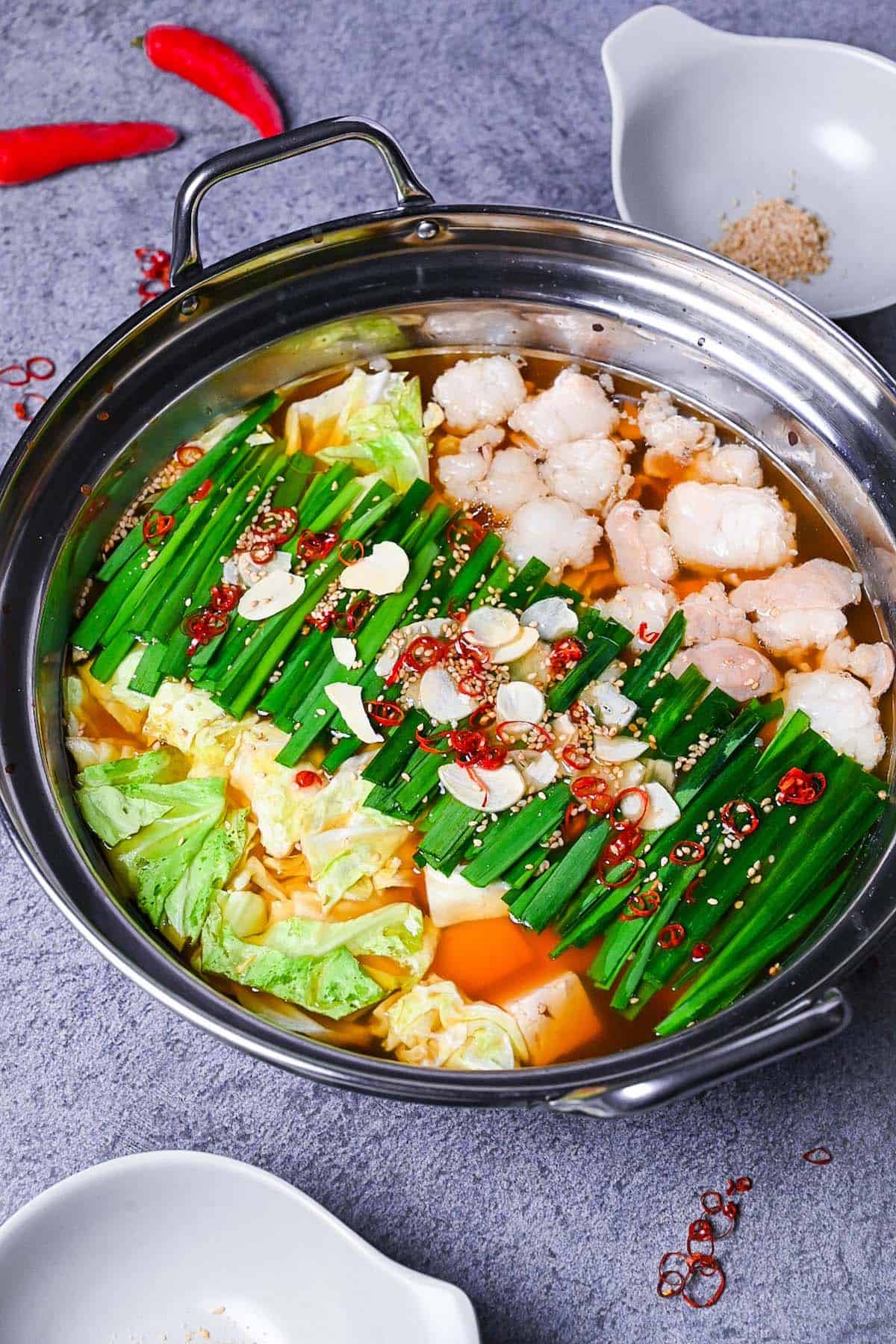 Motsunabe, a traditional hot pot dish from Hakata ward in Fukuoka city, features "motsu" or "horumon" - beef or pork offal. This regional hot pot is prepared in a soy or miso-seasoned bonito or seaweed broth, loaded with offal, vegetables, and optionally chili peppers.
Motsunabe turns the potentially intimidating offal into a melt-in-your-mouth delicacy, offering a rich, flavorful experience that makes it a perfect introductory dish for those new to motsu or horumon.
Hakata Motsunabe (Japanese Offal Hot Pot)
How to make traditional Hakata Motsunabe (Japanese Offal Hot Pot) with a delicious, fragrant and mildly spicy soy sauce based broth. (Serves 2)
Check out this recipe →