Learn how to make Hakata's famous chicken mizutaki hot pot from scratch at home! This comforting dish is made by simmering homemade meatballs and a variety of vegetables in a simple yet elegant chicken bone and kombu broth. Mizutaki is not just a hot pot recipe, it's an experience!
Disclaimer: This post contains Amazon affiliate links. Sudachi Recipes earn a small percentage from qualifying purchases at no extra cost to you. See disclaimer for more info.
Jump to:
What is chicken mizutaki nabe?
Mizutaki nabe is a type of Japanese hot pot dish, which is considered as one of Japan's "four major chicken hot pot dishes" along with shamo nabe in Tokyo, kashiwa nabe in Kyoto, and kiritanpo nabe in Akita.
The name "mizutaki" comes from the method of cooking ingredients by boiling them in water only, and even when using dashi broth, condiments such as soy sauce and salt are not added to the pot.
There are many hot pot dishes named "mizutaki" throughout Japan, each using different cooking methods and ingredients, but this recipe focuses on the most famous of them all: mizutaki from Hakata, Fukuoka Prefecture.
Incidentally, mizutaki in Hakata is a hot pot dish in which chicken is simmered with its bones in a broth with vegetables depending on the season and personal preferences, and served with ponzu sauce.
Despite being considered one of Japan's four major chicken hot pots, many Japanese people who are not from Hakata or Kyushu cannot imagine what kind of dish mizutaki is or do not know how to eat it.
In this post I'm going to teach you everything you need to know to make Hakata Mizutaki hot pot from scratch and all the different ways to eat and enjoy it step by step!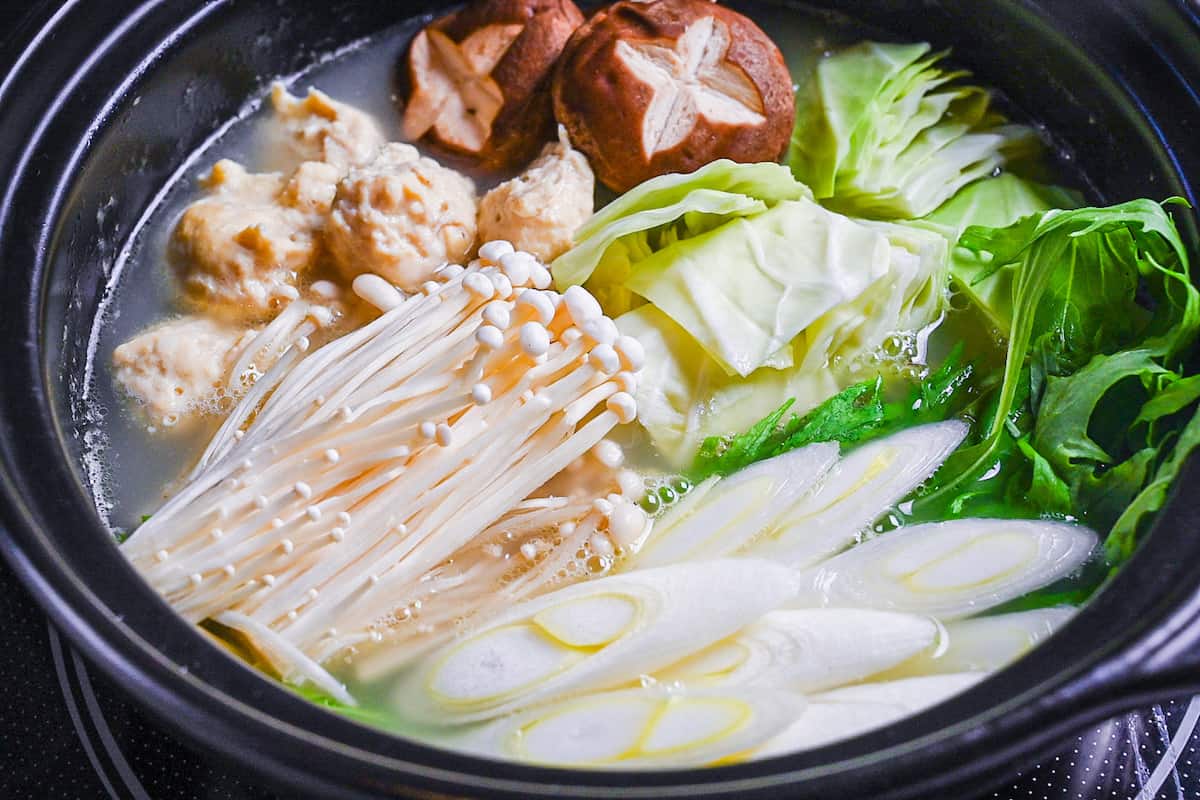 A brief history of Hakata's chicken mizutaki
I must say that mizutaki's history is very interesting. Although there are a few theories about its origin, the one prominent theory is that Heizaburo Hayashida, who was born in Nagasaki, learned cooking in an British family when he stayed in Hong Kong in 1897. After returning to Japan, he mixed Western style chicken broth and Chinese style chicken soup and completed Hakata style Mizutaki in 1905. So, although Hakata is now the most well-known center for mizutaki, the prototype was born in Nagasaki Prefecture.
In other words, mizutaki is an international hot pot that combines elements of Western and Chinese chicken soups with a Japanese twist. It is amazing that such a fusion was created more than 120 years ago.
First comes the soup, then enjoy the meat. Then, chicken meatballs, vegetables, tofu, and other ingredients are added and simmered. Once all the ingredients have released their flavour, it is finished with noodles or zosui (rice porridge).
Hakata's mizutaki is a very distinctive dish that, in a word, is a nabe dish but eaten like a course meal. I will explain how to eat it in more detail later.
Mizutaki vs Shabu shabu: what are the differences?
Shabu shabu is a dish where meat (usually beef or pork) is thinly cut and cooked quickly in a simmering pot of dashi stock and served with dipping sauce (usually sesame sauce or ponzu). Vegetables and noodles are added too.
You might wonder about the differences between mizutaki and shabu shabu, in fact, they are really quite similar. The first and most fundamental difference is that shabu-shabu is made with beef and mizutaki is made with chicken as the main ingredient.
Here are the main differences between mizutaki and shabu shabu:
| | Mizutaki | Shabu shabu |
| --- | --- | --- |
| Base broth | Often kombu dashi added to chicken broth | Often kombu dashi |
| Choice of meat | Chicken | Beef (occasionally pork) |
| How to cook the meat | Simmered in broth | Quickly dip and swish |
| Size of meat | Thick chunks with bones in | Extremely thinly sliced |
| Dipping sauce | Ponzu, yuzu kosho, salt | Ponzu, sesame sauce |
One major similarity between mizutaki and shabu-shabu that is not found in regular nabe dishes is that the base broth is unseasoned.
You can see that both are based on "enjoying the taste of the ingredients themselves". With this in mind, it's good to use high quality ingredients for mizutaki and shabu shabu.
Mizutaki's sauce: why is it so creamy and cloudy?
Hakata's mizutaki is characterized by its creamy, rich broth. However, as explained earlier, mizutaki broth is not seasoned. What does that mean?
This white, creamy broth is not achieved by condiments, but by simmering the marrow of the chicken bones, which is dissolved in the broth, this is called "paitan soup". By simmering the chicken bones over low heat for a long time, it gradually becomes white and cloudy.
As a nabe dish, it is very time-consuming and labor intensive to make at home, but the richness and flavor of the resulting soup is top-notch! I will explain how to do with step by step in later section.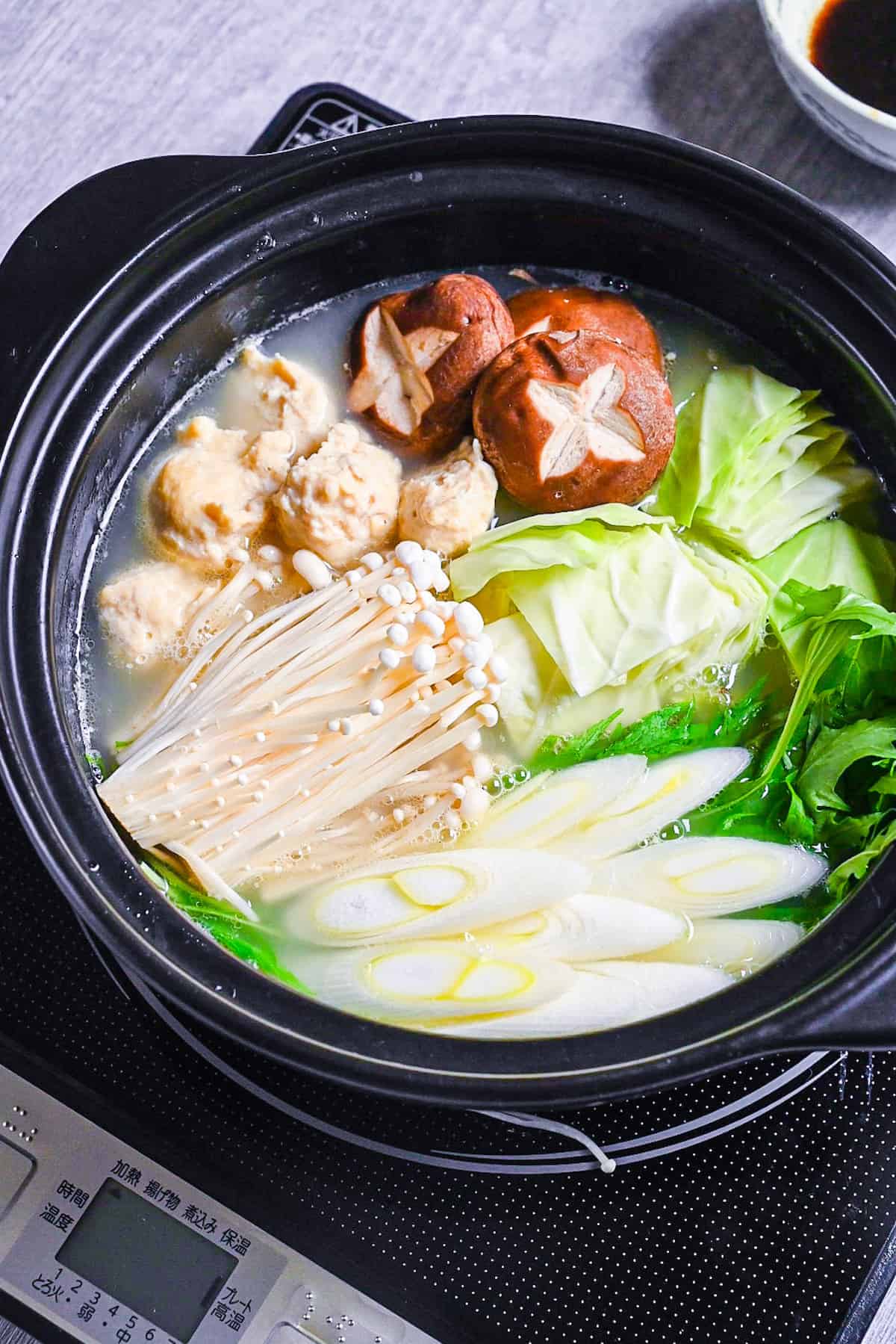 Ingredients to make Hakata style mizutaki at home
Mizutaki is made by combining two broths and then adding meatballs, vegetables and then noodles or rice later. With this in mind, I've broken the ingredient list up into different parts to make it easier to understand.
Mizutaki Chicken Broth (Pot 1):
Chicken bones (from a chicken carcass)
Spring onion (green part)
Ginger
Garlic
Water
Mizutaki Kombu Dashi (Pot 2):
Kombu (dried kelp)
Water
Chicken drumsticks and thighs (bone-in)
Chicken wings (optional)
Meat balls:
Chicken mince
Egg
Grated ginger (or ginger paste)
Grated garlic (or garlic paste)
Corn starch
Vegetables
Cabbage
Mizuna (Japanese mustard greens)
Spring onion (white part)
Enoki mushroom
Shiitake mushrooms
Table condiments:
Zosui (Japanese Rice Soup) to finish:
Cooked Japanese rice
Egg
Kizami nori (shredded nori)
Chopped spring onion
I know it seems like a lot, but essentially this recipe uses a whole chicken and the different parts are used in different areas of the cooking process. This is a recipe that doesn't leave any waste!
Use a whole chicken to make mizutaki
In this recipe, I use a chicken carcass to make the broth and then cook drumsticks and thighs in the dashi. This might be surprising, but in Japan, buying one medium/large whole chicken (approx 2kg) is quite expensive and it was actually cheaper for me to buy all of the parts separately. If you live in an area with reasonably priced whole chicken then I recommend buying it whole and using the parts as following:
Drumsticks, thighs, wings - cook in the dashi and eat with condiments
Breast - mince and use to make meatballs
Carcass (back/neck and leftover bones) - to make broth
Instructions on how to make the ultimate chicken mizutaki at home
Here are my step by step instructions on how to make Hakata style chicken mizutaki from scratch! Each process includes pictures, detailed explanations and tips. For the simplified recipe and ingredient quantities, see the recipe card at the bottom of the page.
Soak kombu
Start by placing a piece of kombu in a pot of water and soaking it for at least 30 minutes or until the kombu is rehydrated. If you want a stronger kombu dashi you can do this for longer, up to 24 hours in advance.
Prepare chicken bones
While the kombu is soaking, wash the chicken carcass. Place it in a large mixing bowl and fill it with cold water. Rub the surface with your hands to help loosen any blood or debris then drain the water away.
Next, pour freshly boiled water over the carcass and let it sit for a few minutes. Drain and fill it up the bowl with cold water again to cool it down and allow you to rub off the loosened blood and debris. Drain the water once again.
Transfer the carcass to a chopping board and use a sharp knife to cut it into smaller pieces. (I cut it into about 8-10 pieces.) Repeat the washing process by placing the pieces back in the mixing bowl and pouring hot water over it. Let it sit for a few minutes, then drain and add the cold water again. Drain once more and it's ready to use.
Simmer both broths at the same time
Once the kombu has finished soaking, add the chicken drumsticks and thighs and place the pot on the stove. Bring it to a boil over a medium heat and then lower to a simmer. Simmer for about 30 minutes.
Take another pot and add the chicken carcass, water, spring onion, ginger and garlic cloves. Bring it to a boil over a medium heat.
While it boils, scum will form at the top of the water. Remove this with a spoon (I use a mesh spoon so that I don't remove too much water).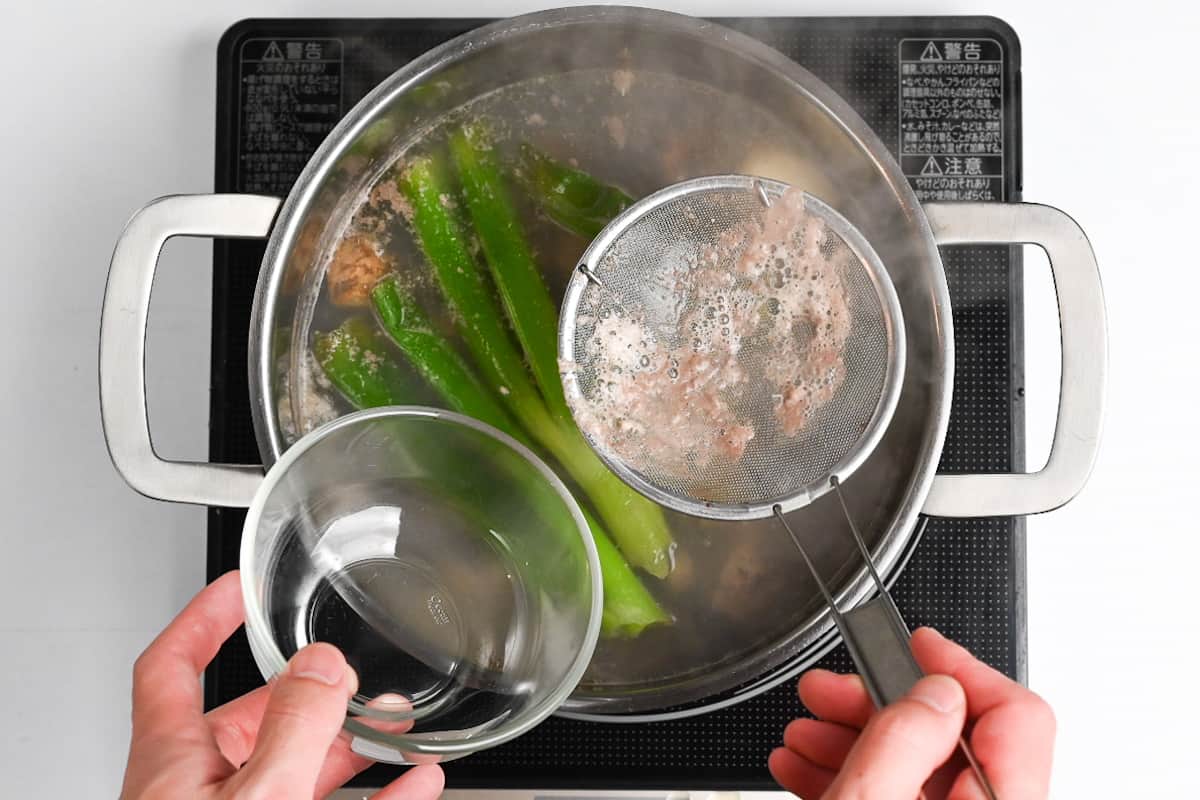 Continue to boil until the scum stops reappearing and then lower the heat to a simmer. Simmer for about 1 hour.
After about 30 minutes, discard the kombu from the first pot and set the chicken pieces aside for later. What is left in the pot is essentially a kombu dashi with some essence of chicken from the fat and bones in the thighs and drumsticks.
Turn off the heat and use this kombu dashi to replenish the water that evaporates from the chicken stock in pot 2.
Remove vegetables and break down the bones
After an hour has passed, discard the spring onion, garlic and ginger and pour any remaining kombu dashi into the chicken broth.
Use a potato masher to break down the bones even more. By making them smaller, the bones cook down faster. Continue to simmer for another 30 minutes.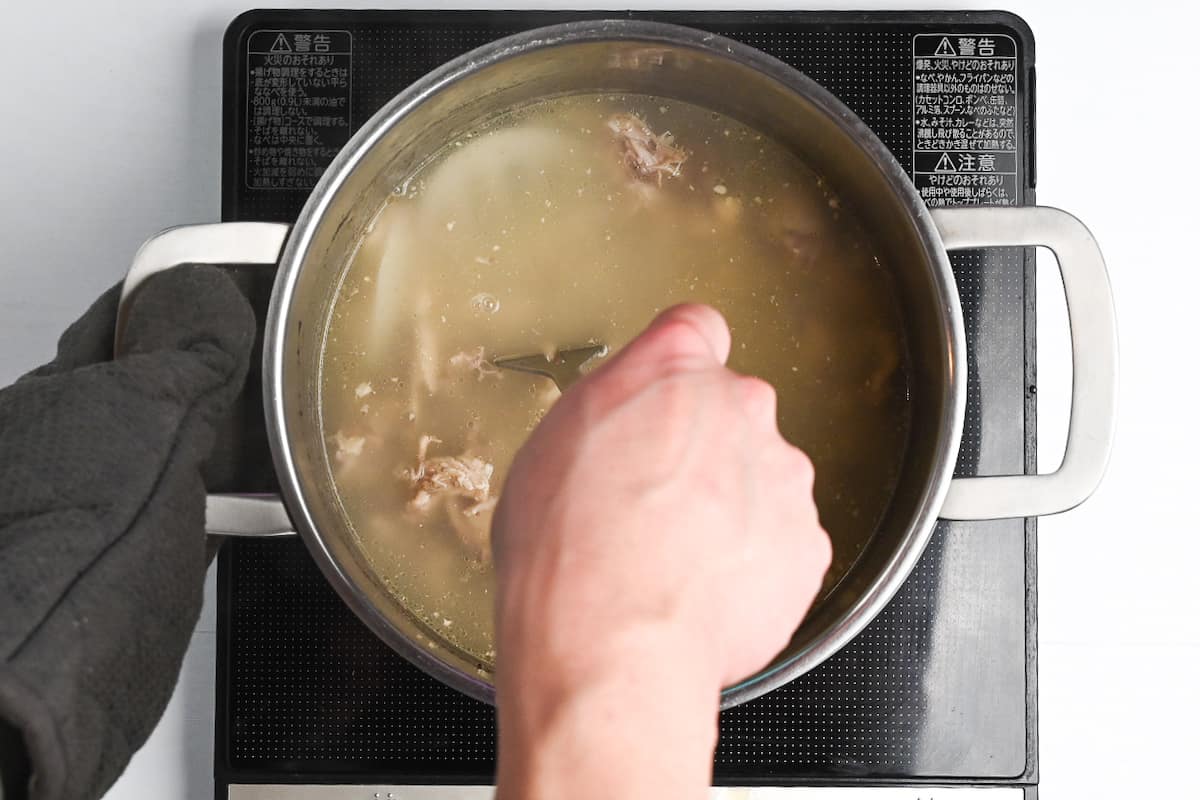 Make chicken meatballs
While the stock is simmering, take a mixing bowl and add chicken mince, egg, awase miso paste, grated ginger, grated garlic and corn starch. (If you used a whole chicken, you will need to mince the chicken breast first.)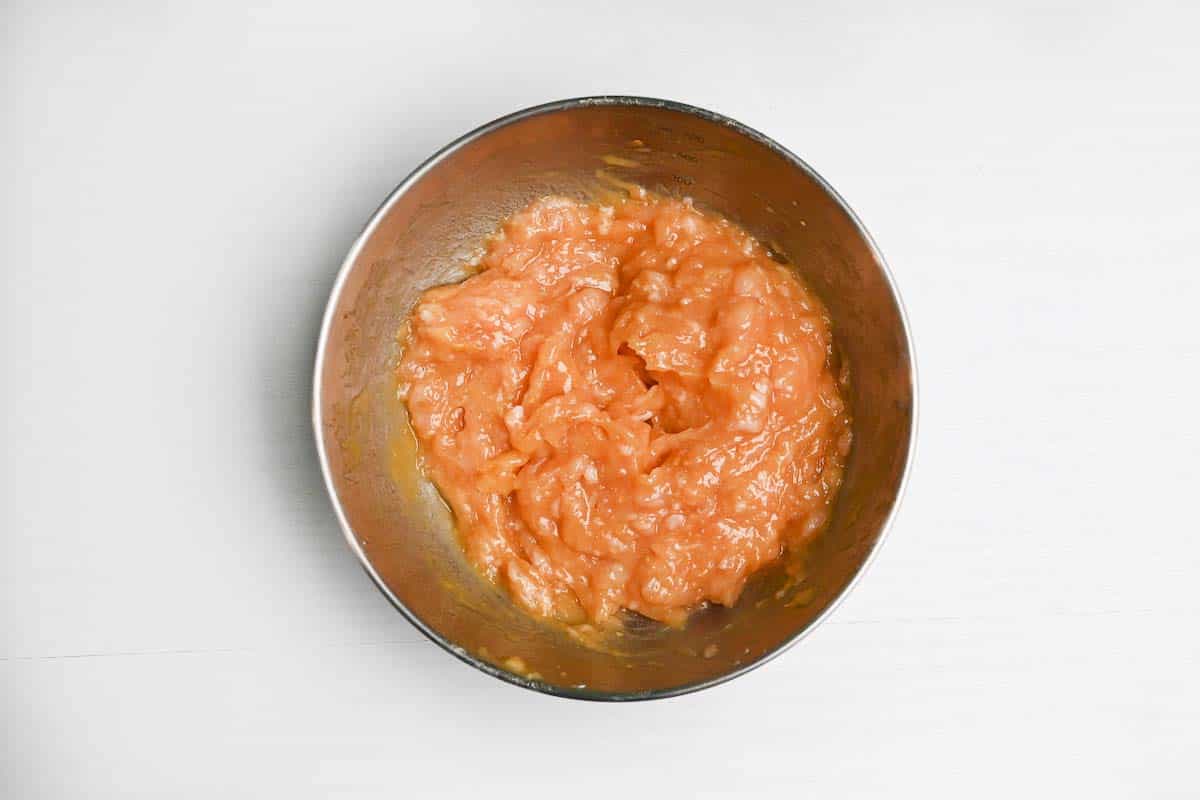 Mix well, cover and store in the fridge until it's time to cook.
Strain
Once the final 30 minutes of simmering time has passed, place a mesh sieve over a large heatproof bowl and pour the chicken stock through to remove any remaining pieces of bone.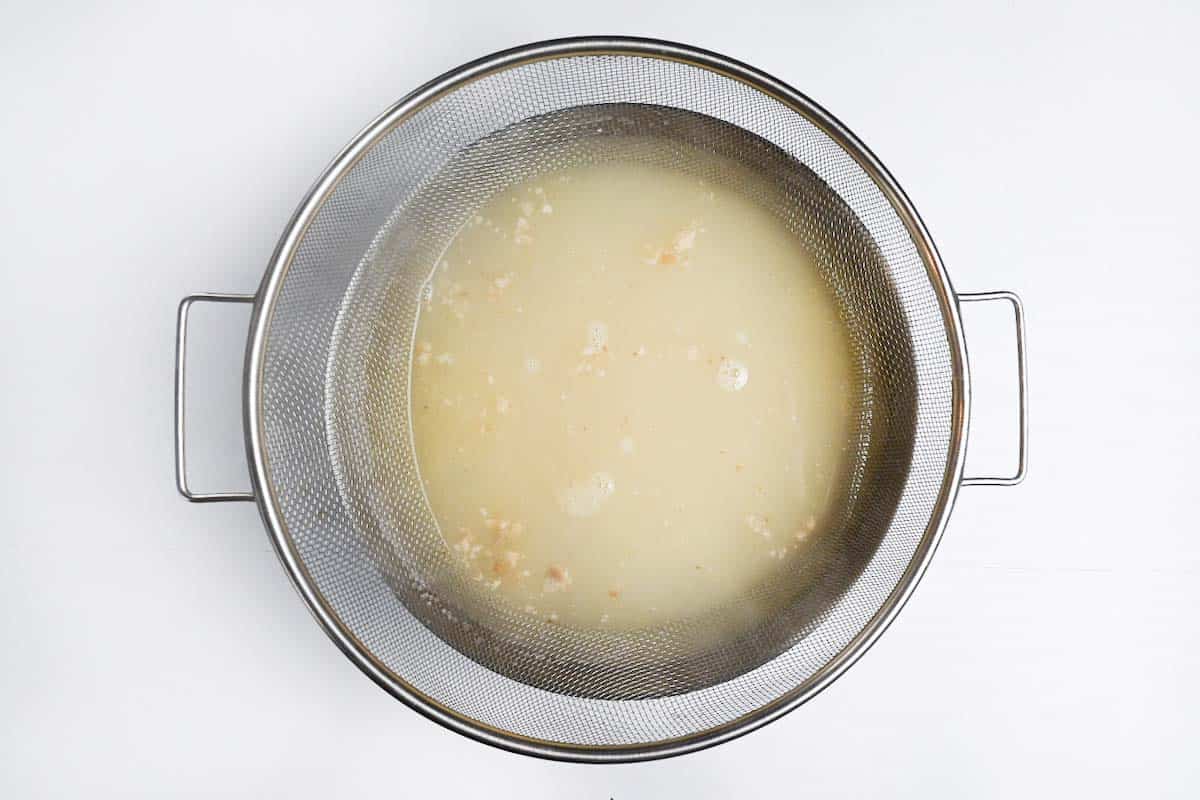 Transfer the stock to your serving pot and it's time to start the course meal.
We continue to cook the chicken mizutaki as we eat it, so for the most authentic experience, I recommend using a portable stove placed in the middle of your dining table. If you don't have one, you can still follow these steps in the kitchen and serve as you go.
How to eat mizutaki like specialty restaurant
As I explained earlier, authentic Hakata style mizutaki is basically a course meal in a pot. So there are several steps to take from the beginning to the end. In this section, I will explain how to enjoy the precious broth fully like a native!
Step 1: Drink a cup of soup
Add the chicken drumsticks and thighs from earlier to the chicken broth and bring it to a boil over a medium heat.
Once it comes to a boil, lower the heat to a simmer and pour a small amount of broth into serving cups. Each person can season their individual soups with salt and yuzu kosho (Japanese citrus chilli paste) to suit their preference. This is the first step to enjoy mizutaki. You can taste the concentrated umami of the soup as it is.
Step 2: Eat chicken with ponzu sauce
After drinking the broth, the next step is to enjoy the drumsticks and bone-in thigh meat with ponzu sauce. Yes, these chickens are eaten on their own, not with vegetables.
Each person should have their own bowl of ponzu sauce, remove the chicken from the pot and divide them equally between the serving bowls.
The chicken will be very hot, so allow it to cool for a few minutes. During this time, we can add the meatballs to the broth.
Step 3: Enjoy the meat balls
Take the chicken meatball mixture from the fridge, and scoop it onto a tablespoon. Use another spoon to scrape it directly into the broth (the mixture is too sticky to roll it by hand). Increase the heat to medium/medium-high and cook the meatballs for about 10-15 minutes.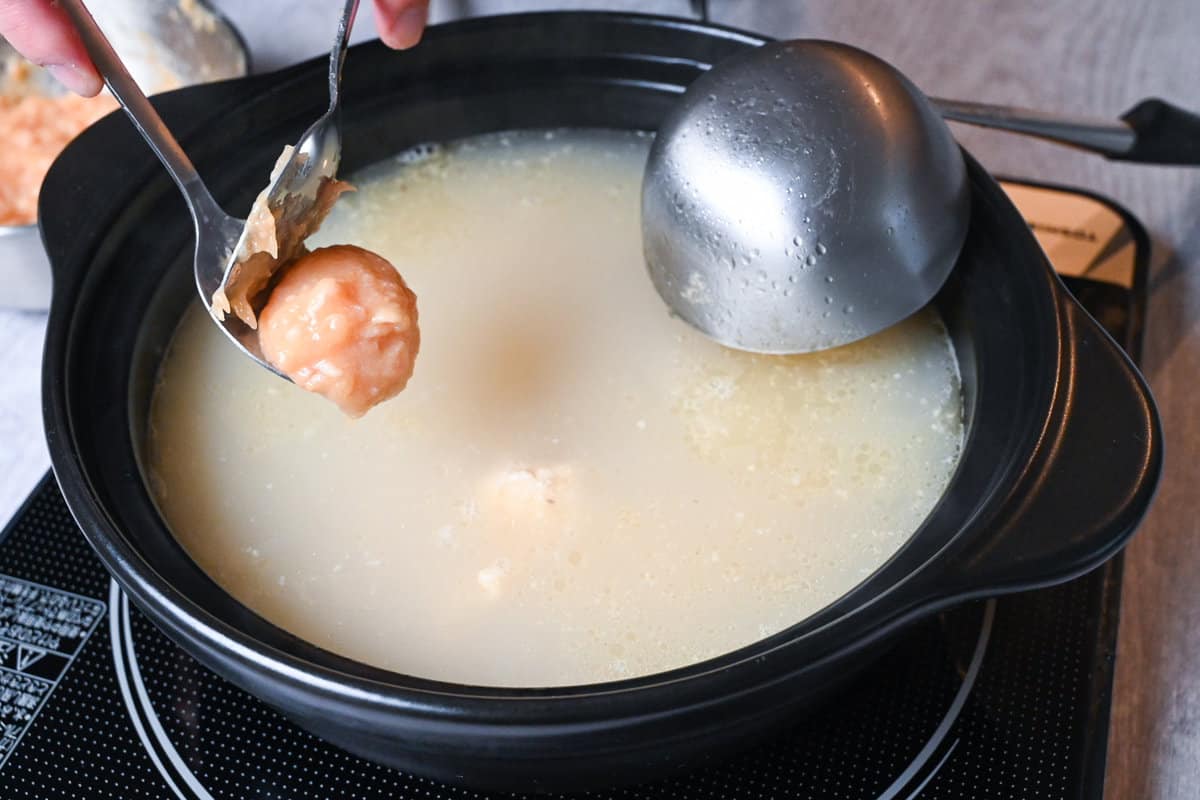 While the meatballs are cooking, you can enjoy the chicken drumsticks and thighs in the ponzu sauce.
Once the meatballs are cooked, eat half of them, also dipped in ponzu sauce.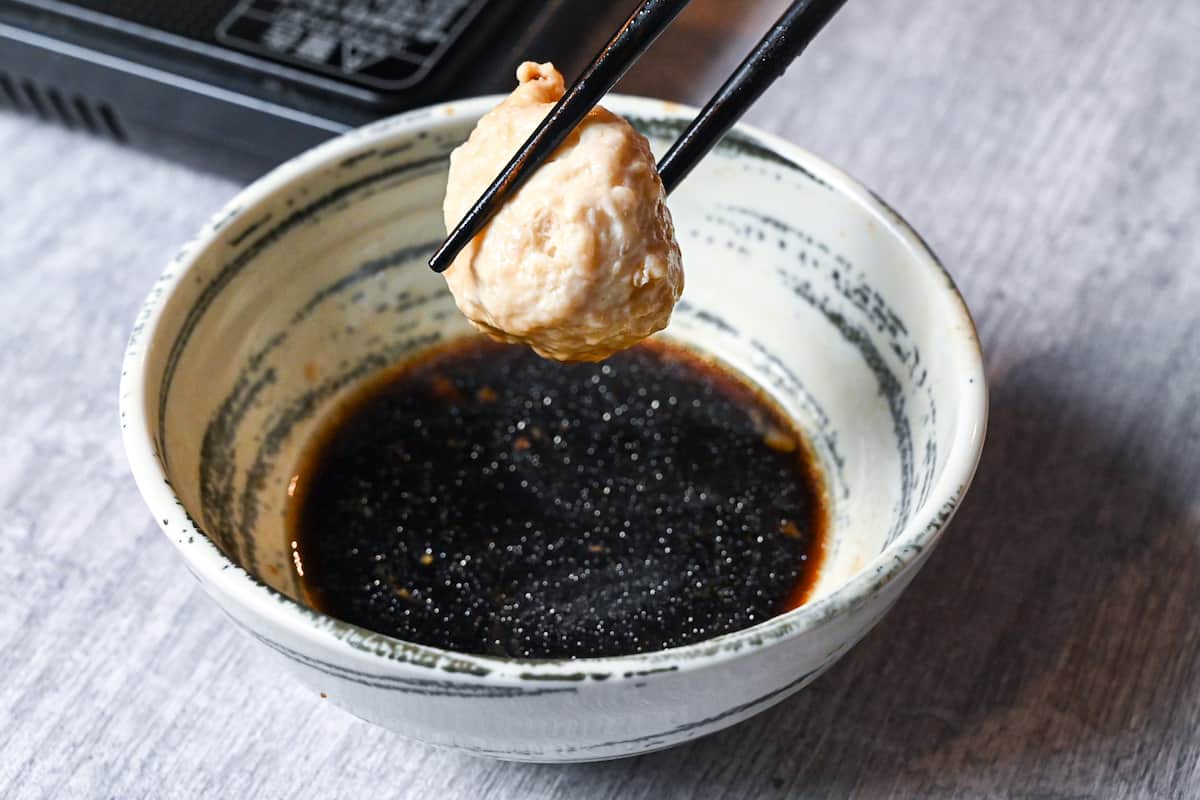 After finishing half of the meatballs, leave the other half in the pot and move on to the next step.
Step 4: Enjoy with vegetables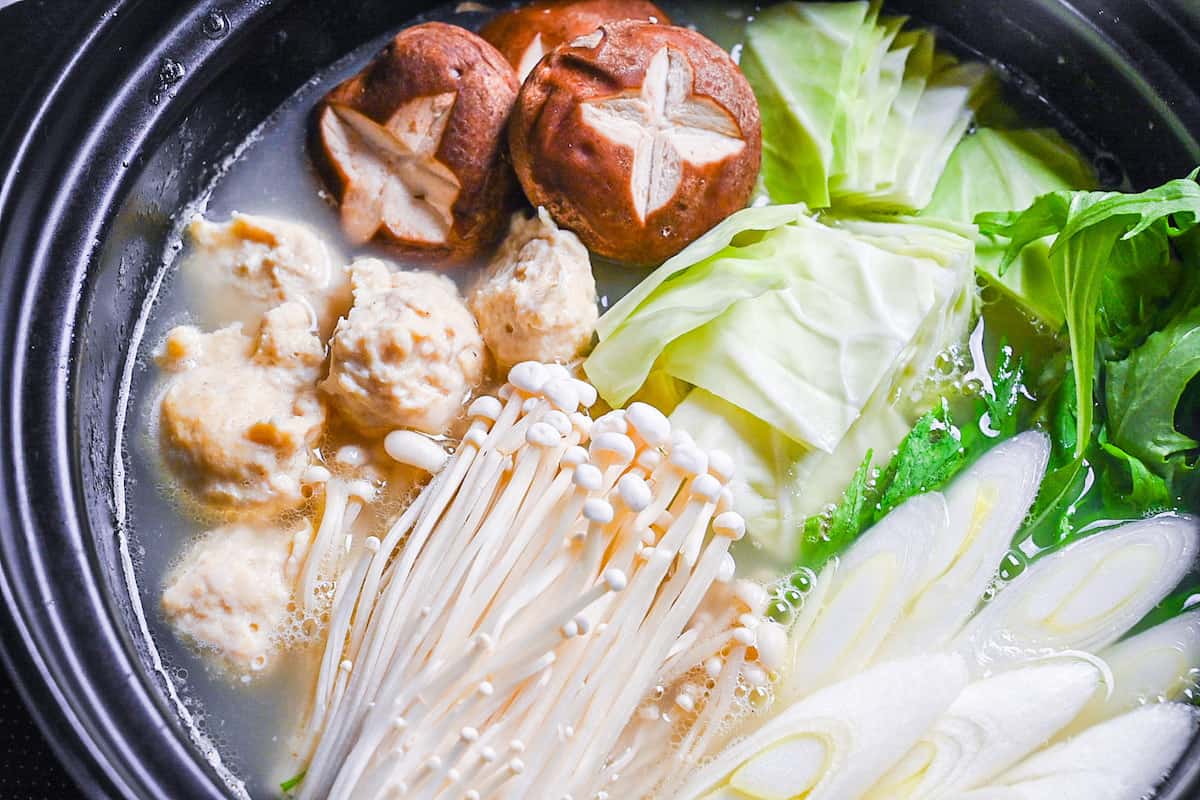 The next step is to stew the vegetables with the meatballs. If you have too many vegetables to fit in your pot, you can divide it and cook the second (or even third!) batch while you eat the first batch.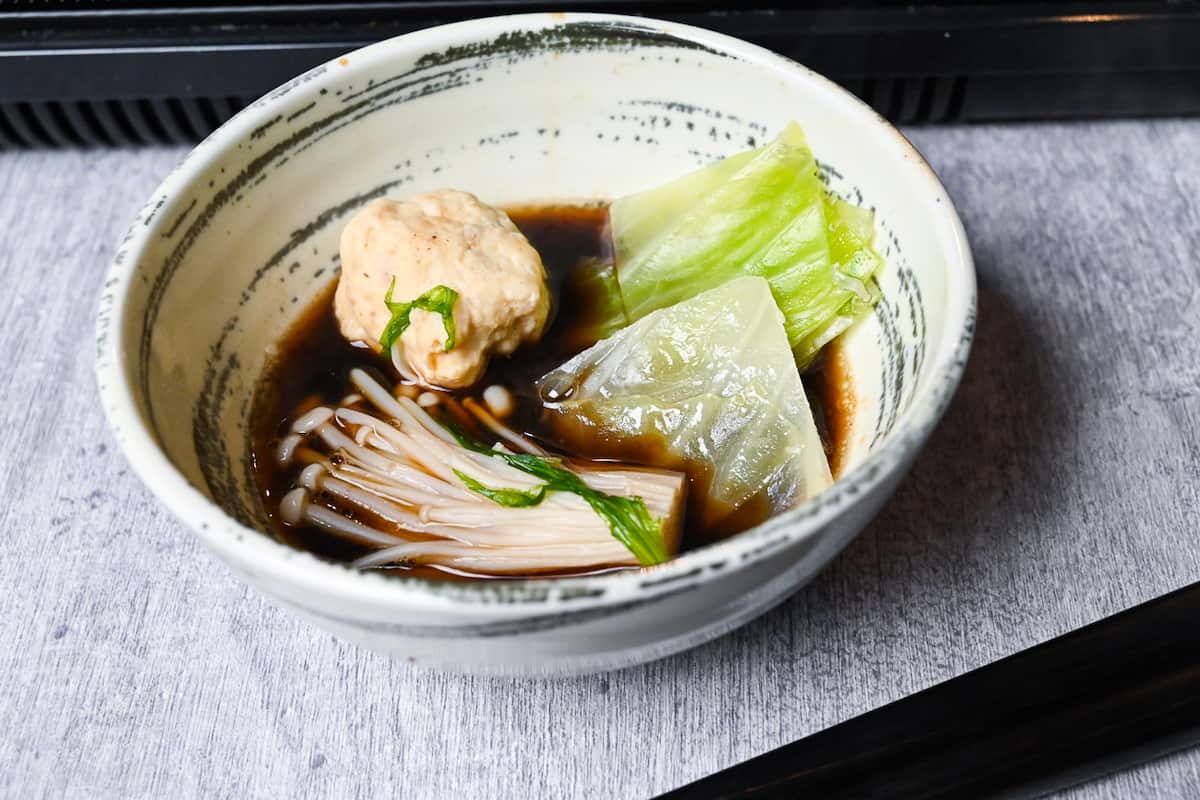 When the vegetables are cooked through, help yourself (along with more meatballs!) and either dip them in ponzu sauce, add salt, or eat them with yuzu kosho, and enjoy various flavours of mizutaki. You can enjoy mizutaki's increased depth of flavour because additional umami is extracted from the vegetables.
Step 5: Finishing with zosui or noodles
No mizutaki is complete without some kind of "shime", known as the last course of the hot pot. "Shime" is usually made by adding cooked rice or noodles to the leftover broth. This is the final step and allows you to enjoy the last of the remaining broth to the fullest.
Adding cooked rice to broth is called "zosui" which can be translated as "rice porridge" in English.
To make zosui, wash the already cooked rice under running water to remove the starch. Then put it directly into the pot and when it starts to simmer, add whisked eggs and stir.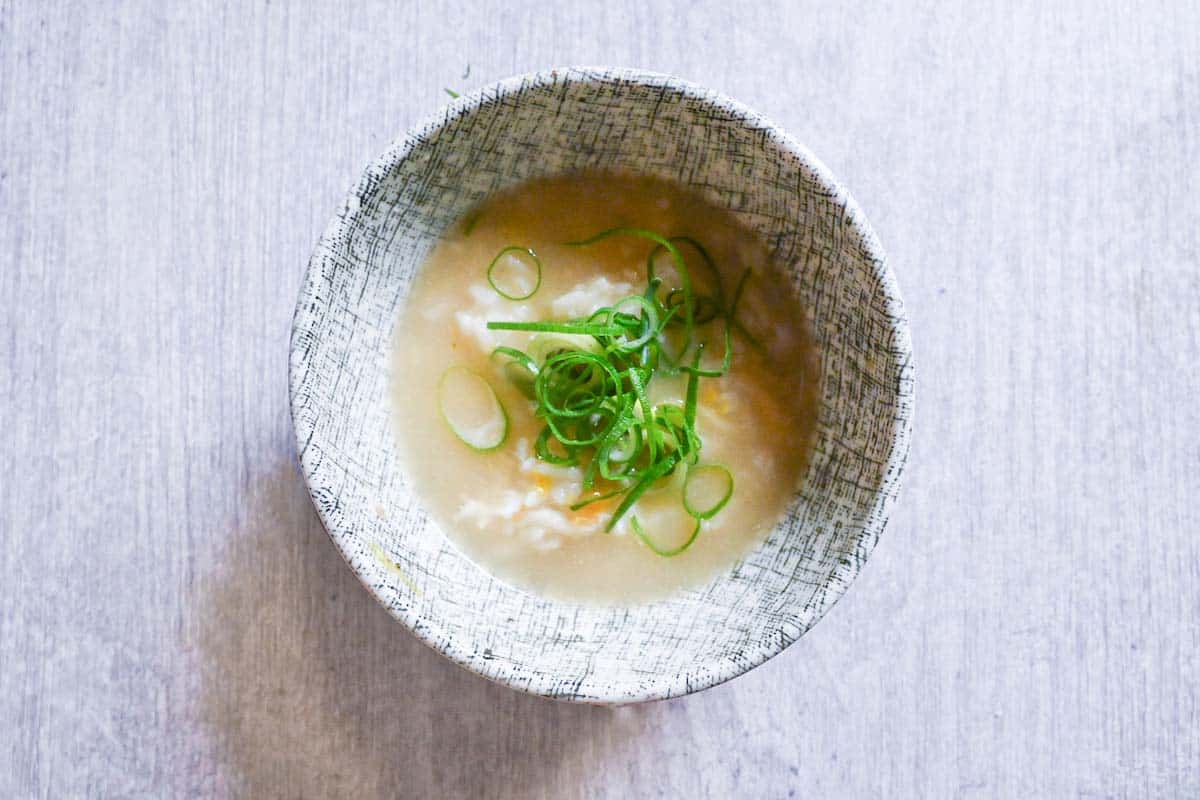 I don't recommend eating zosui with ponzu (ponzu is better for dipping), but with salt or yuzu kosho (or both). Also, toppings such as kizami nori, shichimi pepper, and chopped spring onion can be added to make it even more delicious!
Apart from porridge, you can also add ramen noodles or champon noodles to finish the course instead. Specialty restaurants often offer a choice between the two. Simply cook the noodles in a separate pot and then serve them in the broth. Again, you can season them with salt, yuzu kosho or both according to your preference.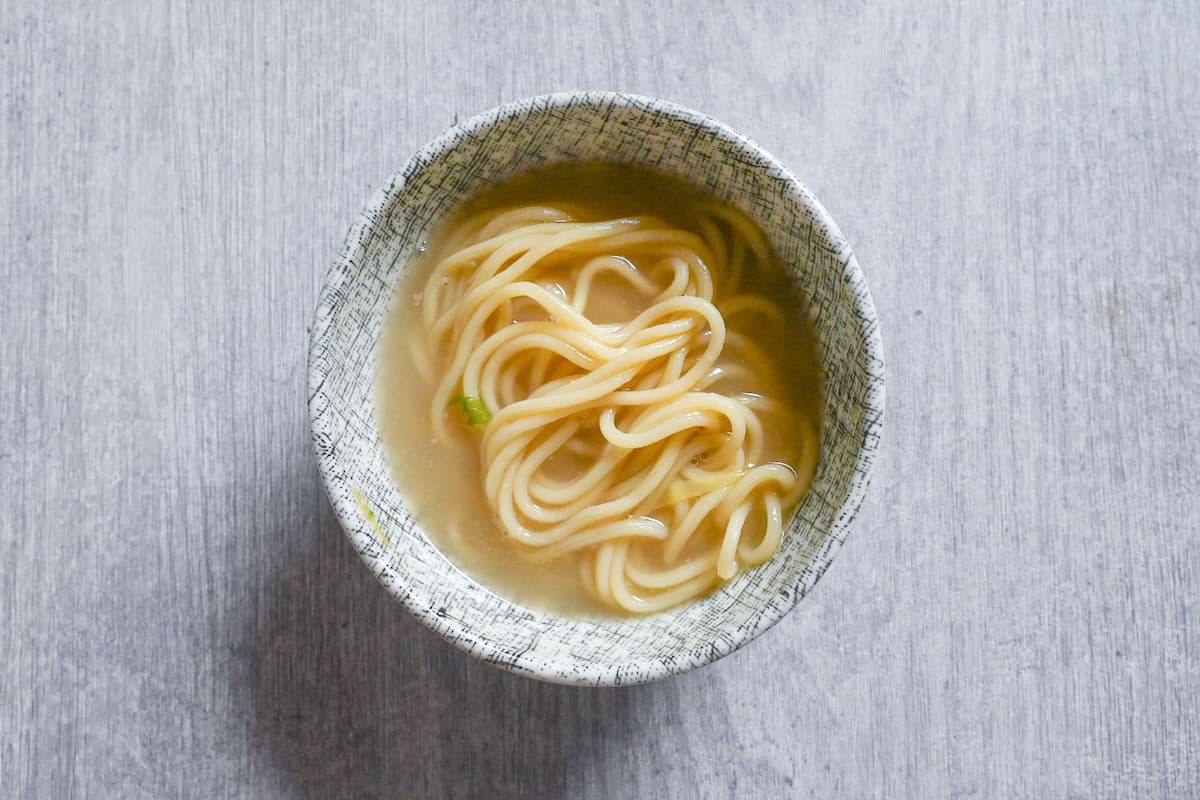 If you eat mizutaki at a restaurant, dessert will also be served after this. (Usually something light and refreshing like a sorbet.)
I hope you enjoy the recipe/experience of mizutaki!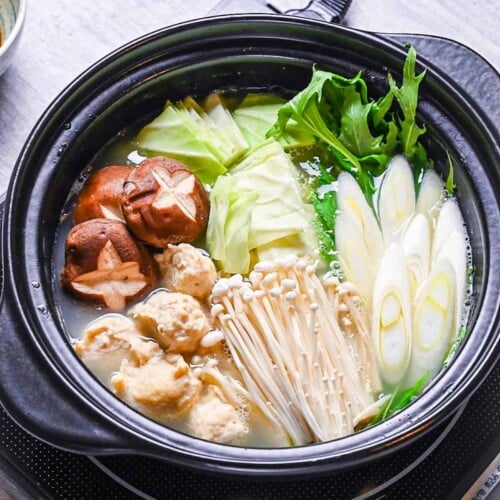 Chicken Mizutaki: Ultimate Guide To Hakata's Mizutaki Hotpot At Home
How to make Hakata style Chicken Mizutaki hot pot at home from scratch. A simple and elegant chicken and kombu broth served in 5 different ways for a course meal experience!
Ingredients
Pot 1 (kombu dashi)
10

g

dried kelp(s) -

kombu

2000

ml

water

4-6

chicken drumsticks

250

g

boneless chicken thigh(s)

-

bone-in
Pot 2 (chicken stock)
1-2

chicken carcass

-

neck/backbones

cold water and boiling water for washing

2000

ml

water for the stock

50

g

green onion(s) -

green part

50

g

fresh ginger

-

roughly cut

2

garlic clove(s)
Chicken meatballs
200

g

ground chicken

1

small egg

-

if using a large egg, whisk and use half. You can use the other half for zosui later

½

tbsp

awase miso paste

½

tsp

grated ginger

½

tsp

grated garlic

½

tbsp

cornstarch
Vegetables
300

g

green cabbage

-

roughly cut

100

g

enoki mushroom(s)

-

roots removed

100

g

carrot(s)

-

thickly sliced

50

g

green onion(s) -

white part diagonally sliced

100

g

potherb mustard

-

mizuna, greens roots removed

50

g

fresh shiitake mushroom(s)

-

stem trimmed
Condiments for serving (to taste)
salt

yuzu kosho

-

yuzu pepper paste
"Shime" (last course) optional
3

portions

cooked Japanese short-grain rice -

for zosui washed after cooking to remove excess starch and/or cooked ramen noodles

1

tsp

shredded sushi nori seaweed "kizami nori"

-

(optional) for topping rice

2

medium egg(s)

-

(optional) for topping rice, whisked

4

pinches

Japanese chili powder

-

shichimi togarashi
Instructions
Add

10 g dried kelp(s)

and

2000 ml water

to a pot and soak for

30 minutes

.

While the kombu is soaking, place the

1-2 chicken carcass

in a heatproof bowl and fill with cold water. Rub the surface and drain the water.

Pour boiling water over the top and let it soak for a few minutes. Drain and add cold water again to cool it quickly. Rub the surface again to remove any blood or debris and drain.

Cut the carcass into smaller pieces (I cut it into about about 8-10 pieces) and repeat step 3 to thoroughly clean it.

Once the kombu has soaked for 30 minutes, add

250 g boneless chicken thigh(s)

and

4-6 chicken drumsticks

to the pot (pot 1) and place it on the stove over a medium heat. Bring it to a boil and then lower the heat to a simmer, simmer for 30 minutes. This will be your kombu dashi.

While the kombu dashi and chicken are simmering, place another large pot (pot 2) on the other burner and add the carcass, water,

50 g green onion(s)

,

50 g fresh ginger

and

2 garlic clove(s)

. This will be your chicken stock.

Bring the chicken stock to a boil over a medium heat and as it boils, remove the scum that appears at the top.

Once the scum stops coming out, lower the heat to medium to medium-low and cook for

1 hour

.

After 30 minutes have passed, remove the chicken pieces from the kombu dashi (pot 1) and set aside for later. Discard the kombu and turn off the heat. Use the kombu dashi to top up the chicken stock in pot 2.

After an hour, remove the spring onion, ginger and garlic from the chicken stock and use a masher to crush the bones in the water. Add the rest of the kombu dashi so that you have combined the two pots into one and continue to simmer over a medium/medium-low heat for 30 minutes.

While the stock is simmering, mix all of the meatball ingredients in a bowl. Cover and store in the fridge until later.

Once the chicken stock has been simmering for 1 hour 30 minutes in total, turn off the heat. Place a mesh sieve over a large heatproof bowl and strain the chicken stock to remove any remaining bones. (If your bowl isn't big enough you can do this in batches.)

Transfer the strained broth to your serving pot and place it on the stove. (If possible, I recommend using a portable stove on your dining table at this point.) Bring the broth back to a boil and then turn down to simmer.

Use a ladle to pour the soup into serving cups and place the chicken thighs and drumsticks from earlier back into the broth. While they reheat, enjoy the soup with salt or/and yuzu kosho (to taste).

Once the chicken is warmed through, remove it from the pot and divide it equally between each person. Enjoy dipped in ponzu sauce. 

Take the meatball mixture from the fridge and use two spoons to scoop it up and scrape it directly into the simmering broth (It's too sticky to roll by hand). Turn up the heat to medium/medium-high and boil for 10-15 minutes or until cooked through. Once cooked, eat half the meatballs with ponzu or preferred condiment and save the other half for later.

Add the vegetables to the soup and cook until the carrots are softened.

Enjoy the vegetables and the rest of the meatballs with either ponzu or soup seasoned with salt or yuzu kosho.

Once the meatballs and vegetables have all been eaten, prepare the final course (shime) by adding either cooked rice or cooked noodles to the broth and then divide them into individual servings. If using rice, I recommend adding whisked egg to the pot and serving once the egg is cooked to your liking. Zosui is great topped with kizami nori and chopped spring onions. Each person should season their rice (zosui) or noodle soup with salt or yuzu kosho to taste.
Notes
If you're too full to finish the soup, you can store the leftover broth to use later in the fridge for about 3 days or up to 1 month in the freezer.