Buta Kimchi Itame is a flavorful stir-fry dish inspired by Korean cuisine. Made with crispy pork belly and succulent onions fried together with mild cabbage kimchi and garlic chives, this dish really packs a punch and goes perfectly with rice!
Disclaimer: This post contains Amazon affiliate links. Sudachi Recipes earn a small percentage from qualifying purchases at no extra cost to you. See disclaimer for more info.
Jump to:
What is Buta Kimchi Itame?
Buta kimchi itame (豚キムチ炒め) is a well-loved Japanese stir fry dish based on a Korean dish called "Dwaejigogi-bokkeum". In Japanese, buta means pork, kimuchi means kimchi, and itame means stir fry. So, it is a general term for stir-fried dishes using pork and kimchi, including other vegetables and other ingredients.
As you can probably guess, the Japanese version is not so spicy. I'd say this dish is quite similar to "Shogayaki" ginger pork, but flavored with kimchi instead.
The thinly sliced pork is lightly coated in flour and fried to make it golden and lightly crispy, and then onions and kimchi are added to the pan and fried. I've added a few extra seasonings to make it special, but this recipe only requires a few ingredients. It's so easy and quick, perfect for a mid-week dinner!
This dish is usually served as a main dish with freshly cooked Japanese-style rice, but it can also be enjoyed in smaller portions as a side dish.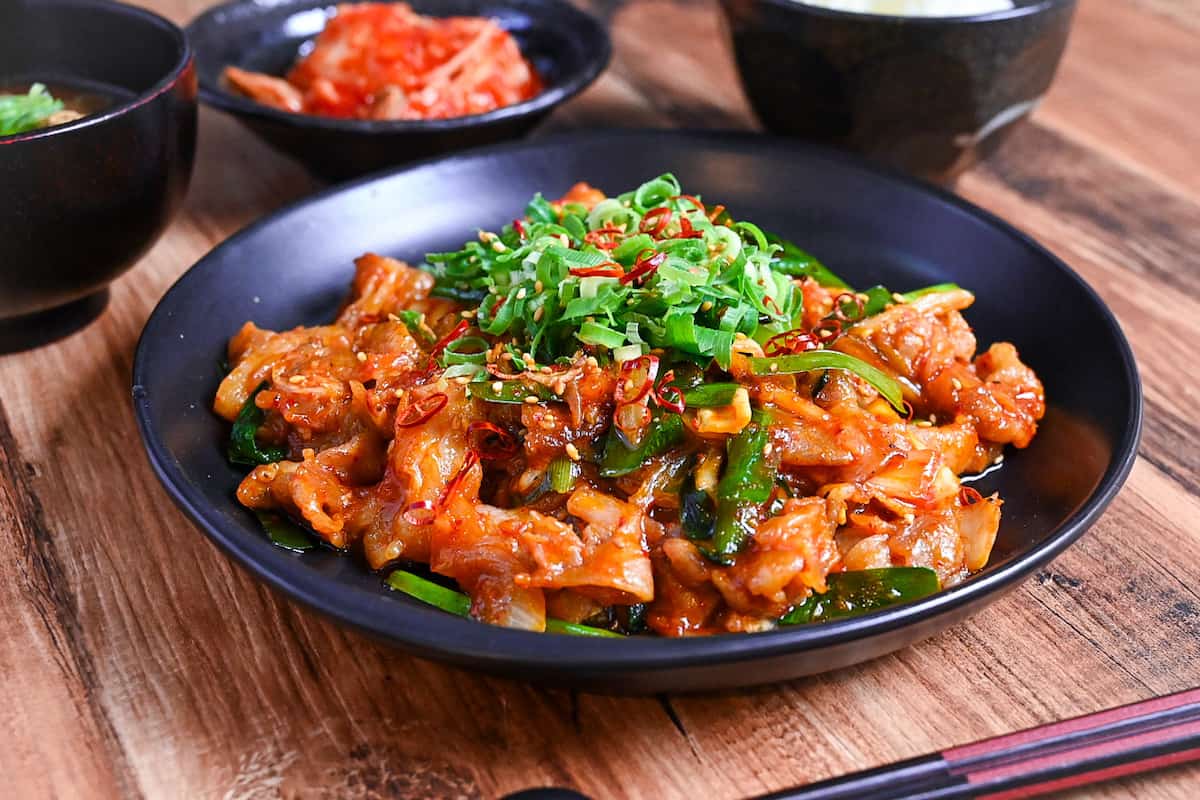 What Kind of Kimchi to Use for This Recipe?
At the heart of the recipe lies the star ingredient: Kimchi! This renowned spicy pickled delicacy hails from Korea and has garnered global fame. The most common variant is made from napa cabbage. However, you can also find intriguing twists such as radish and cucumber.
Kimchi's popularity extends to Japan, where the fondness for pickles is nearly universal. For my Buta Kimuchi recipe, I recommend a slightly sweet, cabbage-based kimchi. But remember, the world of kimchi is as diverse as it is delicious, showcasing a range of spice levels, sweetness, and tanginess.
My palate leans towards a kimchi that's both spicy and slightly tart, but ultimately, your choice should cater to your own flavor preferences. After all, it's the primary flavor driver in this recipe. Always taste your kimchi before incorporating it into your dish. It's a simple step that can save you from a regrettable result.
In this particular recipe, I've opted for a slightly sweet napa cabbage kimchi, a common and easily accessible choice that you can find in any Asian supermarket.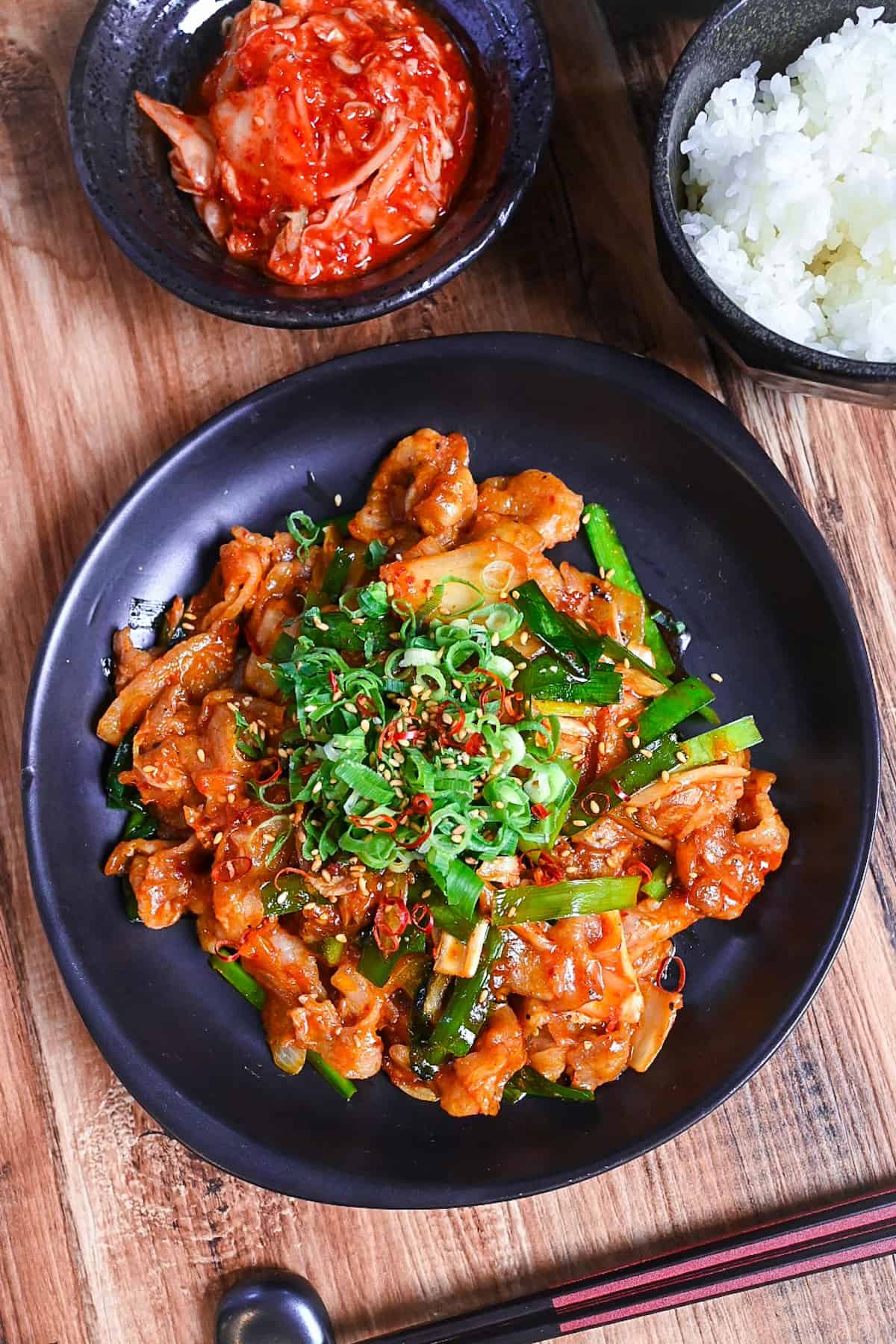 Ingredients and Substitutions
Thinly sliced pork belly - Other parts of the pork can be used, but I recommend pork belly the most. Also, if thin slices of pork are hard to come by, cutting a block of pork belly into thick slices also works great and gives the dish a meatier feel!
Salt and pepper - You can use your usual salt and black pepper.
Cake flour - To coat the pork and create a crispy surface. It also helps make the kimchi juices thick, glossy and stick better to the surface of the pork. (All-purpose flour also works for this.)
Sesame oil - It is used to add subtle flavor to the dish. I recommend Kadoya's sesame oil.
Garlic - It is used finely diced but can be grated or crushed.
Ginger - Again, I use finely diced fresh ginger but can it's fine to use grated if you prefer.
Yellow onion - Thinly sliced onions add depth and additional sweetness to the dish. In Japan, yellow onions are most common, but white onions can also be used.
Oyster sauce - The addition of oyster sauce adds depth and umami.
Cabbage kimchi - I used slightly sweet kimchi made with napa cabbage.
Sugar - It can be made with white or brown sugar.
Tsuyu sauce - If you can't find umami rich tsuyu sauce, feel free to use soy sauce instead. And if you're interested in making your own tsuyu sauce from scratch, please check out my recipe for tsuyu sauce.
Garlic chives - Adding it at the end brings a little extra flavor and color. If you cannot find it in your area, substitute it with regular chives.
Toasted sesame seeds - This is used to garnish the dish, but it is optional.
Finely chopped green onion - It adds the final touch.
I have listed my recommended Japanese condiments, tools, and ingredients in the Sudachi Recipes Amazon shop. If you want to keep making various Japanese foods at home, please check it out!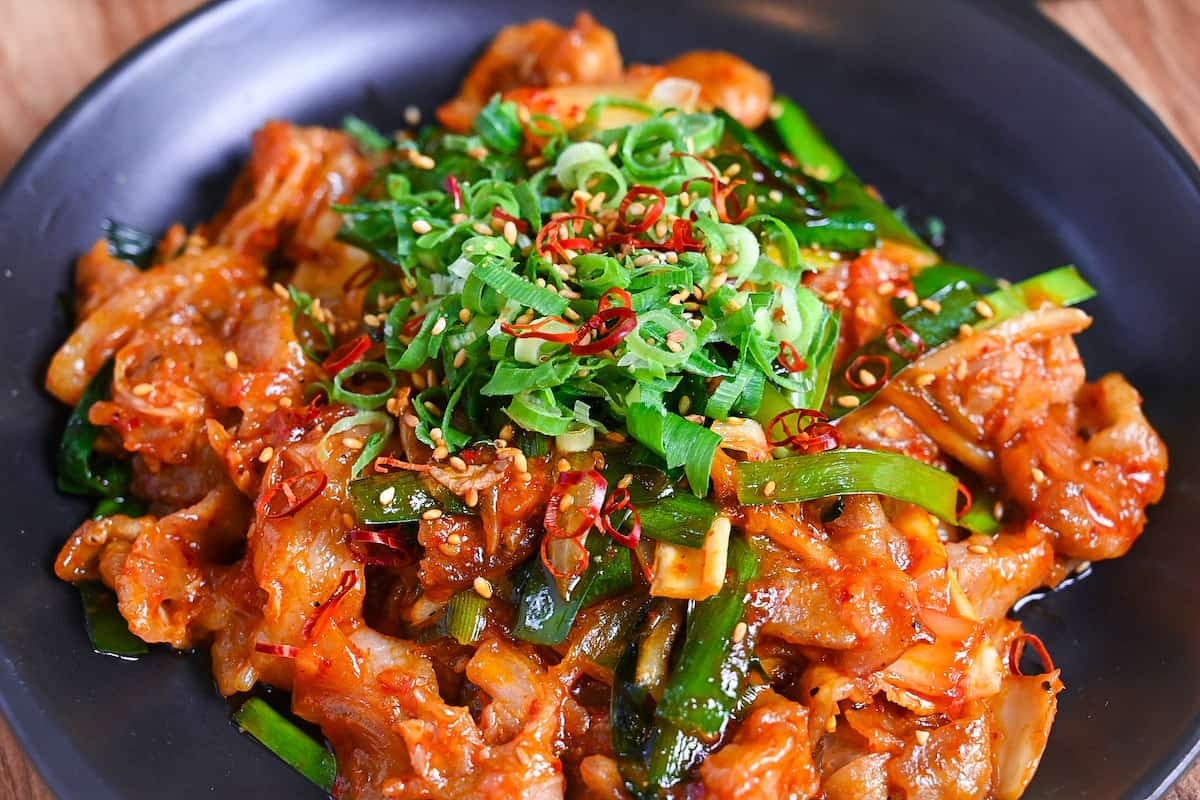 Step-by-step Process
Here are my step-by-step instructions for how to make delicious Japanese buta kimchi at home. For ingredient quantities and simplified instructions, scroll down for the printable recipe card below.
Season and flour the pork
Sprinkle the pork with a pinch of salt and pepper.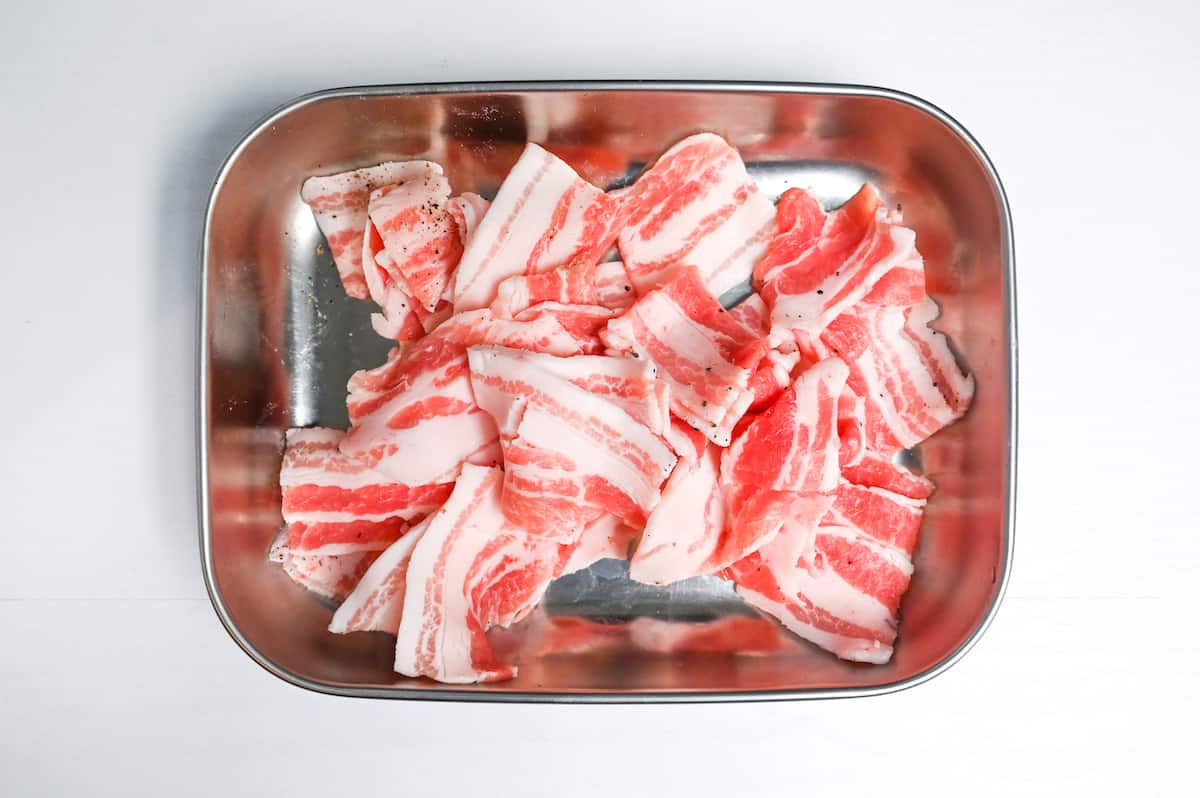 Coat with a thin even layer of cake flour. (All-purpose flour also works fine.)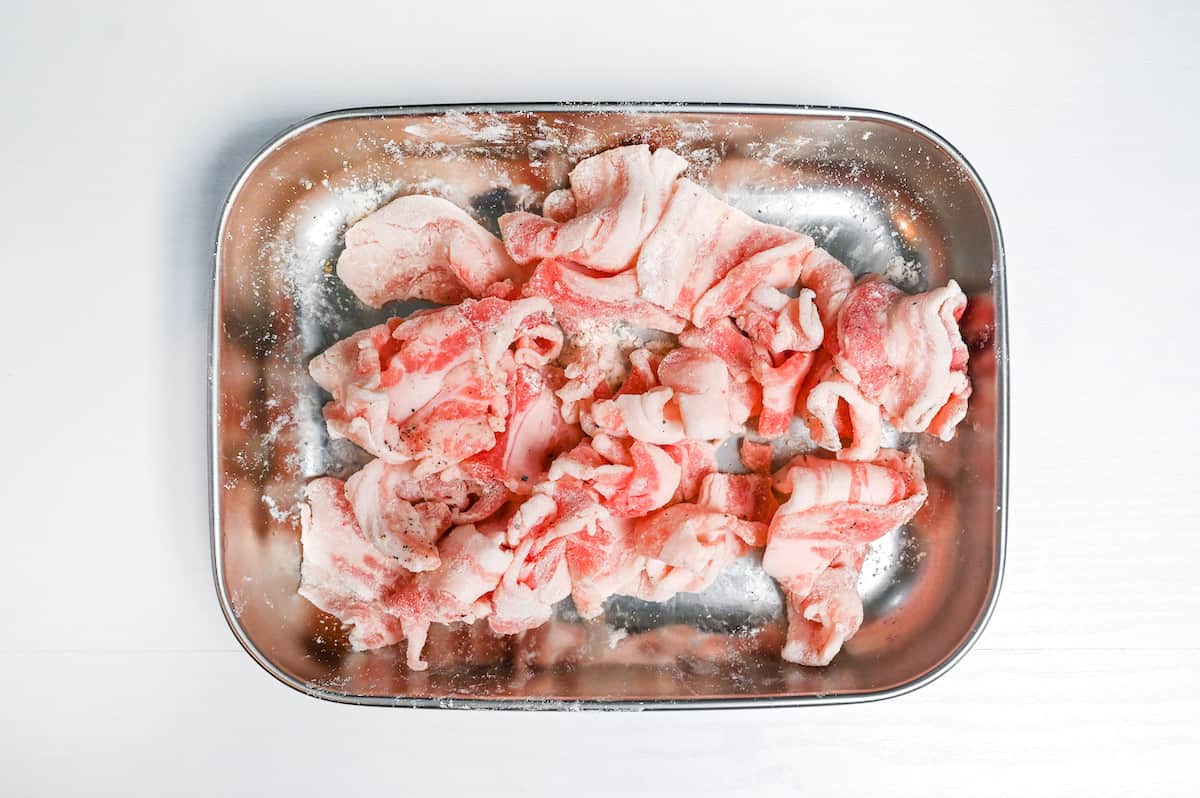 Heat a wok on medium and once hot, add sesame oil, finely chopped garlic and finely chopped ginger. Fry until fragrant.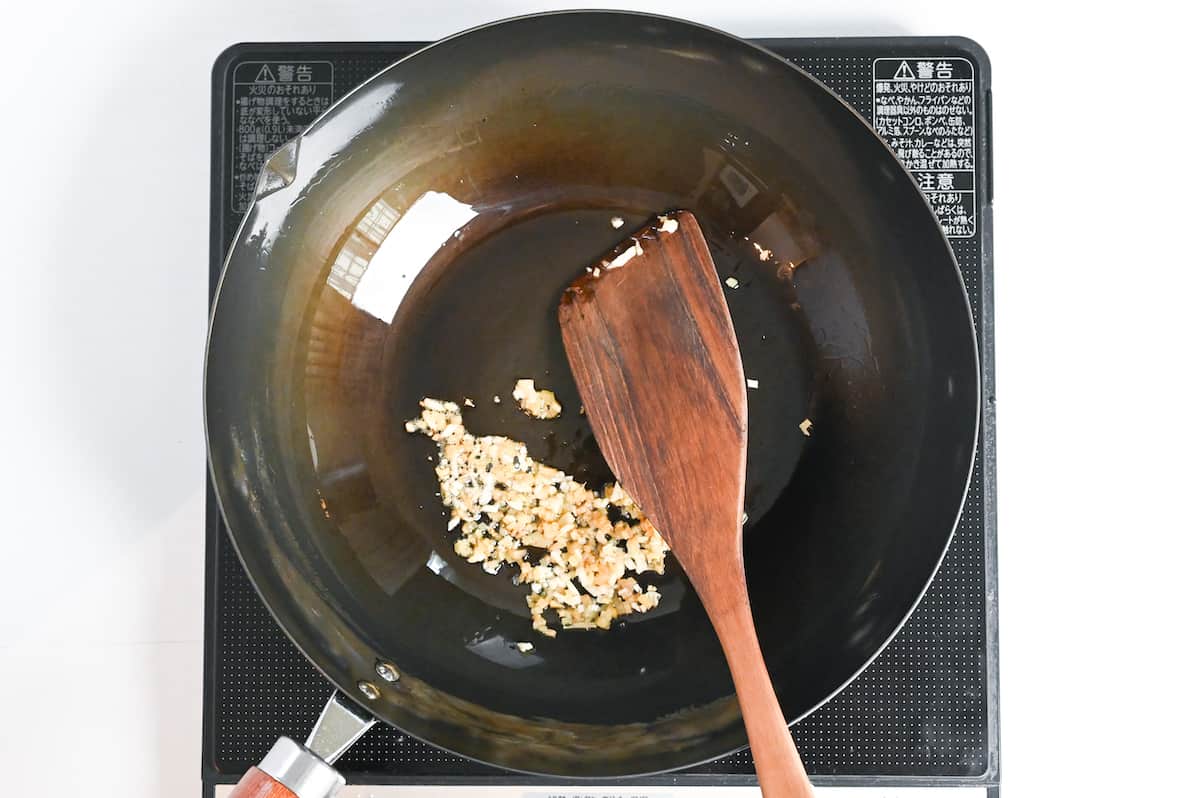 Add the pork to the wok.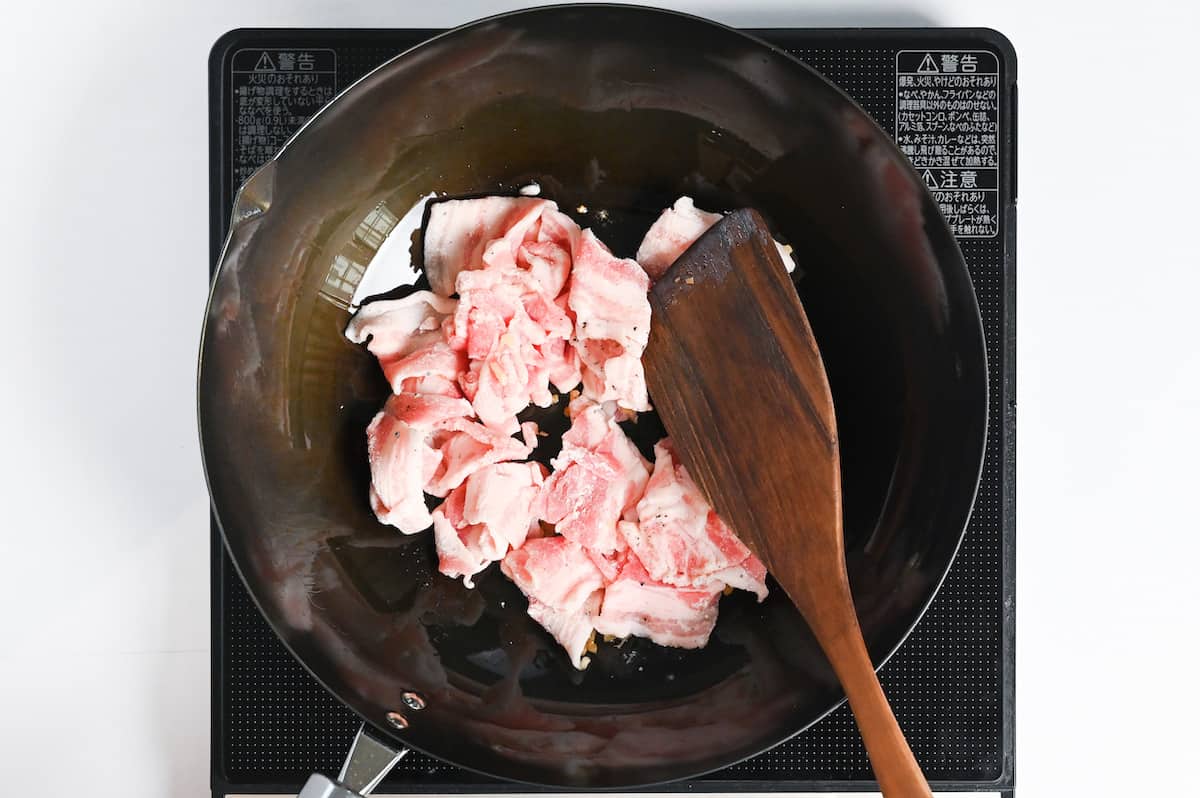 Fry until sealed and the fat is slightly crispy.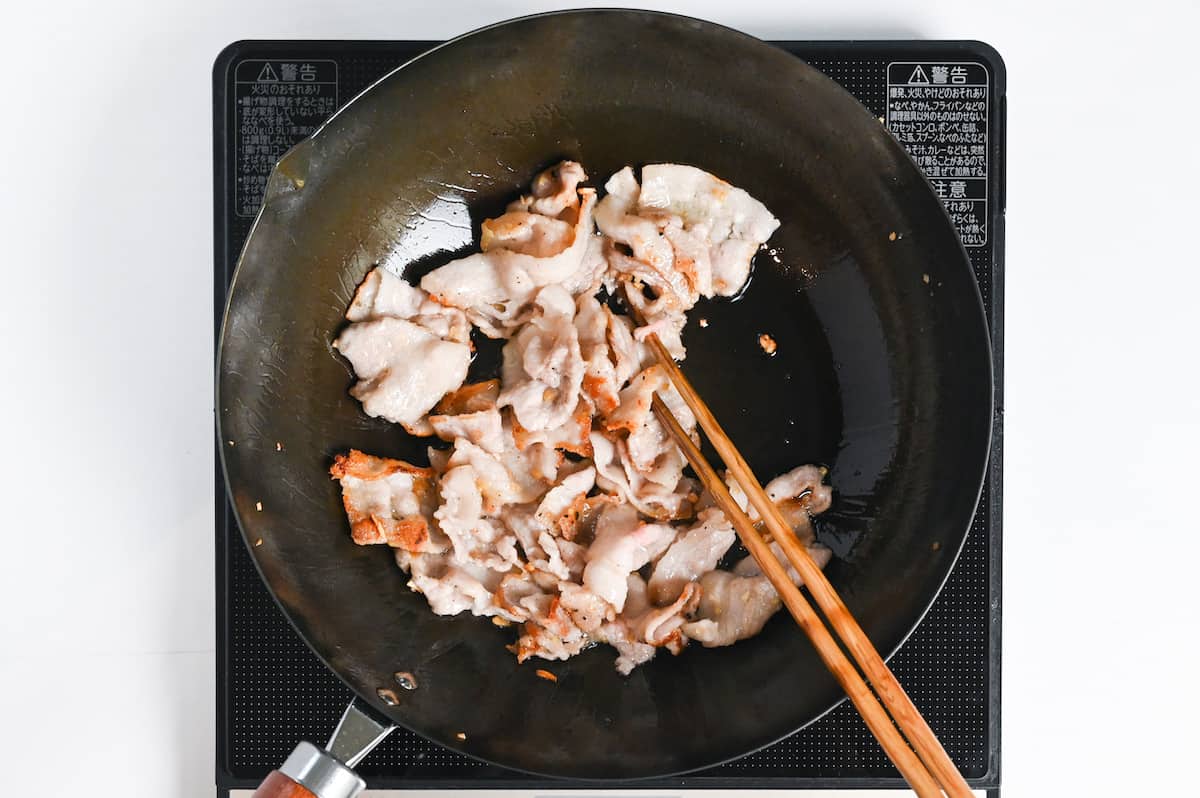 Add the onions to the wok and stir-fry until slightly softened.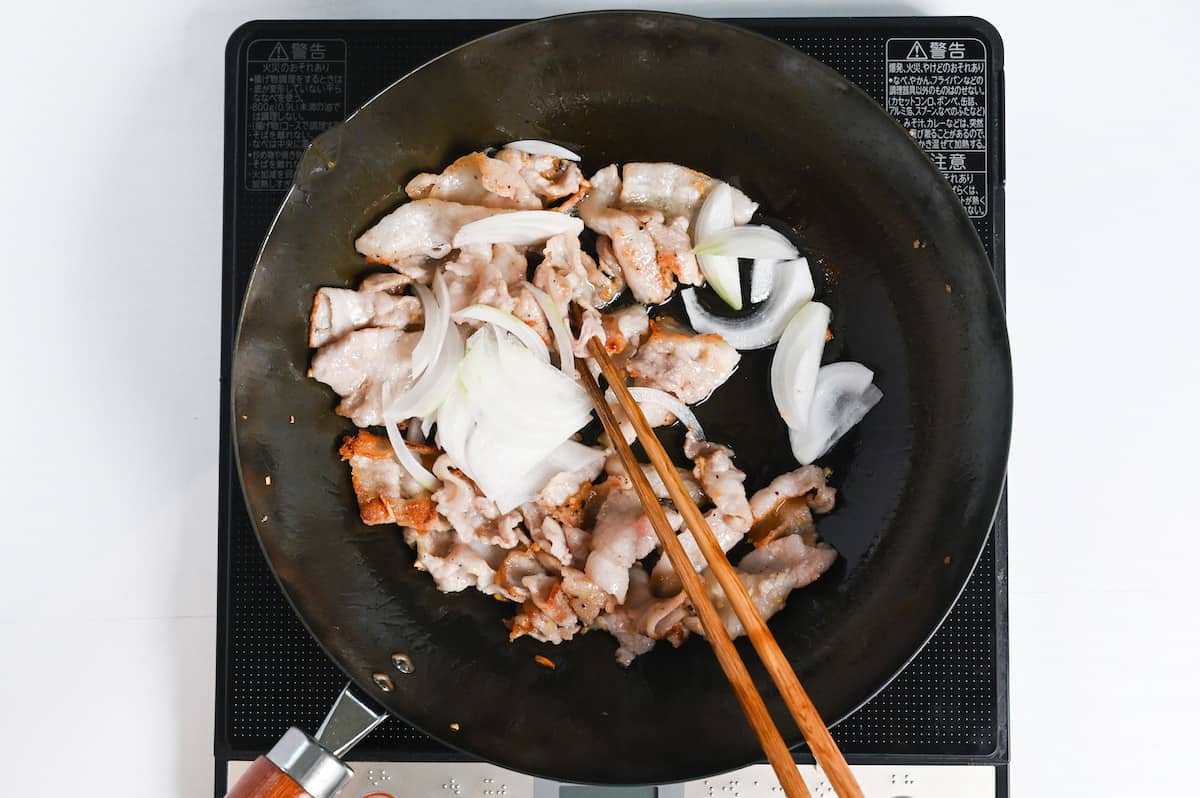 Add oyster sauce and kimchi to the wok (make sure to add all the juices from the kimchi too!).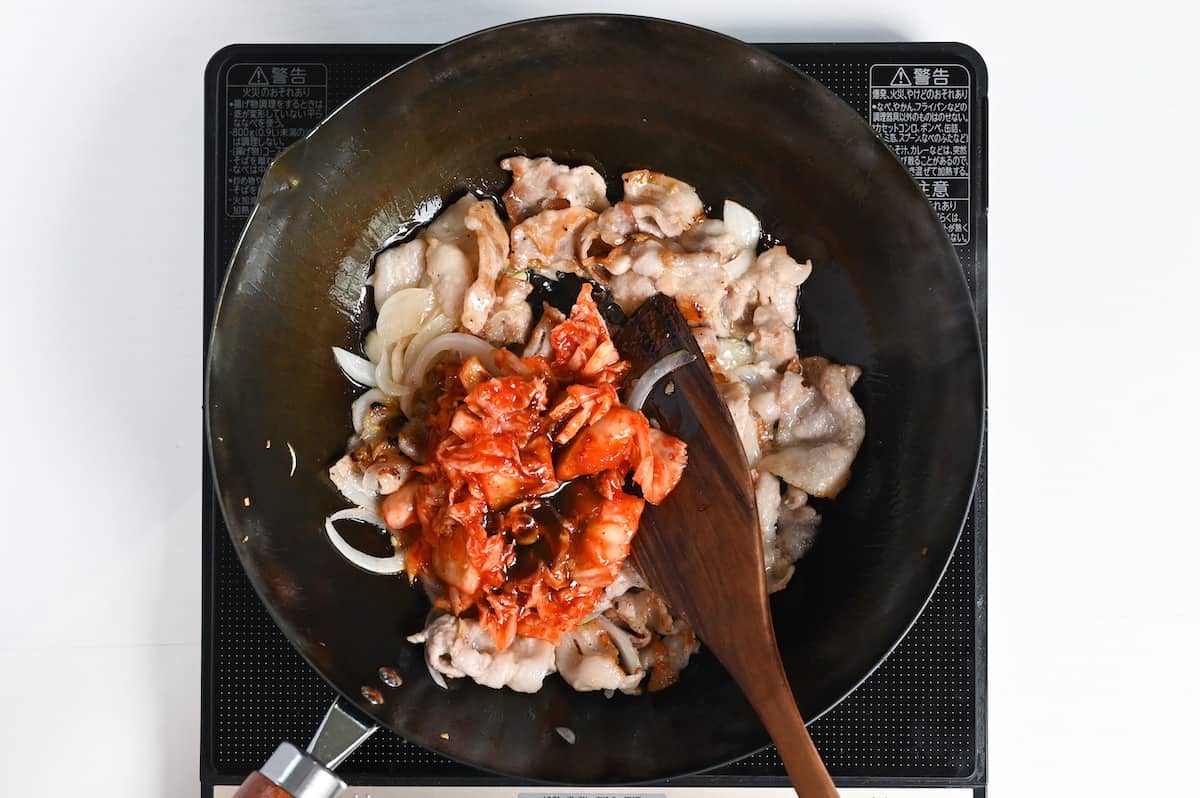 Add the sugar and tsuyu sauce, and mix well. Continue to stir-fry until the kimchi is warmed through.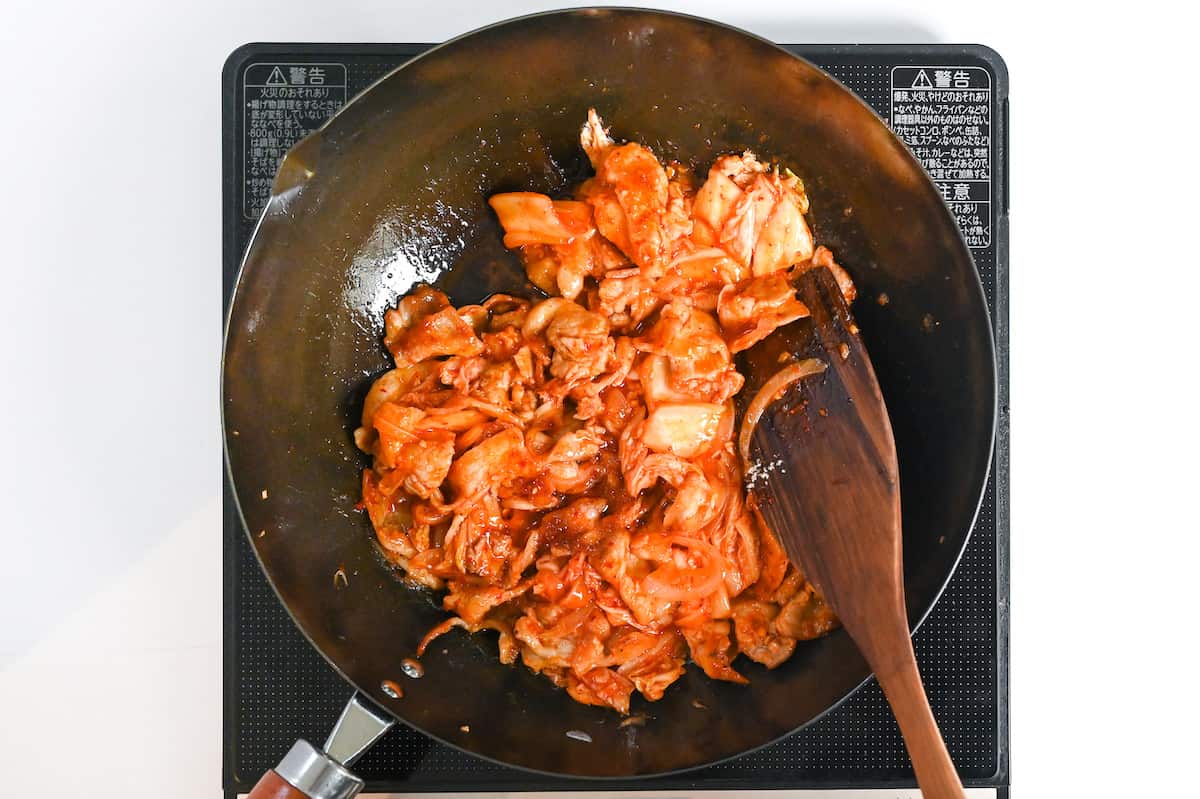 Add the garlic chives and stir-fry for one more minute before taking the wok off the heat.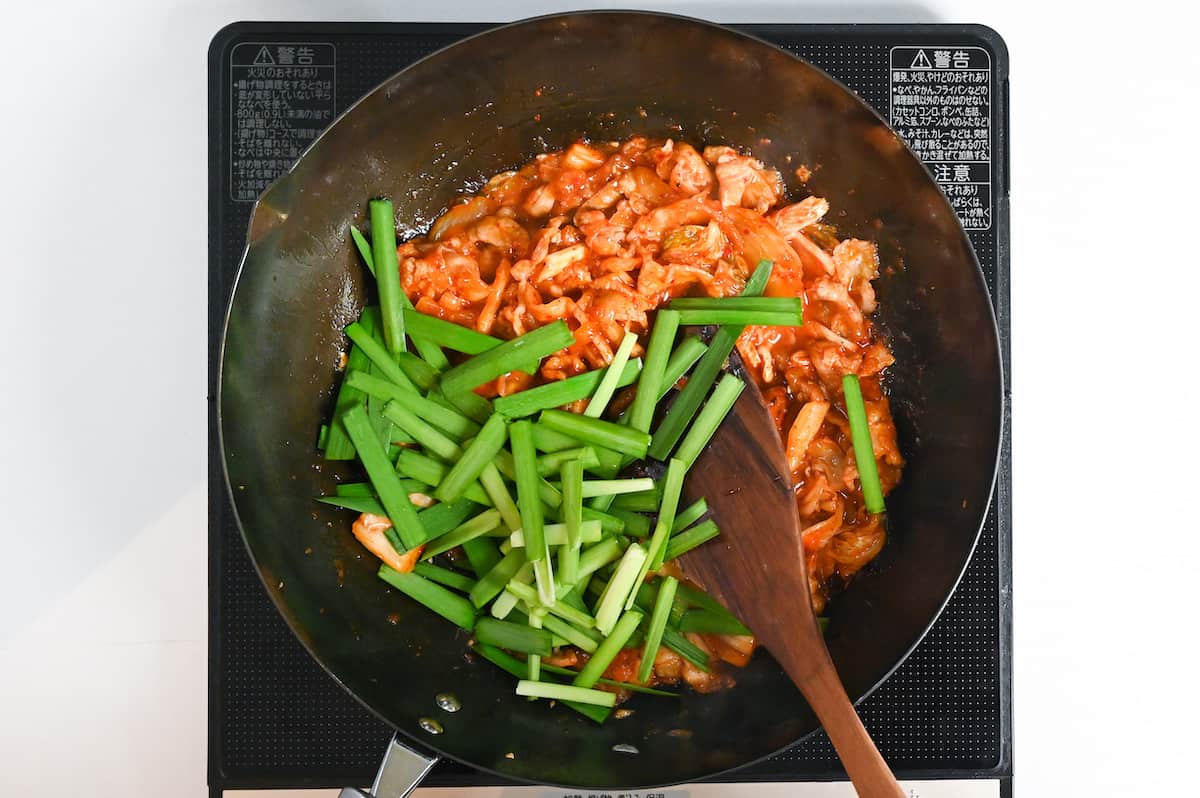 Transfer to a serving plate and top with toasted sesame seeds and finely chopped green onion.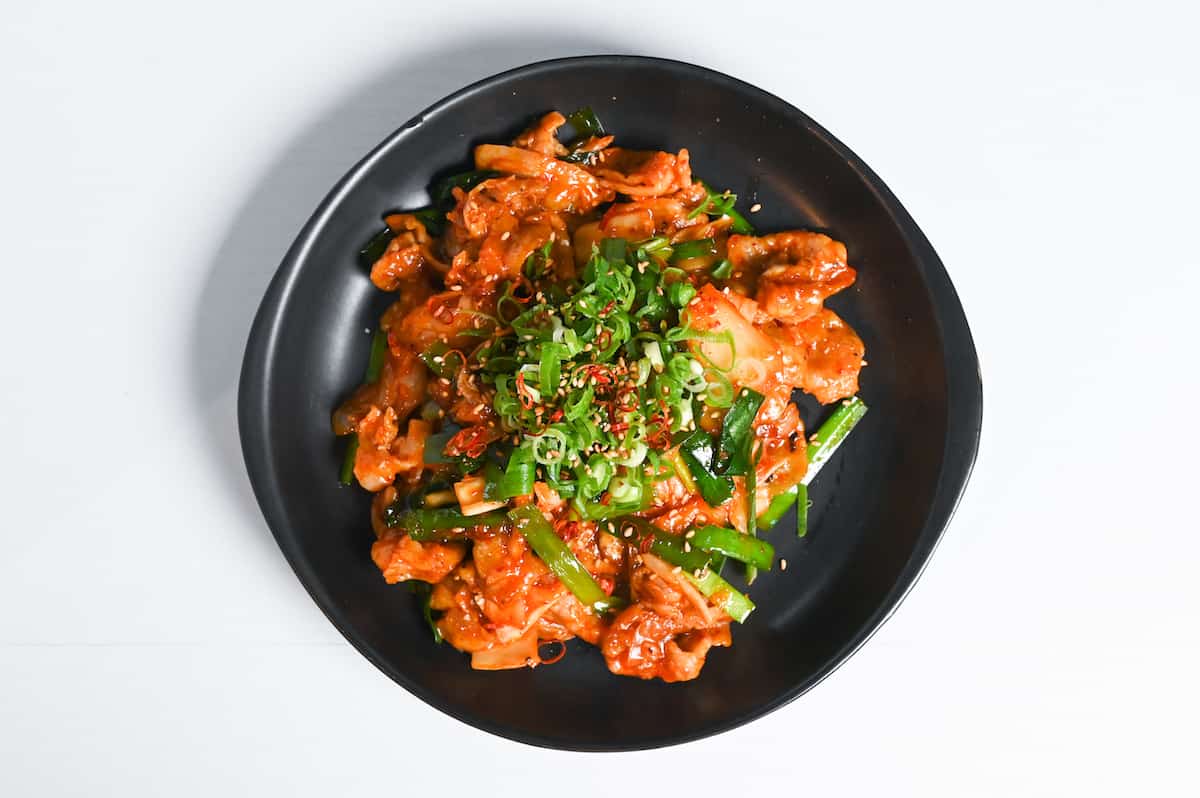 Enjoy!
Storage Options
Storing buta kimchi itame can be effectively accomplished through two primary methods: refrigeration and freezing. Refrigerating the dish offers a short-term solution, retaining its optimum flavors for approximately 2 to 3 days.
For more extended preservation, freezing is the recommended method. This technique significantly extends the shelf life.
If you make a big portion of buta kimchi, it is advisable to partition it into smaller, manageable portions before freezing. This facilitates convenient usage in the future without compromising on quality.
Room temperature - Not recommended.
Refrigerated - 2 to 3 days.
Frozen - Up to 1 month.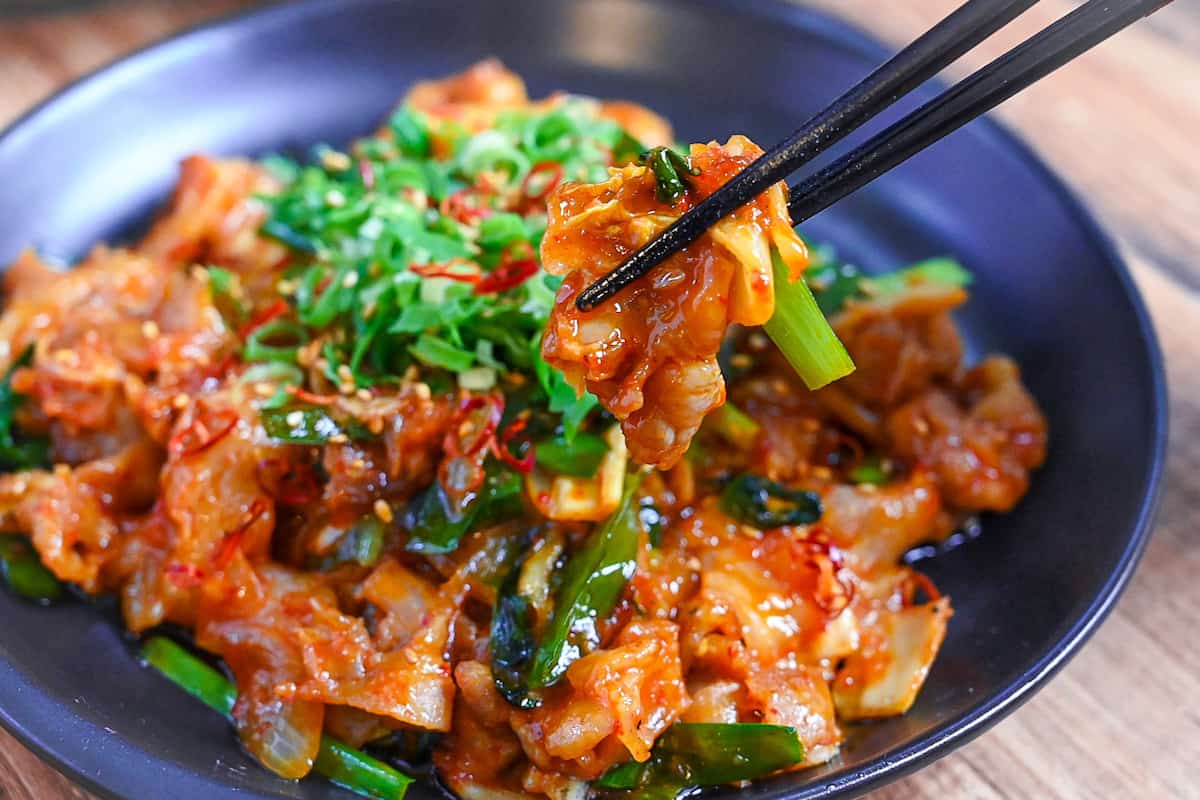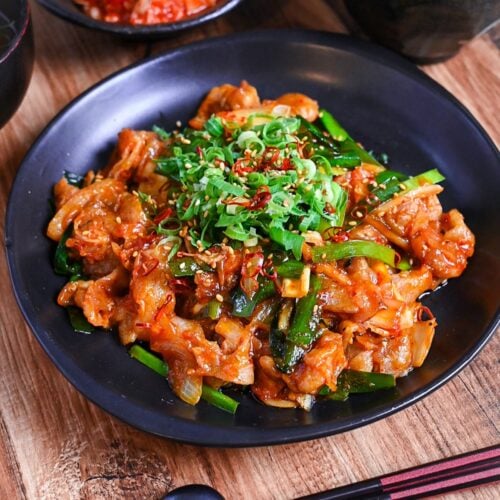 Buta Kimuchi Itame (Pork and Kimchi Stir Fry)
How to make quick and easy Buta Kimuchi. Thinly sliced pork lightly coated in flour and fried, then stir fried with onions, garlic and crunchy cabbage kimchi.
Ingredients
200

g

pork belly

-

thinly sliced

1

pinch

salt and pepper

1

tbsp

cake flour

1

tbsp

sesame oil

1

clove

garlic

-

finely diced

1

tsp

fresh ginger

-

finely diced

50

g

yellow onion(s) -

sliced

1

tsp

oyster sauce

200

g

cabbage kimchi

1

tsp

sugar

1

tsp

tsuyu sauce

30

g

garlic chive(s)

2

tsp

toasted sesame seeds

-

optional, to garnish

1

tbsp

finely chopped green onion(s) -

optional, to garnish
Instructions
Start by sprinkling the surface of

200 g pork belly

with

1 pinch salt and pepper

.

Next, lightly coat the pork with

1 tbsp cake flour

. 

Heat a frying pan on medium and once hot, add

1 tbsp sesame oil

,

1 clove garlic

 and 

1 tsp fresh ginger

. Fry until fragrant.

Add the pork to the pan and fry until sealed and slightly crispy.

Once browned, add

50 g yellow onion(s)

to the pan and fry until it reaches your preferred firmness. (I like the onion to be quite soft.)

Add

1 tsp oyster sauce

and

200 g cabbage kimchi

(including all the juices from the kimchi).

Mix well and add

1 tsp sugar

and

1 tsp tsuyu sauce

. Stir fry for a few minutes until the kimchi is heated through.

Add

30 g garlic chive(s)

to the pan and stir fry for another 1 minute.

Dish up and sprinkle with

2 tsp toasted sesame seeds

and

1 tbsp finely chopped green onion(s)

.

Enjoy!
Video
FAQ
What is the Japanese version of kimchi?
Although there is no such thing as a Japanese version of kimchi, kimchi sold in Japan is often less spicy and sweeter than the authentic version.
Why stir fry kimchi?
Although it is not always necessary to stir-fry kimchi, stir-frying it with pork not only gives the pork the flavor of kimchi, but kimchi also has the property of reducing its acidity when heated.
Why isn't kimchi vegetarian?
This is because kimchi is mostly made with vegetables such as Napa cabbage and fermented seafood as well as salt, chili peppers, and garlic.