Motsunabe is a flavourful hot pot dish made with offal, cabbage and chives cooked in a delicious broth. Although it comes in a variety of flavours, my recipe uses a homemade soy based broth flavoured with garlic and chilis, it's seriously addictive and goes perfectly with noodles!
Disclaimer: This post contains Amazon affiliate links. Sudachi Recipes earn a small percentage from qualifying purchases at no extra cost to you. See disclaimer for more info.
Jump to:
What is motsunabe?
Motsunabe (もつ鍋) is a traditional type of "nabemono" (hot pot dish) primarily made with beef or pork offal known as "motsu" or "horumon" in Japanese. It is a famous regional dish of the Hakata ward in Fukuoka city located on the Western island of Kyushu.
Today, the standard motsunabe involves seasoning a bonito or seaweed broth with soy sauce or miso paste. Offal is added to the broth along with a generous amount of chives, cabbage, garlic, and optional chili peppers. Motsunabe is typically cooked in an aluminium pot over a flame and once the ingredients are finished, the leftover broth is often enjoyed with ramen noodles.
I know that the idea of eating "motsu" or "horumon" can be quite intimidating, but motsunabe is truly delicious. The motsu not only melts into the broth to give it amazing depth of flavour, but it also melts in your mouth. Motsunabe is the perfect dish for people trying motsu/horumon for the first time, I highly recommend it!
Discovering the History and Meaning of Motsunabe
Motsunabe (also sometimes known as horumon-nabe) is believed to have gained popularity in Fukuoka after 1945 when coal miners were searching for a dish that was both delicious and energizing. They turned to "motsu" (offal), which was often discarded at the time due to its perceived lack of value. They began cooking it in a simple aluminum pot, a tradition that carried on to this day.
As time went on, chives and garlic, known for their stamina-boosting properties, were added to the dish and seasoned with soy sauce. As the economy grew, cabbage was added to the recipe, creating the modern motsunabe as we know it. It is also common to add tofu and burdock root (gobo).
In the East of Japan (Kanto region), the popularity of motsunabe began in the 1990s when a Hakata-style motsunabe specialty restaurant opened a branch in Tokyo. The dish was also introduced on television and this further ignited its popularity due to its affordability, heartiness, and stamina-boosting qualities. It has now become so popular that it's not only served at speciality restaurants, but at izakayas too.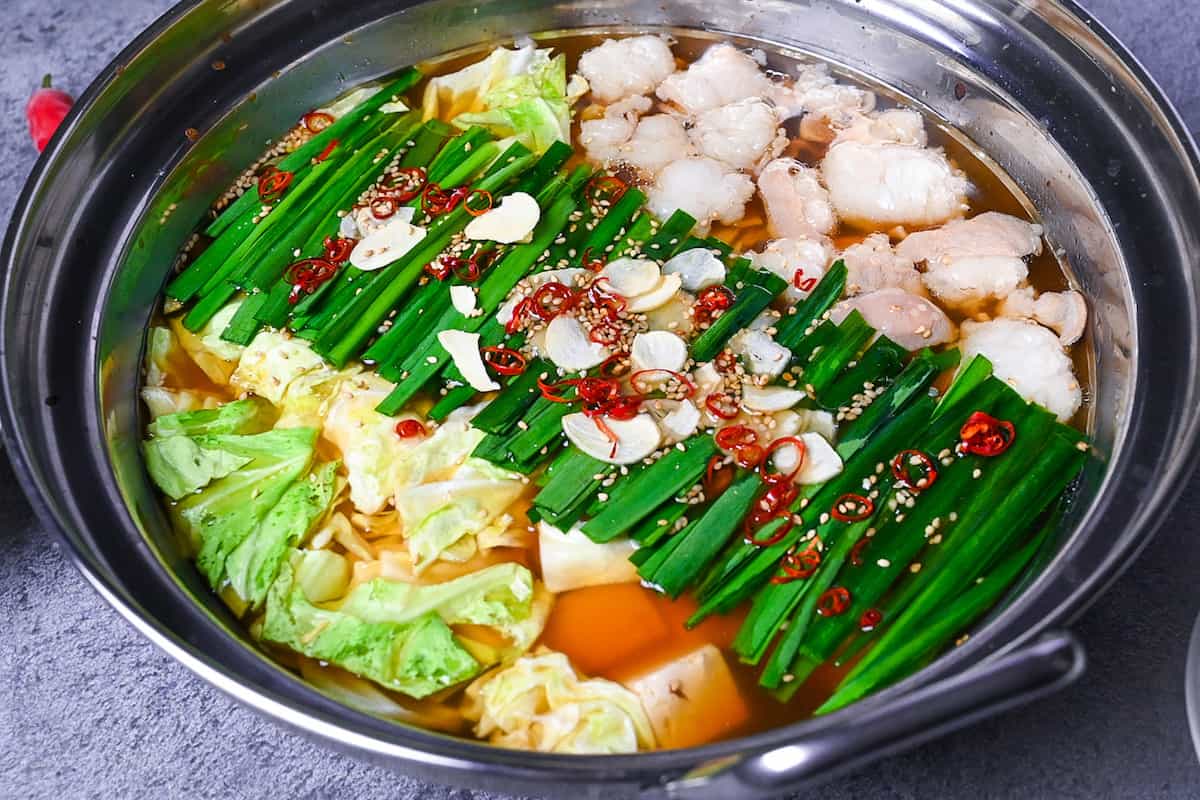 Offal in Japanese Cuisine
The term "motsu" refers to the internal organ parts of beef, pork and chicken. It is believed that eating offal has been a part of Japanese culture since the 7th century. In 1933, "Nutritional Food in Emergencies," was published in response to food shortages and includes a recipe for sautéing beef hearts in butter, stewing them with vegetables in brown sauce, and seasoning them with sake, salt, and pepper.
Today, motsu is used in some Japanese dishes besides motsunabe, such as yakitori (grilled meat skewers), horumon-yaki (grilled offal), and doteni (offal simmered with miso).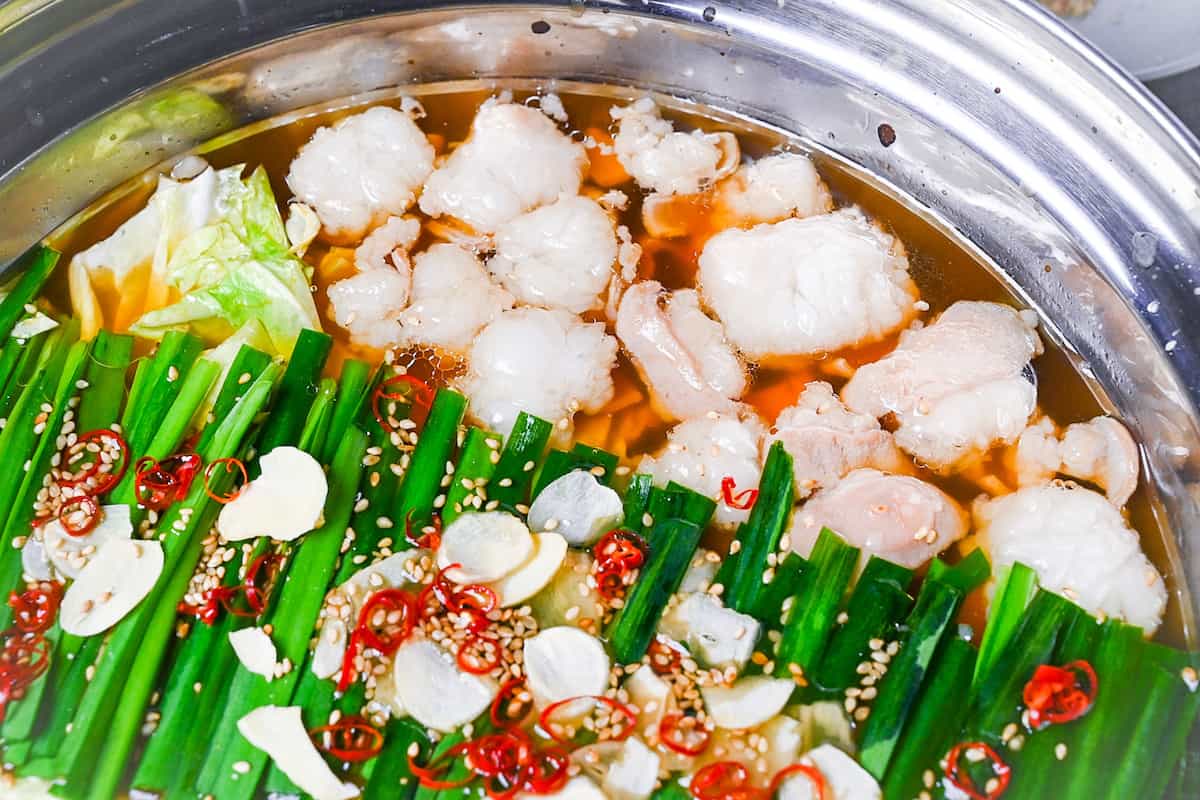 Motsunabe and Hormone Nabe: What's the Difference?
I briefly mentioned earlier that there are two names for offal in Japanese cuisine: "motsu" and "horumon". However, there are a few distinct differences between the two.
Firstly, "motsu" refers to the offal of cows, pigs and chickens. Chicken offal such as cartilage, gizzards and liver, often served on skewers at yakitori establishments, are called "torimotsu". Cow and pig offal are known as "gyumotsu" and "butamotsu" respectively. On the other hand, horumon is an umbrella term for cow and pig offal and does not include chicken.
Some people say that motsunabe is primarily made with small intestines, typically from beef, and is served as a hot pot dish. In contrast, horumon nabe refers to a dish that can contain any type of organs from cows, pigs or chickens. This means that depending on the restaurant, horumon nabe may include a variety of offal, not just small intestine.
Motsunabe Soup Base: Soy Sauce vs Miso
Numerous Hakata restaurants specialize in motsunabe and offer a variety of different types of broths. The two most popular are shoyu (soy sauce) and miso.
The most widely preferred soup base for motsunabe is shoyu. It is a favorite of many because it complements the rich flavor of motsu, and although it has a light taste, it pairs well with sake and is a popular choice with alcoholic beverages.
In contrast, miso-based motsunabe is valued for its deep, rich flavor. Due to its bold taste, it pairs well with rice, making it an excellent option for those who prefer to eat it with rice rather than noodles. Some restaurants offer salt-based, spicy, and mentaiko (cod roe) motsunabe as well.
Since it's the most common, the recipe I'm sharing with you in this article is made with a basic soy sauce-based soup.
Choosing the right offal for Motsunabe: A Guide to Motsu Selection
Some of you might be wondering about the best type of offal to use when preparing motsunabe. In this section, I will provide an easy-to-understand introduction to a recommended types of offal for motsunabe.
Firstly, it's important to note that the essential ingredient for motsunabe is small beef intestines. This part is the most fatty, plump, and tender, and the fat carries a distinct sweetness. It's safe to say that motsunabe is incomplete without this ingredient.
Some restaurants may include parts other than the small intestine in their "mix motsunabe", like the large intestine or stomach parts (tripe) such as abomasum, rumen, and so on. While it's uncommon to use pork or chicken hormone in motsunabe, some restaurants do offer it. However, in my opinion, beef small intestine is still the best choice.
Fresh small intestine of beef has pinkish muscles with visible milky fat and collagen. Keep in mind that it can darken over time if not properly treated. When selecting motsu, look for the "pink color" and examine the fat and collagen part's color. You can't go wrong by choosing one with a clear and milky white appearance.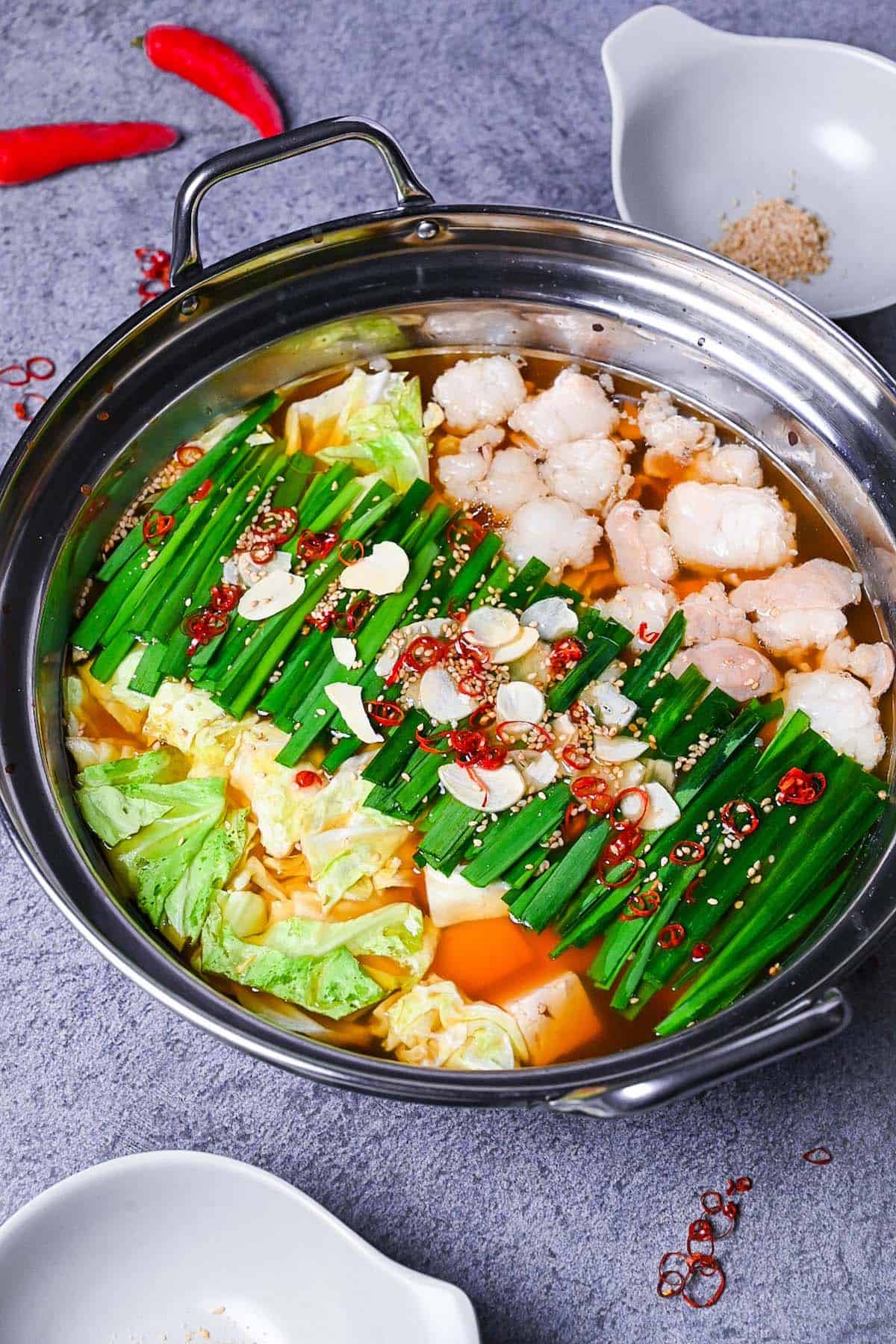 Ingredients to make homemade motsunabe
To make motsunabe at home, you will need the following ingredients:
Small beef intestine
Cabbage
Firm tofu
Burdock root (gobo)
Chinese chives
Dried chili peppers
Garlic chips
Sesame seeds
And to make the broth, I use:
For full ingredient quantities, check out the recipe card at the bottom of the page.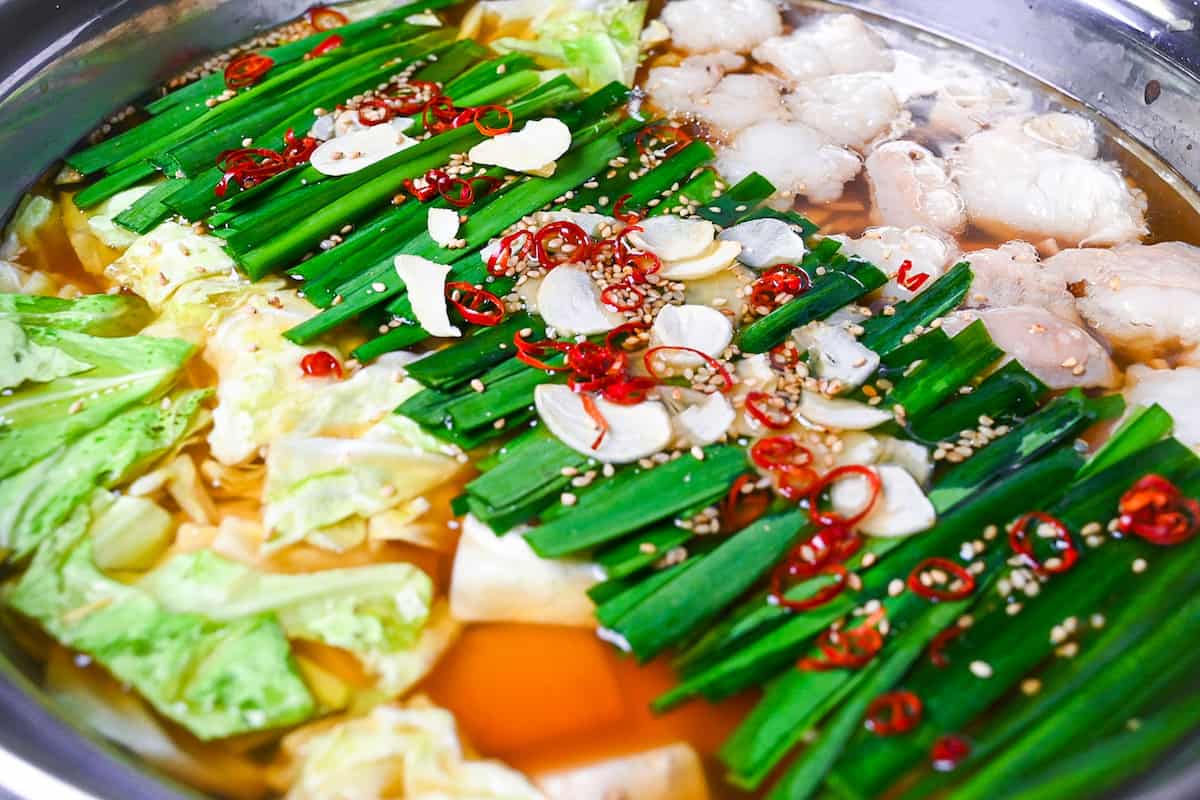 How to Make and Eat motsunabe at Home: Step-by-Step Instruction
While it might be a little difficult to find motsunabe ingredients outside of Japan, the process of making the dish is actually very simple and straight forward. Here I will explain step by step how to prepare the motsu, make the broth and cook the ingredients. From start to finish, this dish only takes 30 minutes!
Preparing (cleaning) the Motsu
The first step is to clean the motsu to remove any odors or unpleasant taste. To do this, first, place the motsu in a bowl of cold water and swish it around.
How big should the pieces of motsu be?
The motsu should be cut into small pieces, a little larger than bitesize. It's easier to cut motsu using sharp kitchen scissors. I recommend cutting prior to washing.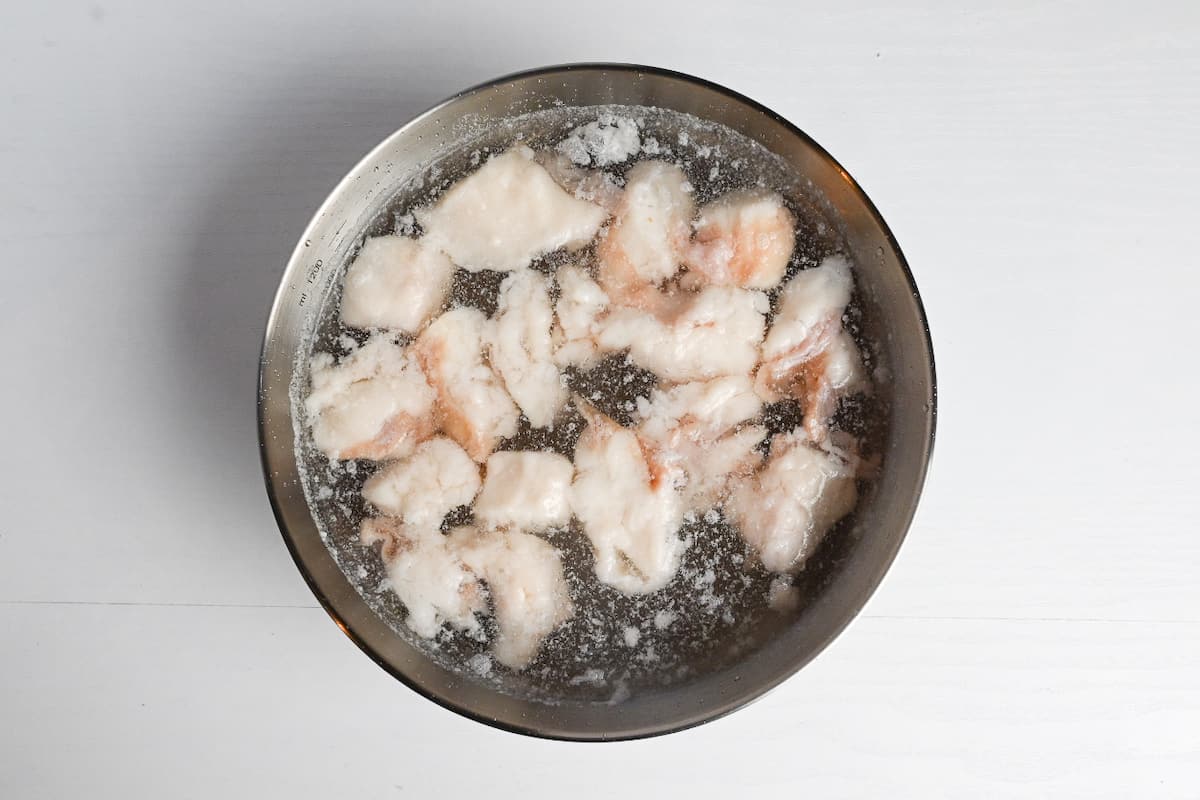 Place a sieve or colander over the sink and pour in the contents of the bowl to drain the water. Wash the bowl out, fill it with fresh cold water and set it aside for later.
Next, fill a heatproof bowl with freshly boiled water and place the sieve with the motsu inside the bowl for 10 seconds. (I used a saucepan of hot water instead.)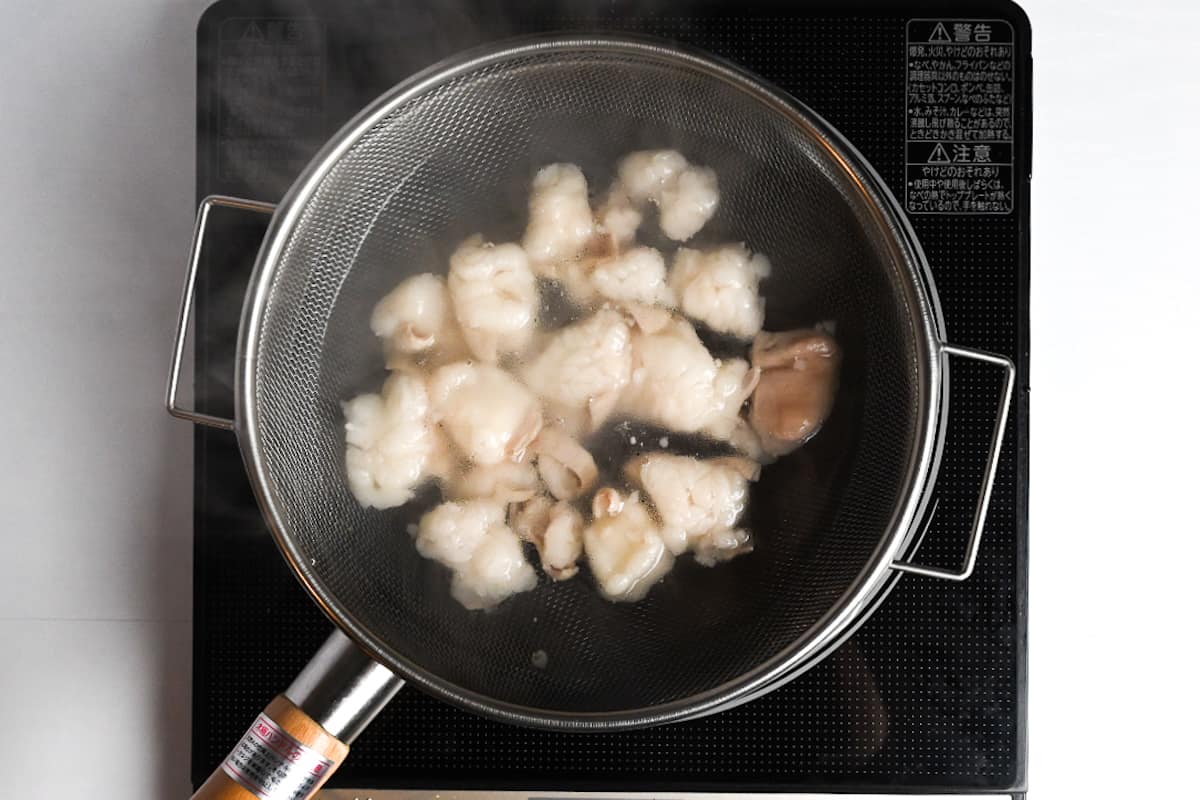 After 10 seconds, lift the sieve up and give it a shake, then pour the motsu back into the bowl of fresh cold water. These steps will remove any unwanted odors and improve the taste of the motsu!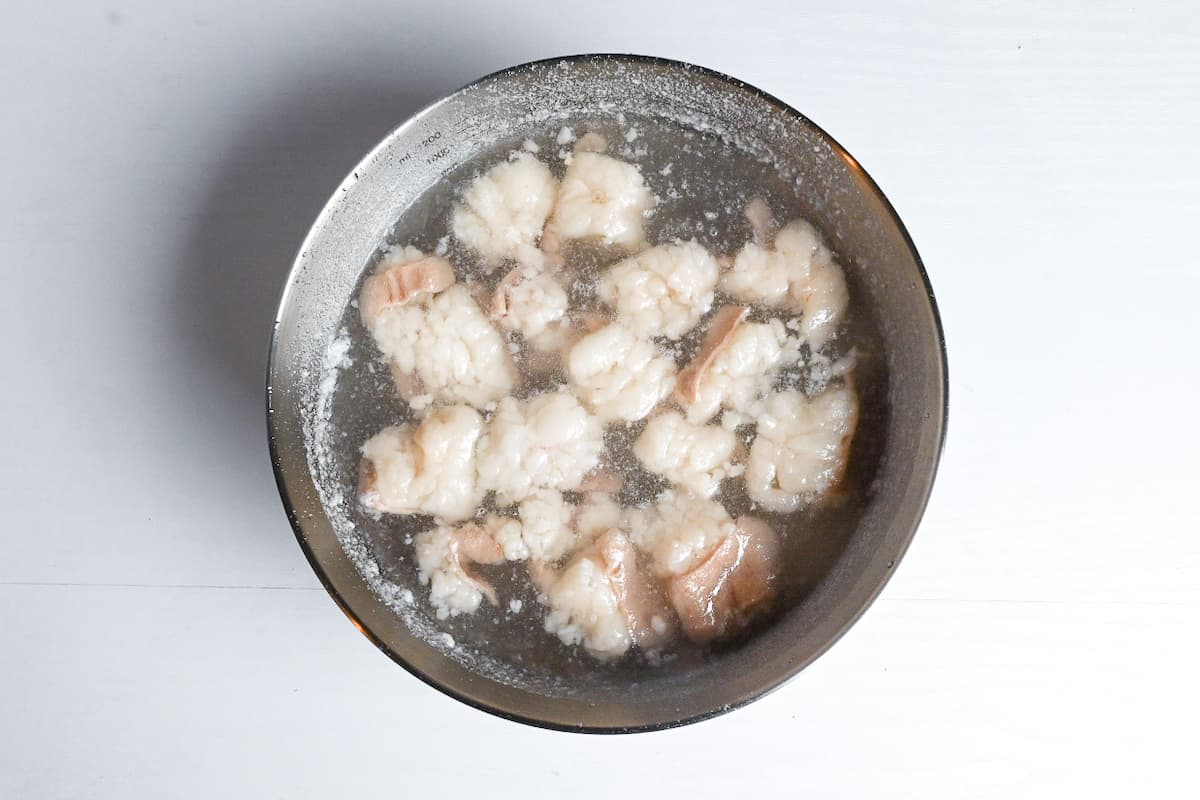 Drain the water before adding the motsu to the broth.
Prepare the gobo (burdock root)
If you're using burdock root, you will need to peel it and soak it before cooking. The skin is very thin, so I recommend using the back of a knife and carefully scrape it off (rather than using a peeler).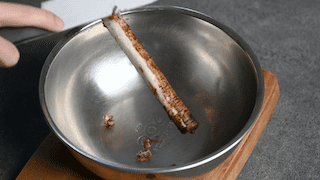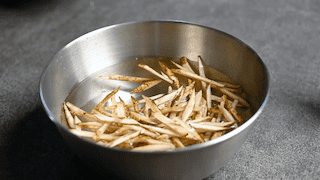 Thinly slice the burdock root and place it in a bowl of cold water for 5 minutes to improve the taste and avoid discoloration. Drain the water before adding the burdock root to the broth.
Make the Broth
Making the broth is a simple process of mixing all the ingredients together in a pot. Motsunabe broth is made with dashi, chicken bouillon powder, light soy sauce, dark soy sauce, mirin, sake, light brown sugar, oyster sauce, grated garlic and grated ginger.
Once the ingredients are mixed, place the pot on the stove and bring it to a boil over a medium heat.
Adding Ingredients to Your Motsunabe
Once the broth is hot, add the motsu, burdock root, tofu and roughly chopped cabbage.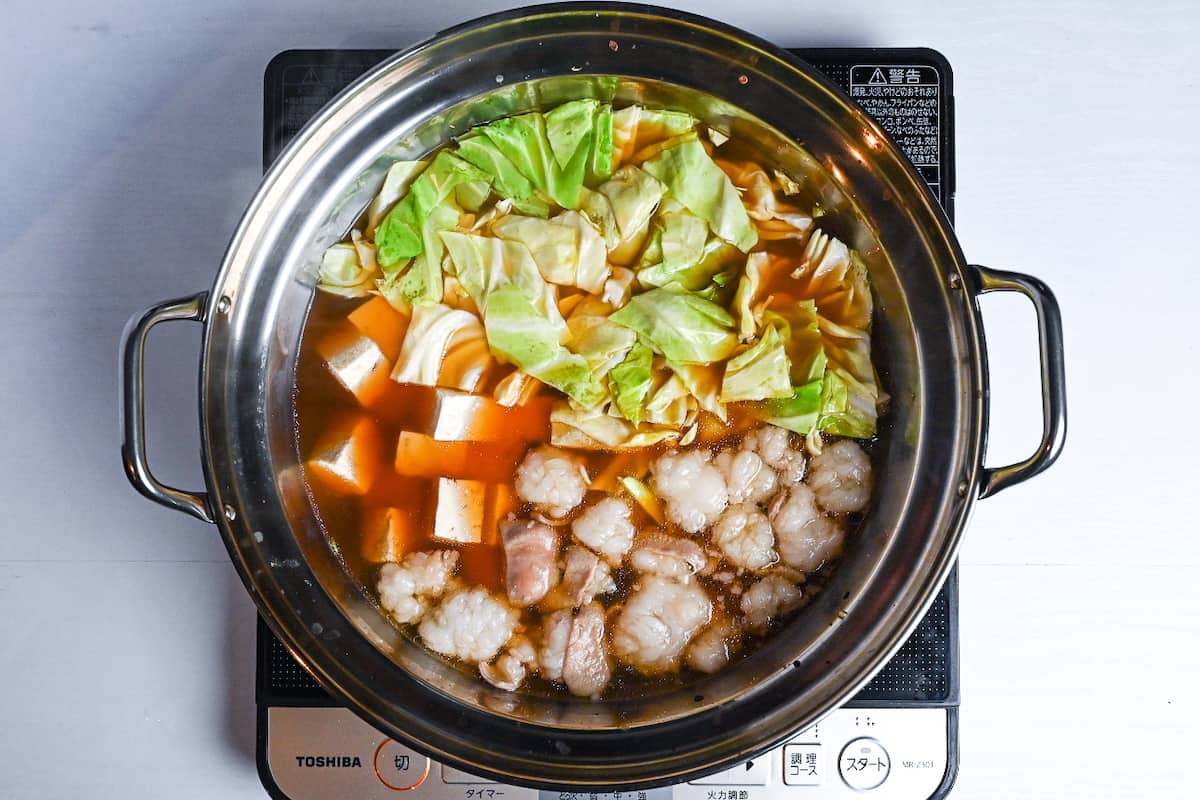 Lower the heat and simmer until the burdock root and cabbage have softened.
Add toppings
The toppings used on motsunabe are not only important for presentation, but for flavour. Add the Chinese chives, chopped chili, garlic chips and sesame seeds through the middle of the surface of the nabe.
Mix them in and allow to simmer for a few more minutes to allow the flavours to be absorbed into the broth.
Serve
In order to bring out the flavour in the motsunabe, place 1 tsp of ground sesame seeds in each serving bowl.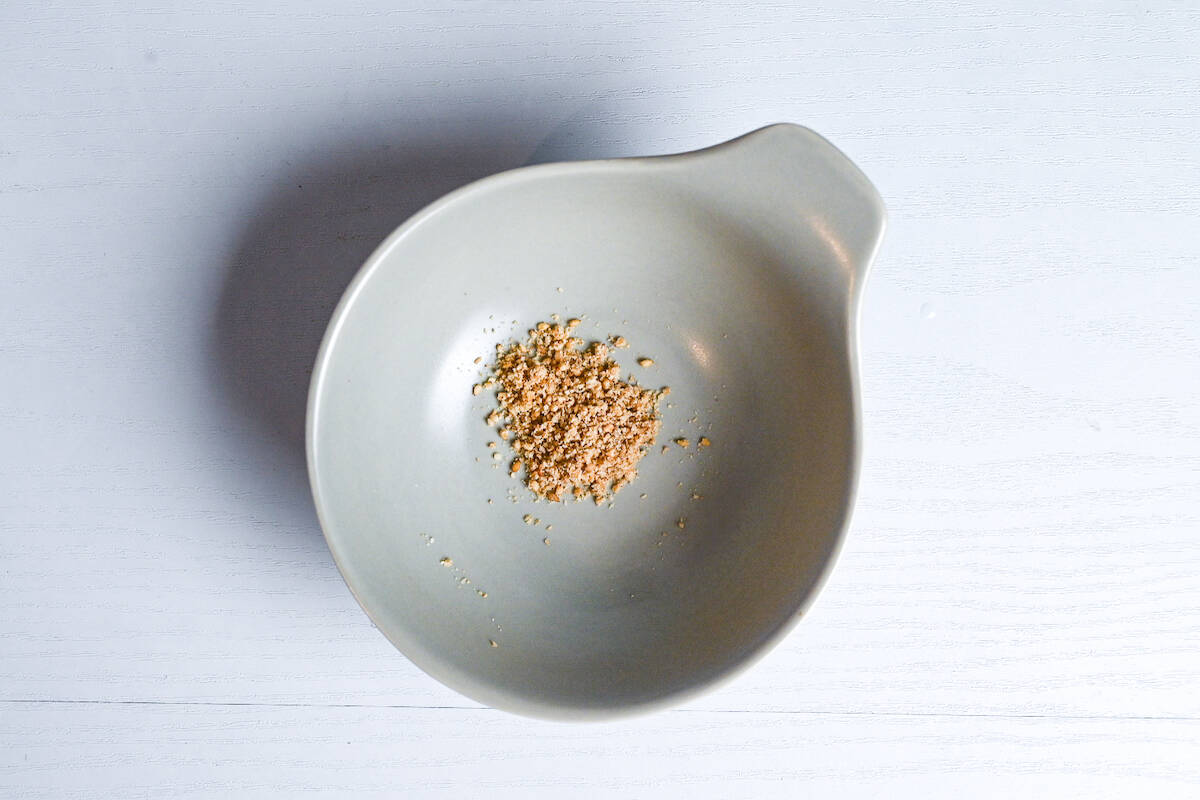 Hot pot dishes are typically served in the middle of the table, so dig in and enjoy!
Make the most of the broth
Once all the ingredients have been eaten, it's common to add cooked champon (or ramen) noodles to the broth. This part of the dish is something everyone looks forward to!
Be sure to boil the noodles separately before adding them to the soup. Preferably, rinse them after cooking to remove the excess starch and then place them in the broth.
I hope you enjoy this delicious homemade motsunabe! If you try the recipe, be sure to let me know what you thought in the comments below!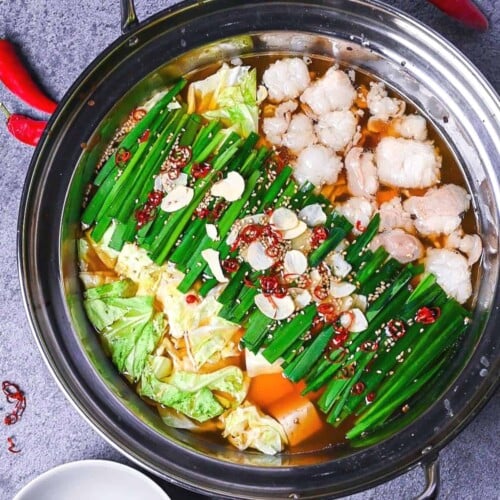 Hakata Motsunabe (Japanese Offal Hot Pot)
How to make traditional Hakata Motsunabe (Japanese Offal Hot Pot) with a delicious, fragrant and mildly spicy soy sauce based broth. (Serves 2)
Ingredients
200

g

beef offal

-

(mostu) preferably small intestines cut into bitesize pieces

250

g

green cabbage

-

(white or pointed) roughly cut

50

g

burdock root(s)

-

(gobo)

150

g

firm tofu

-

cubed

100

g

garlic chive(s)

1-2

dried red chili pepper

-

thinly sliced

1

tbsp

garlic chips

-

or dried garlic slices

1

tsp

toasted white sesame seeds

2

tsp

ground sesame seeds

-

optional

2

portions

cooked champon/ramen noodles

-

wash after cooking to remove excess starch
Broth
800

ml

dashi stock

2

tbsp

Chinese-style chicken bouillon powder

4

tbsp

light soy sauce

2

tbsp

dark soy sauce

3

tbsp

mirin

2

tbsp

sake

1

tsp

oyster sauce

1

tsp

grated garlic

-

or garlic paste

1

tsp

grated ginger

-

or ginger paste

1

tsp

light brown sugar
Instructions
To wash the

200 g beef offal

, place it in a bowl of cold water, swish it around and then pour it through a sieve placed over the sink to drain. Wash the bowl out, refill it with fresh cold water and set it aside.

Fill a heatproof bowl (or large pot) with freshly boiled water and place the sieve with the offal in the water. Submerge for 10 seconds, then lift it up and shake. Pour the offal back into a bowl of fresh water and swill it around. Drain the water before adding the offal to the broth.

Take

50 g burdock root(s)

and scrape off the skin using the back of a knife. Thinly slice diagonally and soak in water for 5 minutes. Drain before adding to the broth.

Take a large pot and add

800 ml dashi stock

,

2 tbsp Chinese-style chicken bouillon powder

,

4 tbsp light soy sauce

,

2 tbsp dark soy sauce

,

3 tbsp mirin

,

2 tbsp sake

,

1 tsp oyster sauce

,

1 tsp grated garlic

,

1 tsp grated ginger

and

1 tsp light brown sugar

.

Mix it well and place the pot on the stove. Bring it to a boil over a medium heat.

Once boiling, turn the heat down to simmer and add the washed beef offal, burdock root,

250 g green cabbage

and

150 g firm tofu

. Simmer until the burdock root and cabbage are slightly softened.

Sprinkle

100 g garlic chive(s)

,

1-2 dried red chili pepper

,

1 tbsp garlic chips

and

1 tsp toasted white sesame seeds

over the surface. Mix and simmer for a few minutes to allow the flavors to be absorbed into the broth.

Divide

2 tsp ground sesame seeds

between each serving bowl.

Use a ladle to distribute the motsunabe between the serving bowls, and enjoy until there are no ingredients left in the broth.

Place

2 portions cooked champon/ramen noodles

in the leftover broth.

Enjoy!
Notes
NOTE: The nutritional value includes the whole soup/broth, which we do not drink up.
Nutrition
Serving:
1003.8
g
Calories:
871
kcal
Carbohydrates:
111.3
g
Protein:
36.7
g
Fat:
33
g
Saturated Fat:
13
g
Polyunsaturated Fat:
3.59
g
Cholesterol:
211
mg
Sodium:
6002
mg
Fiber:
14.2
g
FAQ
How do you eat motsunabe?
Once the cabbage and chives are cooked, enjoy motsunabe as it is, and then use the leftover soup to eat champon noodles, that's the Hakata way. You can also make zosui (rice porridge) using any remaining soup.
What is beef offal in Japanese?
Beef offal is called either "gyu-motsu" (牛モツ) or "gyu-horumon" (牛ホルモン).
What does motsunabe taste like?
Motsunabe is a dish with a distinctive flavor that blends a simple broth with the rich fat and sweetness that emanates from the offal. It has a plump texture and melts in your mouth when you bite into it. It's an incredibly flavorful dish, but those who dislike fatty meat may struggle to enjoy it. However, the flavor of motsunabe can differ significantly depending on the quality and freshness of the motsu used, so it is very important to use fresh and good quality offal in the dish.